Nerdy Outfits For Men. Cambridge Dictionary defined "nerd" as a person with little to no social skills and someone who has a keen interest in techy stuff. In a way, nerds are similar to geeks as they are both described as intelligent individuals who lack fashion sense and popularity.
Pulling off the geek/nerdy look is easy and simple, and the best part is there are no rules when it comes to dressing like a nerd.
How to Get a Geek Look
Either you are a real nerd or just want to dress like one for a certain reason (a cosplay, I hope), I give you 28 nerdy outfit ideas and how to style them. First, get into character because you can't excel at something you don't fully understand. So before you opt for a nerdy outfit, you must first understand how nerds style themselves.
You can use your imagination and create your style. We have put together different cute and modern outfits that will help you dress like a nerdy boy. Have a look!
#33 – For Older Men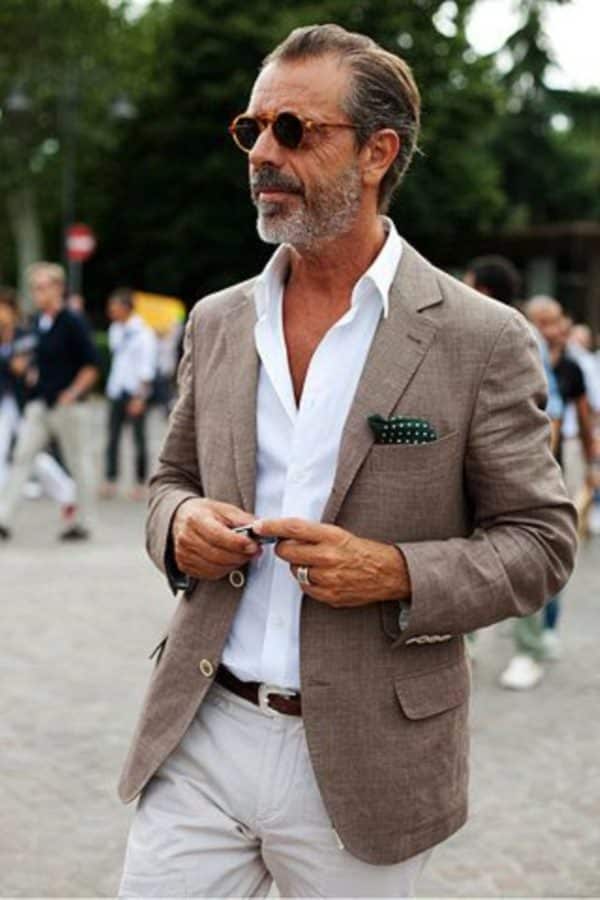 #32 – For Plus-Size Men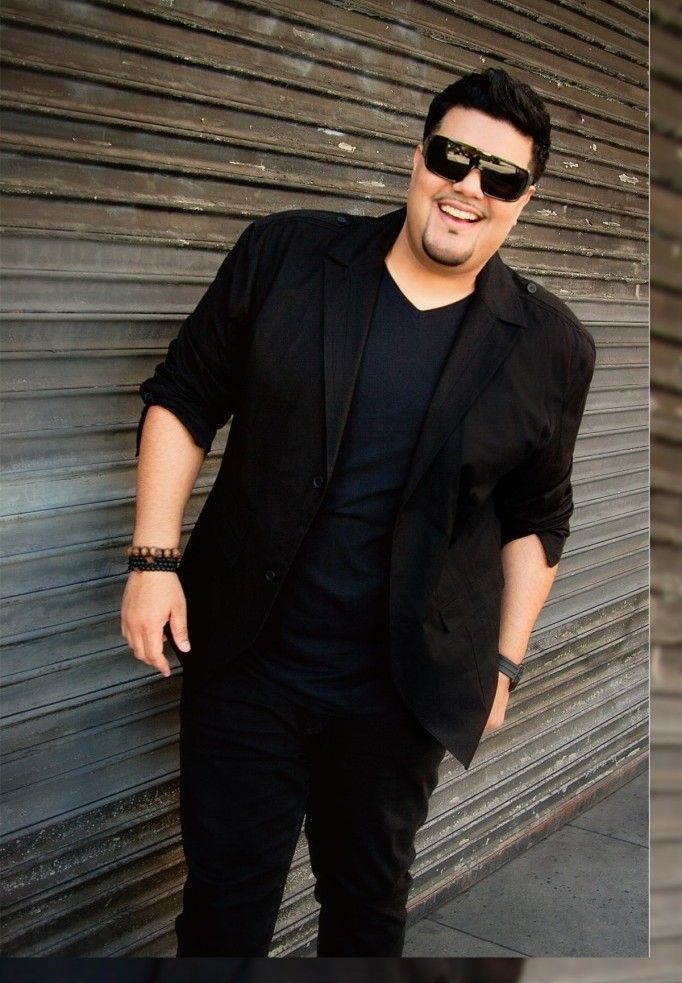 #31 – Where To Buy Nerdy Outfits
You can get them separately in different stores, including online shops. NORDSTROM and Amazon are both great sources of your fashion needs in terms of convenience and practicality. You can also check this article from MTV for some shirt ideas and inspirations. Enough said, you can try some of these products:
#30 – Sheldon Cooper Outfit
Nerds who love Big Bang Theory can get outfit inspirations from Sheldon Cooper. And he is a living proof that nerds can be stylish, too. Wearing a Green Lantern printed shirt would be a great way to start.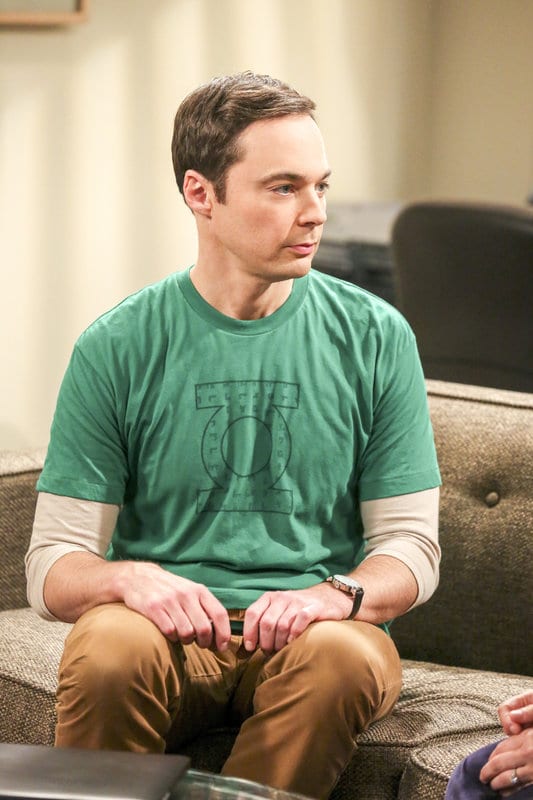 #29 – Celebrity In Nerdy Outfit
If you are not yet ready to pull off a full-on nerdy look, this outfit can be your start. Of course, the glasses are a must; otherwise, it's not nerdy. Layer a brown crewneck jumper over a blue denim shirt. This is Jordan Elsass in a "soft boy outfit." You may know him as Jonathan Kent in The CW's Superman & Lois. The hairstyle makes the overall look even nerdier.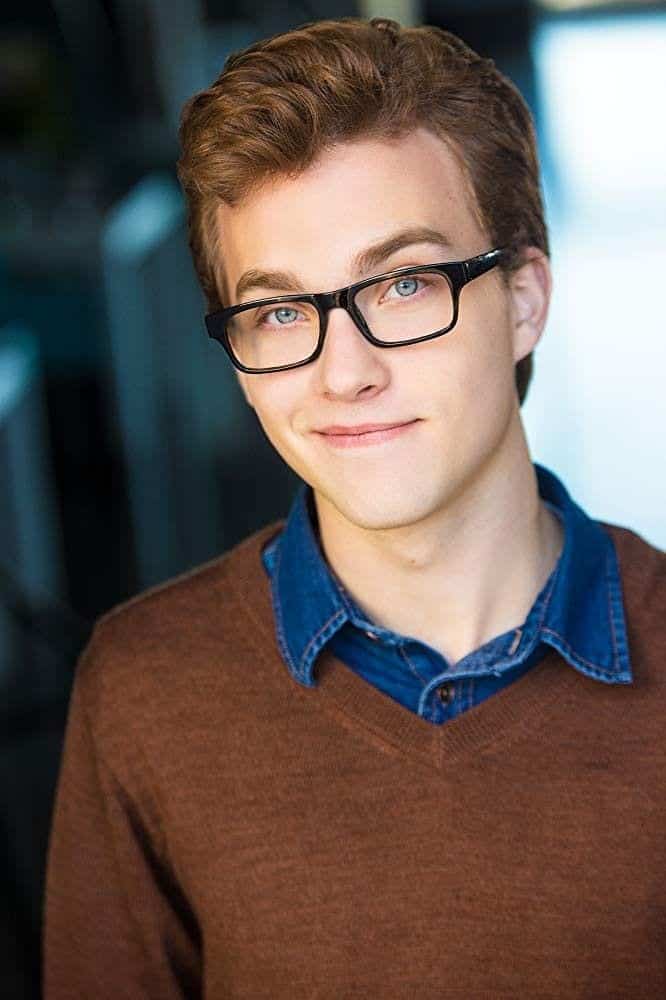 #28 – Star Wars Shirt
No matter how hard you try hiding your nerdy side, it can always show through your shirt. For instance, nerdy guys love movies like Star Wars and Star Trek (I mean, who doesn't). And if you haven't, where have you been all this time?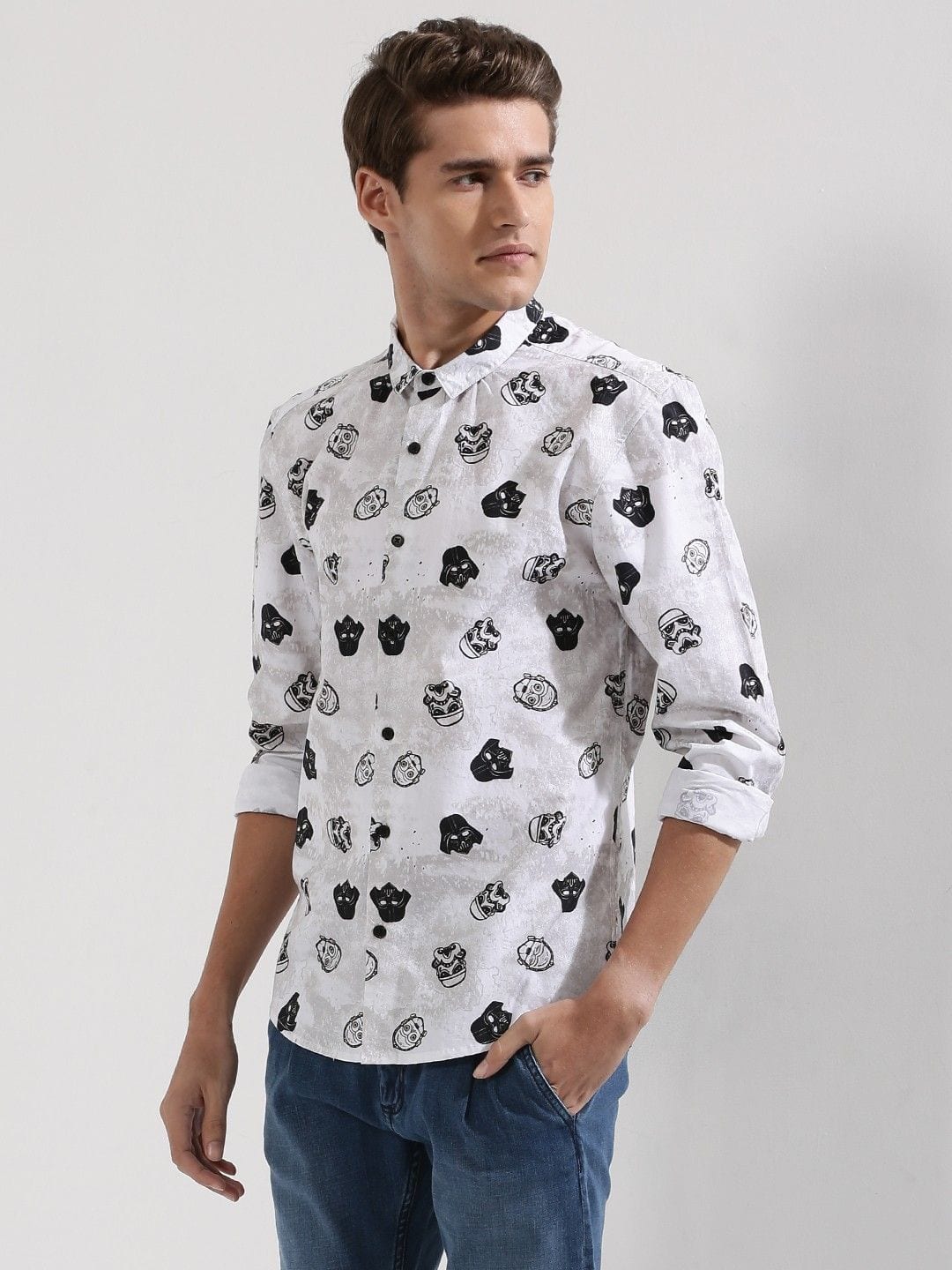 #27 – Graphic Nerdy Shirt
One of a nerd's defining characteristics is that they're good at anything that includes numbers and stuff. For instance, they excel at topics like algebra, trigonometry, and thermodynamics. And you can't shame them about it because they are proud to the point that they express it through their outfits like this T-shirt worn by Tom Holland in Spiderman: Homecoming.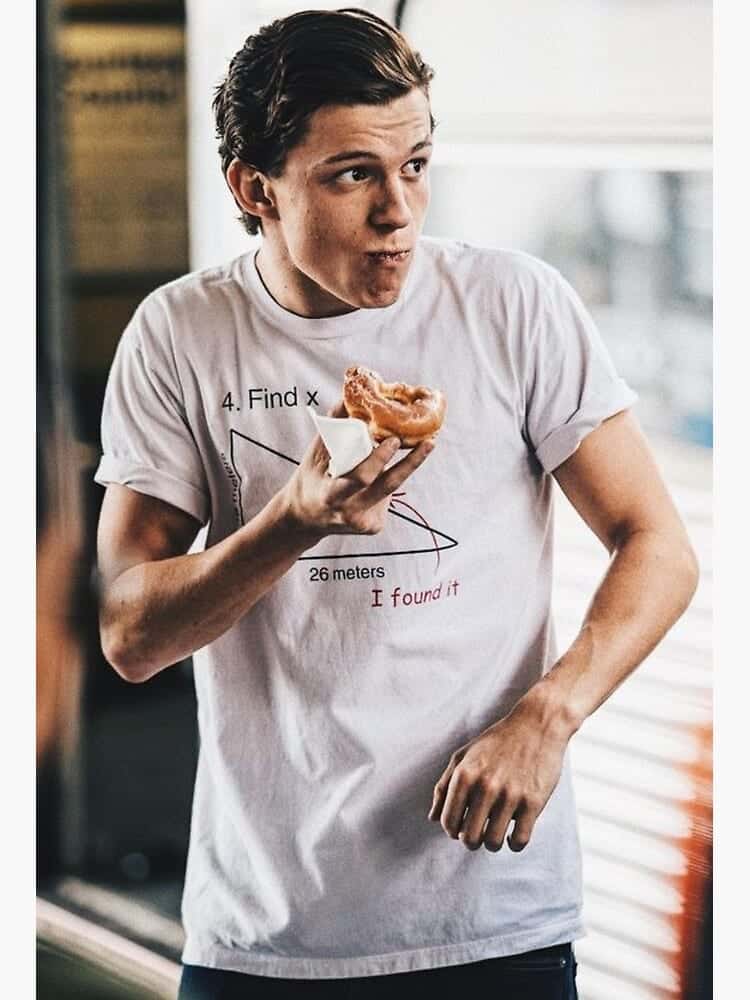 #26 – When To Wear ?
Nerds can choose their office wear like how any other man does it. It's just the glasses that make them distinct from others. For instance, wear a navy blazer casually with black chinos, and use a contrast-colored undershirt, like this wool tee.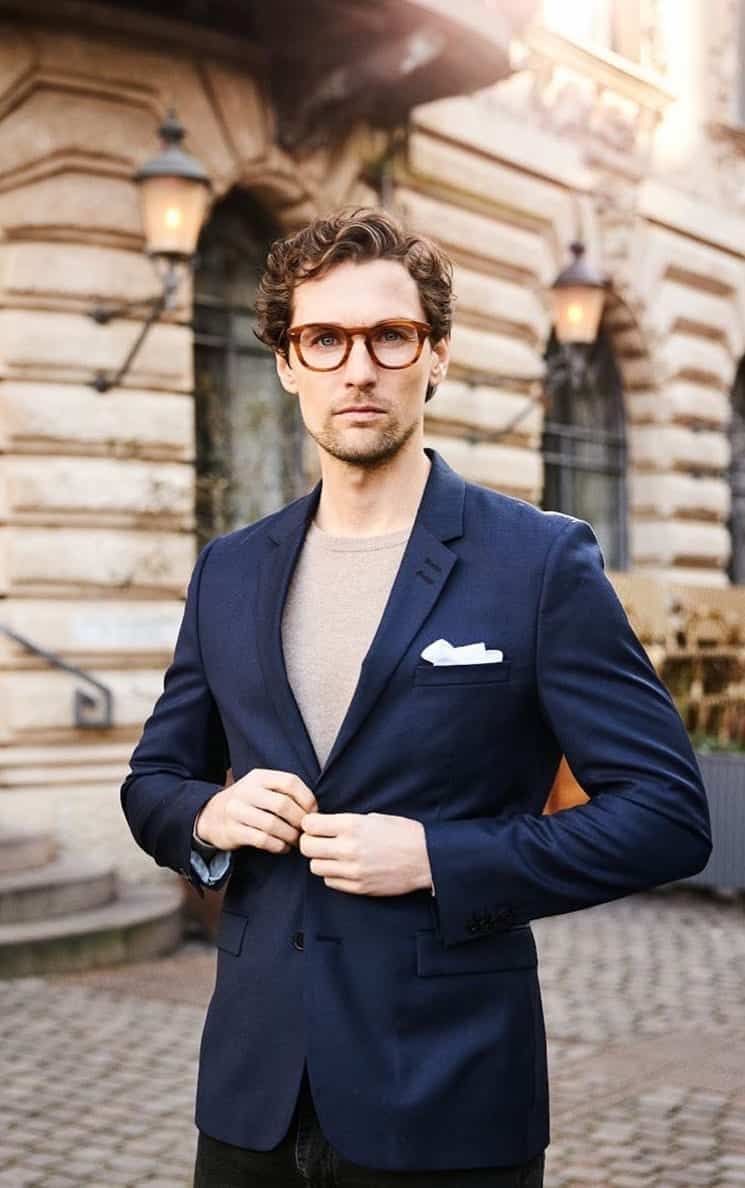 #25 – Business Casual
Nerdy guys can opt for a business-casual attire like how any other guy does it. And note that the more ill-fitting your trousers are, the more chances you'll look like a nerd. For instance, pair grey wool trousers with a light blue button-down, and finish off with a sleek-designed tie. I get it that you are a nerd, but if you are in the office, keep the shirt tucked in your pants.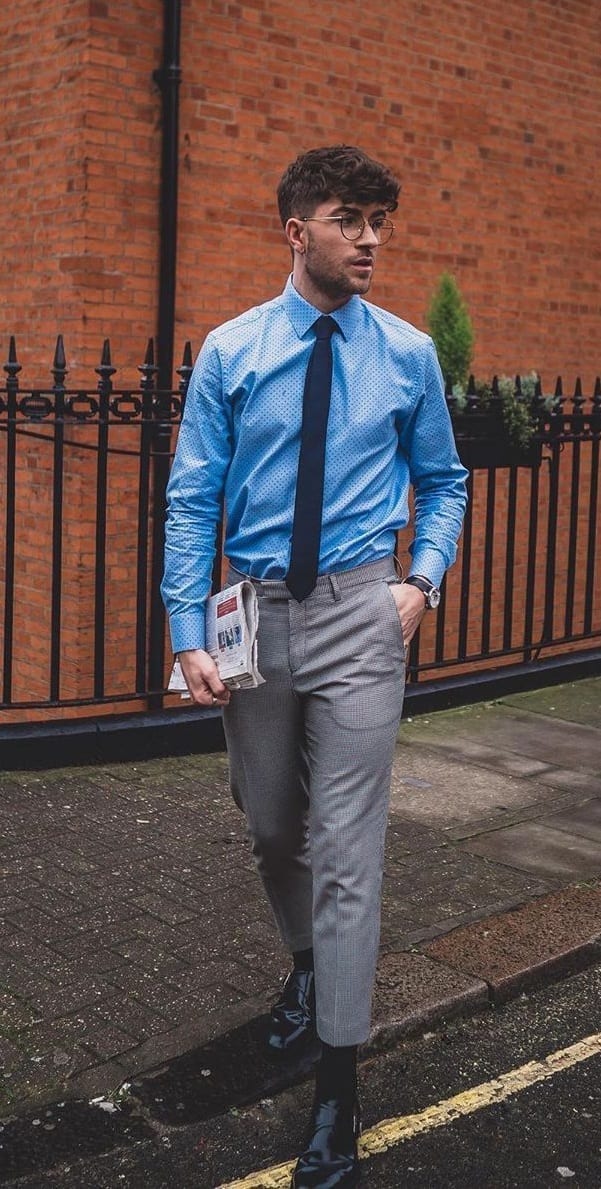 #24 – Argyle Sweater
Nerdy outfits often include argyle – from sweaters to shirts and socks. It's like they are the branding of nerd men's dress code. Try to rock an outfit consisting of a crewneck jumper worn over a white button-down or Orford shirt. Pair them with black jeans.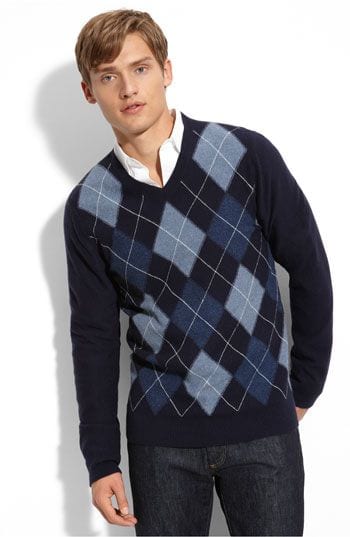 #23 – Nerdy Streetwear
Some nerds are also known to be lovers of photography and filmmaking. If you are headed for a photo walk or something, there's no need to don something sharp. In fact, streetwear outfits are best for this kind of gig. And don't forget the glasses as they are essential.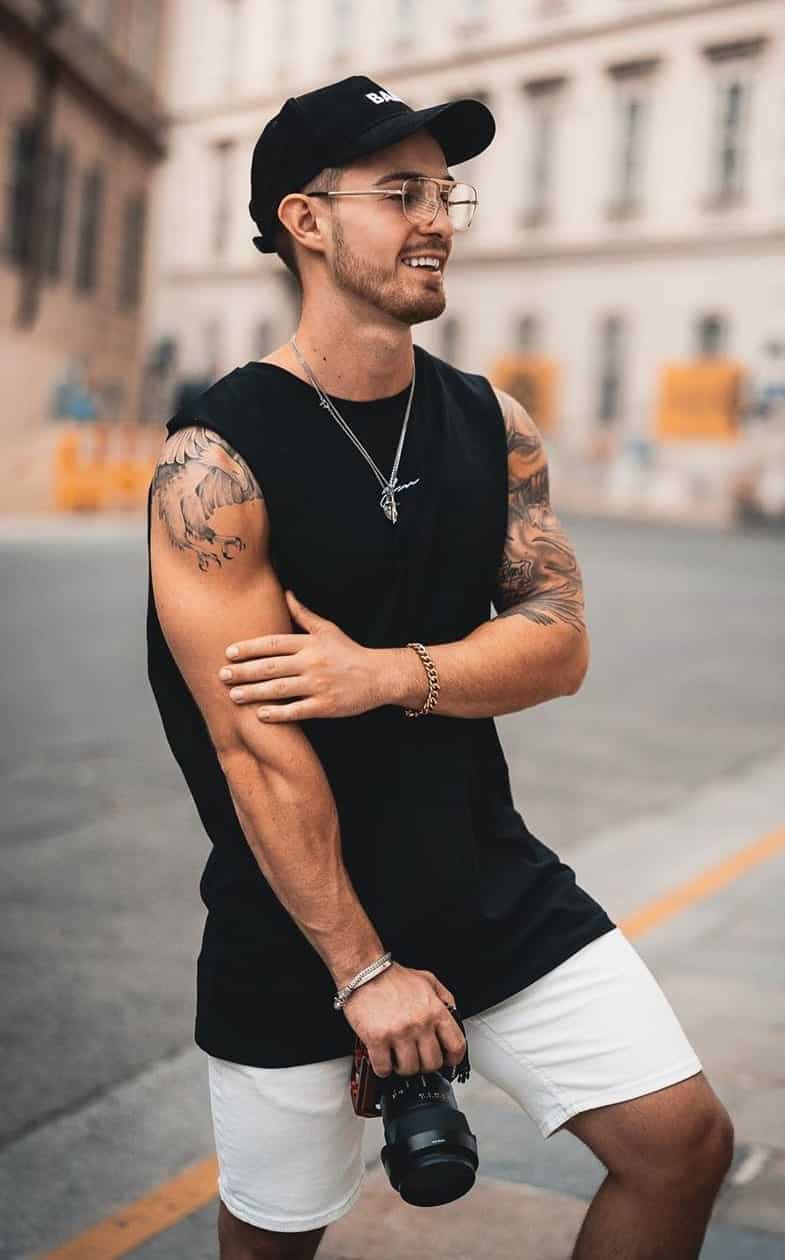 #22 – Accessorise 
Nerdy outfits are known to have certain accessories that make them look even more interesting. Aside from suspenders and long belts, you can opt for big, black-rimmed eyeglasses to achieve a nerdy look. And then go for colorful and patterned bow ties for a total package.
#21 – Wristwatch
Get a large one, preferably a cheap and old digital design (probably with a calculator.) But if you can afford a G-Shock or an Apple watch, then go – no one's stopping you.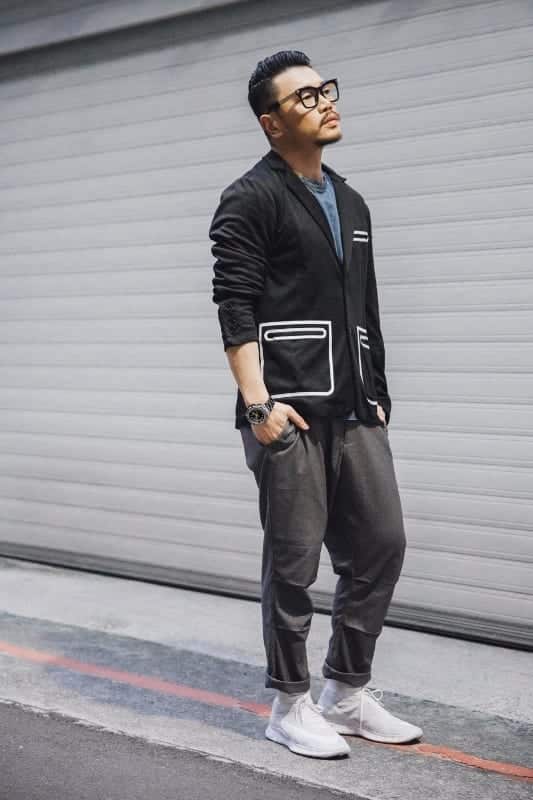 #20 – Suspenders 
Suspenders are part of a nerdy look. In fact, some guys love to wear it with a waistcoat layered with a patterned shirt. Remember that colors still matter even for a nerdy look, so try not to cause an eyesore through your combos.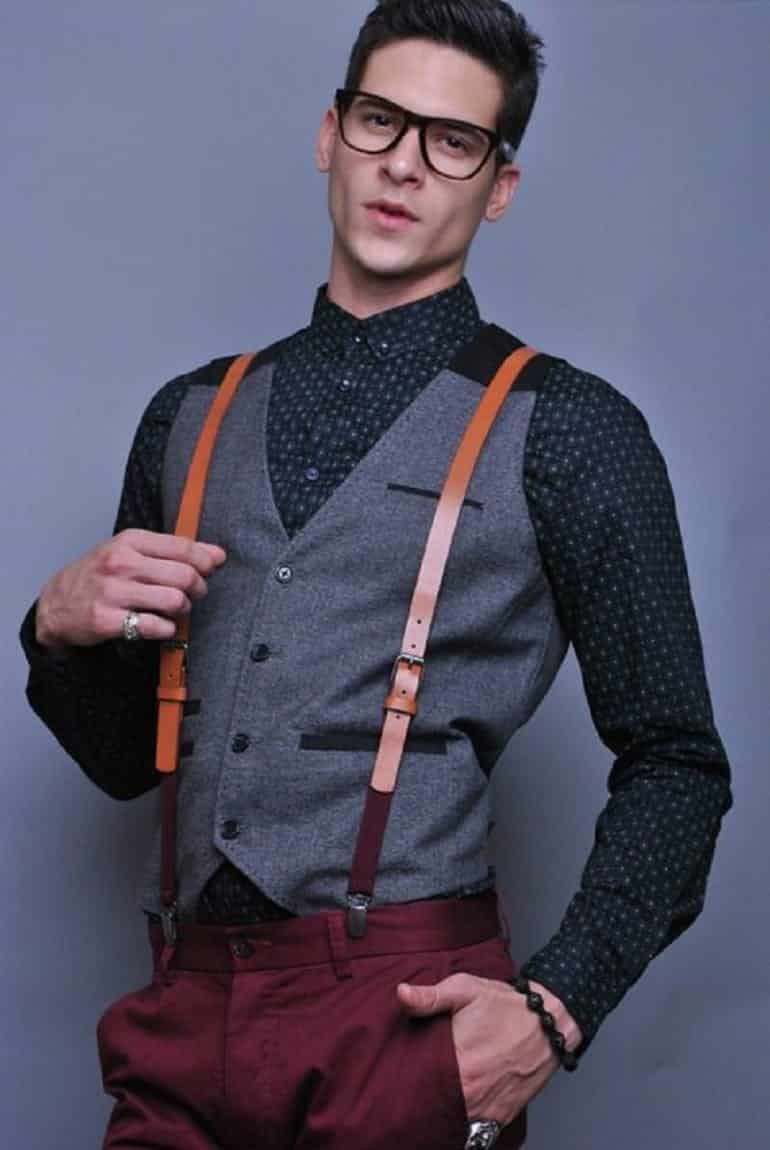 #19 – Hairstyle
Some people say that nerds just let their beards grow without getting bothered, but that's not true. It's not good to stereotype. In fact, they care about their hygiene a lot. Nerdy hairstyles include slicked-back, combed over. Grooming essentials like gel, pomade, and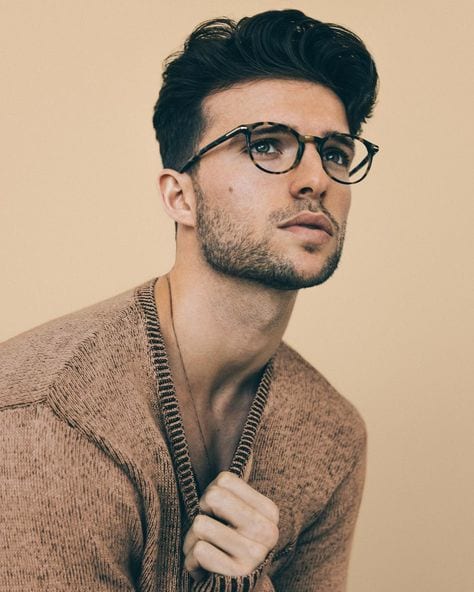 #18 – Winter Look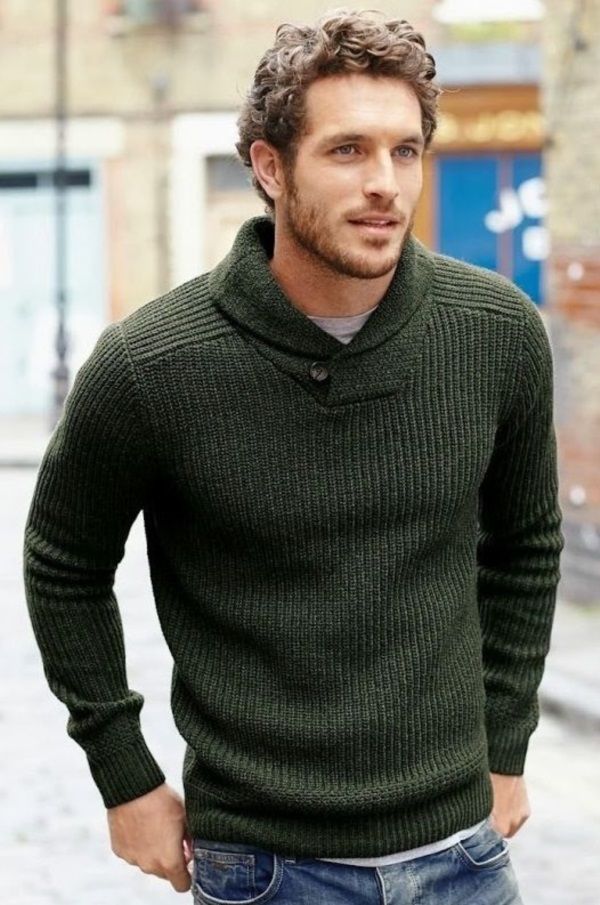 #17 – Nerdy Glasses Are A Must
Glasses are an absolute must to pull off a cute nerdy look. Go for bold black frames in any shape of your choice.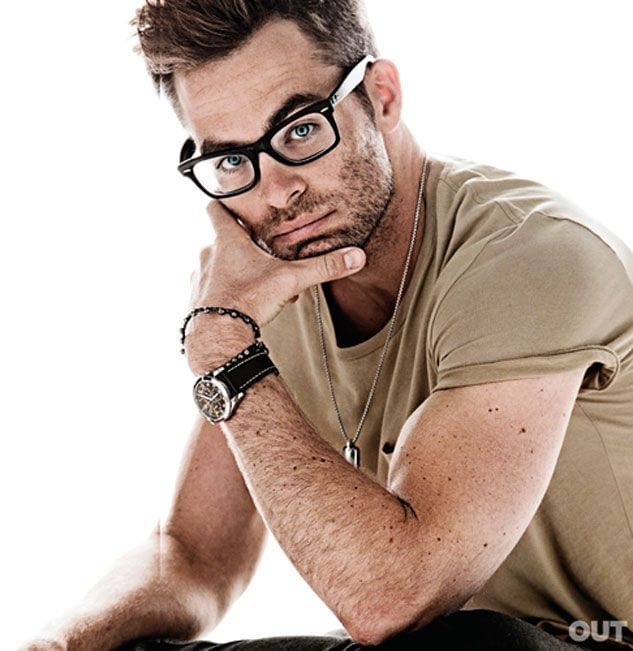 #16 – Add A Bow Tie
Bow ties work best for giving a nerdy look. Wear it with any sweater or collar shirt to achieve your desired cute nerdy look. This is a perfect nerdy look for teen guys. Here's a complete guide on How to Make Bow Tie and 16 Cool Ideas to Wear Bow Tie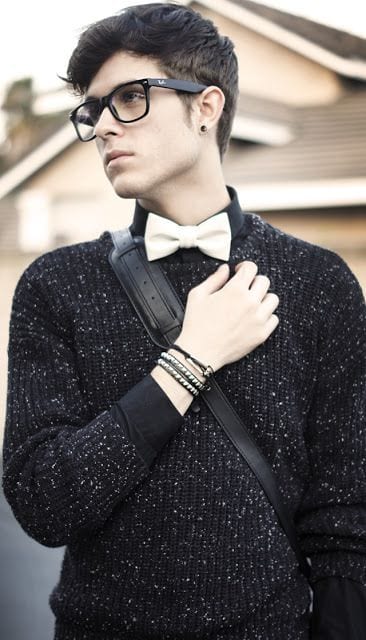 #15 – Waistcoat For Men
Waistcoats look absolutely sexy and give a classic geeky look. For more ideas, have a look at Men's waistcoat styles
The best thing about waistcoats is that they can be worn with anything. No matter what kind of color combinations you are going to wear, waistcoats will never disappoint you. For example, you can go for a light blue dress shirt and wear a matching waistcoat and dress pants with it. For extra spice, you can wear brown oxford shoes as well.
#14 – Tie With Cardigan
What can look more stylish than a tie worn with a cardigan? This combination is a must-try! Who thought that cardigans could be worn with dress pants and dress shirts.
Well, you can wear your fav cardigan on top of any dark-colored formal pants and plaid print dress shirt. You can also add a matching or contrast tie to go with this outfit idea.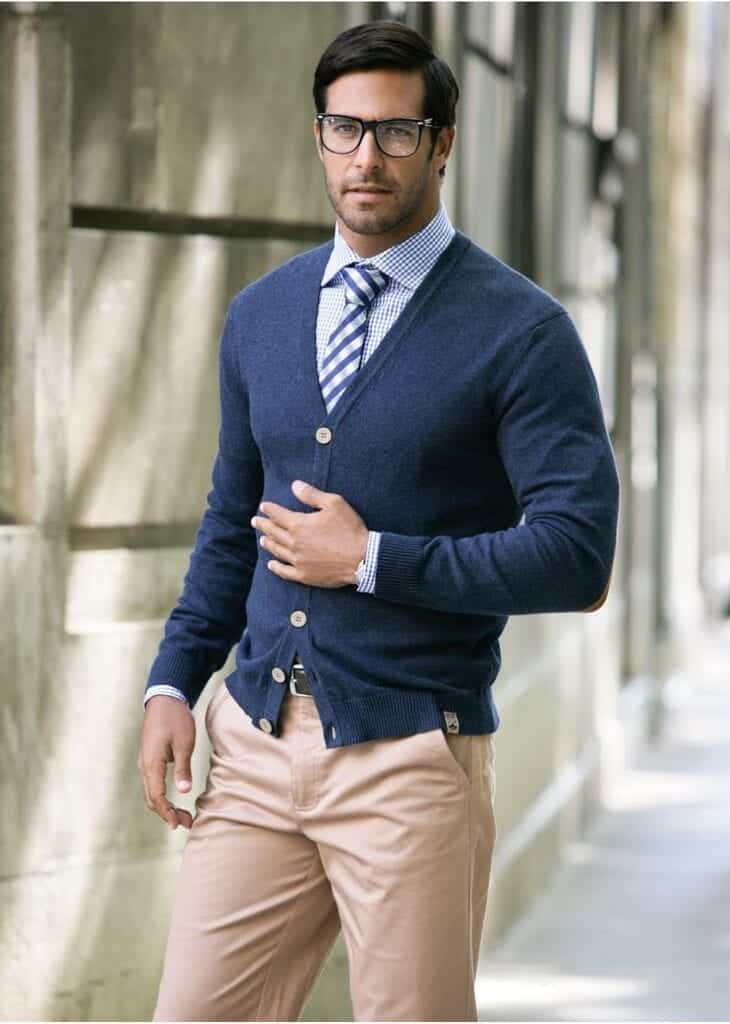 #13 – Cool T-Shirts
Cool and funky t-shirts look incredibly perfect on nerds without making them look like a weirdo. You can go for any funky t-shirt with cool stuff written on it or has funky drawings on it. Pair it up with formal brown pants or brown sweatpants. You can also add your favorite pair of sneakers to go with this look.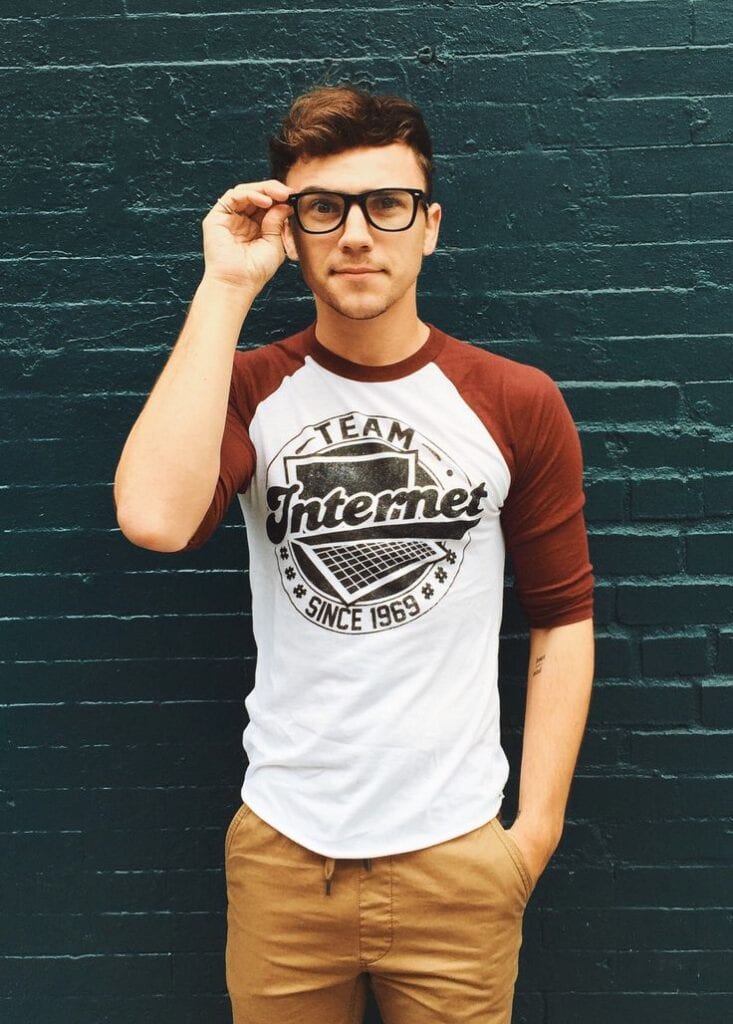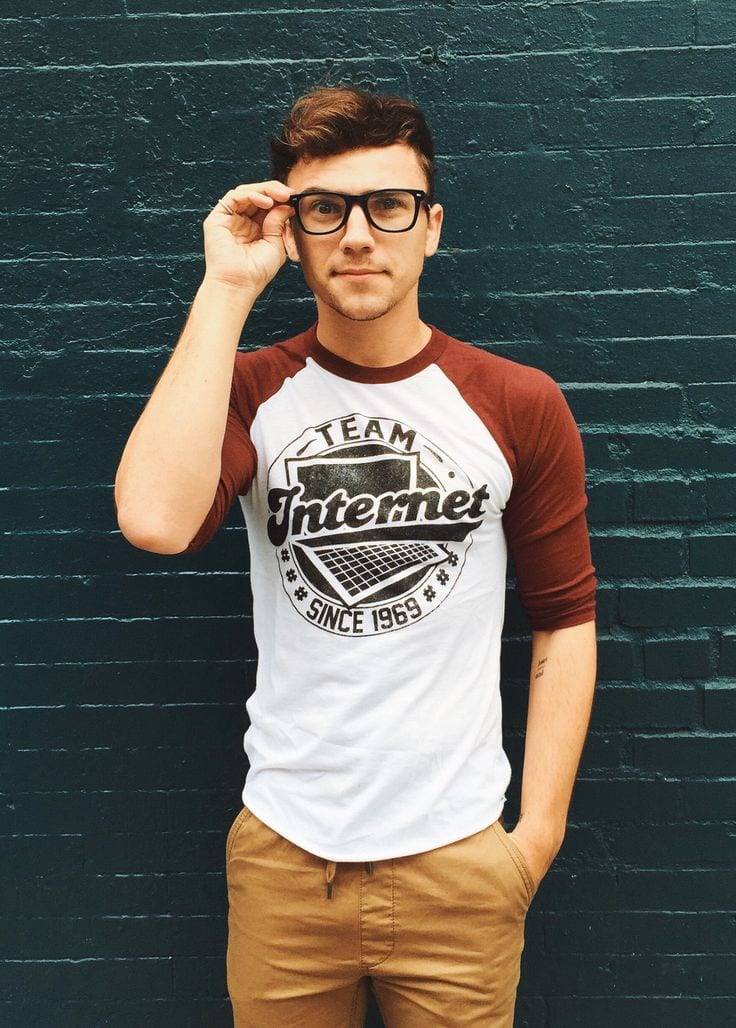 #12 – Simple Blazer With T-Shirt
Blazer and t-shirts look amazing in opposite colors. This outfit combo can be worn to college or even to the office because of its simplicity. All you have to do is to wear dark-colored jeans and on top of it wear a bright and popping colored t-shirt or tank top. For example, you can wear a light pink tank top. Over this tank top, you can add a plain blazer, and this blazer has to be in the same color as your jeans.
#11 – Suspenders With Jeans
No matter who is wearing these suspenders, they never disappoint anyone. They make the person look thinner, in case you are chubby. For this outfit look, you can wear blue jeans with suspenders. You can wear a matching tie with it and tuck it inside your shirt to make it look fancy and funky. Check out more ideas on 20 Best Men Outfits With Suspenders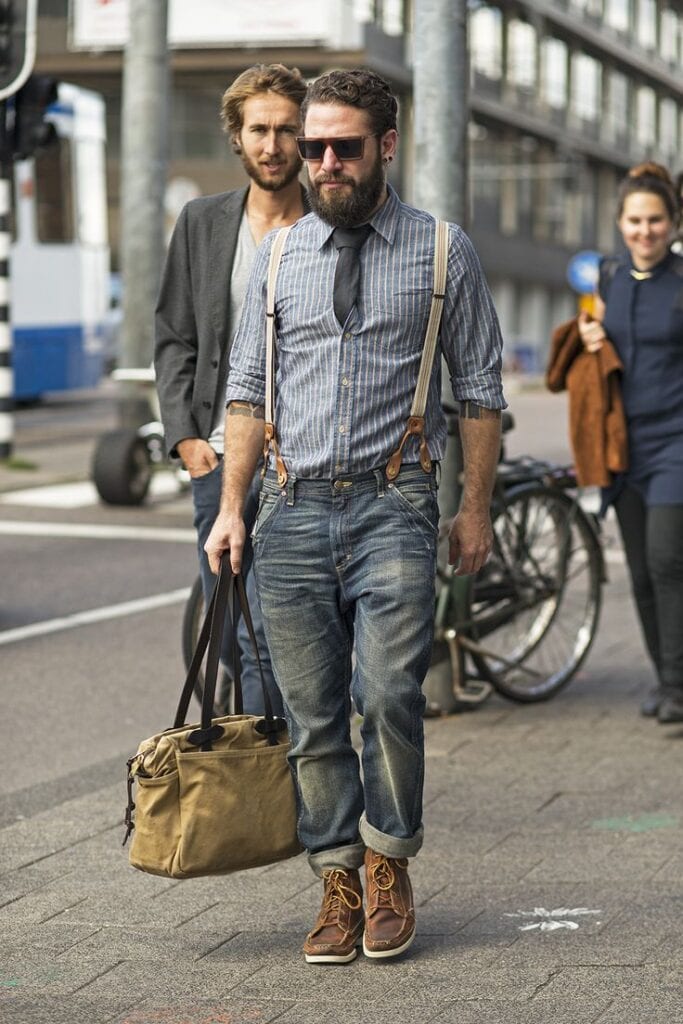 #10 – Printed Dress Pants
How funky are these dress pants? Printed dress pants paired with a formal shirt, coat, and tie will give you a charming and modern nerdy look.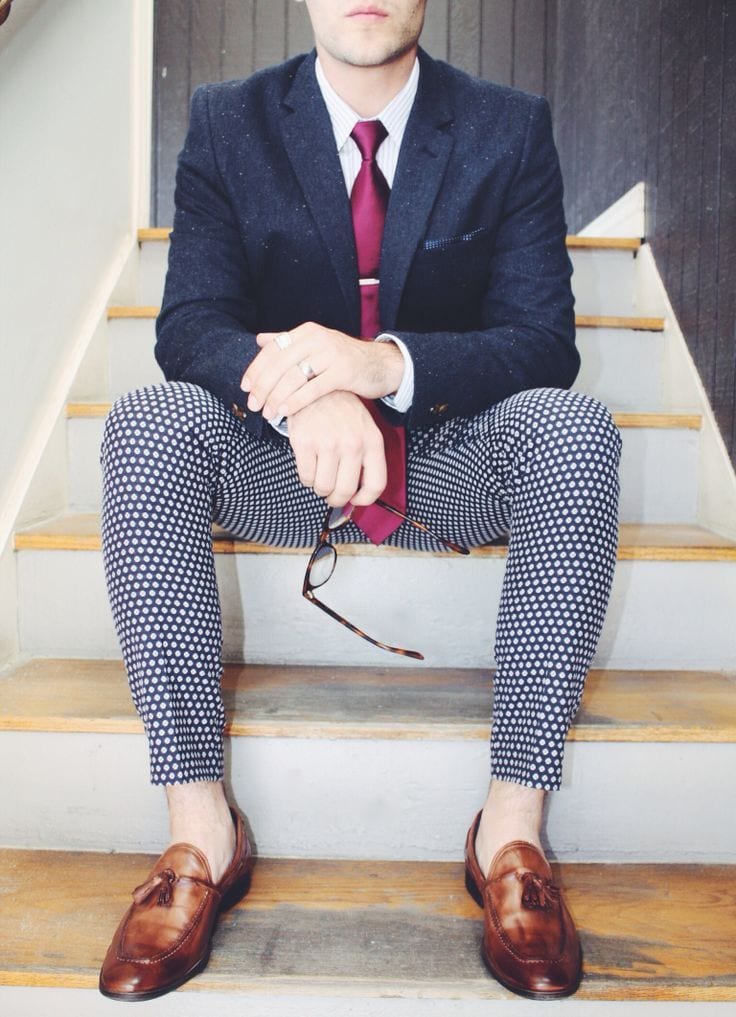 #9 – Chambray Collared Shirts
Chambray collared shirts are a total win! You can wear them on their own or with a tie for a cool, sophisticated look.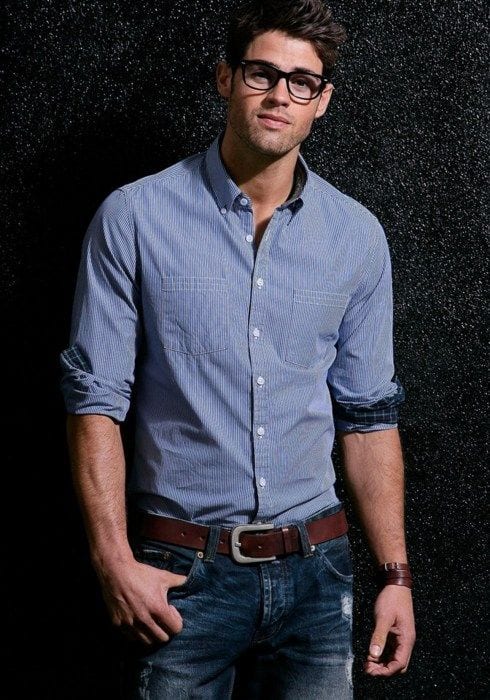 #8 – Checkered Shirts For Casual Look
Checkered shirts never go out of fashion and look super cute. Pair a checked shirt with denim jeans for a casual look. Plaid pattern shirts are available in every color and in any design from which you can choose. The most worn ones are red and black plaid patterns.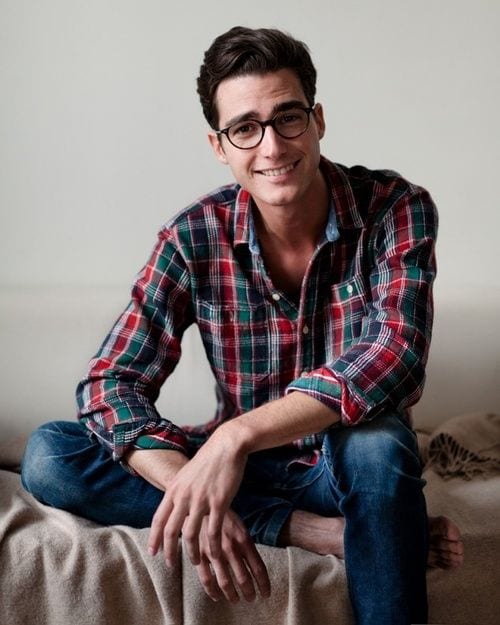 #7 – Simple Mufflers
The muffler will add the finishing touch to your outfit. Wear any simple muffler that goes well with your outfit and rock that nerdy look.
#6 – Striped Shirts For Boys
Striped shirts are the best option not only for girls but also for boys. They look super cool if they are with the right combo. For instance, you can wear your favorite black and white striped full sleeves shirt with blue jeans and brown shoes.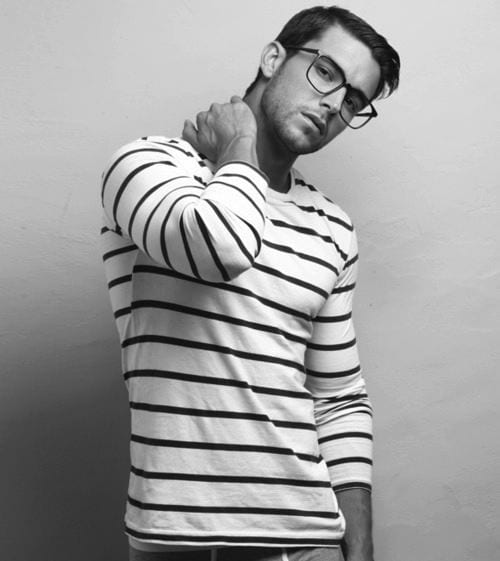 #5 – Polo Shirt With Shorts
This combination of a polo shirt with shorts is super cute and geeky.

#4 – Leather Jacket Over Dress Shirt
Leather jackets look super handsome! You can wear a leather jacket over a dress shirt and sweater to further style your outfit. Leather jackets can be found anywhere, in any color, and any style.
You can either go for leather jackets that have complex style and pockets on them, or you can wear the ones that are plain black leather ones.
Either way, both of them will look perfect on a nerdy guy with glasses. If it is extreme winter, then you can wear a sweater underneath the jacket for extra warmth.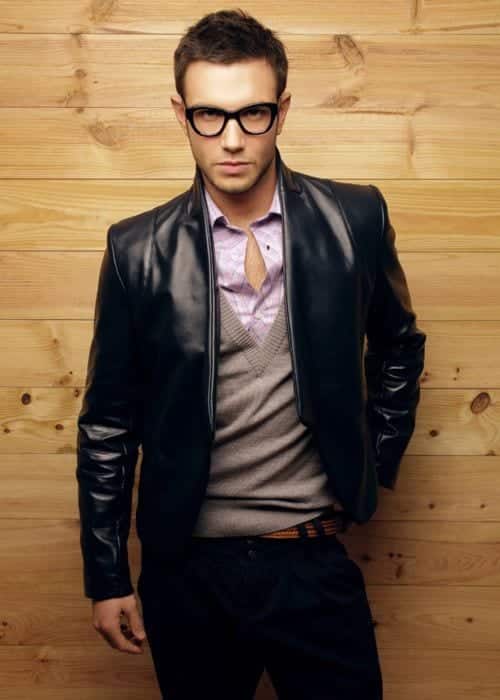 #3 – Backpacks For Nerdy Look
What are the odds that a nerd is a bookworm? Well, on the scale of 1 to 10, it's 12! I mean, it's a no-brainer that a computer geek would have tons of books, so it's essential to have a large backpack to carry them everywhere.
Nerd guys prefer vibrant bags with lots of pockets. Alternatively, you can opt for a canvas bag, messenger bag.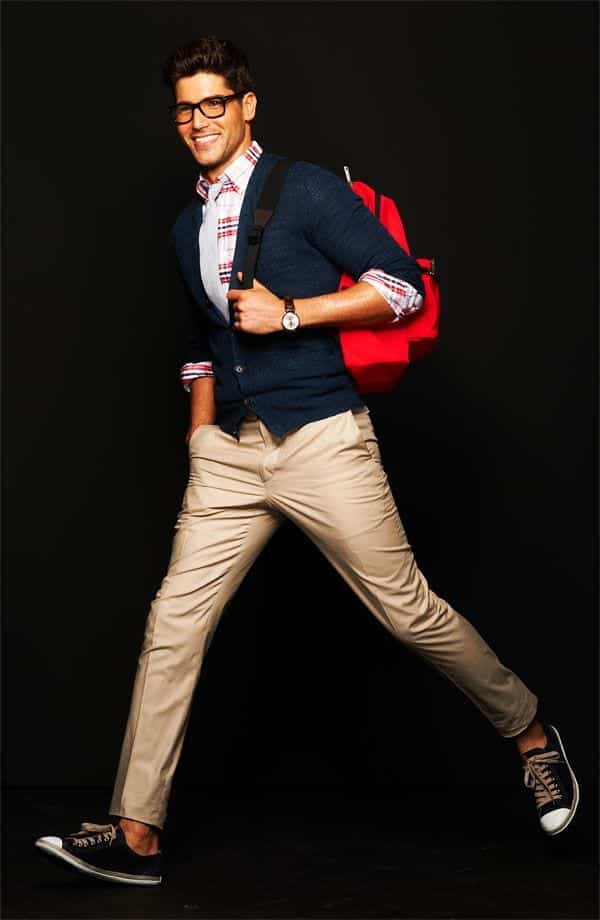 #2 – Hats
To further enhance your nerdy look, you can wear a hat that matches your outfit. Cowboy hats look perfect with dark-colored denim jackets. You can wear a white vest or plain white t-shirt inside your denim jacket and then wear dark blue colored jeans underneath.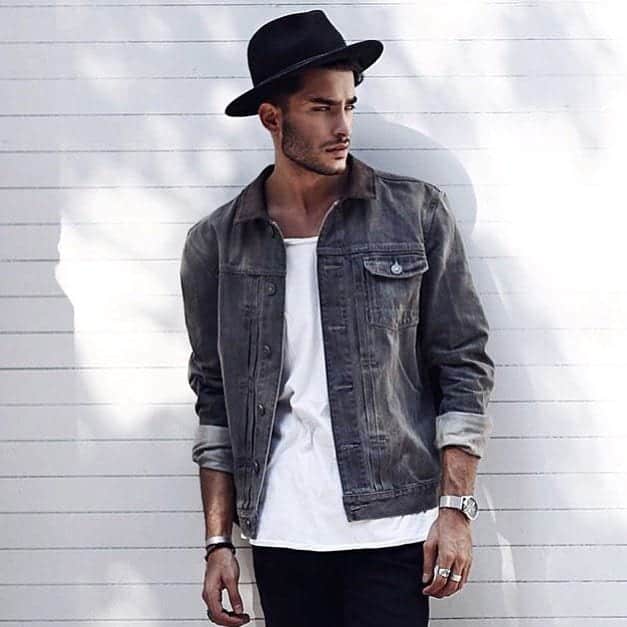 #1 – Nerdy Look For Teenage Boys
Create your nerd outfit. Pair a casual shirt with denim jeans and wear it with nerdy accessories like glasses, converse shoes, a hat, muffler, and a stylish belt.
Frequently Asked Questions
Q. What is the difference between geeks and nerds?
A. There's really no difference at all. They are both described as people who love techy stuff, sci-fi TV, comics, and math. They know lots of things about a certain topic. It's like they can answer any question you ask. In fashion, they both consider thick-framed glasses as a must, along with large backpacks, analog wristwatches, and bow-ties.
Q. Why were nerds bullied?
A. Some people referred to nerds as foolish and socially awkward and embarrassing. Others also described nerdy guys as individuals with no sense of style, which is considered a major turn-off for some girls. Luckily, today, it's not that big of an issue as fashion enthusiasts are starting to love nerdy outfits, and they even include them in cosplays.