Men Waistcoats Styling Ideas. Waistcoats can act as another layer in your outfit. It can also work as another color, a touch of pattern to your look. Vests can be easily accessorized, which gives them more personality.
Add a pocket watch for a bit of sophistication or a handkerchief for a splash of contrasting color and depth. From formal to casual looks, waistcoats are a little tricky to pull off. Some can be paired with jeans while the others look like two unmatched puzzle pieces forced together. Jackets are such a versatile item of clothing that it is easy to incorporate them into your chosen style, whether it be casual, formal, wedding gear, swag, steampunk, or even Gothic. Waistcoats are such a versatile item of clothing that it is easy to incorporate them into your chosen style, whether it be casual, formal, wedding gear, swag, steampunk, goth, or even Victorian. It is also important to note that waistcoats do not just appear once in the year; they are around during every season, whether as a feature piece or part of a two or three-piece suit. Use them to their full potential. This post contains 18 great ideas on different ways guys can use a waistcoat to jazz up their look. Why not use them to create your look incorporating a waistcoat?
How To Wear A Waistcoat?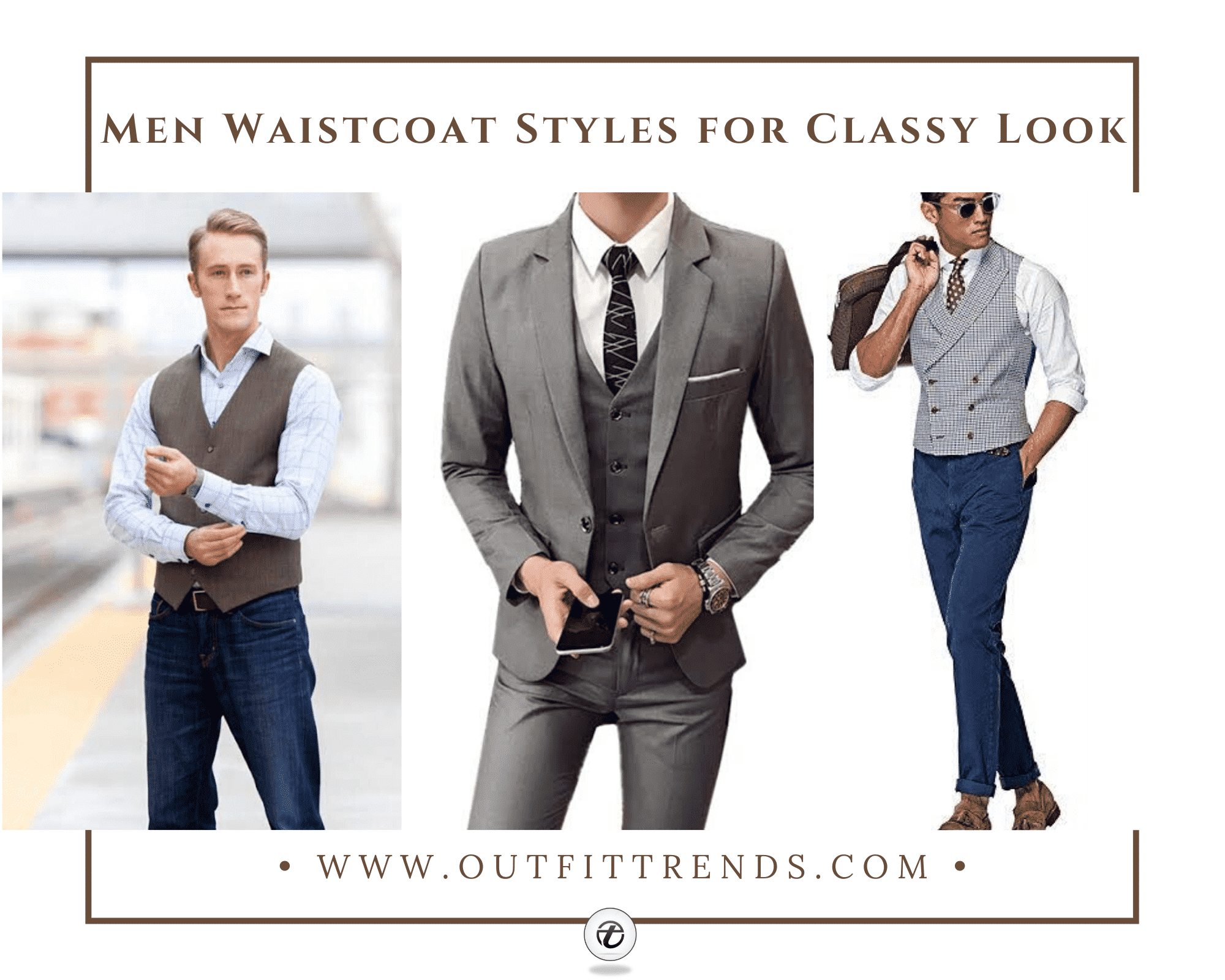 Tips on how to pull off a waistcoat:
Fitting: One of the main things to consider while wearing a vest is to make sure it fits properly. You would not want to wear an un-fit waistcoat.
Always button up: Do not ever leave the buttons of a waistcoat open. They are there for a reason
Shirt tucked in: Make sure the shirt beneath the waistcoat should be properly tucked in. Nothing should come below the waistcoat.
The fabric of the waistcoat: The finish of the fabric matters on different occasions, cotton, and tweed, are the most common fabrics used in the stitching of a jacket
Cotton Waistcoats: Cotton waistcoats are usually worn on formal occasions. They are typically matched with a suit.
Tweed Waistcoats: Tweed waistcoats are worn more casually. They can be paired with jeans and a half sleeve shirt on informal occasions.
Single Breasted Waistcoat: Single breasted waistcoats have a single row of buttons in the front. They are more modern compared to the double-breasted vests. They give a sleeker figure and do not come with labels on them.
Double-breasted waistcoats: Leave double-breasted waistcoats for occasions with a strict dress code. These are more traditional compared to the contemporary single-breasted ones.
Colors of the waistcoats: For formal occasions stuck with black, navy blue, or shades of gray such as charcoal grey, or Davy gray.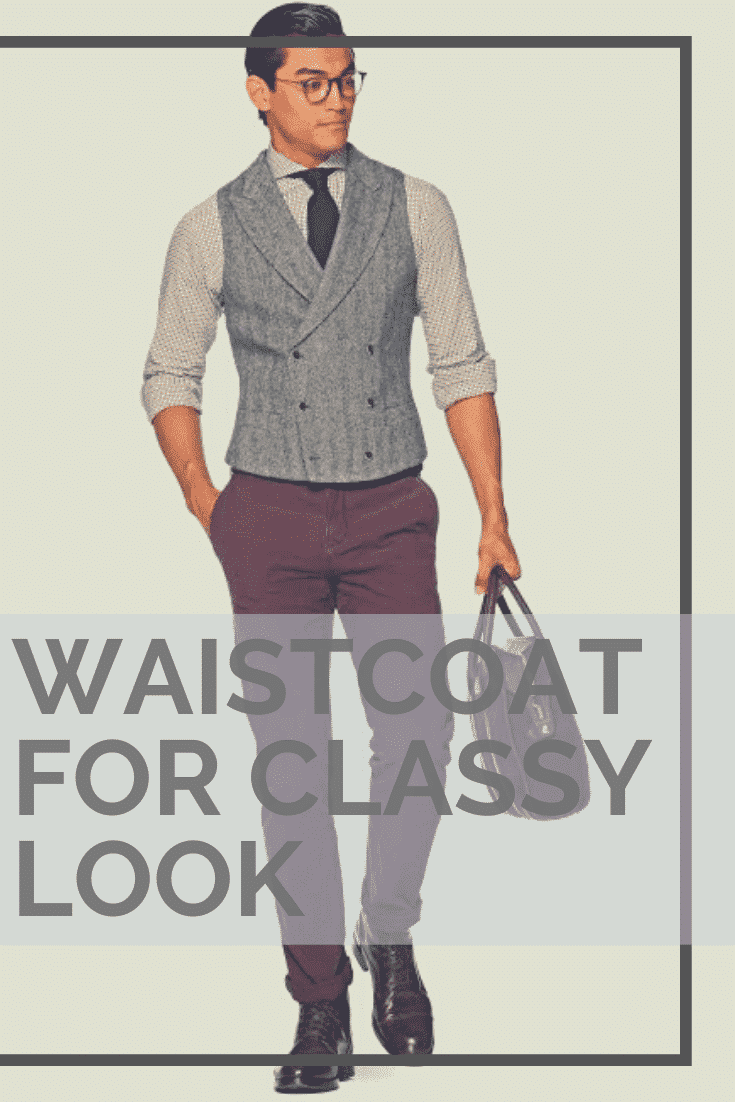 ↓ 18 – Smart Casual Way
Woolen waistcoats add a touch of sophistication to any casual attire. Match this with a shirt, a tie, and jeans for a formal look and a balanced finish. Pair with some good quality Oxford shoes and scarf accessory to make the attire even more dashing. Check out our complete guide on Shoes with Skinny Jeans for Men.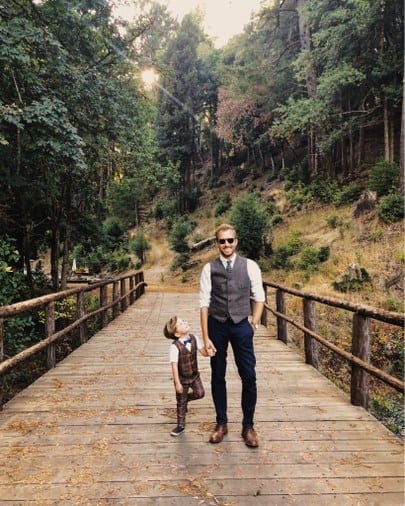 SHOP THE LOOK HERE:
VOBOOM Men's Slim-Fit Herringbone Tweed Wool Waistcoat -$56.99
Boys Plaid Suits Formal Dress Blazer Vest – $39.49
↓ 17 – Casual 
Students like a casual yet stylish and smart dressing. This look is perfect for them. Fitted waistcoat over rolled up buttoned shirt. Two-tone jeans and shoes match correctly. A belt and satchel make for great accessories to complete the outfit.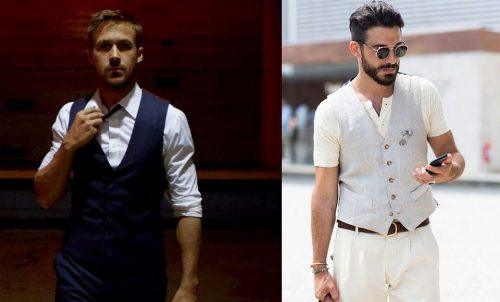 ↓ 16 – Waistcoat with Hood
Stunning woolen hooded waistcoat. Perfect for city styles, swag looks, or even just a simple winter attire. These kinds of jackets with hood just came out in the trend, and they look extra special to everyone who wears them. You can find them in the market nowadays in many different colors and different varieties.  Her are some super cool Men's Ripped Jeans Outfits.
Via
↓ 15 – Street Style
Make great use of blue. Different shades in jeans, shirt, and waistcoat complement each other beautifully. Finish with a large bag and contrasting footwear. If you are bold enough, try experimenting with vivid colors such as bright yellow or maybe red. These work great in the summertime. This look might not work for a family dinner, though. Unless you want to be the butt of everyone's jokes. Imagine all those dad jokes from your uncles and criticism from your fashion impaired grannies. But, on the city roads, you can walk like it is your runway and no one is better dressed than you in the block.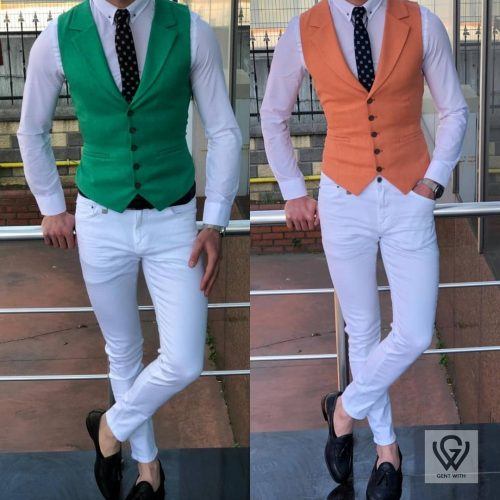 ↓ 14 – Festival Rugged Style
Casual style too, this look uses layers denim shirt, plaid waistcoat, and denim jacket with matching patches. Brown beanie hat and beige trousers to match. Great use of contrasting browns and blues. These colors together complement one another and go great together. Festivals are a great place to rock vivid colors and colorful patterns. Check out the best ideas for Festive Attire for Men.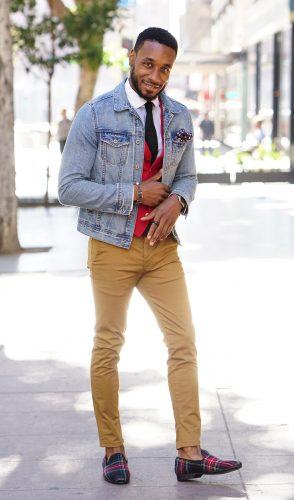 ↓ 13 –  Smart Look
Almost emo style with pinstripe waistcoat, jeans, dark gray shirt, and a small, contrasting bow tie to finish. Messy hair look is acceptable, nearly attractive. Wearing a striking bow tie works perfectly with this outfit. Bright colors in this will look amazing. This outfit idea is perfect for guys who love to wear emo dressing and want to wear them even to formal settings like meetings or to their workplace.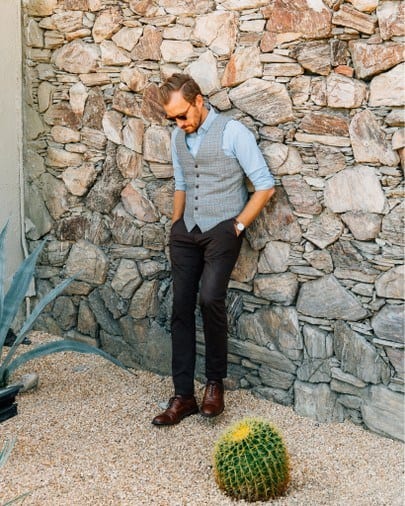 SHOP THIS LOOK:
Zicac Men's Unique Advanced Custom Vest Skinny Waistcoat – $39.99
Mavi Men's Johnny Slim Leg Chino – $118.00
↓ 12 – Eccentric Style  
Be bold. Have little fun with your wardrobe by mix-and-matching a vividly patterned waistcoat that you usually would not wear. Add a bright-colored look into the equation for more of an eccentric style. Stop caring what others will say and judge, be a trend-setter, and divergent. Change up your hairstyle a bit, too, to get the full experience. Also, check out these Preppy Hairstyles for Men-20 Hairstyles for Preppy Guy Look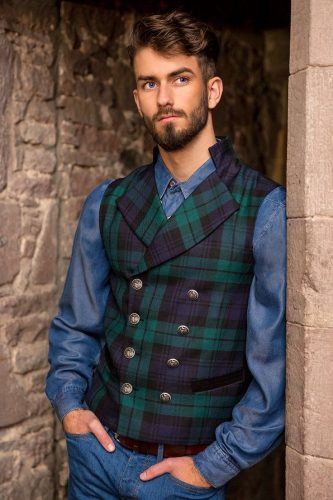 Via
↓ 11- Nautical, Preppy Look
The preps can use waistcoats too if done right. White, beige, and navy blue are ideal colors for this combination. Although these are not the only colors of choice. Shades of browns with red and a little bit of white also give a fascinating outfit. Finish this look with simple trilby and beautiful boat shoes. Recommended: 15 Best Ways to Dress for Preppy Look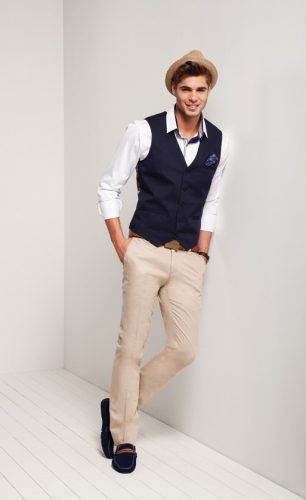 Via
↓ 10 – What To Wear With A Grey Waistcoat
I love this look. Victorian theme with braces and bow tie. A waistcoat is fitted, and the colors match beautifully. This outfit gives a charming boyish look that we all sometimes wish to let out. Here's our guide on How to Make Bow Tie and 16 Cool Ideas to Wear Bow Tie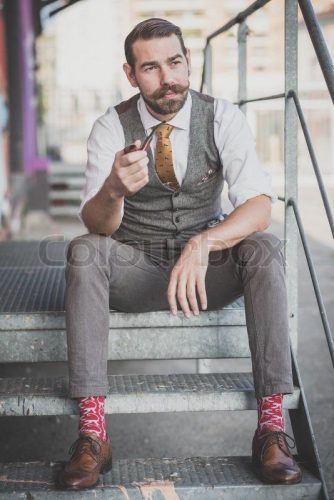 Step by Step Video Tutorial: How to Wear Waistcoat
↓ 09 – City Style
For a typical New York-style, go with a patterned shirt and a plain waistcoat. Do not mix and match patterns. One of the articles has to be dull if the other is patterned. Add some loafers as they are comfortable to walk the city in, yet stylish at the same time. Sunglasses are also an excellent little accessory that you can use not just for blocking the sun but also to complete the task of looking dashing.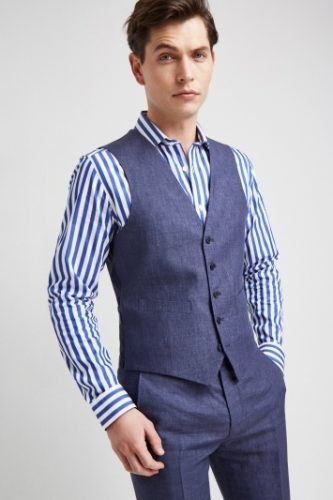 ↓ 08- Royal Ascot
Ascot is a colossal event that sees the mass influx of very formal attire. The waistcoat is seen throughout this event. The gold jacket stands out in this outfit, making it look amazing. These are usually seen in weddings and celebratory events. Do not go to a meeting wearing a gold-colored waistcoat, though. It will only result in you being over-dressed and made fun of. These waistcoats are especially for royal and fancy events as they are incredibly fancy.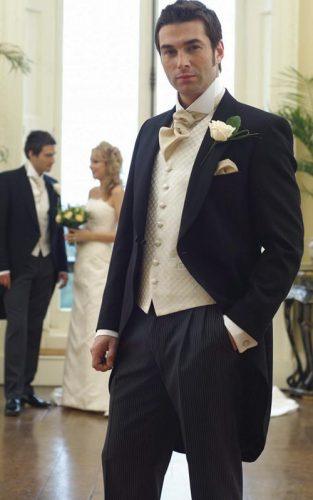 Via
↓ 07 – Wedding Two Piece
Ideal suit for a wedding. Matching waistcoat and trousers with a black suit jacket and crisp white shirt. I would lose the festival bands though, as this is a formal look. This outfit idea is perfect for meetings or any formal gatherings. You can wear grey colored pants and waistcoat and then add any dark-colored official coat on top. For tie and handkerchief, you can wear them in a dark blue color. Oh, and don't forget to add brown loafers or brown oxford shoes. Brown shoes would complement the black or grey suit perfectly.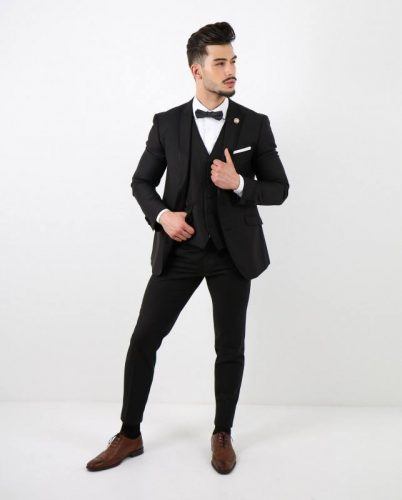 Via
↓ 06– Wedding Style
Wedding style using blue shades. Contrasting brown oxford shoes would make this outfit look stunning. No groom is complete and ready for a wedding without a waistcoat. You can wear a dark blue colored jacket with matching colored formal pants. Although it is not necessary to restrict yourself to only blue. Black, grey, white, and other monotones look just as attractive. For the wedding, don't forget to add a small bunch of flowers on one side of the shoulder, or maybe a pocket square. This will add a fancy and sophisticated touch to your dress. Do check out these Engagement Outfits for Men.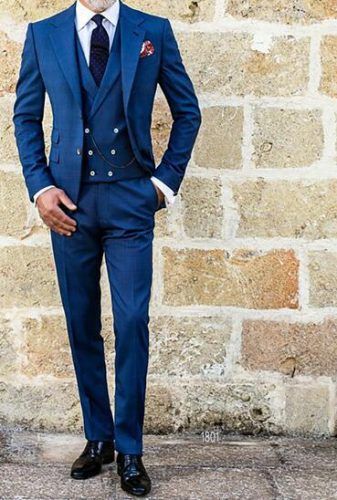 Via
↓ 05- Summer Travel Style
Blue waistcoat over a blue shirt with pale brown jeans and casual trainers. Finish this look with shades, a pocket watch, a handkerchief, and a bag. This outfit idea is all about going for mixing colors, for example, you can wear light grey colored denim pants and then wear a light blue colored formal shirt, you can also go for top two buttons opened. For waistcoat, you can wear dark blue colored. If you want to go for a semi-formal look, then do wear blue colored sneakers to give the complete casual or semi-formal look.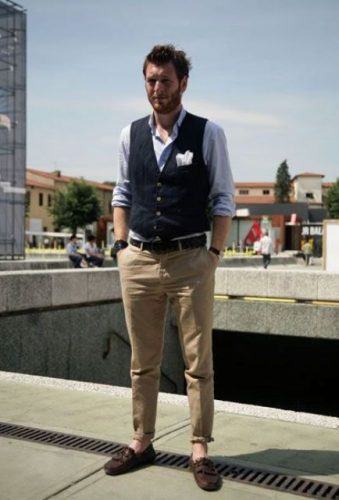 ↓ 04- Fashion Blogger Style
This has an almost mafia-style look to it. Here is your chance to channel your inner Tommy Shelby. Lovely matching waistcoat, jacket, and overcoat. Black trousers, Brown trilby, tie, and oxfords complete this look. This look is all about going for a grey colored three-piece suit. If you are the kind of guy who loves to wear neutral colors like grey, white, off white, etc. then this outfit idea is perfect for you. For pants, you can wear dark blue formal suit pants. Black would also be recommended. As for a waistcoat, coat or long coat, you can wear them in a light grey color. For the inner formal shirt, go for off white color. In accessories, wear a dark brown colored tie, hat, and shoes. Some people don't realize the importance of accessories. They are essential in giving your attire the final touches that add to its enchantment. Don't miss out these Amazing Men's suits combinations to get a Sharp look.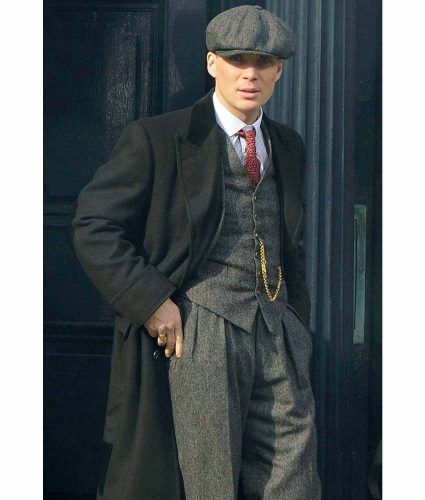 ↓ 03- Smart Casual
Great look incorporating black waistcoat, blue shirt, silver tie, and dark blue jeans. Finish this look with brown loafers and a handkerchief. This outfit idea is all about going for a total blur theme. You can wear blue denim formal shirts, with dark blue formal waistcoat along with dark blue rolled denim pants. For more ideas, check out Brown Boots Outfit for Men.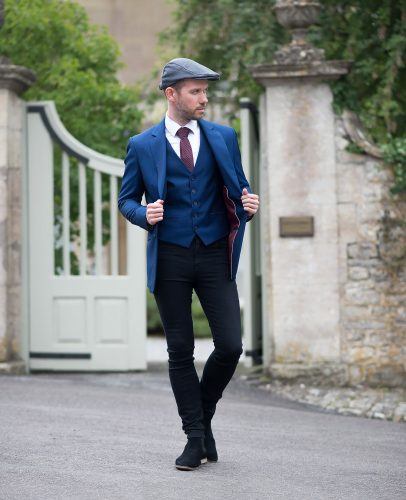 ↓ 02- Waist Coat with Denim Jacket
Great look for students using waistcoat and contrasting colors. A white shirt, brown vest, denim jacket, and a red tie are all fantastic components. I would put jeans with this look instead of rolled up trousers because jeans go better with denim. Finish this with some beautiful oxfords. But the rolled-up denim in dark color looks extra amazing, and you can also add a dark brown or maroon colored tie and oxford shoes. Don't forget to add chunky bracelets to complete the whole look.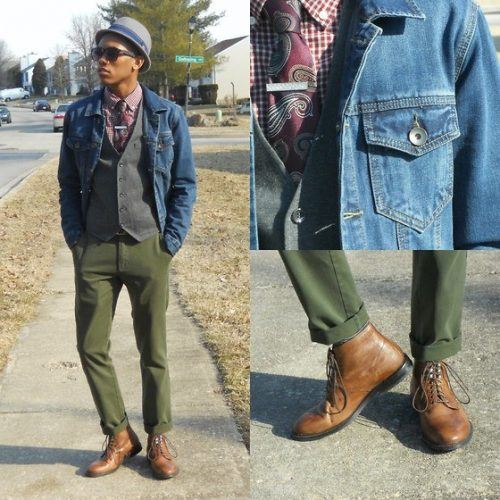 Via
 ↓ 01- Suave Biker Look
A black leather biker style jacket over a white waistcoat looks terrific. The blue striped shirt adds pattern, and along with the jeans adds color to this look. Finish with rounded sunglasses. Wearing vests on top of formal shirts and then layering jackets on top it is a perfect combo for winters. The best thing about this combo is that you can wear any color, whether they are contrasting ones of matching ones, every color will look perfect with this dress idea. For footwear, you can go for sneakers or even some classy Oxford shoes in brown color.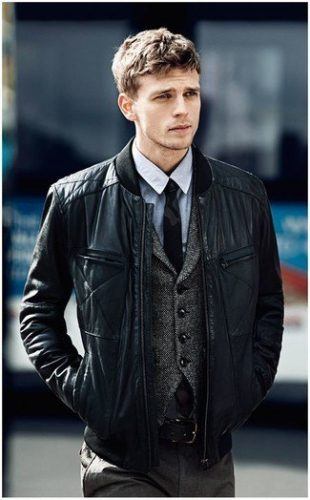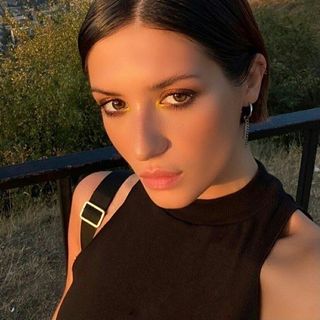 Avid reader and Fashionista. London Based freelance lifestyle editor