Disco Party Outfits For Men. Finding the perfect disco outfit is hard. First, not every '70s-inspired outfit would look good in you, and that's the reality in fashion. Thinking of what should a man wear to a disco? Well, this curiosity would lead you to another question: What did men wear in the 1970s?
In the 1970s, both men and women used fashion to express their sense of individuality. Disregarding general style rules weren't exactly much of a big thing back then. In the early '70s, men struggled in finding their style as many fashion groups started to emerge. This is the decade of hippie, peacock revolution, glam rock, and you guess it – disco.
How To Dress For a Disco Party?
People in the '70s wore bold and daring outfits. The 1970 fashion staples include bell-bottom trousers, platform shoes, long collared shirts, tight tees, vests, rollneck sweaters, and fancy leisure suits. And men also enjoyed playing with various colors and patterns, incorporating them into their outfits.
If you are tired of wearing the same set of outfits for the whole week, then it's time for some overhaul. And it's not limited to trying out the latest trends and buying from designer brands. More often than not, it would be helpful to get some inspiration from wonders of the past.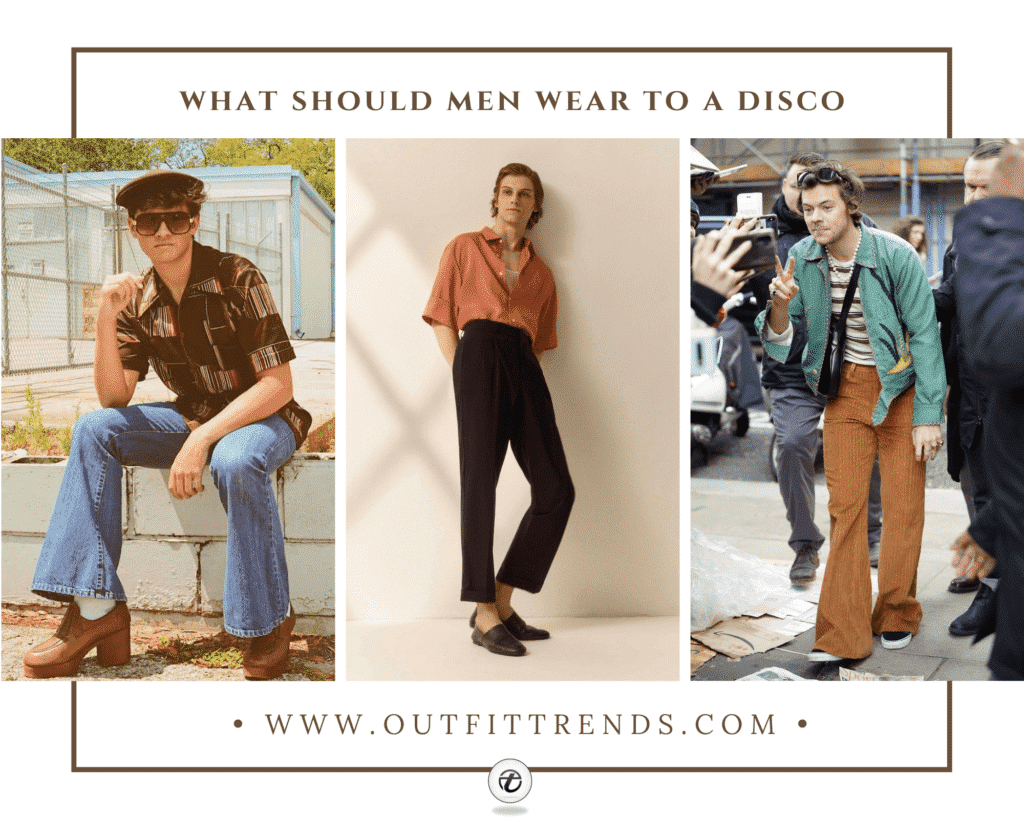 What Is A Disco Party?
The disco's origin dates back to the 1960s, but it wasn't until the '70s when it became popular. It is associated with genres like funk, soul, pop, and salsa. Its repetitive beats and electronic sounds are what makes it unique from others.
It was in the late '70s when disco came into the spotlight, bringing a different kind of music. Disco parties are not that popular today, compared to how they were back in the day. However, some men still love to pay a glimpse to the past by having or attending '70s-themed parties, like discos.
Tips On Disco Outfits
Take it easy. For instance, you don't need to wear a fake mustache and a long wig, especially if you're not up for that! You can still style a disco outfit right without having those things. Focus on the main outfit instead.
Last-Minute Outfit Idea. The disco party is upon you, and you don't have enough time to buy a new outfit. What to do? Well, start with grabbing your best pair of jeans, and then pair them with an open-collared shirt. And finish off with some disco accessories and platform boots.
Grooming. Your hair would either make or break your outfit. Imagine walking to a disco party in a full costume, but your hair looks like you're there for a business meeting. The point is if you're up for an all-out disco party look, you might as well get on with it. But if you're not, it's also fine.
Find your style. It will be easier to choose an outfit if you know where you're going. Select one from the defining fashion groups of the '70s, so you'll know what to incorporate into your disco ensemble.
Colors. For a quick and easy retro look, combine black and orange. And please do not mix orange with brown. Instead, layer a brown outfit with lighter shades like cream or beige.
Patterns. Paisley, tie-dye, floral, checks, and stripes were popular in the '70s, making them ideal for a disco party.
What To Avoid
Going all-out. Disco outfits are hard to pull off today. If you feel like the style is not for you, get a bit of inspiration from it instead. For example, start with adding subtle elements to your look, such as accessories, add-ons, etc. don't beat yourself up trying to wear full costumes. This will be helpful for "plus-ones," as they should opt for something laidback instead.
Where To Buy Disco Outfits
Search online for Disco Outfits For Sale, and you'll get myriad results. You can try visiting Wonder Costumes, Buy Costumes, Costume Supercenter, and Vintage Dancer. And don't forget to consider quality and price.
↓ 21 – Mature Men
It won't be that hard for older men to rock the '70s glamour. In my opinion, full discowear looks better in them than in younger gents. That said, it's ideal to opt for real disco pieces to really channel the '70s vibe. As such, consider a shirt with glitters for the shine that would likely take effect on the dance floor.
↓ 20 – For Plus Size
Suit designs in this particular period were more masculine than the previous ones. They had wider lapels and less conservative patterns that men started to see in the '60s. If you have a broad body frame, broad lapels can add proportion to it. But please avoid off-the-shoulder peaked lapels if you can.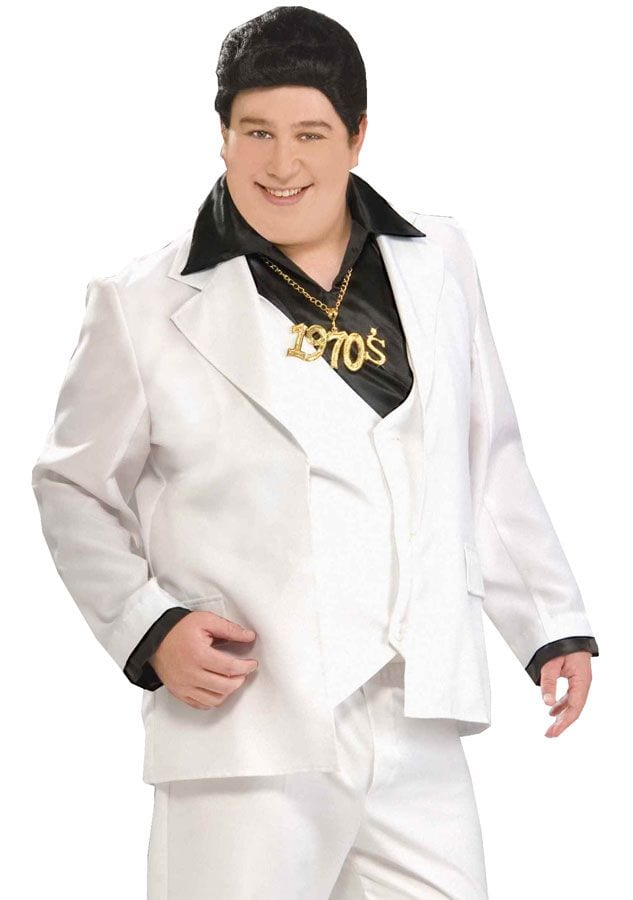 ↓ 19 – Corduroy Jackets
The '70s was the decade of textures. Aside from knitwear and suede, corduroy fabric or the "velvet of the poor"  was a staple in the '70s. This outfit combo is ideal for guests, especially for younger guys. To get it right, throw the cord jacket over a polo shirt. And make sure that the shirt is tucked into your grey chinos; otherwise, it'll look sloppy. Here are more ideas on Men's Corduroy Pants Outfits.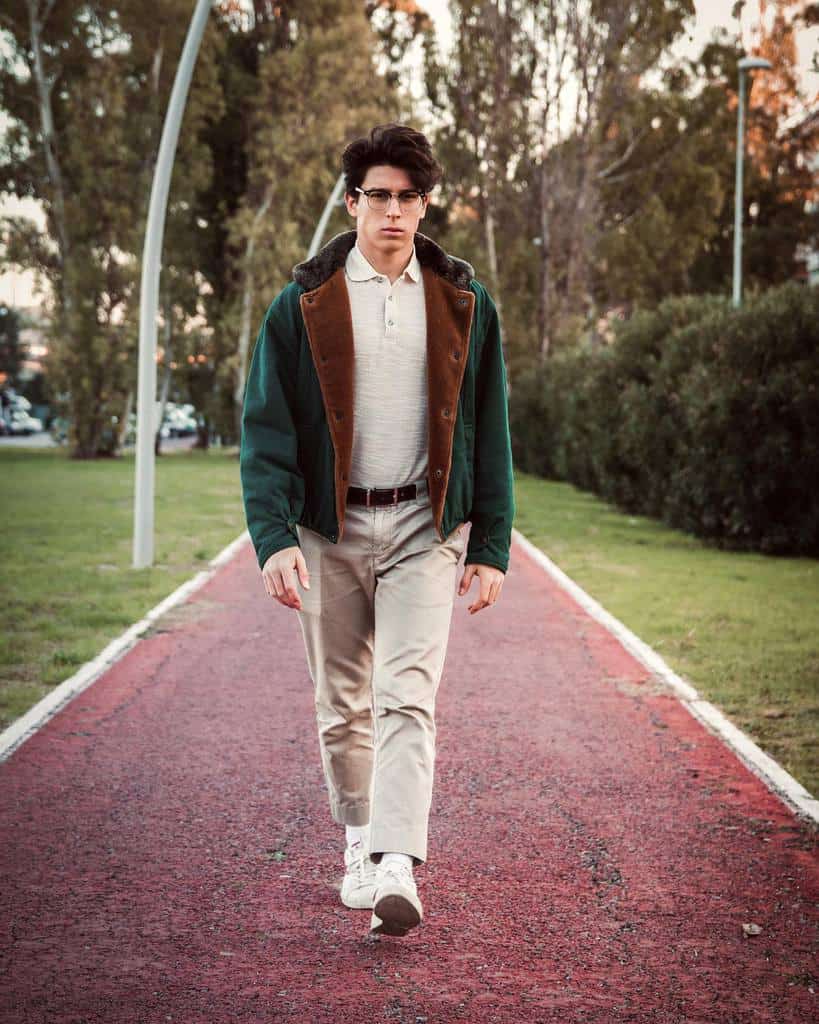 ↓ 18 – Turtlenecks
They became popular in the 1950s and '60s and made a comeback in 2010. If you don't feel like wearing a full disco outfit, you can opt for this look instead. For starters, layer a white roll neck underneath a clay orange shirt jacket. Monochrome would work here well, so team them up with trousers and footwear of the same shade.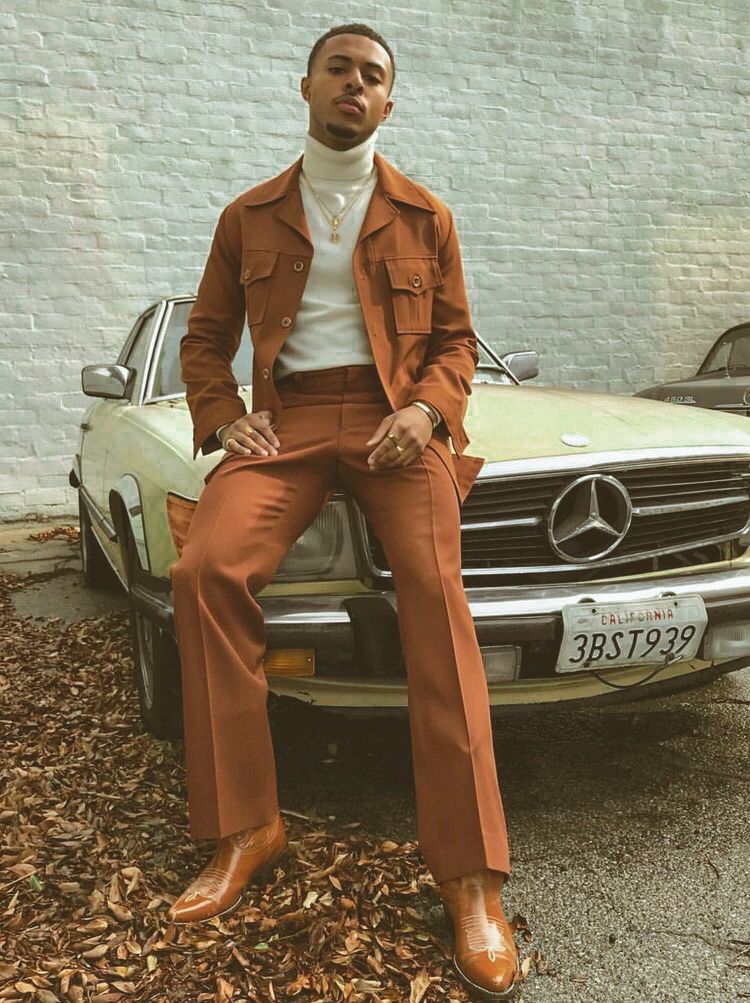 ↓ 17 – Shearling Jackets
The fur around its lapel and lining makes the jacket distinct from others. Pilots wore them in World War II and stuck around since then – because of their appearances on the silver screen. This is ideal for those who are not up for a real disco outfit. You can still attend the party without any hint of awkwardness as this jacket was from the '70s.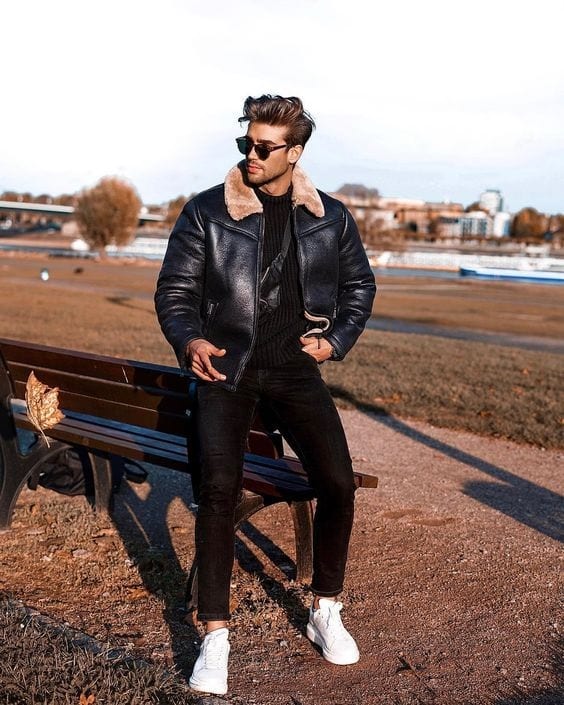 ↓ 16 – Harry Styles 1970s Outfit
You can mimic this style and say that you owe it to Harry, but Mick jagger might dispute that claim. This One Direction alum has been rocking the runways and red carpets in his vintage and retro-themed outfits. And you can't argue with me that he's not getting the style right. I mean, the trousers, layers, and accessories – he did it perfectly.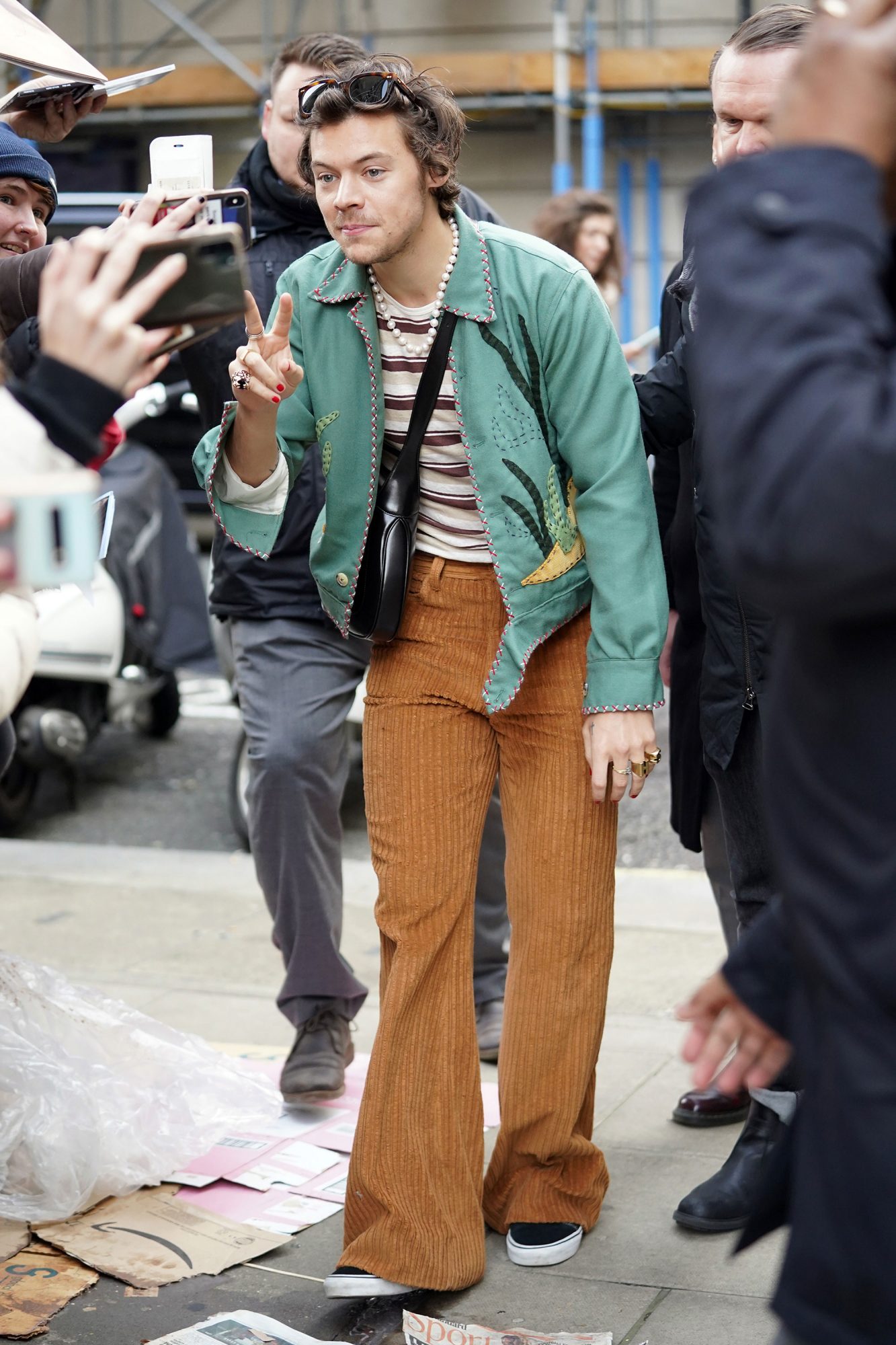 ↓ 15 – Black Leather
This is another option for men who don't like full disco outfits. Say you're up for a dance and some drinks but not comfortable with the dress code, this is for you! It'd be best to opt for longer cuts. A helpful style tip: wear your black trousers higher than you used to. I know it's actually a fashion faux pas, but you're headed for a '70s-inspired event, so don't sweat it.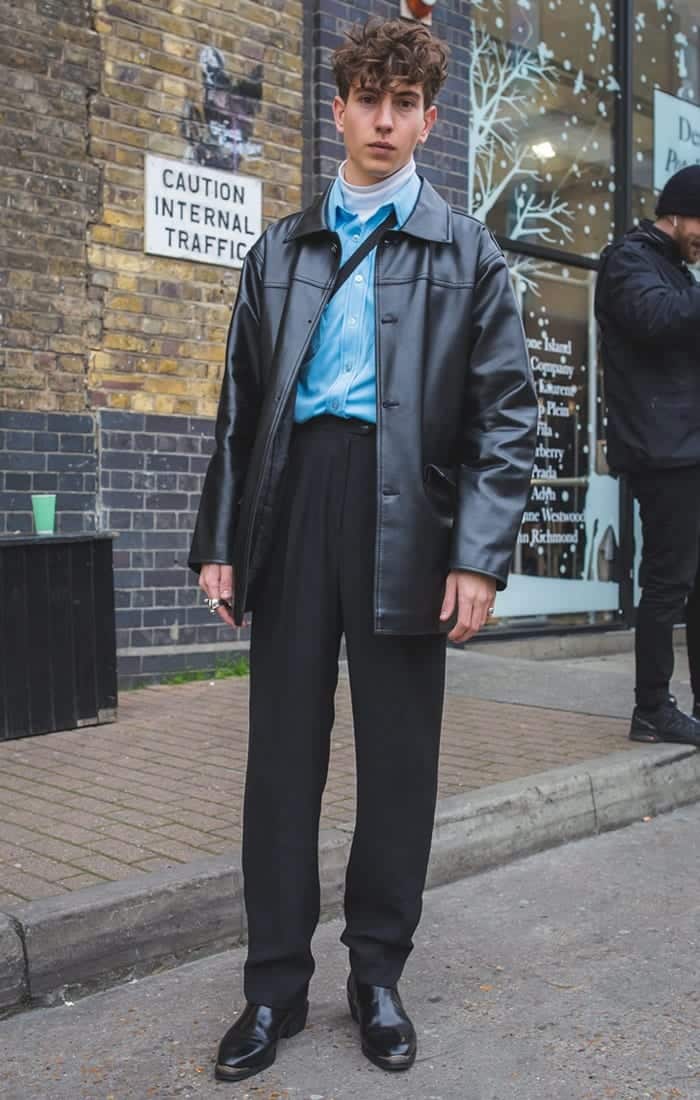 ↓ 14 – Patterned Outfits
Men in the '70s wore knitted clothes made of thick fabrics. They came in various colors, with geometric prints and patterns. Stripes are an excellent option as well. Remember to pair them with wide-leg pants as they would make or break your outfit. Here are some ideas on Different Ways to Wear & Style Stripes.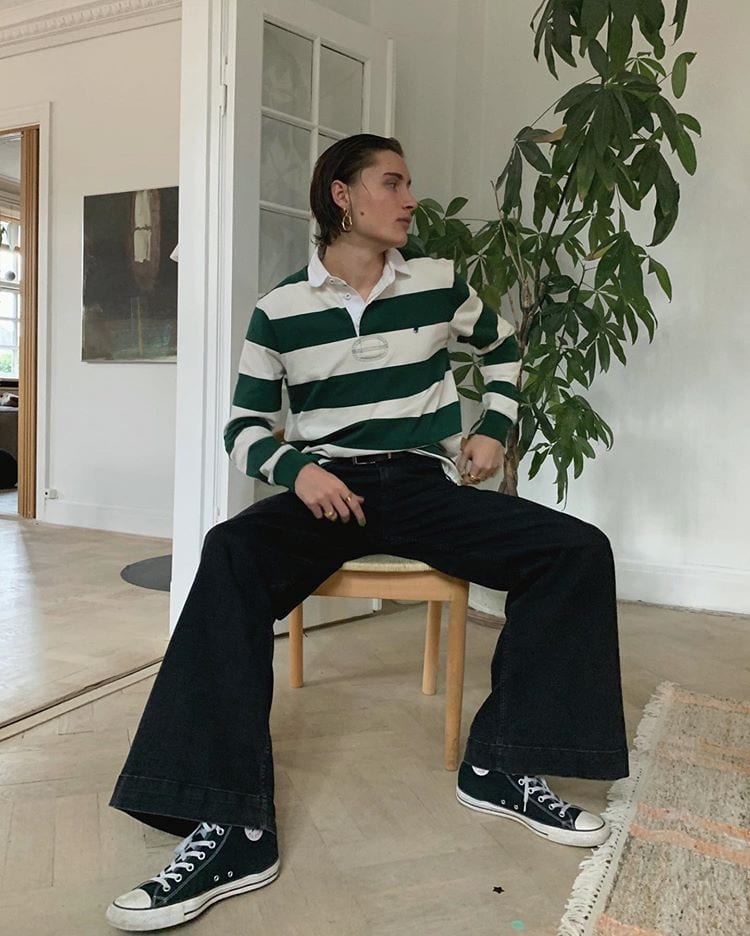 ↓ 13 – Plus One Guest Outfit
If you're not on the guest list but up for disco, this outfit is perfect for you. Before anything else, don't call yourself a gatecrasher, nor let anyone do so. You are a "plus one" who doesn't wanna leave his best friend's side! As such, dress appropriately without going overboard. And I advise you against going for a full disco look. Go for something laidback instead, but don't disregard the style hints of the '70s as they are essential to this event.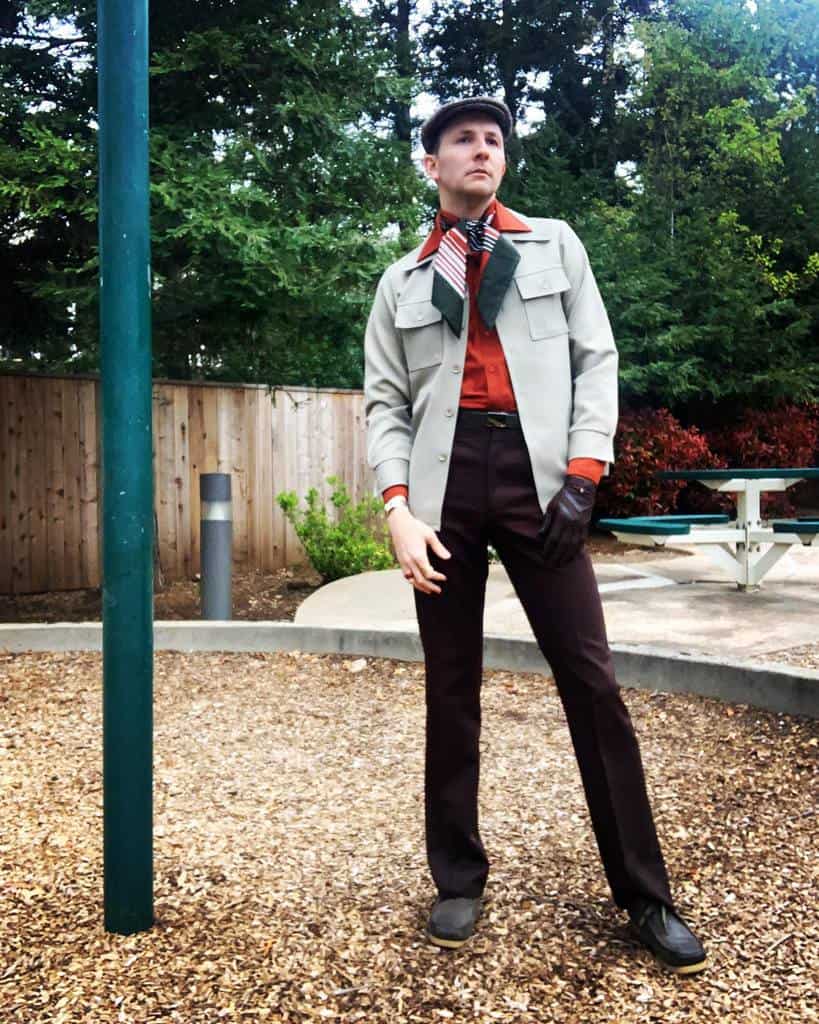 ↓ 12 – What Trousers To Wear
Bell-bottoms or flares have weird leg openings below the knee part. They are available in denim and tailored clothes. These pants are popular among women, so it is challenging for men to wear them. The secret here is to settle with tapered, slim cuts to achieve the look properly.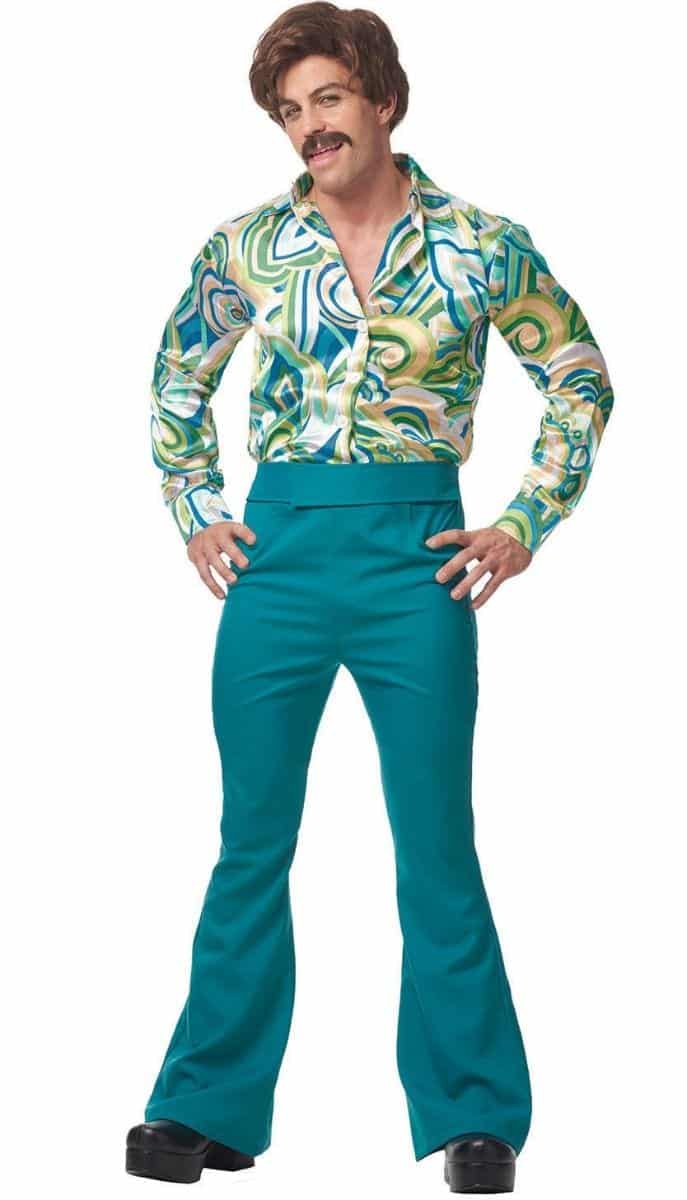 ↓ 11 – Modern Disco Outfit
If you are wearing a shirt, you can just add an oversized collar for an unusual effect. An this would also up your discowear game by ten points. It would also help to get a pair of trousers with oversized silhouettes as they were a big deal in the '70s.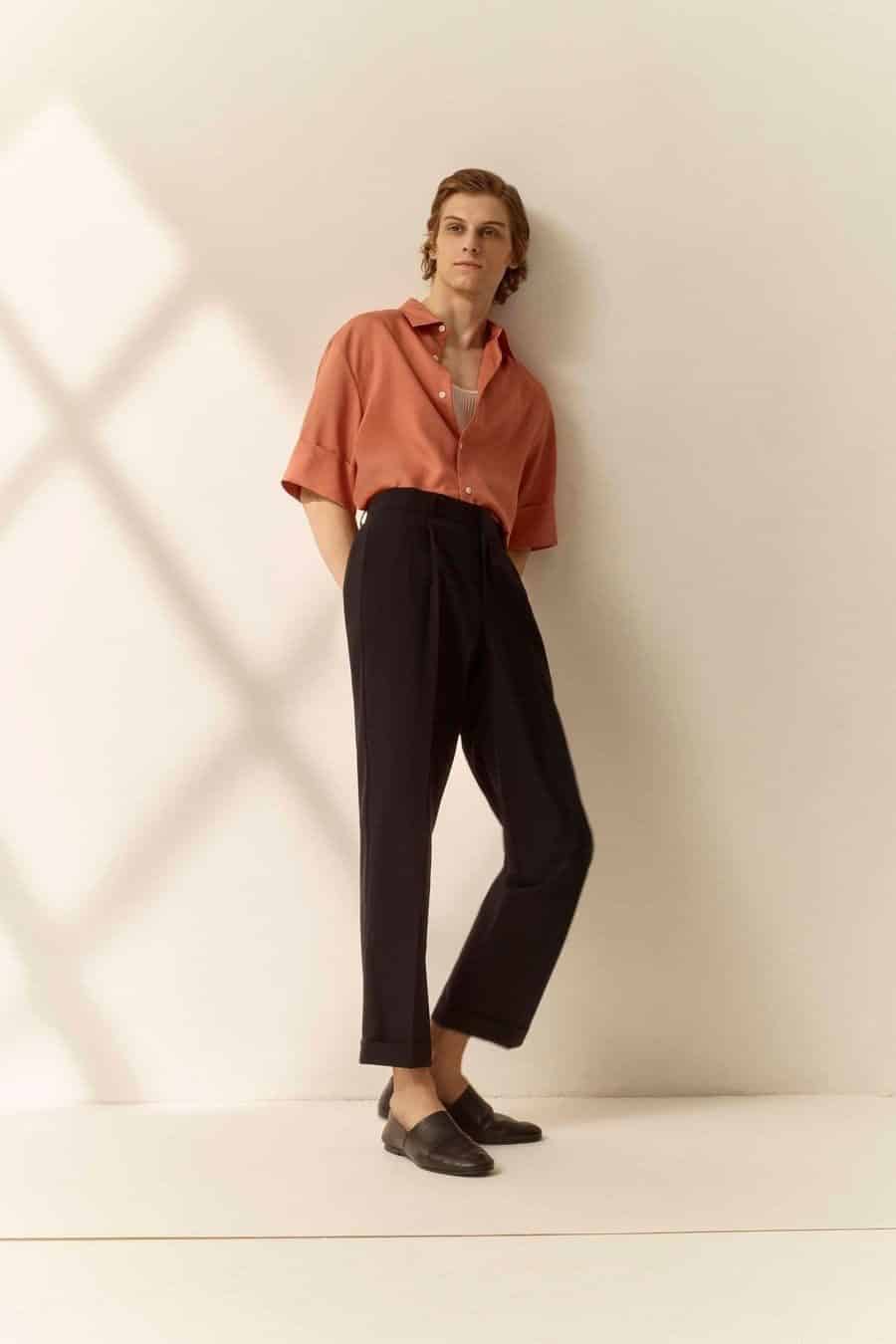 ↓ 10 – John Travolta Outfit
This is from the disco movie Saturday Night Fever. The most distinguishable feature of this outfit is the wide-collared, open shirt. Don this style well by pairing the outfits with flared trousers. White suits are recommended, and it would be better to opt for a bell-bottomed variant.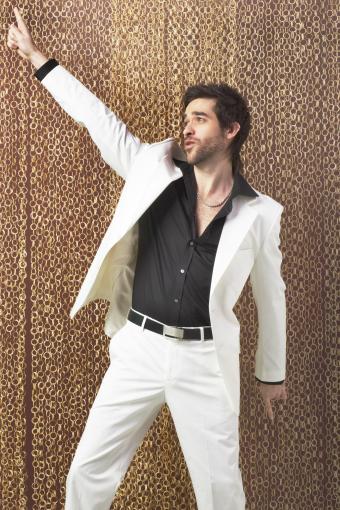 ↓ 9 – Bee Gees
You can take inspiration from this iconic group. You can either go for the silver or gold matching metallic style. For starters, get a bomber jacket and match it with the trousers. You can also mix things up if you're up for it. To take your fashion game to the next level, get a long-haired wig and fake facial hair. And this will help you achieve the Bee Gees look, and don't forget to grab two of your best friends to complete the team.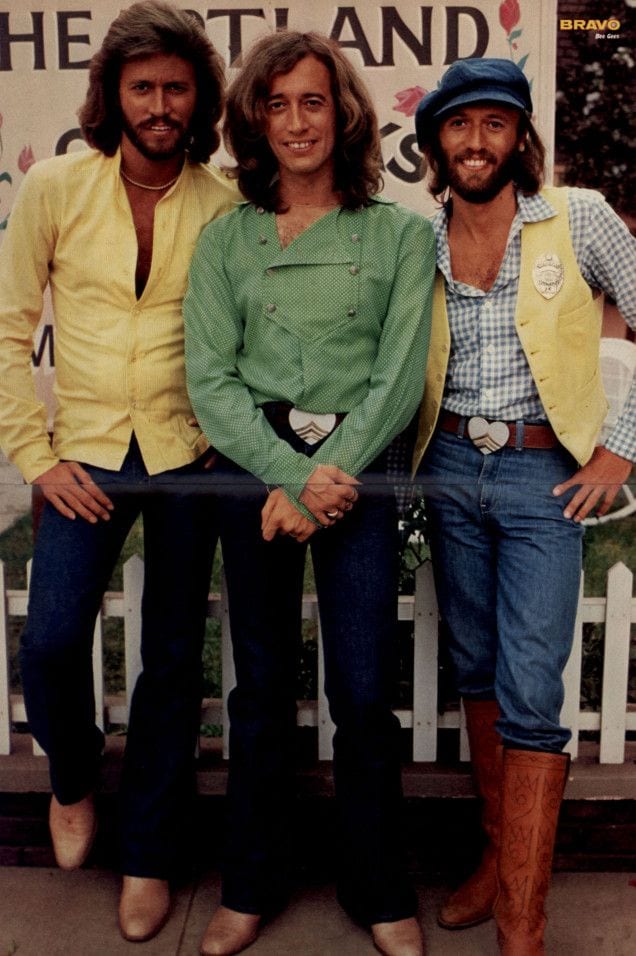 ↓ 8 – Studio 54
Mimic the style of the likes of David Bowie, Mick Jagger, and Valentino. This stylish getup can be classy and fabulous at the same time. And the shirt comes in 10 different colors. Don't forget to tuck the shirt into your pants, and leave some top buttons open.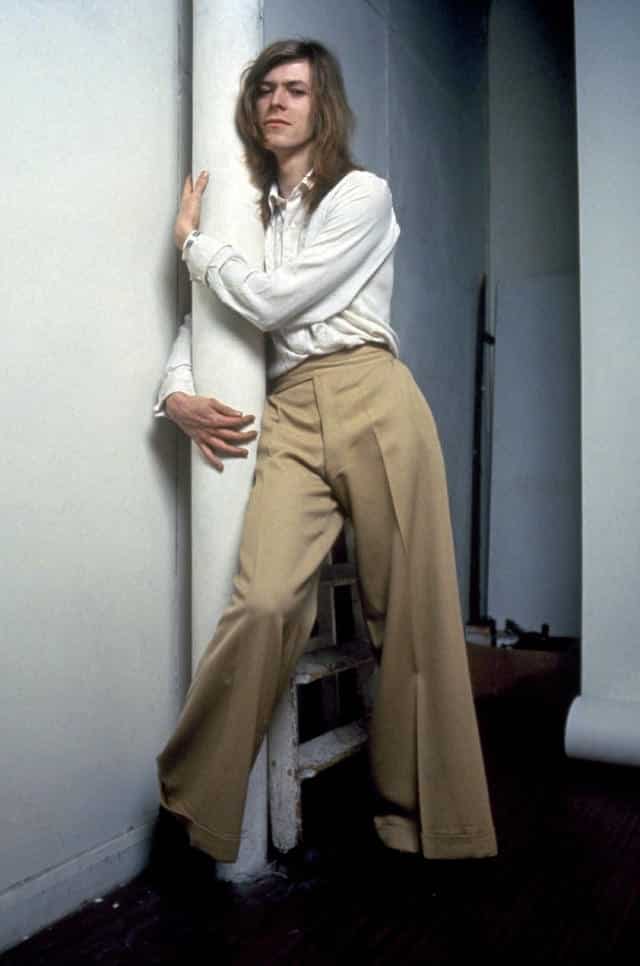 ↓ 7 – Hippie Style
It's not that surprising to learn that this was a significant style back in the day. Try wearing this to your upcoming disco party. Start with some tie-dye tops, bell-bottoms, or some embroidered folk designs. You can also opt for accessories like a headband in the meantime, especially if you're not ready to don the full hippie look.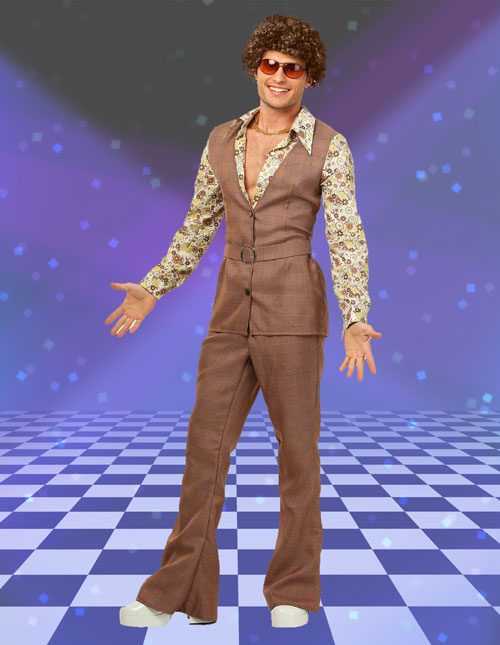 ↓ 6 – Peacock Revolution Style
This style is about the use of bold and bright colors, so don't hesitate to unleash your playful side through these outfits. Staples include satin shirts, ruffles, tunics, turtlenecks, Cuban heeled boots, and braided belts. And if you're game for something more stylish, get a double-breasted suit in cord or velvet textures.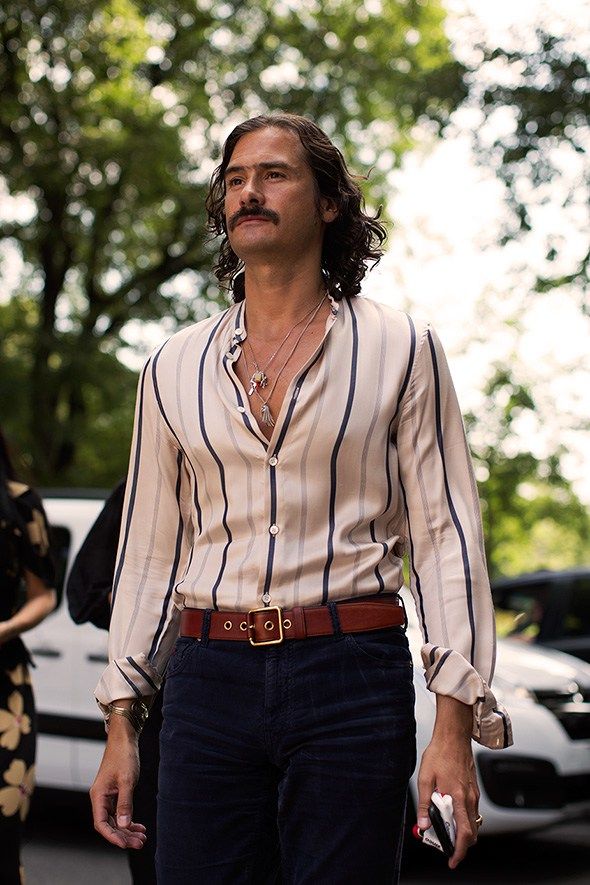 ↓ 5 – Bright Colored Outfits
They played a major part in 1970s fashion. This is because men played with colors to stand out from the crowd. And by bright colors, we mean yellow, orange, pink, red, green, purple – basically what you see in a rainbow.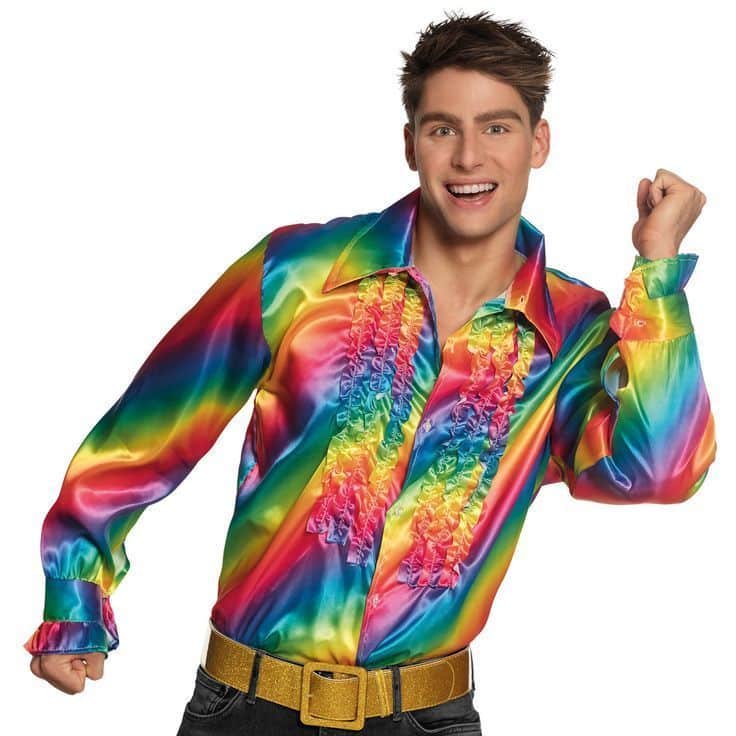 ↓ 4 – Glam Rock Style
This was even more popular in the mid-70s than it is today. This involves adding feminine elements and fancy designs. And but to get it right, tone it down by opting for one to two glam rock clothing.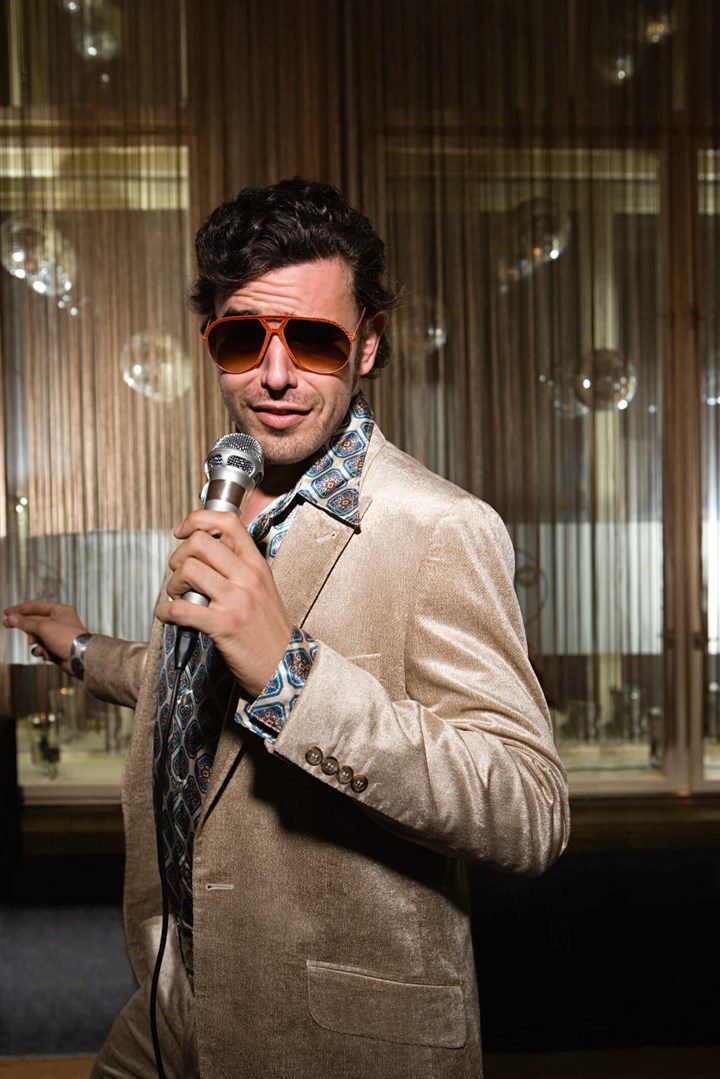 ↓ 3 – Freddie Mercury's Outfit
This was popular in Britain, where young gents looked up to musicians, including Freddie Mercury. Opt for velvet coats, shawl collar DJs, satin shirts, black or tan leather jackets, silk scarves and ascots, and platform shoes. You can get more ideas from these Outfits Inspired by 1980s.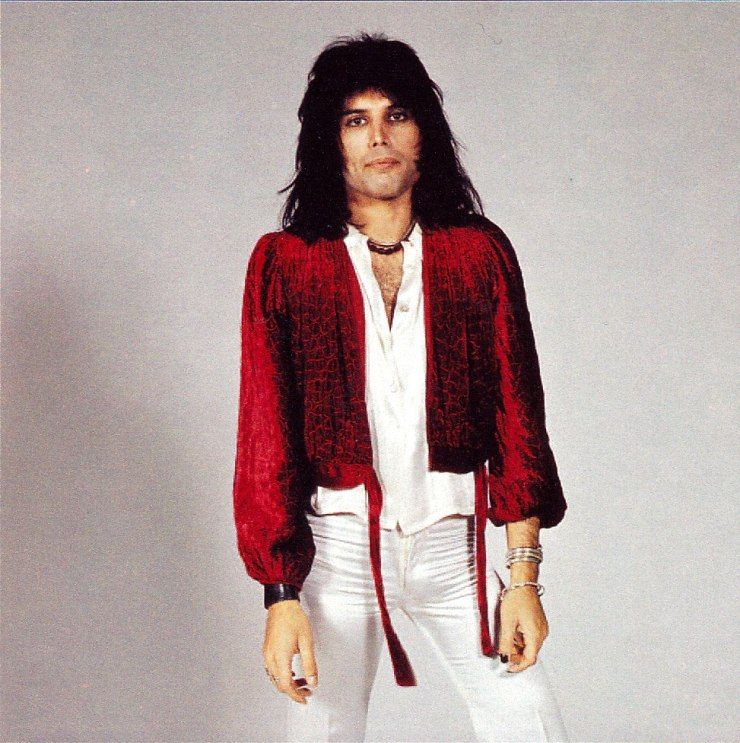 ↓ 2 – Accessories For Disco Outfit
Accessorize to really achieve the '70s-inspired look. Aviator glasses, wide ties, gold jewelry, belts with big buckles, and satin scarves are all part of this. In the 1970s, no look is complete without a pair of bulky, square-shaped shades with tinted lenses.
↓ 1 – Best Shoes For A Disco
Platform boots were the most common in the '70s, making them the most stylish and appropriate footwear choice for disco parties. These shoes have soles and heels that can make you look taller. Other options include Oxford shoes, Birkenstocks, and Cuban heels.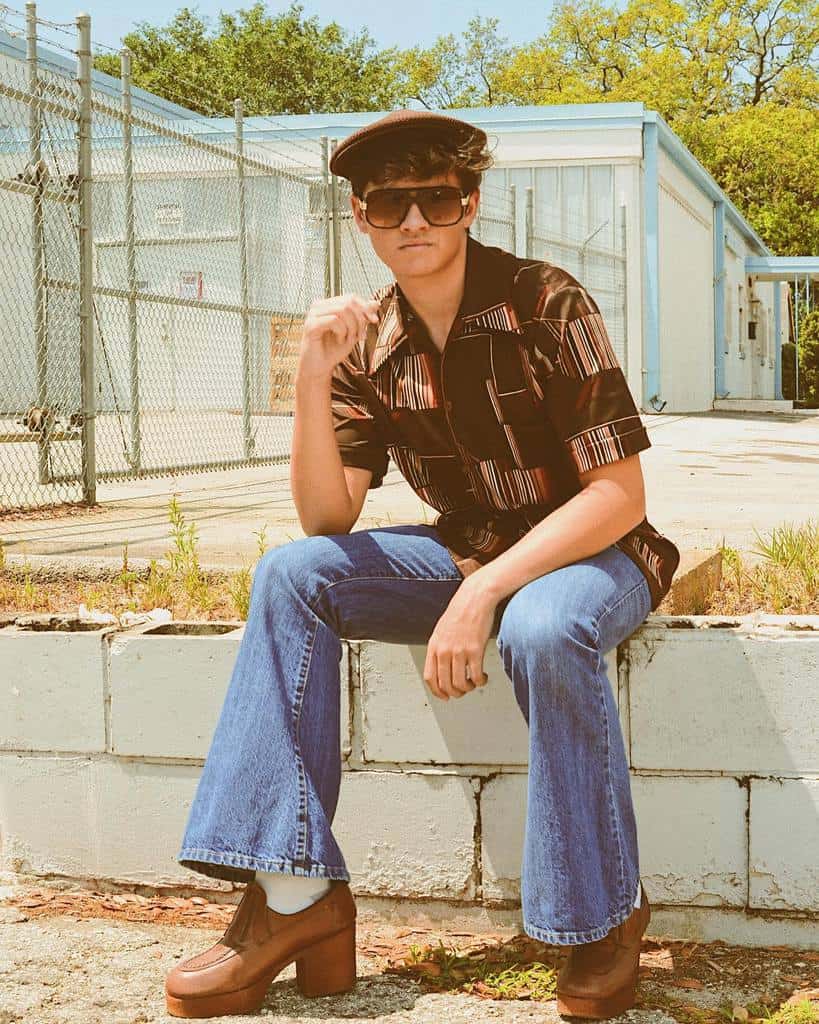 Discowear is part of the '70s fashion. Technically, some style rules that we follow today don't really apply to this category. And it's okay, for now. I mean, it's not every day that you walk into a disco. Just play it cool, and make the most out of it!
Frequently Asked Question
Q. What hairstyle is best for disco?
A. Pompadour, sideburns, side-parted, perm, and long hairstyles were popular in the early '70s. Meanwhile, buzz cuts, crew cuts, and shag style had their moments in the late '70s. These cuts were all great for a disco party. You can get some inspiration from Don Draper if you want a relatively clean look.
Q. How should a man dress for a disco?
A. For starters, getting inspiration from '70s-inspired outfits can help. Fabrics like satin, corduroy, and suede were in style back in the day. And silhouettes were tight up top and loose down the bottom. Geometric patterns and prints were also a big deal. Lastly, the accessories like jewelry, scarves, and aviator glasses can make your ensemble even more interesting.
Q. Who can I get my disco inspiration from?
A. You can get it from one of these '70s icons: Tom Selleck, Tom Jones, Rober Plant, Roger Moore.
Q. What mustache is best for disco?
A. Pick from famous '70s facial hairstyles like mutton chops, chevron, and horseshoe mustache.