Men's Corduroy Pants Outfits. Corduroy pants – despite its name translating from French to 'cord of the King,' the idea of its coolness is still in question. GQ writer Yang-Yi Goh said that corduroy pants are a great clothing choice for your lower half. They are cozier than jeans and more comfortable than wool trousers and a worthy substitute for either of those staples. Thread said that corduroy is cool, hard-wearing, and versatile. Corduroy pants are well-cut, and they appear in unexpected ways.
History. Percival Creative Director Chris Gove said that corduroy pants came out in the 70s, and they were only available in colors brown and green. Librarians and history teachers also wore them back then. Unlike before, corduroy pants now come in different weights and shades. They come in both pleated and flat-front styles. Pleating was the norm during the '90s. Pleats retreated, and a cleaner look of flat-front trousers became the norm since then. But pleats have recently made a comeback to men's pants once more, although today there are more often appearing single-pleats.
Traditionally, cords were being cut like trousers with a tab closure at the waist and button-through coin pockets at the seat. At the present day, they are offered in a five-pocket style that makes them look like your favorite jeans. Corduroy pants cut in this five-pocket style are a little more modern-looking. They are easy to style- pair them with everything from basic tees to polos to button-downs.
Tips When For Buying New Corduroy Pants
The Fit. When getting new corduroy trousers, think of them as your hair – get the right cut.

Colors. Purchase colors you are comfortable wearing, so disregarding the current fashion trends if you must. If you are getting vibrant corduroy clothing, it's wise to dry-clean them only and not wash them at home.

For Starters. If you are prone to overheating, corduroy fabric may not be advisable for you. Because of its tight knitting, it remains warm as long as you keep it dry. Also, they don't drape as much as other heavy wool fabrics out there. 
When styling cord, think of them as they were patterned pieces. They are best worn with simple wardrobe staples to keep things calm. And mind that corduroy trousers don't always have to be brown. Navy, green and even black are good choices and are much easier to wear. Menswear stylist Suzie Street suggests that we invest in dark green, mustard, and burgundy colors. Brown, red and yellow corduroy pants are also in trend, and they look great with various shirts, tees and jackets.
How to Wear Corduroy Pants
If you are looking for different outfit styles to go with corduroy pants, you've come to the right place. We have listed the top 24 stylish outfit ideas on how to wear corduroy pants. It's popular for hunting apparel, but if your goal is to build a classic and timeless wardrobe, corduroy trousers are a great addition to your pants collection. So go through our list and pick the ideas which you think would suit you best.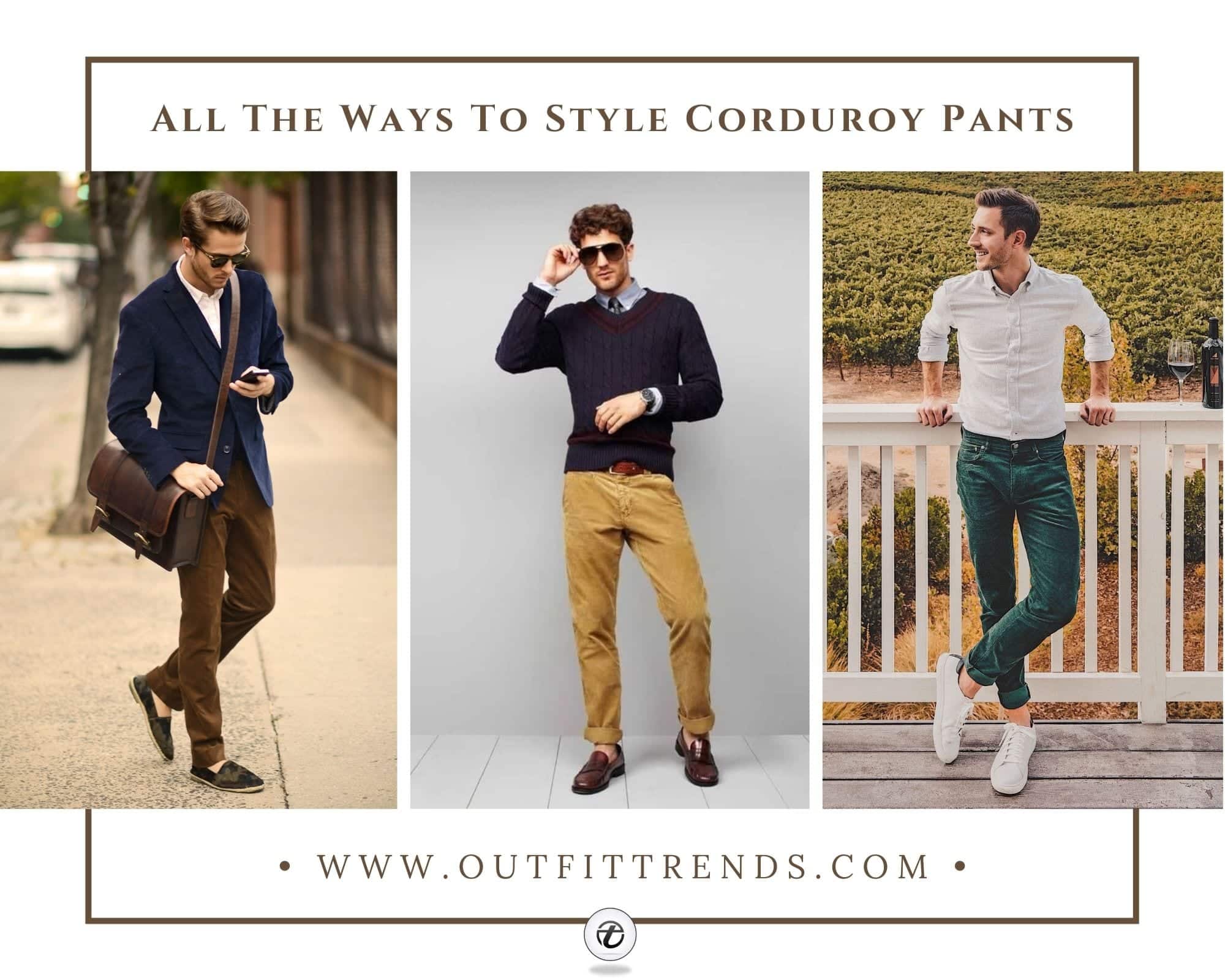 ↓ 26 – What to Wear with Brown Corduroy Pants?
Blue and Brown is the safest color combination ever, so it is what I would recommend wearing with brown corduroy pants. Here's Adam Gallagher proving this point like the true style icon that he is.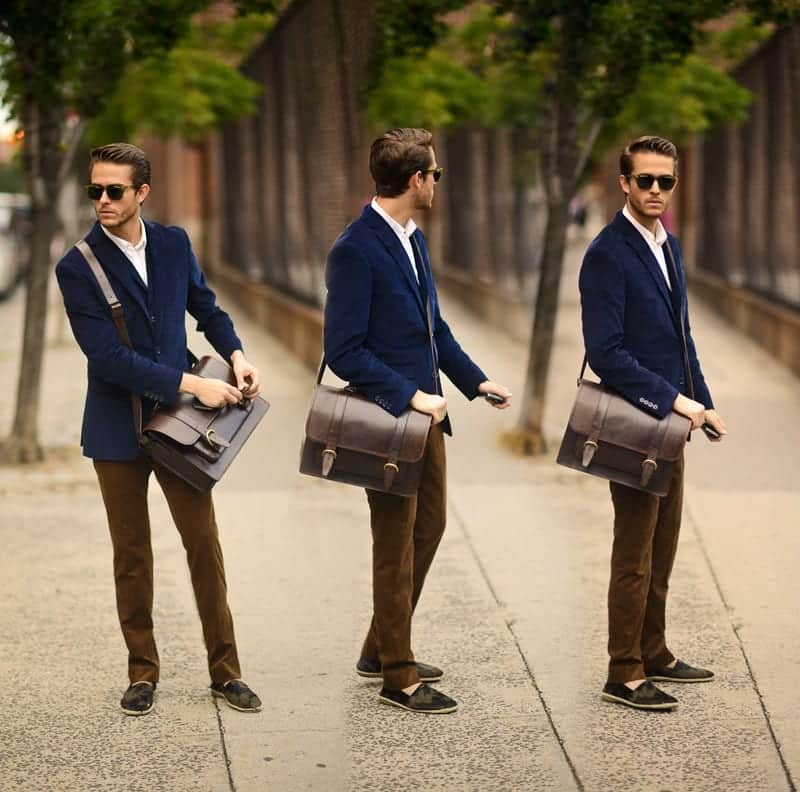 ↓ 25 – Yellow Corduroy Pants
Yellow corduroy pants look dope with tops in shades of brown, blue and dark red. If your pants are in a brighter hue of yellow, go for a subtle and dark tone for your top. For a simple and casual daytime look, you can easily pair them with white button-down shirts.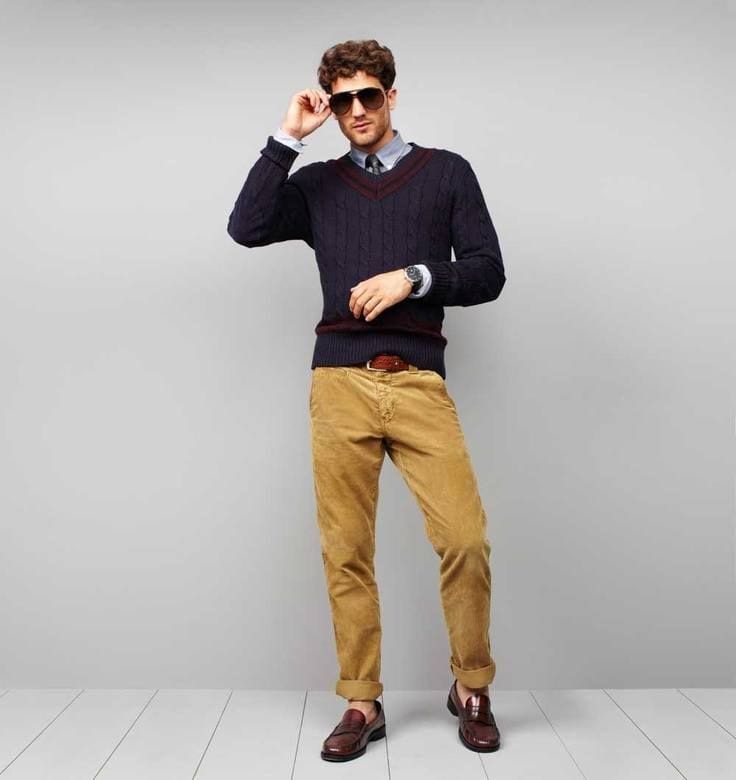 ↓ 24 – Uniqlo Corduroy Pants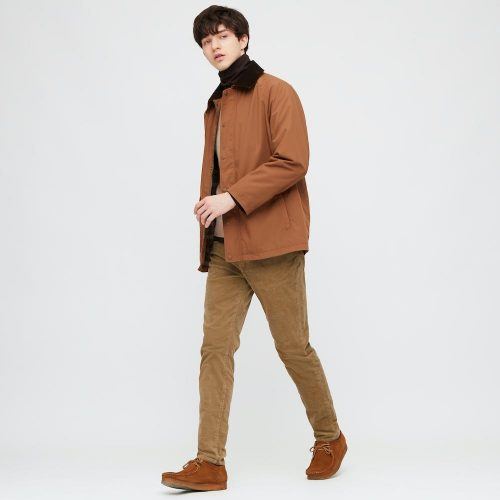 ↓ 23 – Hoodie With Corduroy Pants
You can try pairing your brown cord with a grey hoodie – they make a perfect combo. You can also throw a vest or gilet over it to avoid being plain.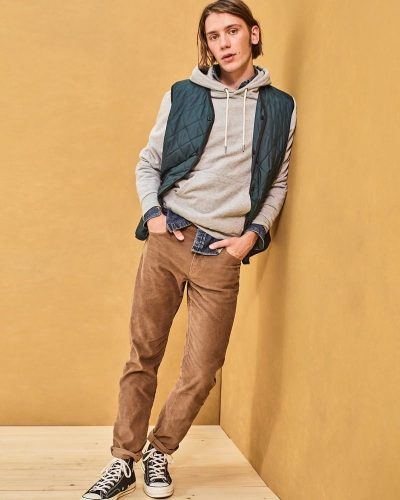 ↓ 22 – Monochrome Outfit with Corduroy Pants
As you are well aware, monochrome style doesn't mean you have to be in an all-out single color. Grey, brown and black even combined would make a monochromatic look. Wearing cord gives you the chance to work the wonders of this style. For your footwear, choose between loafers, suedes and brogues.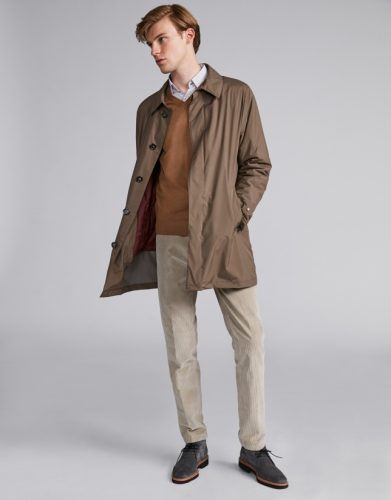 ↓ 21 – Corduroy Pants With Plaid Shirt
Flannels and plaids are a perfect match for corduroy pants. Try pairing your old blue plaid shirt with your new brown cord. Shades of blue look great with browns.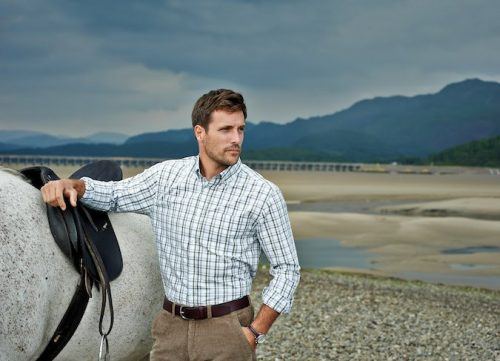 via
↓ 20 – Smart Outfit with Corduroy Pants
As the texture feels distinguished in itself, it doesn't take much to make corduroy blend in with a more formal look. Opt for a sharper, more tailored slim fit. Brown is the default choice, but you can mess things up a bit – choose a dark or rich jewel tone.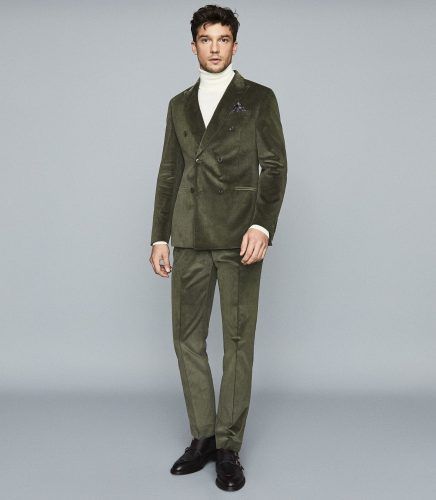 via
↓ 19 – Casual Outfit Corduroy Pants
Thread stylist Alice Watt's advice is to replace the denim with cord for more uniques options. The easiest way to incorporate cord into your relaxed vibe is with a simple twist. The unique texture of corduroy will make your casual outfit look more tangible, and it allows you to add a bit more flavor to your ensemble.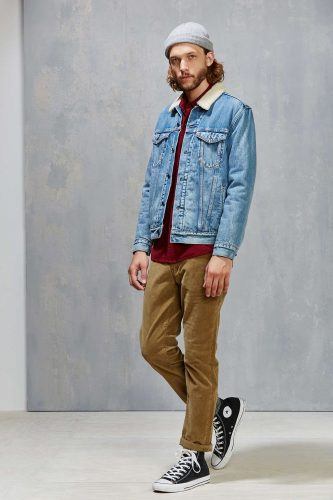 ↓ 18 – Smart-Casual Outfit
Corduroy trousers are more relaxed than tailored ones, yet more elevated than a pair of jeans. Remember that the darker the colour, the smarter the look would be. Stylist Alice Watt said that it's all about the "balance," and in this case, cord pants strike it perfectly, so you need not much effort to do it.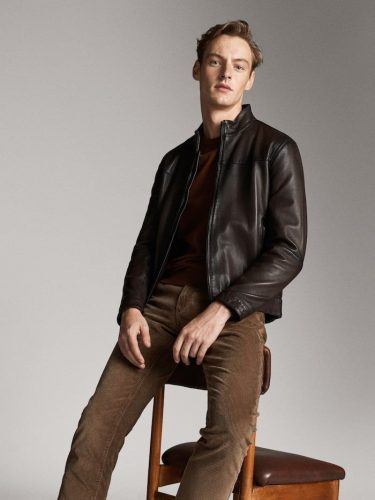 ↓ 17 – Preppy Look
You could don a preppy look by getting a pair of corduroy pants in brighter hues, like maroon or burgundy. Style them with a button-down shirt and a blue blazer. And don't forget the tie.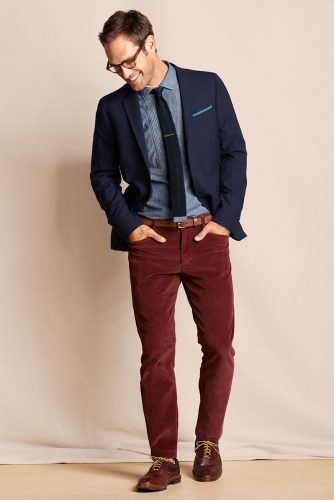 ↓ 16 – Corduroy Suit
Today, corduroy suits and blazers are often associated with professors and people into the "British Country Gentleman Style." Model-influencer Richard Biedul has long been a fan of corduroy suits. Channel the 70s gigolo or the geekiness of a geography instructor. He said that you must pay attention to the cut and color. According to him, the blazers should be soft at the shoulders and trousers straight through the leg. For color, think browns, greens or blues.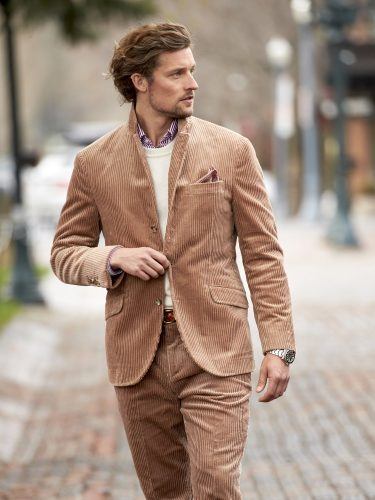 ↓ 15 – Winter Look With Corduroy Pants
This Khaki corduroy pant looks amazing with a red coat and black boots. A great preppy winter look.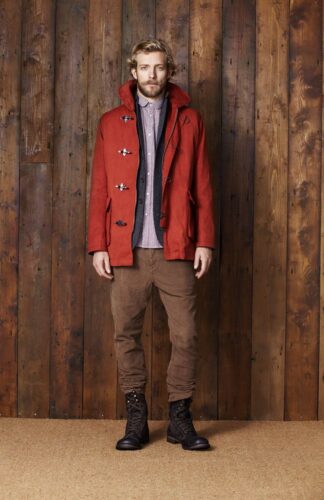 ↓ 14 – Red Sweater And Brown Scarf
The red sweater pops out in this look with a brown scarf, khaki corduroy pants and jacket. Look your best in fall with this attire. It would look even better with brown shoes, so have a look at our guide on How to wear brown shoes.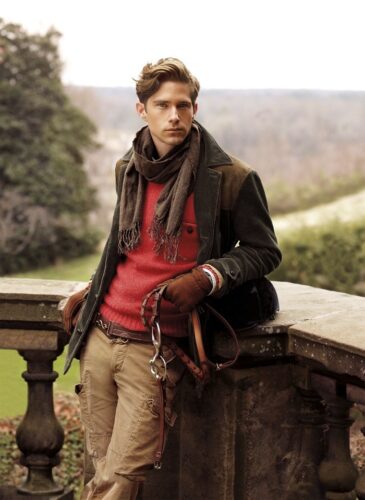 ↓ 13 – Corduroy Pants With A Casual Winter Outfit
A grey sweater with brown is very suitable for casual wear and a night out. Great for wearing on concerts in winter.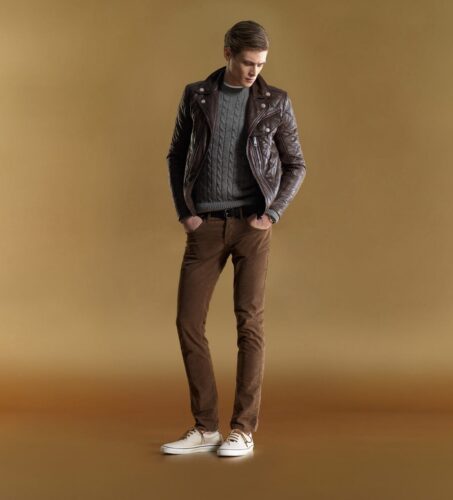 ↓ 12 Casual All-Grey Look With Corduroy Pants
This all-grey preppy look is another great winter look to create with your grey corduroy pants.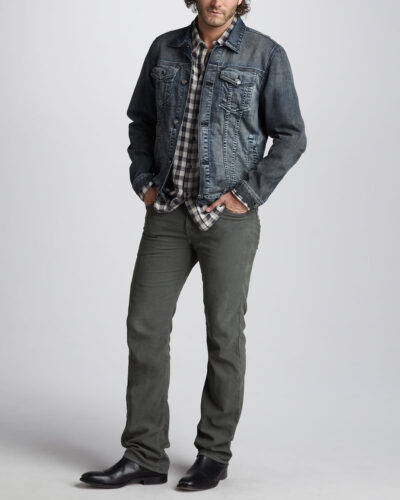 ↓ 11 – Formal Wear
As formal wear took off throughout Victorian England, cord went from being the country gent's textile to the working-class fabric for uniforms. Corduroy pants are always a stylish item to pick for your formal wear. This striped coat with printed shirt blends well with corduroy pants to create a partially formal, partially party look. Don't miss out on those laced boots, though.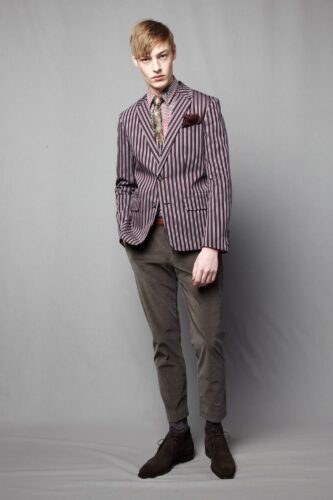 ↓ 10 – Formal Business Look
Corduroy pants can be used with formal attire for business meetings and gatherings, like this purple suit which is also great for family dinners and parties. To further enhance this look, check out these sexy beard styles.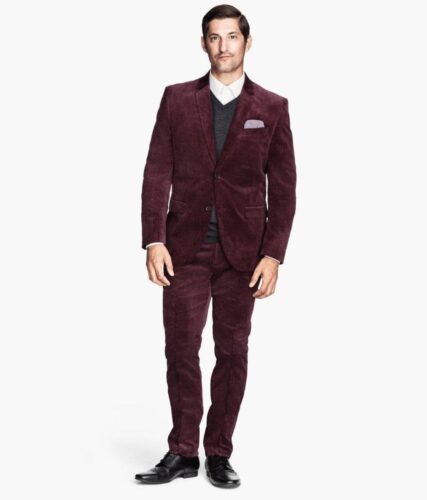 ↓ 9 – Military Jacket With Khaki Corduroy Pants
Military printed jacket and khaki corduroy pants; are made for each other.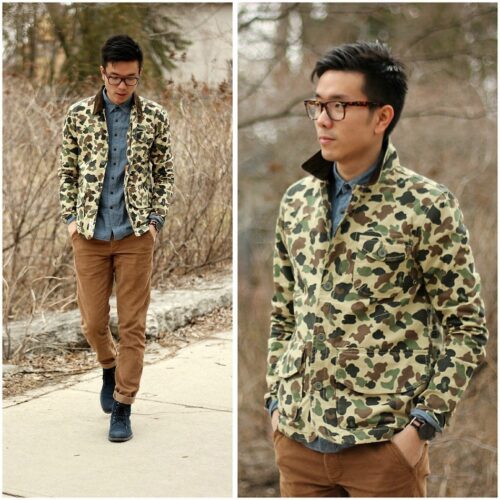 ↓ 8 – Red Corduroy Pants With White Shirt For Campus
This casual outfit is great for college students. You can put on a black leather jacket to totally convert this look in winter.
Source
↓ 7 – With Blazers
Closely fitted blazers with corduroy pants are great for the office and private parties—great summer formal wear.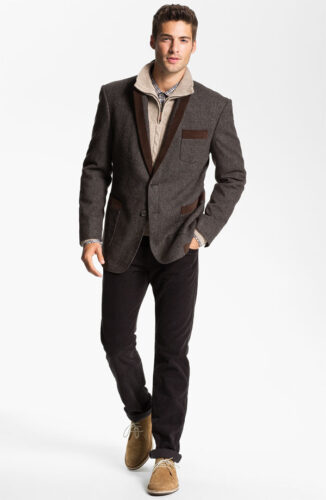 ↓ 6 – Burgundy Corduroy Pants With Denim Shirt For A Fall Street look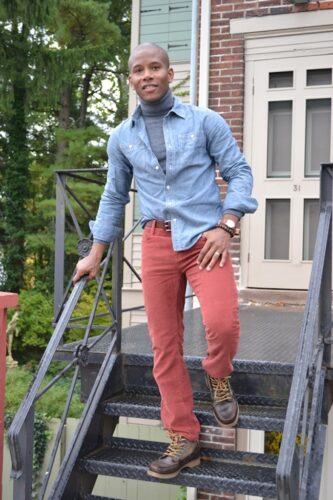 ↓ 5 – Casual Look for Night in Winter
Looking for cozy attire for a night out in winter? Check out these red corduroy pants with a comfortable jacket and black boots.
Source
↓ 4 – Polo Ground Winter Look
Brown corduroy pants with an oxford shirt and blue V-Neck sweater are great to wear on a polo game in winter. Also, look at men's outfits to wear with oxford shoes.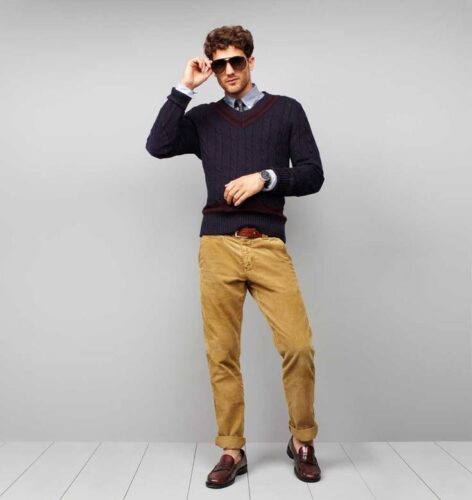 ↓ 3 – Summer Look With Beach Shirt
Brown corduroy pants with a beach t-shirt and denim jacket give a sporty casual look for summer.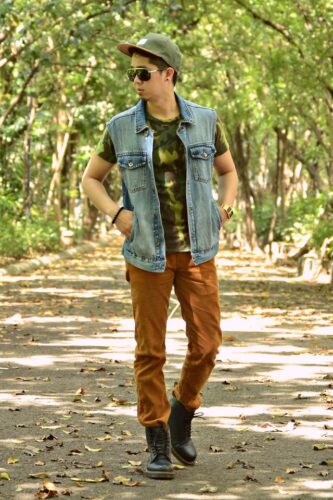 ↓ 2 – African Print Sweater
This African print sweater is an amazing company for a unique look in winter to go with corduroy pants.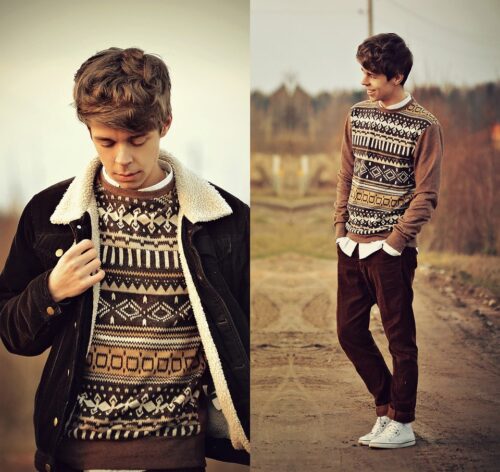 ↓ 1 – Winter Street Look
A denim shirt with a grey sweater and black corduroy pants is a great street look and fit for college.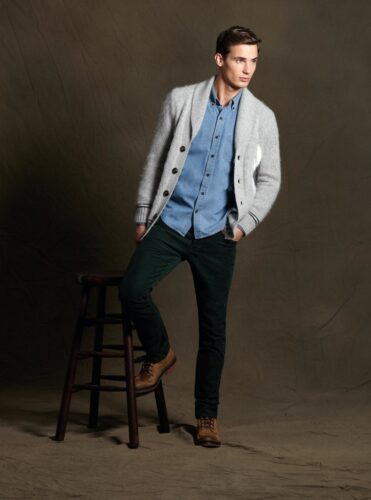 Whether you want to style them the usual way or want to try something new, I think we can agree that they have never been out of style and won't be leaving the charts anytime soon.
Frequently Asked Questions
Q.

What brands should I shop for corduroy pants? 
A. According to Fashion Beans, The Cords & Co has a great collection of corduroy pants. Brand Director Omar Varts said that a pair of new 5-pocket corduroy trousers would look great when paired up with a basic white T-shirt or a hoodie. If you're looking for affordable ones, check L.L. Bean's stretch country cord (costs $25) and Ralph Lauren stretch classic cord ($60).
Q.

What is so special about corduroy pants? 
A. What's unique with corduroy pants is that they have "wales." Wale refers to those raised ridges that give corduroy its iconic texture and appearance. The "wale count" measures the number of wales that appear per inch of fabric. The lower the wale count is, the higher the chance that the wales will appear on the pants. And cord with a lower wale count have a more rustic and classic look, while those with a higher wale count have a more modern vibe.
Q.

Are corduroy pants in-style?
A. Corduroy pants can be worn throughout the year. They don't go out of style as they are the very foundation of style itself. You've probably noticed that the 70s and 80s trends are back in town. According to Spy, one of the most versatile clothing trends to try today is men's corduroy pants. Cord have a soft velvety feel, and designers have already played with the fabric and created various men's corduroys in joggers, jeans and trousers.
Q.

What is the most versatile corduroy pants?
A. Corduroy pants are comfortable and are suitable for both casual and formal wear. Try Flint & Tinder's 365 Corduroy Pants. They are designed to be worn all year long – and that explains the "365" tag in its name. They are stretchable, so they can give you the comfort and style you need. The pants come in three shades and also come in a more relaxed straight fit. For more cord choices, check this article from Spy.
Q.

What's the best outfit combo with corduroy pants?
A. If you want to channel a classic vibe, wear tan or earthy-toned corduroy pants with a flannel shirt. The raised texture of corduroy makes it a perfect match for flannel shirts. The more subdued khaki tones of corduroy help balance the vibrant colors that appear in a plaid pattern.
Q.

How is corduroy different from velvet?
A.Corduroy is also dubbed as the "velvet of the poor." Back then, silk used to be expensive and velvet was only made of silk, yet corduroy is generally woven from cotton. The King and the aristocrats at court wore fine silk clothes. But the servants did not get silk but rather less expensive cotton hunting outfits. Cord is often considered a substitute for velvet. It's a variation of velvet that's easy to clean while maintaining its shape well.
Q.

How did corduroy became popular?
A. According to Gentleman's Gazette, by the 1960s, The Beatles popularized it when they wore Corduroy suits. Until then, most corduroy outfits were worn by students and farmers. The band called "The Beatles" made corduroy in-vogue again. In fact, in 1965, the President of the Board of Trade claimed that the crew saved the British cord industry." Meanwhile, corduroy became an "Ivy Style wardrobe staple" in 1957 as it went popular in the U.S. with Ivy League students in Princeton and Dartmouth.
Q. 

What shoes to wear with corduroy pants? 
A. For casual wear, you can pair any color of corduroy pants with white sneakers. And for formal wear, the choice of shoes depends on the occasion and the color of your pants. Oxfords and loafers are both good choices as long as you go for the right color.