Theme Park Outfits For Men. More than meets the eye! It's a bucket list for a fan to see his favorite on-screen worlds and characters come to reality. But trips to theme parks don't always come in handy.
You have to plan before leaping to the unknown – I mean, you never know who you'll bump into. There's also no assurance that the weather won't go sideways. So it's better to be safe than sorry! And besides, lack of preparation might only lead to unforeseen expenses, among other things. This brings us to the most important question: What should men wear to theme parks?
First off, always consider the weather before making a move. Layering is also your great companion, especially in colder months. Make it a habit to check the fabric before putting it on. It's not a good idea to wear thick and heavy garments when the sun is up.
What Is A Theme Park?
They aren't called amusement parks for no reason — their sole purpose is "to amuse" the visitors. A theme park is usually inspired by several works of pop culture, such as TV shows and films, which play a significant role in these establishments. For one, a good example is the Marvel: Avengers Campus, which has just opened its doors to the public. More examples include The Wizarding World of Harry Potter, Disneyland, and Universal Studios.
Tips When Going To Theme Parks
Season. The rule of thumb here is to check the season before dressing up. Say you're headed for a theme park in the winter — the most appropriate and stylish outfit is a jacket with some accessories like beanies, gloves, scarves, etc.
Apply sunscreen. For the summer, a lotion with SPF is essential. You don't want the cancer-causing UV rays to slip their way into your life. But it's a no-brainer that you won't be needing this for colder months at the park.
Safety Before Fun. As we are currently going through a pandemic, remember to bring alcohol or hand sanitizer and some extra facemasks. And always abide by the establishment's protocols regarding COVID-19.
Stray Hydrated. Don't ruin your getup for passing out because of heatstroke. Theme parks are no longer stranger to this issue, and it's even more common in summer.
Essentials. Among other things, don't forget to have blister balm, power banks, towels, tissues, and an umbrella. For more info, check this out.
What To Avoid
Wearing full costumes. Asher & Lyric said that most parks ban cosplay for anyone over the age of 7 or 8. I advise you against wearing full costumes unless it's a Halloween event. It's hard to try the rides wearing these outfits. Instead, opt for shirts with designs of your favorites fictional characters – that's a good start and an excellent alternative.
Inappropriate Shirt Prints. It's not family and child-friendly to wear shirts with naked girls on them, as well as offensive words and racial slurs. So never wear them to the park, please.
Fancy and expensive jewelry. This is not the time to show off your heirlooms. Despite being the happiest places on earth, theme parks aren't immune to loss and theft. That said, leave those precious gems and bling at home for now.
Formal Outfits. Save the three-piece suits for the office. And if it happens that your schedule is after shift, consider unbuttoning or ditching the blazer for a less formal appearance. Also, it's best to pack something for a change of footwear. You don't want to be walking around the park wearing your brogues or Oxfords.
Where To Buy Theme Park Outfits
Theme park outfits are basically combos of what you have in your wardrobe. They usually consist of staples, mixed and matched to come up with an excellent ensemble that is appropriate for the setting.
Parks are generally in business for the summer season, but these days many of them operate all year-round. As such, invest in quality and versatile clothes that can suit all types of weather conditions. Get yours from H&M, Uniqlo, and Penshoppe. I suggest you buy through online shopping to save yourself some time and energy.
What To Wear To Amusement Parks
First off, make sure that your clothes keep you comfortable and dry, especially when it's raining. And don't take it too seriously. Going to amusement parks should be fun, so don't stress yourself out on choosing your outfits.
The rule of thumb is to check the weather so you would know what kind of fabric to choose, as well as the colors. In any event, this rule would be most useful when deciding what shoes to wear. For instance, boots aren't appropriate for the summer. The same thing applies to accessories, like brim hats would be awkward for the winter.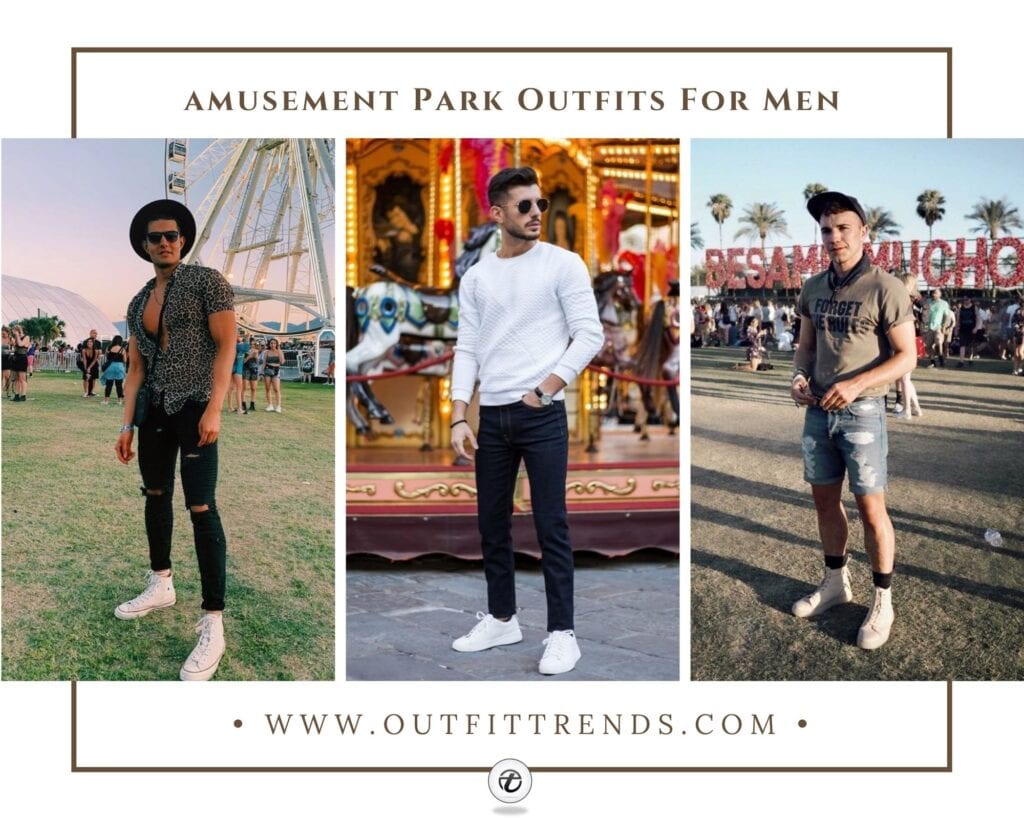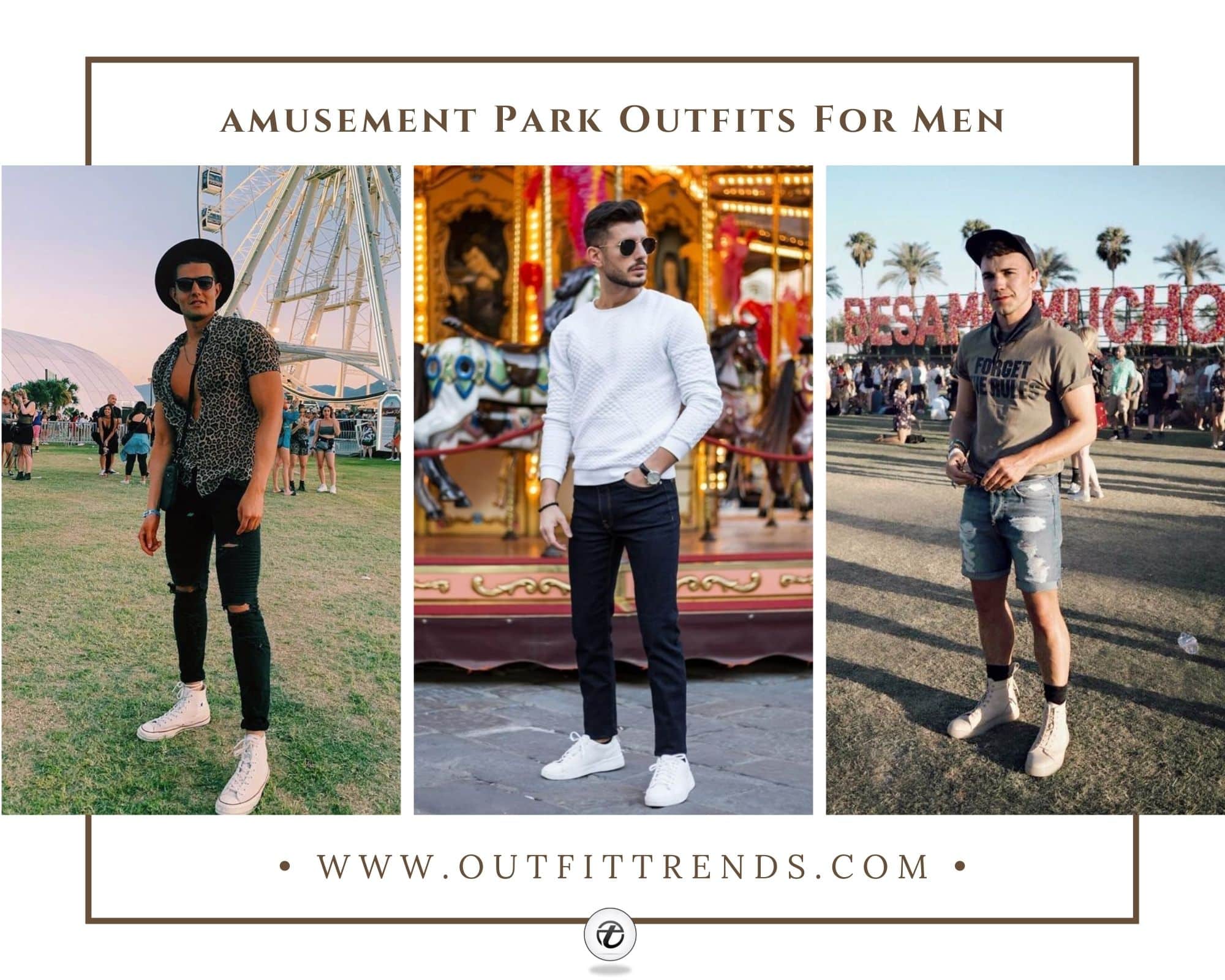 ↓ 21 – Monochrome Outfit
Pair a sage green knitted pullover with pickle green chinos. This outfit combo is flexible enough to suit both war m and cold weather. However, for summer, limit your layering game to using only lightweight fabrics to avoid excessive sweating. Here are some more of my favorite Monochrome Outfits for Men.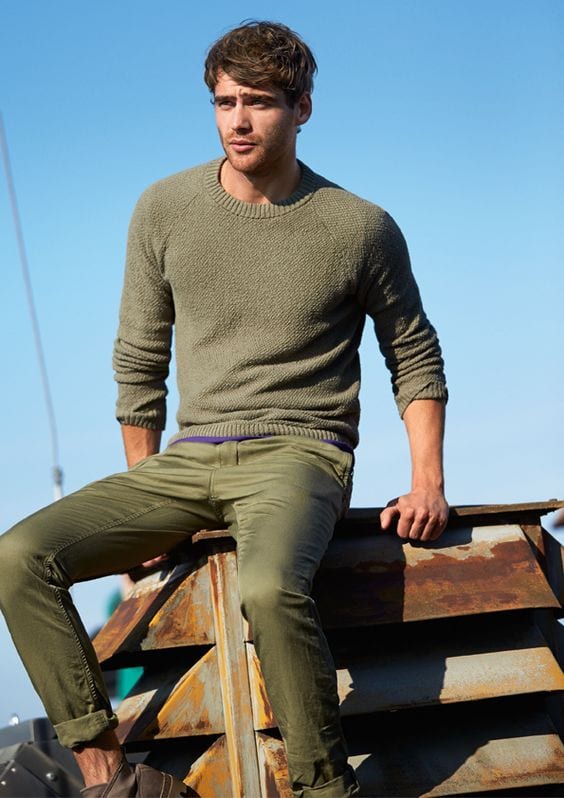 ↓ 20 – Minimalist Outfit
This simple yet stylish combo is your go-to outfit, and it's definitely a life-saver. Grab basic wardrobe staples like a navy polo shirt, khaki shorts, and finish off with boxfresh white sneakers. Accessorizing would also help, so get those iconic sunglasses and a wristwatch.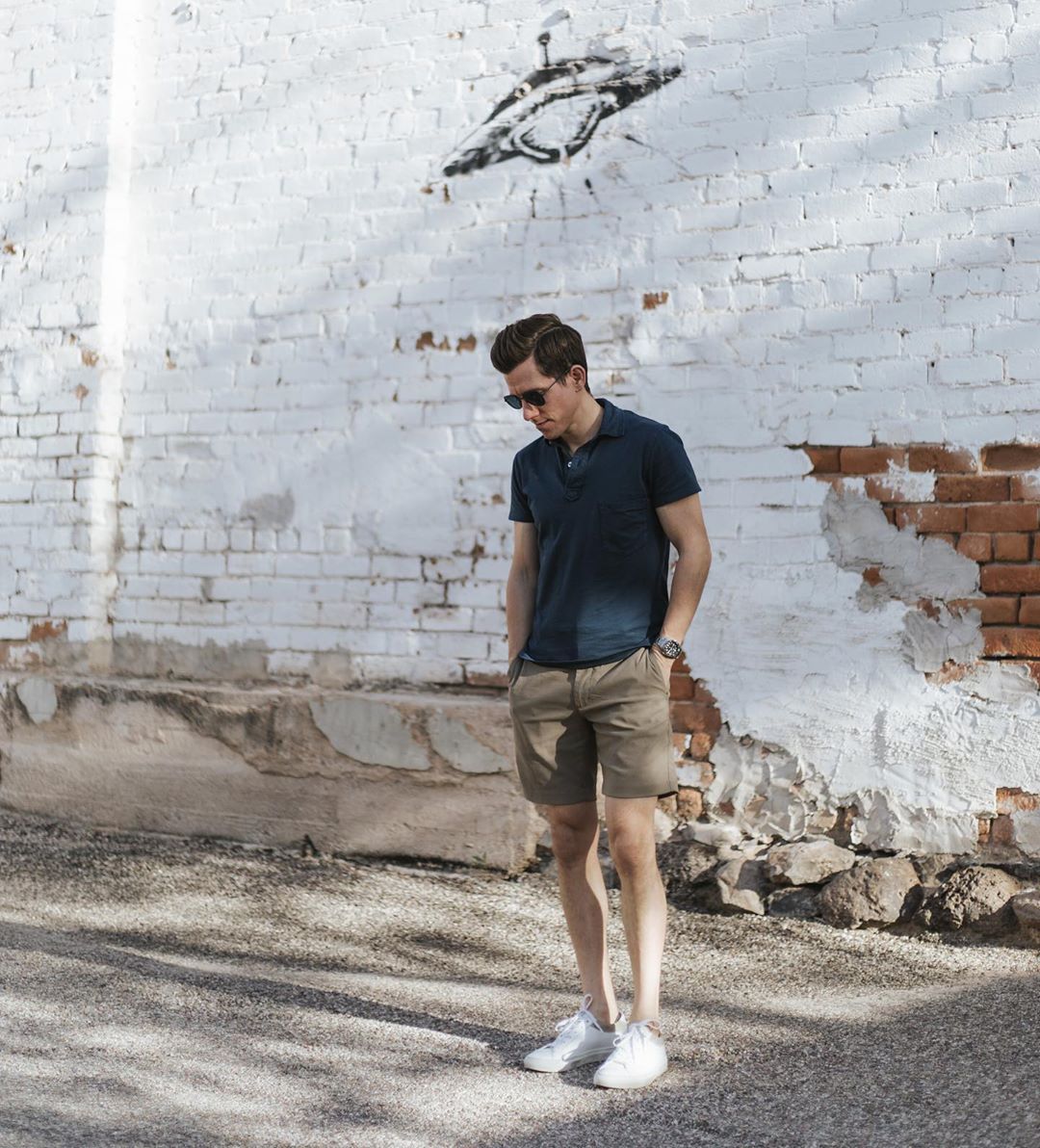 ↓ 19 – For Mature Men
Any color would look great in mature men. However, solid hues and contrast colors are best for them. As such, get navy chinos and pair them with something interesting, like this patterned shirt. It would bring the youth in you, and it would be better when styled with the right accessories, like a brim hat.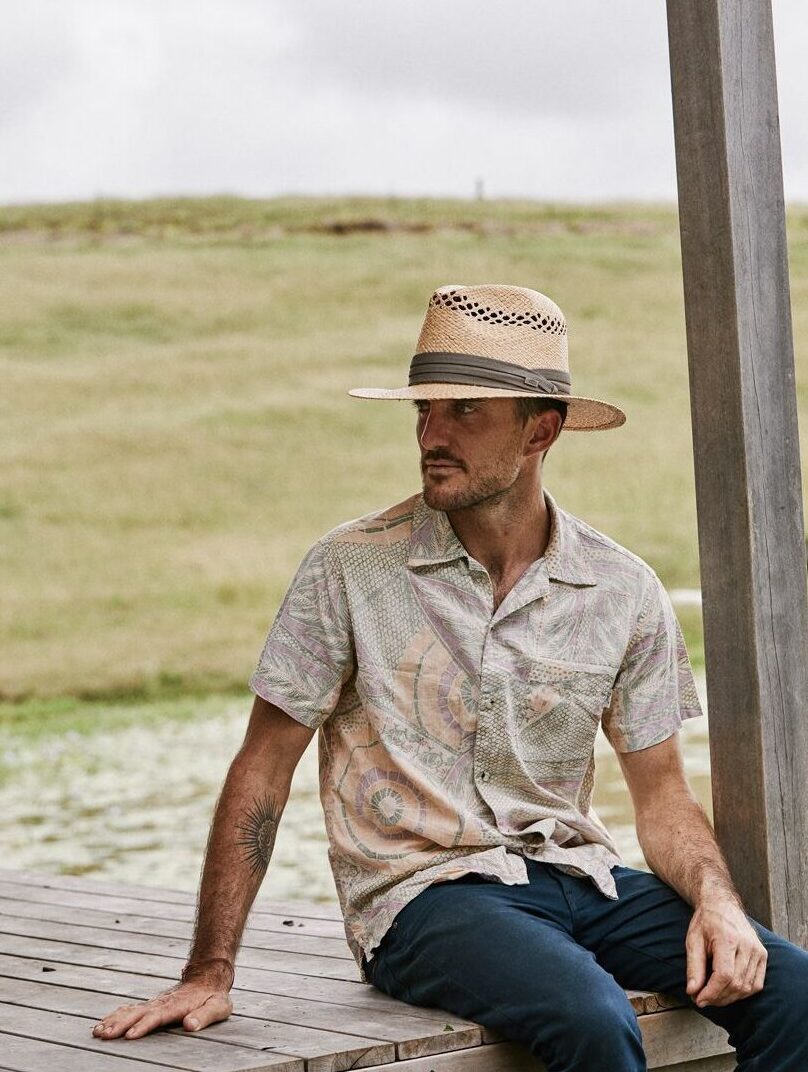 ↓ 18 – Plus-Size Theme Park Outfit
Black has a slimming effect, making it an ideal color choice for plus-size men. T-shirts would be fine for a trip to the theme park. Striped outfits, especially vertical designs, will also do. If you are headed for a summer trip to an amusement park, it's best to ditch the idea of wearing layered outfits.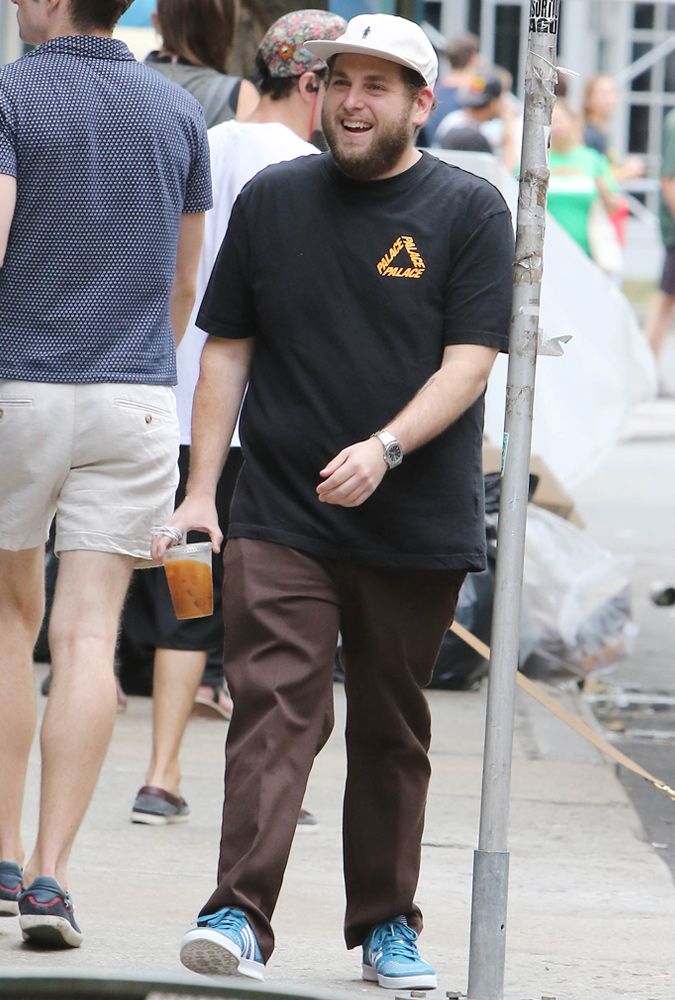 ↓ 17 – For Short Guys
Opt for trimmed cuts like this overcoat. It's because longer cuts look bad in short men as they only make them look smaller. It would also be best to stick to well-fitting clothes instead of baggy and lousy fits. And tucking in the hem of your pants to your shoes is also a smart move as it will show off those edges.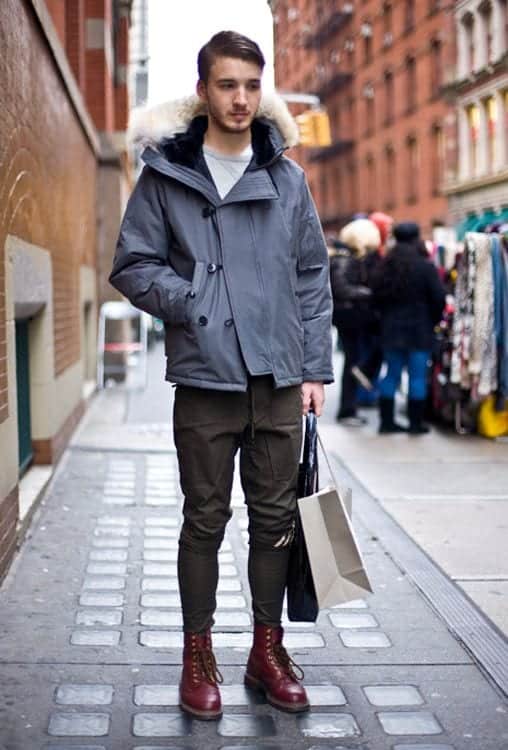 ↓ 16 – Graphic Tee
Amusement parks are the best places where you can rock a graphic shirt, showcasing your individuality and free-spirited self. Always consider choosing a print that would best suit your style and personality. And simple style hacks like tucking the shirt into your shorts would make a big difference to your style. Here are some more awesome Graphic Tee Outfits for Men.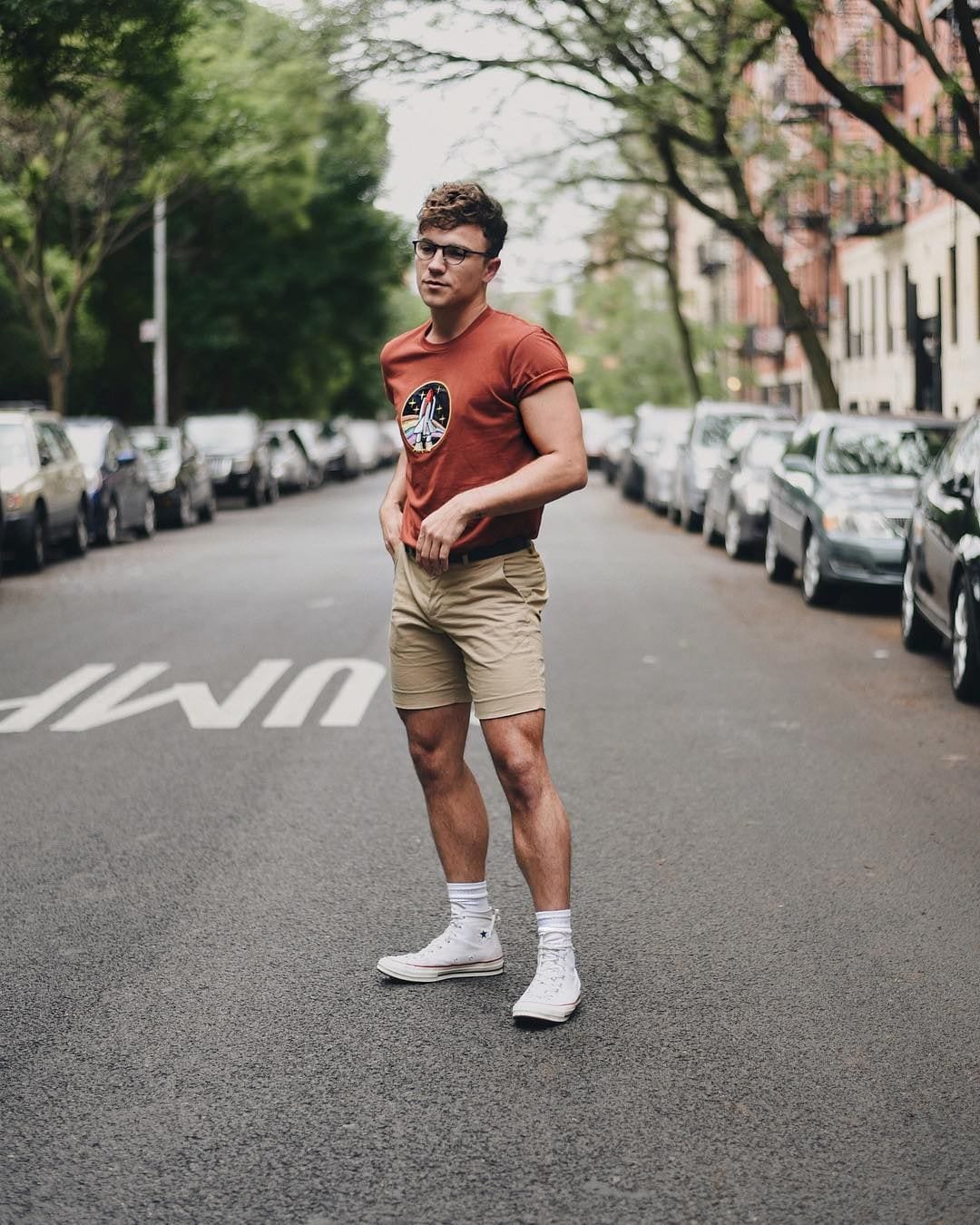 ↓ 15 – White T-Shirt
The most versatile top in every man's arsenal, a white tee, could be your go-to outfit. Remember to pair it with the right bottom, like jean shorts, for instance. Get it done with the right accessories, like sunglasses and a wristwatch – they would make this simple combo stylish.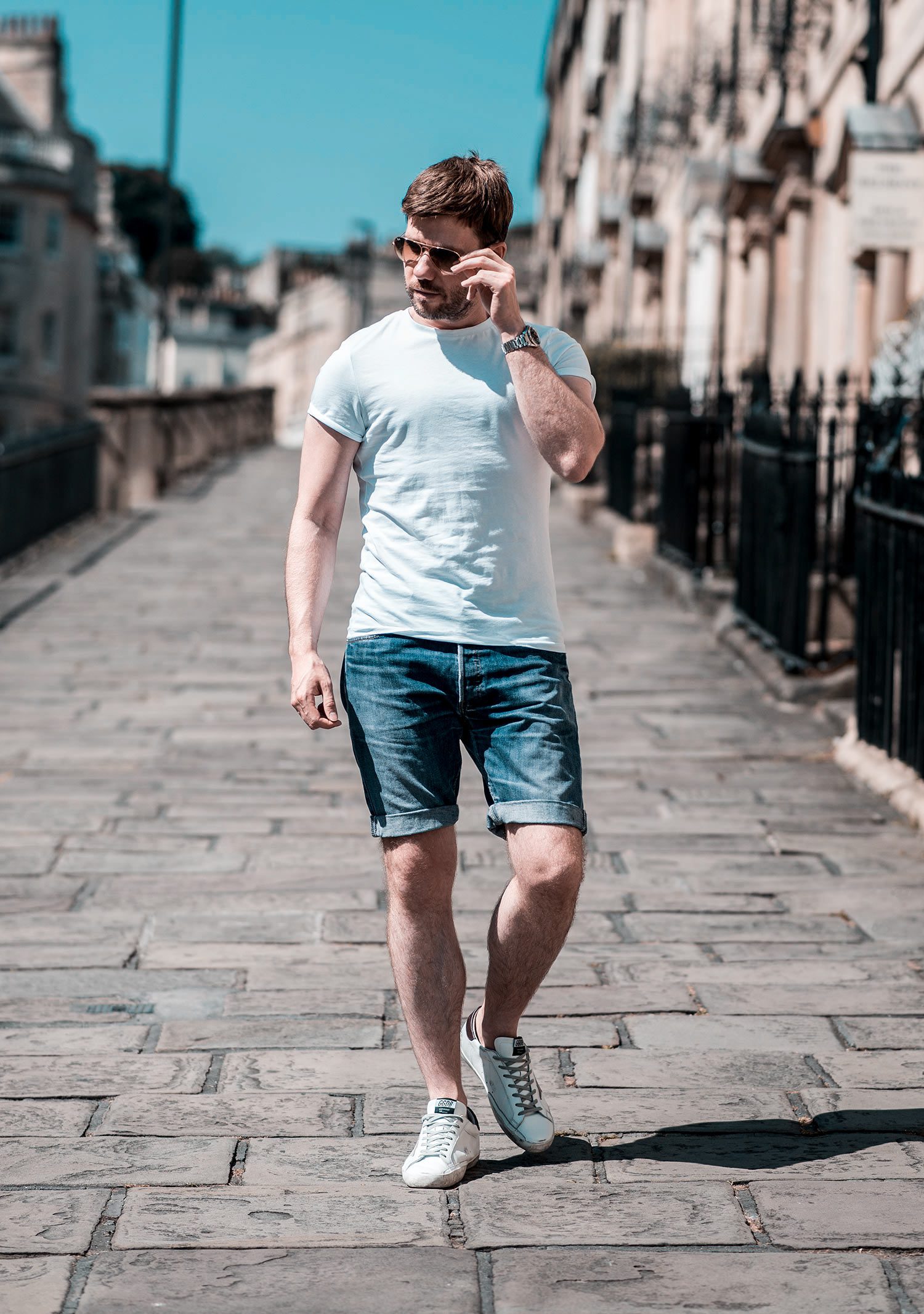 ↓ 14 – Brim Hats
Headwear is essential as it will keep the sunburn at bay. Choose the type that won't ruin your day at the park. I mean, hats are considered "loose." Imagine riding a roller coaster, and it fell off your head – such a hassle for you and the guy that would catch it (or not). Wide-brimmed hats are recommended as they can protect your face, neck, and eyes. Character-inspired hats are a fun way to express your joy. But if they are too expensive and flashy for a guy like you, it's fine to settle with regular brim hats in the meantime.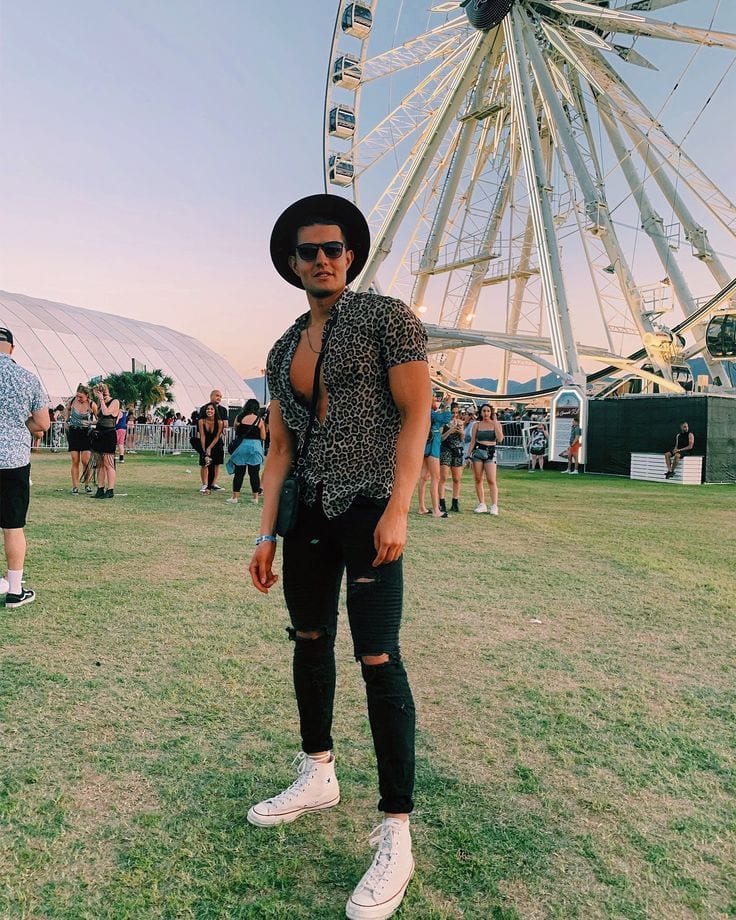 ↓ 13 – Sunglasses
No one wants their eye squinting in the middle of a fun moment. That said, get yourself a pair of sunglasses. These accessories would shield your eye from direct sunlight. Always consider getting a frame that would best suit your facial structure.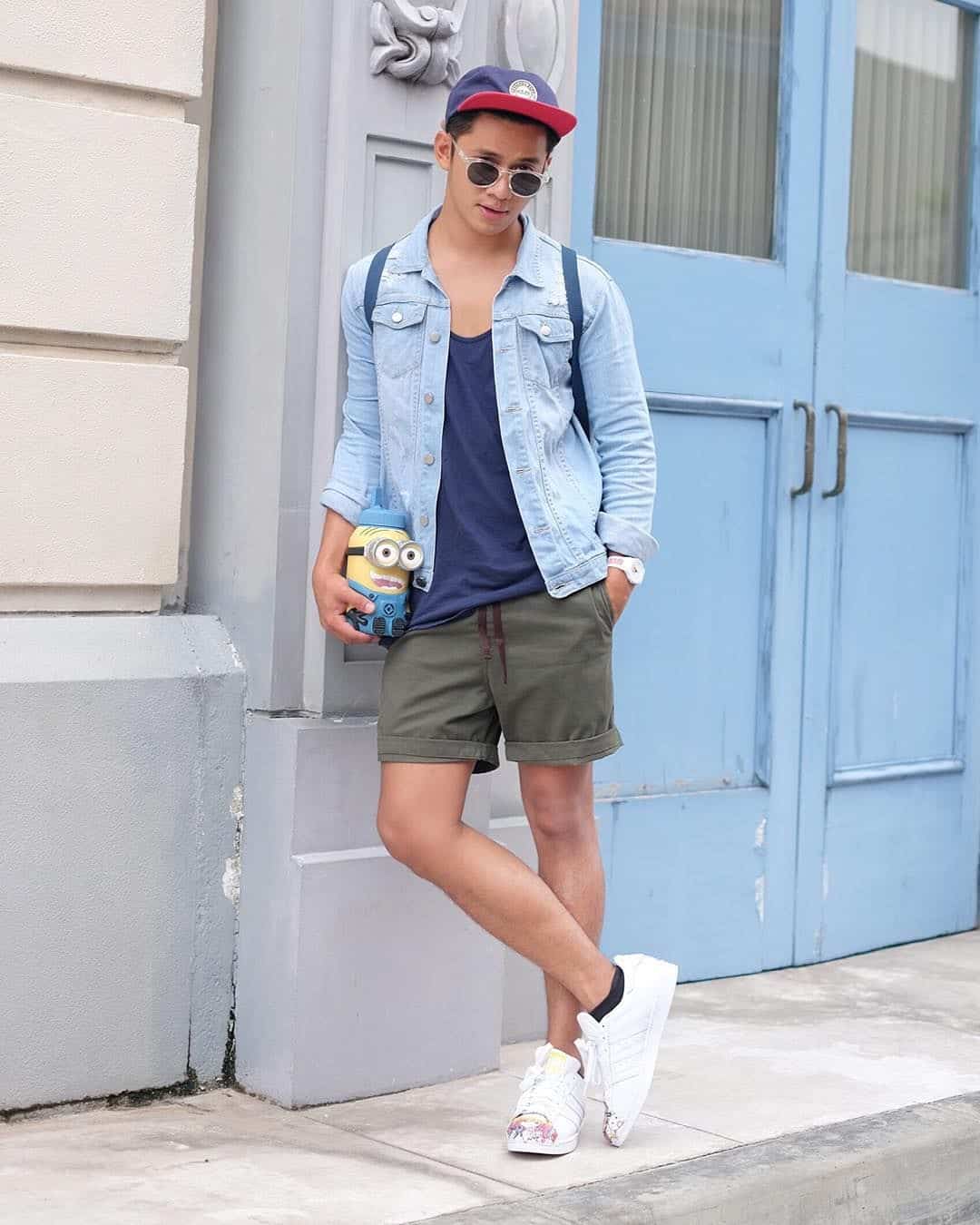 ↓ 12 – Summer Outfit
Summer can be like an overheated sauna at times. So always choose cotton fabrics as they are the best absorbent of sweat. Also, they are breathable and lightweight, so they are comfortable to wear, even in hot weather. Floral and tropical prints will also make an interesting choice for this kind of weather.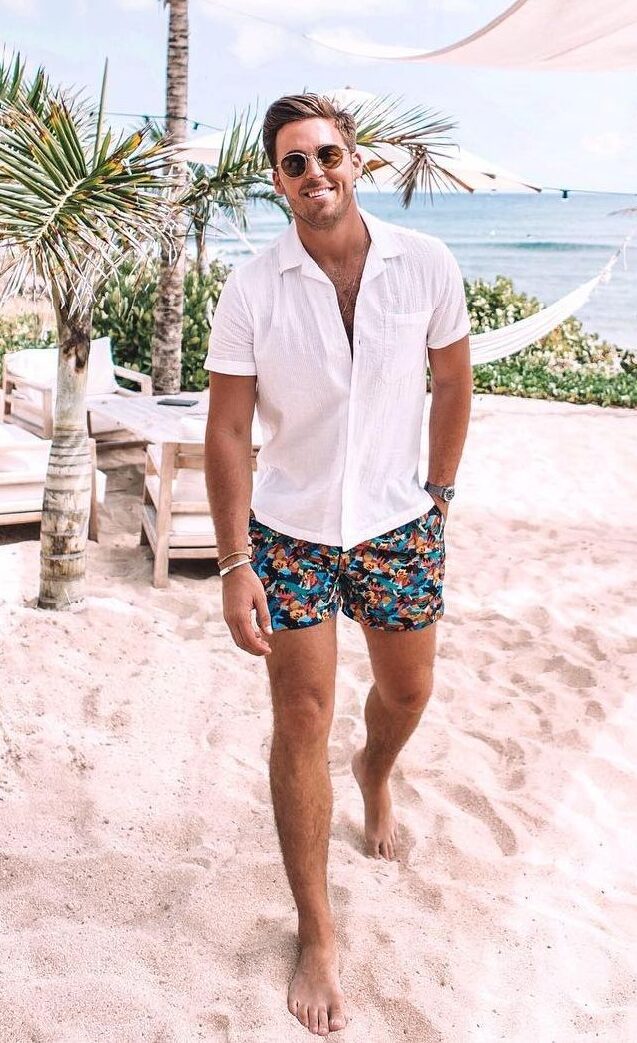 ↓ 11 – Best Shoes For Theme Parks
Sneakers are always a practical footwear choice. And if you are going to an amusement park in the summer or spring, it's a good idea to opt for sandals and flip-flops. They are your best bet, especially if you plan on doing water rides. Water shoes are also recommended, while boots should be reserved for winter and fall.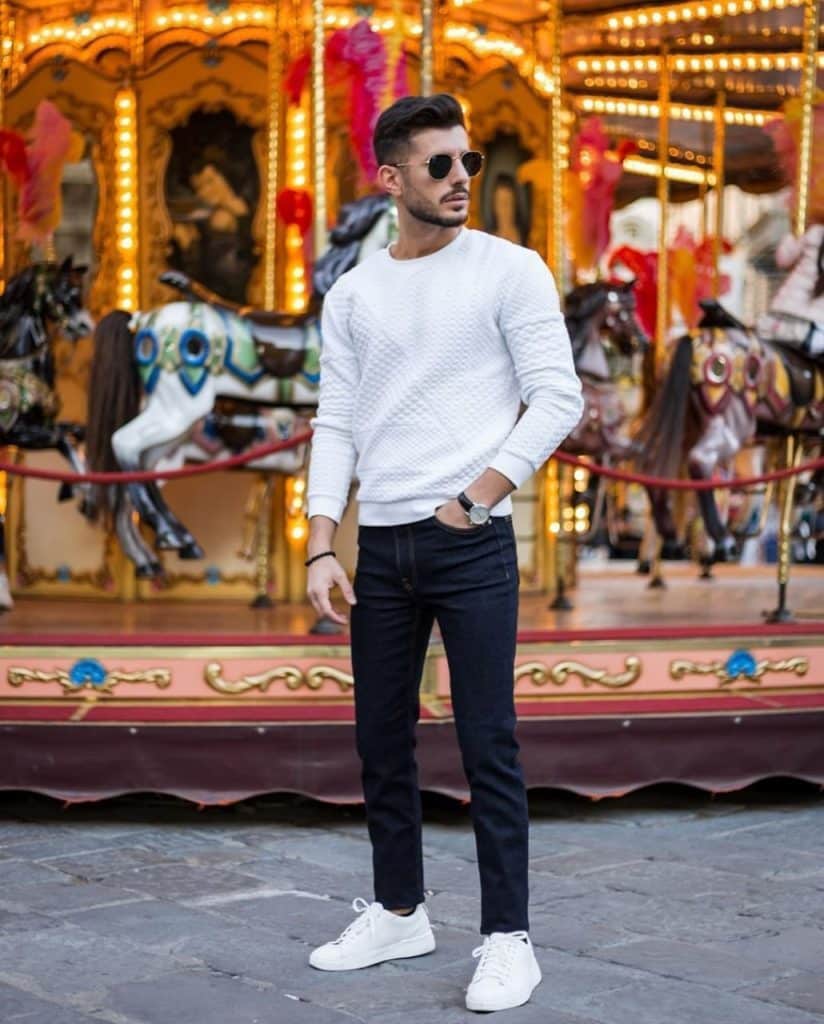 via
↓ 10 – Jean Shorts
They will keep you cool and comfortable all day. Make sure to pair them with the right items to look stylish like no other man. Your best bet is a shirt, perhaps a graphic tee. Steer clear of long sleeves and long overcoats as they would look sloppy with jean shorts.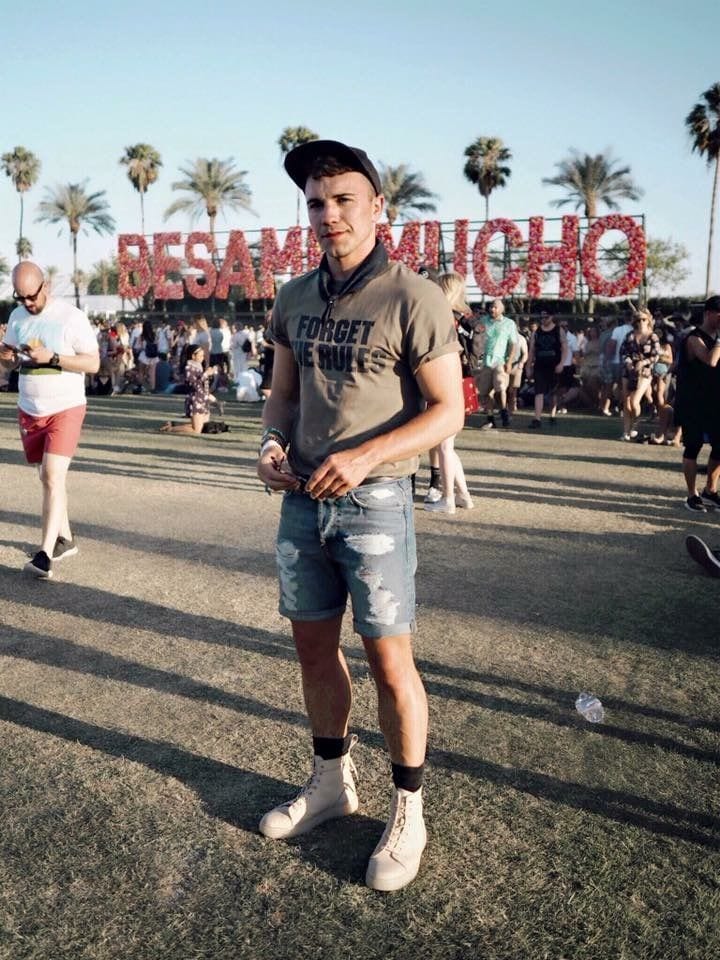 ↓ 9 – Gym Outfit
If you are into the athleisure vibe, that would be useful for your days at the theme park. Workout clothes are comfortable, so they will be helpful to you on your busy days.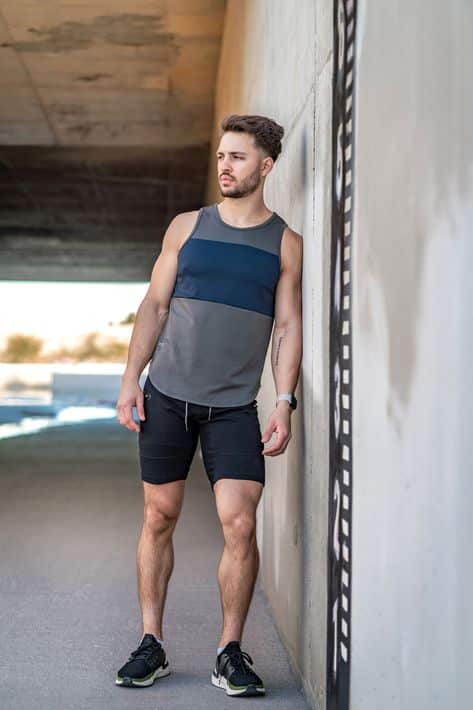 ↓ 8 – Fall Theme Park Outfit
If you prefer going to the amusement park without the sun present, that's fine. In fact, it's best for people who can't take in too much heat. As such, it's ideal for wearing layers to shield yourself from undesirable elements. For instance, throw a camel overcoat over a smart casual outfit.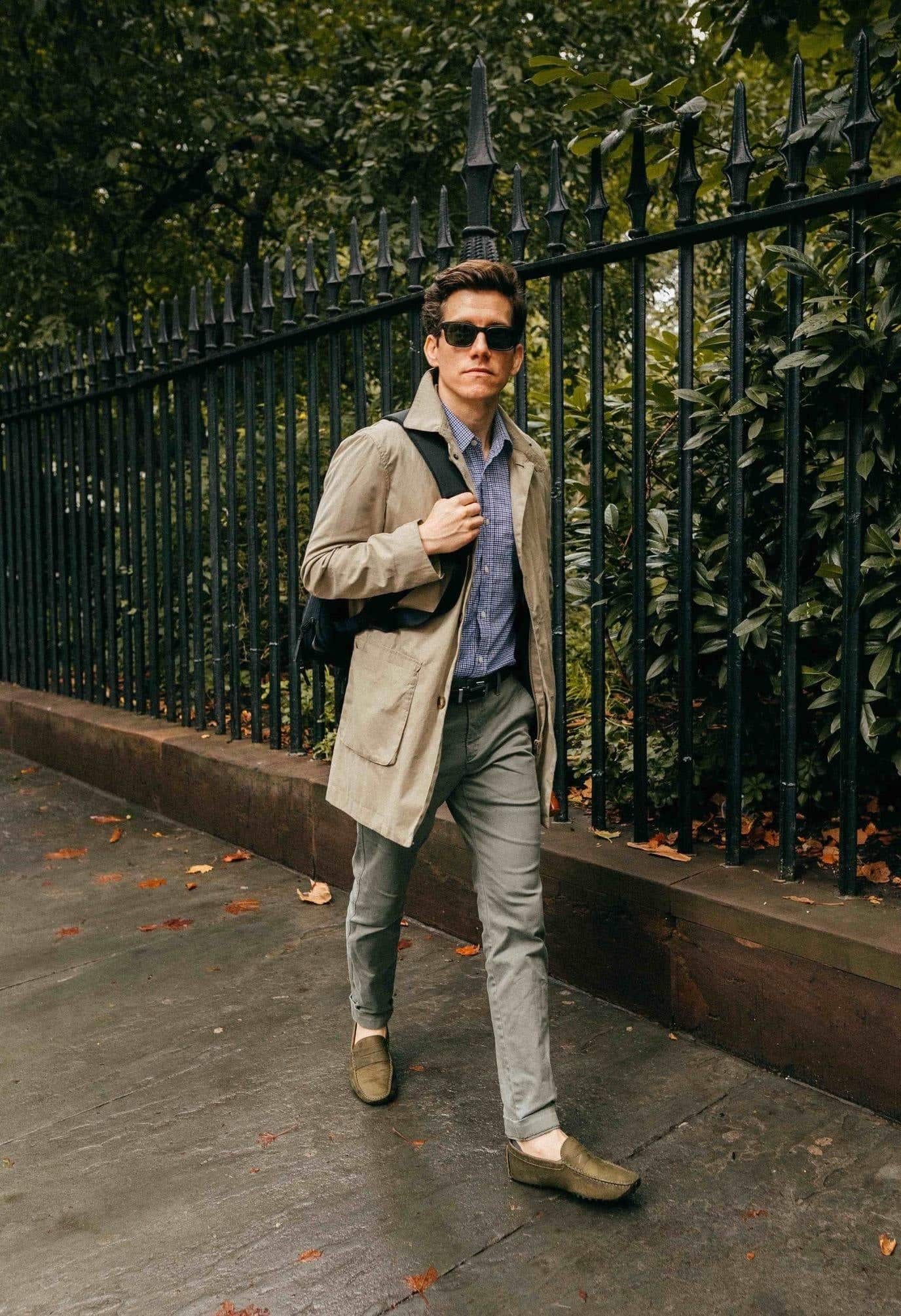 ↓ 7 – Jeans
If you decide on wearing jeans to the park, ensure that they don't have holes and rips. That said, choose a regular design with an excellent fit so you won't complain about having sore legs as it's expected that you will do a lot of walking.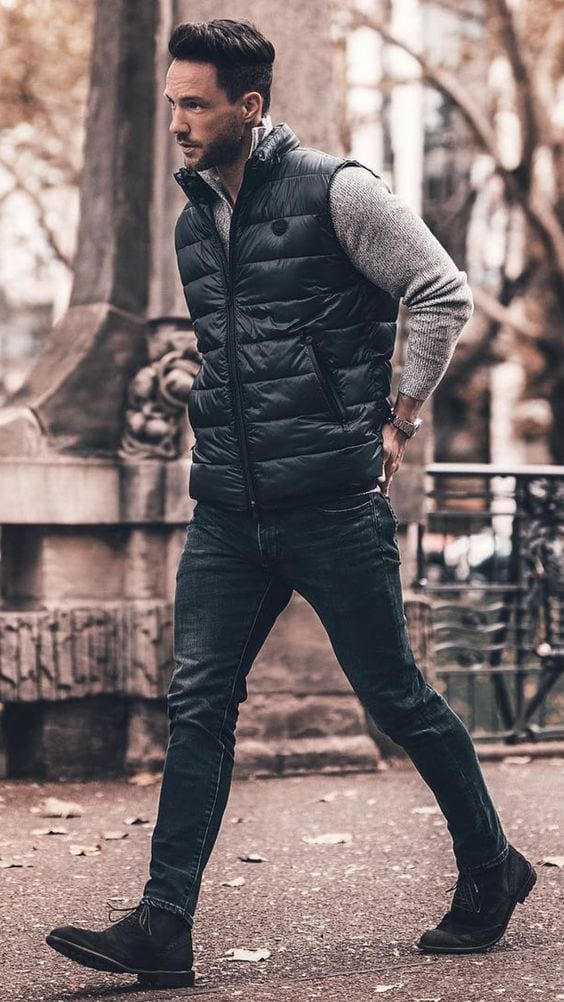 ↓ 6 – Comfortable Theme Park Outfit
Sweatpants are a great substitute for jeans and chinos. Not only are they stylish, but they are also functional for being ideal for the warm weather. It's also your chance to go monochrome as athleisure looks better with that style, so pair your sweatpants with a pullover or a hoodie, whichever one you have.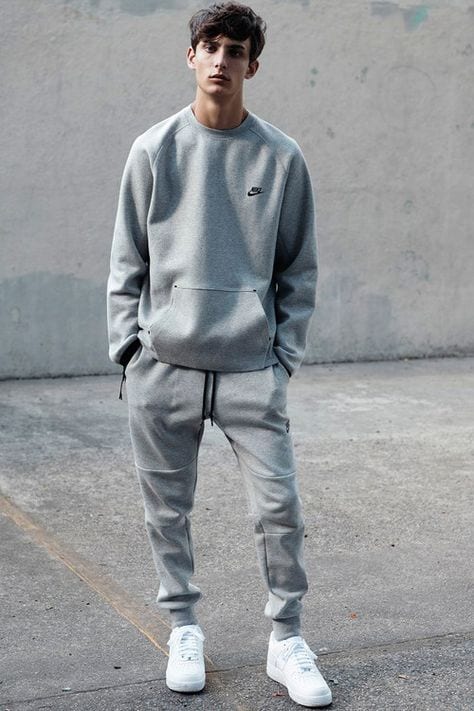 ↓ 5 – Rainy Day At The Park
It's a practical move to bring an umbrella; it's also not ideal to use it, though especially when going through a crowd – it's a hassle! Rain ponchos are a worthy investment. Try wearing them to the theme park. And it also gives you the leeway to show your love to your favorite character.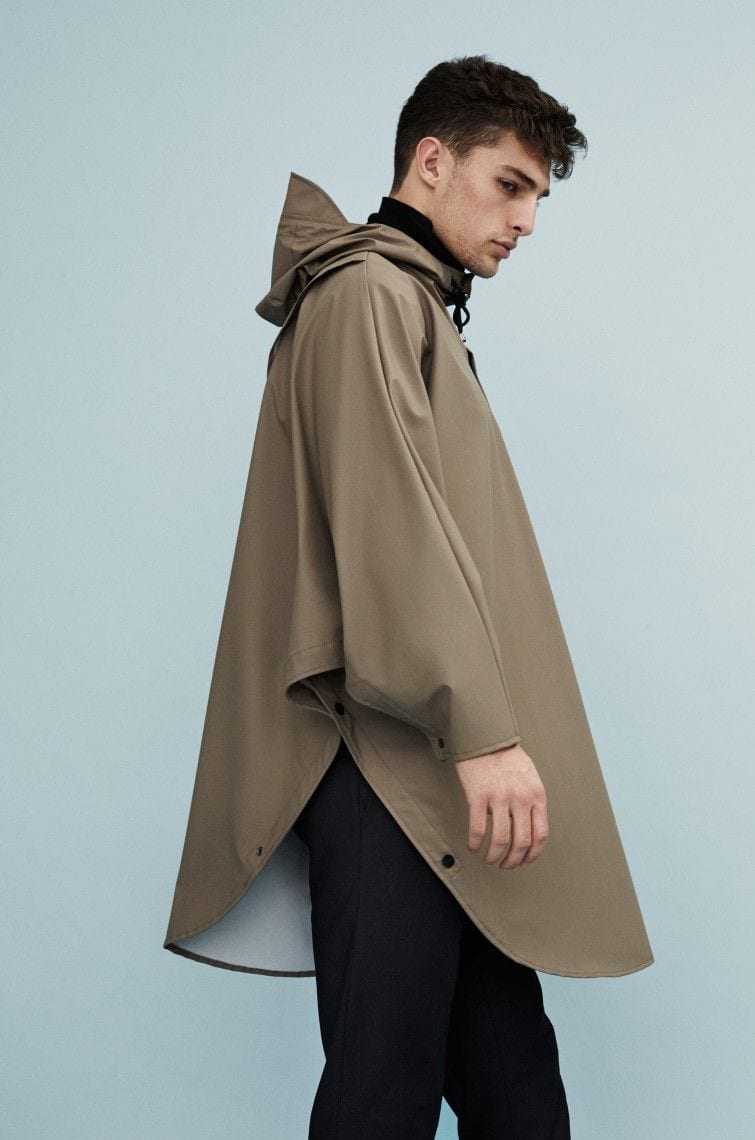 ↓ 4 – Best Bags For Parks
For starters, opt for something portable. You don't want a big backpack with heavy loads to keep you from trying most of the rides, right? Remember that you will also go through security checks. That said, get yourself a fanny pack and problem solved! Besides, you will only have to carry your toiletries, wallet, phone, and tickets.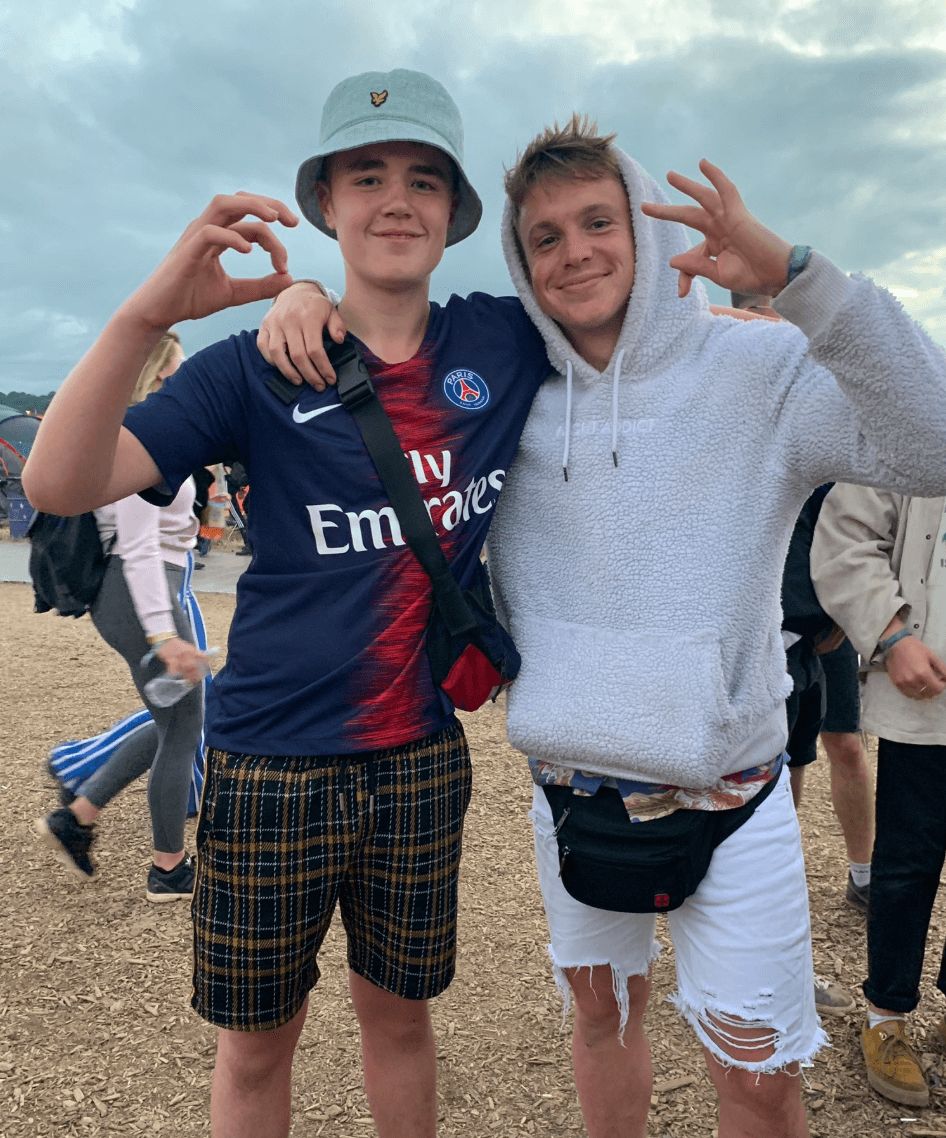 ↓ 3 – Casual Outfit
Since theme parks don't really require strict dress code rules, you can settle with the simplest outfit you can find. For instance, pair a white tee with chino shorts, and perhaps something colorful this time. If you haven't tried other shades, this is your chance! Because it can be boring to wear the same khaki, navy, and white pants in a loop.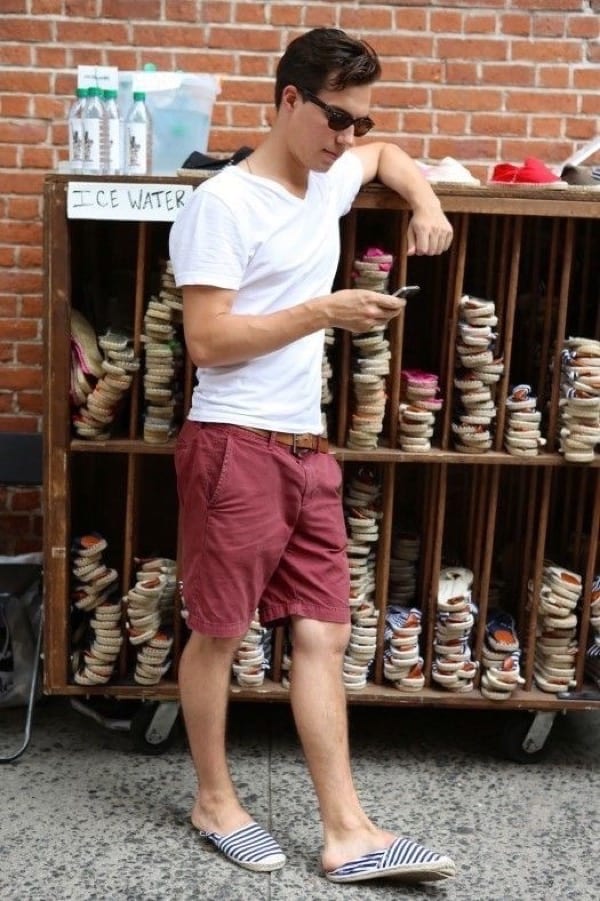 ↓ 2 – Floral Shirt
Not all men are willing to don a floral shirt. It's because the design is generally associated with womenswear. But since this is a theme park, you can show a little sense of playfulness through interesting prints and patterns. Don't hesitate to wear this shirt and pair it with jeans. And then accessorize with a bandana and your best pair of sunglasses – that shall do the trick. For more ideas like these, do check out these Floral Shirt Outfits for Men.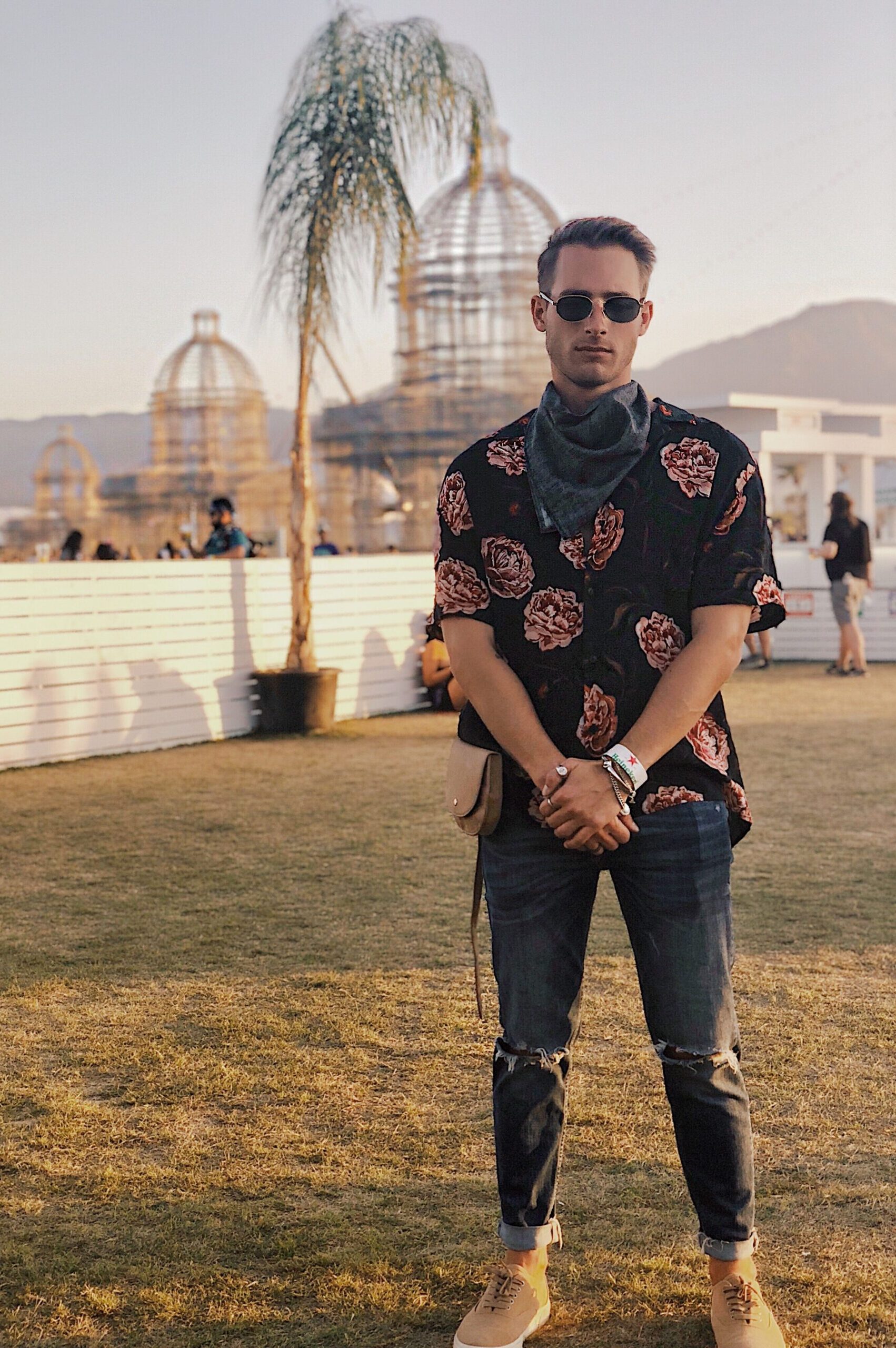 ↓ 1 – Sherpa Jacket
We know a sherpa jacket when we see one. It's that denim jacket with distinct borg collars, and they are perfect for winter and fall. As for the footwear, get a pair of Chelsea suede boots in black to complement the overall ensemble. Your silhouette would also look better if you'll cuff your jeans.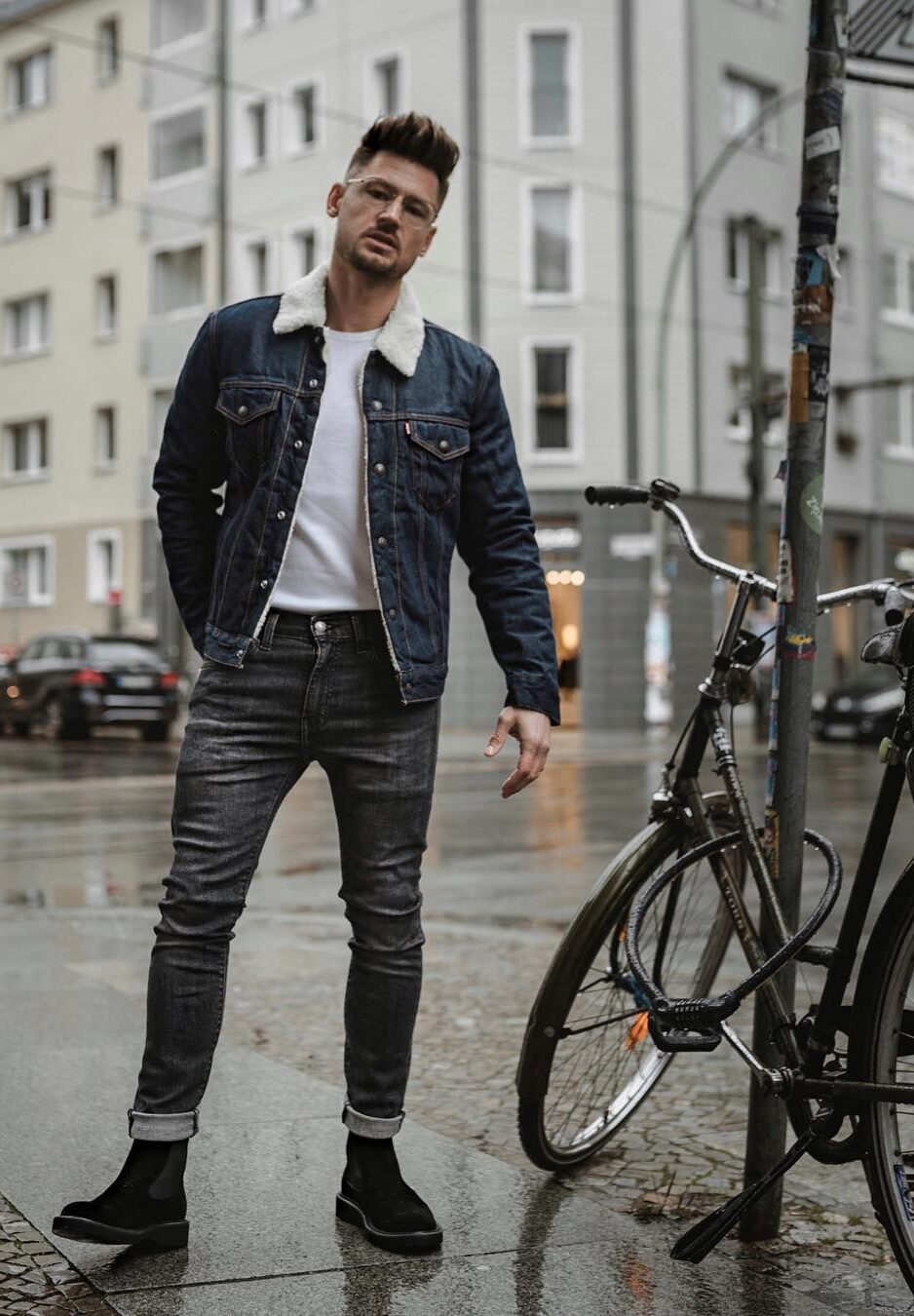 Frequently Asked Questions
Q. Are amusement parks and theme parks the same?
A. Yes. However, they have some slight differences. For one, amusement parks are primarily about roller coasters and other rides. Theme parks, on the other hand, feature places that focus on a particular idea or concept. Examples of these are Disneyland, Universal Studios, and Magic Kingdom.
Q. How to dress for a theme park?
A. If you search online for THEME PARK OUTFITS 2021, you will get a myriad of results, ranging from casual to dressy outfits, from winter to summer-appropriate clothing combos. The rule of thumb here is to always consider the type of theme park and the weather. And always strike a balance between comfort and style.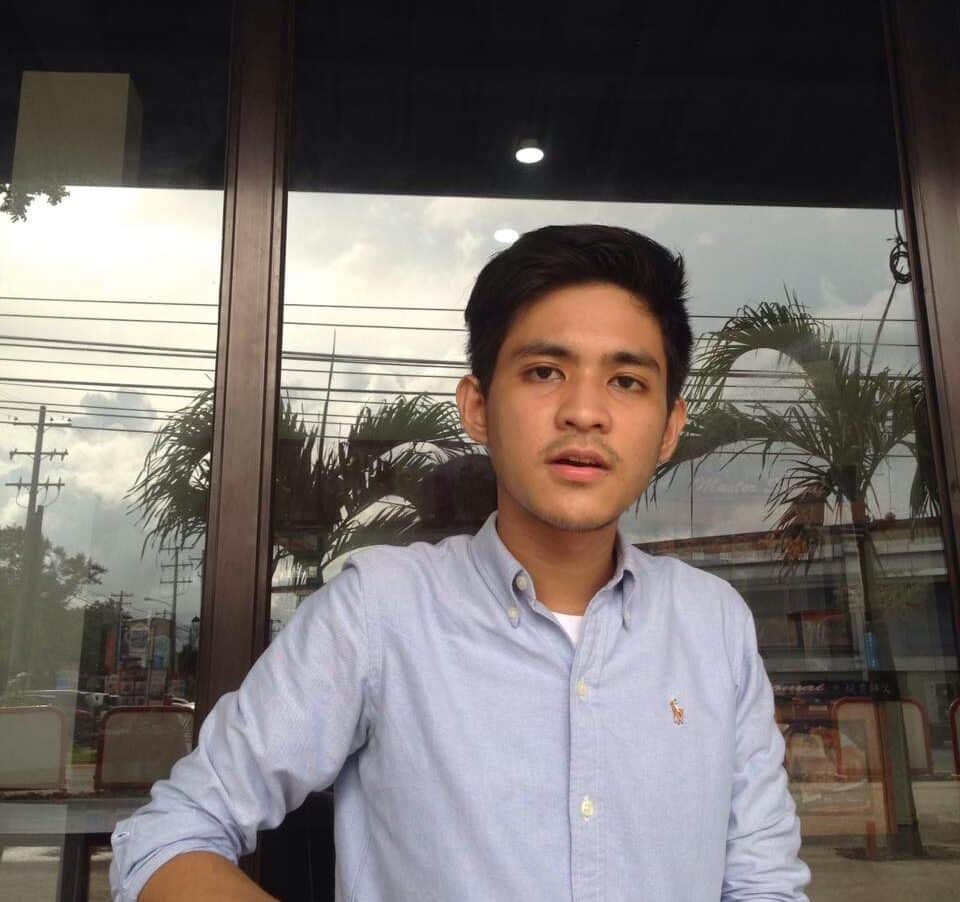 John Vincent studied Communication Arts in the Philippines.
Growing up, he's always had an eye for aesthetics. He enjoys writing a lot. Books, TV series, and movies are a big part of his life. His all-time favorites are Harry Potter, Game of Thrones, and Marvel films.
He believes that fashion is a pure form of art. You express yourself through your personal style – it's something you can't replicate.