Anarkali Kurti Designs: Named after the renowned and gorgeous courtesan of Mughal Emperor Akbar's court, the Anarkali outfit is an embodiment of royalty. Hailing from the Mughal Era in India, this outfit has evolved with the times, but its grace and grandeur have never been compromised.
The Anarkali is a refined and elegant style that usually comes with a pair of slim-fit trousers or leggings. Having made a comeback into the Indian Fashion Scene, Anarkalis come in all lengths, perfect for a plethora of occasions.
Let us take you through an intensive but comprehensive guide on how to style an Anarkali and turn heads with your gorgeous outfits.
How to Wear an Anarkali Kurti?
In our last post we talked about the latest chickenkari kurti designs and today, at your request, we'll be focusing on the timeless anarkalis.
One of the most beautiful things about an Anarkali is how versatile it is. There are countless ways to style it, to dress it up and down and each one makes a statement.
Here are the many vibes and aesthetics you can go for with an Anarkali:
Royalty: Choose a long, gaudy purple anarkali kurta with golden embellishments for the Indian wedding brigade!
Florals: If you're a lover of all things flora, choose an anarkali with bright floral prints.
Minimalist: For an understated and minimalist look, go for a muted, solid hued piece.
Fusion: Wear a strappy anarkali kurta as a midi dress with sneakers to mix things up.
Traditional: When going for a more traditional look, choose an authentic, puritan anarkali.
Dramatic: If you have a flair for drama, pick an anarkali with OTT sleeves or a huge flare or both!
Irrespective of what you choose, remember that accessorizing is always key. You can add a touch of ethnic, bohemian, or beachy vibes to your Anarkali outfit just by accessorizing appropriately and adequately.
Let's dive into some gorgeous inspiration and pick some favorite fits, together!
20 – Green Anarkali Makes The Perfect Traditional Look
When going for a traditional and elegant look, we'd suggest you choose a piece like this one. High, mandarin collar with an envious flare waist downwards.
Choose an emerald green hue and add a pop of color with a bright blue and red dupatta to go with it. Add green drop earrings, a bindi, and some red lipstick to complete the look.
19 – Shine Bright in a White Anarkali Dress
Going on a long-awaited trip to visit some ancient palaces and relive the stunning Indian heritage? A white embellished and embroidered Anarkali like this one is the perfect pick.
Tie your hair back in a sleek bun, wear big, black-polished jhumkas that make an instant statement, and slip into some strappy white flats.
Fit your essentials in a matching white baguette bag, although going for a bright and colorful bag may be a good idea too.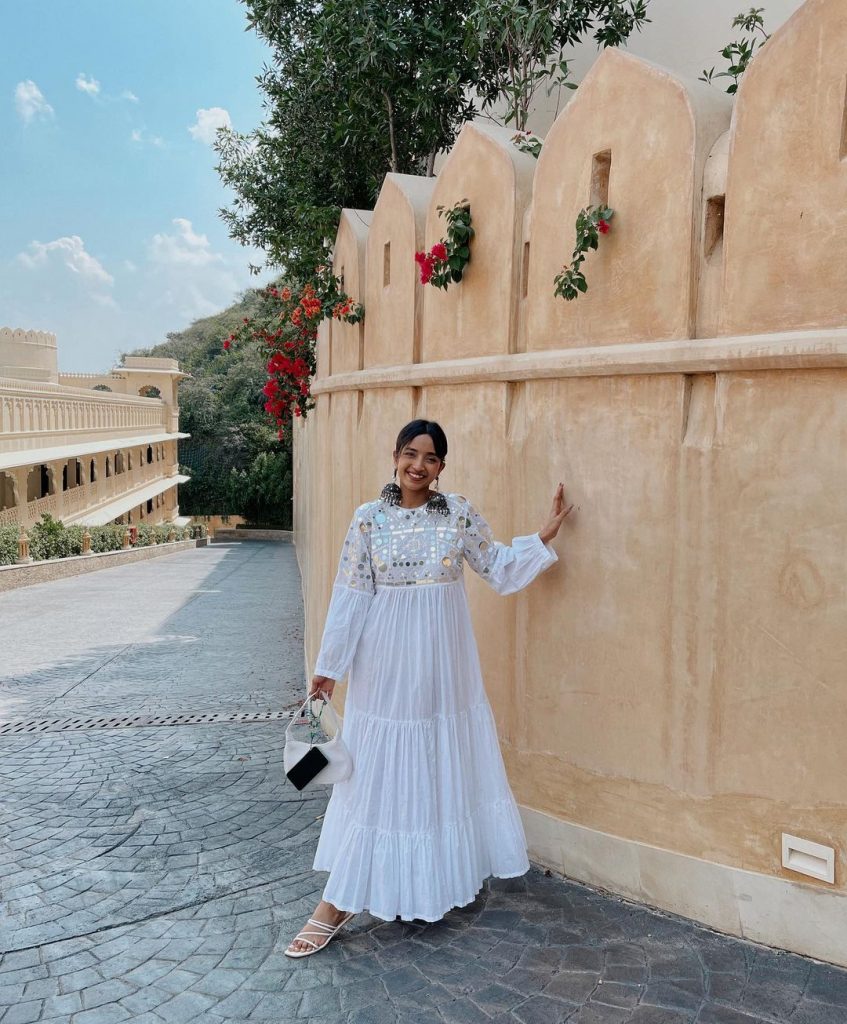 18 – Go For Printed Anarkali on Lunch Date
They say dress for the job you want, we say dress for the flowers you want. Choose a rose-printed Anarkali for a special date with your beau and wow them all over again.
Pair it with a matching palazzo, and a chiffon dupatta. Wear a stack of silver bangles, on one hand, to accessorize and simple box heels for a little elevation. Fall in love amidst twirls and roses, all over again.
17 – Pair Your Anarkali Dress with Straight Trousers
Are you a sucker for the old Bollywood aesthetic? Well, you're not alone. We all love that dreamy vibe and here's how to dress for it.
Pair a mid-length red Anarkali with a pair of white trousers as you stand in the golden hour, soaking in the last sun.
Accessorize with some elaborate, golden earrings and a simple bangle. Slip into golden embroidered flats to complete the look.
16 – Wear Them with Comfortable Nagra Shoes or Khussas for Outdoor Shoots
When you're visiting royalty, dress like royalty. Choose a dark purple Anarkali with golden embroidery and embellishments to seal the deal. The flare of the Anarkali and the stature of a gold-purple combination are unbeatable.
Pair with white or golden embroidered nagras and accessorize with your favorite ethnic pair of earrings. Waltz through the palatial corridors like they were made for you and look like a dream as you do it!
If you want to add a dupatta, I highly recommend this post on Types Of Dupattas And Tips On How To Wear Dupattas.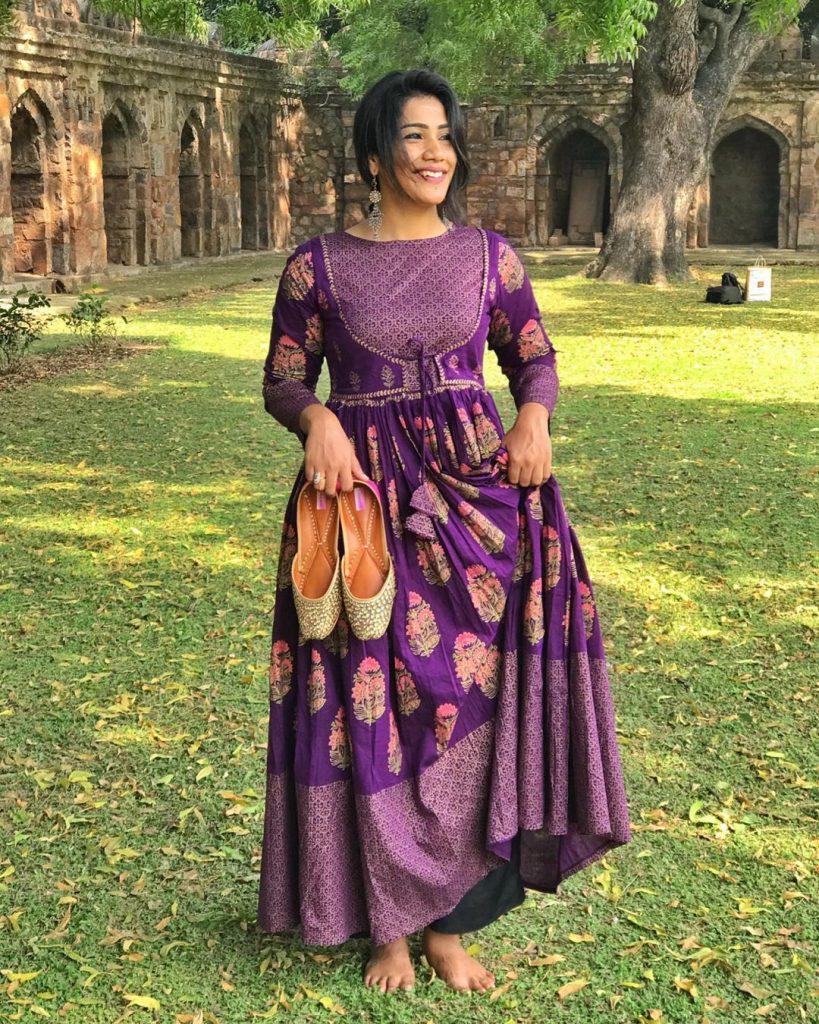 15 – Anarkali Color Combination of the Day: Chai Pink & Mint Green
Baby Pink and Mint Green is the combination that has emerged victorious from the recent Fashion Weeks. Bringing that same trend to Indian outfits, we suggest that you pick a full-sleeved baby pink Anarkali and drape a mint green dupatta to go with it.
Accessorize heavily with some Afghani neckpieces and chokers and ditch the earrings for this fit.
14 – When in Doubt, Try Tie and Dye
Nothing quite beats some indigo shibori. And when put on an Anarkali it gives the traditional garment a welcome unconventional twist.
Pair it with a matching shibori dupatta and white leggings. Accessorize with a silver choker and intricate studs. Choose silver flats for this outfit.
13 – Anarkali Suits Make Great Homewear Outfits
Want to be a stylish but comfortable couch potato as you laze on a Sunday afternoon? We'd suggest you go for a cotton, hand-block-printed Anarkali like this one.
Simple, sober yet so very stylish. Pair with red leggings or straight pants and throw over a printed dupatta if you'd like. Perfect for all your Sunday selfies!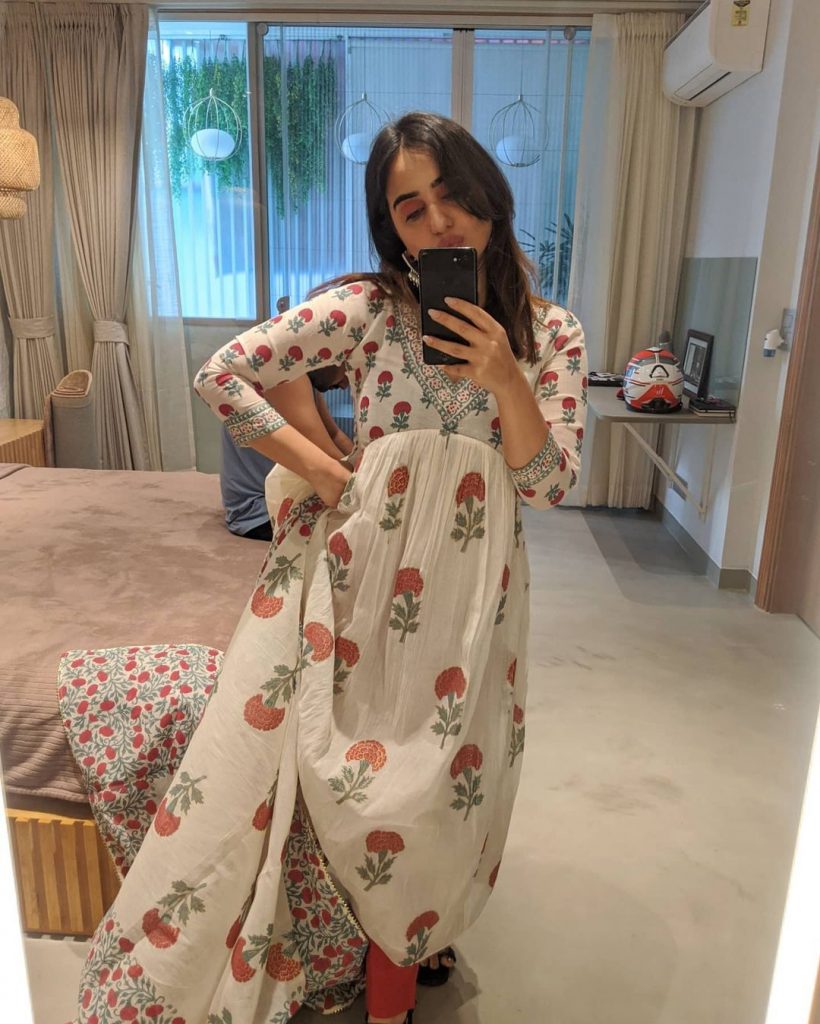 12 – Printed Anarkalis Look Great with Matching Palazzos
Prints over prints with a dash of leheriya shibori are the perfect melange for a twirl and here's proof! Choose a floral printed Anarkali and style it with another printed pair of palazzos.
Make sure the prints carry some semblance to each other but are not interchangeable. Pull the outfit together with a leheriya shibori chiffon dupatta in the same color shades.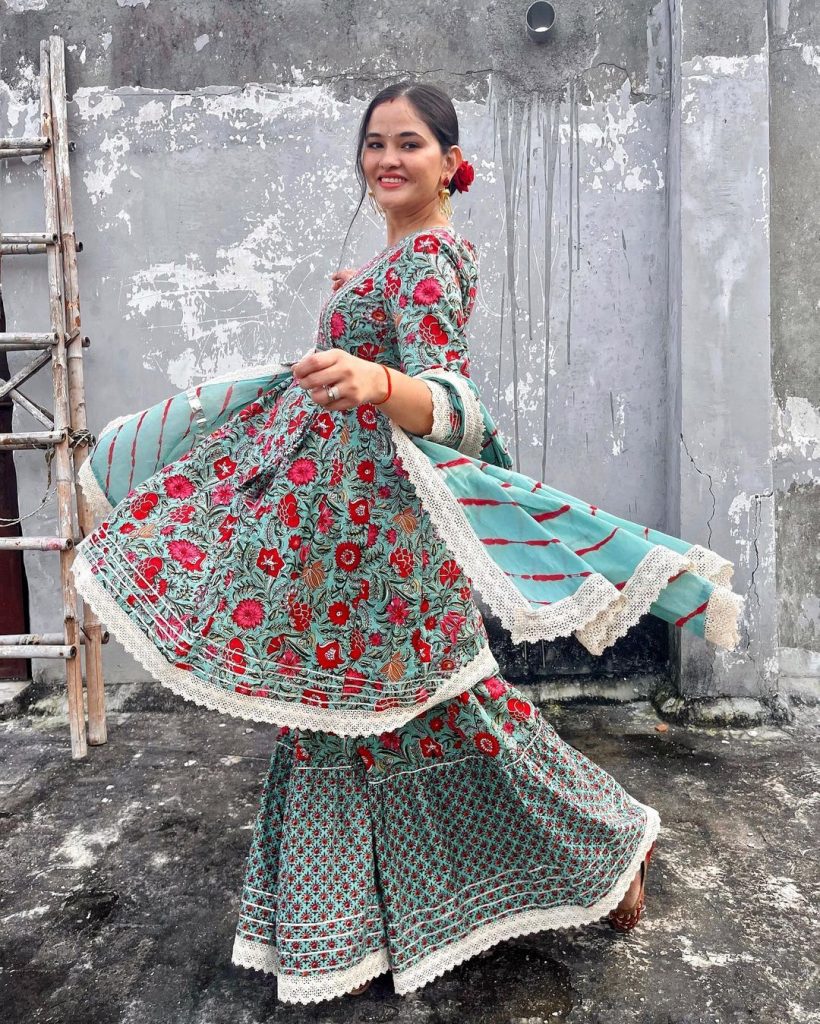 11 – Accessorize with Desi Jewelry If You're The Bridesmaid
Part of the bridesmaid brigade but the sangeet night was too crazy? Don't worry, we've got you covered even when you're hungover.
Actually, especially when you're hungover. Choose a nude, floor-length Anarkali like this one, that comes with a matching, sheer drape.
Take an embellished purse, and accessorize generously with a choker, earrings, and a maang tika. Don't forget your black shades to hide the red eyes!
10 – Simpler Anarkalis Can Be Worn for Parties at Work
Drive your Monday blues away by showing up to work in a blue, gold printed Anarkali set. Accessorize minimally with just a watch and have the compliments pour in all through the day.
The beauty of this cotton, powder-blue piece is how it takes you through the day in ease, yet stylish.
9 – Pair It With Statement Earrings and Clutch for Party Wear
If the iconic Barbie were to wear an Anarkali, it would definitely be a hot pink one like this one. Channel your inner diva in this outfit.
Accessorize with a matching dupatta and statement earrings. Slip into white nagras and take a white embellished bag to complement the white details on the Anarkali dress. Turn heads as you strut down the street in style!
8 – Keep it Simple for Puja
Got an early morning puja at home and you're too busy to think of an outfit amidst all the preparation?
We'd advise you to go for a comfortable, printed cotton Anarkali kurta to take you through the day.
Simple and calming this one is perfect for a homely aesthetic on an auspicious day. Style it with embellished sliders and eye-catching earrings.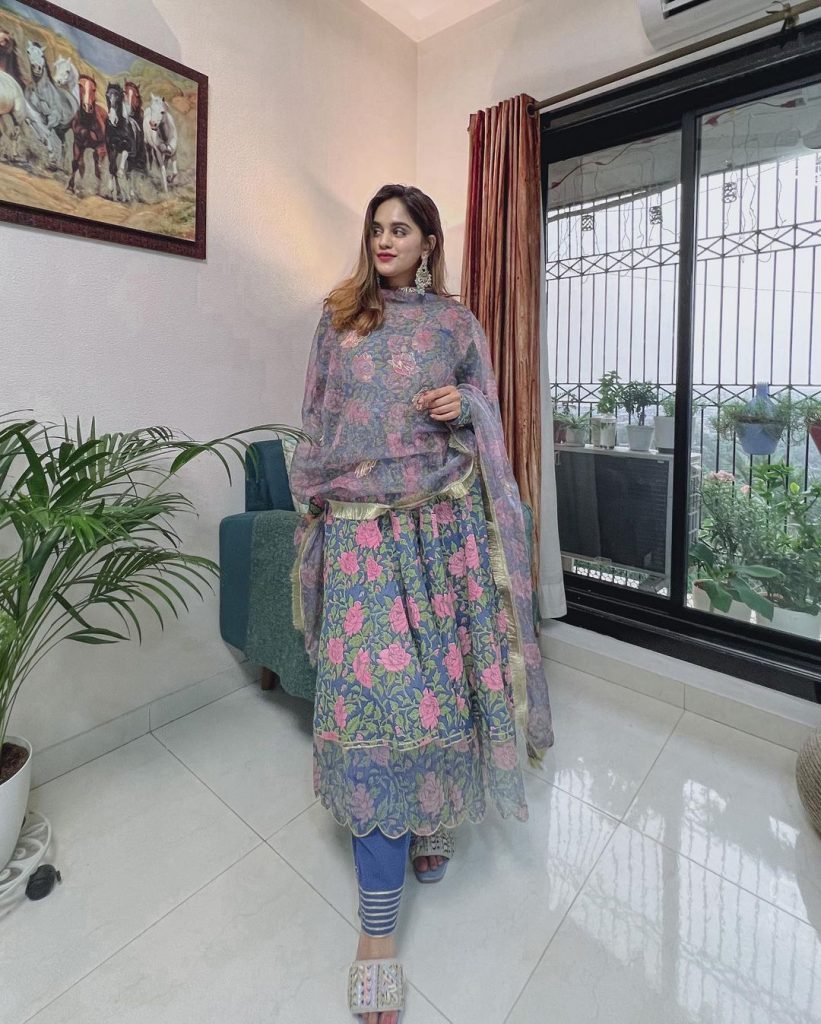 7 – Printed, Lightweight Anarkalis are Perfect for Summers
Get the good vibes growing with this gorgeous, unbound Anarkali. Embody the limitless energy of a flowing stream in a blue, chiffon, lightweight Anarkali like this one!
Style it with a pair of white, straight-fit trousers, white box heels, and a mini white sling bag. Don't forget to add white statement earrings to complete the look!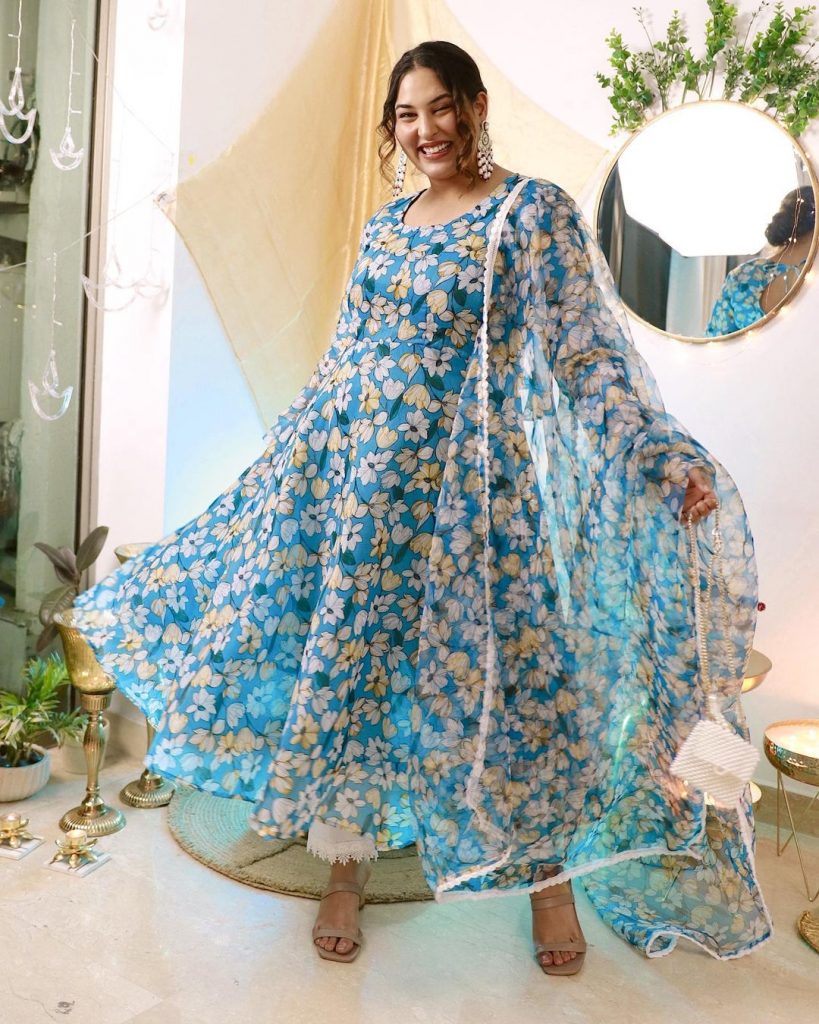 6 – Style Your Anarkali as a Dress
Ditch the conventions and wear a mid-length Anarkali as a dress. Add a bright-colored jacket to go with it and some tassel earrings to steal the deal!
For footwear, either choose simple sliders or chunky sneakers – there's no in-between. Explore the streets of a new city with your newfound love for Indo-Western fashion!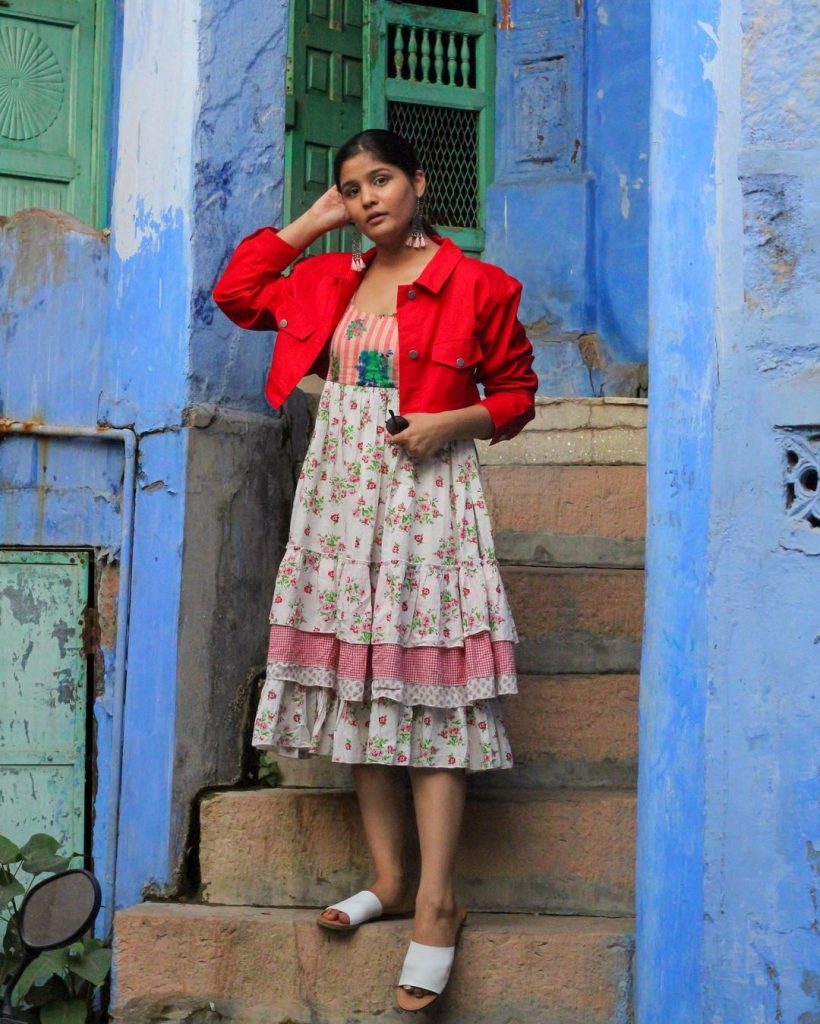 5 – Blue Anarkalis are Our Favorite
For mornings that are slow and calm, for days that make you want to reconnect with your soul. Slip into a serene blue Anarkali like this one and spend your day meditating and introspecting.
Accessorize minimally, possibly with studs alone. Have yourself some me-time, you know you deserve it.
4 – Drama Llama
Bring the drama to a desi family event by wearing this deep V-neck, strappy Anarkali, and shocking everyone! In case anyone dares to school you, tell them that the Anarkali is a lot more ancient than they are, and if even that is changing with the times, it's high time they do too!
Stack some silver bangles on one hand and wear statement jhumkas to complete the outfit.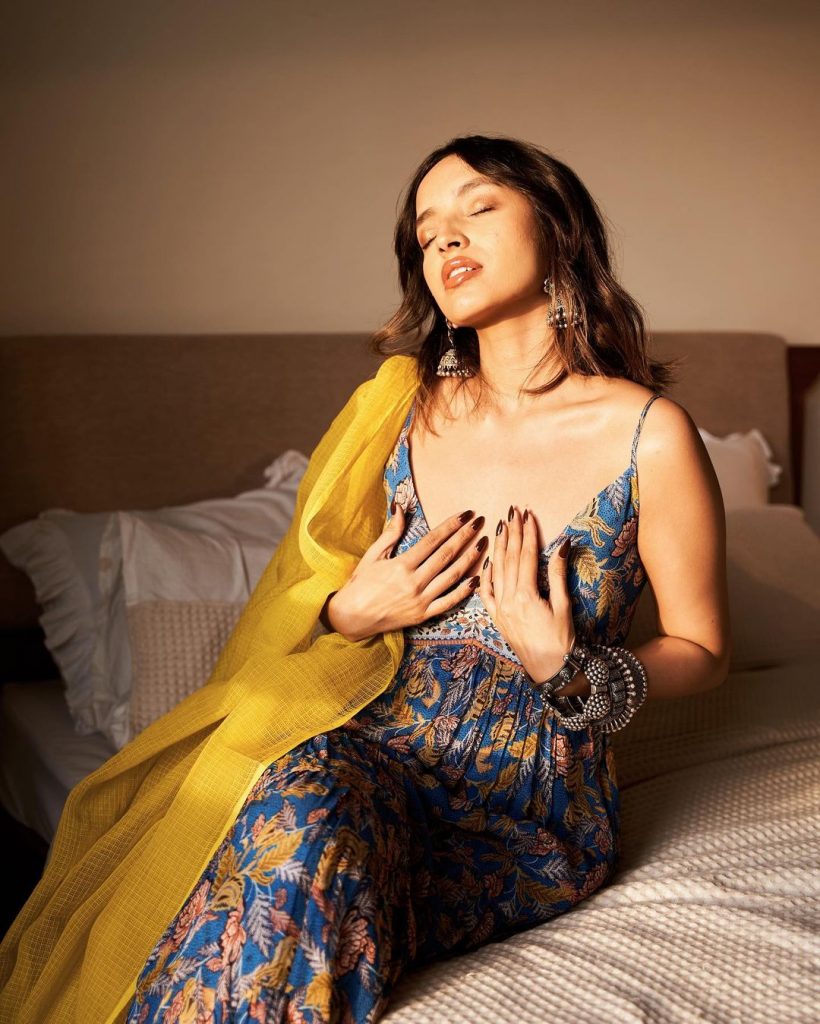 3 – Flaunt That Sexy Back
A white Anarkali, but make it backless! Add a bottle green dupatta to go with a floor-length Anarkali, like this one, and a similar shade of latkans to tie the back.
Do your hair up in a bun, so as to don the backless vibe, and add some flowers to your hair. Have them watch you walk away.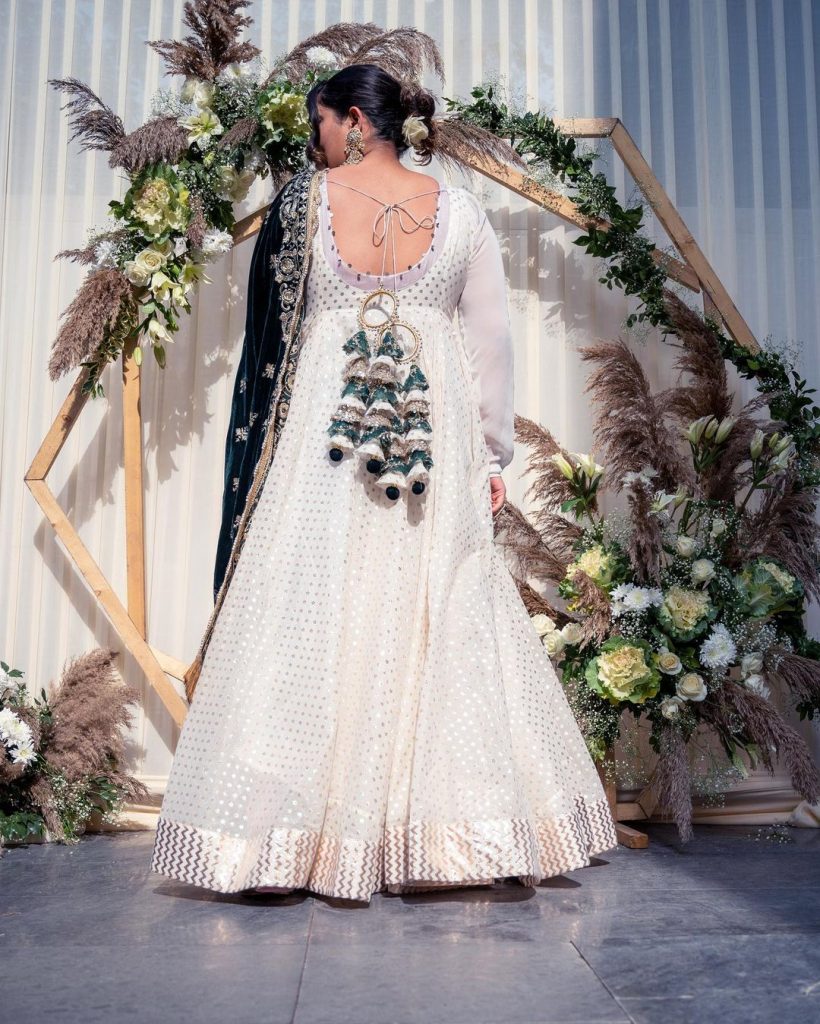 2 – Try a White & Red Anarkali for Fall Season
Styling an Anarkali during the fall season in New York can be truly stunning. Twirling in Anarkali in the midst of falling maple leaves, feels heavenly, feels like a dream.
To pull off this look, remember that layers are key. Layer a woolen turtleneck and a pair of jeans under the Anarkali dress.
Take a printed scarf around your shoulders and add a belt around your waist – securing the scarf in place and also adding more structure to the Anarkali. And just like that, you're a diva!
1 – OOTD: Short Anarkali with Gharara Pants
Anarkali with a modern twist, this fit has to be our favorite. This wedding season, choose a short Anarkali and a pair of embroidered ghararas to steal the spotlight and turn heads by being the best-dressed guest.
Outdo yourself on the jewelry and go for a natural make-up look with some bright inner corners and dark lips. Carry a bucket bag for all the compliments you'll be getting! This would also make a beautiful navratri outfit.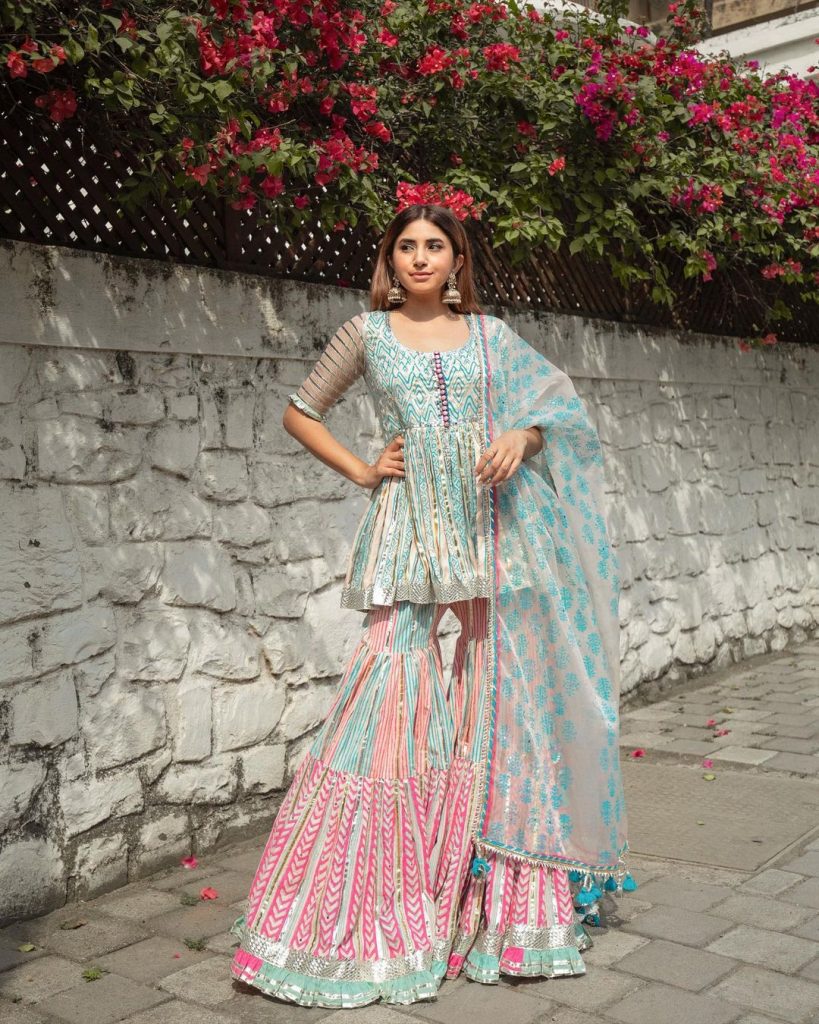 And that was our curation of 20 ways you can style your Anarkali. A timeless addition to your wardrobe that you can wear and style in multiple ways for multiple occasions, we definitely advise you to invest in an Anarkali if you haven't already!
Frequently Asked Questions
Q. Which hairstyle goes best with an Anarkali?
Multiple hairstyles look good with an Anarkali outfit, but the most popular choice is the fish braid. An easy and fuss-free hairdo, this braid looks even better with a flower garland around it! Other hairstyles that also look gorgeous with an Anarkali are a low, neat bun, or even leaving your hair open. You've got to let your hair down every now and then, what better way to do it than when twirling in an Anarkali!
Q. What shoes to wear with Anarkali kurtis?
As you might have seen in the pictures we shared, when wearing anarkali dresses, shoes are hardly ever visible so it's best to go with your favorite shoes. In fact, I often wear them with sneakers myself if the kurti or palazzos are long. Other good options are juttis, nagras, khussas, sandals or any other type of slip-on shoes, depending on the look you're going for.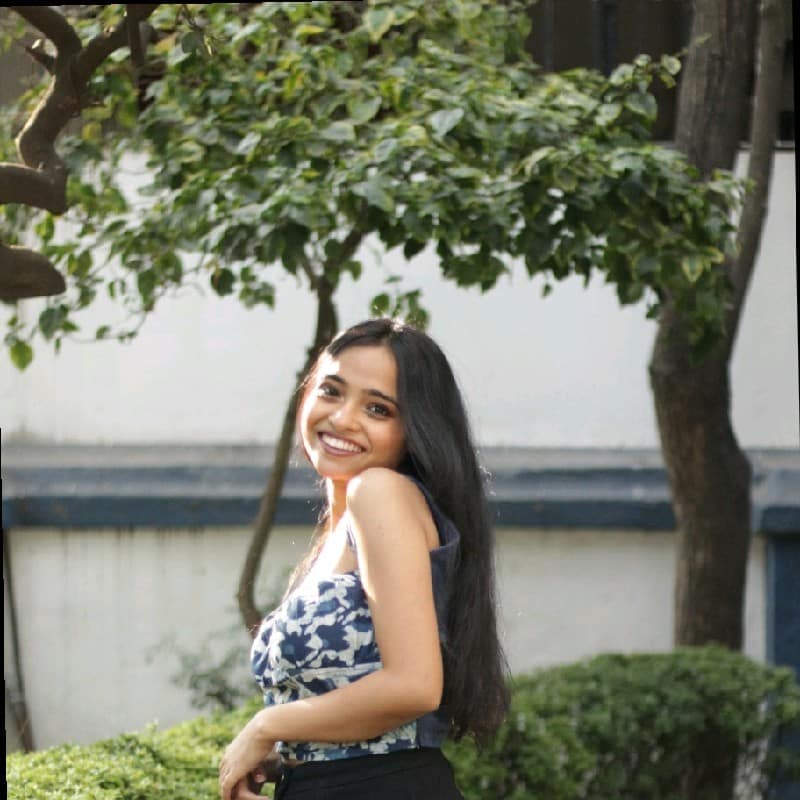 Sanandita is a fashion and travel enthusiast. She enjoys writing, curating, styling, and all things creative. Freelancing and interning while pursuing a Bachelor's Degree in Fashion Technology, she likes to keep herself busy. Oscillating between mundane routines and adventurous getaways, she tends to surprise herself and the ones around her. This extrovert loves socializing, but every so often, she loves her own company, a little more.