What to Wear to an Island vacation. If you are headed to an island this year for a tropical vacation, knowing what to expect and what you should pack is crucial. But not all of us have a what to pack for an island vacation sixth sense, and that's where today's post comes in handy.
From outfit ideas that will spark your own creativity and get the brain juices flowing to a wardrobe packing list, I have covered all the basics you need to know in order to have a successful island vacation. Let's get started!
How To Dress On An Island?
Today I'm going to be talking about what to wear on a tropical vacation so if you are headed to Iceland or, I don't know, the Falklands, today's post is probably not what you are looking for. Tropical islands have one reigning feature in common (well, many, but this is the big one) and that is heat. So our packing list is for you if you need to know what tropical island wear is, what to wear to an island in winter (weather will likely be warm so I've included a few warm-weather "winter" outfits as well), and how to dress for an island holiday.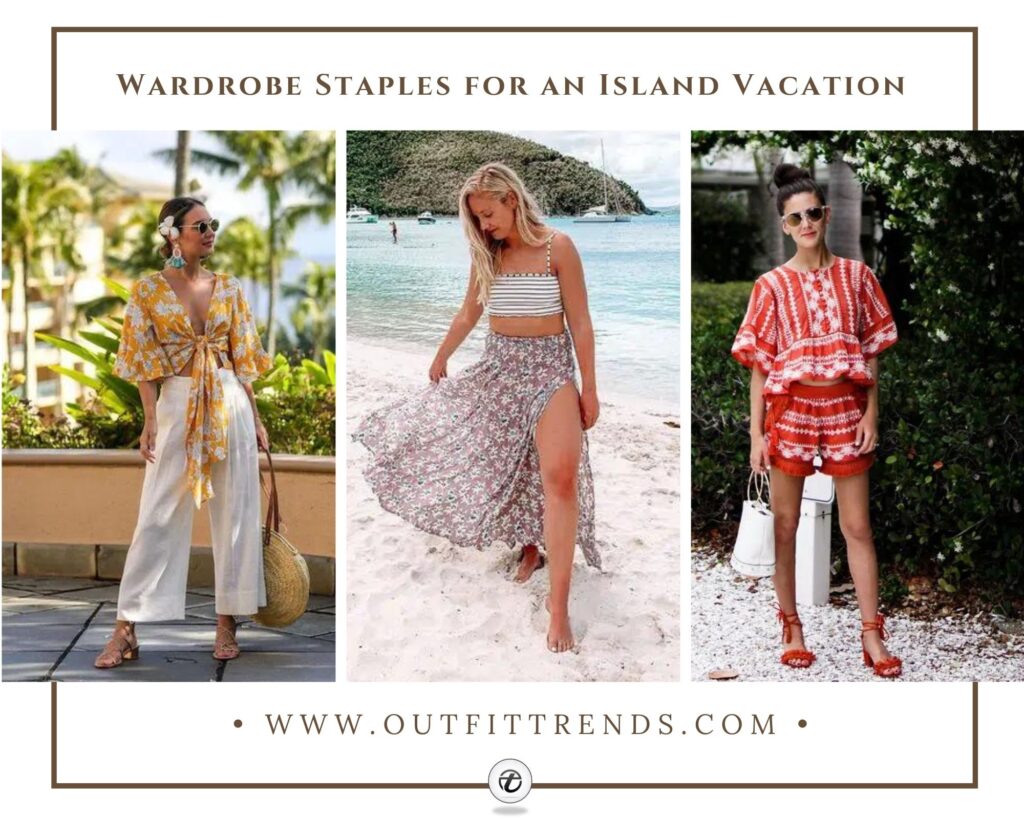 What to Pack for an Island Vacation?
You might be planning a month-long trip to the Bahamas (lucky!) or you might be squeezing in a quick weekend getaway to Hawaii. Whichever the case, the length of your trip (plus your tendencies as an over-packer or under-packer) is really going to determine how much you pack. I put together a packing list for a two-week vacation, but you can adjust as needed. Here it is:
3-4 summer dresses (aim for light, breezy materials, nothing stiff, thick, or heavy)
3-4 tee shirts
2 denim shorts
3 tank tops
1 nice blouse or top
1 pair of jeans (optional)
1 pair of linen pants or palazzo pants
2 swimsuits (one to wear while the other is drying!)
1-2 beach cover-ups (optional)
5-6 sets of undergarments
1 dressy dress for a fancy dinner or party
1 light jacket (evenings on an island in the middle of "winter" can get chilly, or at least, cool… a light jacket comes in handy then)
1 thin nightgown or set of light pajamas
A few accessories I would also include:
1 sun hat (one with a fastener so it doesn't fly off)
1 pair of hoop or stud earrings (something that goes with everything)
2 pairs of sunglasses
Now here's a packing tip that will always come in handy. Before jamming your suitcase full of every summer clothing item you own (because we have all done it!), think back on every vacation you have ever taken, and do an honest assessment of whether or not you wore everything you packed. Chances are, you wore the same thing three times in a row and you didn't need the 5 swimsuits you thought you did. With this mindset, start packing!
What Shoes to Pack for an Island Vacation?
Much like clothing, we tend to overestimate exactly what we will need when packing for a trip. Before you pack all 17 pairs of sandals that you own, here are the two shoes I would consider essential for an island vacation:
1 pair of flip-flops
1 pair of sandals
That's it! I know, crazy, right? Of course, if you plan on hiking or doing any sort of serious outdoor activity, you'll want some sneakers (and socks). And you might want to bring a heeled sandal or some ballet flats in case you plan on having dinner at a restaurant or attending a party. But that's pretty much all you need. Pretty simple, right? You can also get more ideas from these Best Walking Shoes for Europe Trip.
Now, what about those outfits?
19 – Island Vacation Style for Teenagers
If you are a teenage girl, this one is for you! Keep your looks fun, simple, and stylish so you can enjoy your vacation without a single worry to dampen your fun. I love this basic outfit which includes a cute hair scarf, a stylish bag, and some pretty flats. You can pop this outfit on over your swimsuit or just wear it while you explore the area.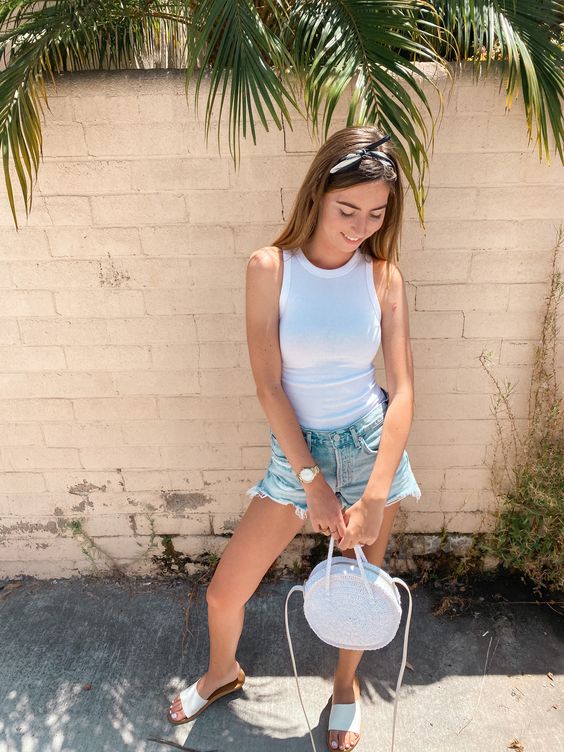 18 – Layer With A Kimono
One item I didn't include in our packing list is a kimono, but if you love those breezy pieces (which work super well as beach cover-ups) go ahead and stash it in your luggage! It's a stylish piece that can be worn a ton of different ways and it has a decidedly vacation/summer feel to it. Paired with some funked earrings and you have got yourself one heck of a look. Here are some more of the cutest Kimono Outfit Ideas.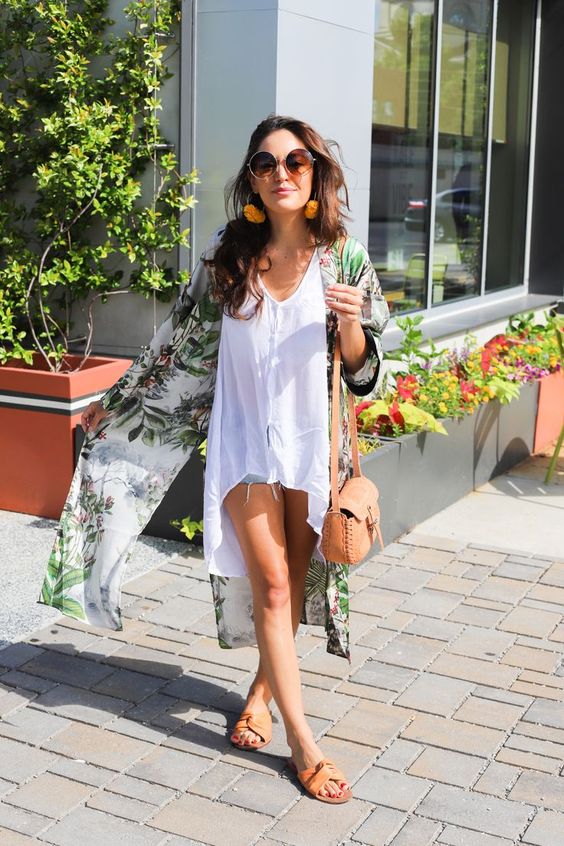 17 – Blue Dress with Flats
I love, love, love this flirty and fun dress, which is simply perfect for an island vacation. You can wear this over your swimsuit or wear it to brunch, for walks on the beach, or simply to enjoy your day in style. Pair it up with some rhinestone sandals for an extra fun look.
16 – Preppy Island Vacation Outfit
Vacations are a great time to take pictures with the family and commemorate the experience. That's why I recommend packing one fancier top that you can wear for pictures or for a dinner out. Extra points if it's also something you can wear over your bathing suit! I love this whole ensemble, from the linen pants to the tie-front top and extra-big earrings.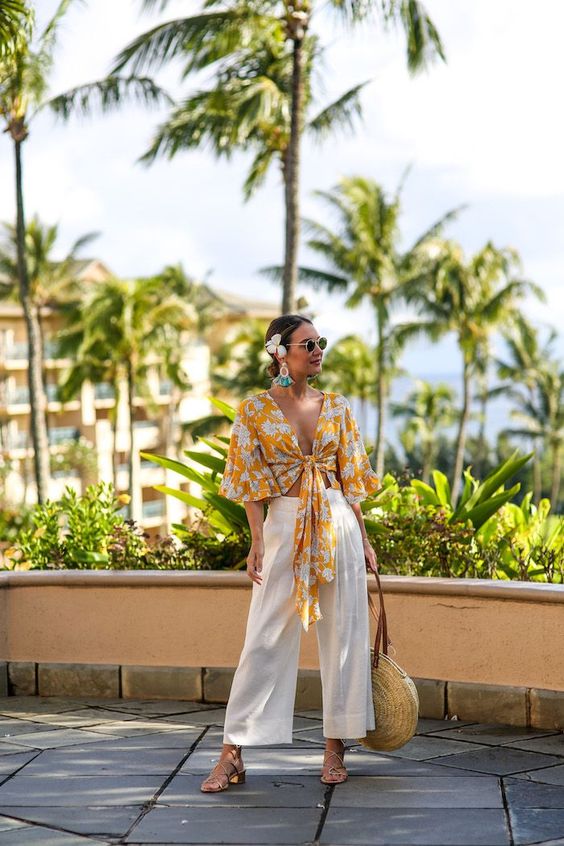 15 – Simple, Easy Vacation Outfits for Women
Here's an outfit you could easily pull together from the pieces listed in our packing list. A pretty, lightweight sundress, a wide-brimmed hat, a swimsuit, and flats. You can pair up these pieces with others to create various outfits that will always feel island-ready and fresh.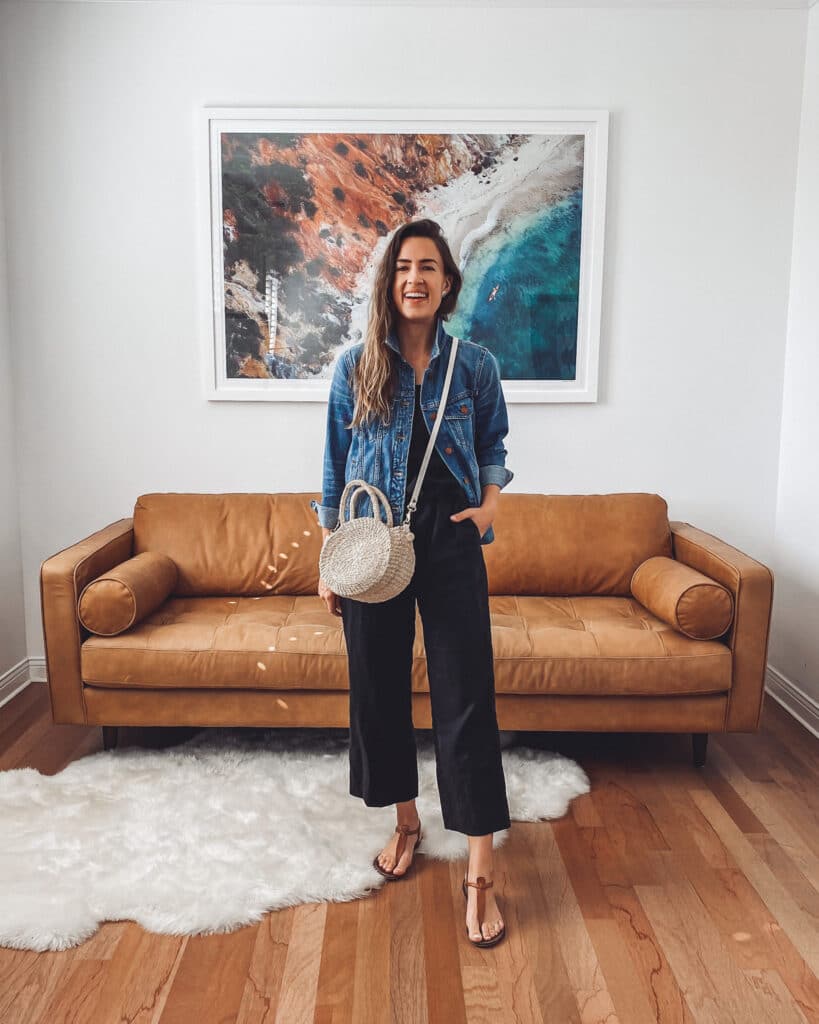 14 – Hat With Green Polka Dot Dress
At the end of the day, an adorable ruffle-sleeve, polka dot dress paired with hoop earrings and a hat will never let you down.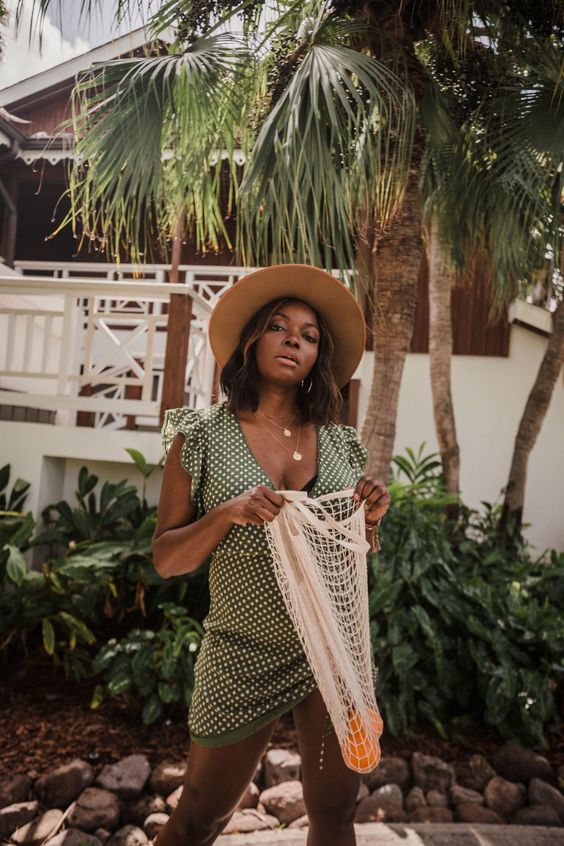 13 – With Pin-Striped Shorts
This outfit is to die for! From the totally unique and eye-catching top to the absolutely adorable pin-striped shorts, every bit of this look feels young, fresh, and completely stylish. It's also perfect for the heat of a tropical island, which may or may not be in the mid-80s even during peak "winter" weather. But island weather varies so be sure to check your weather app and do your research for what's typical for the island you are vacationing on.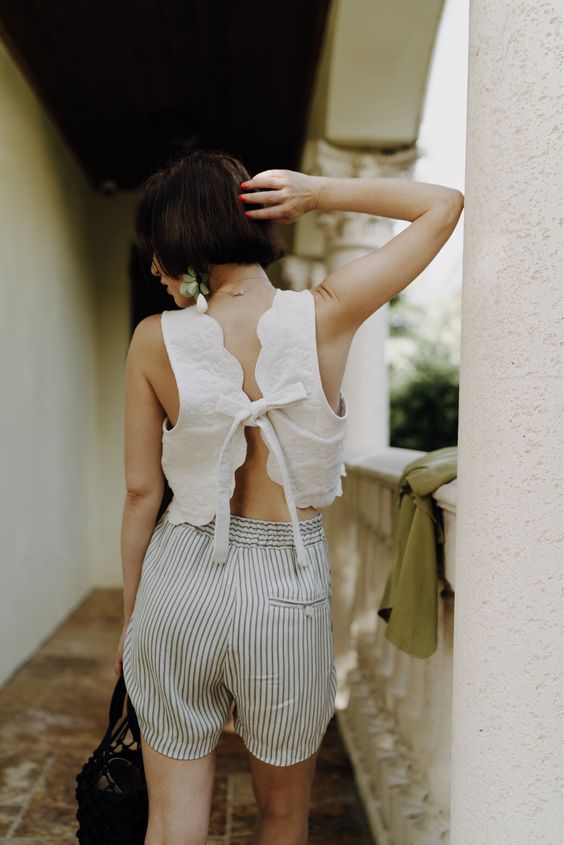 12 – Lightweight Dress
When it comes to island wear, you can't go wrong with some lightweight dresses. They are one-and-done outfits that require little guesswork and even less effort to throw on. Paired with some cute sunglasses and earrings, you can feel great and enjoy your vacation without stressing over what you're wearing. Win-win in my book!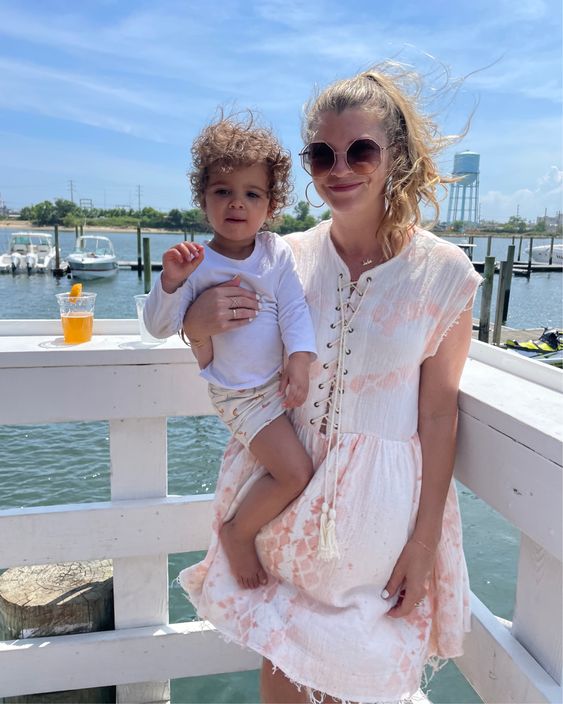 11 – Island Pool Party Outfit
If you know you'll be enjoying a party or two on your vacation, be sure to bring at least one party-style dress that you can pop on with a pair of cute sandals. This little ensemble just requires a nice hairstyle (some "beach waves" would be just the thing) and maybe a fun accessory like a trendy purse.
10 – Matching Embroidered Set
An easy way to feel super put-together and stylish is to wear a matching set. You won't have to worry about coordinating colors or anything like that, and you can swipe on some lipstick, tie up your hair in a bun, and feel like a stylish queen: all with an outfit that two about three seconds to pull on. Aim for lightweight material and bright, fun colors.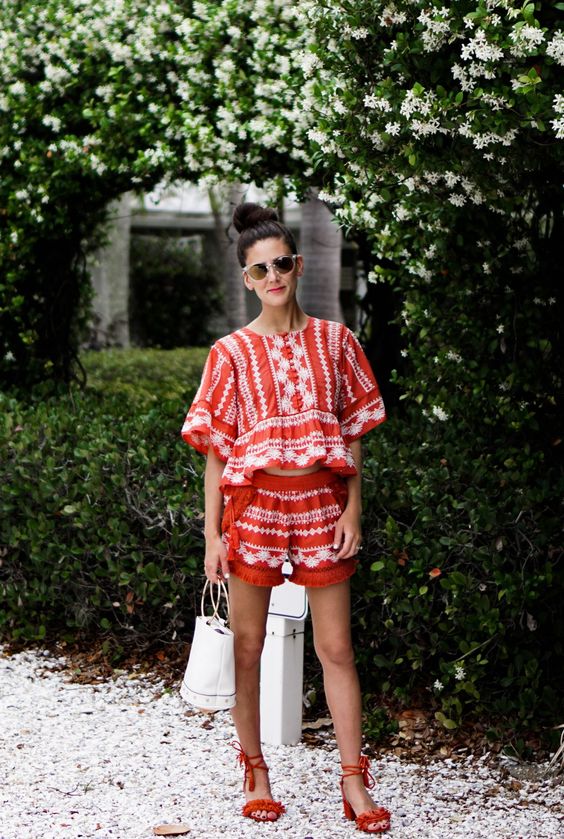 Temperatures can really vary depending on which island you are vacationing on, so be sure to do your research ahead of time and pack accordingly. If you are in need of some warmer items, be sure to include them in your packing!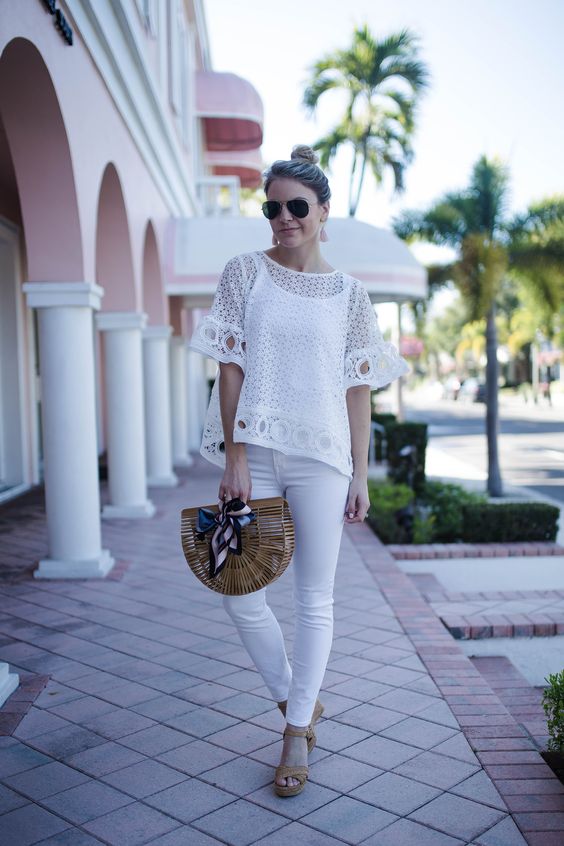 9 – Essentials in Neutral Colors
I'm a big, big fan of neutral pieces. You can mix and match to your heart's content and everything will always match. This simple outfit definitely utilizes that concept and the results are understated but stylish. Great for a busy vacation when you've got lots to do and little time to waste.
8 – What to Wear on an Island Holiday
Not everyone is a fan of beach cover-ups but I sure am. And this long, flowy skirt to wear over your bathing suit bottoms checks every box. It's floral and feminine and designed for maximum comfort. Yes, please.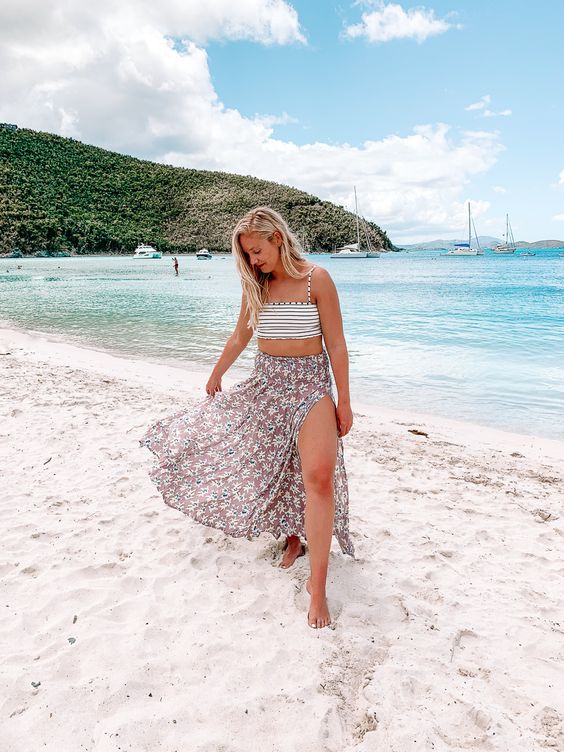 Traveling to and from your destination requires great outfits too. Give this one a try, and keep it on hand for a chilly day. You can get more ideas from these Travel Outfits for Airport.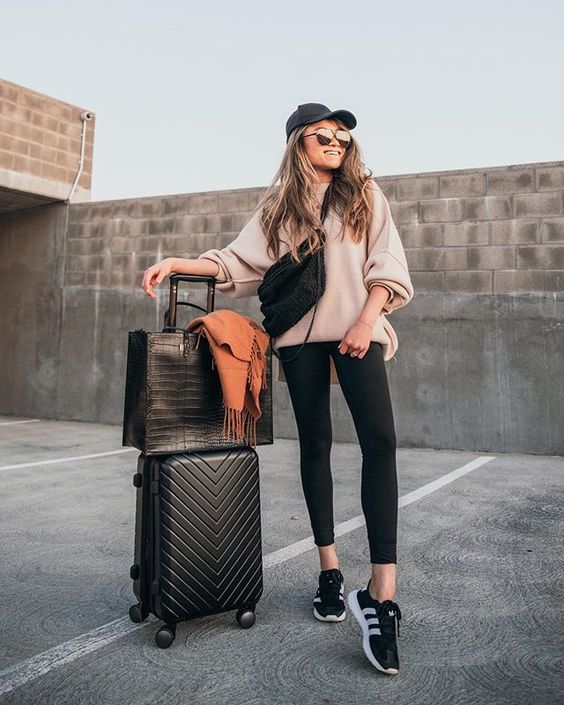 7 – What to Wear on a Tropical Vacation
Here's proof that it's not about what you wear but how you wear it. This super simple outfit is made that much more special by some gold jewelry (perfect for highlighting a tan) and a sleek bun. You can even swap the bandeau for a swimsuit top, especially if you are headed for the beach.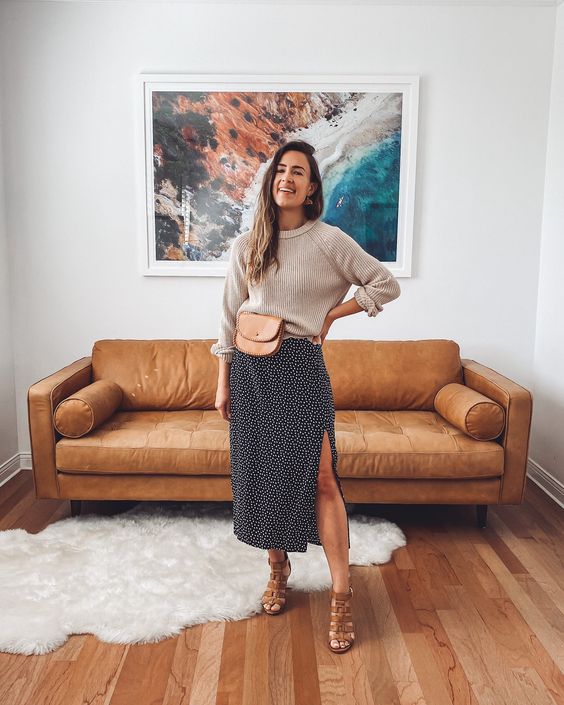 6 – Island Wear Dresses
A maxi dress can be just the perfect thing when you feel like walking on the beach, reading a book by the pool, or strolling down to that lovely restaurant you have heard such wonderful things about. Pop on a straw hat and your favorite walking flats and you have a lovely ensemble you'll love wearing again and again.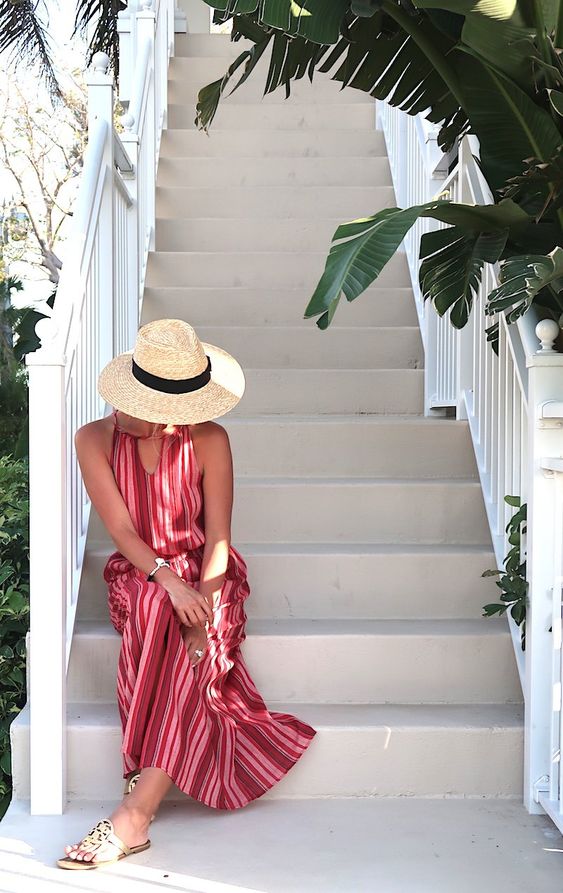 5 – What to Wear to an Island Wedding?
An island wedding, whether it takes place on the beach or not, is such a wonderful, unforgettable experience! It's the perfect time to indulge in bright colors and beautiful prints like floral. Here are some more of the Latest Maxi Dress Trends & Styling Tips.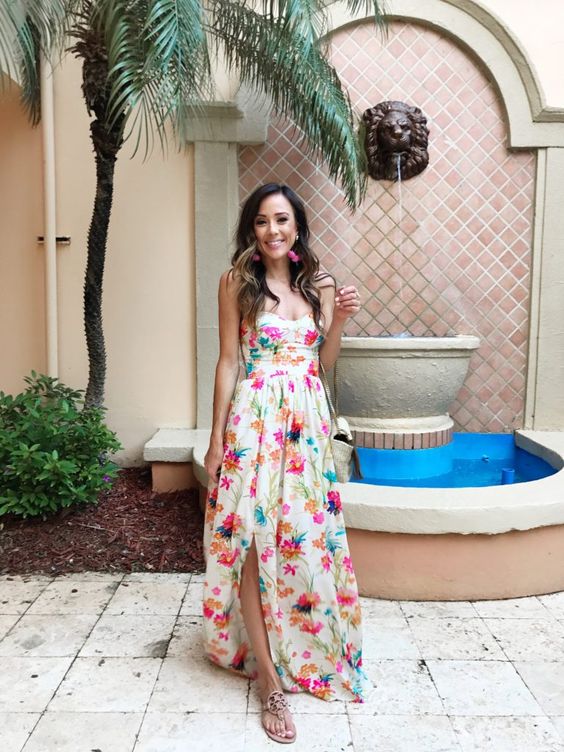 4 – Accessories for Island Vacation Outfit
A scarf for your hair, a pretty straw hat, and some jewelry are all great accessories for island wear. You don't want to have to pack too much, but these (other than the hat) are small and easy to fit into a carry-on or your suitcase itself. Try and pick pieces that can pair well with your outfits, and don't be afraid to try something new!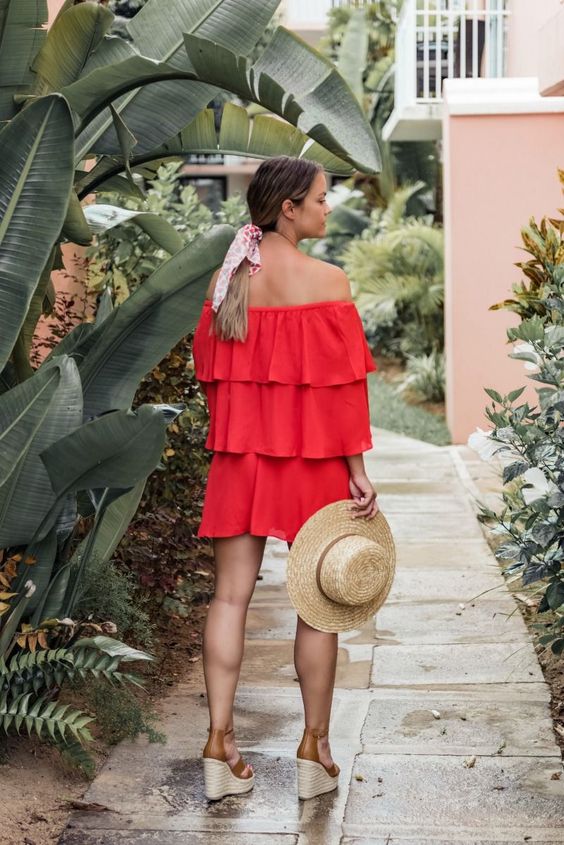 3 – Tropical Island Wear
Here's another matching set that has a light, tropical feel to it.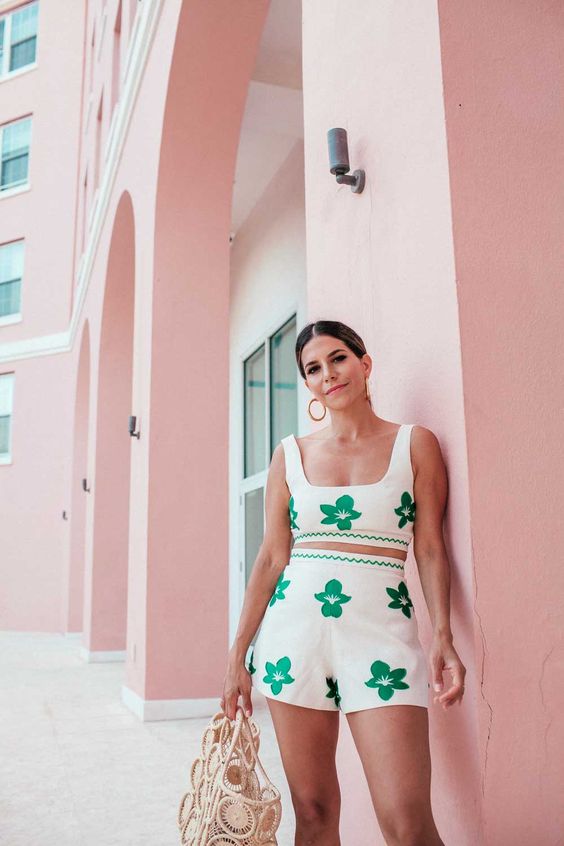 2 – Island Wear Plus-Size
I love two-piece bathing suits that can double as regular clothing. This top does just that and looks absolutely fabulous with some vertical striped pants. This whole ensemble will work well for ladies of all shapes and sizes and you can wear it and feel absolutely comfortable as well, with those soft pants. (Aim for a lightweight pair that won't have you sweating.)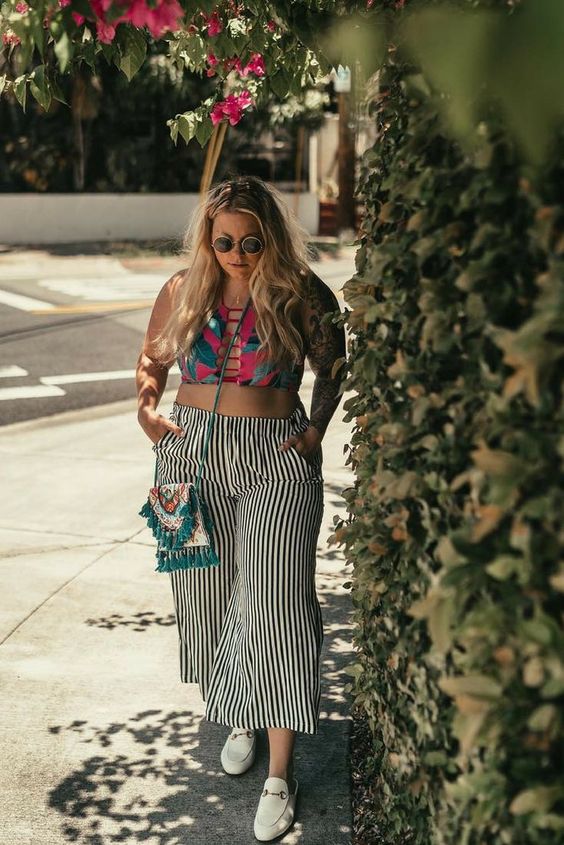 And here's a cute look for one of those chilly days.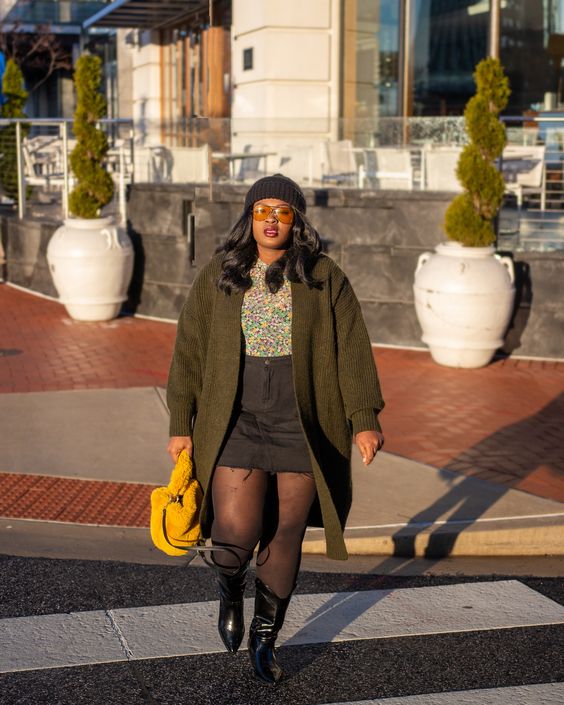 1 – Island Fashion for Women Over 50
Wondering what to wear on island resort? Here's one take that is super flattering! A crisscross halter top looks absolutely gorgeous when paired with some loose-fitting linen pants and flat sandals. A Bamboo Bag is definitely the best choice for such trips.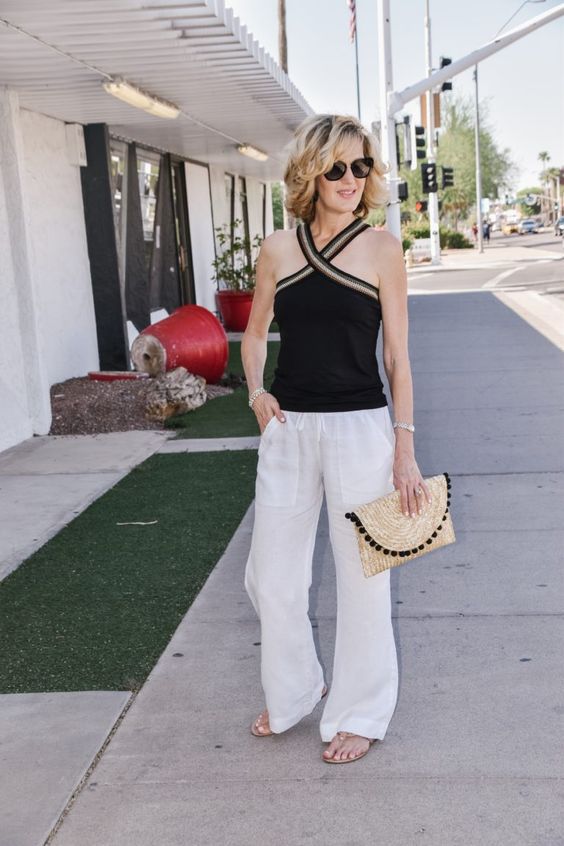 source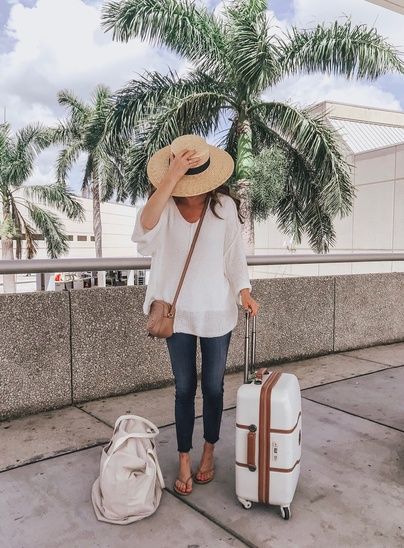 Frequently Asked Questions
Here are some frequently asked questions on what to wear to an island and more ideas on what to pack for an island vacation. Check them out!
Q. What to pack for beach vacation woman?
For a strictly beach vacation, your needs are simple. Pack two swimsuits, a beach cover-up (if you are into that sort of thing), or sarong, flip-flops, a sun hat, and at least two summer dresses. Chances are you will be spending your whole vacation in a bathing suit, so have a sundress or two to throw on in case you head out for dinner or want to walk around the local town, and maybe consider a tee shirt and some cut-off shorts. Some undergarments and something to sleep in. Sunscreen. Sunglasses. Keep it simple.
Q. What should I wear on a tropical island?
No matter what time of year you vacation on an island, chances are you'll be sweating. So stick to light, breezy materials, simple outfits, and nothing dark or heavy. A sundress with flip-flops will have you fitting right in. Other options could be a crop top with denim shorts, a matching summer set, or a tee shirt with shorts.
Q. What should I pack for a 7 day tropical vacation?
A seven-day trip is a big step-up from just a weekend getaway… but you won't need to pack much more. You can do one of two things: take a look at the above packing list (at the top of the article) and cut everything in half. Or check out this abbreviated list below:
2 sundresses
2 tee shirts
1 denim shorts
2 swimsuits
1 tank top
4 sets of underwear (if you aren't doing laundry, bring 6-7 pairs)
1 bra
1 flowy dress for going out
1 pair flip flops
1 pair sandals
And that's it! The main takeaway I hope you get from this article is that island vacations can be a lot more relaxed and enjoyable by keeping your packing simple and by paring down your outfit choices. At the end of the day, it's about enjoying yourself so keep your packing stress-free, and above all have fun with it!