BTS Inspired Outfits: BTS, a Korean pop group is taking the world by storm, gaining a large following of fans from all over the world. These fans are supporters of this iconic group made up of talented individuals with amazing singing abilities as well as style.
This group has become a major influencing force when it comes to not only singing and dancing but also fashion style. Much of the Korean street style has evolved from this boy band's amazing outfits that are worn by them during everyday life, performances, and sometimes even their concerts.
Their style varies a lot, with different types of clothing and styling techniques. However, the best thing about their style is the basic and easy nature of the clothing items.
How To Style Outfits Like BTS
The members of BTS sure do prioritize their style when it comes to clothing to create a look that is unique to them and can be associated with them by their huge fan following. However, when it comes down to it, rather than using designer pieces like many celebrities and popstars, they incorporate everyday items in their clothing, for example, sweatshirts, trousers, hoodies, and other basics.
Since the pieces are basic, a lot of attention is paid to their color schemes, which are always coherent and beautifully executed. Graphic and printed items of clothing also play a big part in their fashion choices as well as the inclusion of oversized items which they manage to make intentional and stylish.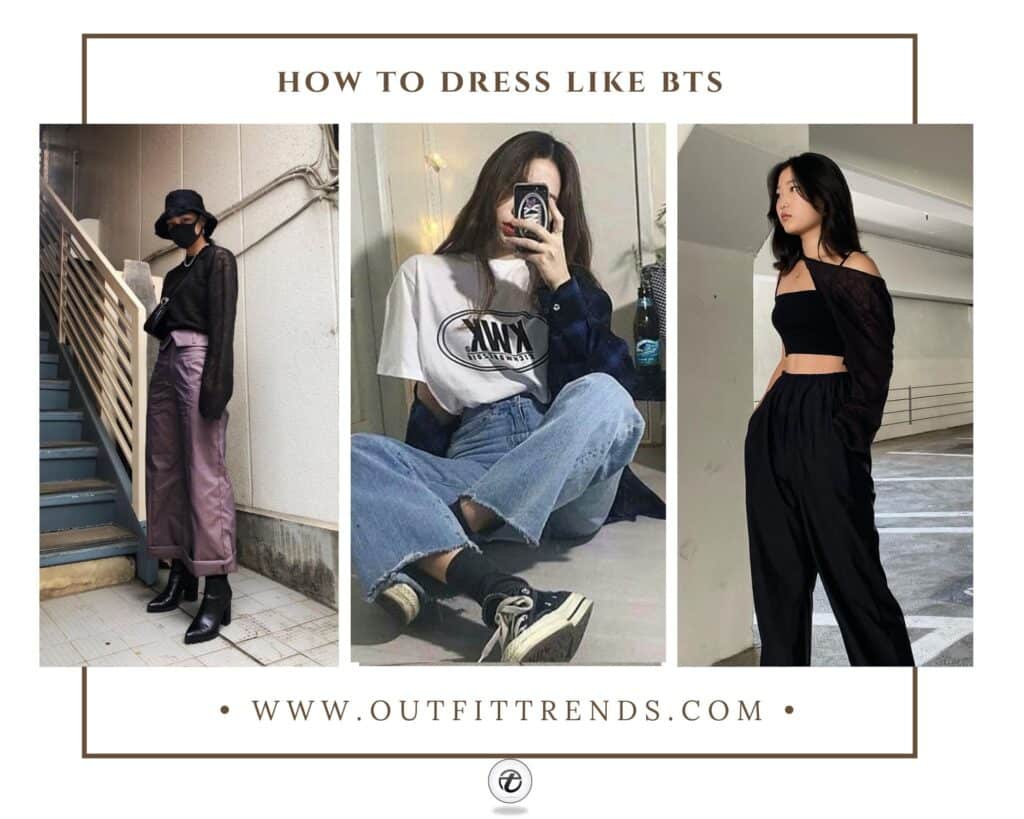 Do's and Dont's of Dressing like BTS
Do not opt for designer pieces, especially if they are printed or conspicuously patterned boldly with the name of the brand. BTS is known for their easy to replicate fashion choices and bold designer logos will not be on a theme if you are trying to achieve their look.
Try to opt for neutrals such as black, white, and beige. BTS does a lot of color coordination and you can do the same thing with your outfit by keeping the neutral color palette in your outfit to really bring a classy and effortless look.
Do not be afraid of graphics! Printed t-shirts and hoodies will be your best friends when it comes to dressing like BTS since they are super intro such pieces of clothing in their daily lives themselves.
Do try to opt for loose-fitted bottom wear. Be it jeans or trousers, one of the main components of their style is the addition of loose-fitting bottoms tied with their tops for a really signature look. Wide-leg or flared jeans will work best for this, perhaps even cargo pants if you style them right!
20 – Basic Dark Blue Oversized Tee With Straight Leg Cargo Pants
This option is obvious, yes, when it comes to styling an outfit inspired by BTS. The bright color of the t-shirt is truly the star of the show but is further accentuated by the black cargo pants that are loose and straight-legged as opposed to any other skinny or feminine fitting bottom, which truly adds the essence of the Korean street style into this outfit.
19 – Sage Green Knit Tank Top With Matching Cover Up & High Waisted Pants
A more feminine outfit inspired by BTS, this outfit is perfect to wear as the weather starts to get chillier. The tank top is the perfect earthy shade that one can expect a member of BTS to rock in one of their dance rehearsals. The star of the show has to be the trousers though. The wide-leg style of these trousers is very fitting for a BTS-inspired outfit and will flatter the body by cinching the waist and flaring out at the bottom.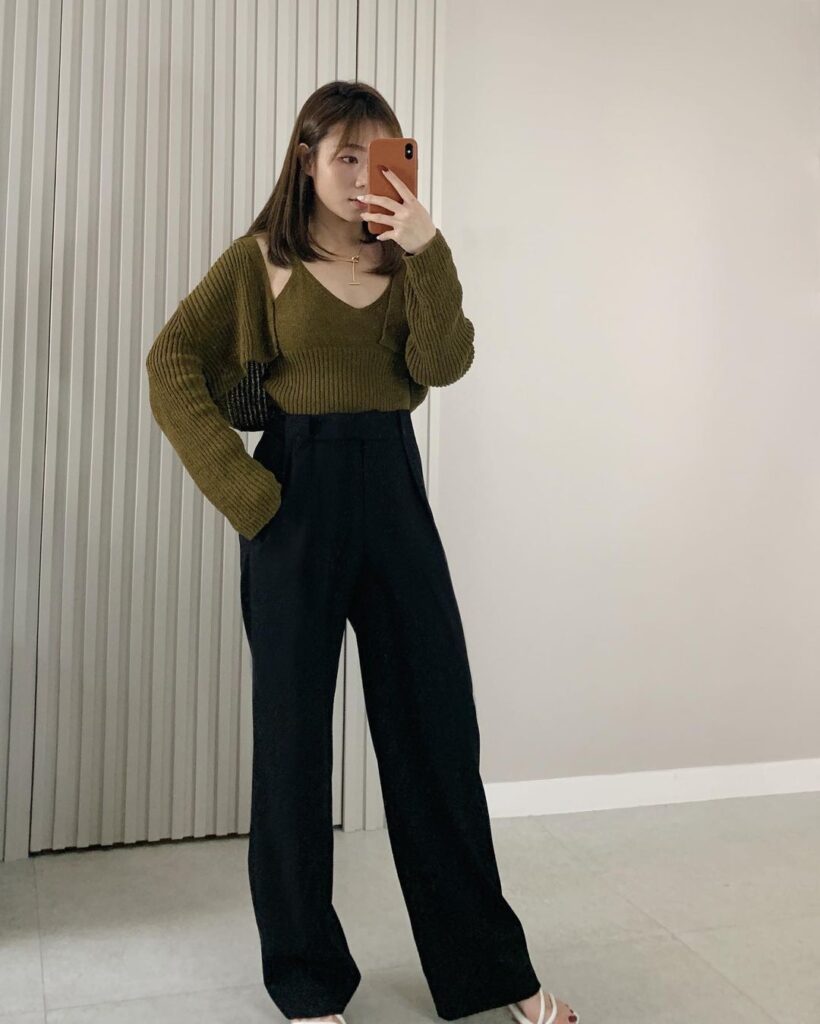 18 – Oversized Tee & High-Waisted Raw Hem Jeans With Black Converse
This is such a cute little pop star off-duty look, with the most basic clothing items that you can find in your closet as staple pieces. You can take any oversized tee from your closet (bonus points if it's graphically printed) and pair it with straight-leg jeans like the ones pictured. The converse add another element of youth and the overall look is perfect to wear and very easy to pull off by anyone!
17 – Black Sweater with Purple Pants and Black Heeled Boots
BTS is well known for being extremely stylish and dramatic in their performance outfits, and this outfit is inspired by that. The sheer black sweater is easy to style and can be found in any closet. Pair this with wide leg purple accent pants that will add a pop of color. The color of these pants is metallic and will add a unique touch specific to the style of BTS when you wear them. Top off this amazing look with the addition of black heeled boots, a matching vintage black shoulder bag and you have yourself a stunning, chic BTS inspired look.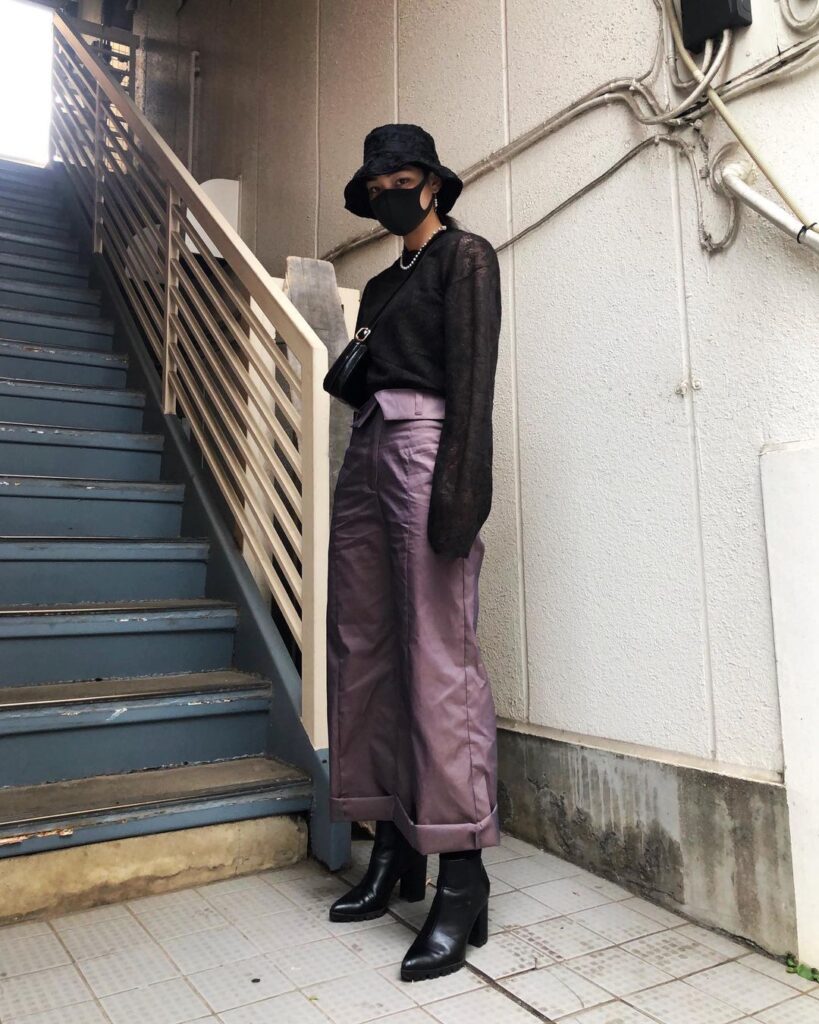 16 – Flannel Layered Over a Black Crop top & Black Jeans
Another casual rendition of BTS inspired outfits, this outfit will have everything you need to not only stay comfortable, but also to look like you have a great sense of fashion. While it looks simple, the flannel layered over the crop top adds dimension and makes the outfit so much more interesting to look at. The wide leg jeans are perfect to complete the look and can be paired with any type of sneakers to further enhance the outfit.
15 – Oversized T shirt With Baggy Jeans
For all the girls who love to feel comfortable while also dressing up, this one is for you. This look, while being more on the casual side, is perfect to wear especially due to the latest 2022 trends of baggy clothing. Pair any white baggy tee shirt that you have with a baggy pair of light wash jeans. While this outfit does not do the most to accentuate your curves, it does keep you comfortable & stylish!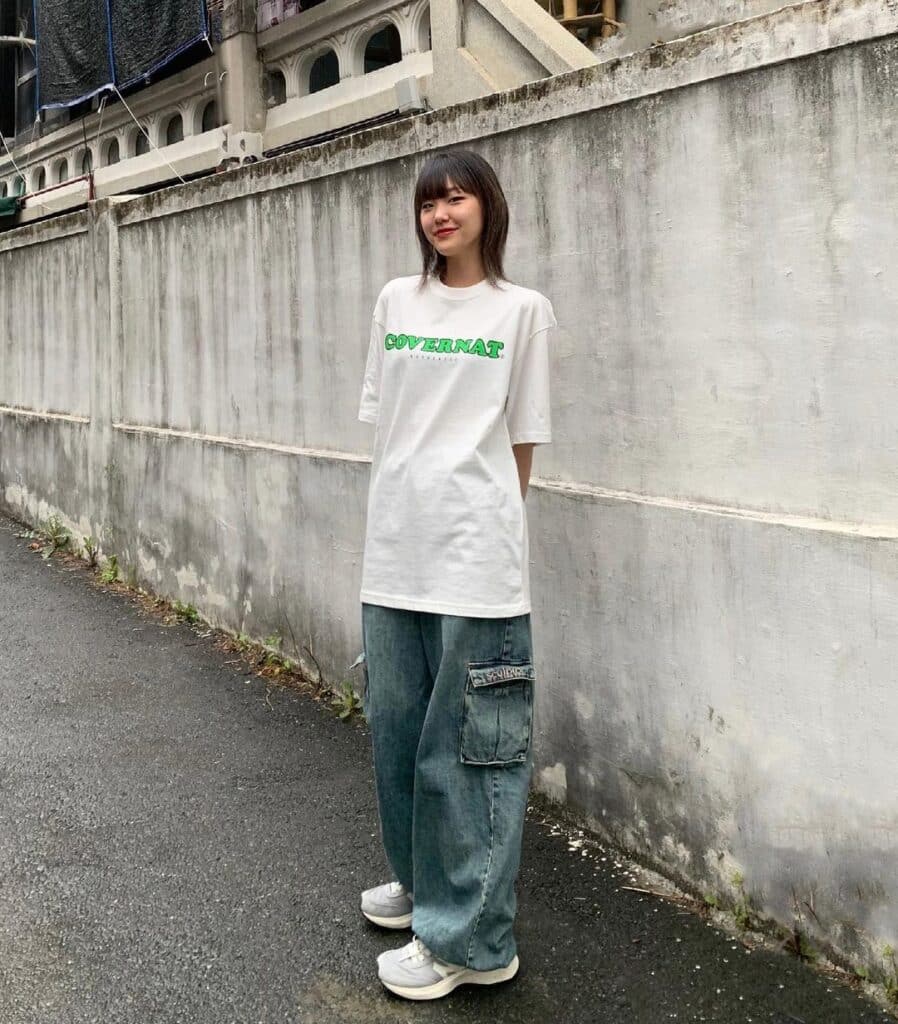 14 – Beige Pants, White Shirt and Cream Sweater Draped on Shoulders
This is a wonderful outfit inspired by BTS's more formal looks that they have worn at formal events. They tend to opt for a very color coordinated and coherent look, and this outfit is very reminiscent of that. A white button up shirt goes perfectly with beige straight leg pants and a cream sweater draped around the shoulders for an added textural element but also to uplift the color palette of the outfit.
13 – Black Top with Distressed Denim Skirt
This outfit has such a unique and interesting take on denim and really stands out. The sweetheart neckline of the top gives a feminine effect while the distressed skirt gives a more rugged one. The mixture of these two styles create a very beautiful look as the contrast works perfectly due to the matching colors. The skirt itself is a very unique item that is not usually seen but provides an interesting silhouette that will really catch everyone's attention!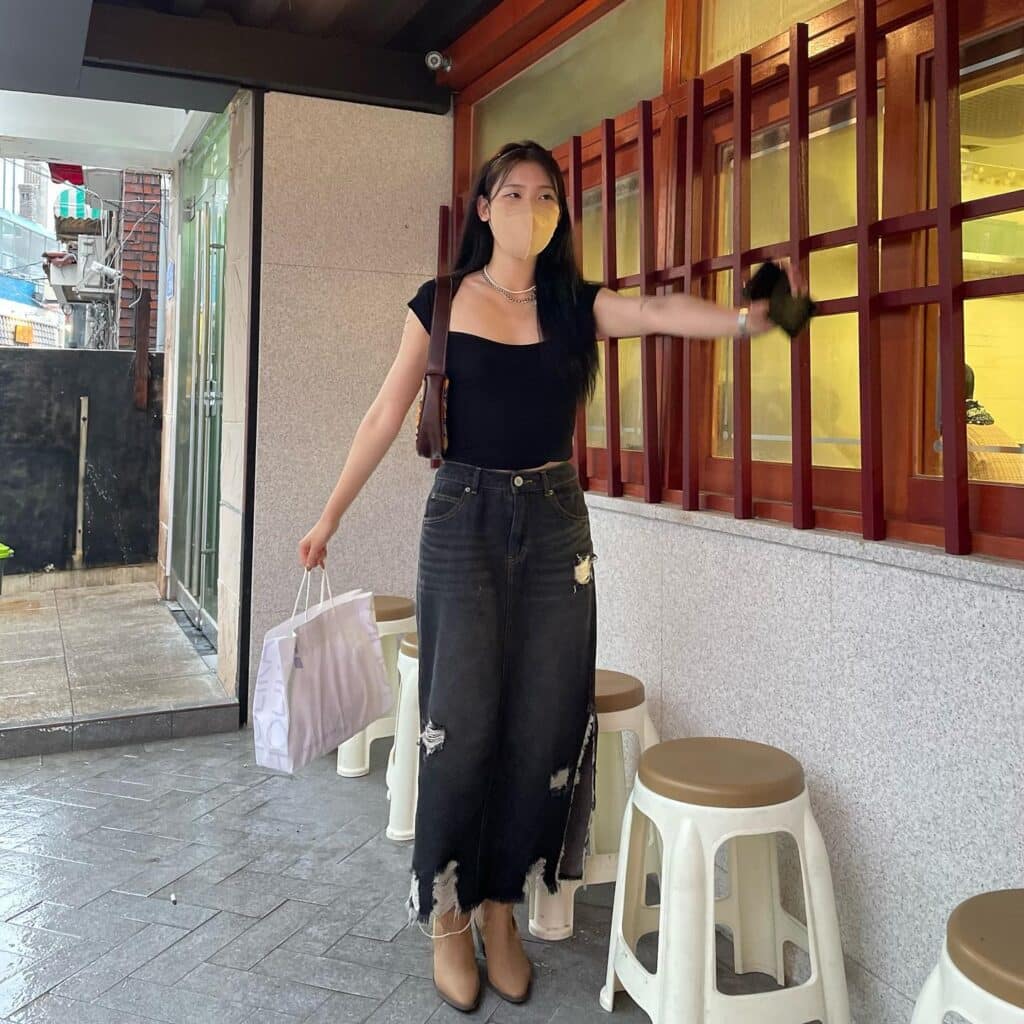 12 – Black Top With High Waisted Baggy Jeans With a Graphic Design
This outfit is such a beautiful look that is perfectly reminiscent of BTS and their performance looks. This all black look can suit anyone with the simple black top that is so cleverly paired with the statement pair of matching jeans that have a baggy fit, and a graphic design printed on them. The belting worn on the shoulders and chest adds dimension to the outfit by the addition of another textural element that will really enhance and uplift the outfit even more.
11 – Sleeveless White Top Paired with Brown Midi Skirt and White Sneakers
A more dainty and cute look, this one is so easy to pull off. Grab your favourite white sleeveless top, and pair it with a light brown pleated midi skirt that flares out at the bottom. This look is perfect with sneakers for a more casual and BTS inspired look but of course it can be styled with heels and other feminine options too. The skirt will really accentuate the body by cinching the waist and creating a flattering silhouette for your body, hence making this a good outfit all body types!
10 – Flannel With White Crop Top and Beige Pants
This outfit is such a simple one to style as it incorporates pieces from daily wear that anyone can find in their closet. The white crop top with the beige pants provides a beautiful and flattering color palette and it is offset by the flannel to really bring the outfit to life. This outfit is so easy and fun to wear, at any daily life occasion as you can simply not go wrong with it! Try this out today!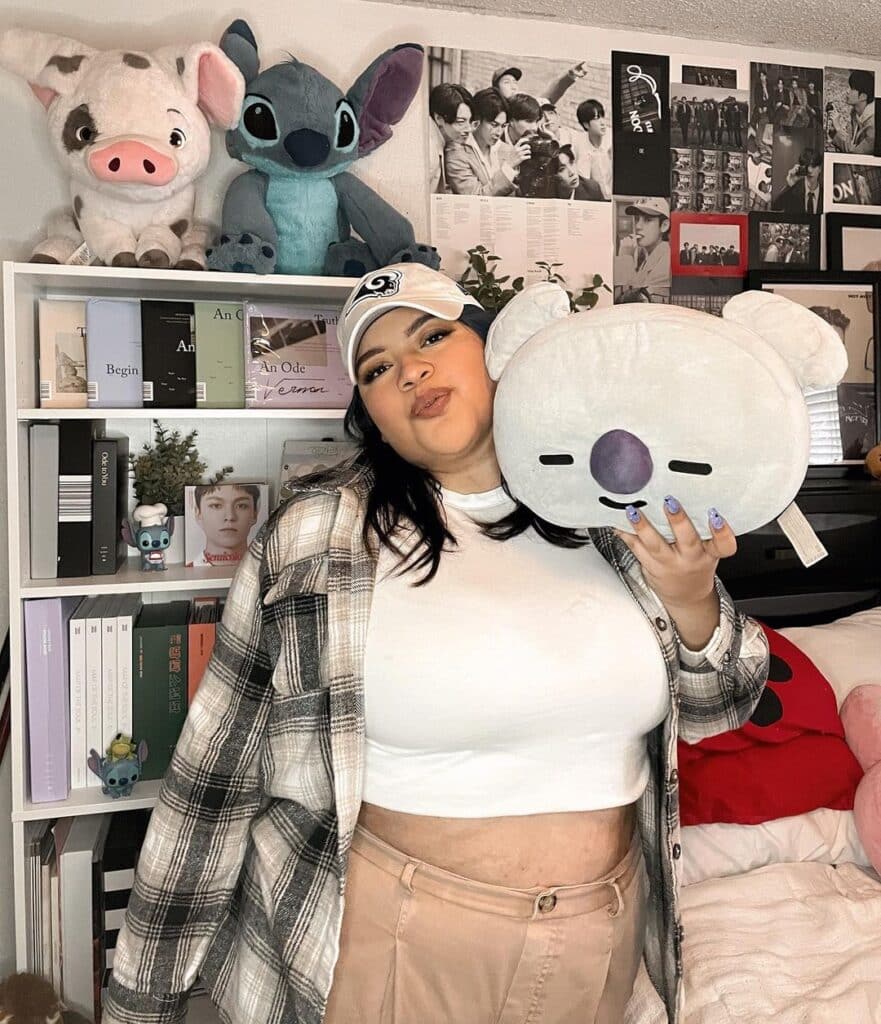 9 – Raw Hem Straight Leg Jeans with Knot Knit Top
This outfit is so pretty and simplistic and only has two simple elements that can be pulled off by anyone. The coral peachy color of the top is perfect with the dark raw hem jeans and provides a beautiful contrast that will suit every skin tone. This can be further accessorised with the addition of a cute beige shoulder baguette bag or platform heels to complete the entire look.
8 – White Corset Top & Black Collared Shirt With Black Baggy Jeans
This outfit speaks for itself. The BTS factor is definitely there with the neutral colors and the strategic layering with the graceful corset top that goes over a long sleeved black button down shirt. The jeans being wide legged ties the whole look together and makes it a stunning one that will definitely catch everyone's attention. This is also very easy to style with it's all black base that will look flattering on all skin tones and body types.
7 – Floral Bralette With Wide Leg White Trousers
The white trousers in this look scream BTS with its cinching the waist and the unique silhouette. The floral bralette adds a more feminine touch and really accentuates the body and shoes off your belly. This look is so simple and easy to pull off, it's the perfect feminine play on a BTS inspired outfit.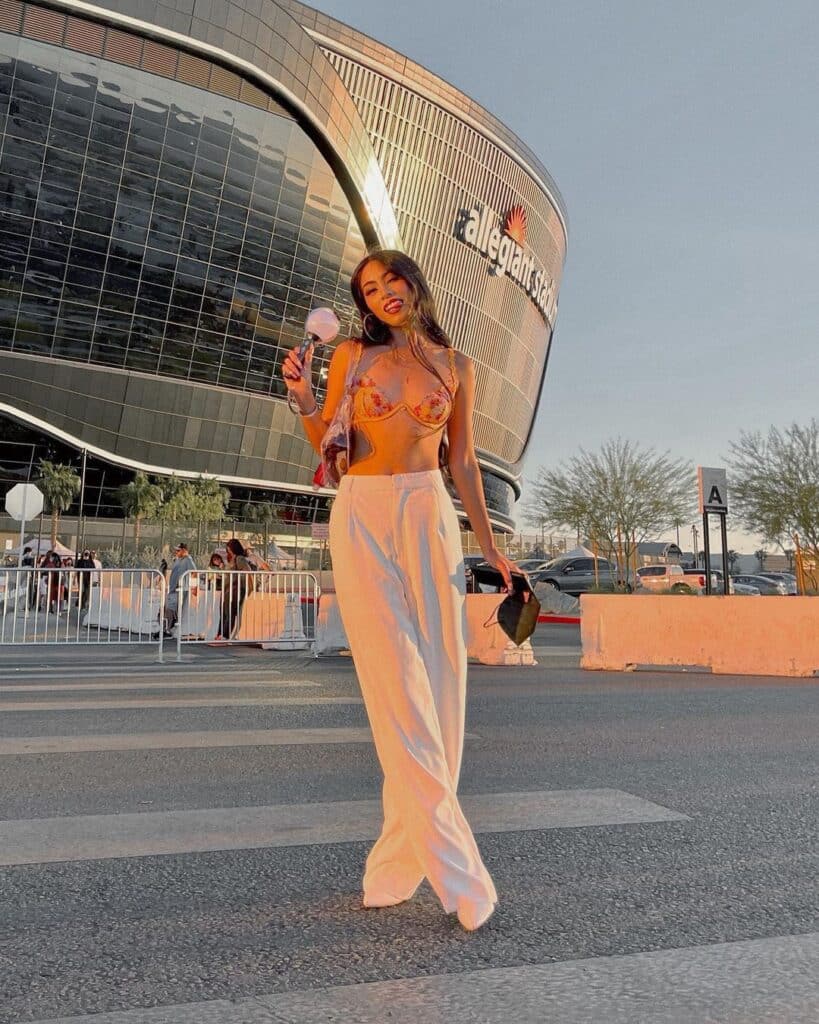 6 – Ribbed Crop Top with Sage Green Cargo Pants and a Bucket Hat
This cute white ribbed crop top is in almost every girls closet, so grab it and pair it with your favorite light coloured cargo pants for a beautiful look. The cargo pants really elevate the look to make it look BTS inspired and the addition of a cute little knit bucket hat pushes it further to the point of becoming a unique dimensional look. The color schemes and the pattern from the hat really tie the whole look together and make the different colors look nice and coherent.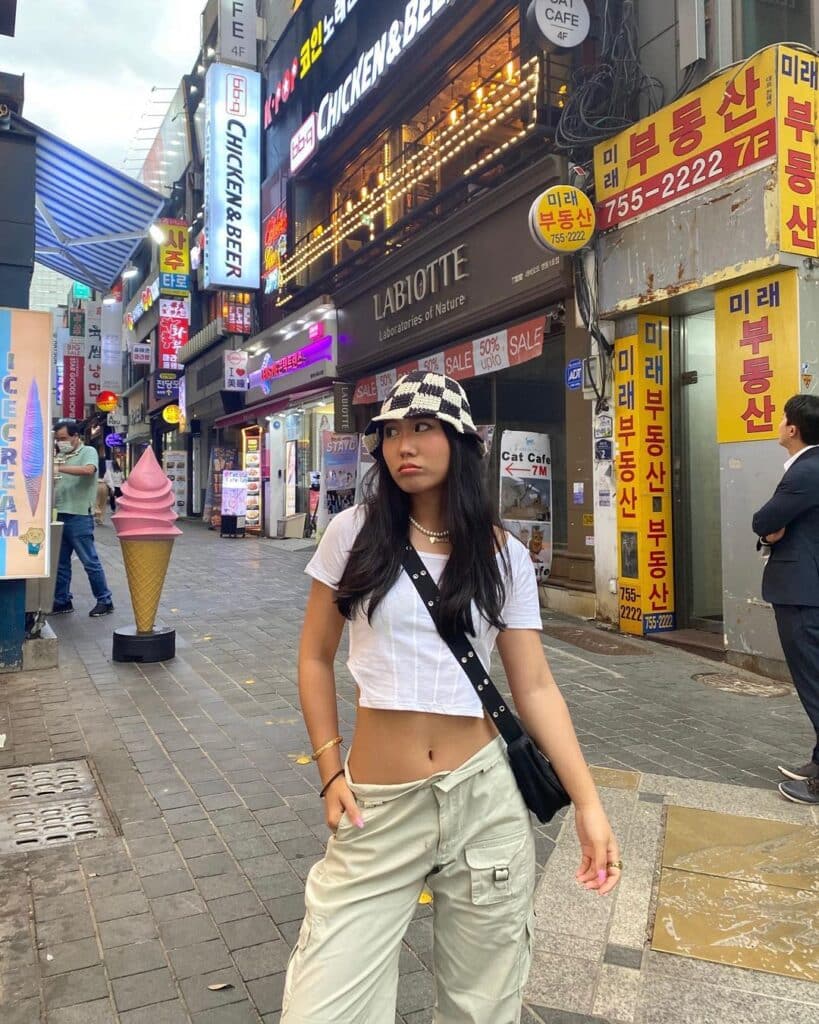 5 – Black Tube Top With Pants And Asymmetrical Black Sweater
This outfit is the perfect representation of BTS and the all black quality will only make your body look more cinched in and perfect. The asymmetrical cover up sweater adds the dimension to this outfit despite it being the same matching color as the base items of clothing. This look is so easy and comfortable to be in and you can definitely never go wrong with it.
4 – Off White Tee Layered with White Long Sleeved T Shirt & Baggy Jeans
This outfit is a great option to wear when you cannot find anything in your closet. Consisting of the easiest and most accessible pieces of clothing, its easy to style and will definitely be approved by the Korean street style icons. It may seem simple but the layering adds an overall effect of a well thought out outfit.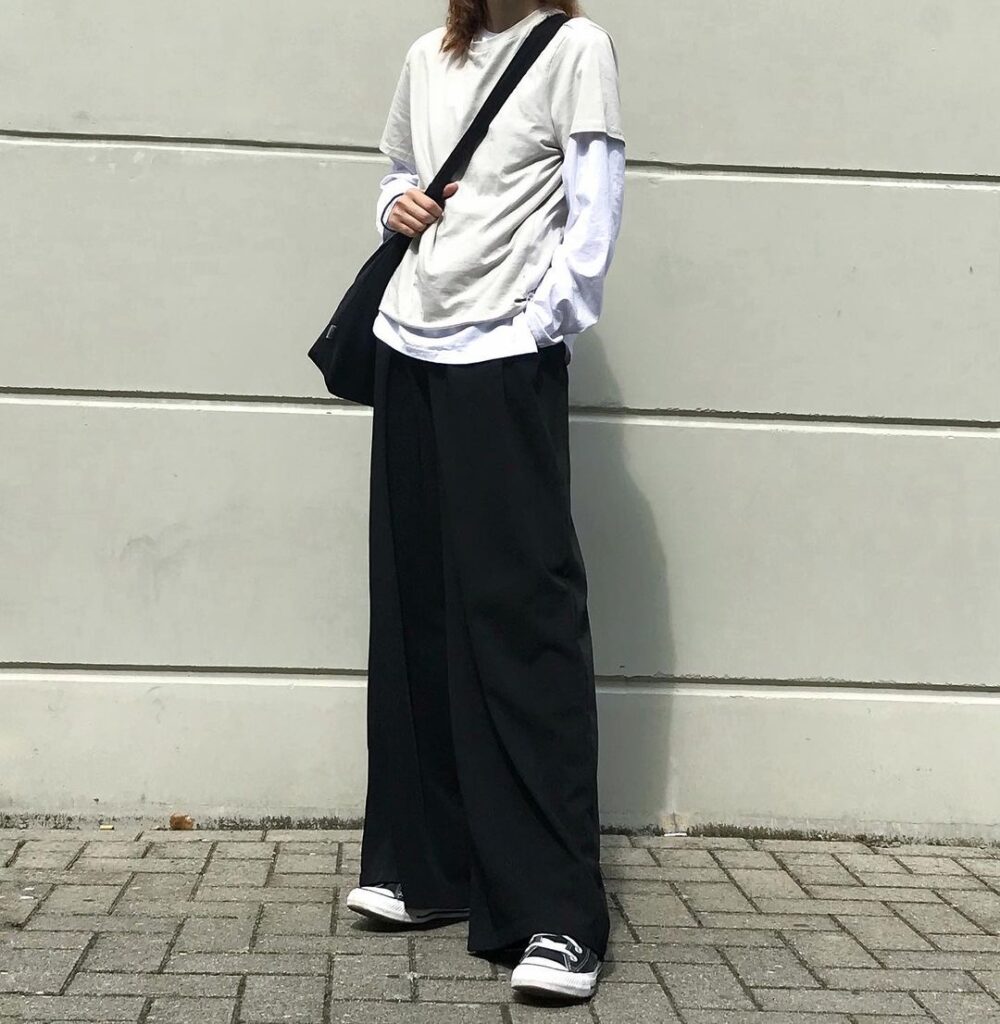 3 – Black Chiffon Dress With Cardigan and Long Black Socks
This grungy yet modern look is inspired by the color scheme worn by BTS quite often. This outfit requires no other additions or modifications, it truly is easy to wear and wonderful to look at.
2 – Brown Mesh Top With Matching Brown Corduroy Pants
This is the perfect monochromatic BTS inspired outfit that you must try! The mesh top looks wonderful with the matching pants.
1 – Comfy Sky Blue Cropped Sweatshirt With Loose White Sweatpants
Another casual outfit, this one is so easy to style and is the perfect option for the lazy days!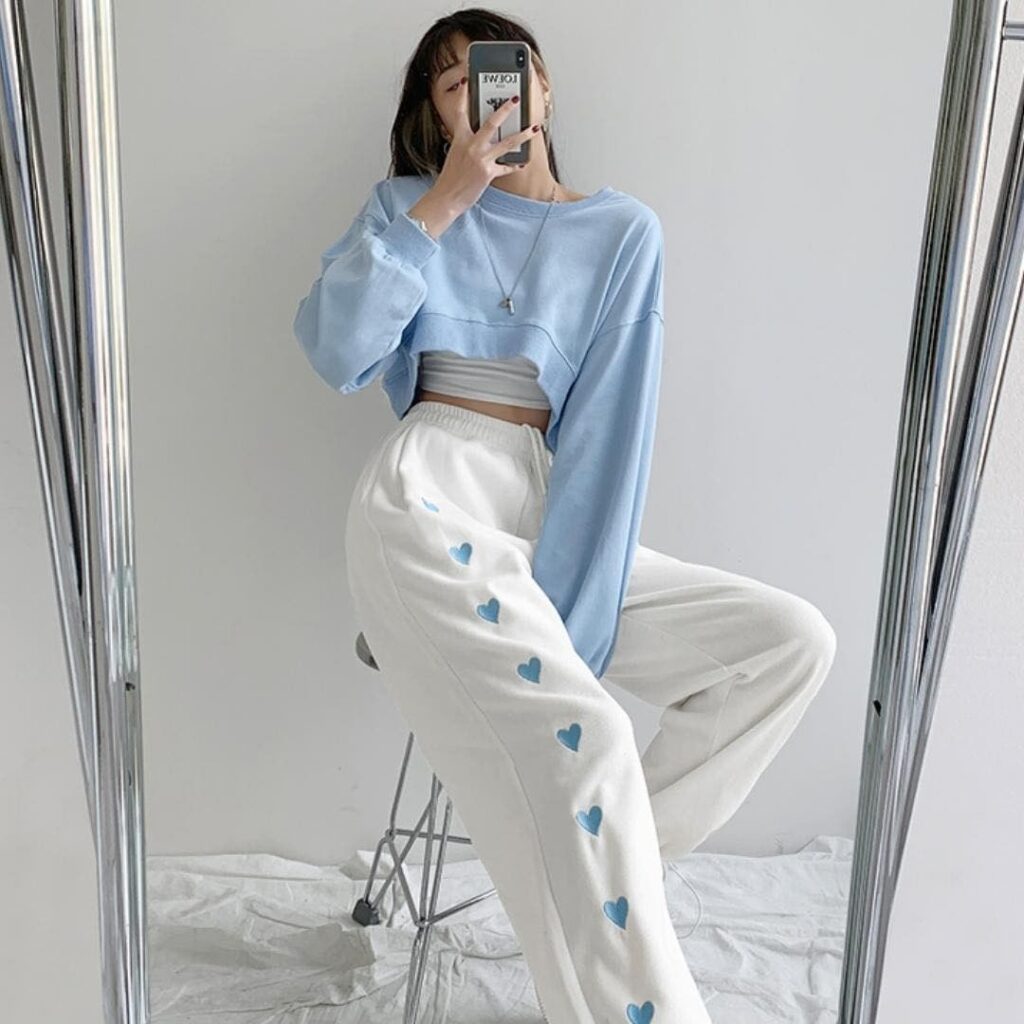 Frequently Asked Questions
Q. Do BTS inspired outfits have to be on the masculine side?
A. Absolutely not! You can style dresses and heels and any other type of feminine clothing item in a BTS inspired outfit by using color schemes similar to theirs!
Q. Can I wear bright colors in a BTS inspired outfit?
A. Yes, of course, however do keep in mind that BTS usually wear their outfits based on earthy and muted tones. If you want to incorporate bright colors it can always be done in the form of a graphics, but make sure to not overdo it!