how to wear lace up pants – Do you enjoy keeping up with fashion trends? Are you looking for fashionable jeans that look amazing on all body types?
I suggest that you look into lace-up pants. If you are trying to follow the latest fashion trends, you may undoubtedly wear these kinds of trousers and feel comfortable.
This is not the first time these attention-grabbing bottoms have taken center stage. This fascination has gone through several cycles thanks to designers, and it is currently again in full swing.
What To Wear With Your Lace Up Pants?
Over the past month or two, lace-up pants have been seen on a number of fashion bloggers, and we have to admit that despite how risky this trend may be, we're entirely open to trying it.
The hack is to keep the outfit as simple as possible. let your jeans or trousers shine and look great.
Follow along as we uncover the 20 best outfits with lace up trousers along with stylings tips.
Tips And Tricks on Styling Lace-up Bottoms
Choose the style of outfit you want to wear these pants with since they go along with anything, from athletic to glitzy and sensual.
You should consider the style of pants you wear. This design comes in several types of bottoms, such as a boyfriend, wide-leg, and so on.
Choose the color and print that you wish to wear but these black lace up pants are in having a moment.
Go for something that makes your trousers stand out, like a simple solid t-shirt or pants in vibrant colors such as orange. Scroll down for one such look.
Accessorize your outfits with simple pendants and earrings.
19 – Enjoy Sweater Weather with Lace Up
You can wear intertwined trousers in any weather, from summer to extreme winter. These bottoms would look good with any shirt, like this sweater paired up with simple weaved-up trousers to protect yourself from the winter winds.
A sweater would make you feel cozy, along with pants that will not only give you comfort but also make you look beautiful in such a fit. Keeping the look simple would give you that cute, friendly vibe in the snowy weather.
Go for some minimal jewelry like silver hoops or earrings and rings to give your fashion statement a boost. Complete the look with white or beige boots that match well with your sweater and bottoms, and you are good to go.
18 – Spice Up The 70s Look With Orange Lace Up Pants
17 – How to Style Red Tie-up Leggings?
Red or maroon are the colors that everyone would love to wear but are afraid to try out. Undoubtedly, these brighter shades make you stand out and look different from the rest. Not to mention, both colors look incredibly good on everyone.
There are several red and maroon lace-up pants that you can try on, for instance, this one. Pair it up with a similar color shirt or camisole to boost up your fashion style and wear a grey jacket on top. This would make your outfit seem much more toned down than an all-bright red fit.
Go with a matching cap, and to look bolder, go for a matching bright red lipstick to enhance more of your beauty. You can wear red shoes to match your outfit or just go with black and white ones similar to this picture.
16 – Statement Yellow Top With Denims
A yellow NYFW outfit is something that everyone needs to try at least once in their life, especially with fancy weaved-up denim.
These are not just your everyday lace-up jeans; the laces are in front. The look of jeans will make you stand out from everyone else. Moreover, the outfit is a perfect combination of comfort and style. What else would a girl want?
It will not only make your skin color shine bright, but it will also help give you that cute glow that you would need on a day out with your pals.
A yellow-colored Prada bag is the perfect choice for you in such an outfit, along with some heels, or you can go for shoes if you want comfort over style and are not a fan of heels. We suggest adding platform heels to this stunning outfit.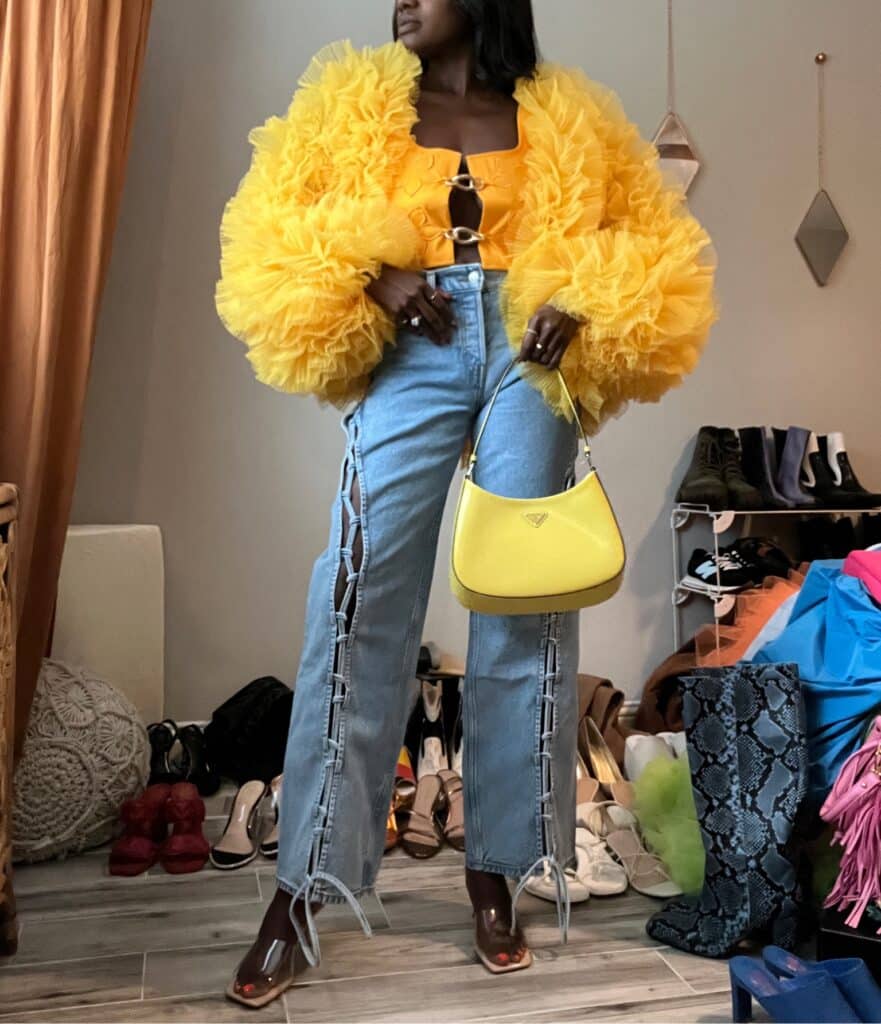 16 – Matching Purple Cardigan and Lace Up Pants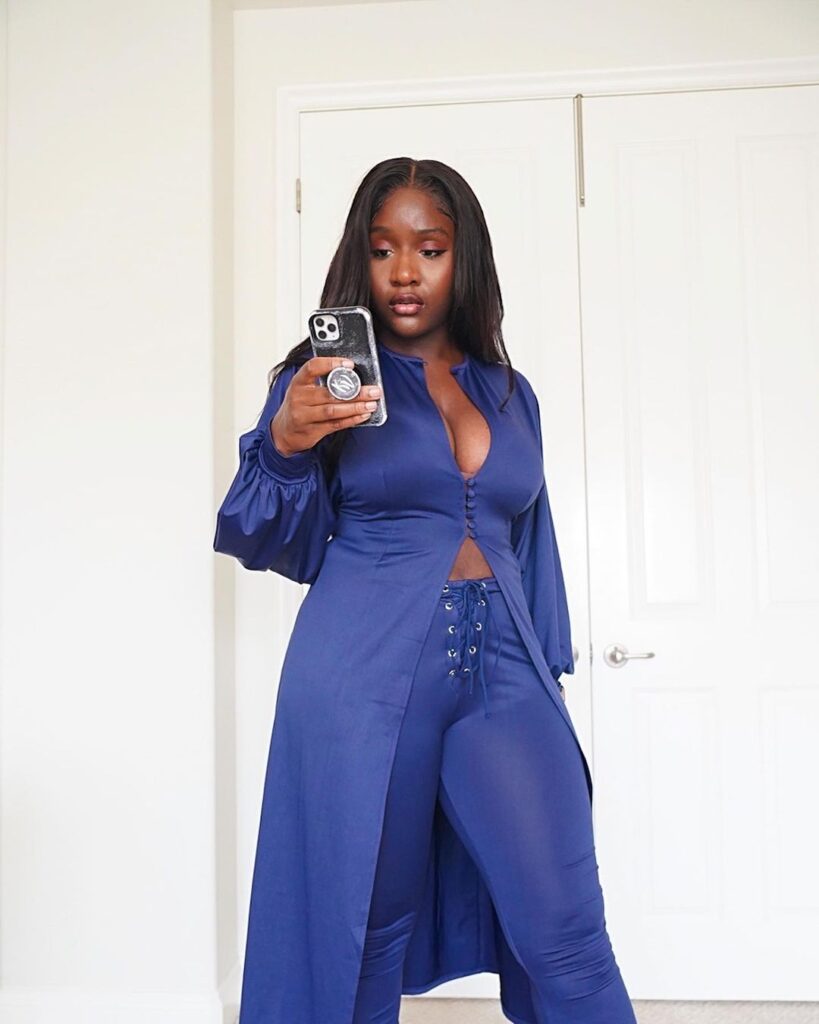 15 – All Denim Look With Front Lace Up Jeans
Denim is trendy and very much loved by everyone around the world. If you have not yet gone for an all-denim look, then you are missing out on a stylish fashion trend.
Denim will make you feel a hundred times better about yourself, and it will not only make you look good but also give you the comfort that you need.
Have a look at these front lace-up denim. The different look and feel of these jeans make you instantly look amazing and be the center of attention. Wear a denim top to complement your jeans for a classy look.
To finish off your look, wear heels and minimal jewelry, like bracelets or necklaces. You can also carry around a clutch or bag to make your whole outfit look a lot more attractive.
14 – Leather Laced Up Flare Pants and Top
Here is a fuss-free outfit for winter. An all-black leather top with the same fabric pants.
Wear a vibrant color blazer, like a pink blazer, over this outfit and you're ready for the girl's night out.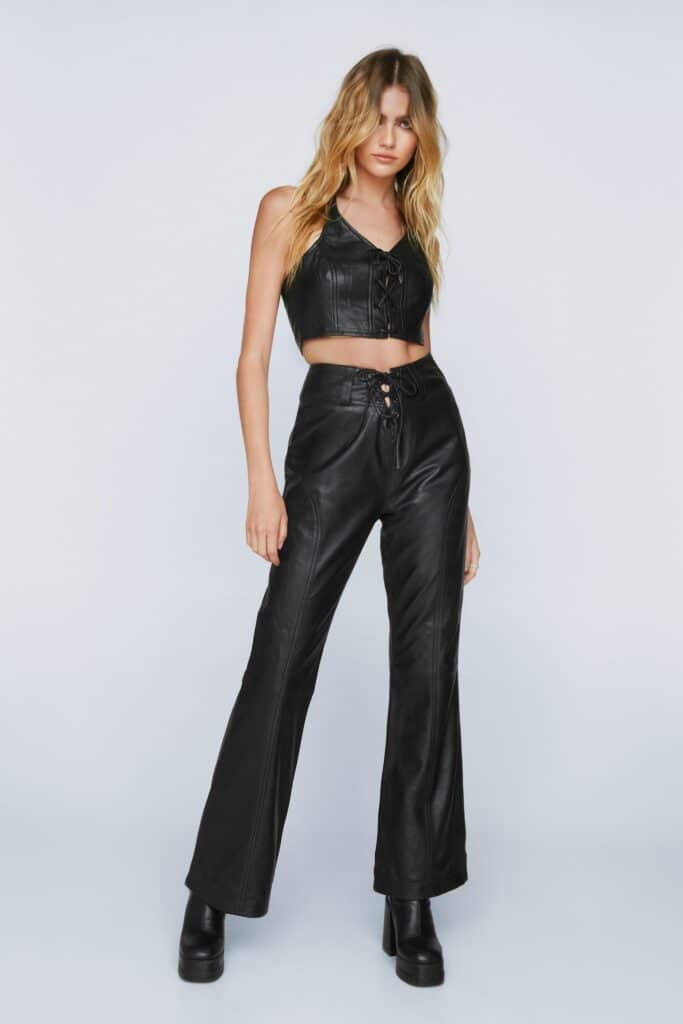 13 – Black Corset with Lace Up Leather Pants
When you think about tie-up pants, an all-black leather look comes into your mind. A black leather corset top paired with your favorite leather pants will make you stand out, look more alluring than ever and make you feel confident with the fit that you are wearing.
Try on different accessories, bracelets, and sunglasses that would amp up your whole look by making you look classier and bolder than ever.
If you want to go for a simpler look and let the light shine only on your top and bottom apparel, then go for minimal jewelry, such as these hoop earrings.
Try matching black leather boots to finish your look; you will look nothing less than a model.
12 – Maroon Leather Look
Maroon has been everyone's favorite forever; this specific color makes everything and anything look a hundred times better, especially when we are talking about maroon; it's not very common, yet always something everyone can easily pull off.
An all-maroon look would be an angel in disguise for you when you are running out of time to decide what to wear.
This maroon faux leather shirt and its matching drawstring leather pants would definitely look good on you and make you look a lot bolder and classier than ever.
You can either go with an all-simple look or try on several accessories, depending on the event you are attending. Either way, this two-piece look would steal the show no matter what.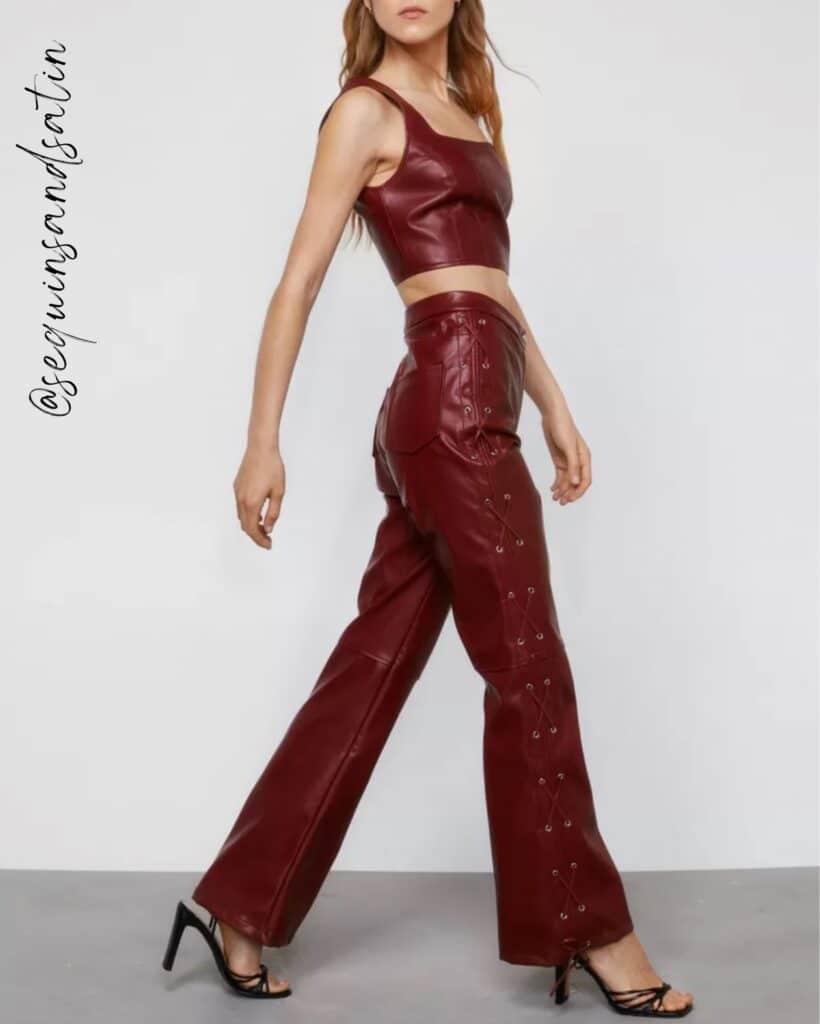 11 – An All-Black Fit With a Black Blazer
You can never go wrong with a black bralette, black tie-up pants, and a black blazer on top.
If you are looking for some tips on how to wear an all-black outfit, I highly recommend reading this post.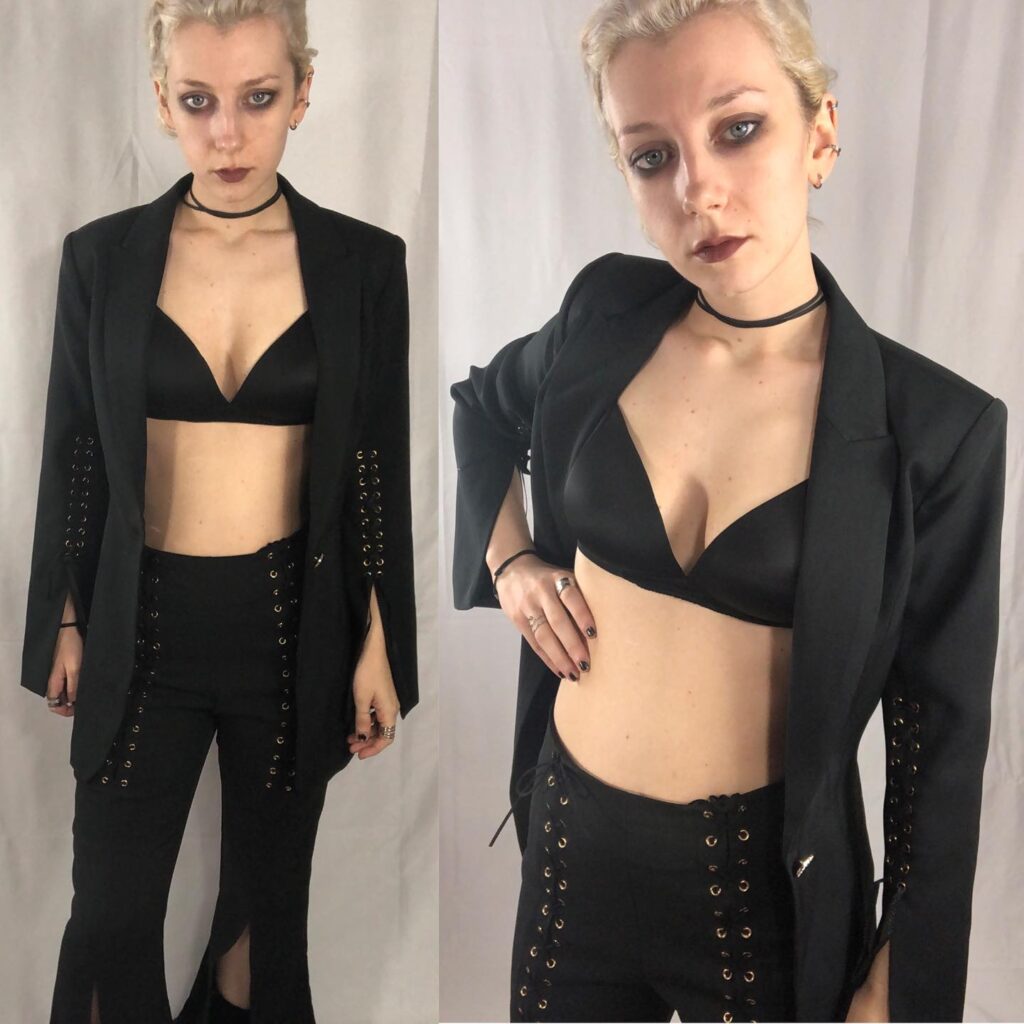 10 – Vintage Cami Top with Pants
If you are going for a vintage look with a satin crop cami top and accessories then this look is perfect for you.
Give your fit a bolder modern touch with black weave-up, straight high-waisted jeans. This will help make your torso look longer and classier. The satin camisole top will help give you that shine and comfort that you are looking for.
Wear heels and carry around a vintage-styled bag, and you are good to go. This whole look, along with some black trendy sunglasses, will help give you that mysterious and bold look that everyone will absolutely love.
9 – Red Corset With Pink Pants
If you are tired of the very common all-black trousers outfits, you can always go for something more colourful.
The red and pink colour combinations always work; you can try wearing a red corset along with your super cute pink faux leather pants. Rest assured, your will end up looking like a cute fashionista in this fit, just like this runway model.
You can always try carrying around a matching leather handbag or cross-body bag to complement your look and also help carry around all your essentials.
Wear boots or high heels, and both would look amazing on this outfit; you can try wearing black shoes like this model. All of these colours would end up looking as good as ever on you.
8 – Yellow Graphic Crop Top With Black Pants
If you think lace-up pants are not casual then you are wrong. Pair it with a crop top for an everyday look.
Any crop top would look good with black tie-up pants, like this yellow one, or you can go for a crop top with cute little embroidered designs; any type of cropped look will make you look more younger and beautiful.
Crop tops are trendy, and you will easily be able to find your favourite anywhere. This is your chance to look super cute in a crop top paired up with your black bottoms or leggings.
You can also wear hoop earrings, which have been the talk of the town and you are all ready for the day.
7 – White Cut Out Crop Top and Bottoms
An all-white outfit will make you look like an angelic beauty and the cherry on top would the lace-up pants with a similar color crop top. It will not only make you look cute but also make your skin color pop and highlight the beautiful melanin of your skin.
The white pant and top are very different from your all-black fit, but it is much more beautiful and cute. In the summer heat, wearing something white would help protect you from the sun rays that the black color would absorb.
Carry around a white matching handbag or clutch, along with white sneakers. You are picture-perfect ready now.
6 – All White Lace Top and Pants
Another similar look with white pants is worth checking out.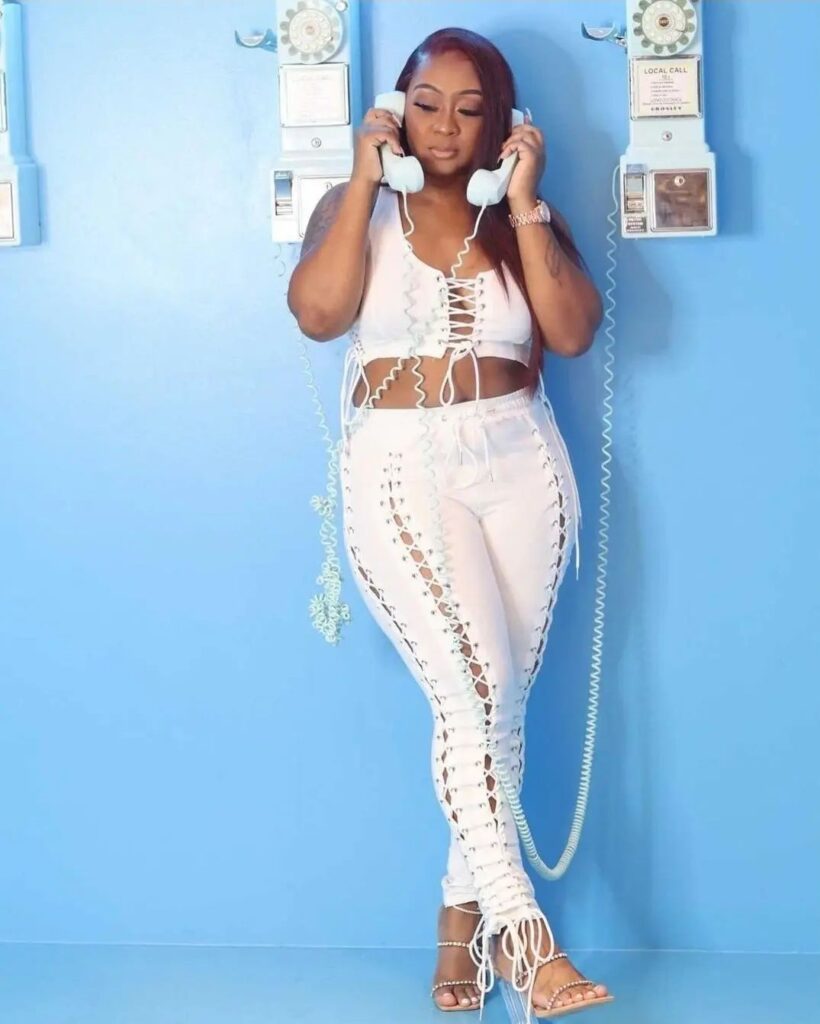 5 – Outfit Ideas for Fourth July
On the fourth of July, try wearing a white sleeveless shirt and your favourite blue weaved-up jeans, and carry around a backpack with your flag print.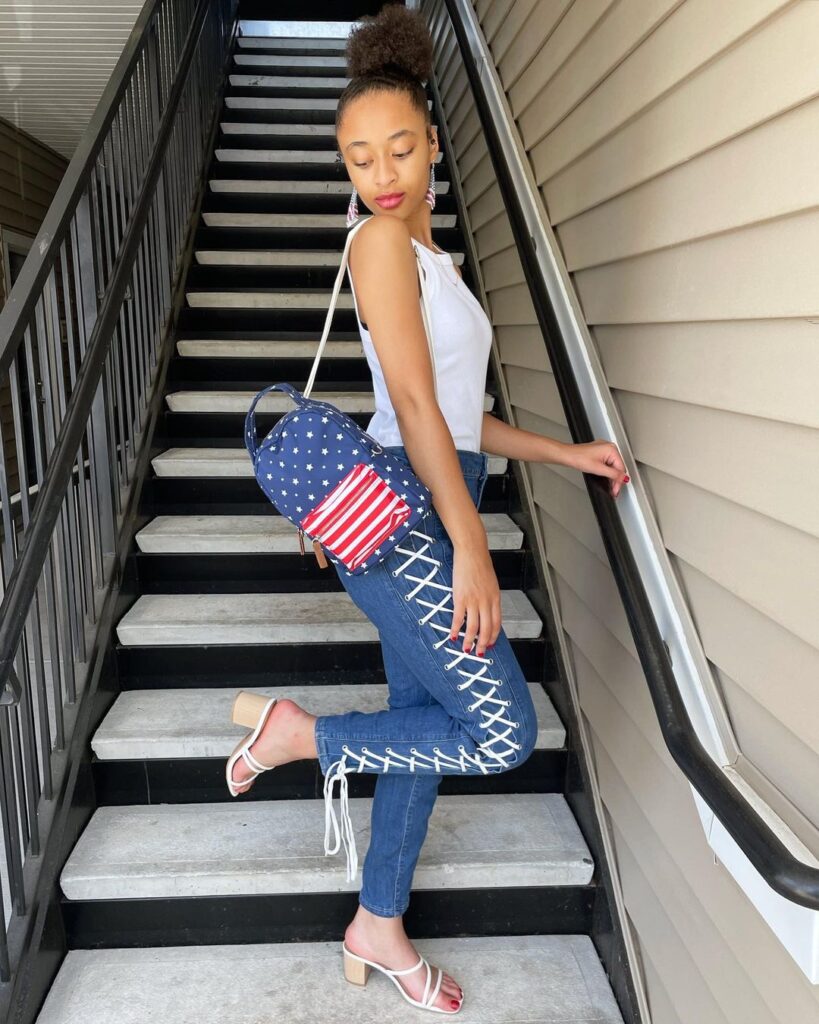 4 – Casual White Tee and Black Leather Lace Up Pants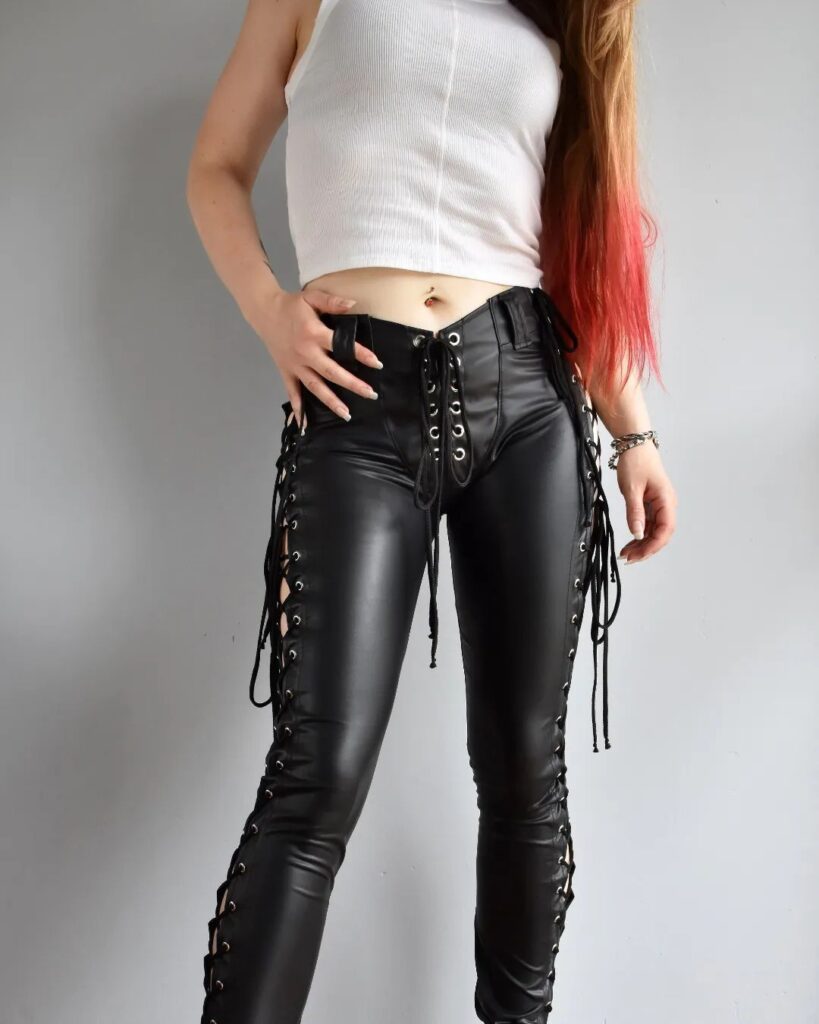 3 – Ditch Black, Try Blue This Time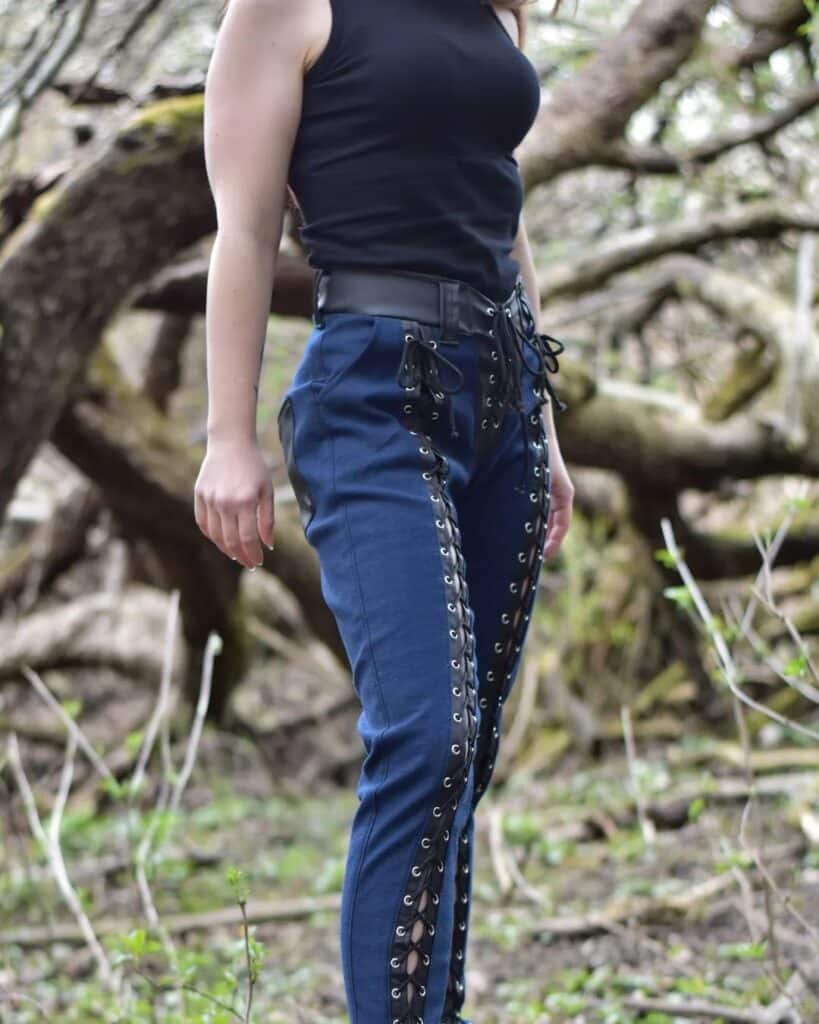 2 – Leather Pants With Lace Blouse
Go for a lace blouse or top, wear your everyday favorite bralette underneath, and you are ready to step out in the warm weather. To make your fit more fashionable, you can wear intertwined drawstring pants that would match your black lace blouse.
This fit will help make you feel a lot better in warmer months, and to top it all off, you can try on black ankle-length boots that would complement your whole look.
Wear matching jewelry; if you are going for a gothic look, try on black chokers, hand bands, and some black sunglasses, or you can go for some colorful accessories like these, and you are good to go.
1 – Add Lace Leggings to Your Workout Outfit
Intertwined Bottoms can be worn anywhere and at any time; this is a style that you can wear on a day out with your friends, to your workplace, or when you are going for a jog.
Drawstring leggings are in style, and they give you the proper comfort and stretch that you like.
You can try several different colors of leggings, from black to blue, and pair them up with a camo printed yoga top to give you extra support on the upper half of your body.
You can look fashionable while jogging as well, and the extra support these two clothing items will give you will make you feel a hundred times better.
Put on your white jogging shoes and, some minimal jewelry, sunglasses to stay safe from the harmful sun rays, and never forget a bottle of water to keep yourself hydrated.
Frequently Asked Questions
Q. How do you wear lace up jeans with boots?
Ans. There are several ways you can wear your boots with lace up jeans. You can either contrast it all up or mix and match it with your outfit. Either way, the boots go really well along with lace pants; it will amp up your fashion statement by trying to go all black or wear white boots with your beige pants.
Q. Where to buy lace up pants?
Ans. Since lace up bottoms are now quite famous, you can easily find them anywhere. Here are some of the brands or online marketplaces you can consider.
Amazon
Walmart
NastyGal
Manier De Voir
Good American
You can order them online or go to the stores to get them. We suggest trying them on before making a purchase as ill-fitted jeans or trousers will ruin our entire look.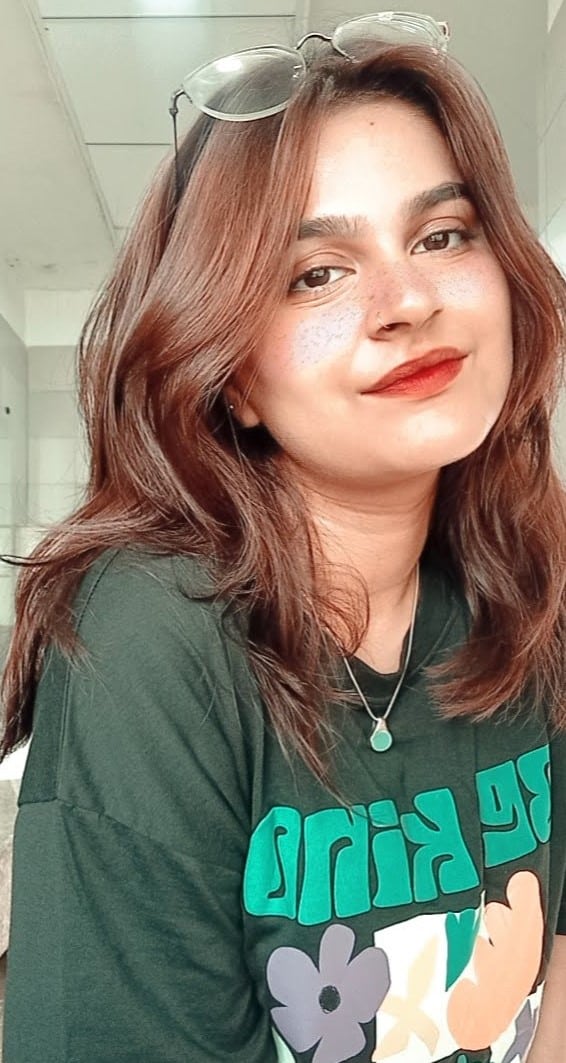 Adeena is studying Media Sciences at IoBM. She is a freelance content writer and graphic designer with experience in UI/UX as well. Adeena loves writing about fashion, taking photographs, making videos, and exploring many artistic things in her life.