Beautiful Coachella Outfits for Girls. Imagine yourself in a situation where everyone around you is clad in colorful attires, wearing blissful expressions, lost in the music and fun of the moment. Whereas you sit there at the farthest corner with a sullen face only because your outfit is not appropriate!
Pretty sure that has happened with you at least once.If you are not satisfied with the clothes you are wearing there is hardly a way you can feel free to enjoy yourself. Especially at events as fun and memorable as the Coachella. For all of you wondering what Coachella is, it is a music and arts festival held in California. Known for its celebratory nature and bright mood, this event is one that is carried out annually, a place where you want to look your best. Every year we get to see unique fashion, vibrant hues, funky designs and smiling faces at this festival. We get to learn a lot from stylish divas who attend the event. Since there are so many fashion ideas in the air, here is a list of the best fashion looks from the Coachella festival to gain inspiration from.
What To Wear For Coachella 2019
When it comes to Coachella, it's an event that becomes a trendsetter. The looks you discover at Coachella can literally be seen throughout Summer which makes this event even more special, as already explained by Buzzfeed last year. But if you plan on attending the event this year, here are a few tips on styling a Coachella outfit so that you may never regret!
Avoid wearing suede shoes or shoes that can get dirty or torn easily. You need sturdy footwear.
Remember to keep good sunscreen with you.
Keep hydrated and it is best to keep a water bottle for you
Experiment with styles and colors. Be brave and confident about yourself.
Add accessories for the ultimate sparkly look. Don't forget to carry a great headpiece with you.
If you aren't sure what you should wear, keep it simple.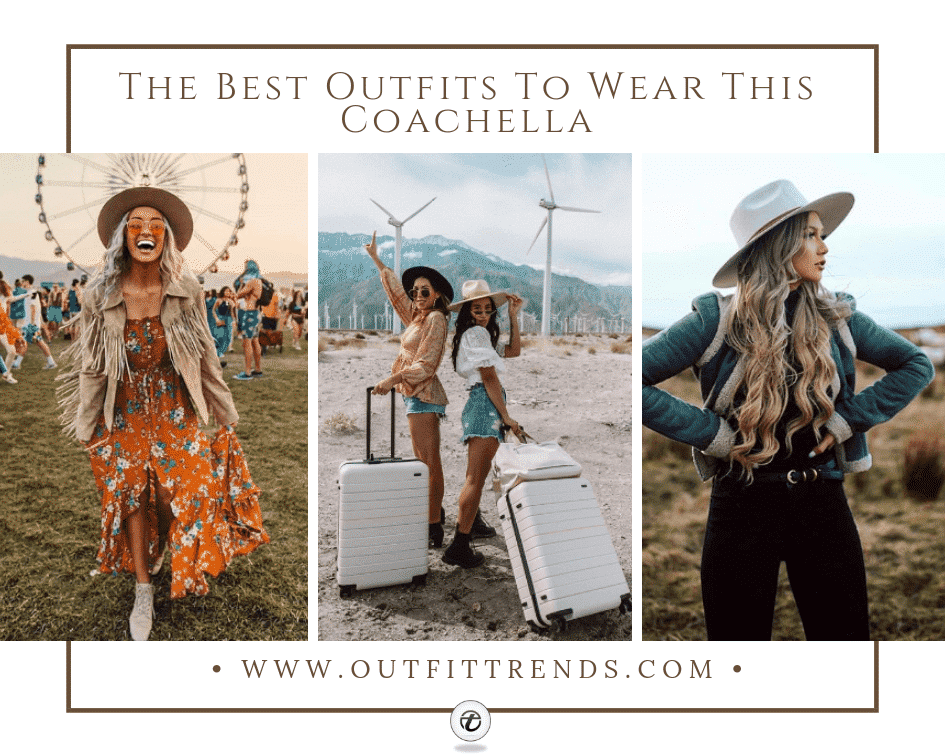 ↓ 27 – The Cool Girl Outfit
For the nifty look, wear a pair of jean shorts with a black crop top. Sneakers would look awesome and would also be able to bear the sand! Add a pair of sunshades to beat the sun and keep a hand fan with you to keep sweat-free and you are good to go! You can also find some great ideas from this collection of Country Concert Outfits For Women.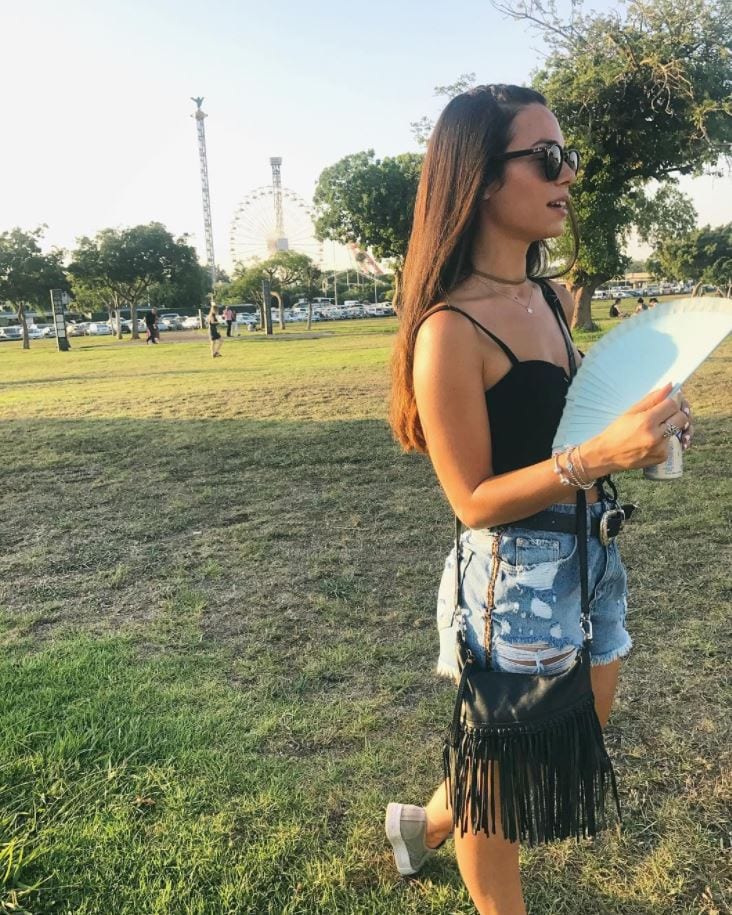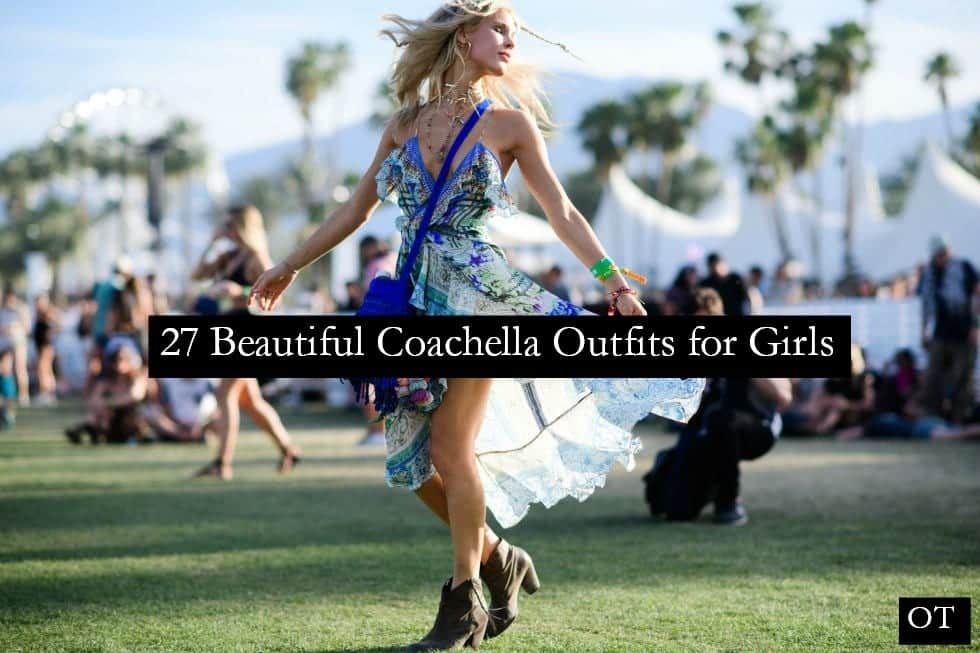 ↓ 26 – Gypsy Chic Style
Take inspiration from the 70s era and try on some gypsy chic for once. If you want to go for the free-spirited look, go for a crop top that's knotted in the middle with a wrap skirt or shorts. Go with bright colored tops for this look. Crim your hair for added sass. Keep the makeup light and bright!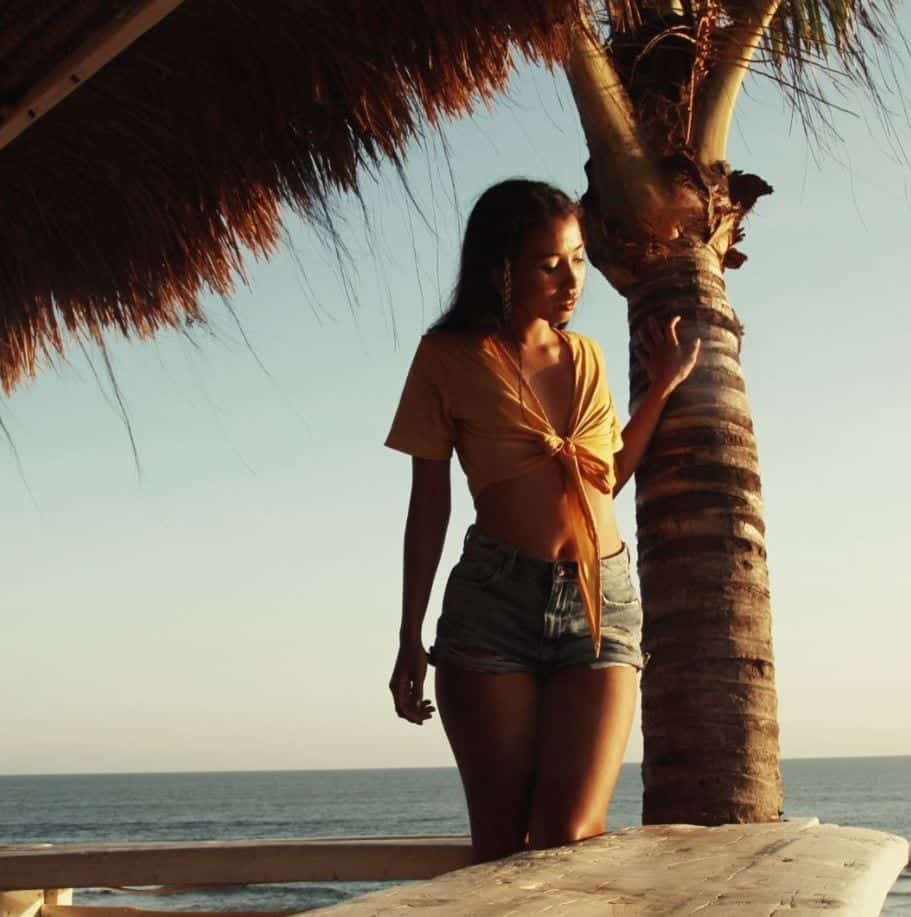 ↓ 25 – The Grunge Look
Zoe Kravitz has rocked the grunge fashion and that also with style. You can try the look for yourself. Embrace the afro or go for braided hair. Choker instead of the necklace and bands for bracelets. Heeled boots for class. Flannel frock or dress with strips for sleeves and ta-da! For boosting the overall look, you can add a bohemian patterned scarf.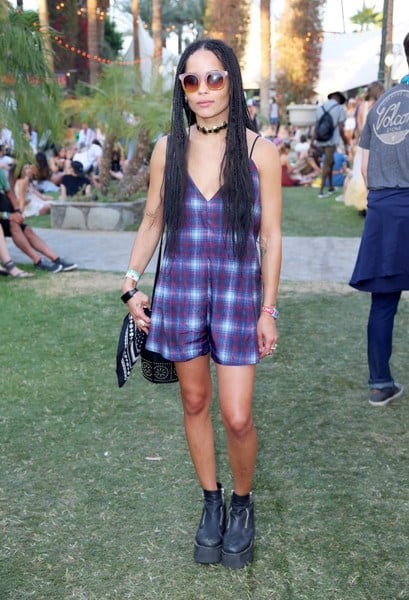 ↓ 24 – The Funky Outfit
Sometimes, it is okay to ditch the conventional norms of dressing and go slightly overboard. Coachella is the best time to experience some crazy outfits that stand out. This Gaga look can be difficult to pull off but if you are up for it, don't back off. Wear a silver crop top with leather pants and multicolored fur jacket and you are all set. To go with this outfit, here are some Funky Nail Art Ideas.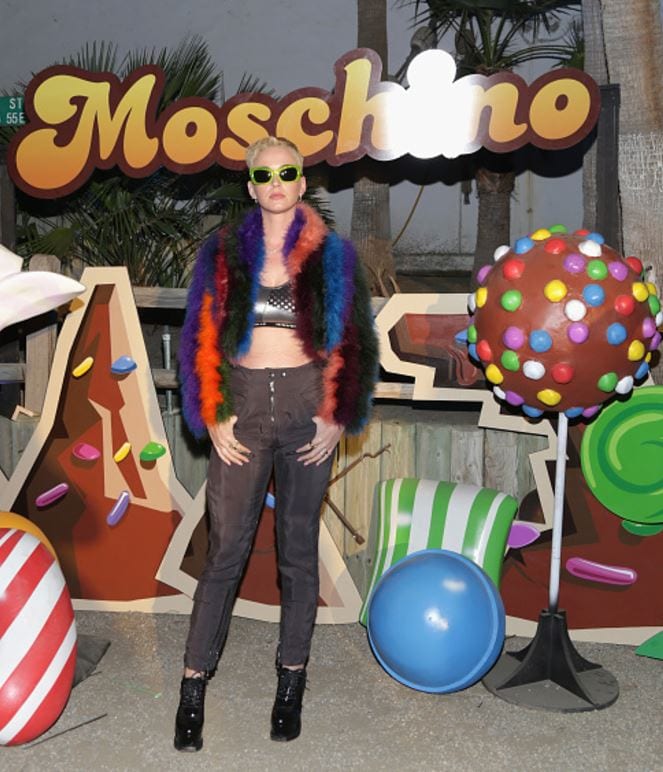 ↓ 23 – Coachella Makeup Ideas
If you have been frightened of changing your hair color forever, now is the time to jump from that high hill of fear. This time, go with dyed hair in lively shades, as eccentric as dark red or neon green. It is preferable to wear some face paint and glitter tattoos,  along with bright lips colors to make you look like a fashion queen! This is the perfect look for the flawless selfies. Try some new makeup trends like freckles or graphic bold eyeliner for the event.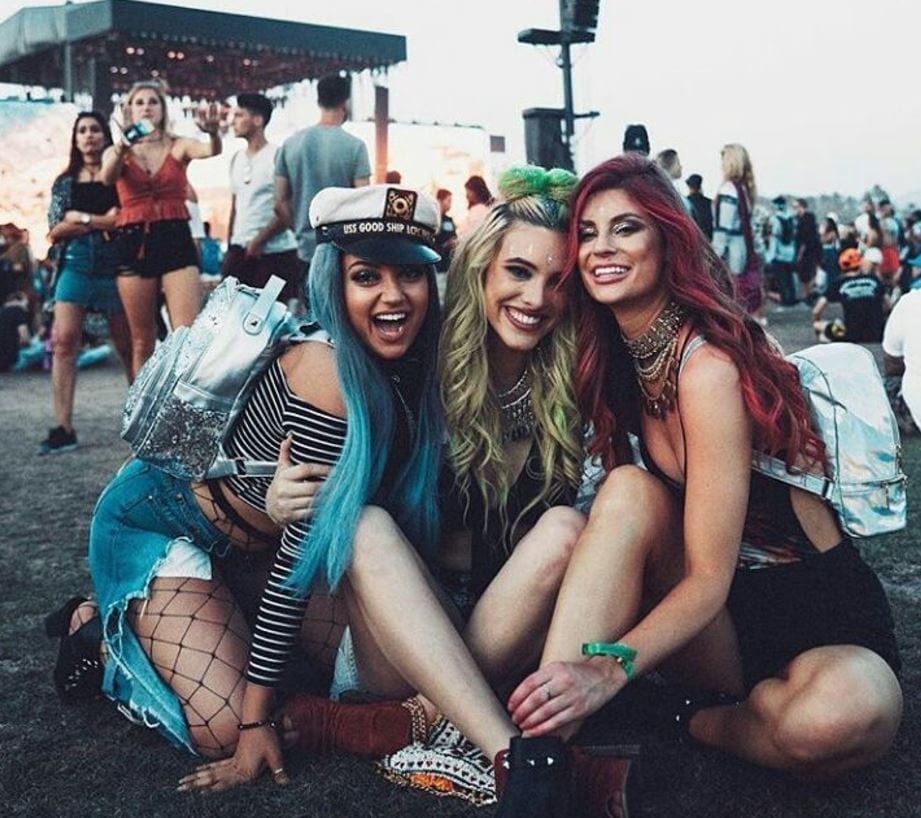 ↓ 22 – The Sophisticated Outfit
For the elegant getup, keep it minimal. Go with a graphic print fitted dress with pencil heels and that's that. If you love this awesome color, here are the best Yellow Outfits For Women.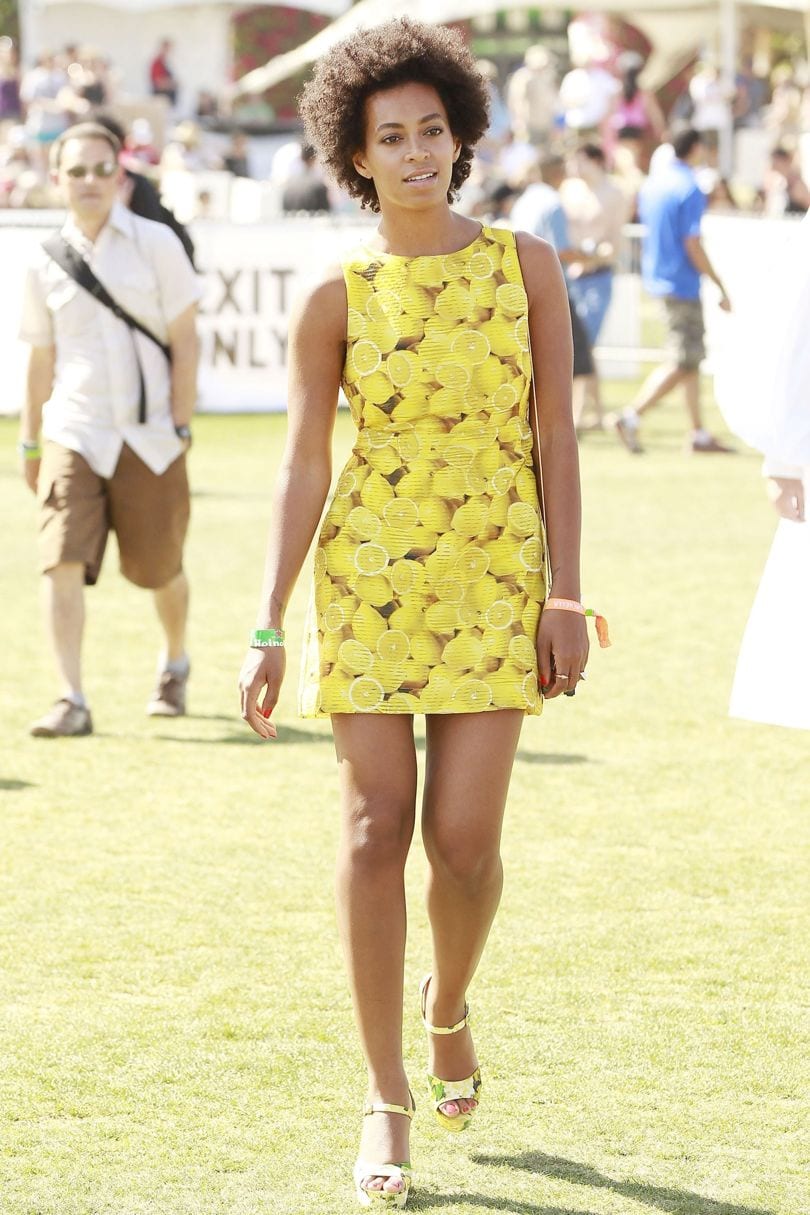 ↓ 21 – The Sporty Look
Are you the sort of person who loves sports? If yes then why not flaunt your love for it? Wear a sporty tee, with a denim mini skirt. You can also style your sweat pants to go with a glam top of your choice. Wear these Hoop earrings for taking the notch on style up.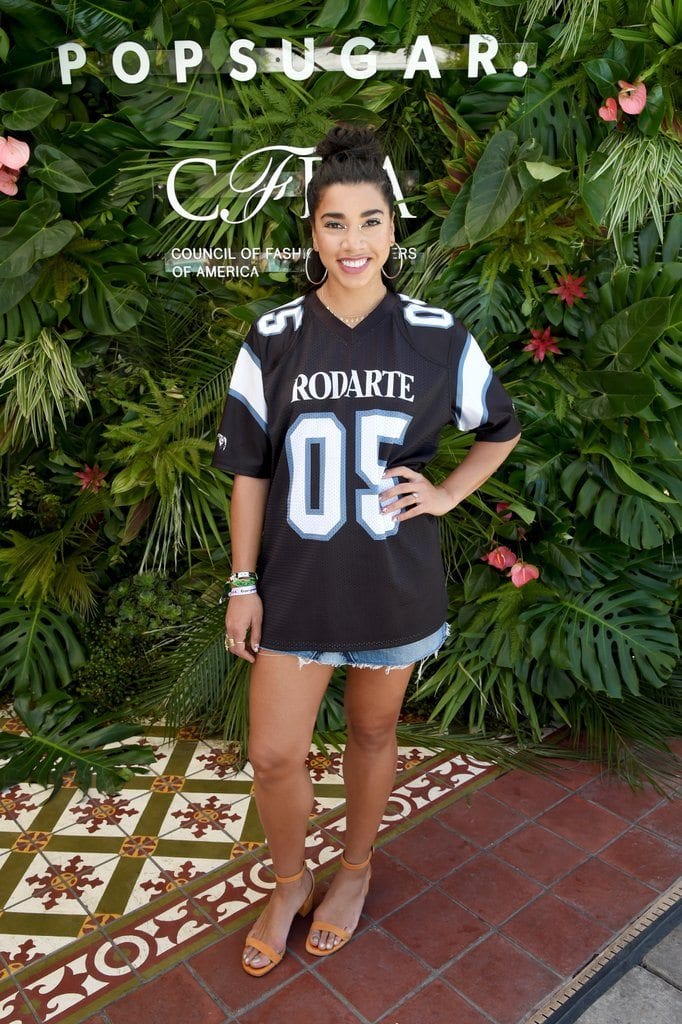 ↓ 20 – The Casual Outfit
Some of us take forever to decide what to wear to any event. In case you have been delaying this decision forever and you are now in a hurry yet don't want to look like a mess, keep it casual. Ankle length jeans plus white tee equal to max style! You can layer this simple look with a boho style kaftan or sweater for winters. Check out these Girls Casual Club Attire.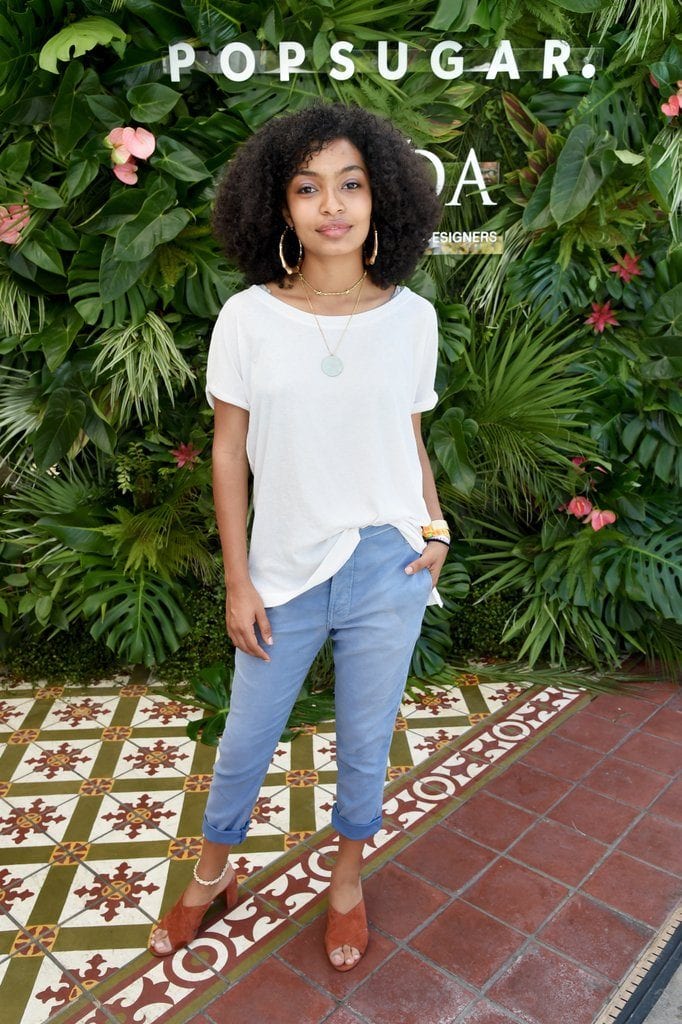 ↓ 19 – The Floral Outfit
Take a turn for a sultry yet feminine look. Since flowery prints look so voguish, why not wear a floral outfit? Go with a dress with off-the-shoulder sleeves and a plunging V-neck. Whether you choose to wear a choker or a layered neck piece, this is the best style to complement your jewelry. Give an edgy twist to your dress with black boots and chunky anklets.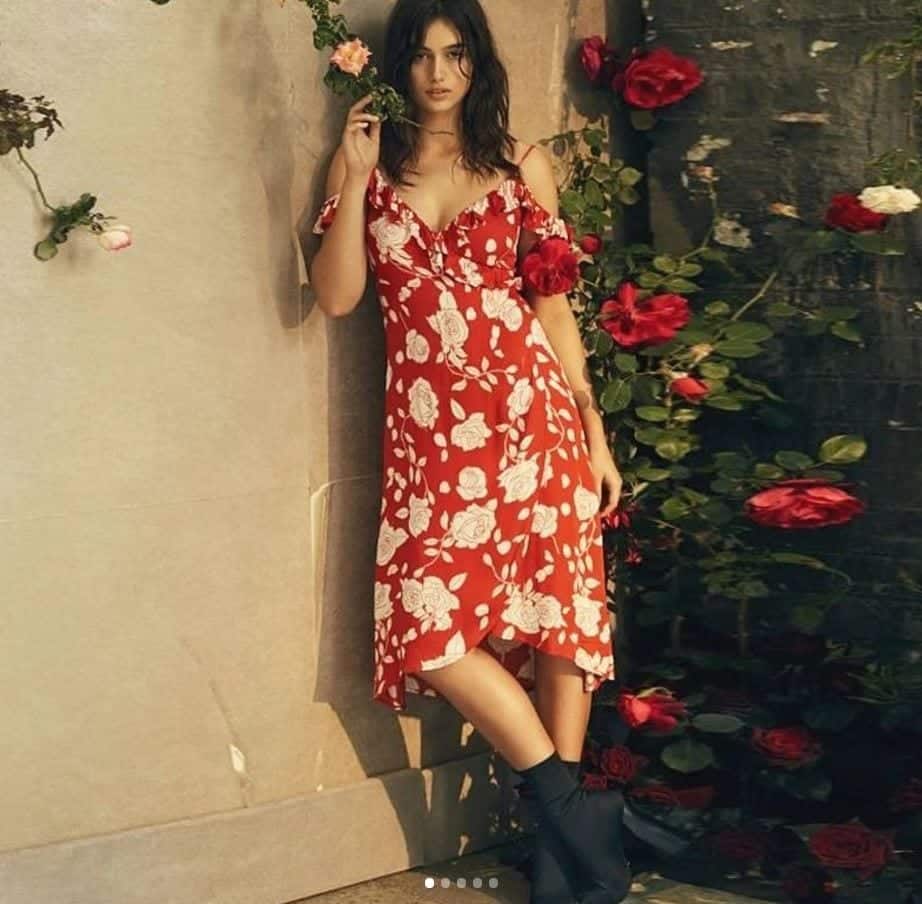 ↓ 18 – Famous Celebrity Style
It's no surprise that celebs also attend the Coachella. One popular celebrity who we all love is Emma Watson. You can take some pointers from her when it comes to fashion. Here are 25 Stylish Celebrity Fashion Trends In 2017 For Women.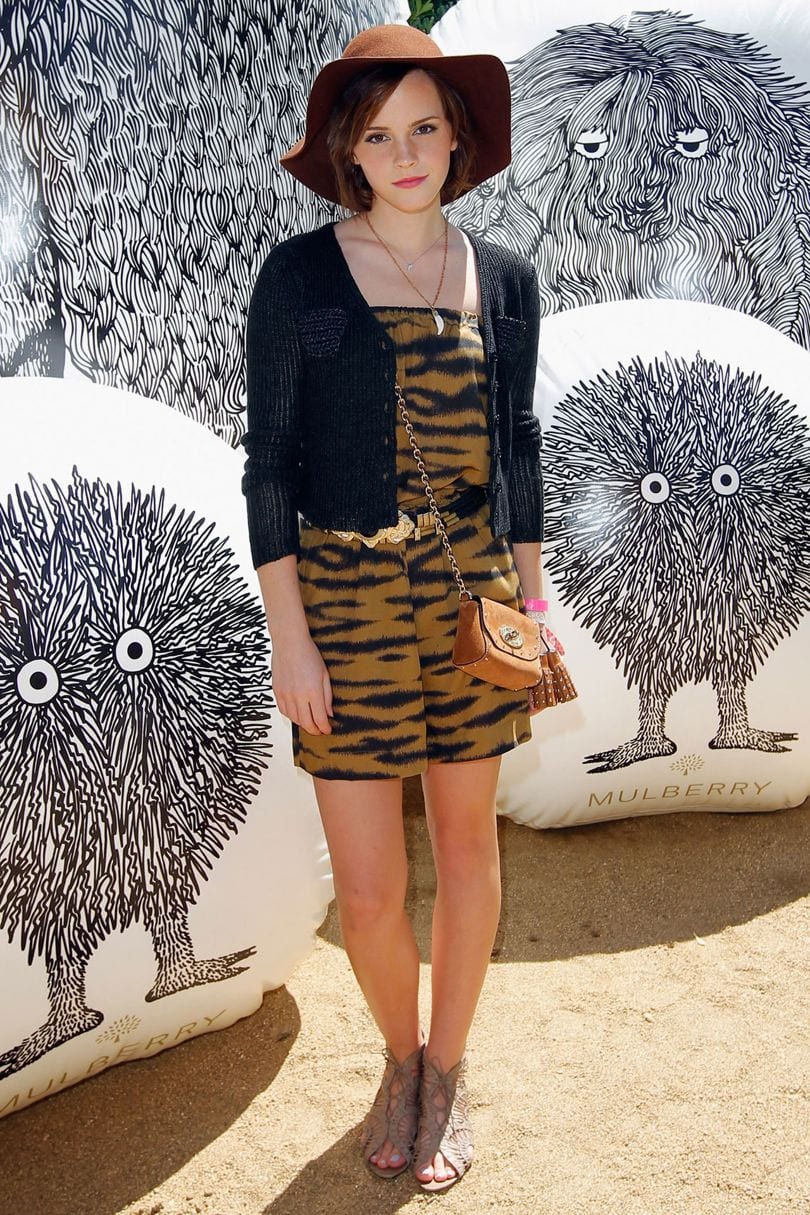 ↓ 17 – The Girly Look
To please the little overzealous girl inside you, go for the girly look by wear a snazzy frock with ruffles and high boots. For once, don't tie your hair and let them loose to sway around in the mild breeze. Go with a minimalistic makeup look, by applying a slight shade of pink on the apple of your cheeks and nude pink lipstick. Wear an ombre pendant chain and multiple strand bracelet.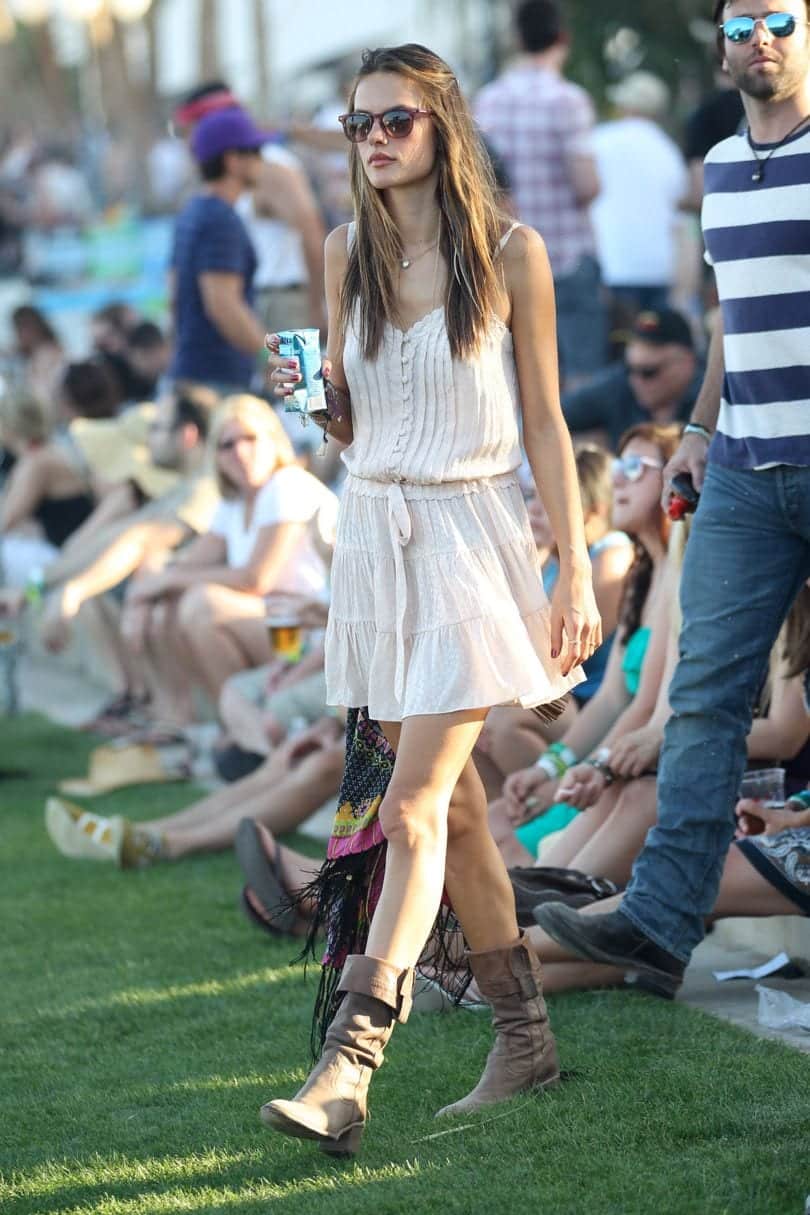 ↓ 16 – The Fancy Look
Channel your inner princess and wear a flowy, chiffon dress. Keep the colors catchy and you will surely look lovely. The best way to wear a chiffon dress for Coachella is by going for the high low cut of the skirt. Not only is this look totally in these days but it is also very playful for such events. Go with a funky bag and ankle boots to swing in style.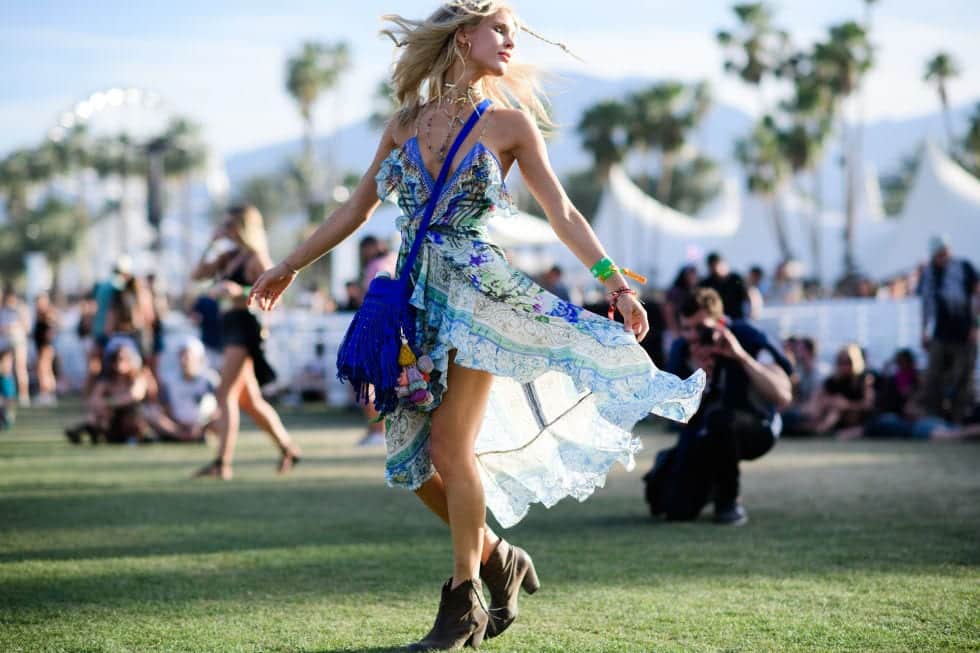 ↓ 15 – Classy Sheer Outfit
Sheer outfits have been in trend for quite a while now and there are quite a few ways to flaunt them during Coachella. For one, you can wear a sheer lace dress with a thigh-high slit along with black shorts which would look classy and gorgeous.  Secondly, for a more bold look, go with mess bralette and bright colored shorts. You can even use embroidered sheer tops as coverups doing night time when it is chilly. Don't forget to wear some twinkly accessories with these outfits. Here are 30 Ideas on How to Wear Sheer Outfits.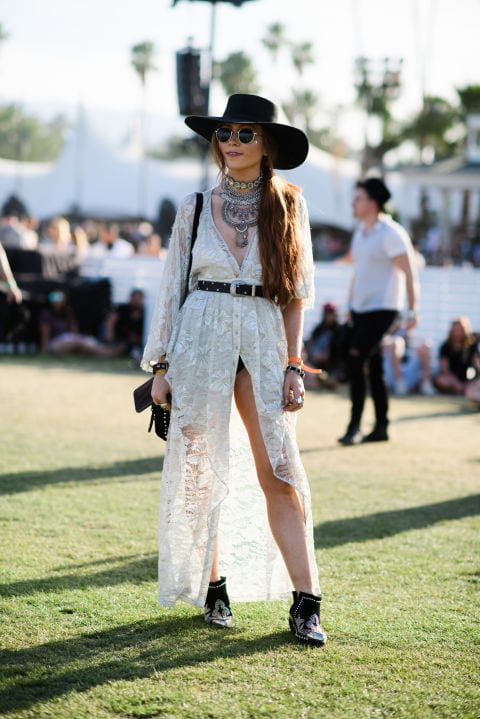 ↓ 14 – The Hipster Style
If your style is hip and that's the sort you want to portray, take some tips from this lass. Her fashion game is on fleek. Whether you choose to wear your sweat pants or some brilliant khaki slacks, mix them up with different styles of tops and wear a classic hat to exude those hipster vibes. You can even wear camouflages for the event and pair them with some solid brown combat style boots.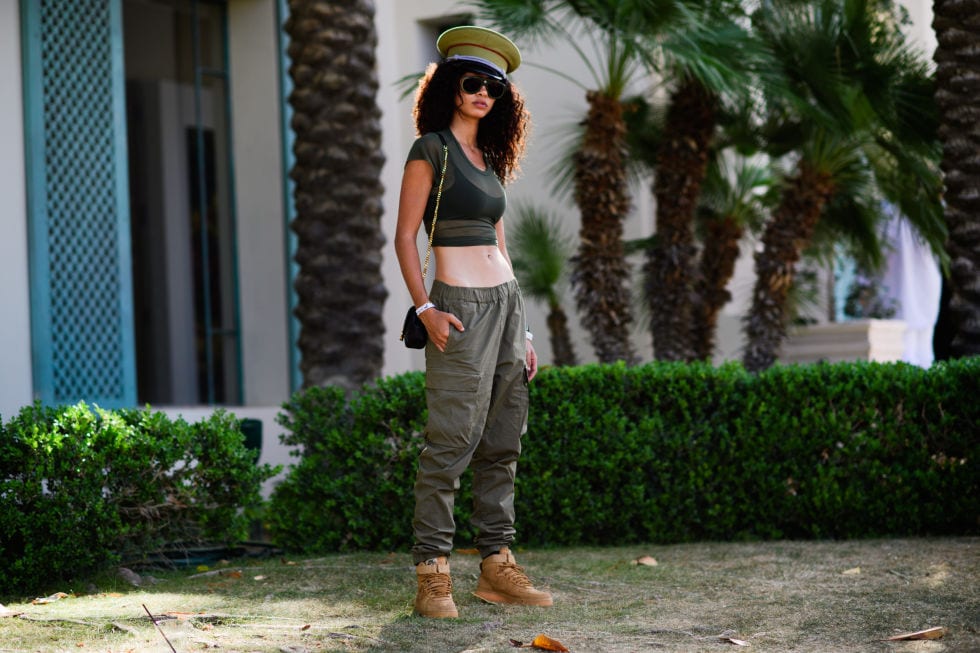 ↓ 13 – The Diva Look
An off-shoulder dress with a high slit would make you ace in the fashion race. Don't leave behind that hat if you want to win some hearts. Additionally, if you are fed up of carrying the same old dresses, bring alive the diva in you with some glam accessories. An oversized belt is never too much to carry to such events. It will give you this beautiful hourglass shape as well.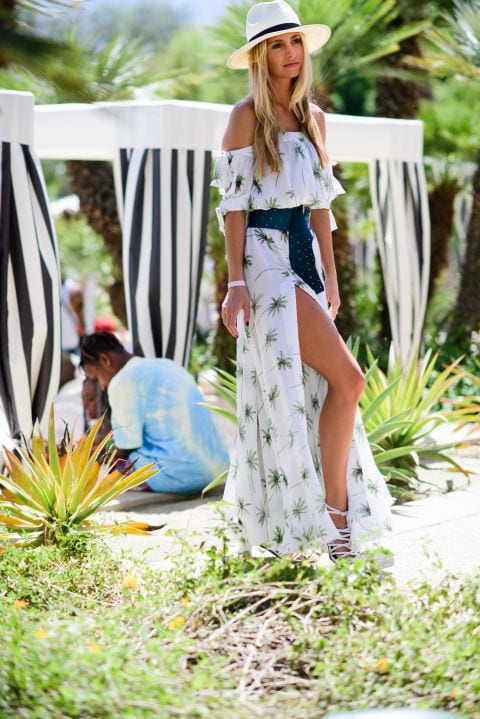 ↓ 12 – Street Style Outfit
Street style outfit is about taking one statement piece and experimenting with it in multiple ways to inspire others. Whether you choose to rock your floral boots/converse or the ruffled bodysuit, showcase it in a way that it attracts all the well deserved attention.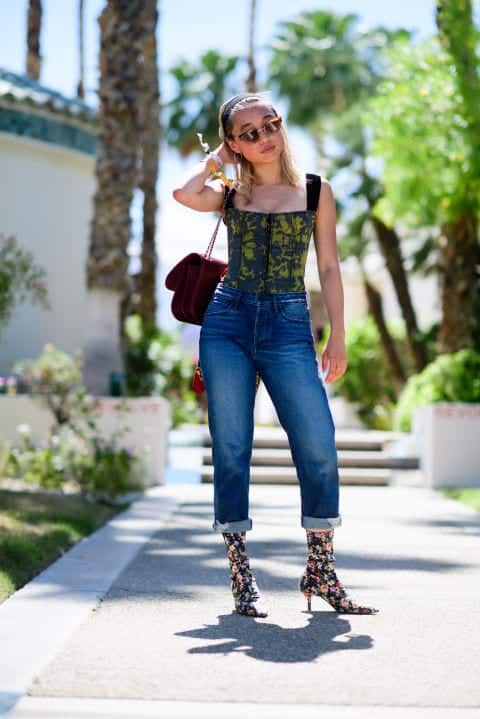 ↓ 11 – Swag Outfit
Sometimes, if one particular style of pattern isn't making you excited about your outfit, it is time to call in big guns! Gingham pattern is back in the game and nothing looks more adorable than a ruffled gingham skirt in a tastefully varying size of the pattern. Wear it with a graphic shirt and create that awesome swag outfit. Here are the 5 Accessories You Need for Swag Look.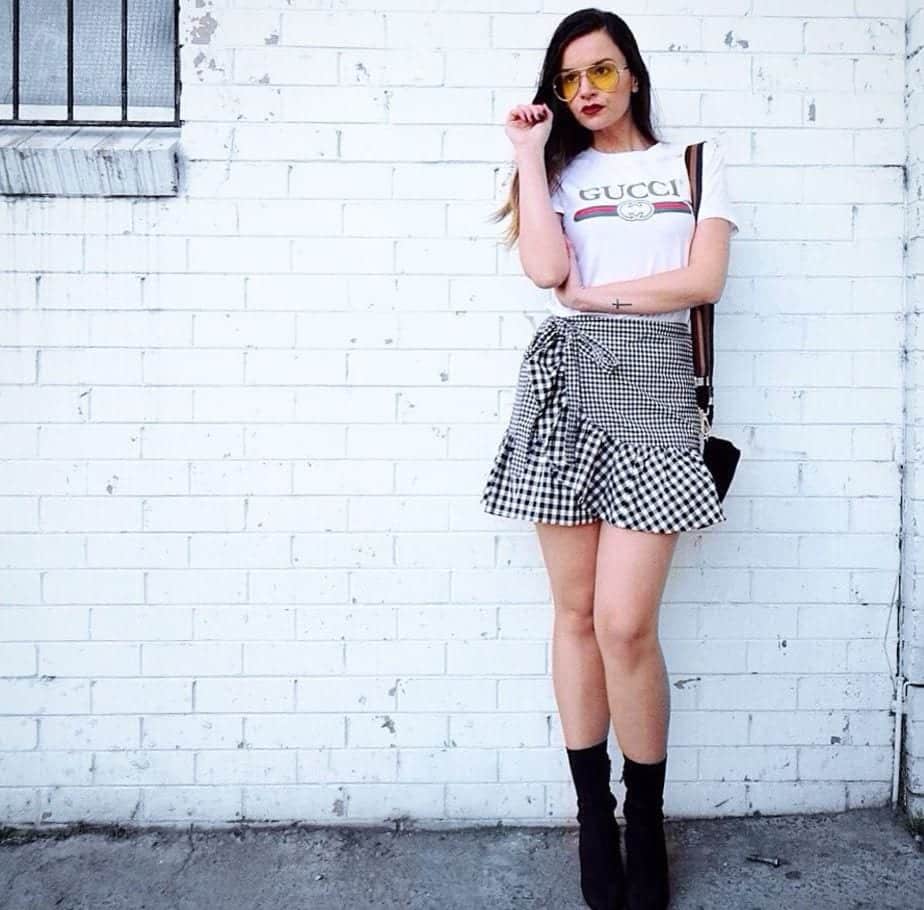 ↓ 10 – The Decent Look
There is no harm with trying the preppy look for Coachella. You can wear a micro print shirt buttoned up the classic way and add in denim shorts for the summertime heat. For winter, you can wear this shirt with velvet pants to dress up. Go with comfortable converse and cat-eye sunglasses for an awesome casual and decent look.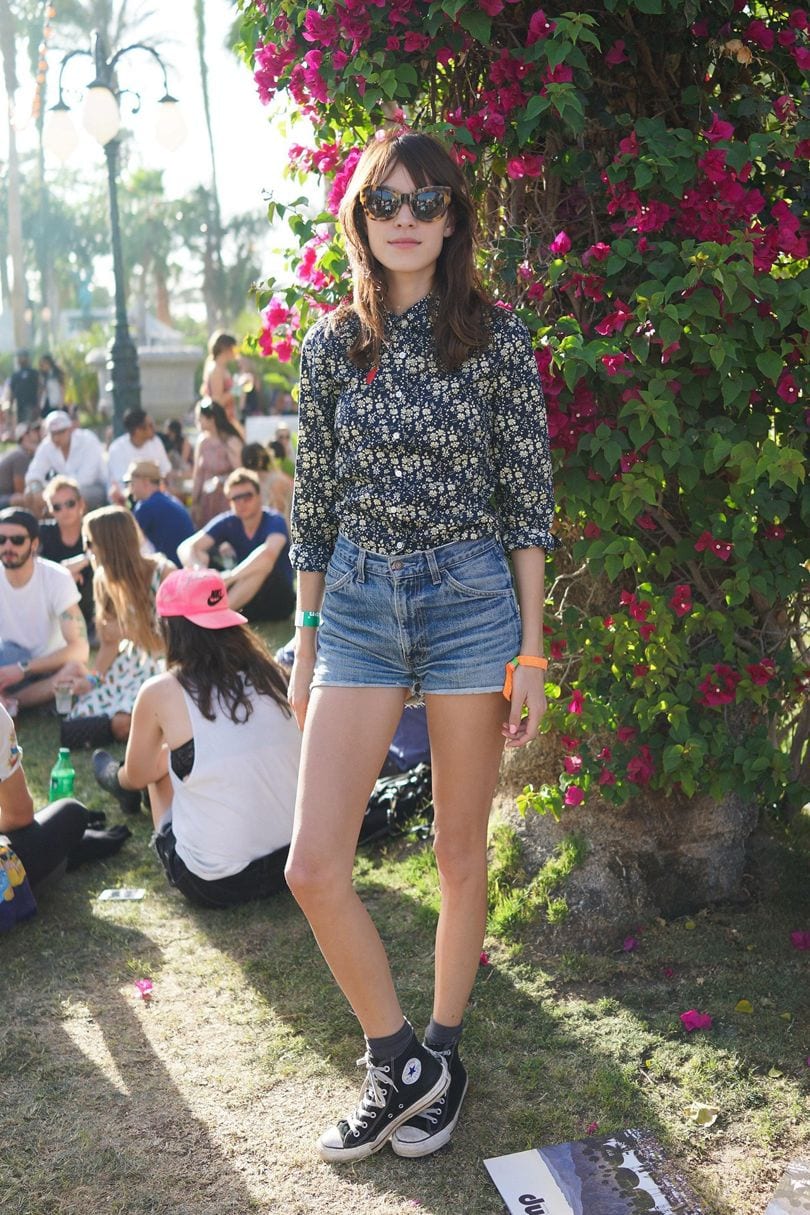 ↓ 9 – The Simple Look
In case nothing is speaking to you, go with a simple look. Wear the classic combo of denim shorts and cute tees for the day in numerous styles. Pair your outfit with the right accessories and you will be the talk of the town in no time.
↓ 8 – The Glam Look
Looks like metallic pieces are making it into our wardrobes again and who can really say no to them? Whether it is metallic shorts or tops, this versatile trend can be carried in multiple ways. Bring in a little of Rio into the Coachella because why not? Go with comfortable gold sneakers and gold metallic shorts or pants. Wear them with a plain white tee and keep a lace kimono or coverup with you for a great transitional look from day to night.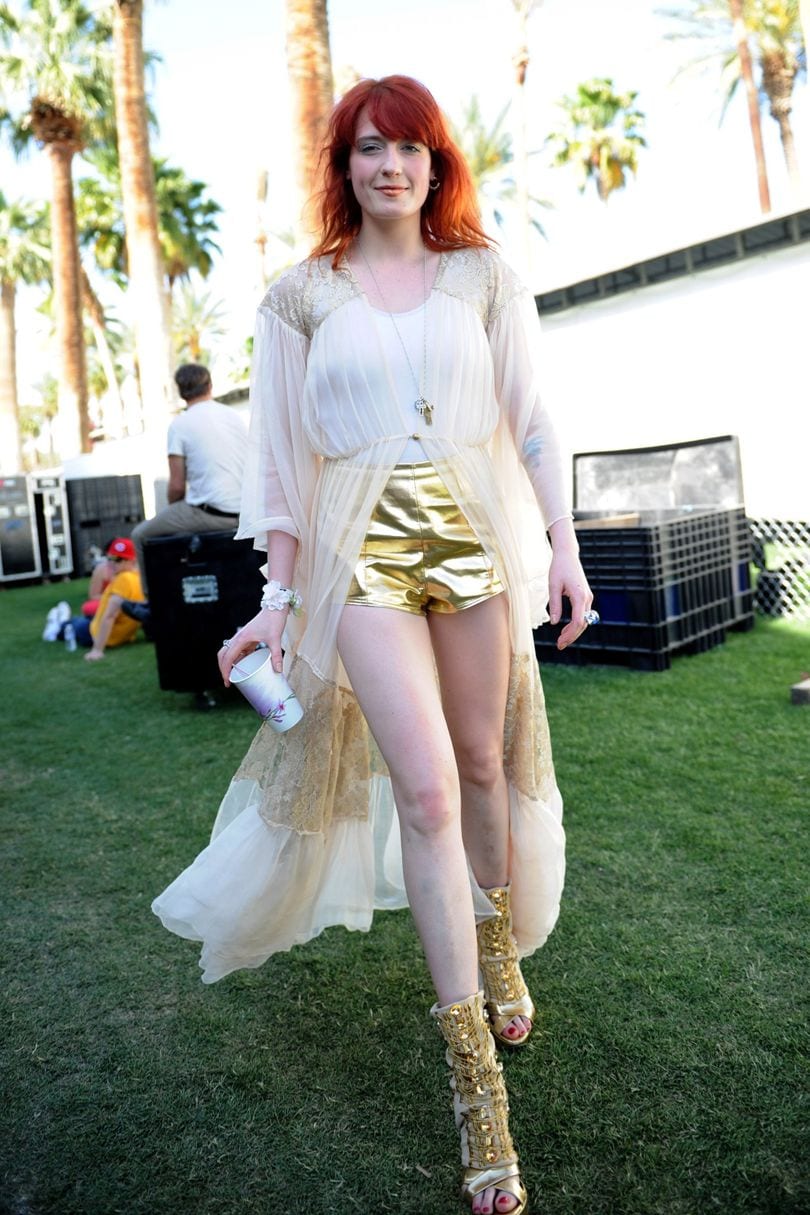 ↓ 7 – The All Black Look
If black is your color, don't feel the need to change! You can go with a short black dress or a black mesh top with shorts! Wear a denim jacket on your waist for the girl next door look and wear black sneakers to complete the look.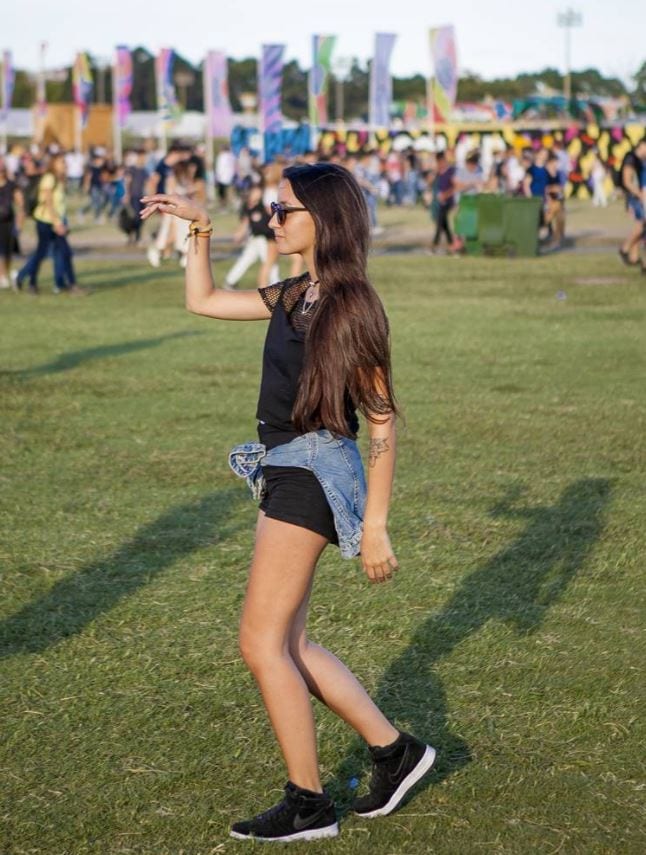 ↓ 6 – Denim Outfits
Wear a gray top with subtle hints of denim. Jean shorts and boots are a pair made in heaven and you can never go wrong with them. Style the outfit with a brown belt and bag. See the heads turn with your fabulous style. Check out these 25 Cute Outfits Ideas to Wear with Denim Studded Shorts.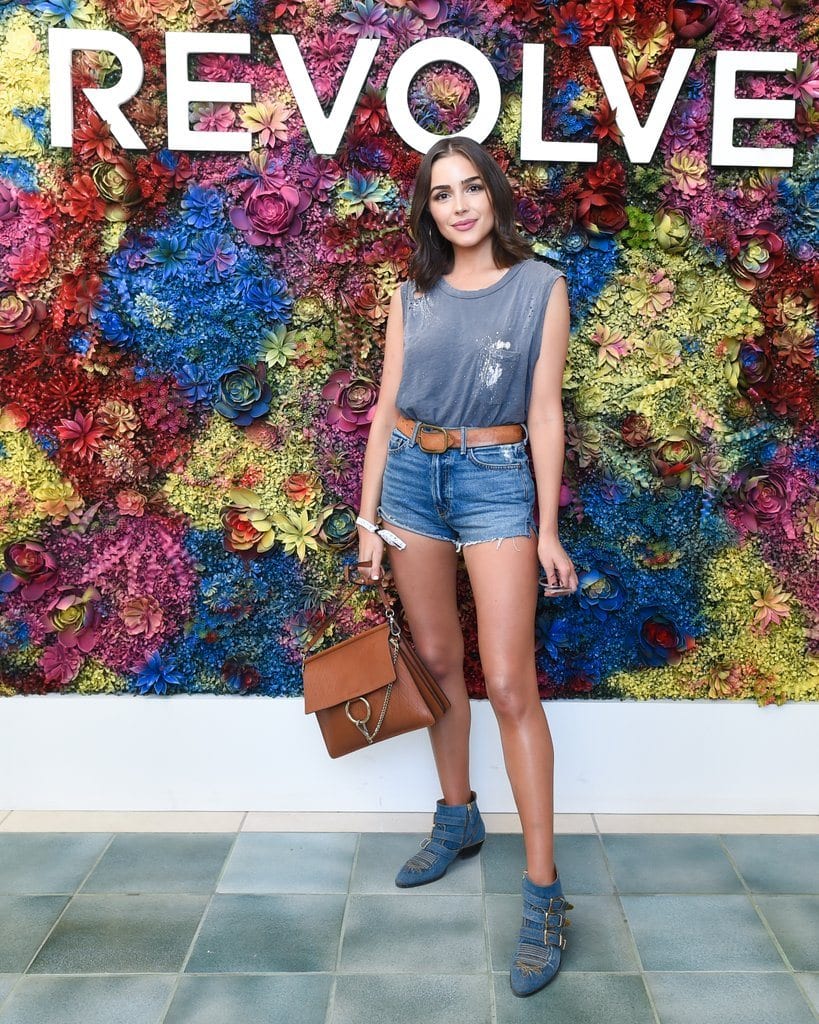 ↓ 5 – The Comfortable Outfit
Cotton and chiffon tops are your best bet for a comfortable look. Whether you decide to go with graphic ones or embroidered colorful ones, you can be sure to enjoy your time in style.  Pair them up with high waisted shorts and boots and you have got yourself a winning combination.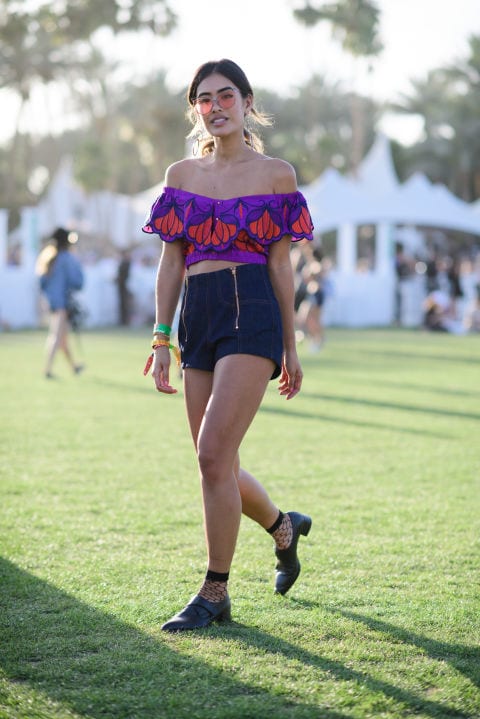 ↓ 4 – The Unique Look
Jumpsuits look stunning, particularly when they are in shaded tones. Go with the ombre trend and take your jumpsuit outfit to another level. The best way to go with ombre shades is to choose the ones starting with darker tones and fading into the lighter ones. The airy feels of the jumpsuit will not stifle you in the warm climate.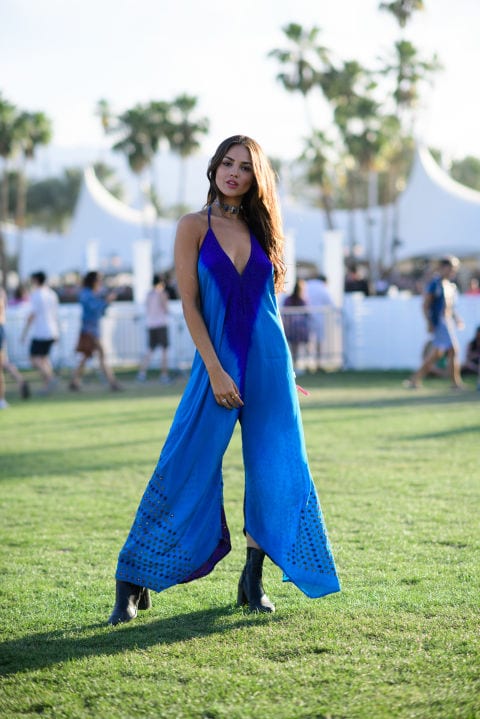 ↓ 3 – The Glittery Look
Steal the limelight, by wearing a shiny outfit. Sequined tops are the thing to acquire and wear religiously this year. Whether you go with striped ones or single shaded ones, they are dazzling for any event. You can wear them with black or blue denim shorts and skip chunky jewelry for a chic appearance. You can even choose to wear your sneakers or converse to balance the look.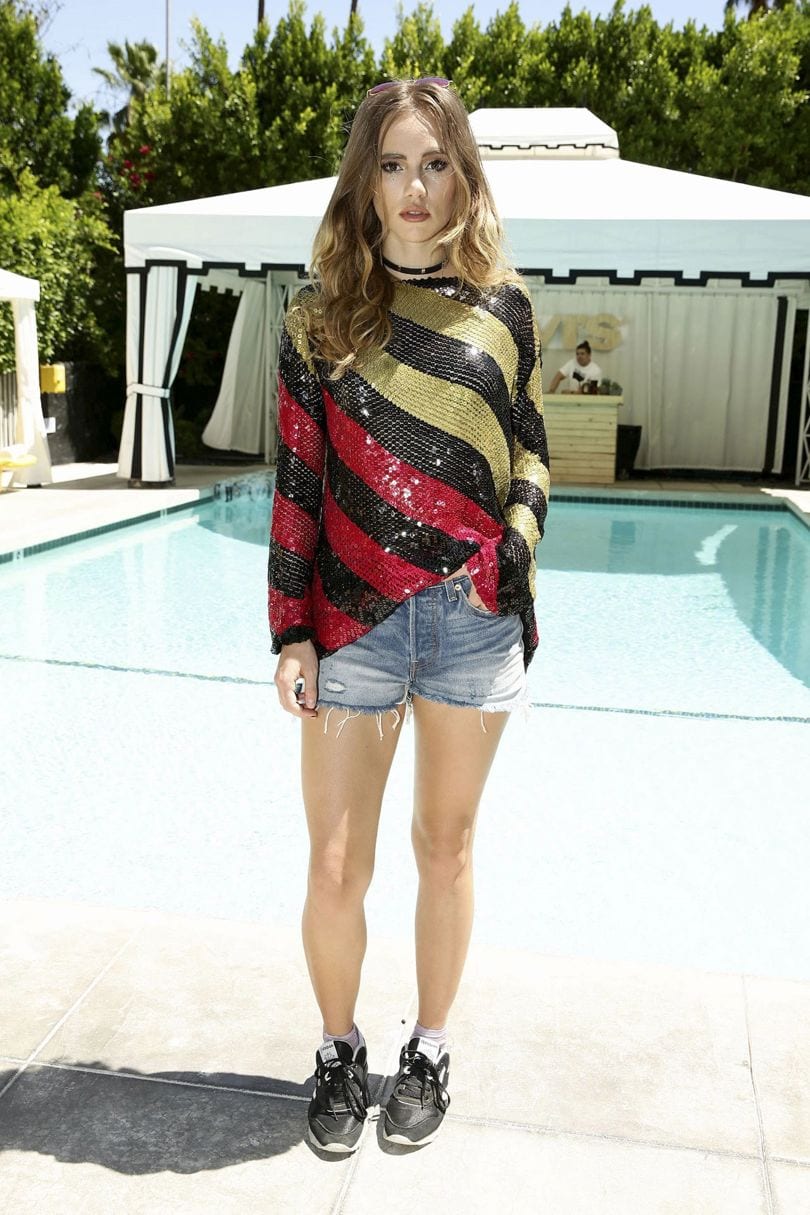 ↓ 2 – Coachella Headdress
If you think fringes are out of the scene, you are mistaken. A fringe top is perfect for festivals and concerts. Bella Thorne got our attention wearing this fringed top with bohemian style printed shorts. For the chic look, note down her way of carrying herself and make a style statement. You can wear a classic headpiece which can be as simple as a flower crown or something much bolder. However, don't forget to keep a headpiece and be creative and make yourself one.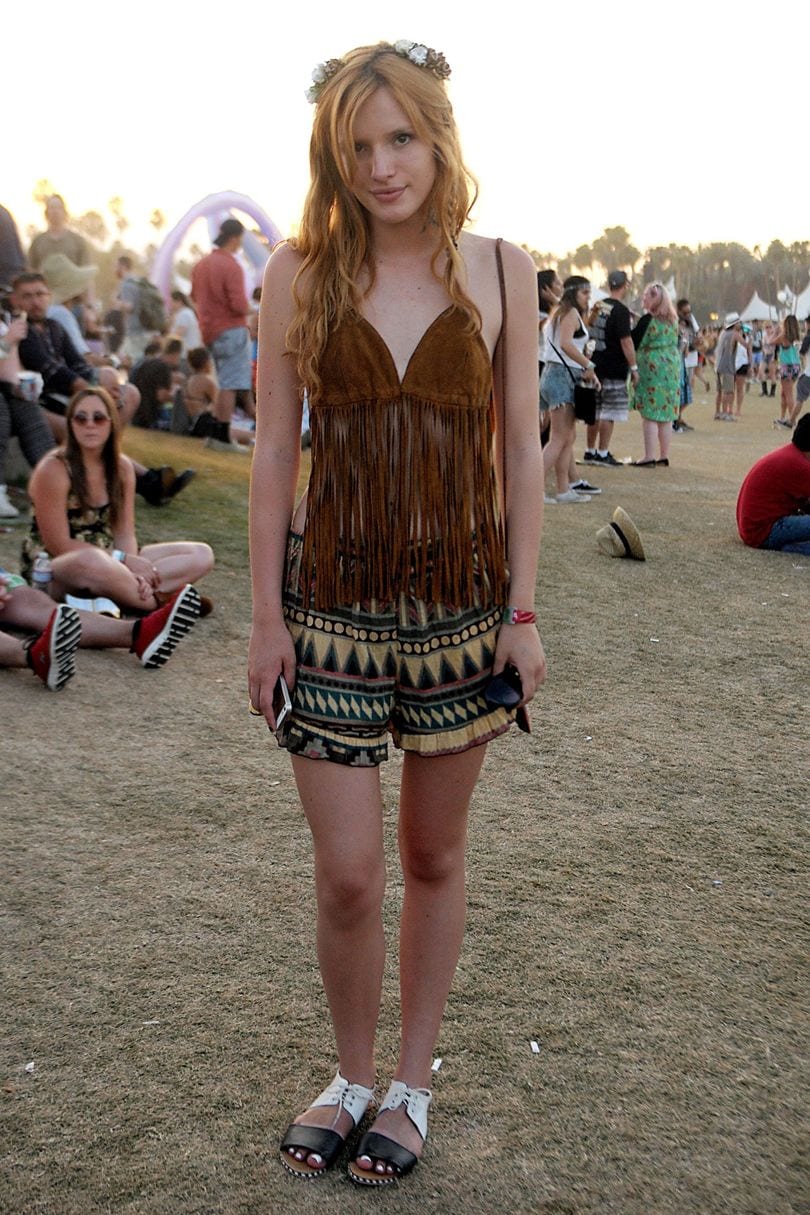 ↓ 1 – The Vintage Look
It is always awesome to take a spin on the good old days. Each of us carries a Polka dotted shirt with us and the slightly wide sleeves are perfect for the ultimate vintage look. For the summer day, it is okay to loosen a few buttons and wear your favorite denim shorts. To complement this look, wear round shades with animal print and curly hair to keep the style up.