Swag Outfit Ideas for Black Girls. The swag style is renowned for being highly diverse and a fashion trend that denotes confidence and attitude. There is no set trend for swag style and so anything goes. This goes for clothing, footwear and also make-up. Black girls fashion is virtually incomplete without having some swag clothing collection in their wardrobe.
But what are great ideas for black ladies swag look? What outfits should girls with dusky and dark complexion wear for a swag style? What make-up tones and styles are great? We have this article at Outfit Trends to answer all such queries.
How to Dress Swag Style for Black Girls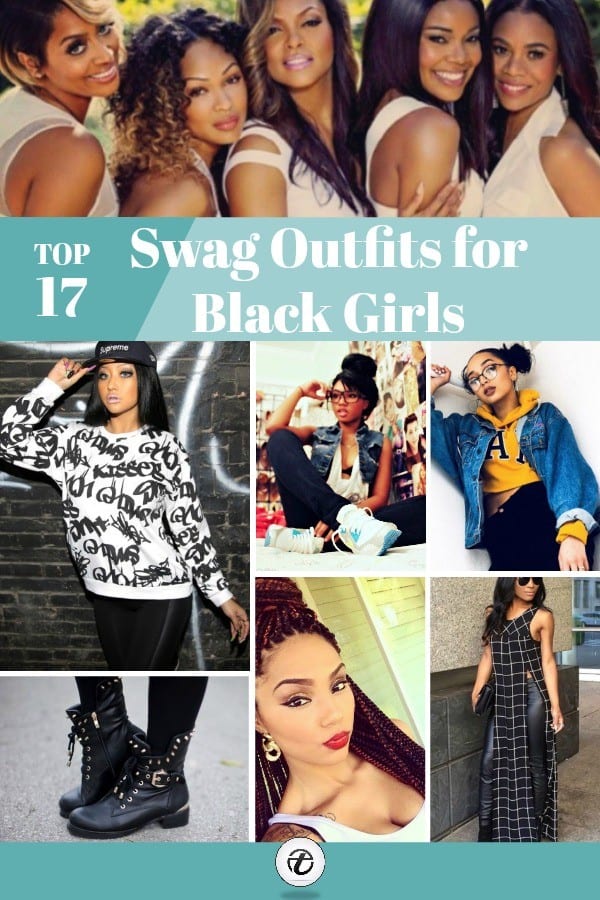 The swag style is largely inspired from hip hop culture and no matter what you where, you have to carry it with confidence. We're all beautiful in our own ways and we need to realise it so we can feel proud of ourselves. Unless you realise this, you won't be abl to get the true swag attitude. Here are some of the must-have swag outfit pieces that you need to have in your closet:
Tank-Tops
Slogan Tees
Jackets
Jerseys
Hoodies
Sweatpants
Shorts
Varsity jackets
The accessories you should have include the following:
Beanie Hats
Caps
Chunky Jewellery
Dark colored nail polishes
Have a look at the following images and use them to help you construct your perfect swag outfit.
↓ 17 – Swag Makeup and Hairstyle for Black Women
Natural hair is always a winning style when it comes to swag. However, styles such as cornrows, afros, dreadlocks and shaved patterns are also acceptable. Different styles are for different people and each one will frame your face in a different way, so make sure it is a style that gets you noticed in a positive manner. For make-up, blacks, silvers, greys, blues and purples are classic tones to use, however do not be shy to go for some exhilarating neon shades! Do have a look at these Snapback Hairstyles for Girls.
Neon is widely accepted in swag even though it is rarely seen. Smokey eyes are brilliant for black ladies as it can make the eyes appear larger and therefore an absolutely stunning feature. Lipstick is completely down to personal preference. You do not need to wear lipstick on a daily basis, as the natural shade of your skin will compliment your outfit beautifully. But, if you do wear lipstick, make sure it is a shade in keeping with your outfit. Too much clashing colors in make-up can look disastrous.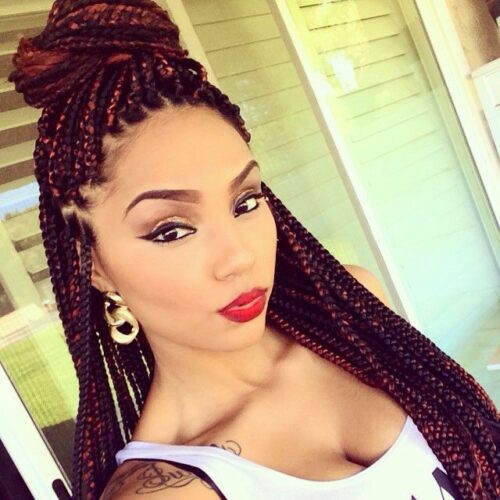 ↓ 16 – Street Style Outfits for Swag Style
Anything goes! Large printed vest tops, oversized T-Shirts, crop tops, jackets are all conventional top styles in swag. The bigger and brighter, the better. When it comes to adding bottoms to your outfit, try to choose a style that is opposite to your top. If you are wearing a baggy vest top, then wear skinny jeans. If you have chosen a fitted crop top, then why not complete you look with a pair of harem trousers? In swag style, not only are bold colours all the rage and large logo prints frequent, but opposites most definitely attract. Use this simple rule when creating your own personal swag look. Also check out our article on Teen Girls Swag Style for more ideas.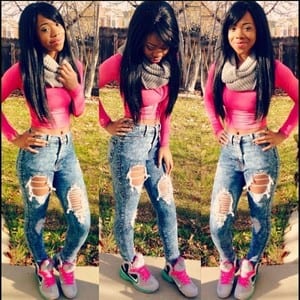 ↓ 15 – Swag Footwear
Prefect swag style footwear for black women includes Timberland boots, biker style boots, Jordans or Converse. Sneakers and boots are great for creating a bit of colour and shape at the bottom of the outfit. Chunky heels on boots add a bit more depth to your style as well as a sense of attitude, a must for every swag outfit. When choosing sneakers, don't just stick to original black and white (you can do of course if it matches your outfit) but with bold colours already on the go why not add a splash of colour to your footwear too? Patterns such as animal print, geometrics, stripes and check are all great for swag style footwear.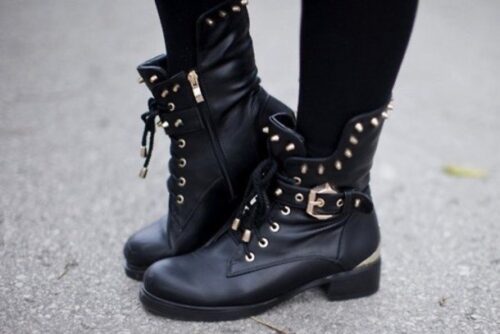 ↓ 14 – Teenage Black Girls Swag Style
Shirt Wrapped around style. Here are 20 Cute Outfit Ideas for Black Teenage Girls This Season.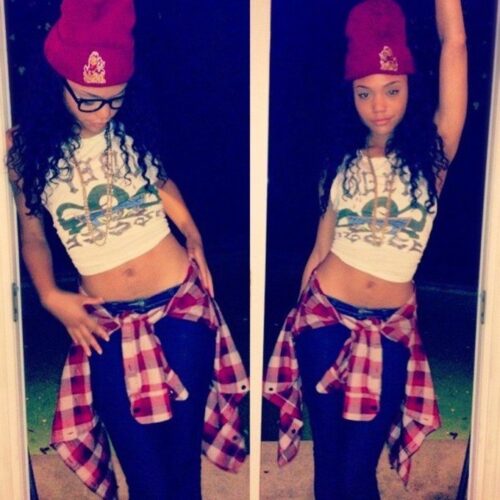 via
↓ 13 – How to Dress Swag in Summers for Black Girls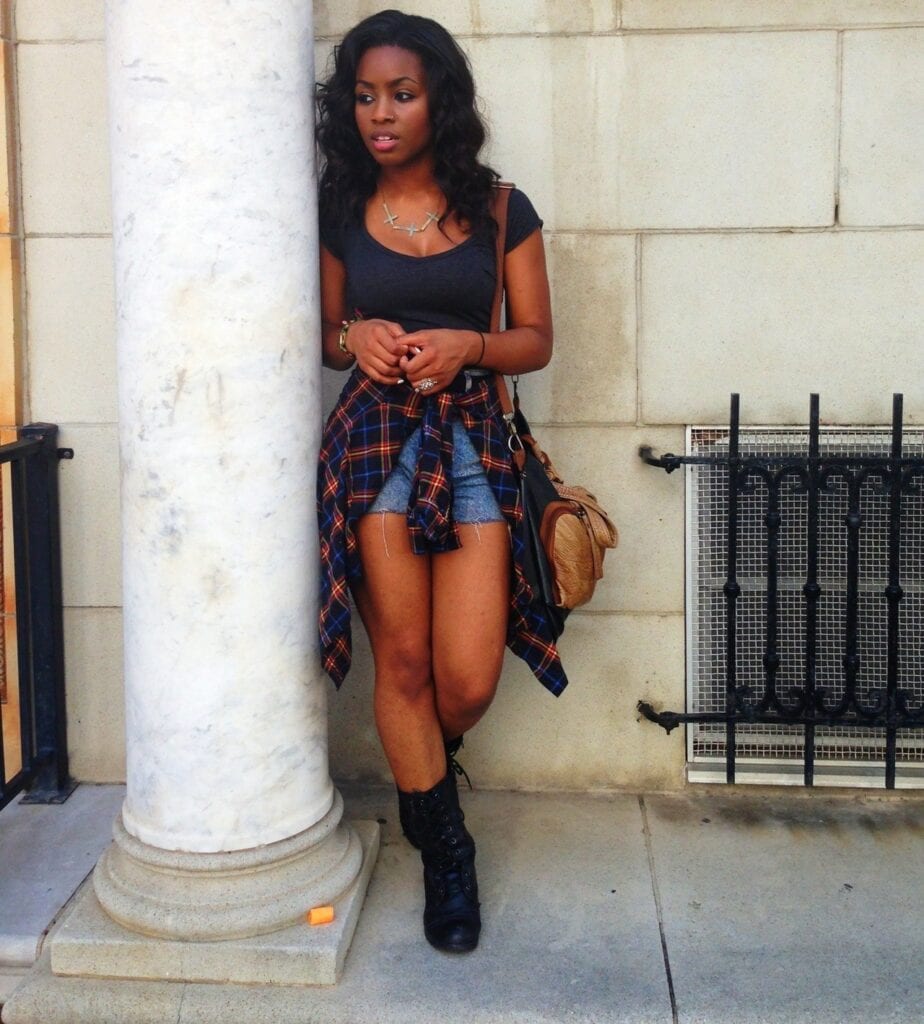 ↓ 12 – Afro American Sporty Funky Swag Look
Do check out these 18 Perfect Beach Outfits for Black Girls this Summer.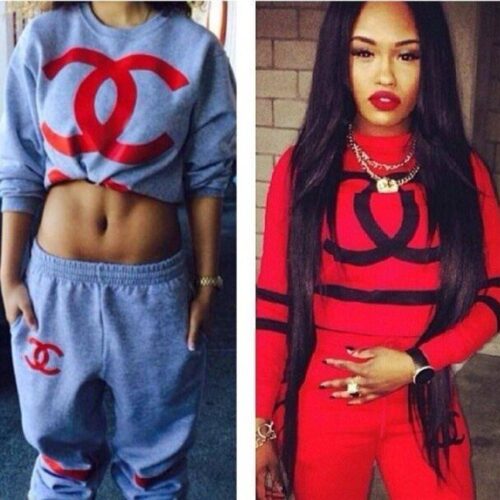 via
↓ 11 – Wear a Hat with Swag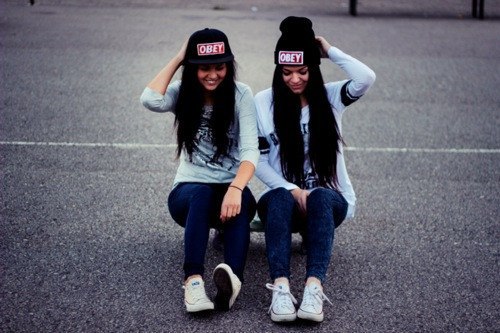 via
↓ 10 – Pretty Girls Swag Style
Pull over with Studded Denim Shorts. Here are 25 Cute Outfits Ideas to Wear with Denim Studded Shorts.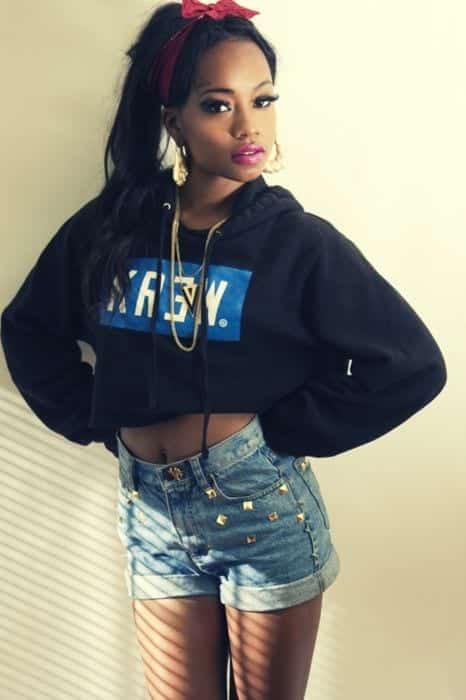 via
Step by Step Video Tutorial – Black Girls Swag Outfits with Nike Air Jordan Shoes
↓ 9 – African Girls Swag Style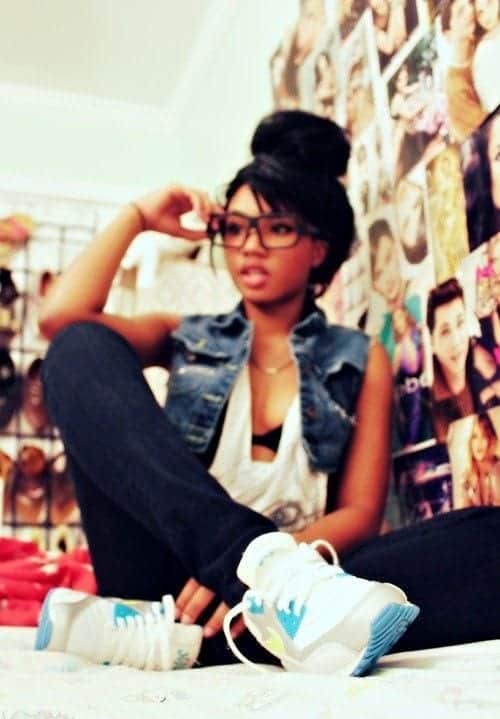 via
↓ 8 – How to Wear Chuck Taylors with Swag
Crop top with Tights and Chuck Taylors. Here are 20 Cute Outfits to Wear with Converse Chuck Taylor Shoes.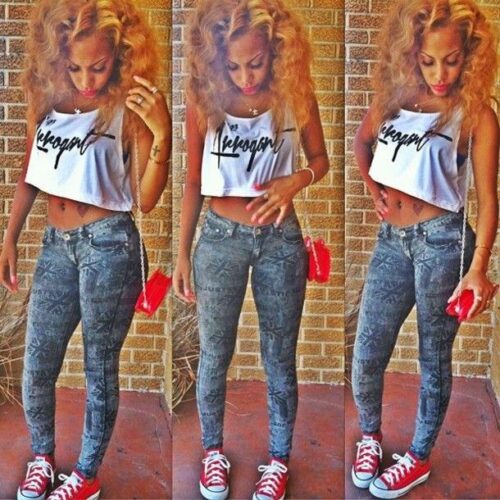 via
↓ 7 – Black Girls College Outfit for Swag Look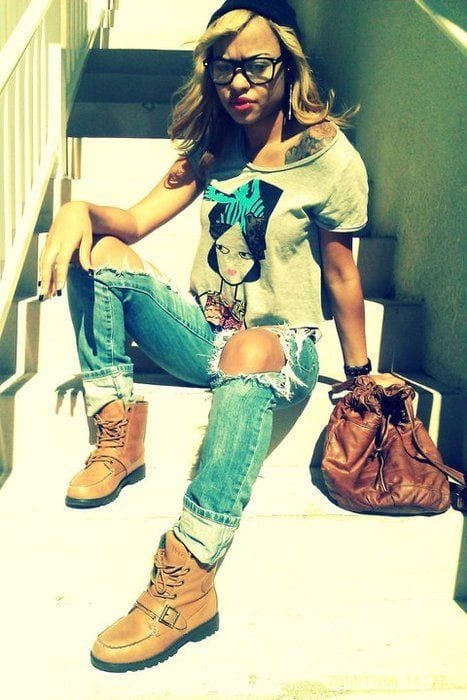 via
↓ 6 – Wearing a Beanie with Swag
One of the must-have swag accessories! Do check out these 20 Chic Outfits to Wear with Beanies.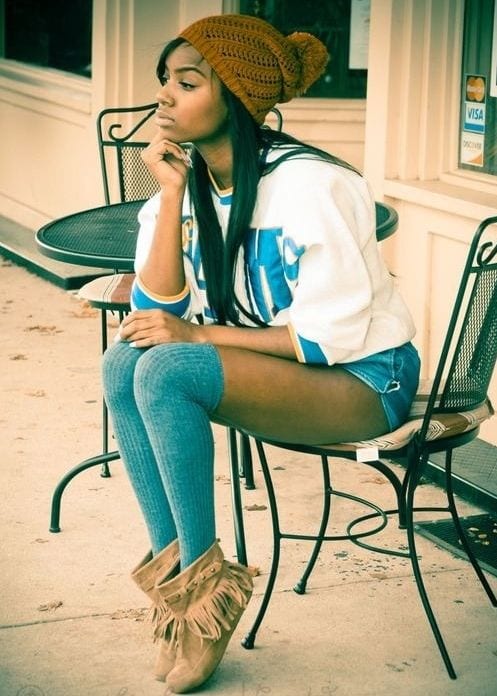 via
↓ 5 – What to Wear with Sneakers for Swag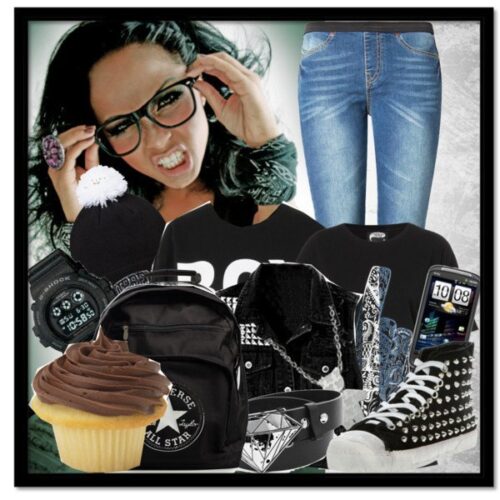 via
↓ 4 – Black Girls with Swag
Blonde hairstyle which suits black teens for casual look. Here are Top 13 Cute Purple Hairstyles for Black Girls this Season.
via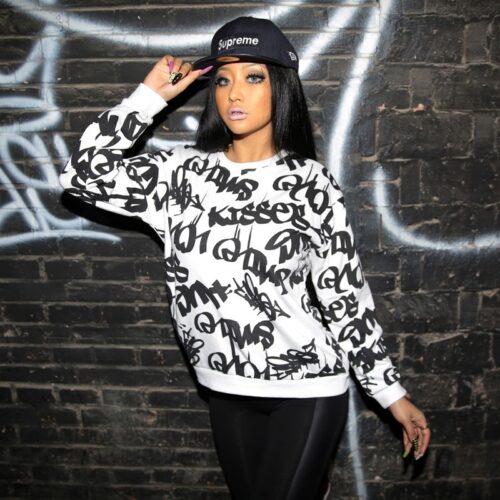 via
Wear Leggings in a funky way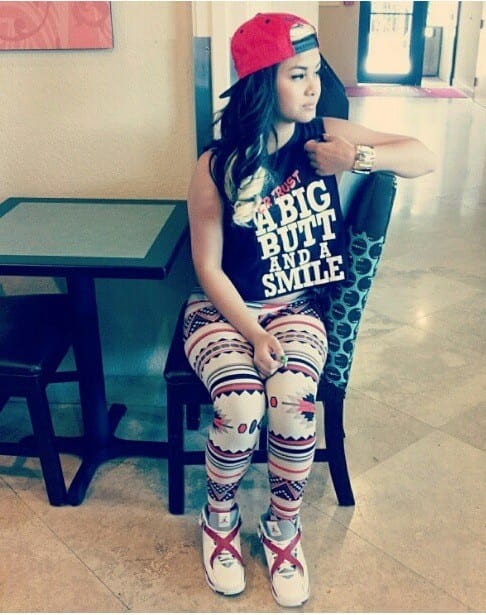 via
Swag Hairstyle with hats
↓ 3 – Swag Outfit with Vans Shoes
Vans with Tights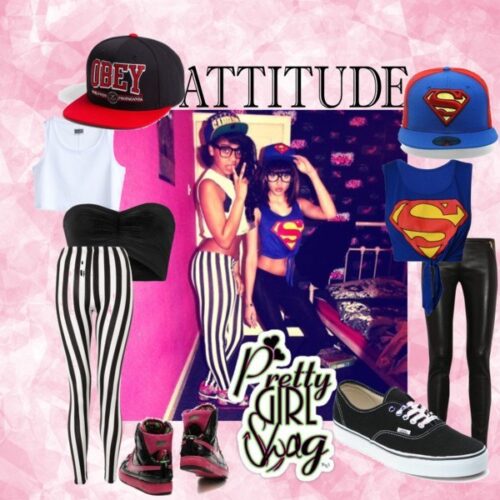 via
↓ 2 – Swag Attire for Curvy Black Girls
Gaëlle-Vanessa Prudencio of the blog The curvy and curly closet is definitely one of the most swag bloggers that we know of. Here are some of her looks that we absolutely love.
Here we see her wearing black leather booties and a leather skirt. She has paired it with a white tucked in top and layered with an olive green jacket. The outfit and the color combinations both make this a beautiful outfit for Fall. You can buy these awesome boots here for $65.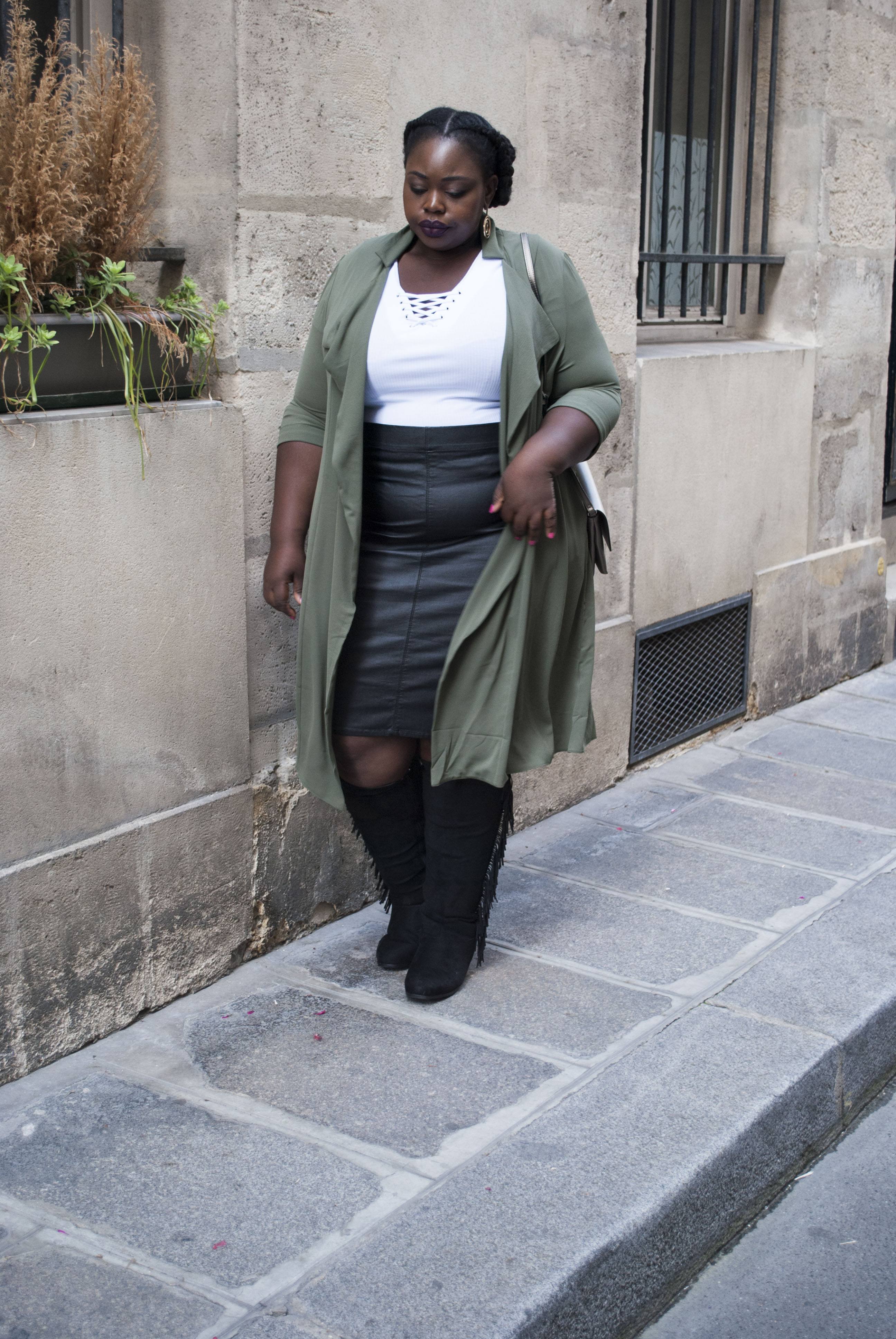 These next two outfits will simply make you want to travel because of how good they would look on any trip. For the first look, we have an off-shoulder jumpsuit with a frilled neckline. The other is a funky print skirt with a chambray top. Both these outfits have pockets and pockets surely look great not just for swag style but also for curvy girls. You should also have a look at these truly inspirational Fashionable African Plus Size Models.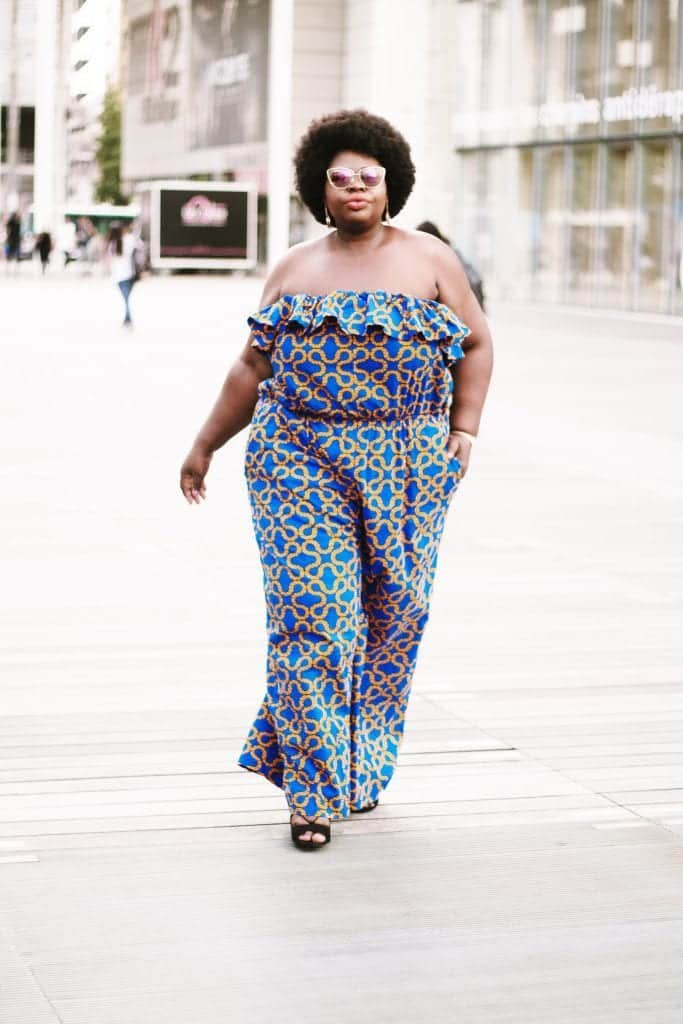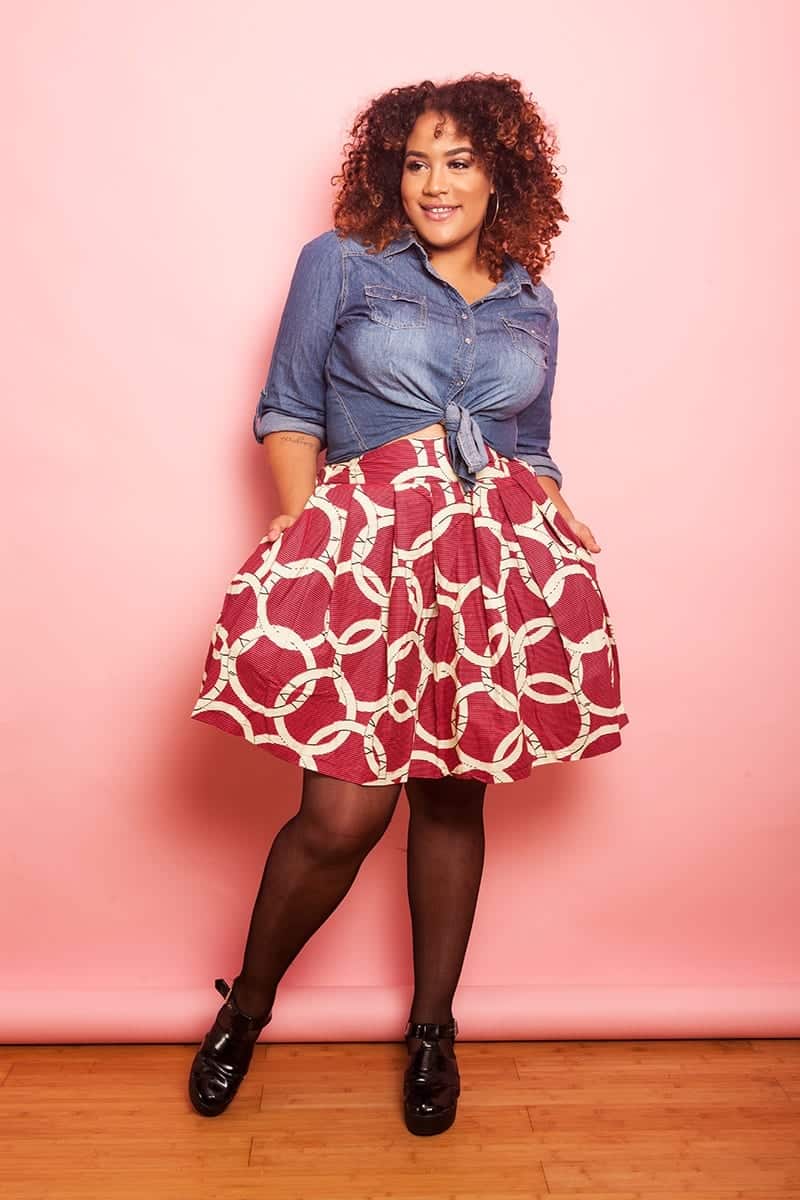 ↓ 1 – Black Girls Swag Style for Work
Who says you can't take your swag to work. Rock your swag outfits to work like these fabulous ladies.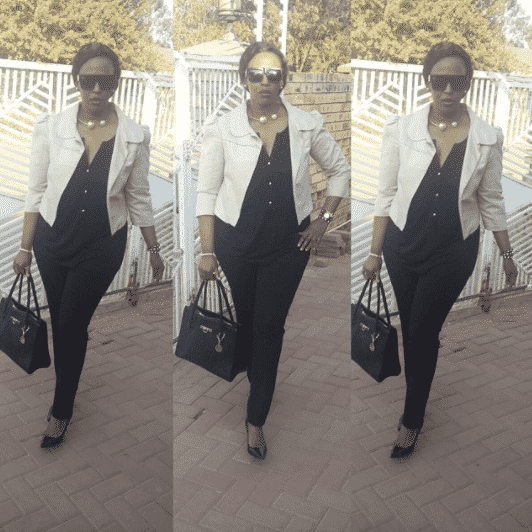 Via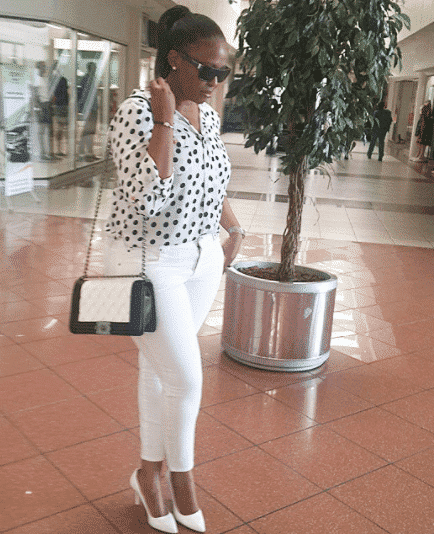 Meet this 21-year-old Aspiring Psychologist who is a keen reader and writer. Aliza loves writing about all things fashion and entertainment. In her free time, she is often found glued to her laptop binge-watching TV shows.