Weekend Getaway Outfits – Are you tired of working long hours and needing a break? Look no further because a weekend getaway sounds like the perfect opportunity for you to get the rest you deserve! Vacation getaways can not only be fun, but they're good for your health as well. Taking a break every once in a while helps you de-stress and let go of all the negative energy.
Whether your getaway is basking under the sunlight on a beach or partying at a club with your friends, having a cute outfit to match the occasion only makes the experience better. Something you feel good in, and ready to go can help take away some of the stress of packing and make your mini vacation all the more fun.
How To Style The Perfect Getaway Outfit
The most important thing to keep in mind while packing for the trip is to make sure that whatever outfit you pick is comfortable. You don't want to be stressed out about what you're wearing especially when the trip is about having fun.
At the same time, showing up in sweats may be comfortable but would probably not make you feel as cute so you need a perfect balance between the two. This can be a crop top paired with some black jeans, or it can be a maxi dress with the perfect black doc martens – either way, combining comfort and creativity will help you find that sweet spot.
Do's and Don'ts
Always Pack An Extra Outfit. It is essential to pack one extra outfit while you're planning your weekend getaway. Whether your clothes get dirty or an emergency occurs, you still have another outfit ready to be rocked.
Pack According To The Itinerary. While picking out your outfit, think about where you're going and what you'll be doing there. If your trip has a lot more activities, pack some good sneakers. If your trip has more glamorous parties, whip out that sexy maroon sequin dress to fit the theme.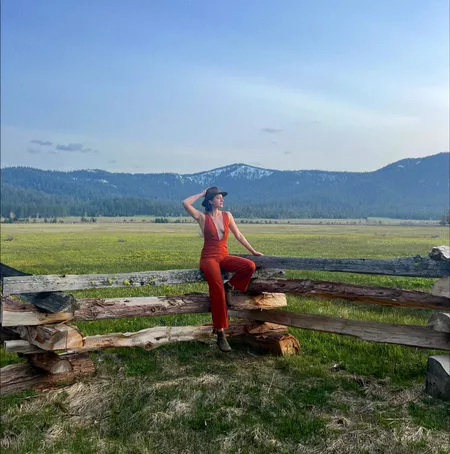 When In Doubt, Pick Neutral Colors. If you're unsure about what you'll be doing at the getaway, always take some neutrals along. A black or white pair of pants can be worn with practically anything and will go a long way.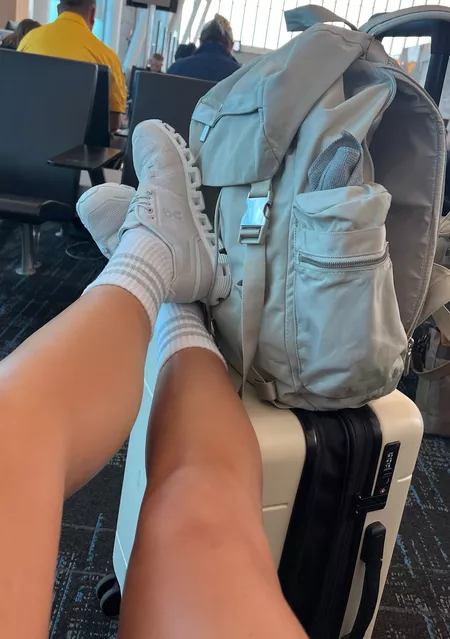 Take Fabrics That Don't Get Wrinkled Easily. To make your life easier, it is better to take fabrics like linens or stretchy materials, that don't get wrinkled easily. You don't want to be fretting about ironing that blouse when you're just about to leave.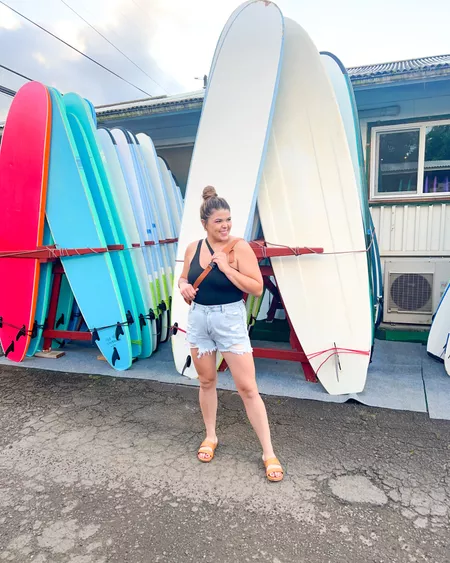 20 – Seamless Black Top With Coat
Looking for something trendy? This outfit can be the perfect fit for your weekend getaway! A black seamless collared top, paired with a grey coat and a checked skirt. To complete the look, throw in a pair of black heeled boots, a mini purse, chunky black sunglasses, and ta-da, you have a complete fit ready to go.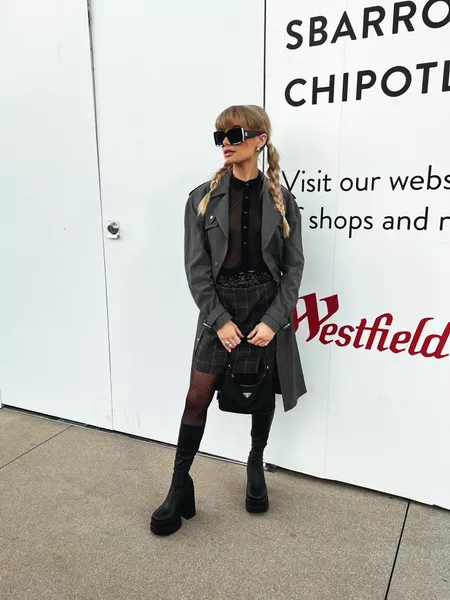 19 – Sleeveless Knitted Sweater With Brown Pants
If your mini vacation plan is to visit a chilly location, especially with the winter season right around the corner, this might be the right outfit for you. A sleeveless knitted turtle-neck white sweater paired with a high-waisted pleated brown pants. Add some chunky gold earrings and a pair of white stilettos to complete the look.
18 – Block Print Knee-length Dress With Square-Cut Neck
This stunning look is not only comfortable but a stunning addition to your line of weekend getaway outfits. A printed knee-length dress with a blue leaf printed design on top and sleeves lined with frills. Pair the dress with white converse and a knitted tote along with some matching shades to highlight the look.
17 – Printed Jump Suit With a White Turtle Neck
To add a little spice to the trip, a jumpsuit might be the perfect solution. Bring a printed relax-fit jumpsuit with a white full-sleeved turtle neck and look gorgeous. You can also add your favorite bracelets, watches, or necklaces to go with the fit. Last but not the least, throw on some neutral-colored heels, and a cowboy hat to make it a bit more summery.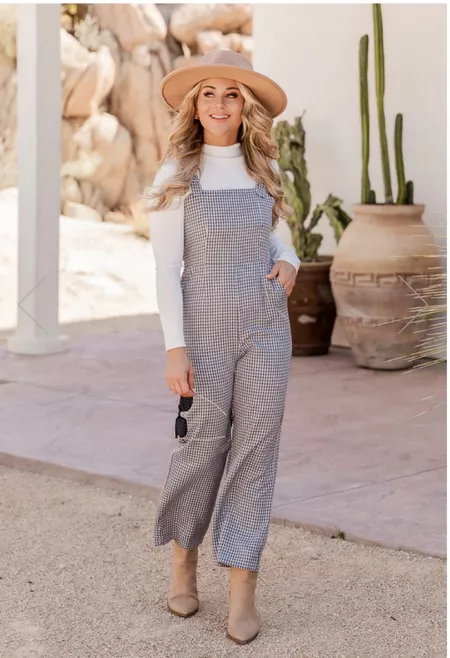 16 – Classic Graphic Tee with Wide Legged Pants
If you're looking for an outfit that's simple but trendy at the same time then this might be the look for you. Put together a graphic tee, tucked into a long, wide-legged pair of pants and match them up with white heels. You can elevate the look by adding your own accessories to the mix, be it bracelets, a shoulder bag, or some classy shades.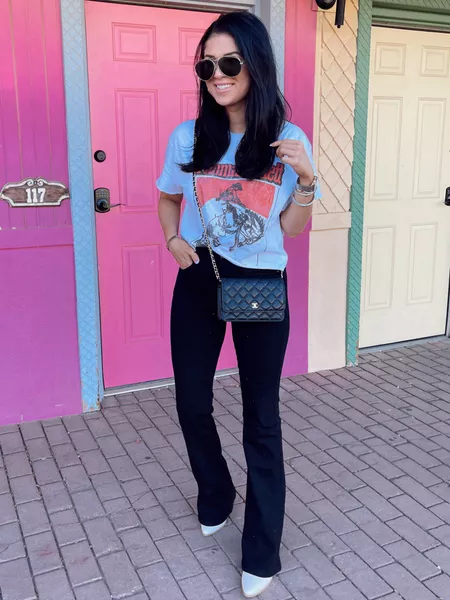 15 – Oversized Fleece Sweater With Pleated Short Skirt
A must-have for a comfortable weekend away is a comfortable outfit to go along with it. A warm and cozy black sweater with cuffed sleeves paired with a printed chiffon skirt not only screams comfort but will also make everyone's head turn. If it's chilly to wear a skirt outdoors, put on some transparent black leggings, add in some black boots, get a cute purse and enjoy your day.
14 – Printed Chiffon Cape With Knotted Graphic Tee
Just want to wear your classic pair of blue jeans? Well, we've got you covered! Tie your shirt into a knot, throw on some ripped blue jeans and pair it all with a printed shrug to add a little extra oomph to the outfit. This outfit would go really well with a white pair of sneakers, some bangles, and matching rings to go with it.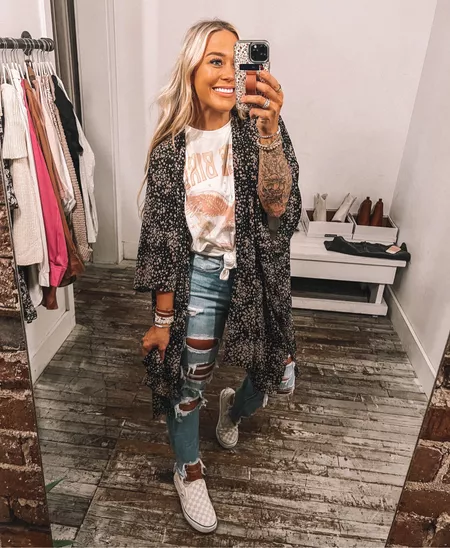 13- Full-Sleeved Crop Top With Lepeord Printed Pencil Skirt
When in doubt, always go for black. If you're indecisive like me, it is always better to go for black. Get one of your basic sleeveless black crop tops, find a matching leopard long printed skirt with a slit down its side, and take out your biker jacket to complete the fit. A pair of knee-high black boots and a classic-looking watch can help make the look come together. Also, add a pendant to the mix and there you have it, your perfect weekend getaway outfit!
12 – Oversized Olive Green Cargo Pants With Off-Shoulder Cropped Top
In case you're going out with your friends to grab a coffee and some food, this outfit would be perfect for you. It features oversized and high-waisted green cargo pants with a deep-neck cropped white blouse and a pair of white joggers to wear along with it. A neutral-colored shoulder bag, trendy shades, and some gold earrings could add a bang to the look.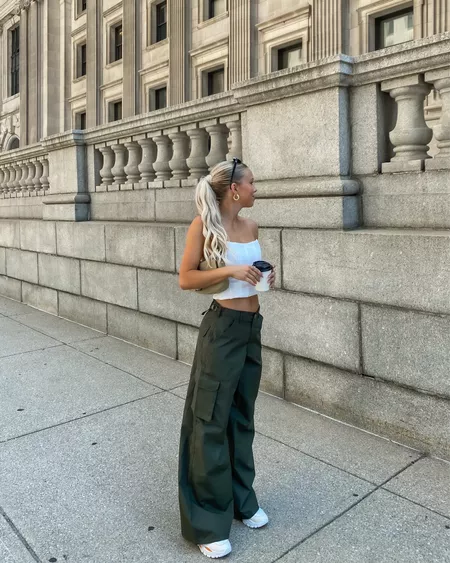 11 – Pastel Overalls With Sleeveless White Tee
I think it's fair to say that every season is pastel season, you can never go wrong with them. If you're tired of wearing the same outfits over and over again, you might want to go for some overalls. This look features a soft pastel pink overall paired with a basic white tee underneath. The dull baby pink can further be highlighted with a pair of staple sneakers, your favorite pair of shades, and a matching silver chained bag.
10 – Blue Turtle-Neck Knitted Dress With Leather Boots
Winter season is right around the corner so we've got a seasonal look for you. Winter outfits don't just have to be hoodies, jackets, and sweaters, you can also wear dresses and still be warm. This look showcases a turtle-neck knit dress outfit with pleats going to the bottom. This modern-looking dress can be paired with some classic long leather boots, a gold watch, and a brown purse to complement them. Winters can now be cute AND cozy.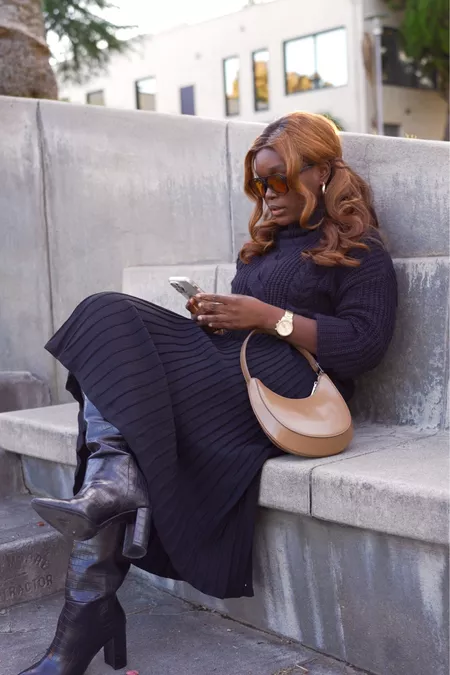 9 – White Rounded Blouse With Grey Baggy Trousers
The white shoe storm has taken over the entire globe. Every outfit fits perfectly with a good old pair of white sneakers to complement the outfit.
This outfit shows plain grey wide-legged trousers that can be tied at the waist. Match that cute white round-cut top with the same average pair of white sneakers and you have an entire look put together with only some basic pieces.
8 – Full Zipper Collared Jumpsuit With Long Boots
We're here with another look for all the jumpsuit lovers out there planning to go on their weekend getaway. A blue half-sleeved jumpsuit lined with a silver zip from top to bottom, paired with long white heeled boots that go just below the knees. To make the look feel more vacation-like, throw on a white cowboy hat and ride through the weekend.
7 – Mini Off-Shoulder Denim Dress With Long Heeled Boots
What's better than a regular dress? A denim dress of course! This outfit highlights a captivating pleated mini light blue denim dress with rough edges and small slits at the bottom. Matching the dress is a pair of black leather boots almost reaching knee length. The look also features brown shades and a golden necklace with a matching blue pendant along with a cute hair tie to put your hair into a messy bun.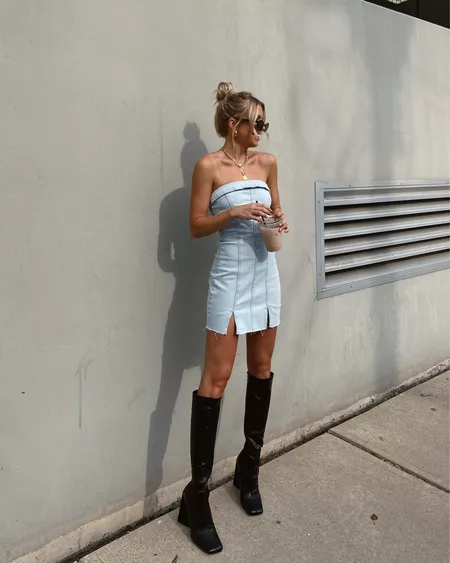 6 – Bralette With High-Waisted Jeans And Black Jacket
If you want to get out of your comfort zone and be a little adventurous, then look no further because we might just have a look for you. A popular and trendy look showing a black bralette with a matching black zipper and high-waisted blue jeans to go along with it.
This look is exactly what you need if you're going outdoors and might need an extra layer to keep yourself warm while also rocking a chic outfit. You can pair this look with a shoulder bag and some chunky heels.
5 – Sleeve-less Sweater Vest With Bell Bottom Jeans
If your weekend getaway outfits are missing something, it's definitely a cute sweater. Though the look features a basic black sweater vest, it looks super modern and chic because of the white shirt underneath. Paired with wide-legged black jeans and a leather jacket might be the best way to enjoy your weekend getaway. To top the entire look off, pair it with some shades, a pearl necklace, and a crossbody bomber bag.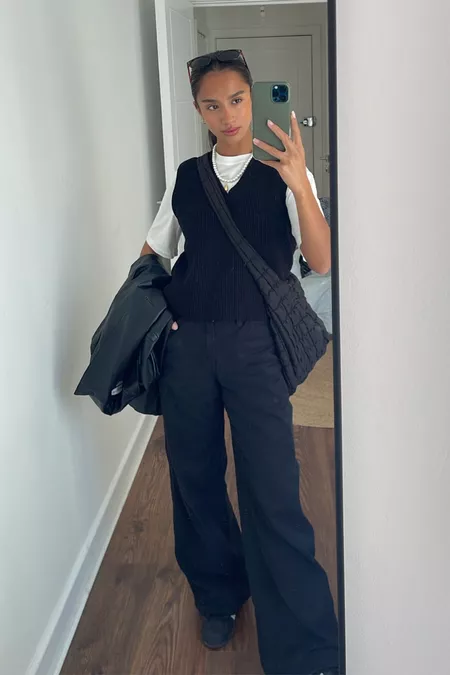 4 – Solid Brown Suede Jacket With Oversized Cargo Pants
Modern-day fashion is all about oversized cargo pants and crop tops. This stunning look not only has bright blue cargo pants but also showcases a very minimal yet captivating brown jacket on top of a plain black crop top. The entire look is enhanced because of the gold band, the variety of gold rings, cheetah print sunglasses, and a cute little choker.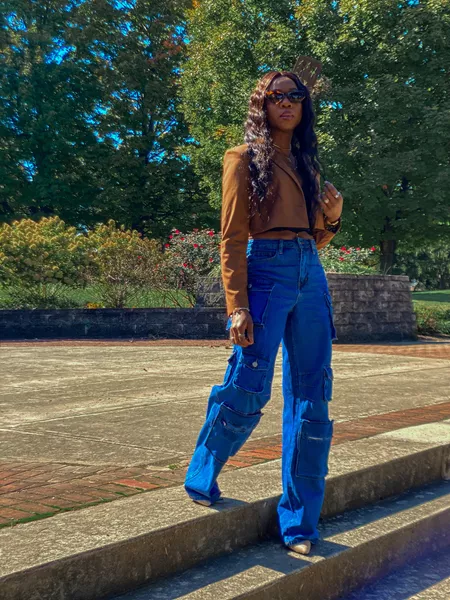 3 – Torn Denim Shorts With White Button Down
It's not always a bad idea to stick to what you know, especially when you're going on a weekend getaway. Grab a pair of your basic crop top, match it with classic blue denim shorts and throw on a white button-down along with it.
2 – Strapless Polka Dot Midi Pencil Dress
Old sometimes really is gold. Polka dots have been in and out of fashion for a long time with people having a variety of opinions on the topic. However, if you're one of those people who always love wearing a polka dot then this is definitely the look for you.
This outfit highlights a white spaghetti strap maxi dress that reaches all the way to your feet, lined with black polka dots and a slit down the side. The low neckline of the dress makes it look sexy and the entire fit goes really well with purple square shades and a pendant. Adding a pair of earrings will also help complete the look.
1 – Printed Maxi Dress With a V-neck And a Cross Body Bag
Last but not the least, we have a blue maxi dress with a floral print on top. The dress has a V-neck and flowing arms along with beautiful lace at the bottom. This look also features a cross-body white bag and a nice pair of pearl white sneakers.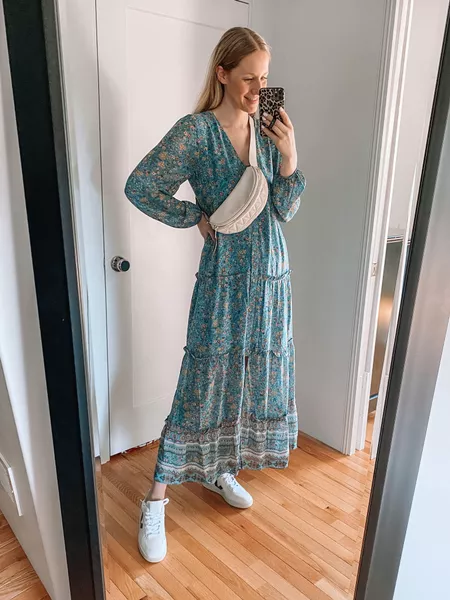 Q. How many outfits should I take to a 3 day trip?
Ans. It is important to find the right balance of clothing to take along with you. Don't overpack as you'll have to carry all that extra weight however under-packing might leave you without clothes in case of an emergency. Pack three full outfits and take an extra outfit along to be on the safe side. You might also want to bring an extra jacket if it's chilly where you're going.
Q. What is the most forgotten thing to pack?
Ans. Some of the often forgotten things while going on a weekend getaway is travel documents! Make sure you take them along to avoid any inconveniences during the trip. People also tend to forget to pack first aid kits, toiletries, and snacks on the way there.
Q. What should I pack last minute?
Ans. Last-minute packing can get hectic so it is vital to pack most things the night before. Last-minute packing should only entail toiletries like your skin care products and toothbrush, undergarments, socks, and chargers because you'll need to charge all your devices during the night.