How to style button fly jeans – Are you bored of wearing the same old monotonous zipper jeans and want to switch to something different? Well, in that case, button-fly jeans should be your next purchase.
These jeans started making noise around the 1850s when Levis Straus and Co first introduced their jeans with buttons over the fly. To date, it has been adored by women and we cannot see the trend leaving anytime soon.
These jeans are giving tough competition to zipper jeans for all the right reasons. They are less prone to coming undone. They won't get stuck like the zipper in zipper jeans. For instance, zippers have a history of getting stuck or oxidized, hence ruining the whole look. But the button-fly jeans live up to the mark. The buttons are mostly sewn properly into the pieces of denim and there is less chance of it coming off. Even if it would break, you can easily sew it but replacing a whole new zipper is a pretty arduous task.
Plus button fly jeans look super stylish and the detailing of buttons can convert any basic outfit into a snazzy one. Now, that we have given you enough reasons to go for these jeans, scroll down to get some super cute outfit ideas on how to style button fly jeans. We are sure you would be tempted enough to try all of these outfits.
What To Wear With Button Fly Jeans?
Button Fly jeans do look aesthetically pleasing and feminine but make sure they fit you properly. If your jeans are tight or loose, you might face difficulty pulling them off. Apart from that, pairing them with the right article according to any occasion is the main thing.
If you are choosing these jeans for a casual day out in chilly weather, you can pair them up with a chunky oversized sweater. Carry a cross-body bag with you and you are all set.
For office days, pairing button-fly jeans might be a little tricky. Make sure you don't go with colorful tops. You can wear black with a vibrant yellow blazer. Make sure the buttons are of good quality so that when you sit and work, it doesn't come off or get undone.
We believe these jeans are the real show-stoppers. So we have compiled a couple of outfit ideas for styling your pair of jeans to stand out.
Tips and Tricks to Wearing Button Fly Jeans
The very first thing you need to take care of is comfort. Everything else is secondary. If the fabric is of bad quality or the buttons are way too hard to close, you would remain restless and anxious, so it's better to check everything beforehand.
Since button fly makes a statement fashion, do not go for outfits that hide your vertical row of buttons because there is no point in wearing it if you cannot show off the unique part of your jeans.
Though these jeans are less likely to unravel as compared to the zipper ones, you can still add some statement belts to spice up the outfit.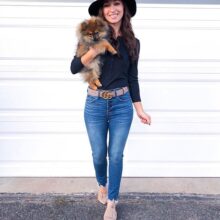 Pairing up jeans with blazers is a great way to convert a rather casual dress into a classic and semi-formal outfit. Our personal favorite way is to style these jeans by pairing them up with printed or chequered blazers, it looks super sophisticated and elegant.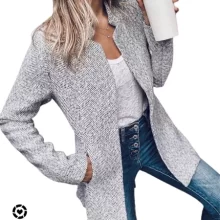 If you are going with cropped pants, with your ankle showing off, you can go for stilettos and longer heels. But if you are going with wide-legged flared pants, avoid these high heels, instead, go with kitten heels.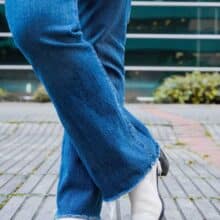 For cold and chilly days, nothing is better than pairing up your jeans with cardigans and long knitted shrugs.
Talking about body types, these jeans come in almost all versions but the most loved ones among these are skinny jeans. If you have a pear-shaped or hourglass body, go for button-fly jeans in darker shades, while other body shapes like apple or athlete, or rectangular can go for lighter shades.
When wearing straight-leg pants, avoid shoes that are chunky in nature. You can go for pump shoes or loafers.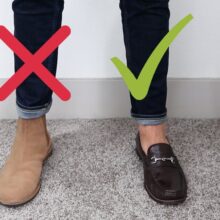 20 – Go With A Polka Dot Off Shoulder Top
The very first outfit idea is this gorgeous polka dot off-shoulder top with skinny jeans. Polka dots themselves are a show-stopper. Pairing it up with button fly denim would be the cherry on top.
However, we suggest not going for off-shoulder tops if you have broad shoulders as this top would bring a focus to your shoulders.
You can go with the same design but with a v-neck, scoop neck, and collarless tops that divert the attention towards your chest and collar bones.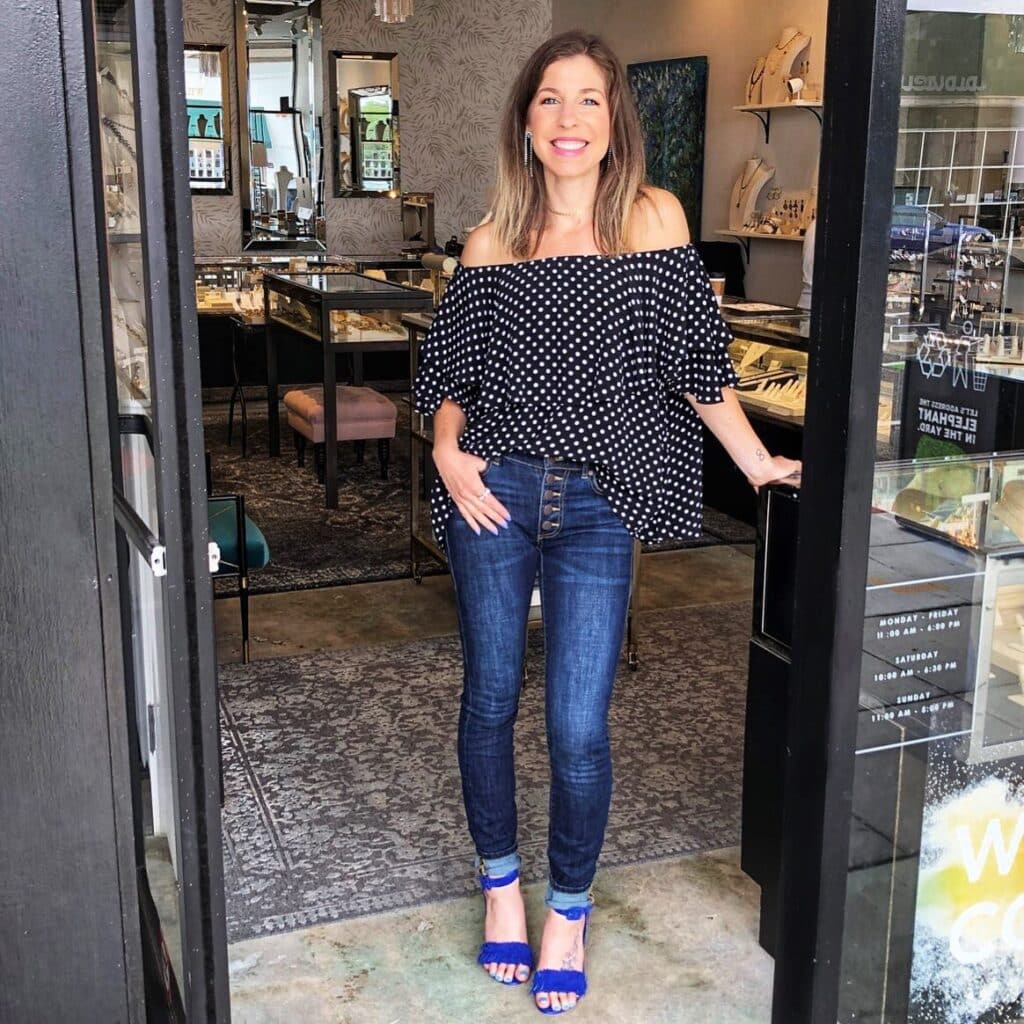 19 – Cheetah Printed Top to The Rescue
You can never go wrong with a cheetah print top. It is wild and beautiful. Here this gorgeous lady has paired up this top with white button fly jeans. You can also pair it up with a shirt with medium wash or dark wash jeans and it will look equally good.
Go for brown sandals if you are going with the same pants. This print is already an eye-catcher so you do not need a lot of accessories, just wear some hoop earrings and you are good to go.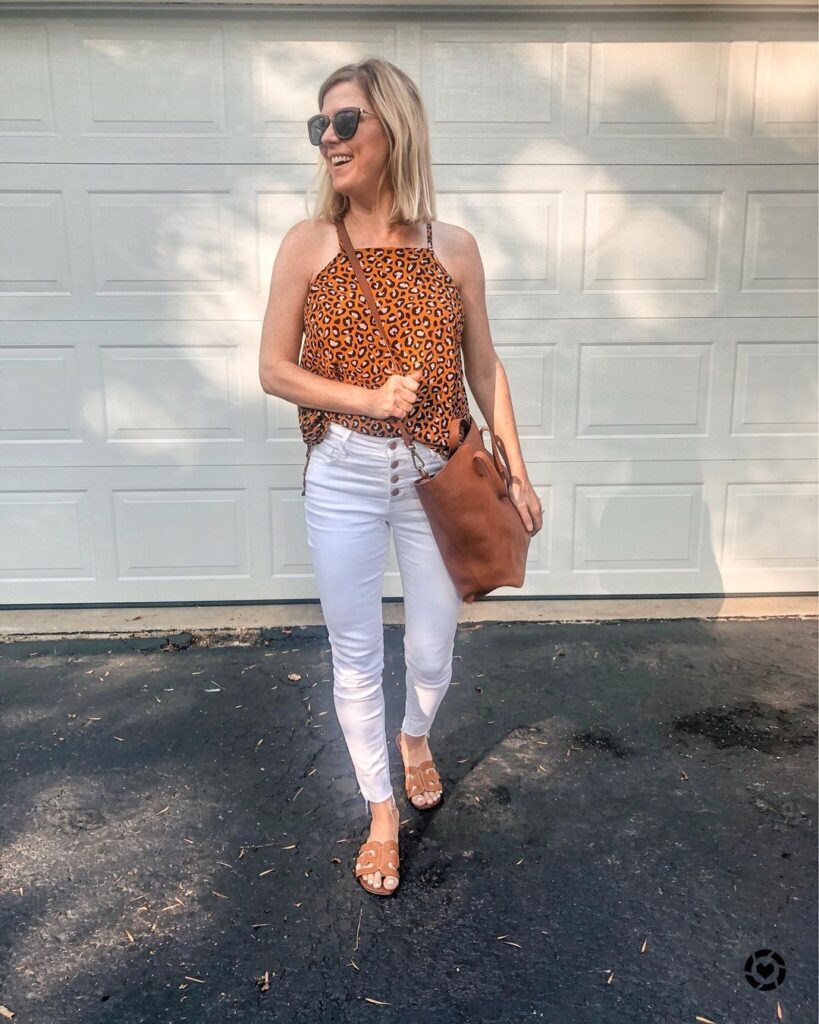 18 – Flared Jeans Are Always in Trend
Flared Jeans have been trending since day one. They are flattering, eye-catching and above all they are comfortable. Pair your button fly flared jeans with this black tank top for a pulled together. Make sure you go for fitted articles like a tank top or a fitted sweater vest with flared jeans to balance out that flare.
Since these jeans give the illusion of a shorter torso and elongated legs, you can skip heels and go for flat sandals.
17 – Pink Stripped Buttoned Down Shirt
Stripes are a great way to give an illusion of a smaller bust and lean body. Here we have this gorgeous white and pink stripped buttoned-down shirt paired with button fly jeans. These vertical stripes will make you look elongated and slimmer.
Pink is that one elegant color that instantly changes our outfit from monotonous to refreshing.
Swap the dome bag with a white crochet bag for a more toned-up look. Dont forget to wear your hat. This outfit is perfect for a day at a country side farm. Walk around the farm, flaunt your outfit and enjoy!
16 – Style it With A Floral Shirt
For a casual day out with friends and family, floral shirts are life savers. Pair up your button fly jeans with a floral shirt for that cool and summery look.
Go for a high pony tail with this outfit. Swap the stud earrings with silver hoops. Go light on makeup with a special focus on contouring and a peachy blush. That's all, your summer's invigorating outfit is ready.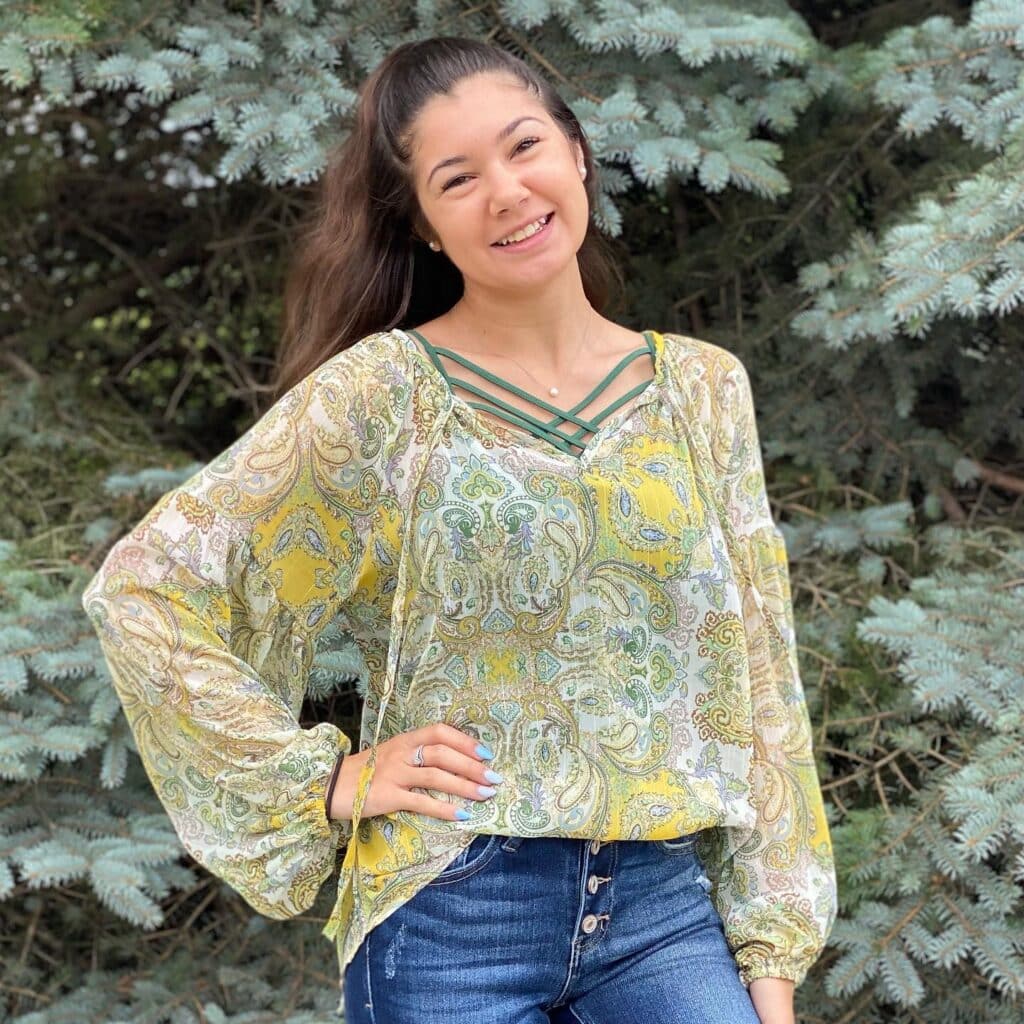 15 – Slay In A Striped T-shirt And Green Denim Jeans
This combination of a yellow and white T-shirt with green pants is super chic and funky. Yellow is a warm color and green is the cool one. These two make an amazing color combination.
To add more sass to the outfit, go for these leopard print shoes and we are sure you are gonna rock it.
14 – Pair Your Cami Top With A Plain White Tee
Your college is arranging an annual dinner but you are confused about your outfit of the night?, well here we are with an idea.
Take out your plain white tee and pair it up with your bright pink satin cami top. Complete the look with high rise black button fly pants.
Throw your hair open. Go for some funky drop earrings or hoops. Lastly, wear these jeans with classy black ankle-length boots. We are pretty sure that this modern and funky look will get you all the attention and compliments at the dinner.
13 – Pair A Basic White Top With Ripped Jeans
For all those days when dressing up feels hard, just grab a white top from your closet and match it with your jeans. You will be amazed that how a basic outfit will lift up your mood.
Add a bright colored cross body bag for balancing out the white top. You can carry either blue or yellow or any other vibrant colored bag. Go for white strapp stilettos or white mules.
If you are going for an oversized top, tuck it in from the front to show off those buttons.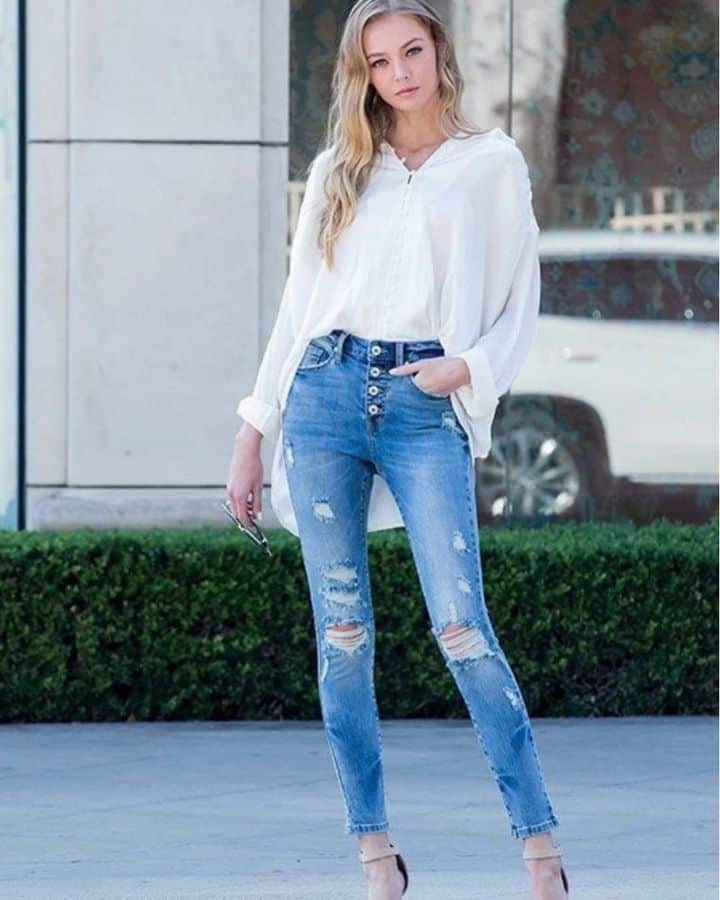 12 – Rock this Combination of A White Tee With a Pale Pink Blazer
This outfit is a perfect pick for those days when fall is just around the corner and the weather starts getting chilly. At that time, you don't need lots of layering and only a light blazer would be sufficient for you.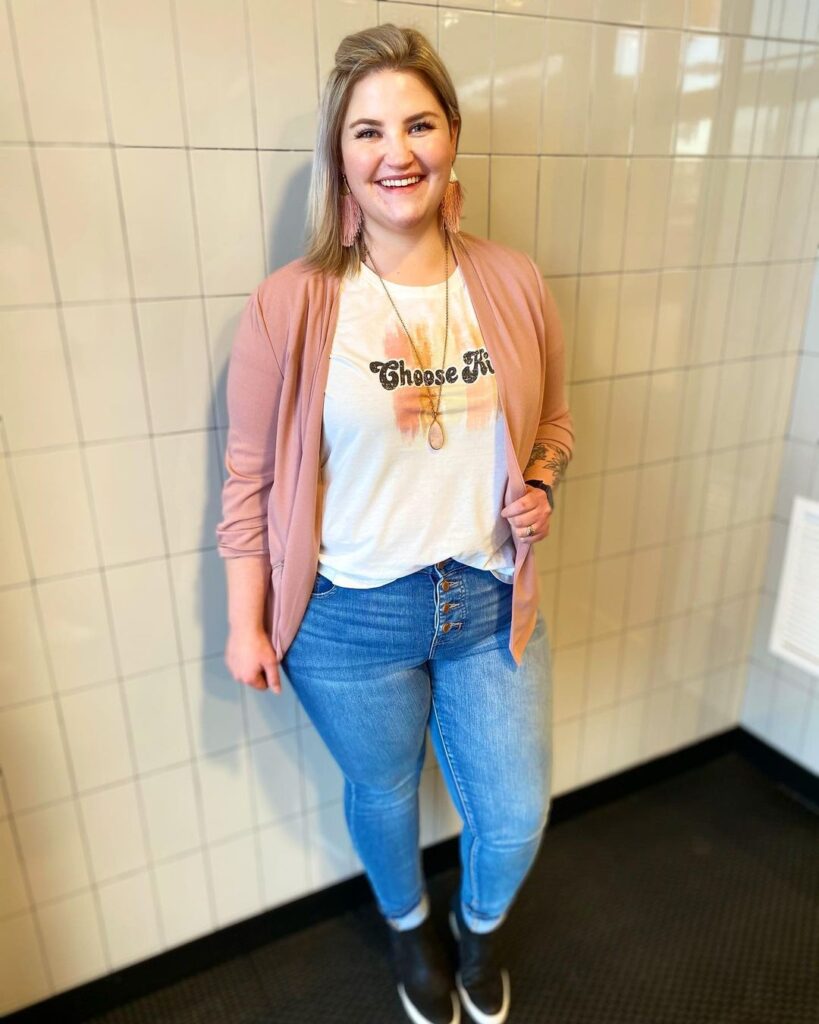 11 – The Staple Mono Chromatic Outfit
Let us tell you the secret of a hustle-free fall outfit. Go for a monochromatic outfit, a simple yet a regal attire. Wear any black over sized sweater with your black pants. Add a statement leopard printed belt.
Lastly, give a touch of gray by going with these ankle length boots. Throw your hair open, and go for a flushed makeup look. This minimal outfit is enough to make you stand out among all the people around you!
10 – Stay Minimal With A Neutral Pull Over Sweater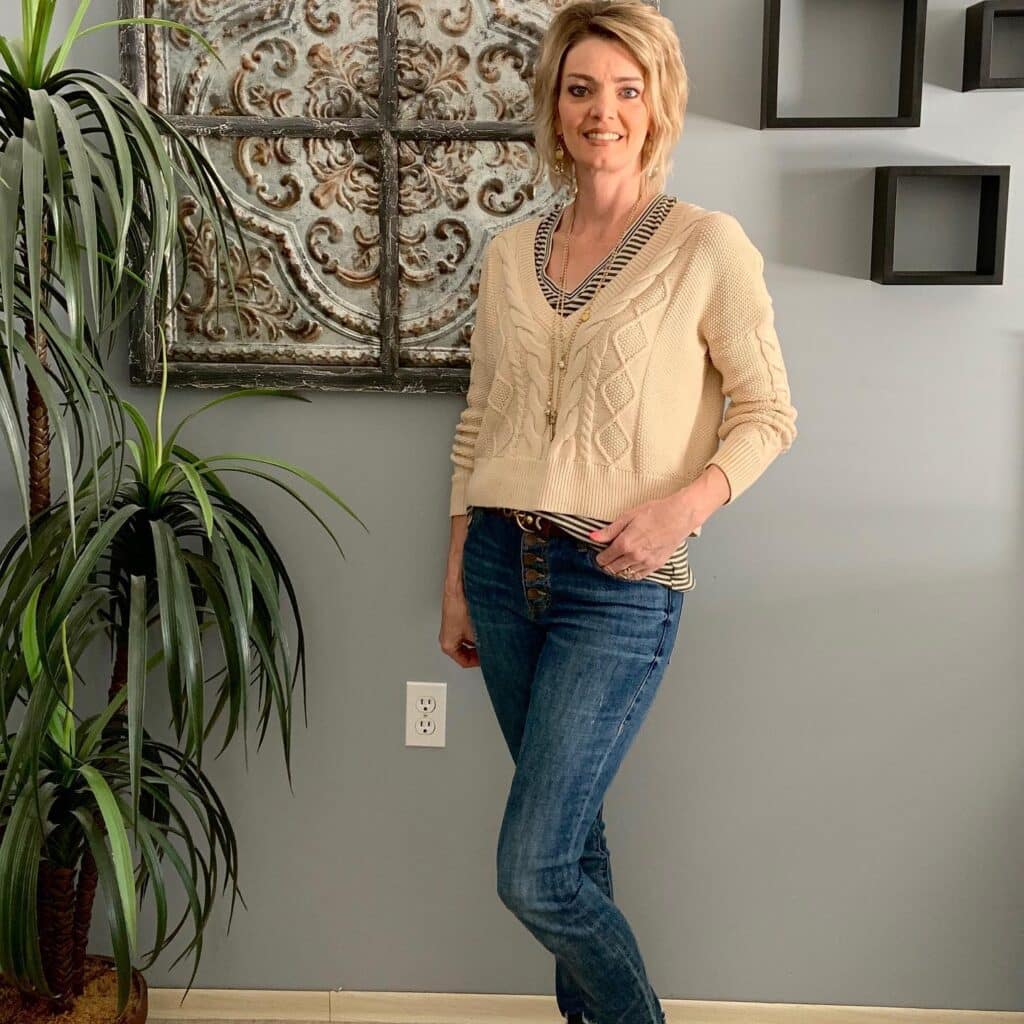 9 – A Printed Kimono With a Frolic White Top
Kimonos are everyone's favorite, aren't they? This printed floral kimono is a must have for all the ladies out there. They easily go with every outfit, whether you are getting ready for a casual day out or a birthday party, or a dinner, just wear this and you are all done.
Since the inner frolic white top has a round beck, you can add accessories like long chunky pendants and drop earrings. Go for a no make up look, but do apply a natural pinkish lipstick. Go for nude eye shadows and lastly add a touch of highlighter.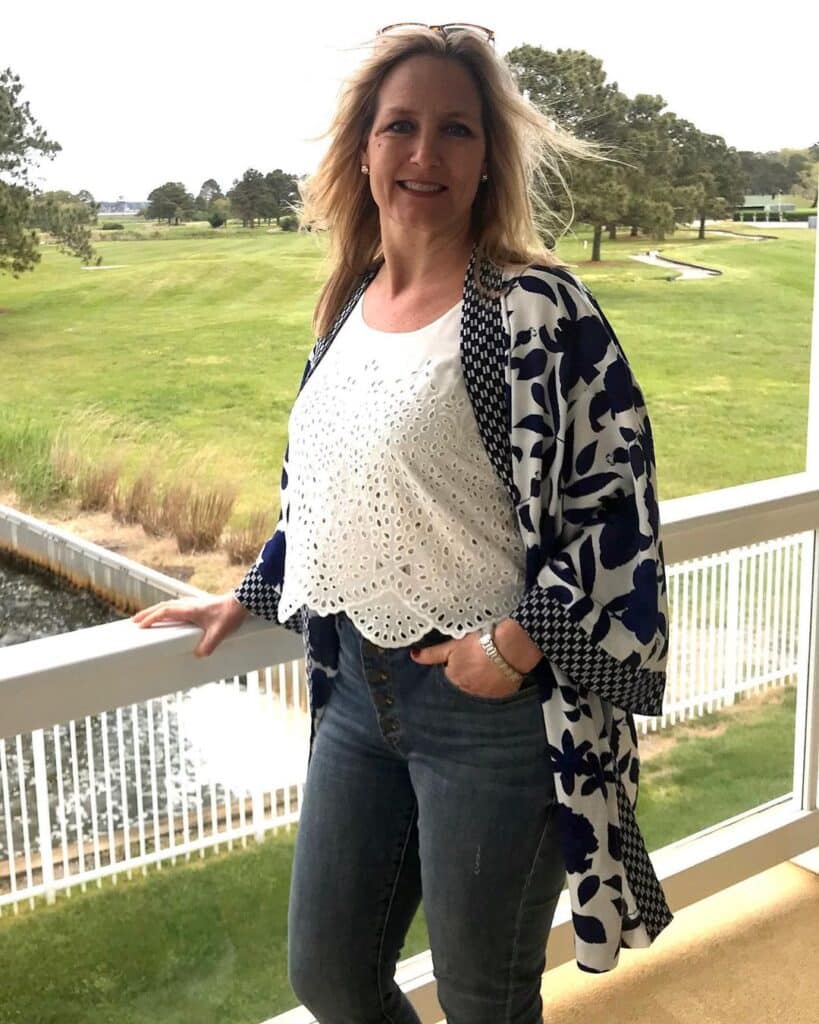 8 – Denim Over Denim Supremacy
What is better than an outfit featuring a denim jacket and blue bootcut jeans? Especially when you are in a hurry and have no time to select the outfit, go for this beautiful outfit and slay all day.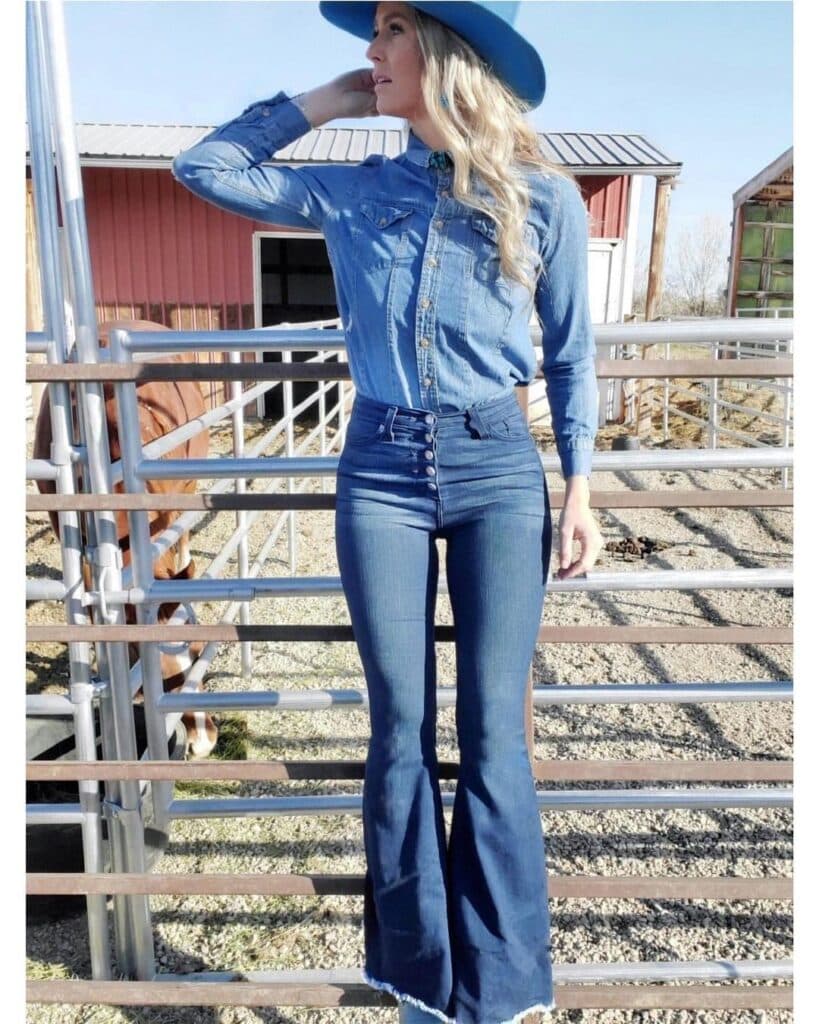 7 – Outfit Ideas for FIFA World Cup for Mature Women
The football world cup is just around the corner and if you are still confused about your outfit, go for this one.
This pretty lady has paired up a basic red pullover sweater with button fly jeans. The multicolor scarf around your neck will keep you warm on a chilly day and you will be able to enjoy it properly.
During the fall season, we are naturally attracted to warm colors like burnt orange and brown color. Outfits featuring these hues instantly give out that warmth and coziness one needs on a chilly day.
This camel trench coat paired with a contrasting brown sweater is a treat to the eyes. Plus these black button-fly jeans and leopard sneakers are complementing the outfit so well.
Needless to say, this should be your outfit for your upcoming shopping trip. But don't forget to take your cross-body bag and a bright smile along with you.
5 – Turn Heads In a Color Blocked Sweater and White Jeans
This classy color block sweater is a must-have in your winter wardrobe. Match your jeans with the white color in the sweater.
Go for asymmetrical mule heels in brown. For accessories, we suggest going with a chained cross-body bag in brown. R you can also carry a tote bag if you are a mom of a toddler and you have to carry your kid's things.
Pro-Tip for Curvy Ladies– Diagonal pattern in a sweater or top is a great way to give a slimmer look to your body. Hence for all the curvy women, this sweater is a good pick.
4 – What to Wear With An Asymmetrical Knit Tunic Top?
Tunic Tops are great for the days when you feel conscious about your body. These tops are great at covering your hips from the back. This asymmetrical knit tunic top is best for a day when you are not in the mood to layer up.
Plus the asymmetrical cut gives you a slimmer look. Pair this with ripped-buttoned jeans. Go for a high bun for a semi-casual look. And lastly, wear these stunning slip-on loafers.
3 – Throw on A Black Coat Styled And Nude Heels Over Basic Outfit
We don't think one can ever get enough of black. Whether it's a casual day or a party, we have always got our eyes on black outfits.
For a quick grocery run or a lunch date with the bestie, this outfit is a perfect pick. Pair up your black sweatshirt with a Black trench coat. Add more aura to the fit by going with these button fly jeans. Introduce some neutrals in the form of these nude heels.
2 – Go for a Statement Checkered Sweater With Long Boots
Black and red when getting together, the result is always breathtaking. This checkered off-shoulder red and black sweater is undoubtedly the star of the show.
Pair it up with button-fly black or blue jeans and knee-length leather boots. Your stylish and cute fall outfit is ready. Enjoy the chilly air and the crispy music of fallen leaves while being all snazzy!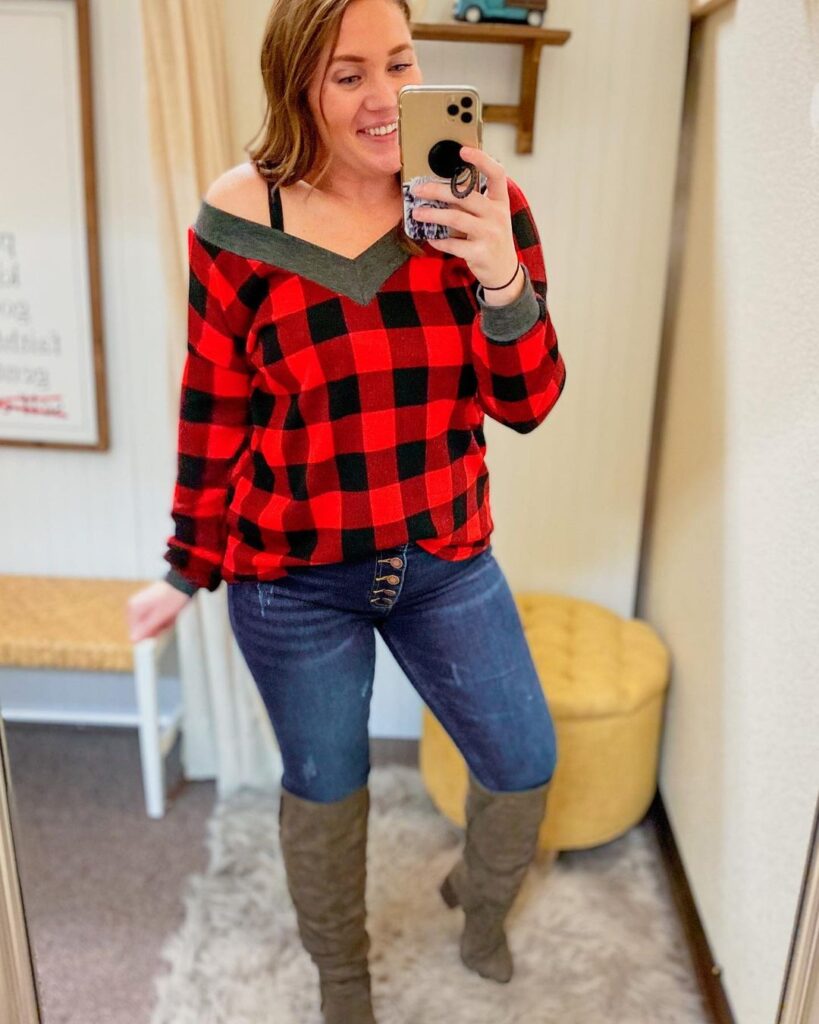 1 – Shackets Are Having A Moment This Winter
Shackets have been ruling the winter fashion this year. It is a fusion of a shirt and jacket that can be elevate any basic outfit.
Frequently Asked Questions
Q. What is the point of button fly jeans?
Ans. These jeans are less likely to unravel, and less prone to coming undone, So it gives it an upper hand over zipper jeans. Plus they are easy to wear, super comfortable, and you are least bothered about the button popping out.
Q. Can you wear a belt with button fly jeans?
Ans. Yes, you can definitely wear it with your button-fly jeans. Though these jeans do not require a lot of support, belts do add a glamorous and stylish touch to your outfits. Make sure the belts are going well with the outfit and not looking odd out. For example, a brown belt or a leopard-printed belt will look more good with black jeans rather than pairing it with a bright red belt.