Hermes Scarf Outfits: Are you exhausted from wearing the same old outfits all the time? Do you want to add something spicy to spruce up your wardrobe? I have got the perfect solution for you, and that is scarves! Scarves are an excellent way to elevate any outfit you've got on and throw in brands to the mix, and you have got a super fancy and luxurious look!
This post is all about branded scarves – specifically the very famous Hermes scarves! A Hermes scarf is the epitome of fashion and is incredibly long-lasting as it is produced with the finest silk. Therefore, its durability, value, and statement-worthy looks are exactly what makes it a wardrobe staple for every lady – and gents – out there!
How do I Style my Hermes Scarf?
The best part about Hermes scarves is that they style themselves! You can throw on any outfit, and adding this garment will immediately make you look fancier. A Hermes scarf will accompany you to the beaches and cruises on a hot summer day and keep you warm in style, cuddled up in your coat during the winter.
Another significant plus point of having a Hermes scarf is that you can dress it down or up according to your mood and the occasion. From going grocery shopping to attending the opera, this scarf is the one for you. Moreover, there are many unique and trendy ways of wearing and styling it to get your desired look.
So hang on tight because we are about to take you step-by-step through all the different ways you can wear a Hermes scarf to look fashionable and boujee!
Tips on Wearing Hermes Scarf:
A Hermes scarf pairs best with street clothing and gives you a trendy look.
Fold it in half and tie it in a bandanna style, as this method looks phenomenal in street fashion.
A quick and easy method to wear is a triangle method and tie to two loose ends in a knot at the side to get the cowgirl knot style.
Show off your shoulders and collar bones with this scarf looped around the neck.
You can also opt for the smaller twilly scarf to tie to your handbag, your wrist around your ponytail or braid, and as a headband. The options are endless!
To get a more formal look, fold the scarf diagonally and bring the two ends forward, over the shoulders and secure them with a Hermes scarf ring at the front.
Keep scrolling to take a look at the best looks!
42 – Style a 90cm Silk Scarf as a Top for Street Look & Fit
This outfit is stylish and hip! It fits the streetwear aesthetic and also gives trendy and modern vibes. The pop of orange and olive compliments the white base of the outfit tremendously. Moreover, the bright orange lip is just the cherry on top of an amazing look.
This union of accessories and the finesse of a Hermes scarf will make you look like you have walked right out of a magazine!
41 – Tie Small Scarf to Your Handbag if Your Outfit is Fancy
Do you want to show off your gorgeous Hermes scarf but can't find a way to incorporate it into your outfit? I have got the perfect solution for you! Simply tie it around the handles of your purse in a gorgeous bow, and you are all set. Not only do you look fabulous, but you also found a way to spice up your handbag!
40 – Fold the Scarf Neatly to Tie it Around the Waist
Another excellent way to spice up your outfit and appear smartly dressed at the same time is to go for the belted scarf look! This style works particularly well for formal and semi-formal looks for work or gatherings.
Moreover, typing your Hermes scarf as a belt is also a great way to add color and pattern to your solid-toned look!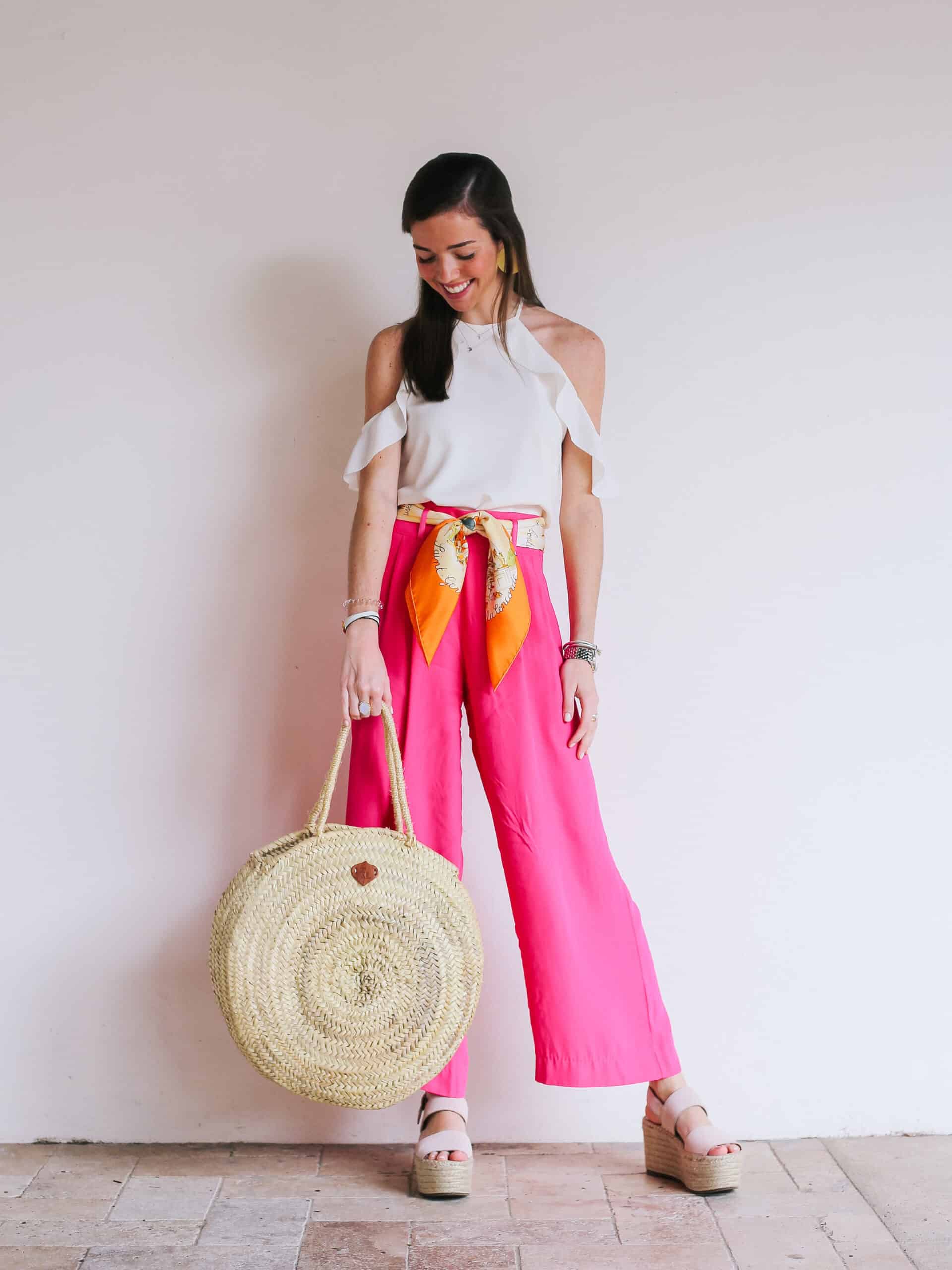 39 – Unique Ways to Style a Hermes Scarf Outfit as a Blouse
Now, this is a unique and stunning way to wear your scarf as a blouse! You will need a rectangle-shaped Hermes scarf for this look, as it is going to be the easiest to style. Play around with positioning and tucking your scarf according to your taste for a put-together or messy look. Both are going to look spectacular!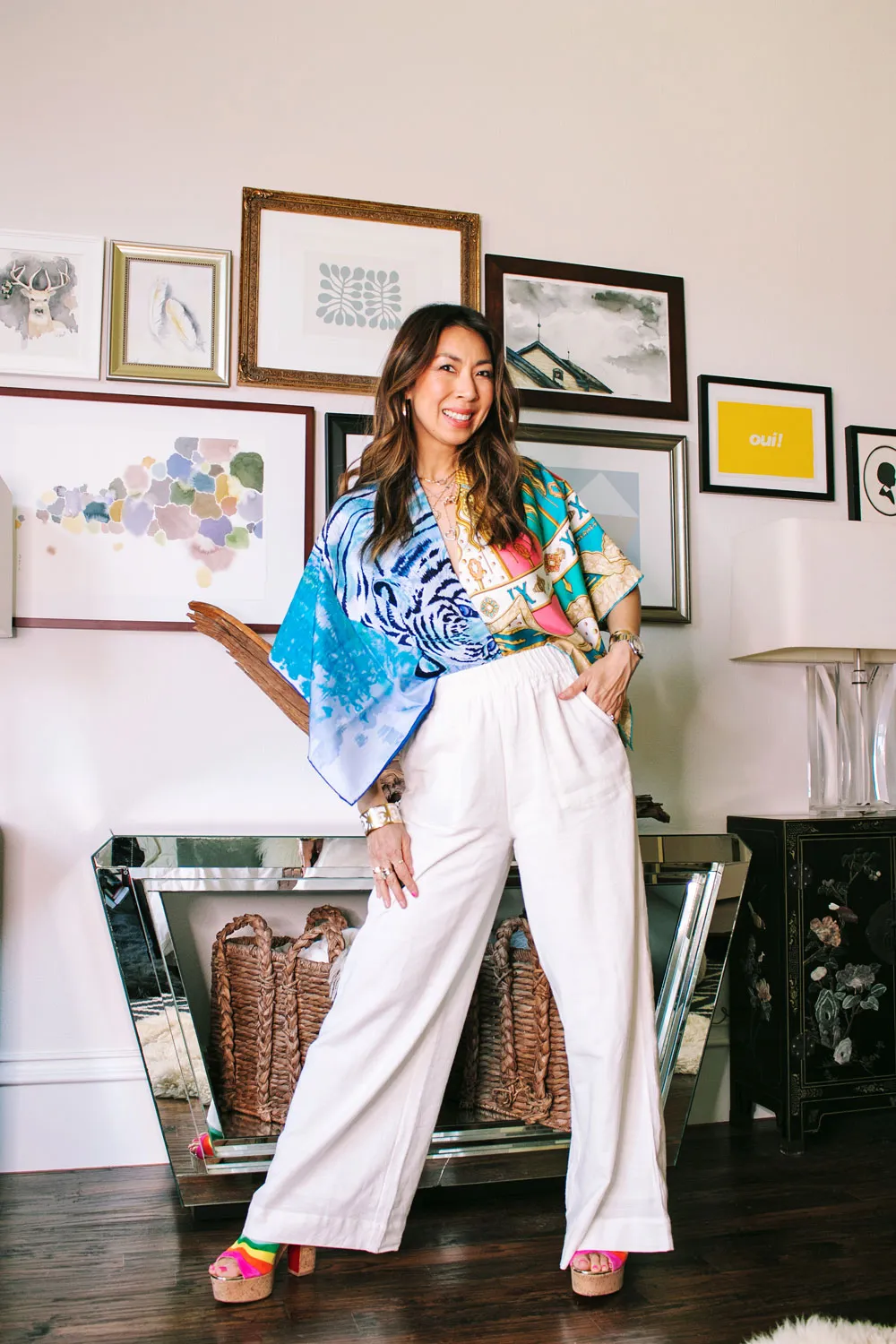 38 – Fold in Half Diagonally & Drape it Across the Shoulders for a Quick and Classy Vibe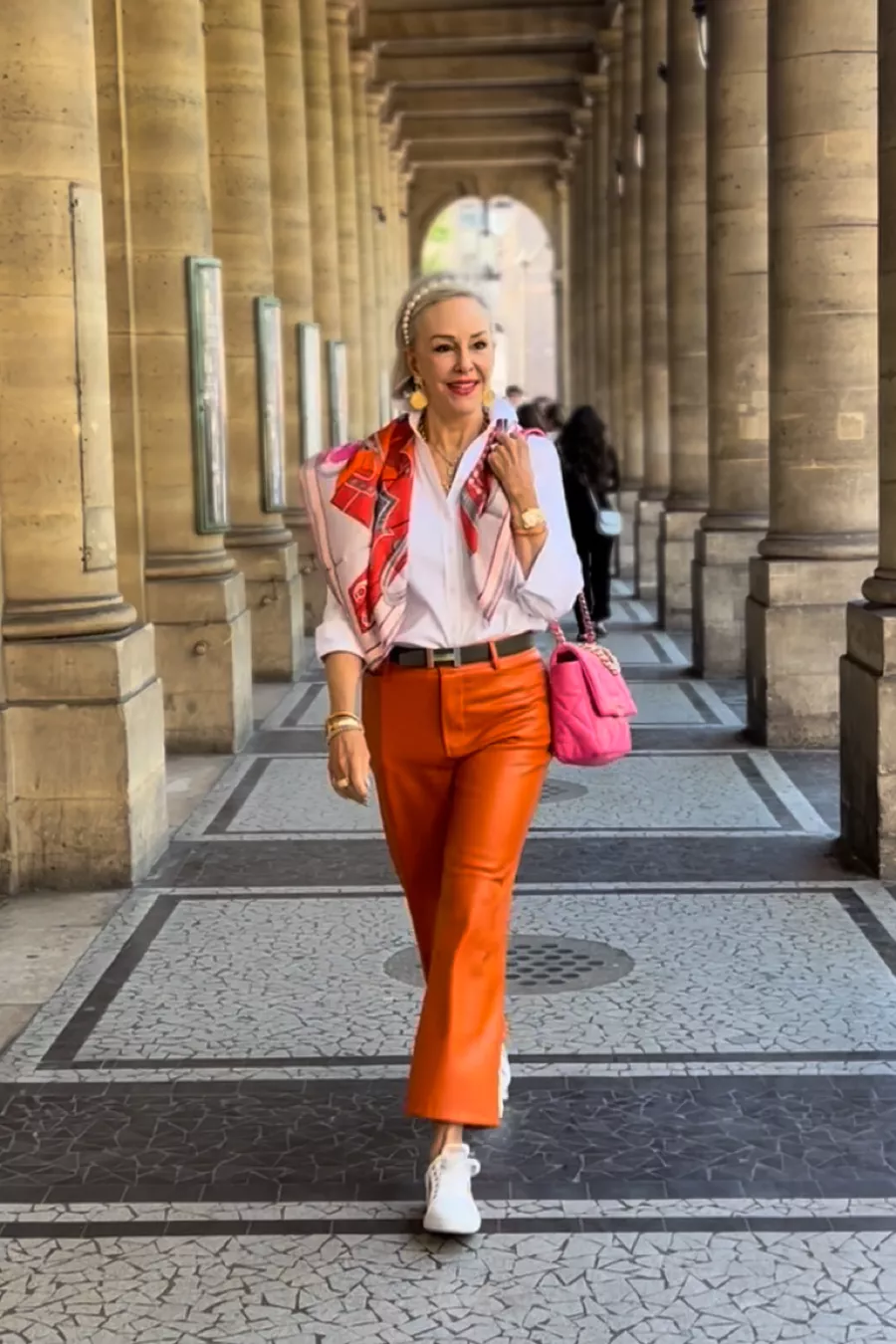 37 – Brighten Up Your All-White Outfit with a Unique Hermes Scarf Patterns
Choose the most vivid and detailed scarf to make your outfit elaborate and more put-together. Moreover, let's take a minute to appreciate how nicely this scarf is styled! And it is super easy to achieve, so you can try out this look with your Hermes scarf!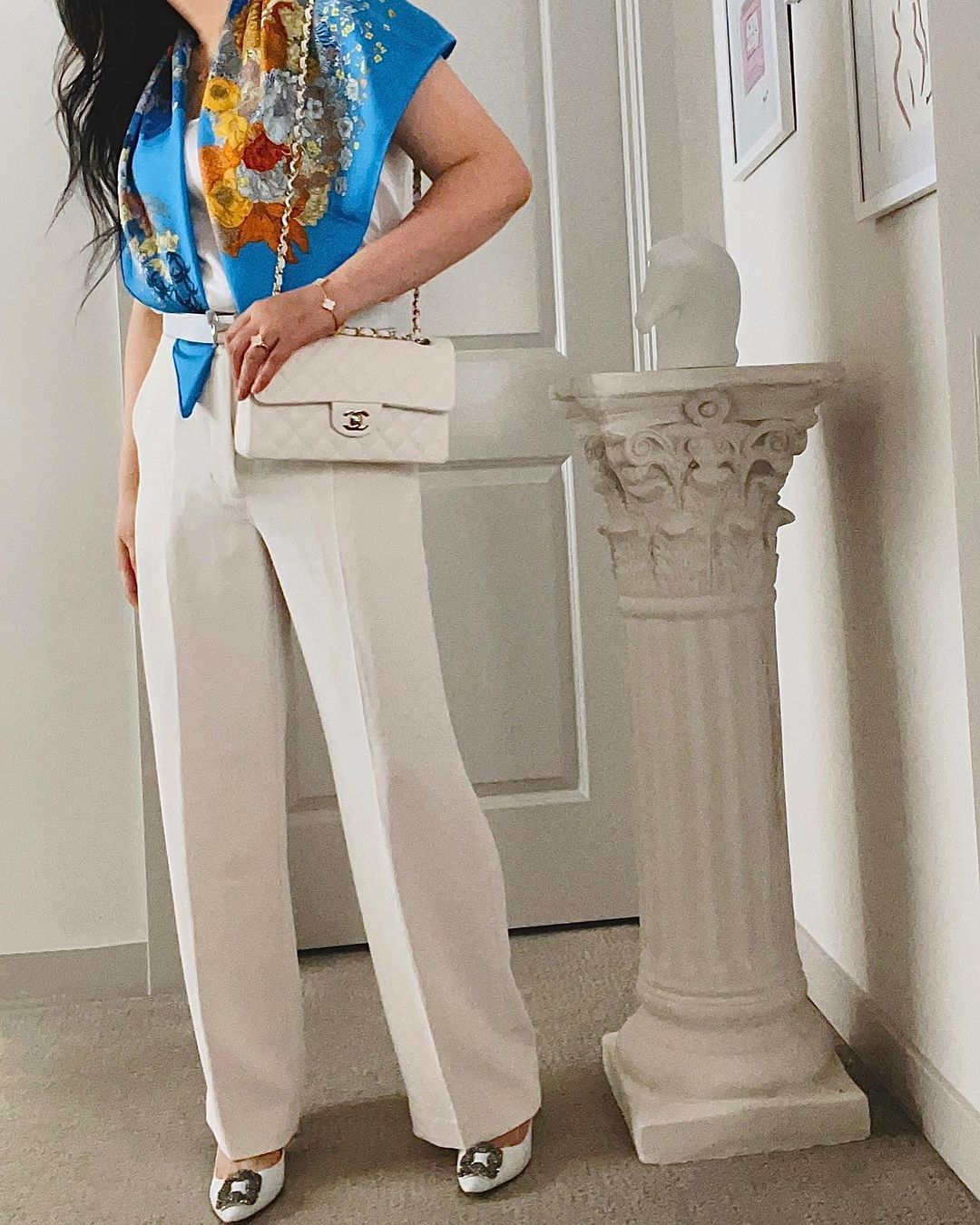 36 – Create a Cohesive Look by Opting for a Bandana With the Outfit Colors
If you opted for an outfit with all the garments in different colors, a scarf is a perfect addition for you to unify your look. Furthermore, you opt for a brighter scarf with intricate patterns to add detail, thought, and style to your overall ensemble!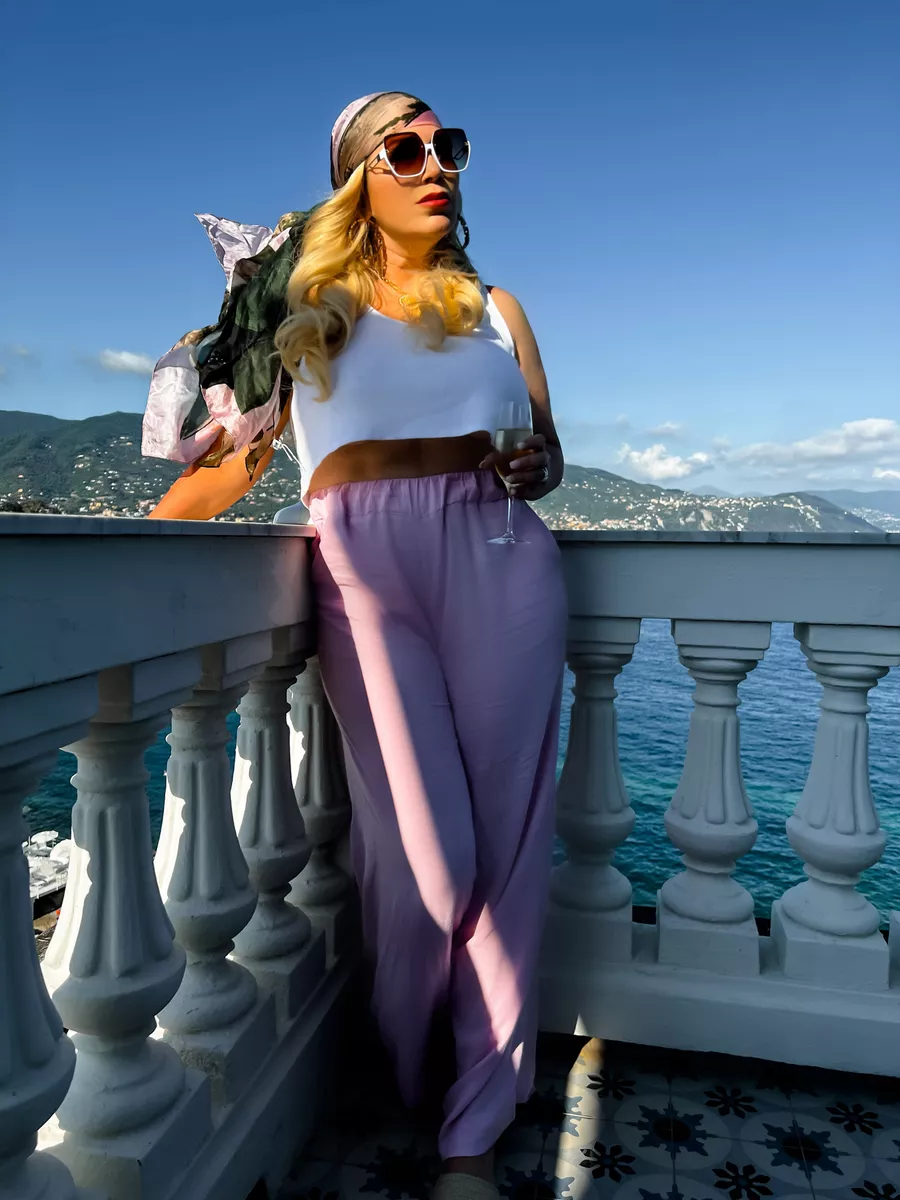 35 – Charge Through With a Power Suit & Hermes Silk Scarf Peeking Through
If you work in the fashion industry, this outfit is the perfect option for you to charge through the day and appear every bit business for the boss lady you are!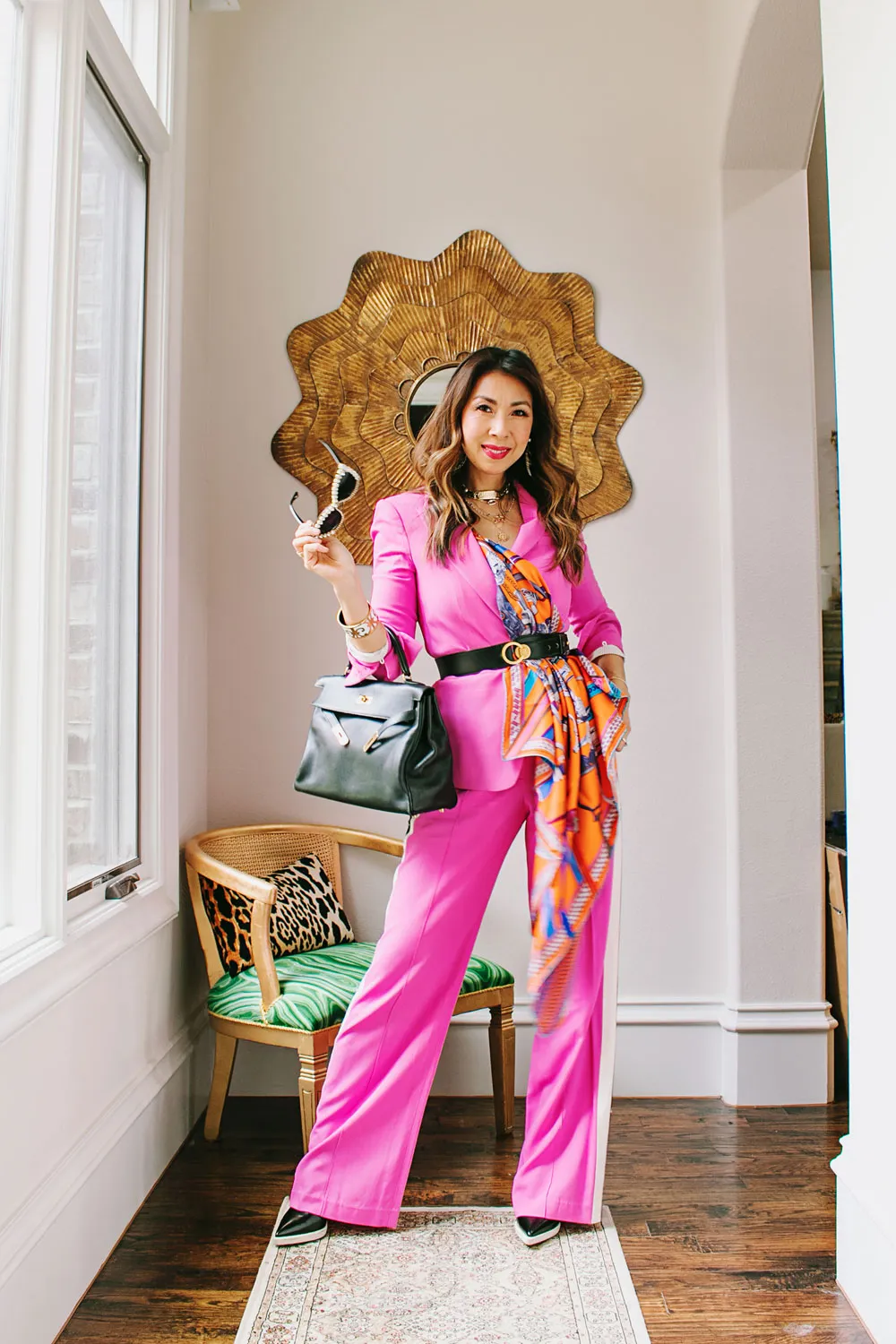 34 – How to Wear Hermès Scarf 90cm as a Top?
The most effortless way to style a 90cm Hermes scarf as a top is through the tube top style! Grab your square-shaped scarf and fold it in half diagonally. Next, take the longer half of the triangle formed, center it in front of your chest, and tie the two corners in the middle of your back.
And voila, you have a Hermes scarf tube top ready to go!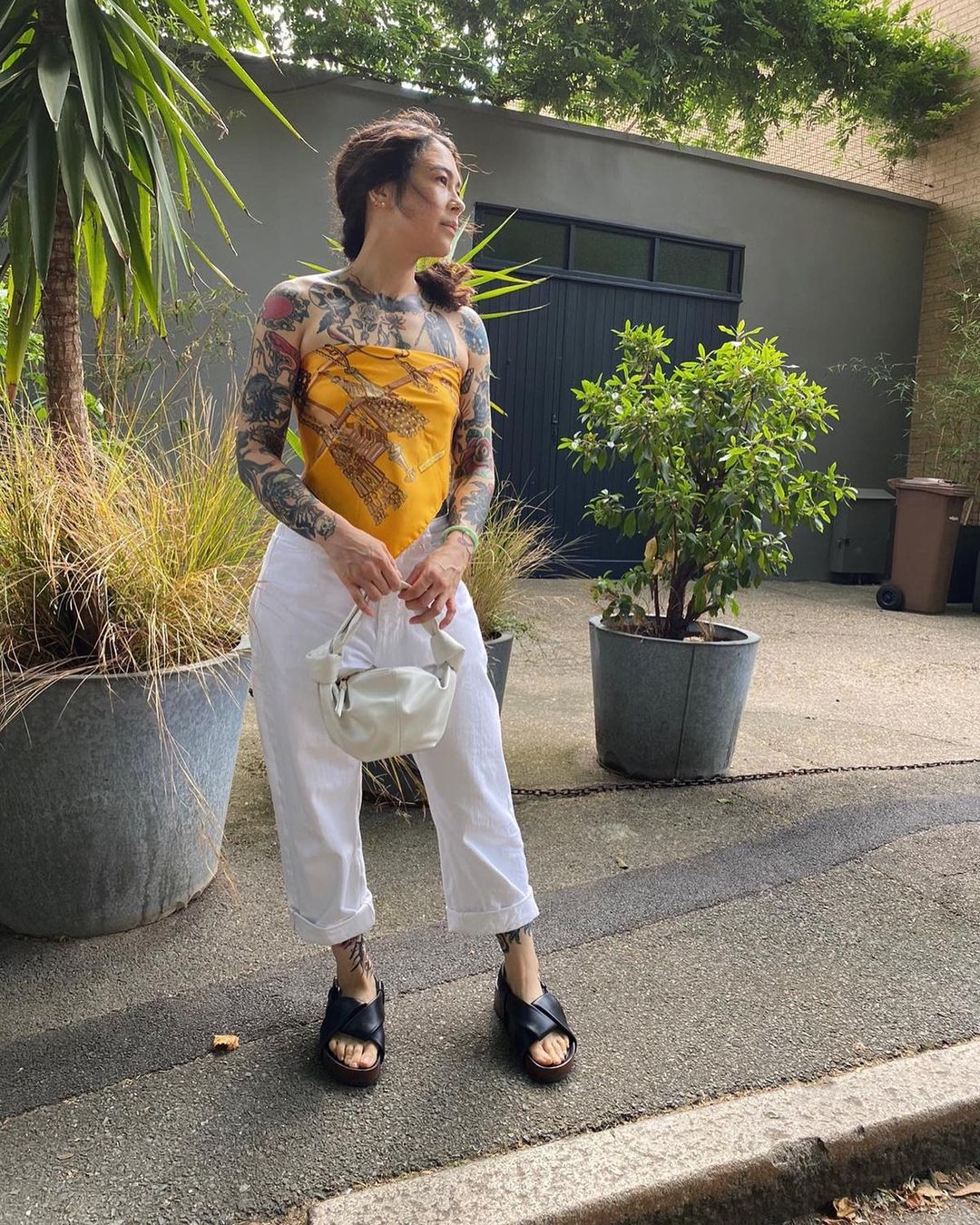 33 – Swap Those Red Sandals for Blue Ones to Color Block Your Fit
32 – Keep Your Hair Out of Your Face With a Bandanna Style Hermes Scarf
This outfit is the way to go for your tropical vacation! It does not matter what you plan on doing for the day because this outfit will not fail you (unless you plan hiking for your topical vacation!).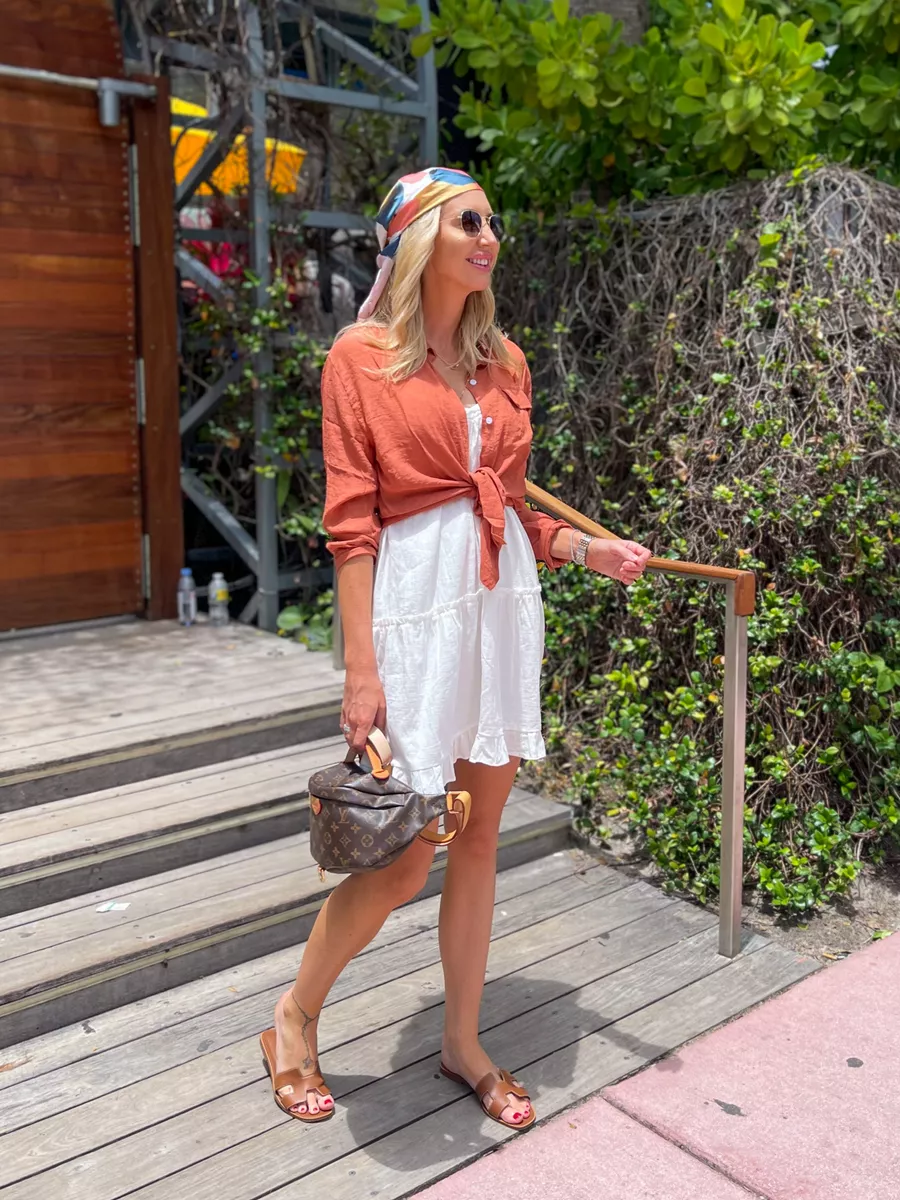 31 – Hermes Scarf Outfit Ideas for Working Ladies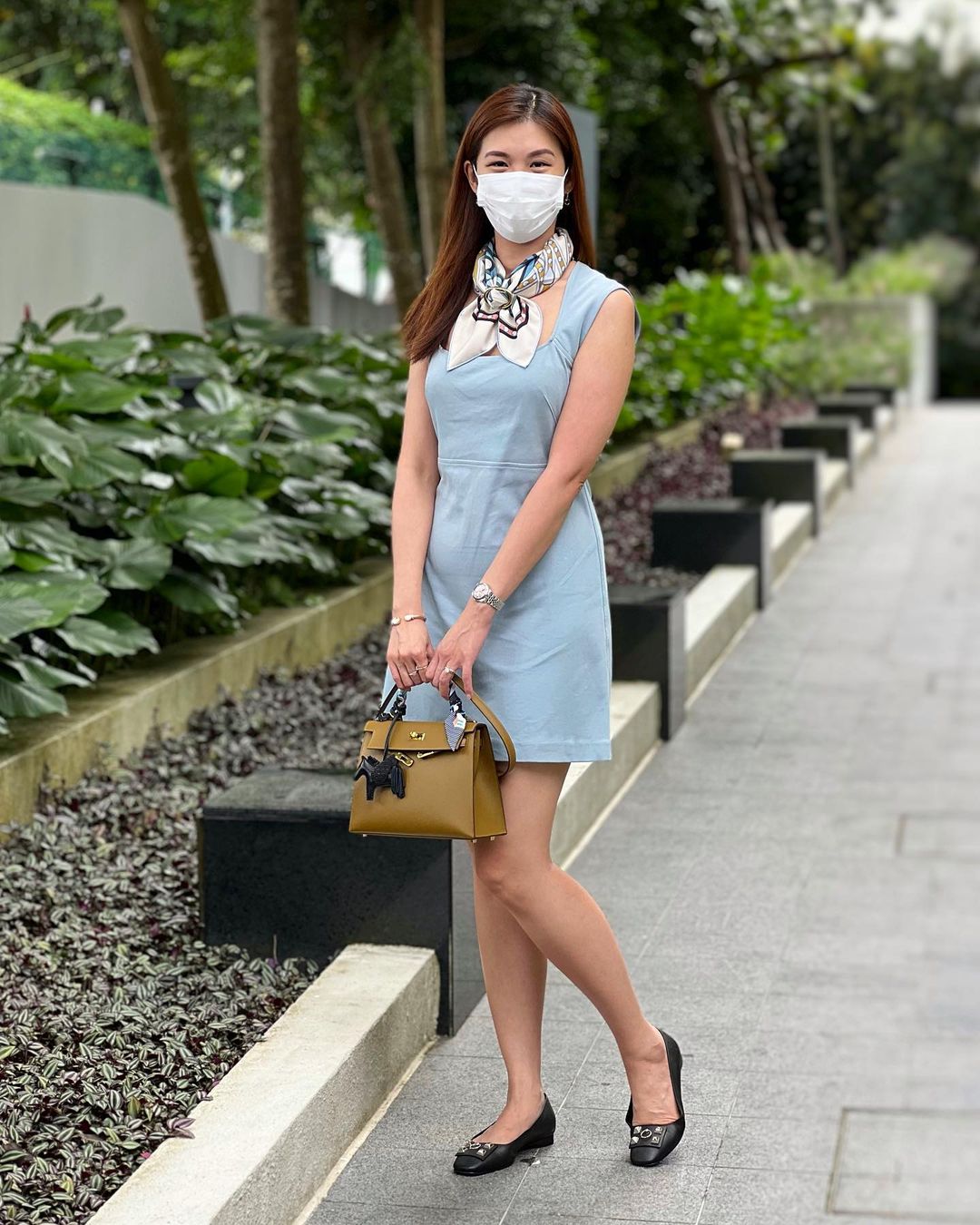 30 – Sit Your Scarf Elegantly Over the Shoulders With a White Midi Dress
Here are some more gorgeous ways to style your white midi dress.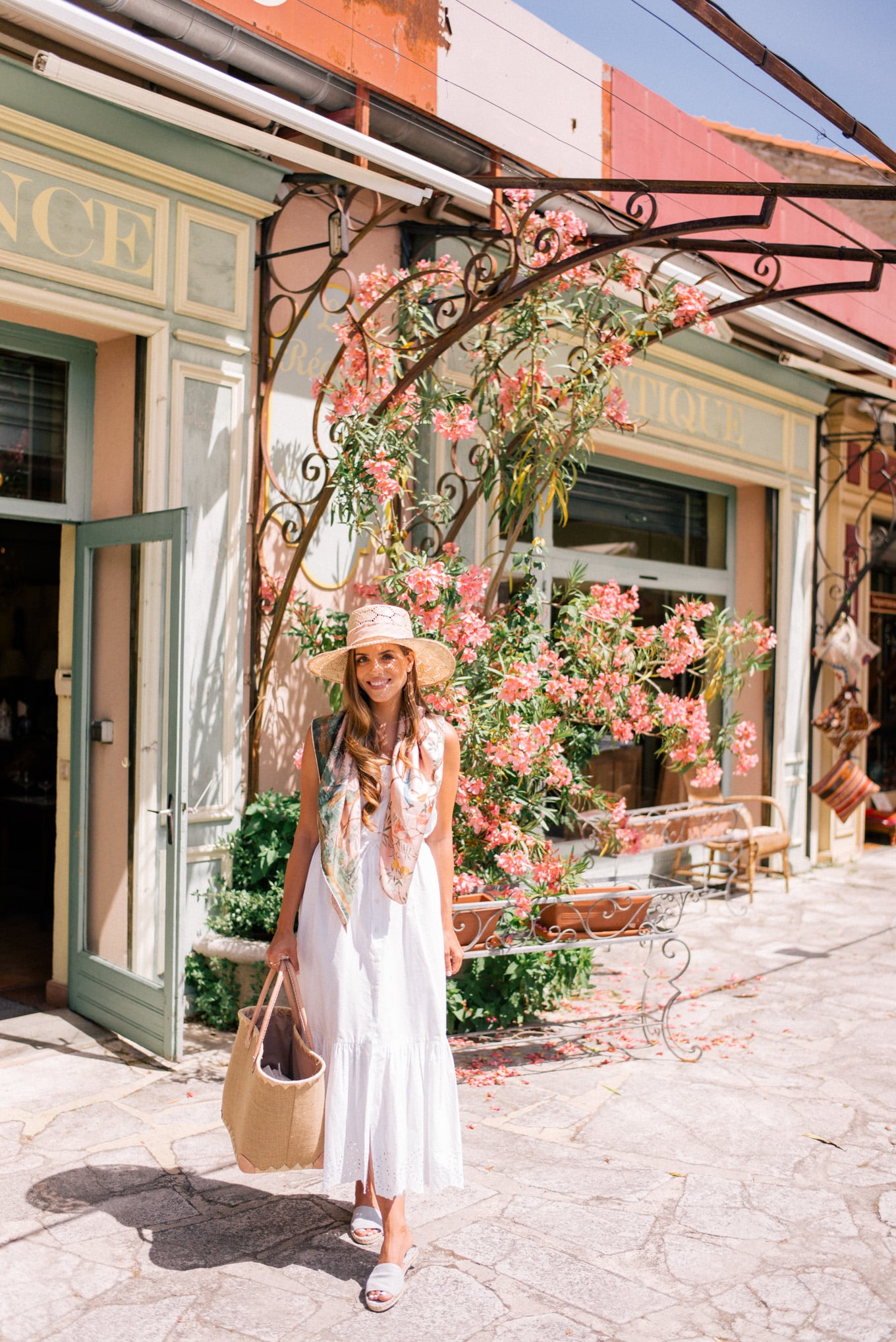 29 – Add a Statement Belt to Your Look to Look Fashionable
If you are looking for bold, effortless, and easy to style, this look is the one for you! Throw on whatever dress or outfit you have in mind, and grab your favorite Hermes scarf to go along. Drape it on one shoulder elegantly and secure it in place with a belt to your waist. Feminine, classy and effortless!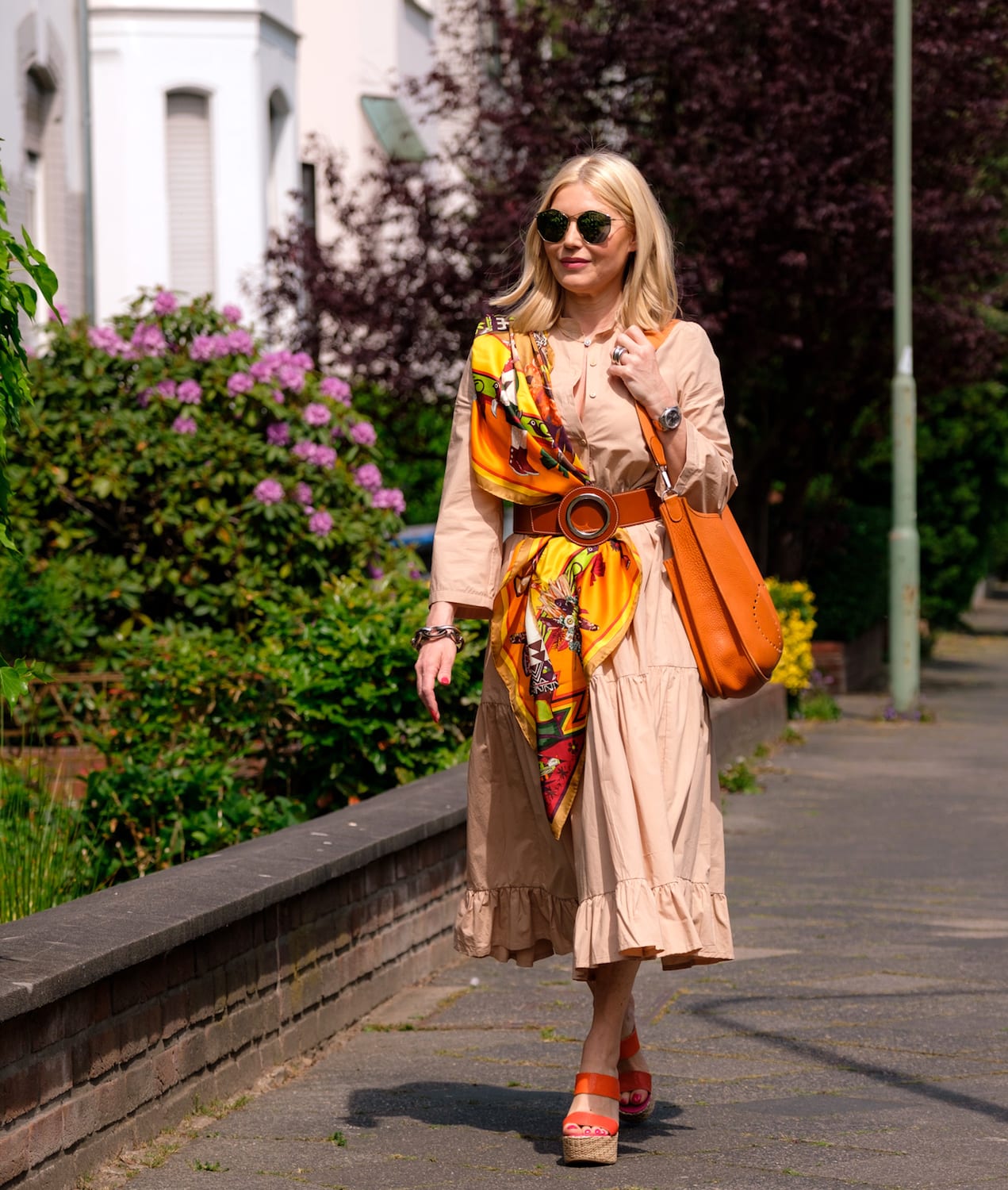 28 – Bright Colors and Shades are Made to be Paired With White Outfits
Vivie and detailed scarves with white outfits are a match made in heaven and the one true pairing for all!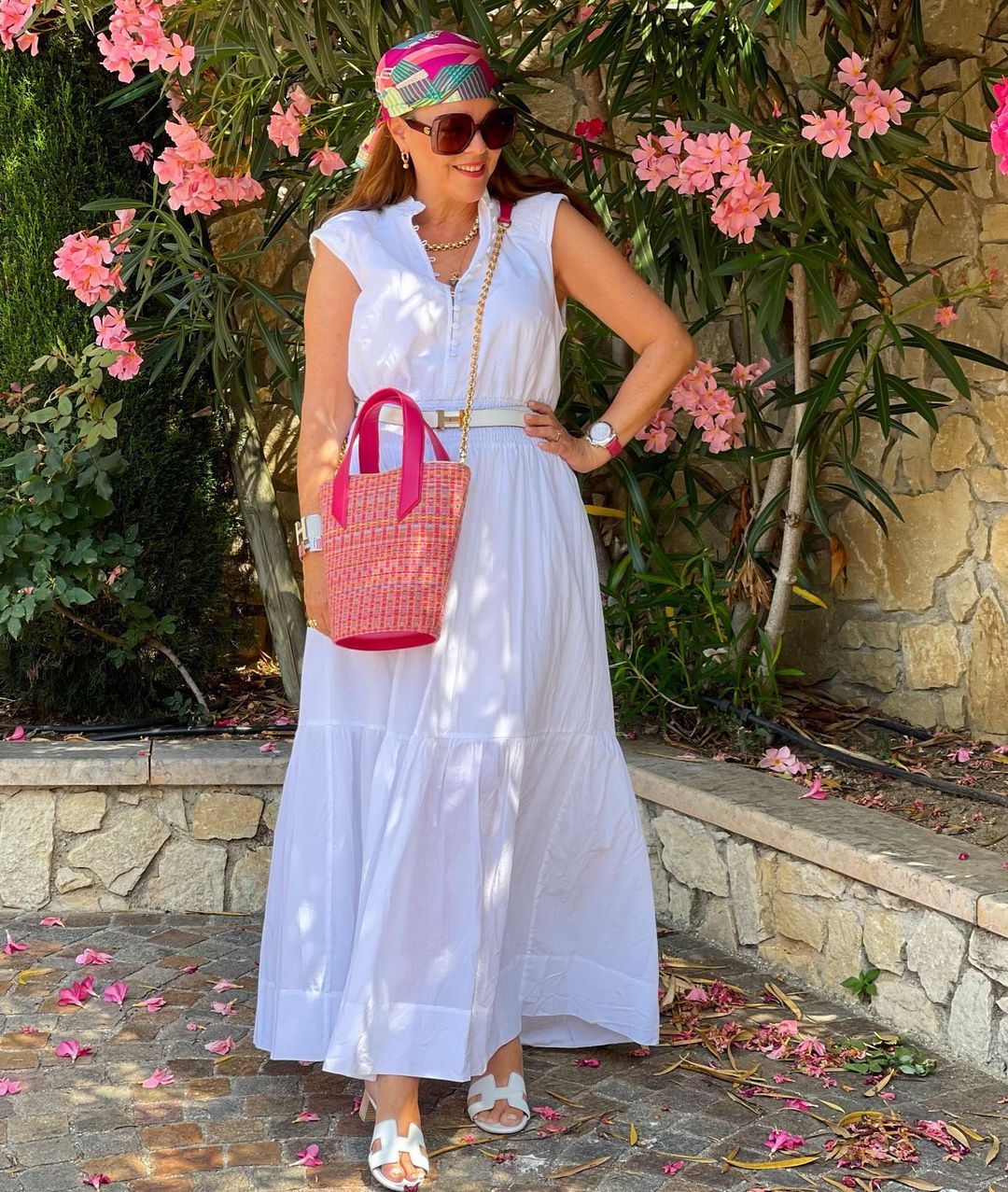 27 – Create the Perfect Semi-Formal/ Formal Look With a Hermes Scarf
This outfit is every bit semi-formal, and I love it! So throw it on for visiting an art gallery or museum while looking like a muse. And to look more formal and red carpet appropriate in this fit, swap those shoes for a pair of sparkly stilettos. Add a clutch and bold accessories, and there you go!
26 – Play Around With Different Textures & Patterns for a Unique Look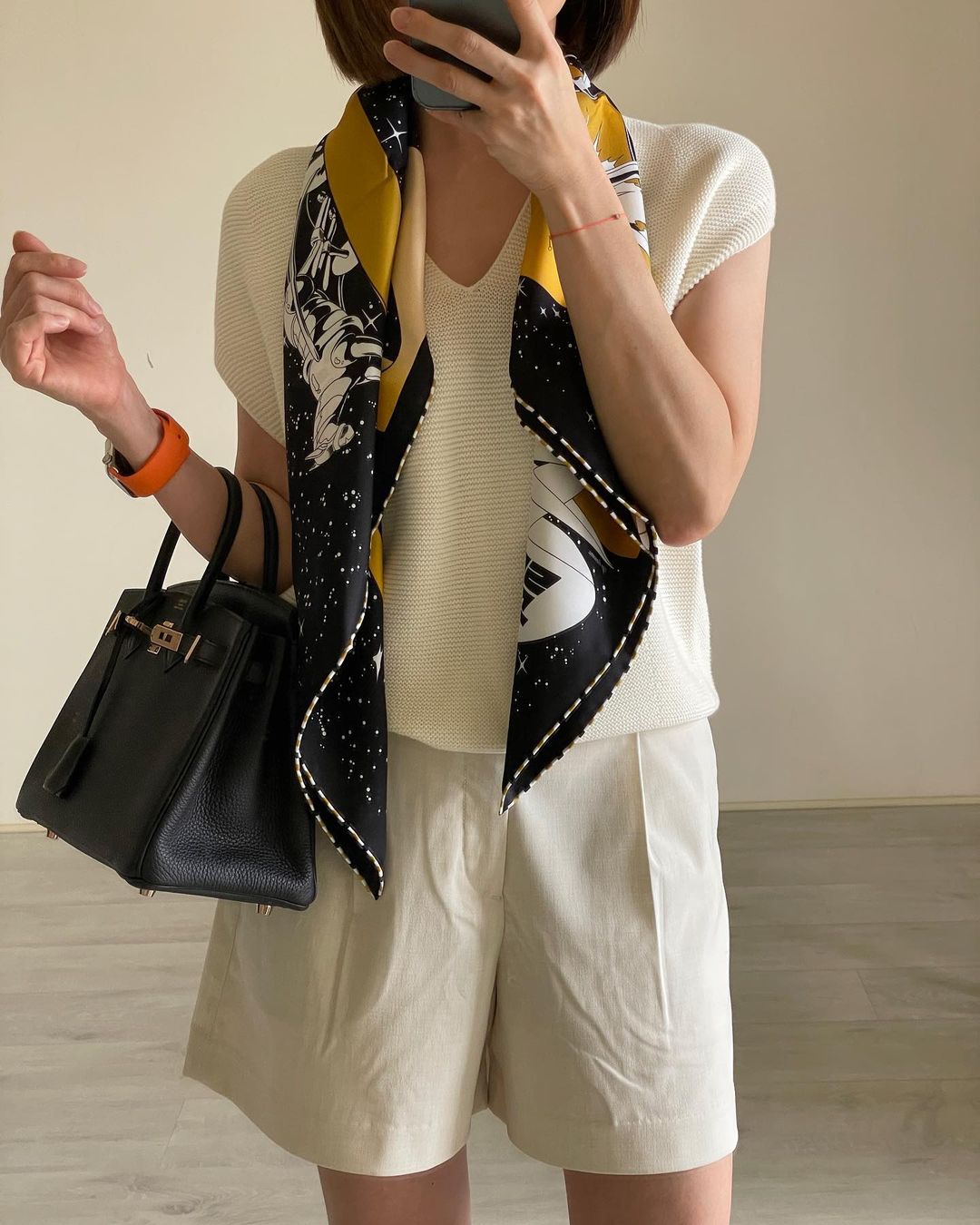 25 – Amp Up Your Purse (& Outfit) with a Twilly Hermes Scarf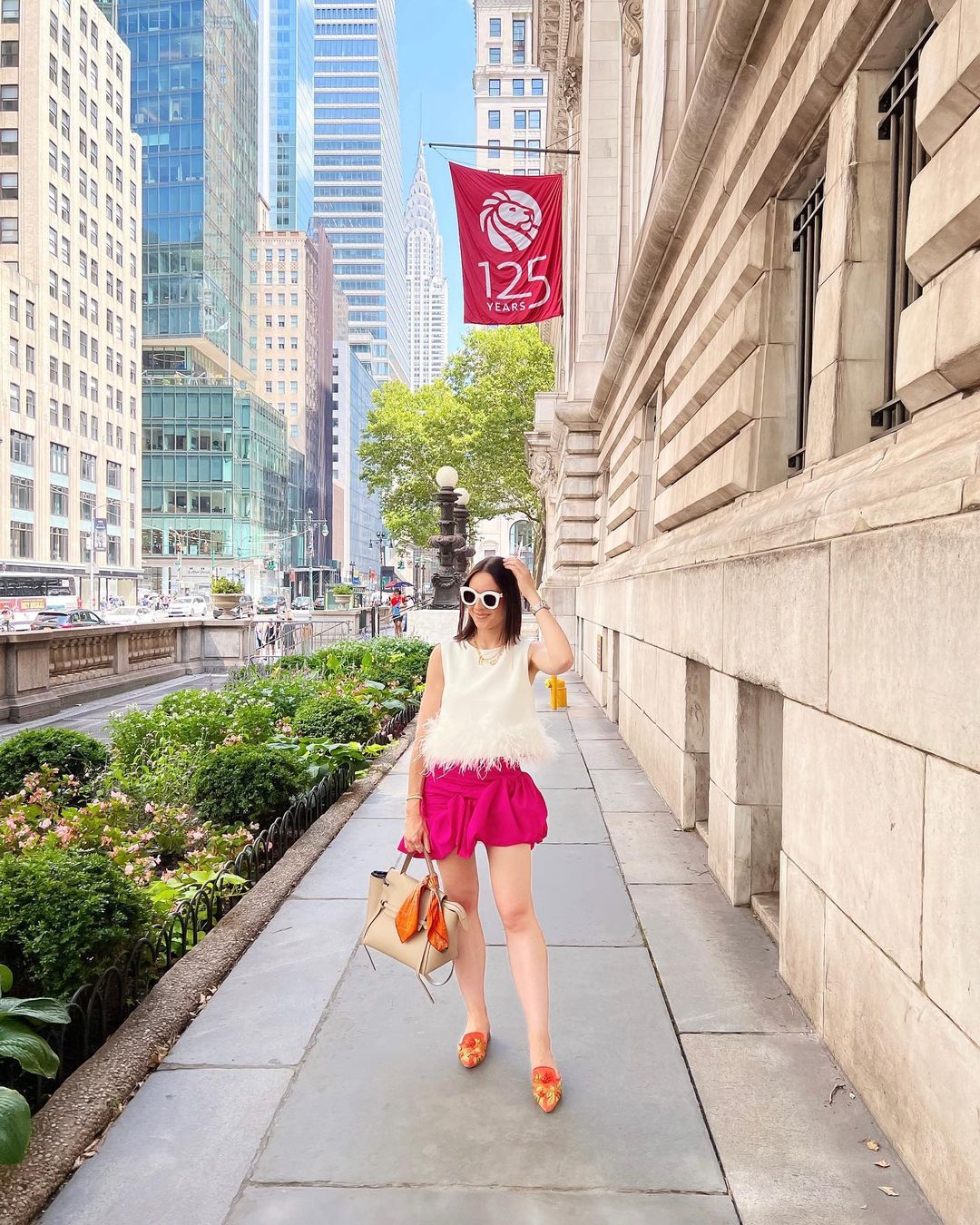 24 – Convert a Hermes Scarf into a Detailed Top & Slay
Another great look for your tropical vacation or simply lounging at the beach and sipping coconuts all day long!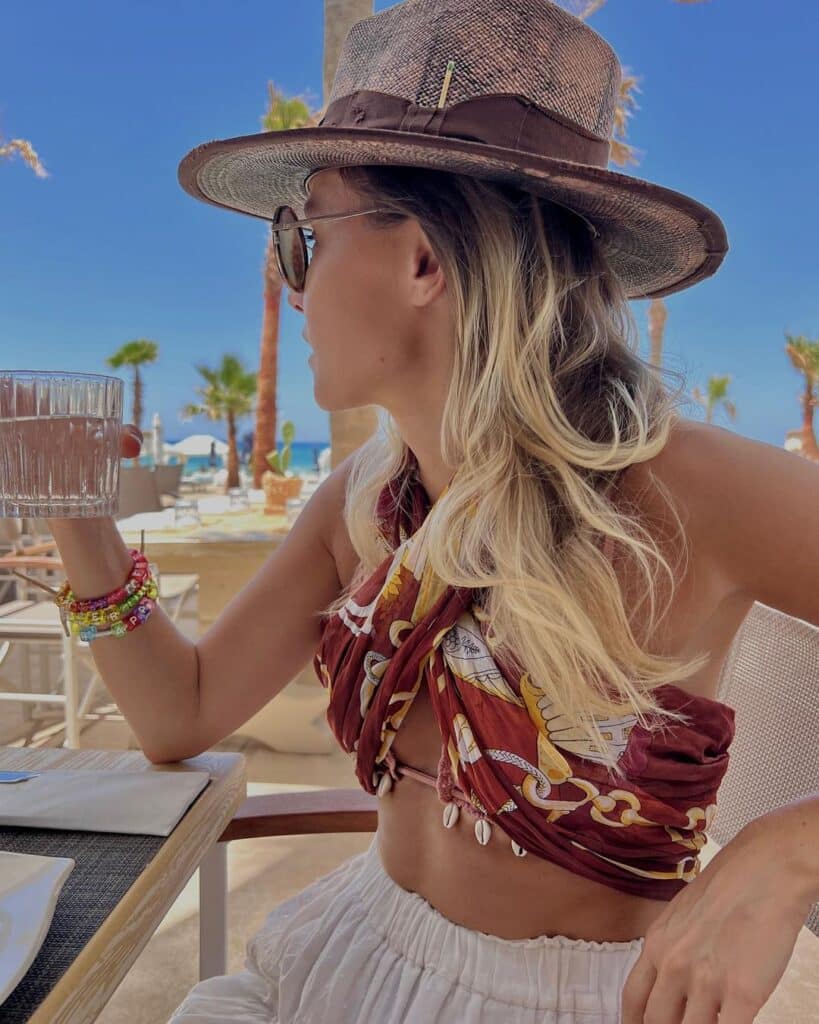 23 – A Perfect Look for Music Festivals & Carnivals
Add chunky platform boots in white. Throw on a denim jacket in white, and you are ready to hit the concert! Here are some more of my favorite Festival Outfits.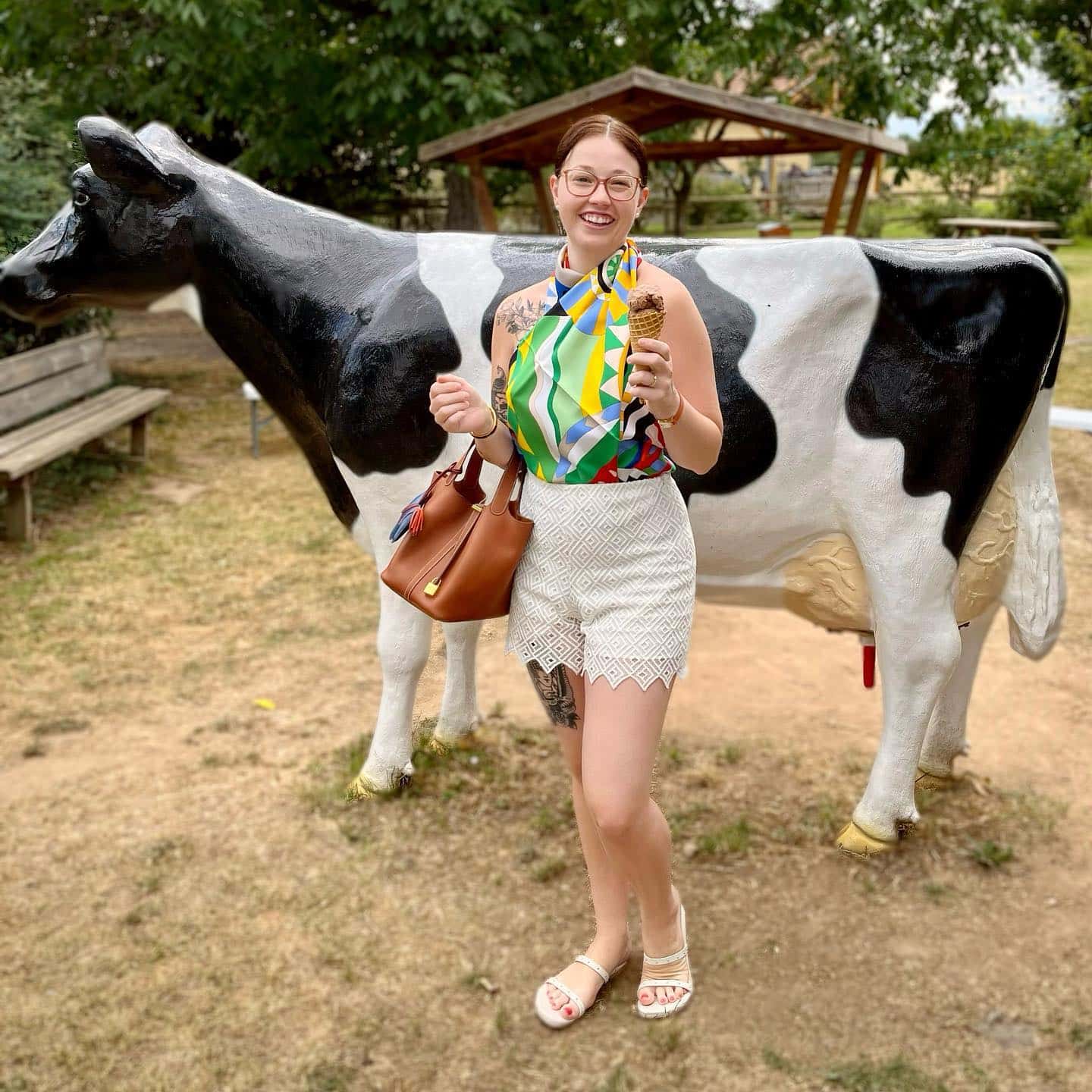 22 – Style Your Hermes Scarf Dress into a Beach Cover-Up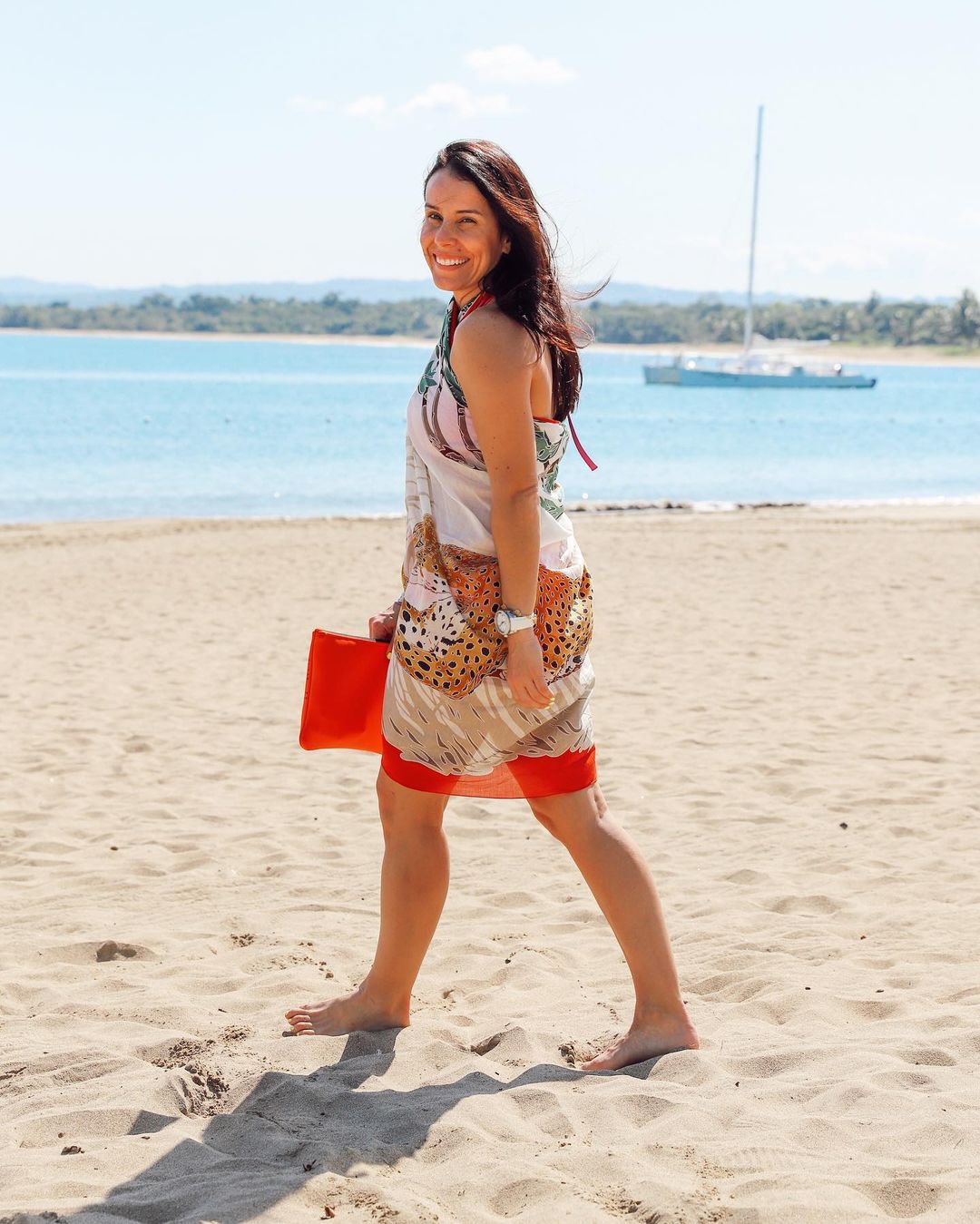 21 – Put Your Scarf to the Test Only for it to Emerge as the Winner for Beach Looks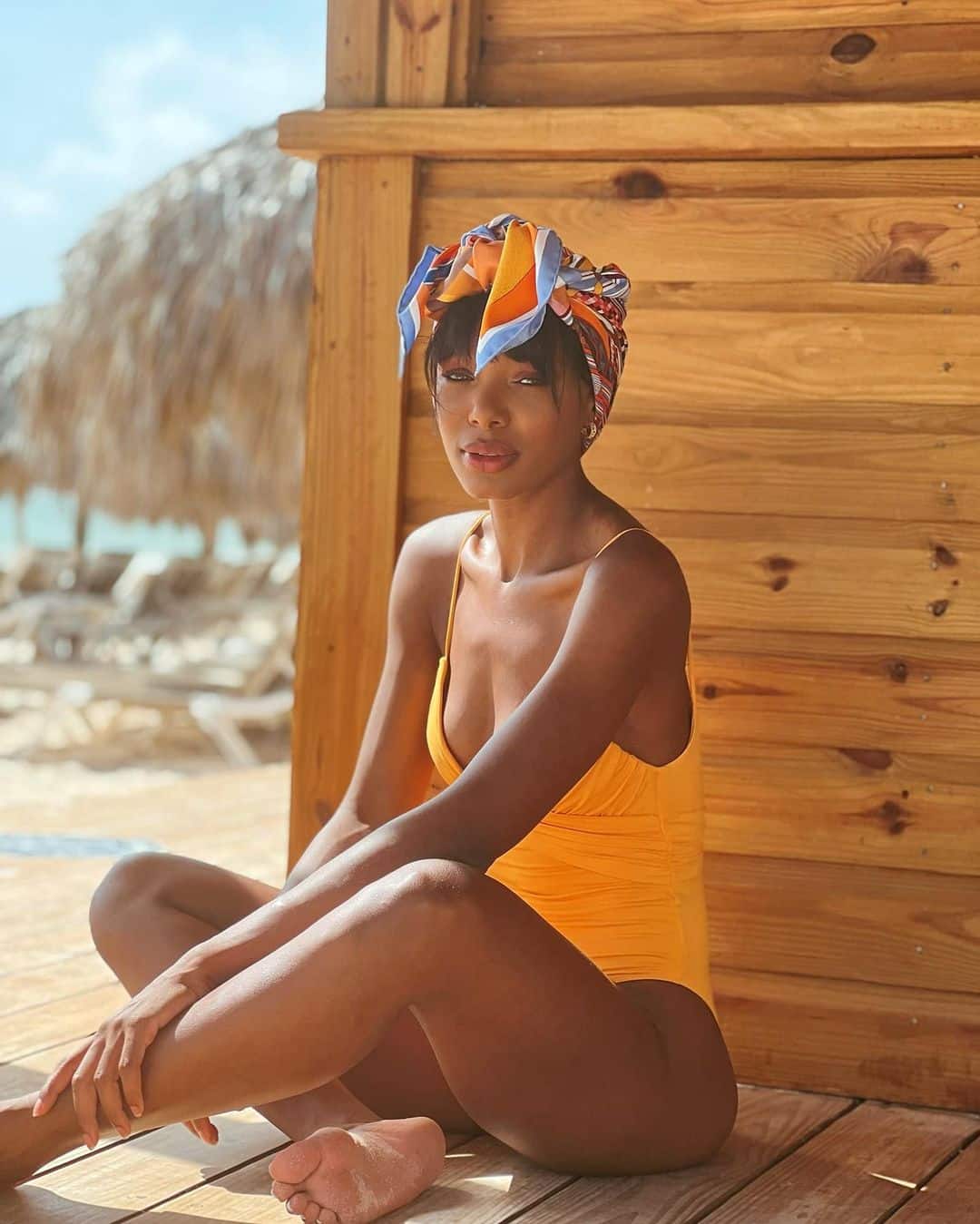 20 – Substitute it for an Actual Cover-Up to Lounge Around in Style
19 – Make Your Official Look Even More Official & Formal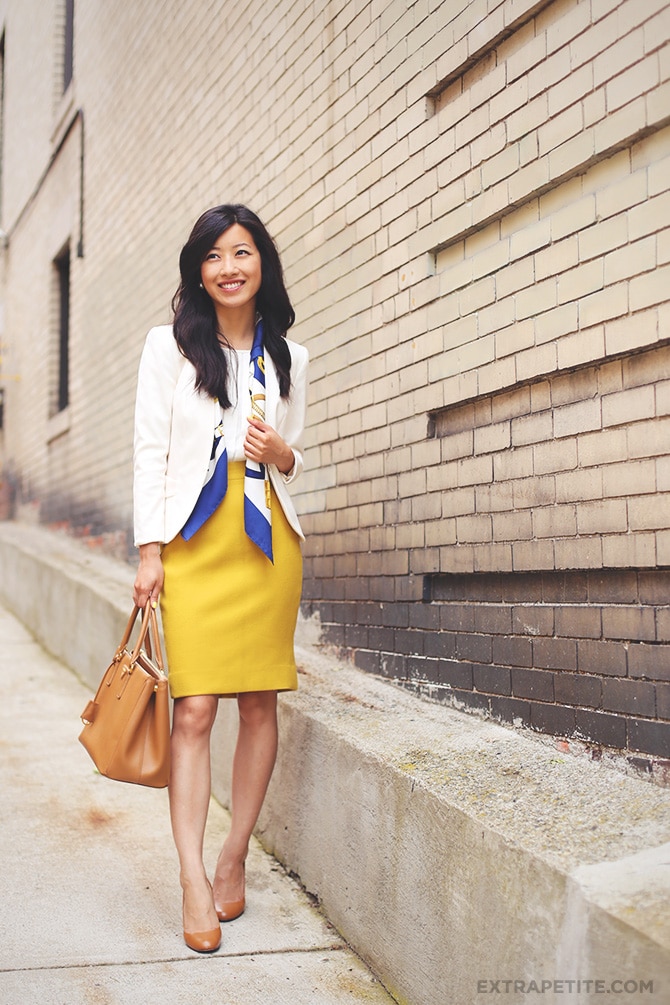 18 – Tie Your Scarf Around Your Neck to Compliment Your Look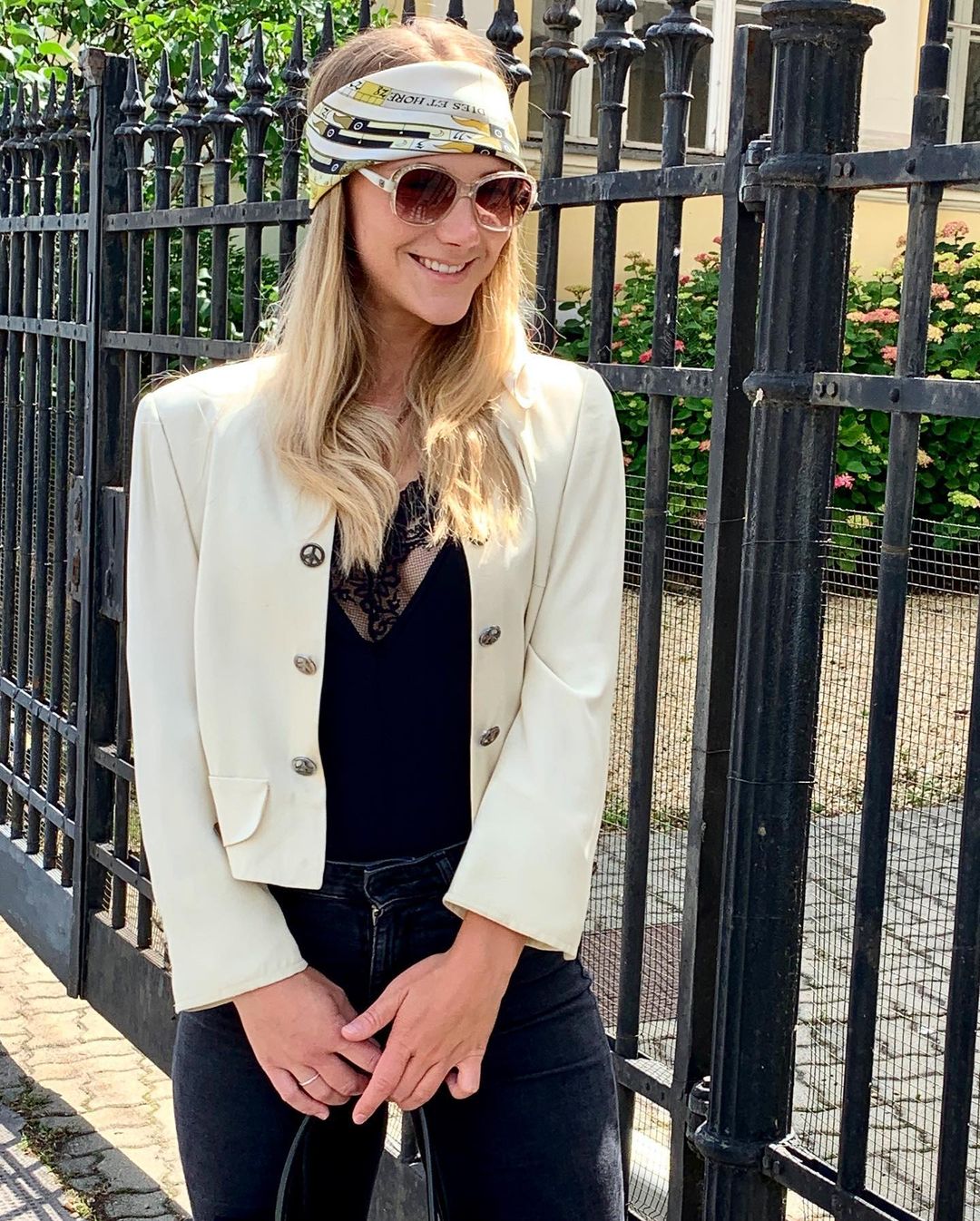 17 – Add a Pop of Color With an All-Black Outfit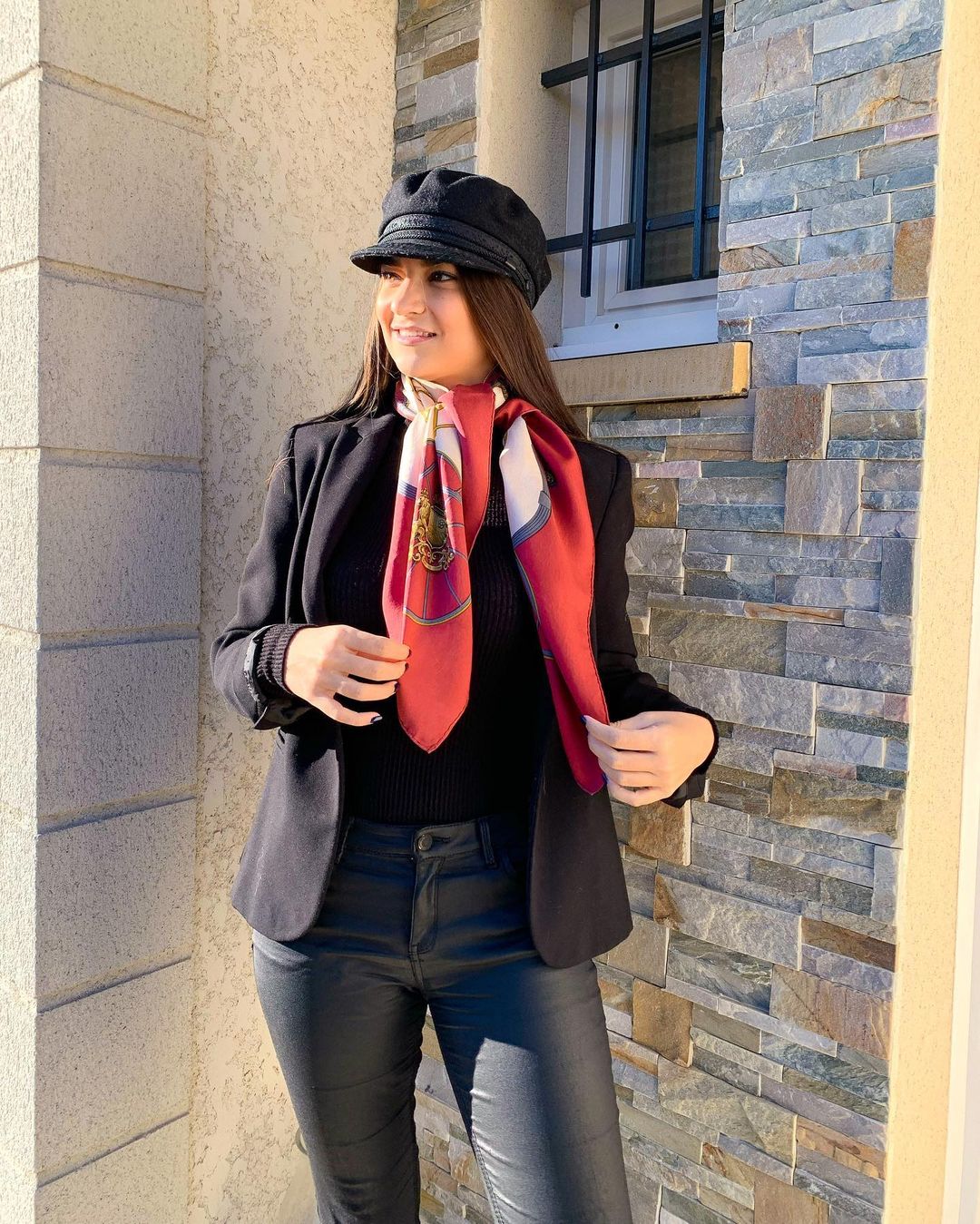 16 – It's All Down to the Tiniest Details!
This look is super cute and trendy. Moreover, the attention to detail is phenomenal! The red lip color supports the Hermes Scarf, and the outfit colors are complimented by the tiny details on the edges of the shirt. You can make this look formal by opting for stiletto heels, or you can go for cowboy or ankle boots if you are going to be in the countryside!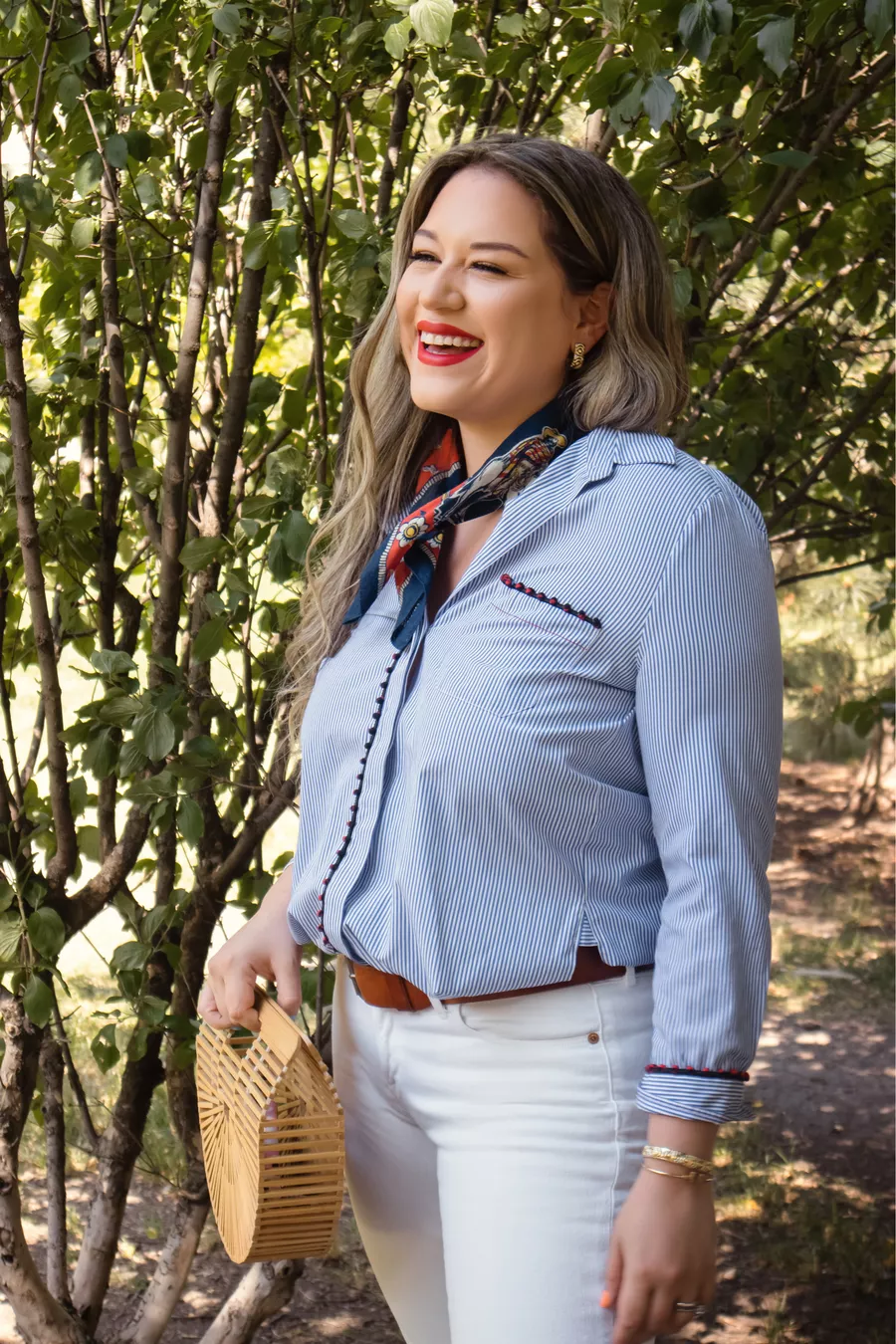 15 – Hermes Scarf Fashion for Summer
14 – Let Your Scarf be the Statement Item of Your Outfit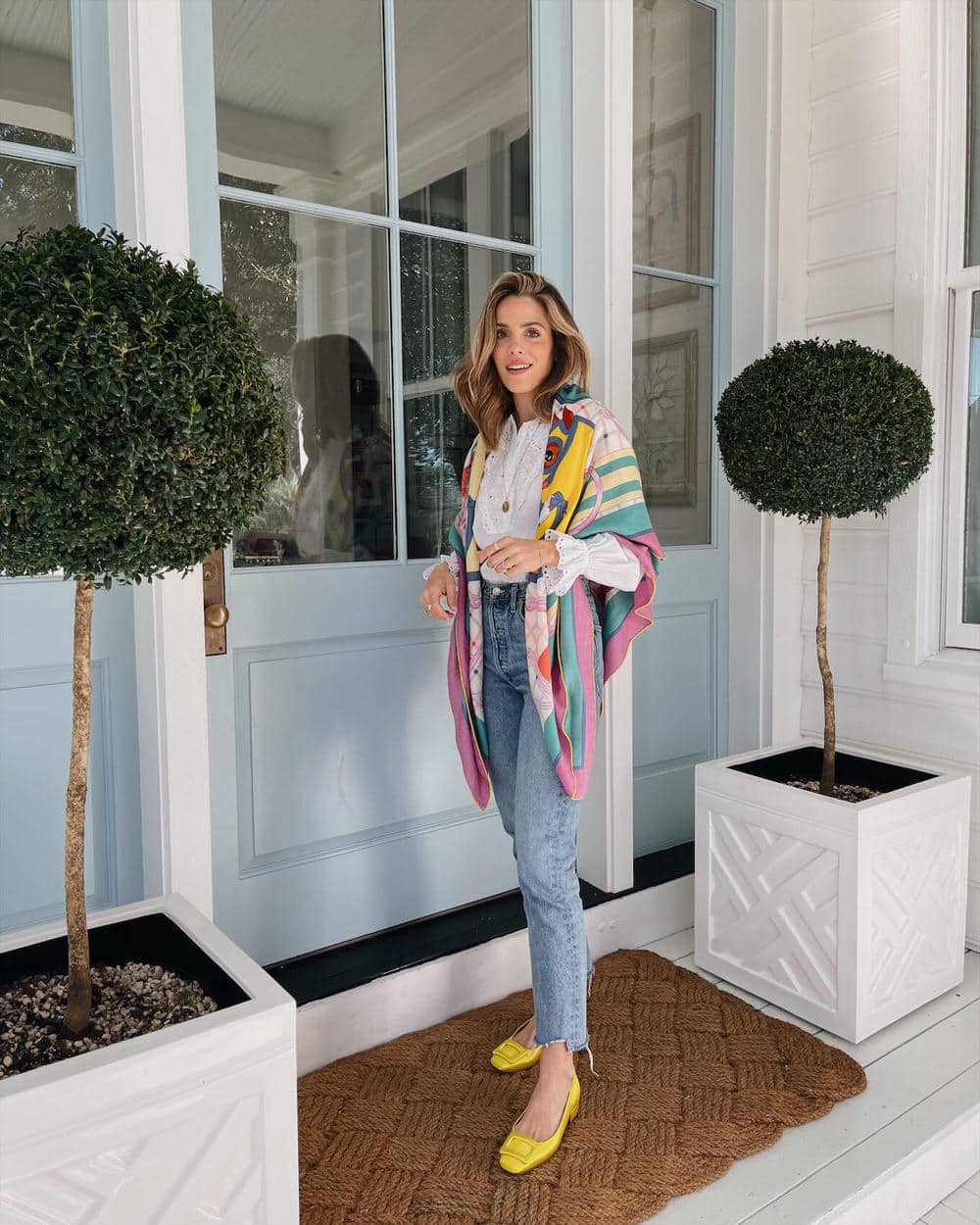 13 – Different Styles of Wearing a Hermes Scarf With the Same Outfit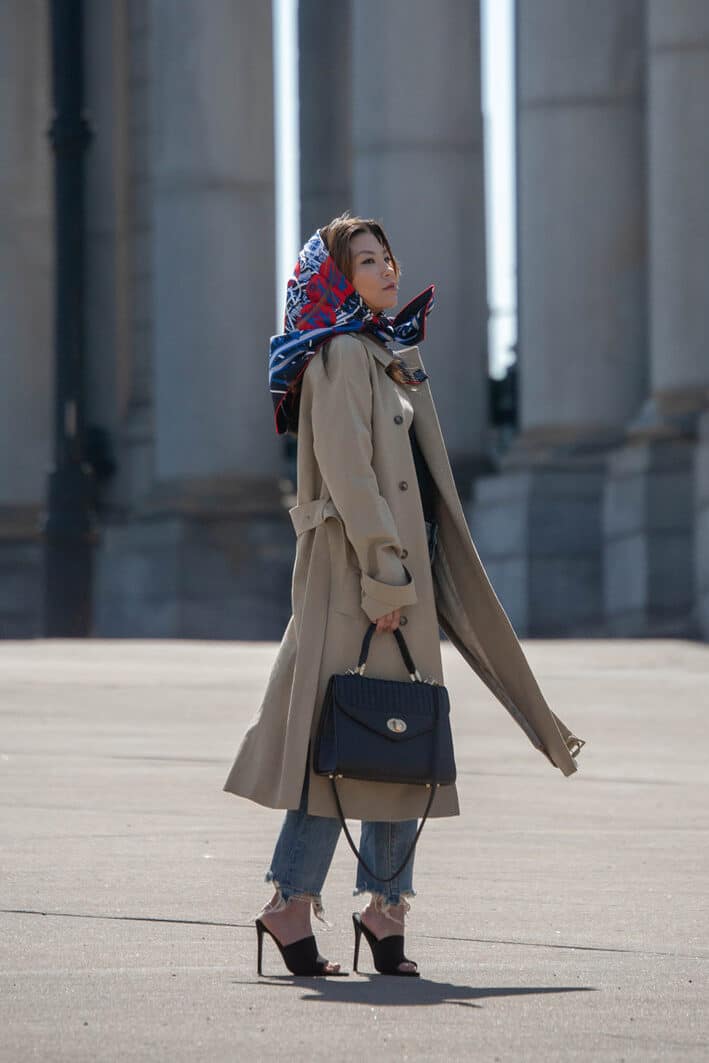 12 – Add a Hint of Blank for a Monochrome Effect With an All-White Outfit
11 – Tie the Scarf Around Your Waist for a Unique & Equally Wonderful Look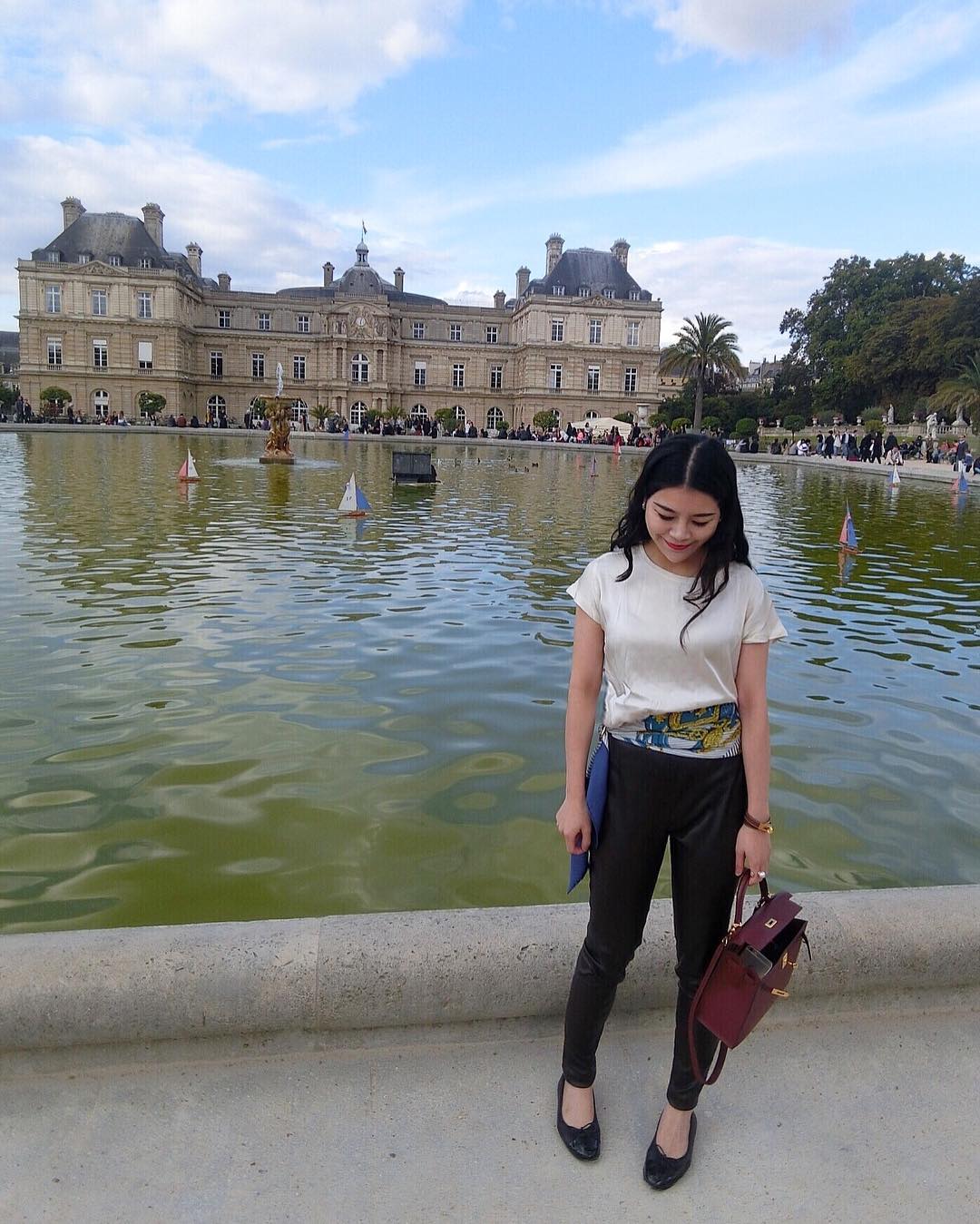 10 – Got to Life Those Heavy Weights & Run Errands? This Outfit is the Way to Go!
Are you wondering what effortlessly chic is? This outfit is the answer for you! For an everyday look, throw on your usual casual fit and tie the Hermes scarf as a bandanna. This will hold your hair out of your face and also make you look stylish, chic, and super trendy!
Grab this dupe for the Hermes scarf that is so much cheaper than the original:
09 – Create the Perfect Fall Look in Shades of Brown and Animal Printed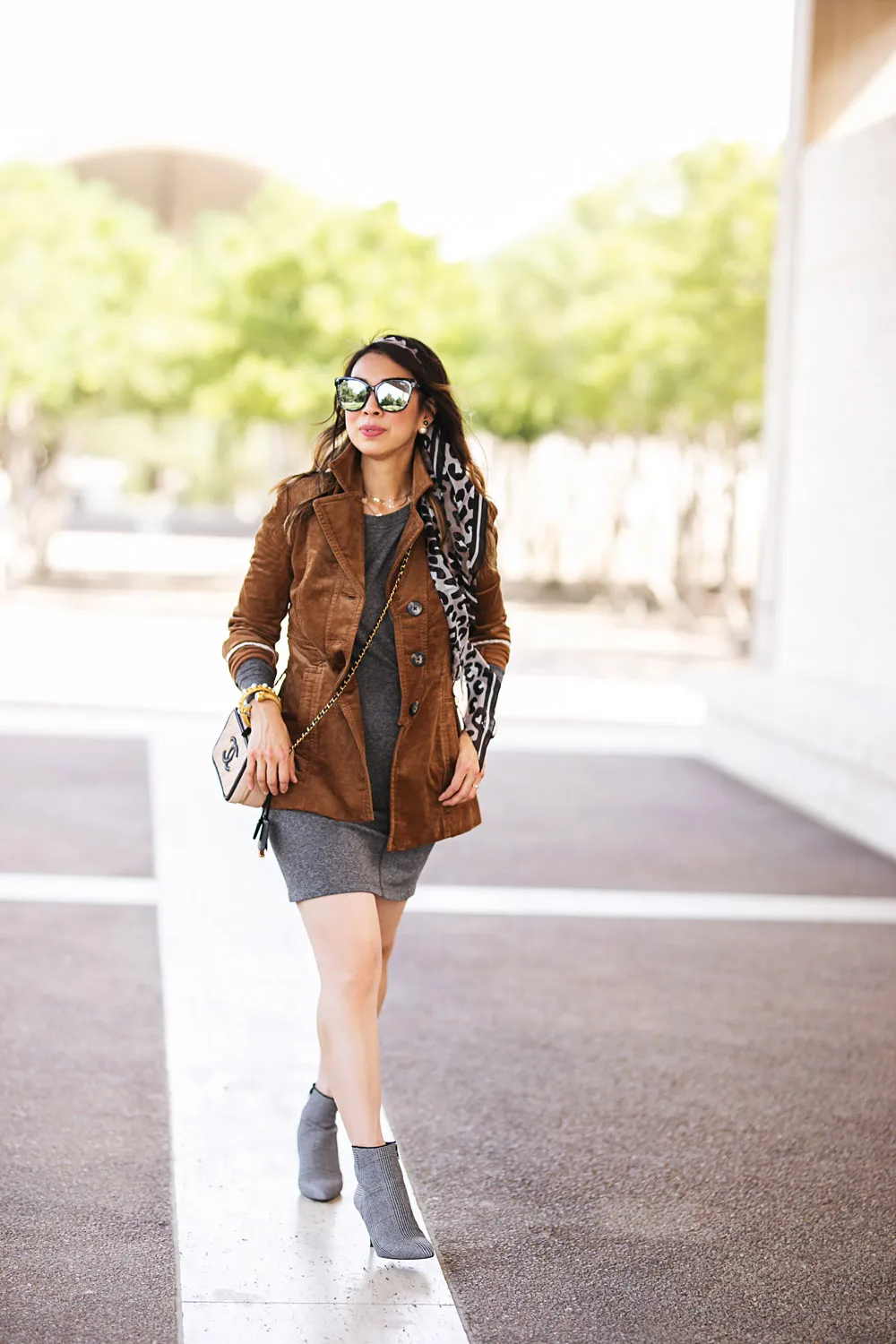 08 – The Most Popular Hermes Scarf Pattern:
The most popular Hermes scarf pattern to this day is the Brides de Gala collection! This scarf made its first appearance since the start of Hermes scarves and is being put out and recreated by the brand vastly. You will find this gorgeous pattern in many different colors and varieties!
And as you can see, this scarf looks perfect with a white button down shirt.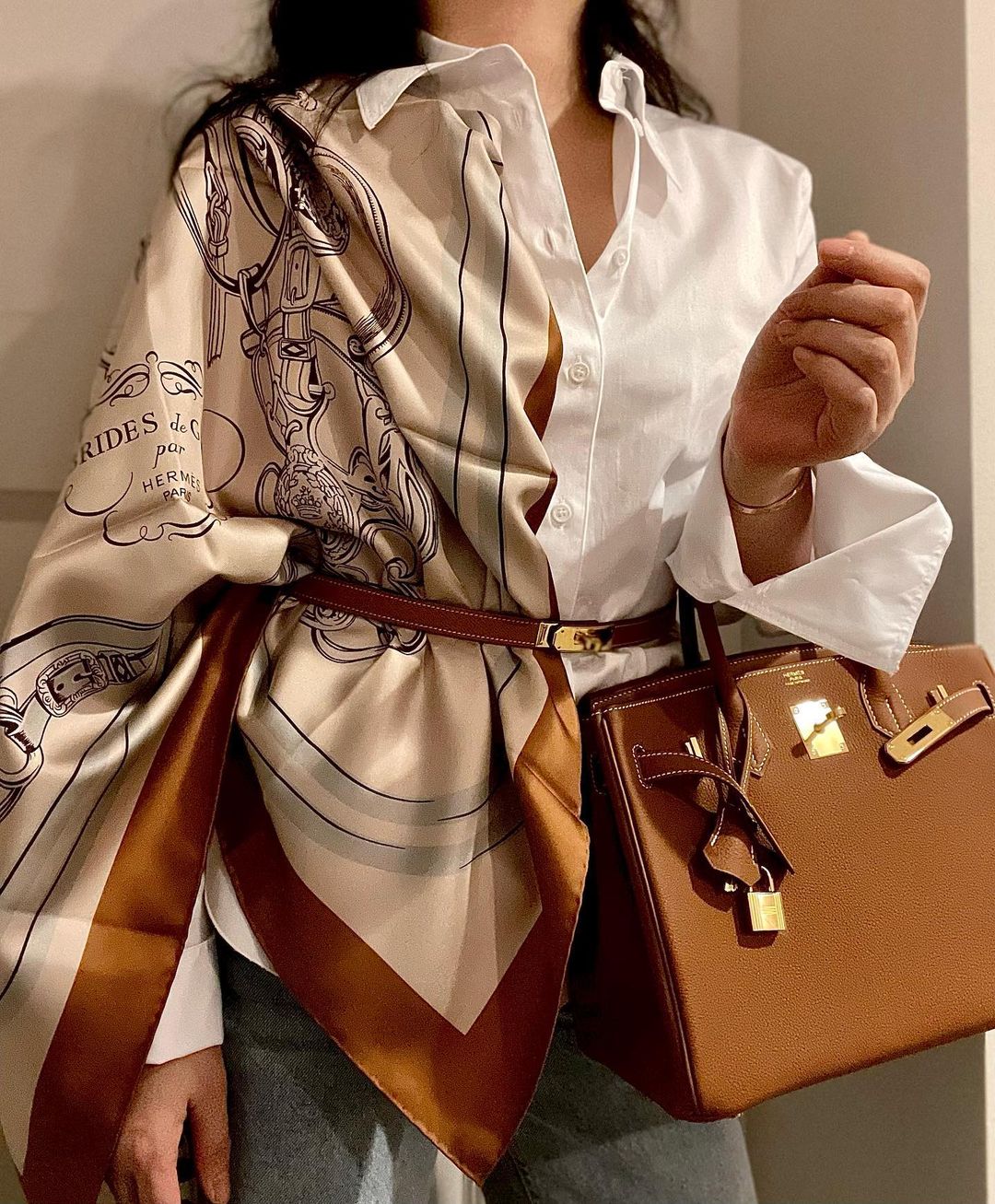 07 – Got Nothing to Spruce Up Your Look? Simply Loop a Hermes Scarf Around the Neck and You are Set!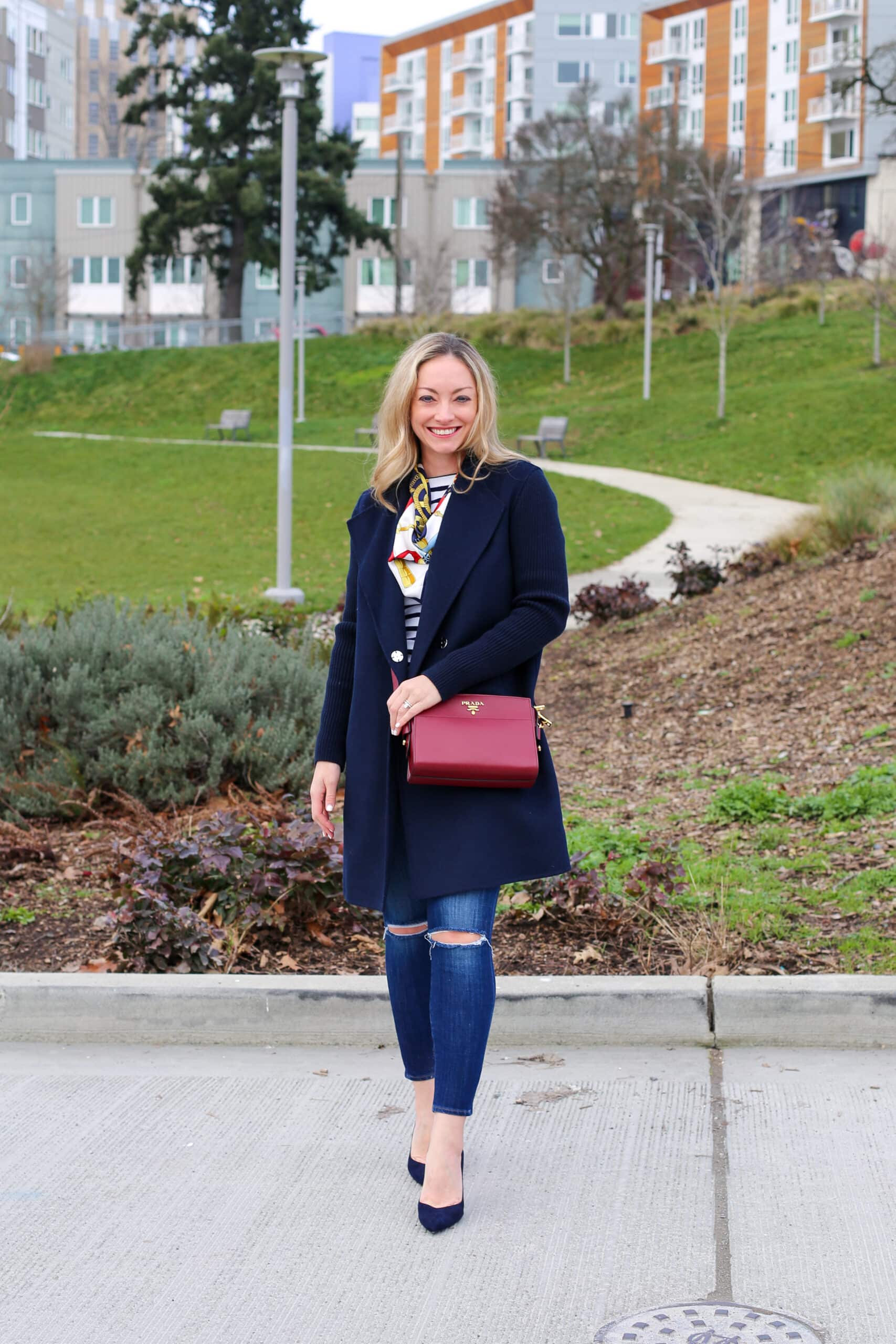 06 – How to Wear a Hermes Scarf 90cm for Fall?
If you are going for an outfit that is warm-toned and on-brand with the autumn season, I would suggest opting for a vivid Hermes scarf in red, green, or orange to compliment your look. Simply loop it around your hair or weave it through your hair in a braid or around your ponytail!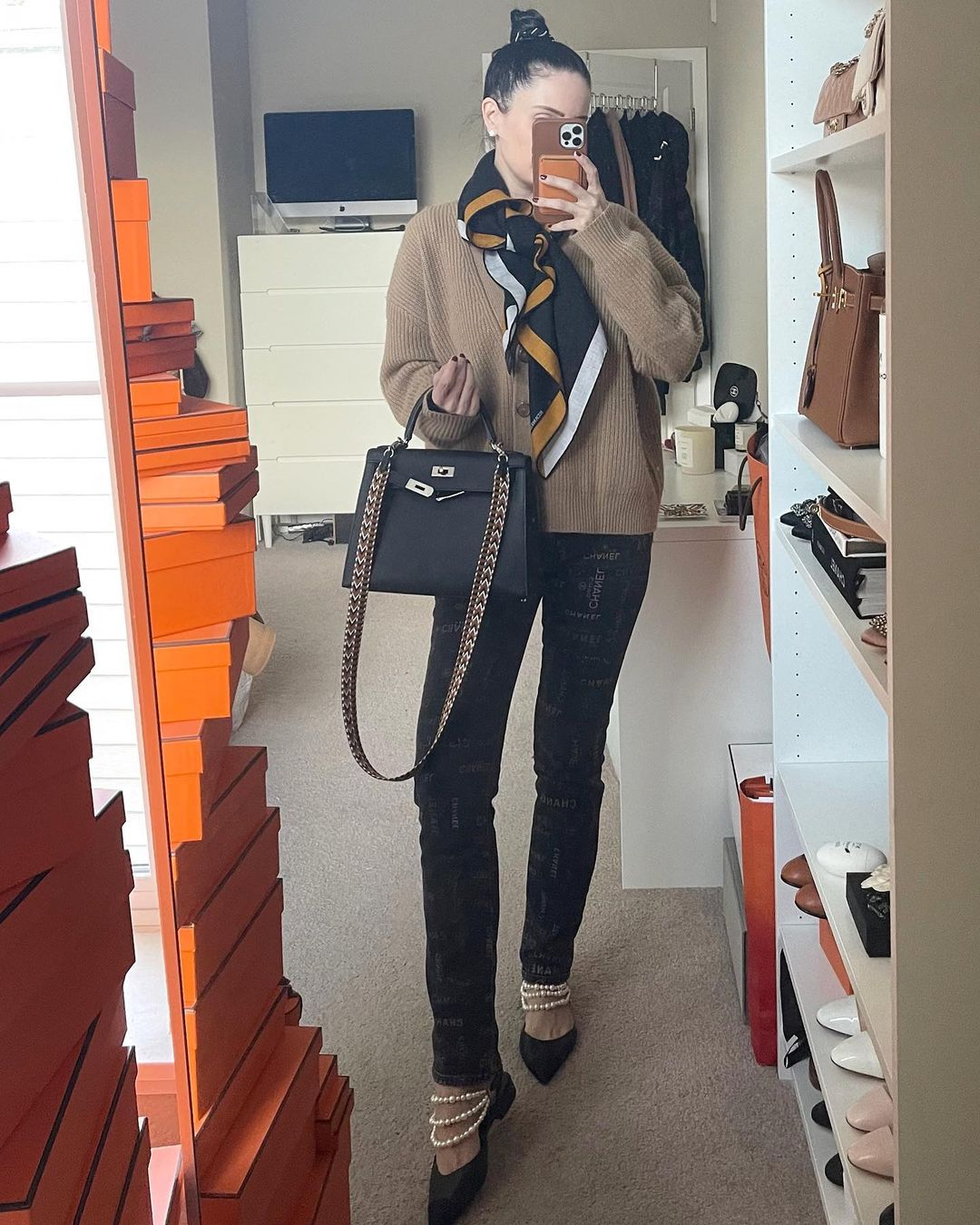 05 – Go for a Double Scarf-ed Look This Winter as it is Fashionable & Incredibly Different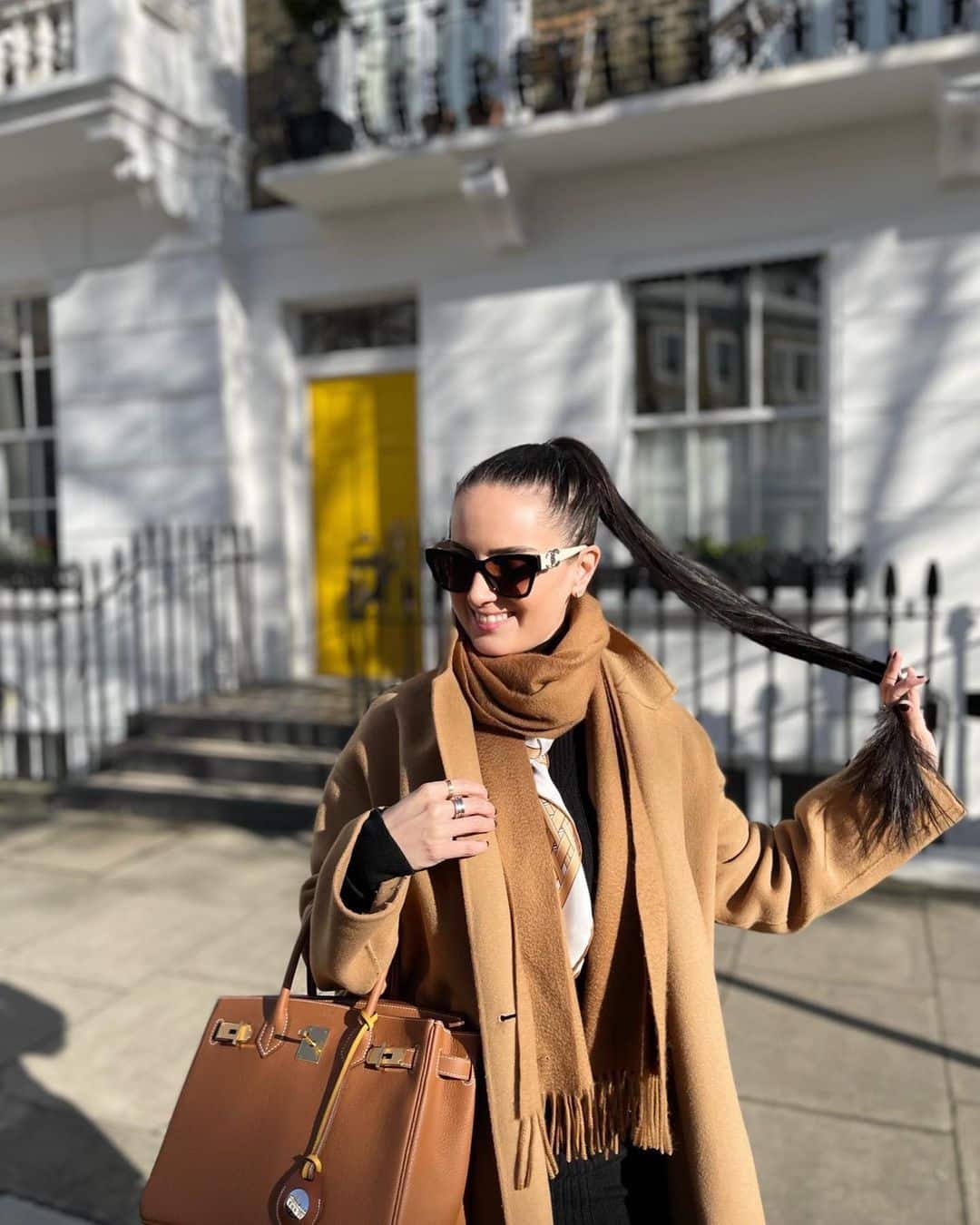 04 – Wrap Your Smaller Hermes Scarf Around Your Wrist for a Dainty, Feminine Look
03 – You Can't Go Wrong With a Double Shirts Look Either!
02 – Opt for Ankle Boots or Stiletto Heels for a More Formal Looks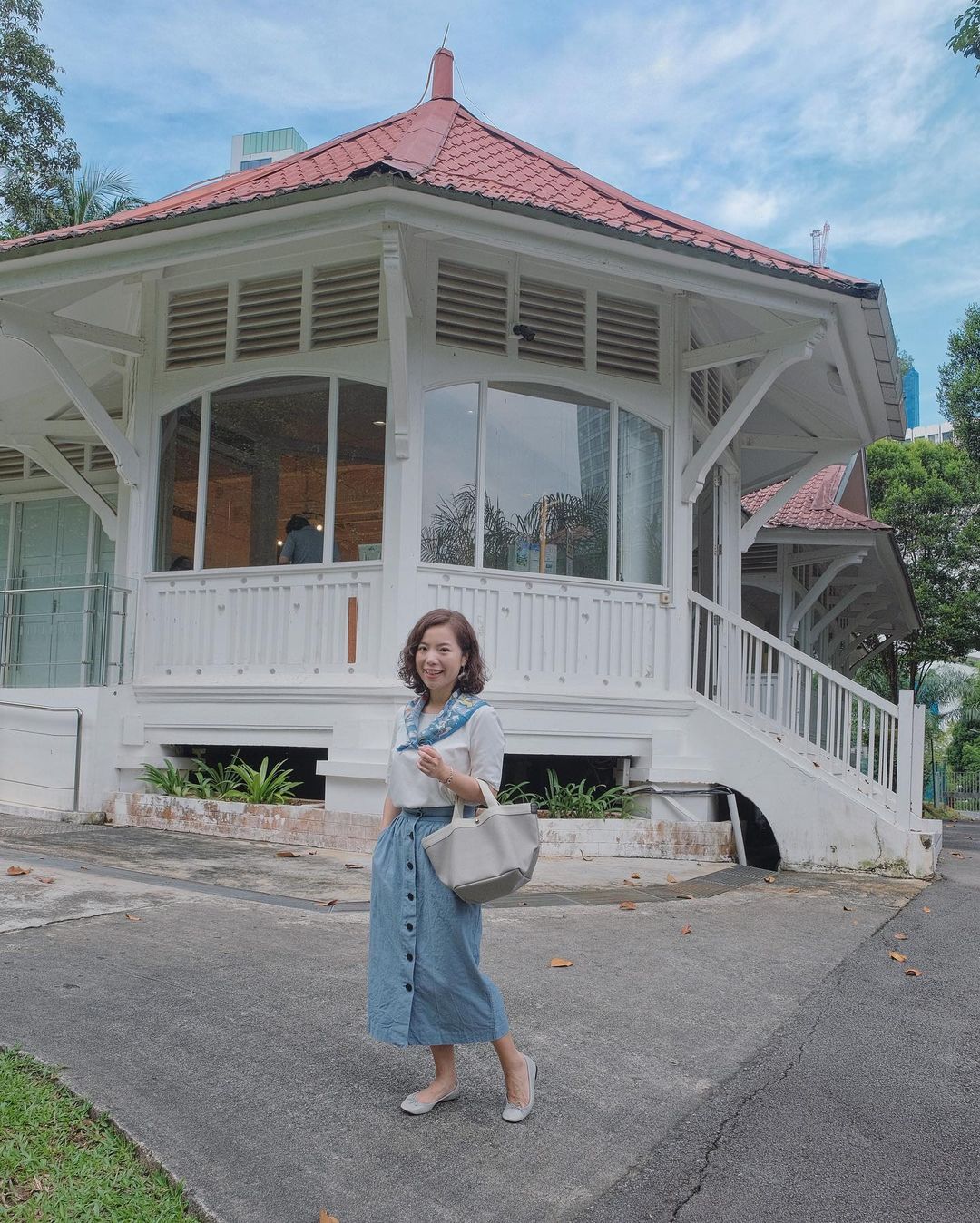 01 – Plaid & Print in Monochrome Shades Always Prove to be the Perfect Match
Frequently Asked Questions
Q. What is the most popular Hermes scarf?
For more than six decades now, Brides De Gala remains the most popular Hermes scarf. It is not only a fashion must-have but also a priceless collector's item that increases in value with its older age. Many different reinterpretations of the iconic Hermes scarf are made, but the original remains a classic.
Q. Are Hermes scarves fashionable?
Absolutely! They are one of the most fashionable, timeless, and valuable pieces you can own. They are easy to style and complement most outfits as they are incredibly versatile.
I suggest investing and paying particular attention to the 90cm silk scarf as they have significant collector's value and look stunning with whatever look you are going for!
Q. How do I know if my Hermes scarf is real?
The best way to know whether your Hermes scarf is real is to buy from authentic sources. If you happen to stumble upon a scarf raising ambiguity, look for the material used. The quality should feel like the finest fabric and the softest material.
The colors on an original Hermes scarf will be bright, vibrant, and bold. Moreover, the pattern is going to be perfect, with zero chances of error. The shapes and drawings will be crisp with clean edges and no imperfections.
If you spot even the tiniest of errors or irregularities in the patterns, fabric, and colors, there is a chance that your scarf might not be authentic. You also want to ensure that there is a copyright logo of Hermes on your scarf!
Q. How much does a Hermes scarf cost?
Currently, the price range for Hermes scarves (on their official website) is between $110 and $8150.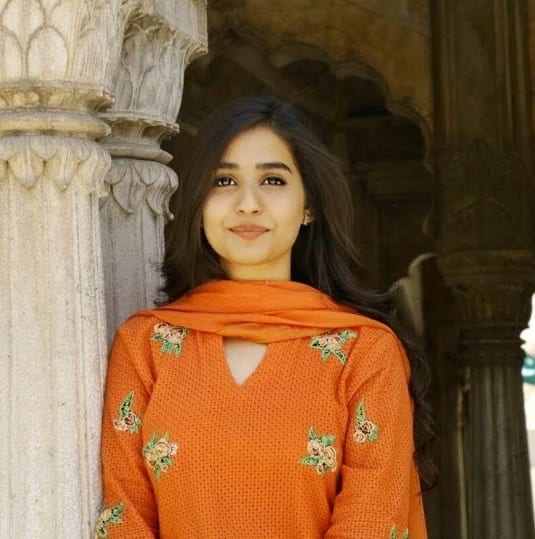 Janeeta Khan loves to write and loses herself in the world of fiction during her free time. You will probably find her curled in the corner with a Harry Potter book and a steaming mug of hot cocoa.