Sneaker balls, a charming blend of formal elegance and athletic flair, have swept the fashion world. These gatherings are a pleasant change from regular black-tie celebrations, with guests encouraged to express their personality and creativity through a mix of classy costumes and contemporary trainers.
If you're going to a ball and are flustered about what to wear, we've compiled a list of 14 trendy, offbeat sneaker ball outfit ideas that will turn heads.
Here's everything that I'll cover today:
Tips on Choosing What to Wear to a Sneaker Ball
Such themed balls offer a refreshing departure from traditional formalwear, allowing you to express your style uniquely and captivatingly.
Combining formal elegance with the comfort of sneakers creates a memorable ensemble bound to turn heads and make a lasting impression.
If you need clarification about what type of sneakers to wear, you can always pair stylish sneakers that complement your outfit. High-top sneakers, sleek minimalist designs, or even sneakers with metallic or glitter accents can work wonders.
Opt for sneakers that strike a balance between style and comfort. Consider clean, sleek designs that easily transition from formal to casual settings.
Elevate with Accessories. Add a touch of sophistication with statement accessories. A chic clutch, elegant jewelry, or a stylish belt can elevate your look and tie the ensemble together.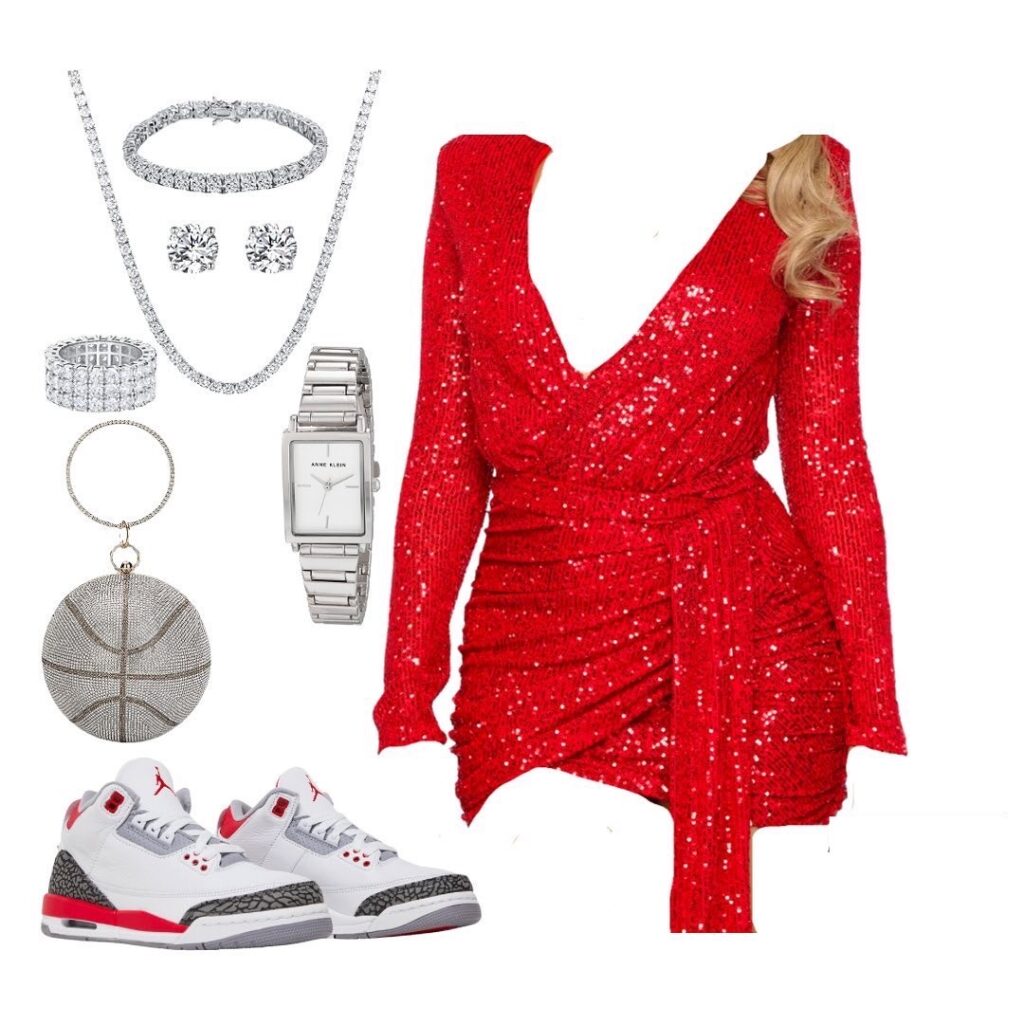 Don't be afraid to play with color! You can coordinate your sneakers with outfit elements, such as jewelry, belts, or a dress, for a cohesive and stylish look.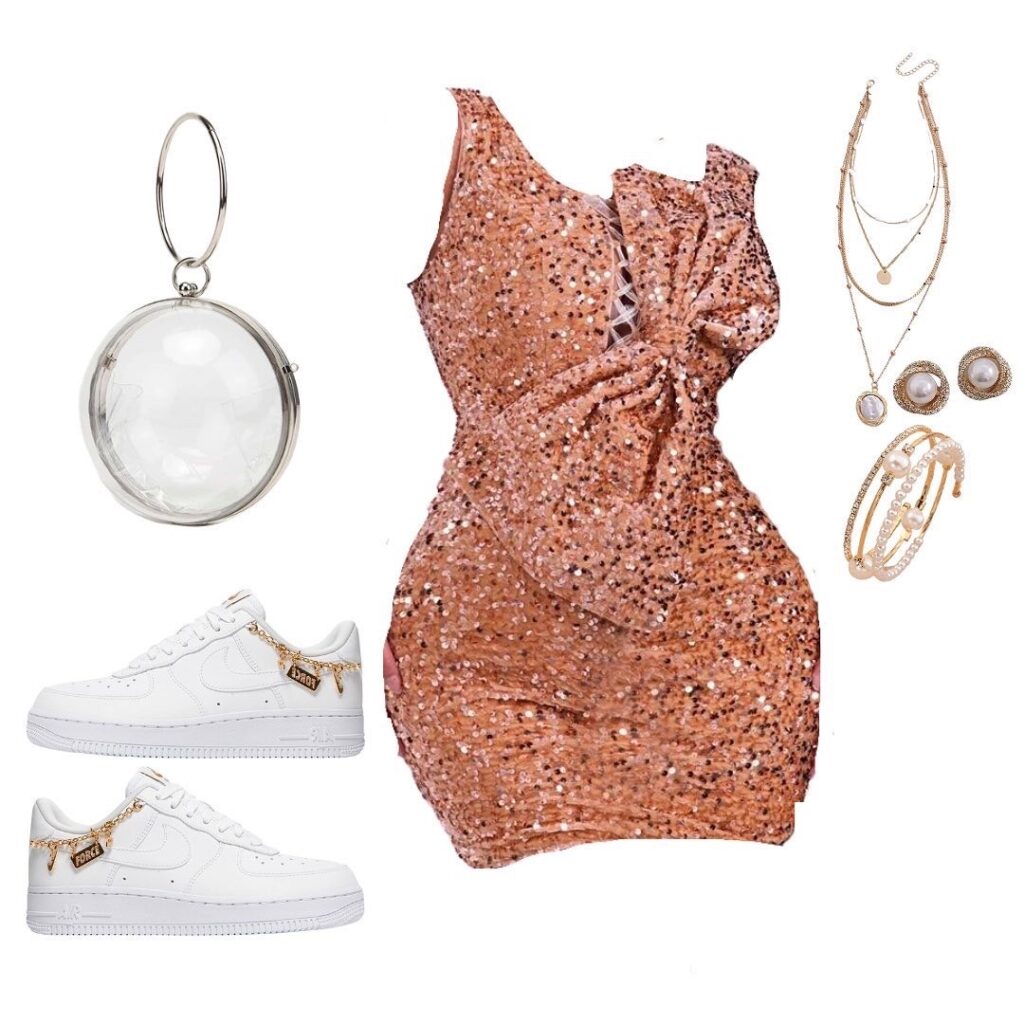 Mix Textures. Combine different textures to create a visually interesting outfit—pair sneakers with silk, satin, lace, or sequins to add depth and contrast.
Consider Dress Lengths. Sneakers work well with various dress lengths, from mini to maxi. Experiment with different hemlines to find the perfect balance between elegance and sportiness.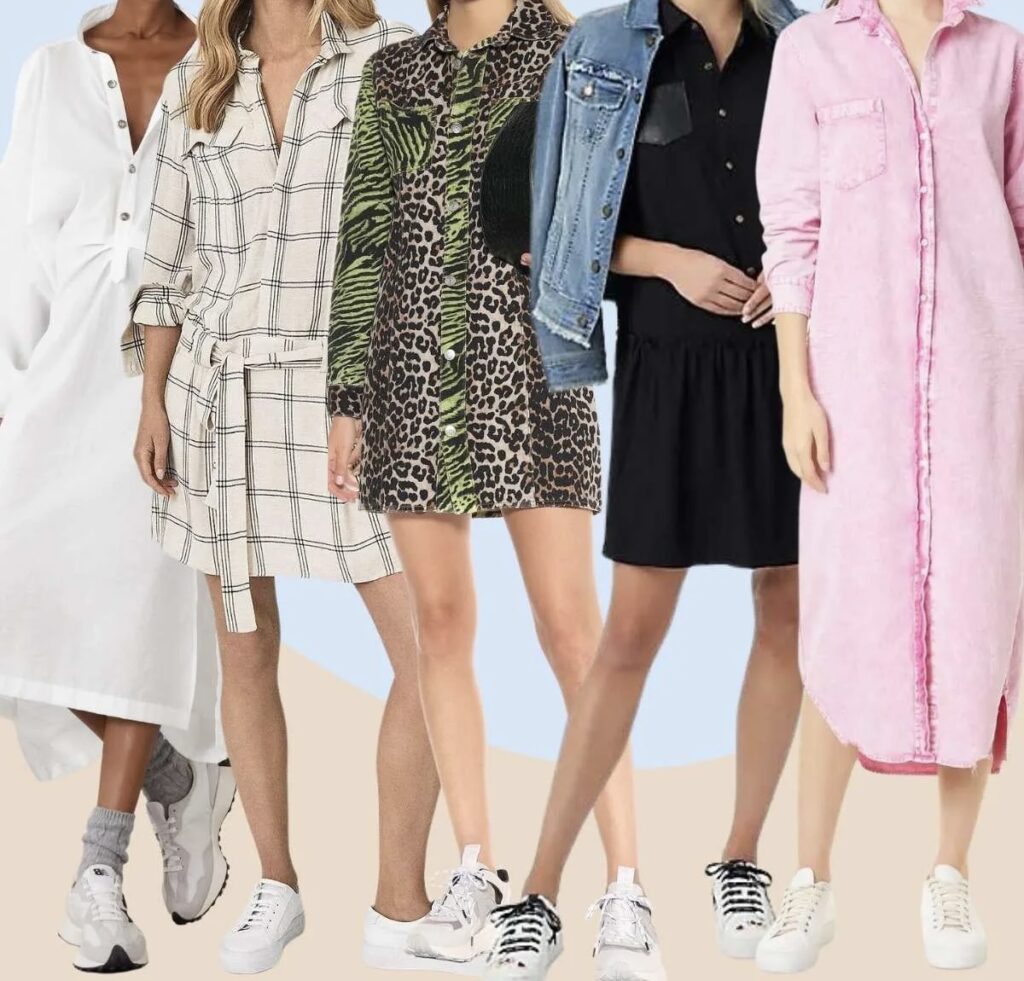 Tailored Jumpsuits. A tailored jumpsuit paired with sleek sneakers offers a modern twist. Choose a jumpsuit that flatters your figure and adds a touch of sophistication to your look.
Monochromatic Ensemble. Create a sleek and stylish outfit by wearing sneakers and clothing in the same color family. This monochromatic approach adds a touch of elegance to the sporty vibe.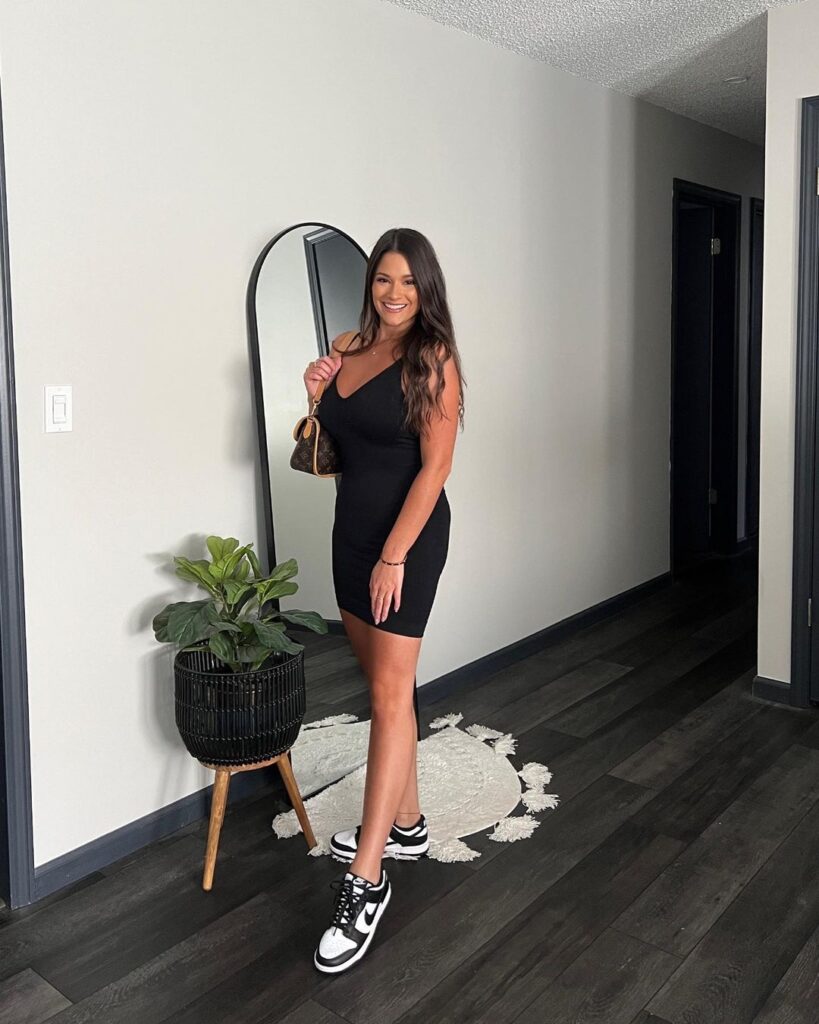 Embrace bold prints and patterns to make a statement. Whether animal print, florals, or geometrics, pairing sneakers with eye-catching prints adds a playful touch to your look.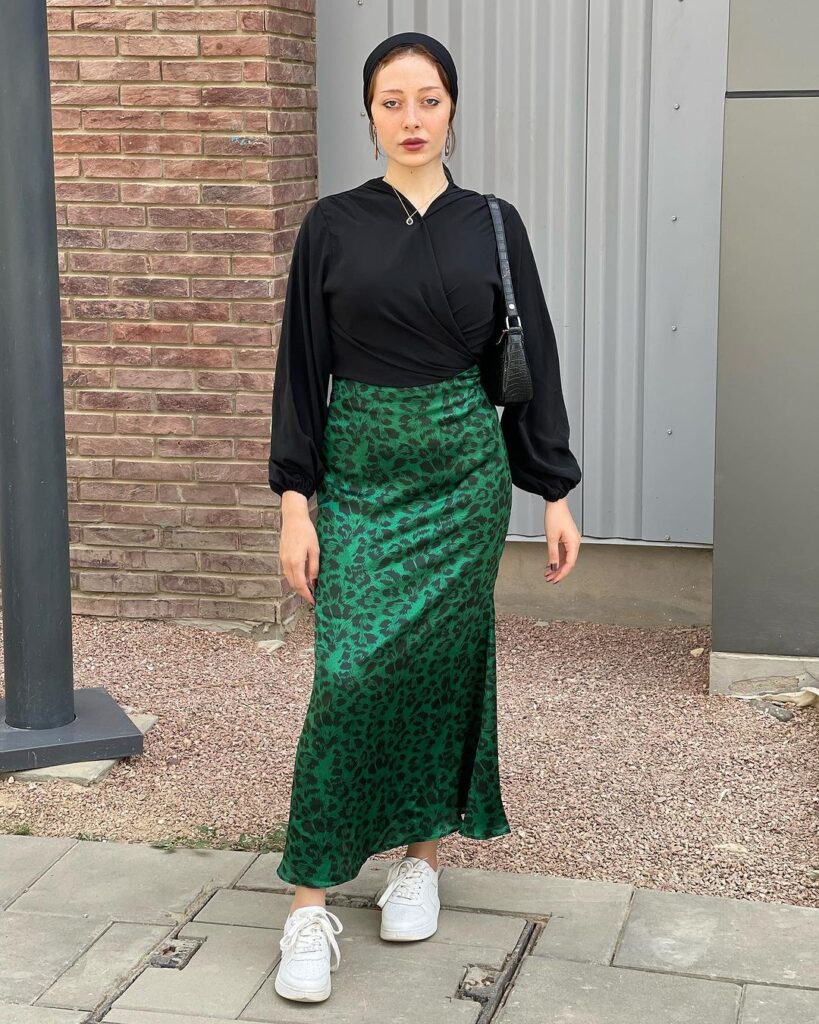 Please make sure that your outfit fits well and flatters your body shape. Proper tailoring and a well-fitting dress or suit can significantly affect your appearance.
Confidence is Key. Wear it with confidence regardless of your outfit choice. Embrace the unique blend of formal and sporty elements, and let your personality shine through.
Match your hairstyle and makeup to the overall vibe of your outfit. Opt for a sleek updo or soft waves, and choose the makeup that enhances your natural features.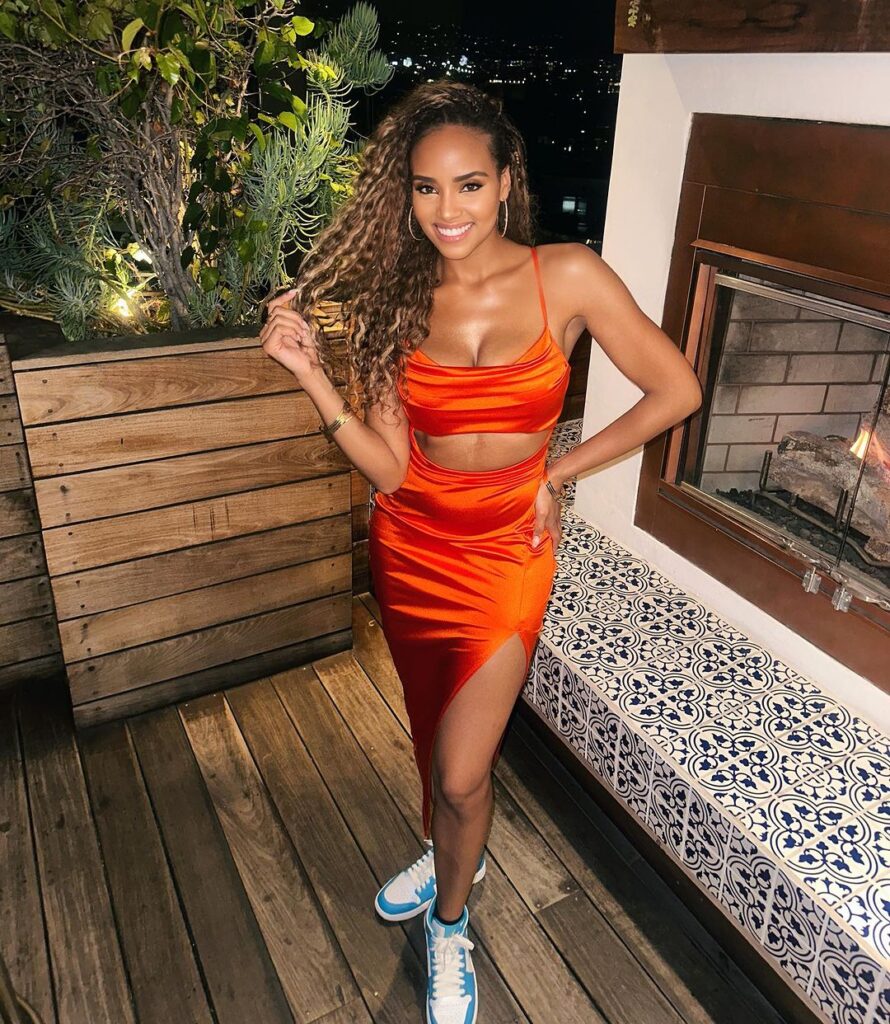 Infuse your personality into the outfit. Whether it's a pop of color, a unique accessory, or a fun pattern, adding a personal touch makes your ensemble your own.
Look-book for the ball
14 – Floor-length Ball Gowns with a high slit
13 – Jumpsuits with sneakers
Select a jumpsuit that suits your body type and personal style. Whether it's a tailored jumpsuit for a polished appearance or a loose-fitting jumpsuit for a relaxed vibe, make sure it flatters your figure.
Enhance the look with accessories such as a belt to cinch the waist and statement earrings. Choose sneakers that complement the jumpsuit's style and color scheme.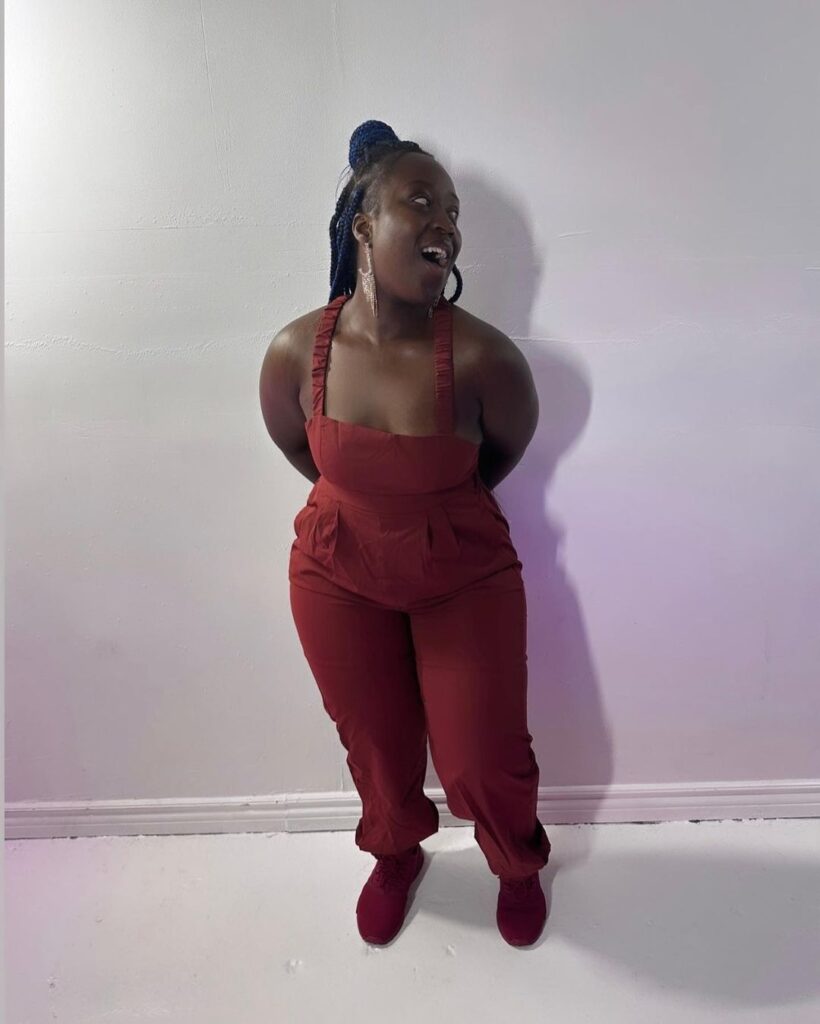 12 – Classic Elegance Meets Athletic Edge
11 – Gown and Glittering Kicks
Don an elegant evening gown with a high slit or a dramatic train and pair it with sparkling, high-top sneakers. This unexpected juxtaposition of luxury and sportiness creates a captivating, chic, comfortable ensemble.
10 – Casual Cool in Cocktail Attire
Choose a blue cocktail dress in a vibrant hue or bold pattern for a laid-back yet polished vibe. Complete the look with stylish sneakers matching your outfit's color palette.
This combination exudes a playful charm, ensuring you're ready to hit the dance floor easily. I especially love this look due to the side action of the train! It adds character to the whole look.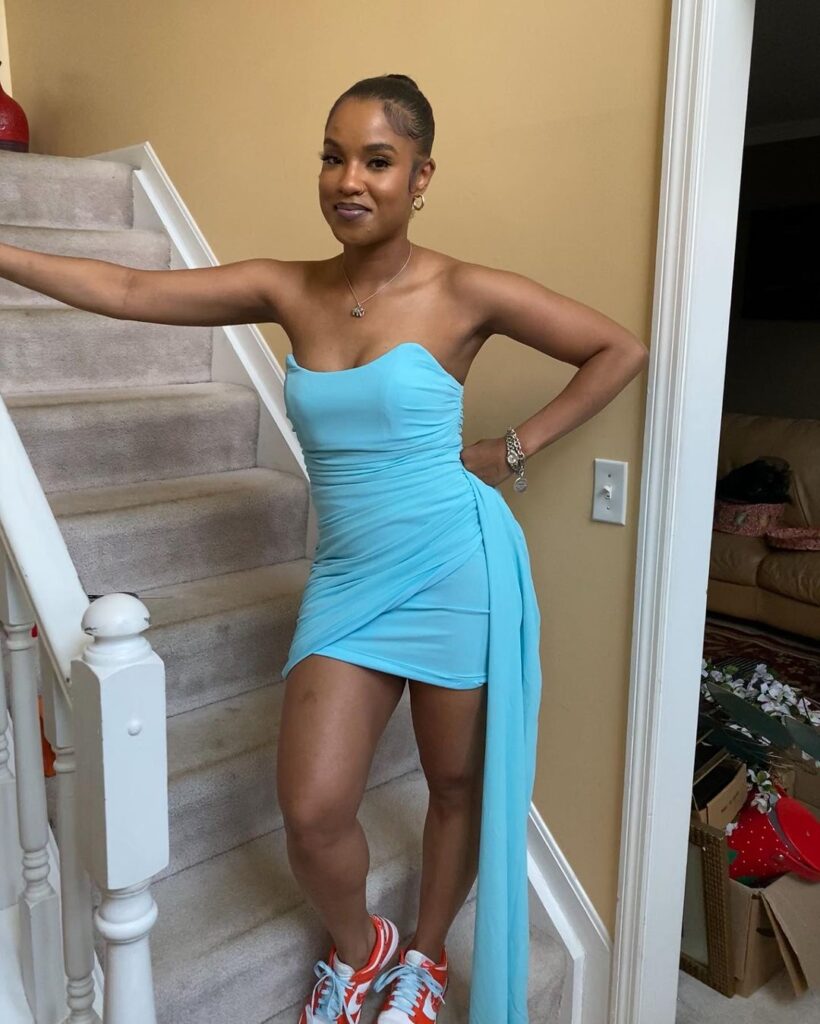 9 – Monochrome Magic
Create a monochromatic masterpiece by selecting an outfit and sneakers in the same color family. This cohesive look perfectly balances formal and casual.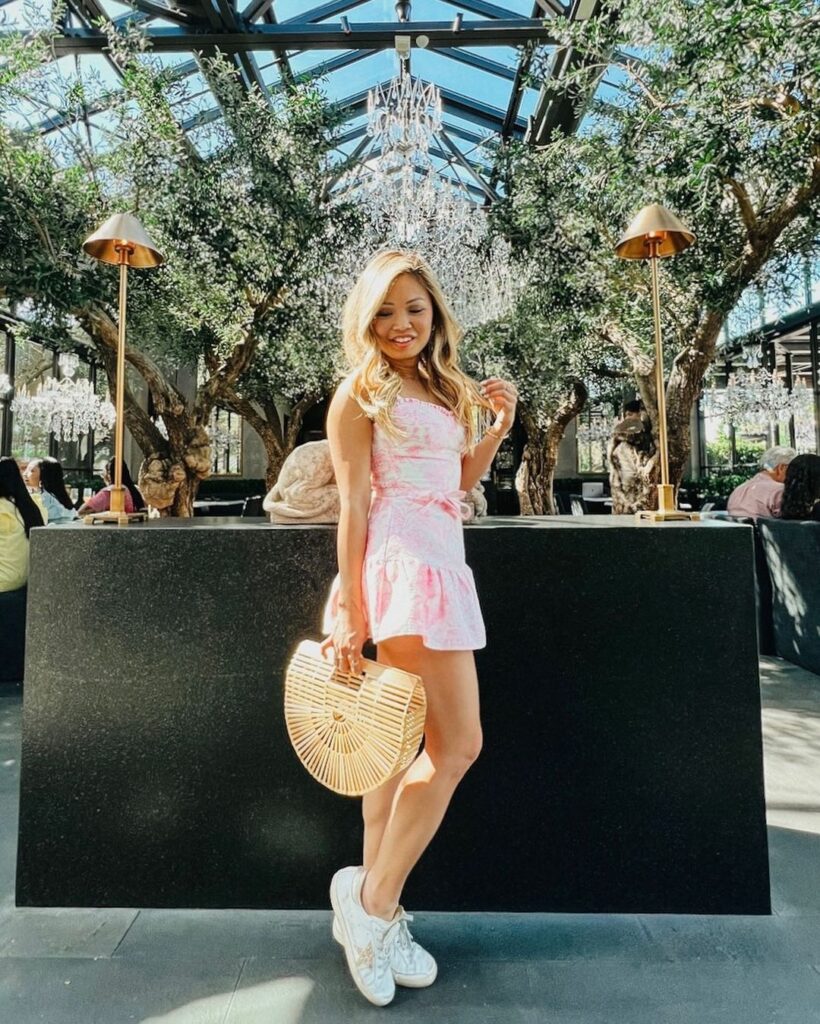 8 – Suiting Up with Sneakers
7 – Flowy Dresses and Funky Kicks
You can wear a flowy, bohemian-inspired maxi or midi dress and elevate it with trendy sneakers. This effortlessly chic combination is perfect for those who want to dance the night away comfortably.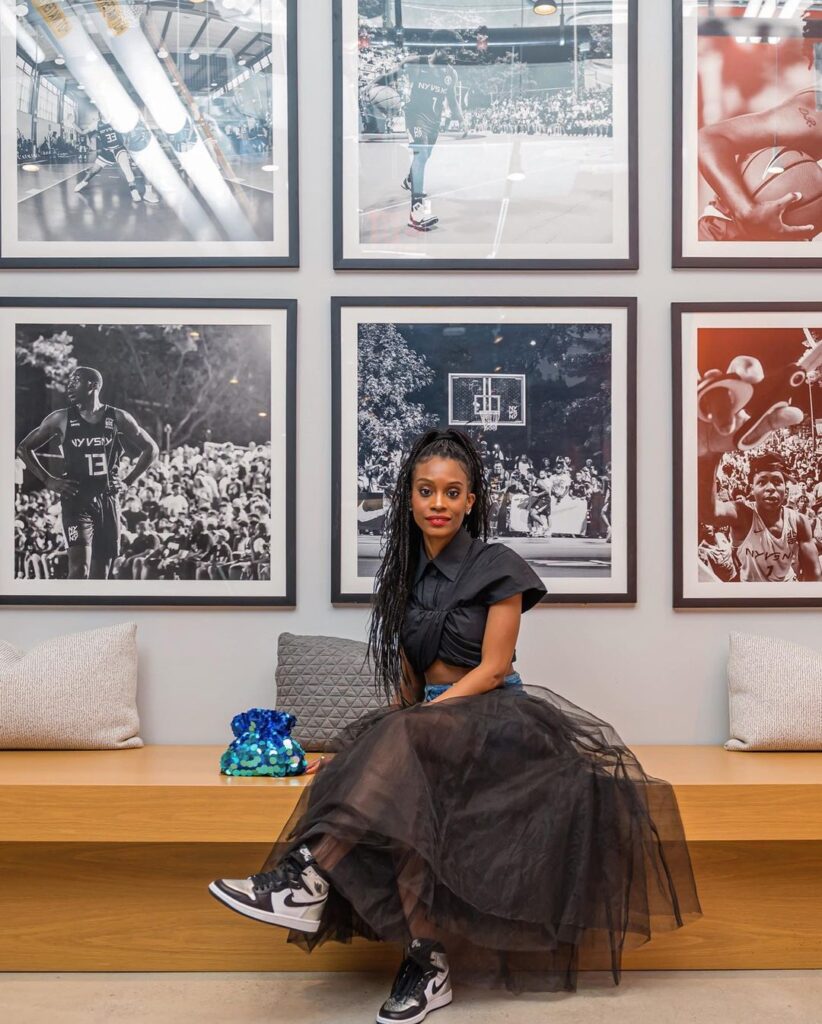 6 – Artsy and Eclectic Ensemble
If you're up for a challenge, try artfully mixing patterns, textures, and accessories. Combine a tailored blazer or a coverup shirt, patterned pants or skirt, and a pair of eye-catching sneakers to create a truly memorable look.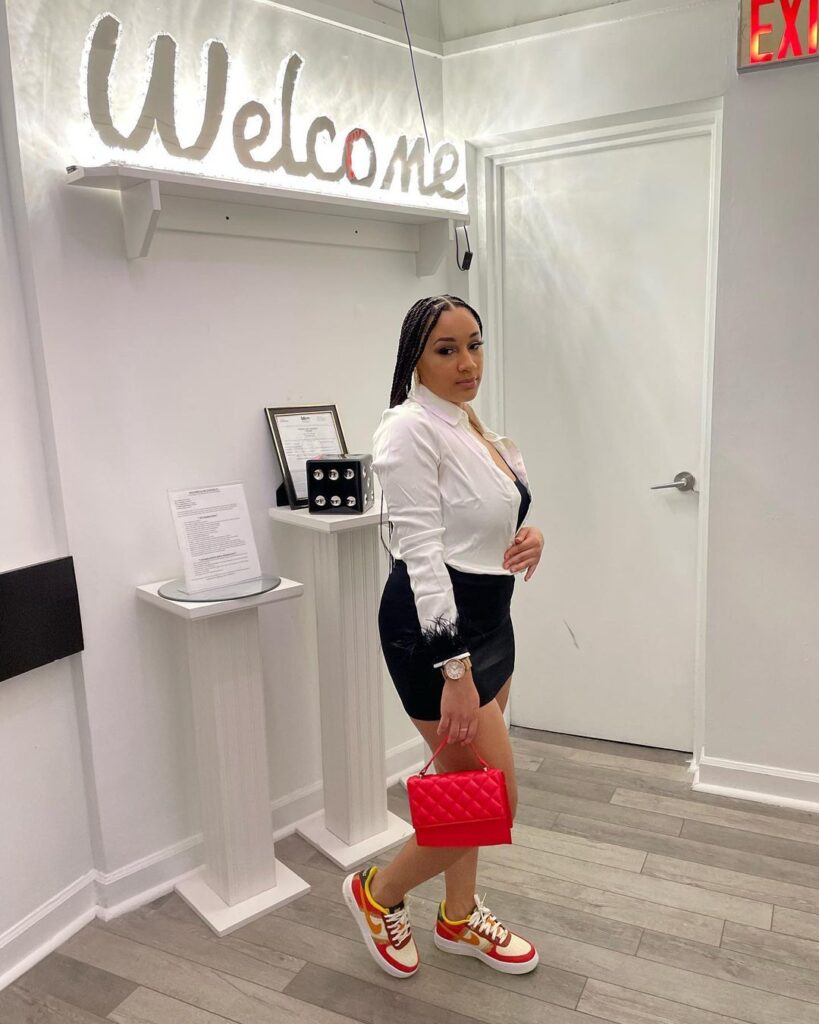 5 – Glamorous Gowns and High-Tops
Infuse a touch of glamour into your sneaker ball outfit by pairing a ball gown with high-top sneakers. This unexpected pairing exudes confidence and a fashion-forward attitude.
Celebrity Inspiration
4 – Serena Williams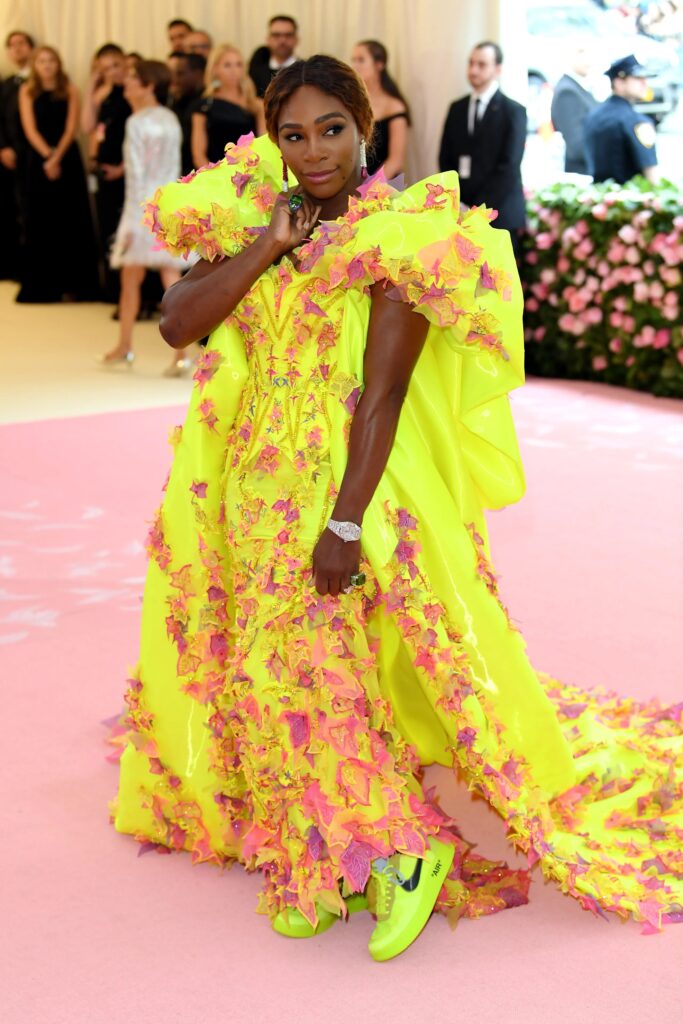 3 – Dua Lipa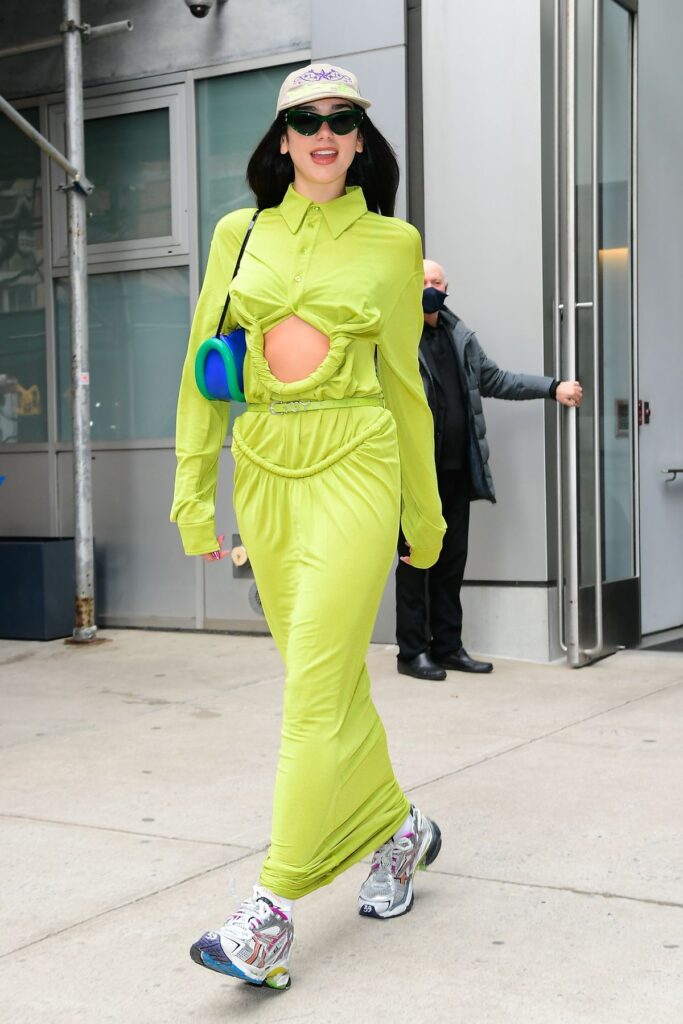 2 – Rihanna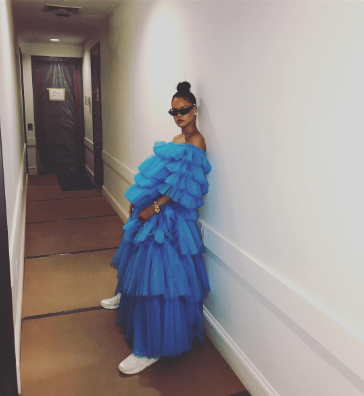 1 – emily ratajkowski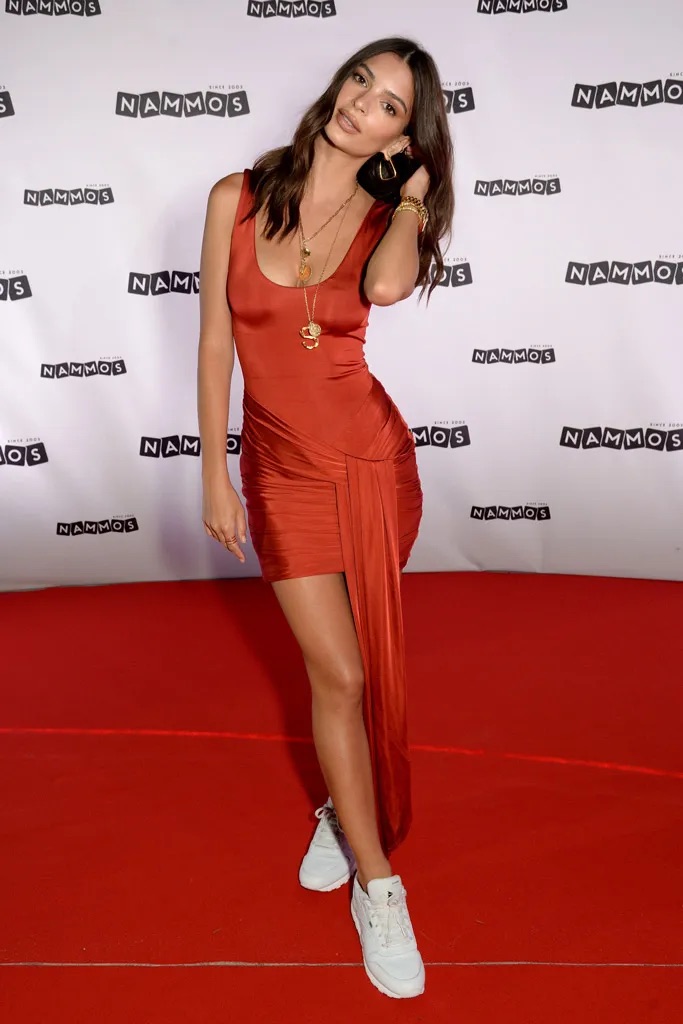 University student by day and a ferocious writer by night. As an avid homebody, I'm a lover of naps, cookie dough, and currently residing in the borough I love, most likely multitasking. :)