Outfits with pumps: While putting together your planned look, footwear is one of the most essential things to consider. Just don't take them lightly, as they can literally make or break your look. And when we talk about different footwear options, pumps are one of the choices that come to our mind.
Pumps are not new to us, and they are also not too difficult to style. They can go with all your casual and formal outfits. The best part is the comfort that they can provide.
Outfits To Wear With Pumps
There are many different kinds and colors of pumps but my favorite ones are the simple black pumps because they can be styled with everything and in any way irrespective of the outfit and occasion.
For the purpose of experimenting with something new, try out platform pumps in brighter colors, with beautiful dresses or long skirts.
Tips For Wearing Pumps Outfits
Do your research: Don't start hunting for pumps randomly, do proper research for what kind of pumps you want and for what purpose. There are many different kinds in terms of design and colors.
Try to experiment: Trying out new things is always a good idea. You can experiment by ditching the basic black and brown pumps and choosing pumps in different colors and prints.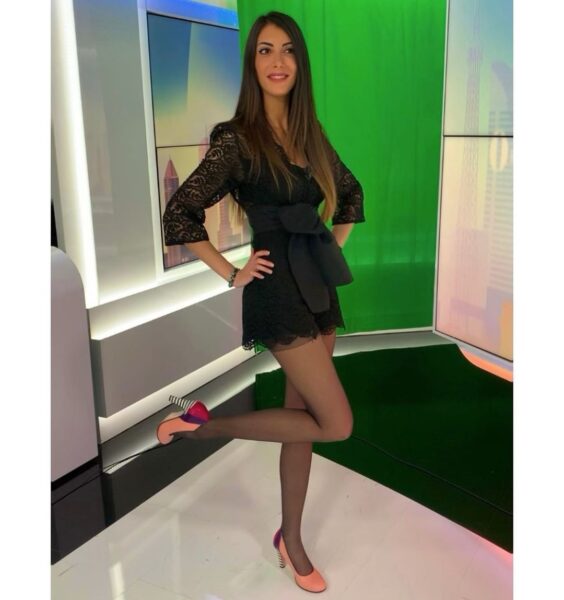 Comfort first: While buying platform pumps or any other platform heels, make sure that you are comfortable walking in them. You should also make sure to buy the correct shoe size.
Be your own stylist: No one knows your wardrobe better than you. Pick footwear that you think is the most suitable for your outfits. Like, neon pumps can really lift up your basic outfits.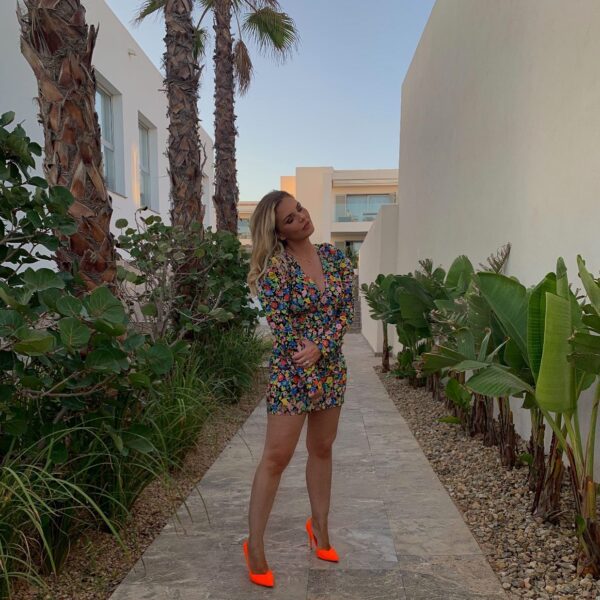 20 – Flat Pumps With White Jeans & Striped Shirt
Formulate this business-formal look by wearing straight white pants with a striped shirt.
Add a cardigan or sweater as a layering option. A shoulder bag and belt could be accessorized as well. And finally, these black flack pumps will complete your look.
19 – Neon Pumps With Jeans & Halter Neck Top
A basic outfit that includes high-waisted jeans and a halter-neck top can be enhanced with the help of neon pumps. Whenever you are wearing a neutral or dull outfit, add a pop of color by wearing neon pumps with it.
It can be a bit confusing to style super bright pumps but stick with it and you'll learn!
18 – Slingback Pumps With Jeans & Top
Slingback pumps are one of the kinds that have straps on the backside. In this outfit, the simple jeans and top look are elevated with the help of fancy footwear.
All you need to do is to find a simple yet chic top with some details like a heart neckline and flared sleeves. Pair it with your casual high-waisted ripped denim and lastly, wear embellished sling-back pumps with it.
17 – Pair White Pumps With Pink Blazer & Metallic Pants
This look consists of a pink oversized blazer and metallic pants which adds a fun touch to this look. Moreover, the white pumps are matched with the top which gives a balanced look.
White pumps can also be styled with other colorful dresses and with contrasting colors. You can also create a fun and different outfit like this one for yourself.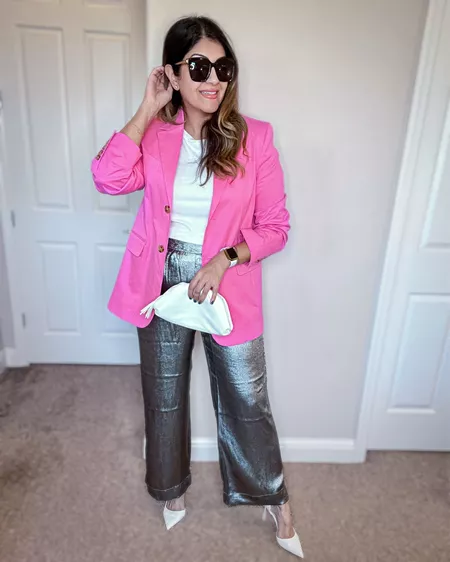 16 – Ankle Strap Pumps With Vest & Dress Pants
This formal look is perfect for work, college, and business meetings. It includes our all-time favorite, a white button down shirt outfit that is layered with an elegant sweater vest.
Moreover, it is paired with blue dress pants, and lastly, ankle strap pumps are paired with the outfit. Even the color combinations are very elegant and sober making it perfect workwear attire.
15 – Red Pumps With Leather Pants & Denim Jacket
Leather pants are already a great choice for a chic look and pairing them with red pumps will make an absolutely stunning outfit.
Wear an all-black outfit with leather pants and a black top and layer with a denim jacket to add a pop of color, pair it with the pumps and a bag in red color which complements black the most.
14 – Block-Heeled Pumps With Blazer & Straight Pants
To put together this look, you will need a silk cami top, and straight denim jeans and layer it with a black blazer. You can go with dress pants for a dressier look.
Finally, wear black low-heeled and pointed pumps to finish off the outfit.
13 – White Pumps With Flared Pants & Shimmery Bodysuit
Flared pants are trending and look great with pumps as well. Get this party look by pairing black flare pants with a shimmery bodysuit in orange color. Now to balance the look, go with simple white or nude pumps.
For accessories, silver drop earrings would be a good option, and a small shimmery bag can also be added.
12 – Pink Pumps With Black Leather Dress
11 – Green Pumps With White Dress
Add a pop of color to your white dress by wearing colorful pumps with it. Green is one of the colors that complement white, so it is a good option.
Moreover, pumps in red, blue, and orange colors are some other options to consider. Accessories like bracelets and bags can be an addition to this look.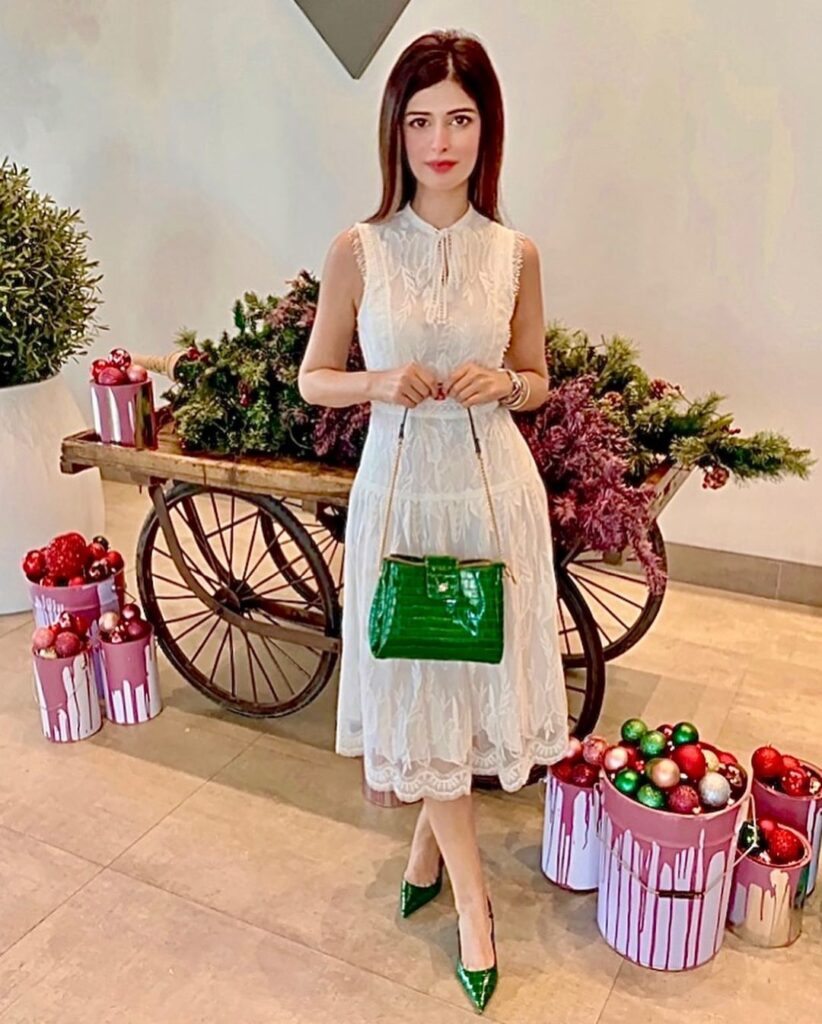 10 – Ankle-Strap Pumps With Summer Dress
The summer season calls for bright and fresh colors. It is also the perfect time to wear all your cute printed dresses and skirts.
So grab your favorite sundress, my top priority would be a floral printed dress and pair it with ankle strap pumps in bright colors like yellow, red, or orange.
9 – Red Tiered Dress With Nude Pumps
The best way to style nude pumps is to wear them with bright dresses. They are perfect for your casual dresses and to give a soft and balanced touch to your bright outfits.
Some other ways of styling nude pumps are to wear them with colored bottoms like orange or green pants.
8 – Brown Pumps With Leather Skirt & Printed Top
The dark brown pumps are perfect to wear with neutral outfits. This monochromatic look with all the shades of brown is super easy to style.
Just grab a leather skirt in a dark brown color and wear it with a printed top. For footwear, go with pumps in chocolate brown color and your elegant outfit is ready.
7 – Glitter Pumps With Skater Skirt & Leggings
Even with a basic outfit like this one, glitter pumps have the power to make your outfit look stunning. To formulate this look, you would need a basic black skater skirt and pair it with any top, either casual or fancy.
Lastly, add sheer leggings and glittery pumps to complete the look.
6 – Leopard Pumps With Shimmer Skirt & Button Down Shirt
This is how you can put together two entirely different kinds of clothing pieces, a formal buttoned-down shirt, and a shimmery party skirt. Grab your favorite white buttoned-down shirt, even a black one would also look great, and tuck it in a shimmery skirt.
A belt, chain necklace, watch, and bag are some of the accessories that you can add. Lastly, add some prints to this look by wearing leopard-printed pumps and you are ready to rock the party.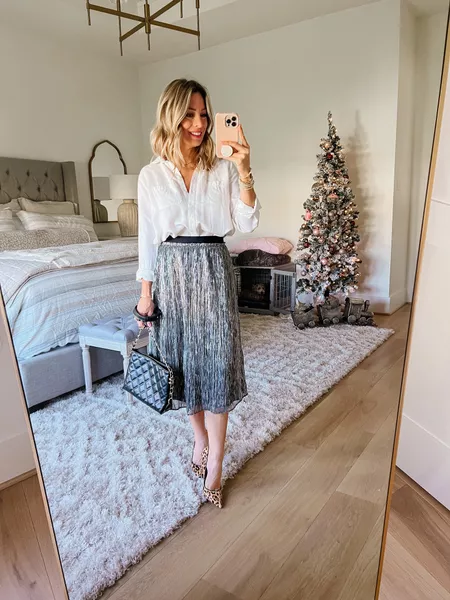 5 – Platform Pumps With Velvet Skirt & Sweater
Red is the color for the Christmas holidays so pick up a red velvet skirt and pair it with a nice and cozy sweater in a combination color.
You can pair simple black pumps with this outfit as well but to try something new, try these ankle strap platform pumps. The color and the design of these heels will snatch all the attention of your outfit.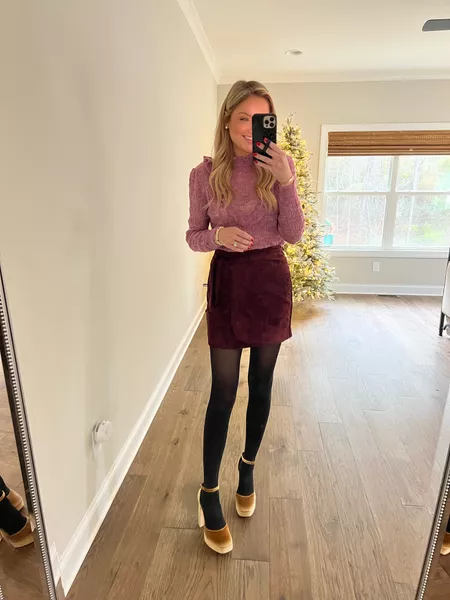 4 – Nude Pumps With Denim Skirt & Orange Top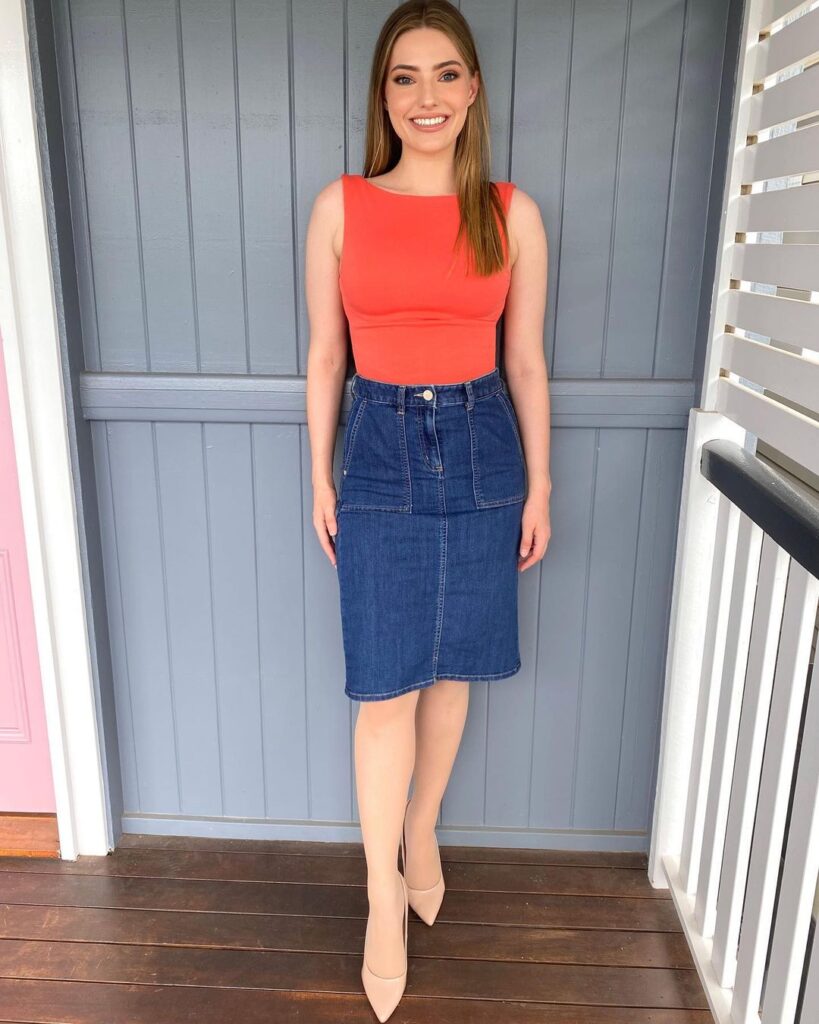 3 – Black Pumps With Matching Skirt & Camel Coat
As we know that black pumps look classy with everything and pairing them with winter outfits is an even better option. So, formulate a winter outfit by pairing a skirt with a blouse and layer a long camel coat over it.
Lastly, wear black pumps to complete the look.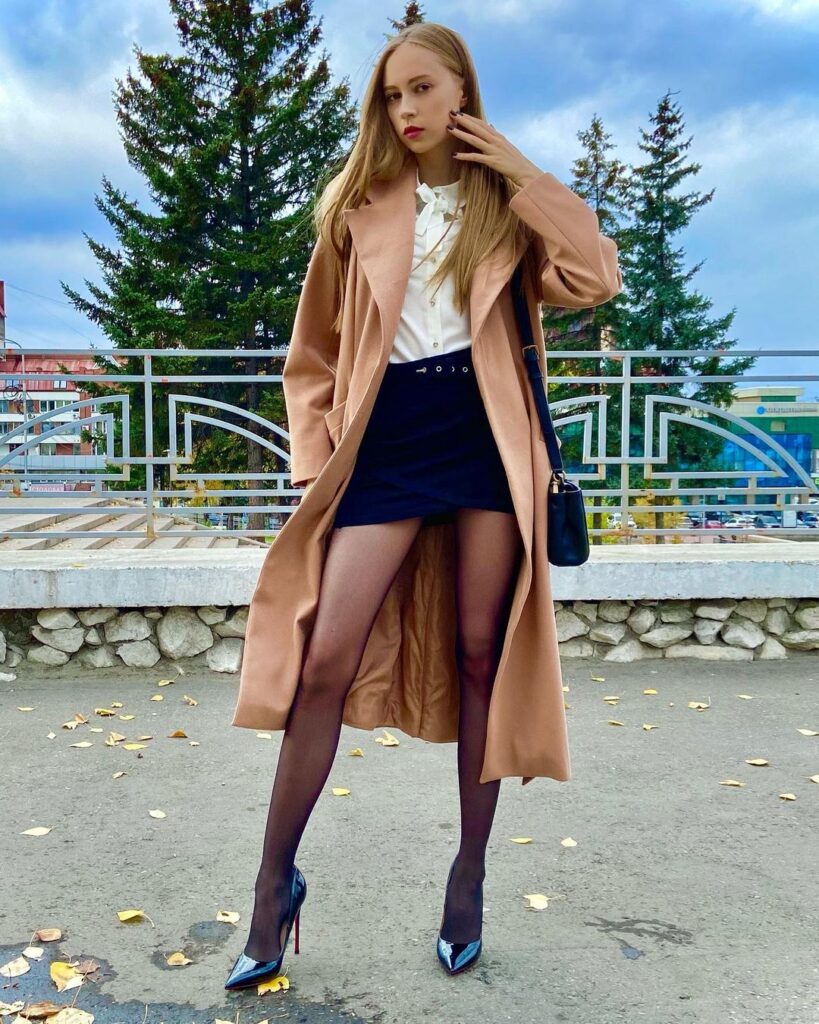 2 – Metallic Pumps With Silk Neon Blazer Suit
Styling and carrying a complete neon outfit is not an easy task. This look is an inspiration for people who love color blocking. Pair a neon blazer suit with a colored top such as bright pink or blue.
And go with metallic pumps to give a sparkly look to your outfit.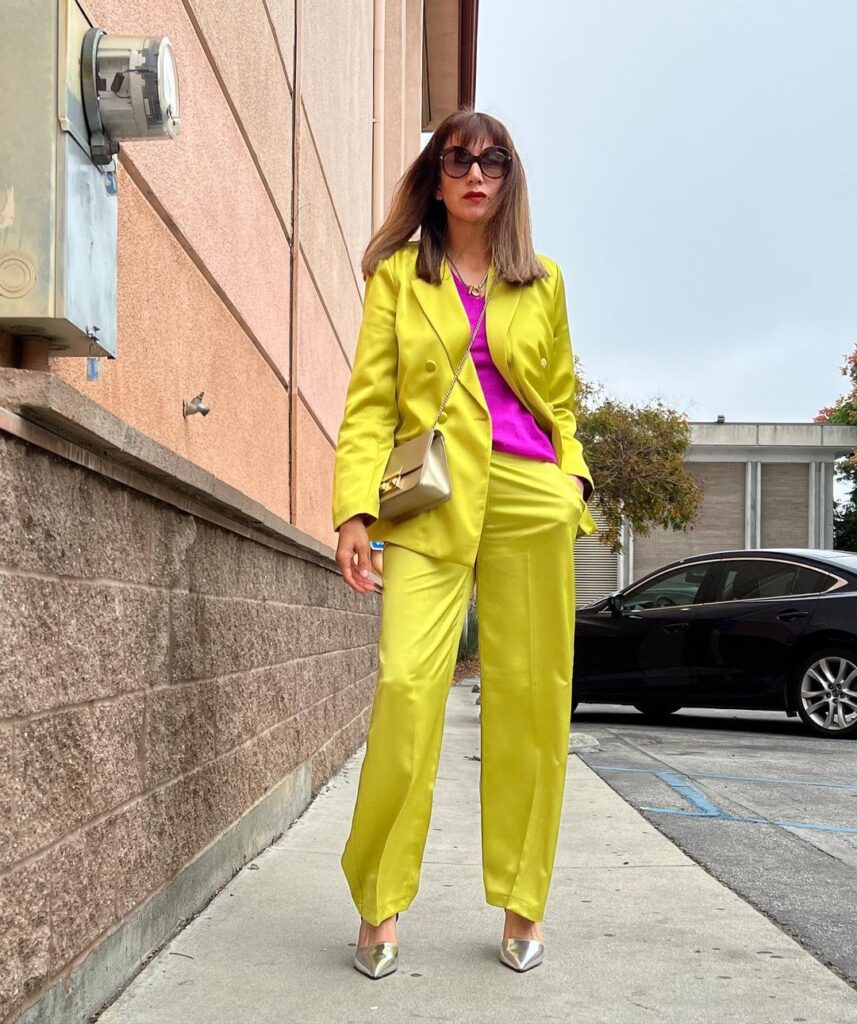 1 – Embellished Pumps With Sequin Blazer
How much shimmer is too much shimmer? Well, never enough for partywear. Get your glam game on by wearing this oversized sequin blazer.
Accessorize it with statement earrings, a crossbody bag, and some other things. Lastly, the footwear should be as stylish as your outfit, so embellished pumps are the best option to go for.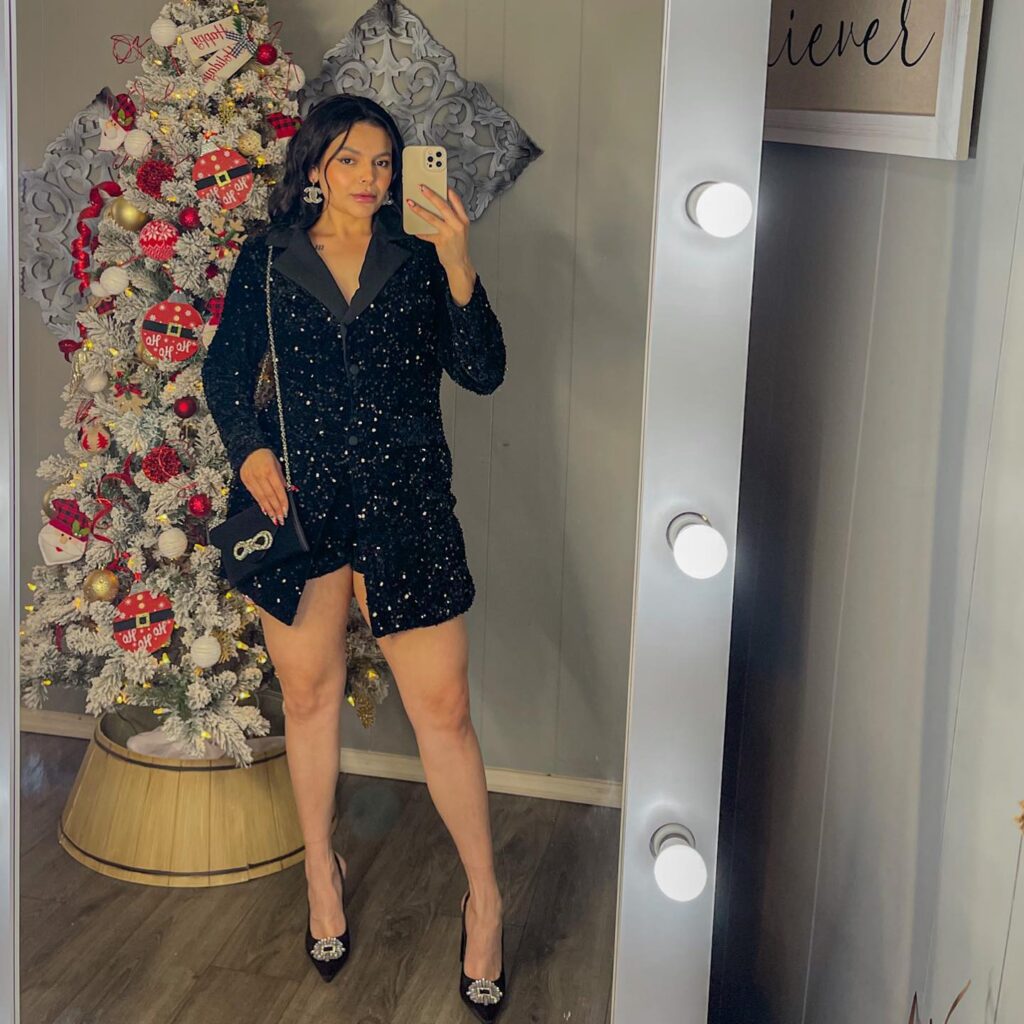 Frequently Asked Questions
Q. What do pumps look good with?
Ans. You might not believe it, but pumps actually look good with almost everything as they are not limited to any one outfit type.
Q. Can you wear pants with pumps?
Ans. Low-heeled pumps are perfect for a corporate look so wear them with dress pants. Platform, block-heeled, sling-back pumps can be worn with straight pants or denim.
Other than that, embellished and shimmery pumps are perfect for party wear and give an enhanced look with leather pants. Bell bottom, flared, and baggy jeans are some of the trending jeans options that look good with pumps.
Q. What do white pumps go with?
Ans. White pumps are one of a kind that can be harder to style. Firstly, if any of your clothing pieces include white, pumps in white can easily be styled with them. Like a white top, denim, and white pumps would look great for casual wear.
Moreover, these pumps can also be styled with white pants by pairing up a bright color top with it. Dresses in dark colors and prints also look good with white pumps.