Button down shirt outfits: You can never go wrong with a crisp white oxford shirt. Button-down tops are super basic and versatile pieces of clothing. They can easily make an outfit formal or even casual if you want. These tops will forever stay classic and in trend because they are the easiest to style and buy too! A button-down top can be worn to the office, birthday parties, or even just to run errands. Wear an oversized shirt for a high fashion look or tuck it in to attend a boardroom meeting. The best part is that if you don't own one, you can just steal one from your father or brother's closet and it'll work just as well.
Button-down tops can be styled in multiple ways. Wear it with jeans, shorts, under a dress, over a dress and whatnot. All you need to make sure is that you like what you are wearing and that you are comfortable in it. Some people may think that button-down tops are not girly enough but that is not true. Button-down tops are a power move and every boss woman will know how to rock one. You should always know that your power lies in your confidence and your confidence is what will take you further in life so rock what you wear with utmost fearlessness and never be ashamed of your choices.
How to Wear Button Down Shirts in Different Ways?
Button-down tops are chic yet classy. Pair them with baggy blue jeans for a casual look and pair them with formal pants for an office look. Button-down tops can even be worn every day if you want. That is the best thing about them, they are a basic piece of clothing and even if you wear them every day but style them differently, no one will be able to tell that you're wearing the same shirt you wore the day before. Wear a dress shirt with a dress or dungarees it will look good no matter what! If you are bold and love to experiment with colors then try buying some colorful and printed dress shirts. They are available in all sorts of prints, floral, pinstripe, polka dot, and even tie-dye. If you like a little more than that then there are ruffle sleeves, cropped shirts, and embroidered shirts. You just have to find what works for you and rock it.
DOS AND DONTS FOR BUTTON DOWN TOPS
• DO wear what you like.
• DO be confident.
• DO experiment with different outfits.
• DONT listen to what people have to say about your clothing
• DONT forget to dress in accordance with the weather.
• DONT forget to smile.
↓ 20 – How To Wear A Black Oxford Shirt
A black button-down shirt is essential. This shirt is a very basic outfit that everybody needs to own. Wear a plain black button-down shirt with lain white formal pants. Pair this outfit with moccasins or even heels if you like. Leave the buttons on the top unbuttoned for a sexier vibe and wear a few necklaces too!
via
Of course you can always go full black if that's your thing.
↓ 19 – Wear It With A Polka Dot Skirt
Wear a plain white button down shirt with a black and white polka dot skirt. This is a fun and cute look for when you have to attend a day time event or catchup with family and friends. Wear a chunky necklace with it if you want and some strappy heels for an even cooler vibe.
↓ 18 – Button Down Shirt With A Pencil Skirt
Pair a black button down shirt with a pencil skirt and you just might love it! This look is a mix of fun and sexy and can be worn wherever you want. Wear it with a pair of flats for a casual look or heels for a more formal vibe. Keep it simple with no makeup or jewelry or choose to go all out girls, your choice!
↓ 17 – Kendall Jenner's Off Duty Model Look
Kendall wore a plain white button-down shirt with a plain white undershirt and some blue denim jean shorts. She chooses to leave the shirt open from the from and it looks super comfortable. Kendall carried a small bag on her shoulder and wore strappy sandals which look super cool along with the sunglasses by the way. You should also check out my detailed post on styling White Shirts.
↓ 16 – How To Style A Silken Button Down
Silk is a material that can be hard to style at times but its not impossible. Wear a pastel silk button down with some plain white formal pants for a gorgeous formal look. Wear this to the office or to a birthday party and watch everyone fall in love with your outfit. Dainty jewelry will be your bestfriend for such outfits.
↓ 15 – White And Beige
This button down shirt has been knotted and tucked inside. It's a different look and not everyone will be comfortable wearing it but if you have the confidence then go for it. Pair it with a pair of beige pants and some heels. This outfit will look best when kept simple but it is your choice how you want to style it.
↓ 14 – Simple Tucked In Look
The simplest way to style a button down shirt has to be to tuck it into your jeans/pants. Wear a plain white button down shirt with blue denim jeans and some sandals for an easy and perfect look. It will look like you put so much effort into your outfit when in reality, it didn't take much! Put your hair up in a bun for an even more effortless look.
↓ 13 – Wear It Under A Dress
Have you ever tried wearing a button down shirt under a dress? Well this is your chance. Wear a plain white shirt under a spaghetti strap dress and pair it with some boots. This is hands down the coolest outfit ever and you will have people asking you all the time where you got it from. Win win situation right?
↓ 12 – Cropped Button Down
Cropped button downs are super cool and good for the summer time. You can look good and also not feel super warm. Pair a plain white cropped button down with some blue denim jeans and a red bag for some contrast. Baseball caps are trending these days, throw one on to save a bad hair day or just for a cool vibe!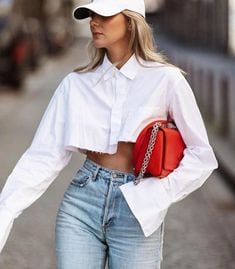 ↓ 11 – One Side Tucked In
This is a dope look and has a very high fashion vibe. Some people may not even be able to pull it off but you just have to remember to have confidence and you can do it! Here's how to do it, simply wear a white button down shirt with some denim skinny jeans and tuck one side in and leave the other one out. Pair this with a pretty chain shoulder bag and matching jewelry.
↓ 10 – Front Open Button Down Shirt
There's just something about leaving a button-down shirt unbuttoned that is so sexy. Wear a brown undershirt with a brown shirt on top and shorts in a matching shade. This is the perfect outfit for summer or spring. If you like to dress less girly then you will definitely love this outfit!
↓ 9 – Button Down Dress
This button-down looks super cute with a matching skirt. If you like to wear skirts then this is the outfit for you. It looks like a dress from afar which is even better. This outfit has a very princess vibe to it so if you like to dressed up then this is something you will like. Wear a cute pair of sneakers with this outfit and you got yourself a banging outfit. Wear some dainty jewelry with it and let your hair down!
↓ 8 – How To Wear An Oxford Shirt With Shorts
Shorts are perfect for the summertime. Try out this outfit with a plain white button-down shirt and some black leather shorts to make it formal. Wear some heels with this outfit and wear it to a birthday, meeting, or dinner. Some big hoop earrings would look lovely with this fit.
↓ 7 – Red And Black
Maroon and black have always been known as one of the best color combinations. Wear a maroon button-down with black high-waisted skinny jeans for a sexy formal look. This look would be great for valentines day! Wearing a black leather belt will transform your look too. Try wearing a necklace and some rings.
↓ 6 – What to Wear with a Striped Button Down Shirt
Stripes are cute and trendy. Stripes have something about them that no other print will ever have. Pair a striped oxford shirt with a striped pair of palazzo pants and you will have yourself a dope formal look. You can wear this to a birthday party, anniversary dinner or even a meeting. Wear some silver jewelry with this outfit and you're good to go! Here are some more of our favorite Striped Shirt Outfits.
Striped button down shirts are also an excellent choice for work outfits as you can easily wear them with jeans, pants or even with skirts and layer over with a blazer for that totally professional look!
And last but not the least, a striped button-down shirt of almost any color looks super chic with white jeans.
↓ 5 – Selena Gomez's Black Button Down Shirt Outfit
Selena wore a plain black button-down with some formal pants and black heels. Selena kept the look simple with minimal makeup and jewelry but chose to let her hair down. She also carried a black Prada handbag to complete her classy look. Selena never fails to impress. You can wear this look to a formal dinner, birthday party or even a meeting and look just as dashing as Selena Gomez did!
↓ 4 – Knotted Button Down Shirt
Try tying a button-down from the front into a knot. Wear a cute bralette underneath it to make it look sexy. Beige pants or any sort of formal pants would look good with this shirt. Don't forget a pair of cute heels or sneakers and a tiny handbag to complete the look!
↓ 3 – Yellow And White
This overcoat style dress is so dope paired with this dress shirt underneath it. The sneakers make this look so perfect and comfortable that anyone could rock it. This outfit is for anyone that loves to stay forever young, wild, and free because it involves bright colors and sneakers. If you are a young spirit then you should definitely try this outfit.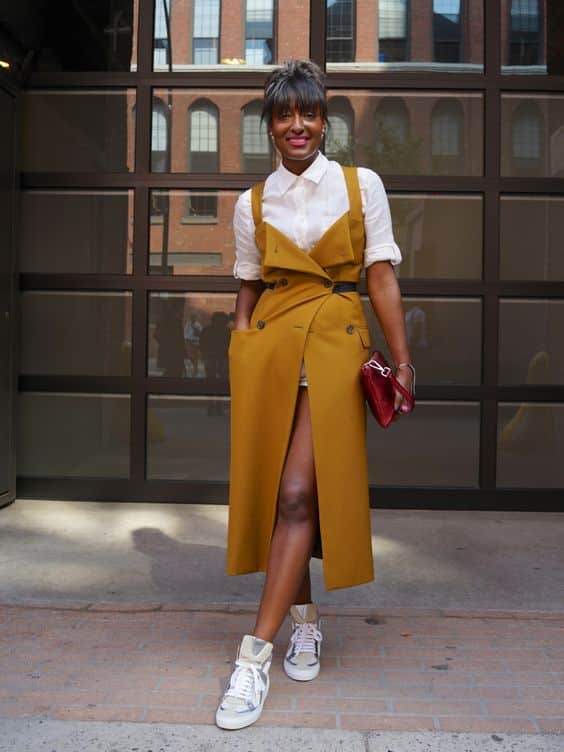 ↓ 2 – Leather
Leather button downs are super dope and can only be worn in formal environments and cooler temperatures but don't be afraid to wear them! Wear a leather button down with some beige pants or jeans. Wear some chunky necklaces with this outfit to complete the look.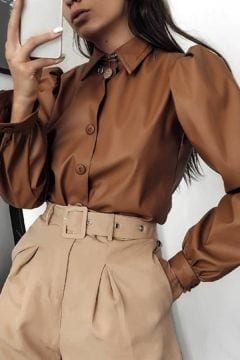 ↓ 1 – How To Style a White Button Down Shirt With Dungarees
Dungarees are the look! Wear a plain white button down shirt with blue denim dungarees. Wear this outfit with some black heels or sneakers and carry a black handbag. You can wear this outfit to a birthday party or a lunch date. Gold hoop earrings would look great paired with this outfit.
Frequently Asked Questions
Q. Are button down tops female or male attire?
A. This question is quite weird considering it is 2021. What's female and what's male attire? Anyone can wear whatever they like. If you think you can wear an oxford shirt just because it manly then you are wrong. I hope you realize that women can wear whatever and so can men. Button-down shirts are perfect for whoever wants to wear them and there are tons of outfits that you can wear with them as well. Let go of stereotypes and be free!
Q. What is the difference between a button up and button down shirt?
A. Button up shirts are basically shirts that have buttons running up the front and button down shirts are the same but they have additional buttons on the collar.
Q. Are button down tops formal or casual?
A. Button-down tops can be both formal and casual. If you prefer to dress up formally then these tops can be formal but if you prefer to keep it casual then you can just wear it with jeans or a pair of shorts. Button-down tops can be worn in tons of different ways and some formal outfits include wearing these tops with a blazer or formal pants. This article includes 20 unique ways to style button-down tops, hopefully, you will find some good ones.
I am a women's holistic health coach and student that enjoys history, experimenting with makeup and skincare, playing sports, working out, and doing all things adventure-related.