Aviator Jacket Outfits: Whether you are looking for a rather relaxed look, or you want to add a more contemporary edge to your overall style this winter an aviator jacket is exactly what you need to wear!
These jackets have been in the fashion industry for decades and yet they never seem to run out of style. Not to mention, they seem to keep the perfect balance between trendy and low-key clothing.
You can throw one on when you are running to the grocery store for some last-minute ingredients or you can rock one as a date outfit.
It all depends on the way you wear it!
With the weather slowly churning towards a rather relaxed yet chilly atmosphere now would be the perfect time to whip out a jacket and add a rather stunning spin to your otherwise everyday looks.
There is a reason these jackets not only have become a silver lining in pop culture but have also refused to run out of style and once you realize the countless methods to pull these stunning leather-coated jackets off you will wish you had gotten on the bandwagon of styling and buying them ages ago!
What To Wear With Aviator Jackets?
One may stumble into a well of confusion when it comes to styling jackets. However, you need not worry as there are indeed countless ways to pull up new fashion ideas regarding leather-based jackets.
It's important to remember that since Aviator Jackets have been around for decades they have definitely picked up a reputation for being worn in some extremely interesting ways. These jackets have been worn not only by pilots but by celebrities as well some of the largest names in media so far.
Let's suppose you seem to be stuck, standing in front of your wardrobe not knowing what to wear as the leather jacket stares back at you.
Well, why not think about instantly picking up the first white sweater in your closet, throw in a pair of black skinny jeans and even a white muffler, and there you have it!
With some boots to finish off the look, you can head out of the door not only with your confidence at an all-time high but with the worry of feeling uncomfortable or cold out of the way as well.
One of the most unique aspects of adding such a jacket to your outfit is that the jacket itself can instantly lift your overall look without the need for you to make too much effort within the rest of your clothing.
Tips on Styling Aviator Jackets:
Before we dive into a more detailed inspection of all the ways you can wear your jackets, let's talk about some important do's and don'ts of styling these items of clothing first.
A good fashion tip is to make sure that you add on a few layers before throwing on your jacket. the layering helps in giving off a rather put-together and thoughtful look. The options for layering are endless, from button-ups to solid-colored shirts and even turtlenecks.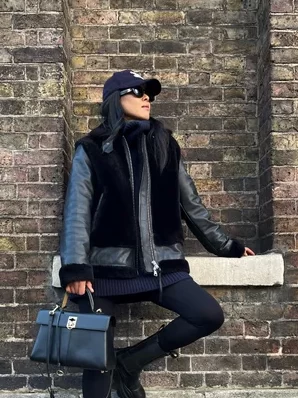 Don't forget to keep it classy:
Classy, seems to be the literal definition when it comes to aviator jackets. Try picking classic colors as well as styles when you go shopping, it's a promise that a rather bold black one would look better than an otherwise bright-colored hippie one.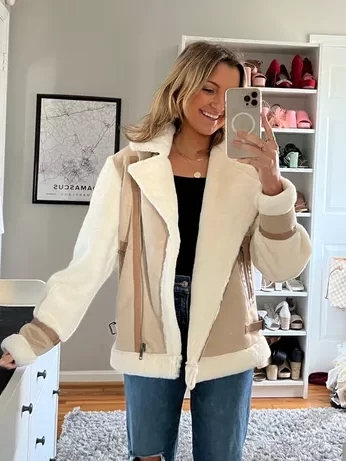 Try to get a tailored fit:
Since leather is a key aspect of these jackets one thing you must keep in mind when going shopping is to look for one that is not too loose on your body type. The leather shines at its best when it is fitted so don't grab the first thing you see. It's best to go through a trial-and-error phase first with the sizes.
Now let's move on with some ideas on how to wear aviator jackets:
Casual Looks
22: With Leather Pants
Leather pants have slowly found their way into our hearts over the past year and what better way is there to flaunt the new fashion trend other than pairing them with a nice warm jacket?
Whether it's a coffee with friends or simply running late to class this ensemble of an outfit will promise you the perfect put-together look without the essence of too much effort.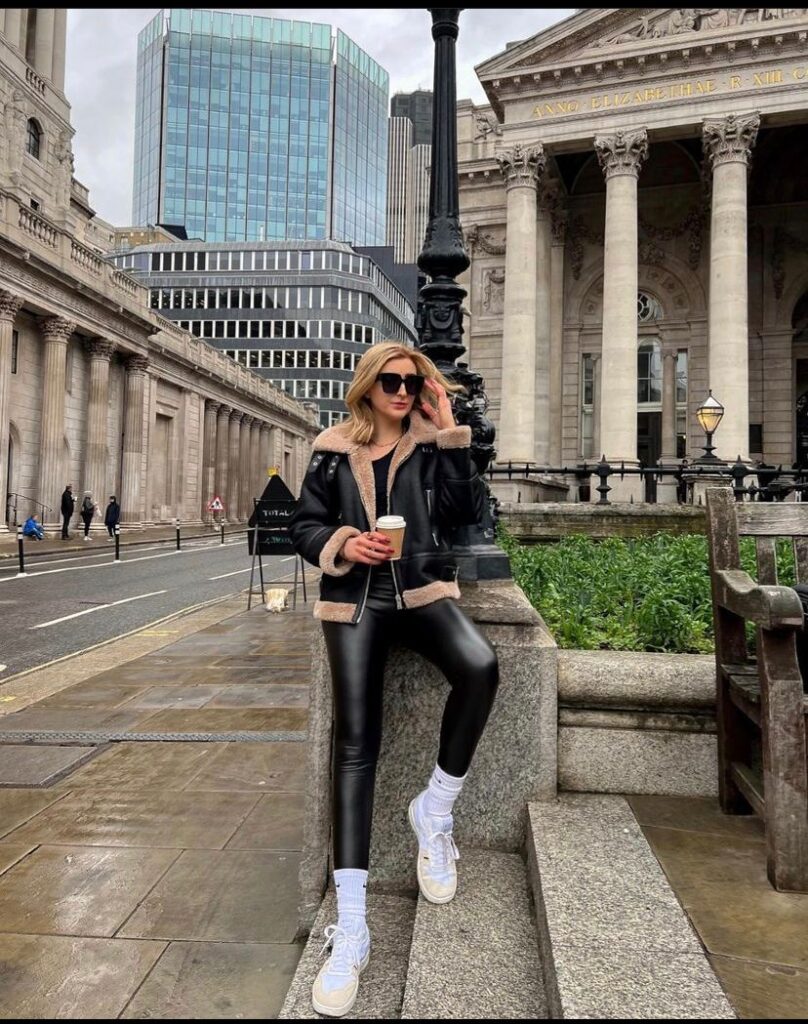 21: With Jeans & Ankle Heeled Boots:
These jackets have been known to go hand in hand with jeans, blue, black or grey you name it!
As soon as you throw on a pair of jeans and slip on a rather comfortable-looking jacket, your look instantly goes from casual to classy.
Throw on a pair of shades and watch as heads turn toward you in awe!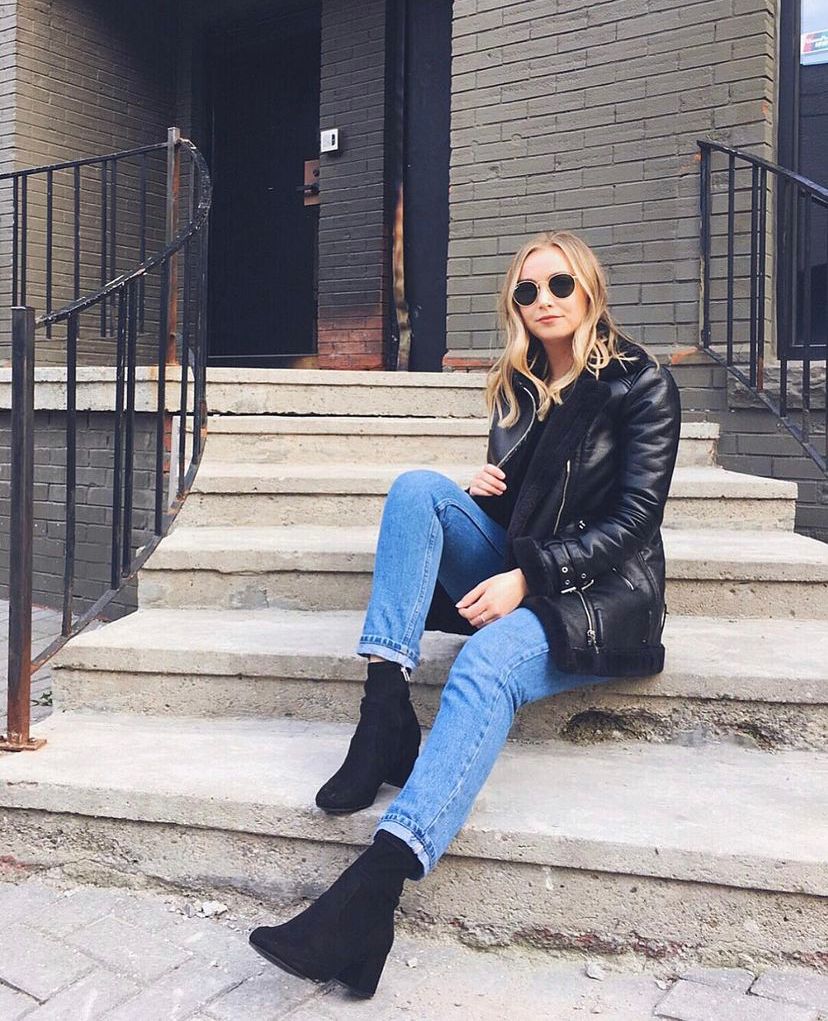 Square Block-Heel Chelsea Boots
20: With Turtleneck Sweater and Boots:
Turtlenecks are known to carry us with grace, you mean business when you start to pair a nice warm-colored turtle neck sweater with boots, you will definitely begin to shine as the girl boss you are.
The leather jacket accompanied by a rather soft fur-like material upon the collars will keep you warm from the cold.
The outfit as a whole is all you need to fight off the doubt around you and get to business with confidence in yourself.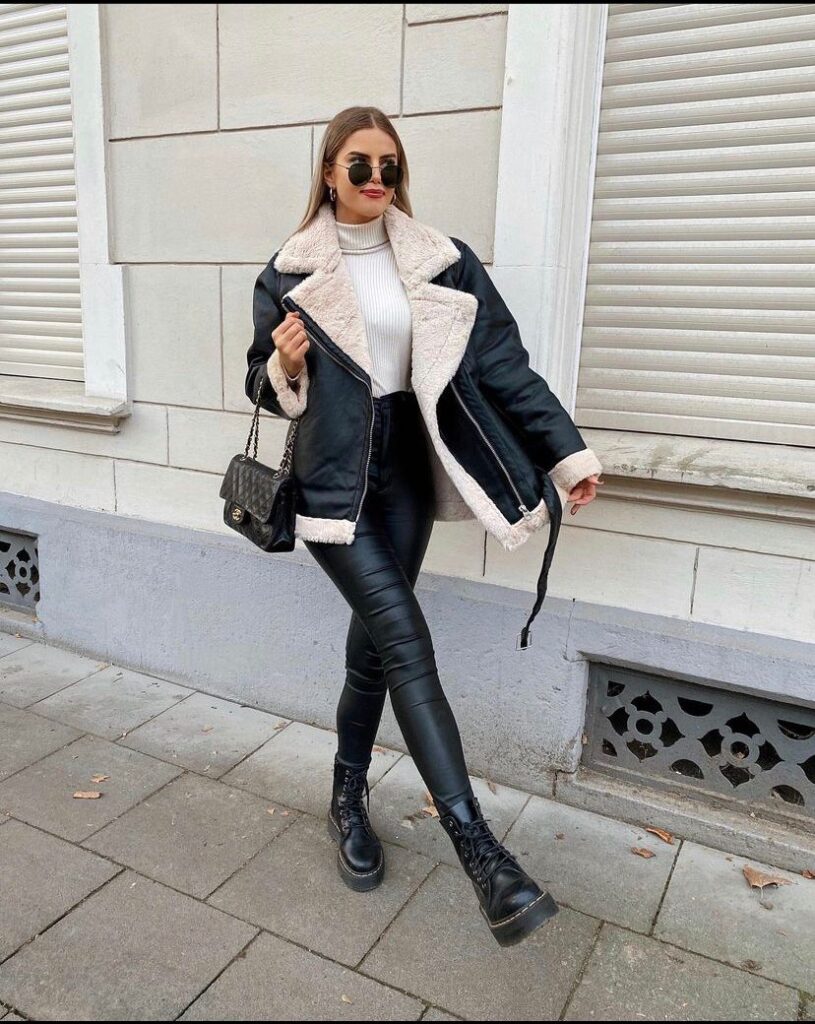 19: With a Muffler and a Skirt:
With the hustle and bustle in the city and a never-ending list of things to do sometimes making a fashion statement that requires too much effort slips your mind, worry not!
As you focus on your tasks all you need to make a statement and look your best is a warm-toned muffler around your neck, add a short skirt that fits you well, and finally, allow an equally tepid jacket to carry the overall dressing statement at once.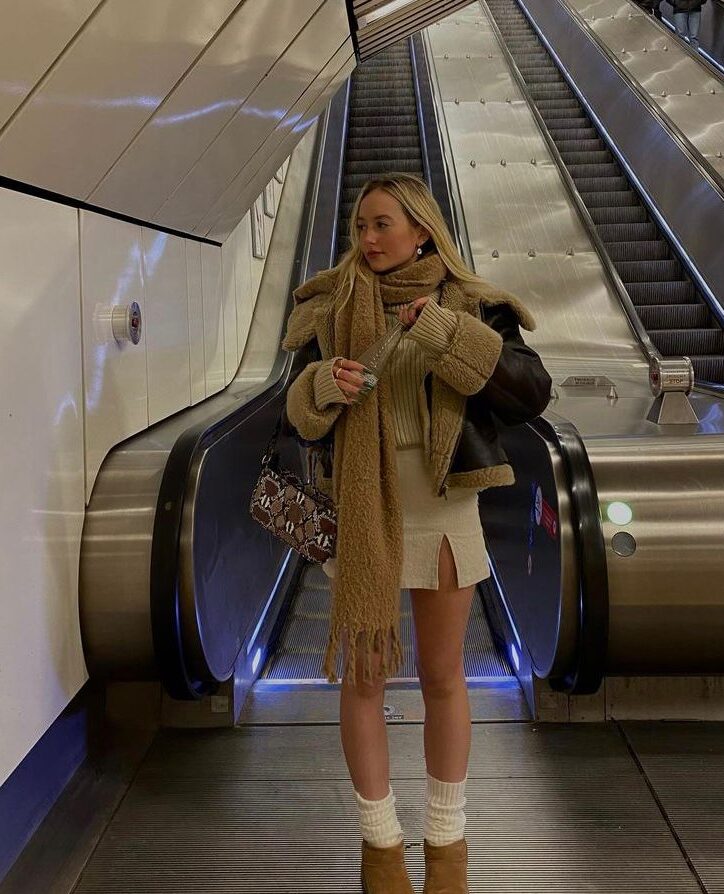 18: With a Maxi Wrap Skirt:
Wrap skirts are the definition of a rather boho chic look, it's exactly what you need when the weather finally begins to cool down and you need a beach date to rush to.
The jacket will simply elevate the whole element of your outfit all the while providing you with a layer in case the winds start to blow!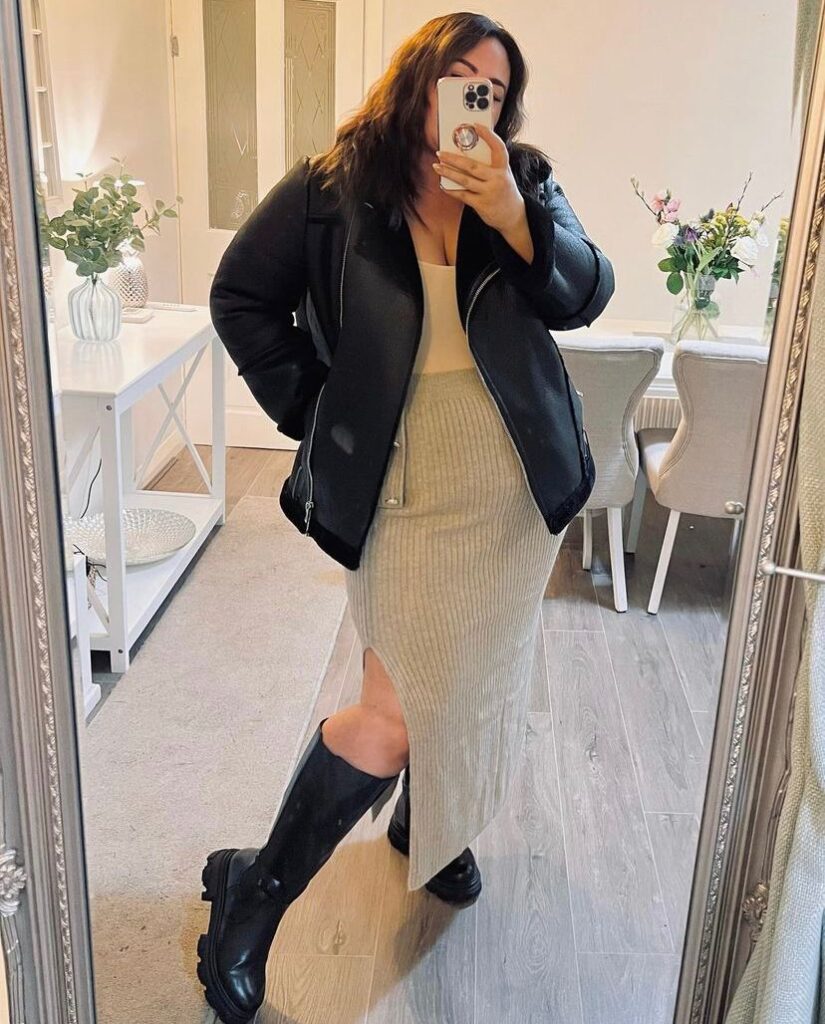 17: With a Black Dress:
You can never go wrong with a black dress, insert dominance paired with a hint of boldness when you slip on a rather fitted black dress.
It's time for you to stand out in the most classic of ways, an effortlessly outstanding ensemble to help you keep your head held high!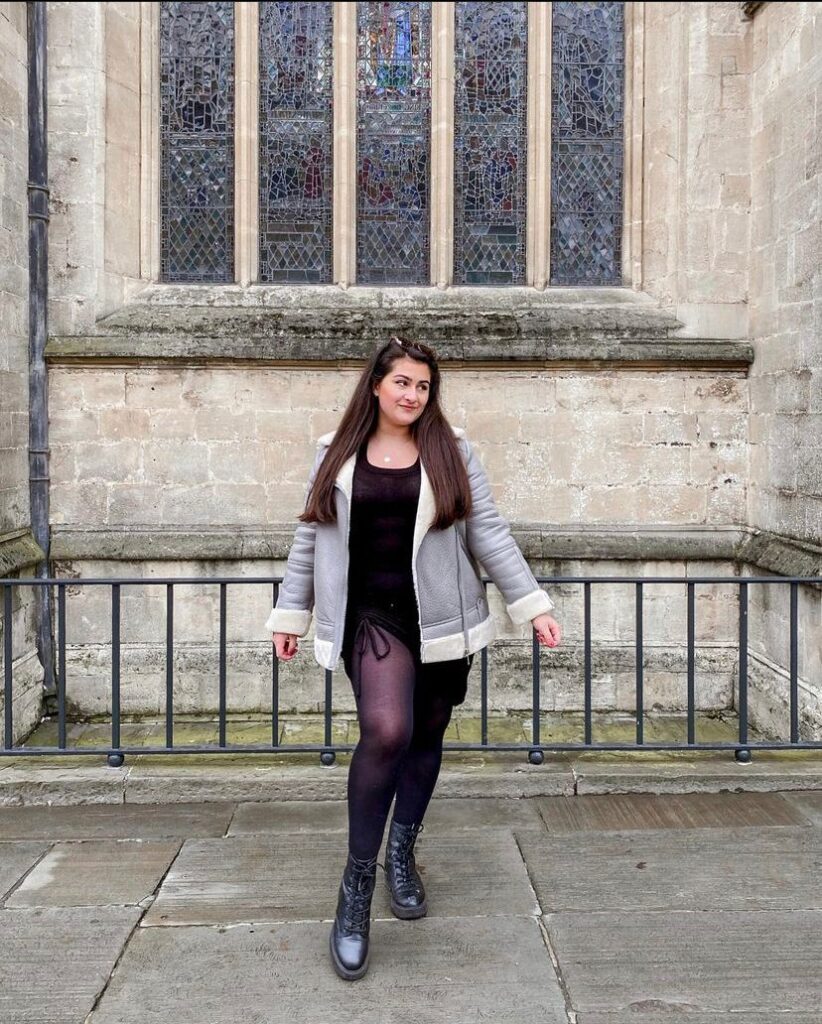 16: With Basic White T-Shirt & Blue Jeans:
A basic white tee is always a girl's best friend when time is running out and looking good is on the line!
For a quick grocery run or a visit to your best friend's place, the possibilities are endless and just like that for each event that sips up on your radar – an aviator jacket paired with the mom jeans in your closet and of course, a plain white tee is what will fall to your rescue each time.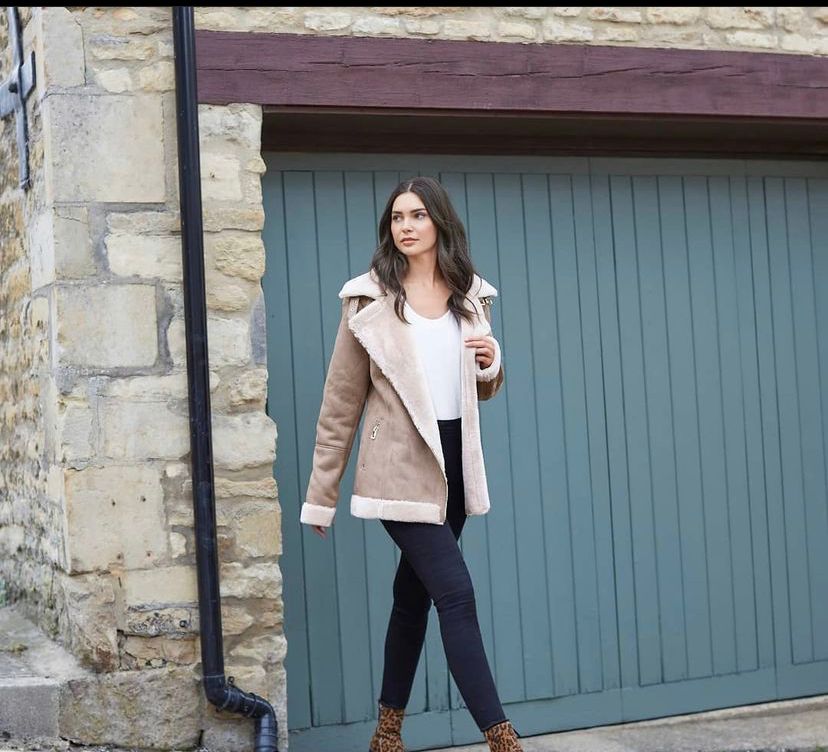 15: With Flared Pants:
Flared pants have started to thrive from high fashion shows to the low-key street style they seem to be taking up the fashion industry by storm.
When you don't feel like squeezing into a pair of skinny jeans leave your body to breathe and dance on as many table tops as you want with a pair of flared pants and a perfectly fitted jacket by your side allowing you to express yourself in a modern yet comfy manner.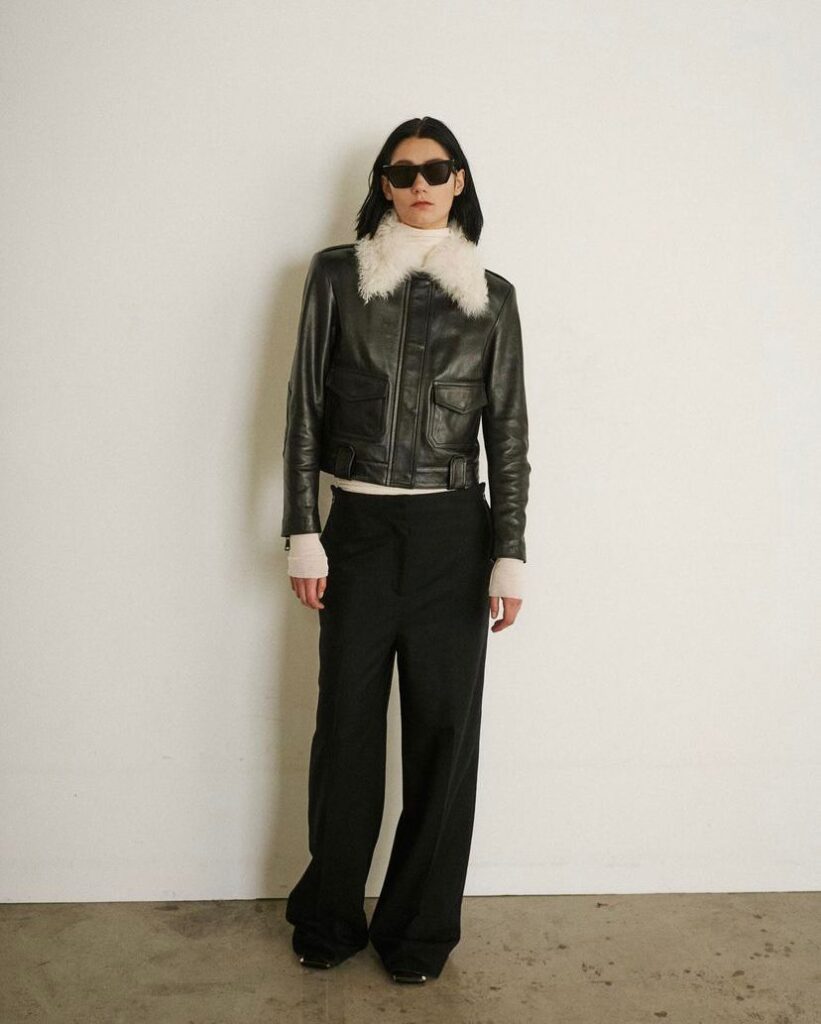 14: With Fitted Pants:
Jordans! The talk of the century, as soon as you throw on a pair of high-top Air Jordan 1's you know there is nothing that can kill your mood.
The perfect companions to your street style attire, to add an extra classy twist throw on a dark black jacket, and before you know it you'll be ready to brave any storm in the most subtle yet effective manner.
If you're looking for a laid-back and comfortable look Jordan with an aviator jacket will do the job.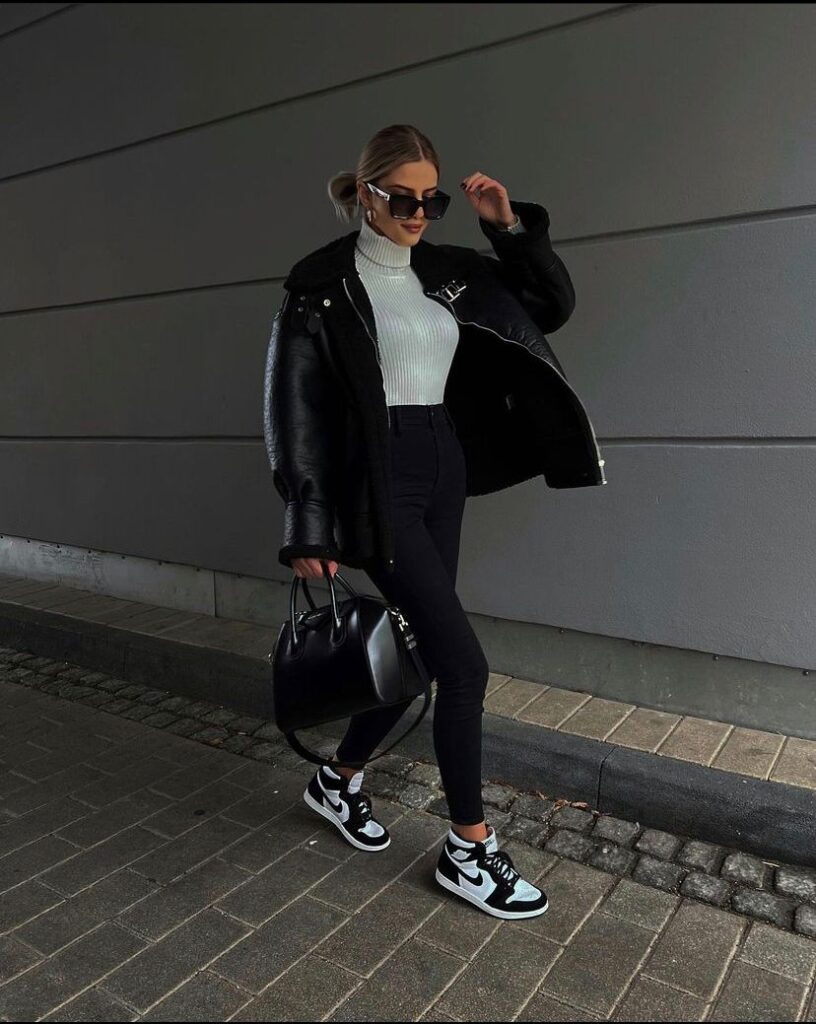 13: With a Co Ord Set:
Playful looks and edgy outfits put together are fun but sometimes you need a slightly clean-cut urban look, nothing does the job better than a white jacket with warm-toned white pants.
Casual wear falls hand in hand with a palette of illuminating white.
The clean-cut pair will have you feeling like you can conquer the world, stepping into the streets with a matching fit will boost your confidence instantly.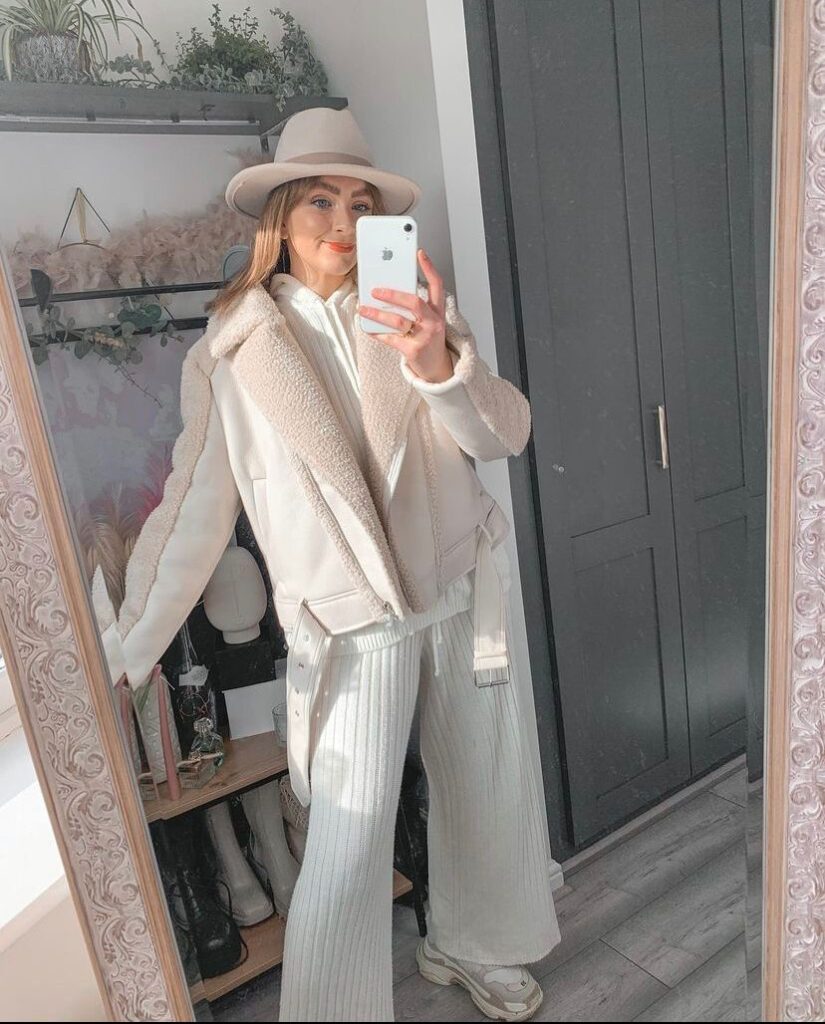 12: With Printed Flare Pants:
A fashion-forward statement these days has to include a pair of printed flare pants. With a faded warm jacket on top, you can instantly get your fleek on.
Printed flare pants have a way of picking up any look in a rather functional and breathable manner.
A pair of printed flare pants carry a sense of fresh street style and the jacket is what brings back the vintage feel to an otherwise modern outfit plan!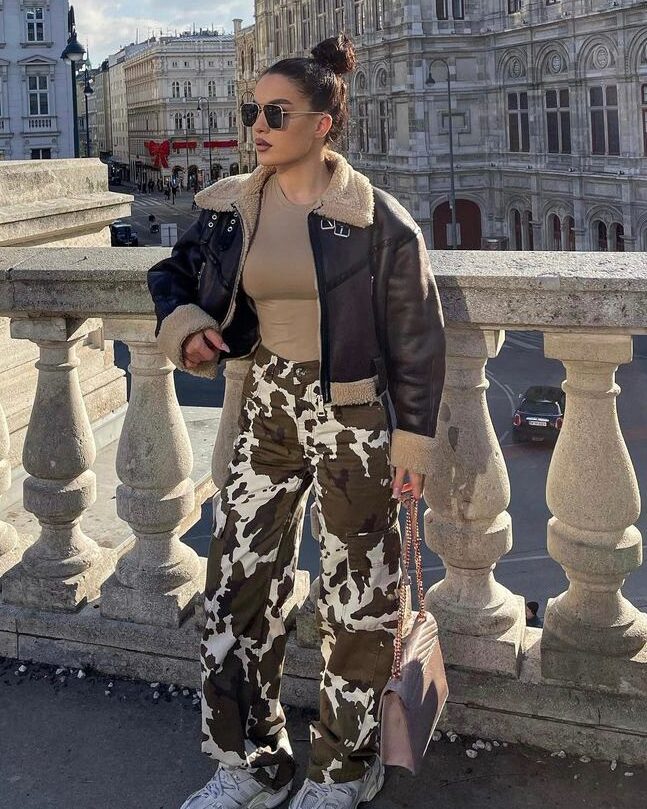 11: With a Basic Crop Top:
Somedays you just want to wear something cool and relaxing without having to put too much effort into your style.
With a basic white crop top and a pair of high-waisted jeans you come close to a rather effortless-looking choice, however, it may seem that the outfit is missing a certain edge to it.
A minimal and warm-toned leather-based jacket is exactly what you need to pull off a laidback and comfortable look all the while allowing you to stay up to date with current trends without having to do too much.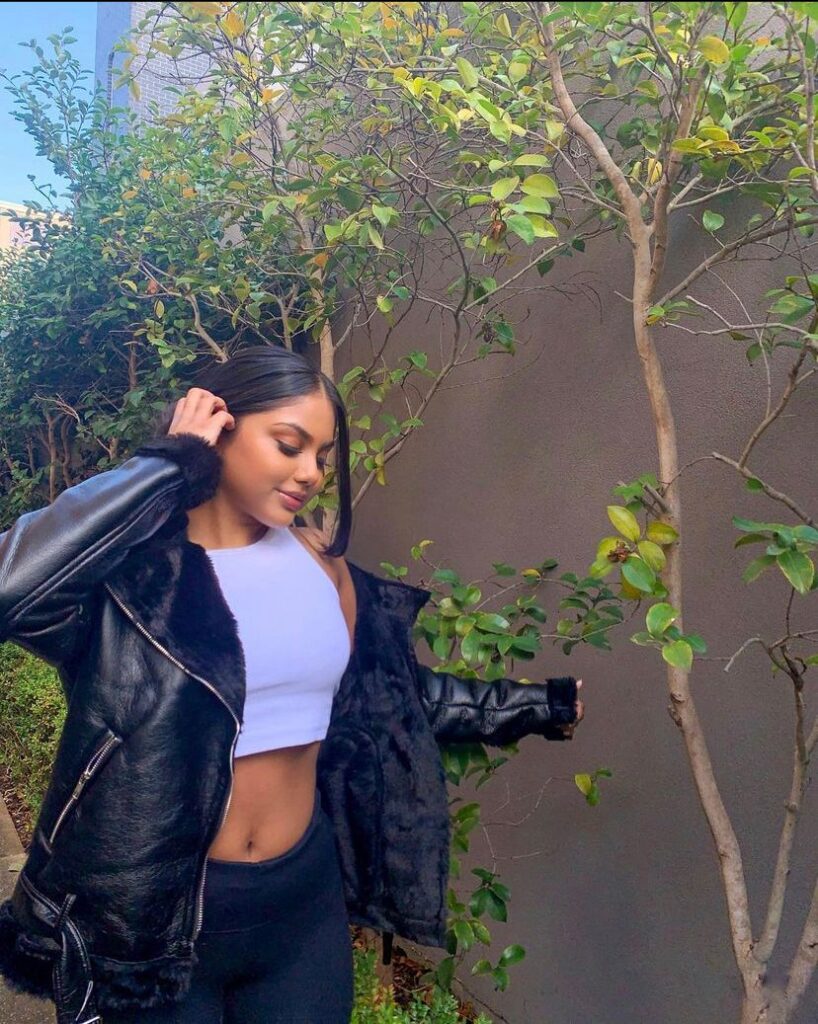 10: With a Colored Scarf:
The best way to come off as classy and organized without putting too much effort into what you're wearing is to throw on a pastel or low-colored scarf just around your neck.
The jacket will light up the rest of your look instantly, whether it's a dress or a skirt a solid-colored scarf is perfect to ward off the cold and keep you looking your best even when you're out and about.
Adding a colored scarf to your outfit may seem like you're breaking fashion rules but it's the best way to add a rather fresh hint to your otherwise simple choice of clothing.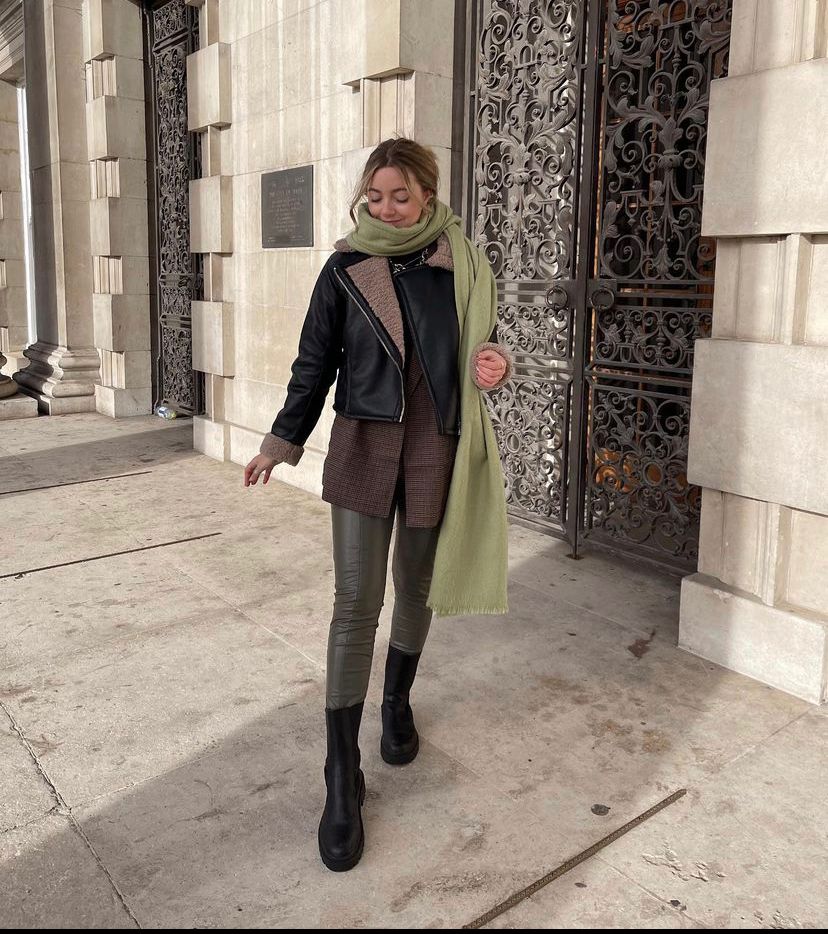 Leather stays between the timeline of being modern and classic at the same time.
With a leather jacket and a short leather skirt, your outfit instantly grabs on to one consistent vibe keeping you organized and up to date at the same time.
This pairing speaks volumes when it comes to perfectionism and class altogether, if you wish to spice up your look further you can always grab onto a pair of leather boots and before you know it you will be more than prepared for any event that comes your way.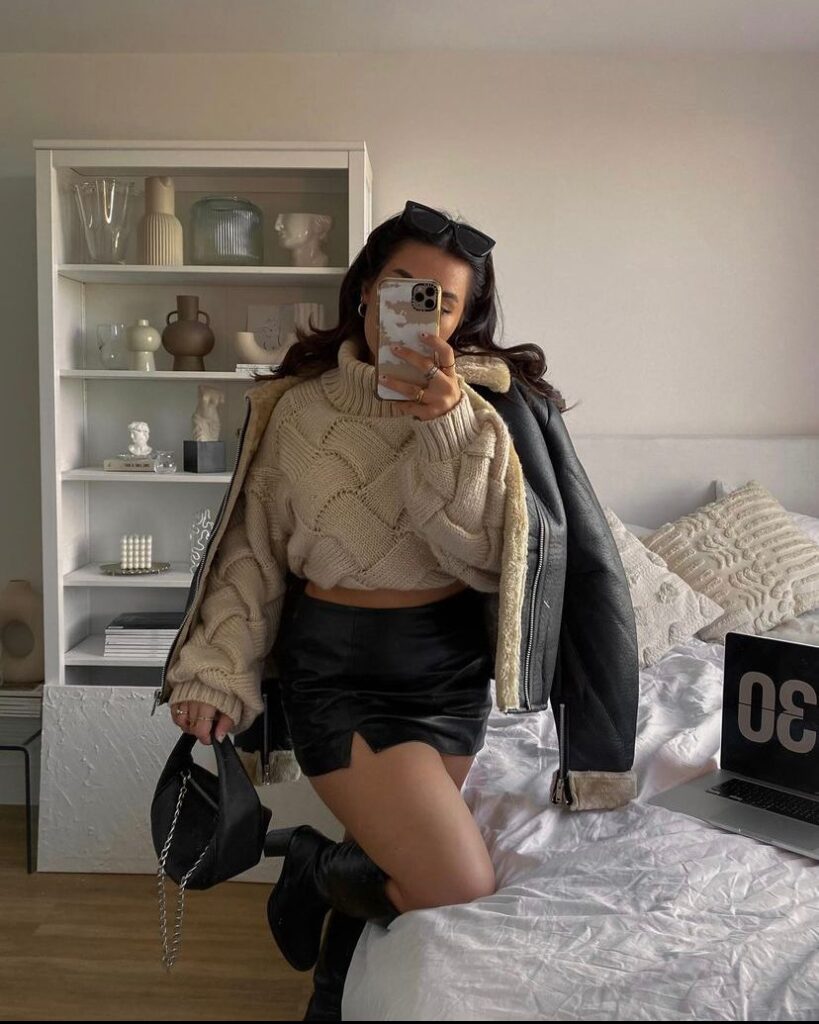 8: With Biker Shorts:
Gym wear can be tricky to pick especially when the weather doesn't seem to cooperate with what you have in mind for an outfit.
Sportswear is generally supposed to be fun and relaxing all the while doing its job.
When the winter winds start to bother you too much the best idea would be to pair a nice and long jacket with a set of biker shorts to keep you n check when you head for the gym without a worry in the world about the cold.
Biker shorts seem to blend well with all body types and aviator jackets help in keeping the look comfortable but stylish at the same time.
Who said going to the gym cannot be turned into a fun fashion challenge for your wardrobe?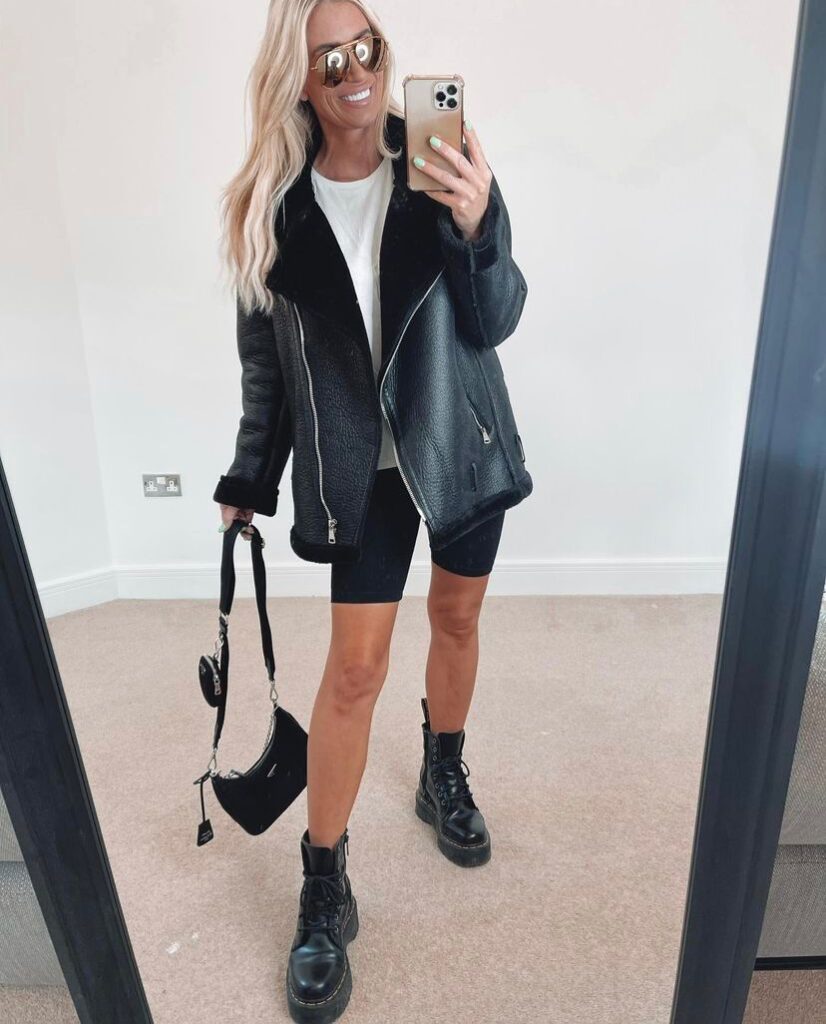 Semi-Formal and Party Outfits
7: Add Some Faux Fur
Whether you have faux fur detailing in your jacket or in your outfit – it's the simplest way to elevate any look. An outfit like this would work well for intimate gatherings and birthday parties.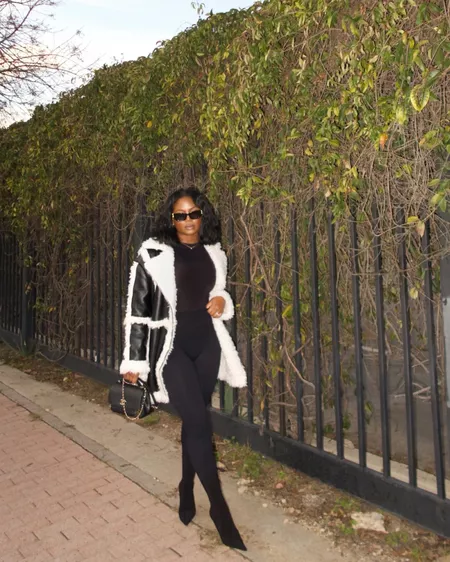 6: With a Ribbed Sweater:
Ribbed sweaters seem to be lying at the very end of our closets for too long. Just as the weather starts t get chilly and you begin to wonder what to wear the perfect outfit hides in plain sight.
Go on, throw on a ribbed sweater with a nice matching-colored jacket and there you have it!
Even the most basic of sweaters can be turned into eye-catching choices with a simple addition of a matching jacket.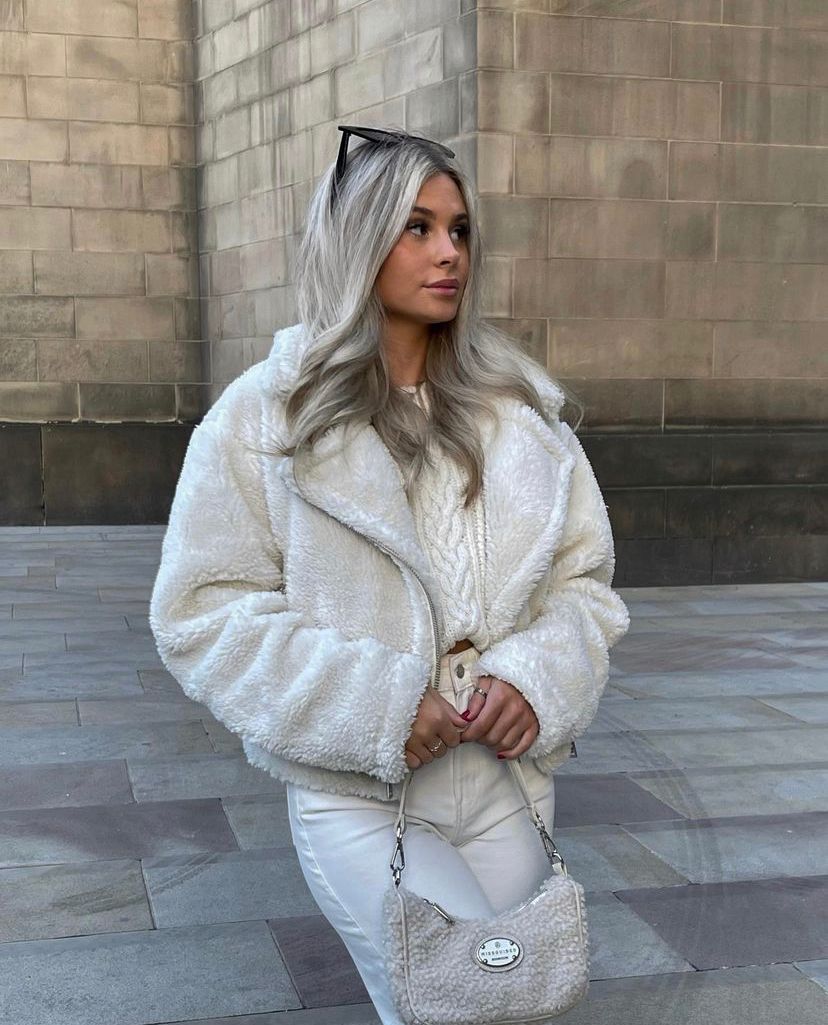 5: With a Silk Dress:
Autumn drops by without notice and silk becomes a never aging refined proclamation of perfection.
Silk dresses seem to lift you up as they grace your body, you no longer need to wait for summer to arrive to slip into your favorite silk dress, all you need is a rather lightweight brown jacket and off you can go with a complete outfit to welcome autumn with open arms.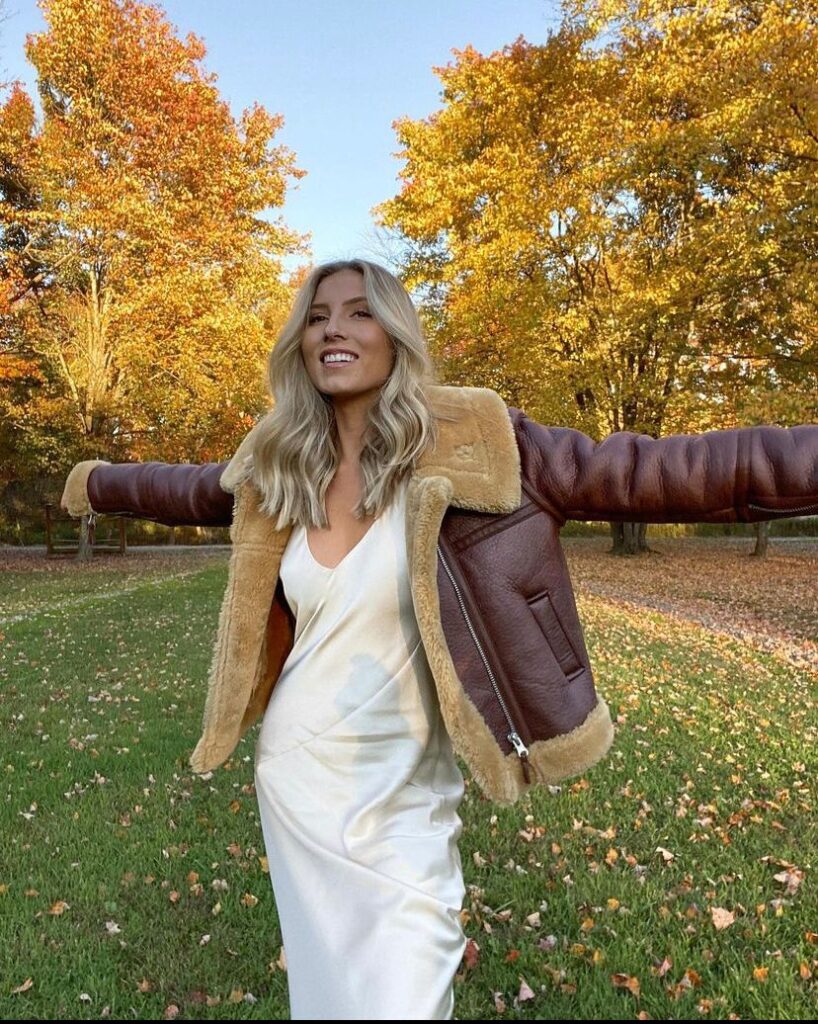 4: With a Long Dress:
While dresses have their own unique way of affecting your whole look sometimes they need a little extra hand to peak at the certain look you want to go for.
From laid-back to classy and even casual you can never go wrong with a rather loose-fitted flowy dress.
Use the jacket to add a more put-together touch to your fashion statement so you can walk out of the door and straight into a party or a low-key get-together all the same without a care in the world.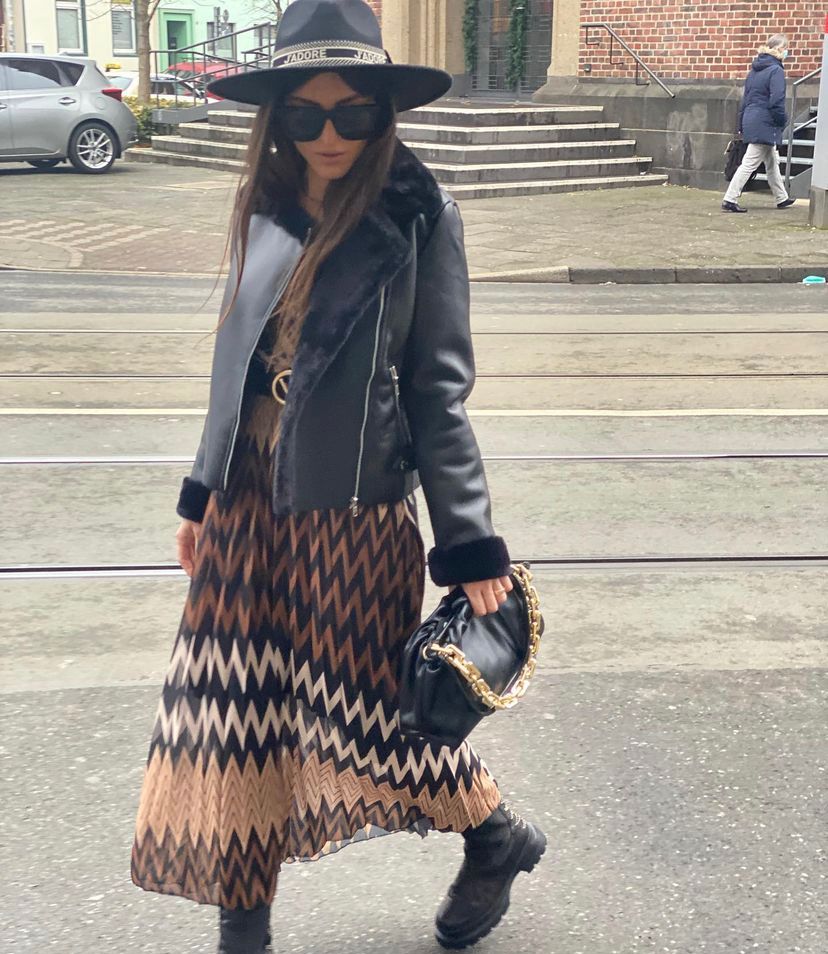 3: With Colored Pants:
We have all seen celebrities flaunting flared pants in crazy colors and now it's time for you to switch up your own style.
A little bit of color springing from a bright green to a rather cozy blue would never hurt.
In order to balance the newfound brightness in your look, a jacket would be a foolproof fit.
Add a bag that matches your pants and there you have it, a classically fresh look.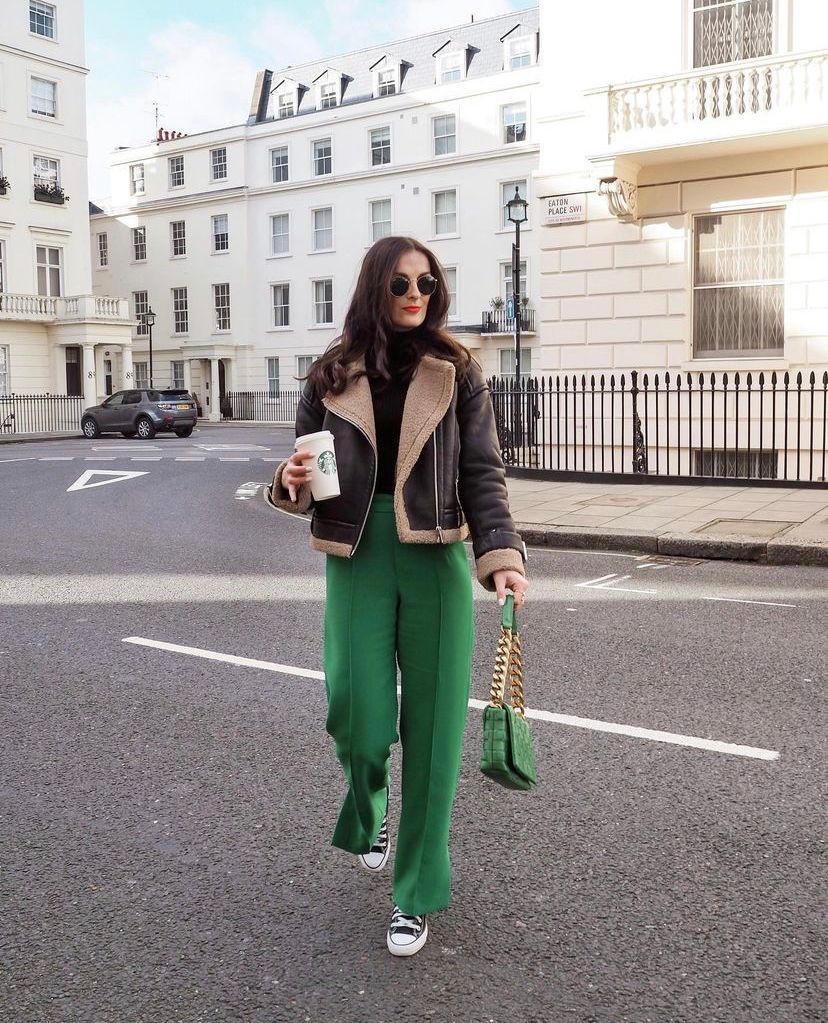 2: With White Dress Shirt and a Sweater:
White dress shirts are a whole different story, they keep you looking chic and sexy no matter the event.
From office hours to a tour around the city making your way back to a tiny coffee shop this look will have you looking intellectually smart and yet fun at the same time.
A matching cool-toned jacket put together with a white dress shirt layered with a sweater is exactly what you need to kick this season off with a definite banger all the while carrying a feminine dark academia vibe going on.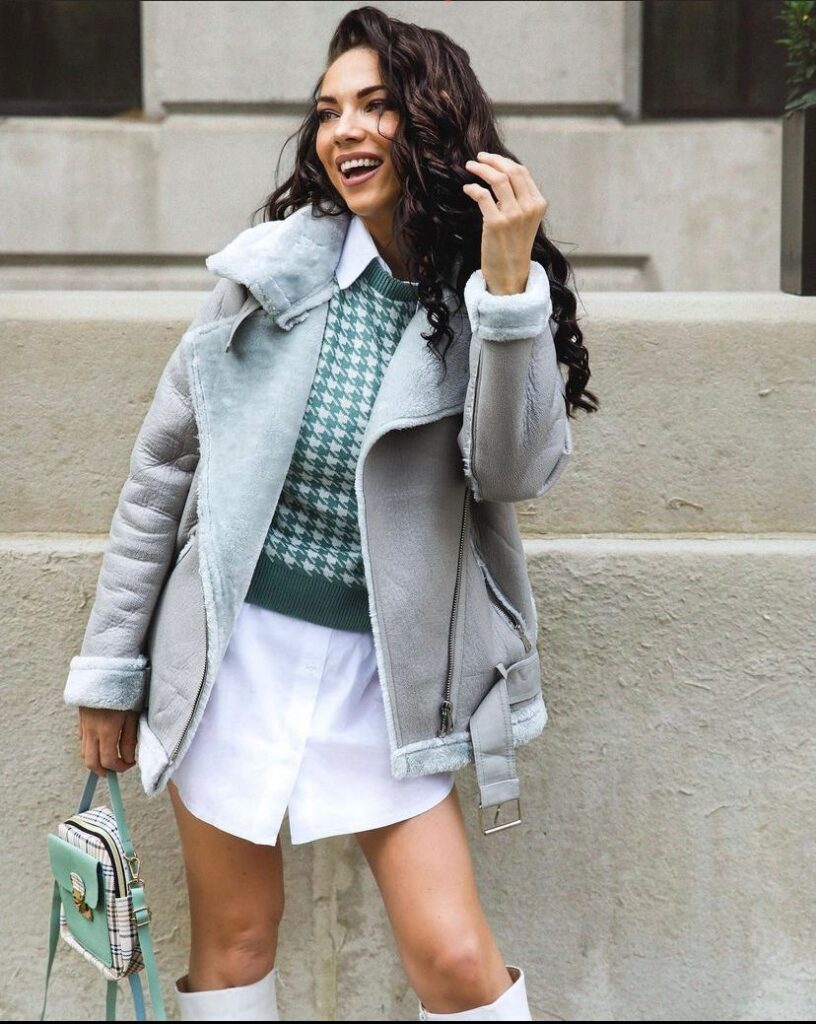 Celebrity Style OOTD
1 – With a Jumpsuit:
For today's OOTD, we have a celebrity look that I just can't wait to try! For a recent film festival, Ayesha Curry was seen layering an aviator jacket over a jumpsuit and she paired the outfit with brown crocodile boots.
So basically – she played around with different shades of brown to create a very interesting look that instantly catches your eyes.
Why I love it? Because it's a simple, chic and modest outfit that anyone can easily recreate!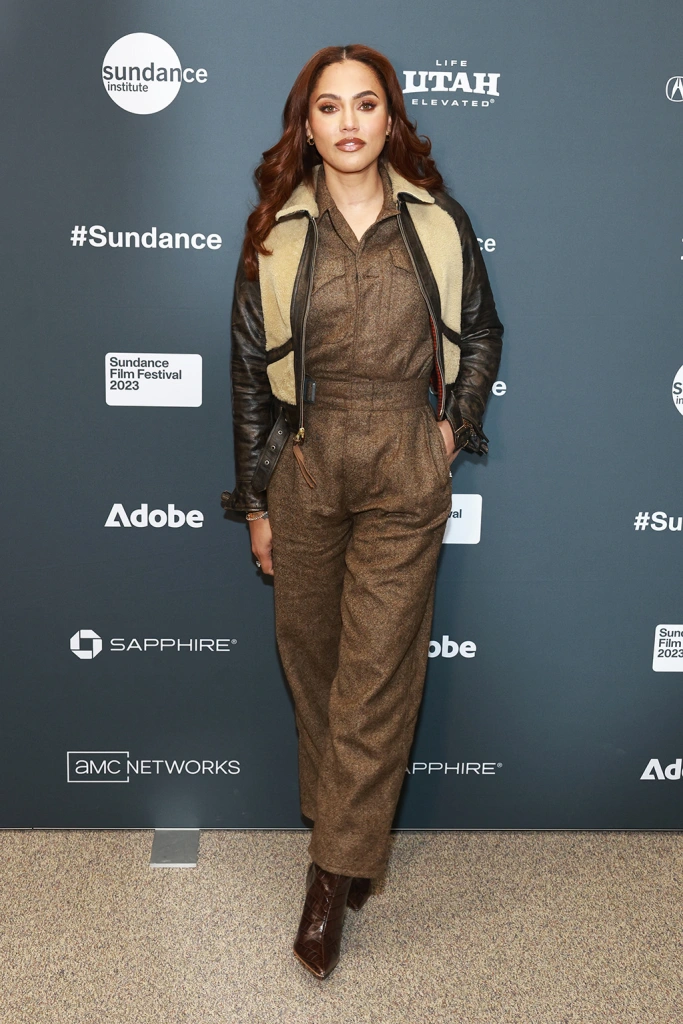 Editor's Picks: Best Aviator Jackets to Buy This Year: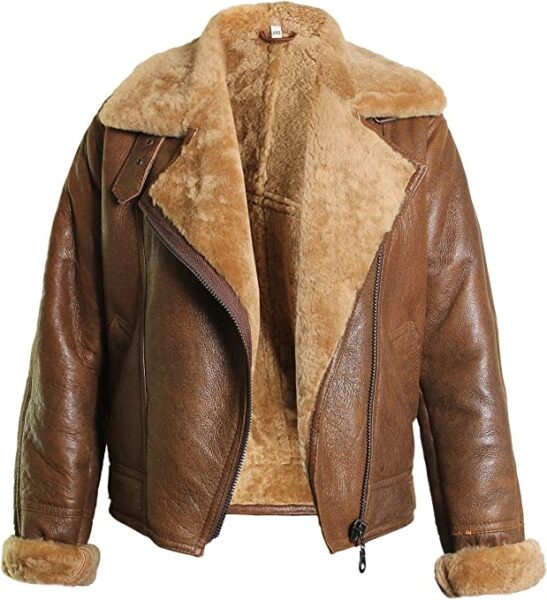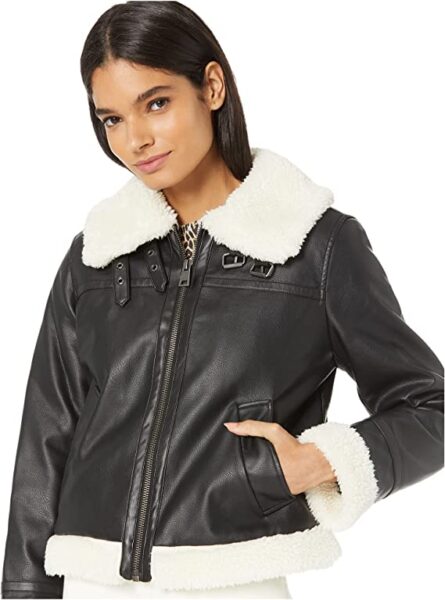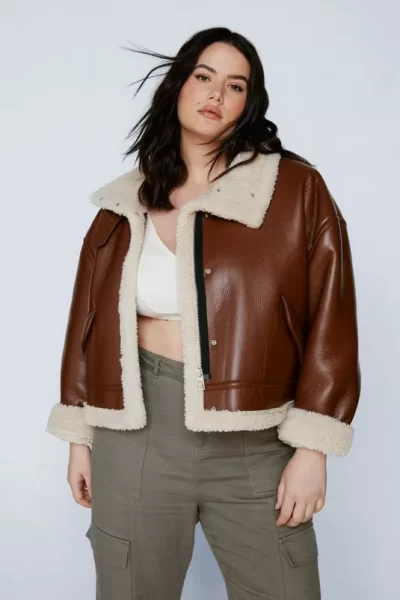 FAQs
Q. Are Aviator Jackets Still in Style?
These jackets have been known to be the talk of the fashion industry for decades, with new methods of styling the jackets being brought out by some of the largest fashion companies it seems to be a fact that they are definitely still a huge part of modern fashion.
Q. Should Aviator Jackets be Oversized?
The size of the jacket you want to purchase heavily depends upon the style you are going for. For a more put-together and neat look, it would be preferred to go for a fitted jacket. However, if you're going for a more chic and casual baggy outfit going up one or two sizes would do no harm!
Q. Does Quality Matter When Buying an Aviator Jacket?
Quality is definitely a game changer when it comes to purchasing a good jacket. Aviator jackets are coated in leather, when you go for good quality you are not only promised a long-lasting item but it stays with grace, as well know good leather tends to age backward and you will no longer have to worry about replacing your purchase with a new one because of bad quality.
Q. Will Rainfall Ruin My Aviator Jacket?
Many people seem to worry that rainfall or exposure to rain will ruin their jackets. While this is only true if the jacket you own is not well-conditioned. In order to be able to wear your jacket out during the rain you must remember to properly condition it so that the leather-based material does not end up rotting away.
Q. How to Maintain My Aviator Jacket?
The most important thing you need to do is to never machine wash your aviator jacket. Genuinely made leather present in your jacket should not be machine washed, as machine washing can lead to damaging the material itself. When you wish to clean your jacket start by taking a look inside the collar for instructions on how to spot clean it carefully.