How to Dress in Your Twenties: Developing identity through your wardrobe is a challenge you will inevitably encounter as you transition from your wild teenage years to early adulthood. We've all been there.
Readjusting your wardrobe to what resonates the most with you, and authenticating yourself whilst fulfilling professional dressing protocols as you step into the real world is essential.
Living in a modern age renaissance of fashion, you have the opportunity to experiment with different styles and trends.
Once you're twenty-plus, wardrobe staples such as leather jackets, classic blazers, versatile dresses, and comfortable jeans are imperative.
Be bold and play with textures and colors to their best.
And don't forget, you've hit a point in your life that's all about adventure and rediscovery, so be your true bold self and have fun with fashion!
What To Wear In Your 20s?
You will find yourself exploring multiple fashion genres, experimenting and curating outfits.
Your 20s are a transitional period where it is essential to maintain a youthful yet professional look.
Take your time sinking your hands into multiple fashion niches until you find what makes you feel your best.
Exploring layers, footwear, and playing with colors and patterns are all part of the journey.
Wear bold pieces that are put together well with subtle complimentary pieces. Focus on buying bold and beautiful accessories.
This is the time to focus on your career and find your path so you can start building on your work wardrobe and investing in at least 3-4 power suits.
Understand the psychology of dressing well since you're now mature enough to do that and make sure you prioritize comfort.
Tips on Updating Your Wardrobe:
It is important to find a style that's practical yet reflective of your individuality. Here are some tips:
Invest in timeless pieces like classic blazers, little black dresses and form-fitting jeans
Experiment with trendy pieces like statement accessories and eye-catching prints. But make sure it can be easily integrated into your existing wardrobe.
Pay attention to fitting. Clothes that fit well will do wonders for the overall look, regardless of trends.
Build a versatile footwear collection including sneakers, loafers, heels and flats.
Don't be afraid to mix high-end and low-end items.
Consider your body type and choose clothes that complement your figure.
Enjoy fashion and try out new styles and trends. But the key is finding comfort and confidence in your own unique style!
Casual Outfits
20 – College Sweatshirt And Yoga Pants
Yoga pants paired with a casual sweatshirt are a great easy hack to a casual outfit.
Comfort is key when it comes to casual fits but looking great while you're at it is a task you can pull off easily in a pair of yoga pants.
Sweatshirts are an easy find and complement yoga pants well so be sure to add the two pieces to your wardrobe.
19 – Red Jacket And Denim
Styling statement pieces in unconventional settings is a great way to explore fashion. Take it from Emma Chamberlain when it comes to putting together iconic yet casual fits for everyday chores as basic as a quick grocery run.
Style a bright-colored jacket over a white turtleneck with a pair of basic denim. Let this be a time for you to outdo yourself and style bold colors casually.
18 – Denim and Crop Tops
Denim and crop tops are an age-old duo that will serve you well.
Graphic t-shirts and crop tops are timeless and styling medium-washed denim with them make for a perfect casual fit.
Remember to accessorize, adding a strap bag, sunnies and a pair of converse.
17 – Loose Fit Ripped Jeans with Crop Top
Put a spin on your denim wear and try adding a pair of ripped loose-fit black denim.
A pair of loose fit jeans will never fail you. They fulfill comfort and fashion all the same.
Style it with a crop top in your favorite neutrals and you are all set!
16 – Brown Corduroy Pants With Black Top
Getting a pair of corduroy pants is a great wardrobe investment.
A pair in an earthy tone is a timeless choice that can be easily styled with any top to create a casual outfit.
Accessorize with some jewelry and you have yourself a casual outfit to wear for the day!
15 – Baggy White Cargos with White Top
Baggy pieces are all the rage these days and are a perfect buy for your closet.
Comfort is key when it comes to wearing casual fits and a pair of baggy white cargos are just the perfect match.
Finish the look with a white top and sporty sneakers and you are ready to run errands in style.
Semi Formal and Formal Outfits
14 – Deep Neck One Piece With White Pants
Leaning into gold jewelry when it comes to accessorizing formal outfits in is essential. You can turn a basic neutral look into a chic one by adding dainty jewelry pieces.
Make an elegant statement with a deep neck one piece and some cotton pants, elevated with a gold necklace and some rings. An absolutely flattering chic outfit for you to rock for an evening.
The best part about this look is that you can spin the pieces into multiple outfits, making it an incredibly sustainable look.
What's good for the environment looks great in style!
13 – Neutral Cocktail Dress
Neutral cocktail dresses make for the perfect chic outfit for a night out with friends. Try a satin, light brown cocktail dress accessorized with dainty jewelry pieces.
This outfit will not only bring you a youthful look but also have you looking absolutely divine in a subtle way, perfect for your age!
12 – Statement Cargo Skirt with Sneakers
Keeping bold statement staples in your closet will give you a flattering fashion style. Holding on to some vintage pieces, and challenging fast fashion by relishing the timeless pieces is worth savoring at any age.
Select vintage pieces that resonate with you the most and try styling them to create a unique look. Cargo skirts are a Y2k statement piece that have recently made a comeback after nearly 2 decades. Style the skirt with your favorite top and a pair of sneakers, a look fit for a formal evening.
11 – Plaid Pants with Lace Corset and Blazer
Exploring different styles and trends, mixing them up until you get what suits you best is definitely an adventure you should indulge in.
Don't be afraid to dip your toes in an array of fashion pools, and you will find yourself making unique fashionable outfits no one else will be able to conjure.
Stand out at an event with a pair of plaid pants styled unconventionally with a lacey corset to go with it. Add a pair of heels and accessorize to your heart's content.
10 – Maroon Cocktail Dress with Heels
Wardrobe essentials entail to a collection of fancy cocktail dresses. You can never go wrong with a rich piece of fabric wrapped around your figure in all the right places.
They have just the right amount of a playful element to them and will bring out the best in you.
A deep maroon shimmery cocktail dress is a great way to dress up for a night out with friends. Throw on a pair of heels to accentuate your legs and jewelry to match the look.
Going for a sequin detailed staple will give you a look tailored for any occasion!
Outfits for Work
9 – Black Pencil Skirt with Crew Neck Sweater
It is important to present a polished and professional image in the workplace.
You can achieve this by curating outfits that are both stylish and appropriate by developing a personal fashion identity. Exploring different niches until you get what you best like is imperative.
Workplace outfits can be a total snatch if you go the extra mile and be creative. Following official dress code regulations is necessary but you can still make a fashion statement whilst abiding these rules!
Try putting a twist on your work outfit by replacing boring pants with a pencil skirt and boots to match.
8 – Dark Plaid Suits
Sharp-tailored suits that trace your silhouette will have you dominating your office in no time. Put your own personal spin on one of your suits and opt for buying a plaid suit instead of a plain one.
A plaid suit in dark color will do best for a work environment. Add a trendy touch to the suit by putting on a graphic t-shirt under the blazer, funking things up a bit.
7 – Deep Mustard Pants with Sage Top
Simple solid colors are great for outfits to wear at the office.
They are a brilliant last-minute hack for when you're running late and arriving unfashionably is just not your style. Whether it is a sharp contrasting duo or a monochromatic fit, you can never go wrong with this dynamic.
In this outfit inspiration, we bring you a deep mustard flared pair of pants styled with a solid sage top.
Add a shoulder chain bag for a polished look and some chunky doc martins on the-go and you are all set with a subtle office look.
6 – Khaki Brown Suit Set Over Turtleneck
There's just something about turtlenecks that screams "outstanding professional". When you put that together with a suit, you're a perfect candidate for any job interview you walk into!
Take inspiration from this look where we bring to you a turtleneck styled with a brown fitted textured suit. Style the look with some subtle jewelry pieces for a more polished look. Throw in a fancy belt with a gilded buckle to elevate the look.
5 – Striped Turtle Neck With Black Pants
Neutrals with basic prints and textures are a great pick for work outfits. They add a minimal amount of visual play but bring a strong sense of individuality to your look. Try mixing different textures with a range of earthy tones until you get what you like, and you are all set.
In this outfit inspiration, we bring to you a turtle neck sweater in a creamy beige with black stripes running horizontally over the piece.
A pair of flared black pants that fit well around the waist for ease of movement and a handy strap bag are recommended. Classy stilettos are just what this look needs to finish things off and you are good to go!
4 – Deep Brown Fitted Dress With Jacket
Dresses with huge flares are a no-go for workplaces but nicely fitted ones with adequate stretch room are a great office staple.
They not only flatter your figure and provide comfortable movement around the office, but also help you make subtle fashion statements every day.
This summer, be "that girl" at your workplace and stack up on some figure-hugging dresses in a few deep tones. Play around with textures, patterns and fabrics to funk up the look. A jacket or a blazer can be worn over the dress to uplift the professional side of the look.
Celebrity Inspired Looks
3 – Bella Hadid in Sage Green Skirt
Bella Hadid has been dropping us looks to die for lately, and lucky for us, they are all easy to recreate and take inspiration from.
The drop-dead gorgeous beauty queen has been serving looks that are a flashback from Y2k, only fueling the trend among the youth of fashion through her low-waisted cargos and layered accessories.
Take it from her when it comes to styling baggy straight skirts in a super casual and chic outfit. This monochromatic look with varying shades of sage green is giving us edgy 20s vibes.
A double-sided parachute jacket to match the skirt, layered over a checkered top in black and olive green. She ties the fit with a pair of shades and pointed boots, giving just the kick it needed.
2 – Floral Sundresses On Kendal Jenner
With the summers upon us, it is high time we turn our attention to building outfits that will not only help us be our fashionable selves but beat the heat too!
Look no further because Kendal Jenner has served us the most perfect sundress look to have walked the face of the Earth.
Floral sundresses add a gentle feminine touch to your fit and look absolutely stunning all the same.
This pink floral sundress is jaw-dropping with the sleeves puffed up over the shoulder giving super princess vibes.
Kendal went above and beyond wedding a pair of cowboy boots with this look, creating a fit that gives us the best of both worlds.
1 – Miley Cyrus in Leather Pants and Trench Coat
Miley made her latest appearance on the Jimmy Fallon show in an uber-trendy outfit with a matching leather set.
A black leather trench coat styled with matching leather pants and to add a touch of color, a blue button down layered under the coat.
She finished the look with some leather gloves and boots pulling off a fashion statement of a look.
FAQs
Q. How to look good in my 20s?
Fashion is an ever-developing journey and one must always feel comfortable. Your style in your 20s is a time for you to grow and explore yourself. Dressing to maintain a personal fashion identity whilst maintaining a professional impression is the key to looking your best.
Q. What are the best clothing brands for twenty plus women?
ASOS., Artizia and Mango are great clothing brands to dive into. Always keep an open mind to thrift stores, recycling old staples into new outfits will be great for your style and budget as a young adult.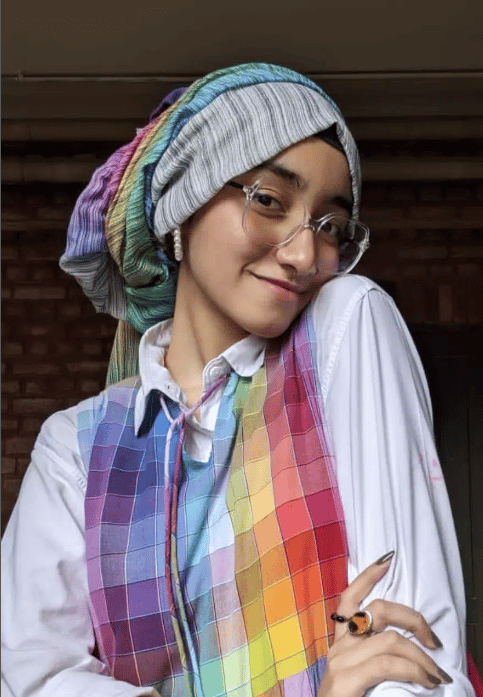 Hi! I'm Spogmai, a 3rd year architecture student and a fashion enthusiast with a knack for graphic design and content writing.