80s Fashion for women: The 1980s were a significant decade regarding pop culture, fashion, and music. This period was all about bright neon colors, prints, voluminous hair, and fancy silhouettes. But more importantly, it was a decade where comfort was the topmost priority when dressing. Along with that, add a little glitz and glamour here and there, and you are all set. From Madonna and Whitney Houston to Princess Diana, these ladies served some significant looks and were the fashion inspirations and countless others when dressing.
You might remember this time for its movies and sitcoms such as "The Breakfast Club" and "Pretty in Pink," which are classics to this very day! MTV was also launched during this decade and gave us masterpieces by singers such as Micheal Jackson to cherish. We also got to see sportswear worn on the streets for the very first time. This decade was full of pop culture and paved the way for some unique fashion trends, some of which are still followed today.
How to Dress 80s Style With Normal Clothes?
The 80s gave us some major fashion trends. So we have rounded up some of the best ways you can incorporate these trends into your outfits right now while looking chic and stylish.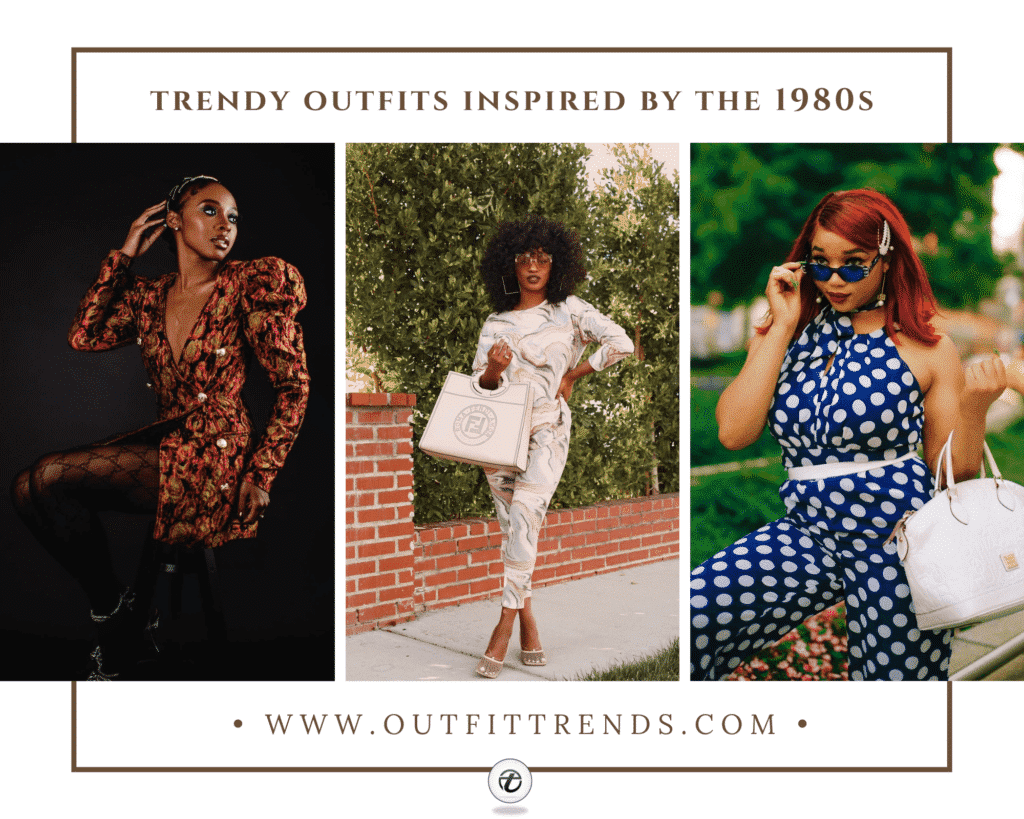 Where to buy 1980s Inspired Clothing Items?
Mango: Check out this chic padded blazer (here). You can style this effortlessly for an office day.
Guess: This neon mesh top can be the perfect wear to an 80s themed party (here).
Pretty Little Thing: They carry a wide range of tracksuits that are perfect for your 1980s vibe. Take a look at this super cute set (here & here)
Zara: This brand has a collection dedicated to the 80s! Kindly view these right-on-brand jeans (here).
Retro Candy Clothing: These funky retro windbreakers (here) exclaim 1980s hip-hop!
↓ 27 – Fashionable in Retro Streetwear
Tracksuits and sportswear were a huge hit during this decade. It was to the point that people began to style these clothes in trendy, hip hop fashion. This outfit is the ideal example of that. We love the gold accessories against the colorful and bright nylon tracksuit. Furthermore, the heels add class and make this outfit stand out all the more. Overall, a perfect 80s fit for the streets! You can get more ideas like these from our previous post on Retro Outfits for Women.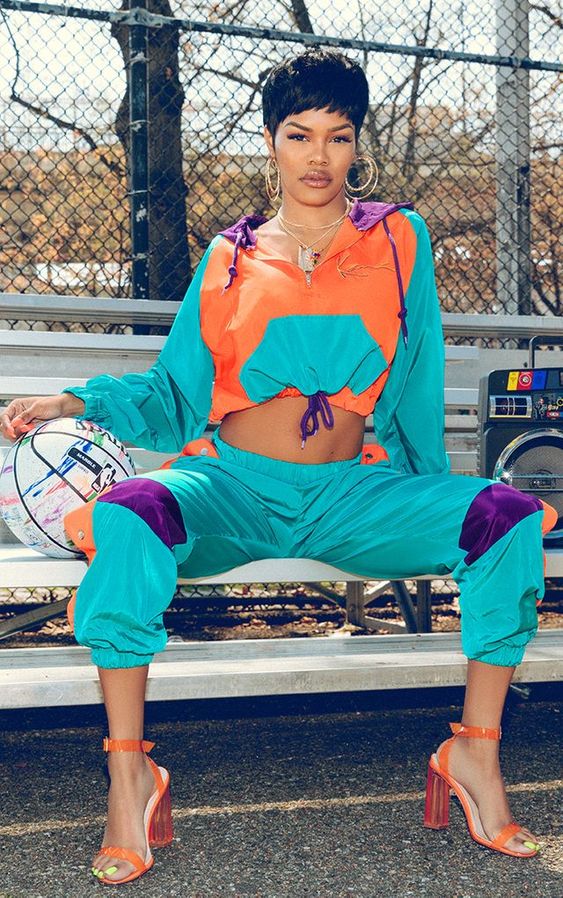 ↓ 26 – What to Wear to a 1980s Themed Party?
What a cute and daring outfit for the iconic decade-themed party?! The neon aspects in this attire are right on brand with the previous times, and the pop of red on the skirt and lips is magical. We would suggest styling your hair in big bouncy curls, and you are all set!
Shop similar item below:
Mock-neck Neon Grid Mesh Top $6.00
Plus Chain Decoration PU Skirt $16.00
Callie Ankle Strap Chunky Heel $14.99
↓ 25 – How to Style Leg Warmers in the Modern Times?
The 80s might just be one of the most important decades when comfort was truly prioritized over everything else. And that is exactly why the people were so huge on leg warmers. This look is fun and a modern spin on how to wear leg warmers keeping in line with the latest trends. The oversized jacket is a timeless piece and the muted color palette is perfect for modern times. Here are some more Ideas On How to Wear Leg Warmers.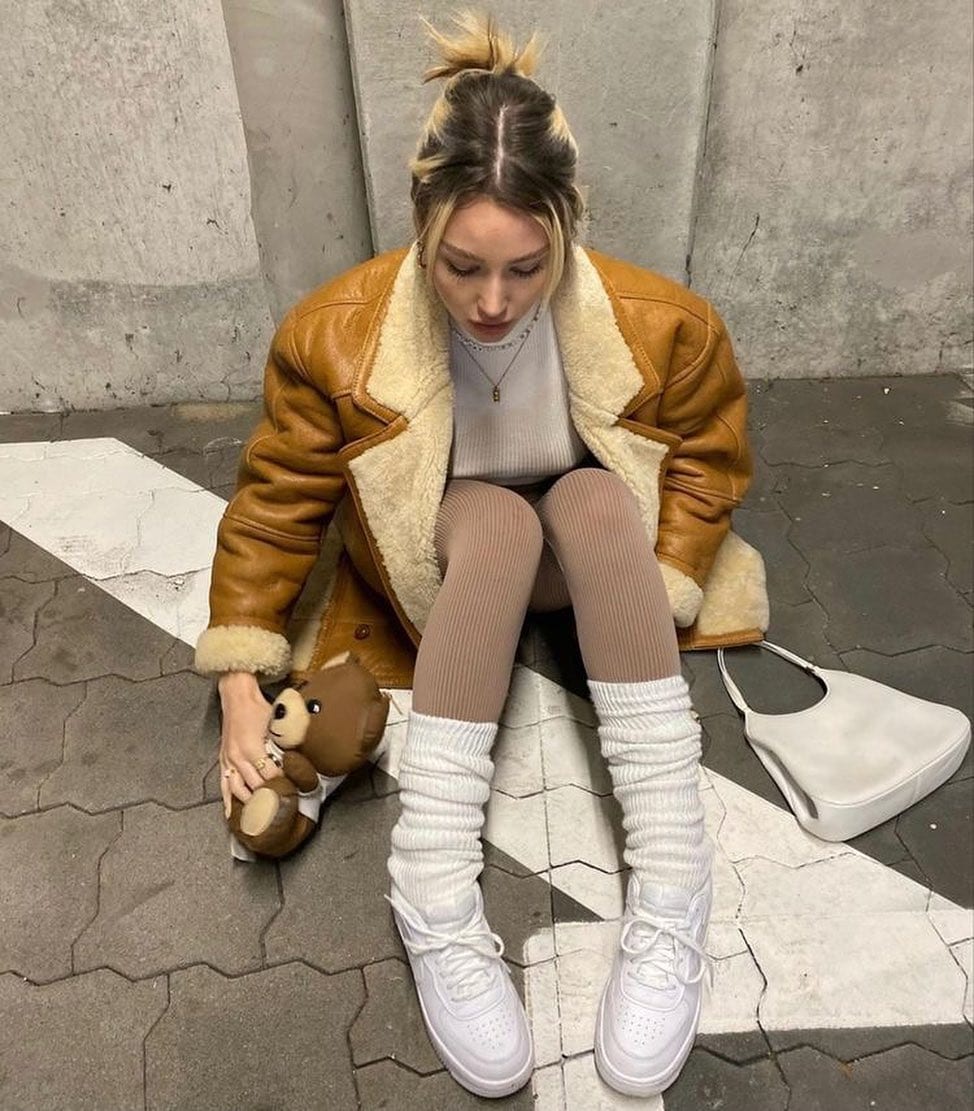 ↓ 24 – Mini Skirt with Printed Sweatshirt
This ensemble is the perfect example of mixing modern and 80s trends. It is classy, feminine, and playful, from the black mini skirt to the printed sweatshirt. Also, we love the little hair scarf detail on the handbag! Hair scarves and bandannas were widely popular during that decade, and we love how she has incorporated the piece into her outfit.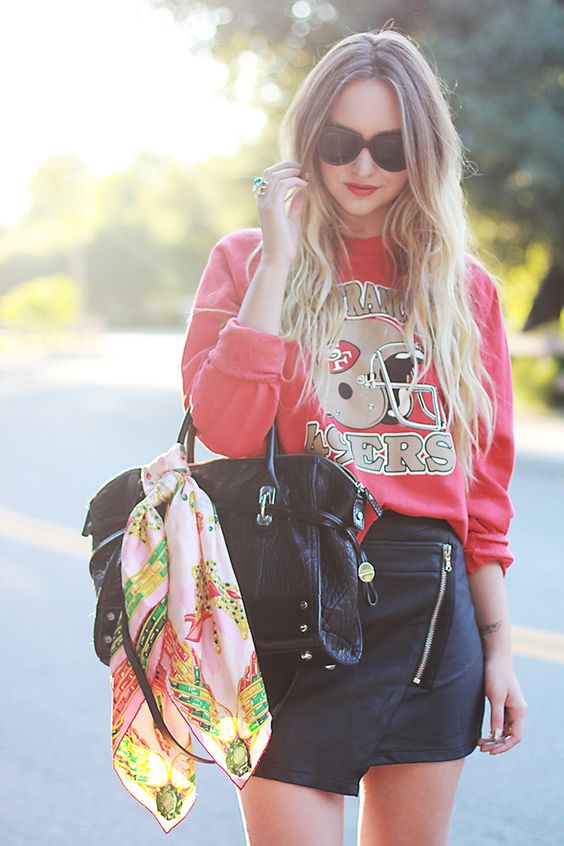 ↓ 23 – What to Wear with an 80s Fashion Inspired Party Dress?
A gorgeous bright green dress is your way to live out that fancy 80s party dress dream. And to make it stand out even more, accessorize! Wear layered necklaces and chunky gold hoops. Furthermore, add a silk hair scarf along with a permed hairstyle and a bright lip to complete the vibe.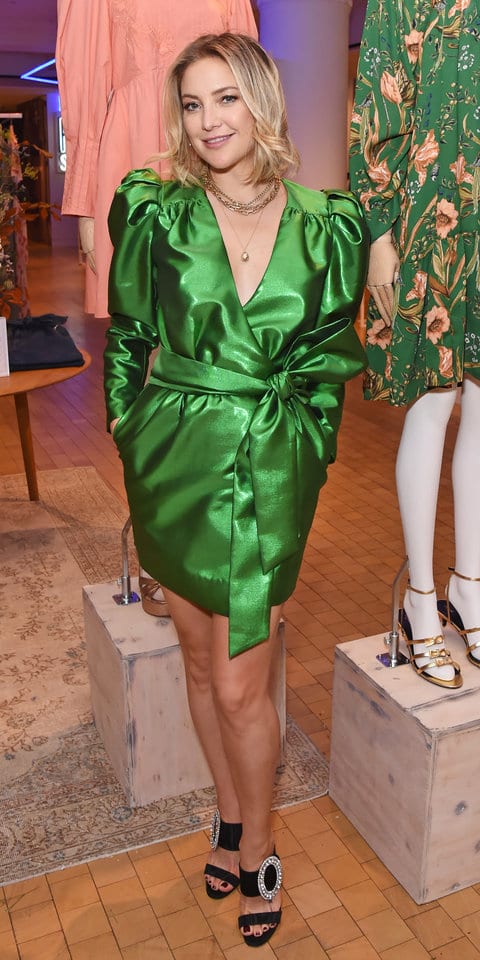 ↓ 22 – Vintage with Acid-Washed Jeans
A perfectly classy look for a casual get-up! This outfit is ideal for the typical on-campus days for college students or when running errands.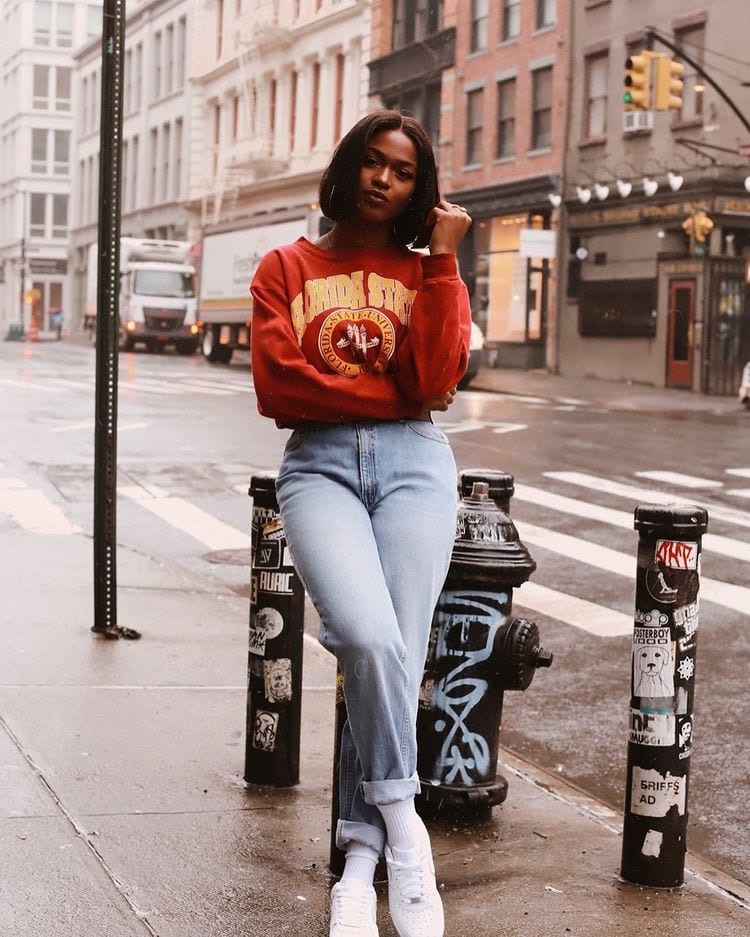 ↓ 21 – Perfect in Printed Leggings and Tee!
The 1980s were all about bold prints and colors. And the people were not shy of wearing patterns. Thus, this outfit is the perfect example for you to execute the print-on-print trend. Don't forget to check out these fabulous Outfits With Printed Tights.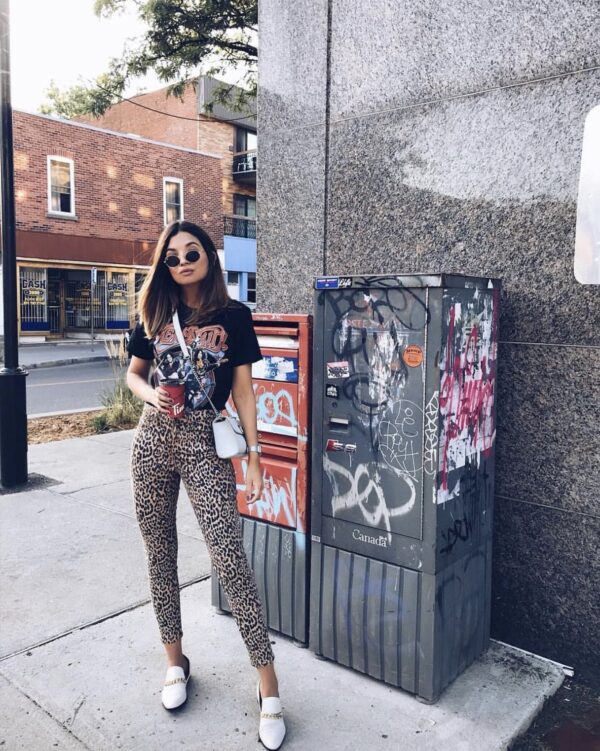 ↓ 20 – When to Wear Oversized Blazer for Ladies?
Oversized blazers are a fun item to style. And it is even more fun when we have a matching set! This two-piece inspired from the 80s is ideal – from the color to the cut. The little pearl beaded bralette causes this outfit to exude class and elegance, making it perfect for a bachelorette party, fun day-out with the girls, or even for an official look! If you like this look, you'll love these tips on How To Wear Oversized Clothes.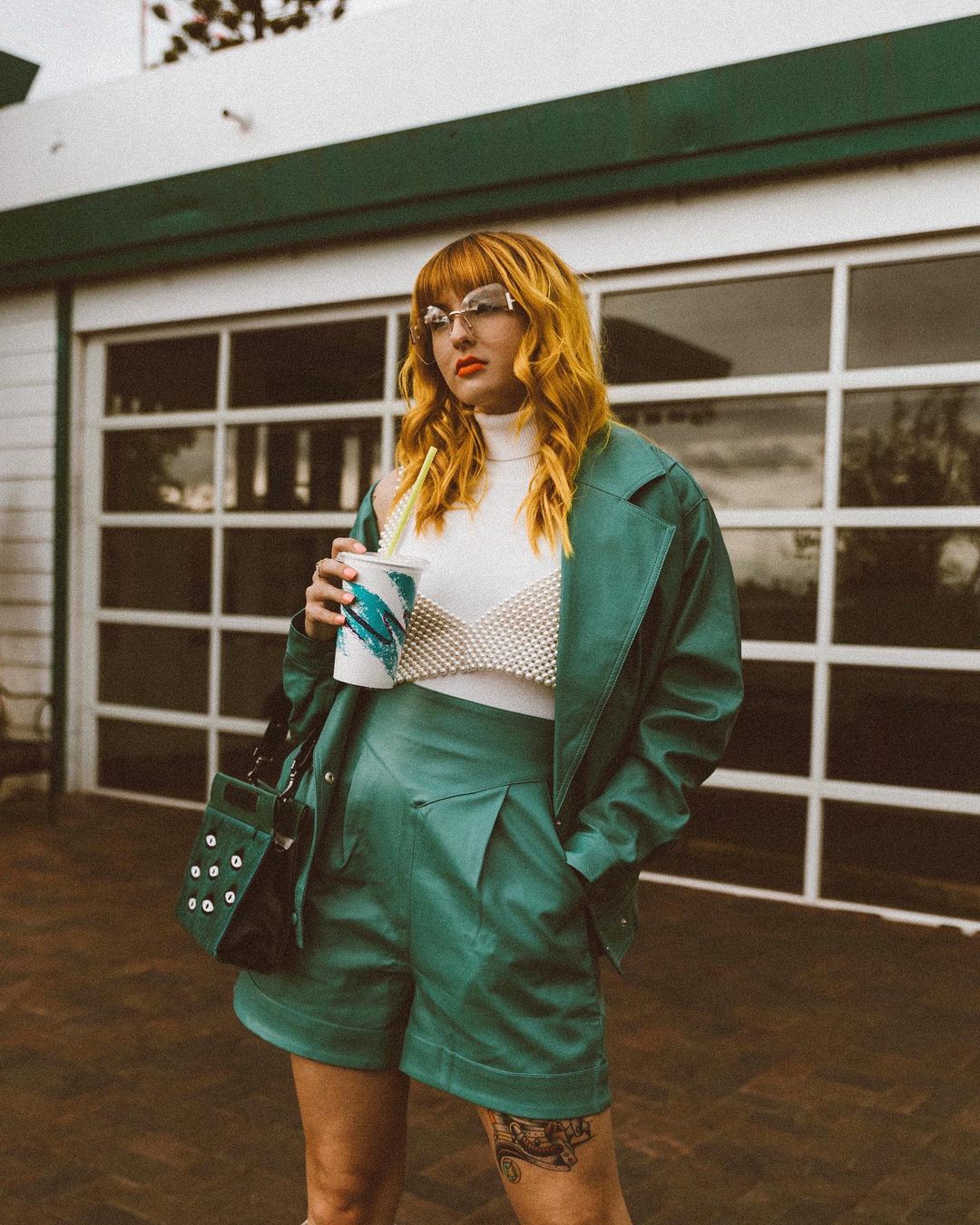 ↓ 19 – Fashion Moments with Polka Dots for Curvy Women
Playful, flirty, and eye-catchy are the first words to pop into my brain when I look at this gorgeous attire! Style with white pearl-embellished heels, and you have an extraordinary outfit.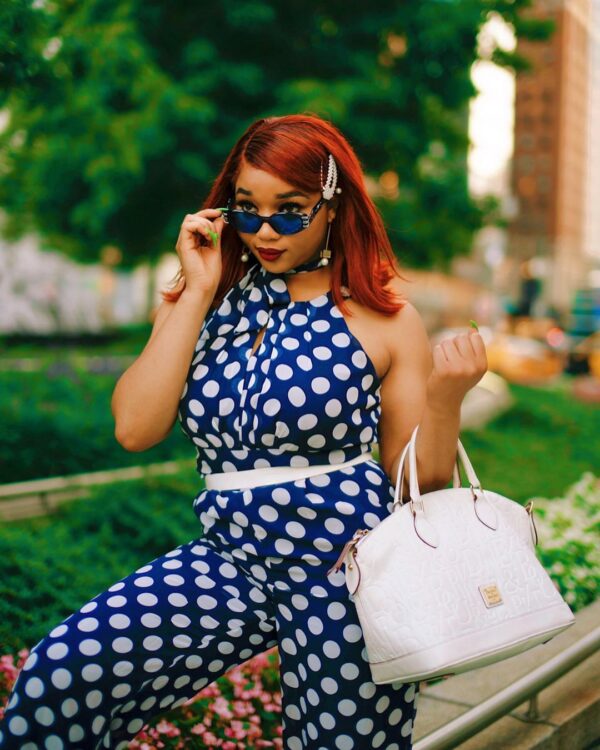 Shop similar here:
Kate Spade Knott Large Leather Satchel
↓ 18 – 1980s Fashion Trends for a Casual Fit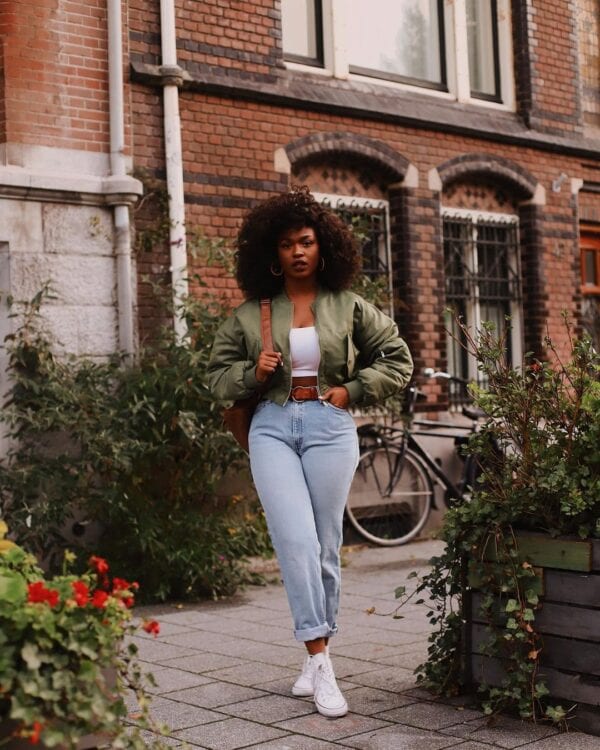 ↓ 17 – Vintage Inspiration to Match Your Little One
The matching mommy-son duo is to die for! These graphic sweatshirts and camouflaged pants are the way to go when dressing inspired by the 80s. Not only are these outfits contemporary, but super fun and perfect for everyday wear.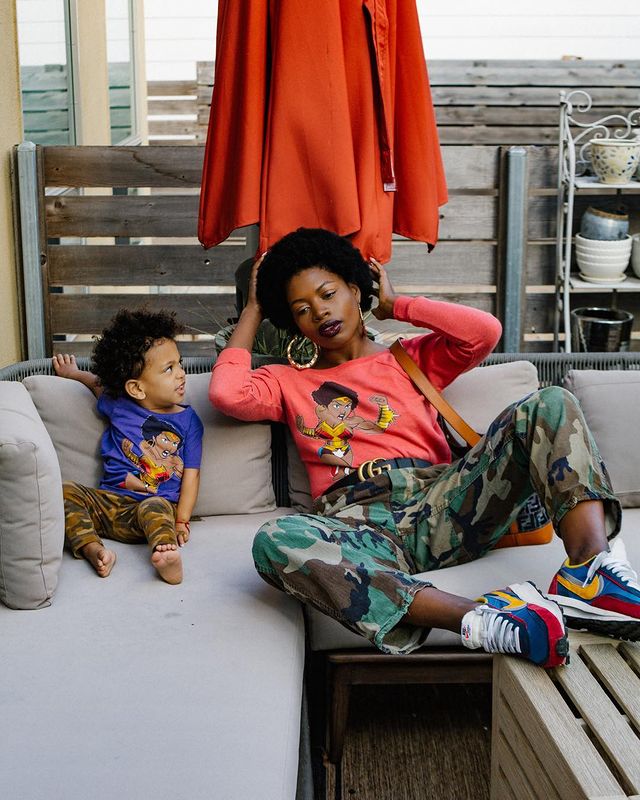 ↓ 16 – Bella Hadid in 80s Trend of Velour Tracksuits
Accessorize a similar tracksuit with chunky silver chains and earrings are you are all set!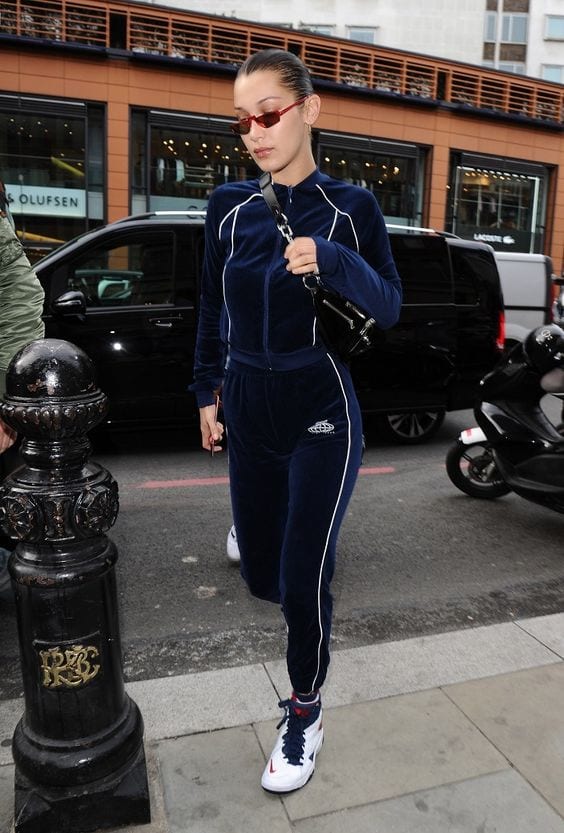 ↓ 15 – Simple and Stylish with Neons
Hipster and bold were the very definition of streetwear during the iconic decade. And this outfit follows those trends flawlessly—the neon shoes and matching tie-and-dye jacket look voguish and up-to-date with modern fashion. Furthermore, the oversized shades and graphic printed tee-shirt gives makes this entire look very 80s forward. What a terrific way to dress up while staying low-key?!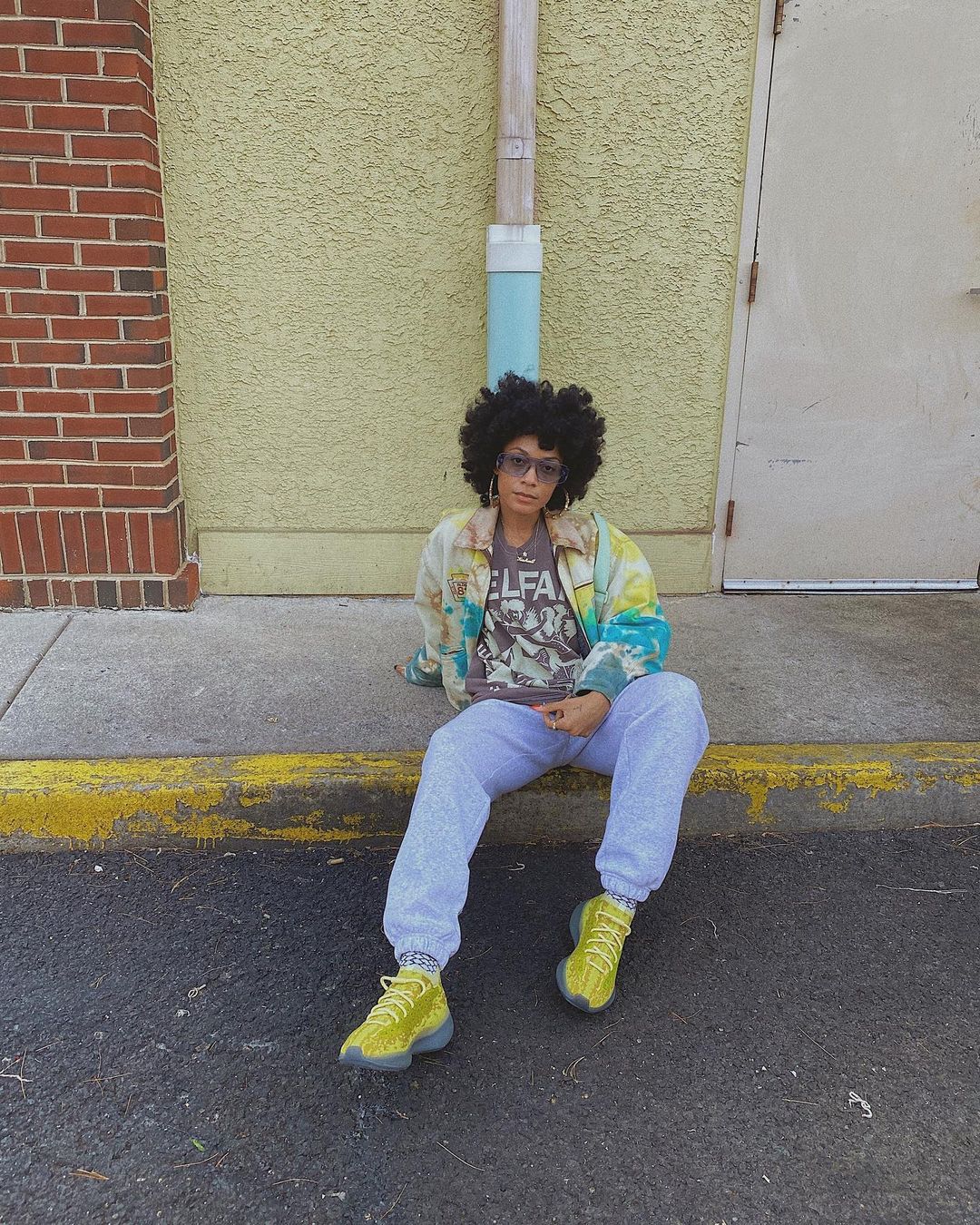 ↓ 14 – Perm it Up
This outfit is perfect for the days when you want to dress up fancy and vintage without having to leave your comfort. The striped dress is vibrant, and the colorful shoes complement the striped pattern on the dress. Overall, a very fashionable 1980s inspired look!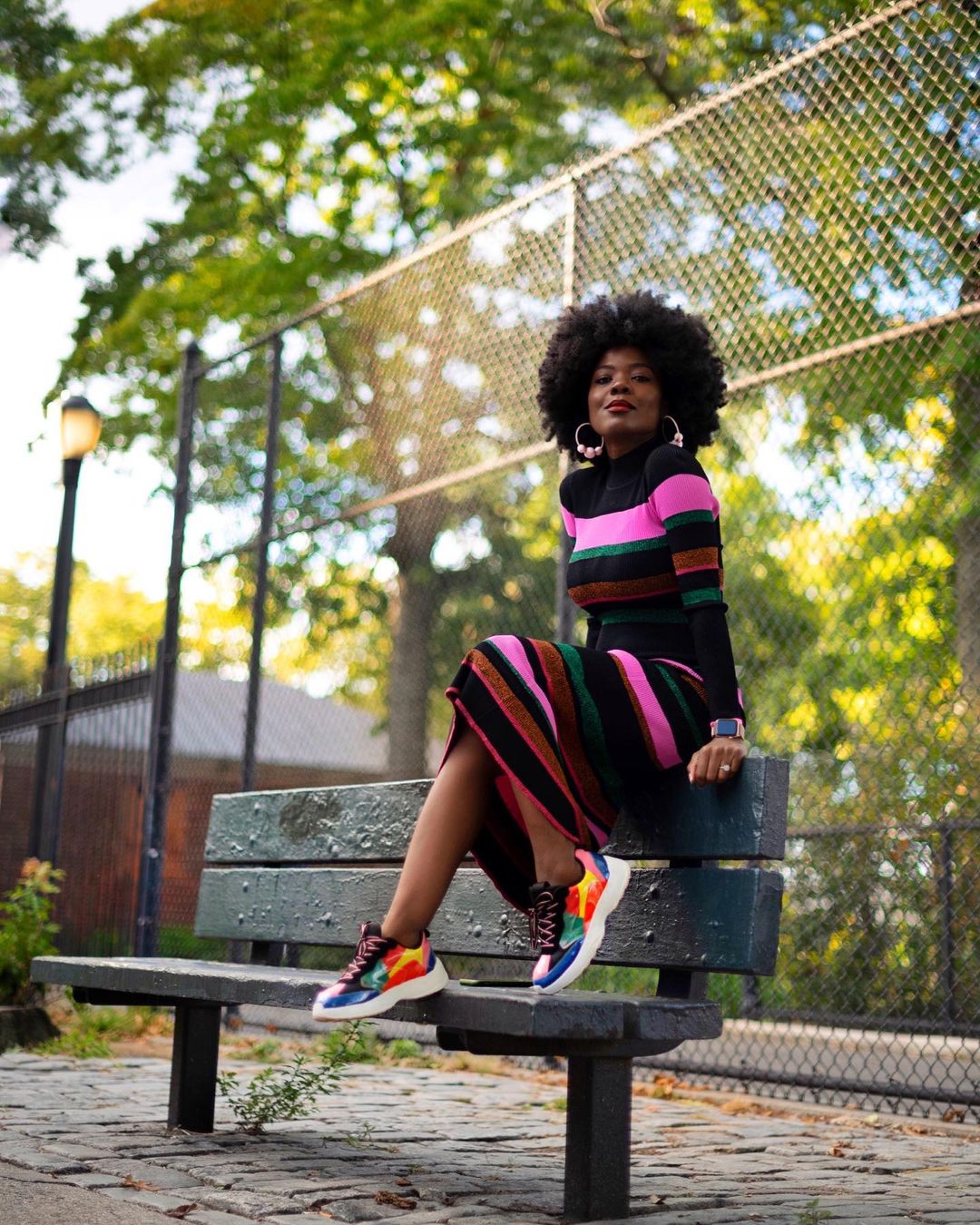 ↓ 13 – Vintage with Plaid Matching Set
This 80s inspired look speaks for itself with the oversized blazer and plaid pattern on the three-piece suit. Leave your hair down in gorgeous big curls, and adorn it with a bright hair scarf and a complementing lip!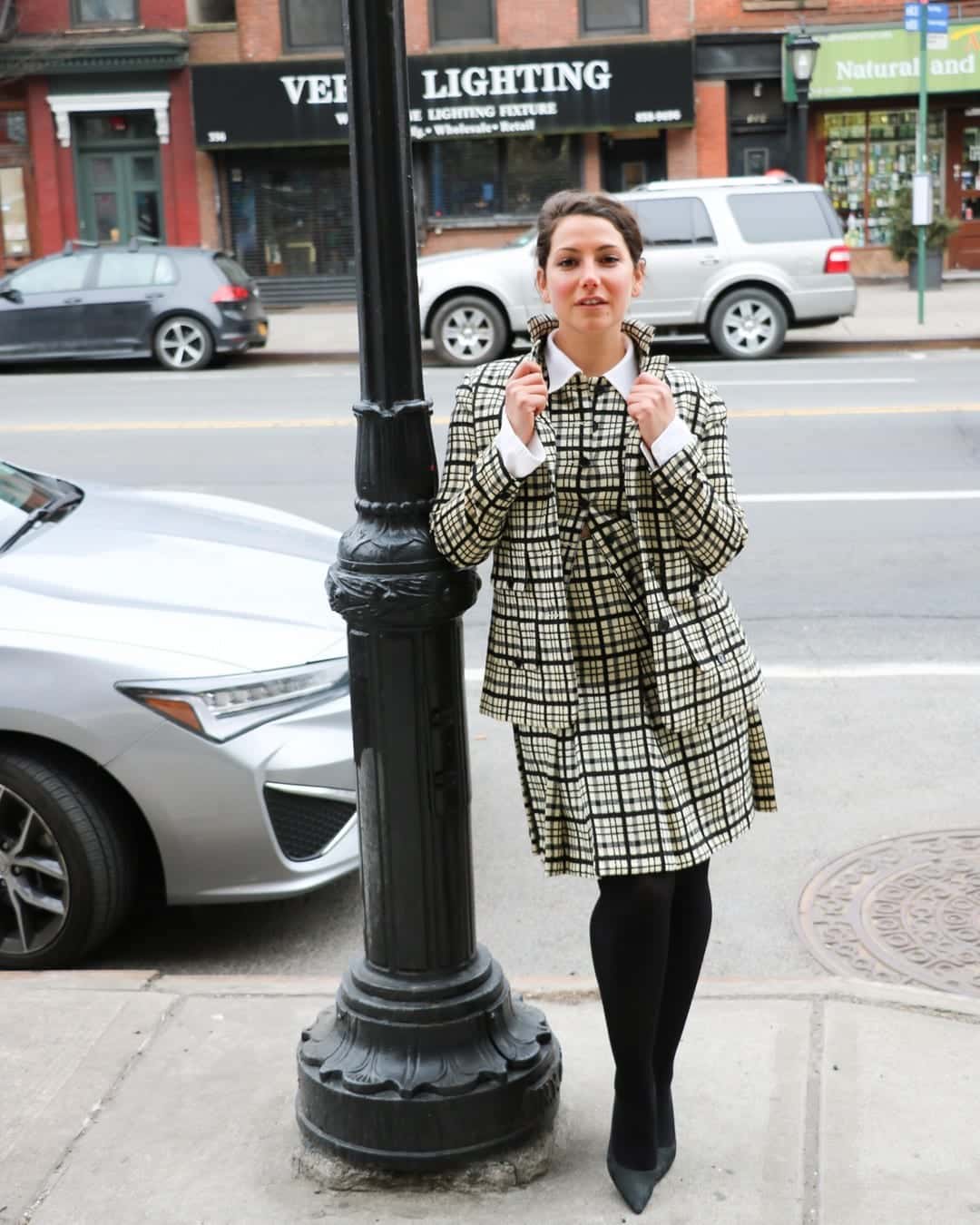 ↓ 12 – How to Dress Hip-Hop to a Theme Party of the Iconic Decade?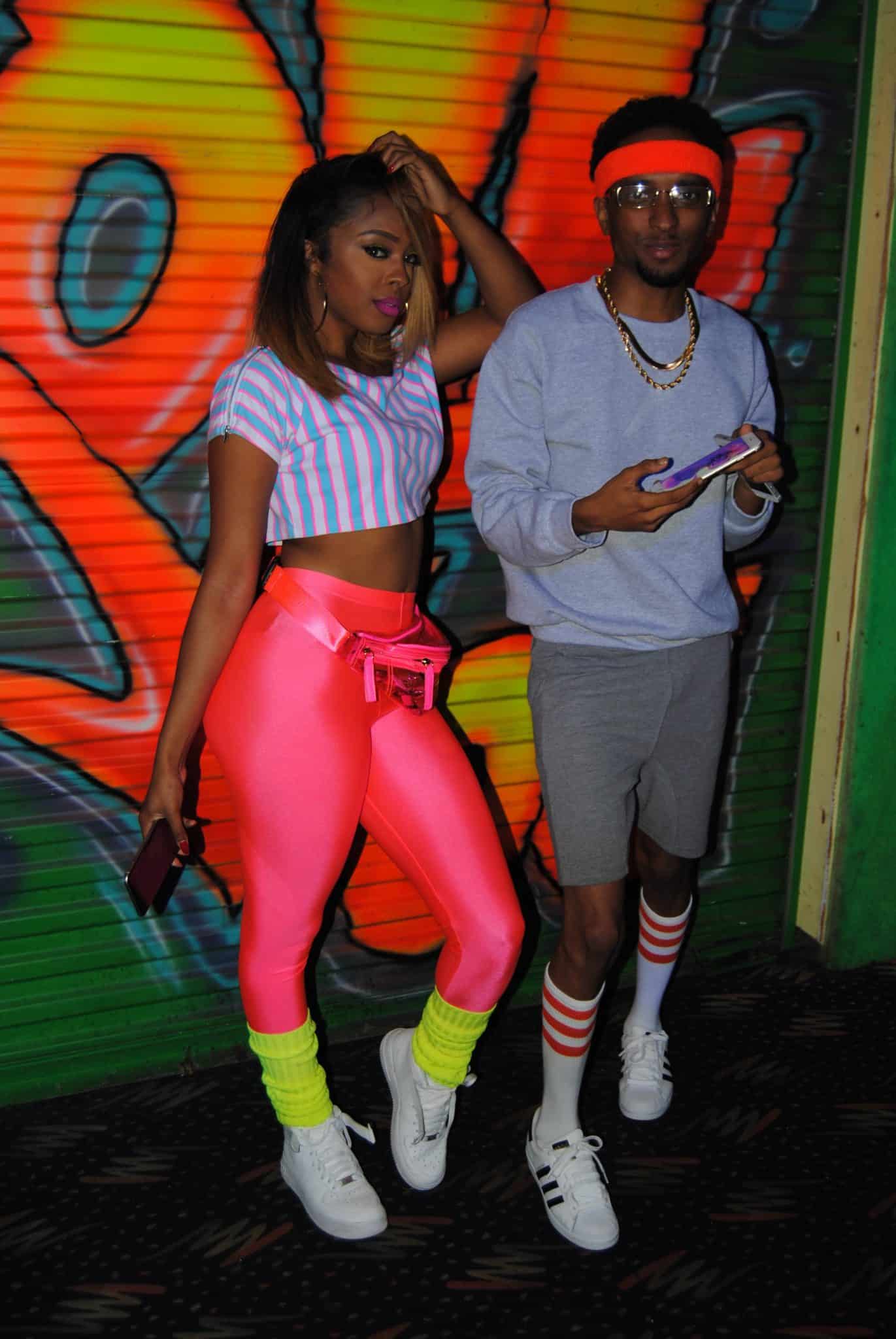 ↓ 11 – Bold in Red
This outfit is perfect for a carnival day or a fancy brunch. Pair this attire with a fancy white clutch and white studded court shoes to complete the look.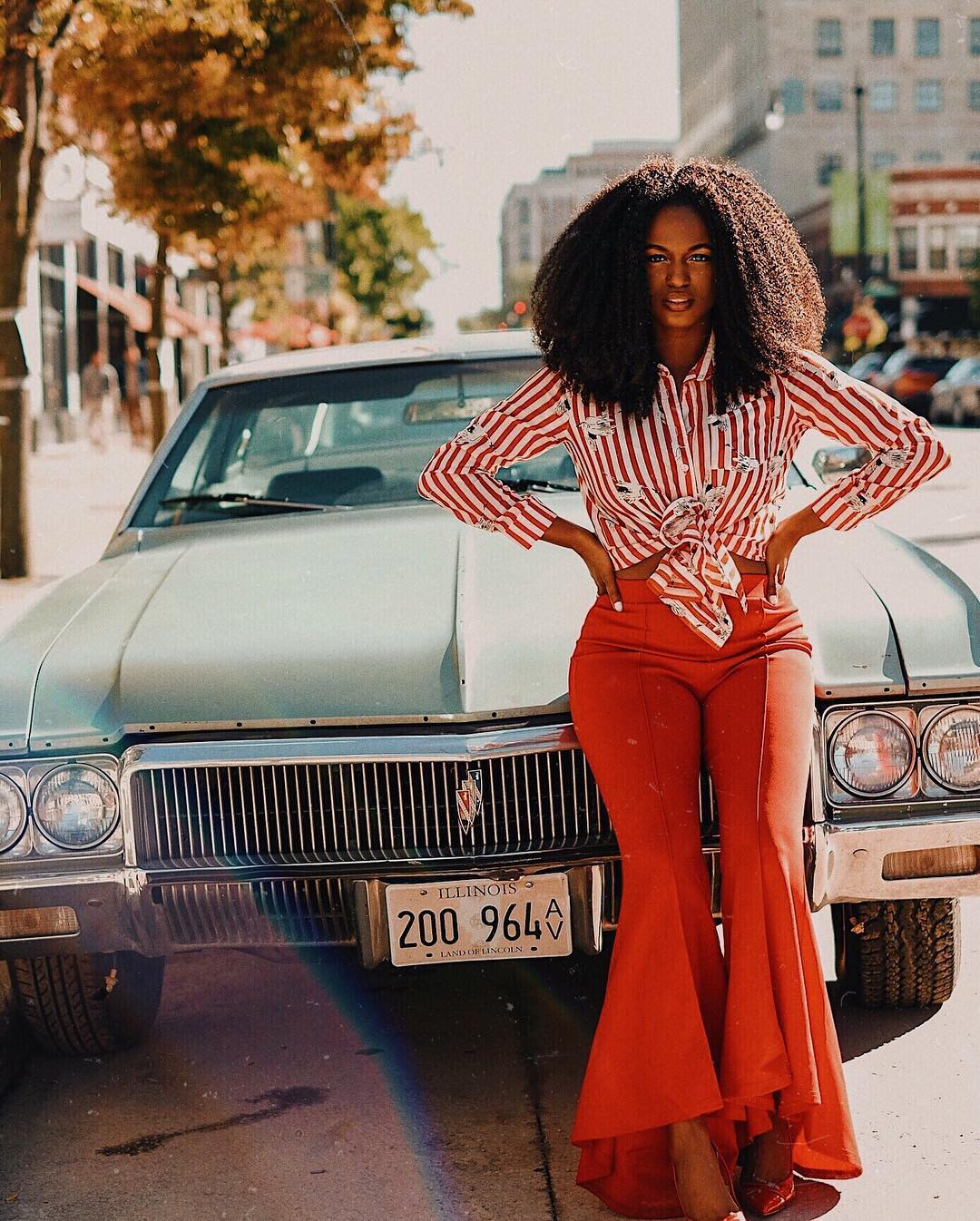 ↓ 10 – Vintage Office Look for Older Women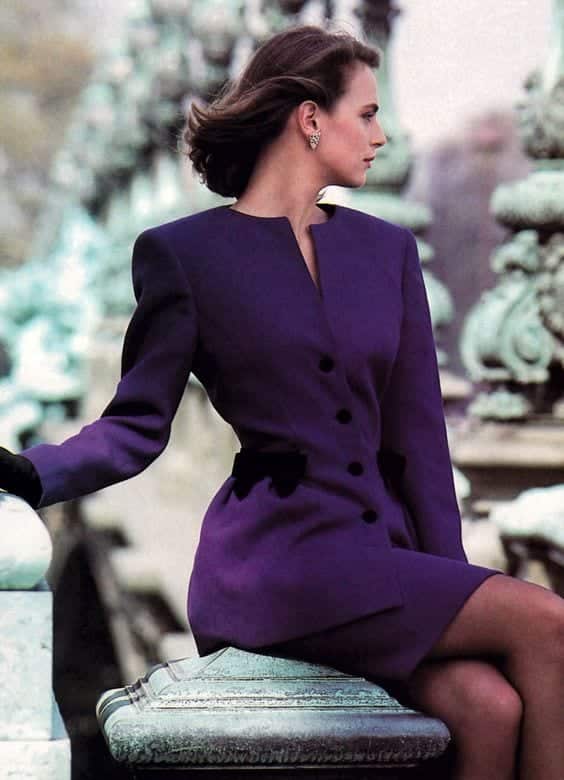 ↓ 09 – A Modern School Outfit for Teenagers Inspired by the 80s
Want to dress vintage to the school in an all-white outfit? We have got you covered with this simplistic and straightforward look. Tuck the shirt and sweater vest into the skirt to bring out your figure, and with a black backpack, you are good to go! Lastly, pull your hair back in a high ponytail and accessorize with daily silver earrings and a necklace.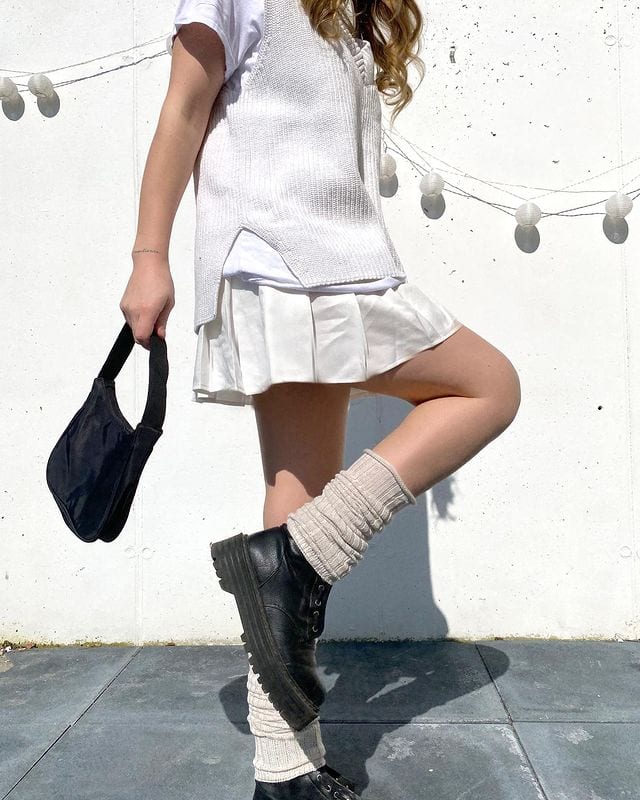 ↓ 08 – Accessories to Wear with 1980s Inspired Outfit for Women
The accessories paired with this look exclaim everything-80s! Firstly, we have the bright and contrasting color palette of this outfit which we adore. Following that, the bright shoes present to be a perfect match to the top. And finally, we have those gorgeous accessories, from the bright yellow glasses, gold rings and, the colorful bandanna. Such a fun and chic look!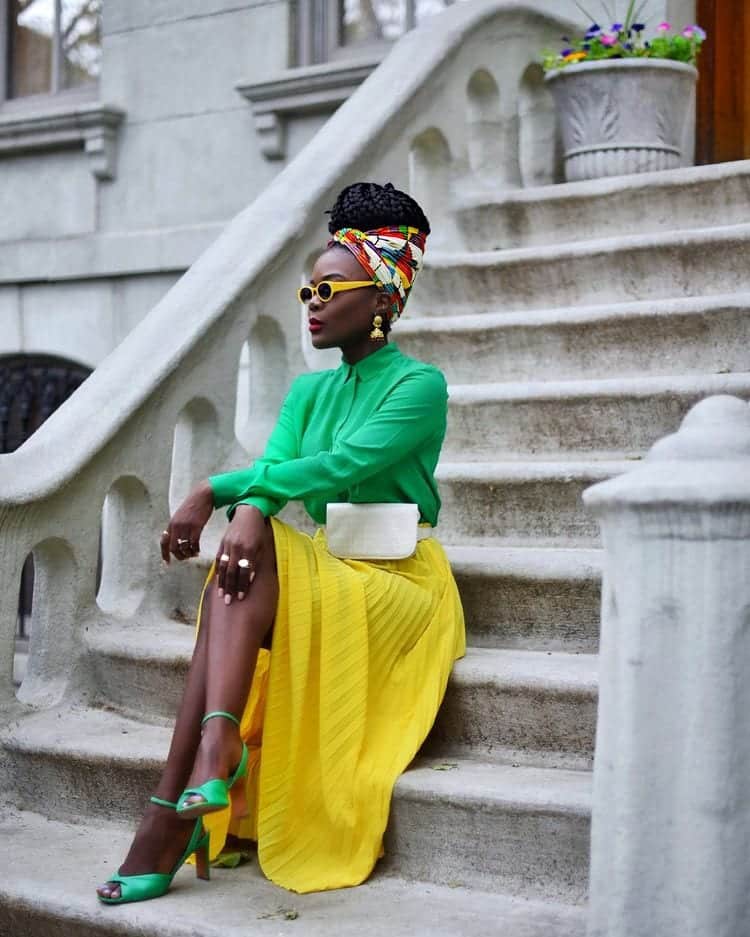 ↓ 07 – Casual Yet Fancy in Ripped Acid-Washed Jeans
Here we have another casual-made-fancy outfit perfect for your days out with the crew! The graphic printed tee-shirt and the light ripped jeans are staples of the 80s, whose pairing you can not go wrong with. To amp up this outfit, we have the shoes and accessories. Honestly, these mesh heels take this outfit to the next level, and the minimal jewelry brings out the simplicity of the attire. Add on a white fringed denim jacket to make it even more, 80s forward.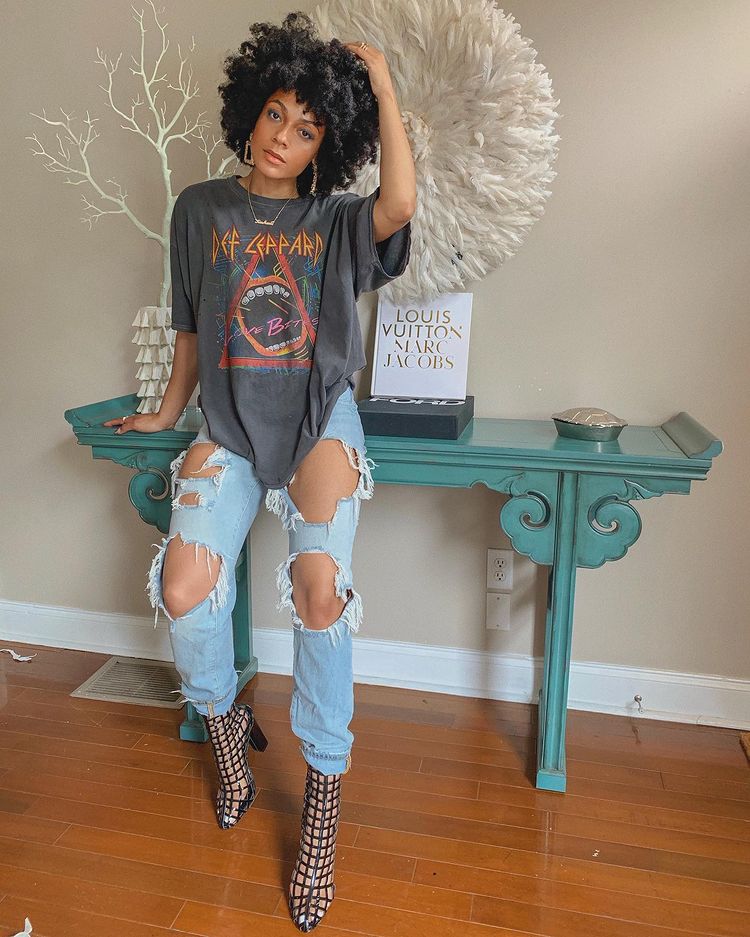 ↓ 06 – Stylish & Vintage in a Shoulder Pads Outfit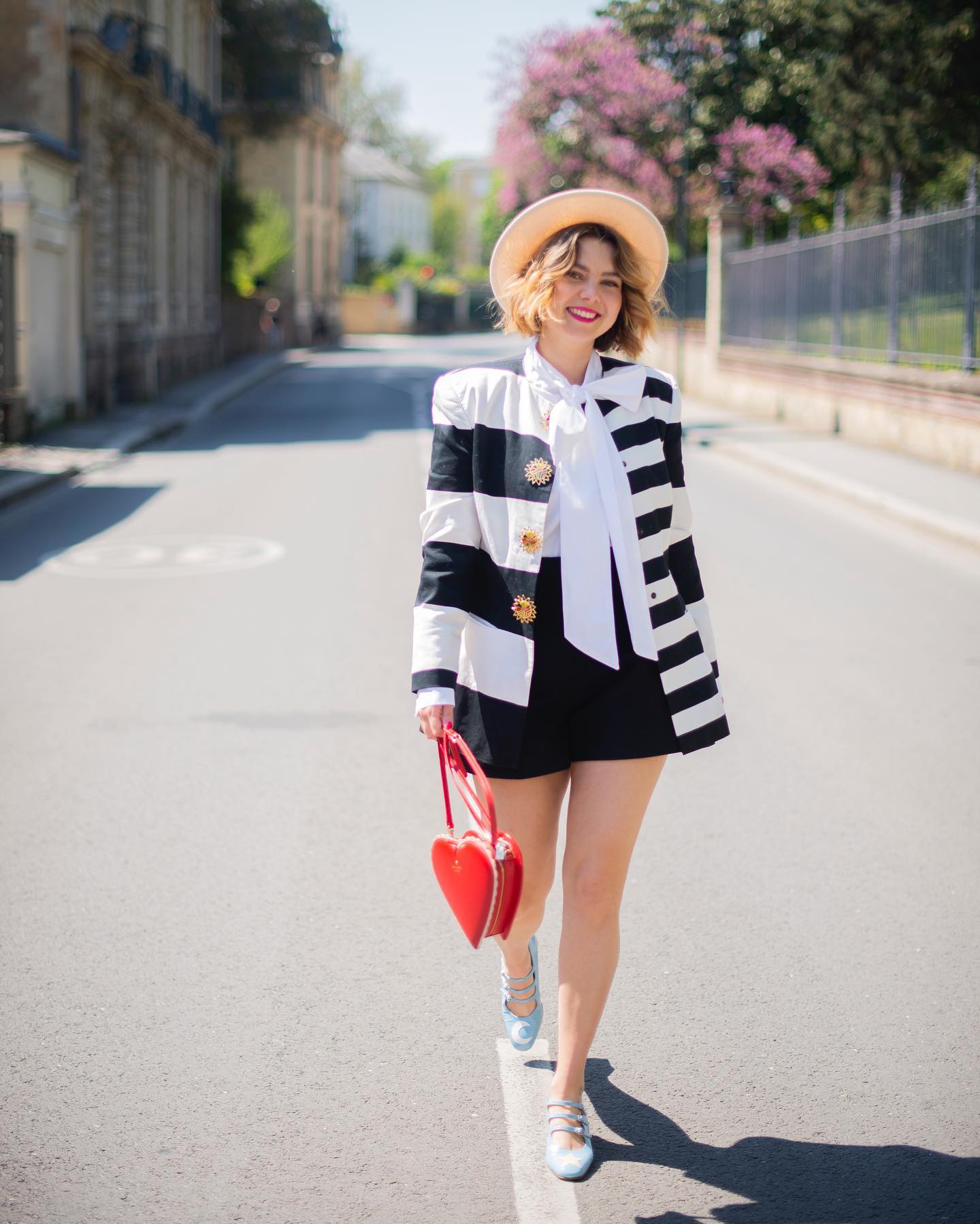 ↓ 05 – How to Style a Hip Fashion Look Inspired by 80s?
This stylish look exudes class, elegance, and hipster vibes with how modern yet vintage this look is! The sweatsuit, which had been popular wear during the 1980s, has been made chic and contemporary with the pastel marble pattern. Moreover, the accessories bring out the outfit and make it oh-so-fancy. From the squared hoop to the oversized shades and the Fendi handbag to these gorgeous mesh heels, we are in love with how well this look has been put together. And finally, the permed hairstyle makes this entire look right-on-brand with the previous decade.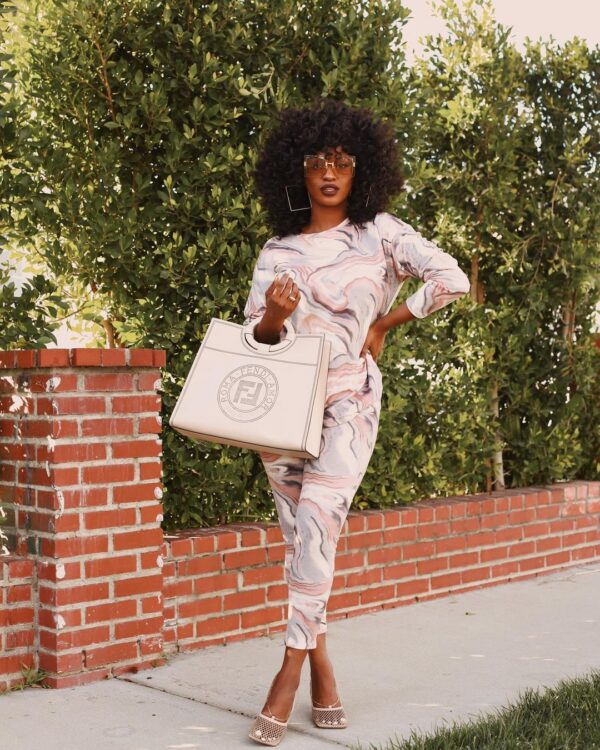 ↓ 04 – Fun & Flirty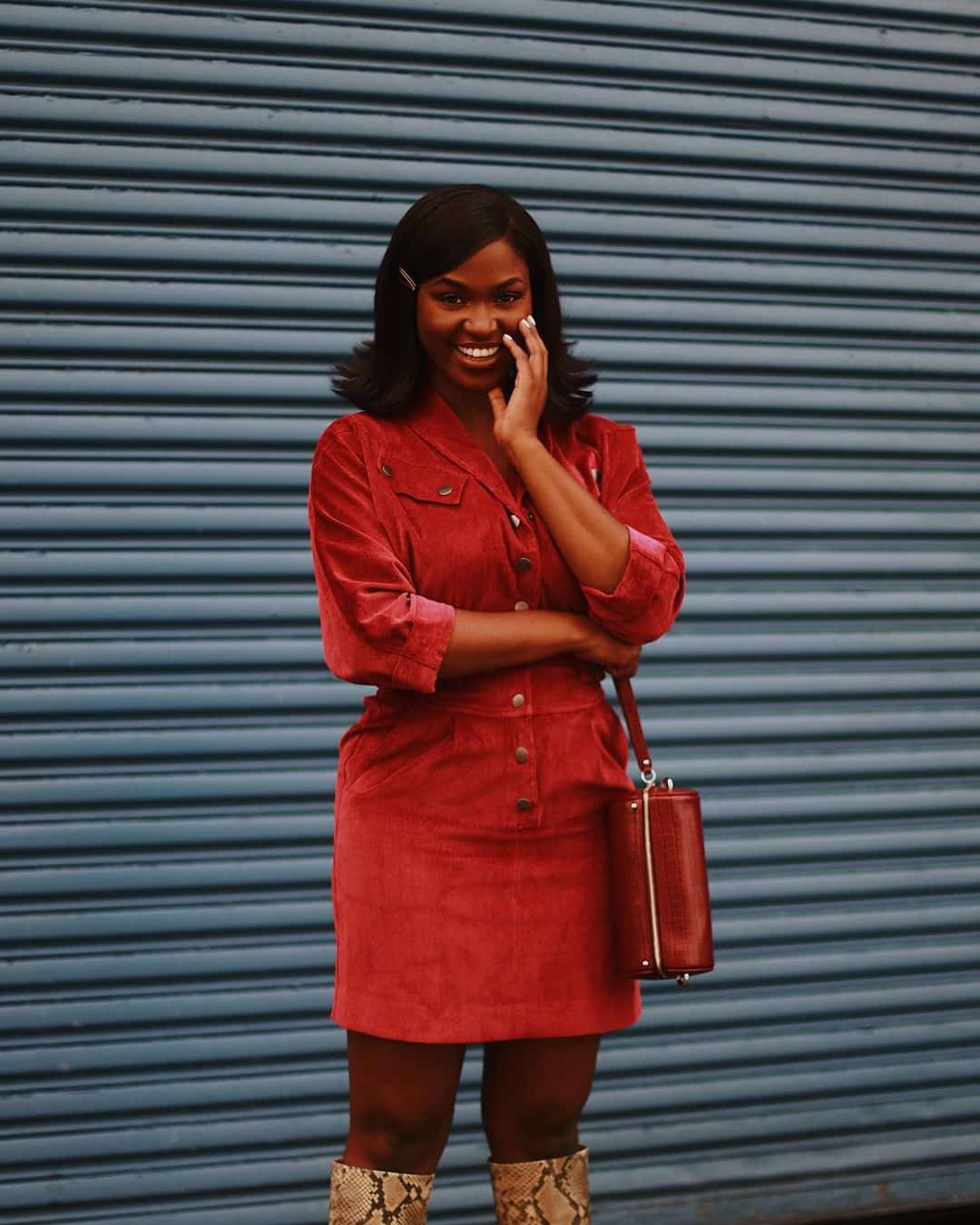 ↓ 03 – Latex Loving Outfit Based on 80s Trends
Keeping in line with all the daring and bold trends, latex was another popular choice among the people! Pairing the pants is this phenomenal polka dot crop top. Of course, you can wear this outfit as it is; however, if you wish to make it more 80s looking, we have a couple of suggestions. For instance, add on a neon yellow fanny pack along with a neon-colored silk bandanna.
↓ 02 – Effortlessly Chic 80s Hip-Hop Look with Retro Windbreakers
Colorful and retro windbreakers were vastly popular during this decade. Indeed, the hip-hop musical genre began to emerge, and people started wearing hip-forward clothing influenced by it. And what better way to do so other than retro windbreakers? This outfit is cool, contemporary, and very hipster-at-heart!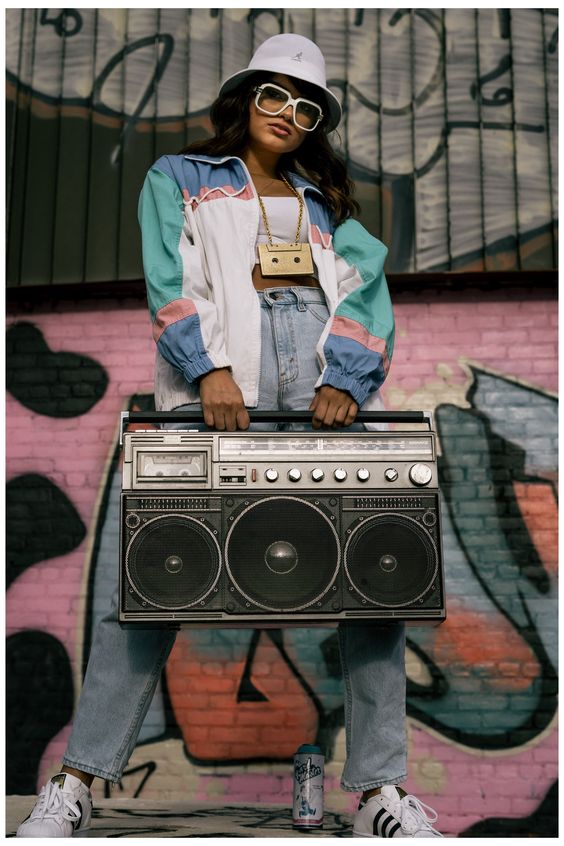 ↓ 01 – An Iconic Party Outfit Inspired the 80s
Dressing for parties is always luxurious and fun. This 1980s inspired party dress will add to your feeling of luxury and class. From the puffy sleeves to the unique colors and silhouette, we adore this fit. The fishnet stockings look stunning and bring out the outfit even more. Furthermore, the glowy makeup with dramatic eyes and minimal jewelry look exemplary with this entire look. I would suggest leaving your hair down in gorgeous waves and swapping those shoes for some black court heels. You would be a vision to behold in this ensemble!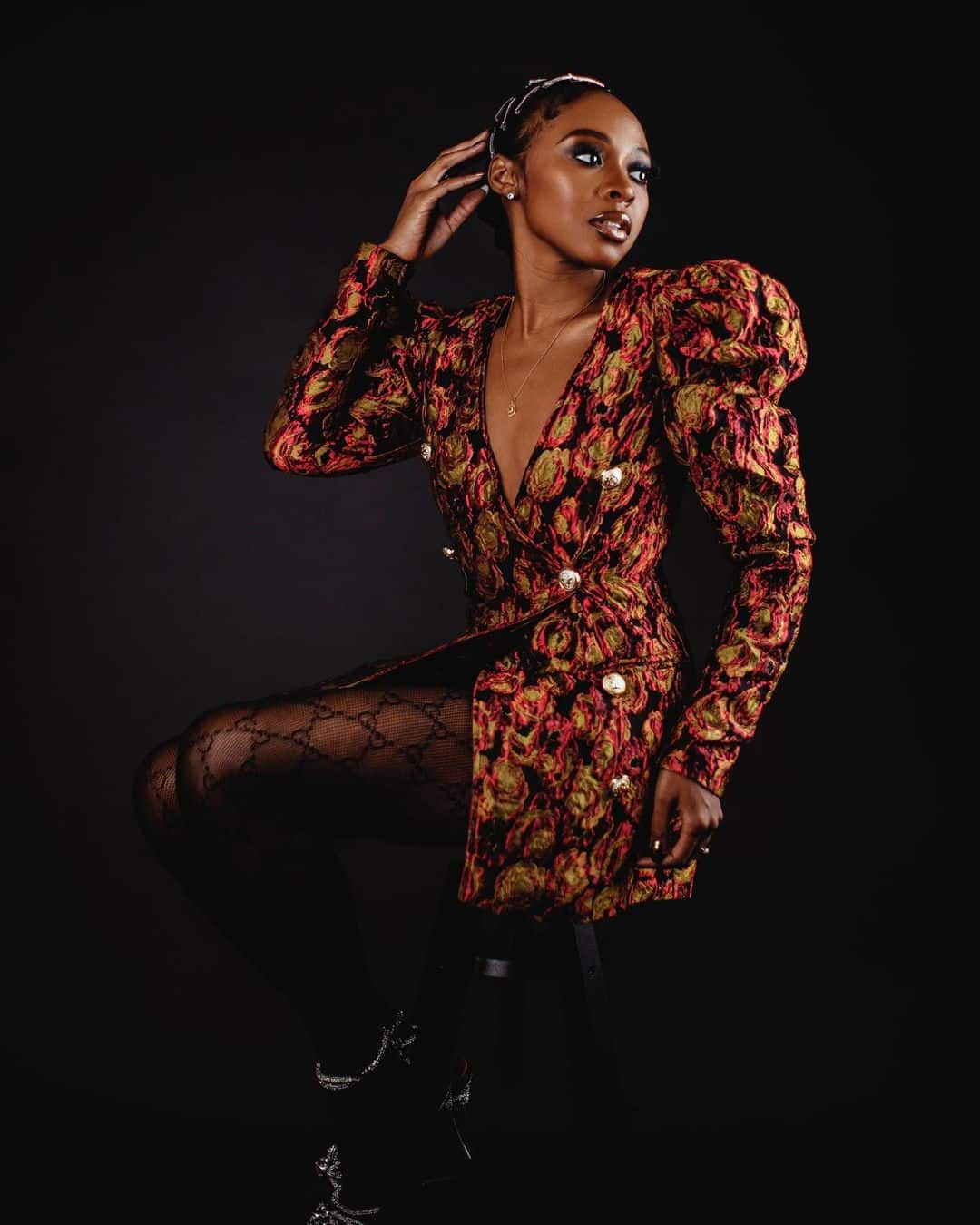 Frequently Asked Questions
Q. How did women dress like during the 80s? What were the trendiest outfits back then?
A. Fashion back in the 1980s was bold, bright, and not similar to the fashion during the 70s or 90s. The 80s women were confident and used to rock shoulder pads, leg warmers, acid-washed jeans, mini skirts, and neon colors. And they used to incorporate these fashion trends for whatever the occasion may be, wedding, formal gathering, office look, or a casual birthday party. Women did not shy away from color and made sure to go all out with their outfits by accessorizing and creating fancy make-up looks.
Q. Were neon colors actually as famous as they say during the 80s?
A. The answer to that is yes! Outfits incorporated neon shades in every possible way – shoes, socks, accessories, bottoms, tops, and even makeup. Fortunately, it was not a period for the light-hearted!
Q. How did teens dress during the 1980s?
A. For the teens, the 1980s looked super casual and comfortable – and of course, staying right on brand with the decade, colorful! You would have seen teenagers wearing oversized jackets, acid-washed jeans, and for the girls, leg warmers. Sportswear was emerging as streetwear during this time, and sweatsuits, tracksuits, jumpers, and trainers were seen around. Moreover, bandannas, jewelry with peace signs, and tons of bracelets were large when it came to accessorizing.
Q. How can I dress like it is the 80s?
A. If you wish to dress like the icons did during the 80s, then I would suggest taking one or two hottest trends of the decade and incorporating those into your outfit. For example, wear a neon-colored leg warmer with a muted outfit to balance it out. Similarly, a blazer with shoulder pads can work perfectly for your office if you wear the fitting pants and accessories.
Of course, planning a look based on 80s fashion might seem fun. However, you would end up looking a little out of place with all the trends stuffed into one outfit, especially during the current times; but, if you are not one to care for other people's opinions, dress in what makes you happiest!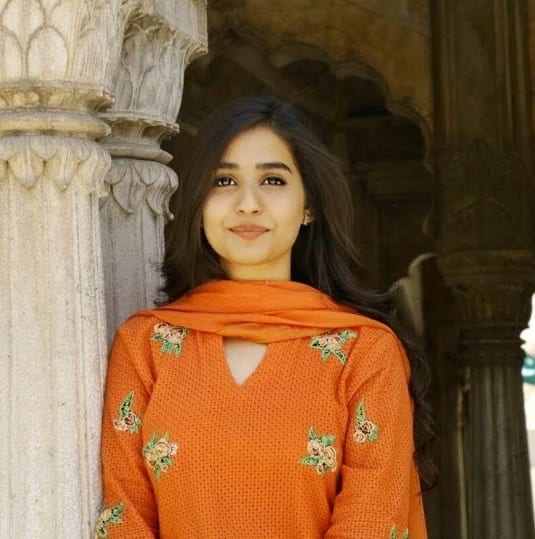 Janeeta Khan loves to write and loses herself in the world of fiction during her free time. You will probably find her curled in the corner with a Harry Potter book and a steaming mug of hot cocoa.