Neon Pants Outfit Ideas – Why wear neon pants? Do Neon pants look fashionable? Our culture and social identity are revealed through clothes. Trendy outfits make you feel more attractive and classy. Although neon outfits are hard to pull off, no matter what season you're dealing with, the colors are apt to overpower whatever they are paired with.
Neon colors act as highlighters and draw the attention of people. Neon outfits could be worn in various ways, like a skilled fashionista. Neon pants look trendy, stylish, and alluring despite the season or weather. Your outfit should be a daring yet cheerful and elegant fashion statement.
Neon outfits make you feel confident and bright. Your self-assertiveness is more critical and should be as light as the dress color. A single neon color is enough to create a color-blocking effect when assembled with more neutral and opposing colors.
How To Style Neon Pants
Everyone can wear neon outfits to look more confident and glamorous. You must have to be creative and acquire this fashion inch by inch. In the traditional workplace, people usually feel reluctant to wear neon outfits. But for those with more friendliness, it is a significant way to invigorate an outfit.
It's totally up to you how to style an outfit. You must be creative and fashionable, but there are certain limitations regarding styling in a conservative environment. Yes, you can wear the bright and attractive colors of your choice, but you must be aware of your surroundings.
Tips
Head-to-toe neon outfit: If you want to look attractive and daring, choose a neon shirt, pants, and jacket. Don't be afraid of showing your colors. This kind of monochrome outfit will look gorgeous and luminous. You can choose different colors of your own choice and pair them with many accessories.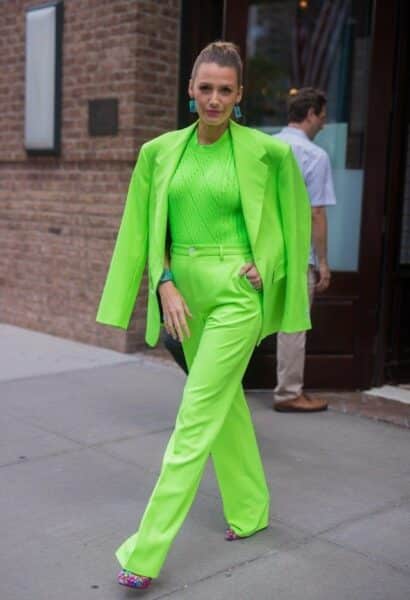 Neon pants with neutrals: If you are shy and don't want to be the center of attention, wear your bright neon pants with light neutrals like khaki and white or dark neutrals like black or gray. But don't mix light-colored neutrals with dark-colored neutrals.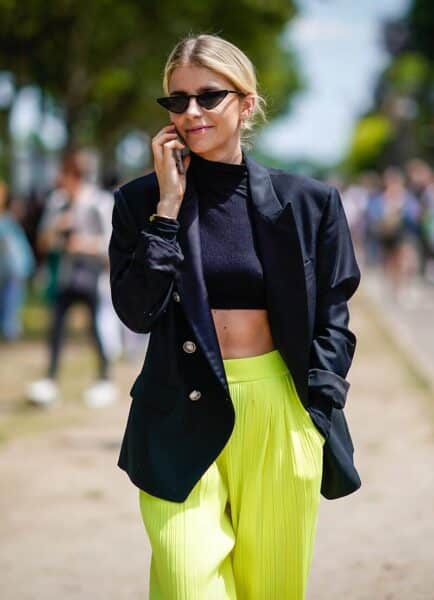 Pants with neon heels or sneakers. If you want to lighten yourself, pair your neon pants with solid-colored flat, multi-colored sneakers or a twist on the dress shoe. For example, pair your neon shoes with neon pants or a neon skirt to create a glamorous effect with a pop of color.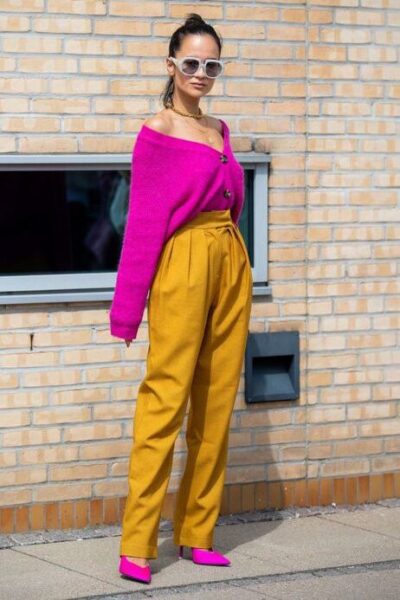 Don't wear neon jewelry with neon pants. If you are fond of jewelry and want to look different, you should choose light or dark neutrals with neon jewelry. Don't pair neon jewelry with bright neon outfits because it will look weird.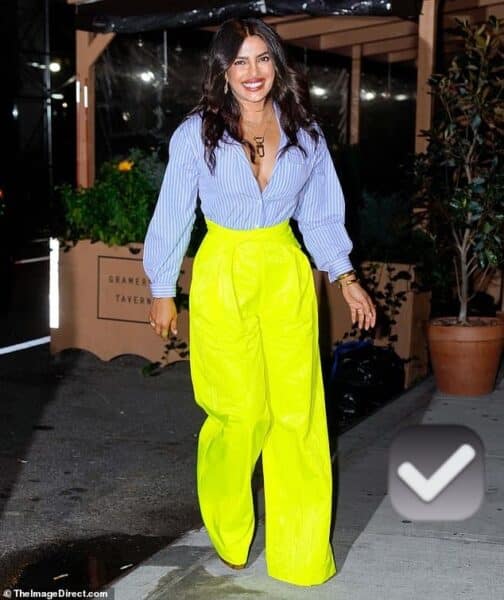 Don't wear neon bags with neon pants. Choose a neon purse, backpack, or clutch with your neutral-colored outfits. You can also choose an oversized bag, a small purse, or a cross-body backpack. But the point is that you should remain vigilant about choosing the color of your outfits with neon bags to look good.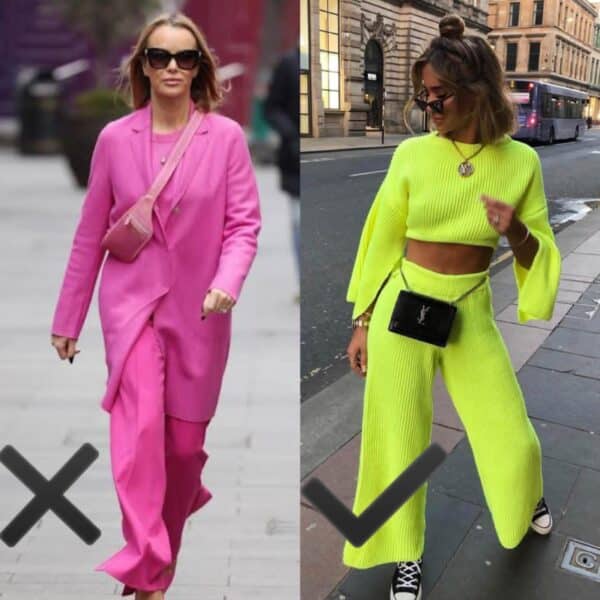 Don't use a neon hat with neon pants. A neon hat will give a thrilling touch to your look. It will add a speck of color to your outfit. Choose a neon hat with neutral outfits. It will give a different and vibrant look.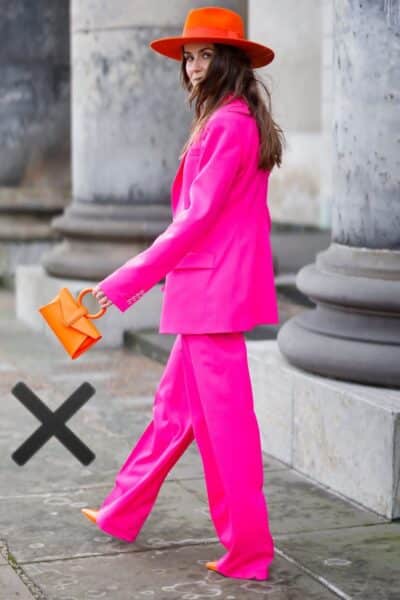 Use a black belt with neon pants. Belts are essential in our accessories. If you need to wear a belt with your outfits, try an oversized belt in your favorite neon color. Choose a neon belt with neutral or denim pants.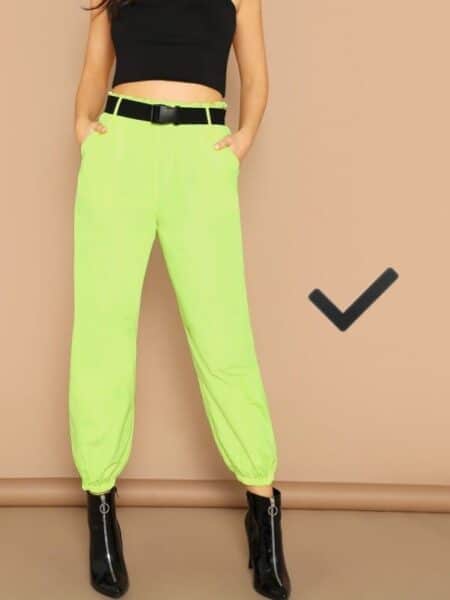 20 – White V Neck Top With Blue Blazer And Yellow Wrap Pants
I would suggest pairing white or any neutral top with yellow wrap pants for a regular office day out. To make your outfit more professional, wear a blue blazer. Accessorize your outfit with a black shoulder bag and sunglasses. Choose a beige shade of pointed-toe stilettos to finish the look.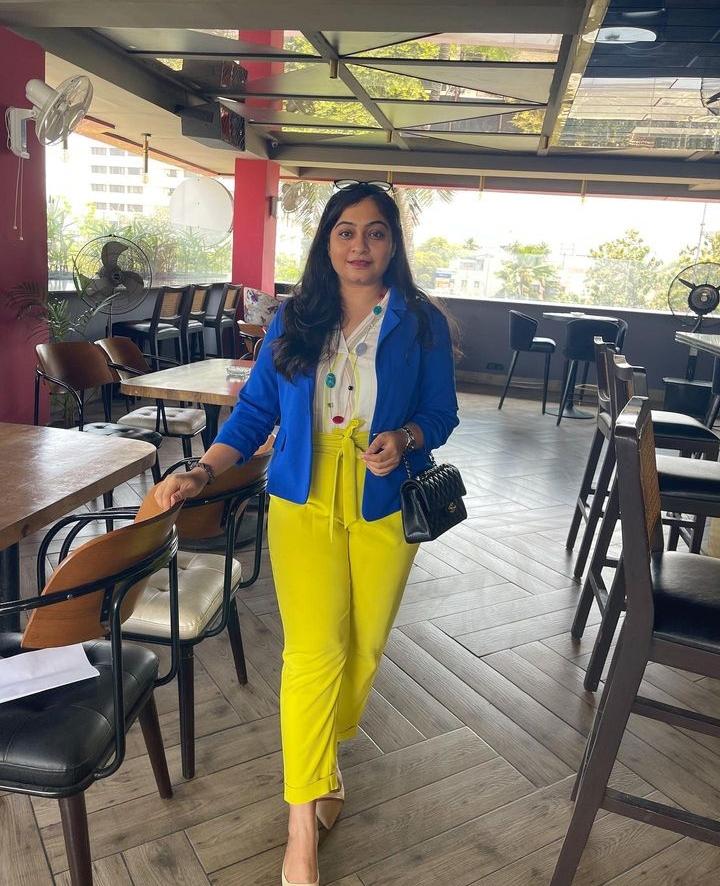 19 – Abstract Printed Trouser With Racerback Black Tank Top
If you are going with the black racerback tank top, then a perfect combination would be to pair it with brighter-shade pants. Whenever we talk about dark shades, neon colors pop into my mind first. You can pair neon pants with any basic top from your closet, instantly revitalizing the vibe.
Invest in abstract printed trousers; you will be doing yourself a favor. You can pair it with heels to give yourself some height. Finish off in style with a black shoulder bag.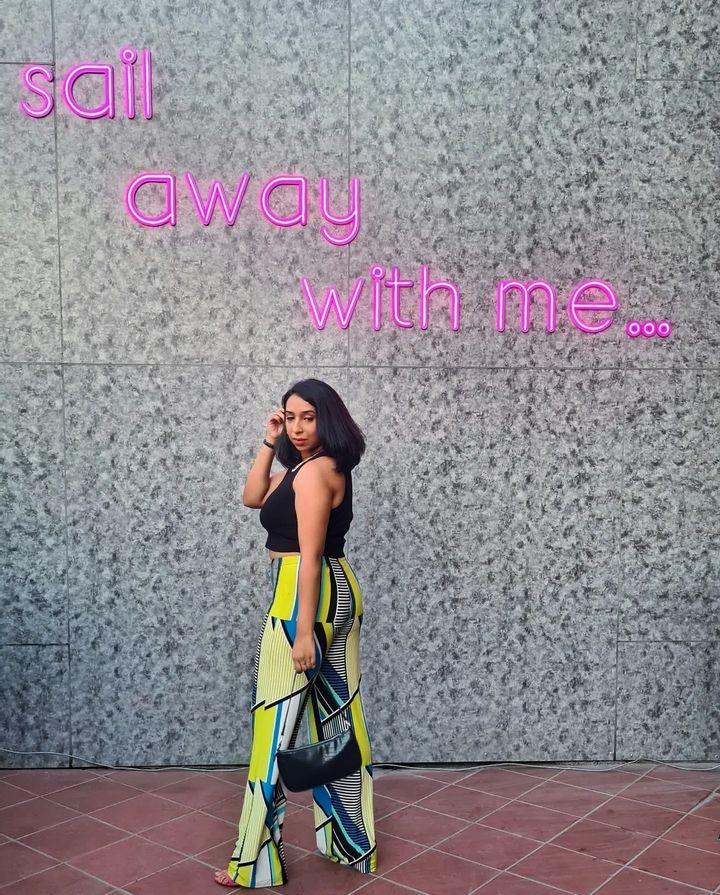 18 – Green Side Cut Pants With White Halter Neck Crop Top
Here's the perfect outfit inspiration if you are in the mood for the beach. Pair green color side slit trousers with a halter top. You can choose the color of the top according to the season. For the summers, white is preferred over black. You can choose the color of the top according to the season. For the summers, white is preferred over black.
For footwear, choose white sneakers and elevate the look with your favorite pair of shades. I suggest sticking to subtle makeup so it won't look too much.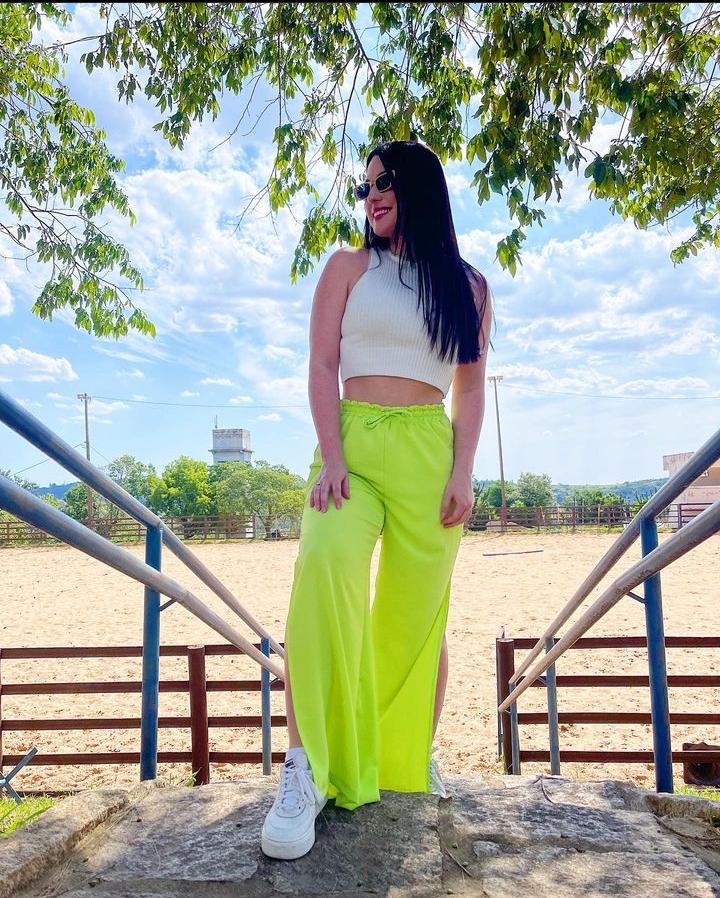 17 – Pink Floral Wrap Trousers With Black Square Neck Top And Nude Sandals
Are you traveling somewhere, or do you want to keep your outfit casual & smart? In both cases, my top pick is floral wrap trousers with a basic black square neck crop top. Floral trousers are everyone's favorite because you can wear any top with them.
Finish the look with nude sandals. Always wear neutral-shaded shoes under abstract printed pants to not overdo anything.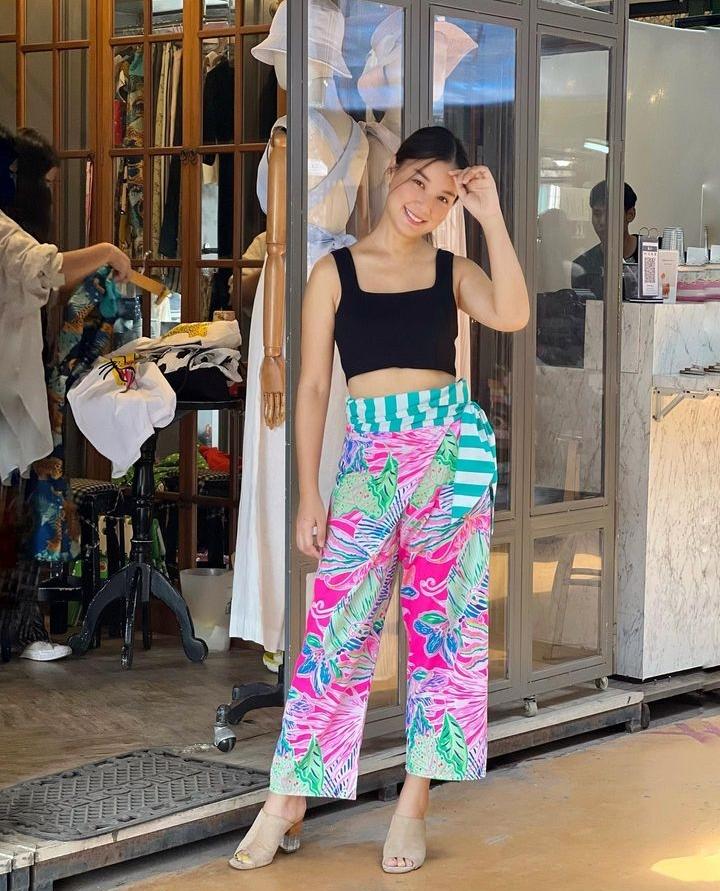 16 – White Bishop Sleeves Top With Straight Neon Green Pants And Belt
A perfect outfit for a date night. Wear a white top with bishop sleeves, preferably see-through material. Otherwise, the top will be too plain. Pair it with neon green pants. However, I suggest not wearing a neon belt with the same color pants.
I prefer to go with a black belt with a golden buckle. It would elevate the look better. Also, transparent heels will match the vibe of the outfit perfectly.
15 – White Printed See-Through With Black Bralette And Green Pants
Are you looking for a sleek look? Here's how you can create a look with see-through tops which will not look too bold for outdoor activities. Many of you would have a sheer top, but you aren't comfortable enough to wear it outside.
The problem here's that if you pair a sheer shirt with basic pants, all the focus would be on the upper half. That's why I suggest wearing bright pants to neutralize the overall look. However, nothing can beat the elegance of neon colors when it comes to bright shades.
Pair green pants and matching shoes, and voila! You are good to go. You won't feel uncomfortable in your top. In fact, it will boost your confidence.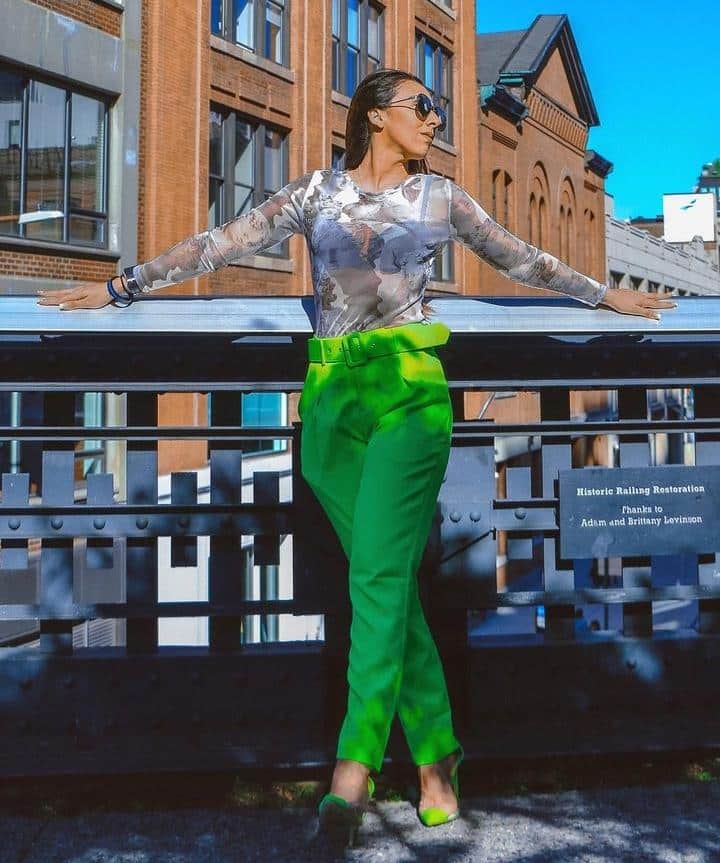 14 – Grey Neon Joggers And Bright Neon Stripes With Black Turtle Neck Top
You must have a turtle neck top in your closet. Here's an easy and stylish way to style it. Pair the top with grey joggers with silver stripes. These pants are a statement piece. You could make many outfits with them because they will easily boost your simple shirt.
Go with a black leather belt. Also, white or black sneakers will do. However, carry a crossbody bag for the accessory to complete the look. Lastly, don't forget to match your socks with the shoes.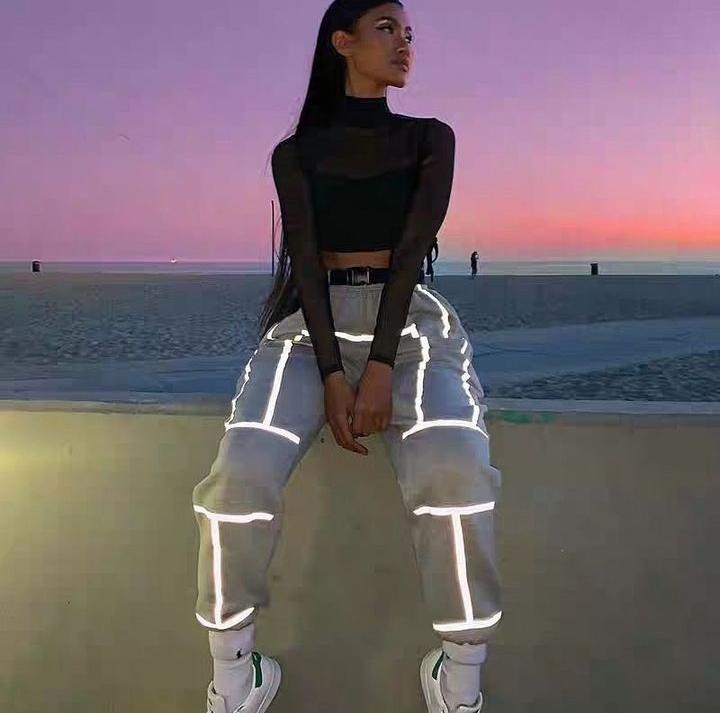 13 – Grey Turtle Neck Shirt With Green Trousers And Silk Printed Belt
Winter is almost here. You might need some fresh ideas to recreate it to look different. Also, when it comes to winter, turtle neck shirts are a must. How about we style the same old top with neon lemon straight trousers? I know to some, it might not seem like a feasible option.
But don't underestimate the power of neon color in the clothing because it will surprise you how well bright colors look good with neutral hues. Add silk printed belted and white boots. Lastly, if you like to wear jewelry, wear a golden neckpiece.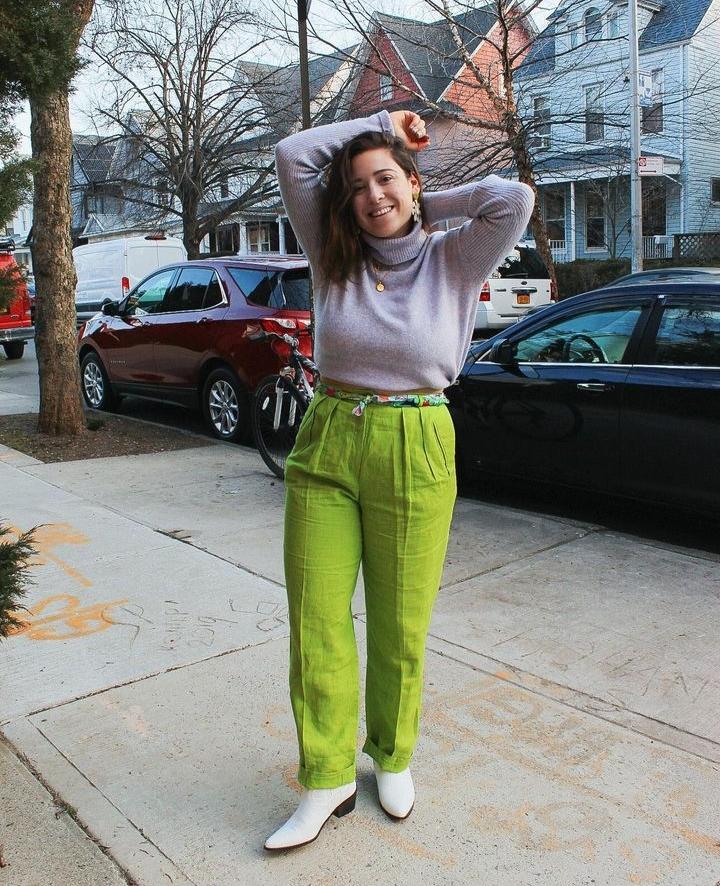 12 – White Puff Sleeves Crop Top With Parrot Low Rise Sweatpants
A white crop top looks good with low-rise pants. You can style your top with lemon sweatpants and chunky beige sneakers to create a sporty look.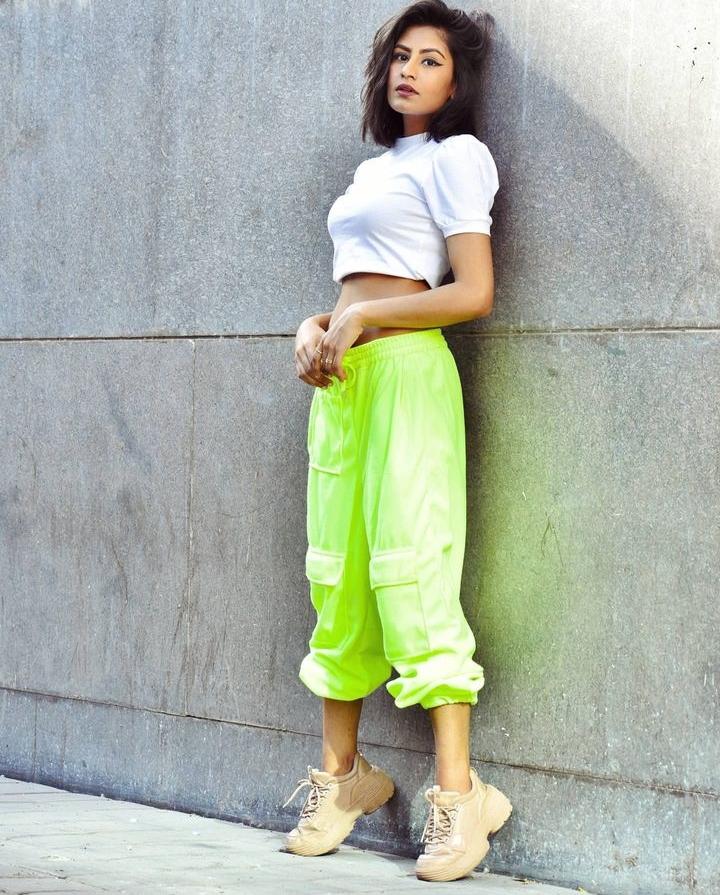 11 – Spring Green Jacket And Trouser Set With Black Crewneck Top And Black Bucket Hat
If you love tracking, then this outfit is for you. Perfect for outdoor activities. You can easily pair a green jacket and sweatpants with a black crewneck shirt and beanie. Choose black and white sneakers to complete the look.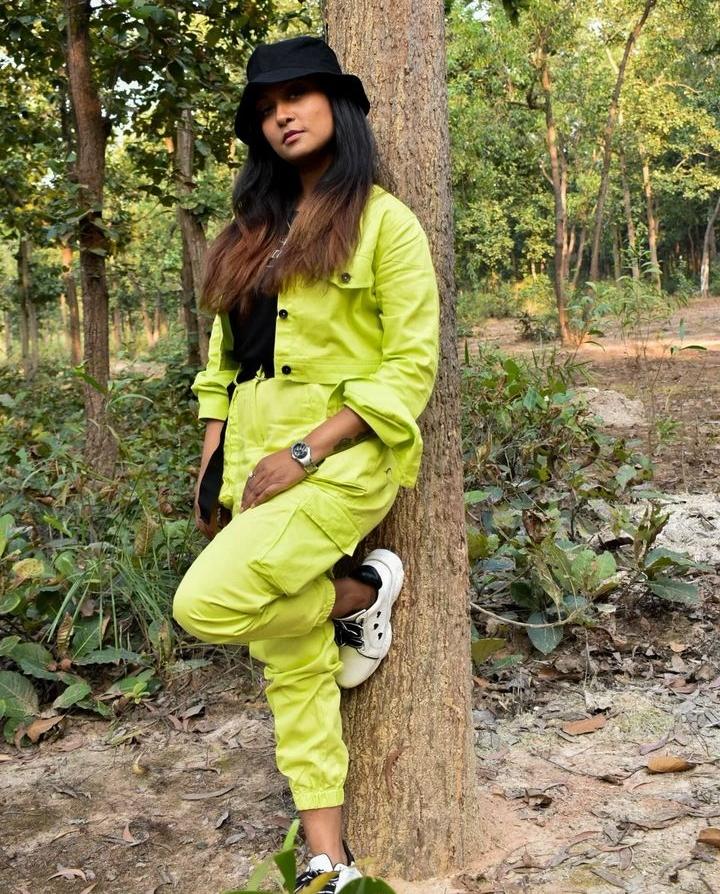 10 – Blue Striped Button Down Collar Shirt With Long Neon Wrap Trousers
Button-down shirts are always preferred for sleek looks. You can pair a blue collared shirt with high-waisted wrap trousers in lemon color. I suggest wearing platform heels with palazzo pants for extra inches of height.
09 – White V Neck Crop Top With Yellow Pants And Transparent Heels
You must have a top which isn't very easy to style. But I bet you can make it work if you pair it with neon-shade pants. Because all the focus would be on the pants, your top will get less attention.
08 – Hot Pink Co-Ord Set With Orange Blazer & Yellow Heels
Co-ord sets are trendy these days. You can style your pink set with an orange blazer. Choose neon yellow heels to create a vibrant style.
07 – Green Blazer And Trouser Set With White Tank Top
If you want to give models off-duty vibes, wear a neon green blazer and trousers set with a basic white t-shirt. Choose ankle-high black boots as your footwear. Keep in mind that sunglasses are an important part of the model-off-duty outfit.
06 – Grey Top And Yellow Mom Jeans With Black Leather Jacket
Looking for a comfortable look? Pair a grey top from your wardrobe with yellow mom jeans and throw in a black leather jacket which I am sure you already have. Choose your casual white sneakers and a black sling bag. You are all set to spend your day outside.
05 – Black Graphic Shirt With Baggy Pants And Printed Oversized Jacket
If you are more into funky style, this outfit is for you. Graphic jackets are very much in demand, and if they are in neon colors, they are the icing on the cake. Always wear chunky black boots with graphic shirts and neon pants.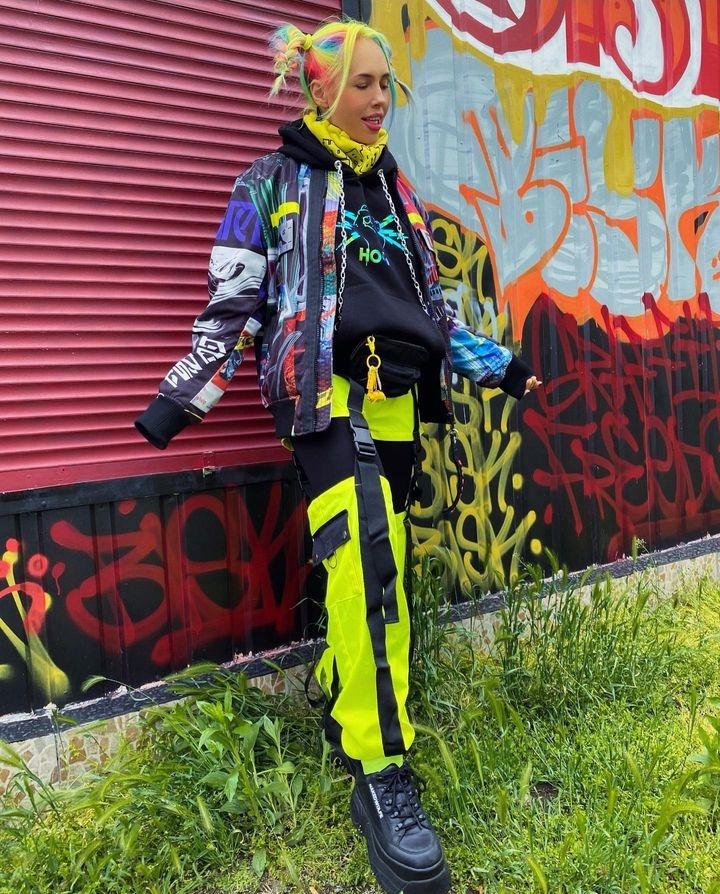 04 – Lime Nike Sweatshirt With Matching High Rise Jeans
Choose an all-bright lime outfit and take an emerald chain bag to compliment the look. Go with neutral-shade sneakers like white to create a perfect casual outfit. You can accessorize with silver studs and wear your favorite sunglasses to finish off in style.
03 – White Crop Top With Pink Flared Pants
A white crop top with the embellishment of golden buttons at the front will look fine with waisted pink flared pants. Choose neon green heels to give a fancy touch to the overall outfit.
02 – Greenish Tube Top And Matching Sweatpants With White Rain Coat
The easiest way to pair neon clothes is to style them with neutral shades, which will blend perfectly. You can accessorize your outfit with big hoop earrings and for the footwear, choose chunky sneakers.
01 – Light Blue Sweatshirt With Green Pants And Royal Blue Puffer Jacket With Orange Muffler
If you want to do something vouge, pair a light blue sweatshirt with green pants. To beat the cold, you can grow with a brighter shade of blue for a puffer jacket. You can add an orange muffler and beanie to make your look fancy.
Frequently Asked Questions
Q. How do you wear neon clothes?
Ans: Neon outfits look good with neutral accessories, and neutral colors are more attractive if used with proper arrangement. Don't use light and dark-colored neutrals, and don't make improper matches. This will make your outfit alluring and classy.
Q. How do you style bright-colored pants?
Ans: Bright-colored pants can be paired with pastels or sometimes with neon colors too. With bright-colored pants, different accessories of neutral colors are used. Different colors look well with each other. For example, yellow and purple, blue and orange, green and purple, pink and orange, etc.
Q. Is neon still in style?
Ans: Hot pink is regarded as the hottest color of 2022 and hot pink outfits are the best! Neon green is also considered a luminous color. Different colors are available for setting the trends high according to people's tastes.