Swag Style For Girls. Swag is an American slang that is commonly used by the young generation nowadays, it means doing or having something that is 'cool'. Sometimes it is used to describe the overall appearance of something or someone. In today's world, swag has become a fashion trend that reflects a person's confidence.
Every girl wants to look exquisite. From a very young age, girls become style conscious and more aware of the current fashion trends than anyone else. On the other hand, boys prefer comfort over any latest trends. So, here we bring you 20 stunning swag styles for girls so they can construct a perfect look. Follow these simple instructions to replicate a look that looks super attractive and is definitely cool.
What to wear to Get a Swag Look
Here are some tips for you:
Follow celebrities with an impeccable sense of style and replicate their looks.
Accessorize your looks with bags, jewels and funky shoes for the most swag.
Make sure to invest in high-quality ripped denim jeans for your everyday casual style.
Puffer, Bomber, and Denim jackets can uplift any look and are the ultimate Winter fashion.
Add in belts to your look for a super cool look.
Add in leather items to your wardrobe to turn up the heat.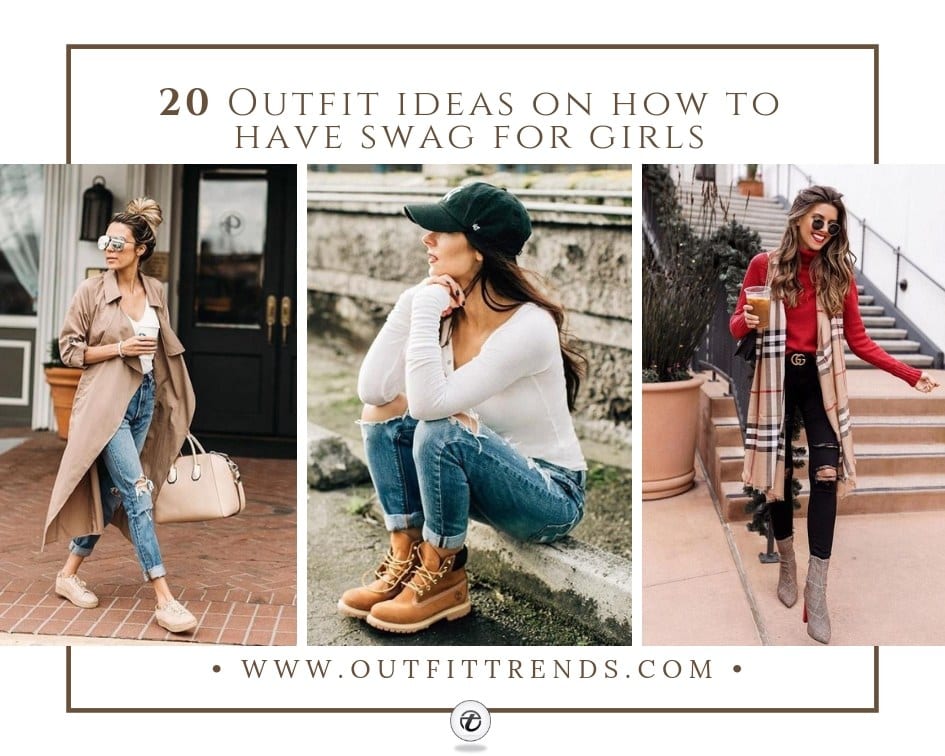 ↓20 – Winter Outfit
To create a perfect look, it important to wear clothes according to the season. For instance, if you wear a sweater in summers it would give you a weird look. Girls want to protect themselves from the cold and look stylish at the same time. To fulfill these two demands, the essentials require skinny ripped jeans with a high neck sweater and a long coat to fully cover yourself. To top it all off, girls should also wear a watch, carry a cool handbag with a pair of Dr.Martens. Here are 27 Best Winter Travel Outfits for Women Trending these Days.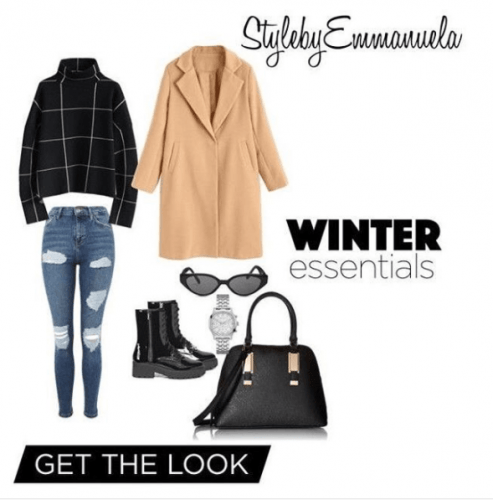 ↓ 19 – Summer Look
Just like winters, you've got to perfect the look in Summers too! Summers call for simple yet amazing floral prints to keep it cool. Wearing a strappy Bardot top with denim shorts, a pair of flip-flops and Clubmaster style sunglasses can make you look the best. And who doesn't want to be the best?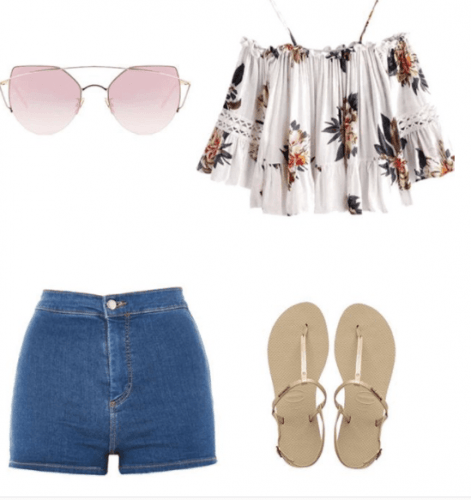 Here is another Summer look you could opt to channel out your inner swag. We love this short brown dress with frill detailing that has been styled with tan accessories like the summer slides and the cane bag. The cane bag has been the hot favorite and has been trending all over. Make sure to invest in one for the ultimate Summer swag look.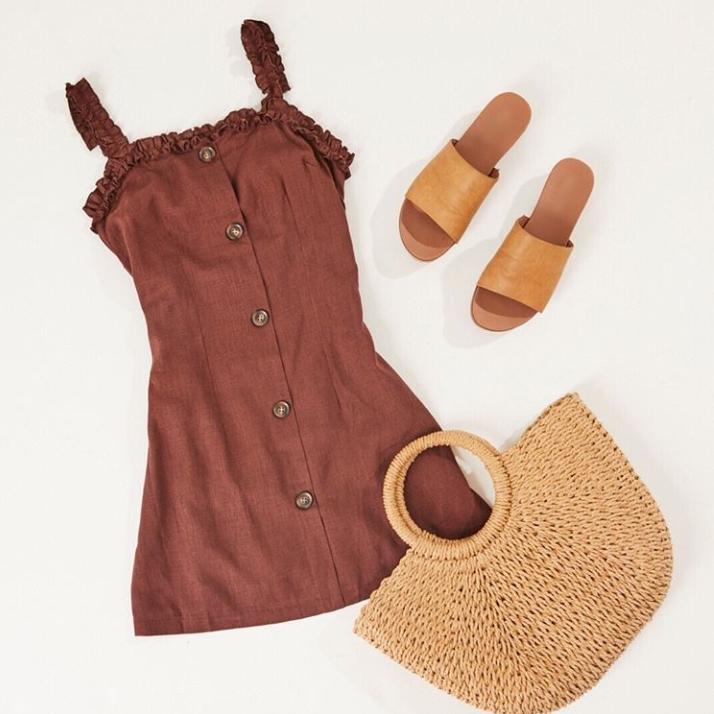 ↓18 – Swag Shoes to Buy This Year
Shoes play an important role in your overall look. There is always confusion when it comes to choosing the perfect shoes with your outfit. Thus, it is not easy to carry Jordans either. For an impeccable look with Jordans, you can wear any blue ripped jeans with a plain shirt and a short full sleeves fur coat. Other shoe choices for a swag look include boots, sneakers, and vans.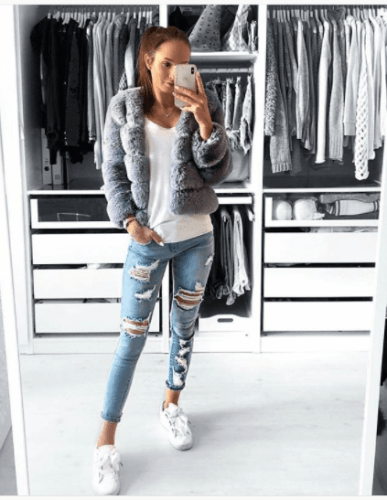 ↓17 – Swag Look for School
When it comes to school outfits, it is all about competition. You must look the best! School outfits should not reveal too much of your body so you can wear ripped jeans with full sleeves or a sleeveless shirt (depending on the season). Shirts that have something written on them look super cool, you can also personalize the text to give it a touch. It should not be too plain or else it will make you look boring. Furthermore, you should carry a bucket style bag, wear trending converse and accessorize according to your choice. You can also add a studded or a sheer cap for a cool school girl look. Here are some cool options to choose from.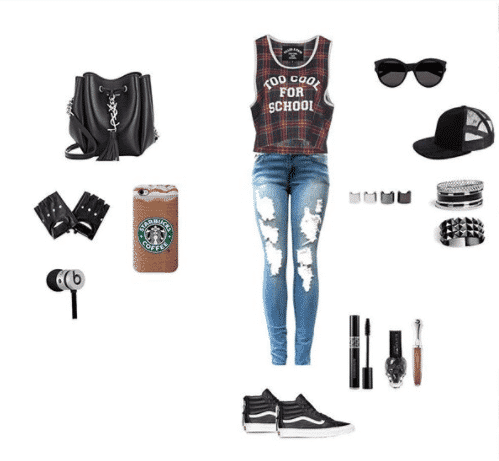 ↓16 – Jackets For Girls
The leather is a material that can always make you look unique. Wearing a leather jacket with tight jeans and a pair of boots with block heels can really do wonders to your look. The tan color is a great option to go for as it goes well with almost any color outfit. Do check out these 19 Ways to Style a Leather Jacket.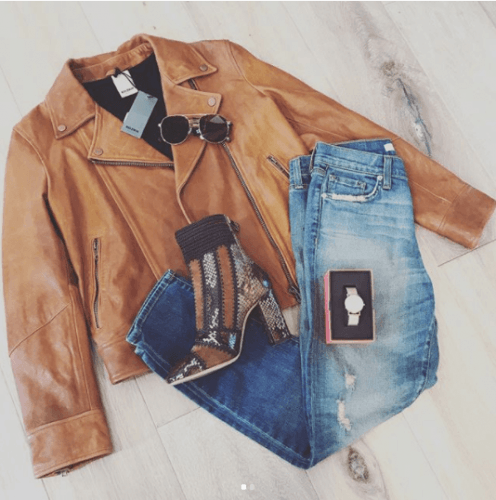 The simplest way to uplift any ordinary-looking outfit is to throw over a fancy or a funky jacket. This light pink bomber jacket looks absolutely great with the black and white look. With over a number of options to choose from, we recommend getting the bomber, puffer, denim and leather jackets for the swag look. Additionally, beanies are a form of accessories that worn around the globe for swag and we recommend wearing them during Winters along with a hoodie to replicate this look.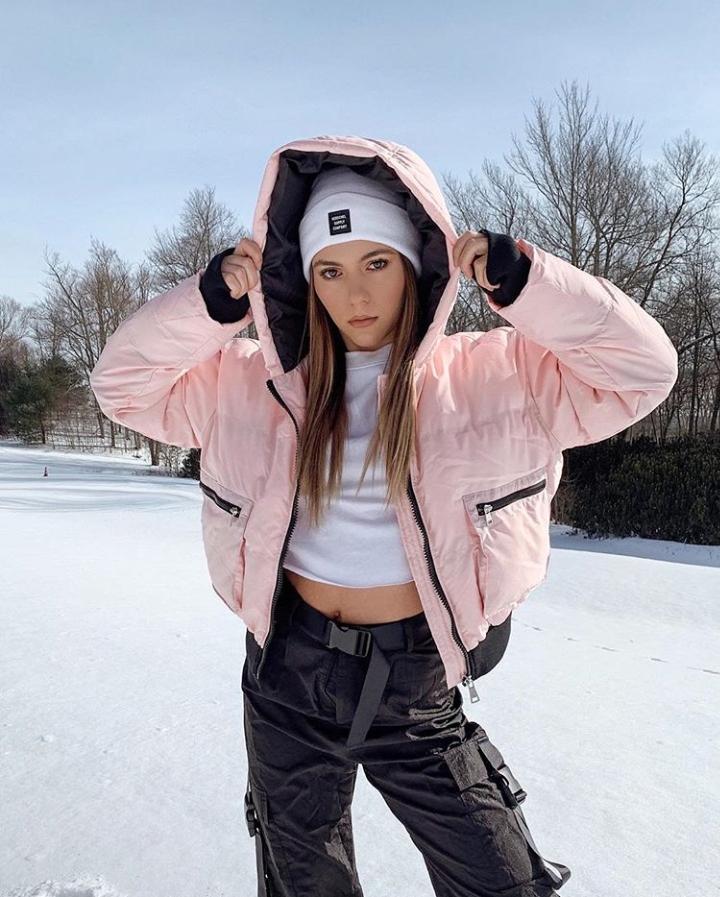 ↓15 – Clothes to Wear With Timberlands
Timberlands are the kind of boots that anybody would want to wear, but finding the right outfit with them is the difficult part. With timberlands, you can wear any t-shirt with denim shorts and a pair of round/circular sunglasses.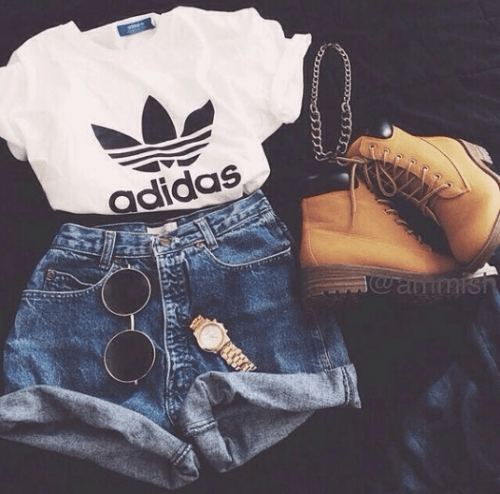 Here is another basic outfit for you to take inspiration from. These Timberlands have been styled with a pair of ripped denim jeans, a long-sleeved white top, and a black cap. Make your everyday casual style noticeable by putting together all the latest trending fashion items that scream swag.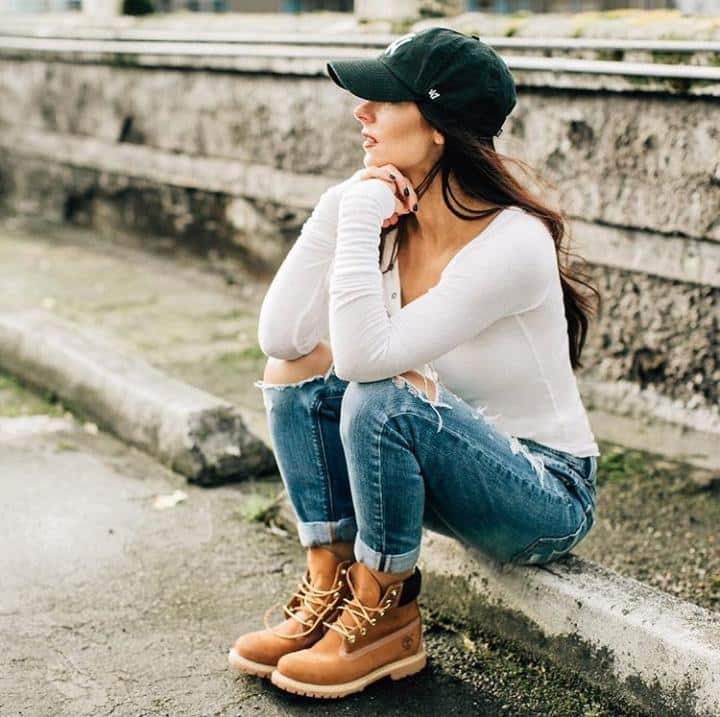 ↓14 – Outfit With Uggs
Uggs are two-faced sheepskin boots that are made for both men and women. They are usually worn in winters and to make your look more stylish with uggs you can wear gloves, beanie and, skin-tight jeans are also a must. This gray and light-toned outfit looks perfect for young girls wanting a comfortable and casual style for their everyday looks.
Here is another outfit idea that you could sport to go with your uggs. A slim fit pair of denim jeans, basic full-sleeved top in nude and matching accessories. We love the gold watch, loops and the nude colored bag that seem to be going well with the overall look.
↓13 – Outfit With Converse
The converse can be worn with many outfits but wearing them with loose ripped jeans and a tuck in full sleeves t-shirt, and a beanie will give your look a 'wow' factor. A classic pair can go a long way giving you both comfort and style, so make them a part of your wardrobe to slay every day.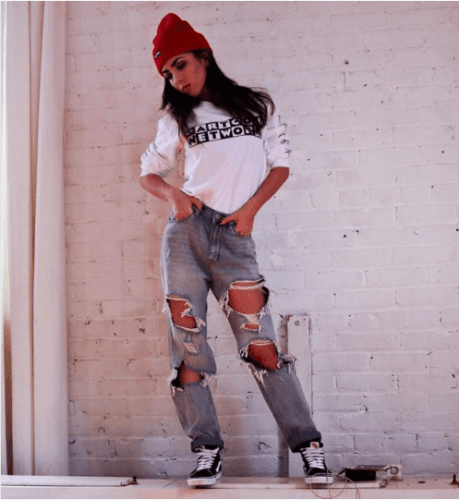 ↓12 – Swag Teen Girl Outfits
There are many ways you can experiment with your look but carrying your outfit with style is the most important thing. Teenage years are all about being a little 'extra'. Experimenting with jeans, short skirts, t-shirts, and Lita shoes can be interesting for teenagers. Here are two super cute outfit ideas that you can wear when out with friends or to school. The plaid skirt looks great with the white top and boots. While the pink top looks perfect with the denim jeans and the lace-up heels. Do not miss out these 5 Accessories You Need for Swag Look.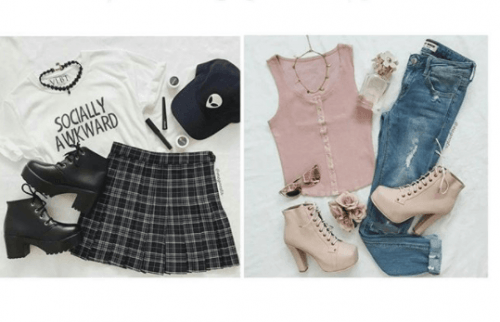 ↓11 – Black is the New Black
Sometimes even if you are wearing one color head to toe, it can really make you look attractive. You just need to know how to carry it. Girls should try wearing short black denim with a black crop top and an envelope style bag, it will surely give them their desired look. Go for a basic graphic t-shirt or a plain one and pair it with similar colored shorts or pants. These studded pants are giving the outfit a different look that is surely super cool. You can go for a monochrome look by wearing white converse underneath as shown in the picture below.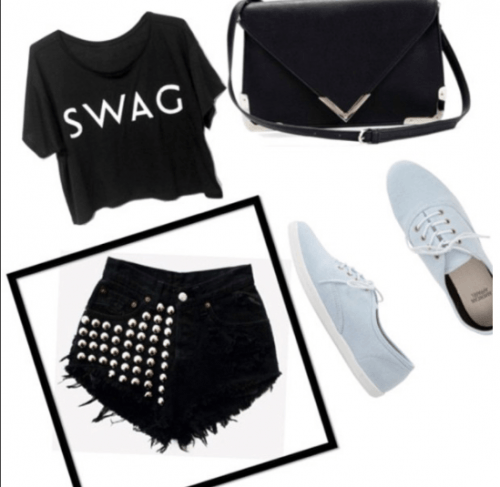 ↓10 – Leggings
Leggings stayed out of fashion for a very long time, but now they are back with a BANG! It is also a trend that these leggings are named under microblogging and social networking website known as Tumblr. Get Winter ready by opting for holiday style leggings and pair them with a bold colored sweater or a hoodie and wear your favorite boots under them.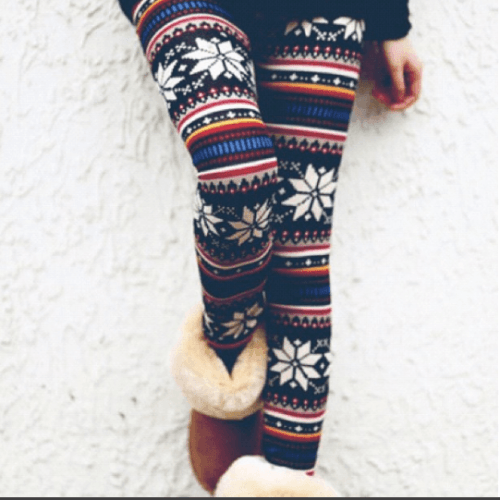 ↓9 – Cool Gym Wear
You have got to look exemplary where ever you go, even when you go to the gym. The perfect look for gym requires a cool hoodie, fine tights, a cap and the most comfortable pair of joggers in your wardrobe. Sweat it out while staying up-to-date with all the latest fashion trends. Gym wear has to be something that has seen the wrath of the fashion experts and brands are now focusing on how to make the gym wear look more attractive. These leggings, hoodie, kicks, and cap are all beautifully curated to make you look effortless the minute you step into workout mode.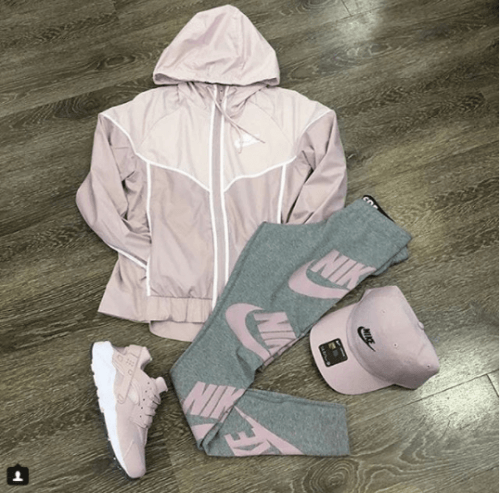 ↓8 – The Next Big Thing
Since the past few years, denim jackets are taking over the fashion market. They can go with any outfit, you can wear them with jeans, shorts, short dresses, and crop tops. The recent trend calls for going embellished denim jackets that come with text and other embellishments. Here are 30 Cute Outfits Ideas to Wear with Jordans for Girls Swag.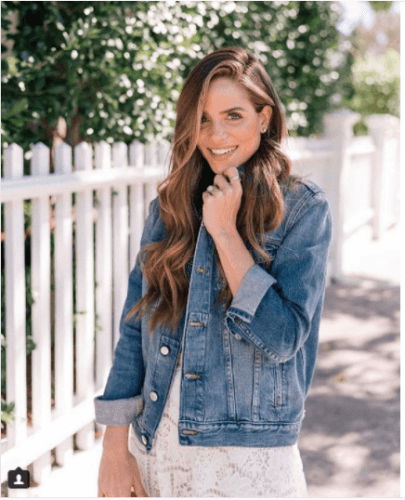 ↓7 – Funky Look For College Girls
When it comes to college, all you want is a comfortable look. This calls for something that is not too revealing nor should it cover too much. The best look for college would be an off shoulder short tunic with an elastic at the waist, jeans and a pair of gladiators. Add in a cute backpack or a shoulder bag for a comfortable yet classic back-to-school look. If you are in a warmer climate, choose summer slides or sandals instead of trapping your feet into a hot mess by wearing sneakers.
↓6 – Simple Yet Groovy
There are some particular outfits that are simple but they make you look up to the minute. The outfit in the following picture shows that a simple hoodie with a short denim jacket, a cap, and printed leggings can make you look really cool.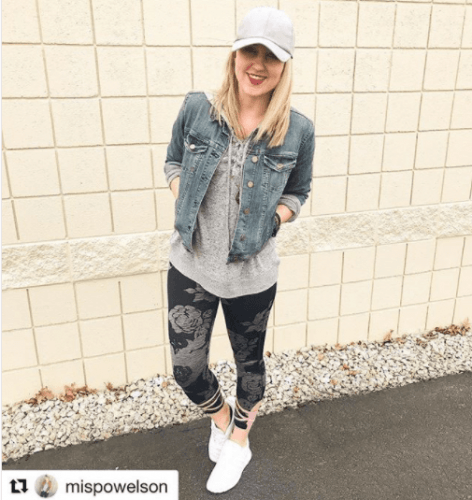 Via
↓5 – Trending Army Pants
Army print has been very popular for quite some time now. Shirts, pants, and jackets in the camo print have become the hot favorite. However the most popular of them all currently are the army pants. You can wear them with sleeveless t-shirts, boots, and a beanie and you are good to go. Effortless and chic.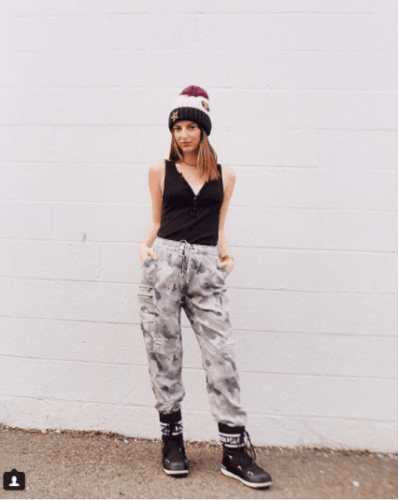 Here is another swag look with the army pants that we absolutely adore. The choice of black with these pants seems like a great one. Throw together a pair of these army pants with a black leather jacket and beanie for a look that is super cool and smashing hot. You can pair them with your Timberland boots or a pair of sneakers to keep you comfortable.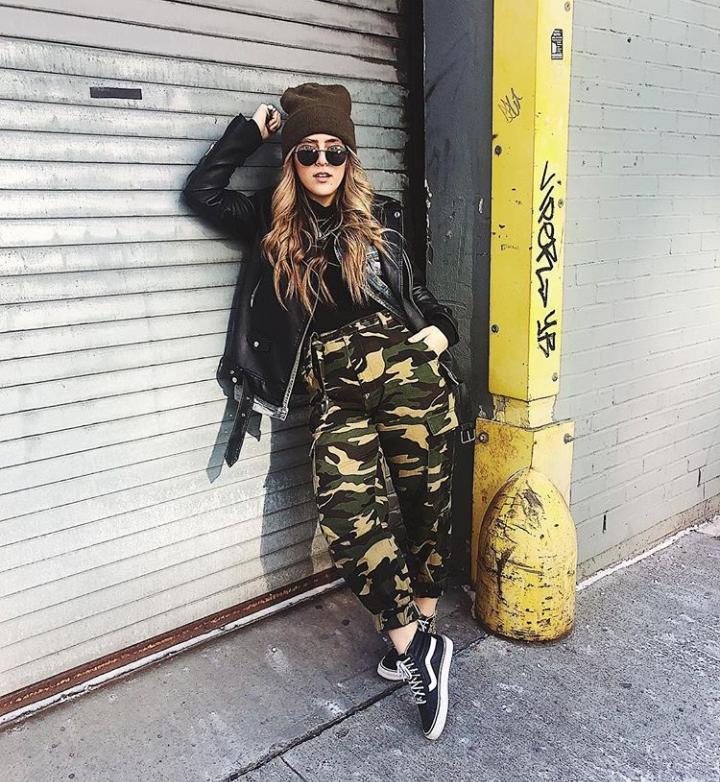 ↓4 – Chic Outfit
Sometimes there are such eye-catching outfits that you just can't resist and this is one of them. These short flared pants with a tucked in a funky t-shirt and a dotted coat. Isn't that awesome? Get creative by throwing together some fun pieces of clothing and restyling them like this. We love the use of accessories that are taking this outfit to a whole different level. Here are 20 Cute Bermuda Short Outfits for Girls for Chic look.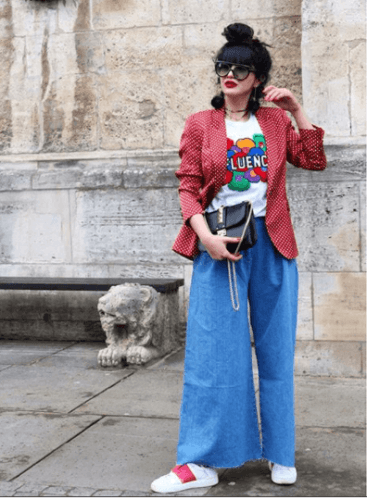 ↓3 – Dapper Pants
As mentioned early, leather makes you look unique. Therefore, black leather pants with a short high neck sweater and combat style boots are a must-have. Leather has become a street style staple and we totally recommend making it a part of your wardrobe. Additionally, you can also invest in a good leather mini or a long skirt to go with your basic tops. This high turtleneck looks super chic and can easily be worn to school or college.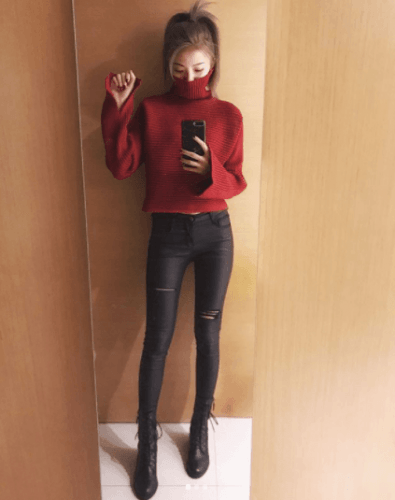 ↓2 – Skirts
Skirts are very common in our lives but wearing these new embroidered skirts for casual use will have you look like a fashionista. Pair them with an ethnic tunic by tucking it inside or wear a spaghetti strap for a super cute look. You can wear it to college or out with friends for a fun and casual look. You may also style it with accessories to glam up a bit. Add in a handbag, a pair of summer sandals, a few pieces of jewelry and you are good to go.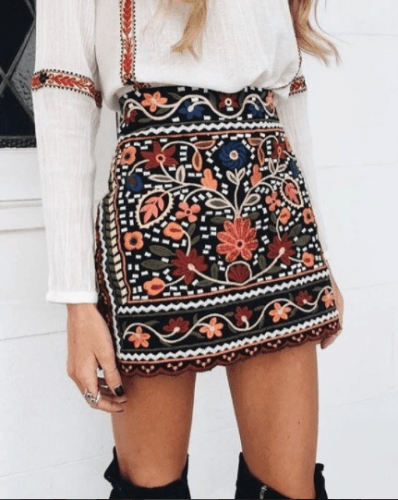 ↓1 – Work With Style
It is important to look good when you go to work. If your workplace does not require you to dress dull, make every day exciting by picking and choosing fun, professional outfits. Dress pants, simple shirt, a blazer, a pair of shoes and a bowler or duffle style bag are the essentials for a perfect office look.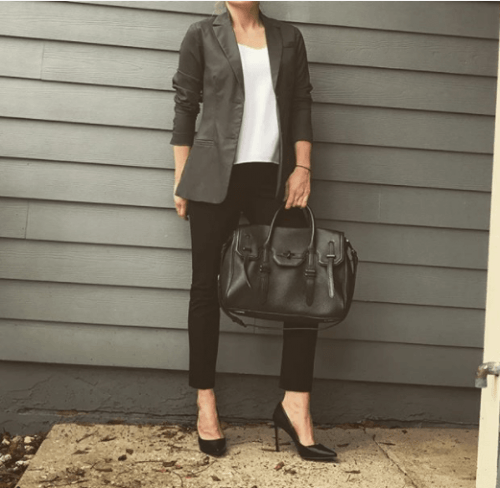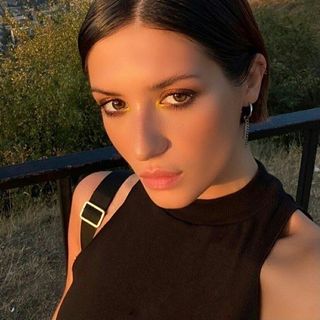 Avid reader and Fashionista. London Based freelance lifestyle editor