Maternity Outfit Ideas For Indian Women: Maternity period can be a dream and a nightmare both in different aspects. A woman dreams of becoming a mother and bringing a little life from inside her into the world, but in certain aspects, the pregnancy period can be very discomforting and complicated. One of which is keeping up with fashion.
A lot of women face a serious wardrobe malfunction as their bump starts getting bigger. Tight dresses and their prior sized clothes stop fitting them, and this is very hard to cope up with while going out to parties or any other function during those nine months. It is practically unreasonable and unaffordable to make a separate wardrobe for the maternity period, so, it is better to invest in clothes that will help in creating different outfits for parties and normal wear. Here are some ideas about what to have and what not to have in a maternity wardrobe and stay in style.
What To Wear In Pregnancy
First and the foremost thing to take into consideration is to stay comfortable in whatever you wear during the pregnancy time. You can be fashionable and trendy and stay comfortable at the same time, which a lot of ladies are seen sacrificing to look their best. With taking care of yourself, you have to take care of the life you are bringing in the world, and when you will be comfortable and happy, your baby will be comfortable and happy too. Here are some dos and don'ts of a maternity wardrobe:
Comfort comes first and everything comes second to that
Say bye to heels for nine months!
Flat shoes should be your new best friend
You are beautiful even in your over-sized, pregnant body
T-shirts, leggings, uppers can be used to create a lot of comfortable outfits
As airy, as comfortable
↓ 20 – Maternity Shirts To Wear Over
Invest in wear over shirts as much as you can. Or wear over shirts can be found in your existing closet as well, throw them over a light T-shirt and make the outfit look chic and comfortable. Wear overshirts can be button down shirts which can be worn with buttons open and a T-shirt beneath it and can be carried in rainy days, windy days, summer, winter, fall, spring or any kind of season, as it keeps the baby and the mother safe and warm as well as covers the body perfectly. These shirts thrown over any outfit can make up for a fancy outfit with the right kind of accessories and can also be worn in day time going for grocery shopping or anywhere where you do not feel like dressing up a lot. Throw over shirts are a must-have in the maternity wardrobe. For more western wear outfit ideas that you can opt for during pregnancy, have a look at these Outfits for Pregnant Women.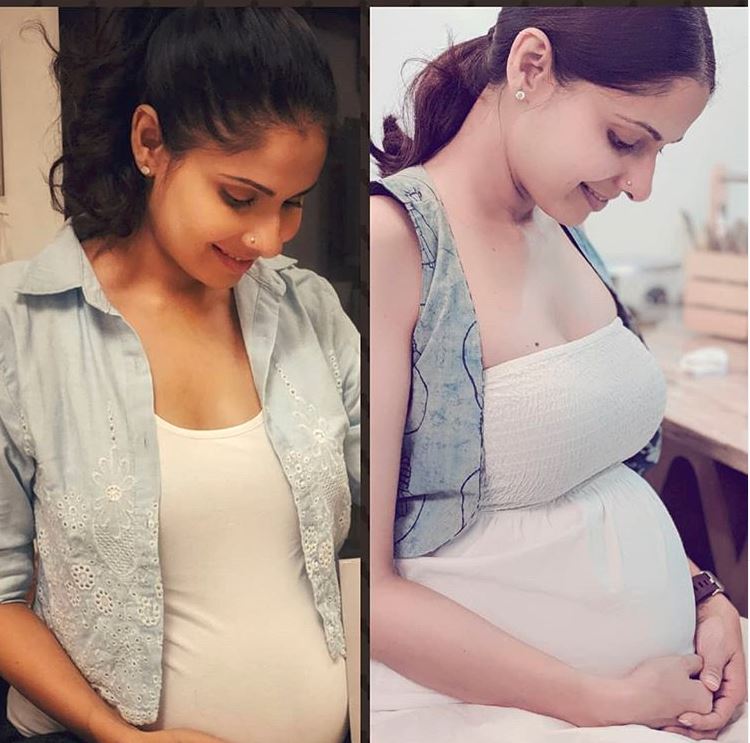 ↓ 19 – Maternity Coats
Coats are something that should definitely be in any wardrobe be it a maternity wardrobe or an everyday wardrobe. Especially in the maternity wardrobe, coats can be a very useful clothing item. During the winter time, it is even more necessary to stay warm for yourself and for the baby, that is why a pregnant woman needs uppers and coats even more in winters for every time they go out of the house. Different styled coats with different colors can be used to accessorize and make any outfit look chic and fashionable. There are a lot of maternity clothes that can be chosen from, as it is a must-have item for winter time or windy days in summer, in your pregnancy period. Throw a coat over a simple outfit of T-shirt and jeans or over a dress for a night out, it goes with everything, with the right accessories.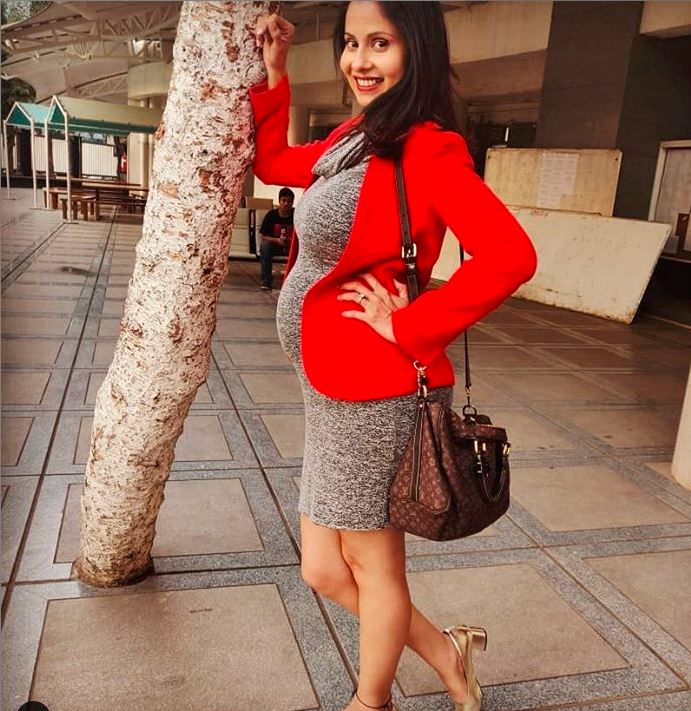 ↓ 18 – Maternity Outfits For Summer
It is necessary for Asian women to take summers into consideration when planning out a maternity wardrobe, as summer stay for a longer period of time in Asia, especially India and Pakistan. It is necessary for Indian women to have lots of summer outfit options in their maternity wardrobe. Summers come in full swing in India, with warmer and longer days. So, a good amount of summer outfits should always be on the go. It is as important to keep yourself open to the air and comfortable in summer as it is to keep yourself warm in winters, to be mothers. A good summer wardrobe for to be moms should consist of pretty, comfortable, light and open to air dresses or shirts that are not too tight on the body and gives them room to air and do not get suffocated. Sleeveless floral dresses are always a good option to have in a summer maternity wardrobe, as sleeveless outfits can be worn easily without worrying about the sleeves getting too tight or too loose on you ever growing arms during pregnancy.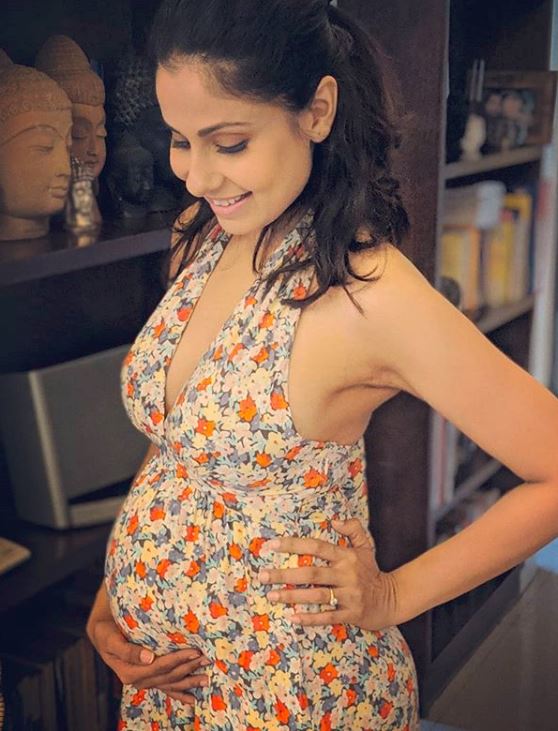 ↓ 17 – Everyday Wear In Pregnancy
It is as important to prepare outfits for everyday wear as it is to sort out maternity outfits for parties and night outs. As a pregnant body is growing with every passing day, it gets harder to fit into clothes and daily wearing clothes get lesser and lesser as well. To have in your daily wardrobe, leggings, T-shirts, throw on shrugs, uppers, overshirts, below the bump jeans and sweaters for a must have in a maternity wardrobe to style for everyday wear. For an Indian woman, shalwar kameez and saris are a comfortable option as well to carry on an everyday basis in summers, and a shawl thrown over in winters works the best. Always look for easy going, airy and comfortable outfits for everyday basis, with work, housework or if you have to go outside for grocery even.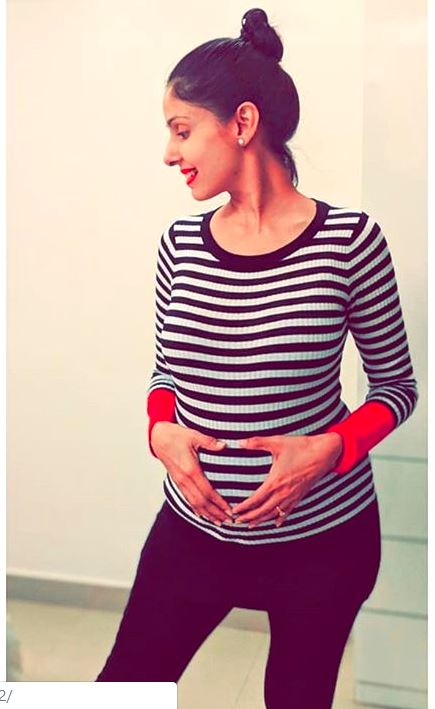 ↓ 16 – Below The Bump Maternity Skirts
As mothers to be are always looking for comfort during their pregnancy time, comfortable places to rest in and comfortable shoewear to walk in. What's better than below the bump skirts when it comes to spacious and comfortable lower wears? Always invest in lower the bump skirts which are easy to carry and comfortable to wear in summers, and can be dressed up with different fancy tops, kurtis and uppers for winter and summertime both. Skirts can be played around with to create different outfits from, so they can be used even after the maternity period.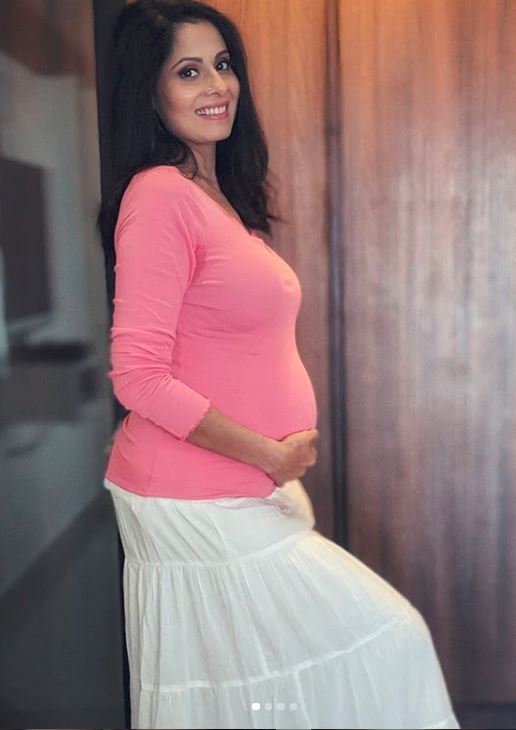 ↓ 15 – Kurtis
Kurti is a traditional wear for all desi women throughout the country, they are comfortable and easy to carry around and they have been loved to wear for the very reason as well. Kurtis can be styled in different ways either with jeans or with leggings or the basic desi way, with trousers or shalwar. This is one of the clothing items which can be worn on outings, night outs, day time and even at home. A Kurti paired with jeans or leggings gives a very nice and summery look and is widely loved by all Indian women because of being so comfortable to wear.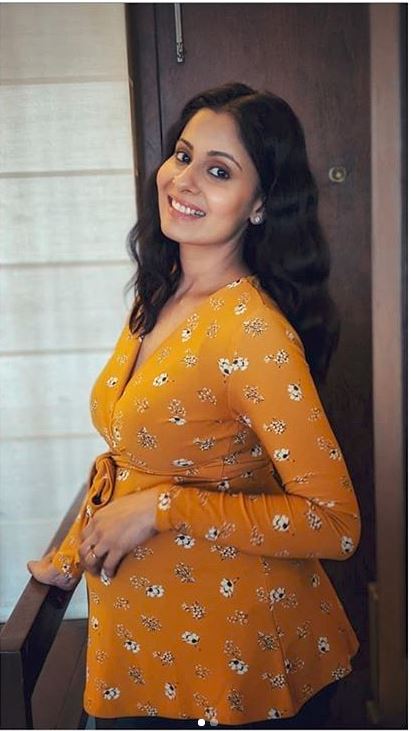 ↓ 14 – Maternity Gym Wear
Exercise enthusiasts, ladies who love to continue going for light exercise and yoga in their maternity period are always on a hunt for appropriate gym wear for their maternity period. Gym wear is the easiest and the most comfortable to find and have in your daily wardrobe, from which clothing items can be chosen for a maternity wardrobe. Simple and soft, comfortable leggings, sports bras or a comfortable crop top or sleeveless T-shirts are all you need to wear to the gym to get that much-needed workout done. A light workout keeps the frustration and hormones in check and eliminates all the negativity and calms a person down, which a pregnant lady needs the most. One of the best things to invest in during this period is good quality baggy t-shirts since you can wear them for working out or even as night suits as comfort must come first. If you don't feel like buying new ones, perhaps you could just head over to your husband's closet and choose some of his shirts? After all, boyfriend shirts are very in these days.
↓ 13 – Indian Maternity Wedding Wear
As all desis know, wedding season never comes to an end for any desi family. So, whether maintaining any wardrobe, wedding clothes are to be in it for so many known reasons to all the ladies out there. Indian women cannot eliminate heavy worked weddings clothes even in the maternity period, and that is a known fact. But comfort can be taken care of even in heavy worked wedding wear. Long, spacious and not to tight and suffocating frock style dresses look pretty and stylish to carry as well as are comfortable to carry. A lot of influencers and celebrities have been seen carrying fashionable frocks in the same sense too. Indian celebrities are every Indian woman's biggest style inspiration so do have a look at these 14 Best Indian Celebrities Maternity Outfits Ideas for 2019.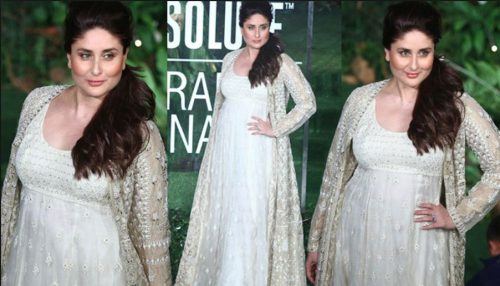 ↓ 12 – Maternity Short Dresses
Fashion can be followed, and certainly is followed all around the year throughout life. Pregnancy is the period where a woman should seek as much comfort as she can. Be it in clothing items or in shoewear. Heels, as known widely, are very uncomfortable to wear and carry even in non-pregnant days, while in the maternity period, heels can be the worst for a pregnant lady's body. It's the same with tight and heavy dresses, wear light and open, airy clothes in the maternity period which will let you and your body breath. And when it comes to open, comfortable and airy clothes, nothing better than short dresses or frocks. Pick as many short dresses for your maternity wardrobe as you can, and they can be dressed up and dressed down according to need of the hour.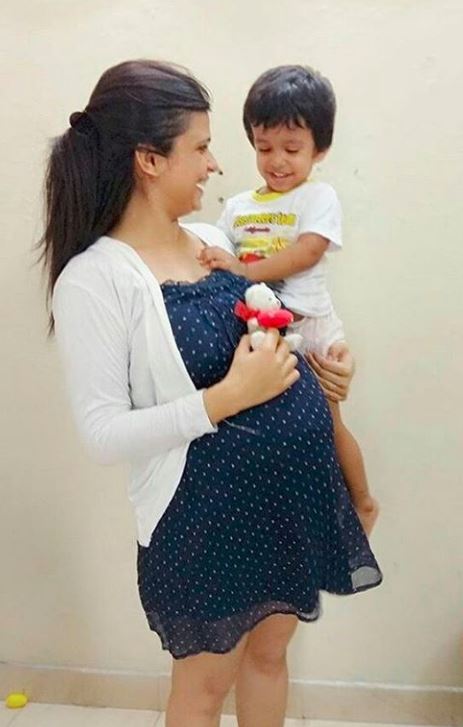 ↓ 11 – Shalwar Kameez
Shalwar kameez is a desi woman's identity. And a lot of Indian women wear shalwar kameez and kurtis in daily wear as well. The comfort and lightness of shalwar kameez to wear and carry are unmatchable. It can be dressed up and dressed down according to an occasion or only for everyday life both. Get the shalwar kameez in your wardrobe altered according to your new body size and it will solve a lot of your maternity wardrobe problems.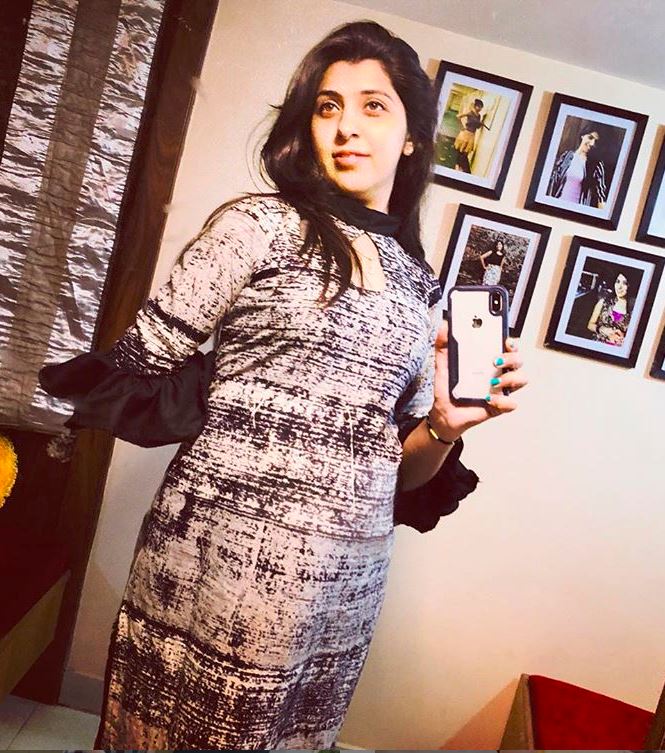 Indian vlogger Ritika Kohli has shared some amazing maternity outfits on her channel so we highly recommend that you check them out.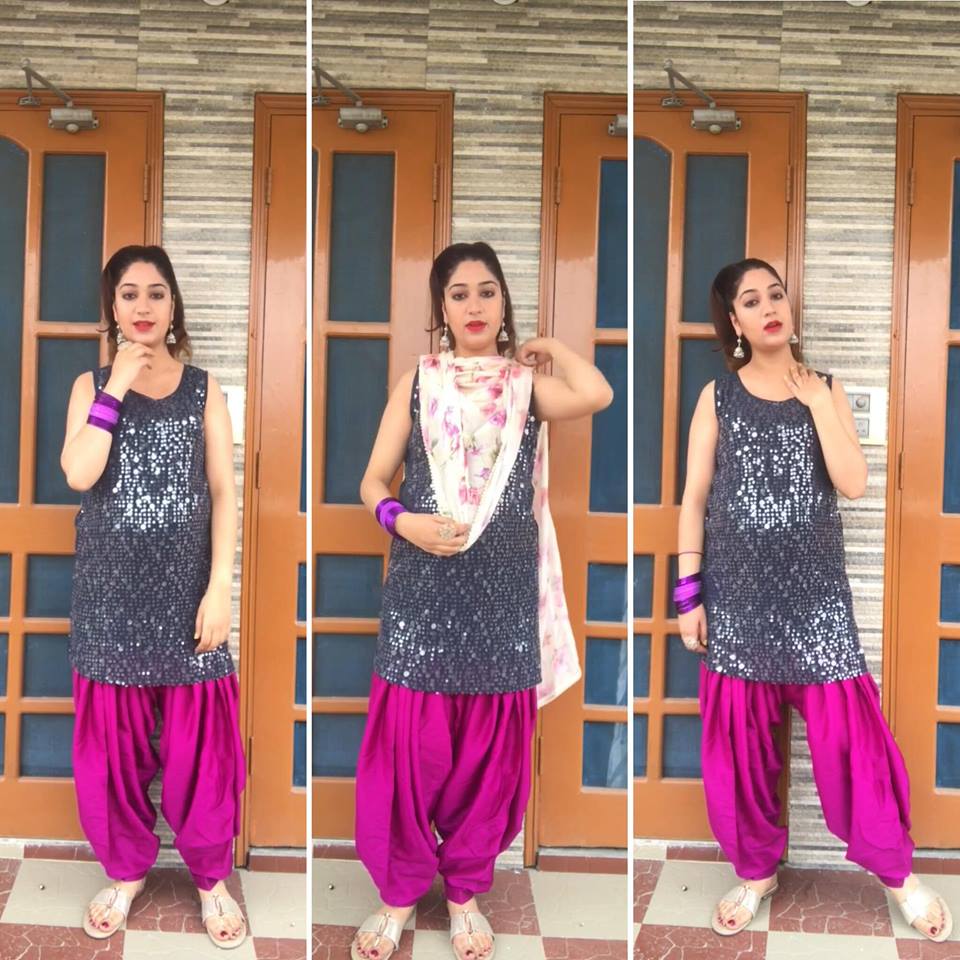 ↓ 10 – Saree
Sarees are traditionally very popular amongst Indian women, as they wear sarees in daily wear as well as an outdoor outfit. Sarees are, and will always be the most comfortable and easy to carry for an Indian woman, pile up your wardrobe with ample amount of sarees which can be used for outdoor purposes as well as everyday indoor, there is no denying to the grace and fashion a saree brings to a woman's style. Always prioritize comfort, and carry fashion along, when sorting maternity outfits, ladies. You will probably have to get a new blouse stitched to wear with your old sarees but a simple trick here can be to get a blouse in a neutral color so you can wear it with all your sarees. Alternatively, you can even wear your sarees over well-fitting t-shirts since t-shirt blouses are super trendy these days.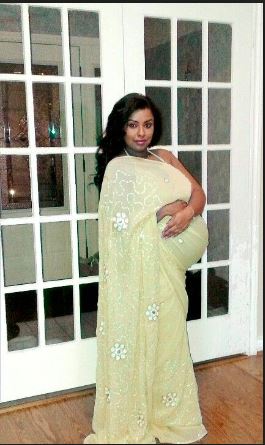 If you're a saree-lover, you would obviously want to wear them during pregnancy. Most women find the Gujarati style saree draping to be the most convenient during pregnancy as it covers the bump and of course looks great. For more ideas and tips, check out these Indian Ethnic Wear Sarees In Modern Day fashion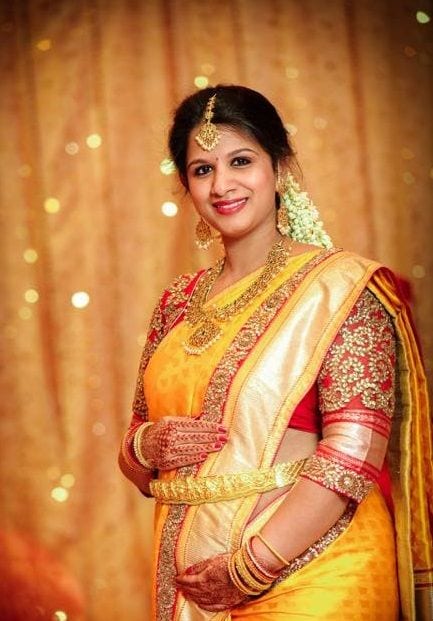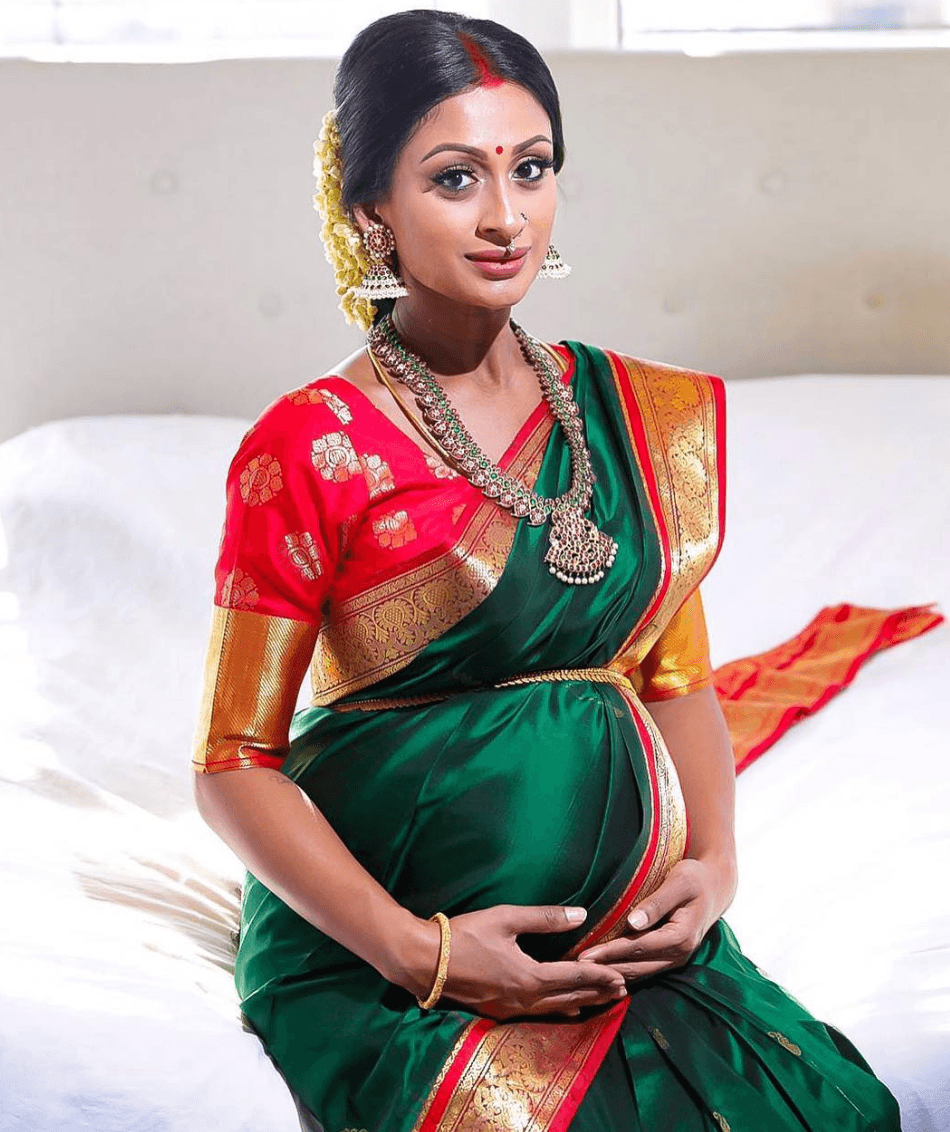 ↓ 09 – Maternity Outfits For Winter
While preparing for all seasons, do not forget winters. Winter is the time when a pregnant body needs utmost pampering and caring, to save the baby and the mother from cold and keep them perfectly warm throughout winter, look for long shawls which are fashionable to wear and can even give a chic look if dressed that way. Shawls are warm and stylish, can be worn to occasions and parties to put up an outfit's game and a lot of pregnant celebrities are also seen wearing shawls in winter.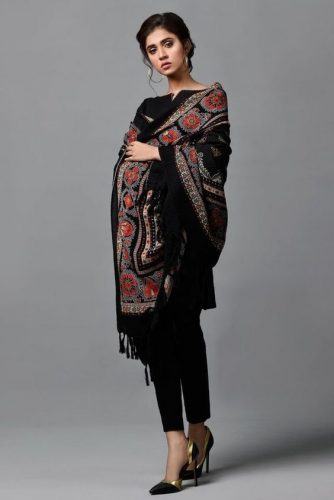 ↓ 08 – Indian Maternity Anarkali
Anarkali's are the epitome of grace and tradition in Indian parties and weddings. For traditional night outs and weddings, sort out all the Anarkali's from your wardrobe and get them altered for the next nine months. It is better to sort out from your existing wardrobe than to prepare a whole new wardrobe for the maternity period, which as mentioned above, is unaffordable for most women.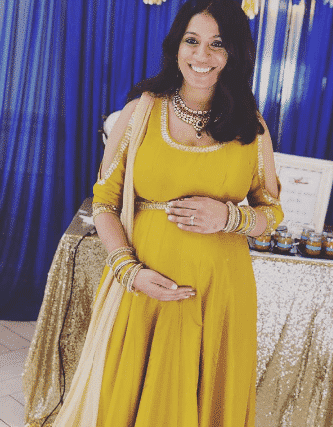 ↓ 07 – Maternity Photoshoot Outfits
Maternity shoots have become an emerging trend now. They should be all about embracing your pregnancy, your pregnant body, being comfortable in it and showing it on the camera as well. So no better option than a long dress for your maternity shoot, which is light, easy and comfortable to wear and carry, and even if the shoot takes hours to end, the outfit should be comfortable enough to make you last. A princess long flowy dress is a must-have for your maternity shoot.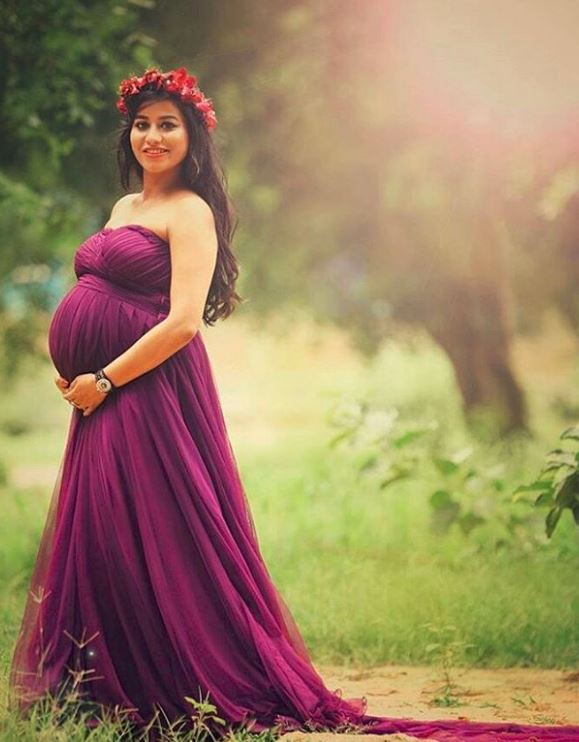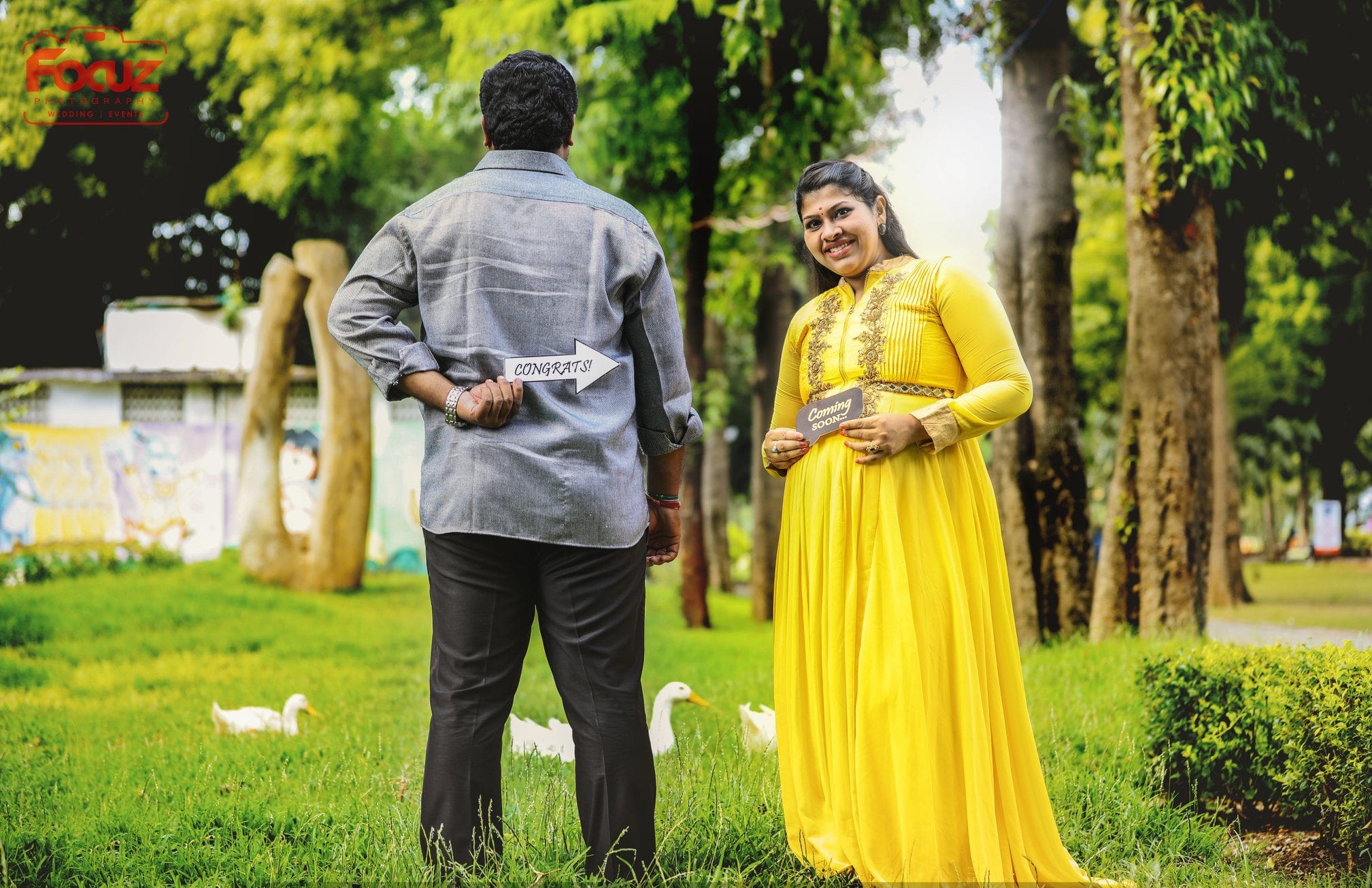 ↓ 06 – Below The Bump Jeans
Jeans are the most comfortable and common everyday wear. And to pile up clothing items for a maternity wardrobe, what can be better than below the bump jeans? Stretchable, comfortable, easy to carry and always available jeans are something you should definitely have in your maternity wardrobe.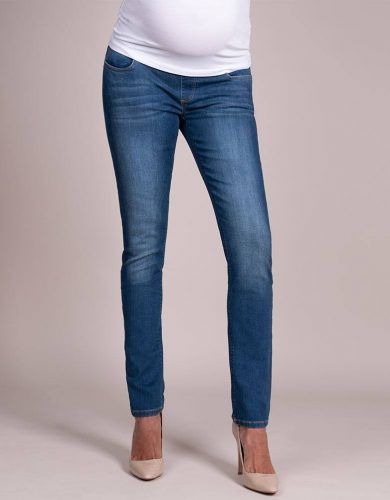 ↓ 05 – Palazzo
Palazzos are full-length trousers which are straight and spacious. Everyone has palazzos in their normal wardrobe I'm sure, they are easy to wear and carry around as daily wear as well as going out to buy groceries, work or run daily errands. They can be worn more than one time with different tops and kurtas to make a decent looking outfit.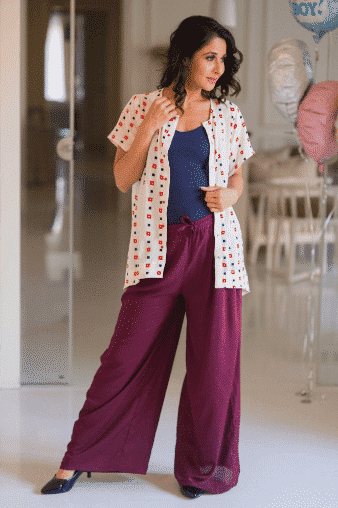 BURGUNDY MATERNITY COTTON PALAZZO PANTS ₹ 2,399.00 INR
↓ 04 – Maternity Jumpsuits
Jumpsuits are the best to properly cover the bump and give it support. They are also fashionable and trending these days too. And the most reasonable thing about jumpsuits is that they can be worn in the maternity period as well as after delivery as they are often baggy and adjustable to different body sizes. A jumpsuit will be a thoughtful investment for your maternity period.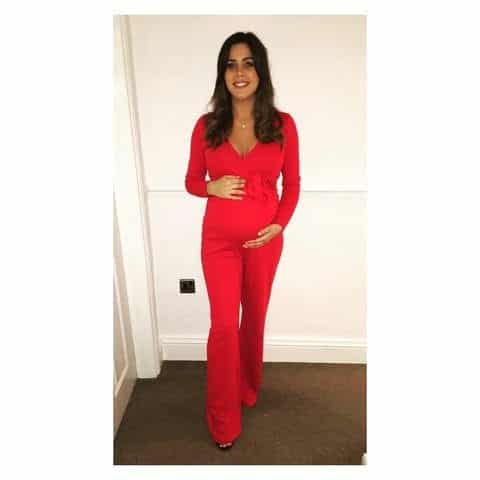 Via
↓ 03 – Maternity footwear
When talking about carrying comfort and fashion at the same time in maternity wardrobe, heels are a big no. Heels are painful to wear and walk in during pregnancy due to the grown body weight and the pressure on ankles when wearing heels. Flat sandals, sneakers, and slippers are the way to go by in the maternity period.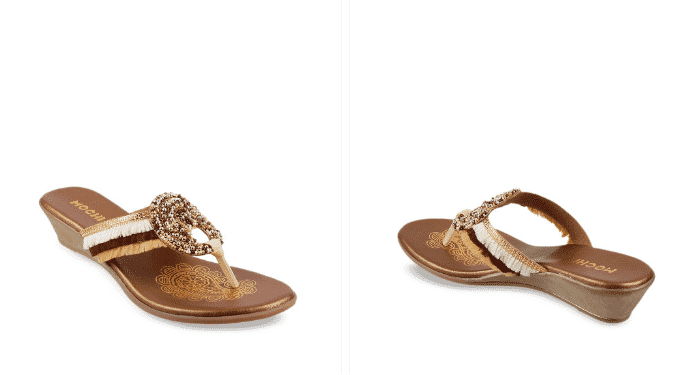 Mochi Women Gold-Toned Woven Design Sandals Rs. 1701
↓ 02 – Designer Dresses
There is a lot of designer options for maternity outfits to chose from as well. Maternity collections and maternity based designers have been working and portraying their work through celebrities and social media. For family weddings or big events, these designer outfits can be chosen as well. Here we see Kareena Kapoor in a beautiful black sharara and you can buy a similar dress here for just INR 25,125.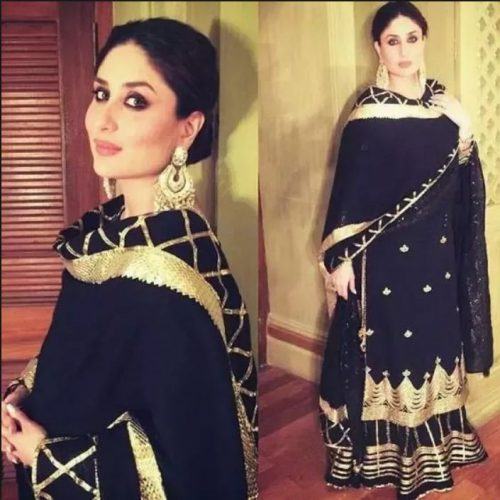 ↓ 01 – Indian Traditional Baby Shower Dresses
Baby showers are a ritual in Indian culture. New clothes are always prepared for the mother to be in Indian culture. A light, easy to carry and comfortable bridal shower dress is always a good choice so you can enjoy this special day to the fullest. Some recommended materials include cotton, lawn, net,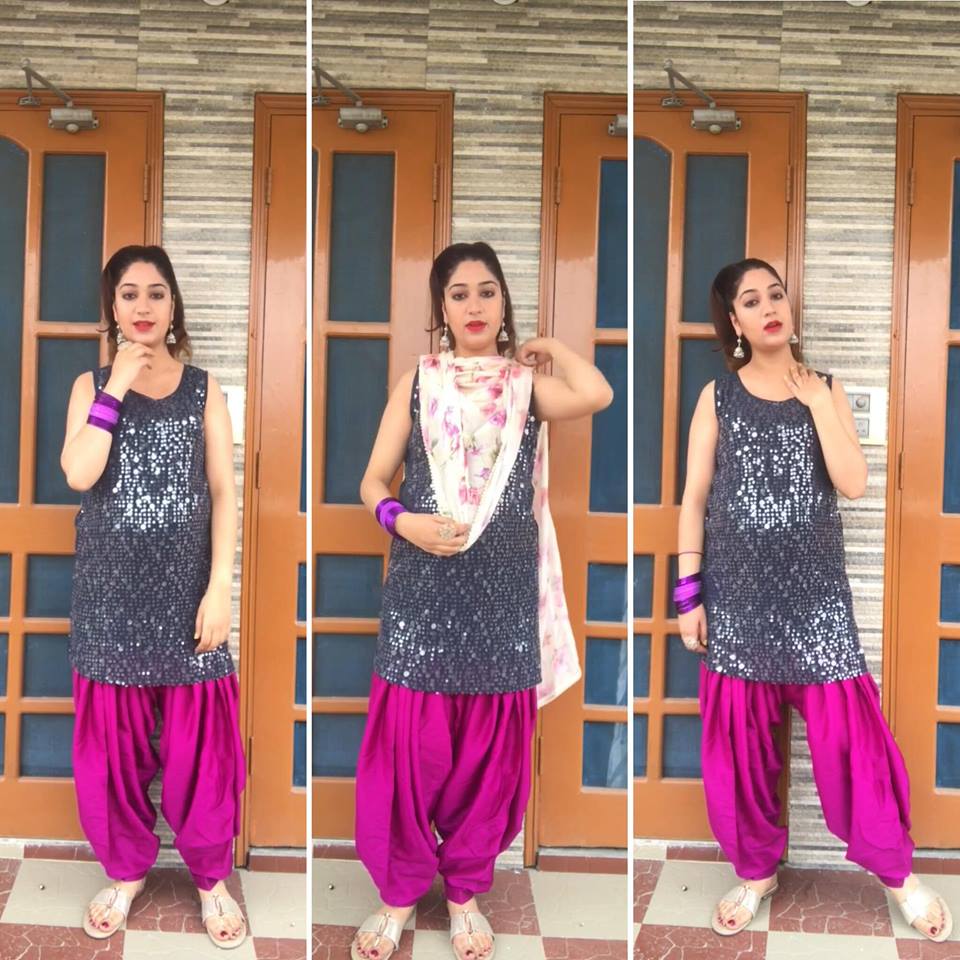 and chiffon since they make the best maxi dresses which is what most mothers-to-be opt to wear.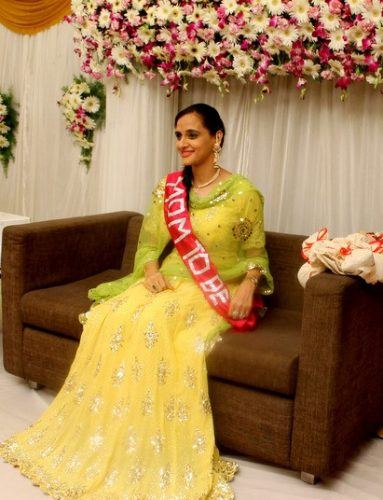 Via
Where To Shop For Maternity Wear In India?
Here are some of our favorite brands to shop for maternity wear: