Outfits to wear with Hiking Boots. The traditional hiking boot may not be lauded for its fashion-forwardness, but it should be. These boots are not only the perfect footwear for hiking (duh), but they are also versatile shoes that can be styled in several ways. If styled properly, it can make a perfect hiking outfit.
How to Style Hiking Boots
First, let's look at some simple styling tips:
For everyday wear, style your hiking boots as you would any other boot. Stick with skinny jeans or leggings and avoid boot-cut jeans to keep your hiking boots from being overshadowed and looking frumpy.
If you don't like leggings or skinny jeans, try boyfriend jeans rolled at the hem or wide-leg trousers that cut off at the ankle. This is a good way to balance out the chunkier shoe with your jeans.
Unless you are wearing a monochrome outfit and are looking for a pop-of-color, stick to neutral-colored boots. This way they will match with anything you pair them with and they won't be too "loud."
Try out different outfits with your hiking boots to see what works. Pair your hiking boot with a sweater-dress or a pair of denim cut-offs to make it a part of your everyday apparel.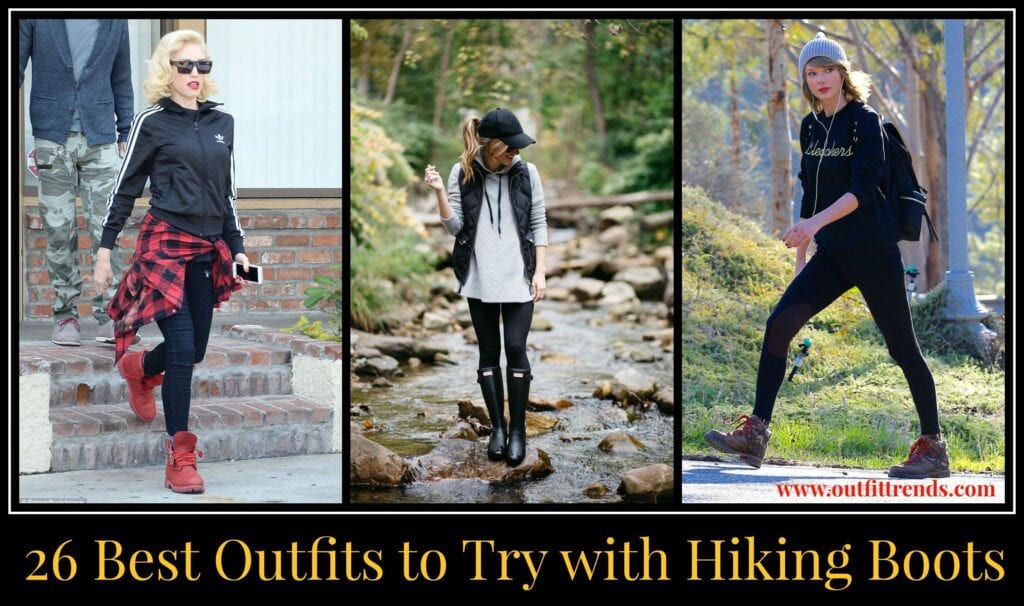 ↓ 26. Travel Outfit
For a travel outfit that will rival the best fashion bloggers of the world, try this outfit. Pair a striped shirt with jeans and a beige coat. We love the coordinating shades of brown in the hat, the tote bag, and the boots.
The fashion buttons on the coat are especially stylish as well. To accessorize, add some gold jewelry. This chic, sophisticated look will prepare you to brave whatever might come your way as you travel, walk, or sight-see. Here are some more cool Outfits with Striped Shirts.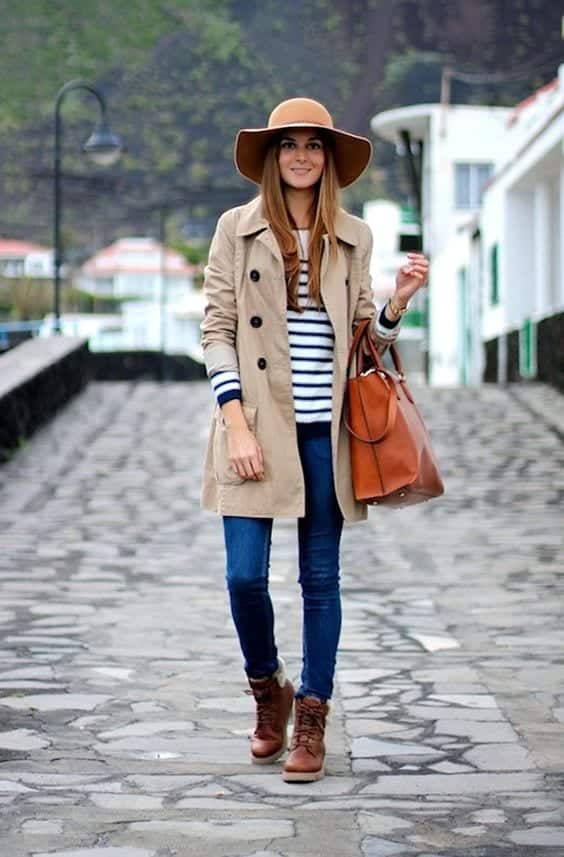 ↓ 25. With Skinny Jeans
The model in this picture perfectly portrays how to dress fashionably when you are short on time. That is what makes this look great for college girls and other busy young ladies. Throw on a gray sweatshirt and skinny jeans and add your hiking boots.
The key to this look is the very fashionable long beige coat. Having a piece like this in your wardrobe makes dressing stylishly a piece of cake. Last but not least, swipe on some bright red lipstick and you are ready to go.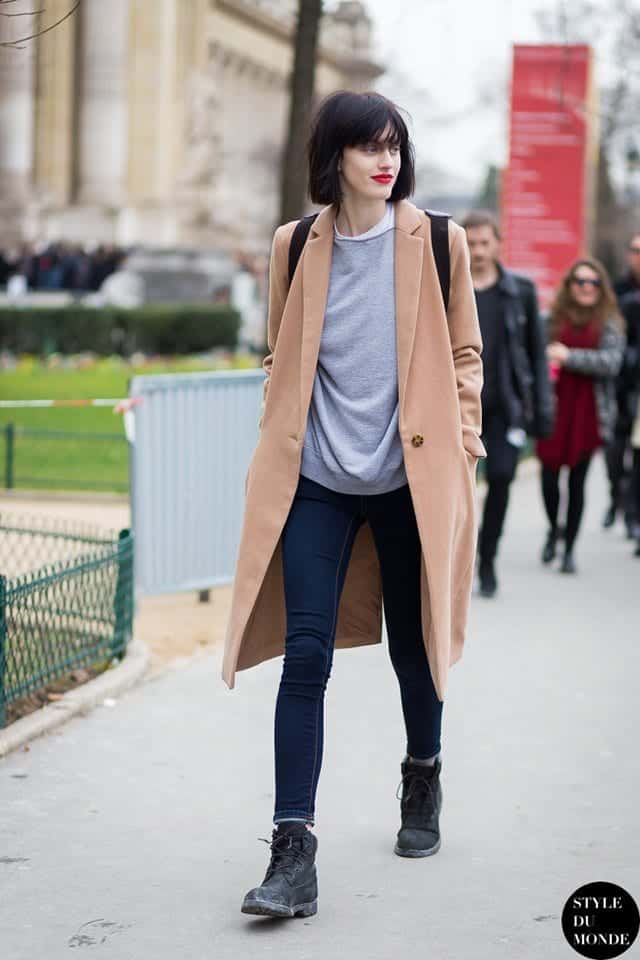 ↓ 24. With Fur Jacket
The classic hiking boot inspires these heeled boots, but with a definite twist. While you might not be able to hit the trails with these bad boys, you can rock them with flair and style.
They pair amazingly well with boyfriend jeans rolled at the hem and a chic faux fur jacket. This makes for a great fall look and can be worn to almost any semi-casual occasion. Here are some more Outfits with Faux Fur Coat.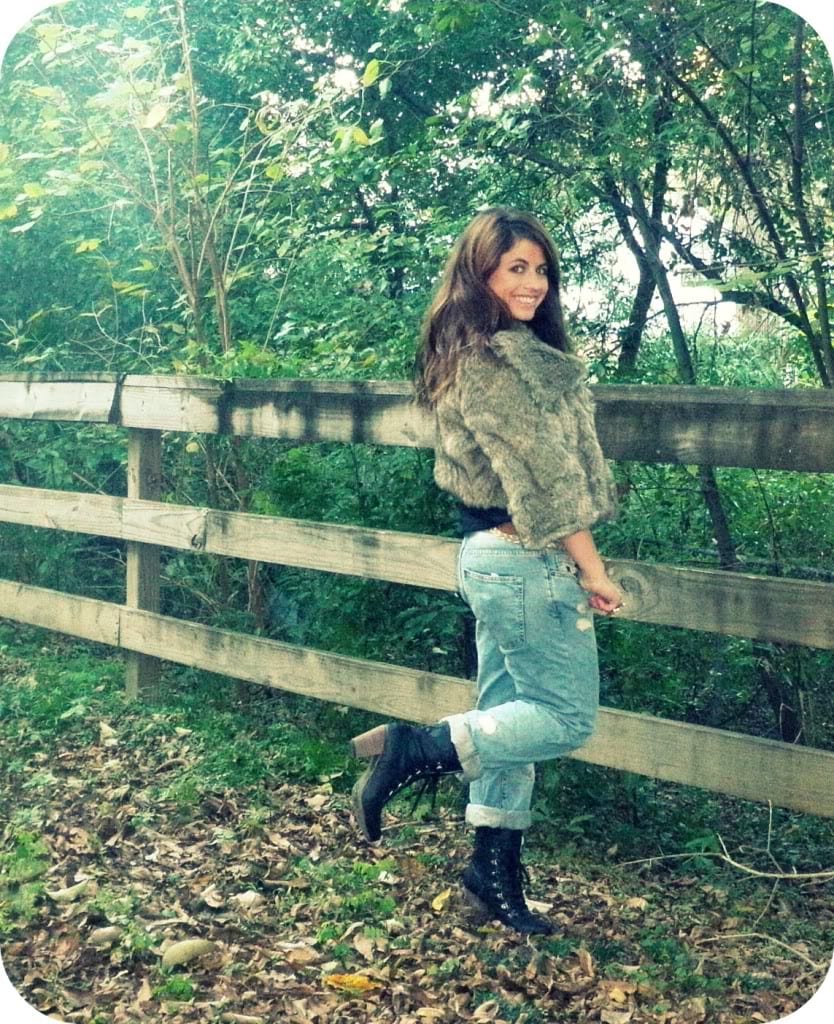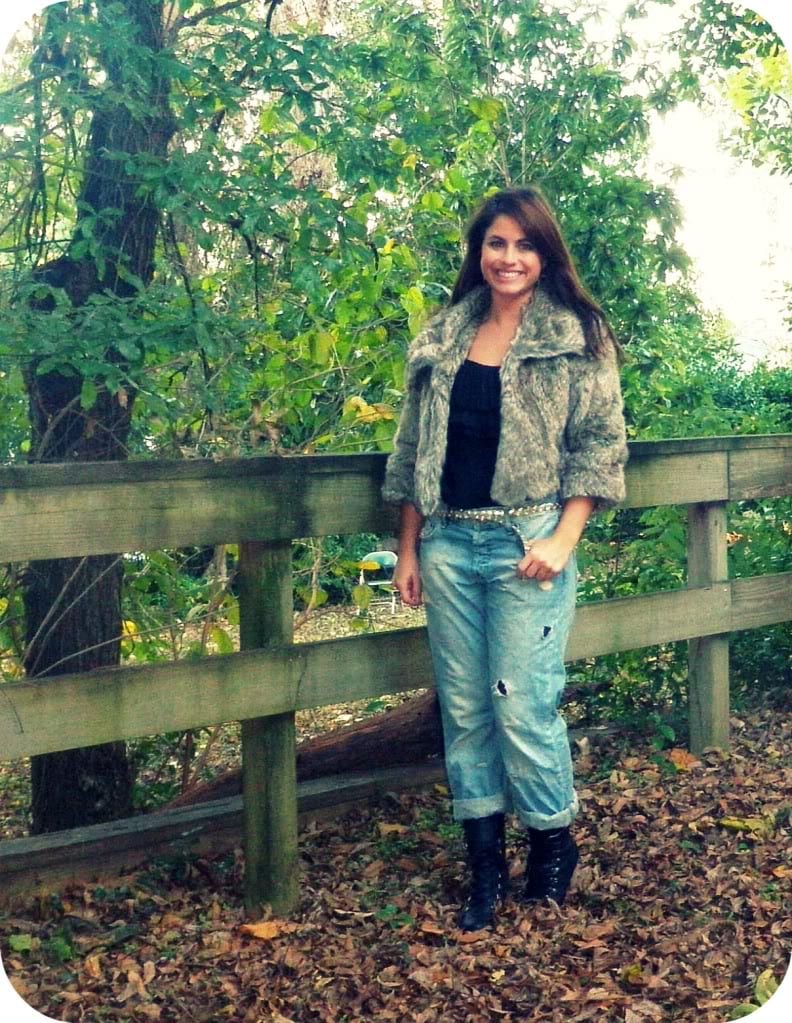 ↓ 23. Timberlands
Here is a cute and simple way to style Timberland hiking boots. Pair them with olive-green cargo-style pants and your favorite long-sleeved top.
Add a warm hat and Aviator sunglasses. If you're a fan of Timberland boots, you should definitely have a look at these Cute Outfits to Wear with Timberland Boots For Girls.
↓ 22. Winter Hiking Outfit
You will be snug as a bug in a rug with this outfit. And just as cute! These super warm hiking boots are fur-trimmed and pair nicely with black leggings, a long-sleeved top, and a camo-print vest. Tie up your hair in a high pony and add a couple of bracelets for some flair. Also, have a look at these amazing Outfits with Combat Boots.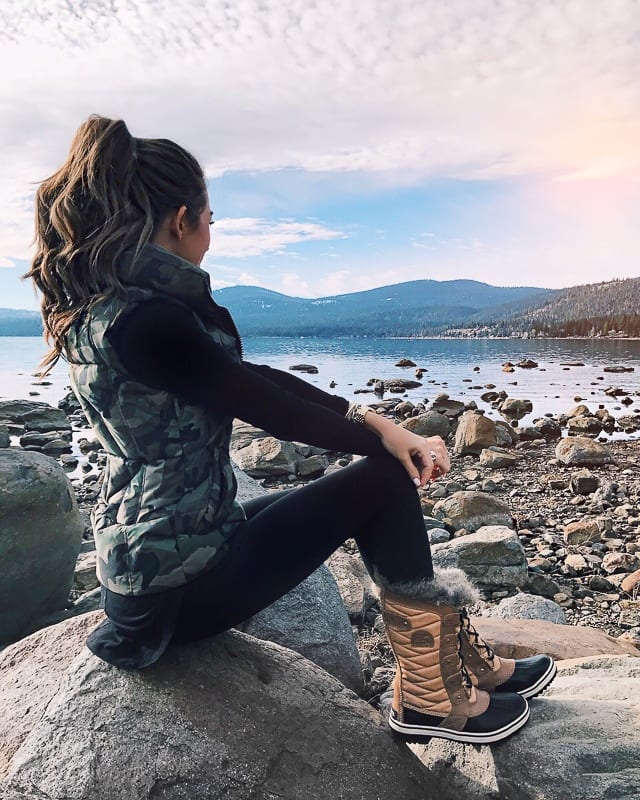 ↓ 21. Hunter Boots
Styling Hunter Boots is not the easiest thing in the world. You will want to avoid baggy jeans and loose straight pants if you want to get the most out of these bad boys… style-wise, at least. Pair yours with some flannel leggings, a hoodie sweatshirt, and a puffer vest. Accessorize with a baseball hat and sunglasses.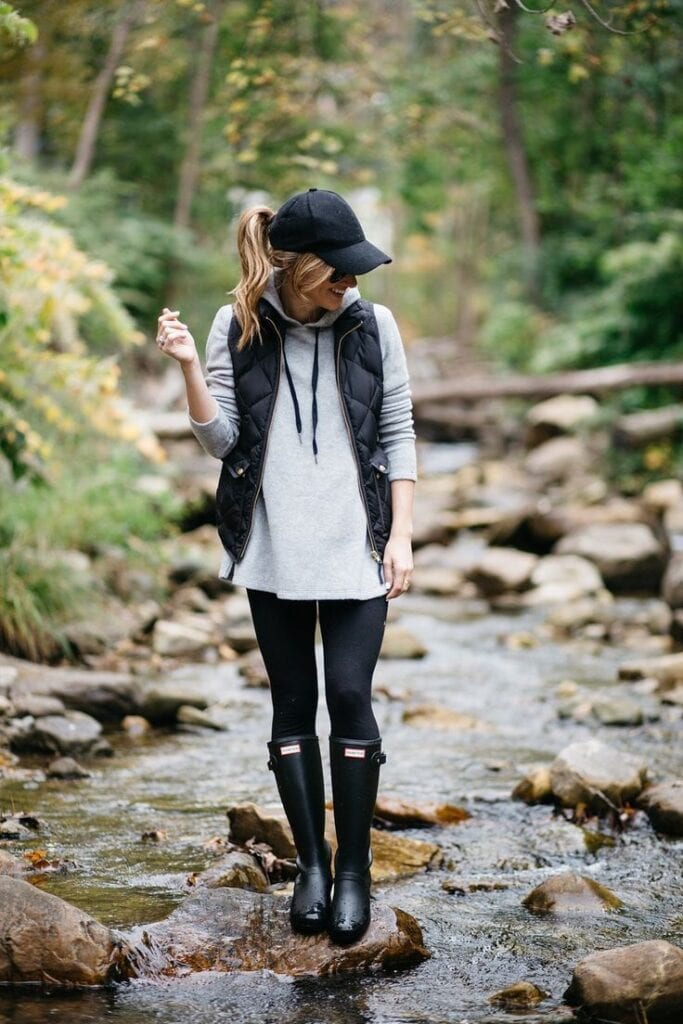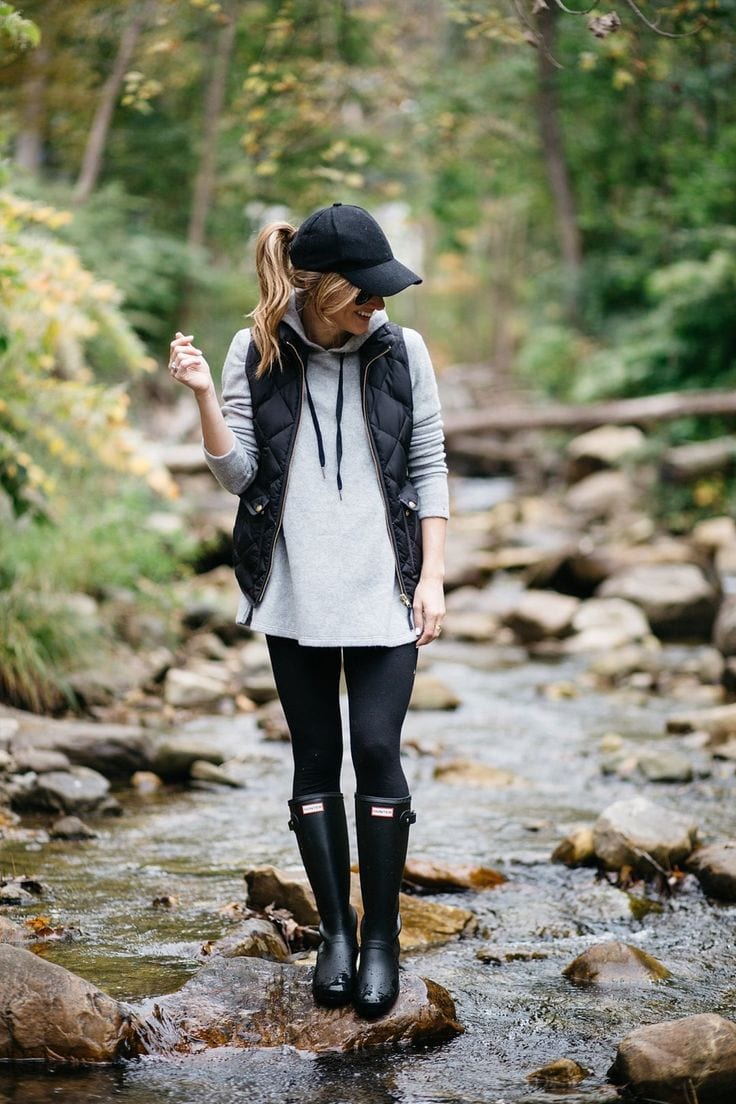 ↓ 20. Taylor Swift Inspired
Get inspired by Taylor Swift's chic look. Here she has paired a black sweatshirt with leggings, some Marie Claire hiking boots, and a knit beanie. Here are some more Chic Outfits to Wear with Beanies.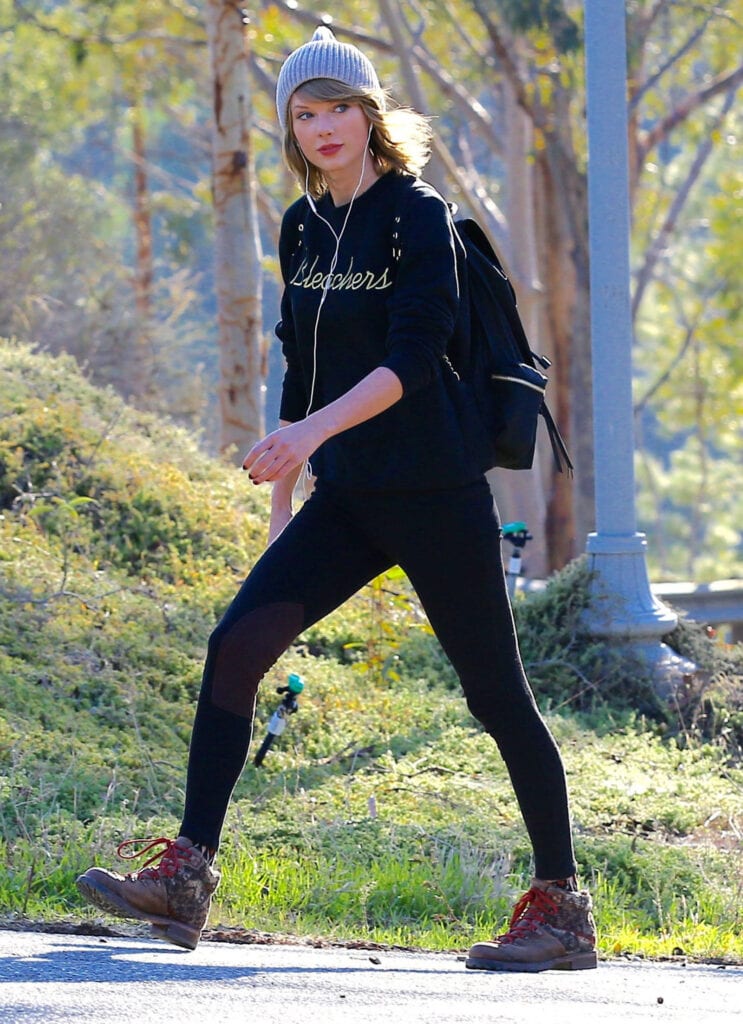 ↓ 19. With Denim Shorts
Whether hiking or settling down in front of the backyard barbecue, this outfit is a great way to show off your hiking boots. Simply pair it with a sweater and denim shorts. You can add a scarf or bright-colored cardigan as well to bring some more pep to your outfit.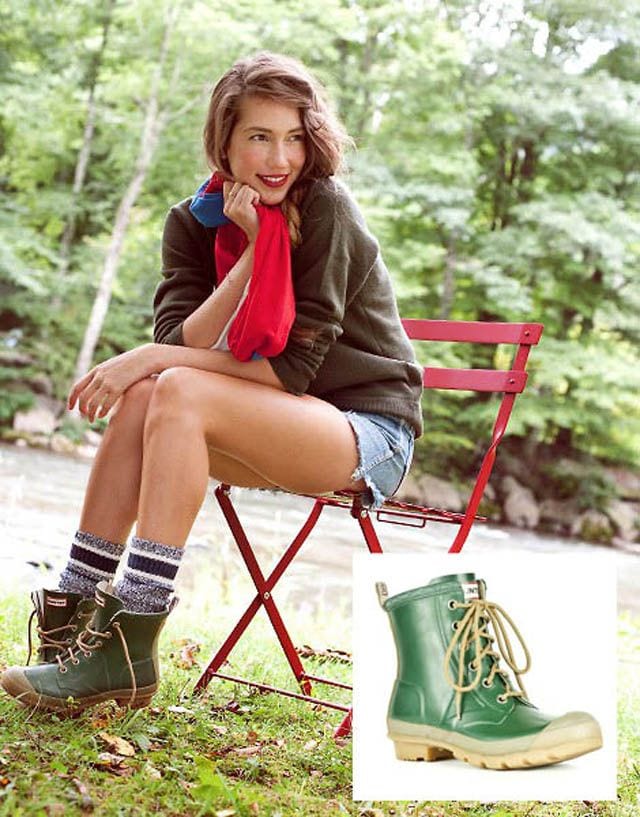 ↓ 18. Basic Black Ensemble with Pop-of-Color Boots
Wearing all black while hiking is not only stylish but super practical. Avoid sweat stains, dirt-stains, and any other stain you can think of in black leggings and tank. To keep it fun, get yourself a funky pair of hiking boots to bring some color into the ensemble.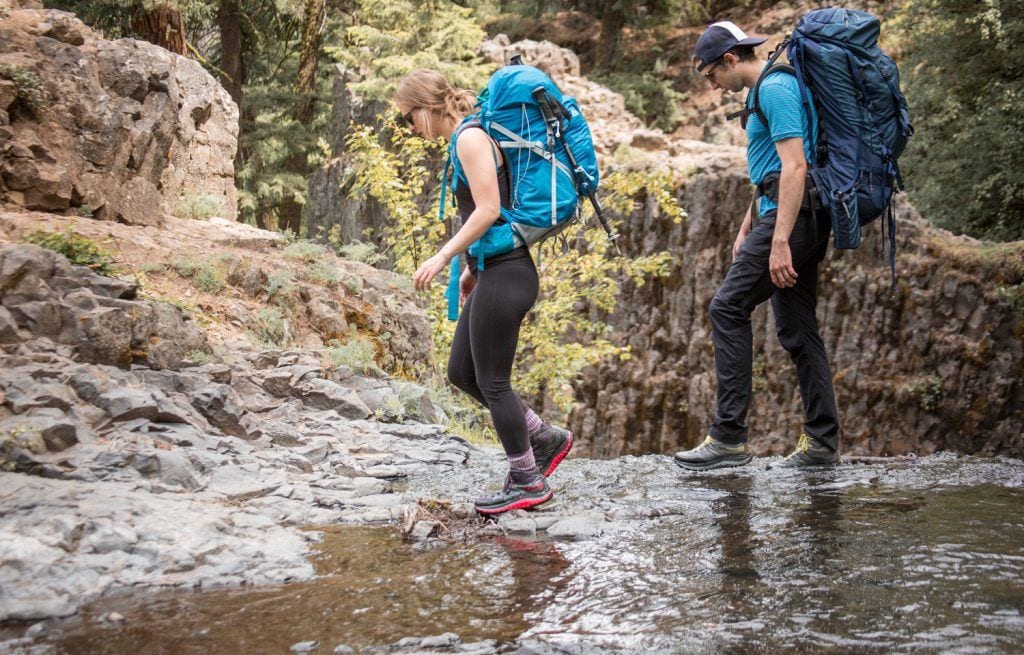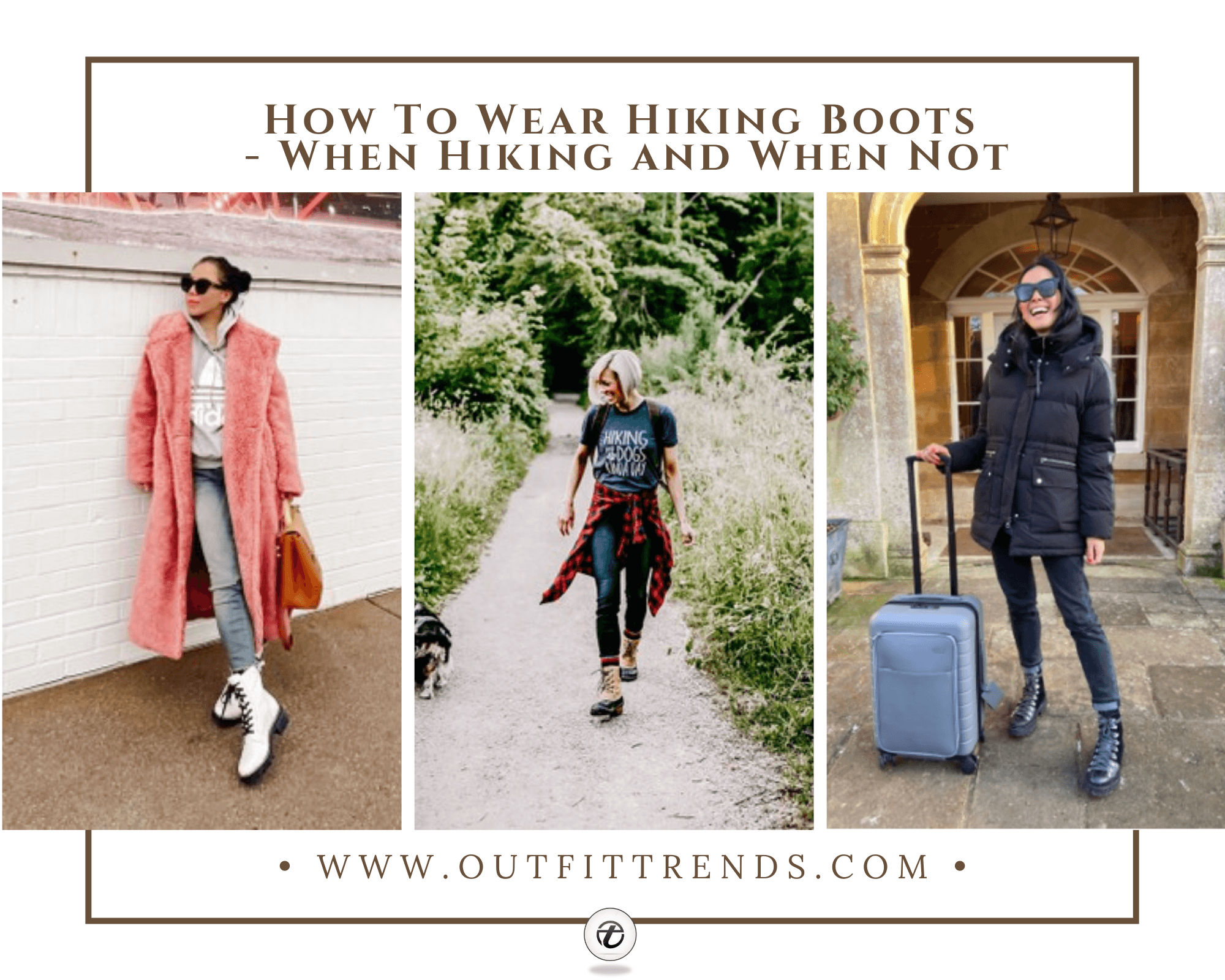 ↓ 17. Chic Monochrome
For this look, go black-and-white for a chic monochrome outfit, perfect for snowy weather. Start with a striped turtleneck top and pair with black trousers. A faux fur coat is a fabulous piece and is complemented well by mink-trimmed leather hiking boots.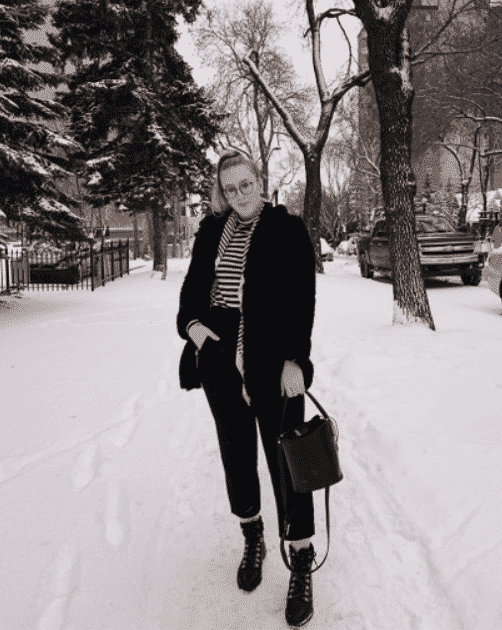 Get these boots at the link below:
Rebecca Minkoff Jaylin Mink-trimmed Leather Hiking Boots
↓ 16. Casual Style with Sorel Boots
Wear a light-colored shirt with gray ripped jeans and boots to create a dressy-casual ensemble. Add a pom-pom beanie and vest to complete the look. Plus, here's an awesome guide on How to Wear Shearling Boots.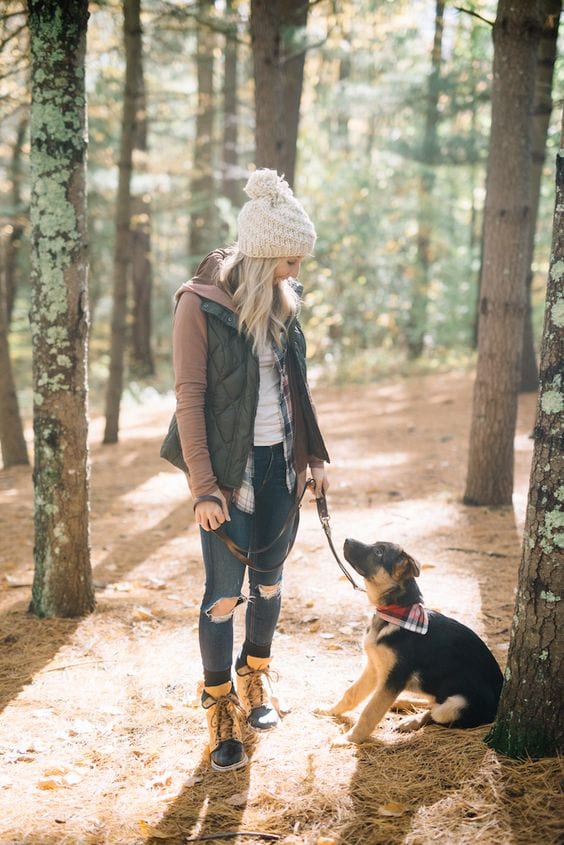 ↓ 15. Super Easy Hiking Outfit
When in doubt, strip it down to the basics. You can't go wrong with leggings, a tee, and a plaid shirt so if you have been stressing, stress no more!
Most of us have these very items in our closets already (and if you don't, these are all cheap pieces you can pick up at your local Target or even Walmart) so ditch the wardrobe stress, throw this outfit on, and go get your endorphins!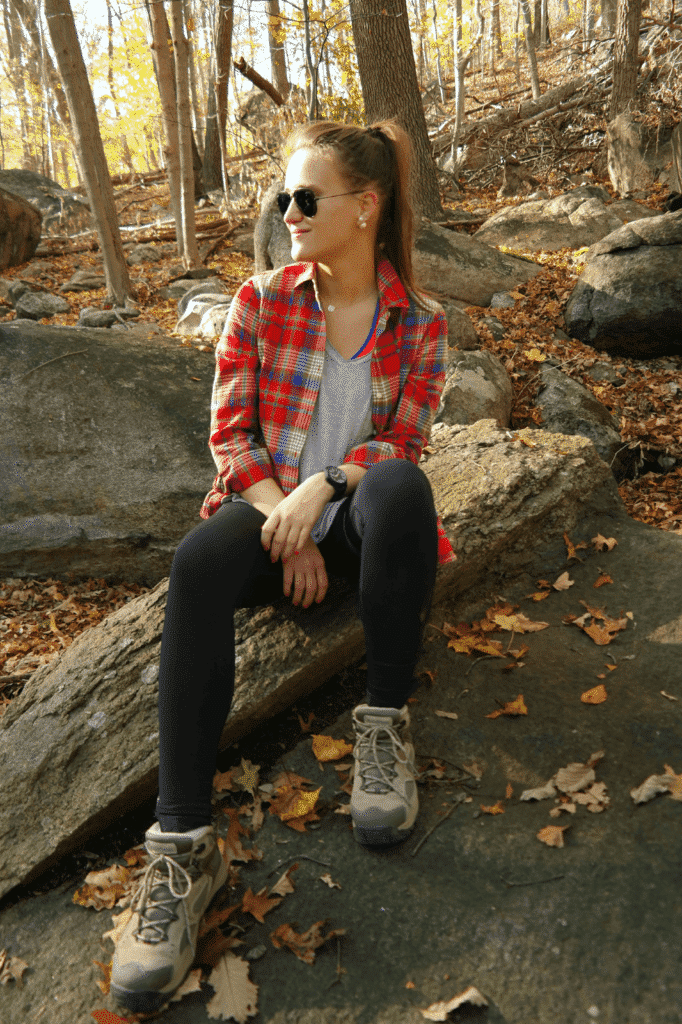 ↓ 14. All-Black
This hiking outfit doubles as stylish winter wear. Whether braving high and windy altitudes or simply trekking through your local forest, this chic ensemble will keep you warm and feeling good.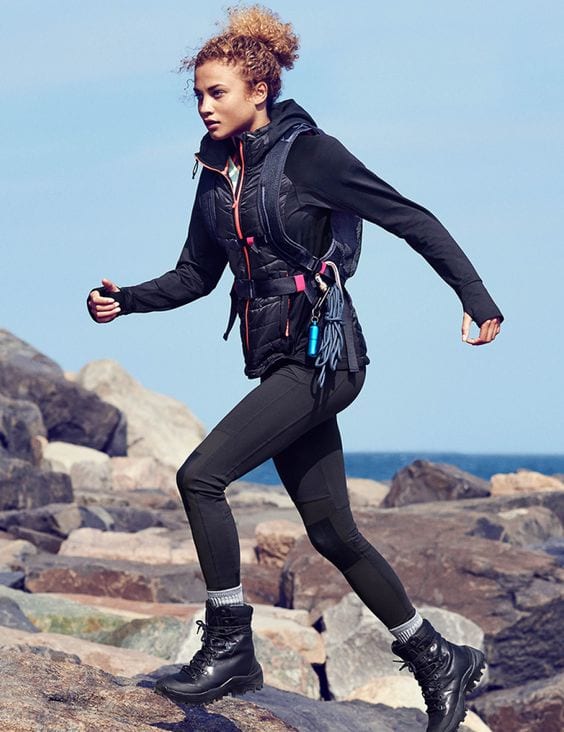 ↓ 13. With Sweater Dress
These do not have to be just for hiking, you know. They are a fashion item in their own right and with an outfit like this, we can see why. Pair a neutral-colored pair of hiking boots with a comfy sweater dress for a simple party look or date-night-in ensemble.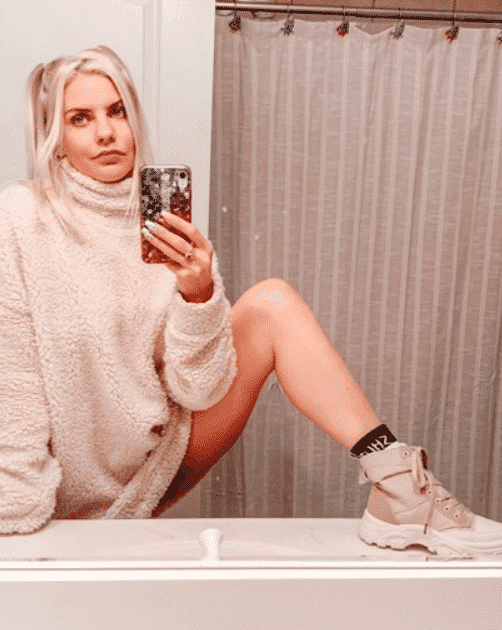 Shop the look at the links below:
Shein Lace-up Front Canvas Hiking Boots 
Missguided Camel Corset Hooded Sweater Dress
↓ 12. Simple Summer Wear
When in doubt, keep it simple. You can't go wrong with a cute logo tee, leggings, hiking boots, and baseball cap. For added flair, braid your hair over one shoulder and add Aviator sunglasses. Here are some Modest Gym Outfits.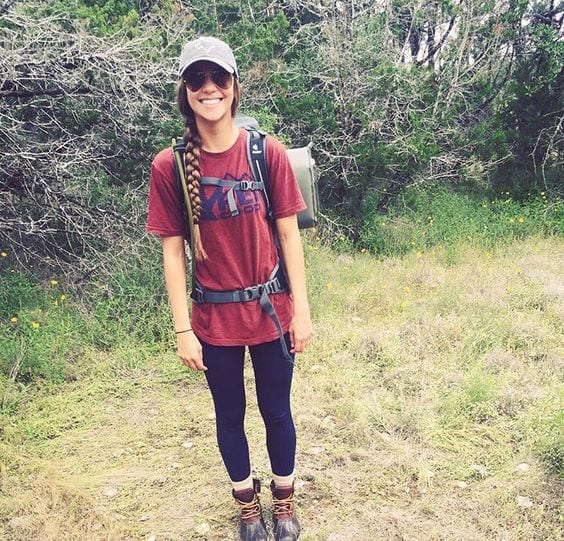 ↓ 11. With Down Jacket
Hit the hiking trails running with an outfit as stylish as it is versatile. All you need are some three-quarter-length Nike leggings, a down jacket to wear over a gray top, and hiking boots. Don't forget some statement sunglasses!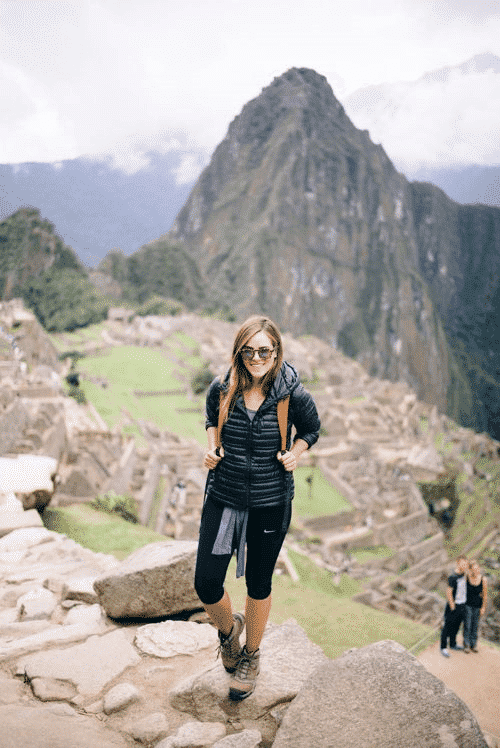 ↓ 10. Outdoorsy Monochrome Outfit
This outfit is more or less monochrome, with a couple of exceptions. It makes for great outdoor apparel so why not give it a shot? Berry-red skinny jeans look fabulous when paired with a plaid top (note the complementary colors) and padded vest. Add a baseball cap and get ready to hit the range.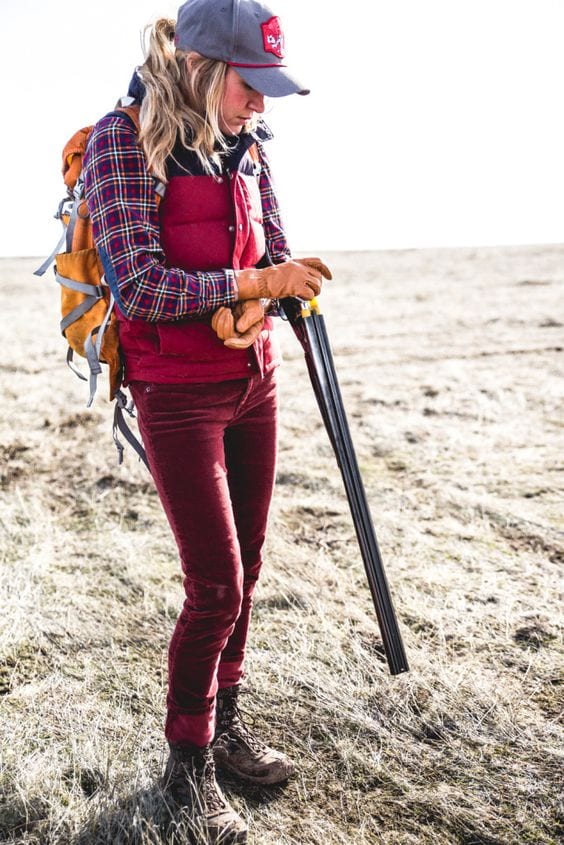 ↓ 9. With Shorts
Hiking in the summer is quite a challenging feat. But with an outfit as cute as this, it's sure to be a piece of cake! Stay cool in green shorts and a light-weight, three-quarter length sleeve top.
(Add a sweatshirt or hoodie around the waist if you are hiking to an area where you expect it to get chilly.) Top it off with a cute baseball cap and a brown rucksack to carry your gear.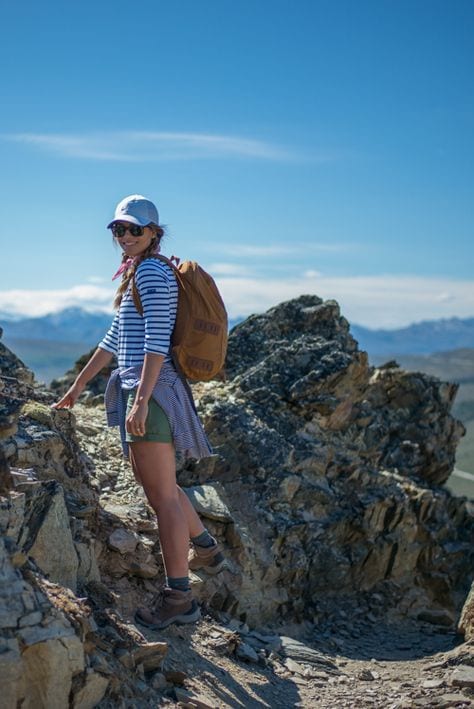 ↓ 8.  Fall Weather
This pumpkin-colored sweater is so perfect for fall and we love it. Pair a top like this with jeans frayed at the hem and a sleek pair of black hiking boots.
Whether you are actually hitting the trails or simply going for a walk through a garden, this outfit gets all the brownie points for being beautiful as well as easy to throw together.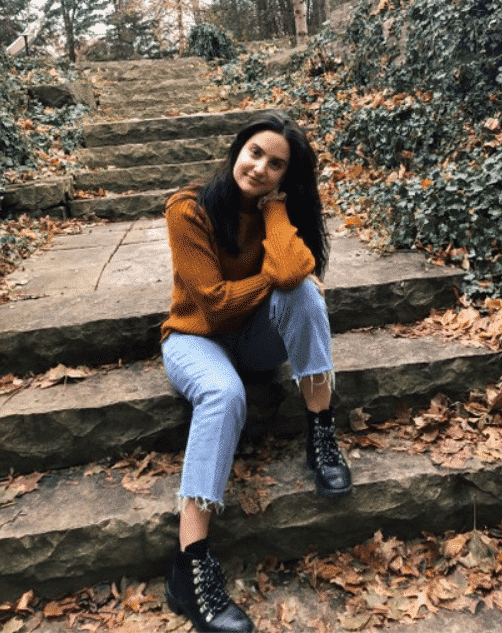 ↓ 7. Gwen Stefani Inspired Look
Gwen Stefani is known for her stylish wardrobe. Here she shows us how to rock a red hiking boot with confidence. Pair yours with a 1990s style zip-up Adidas jacket with dark-wash skinny jeans and a flannel shirt tied around the waist.
Don't forget to swipe on some red lipstick and pop on a pair of trendy sunglasses to complete the look. Here are the best Women's Outfits with Red Shoes.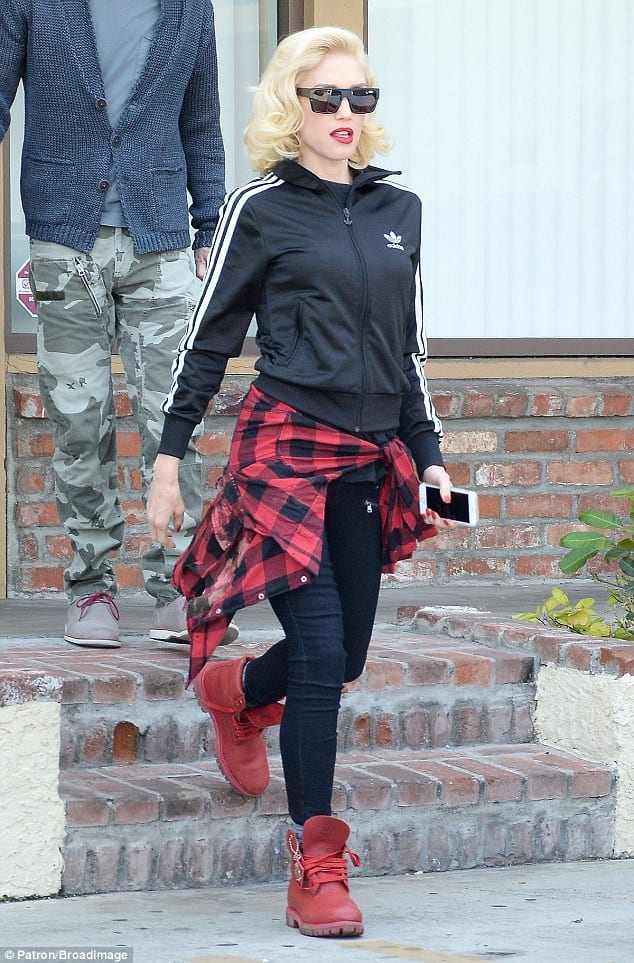 ↓ 6. Neon Yellow Outfit
While this outfit is more appropriate for warmer weather, wearing neon colors is a great way to stand out during those long, gray winter months. We recommend muting the look with a black tee and neutral hiking boots.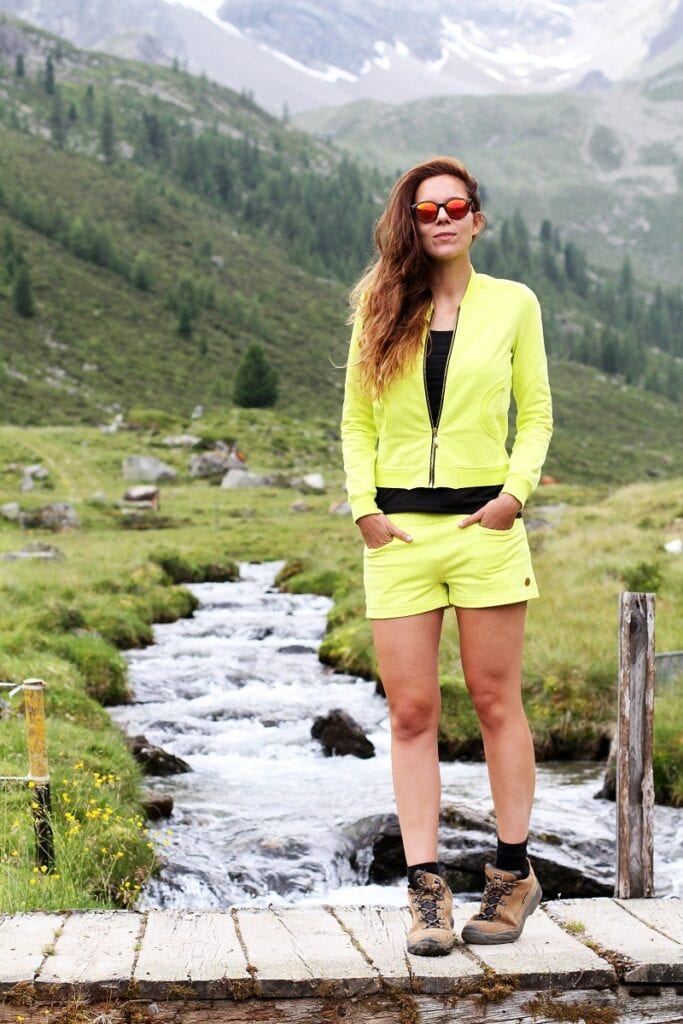 ↓ 5. Fall
Start with the basics and learn how to layer to create chic and stylish outfits. This leggings-and-plaid-shirt combo is simple but becomes instantly more fashionable when it's layered with a padded green vest and trendy statement sunglasses.
The hiking boots pull the whole look together. Plus, if you get too warm while hiking, all you have to do is remove the vest and stash it in a bag.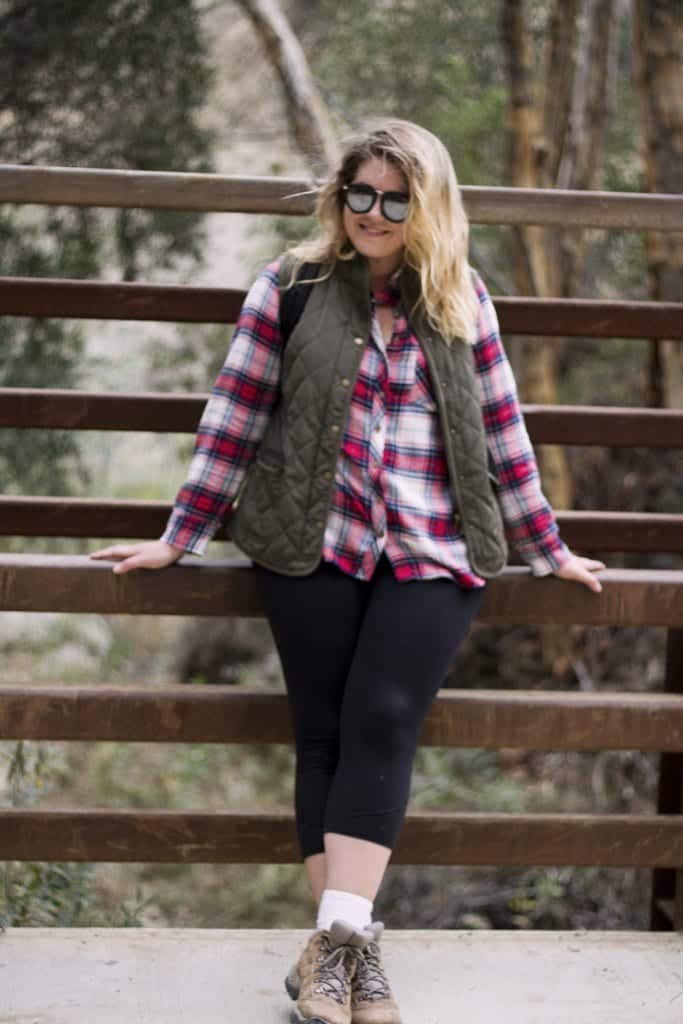 ↓ 4. Winter Wear
Here are two adorable winter outfits featuring brown hiking boots with red laces. (Festive!) In our first option, which is the more dressier of the two, you will pair a white turtleneck with a statement coat.
This green coat features giant checks and is super stylish. Add a yellow beanie, jeans, and a crossbody bag. Our second option is more casual. Pair your boots with black leggings, a gray tee, and an open plaid shirt for this look. Top it off with a simple black vest for added warmth and accessorize with sunglasses.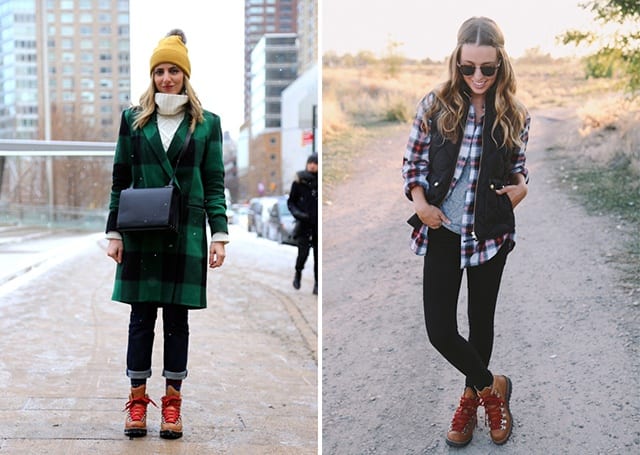 ↓ 3. Hiking Boots for Women Above 60
American celebrity Goldie Jeanne Hawn who is an actress, director, producer, and occasional singer perfectly pulls off this stylish hiking outfit. A fitted tank and leggings are a practical, stylish option for ladies over a certain age.
Here, Goldie pairs her outfit with gray trainers and a zippered jacket. (Trainers are a good option when you don't want to commit to a proper hiking boot fully.) She also accessorized with a large pair of trendy cat-eye shades, hoop earrings and a gold pendant on a short chain. Check out these Casual Outfit Ideas for Women Over 60.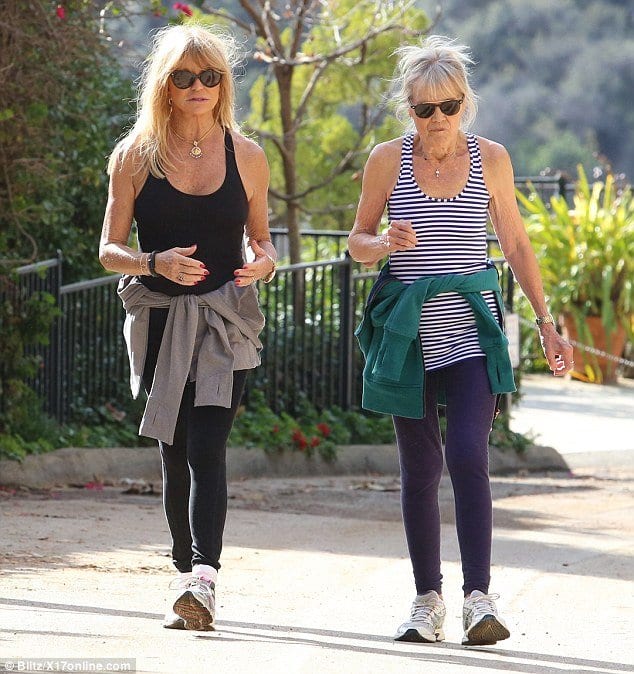 ↓ 2. Celebrity-Style
Here is a look that you just can't go wrong with. A white tee and black leggings are a cute pairing that goes with anything and can be dressed up or down according to the occasion. If you are heading out to hit the trails, this is a good option for you.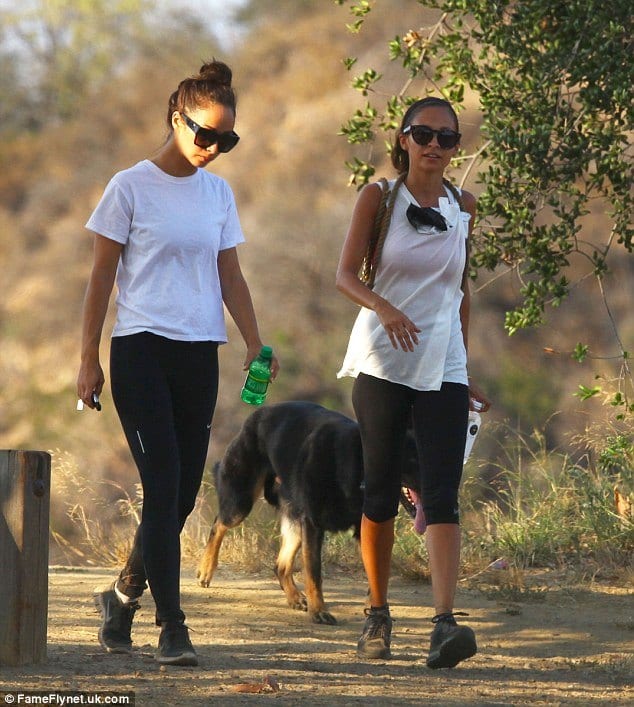 ↓ 1. Tee & Shorts
For a summer look as cute as it is practical, check out this one right here. Throw on your favorite tee-shirt, cut-off denim shorts, and hiking boots with tall socks. Tie a flannel shirt around your waist for a cute, helpful layer in case you need it.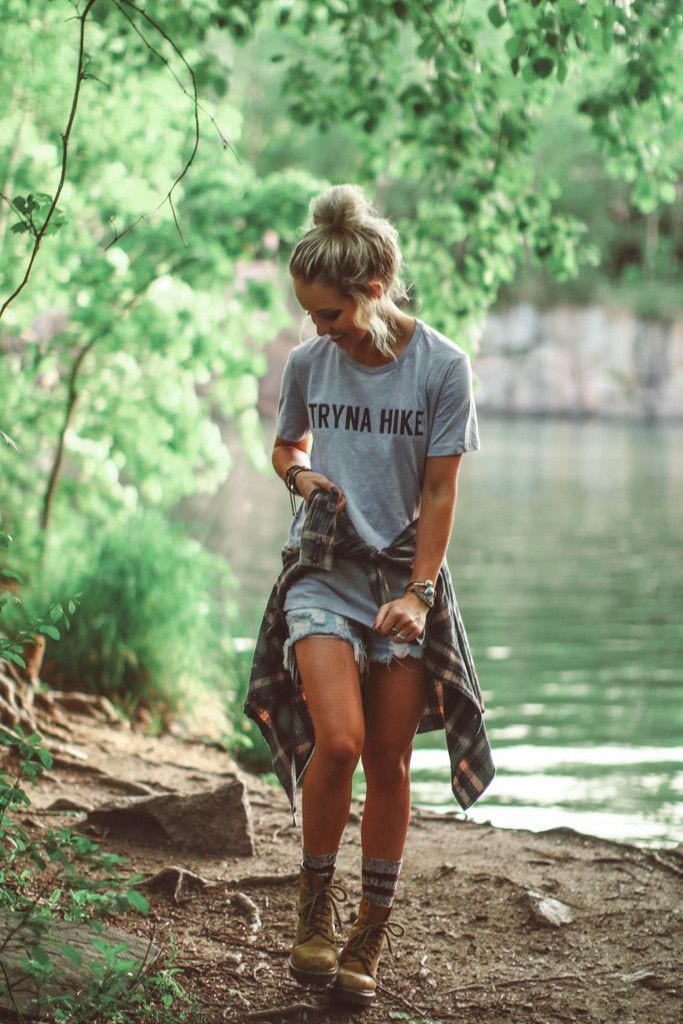 R.H. Elias is a freelance writer, aspiring author, and freelance transcriptionist. She is a homebody all the way and loves curling up on a cold, rainy day with a good book and a warm cup of tea. Her favourite pastimes include reading, writing, and watching period films. She currently lives in Puerto Rico.