How to Wear Zebra Print Pants. For the past few years, animal print has been a steadily rising trend that we have seen both on the runway and off. In fact, due to its great popularity and innate versatility, animal print is now considered a neutral print that you can pair with just about anything. How is that for defining status?
While the frenzy around animal print has settled into a sort of abiding enthusiasm, there is one form of animal print that is starting to reawaken the mania. And that, my friends, is the zebra print! The zebra print is considered an alternative to leopard print, which means that any outfits you would have once built around a leopard print item you can now repurpose with a zebra print item.
Some speculate that the rise of the zebra print trend is a reflection of society's hope to resume traveling – to go explore exotic places and get out of their own bubble after a year of hermit-like living and isolation. And what could be more exotic or exciting than a fabulous zebra print?
What To Wear With Zebra Pants?
While there are countless ways to rock the zebra print in your everyday attire, today we are focusing on zebra print pants outfits. (However, if you are interested in seeing one brand's entire line designed around the zebra print, check out Stine Goya's Spring/Summer collection! From dresses to matching sets to bags, there is something for everyone.)
Zebra print pants, at first glance, might seem a little intimidating. They are pretty "out there" and for those of us who are new to the trend, getting an idea of ways you can style them can make them seem a lot less daunting. So I have compiled some of our favorite ways to wear zebra print pants for everyday fashion. Let's check them out!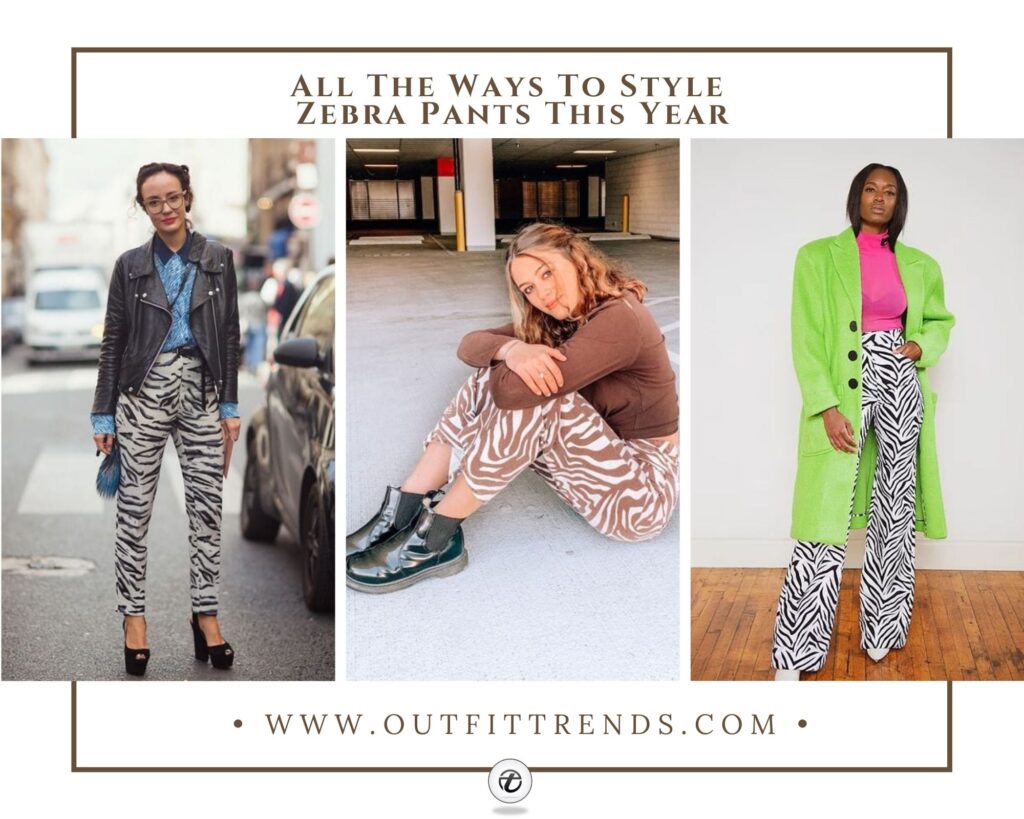 Where To Buy Zebra Print Pants?
To take on the trend, knowing where to find these bad boys becomes the first order of business. So I have put together five different places and brands that are currently serving some fabulous zebra print pants options. (Psst! They won't break the bank.) Here they are:
Now that you know where to find zebra print pants for women, let's take a look at some stylish ways to wear them. From casual to dressy and everything in between, here are the best zebra print pants outfits to get inspired by.
↓ 21 – With a Black Button Down Shirt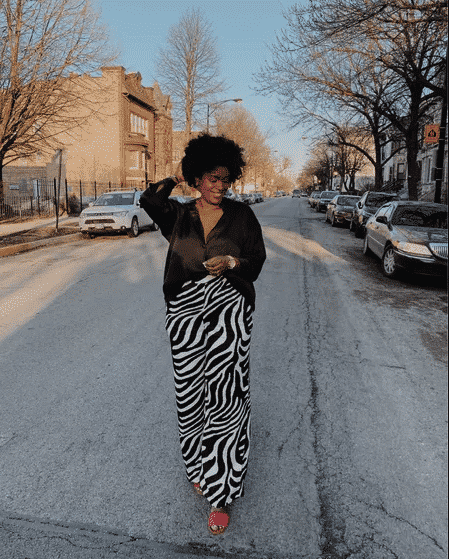 ↓ 20 – With a Lilac Colored Top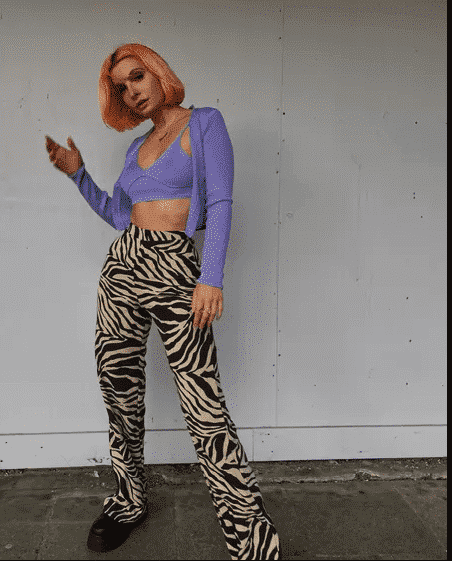 ↓ 19 – With Combat Boots
Right out the gate, you can see what an edgy and versatile item zebra print pants are. This is a look you can rock anywhere – from chill parties to hanging out with friends. To nab the look, a long-sleeve top with a collar and cuffs is the first order of business. Pair it with some high-waist flared zebra pants and some chunky combat boots. You can stick to a black-and-white theme or incorporate a contrasting color.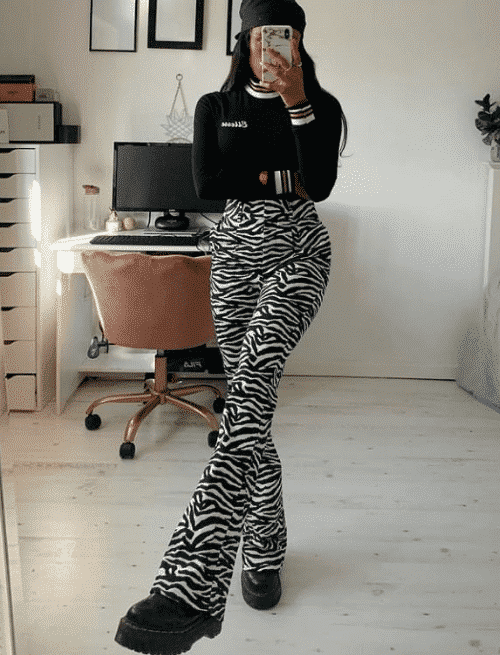 ↓ 18 – With Burgundy Leather Jacket
I love how chic this outfit is which works for when you need a street-style look or you just want to look stylish for weekend shenanigans. You will need a statement-making top (this crisscross front top shows some skin but isn't overly revealing) and a fantastic jacket. This burgundy one is a dream! Pair it up with your zebra print pants of choice and finish off the look with some little black booties.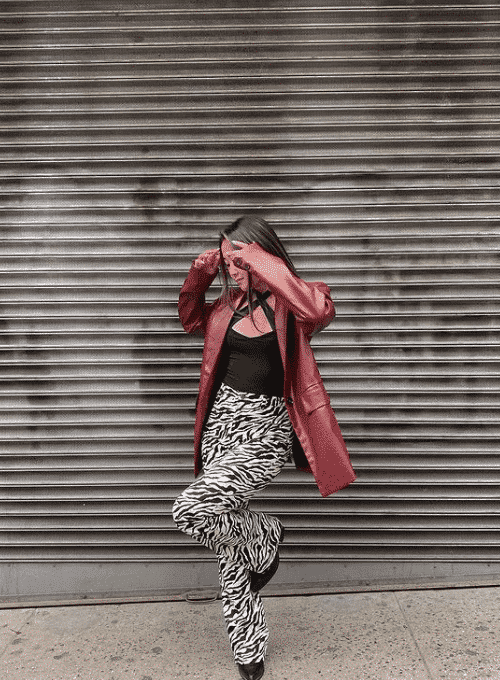 ↓ 17 – Accessories to Wear With Zebra Pants
When it comes to accessorizing an outfit that already has a pretty definitive statement piece like animal print pants, you will want to make sure you don't go overboard with accessories. A fantastic handbag, some killer sunglasses, and some gorgeous gold hoops will add flair without overwhelming you.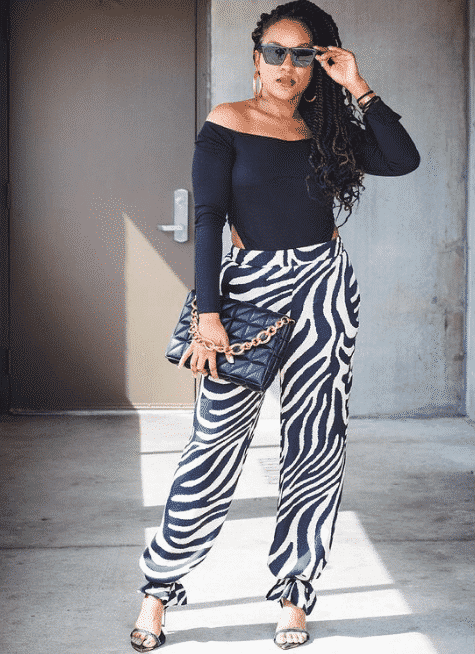 ↓ 16 – Chic Crop Turtleneck for Neutral Look
For a look even an Instagram model would wear, stick to neutral tones to balance out your somewhat "loud" pants… a cropped turtleneck should do the trick. Add some trendy sunnies, little round earrings, a black handbag or purse, and heels or booties to round out your 2021 approved ensemble.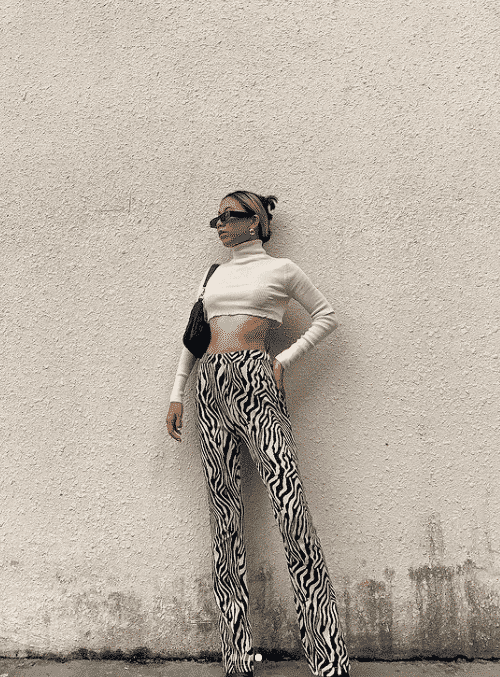 ↓ 15 – For Teenagers
A bomber jacket is a classic piece you can pair with some wide-leg zebra print pants. You can wear it cropped or regular-length and pair it up with a crewneck crop tee. Add a belt and some chunky Doc Martens and you have an edgy look that will make a statement wherever you go.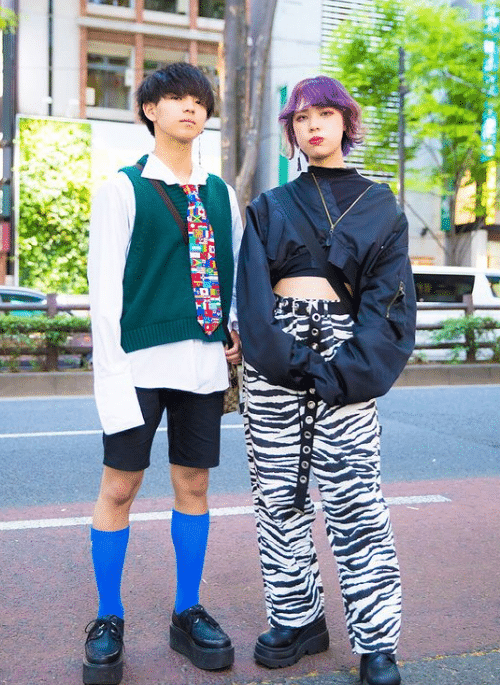 ↓ 14 – High Waist Pants & Long Sleeve Top
Styling zebra print pants does not have to be complicated. Great news, right? To keep it simple and stress-free, stick to a black and white theme with a single contrasting color accessory. Personally, I love the softness of this green handbag which perfectly complements the pants and boots.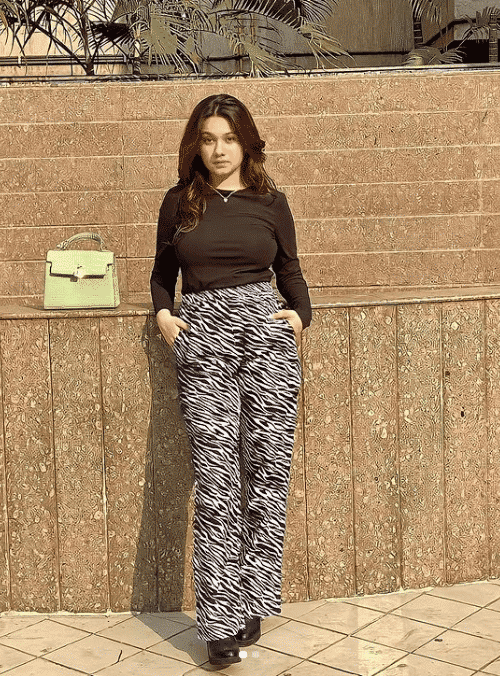 ↓ 13 – With Mesh Top
A mesh top is always a fun look. Worn with zebra pants, it somehow gets even better! This is an outfit you could throw together in minutes. To achieve it yourself, get yourself a sleeveless mesh top. Any kind will do but a crop is fun! Add combat style boots or Doc Martens, a chunky silver necklace, and of course, some high-waist zebra pants. I like these which are a little on the shorter side, perfect for showing off your footwear.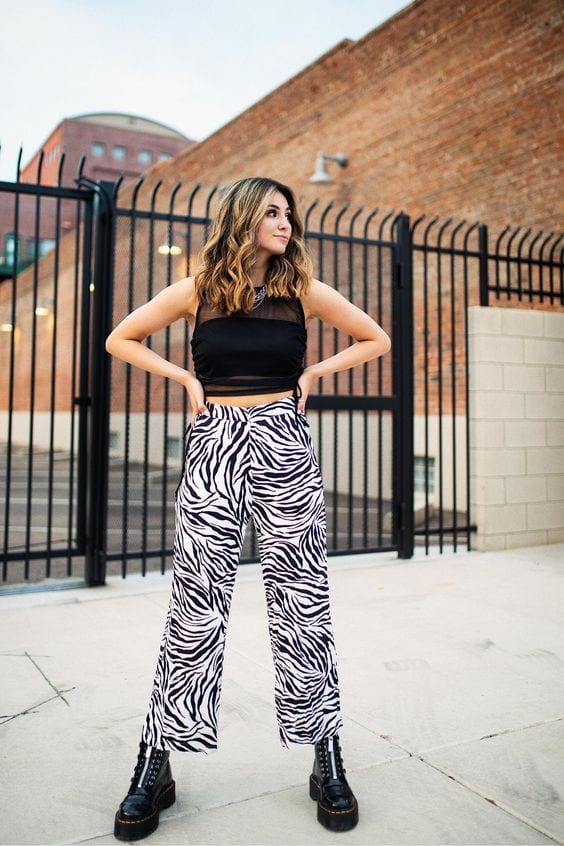 ↓ 12 – Dressy Street Style
This is a super eclectic look which is different but really eye-catching. From the biker jacket to the collared sweater and platform heels, this ensemble takes your by surprise at every turn. You can style it "grunge" or you can dress it up a bit to make it a great work outfit or weekend street style look.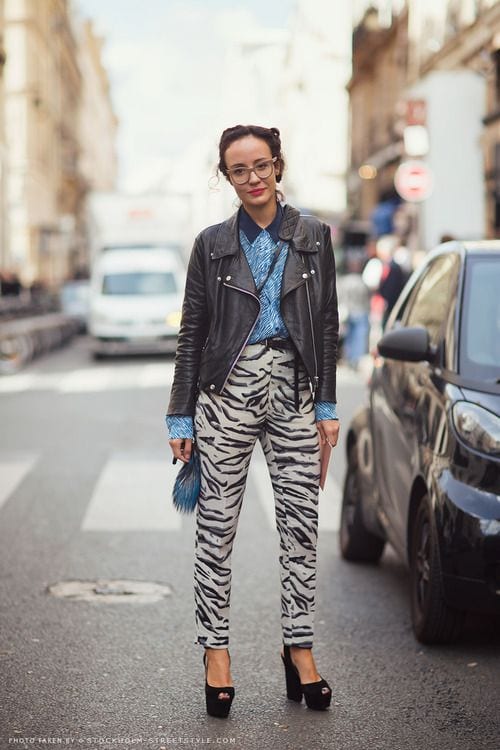 ↓ 11 – Monochrome Style Blue on Blue
Zebra print pants aren't always black and white. Good news for us, because when you are feeling blue, there's a pair for you too! I love this blue-on-blue outfit, which is perfect for summer. Just get yourself a one-shoulder top, some blue and white zebra print jeans, and some cute blue sneakers.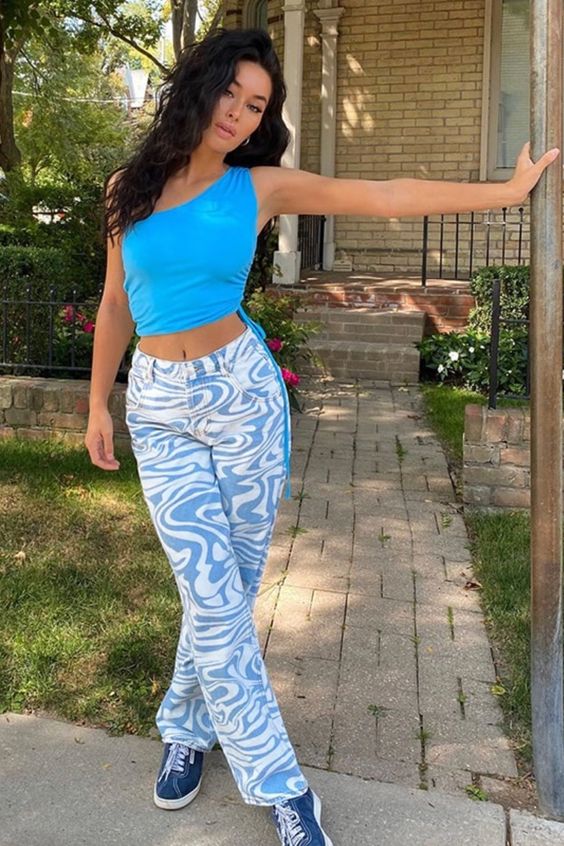 ↓ 10 – Footwear to Wear With Zebra Print Pants
Little black booties or chunky combat boots seem a super popular choice to pair with zebra print pants. There's an edginess to them that balances out the more exotic flair that they have. But you can also pair them with heels or sneakers, depending on how casual your look is.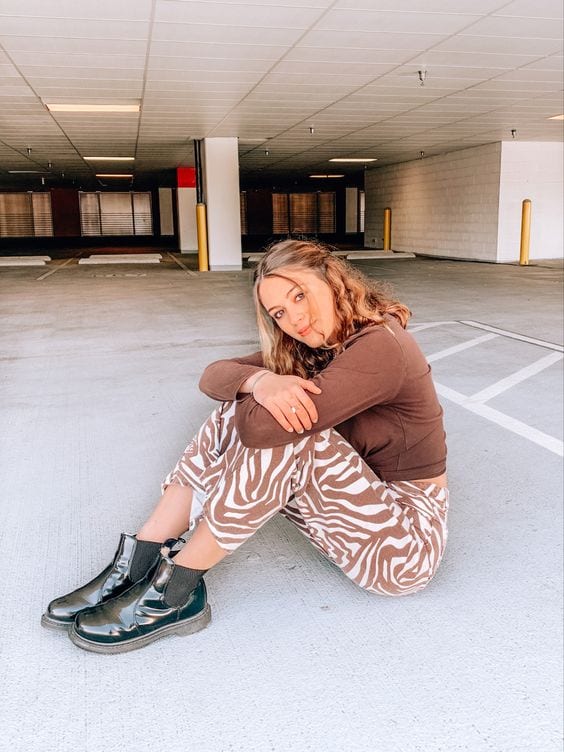 ↓ 9 – With Long-Sleeved Crop Top
Here's another outfit that pairs a long-sleeved cropped turtleneck with zebra pants and a contrasting colored purse. This ensemble has a nineties feel to it (that dark lipstick!) which is great if you are in a retro kind of a mood. Finish off the outfit with chunky white boots and you are good to go!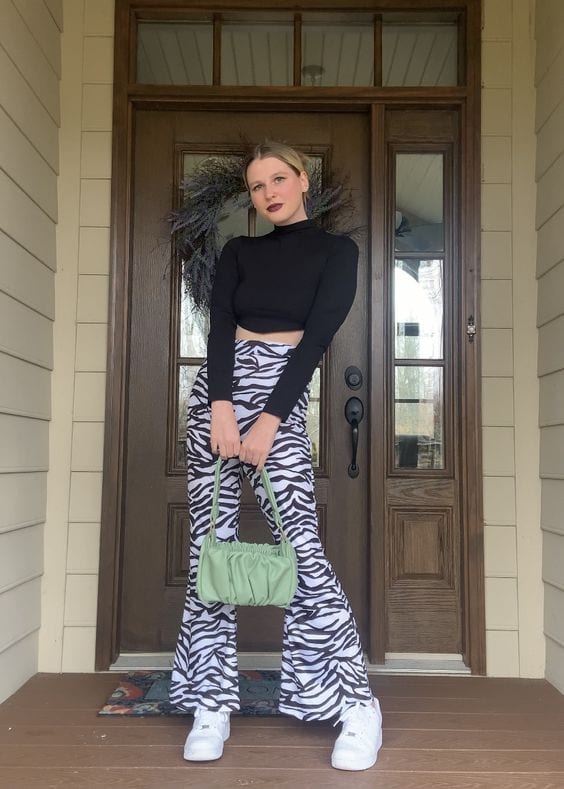 ↓ 8 – Zebra Print Pants Outfit for Women Over 50
These wide leg zebra print trousers are such a flattering pick for women of all ages. They are pretty timeless and look great when paired with some great accessories and a simple tee. Adding color to your look is so fun and breaks up the neutral pieces quite nicely. This is a great example of how you don't need to be afraid of contrasting colors or even a selection of colors. It all works when your base is neutral.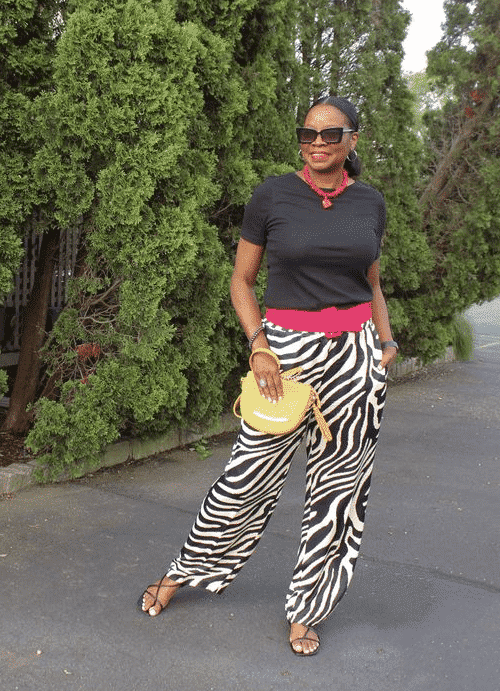 ↓ 7 – How to Style Zebra Print Pants in Fall
I'm a huge fan of camel colored anything so this look really snagged my attention. I love how this particular version of zebra pants are a little more muted (perfect for those of us new to the trend!) and they are paired beautifully with a racer-back tank and a gorgeous camel colored blazer. Note that the wider flared pants are paired with a more form-fitting top to visually balance out the whole look.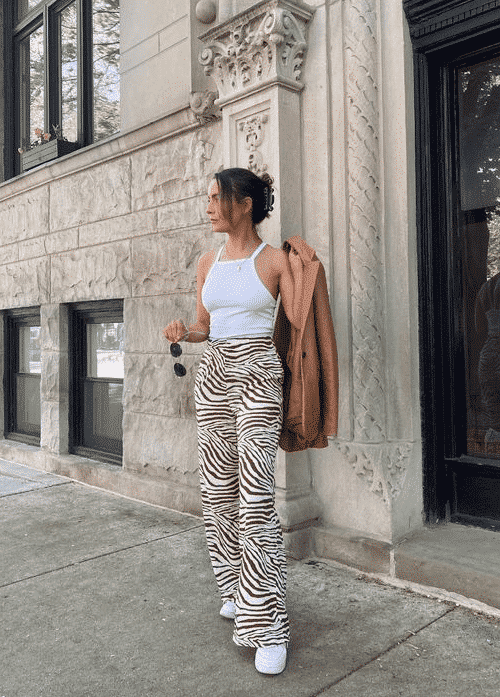 ↓ 6 – Zebra Print Pants Plus-Size for Curvy Women
ASOS is back at it again with some plus-size pants that have us all swooning. These look comfy enough to sleep in and yet they are so chic that with the right top (also crazy about this top) you can even wear them to a dinner party! Sign me up, please.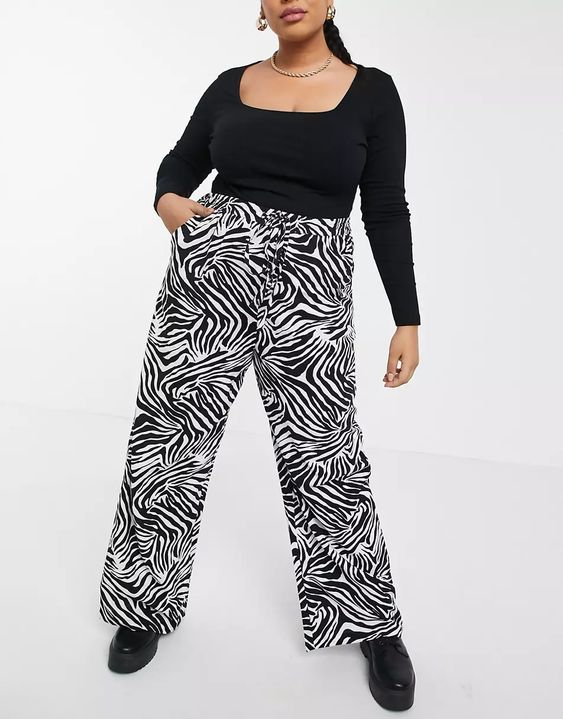 ↓ 5 – Celebtiry Style
Whenever you want to verify that something is "in" fashion-wise, checking out what the celebrities are wearing (or, better said, how they are wearing it) is always a quick way of doing so. In this case, Kendall Jenner has given her seal of approval by rocking her own zebra print pants. For this look, she kept it relatively lowkey with a puffer jacket and sneakers. Oh, and some trendy sunglasses, of course.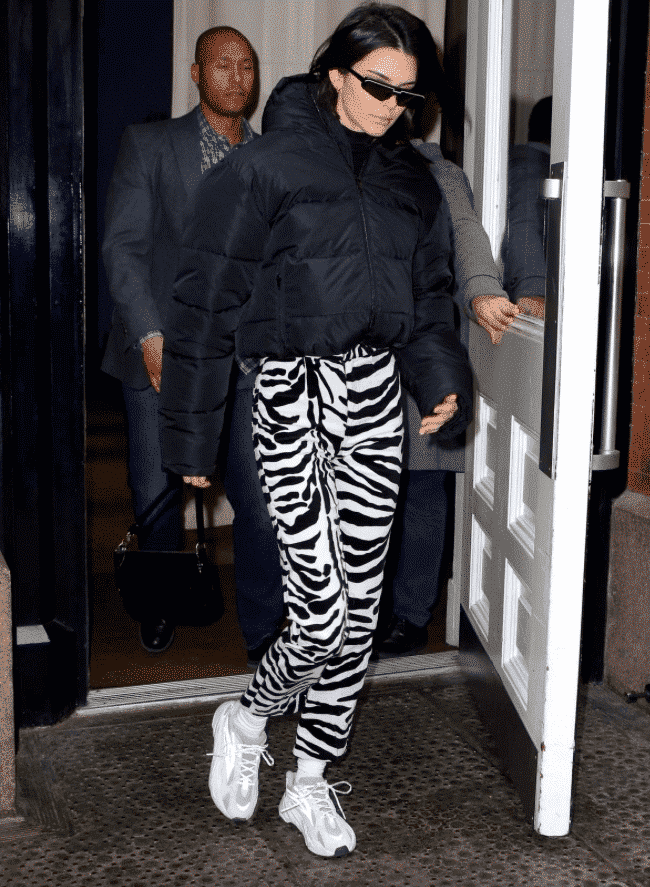 ↓ 4 – With Pink Top and Green Coat
Throw it back with a retro-inspired outfit complete with a bubblegum pink top and a velvet green coat. Just look at those buttons! If you like to make a statement with your fashion choices, this is a bold and adventurous option for you.
↓ 3 – Zebra Print Pant Suit
A matching zebra print set may just be the best thing you will see today. I mean, how epic is this? If you have been on the fence about the zebra print, and you are just not sure how to wear it or how to style it, why not try a matching set? That will take out all the guesswork for you. Plus, it's easy to throw together. All you will need are some neon-colored accessories and footwear to hit it out of the park. Here are some more of our favorite Matching Sets to Wear This Year.
↓ 2 – With Leather Jacket
Biker jackets are definitely a popular choice for completing a zebra print pants look. For this outfit, it's easy. You'll need a crop top, some sleek booties, a fitted biker jacket, and your choice of zebra pants. Et voila! Here are some more of my favorite Leather Jacket Outfits.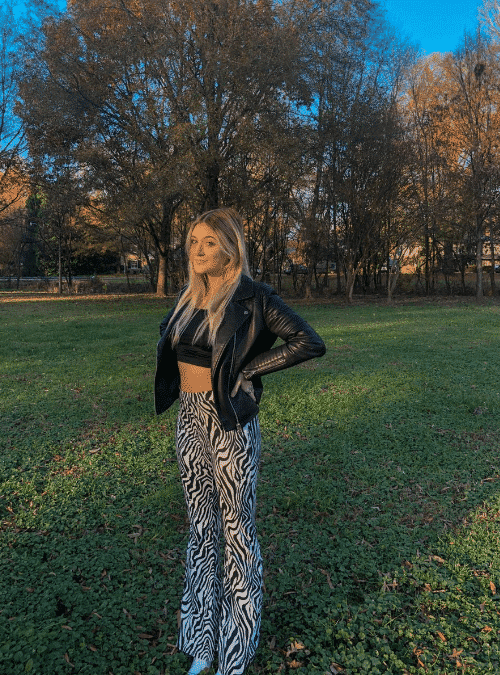 ↓ 1 – What to Wear With Zebra Print Pants in Summers
Bold and beautiful ladies need their bold and beautiful outfits, am I right? And this one is the very definition of it. From those epic sunglasses to the overall color scheme of choice, this is an outfit that says, "Look out, world, I'm here!" Bookmark this look next time you have a big event to go to where you want to make a serious fashion statement.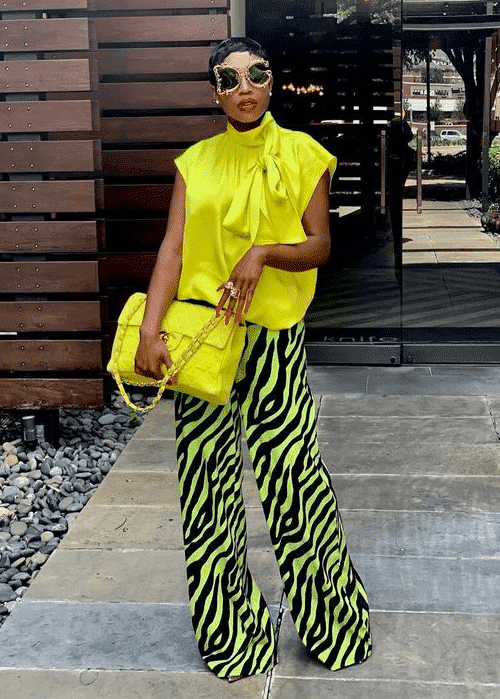 Frequently Asked Questions
Here are some frequently asked questions about zebra print pants, from what to wear with them to choosing the right colors to pair with them. Let's check them out!
Q. What do you wear with zebra print pants?
A. Zebra print pants are about as statement-making as they come. Because of this, you can treat them like the pièce de résistance of your outfit. Which means everything else is complimentary.
Some examples of things you can wear with zebra print pants are crop tops or bodysuits, leather jackets, bomber jackets, plain tee shirts with funky accessories, stiletto boots, Doc Martens; or, casual wear, some chunky white sneakers, and a bandeau top.
Q. What colors go with zebra print?
A. While zebra print is most commonly black and white, it isn't always the case (as we saw from some of the outfits featured above). Another popular option is a soft shade of brown. But whichever you go with, you can consider zebra print a neutral: thus, you can wear pretty much any color you like with it, particularly when it's black and white. Neon colors are a bold but trendy choice we are seeing a lot of right now as well.
Q. What do you wear with zebra print?
A. If you aren't styling an outfit around zebra print pants, you might consider going for a zebra print blazer or a zebra print accessory. It's always eye-catching so try to keep the rest of your look relatively muted. This can mean sticking to a color scheme or coordinating a specific color (like pink or blue) with neutral shades.
Are you excited to rock some animal print this year? Let us know in the comments below!