Ways to Wear Palazzo Pants with Sneakers- Palazzo pants originated from the early 1960s and the late 1970s when popular actresses such as Katherine Hepburn styled them with such glamour beauty that people had no other choice but to be mesmerized by them. Soon it became a trend that everyone was following.
These pants are loved for the casual and effortless look they give you, along with looking extremely classy. There are many ways to style palazzo pants per the look you are going for. They can also be worn in both winters and summers by changing the fabric and the top you are wearing. When it comes to trends, palazzos stand shoulder to shoulder with skinny jeans. They make you look like a sleek and fashionable girl who knows all about trends and outfits. A girl who is a trendsetter and owns her swag! They give you a confident aura, one that screams beauty and glamour. One of the most widespread misconceptions about palazzo pants is that short girls can not wear them nicely as tall girls. This doesn't seem right, for we have seen short girls rocking palazzo pants even better.
Since most of us love both palazzos and sneakers – because they're both heavenly comfortable, we have a collection of top outfits and styles in which you can wear palazzo pants with sneakers and look fabulous!
How to Wear Palazzo Pants with Sneakers
The wide borders of the palazzo pants she wears flow around her ankles, making her look the classiest of all the lasses! Come to think of it; palazzos are more exquisite than any other pants. After all, who doesn't want to look like a modern princess?
Simple palazzo pants look great with sneakers and accessories like statement necklaces and earrings. These not only give you a sophisticated vibe but also elevate your outfit of the day. 
Here are some of the ways we came up with to pair the palazzo pants and sneakers with other clothing items for the perfect attire that is guaranteed to turn heads. 
Even though palazzo pants are the most simple piece of clothing, there are still several things you would want to keep in mind for an even better style. For a flawless look, bear these things in mind while putting your outfit together. 
Don't feel nervous; be confident wearing the palazzo pants. Some people feel uneasy because of the fear of falling over or tripping over these wide-legged pants. Confidence is the key. Also, they suit everyone regardless of the shape and size of the body.

These magical pants look best when the color contrast of the outfit is spot-on.

Tight crop-tops or oversized shirts; there's no way anything can go wrong with palazzo pants.

Embrace the flowy material, and do not shy away from it. 

Make sure your palazzo pants are the right length and are not making you trip over them. 

High heels work great with palazzo pants, but they are not convenient for everyday use. So, style them with sneakers for more casual days, especially if you are a college-going student or always running errands. 

When wearing a solid palazzo trouser, wear floral or block print sneakers.
When wearing colorful or loud trousers, keep your sneakers minimalistic; white and beige are the perfect choices.
When in confusion, wear white sneakers, they complement every colour.

Make sure they reach your feet and cover the heel but are not longer than that. 

Ensure your trouser's waistline fitting is perfect as it can accentuate your body shape considerably, making it look nice. 

Choose the colors and patterns you are comfortable with. However, striped prints are trending the most these days.

Do not mix up too many colors and patterns as there is an excess amount of fabric already. A lot of patterns may overwhelm your outfit.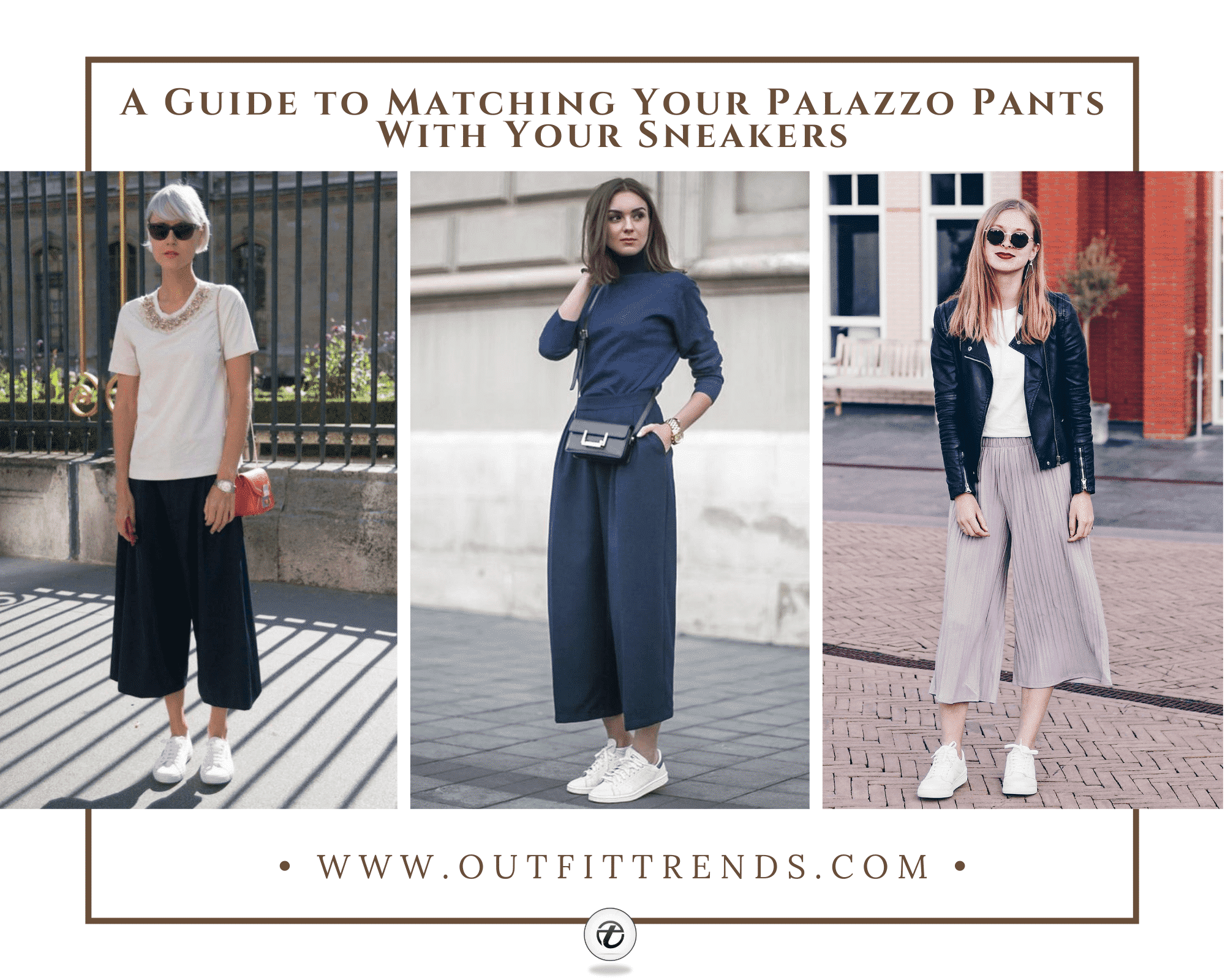 ↓ 20 – Palazzo Pants and Sneakers with Crop Top
Who doesn't want to create a cute an alluring look every day and stun everyone? Well, wide-leg palazzo pants with sneakers will make you feel like the most beautiful girl in the world. Wear a cropped top, depending on the type of trousers you are wearing. If your palazzo is simple, go for a bold top and vice versa. Finish off your look by wearing your favourite sneakers, a crossbody bag, and chunky accessories.
Wide-leg pants and sneakers combined with a Crop Top is the ultimate diva look. It gives you an air of confidence and makes you look carefree. If you are traveling abroad, consider rocking this style because it does give off amazing tourist vibes. Shades would give an even cooler look to your outfit.  You'll surely be a head-turner.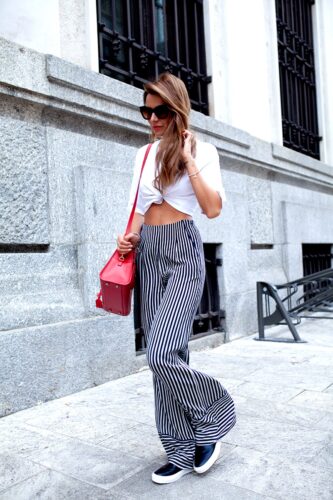 ↓ 19 – Palazzos and Sneakers With a Sweater
This pair of palazzo pants and Sneakers not only looks good on everyone, but they look good with every item of clothing. Consider this style; an off-shoulder sweater with cropped palazzo pants and white sneakers. It looks fantastic and gives a sporty vibe.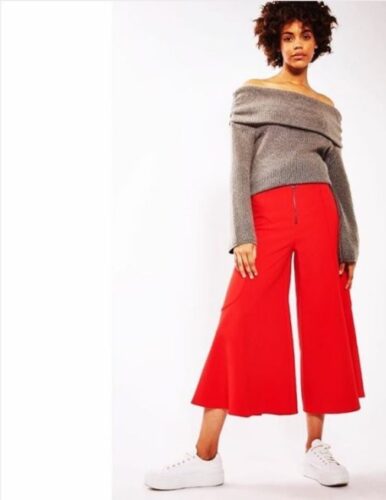 ↓ 18 – With a Tee for Coffee
If you are heavy on the waist and fear that skinny jeans can never be your best friend, ditch them altogether. Make palazzo pants, your best buddies! They suit every figure and bring out the best of every body-type. Pair the wide-legged pants with a plain tee and sneakers wherever you head. Make this your style statement. Check out these Stylish Ways To Wear White Shirts Every Day.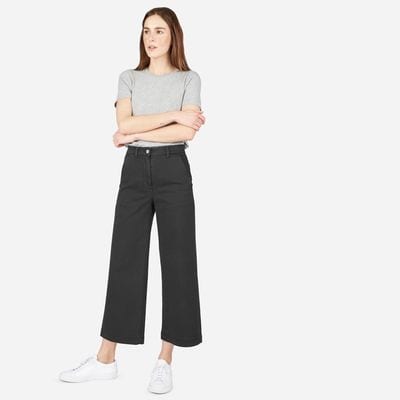 ↓ 17 – Palazzos, Sneakers, and Shirt for Lunch Date
If you are the sort of girl, who thinks tees are out of vogue and prefer button-down shirts, then know that you can wear them with palazzo pants and sneakers as well. The look is ultramodern, especially with accessories like shades and a watch, amplifying the overall style. 
This look serves multiple purposes. You can wear it on a date or even to your office. It looks chic and modest. Adding shades and a signature necklace to this look works wonders. Here's our exclusive post on Ideas to Wear Palazzo Pants if You Have a Short Height.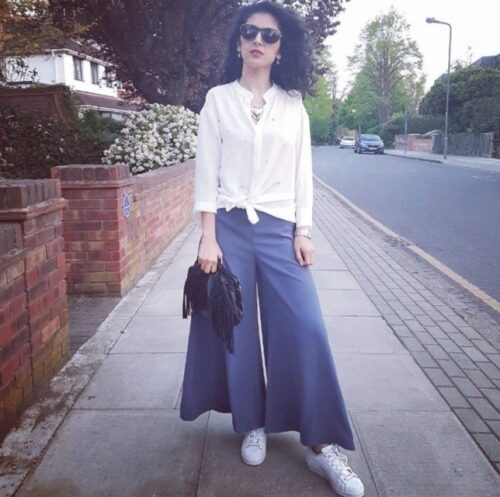 ↓ 16 – Slip-on Sneakers and Palazzos With Turtle Neck
You can most definitely rock palazzo pants in winters as well. For a warm but over the top fashion outfit, go with turtlenecks and palazzo pants. These wide-legged trousers can be rocked on with Turtleneck shirts too. Go for a cropped one if you want that super cool look. A regular one will also look very trendy! Have a look at these Outfits with Boot Cut Jeans.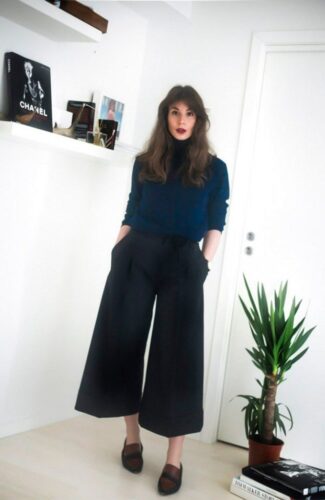 ↓ 15 – With Hijab for Modest Look
People who like wearing modest clothes that do not accentuate their body shapes can also wear palazzo pants and stay in their comfort zones. Girls who wear Hijab can also follow this fashion and look even more impressive.  The loose garments make for the perfect modest look.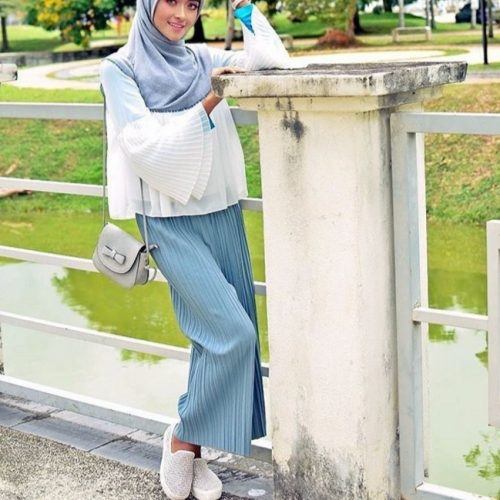 ↓ 14 – Palazzo and Sneaker Outfit for Winters
A chic jacket can make you look even more stunning! Wear one with the palazzo pants and sneakers for a smart and snazzy yet tough look. It makes you look bad and boujeé in the wintertime. Adding a fedora hat to this outfit will pull your entire look together.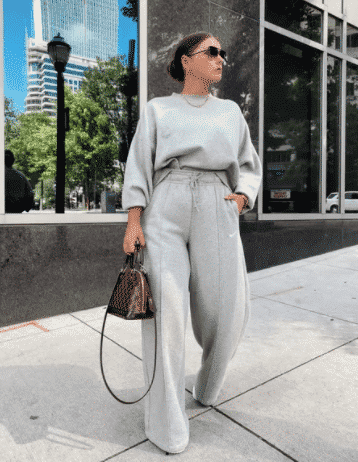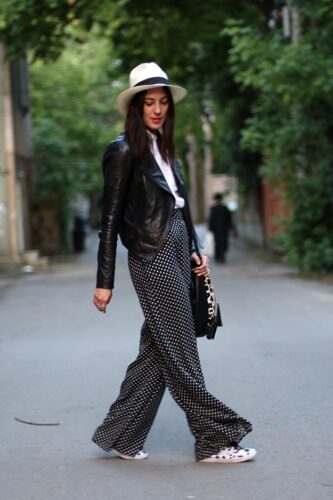 Via
↓ 13 – Black Palazzo Pants with White Sneakers
Black and white complement each other perfectly. Even though some might consider the combo to be cliche, in truth, it is somewhat timeless—Don on black palazzo trousers and white sneakers with them. The pair is stylish. Try this look too!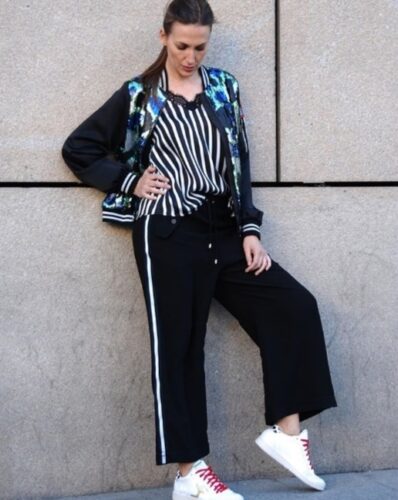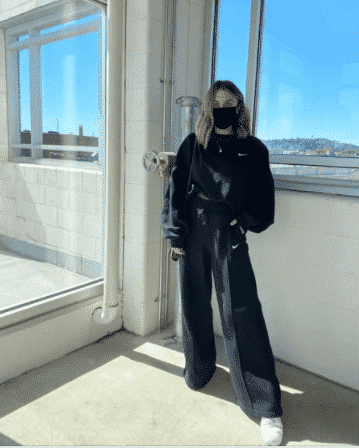 ↓ 12 – Cropped Palazzo Pants with Sneakers
If you are short, note that ankle-length palazzos will go with your height as nicely as a long one will. However, long palazzos might cause an inconvenience while walking that cropped ones won't. If you can't find one that suits your size well, head to the tailor for custom-made ones. Here are some awesome Cropped Pants Outfits.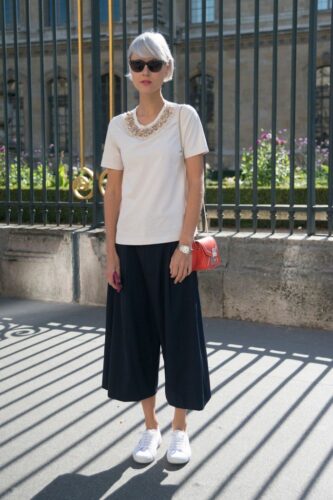 ↓ 11 – Pleated Palazzo Pants with Sneakers
Every garment is better when pleated. So are palazzo pants. Combined with sneakers, they give you a fresh and ready look. This look is very light and breezy, perfect for summers and springtime. Wear this outfit and dance through your day without care!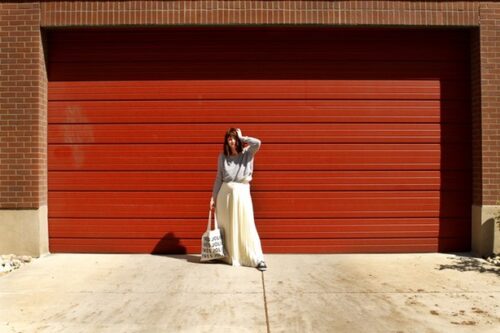 ↓ 10 – Lenin Palazzo Pants with Sneakers for Casual Wear
Linen palazzos look fashionable and neat. People prefer wearing linen garments in the summer. They are all flowy and easy breezy! Moreover, they are comfortable to carry and ironing them isn't a problem either. You can wear them as your casual wear, to the office, lunch, etc. They are also ideal for long-distance traveling and road trips. Check out these 15 Cute Lazy Day Outfits.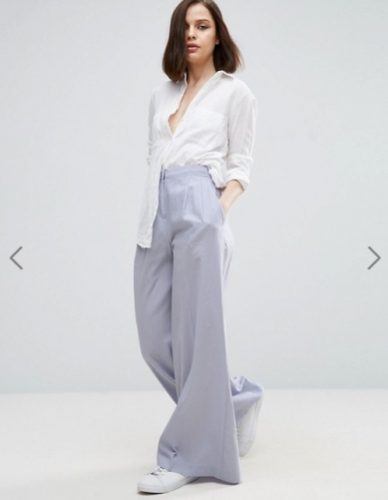 ↓ 9 – Button Front Palazzo Pants with Sneakers
Trend Alert! Button-Front Palazzo pants are in vogue these days. They are the ideal choice, whether the gathering is formal or informal! These palazzo pants are relatively shorter in length but look just as smart and fashionable.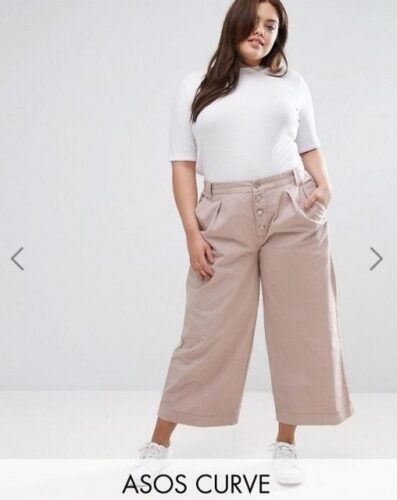 ↓ 8 – For Work
It is quite challenging for some people to come up with different outfits every day when going to the office. For a change, wear palazzo pants and sneakers to work. It will tone down the rigidity of the office appearance. It will also keep you cool during the day and provide ease in doing the daily chores. A hair bun will enhance the classy look and make you look sober yet fun!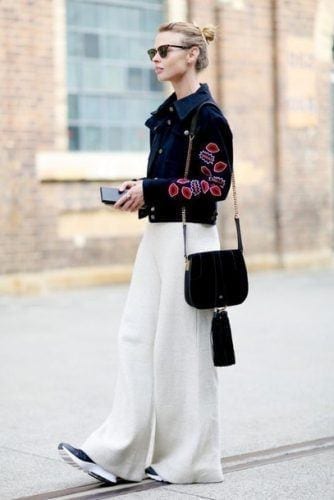 ↓ 7 – For Party
Are you partying for the day? Don on black and white striped palazzo pants with top-notch sneakers. Throw on a jacket, and you are all set! This look will not only keep you comfortable throughout the day but will also most definitely set you apart from the crowd.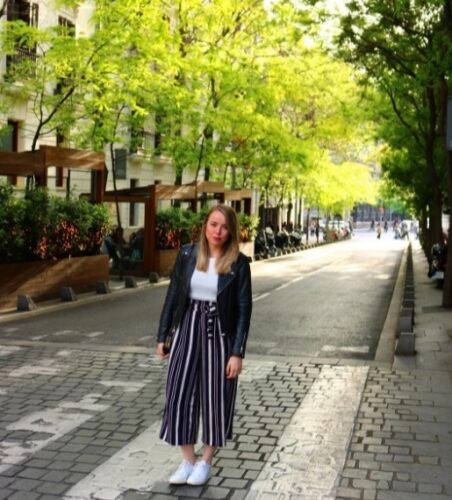 ↓ 6 – For College
Stand out of the crowd at your institution by cladding palazzo pants with sneakers. This look is perfect for students because of its comfort and modesty.  Here are some more fabulous College Girl Outfits.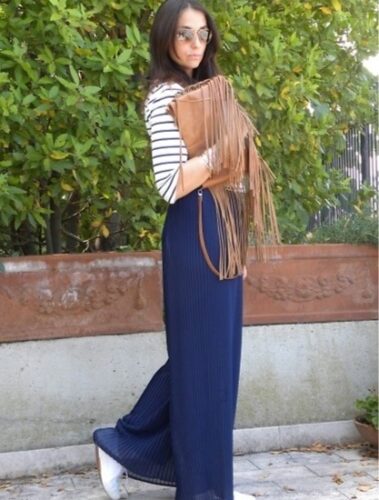 Via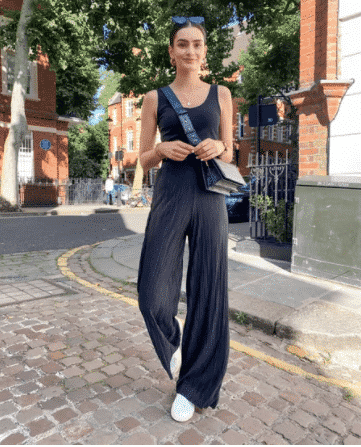 ↓ 5 – How to Wear Palazzo Pants and Sneakers with Style
The one way to do everything with style is by being yourself. Wearing a satisfactory amount of sleek and chic accessories is one way you can shine. Palazzo pants go great with leather as well and give you a trendy look.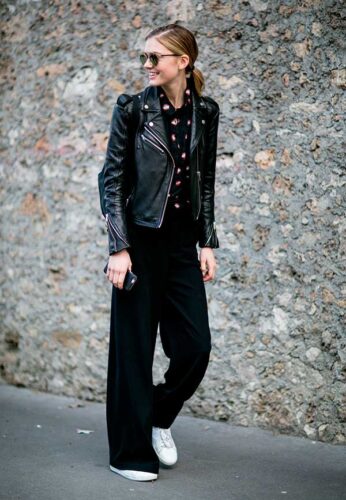 ↓ 4 – Printed Palazzo Pants with Sneakers
Do not shy away from pretty prints and colors. They look amazing with simple tees and give you a stylish yet simplistic look. Printed Palazzo trousers look as modish as plain ones do. Wear a printed Palazzo with a plain shirt. Make sure the color contrast of each item is acceptable yet unique.
Check out these Cutest Outfits with Sneakers.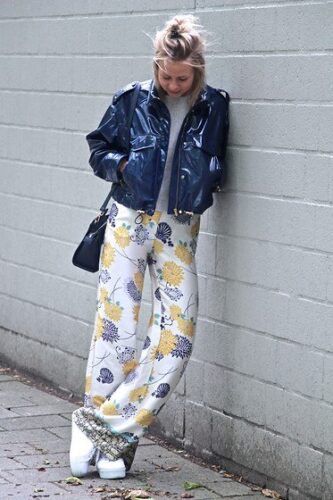 Via
↓ 3 – In Winters
During the cold weather, don wide-legged pants that are made of thick material. Wear a sweater, jacket, blazer, or two of the items with palazzo pants and sneakers.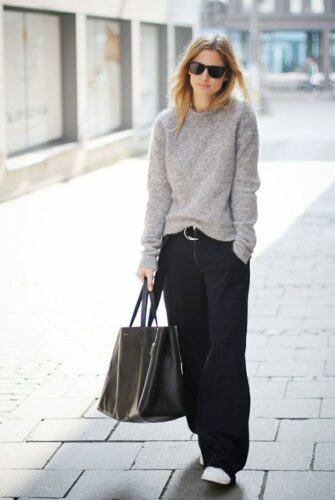 ↓ 2 -In Summers
Palazzo pants work best in summers because of their breezy and airy nature. In the warmer weather, wear palazzo pants of a lighter material. Pair the sneakers and wide-legged pants with a crop-top or tee and breeze through the day! Don't miss out on these 23 Cute Outfits To Wear With Slip-On Sneakers For Chic Look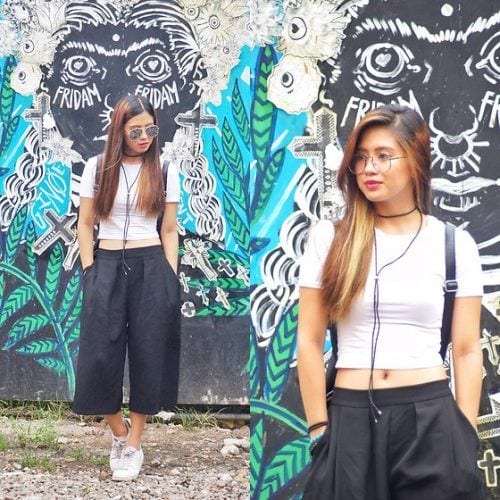 Via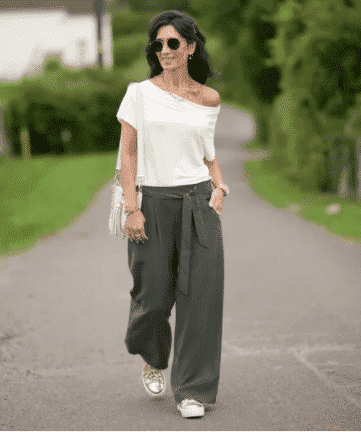 ↓ 1 – Palazzo Pants and Sneakers in Casual
Dress casually yet in style. Put on a tee, and you are ready to go. If the weather allows, don on additional clothing. You can even wear a jumpsuit with your palazzos and sneakers. Wear ankle-length palazzo pants with a full-sleeved high-neck for the casual fashionista look. Turn heads in your palazzo pants and sneakers outfit!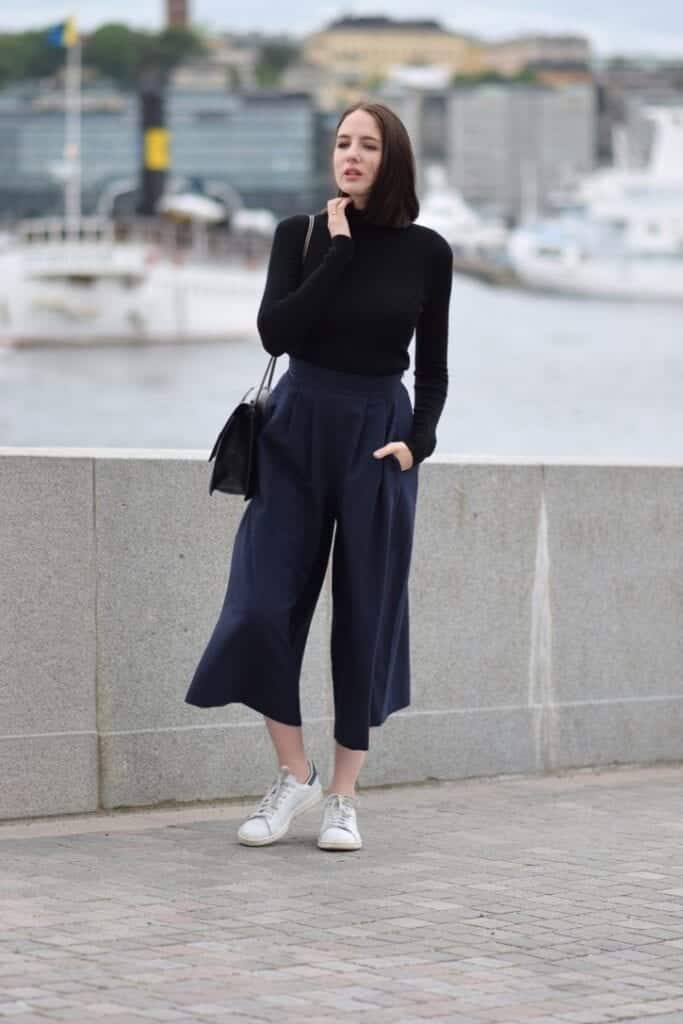 Some questions people ask regarding styling their palazzo pants- 
Q.

How to create a boho look with palazzo and sneakers?
A. To create a boho look, wear a flowy palazzo pant with a cropped or oversized feminine shirt. The more colors in your outfit, the better! Wear white sneakers with your outfit and add colorful chunking accessories to polish your look.
Q.

What kind of top looks best with palazzo pants?
A. The type of shirt to wear with palazzo pants depends mostly on the kind of look you are going for. For a casual look, pair your palazzo pants with simple crop tops. For a chic look, go with lace tops or fancy tops. Last but not least, for an office look, you can also pair palazzo pants with a formal button-down shirt. 
Q.

How to create a cute and feminine look with palazzo pants?
A. Palazzo pants are adorable and girly because of their breezy and flowy outlook. You can create a feminine and graceful outfit by pairing a simple pair of palazzo pants with a lace shirt. Add a statement necklace and some heels to pull it all together.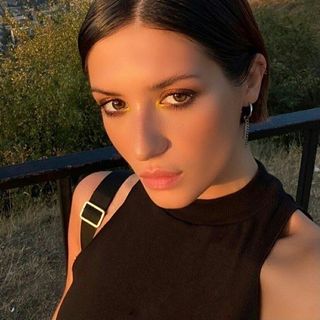 Avid reader and Fashionista. London Based freelance lifestyle editor