Matching Set Outfits. Matching sets (also know as co-ords or two-pieces) have been made famous by the likes of Taylor Swift, Kim Kardashian, and those uber-popular Instagram models (aka influencers) we all love following.
And we aren't just talking about those workwear pantsuits your mom wears (though those can be super stylish as well). A matching set can be anything from a crop top and skirt to a loungewear set that will have you feeling like an Instagramming bombshell.
There are tons of options available and guess what? They are inherently stylish. You need never worry about color clashes or "does this match or not?" conundrums. They are the ultimate lazy-girl hack as they take little guesswork and even less time to throw on. Plus, they are trendy, and if you like following fashion trends, then it's about time you give this one a shot. Lastly, they provide endless outfit potential: you can easily mix and match the two pieces with other items in your wardrobe to make a bunch more looks, all from one matching set!
Much to our delight, it doesn't look like the trend is going anywhere. Taylor Swift may have revived the look but this one seems to be sticking around.
Where to Buy Matching Sets?
Wearing a matching set is a fairly simple ordeal. It's a one-and-done look you don't have to put much thought or time into (a major bonus in our book). Add shoes and accessories and bam, your outfit is done. It's finding matching sets that might prove the tougher challenge. After all, you probably won't find much in your local Target, much less the discount stores like Marshalls or Burlington. So we did some digging and found ten stores that offer some trendy matching sets options (online or otherwise). Here they are:
Boohoo
ZARA
Aerie
Forever 21
Pretty Little Thing
ASOS
Charlotte Russe
Topshop
Missguided
Guess
Also, if you aren't looking to invest too much, SheIn offers some affordable options as well.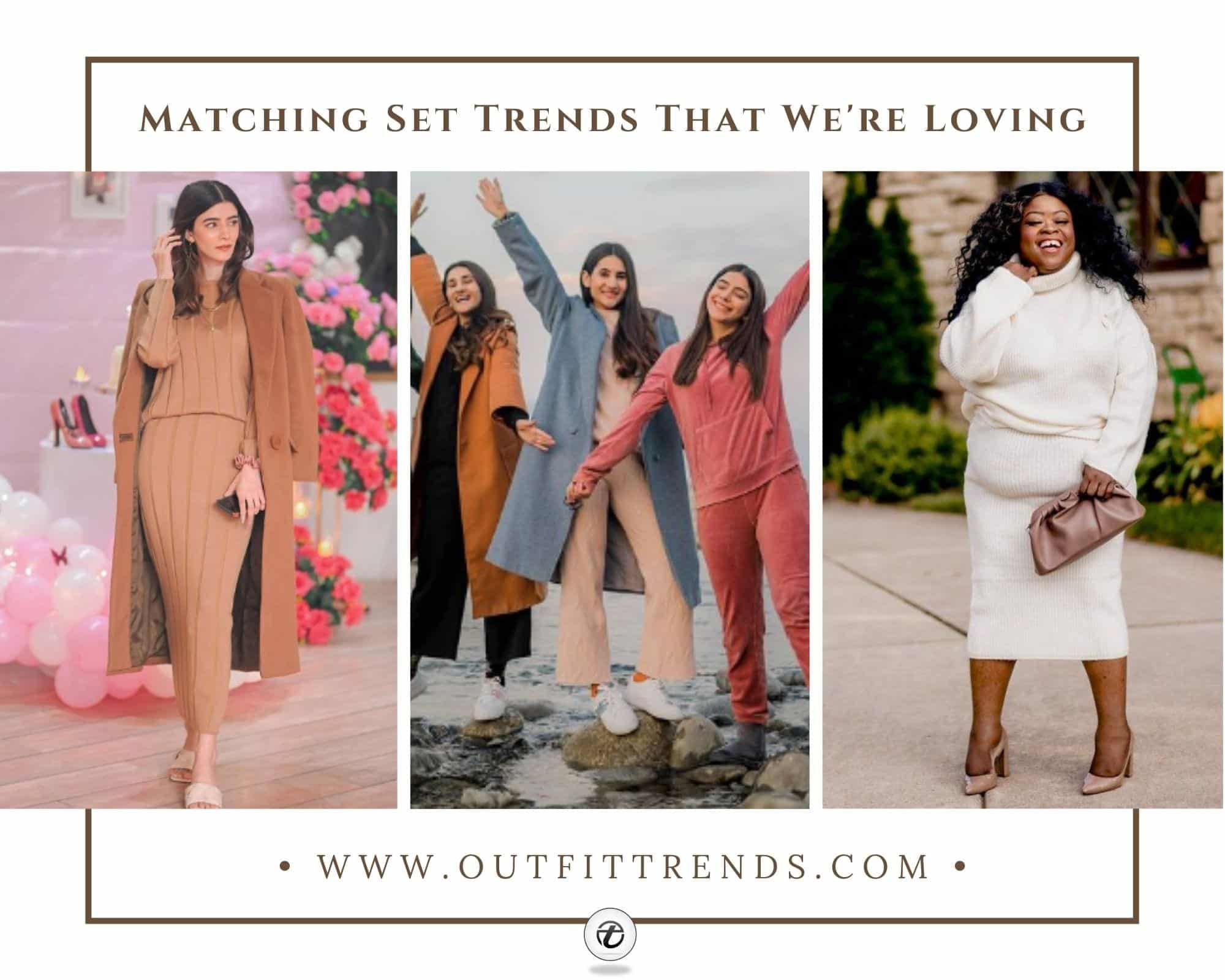 How to Wear Matching Sets?
Here are 20 different looks to show you the endless potential this trend contains. Check them out!
↓ 21. How to Layer a Matching Set?
The best strategy here would be to layer with a coat that is a tone darker than your matching set, as you can see how this blogger has layered a nude-colored set with a long coat that's a few tones darker. You can easily accessorize such sets with gold jewelry and be ready to party.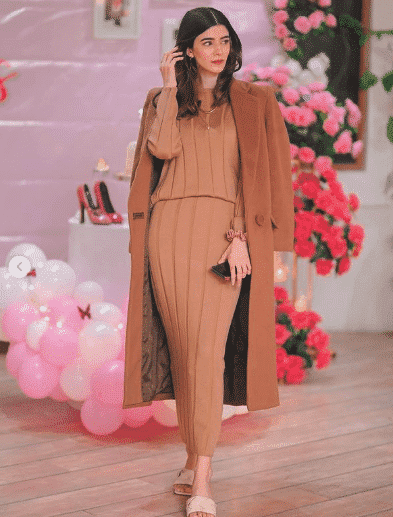 ↓ 20. Baby Blue Pantsuit
For a chic take on the pantsuit trend, check out this sleeveless jacket and high-waters pants version which we are pretty obsessed with. It has a distinctly business-chic vibe but the addition of a cute handbag and nude pumps makes it a great dinner party look or a business style event look. Pair with a white cami and simple bronze or gold jewelry.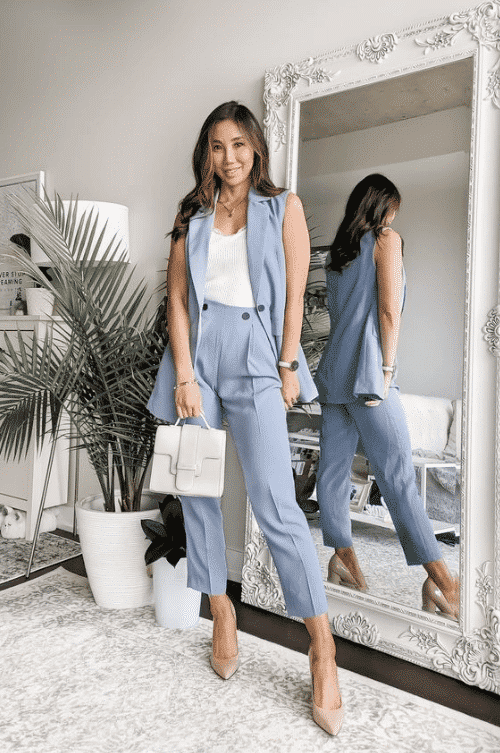 ↓ 19. Two-Piece Sets Plus-Size
If you are wondering what two-piece set would best suit you and your curvy figure, it's simple… any set you like! Embrace the trend fearlessly and opt for the one you feel most confident and beautiful in. Whether you like a pretty floral set like this matching top and shorts or you are looking for a stylish workwear ensemble, the sky is the limit.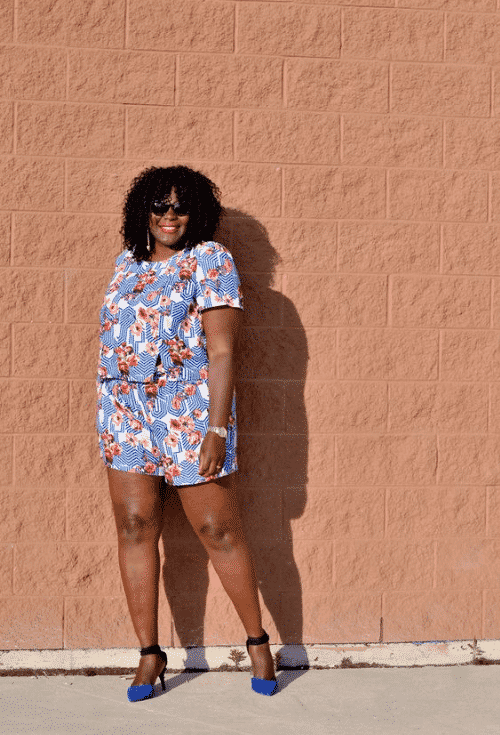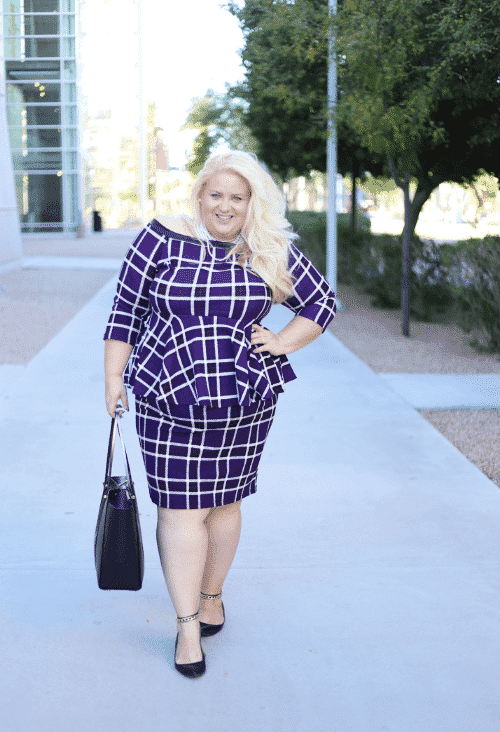 ↓ 18. How Taylor Swift Styles Her Matching Sets
We would be crazy to do a whole post on matching sets and not include some of our favorites as worn by the ever-stylish Taylor Swift. Here are three times Taylor OWNED the matching set trend. You will notice she never really goes crazy with accessories.
She usually wears some gorgeous high heels and for her street-style looks, she often carries a stunning handbag. Her makeup and hair are always on point, of course. So without further ado, let's kick it back to that time she showed up at the VMA's looking like this and all of our jaws dropped.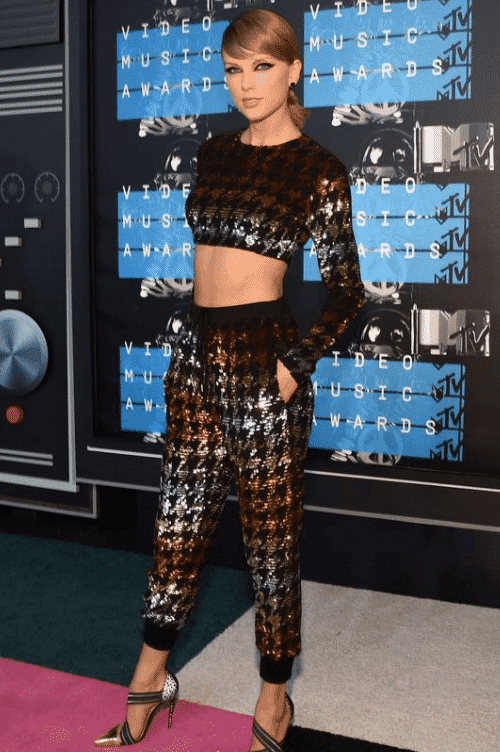 Then there was that time she stepped out looking like a piece of art with a pastel-based top and skirt set that had us all in awe. Notice her neutral tote bag and the peep of her silvery heels.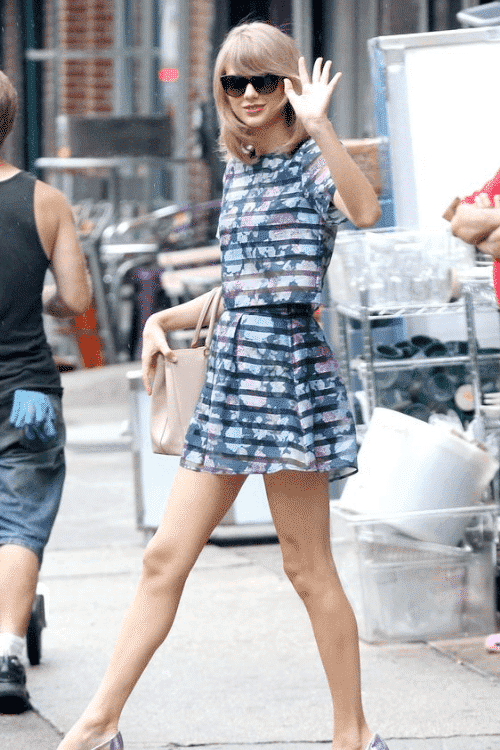 Last but definitely not least was that time she wowed us all in this crop top and asymmetrical skirt set, featuring polka dots, a twist-front top, and some adorable peep-toe slingbacks. She also carried a statement handbag that brought the whole look together. Love!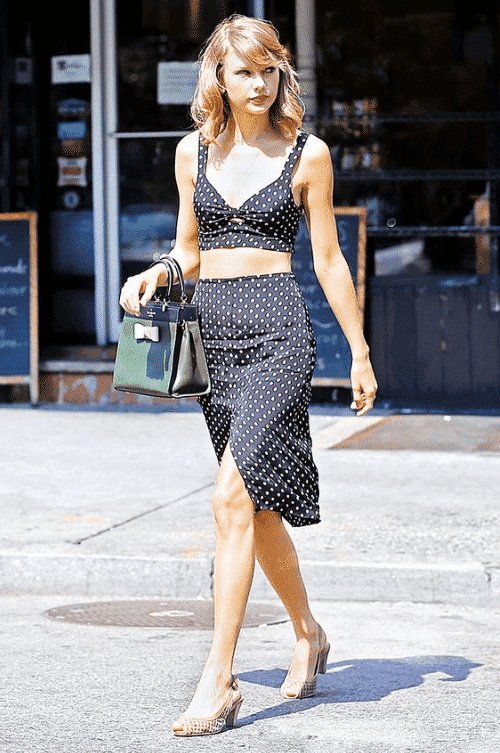 ↓ 17. Bold & Beautiful
This fearless look needs little description. Perfect for the curvaceously blessed as well as the fashion-forward woman, this bandeau top and high-waist pants look is perfect for an outdoor party, a festival, or a beach event. If you love bright colors and patterns, a two-piece set is a perfect way to incorporate them.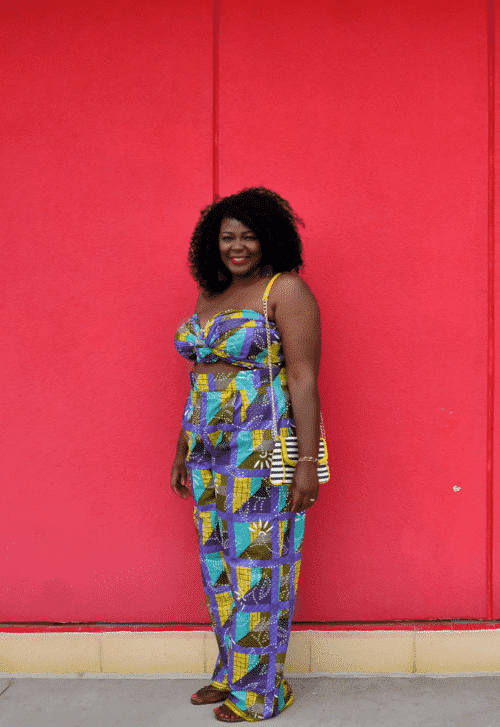 ↓ 16. Satin Two-Piece Pants Set Formal
This luxuriously pretty set almost reminds us of a kimono with its satin finish and beautifully feminine floral print… You could wear such a set to any formal occasion, even as a wedding guest. It's perfect for the gal who likes to push the fashion envelope a bit and try something out of the box. A look like this demands little to no accessories so pair with nude heels and go for a natural makeup look.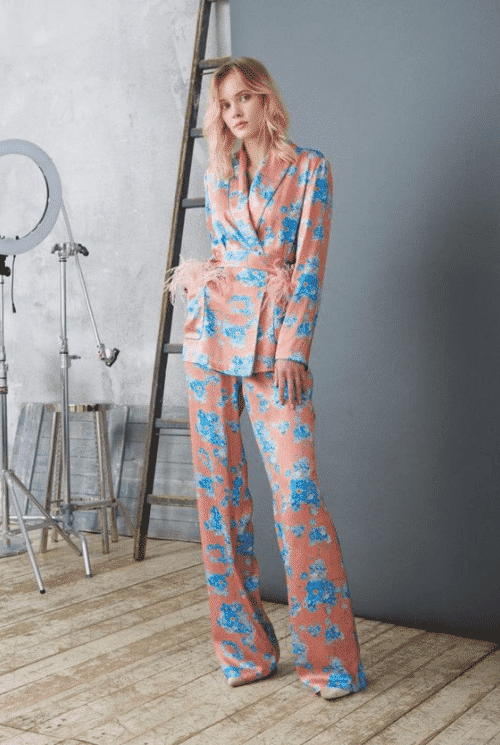 Here is Gigi Hadid sporting a similar ensemble. If you want an even more formal look, try a set in a neutral color like black or beige. If you like a lot of color in your look, go for a bold pink as Gigi did.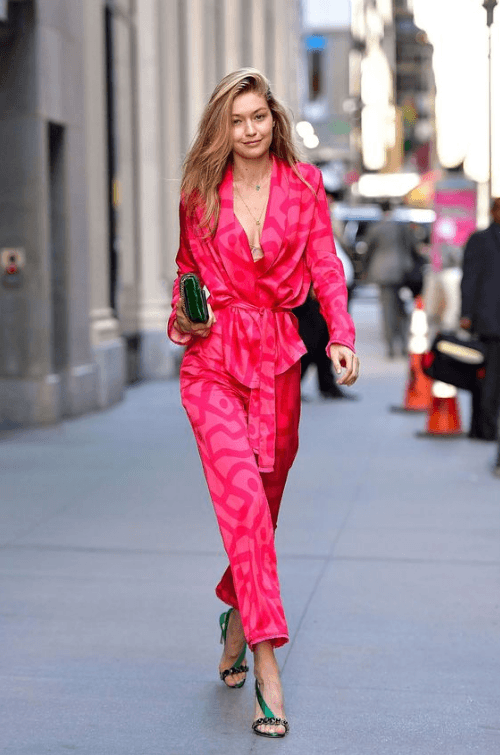 ↓ 15. Business-Casual Matching Shorts and Jacket
If you like to sprinkle your wardrobe with some business-casual looks, this set is the one for you. It is kept casual with a white crew-neck tee, a straw hat, and some flat sandals. We love this look for a travel outfit, a weekday date, or even a meeting with clients. Complete this look with the right shoes by choosing from these Best Business Casual Shoes For Women.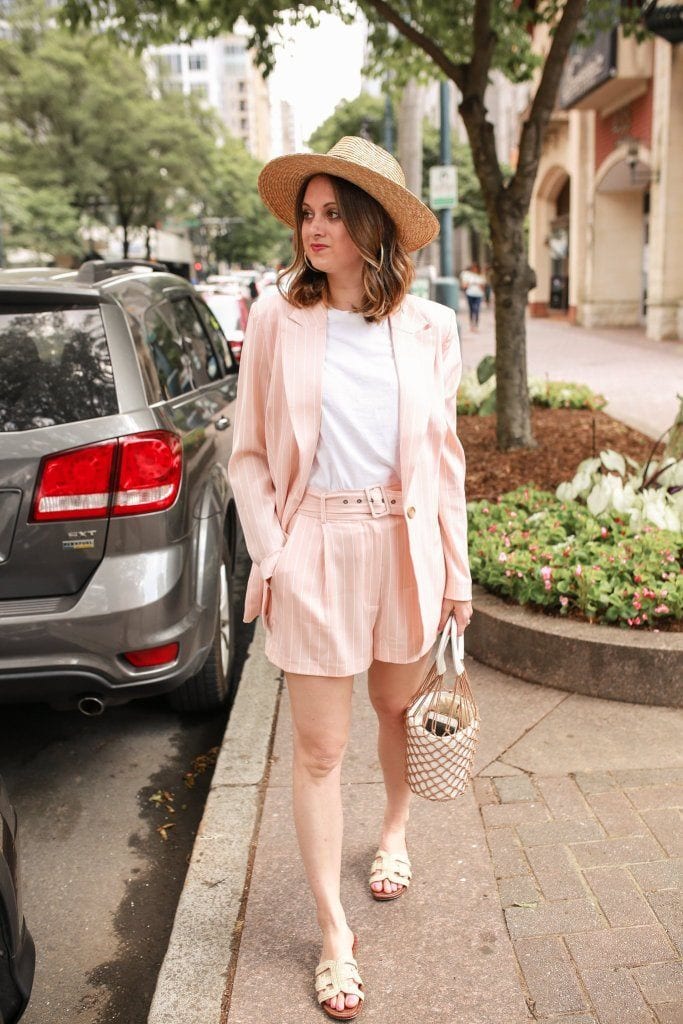 ↓ 14. All-Black Semi-Formal Set
If you are ever in a rut, trying to decide what to wear to a semi-formal affair, this velvety black set might just be the thing you need. While a dress will rarely let you down, sometimes we want to try something a little different. And, not for nothing, but this set will seriously have you feeling like you are wearing pajamas… a HUGE win in our book! And if like this gorgeous blogger you happen to be pregnant, you will feel as chic as you do comfortable in a set like this! We linked a similar one for you to check out.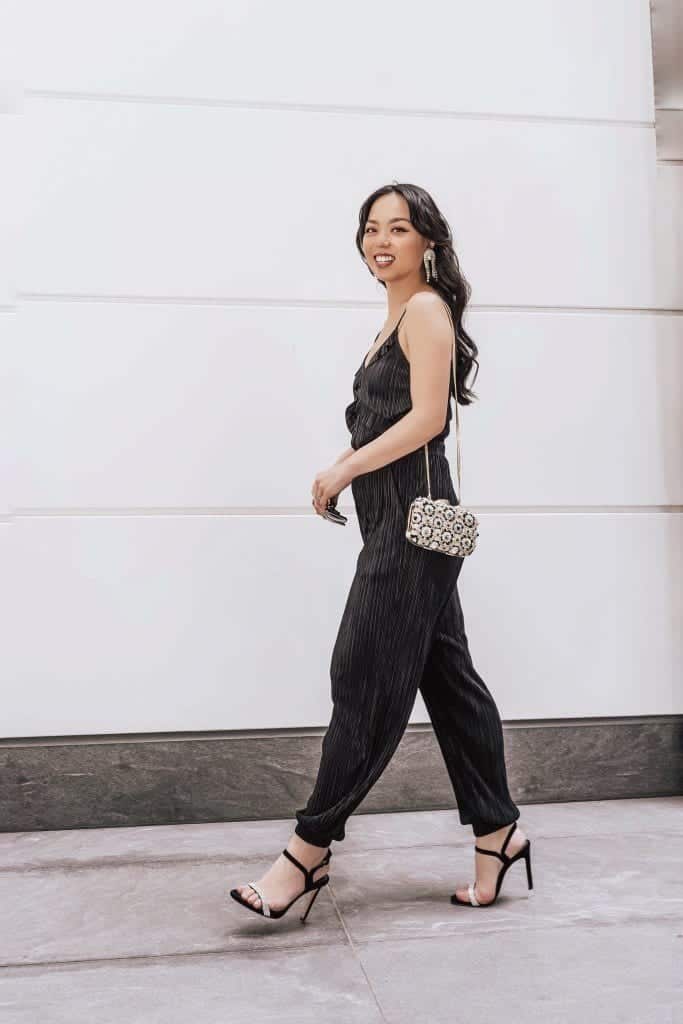 ↓ 13. Classy Cami & Midi Skirt
For the girl who is just starting to wear matching sets, a two-piece ensemble like this is the perfect choice for getting your feet wet. It also proves that a matching set needn't always be a distinct pattern or be all one color either.
You can create a pseudo matching set by simply pairing up two pieces that are very similar. To do this, make sure you choose two pieces in the same fabric (this outfit is linen) and ensure they have similar features (like buttons down the front.) We love how this beautiful blogger accessorized this look with a bow headband, nude block heels, and simple gold jewelry. Here are some more fab Midi skirts outfits.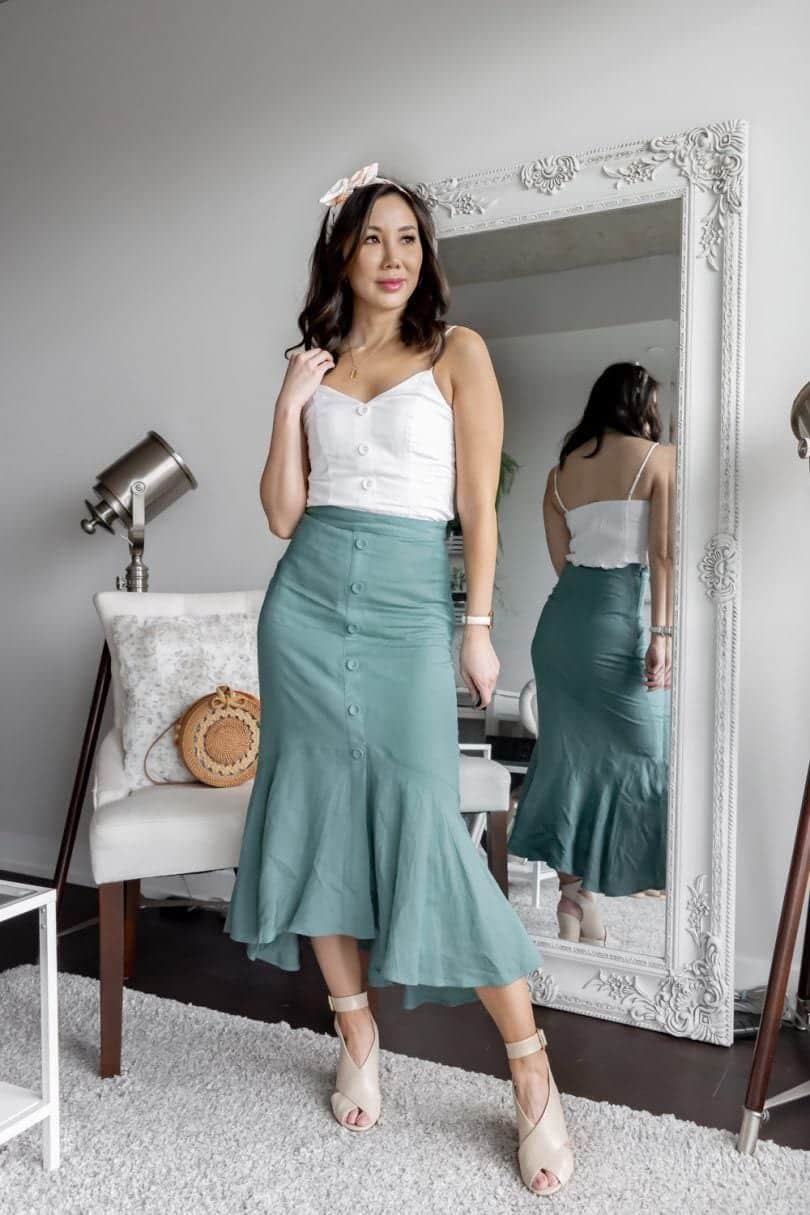 ↓ 12. Striped Jacket & Pants
If you are a veteran matching-set-wearer, then you might consider an ensemble like this your next style challenge to conquer. This stunning silk set is not for the fashionably shy, but it can be tweaked to make it a little less Vogue and a little more doable. Instead of oversized earrings, you might consider something a little more understated; a simple neutral-colored purse could also be swapped in. Add a cami under the jacket for additional modesty. If you like wearing stripes, you'll love these Striped Pant Outfits.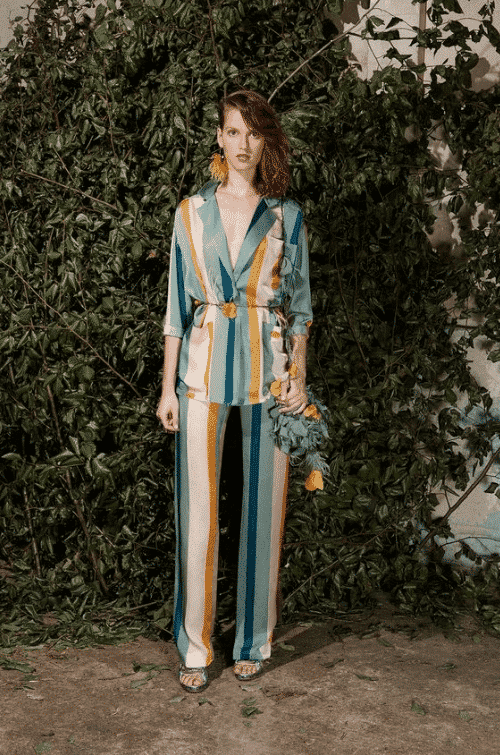 ↓ 11. Floral Bandeau & Culottes
Headed out dancing? Skip the cocktail dress for this stunning floral set. Culottes seem a less common pick in the matching sets world, so give it a try for a totally unique take on the trend.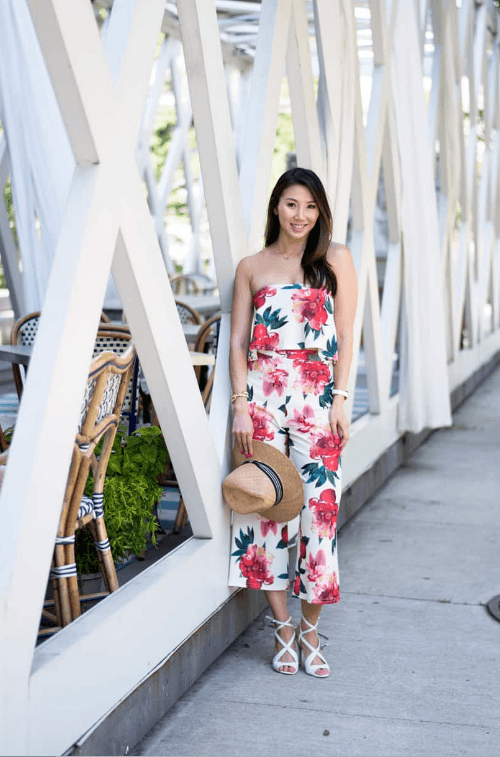 ↓ 10. Matching Sweatshirt and Shorts Set
A loungewear set is a perfect solution to looking cute while also feeling super comfy. Want to stay in pajamas all weekend? With a loungewear set, you can. For the homebodies of the world, this is just the set you have been looking for.
↓ 9. Matching Two-Piece Dresses
A popular trend these days for prom-going gals is the two-piece dress. It's not only a stunning look but it shakes up the typical prom look in a great way. Here's a beautiful example to show you just what we mean.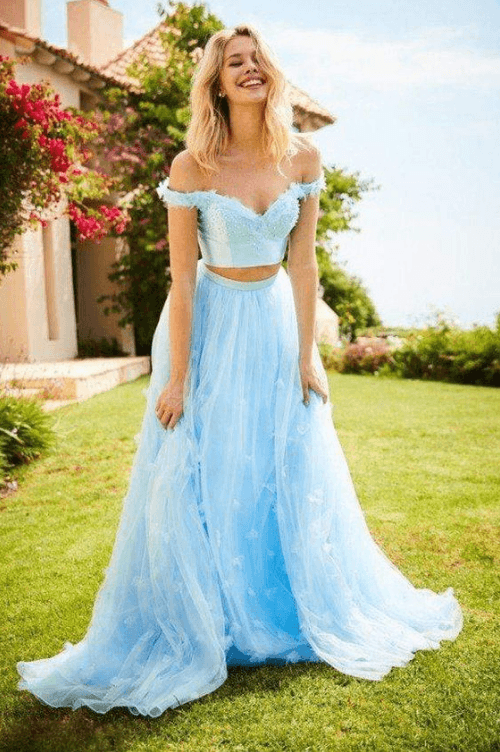 ↓ 8. Formal Ivory Set
The formal skirt and top sets are very similar to two-piece dresses but they aren't quite the same thing. The two-piece dress often looks like a regular dress split in half, with just a section of bare skin separating it.
A skirt and top have a little more leeway to look like two separate but perfectly matching pieces. Here is how to accessorize the ivory set for a formal occasion: a simple pendant necklace, strappy gold heels, and an earth-tone makeup look makes for a stunning final look.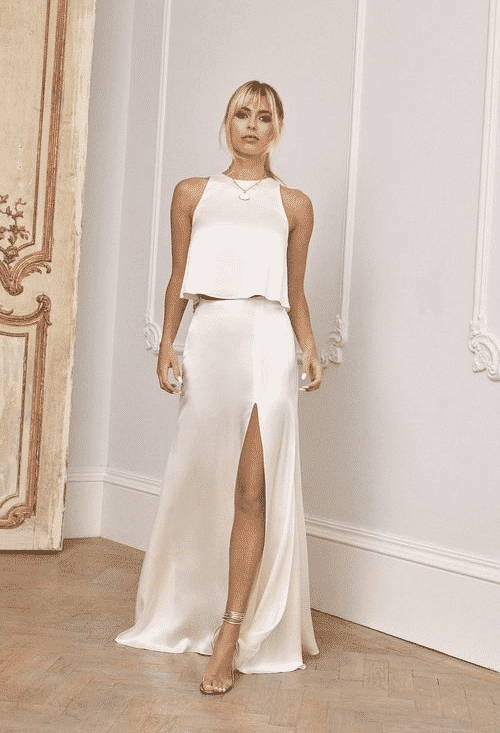 ↓ 7. Comfy Work-From-Home Attire
A loungewear set is perfect for working at home. It's not quite pajamas (changing out of pajamas helps your brain switch out of relaxing mode) but it's not jeans and a blouse either. Feel cute, look cute, and stay Instagram-ready with a matching set you can even dress up if you need to.
Stacked necklaces and some cute flats or sneakers would do the job nicely. For more ideas on this, here's my previous post on Work From Home Outfits That Are Comfy & Chic.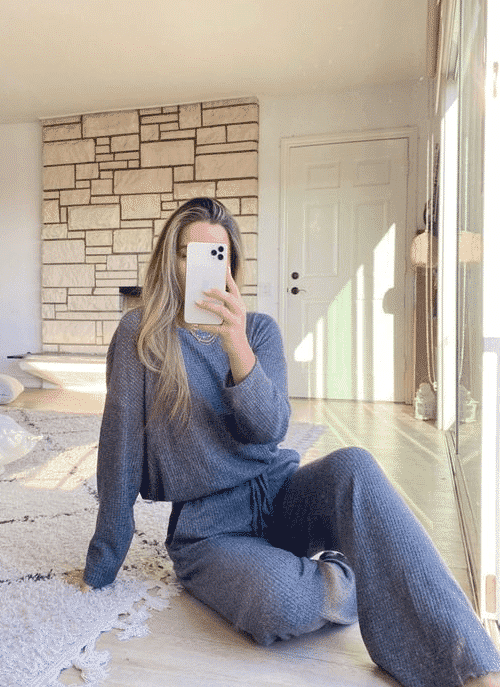 ↓ 6. Pretty Strapless Top & Skirt
Headed to a wedding? Need a slightly dressy summer look? Want a fresh take on the familiar summer dress? A set like this is all you need. Dress it up or down according to the occasion and don't be afraid of keeping it simple either. We love the versatility of this set in particular.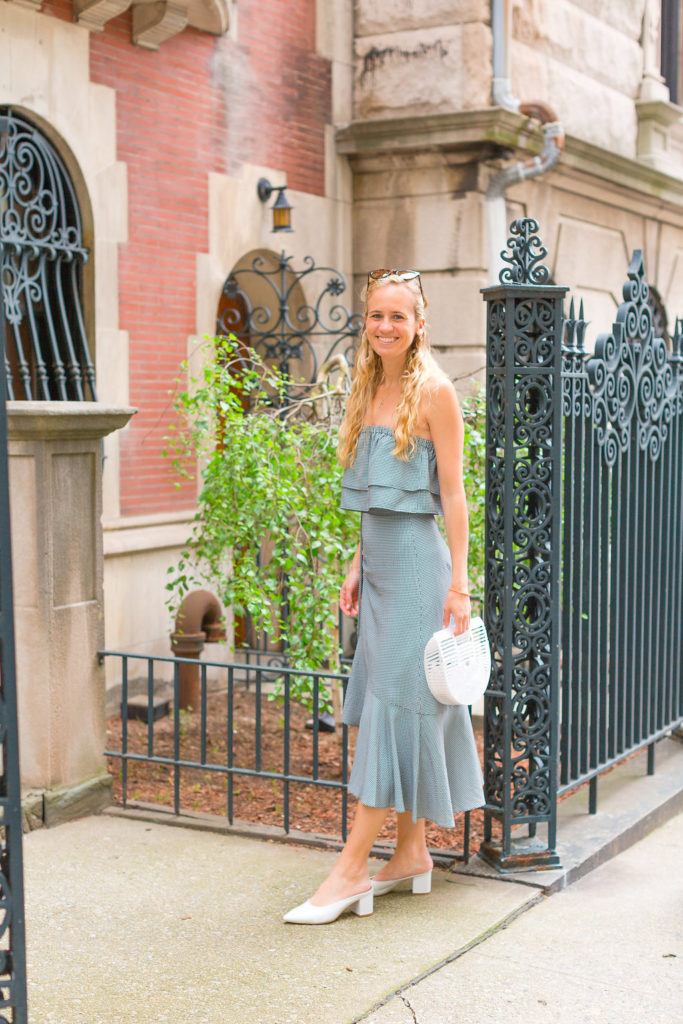 ↓ 5. All-Red Pinup Girl Style
The quickest way to feel like a 1940s pinup girl is by opting for an all-red matching suit of a crop top and culotte style shorts.
The knot in front gives the look an old-fashioned twist (no pun intended!). Style with your favorite brown sandals and add a swipe of red lipstick to finish off the enchanting summer look.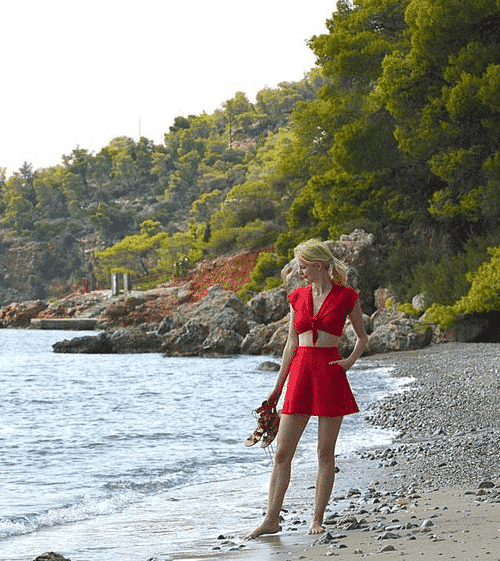 ↓ 4. Navy Gingham Outfit
Enjoy a hot summer day in this dreamy gingham two-piece set! It's a one-and-done look, perfect when you are on the go. Best of all, you'll stay light and cool in this simple ensemble.
Accessorize with a watch, a bucket bag, and slip on some pretty brown sandals for a look you could easily wear all summer long.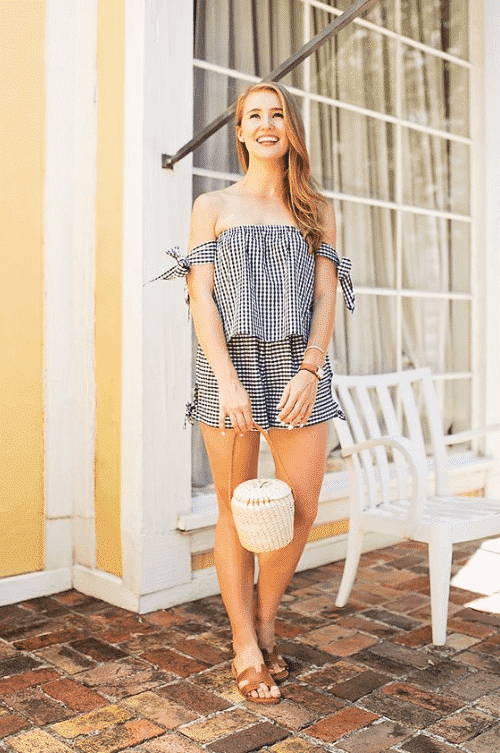 source
↓ 3. Luxurious Formal Loungewear
The thought of wearing this outfit to any formal or semi-formal function fills us with butterflies. You mean you can look this good and still feel like you're being wrapped up in a cozy blanket? Yes, please!
Now, to ensure this really fits the formal bill, be sure to accessorize with great jewelry and a stunning pair of block heels. Dramatic makeup and a fantastic hairstyle will help elevate and tie together the look as well. Here are some more Cute Outfits to Wear with Pajamas/PJs to Look Gorgeous.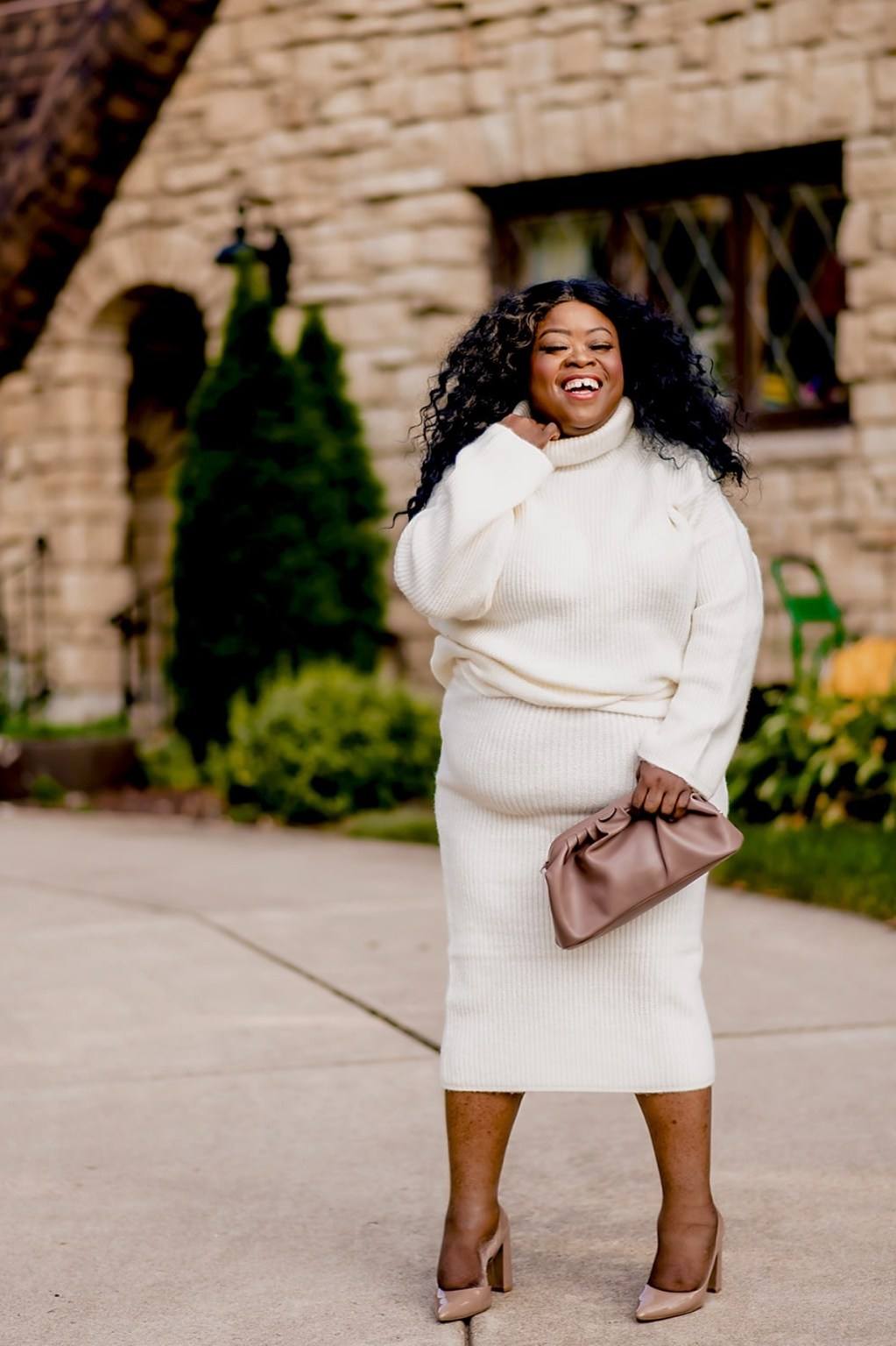 ↓ 2. Trendy Tracksuit
This cold-shoulder top tracksuit gives us major '80s/'90s vibes and we love it. Green and pink are always a fun combo and we especially love the clear sandal heels… super trendy!
This particular tracksuit has a couple of details that help make it just that more feminine while still staying edgy: like the cold-shoulders, the open hems, and the cutout at the collarbone.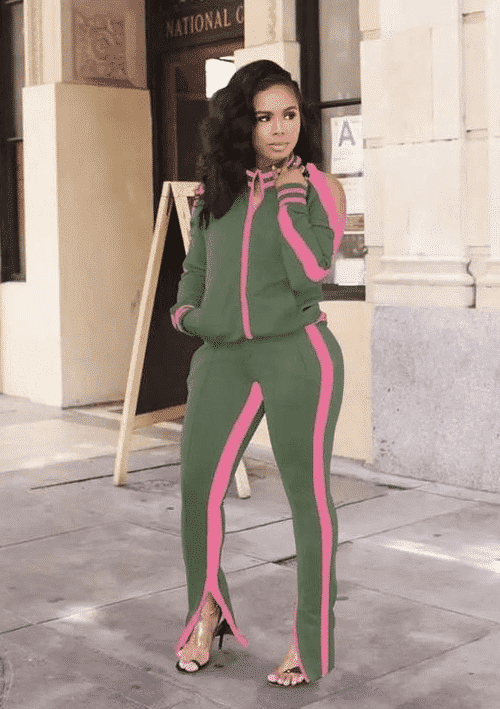 ↓ 1. Perfect Neutral Fall Outfit
For our final look, we picked out this super cute and casual fall look. Forget the turtleneck and jeans next time you are running out to grab a coffee and try this chic matching set instead. You can transition it into a spring look; you can sleep in it; you can go on a casual date in it… honestly, what can't you do in a matching set like this one?!
Not much, we are happy to report. Don't stress over accessories. You can try this outfit with flats, sneakers, loafers, or mules. You can add a jacket if necessary or go without! Feel free to experiment make the look your own.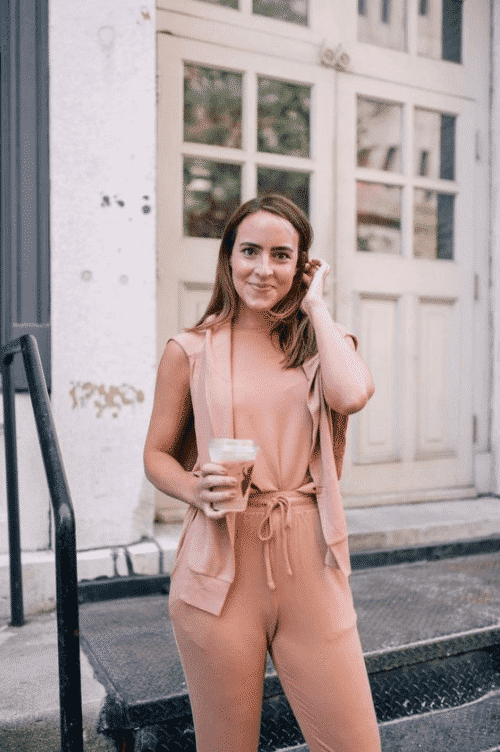 Are you feeling ready to tackle the matching sets trend? Or are you an old-hand? Let us know in the comments below, plus any tips you might have for styling these bad boys!