Outfits To Wear On a Bowling Date – Do you have a bowling date but don't know what to wear? Well, this is the right article for you! Not only does your bowling outfit need to be cute, but it also needs to be breathable.
We don't want you to be uncomfortable when you're trying to enjoy yourself and have a good time. Whether you're going on your first date or you're going with your long-time partner, you want to take their breath away with your outfit!
What To Wear On a Bowling Date?
Bowling date outfits can vary depending on your personal preferences however, there are two important elements everyone needs. The outfit needs to be well-rounded as well as functional. It has to make you feel comfortable and gorgeous while also allowing you to destroy your partner at bowling. A little healthy competition never hurt anybody!
If you're looking for what to wear on a bowling date, be it a cute dress or just something to pair with your plain old blue mom jeans, we have compiled a list of them to make your life easier.
Do's and Dont's
Always Bring Socks. If you're anything like me, you will often forget to bring your own socks so it's important to keep them in your bag beforehand to avoid spending that extra cash on a new pair.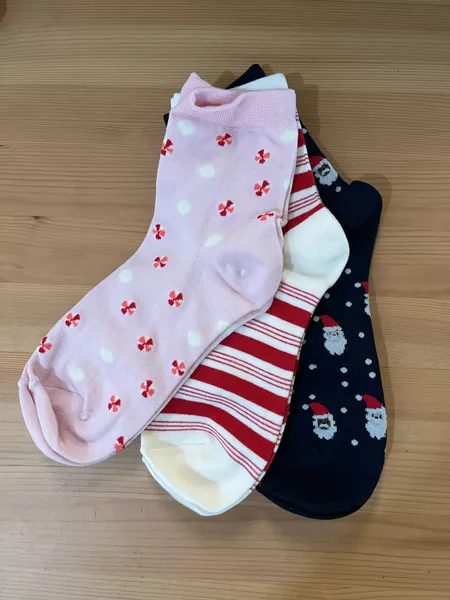 Remember To Bring a Jacket. You might think that you won't need to keep warm during a physical activity however it is always important to keep a jacket or a sweater with you in case the bowling date takes a turn. Maybe you can break stereotypes and share your jacket with your partner.
Avoid Wearing Long Dresses. It might seem like a good idea to wear a long dress to impress your date but it's not functional. You might trip over and fall which could lead to a lot of embarrassment.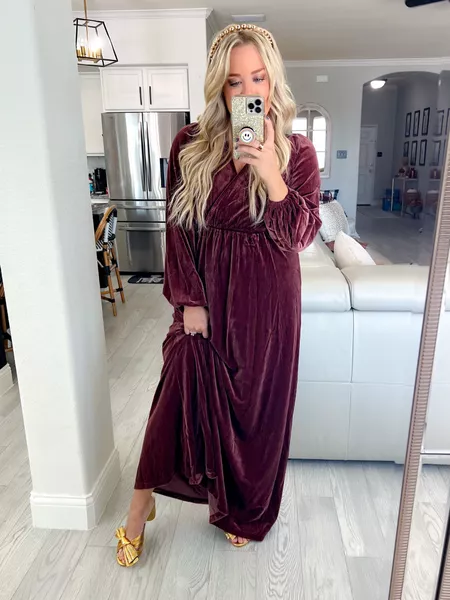 Do Not Wear Heels. It is a terrible idea to wear a pair of heels to a bowling date. Just. Don't. Do. It. Not only will it look out of place but it will also make it really hard for you to enjoy bowling. Go for something that won't hurt your feet and won't make you fall face flat during your date. That would be embarrassing!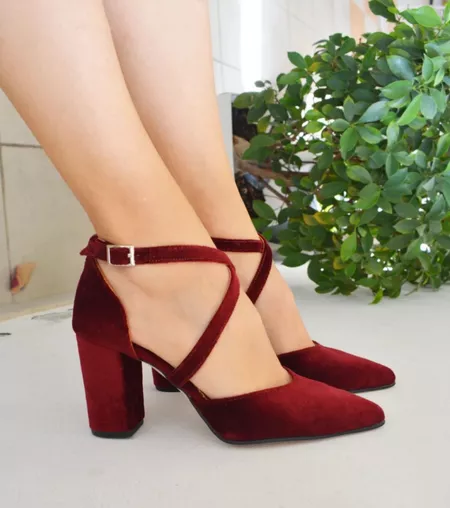 20 – Square-Cut Puffed Sleeved Top With Blue Jeans
If you're looking for an outfit that is cute, modern, and comfortable, this look might just be the one for you. It features a black crop top that has puffed sleeves which are cuffed at the bottom.
The square-cut neck is paired with classic light blue denim jeans. On top of that, the white sneakers complete the entire look. To add a little zing to the look, throw on a pendant and you'll be ready for your bowling date.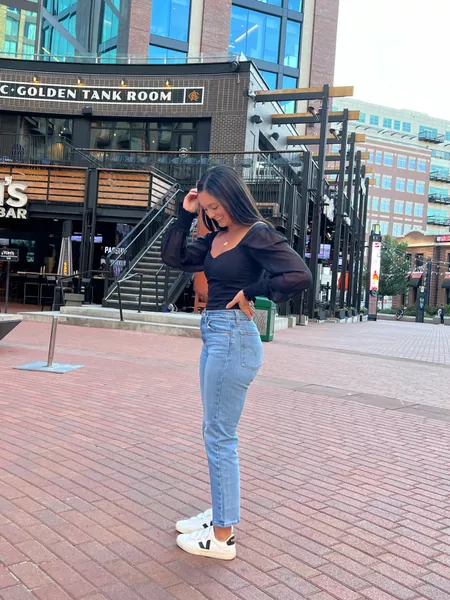 19 – Green Zebra Stripped Pants With an Off-Shoulder Black Top
If you're wondering, what do I wear to my bowling date? Then look no further because we've got you covered. This look highlights a cute black off-shoulder crop top which has a little v in the center. Paired with this basic top, are not-so-basic pants.
These pants showcase a green and white zebra print with a loose-fit look. Moreover, add some sneakers and a shoulder-chained bag with some shades to complete the look.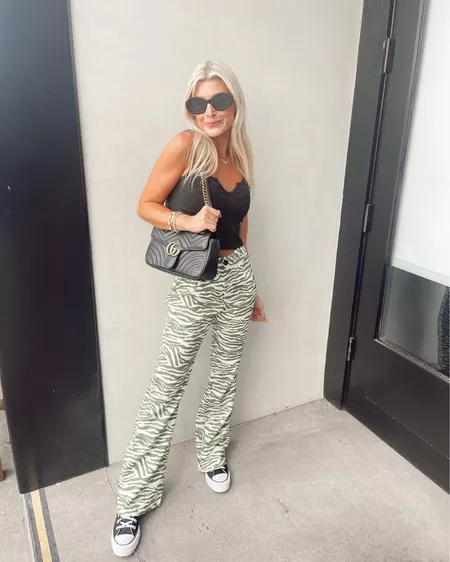 18 – Grey Pleated Pants With a Black Button Down
If you're looking for something a little more formal then this is the outfit you need. This outfit has a grey pleated pair of high-waisted pants which have a black button-down collared shirt tucked inside. On top of the button-down, is a fury grey sweater in case you're feeling chilly later in the day. Pair all this together with some black sneakers and you're ready to go.
17 – White Knit Turtle Neck With Blue Ripped Jeans
Although this look is simple, that doesn't mean it's any less chic. This is a winter look featuring a white knit sleeve-less turtle neck sweater that is tucked into a pair of high-waisted blue ripped jeans.
The outfit is paired with a beige cowboy hat, a modern wrist watch and a comfortable pair of white joggers. Ride through the bowling alley with this cowboy look!
16 – Blue And Beige Tie Dye Dress With A White Handbag
The outfit shows something that might be a little out of your comfort zone but gorgeous nonetheless. It showcases a tie-dye dress that has pleats at the waistline. The blue and earthy beige tone of the dress matches perfectly with the mini white handbag and the pointy flat shoes. On top of this, the look is further highlighted by gold bangles and gold rings.
15 – Off-Shoulder Knee High Black Dress With Black Shades
Don't want to wear jeans to a bowling date? Don't worry, this is the look you've been waiting for! Although simple, it showcases a cute black mini dress with pleats running down from the waistline. Not only it is off-shoulder but the sleeves are puffed up giving it a more modern vibe. Paired with the look are some white sneakers and vintage shades.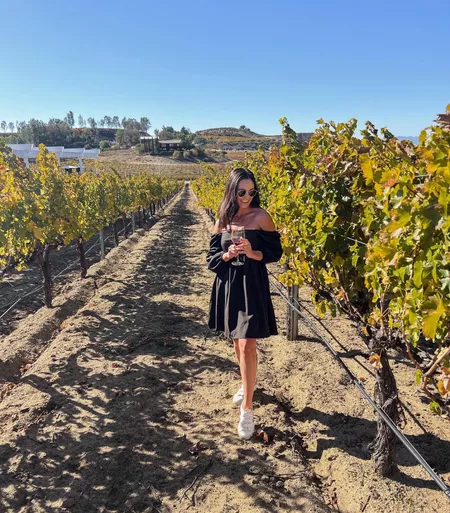 14 – Cream Shirt Dress With a White Cap
This look is well-rounded and might be the answer to the "what should I wear to my bowling date?" question. This comfortable look has a long oversized cream t-shirt that is just above the knees. Since the outfit is simple, pair it with your favorite accessories like gold bracelets, rings, and pendants. Throw on a white cap, some white sneakers, and a padded cross-body bag to complete the entire look.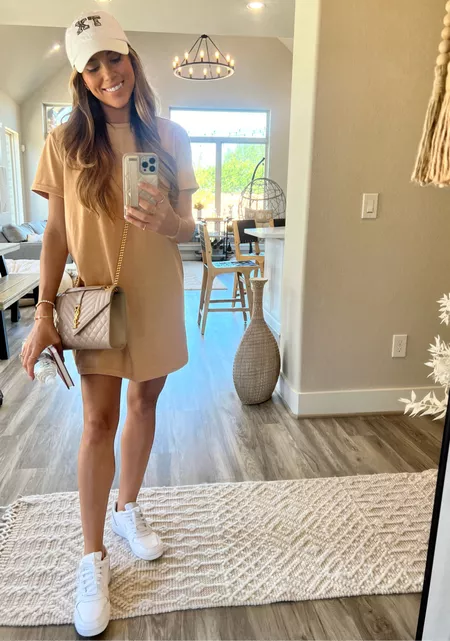 13 – White Mock Neck Sweater With Black Bell Bottom Jeans
Since it's winter season, we don't want you to catch a cold so it's important for you to be warm during your date. This look highlights a white mock neck sweater with pleats going down it. On top of that, we have a grey shrug with rough edges, and paired with it are cute bell-bottom Esque black jeans. Get your neutral color handbag and throw on some sneakers to complete the outfit.
12 – Neutral Colored Mock Neck With Pleated High-Waisted Pants
Continuing with our winter theme, we have an earthy-colored sweater that looks extremely cozy. The mock neck with black stripes across is french tucked in high-waisted matching pleated pants. Paired with this outfit are matching joggers and black winged sunglasses. This outfit is perfect if you love color-coordinating all your outfits!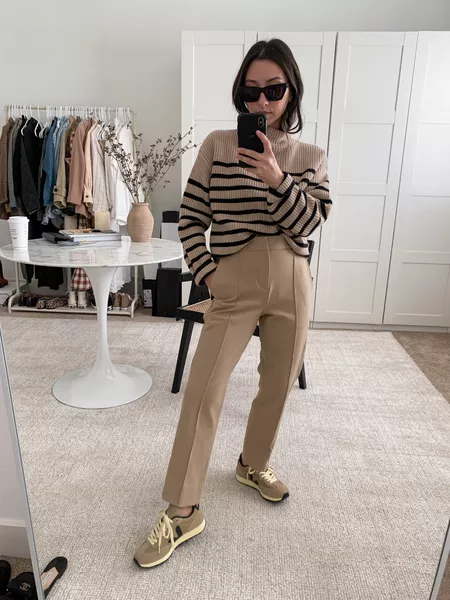 11 – Check Printed Shacket With Neutral Pink Pants
This look is for all the pastel lovers out there trying to find their bowling date outfit. It features a pink and white check shacket – shirt and jacket hybrid – paired with a U-neck white basic crop top. To bring the look full circle, pair it with dull pink pleated pants, a brown belt, and a white cap to go with it.
10 – Cream Sweatshirt With aABlack Bomber Jacket And A Knitted Scarf
This outfit is perfect for a date to the bowling alley and a walk outside after. It features a basic cream sweatshirt tucked into black jeans. On top of the sweatshirt is an outfit with a bomber jacket with puffed sleeves and a crochet scarf that looks so gorgeous. Paired with the entire fit are cream-colored boots and some silver studs.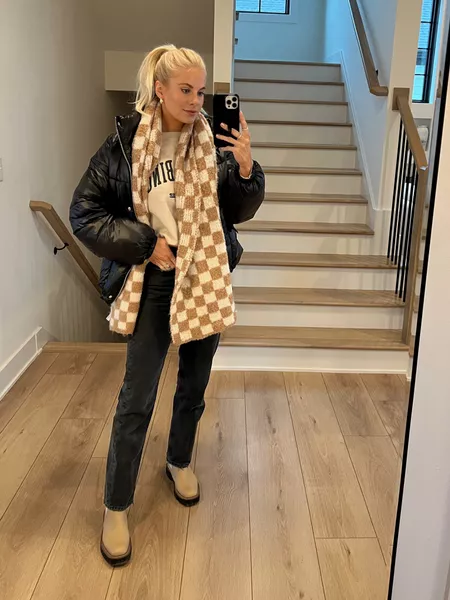 9 – White Roud-Neck Mini Dress With a Denim Jacket
This look features a knee-high white mini-dress with a U-neck. This dress can allow you to take those strikes while also taking your partners' breath away. Matched with this dress are a light blue denim jacket, a printed handbag, some silver jewelry, and a pearl white pair of sneakers to top it all off.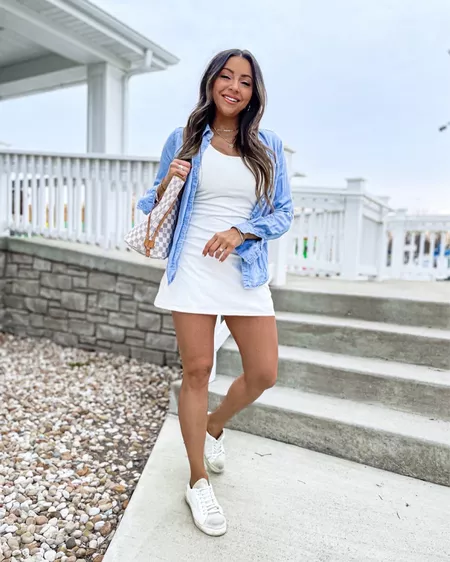 8 – Short Sleeveless Dark Blue Belted Dress With Chunky Sunglasses
Since we've showcased a lot of winter looks, here is a summer outfit to switch things up a little. This outfit has a dark blue dress with a belt going straight across the waistline. It is round-necked and sleeveless going up to the thighs. Matched with this outfit are chic-looking chunky white sunglasses and some white sneakers that complete the look.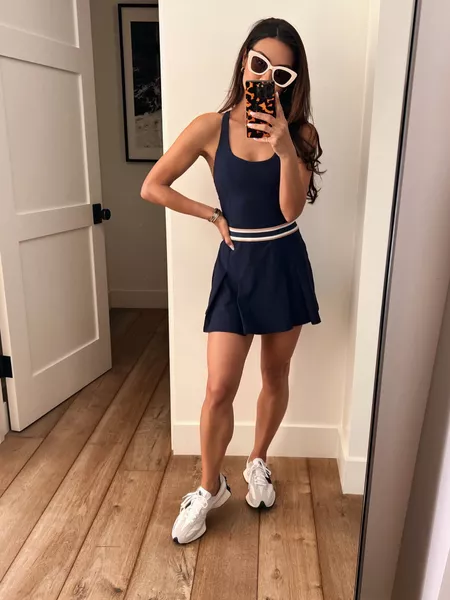 7 – White Sleeveless Tank Top With Grey Cargo Pants
This modern-looking outfit might just be the right fit for your date at the bowling alley. It is not only convenient but will also make you look extra gorgeous. It shows a basic white sleeveless tank top tucked into steel-grey cargo pants with zips down its sides. Added to this is a white smartwatch, white joggers, and a dark-shaded lip tint to complete the look.
6 – Grey Off-Shoulder Top With Grey Pleated Pants And a Belt
If you're still wondering what should I wear on a bowling date? Then this might be the instagram look you were waiting for! This look showcases a stunning grey off-shoulder jumper with foldover ribbing at the top. This long and wide-sleeved top is ribbed and cuffed at the hem and is tucked into grey pants with pleats and a white buckled belt. Matching with this are grey loafers, a small handbag, and a pair of cute studs to wear to your date.
5 – Crew Neck Puff Sleeved Knitted Dress With Classic White Shoes
The outfit showcases a grey warm mini dress with puffed sleeves and a crew neck. The bottom of the dress has pleats and it goes down to the thighs. Matched with this cozy dress are a tiny shoulder bag, some circular black shades, and a pair of pearl white sneakers. You can also wear some long-chained earrings to accessorize the fit completely.
4 – The Classic All-Black Look With a Black Tank Top and Black Cargo Pants
Although this look is plain you can never go wrong with an all-black outfit. If you want to look hot and impress your date, this bowling date night outfit is the one you should go for. This look features a black sleeveless crop top paired with loose-fit cargo pants that have lots of pockets. To add some color to the look, put on a gold pendant, add in a vintage gold watch and grab your sneakers.
3 – Distressed Blue High-Waisted Jeans With A Beige Button-Down
This outfit highlights blue distressed jeans with rips in the knees. Tucked in these jeans is a white crew neck sweater. On top of that, there is a beige button-down with a side pocket and a collar. To accessorize this look, pair it with a snake-printed cross-body bag, a cute mini pendant, and some white sneakers to top it all off. This well-balanced look might be the head-turner you needed to spice up that date!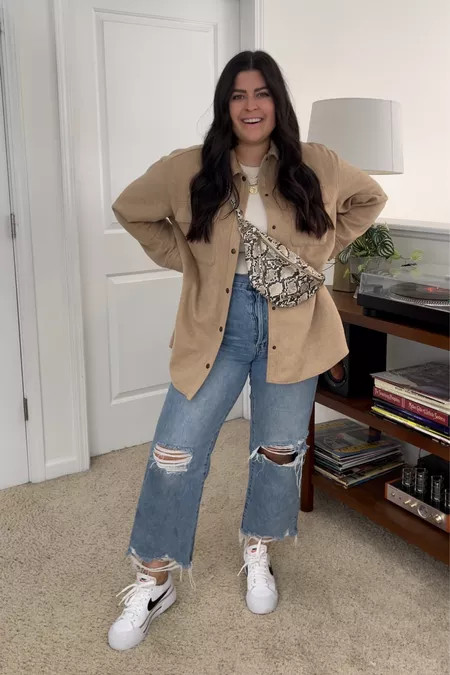 2 – Neutral Colored Mock Neck With Dull Brown Wide-Legged Pants
This look showcases a baggy oversized white mock neck sweater which is tucked inside dull brown wide-legged & high-waisted pants. The look also highlights a black purse and sneakers to fully complete the bowling date look. Make a messy bun, throw on some makeup, and voila you're ready to go!
1 – Printed And Collared Floral Mini Dress With Classic Joggers
Last but not the least, we have a floral mini-dress. This black printed dress has a collared neck and pleats going down the bottom. It also has flowy sleeves that are cuffed at the ends. Pair this beautiful dress with some comfortable sneakers and a pair of your favorite earrings to impress your date!
Frequently Asked Questions
Q. Can I wear a dress to a bowling date?
Ans. Yes, you can. However the dress must be a short one as long dresses can obstruct your bowling game and make it difficult for you to actually partake in the activity so while you can wear a dress, make sure it is not too long.
Q. Is bowling a weird first date?
Ans. Bowling is actually a really good first-date idea because your first date may be a little awkward or stressful. Bowling allows you to enjoy the activity at hand and acts like an ice breaker of sorts which means fewer awkward moments and more enjoyment! It is also relatively cheaper and you can always go for drinks after.
Q. How do you act on a bowling date?
Ans. Be natural. This is the most important thing on any date as just being you should be enough for the other person. Show your adventurous side, rock that cute outfit but most importantly just have fun, enjoy, and don't stress out too much because what's meant to be will always be no matter what.
Eman is an electrical engineering student at Fast University with experience in content writing and UX Strategy. She is deeply vested in all things space, loves cats, and can survive on gallons of coffee.