Leather legging outfits – The days are becoming moderate and the nights have started to smell like winter. When fall is this close, we want you all to do nothing but take out your leather leggings. We have compiled a list of all the pretty leather legging outfits and cannot wait for you to try all these.
Dressing up in winter becomes more fun because you get to style so many articles and colors together. We are already excited about cozy sweaters, hot chocolates and warm clothes. One of the most worn and desired articles in winter is leather leggings. They efficiently do the job of keeping your legs warm and giving that regal look to your outfit.
Though these days, people are going with leather leggings in summer as well, we don't recommend that in peak summers. However, during spring, when the weather is transitional and quite moderate, you can style your leather leggings with any of your floral shirts and button-downs.
Scroll down to indulge in an exciting world of outfits styled with leggings, and let us know how you like them.
How to Style Leather Leggings in A Fashionable Way?
From jackets to leggings and handbags to shoes, leather outfits are essential to every girl's winter closet. The best part about it is that these are timeless articles. You invest in them once and then enjoy the sass over the years.
If you plan to wear these to the office, combine them with a double-breasted blazer and a plain sweatshirt underneath. Go for pointed-toe heels in black or ivory. Avoid bright and funky colors for work.
For a girl's day out, you have multiple options for styling. You can wear an oversized sweater with a snood or scarf around your neck. Turtlenecks and cropped pullovers make a stunning outfit paired with these leggings.
Styling Tips
Leather leggings are mostly skin-tight. In that case, make sure you don't go for the same tightly fitted tops. Opt for loose and baggy tops, like chunky sweaters, or layer your outfit with white jackets or colored blazers.
Pastel colors go well with black and white leather leggings. But avoid wearing leggings in pastel shades along with your pastel tops. Rather stick to these darker hues like navy blue, maroon, brown, black, and an exceptional case of white.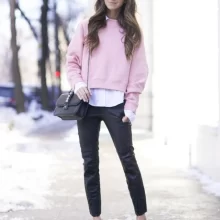 The leather itself is a very eye-catching fabric. Make sure you break the monotone with your footwear, handbags, and accessories when going for an all-black leather look.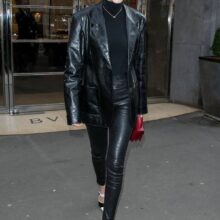 Since these leggings are fitted and constantly stretched, they might get loose or baggy from the knee side. If you want to delay the stretching process, go for a size up when buying these leggings.
20 – An Edgy Look With A Gray Sweater
Let's start with a pretty basic outfit. Grab a gray turtle neck sweater from your closet. Pair it with your black leggings. Throw your hair open and wear your sneakers.
Black and gray is a classic combination that works if you want to set a cool, sober, calming atmosphere in any room. Plus it is surely a head-turner outfit despite being so basic and simple. You can wear this outfit to sunday brunch or a visit to a mall and even at a family get-together; it will work.
19 – Oversized Chunky Sweater
Got a plan, have to get ready but short on time? No worries. An oversized chunky sweater paired with black leggings and knee length boots is a quick fix to your sudden lunch plans with friends.
Pairing up oversized fits with fitted articles is a simple way to get that pulled-together and neat look. Go for black cut-out boots and you are done.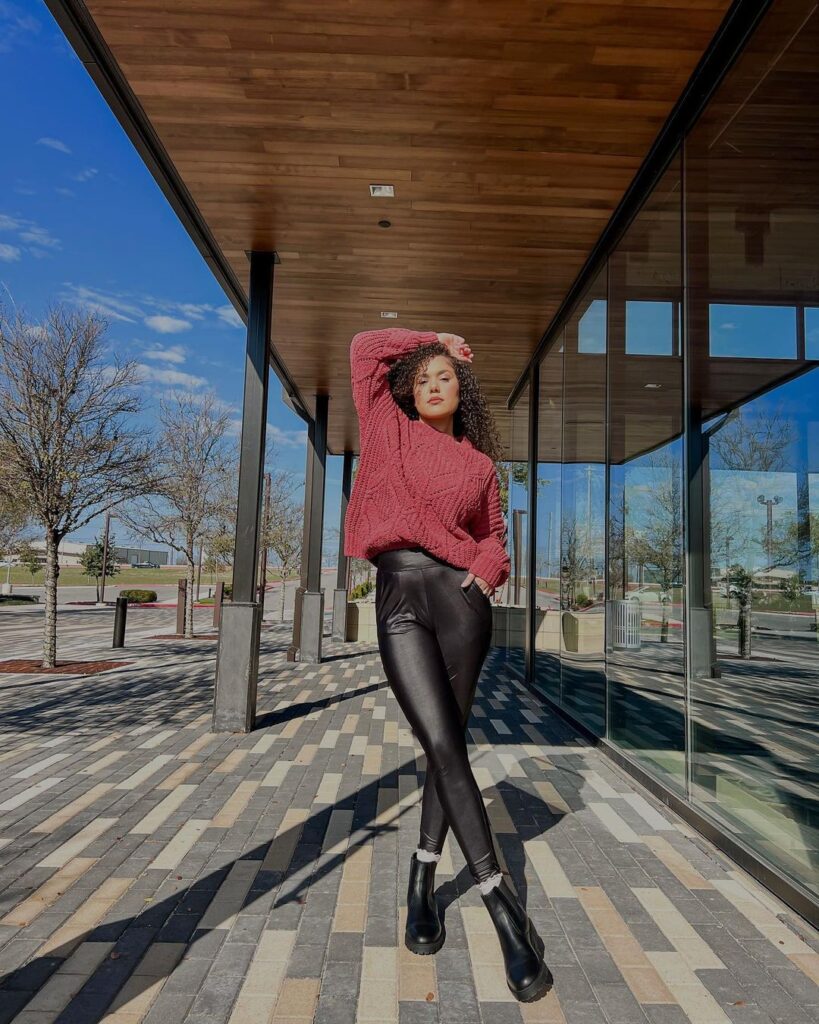 18 – Pair it Up With A Satin Top
This one is for the transitional weather, when the temperature is not that cold that you need to layer up. In that case, go for this gorgeous satin shirt with black leather leggings.
Accessorize with silver hoop earrings and go for a soft makeup look. With satins, we mostly recommend going with pinkish or nude shade of lipsticks. Go for a smudged eyeliner and a maskara. Get that peachy blush on cheeks and you are ready to slay.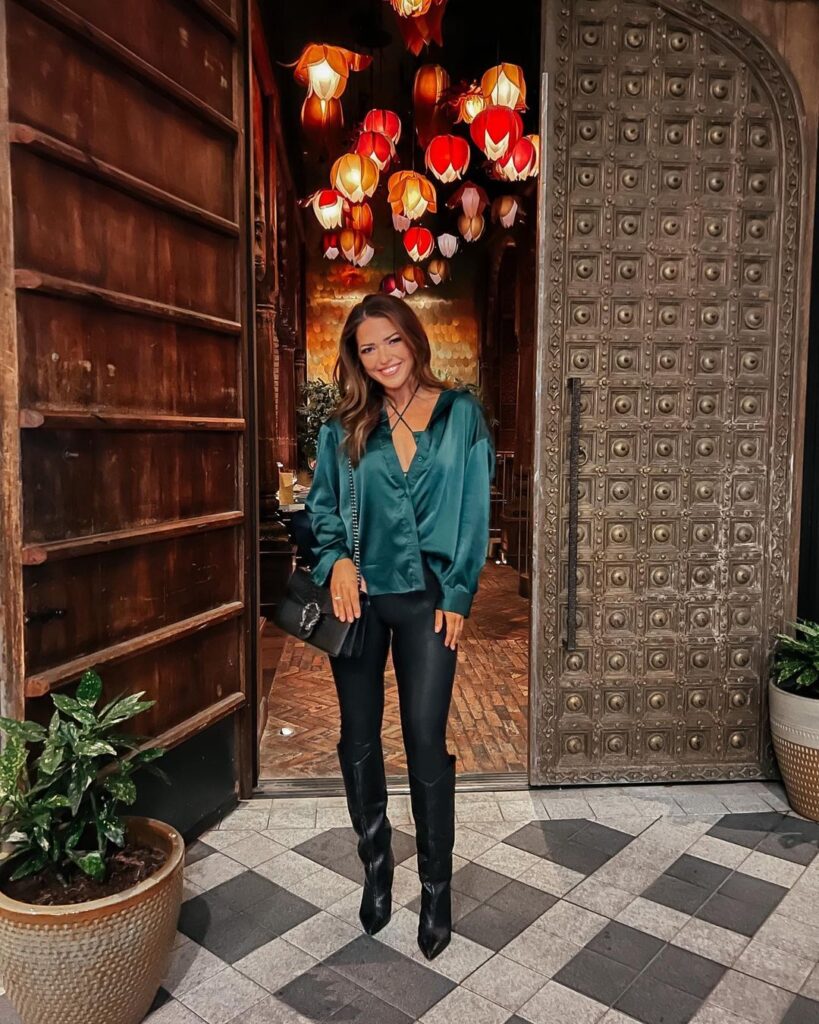 Here's a look for all our fashionista teenagers. This funky yet cute look will get you all the lime light and attention, wear it to a friends get together or a coffee date with your bestie.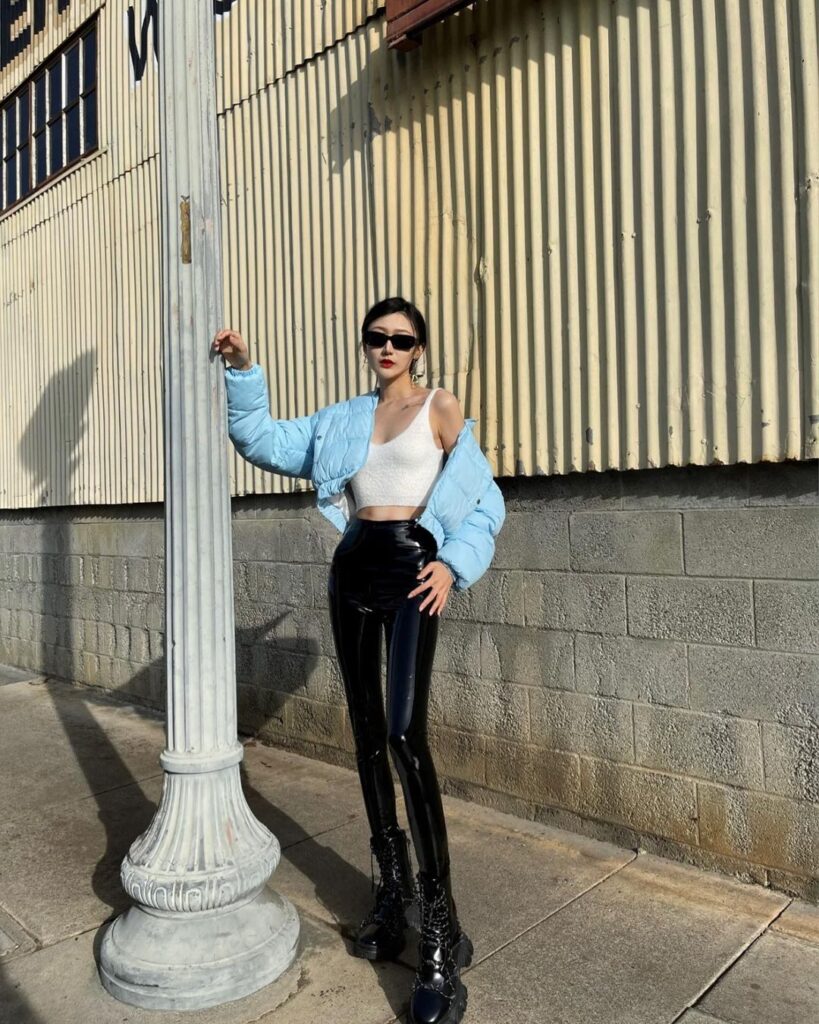 16 – Velvet Cut Out Blouse For A Chic Look
Velvet outfits and winter go hand in hand. The shiny, lustrous and warm aura of velvet makes it a perfect staple for winters.
Go for this cutout blouse with black leggings. Velvet itself is a head turner and does not need a lot of accessories. Just go for some diamond studs and a nice diamond pendant. You will be good to go.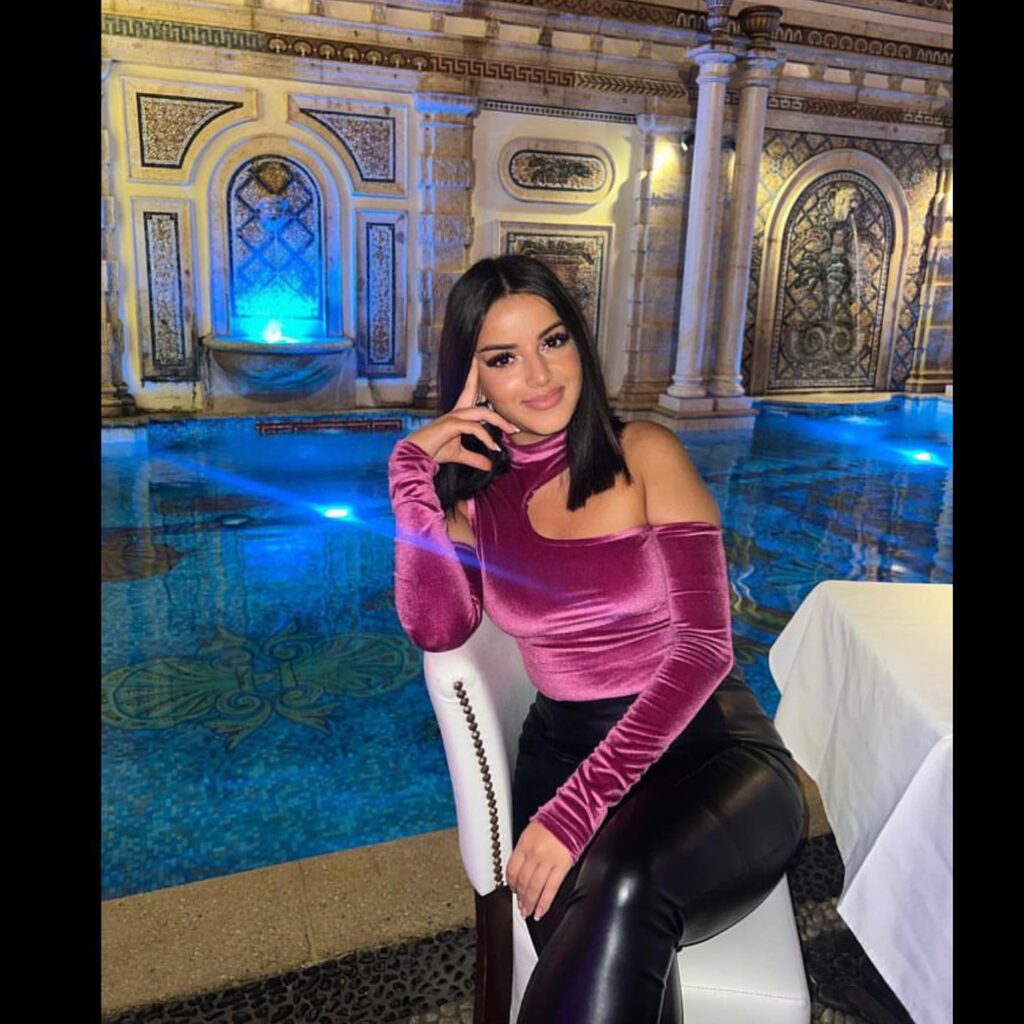 15 – Pink, White And All Things Nice
We don't think girls can ever get enough of pink. It is surely one of the widely adorned color by all the gorgeous ladies out there. If you are an ardent lover of pink, this shacket is for you. Pair it up with a white turtle neck pull over. Wear these gorgeous black boots along with your legging.
Go for a flushed makeup look. Carry a chain handbag in white. Wear a bright smile and spray a nice perfume.
14 – Pair Your Plaid Blazers With An All Black Outfit
13 – Grocery Day Outfit For All the Moms
If you are a mom, you must be running multiple errands simultaneously. From laundry to dishes and from cooking to school runs, it all gets tiring sometime.
But still nothing should stop you from slaying like a queen even if its a grocery run. We have a quick fix for your outfit at the super market. Grab a poncho sweater from your closet. Pair it up with black leggings. Lastly throw on your matching boots. That's it, your leather legging outfit is ready and you are all set to hit the super market in style.
Pro Tip; Whenever you are getting late and you feel like there is no time to dress up, just do one thing. Match your foot wears with your upper part of the outfit, either it is a shirt or a sweater. This will instantly give a pulled together look to your fit.
This one is for all those girls who are bike riding enthusiasts. Riding on bike requires a comfy and convenient outfit so that you could ride safely. But who said, biker girls cant look stylish.
Break the narrative and go for this oh-so-bossy outfit for all the fearless bikers out there. Pair up your black leather jacket with black leggings. Leather will keep you cozy despite of all those chilly winds. Throw on dads sneaker and voila, your biker outfit is ready. Lastly dont forget to wear a safety helmet. Look like a beauty and ride like a beast.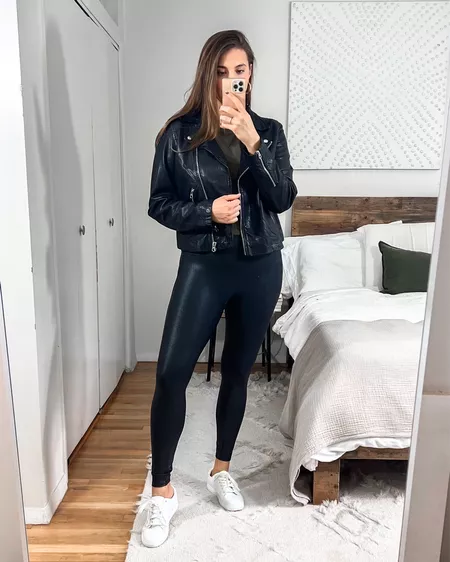 11 – Layer Up With a Graphic T Shirt and A Trench Coat
It's hard to let go of your favorite thing. T-shirt belongs to the summer closet, but what if you are not ready to bid goodbye to your favorite t-shirts? Here's a simple hack. Reuse your summer t-shirt in winter by pairing it with a warm trench coat. For bottoms, nothing will look better than leather or plaid leggings in black with this outfit.
10 – Stay Cozy in A Teddy Coat For The Christmas Eve
December brings in all the festivities of Christmas. No one should miss out the fun. But the task is to stay warm in those chilly nights.
Go for this long fur coat paired with a scarf around your neck. Wear your boots in black. Grab a cup of coffee and enjoy the lights, the gifts and the slurry snow.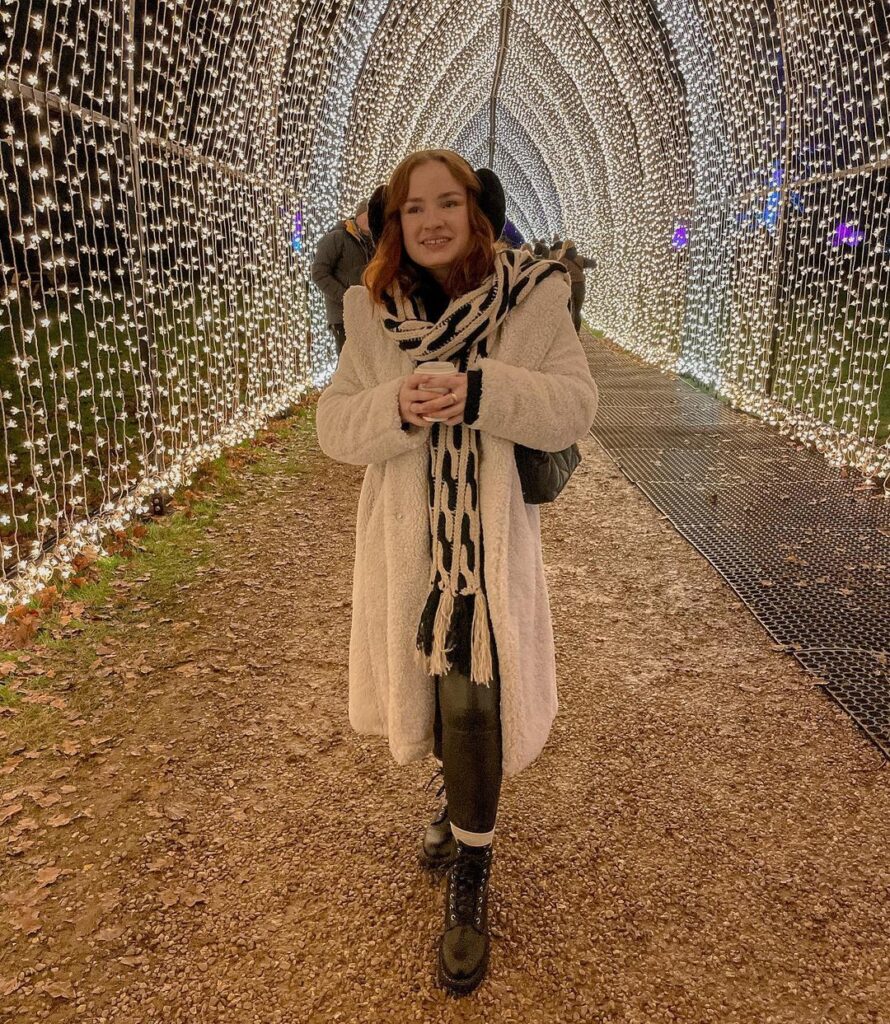 9 – Lime Green Sweater Is In Hot Trend
Among all the shades of green, lime green is the one that is trending this year. It is such a sophisticated and elegant color that one cannot resist wearing it.
Slay in this lime green sweater paired up with leather leggings and boots. Add accessories like a dainty long pendant and stud earrings.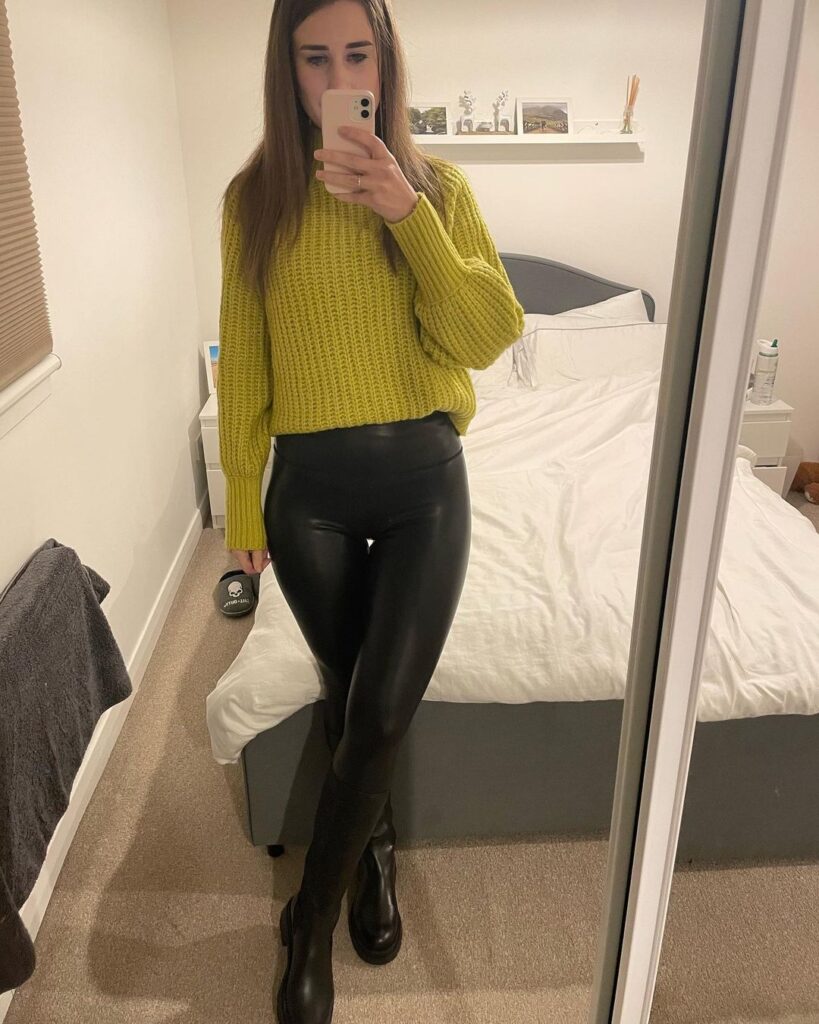 This one is a perfect choice for a dinner or lunch at work. A not so formal but a sophisticated outfit for you to get all the compliments at the dinner,
You can even swap the sweater with brown, gray, burnt orange and khaki colors. All colors will complement this outfit.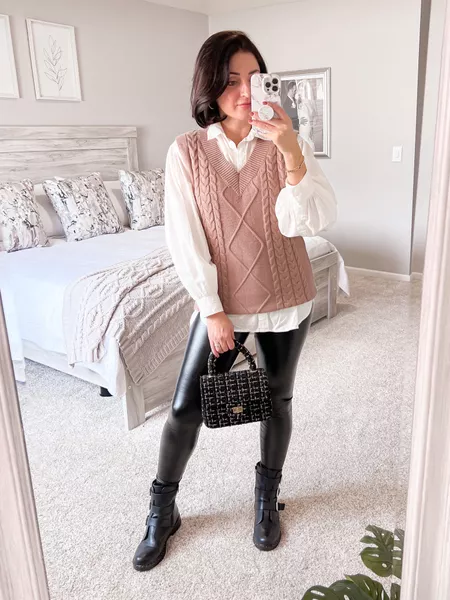 7 – Multicolored Pull Over Sweater
Who doesn't love rainbows? We all love. How about incorporating all the colors of rainbow in your sweater. Go for this funky and pretty sweater with leather leggings and you are all set for a coffee date with friends.
Wear a nail paint of your favorite color and lastly add pointed toe heels. Since the sweater has a lot of colors, you have the liberty to take any dominant color and match the leggings with the same shade. In case of this sweater, you can go for white, blue, and pink hues.
6 – Wear your Greens
Take a break from the all the blacks and go for this green legging outfit. Its a bright and stylish color that is great for brunch at a sunny day with your friends. Layer up with a matching sweater. Go for a casual sweat shirt or a t shirt underneath and your refreshing outfit of the day is ready.
Pro Tip; With green outfits, that are particularly in deeper shades, you can always go for gold, silver and copper plated jewelry. Even if you want to go for a bit unconventional hues, go for blue and pink accessories.
5 – Maroon Leather Leggings with A Sweater
Besides black and green, there is one another color that looks great when in the form of leather leggings. Yes you heard it right, it is brown color. This color works well for the fall and chilly weather. It is a dark shade that is flattering and snazzy.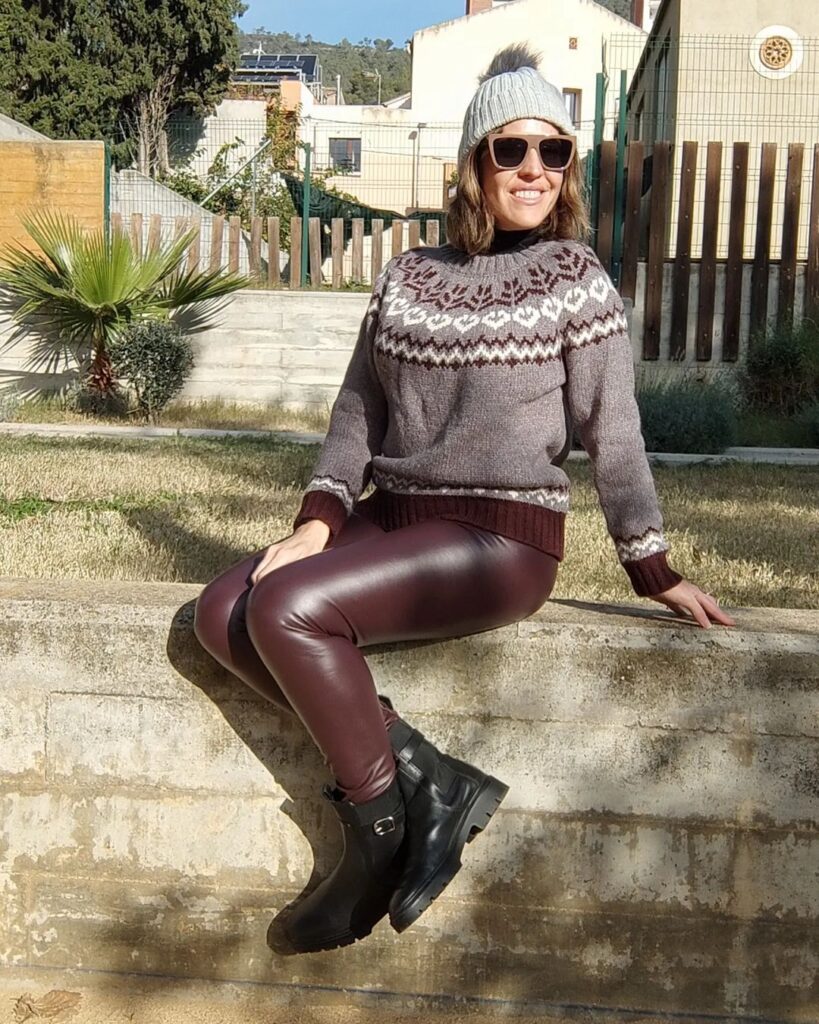 4 – Monochromatic Outfit With A Beige Blazer
Take out your black body suit. Pair it up with your black bottoms. Now layer up with a beige blazer. Your effortless office outfit is ready. For work wear, you dont need to spend tons and tons on formal wears. You just need to do the right kind of styling by playing with the colors and articles and you are all set.
It might seem that this is misfit for work since the leggings are too tight. But since the blazer has covered your bottom area, it is ok to wear on a work day.
3 – Create A Vibrant Look With A Red Jacket
This is an era of bright and vibrant colors like red. Whether its a jacket, a trench coat or a fur coat, red has been making its way to the winter wardrobes of all the girls this year.
Slay in this puffer jacket and make a statement by pairing it with black leather leggings. Add some hues of white in the form of a cross body bag and voila, you are ready to outshine everyone.
2 – Make a Statement In Brown Puffer Jacket
Everything looks gorgeous in winter when it's covered with brown, especially in winter. The sheer warmth and coziness it exhibits are unmatchable, and you should incorporate this color into your winter styling.
1 – Classy Look With A Checkered Blazer
Do you know the easiest way to introduce sophistication into your plain outfit? Wear a checkered blazer with it, and you are all sorted.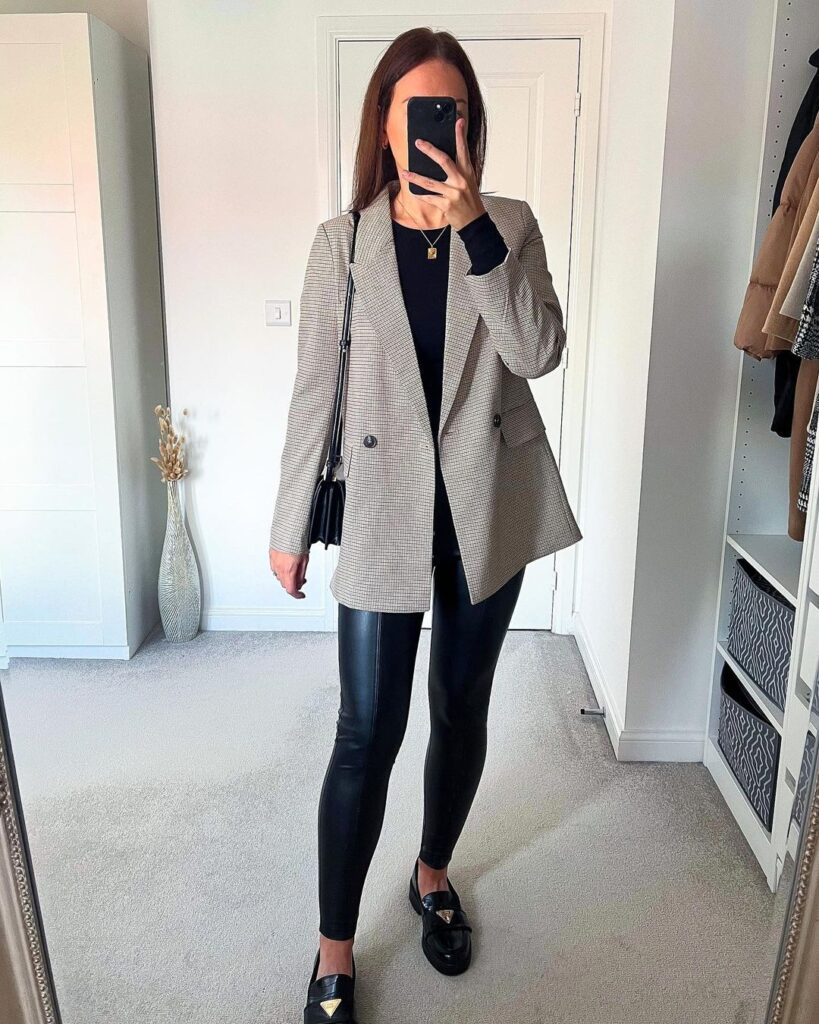 Frequently Asked Questions
Q. Are leather leggings in style in 2022?
Ans. Yes, they are in style this year and will always be in trend no matter what year it is. It is a wardrobe staple, and if you are a leather lover, be assured that leather leggings and articles will never go out of style. This year faux leather leggings topped the trend charts and every single girl out there is going for these. They are flattering and give you a snazzy and edgy look.
Q. Where to buy best leather leggings?
Ans. When it comes to leather leggings, the options to shop from are unlimited. If you want to get it from specific brands, you can go for Zara, Mango, Spanx, Nordstorm and Eloqui. These are some of the brands that produce the best winter collection including the leather leggings. If you want to save time by ordering online, amazon and walmart should be your go to places. They have some exciting discount deals going on and we are sure you would love to get amazing leather leggings while saving a lot of money.
Q. Can you wear leather pants with sneakers?
Ans. If you are planning to go for a casual lunch with friends or want to keep the look sporty, you can pair your sneakers with your leggings. Though this will not work in a formal setting, like a work place or an official dinner.