Christening Outfits: The beautiful function of christening brings a lot of blessings and happiness in the baby's life however it also brings a little confusion for the guests as to how they should dress up. You can't really decide if you should dress up formally or casually, what kind of prints or colors are most suitable, and how to style yourself in a way that looks perfect for this event.
What to Wear to a Christening
Whether you are attending the function as a guest or if it's your own child's big day, you need to dress up in a way that looks like you are there to celebrate. You can't really show up in sweats shirt and sneakers and neither can you go full glam in a shimmery dress, finding balance is essential.
There are a lot of different options for semi-formal events like maxi dresses, skirts, blouses, off-shoulder midi dresses, co-ord sets in different prints, jumpsuits, and much more. If the function is held in summer or spring, printed midi dresses with strappy platform heels are a good option to go for.
Similarly, a more formal option is to wear pants and a blazer with a top and boots. Turtlenecks, coats, and cute cropped jackets are an additional layer for winter. You can put extra effort into your hairstyle and accessories to look picture-perfect for the event.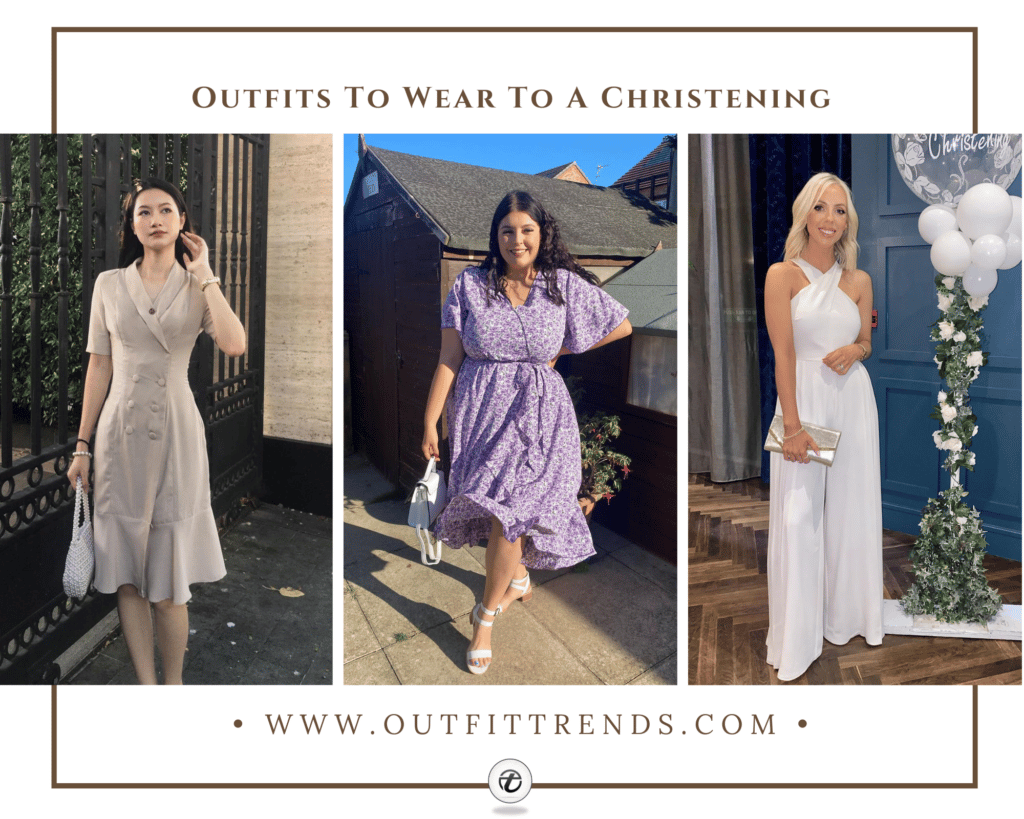 Tips For Styling Christening Dresses
Christening is a religious event, so you should dress modestly. Avoid wearing short skirts, mini dresses, or shorts.
You should also avoid dressing casual with crop tops, ripped jeans, or flip flops, instead go for a bit formal options like straight pants, blouses, and pumps.
Comfortable footwear is another factor to consider when dressing up for christening. Wear flats, pumps, or platform heels to the church.
White and pastel colors are the most popular color choices, however you can choose the color as per the theme.
20 – White Lace Midi Dress Paired With Kitten Heels
This cute midi dress with a lace body and chiffon skirt is a perfect choice of outfit for an evening christening function. The dress is fitted at the waist with a small silver belt and consists of a collared body. All these little details make this outfit worth wearing, the color is also event appropriate.
Style this adorable dress with jet-black stilettos, drop earrings, a small handbag, and curls in your hair. Bold red lips will complement your whole look and you are ready with the perfect look.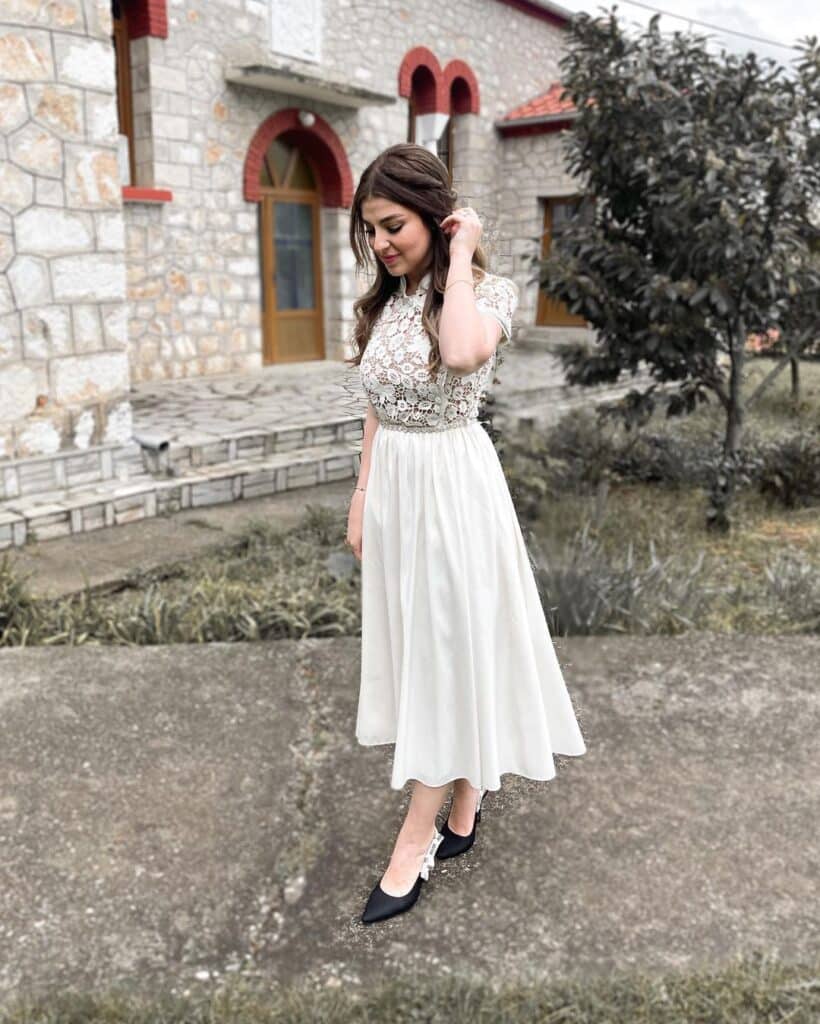 This Milan Fashion Week inspired outfit is also something cute and simple that you can definitely wear to Christening events.
19 – Strapless Pleated Tube Dress With Glitter Heels
Having your little fashion moment never hurts anyone, and getting a bit dressed up is never a bad idea. A strapless dress is ideal for semi-formal events, the midi length gives it a flowy effect with pleated details. To add a bit of a sparkling effect, ditch your normal heels and wear this dress with glittery ankle strap heels and sparkling bracelets. A cute necklace can also be added to cover the bare neckline.
18 – Floral Printed Frill Tie Back Midi Dress
It is a perfect occasion dress for day events, the floral print and the frill of the dress make it perfect to wear in summer evenings as well. It is especially suitable for petite girls and can be styled with different accessories like small hoops, watches, and rings.
Since the dress is floral printed, you can wear heels in contrasting colors. Bright pink ankle strap heels would really pop with the look.
17 – Polka Dot Midi Dress With Mule Heels
It is tough to choose an outfit when you don't want a really formal look, but want a comfortable outfit that still looks sophisticated. For this purpose, go with a midi dress in a polka dot print. This dress in white and black color looks the most comfortable for a christening function.
The long puff sleeves also give a flattering look to the whole dress. Pair it with pointed high heels in black color and a handbag. This dress is not only suitable for christening, but you can also wear it to birthday parties, dinner dates, or a movie night.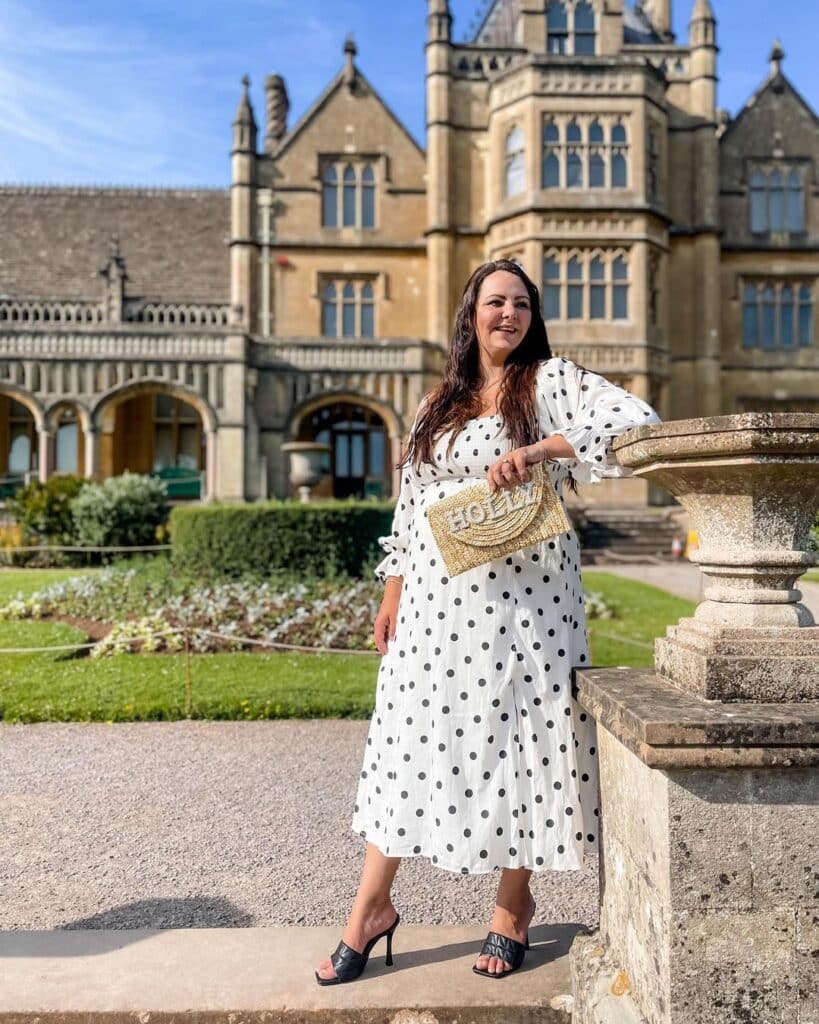 16 – Wrap Style Silk Dress With Cowl Neck
Silk dresses are another great option for christening, especially for mothers. They are comfortable to wear and also look stylish. Make sure the length is long enough to make you look sophisticated. The front wrap style and cowl neck details make the outfit more flattering.
Pair it with ankle tie heels in white or any other contrasting color. Minimal accessories like studs and rings will be enough to add and you are ready with a chic outfit.
15 – Black Floral Maxi Dress
Many people tend to beleive that you can't wear black to christening, but you can definitely wear this color as long as the dress is appropriate and you are comfortable in it.
Take an example of this beautiful floral printed maxi dress which has the perfect length and long sleeves that you can wear to church as well. Pair this dress with block heels and accessories and you are good to go with a classy outfit.
14 – Tiered Chiffon Dress With Suede Boots
Flowy breezy dresses are all we need for hot summer functions, especially if they are held in the daytime. Christening functions which are mostly done on Sunday afternoons can be a bit tiring in summer. For this purpose, you can go with a long-tiered dress in white color.
The collared neck and balloon sleeves make this simple dress stand out. Pair it with brown suede boots as footwear, the alternative to the boots could be wedge heels as well. Complete the look by wearing large hoops and bracelets as accessories.
13 – High Neck Skater Dress With Puff Sleeves
12 – Printed Wrap Dress Paired With Block Heels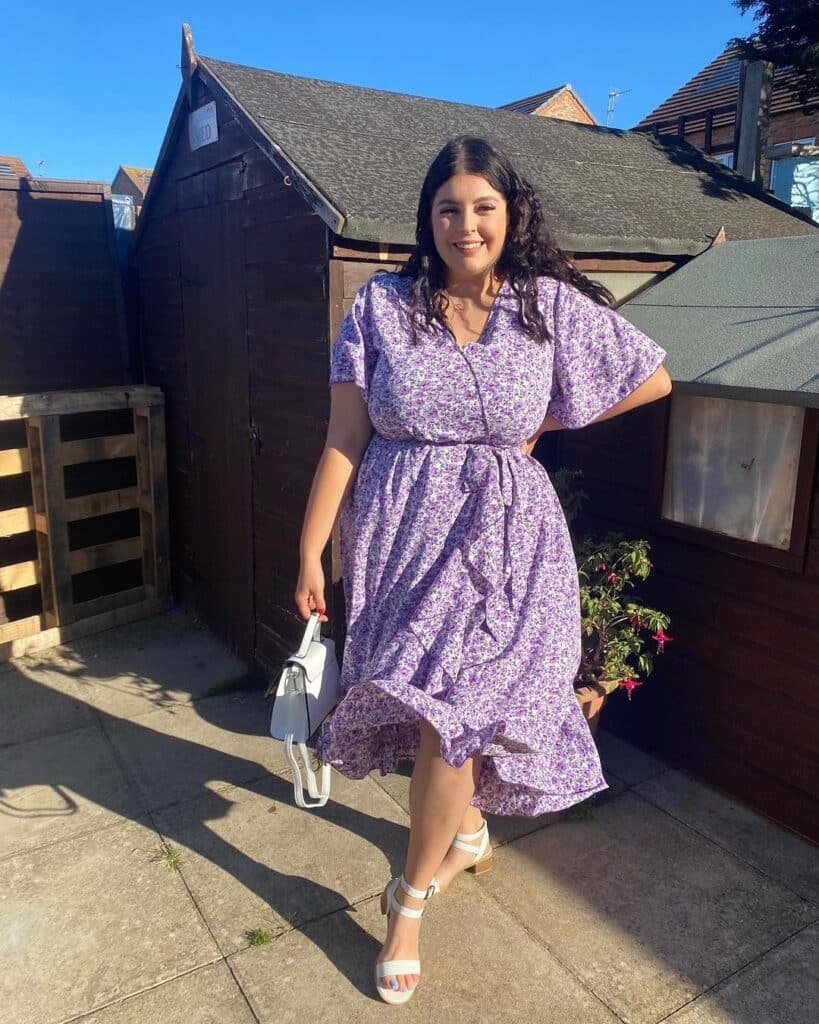 11 – A Chic White Jumpsuit
A simple and sophisticated outfit idea is to wear a white jumpsuit with silver accessories. You can add a little bit of sparkle to this simple look by wearing glittery heels and carrying a shimmery bag. Silver drop earrings and a tied-back high ponytail are recommended for the chic look. This styling idea is especially preferable for mommies who want a comfortable and stylish look at the same time.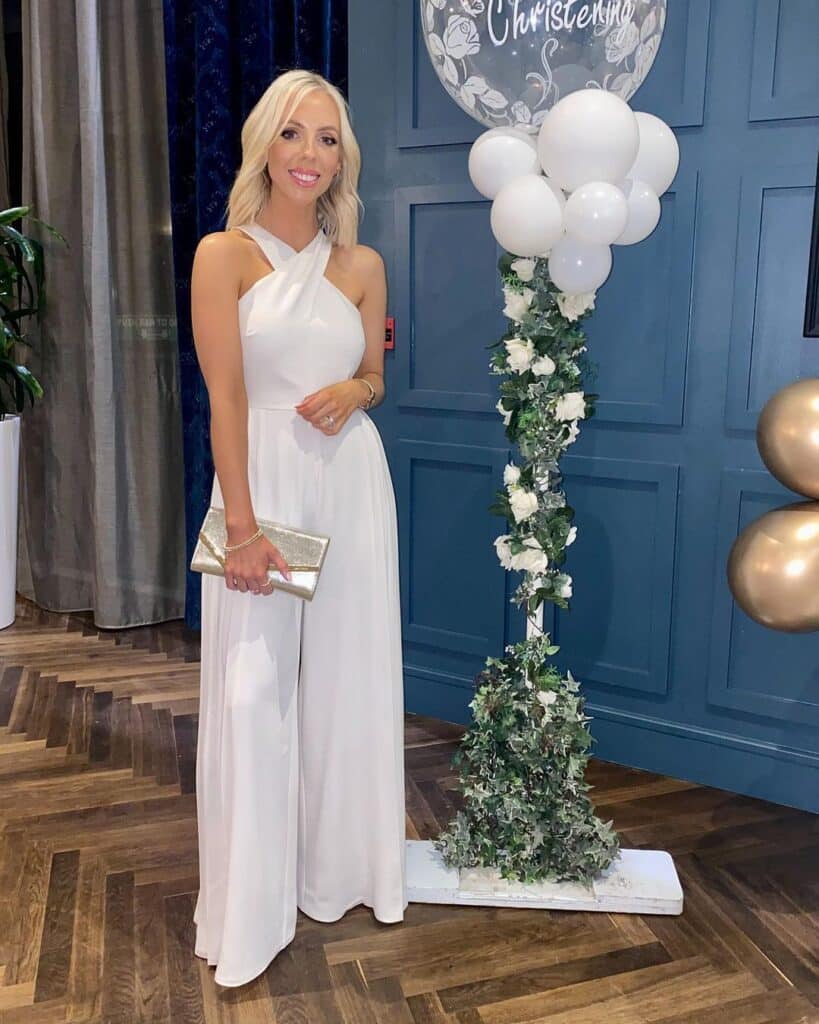 10 – Matching Blazer And Pants
If you want to dress up a bit more formally, go with a business suit consisting of a long tailored blazer with matching dress pants. You can choose the color depending on the function's theme or the baby's gender. Don't wear an all-black suit because that might look a bit extra.
To make this outfit more fun, you can also go with printed co-ord sets. Wear your footwear and accessories in contrasting colors so that your outfit looks more stylish. Chunky heels and a small bag is good to go with this outfit.
9 – Mint Blazer Suit With Platform Sandals
Blazer suits are always an elegant choice for a formal christening event. The mint pastel color looks perfectly fine according to the event. However, you can add an element of your own fashion choice by pairing it with a lavender-colored bag and platform heels. Accessories are a must to enhance your overall look, so wear minimal gold jewelry with this outfit to complete the look.
8 – Bright Pink Pants With Tassel Top And Jacket
A cute and colorful option is to wear bright pink pants because they look absolutely stunning. You can wear them in any season as the color looks attractive and suitable, especially if it's a grand function. Balance your look by pairing the pants with a white tassel top or lace top.
You can also add a cropped jacket for autumn when the weather is slightly cold, or just for the sake of fashion. We can see here that silver metallic pumps are being paired with this outfit, however strappy or ankle heels can also be worn with this look. Finish off the look with accessories like sunglasses and a bag and you are ready with a formal outfit.
7 – Abstract Print Peplum Blouse With Straight Trousers
For a formal dress code christening, you can wear a peplum blouse with straight trousers. Even though the outfit is formal, the peplum and puff sleeves details on the blouse add a chic element to the look. Pair it with comfortable black flat shoes and you are ready with a perfect formal outfit for the event.
6 – Halter Neck Top Paired With Wide Leg Pants
For a grand christening party look, you can wear wide-leg trousers as they are comfortable and look stylish at the same time. Pair the trousers with a fancy or simple top according to your choice, a halter neck top would be a stylish choice as well.
Pair this all-black outfit with nude heels and a handbag. Conclude the look with a sleek bun, small hoops, and a stylish watch with the outfit.
5 – Satin Blouse Paired With High Waisted Plaid Skirt
As a fashionable guest, you want to keep your fashion game up while being within the boundaries. For this purpose, nothing is better than a trendy blouse and skirt. The satin blouse with long balloon sleeves and a high neck is a fashion statement in itself.
High-waisted plaid skirts are also known to be wonderful clothing pieces for elegant outfits. You can also wear a midi skirt if you feel the length of the skirt is too short or inappropriate for the event.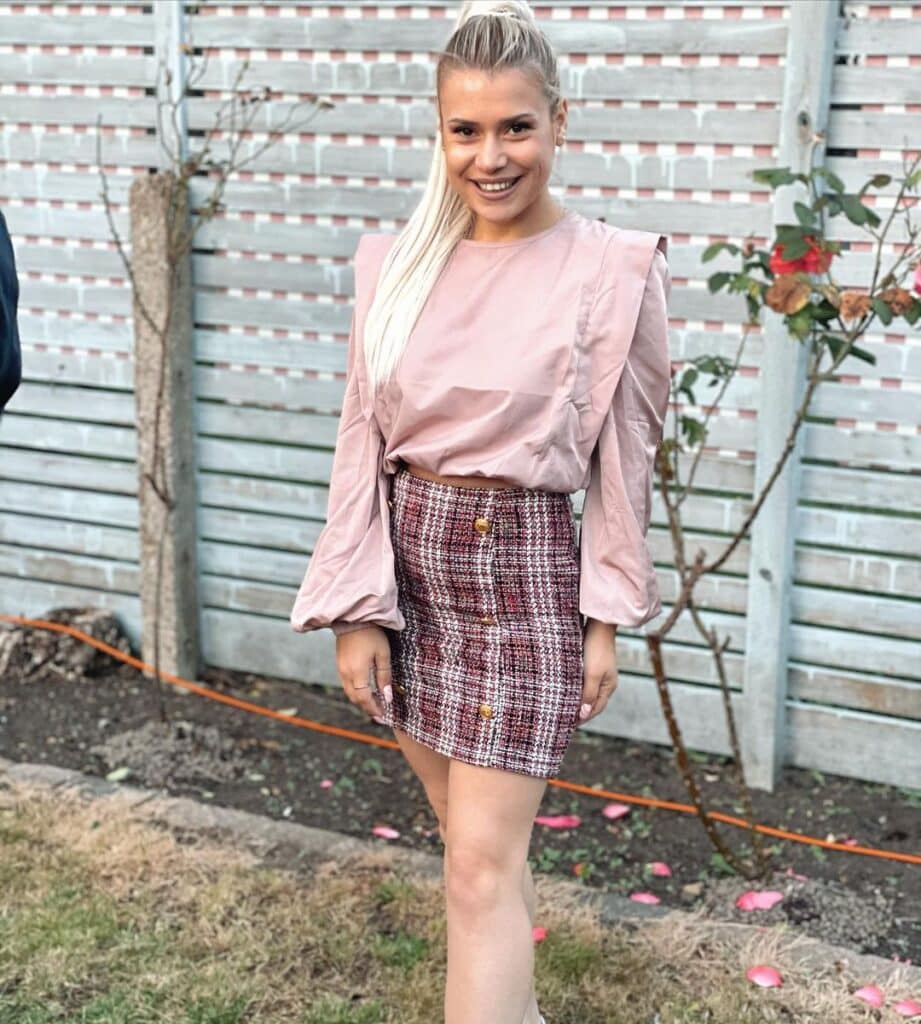 4 – Polka Dot Midi Skirt With Blazer
A semi-formal way of dressing up for christening is to pair a polka dot printed skirt with a white top, and layer a cropped blazer over it. It is an elegant outfit that you can easily wear to church. You can also wear this skirt with a nice white blouse for a cute outfit.
3 – Floral Skirt Paired With Tank Top
2 – Royal Christening Look With Coat Dresses
Coat dresses are another elegant option for christenings. You will often spot the royals wearing such dresses on several occasions. They give you a classy look with the element of trendy fashion with it. This double-breasted coat dress with shoulder-padded sleeves is appropriate for church christenings.
Apart from that, you can also add hair accessories like beaded hairbands and saucer hats to get real royal feelings. This whole look is ideal for a godmother look. Pair it with pearl accessories and heeled pumps. Moreover, a low-rise bun would look stunning as your hairstyle.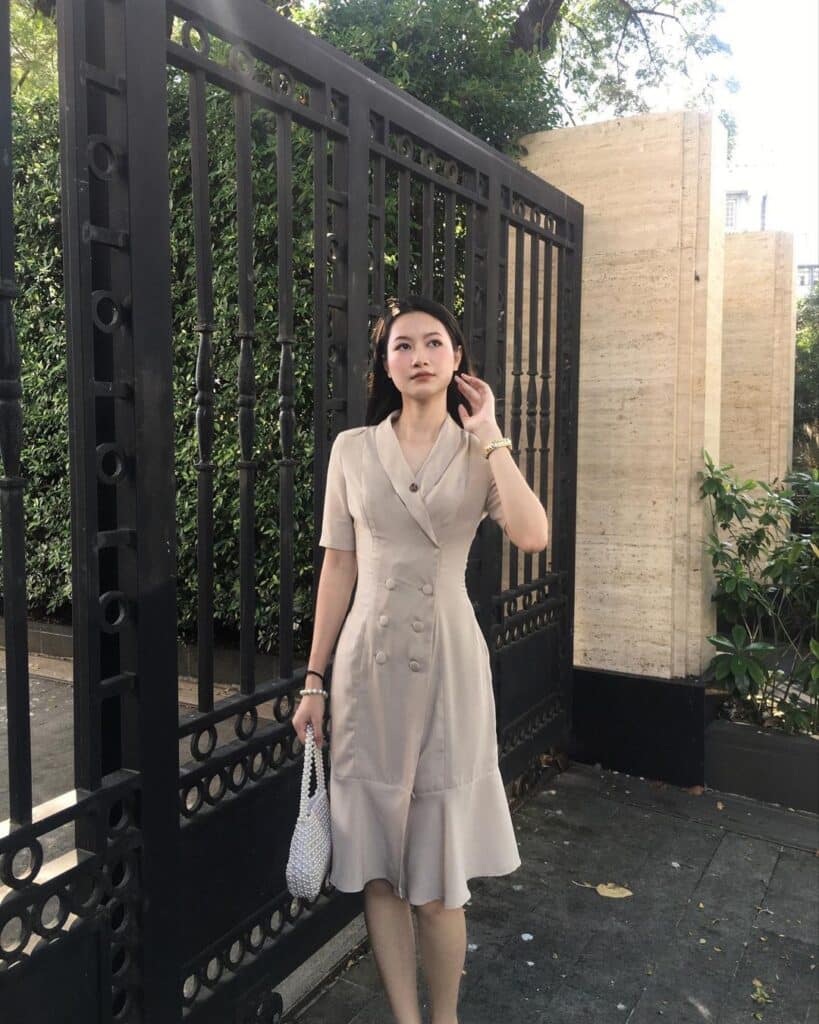 1 – Grey Turtleneck Dress With Suede Boots
A turtleneck dress is easy to style, and an ideal outfit choice for the winter and fall seasons. For extra cold weather, wear tights, or thigh-high boots with the dress. For the fall season, suede-heeled boots are a good option. You can also add a waist belt to get a defined look. Other accessories like cute earrings and multiple rings can be added also.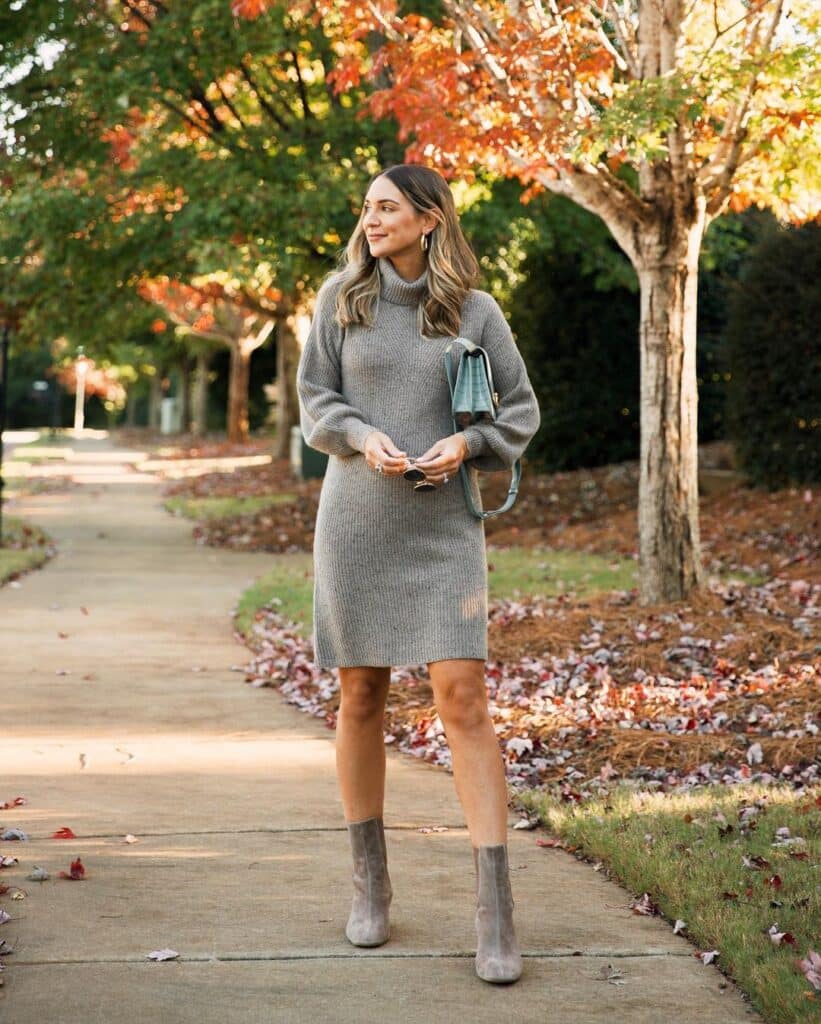 Frequently Asked Questions
Q. What should a female guest wear to a christening?
Ans. As a guest, you can get dressed according to the function and the theme. If there's a theme already mentioned in the invitation, it gets easy to select an outfit. If the function is done in a relaxed environment with a few people, you can go with comfortable options like a blouse paired with trousers or skirts.
On the other hand, if it's a grand function go with pretty midi, maxi, and off-shoulder dresses in different prints and colors. Pair them with fancy heels and accessories. The mommies and godmothers can put extra effort into their outfits. You should also dress according to the weather.
Q. What colors do you wear to a baby christening?
Ans. Colors like white, grey and blue are the most common that you can wear to a christening. However, the colors can also depend on the theme as well. Bright colors like yellow and orange can be worn in summer evening functions.
Pastel colors for the baby girl's christening look adorable. You can also wear color-blocking outfits for a colorful party. Black can be your go-to color when you can't decide what to wear to the function.
Q. What to wear to a christening in winter?
Ans. There are a lot of options to dress up in winter for this occasion. The easiest is to go for sweater dresses. They are easy to style and look sophisticated as well. You can also pair them with tights and boots. Accessorize with jewelry and a belt to look more attractive.
Moreover, you can also wear long-sleeved turtle necks or sweaters with long skirts. Apart from that, you can also wear midi dresses with cardigans or coats over them. Scarves or mufflers can be an addition to your chic winter outfits.