30th Birthday Outfits. Some people think aging is scary, or unpleasant – but we think aging is beauty! Regardless of which part of the spectrum you sit on, we are here to convince you that a 30th birthday marks a significant time in your life. Consequently, it must be celebrated appropriately. Whether you choose to celebrate with inner circle friends and family only or are going to go out like there is no tomorrow, an appropriate outfit is a necessity.
How to Dress for Your 30th Birthday?
Turning 30 means you are more beautiful, more grounded, and more confident than ever before in your life, as we've discussed in detail in our previous post on outfits for women over 30. There are so many experiences that await you, and all of that should be welcomed with pride. One way to ensure that you are claiming all that is good about your birthday, is the energy you put forth about it. To ensure this positive energy everything must be perfect and just how you like it. The venue, the attendees, and that one special outfit for the birthday girl!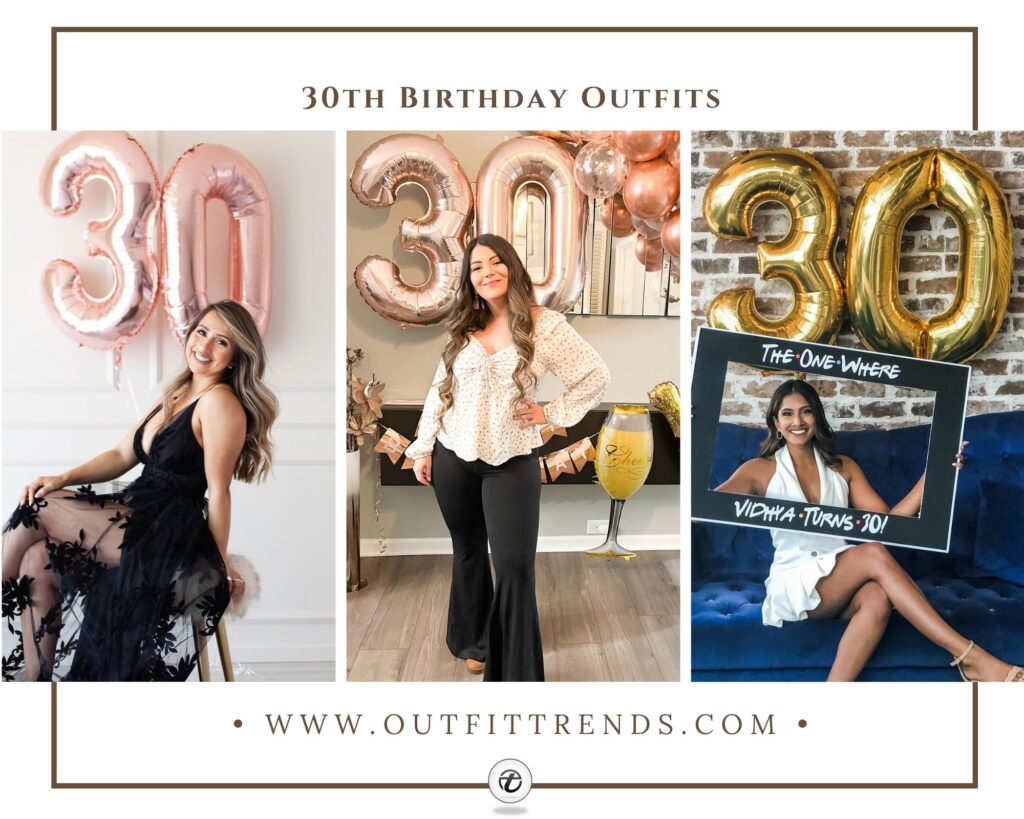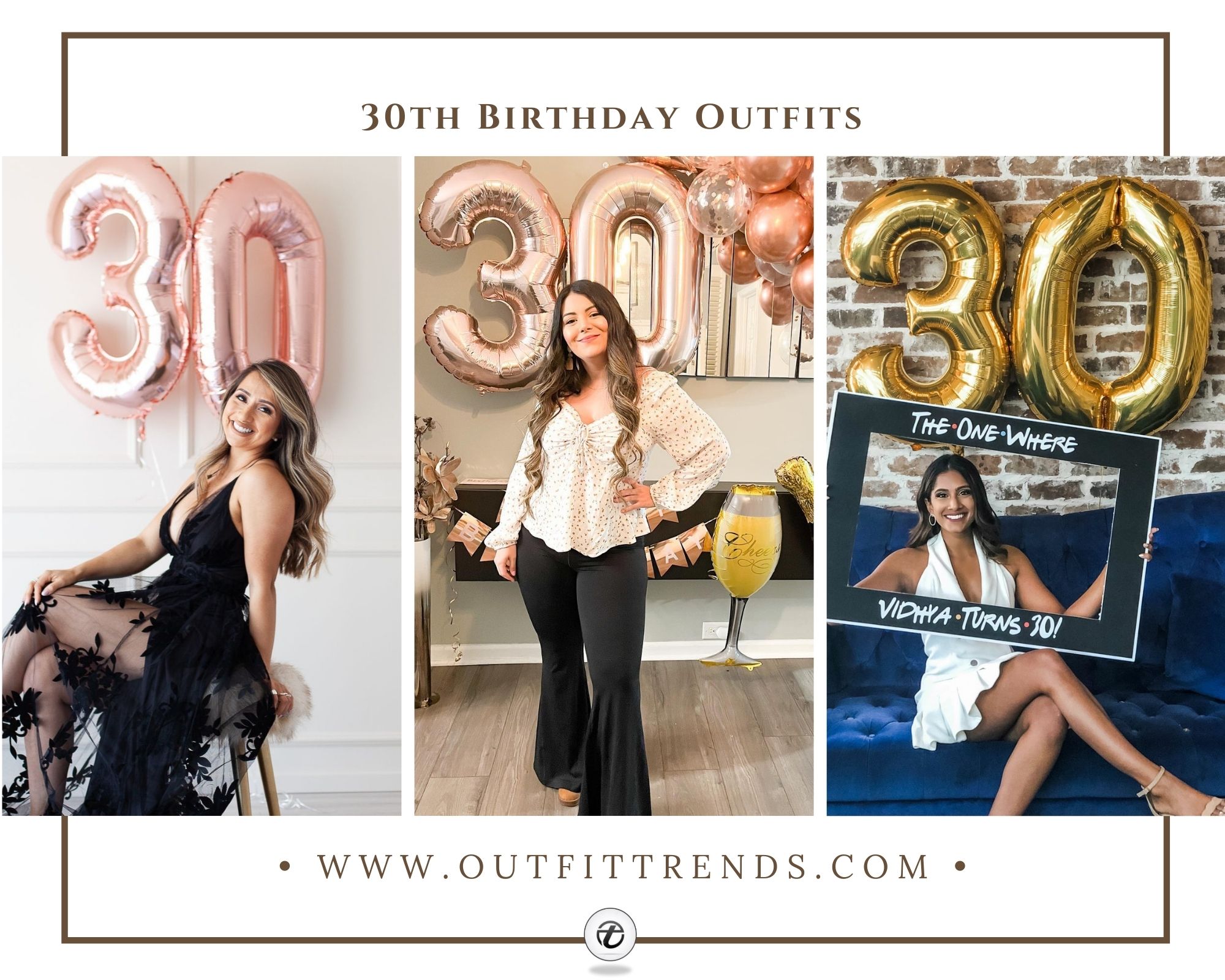 Do's And Dont's For Women's 30th Birthday Outfit
Don't spend your special day in jeans or pajama pants: If you are not the kind of person to wear dresses, that is not an excuse to spend your birthday in jeans. Better yet, it is certainly not a reason to stay in either. Do not succumb to the pressure of having to wear a dress. You make the rules. Although, we do recommend you switch out your jeans for a pair of flared pants. Or perhaps a sexy pantsuit.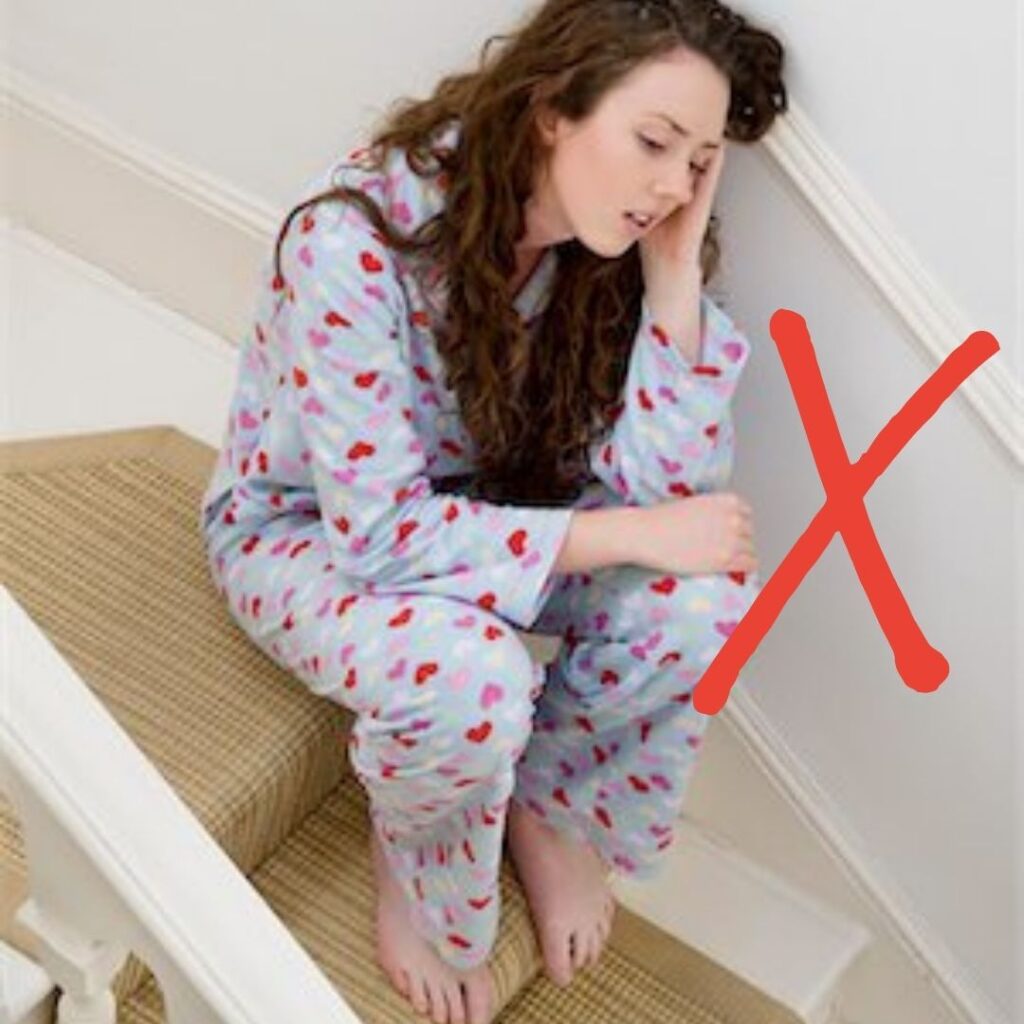 Don't downplay your look: If you have a dress that is sparkly, and bright, and you want to wear it. Then put it on and rock it on your birthday. Do not be shy. You have this one special day a year, take advantage! Moreover, it is always better when you look back at pictures where you look all dolled up. So make the memories!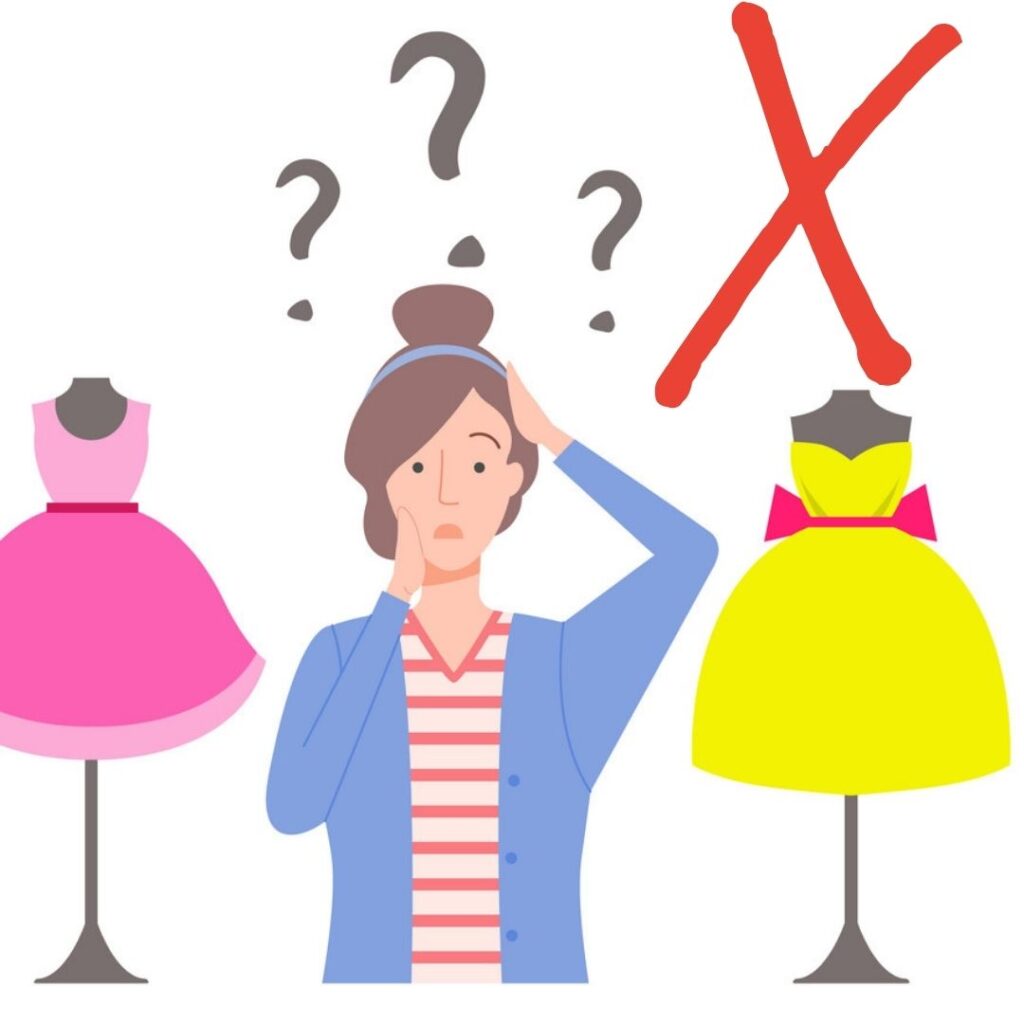 Don't overthink it: Whether it's a mini dress or a sexy jumpsuit, if that's what you're in the mood for, just go for it without any second thoughts.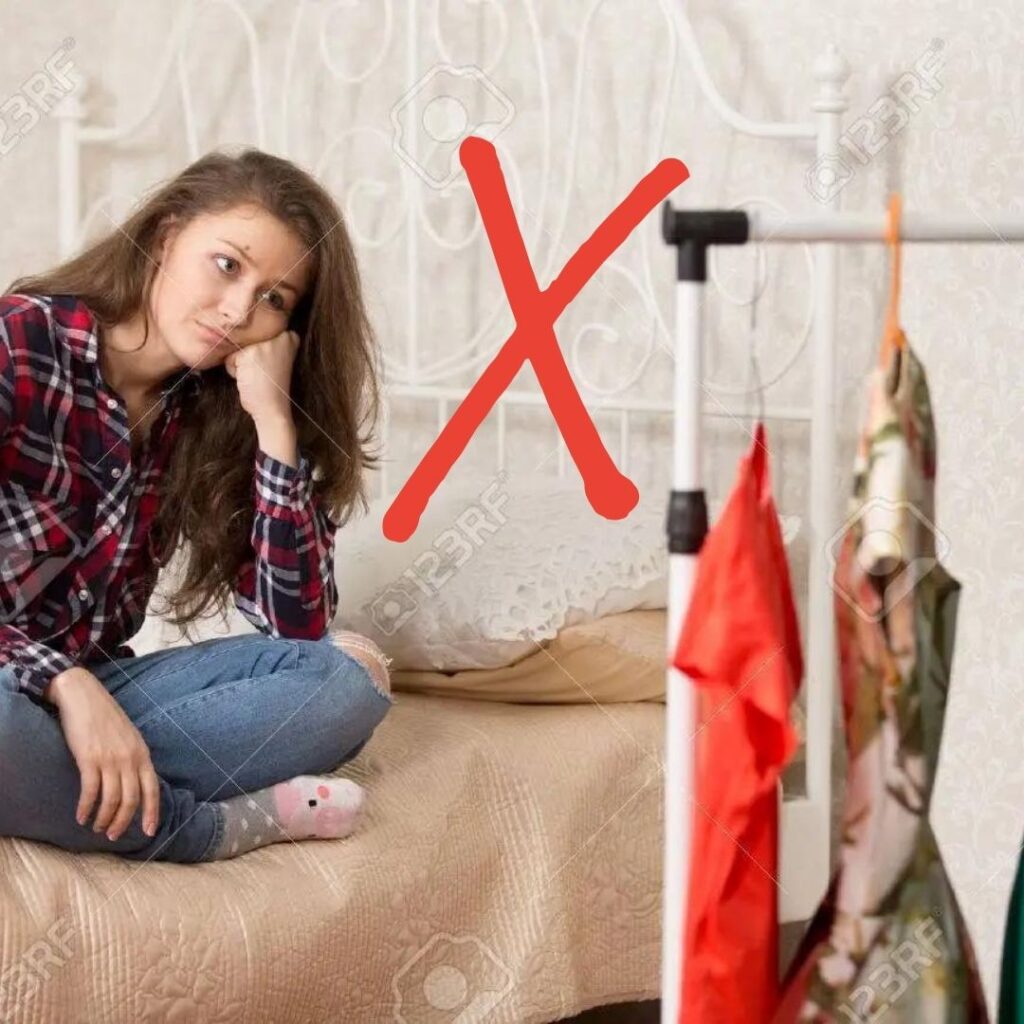 Do go for a theme party: 30th birthdays that are based on a theme are always a hit, it could be a teen themed one, a friends themed birthday or anything else that you feel like enjoying on this special day.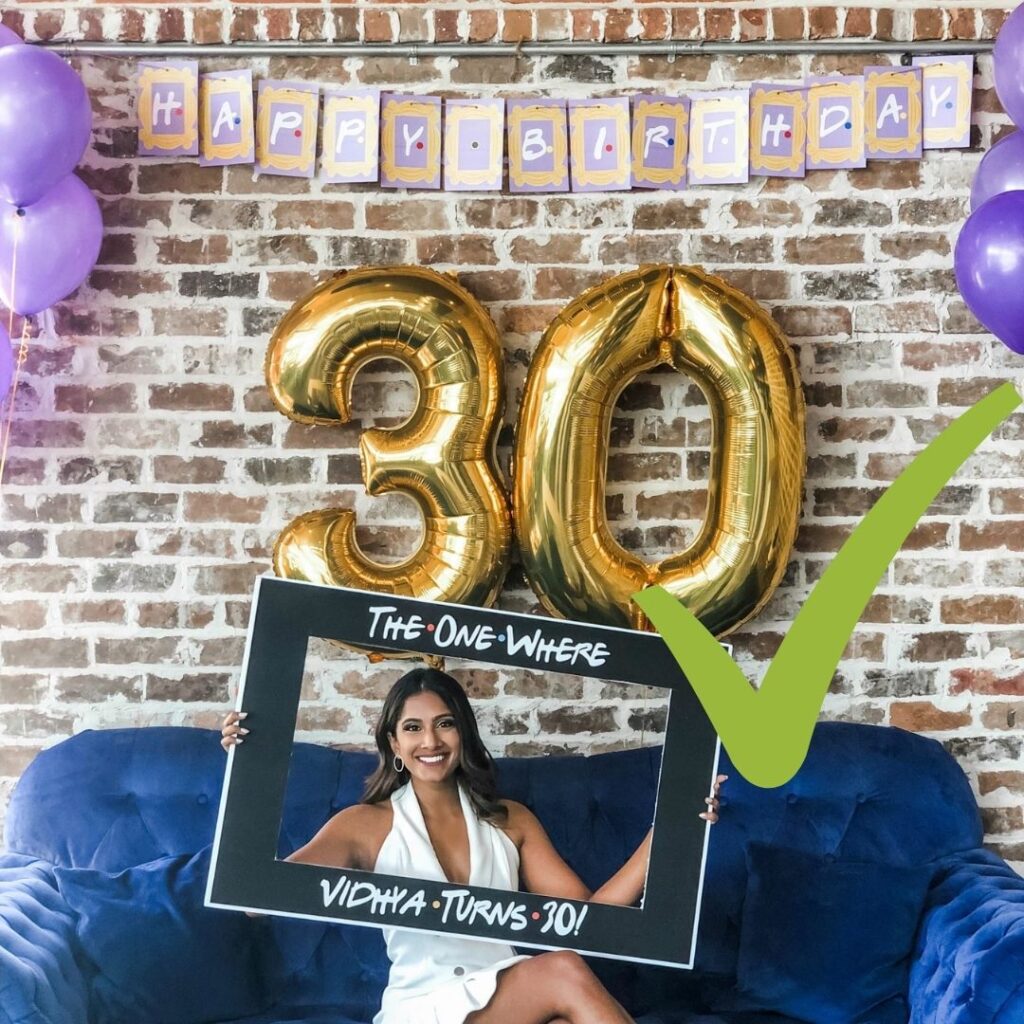 Do try a black dress: Thirties are the best time to flaunt black outfits, whether it's the LBD or a long maxi dress. So if you're in the mood for black, it's surely one of the best color option.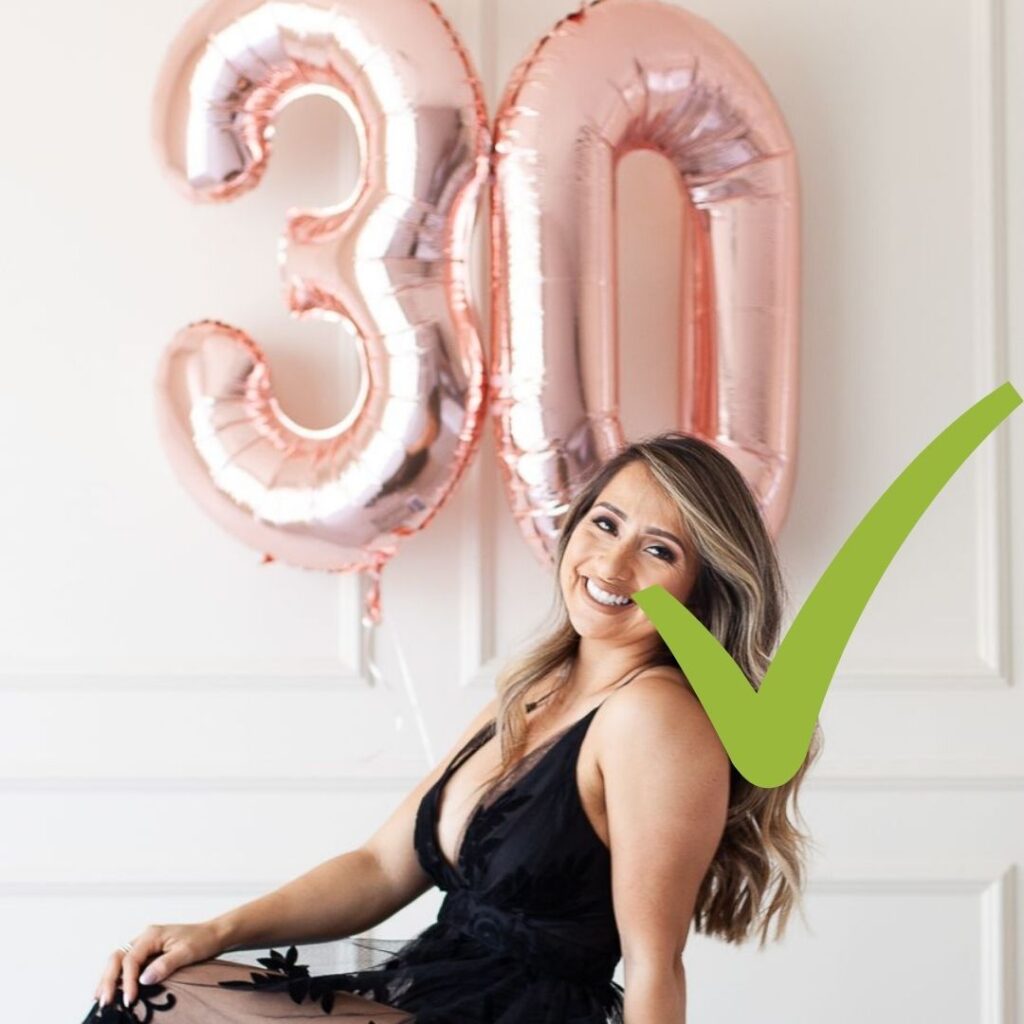 Do match the decor with your dress: We're all guilty of this, choosing a dress and then wanting everything around us to perfectly complement it. Your birthday is your day to shine so don't hold back and make sure all arrangements work together to make you shine like you deserve girl!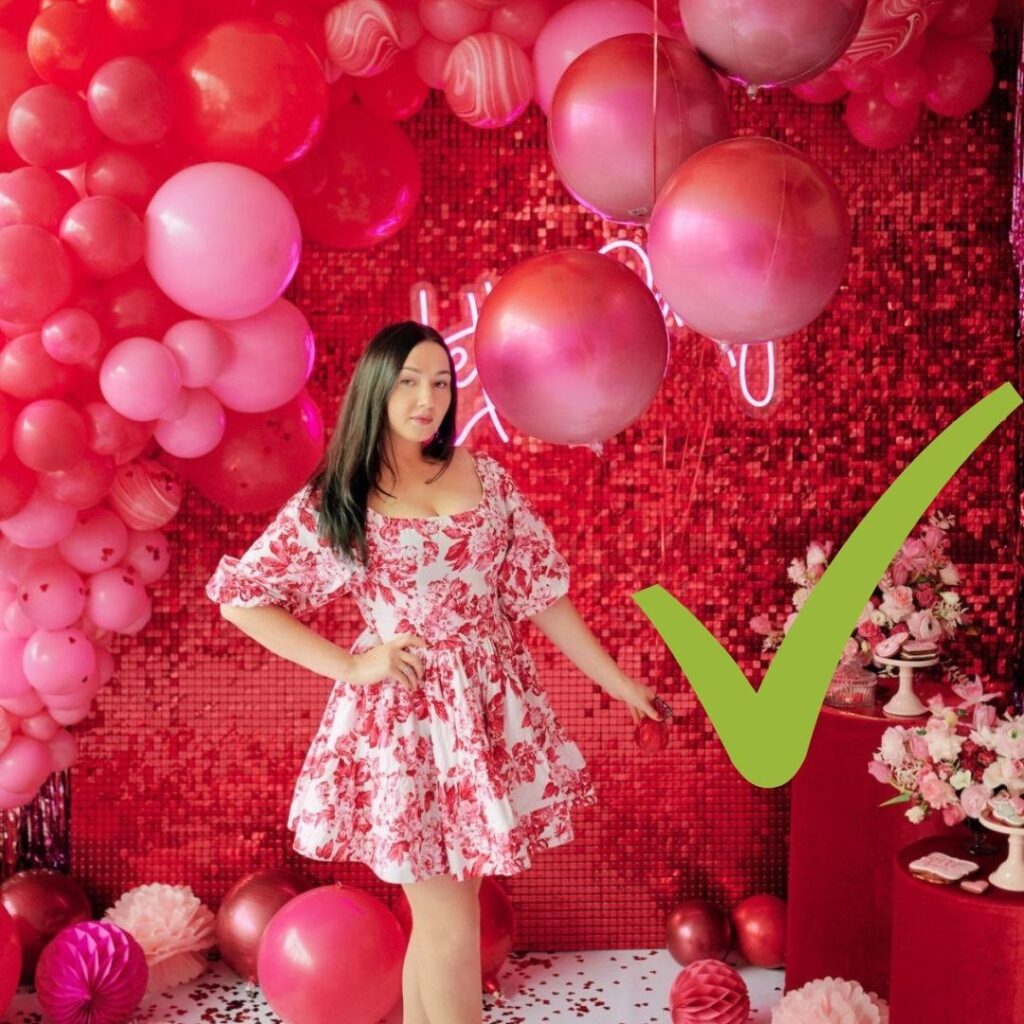 And now it's time to go through our favorite picks when it comes to 30th birthday outfits:
20 – Themed '13 Going On 30′ Birthday Outfit
What outfit could be better to start off the list for 30th Birthday Outfits, if not the iconic "13 Going On 30" dress? This is a perfect on-theme outfit, for both a themed party or just a special fun day. This look will symbolize the fact that youth doesn't leave you as you turn 30. Moreover, this dress has quickly surfaced as a fashion trend for 2022 after singer Ariana Grande was seen in it. Celebrate your birthday in the trendiest outfit!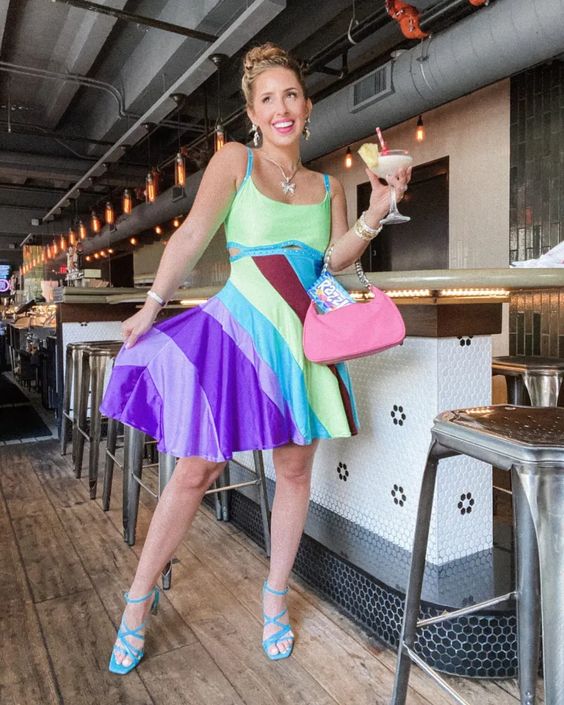 19 – Showstopping Layered Mini Dress
Second, on the list is a dress that is no less showstopping than the previous. If you are aiming for a very festive look, choose something with flare. Similarly, a bright, eye-catching color is key. For instance like this teal blue. Although if you prefer pink or green, the choice is yours. Lastly – pairing a decorative headband paired in color with your shoes will complete your look.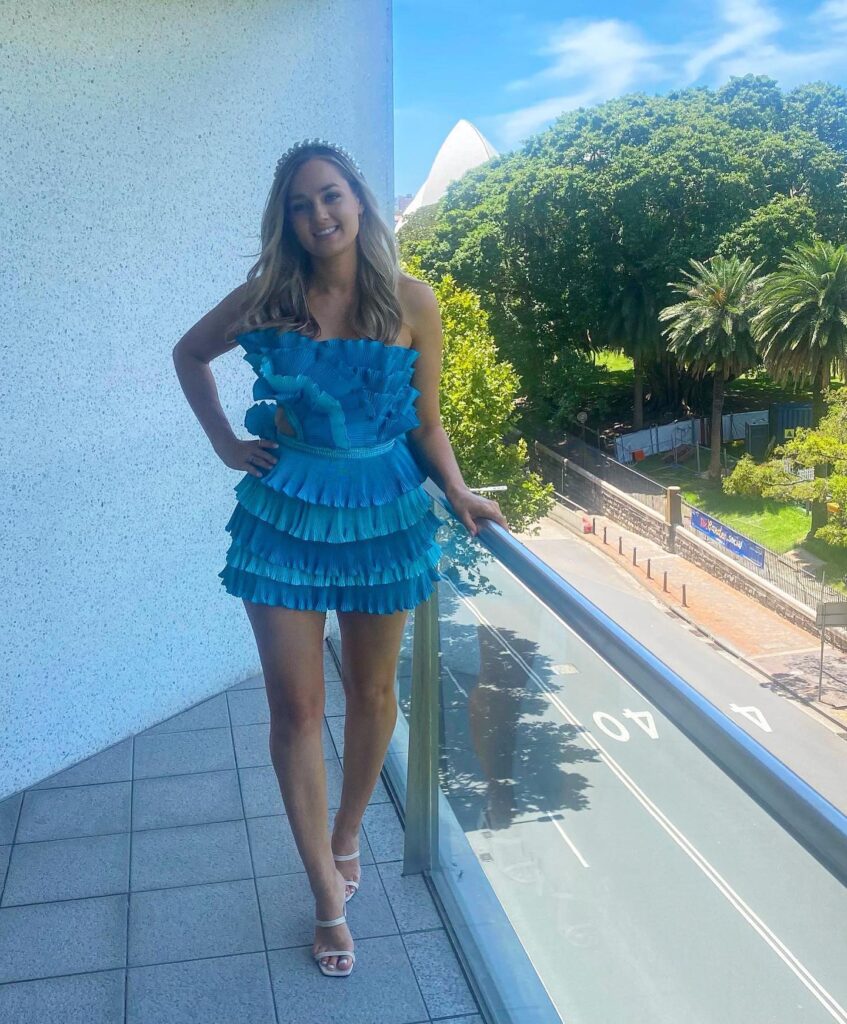 18 – Sequin Midi Tulip/Wrap Dress
Yet another outfit on the list which is very in tune with fashion trends of 2022. The sequin tulip/wrap dress is a huge hit at the moment. These dresses come in all different colors including basics such as gold, and stand-out colors like deep greens. The color choice is up to you, however, remember to match your shoes to the dress for an elevated appearance. Here are some more tips on how you can style sequin outfits for such special days.
17 – Sequin Jumpsuit in Gold
Similar to the previous option, this outfit is sequin-focused. Although, inversely to the previous this is a pant option. It is a perfect option in case you don't like dresses, or don't want to wear one that day. Although still want to steal the show and look dazzling. Another amazing thing about the sequin jumpsuit is the variety of pant options. There are choices like slim fit, flared, or straight-leg pants.
16 – Long Red Tulle Dress
Although this outfit does not contain sparkle and glitter it is still absolutely show-stopping. Not only is it of a beautiful bold red color, but also is made out of very gorgeous tulle fabric. The length is also very important to consider. If you are going on a dinner to a high-end spot, perhaps a long opera-like length is your go-to. However, this outfit will not be downgraded by a shorter length, instead, it will create a more playful appearance. Complete the look with these makeup ideas to go with red dresses.
15 – Black Dress With Feathers
Another dress option that is worthy of a ball is this black dress with feathers. Similar to the previous dress it is textured due to the fabric options. This immediately makes the outfit very elevated, elegant, and fancy. Yet, conversely to the red color, the black needs a little bit of help with the complementing accessories. For instance, pairing with shiny long earrings would maintain the classy theme and really make the look come together.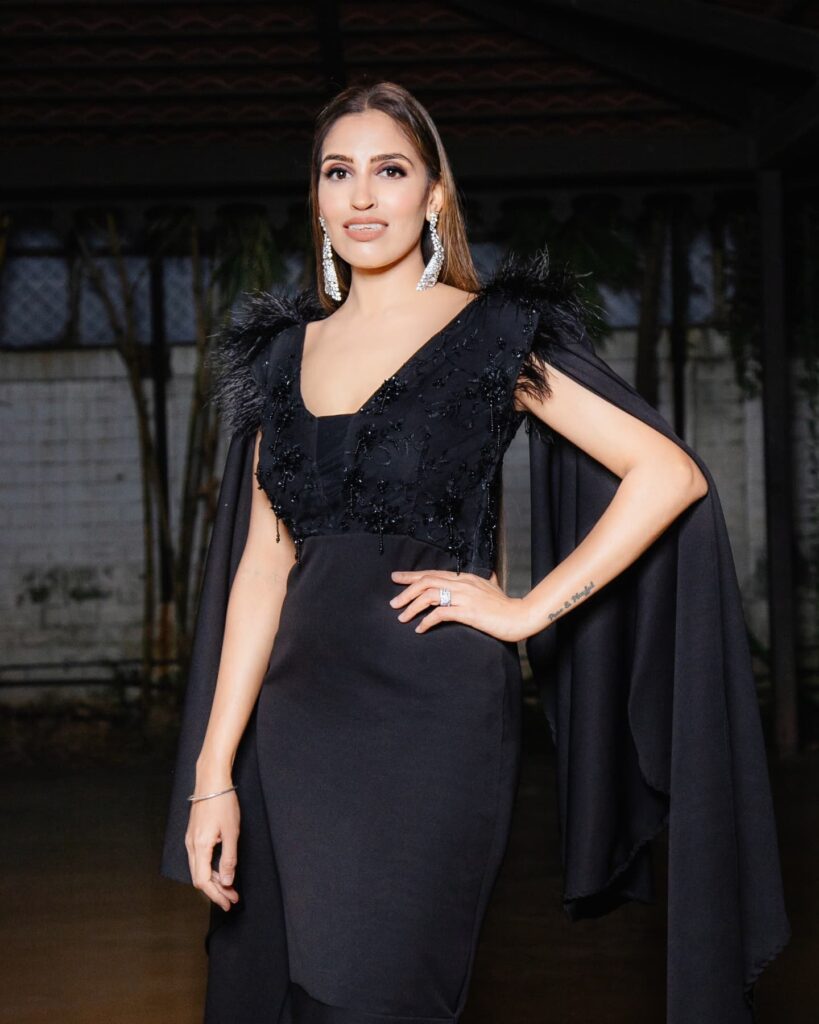 14 – Off The Shoulder Burgundy Dress
If the finish of your dress being textured does not seem attractive to you, you still want that party sense to try out something off the shoulder. Similarly, a composed and mature color of burgundy will make you look really fabulous. Remember that jewelry is not necessary with this type of dress. You don't want to overcrowd the neck and chest with necklaces or distract from it with earrings. So leave this unique cut on its own to steal the show.
13 – Deep Cut Dress
This is another outfit option that offers a more elevated appearance due to its cut. The deep cut although is riskier and can take you out of your comfort zone, is very effective to make a dress of a simple color look more done up. Unlike the previous dress, however, the deep cut can be accentuated with a long thin necklace. If you haven't tried such a look before, here are some tips on how you can rock plunging necklines.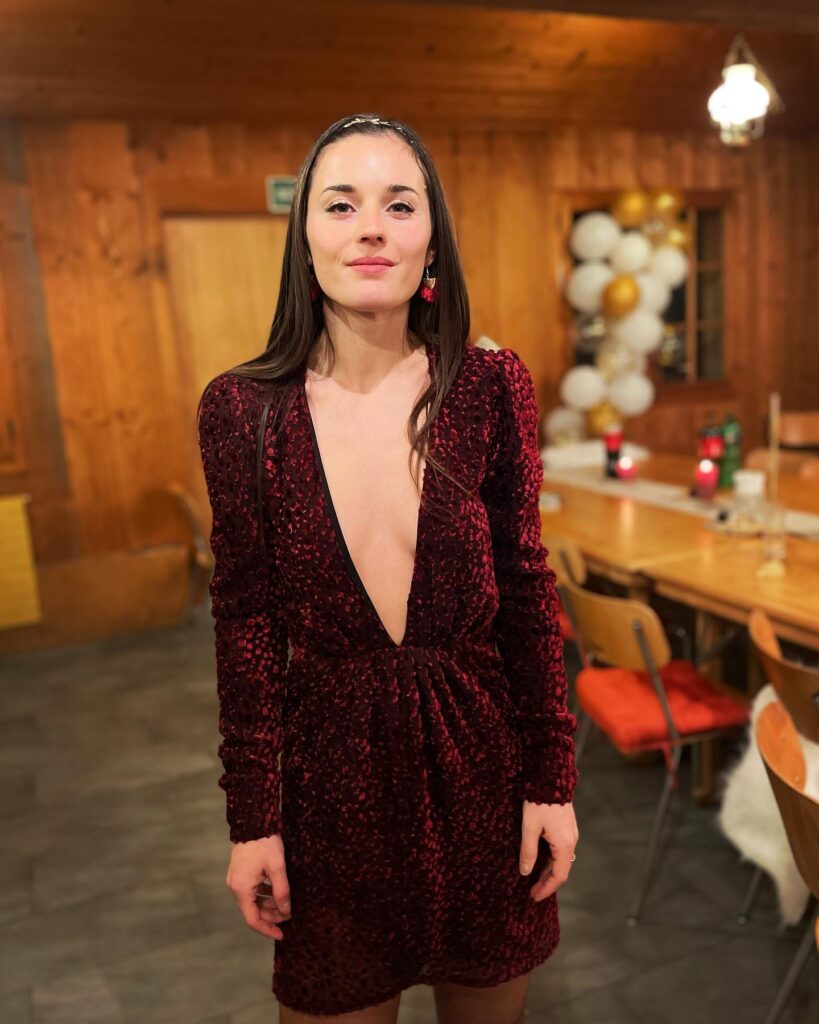 12 – Discoball Flared Sequin Pants
Returning back to the sequin finish, yet, not for the entire outfit but only for the pants. This is where this list gradually begins offering you possibilities of elegant not highly dressed-up outfits. This outfit is good for when you want to go to a bar, but you don't want to forget that it's a special night. It is most stylish when paired with a sturdy leather jacket.
11 – Silk/Satin Monochrome Outfit
One material that is very elegant, and slightly less dressed up than the previous choices is silk/satin. This outfit is special due to the selection of colors. Rather one sole color, which is the focal point of the outfit. Our advice is to first find the perfect silk/satin dress and then match the accessories and shoes to it. If you like this look, here's our complete guide on styling monochrome outfits.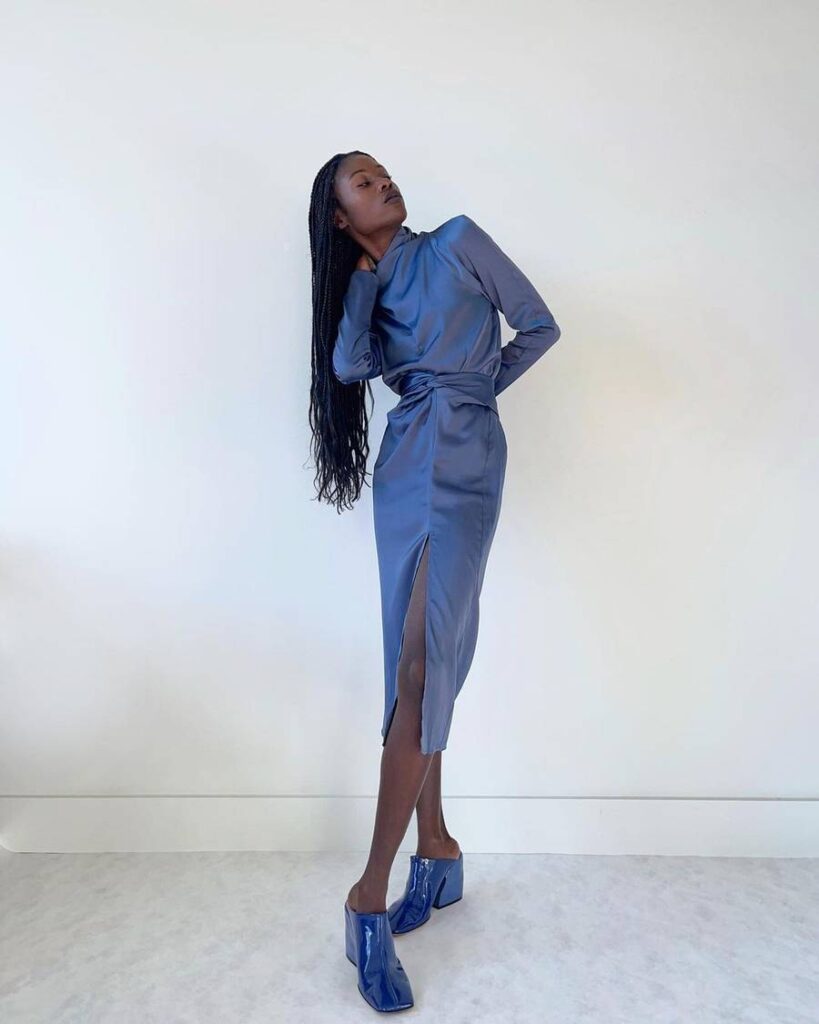 10 – Off the Shoulder Midi Black Dress with Feathers
As was mentioned at the beginning of this rundown, the length of a black dress truly alters its effect. Previously we have shown a long dress with feather detailing, which was much grander and ball gown-like. However, this option of a midi dress, similarly embellished with feathers, has a much more toned-down appeal.
9 – All White Elegant Pant Look
White is not only suitable for the bride to wear on her special day but is a special color for all celebrations. Pairing some formal high-waisted pants in white, with a matching white top will be a show-stopper look. One important note is that when matching clothing items in white, make sure that you are getting the same color – different brands may have different shades. Yet, the star of the show in this look is certainly the formal tube top. The more detailing like ruffles/off-shoulder/v-cuts the more festive.
8 – Lacey Corset Top Celebratory Outfit
Similar to some of the very first outfits in this list, this look is highly in tune with 2022 fashion trends. Even though the corset top trend is well integrated into modern fashion, there is still caution to take when styling it. In order to avoid it associating with lingerie, the color and the accompanying clothes are relevant. A toned-down color for the corset is ideal. Secondly look to pair with something contrasting, less feminine. For example pants and a blazer.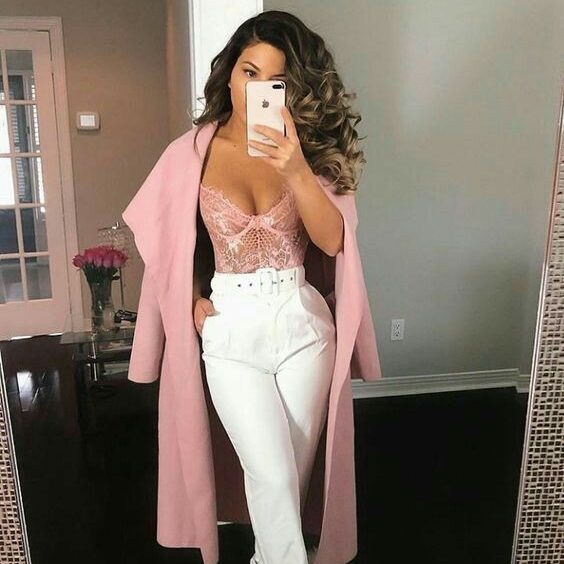 7 – Statement Piece Blazer
Another article of clothing that is both elegant and will help you make a statement, is a bold colored blazer. Similarly, the fabric finish of the blazer can help you magnetize more attention to it. For instance, a glossy finish in combination with a bright color will be very show-stopping. Make sure not to overdo it with the colors, so wear your favorite little black dress with it.
6 – Satin Co-Ord Skirt and Top
Once more it is our duty to mention that satin/silk is one of the best fabrics to choose for a birthday celebration. It is both extremely elegant and put together – yet effortless. Even a simple co-ord outfit, in this fabric, will make you look special.
5 – Casual Outfit for 30th Birthday
As we are nearing the end of this rundown, we are focusing on the more casual outfit options. To start off this look is the simple and classic black catsuit. This outfit will have you feeling sexy and put together with no matter how your celebration goes. Also, take advantage of the opportunity to alter the shape of the pants to your body type. With such a widespread style like this, it is easy to find the perfect fit for you.
For a more detailed rundown of styling catsuits, check out this article!
4 – Polka-Dotted (Or Other Graphic Print) Dress
If you have the desire to dress simple, not indulge in any bright colors for your birthday, you at least have to check out the option of graphic prints. These include polka-dots or stripes. They enable your outfit to have a festive effect yet remain quite casual.
3 – Graphic Printed Blazer
Similar to the previous style, the rule of a graphic print applies to a blazer as well. Perhaps you are someone who rarely wears dresses, and your daily go-to is pants and a top. In an effort to spice it up for your birthday – try out a blazer that has a cool print on it. This way you will elevate your look to a party format, but stay within your comfort zone.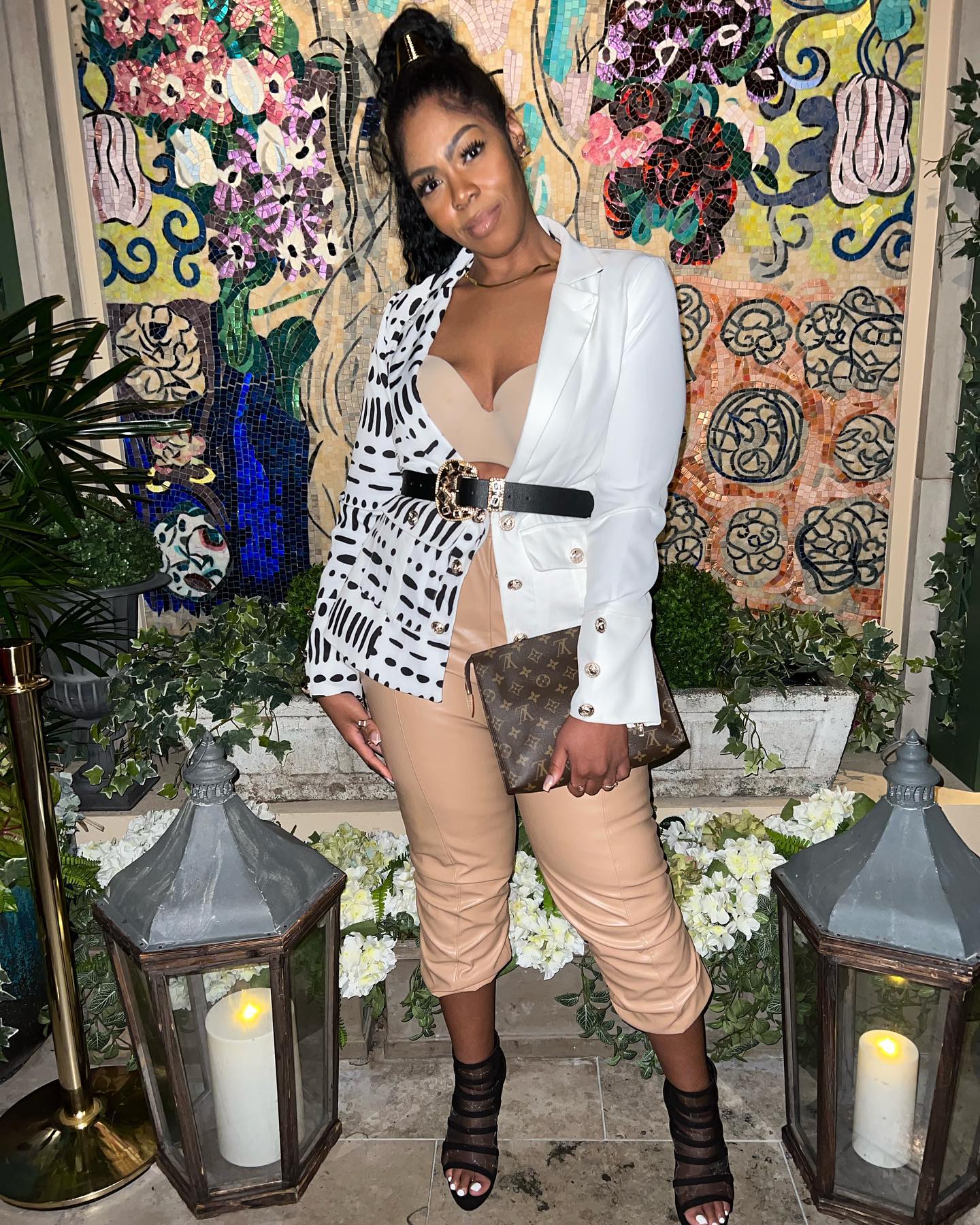 2 – Colorful Matching Pants and Blazer
This outfit is primarily similar in ethos to the previous, it is meant for people who feel most comfortable in pants. However, inversely to the previous two outfits – this option allows for a little bit more color. So if you're a fan of brightly colored clothes, or are looking to try something new for your 30th birthday, this is perfect for you! This look totally has the boss girl vibes. Here are some more of my favorite boss girl outfits that you'll definitely want to try.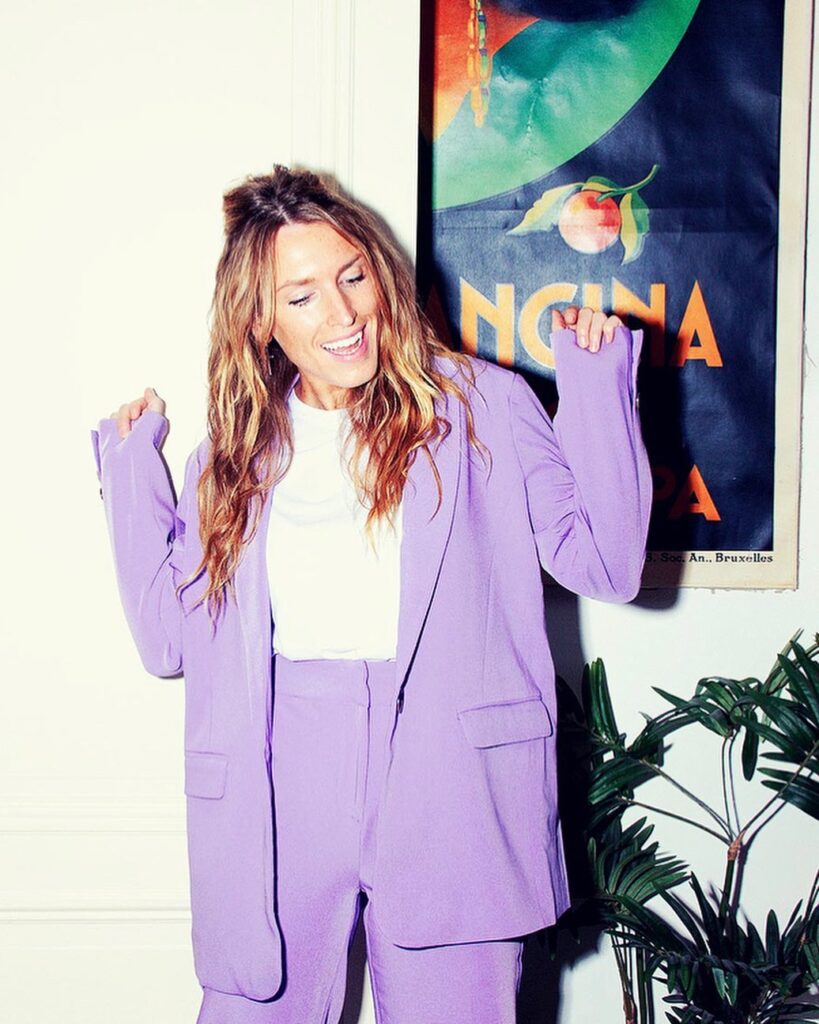 1 – Most Comfortable Birthday Outfit
Last but certainly not least we have the most simple and comfortable look of all. It requires you to choose the most comfortable flared pant option – preferably black. Pair it with a dressed-up white blouse, and have a fabulous time at your birthday!
Frequently Asked Questions
Q. How should I dress for my 30th birthday?
As we discussed, your outfit really depends on the way you are celebrating. It is possible that you go party on this day or inversely go to an intimate. For the first option, a beautiful dress is ideal, for the latter – a pantsuit. This article includes a rundown of 20 birthday outfits, ranging from dressed up to dressed down options.
Q. What you should not wear after 30?
Turning 30 is not a turning point in your life which forces you to be limited in your choices of clothing. Furthermore, there are far more things you should and can be wearing in your 30s. You are due to experience an inflow of confidence and stability. Consequently, you will feel freer to experiment with your style. Although in the case you don't – you still shouldn't be thinking of any limitations.
Q. What color should I wear on my 30th birthday?
Although it is absolutely up to you and your personal choice, there are certain colors which are infamous for being ideal for your 30th birthday. These colors include teal, brown, and gold. Primarily these colors are believed to be the perfect fit for the new chapter in your life, as it is mature yet exciting. Therefore the muted browns are a testament to the maturity, and the teal and gold act, in contrast, to flare up the look.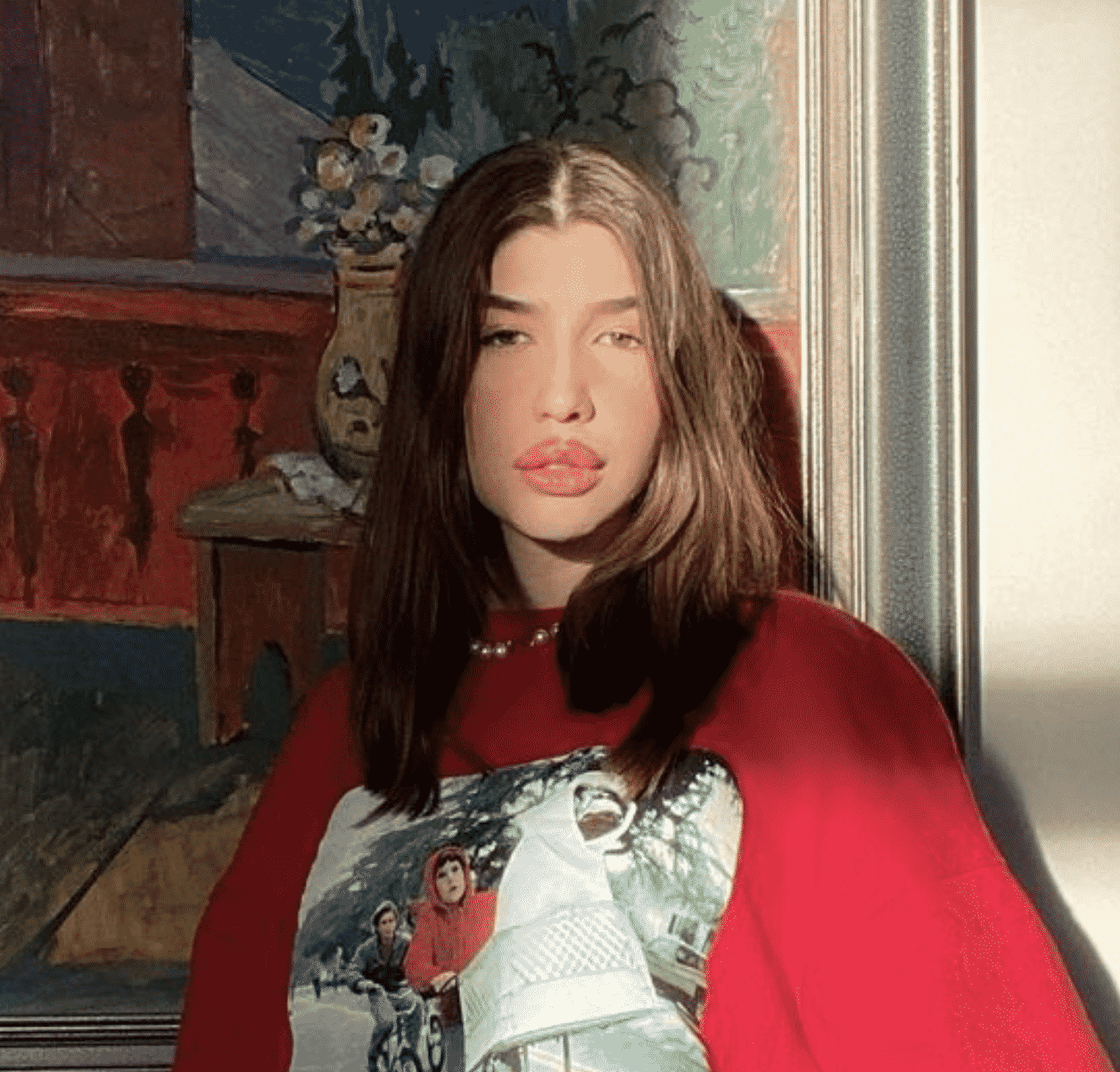 Lyuba Bessarab studies Fashion Management at the London College of Fashion.
She is from Kyiv Ukraine originally and is based in London now. Although she doesn't live in Ukraine now, it has a very huge part of her identity.
As an artist, she does not only get inspired by her cultural heritage for her fashion choices, but she also incorporates it in what she makes.