Outfits for family movie night. Are you heading for a movie night with your family and wondering what to wear? A casual movie trip to the local cinema is a perfect time to relax. Whatever the occasion, the promise of a good film and a huge bucket of popcorn promises an ideal place to show off some great looks.
It also means that your dressing requires to be equally comfortable for two whole hours. Picking an outfit for a hangout is always so stressful because you don't know what to wear or whether it is too fancy or too casual.
What To Wear To Family Movie Night For Women
We will be giving you fantastic outfit formulas to relieve that stress and also to help you pick out an outfit for that you would like to wear for the movie night. Go for a comfortable yet put together look, like a pair of jeans and a button-down top or a casual dress. You can also find inspiration from our earlier post on 20 Ways To Dress For The Movies For Girls.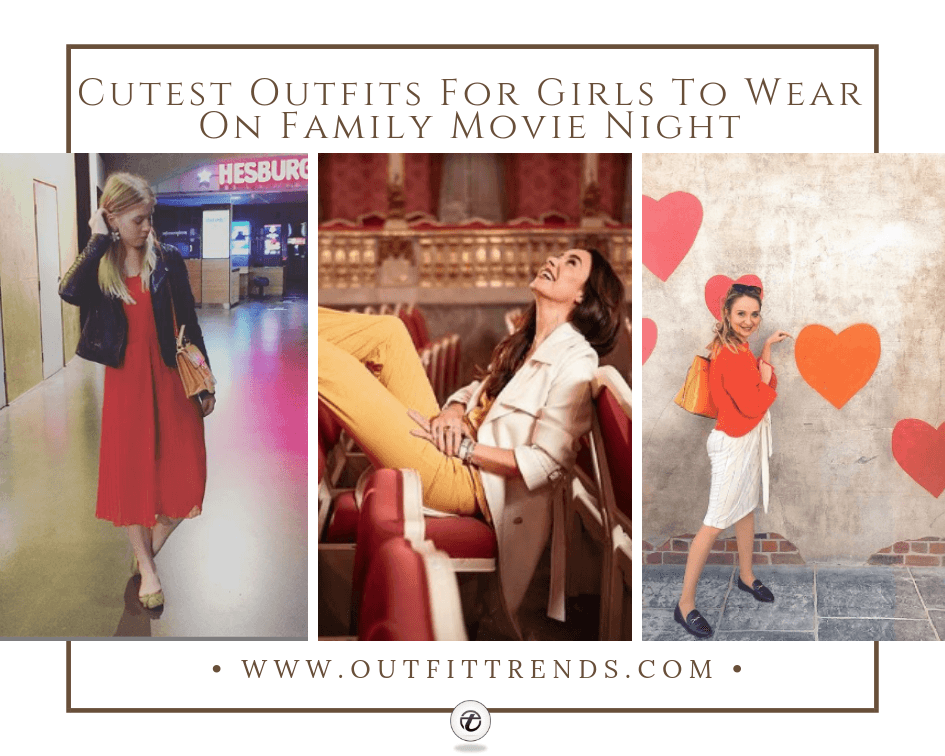 ↓ 30. DRESSING RIGHTLY FOR AN ACTION MOVIE
Going to see a Spiderman movie? Then how about a Spiderman hoodie to stay in the mood?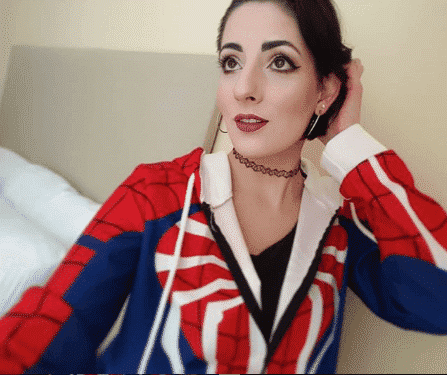 ↓ 29. MOVIE PREMIERE LOOK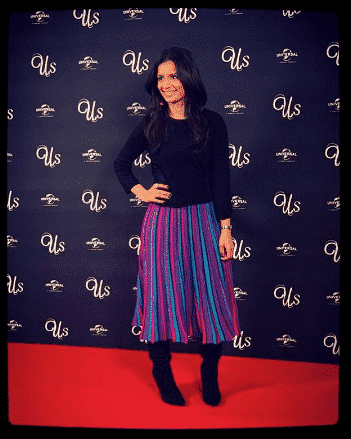 ↓ 28. WINTER MOVIE LOOK FOR GIRLS
You may be sitting in the dark for the majority of your movie date, but wearing a cute winter outfit will give you more confidence, whether you are going on a movie date with your family or life partner. Go for a sweater with a darkly toned scarf around your neck that will keep you comfortable in the cool movie theater. Plus, a cozy outfit is always great for some theater seat snuggling. Wear it with jeans that stretch so you can sit for two hours comfortably.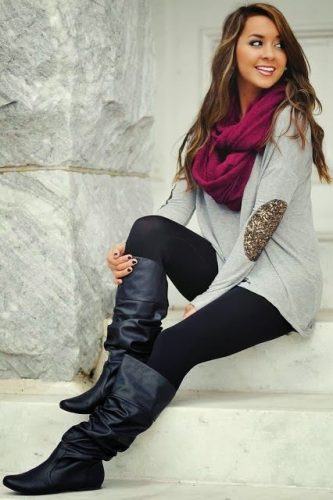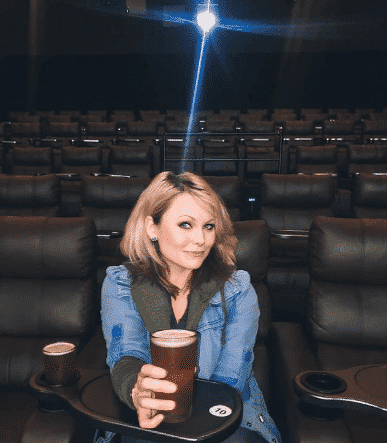 ↓27. STYLISH CELEBRITY INSPIRED LOOK
These zippered black leggings paired up with a ribbed grey sweater and a snakeskin tunic is a very attractive look and put together look. Wear some accessories like sunglasses when you are heading out in the noon. We love the current fashion of wearing winter essentials with simple leggings as fashion separates, and this is a great way to participate this winter season. As you can see in the picture above, the sweater worn loosely over leggings looks quite stylish. Leather heels are perfect to pair with this outfit. Also, carry a purse to pull together this fantastic stylish weekend outfit.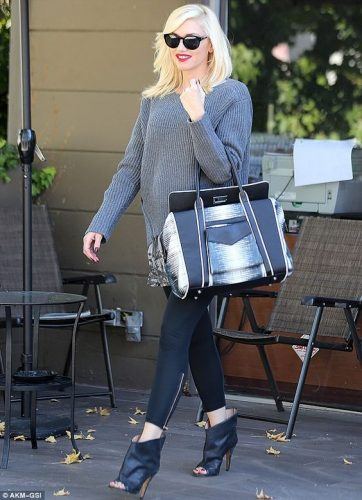 ↓26. COOL AND CASUAL LOOK
What's better than wearing a comfortable t-shirt with a fancy pant. This is an ultimate casual-cool ensemble that'll get the eyes on you. Choose a compact bag or a clutch so you can keep your belongings handy without worrying about other spectators stepping on your purse as they climb over you to get more popcorn. You could wear this easy, day outfit with either flat ankle boots, or wedge heels.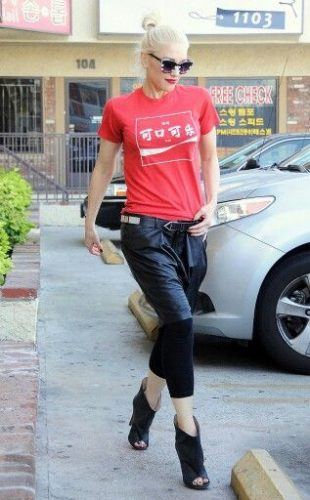 ↓25. BLAZER OUTFIT
Weeknight happy hour and movie dates with family are great for making the work week go faster. But who has time for a wardrobe change after work? If you are a working lady than for sure you're already planning ahead in the morning for an outfit that can take you from work to your post-work date, so go for a fun, yet a professional outfit by pairing a blazer and jeans with cute accessories. It's appropriate for the office without being too drab for a movie night. If you like blazers, you'll love our post on 24 Ideas to Wear White Blazer this Year.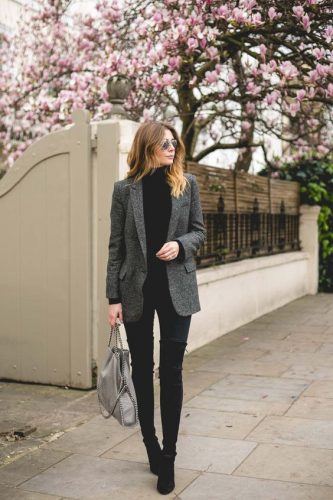 ↓24. WOMEN'S DENIM ON DENIM LOOK
The denim shirt and the jacket have come a long way from the one your mother bought you in middle school, and if you know how to wear the denim right, it's quite literally the only thing you will need. This outfit brings versatility and ultimate cool-girl style as shown in the picture.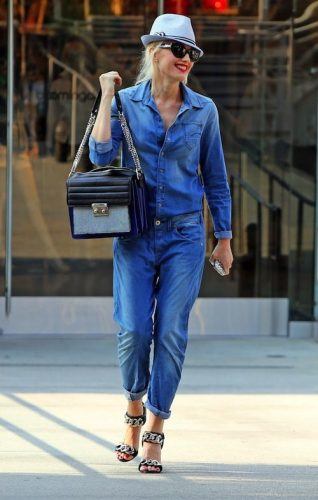 ↓23. PERFECT IN A JUMPSUIT
When the weather warms up, why waste valuable fun-in-the-sun time deciding what to wear? Jumpsuits will solve your problem. Just put it on and you're ready to walk out the door for the movie night.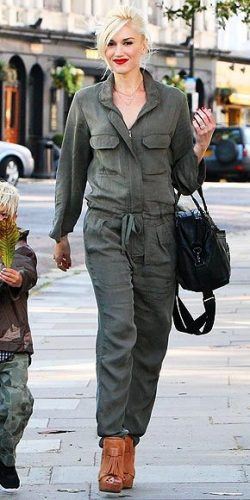 ↓22. STREETWEAR STYLE
Streetwear has become more and more popular in mainstream and luxury fashion. Have a look at the following funky put together look which is very trendy and can be worn to your girl's movie night. Wear an unbuttoned fancy jacket, a denim shirt can be worn as an easy undershirt layer. This look is wearable for any occasion.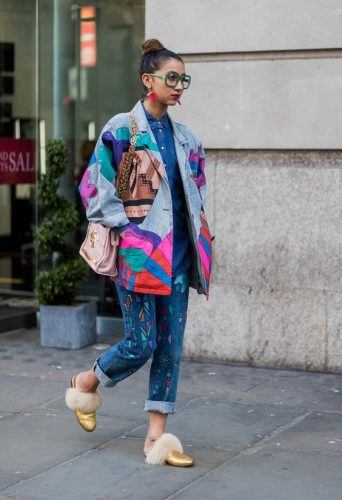 ↓21. SPRINGTIME LOOK
Spring is all about florals so it's obvious that for a movie night in spring you need to go with floral outfits. Our top pick of the spring season is this flowy off shoulder floral dress that can be paired worn with heels or flats depending on your personal preferences of course. Pair it up with a nude-colored mini bag and you're all set to go.
↓20. MONOCHROME CASUAL WEAR
Going monochrome with an all-black outfit is always the best option. You can never go wrong with it. Pick up a flowy dress or a simple black shirt with white jeans. If you can not decide what to wear, this is the look I have put down for you and it has never let me down. So if you too still can't decide with any single outfit, this would be the safest look of all.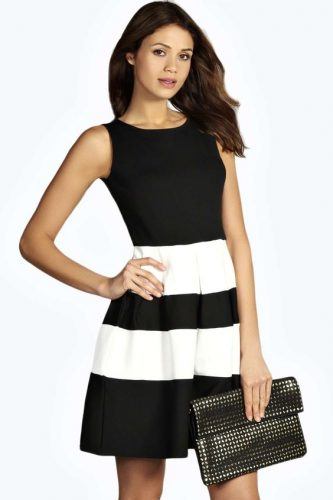 ↓19. PENCIL SKIRT INSPIRED LOOK
Here's some more celebrity style inspiration. Shay Mitchell wearing a blush pink top, leather pencil skirt and ankle-strap heels. If you're going to the movies with your significant other than you surely want to keep him on the edge with your hot looks then this is exactly what you need. Here are 40 Best Ways to Wear Pencil Skirts.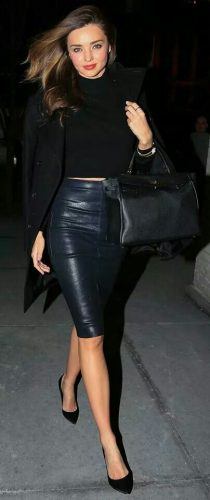 ↓18. BLUE SWEATSHIRT WITH WHITE STRAIGHT PANTS
If you plan on going to the movies, followed by a romantic dinner with your life partner then you want a fuss-free outfit that's easy to manage for so many hours. The choker neckline would get you some extra points for sure. Check out these gorgeous.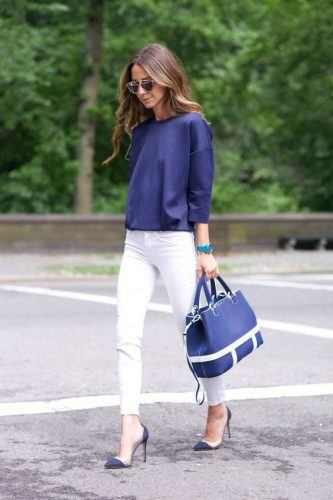 ↓17. ZIPPED SHIRT
Straight cut model look with the central zipped shirt is best for a casual movie night with family. It can be worn with jeans or simple track pants.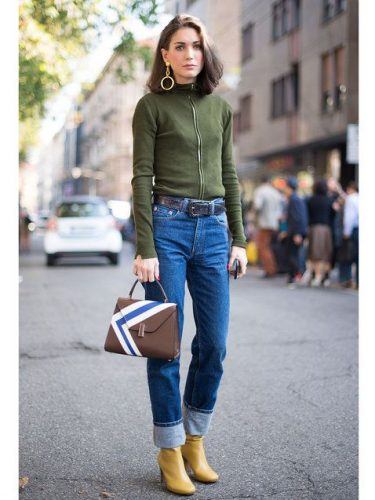 ↓16. FALL VIBES LOOK
For a movie night in the winter season, you need something that will keep you warm. We have picked up the following look for you to take inspiration from. Go with solid colors for the movie theater. A minimal color palette seems to get my attention more than something that is flashy.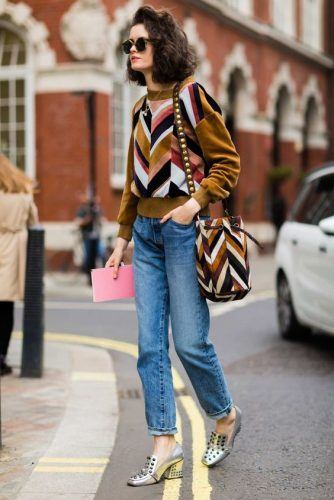 ↓15. SHORT SKIRT
A black, white, red scheme is more classic and therefore attractive. Wearing a skirt with a shirt is a very simple look to wear at the theater. Reach for a casual top that is classy and could be worn with a pair of skinnies. Also, add some fancy accessories that are not heavy but very minimal. Avoid anything too tight if you'll be sitting for a while at the theater.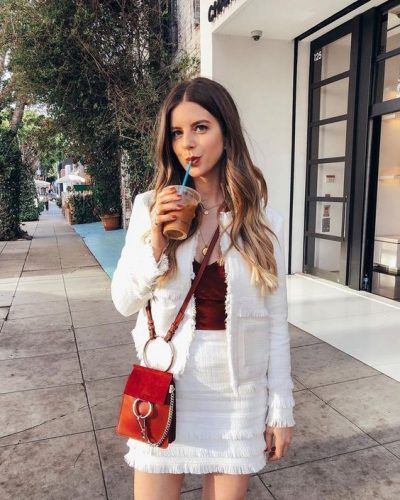 ↓14. ALL WHITE
If you want to wear a pure and chic attire, then you can never go wrong with a white top and bottom. You can either try a white blazer, a cool tank, and some matching accessories from gold to wooden and then pair it with sexy shoes.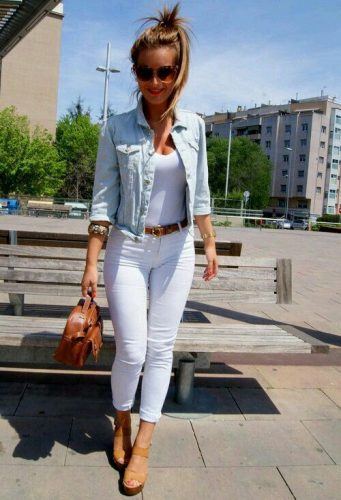 ↓13. CARDIGAN LOOK
The cardigan gives the dress a progressively easygoing feel, yet this look is about the intense frill for excitement. A lot of fun bangles can be added with a funky clutch. Here are 13 Stylish and Trendy Cardigans for Women.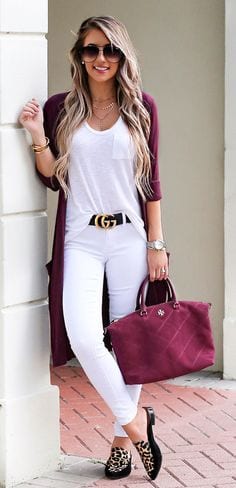 ↓12. PLAID SHIRT WITH JEANS
The plaid shirt is a must-wear dressing piece for fashion this season. The classic plaid shirt has been everything from essential casual wear to a simple outfit, but these days, it is more of an important part of a girls wardrobe. People have been wearing a plaid shirt and jeans for fall fashion every year. Tuck your shirt into your jeans for a better silhouette.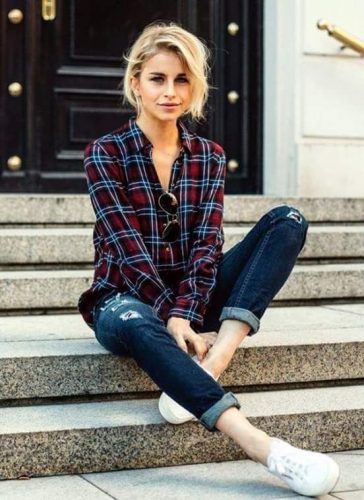 ↓11. HOT CASUAL ATTIRE FOR MOVIE
You can likewise combine this outfit with a coat to add a touch of edge to your outfit and keep you warm if the A/C is wrenching in the film theater. If you're having a hard time deciding between multiple pieces of clothing there is a simple way out for it. Two color outfit is the best go-to pieces for the warmer months of the year. They are very comfortable and easy to wear, also they eliminate the number of choices you need to make. All you need to do is put on your outfit and pick out a pair of shoes.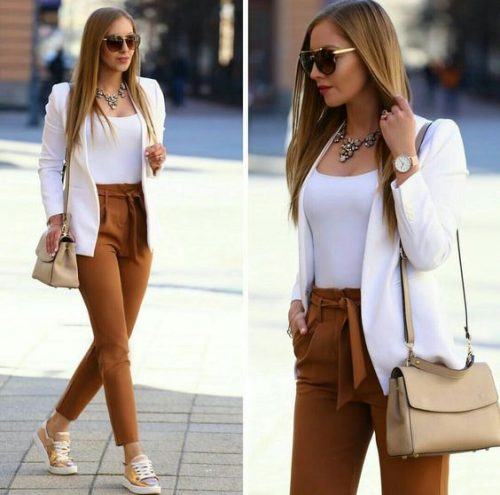 ↓10. DAY TIME LOOK FOR WINTERS
Another option to wear to the theater would be a high neck shirt with a coat which is perfect for the winters. Since it makes a perfect option to wear at the movies.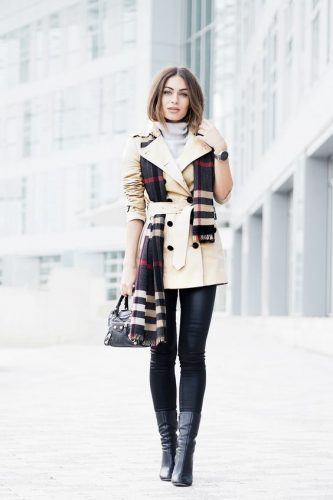 ↓9. FASHIONISTA LOOK
Our top pick of the year is the following outfit. A simple tugged in the top that can be paired with pants or jeans, or even skirt depending on your personal choice of course. You can pair them up with a nude-colored bag or clutch and you're all set to go.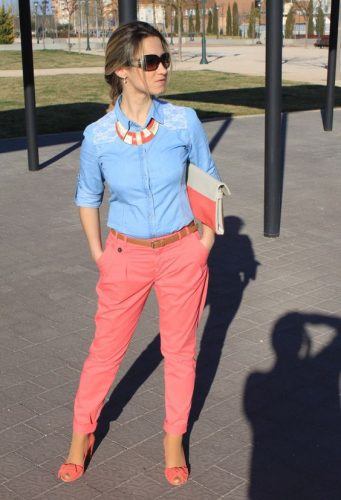 ↓8. TRENDY FLORAL SHIRT WITH SHORT SKIRT
No look is complete without wearing a good pair of shoes. For a movie night, young girls can opt for high heels. They go absolutely very well with the casual look especially if you wear a short skirt. To make it look even more chic jeans with heels can be considered. For feminine look wedges and stiletto heel are a safe choice.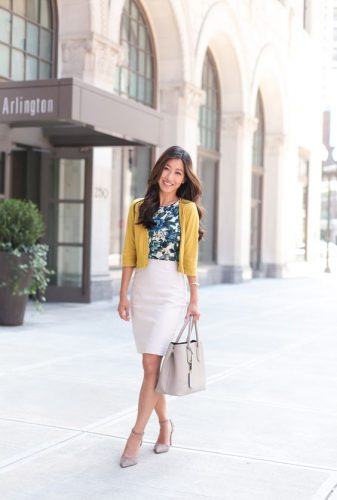 ↓7. SMART ATTIRE
You can pair a classic shirt or button-down shirt with a pair of white jeans for a laid-back movie date. Instead of fitting into those uncomfortable, yet fashionable jeans, try to go for a pair you can comfortably sit in for several hours. Try going for a more fine look.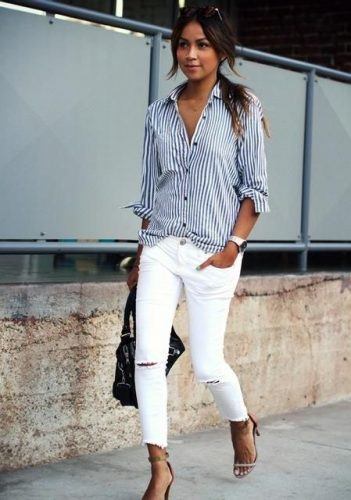 ↓6. RUFFLED SLEEVES
Ruffles and frills are one of the summer's biggest trends. We are totally loving this look. The classic white shirt has had a puff sleeve update for spring, and here's how to style it with straight pants.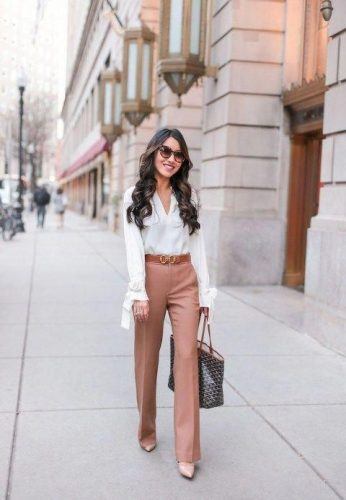 ↓5. TEEN FASHION
My most favorite outfit of choice for a dinner and movie date with family is a sleeveless shirt with formal pants. After all, you can make any pants dressy by adding a simple coat on top. This combination is perfect for a casual dinner and is easy to relax in while watching your favorite movie. Here are 20 Ideas on how to Dress up for Movie Date.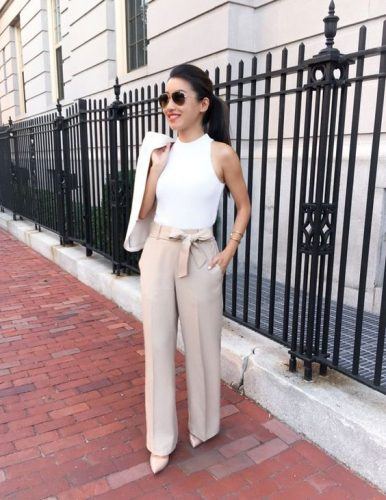 ↓4. WHITE AND BLACK
You already know that the power of black and white pieces can be quite strong, there's nothing easier than pairing white and black together, and nothing more foolproof. In fact, it's hard to look bad in black and white. It is the most attractive look ever.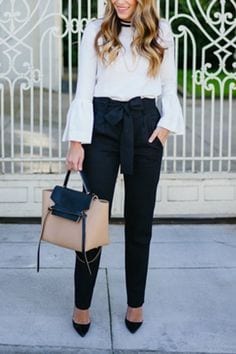 ↓3. CASUAL PATTERENED LOOK
Finding the right middle ground between blissful comfort and still looking put-together isn't always easy but it can be done. Spring is all about patterns so it's obvious that for a movie night in spring you need to go with colored pattern outfits. The colorful pantsuit for women is a major fashion trend these days that we are totally loving this year. Here you can see a jumpsuit which is very stylish and feminine. You could choose a color that contrasts with your personality well for leaving a major impact.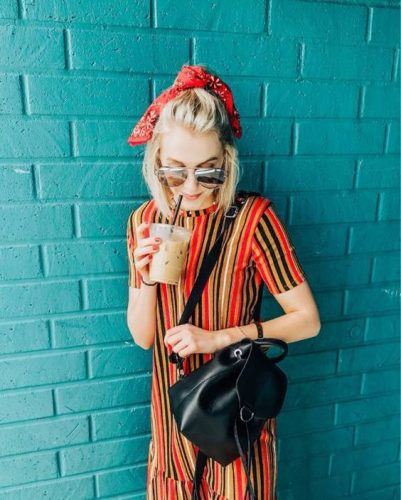 ↓2. FLORAL PRINTS FOR THE WIN
A floral dress is one of the easiest pieces for a fun girls night out to the theatre. As you likely know, pants can be styled in a million distinctive ways. For your family night out I suggest you wear jeans with booties. Here you can see that black boots are going pretty well with it. Here are Girls Floral Blouse Outfits & 25 Ways To Style a Floral Blouse.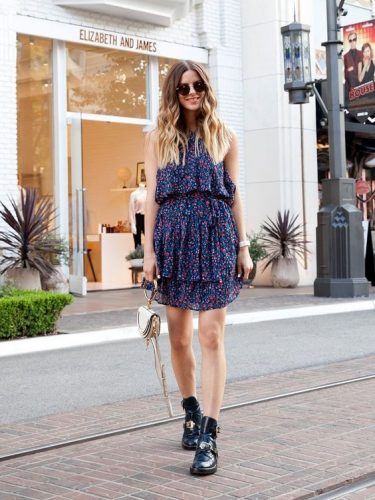 ↓1. PLAY WITH SOLID COLORS
Plaid scarves and half sleeves shirt are the best combinations to go for the cold season. When it comes to combining a shirt with a scarf then the best choice is to go with a single tone color as they can be paired with almost any kind of outfit. Belt in your scarf from one side for a very attractive look. Comfort comes first, therefore, go for a pair of comfortable jeans.