Movie Night Outfits for Women. Heading to the movie can be such a fun experience. From the nostalgic smell of popcorn to those reminiscent opening credits, going to the movies, for a lot of, reminds us of fun times growing up.
They can also be great for dates (going to the movies is an easy, stress-free option for a first date when you are first getting to know one another!) and for just hanging out with friends or family. They are also the perfect choice for introverts who appreciate a going-out experience that does not require too much social interaction. Whatever the occasion, the promise of a good film and a huge bucket of popcorn provides an ideal place to show off some great looks. But what should you wear to the movies? Dressy? Classy? Casual? Cute? The choices are endless and are, of course, all down to personal preference. This post looks at 24 different looks all girls can rock on an outing to the movies. Why not check out our posts on 8 Basic Make-Up Products Every Girl Should Have for some cool ideas on make up and also check out Cute Summer Hairstyles for some truly awesome ways to complete your look!
What to Wear to the Movies
Before checking out our awesome movie night looks, here are our top 5 tips for having a great night at the movies!
Be sure to bring along a jacket, wrap, or cardigan if your arms are bare. This is especially important if you tend to get cold easily. Nothing can ruin a night at the movie theatre like shivering over a cup of icy soda, rubbing your goosepimpled arms. Most theatres are kept very cold during the summer months, so keep this in mind when planning your outfit.
Wear loose, comfortable clothes… if you tend to snack a lot. While chowing down a whole bag of popcorn might be prime for having a great theatre experience, it tends to get a little uncomfortable if you are wearing tight jeans. Remember that you are sitting down for 90% of the experience. And nobody wants a metal button cutting into their popcorn/candy-filled belly, so plan accordingly if you plan on snacking!
Opt for a low-maintenance outfit. You don't want to spend the whole movie worried about maintaining your look, so do not go too dressy and be sure your look is something you don't have to think about or adjust over and over throughout the night.
Wear waterproof mascara… if you are going to be seeing a drama and/or are an easy crier. By the same token, bring along a little package of Kleenex to dab at your eyes in case the movie gets emotional!
Keep in mind your pre-movies and post-movies plan. If you are heading out to dinner afterward or for a leisurely stroll around town, your outfit should accommodate that.
BONUS TIP: If you are stuck inside for quarantine or simply doing a stay-at-home movie night… no worries! Put on your comfiest sweats (matching, if possible) or your cutest loungewear and set up your at-home movie night! Pop some popcorn, turn the lights low, and throw a couple of soft blankets on your couch. You can get a movie theater experience straight from the comfort of your own home.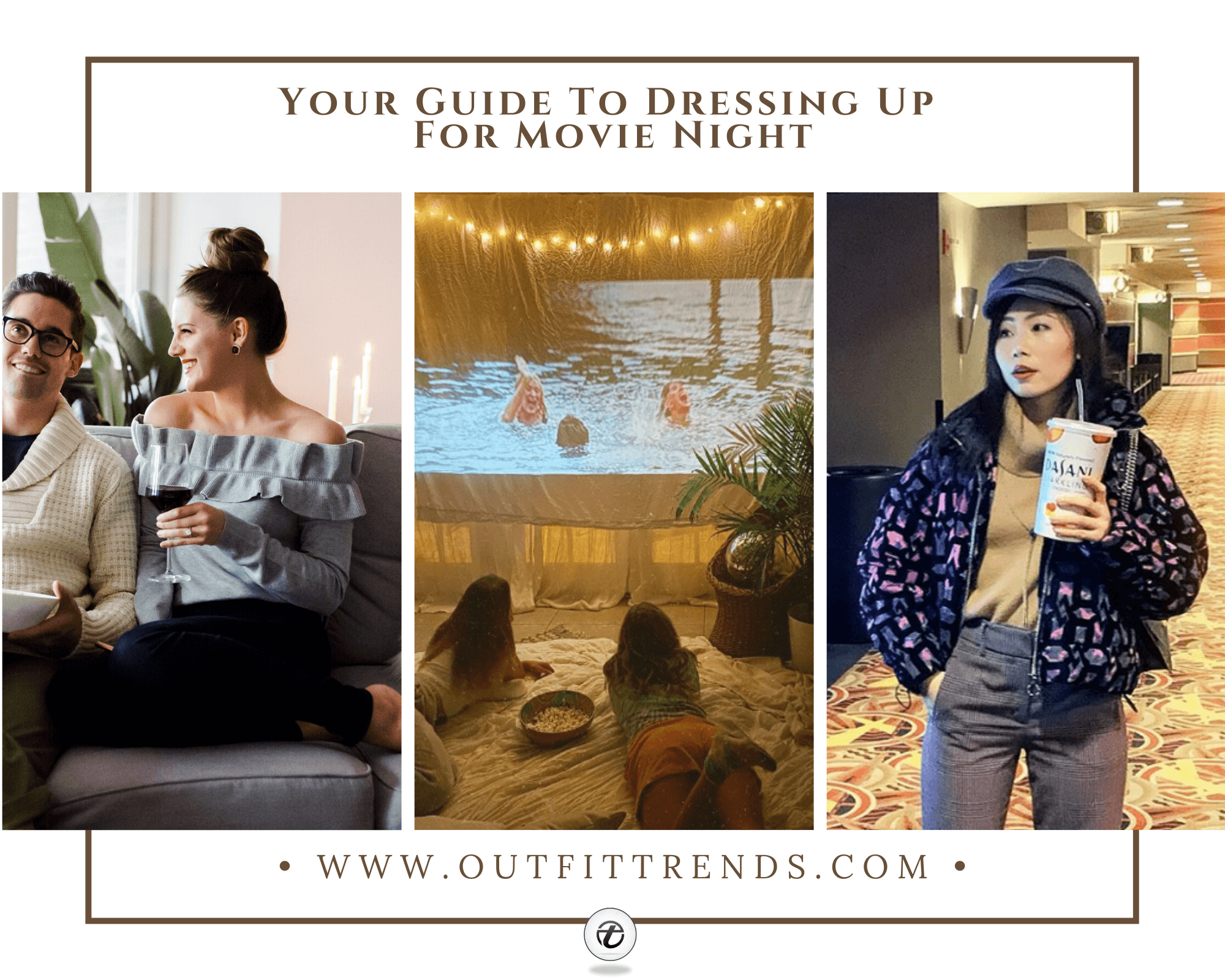 Check out these awesome looks which are perfect for the movies!
↓ 25. Zoom Movie Night In
Staying in because of quarantine? No worries. We've got that covered, too. Here is a great example of a cute loungewear outfit you can pop on and accessorize in order to still feel cute, even though you aren't going out. Try and go matching and choose a set that fits you well but is still comfortable. Accessorize with jewelry, style your hair, and even pop on some makeup if you are into that!
Many of us have been using Zoom to stay on top of work and business calls. But did you know you can use Zoom for a movie night in as well? Whether you have a virtual date or a virtual movie night with your friends, Zoom is a good way to have a fun movie night without having to leave the comfort of your home!
Here is how to have a virtual Zoom movie night:
Send out your invites to your friends or significant other and schedule your Zoom call as soon as you have worked out a day and time. (You can do this on a desktop computer or your smartphone, just make sure to download the app.)
When its time for your movie, your friends can join through the invite you sent them through Zoom.
Make sure you have the movie queued up and ready to go. You can use any streaming service. Share your screen if you are the designated movie person as well as computer sound.
 Once everyone can see the screen, hit play and snuggle down for your virtual movie night with friends or a date! You can laugh together, cry together, and keep up a steady stream of commentary. It's all up to you!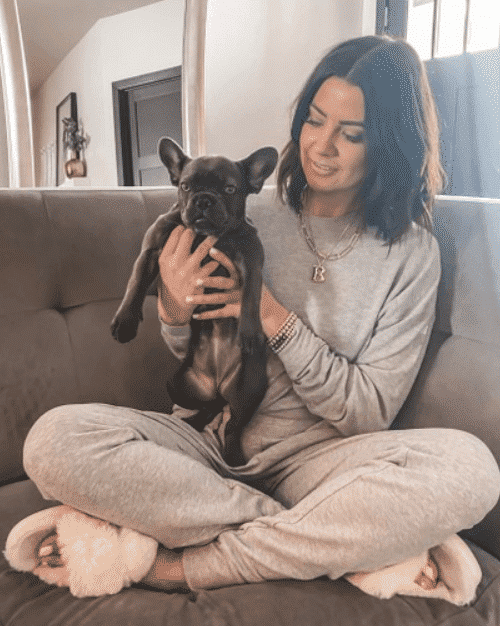 ↓ 24. Easy Summer Outfit
If you are in a rush out the door to not miss your movie, here is a super simple and easy outfit you can pop on! Start with your favorite tee: it could be a graphic tee, a logo tee, or a merch tee like this Pennywise one. Pair it with ripped denim shorts and a pair of chunky white sneakers. For this ensemble, you can wear your typical makeup look and go for a sleek hairdo. Messy hair will make this outfit a bit too casual.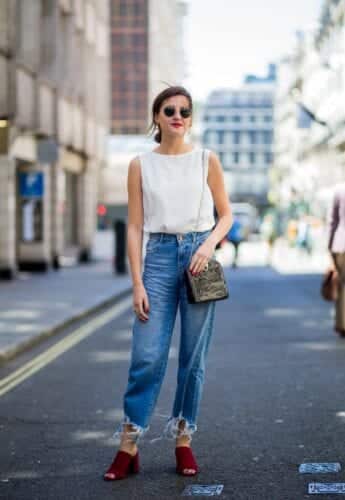 ↓ 23. Cozy Fall Outfit for Movie Night
Get cozy with a fleecy vest you can snuggle up in while enjoying a movie at the theatre! This simple look is great for fall weather and can easily be adapted for winter weather with the adding of a coat. Choose light, refreshing colors like soft pink and white and brown, and style your hair in a casual ponytail. For this look, you can add a knockout statement bag like this designer purse for a little touch of something special.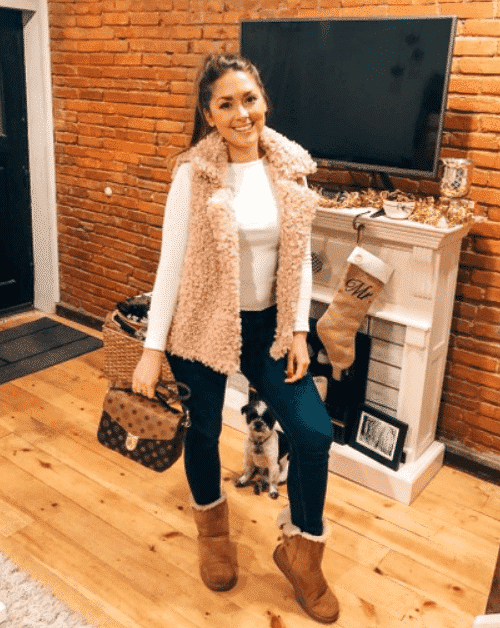 ↓ 22. Midi Dress and Flats
We love this vaguely Greek-goddess inspired look, perfect for a date night to the movie theatre! This is a super low-maintenance look that you can pop on and not think about again for the rest of the night. Stick to gold accessories and choose a pair of flats that are both comfy and flattering for your look. We recommend adding a little jacket or wrap in case your arms get cold.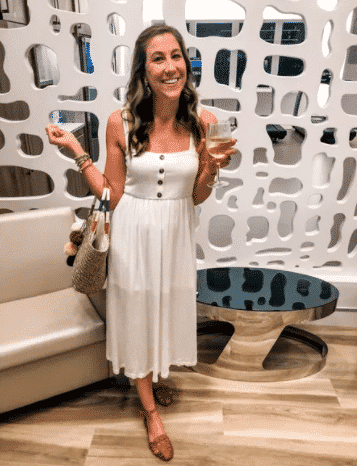 ↓ 21. Cute Sweater and Jeans Combo
If you were wondering what our ultimate movie night look would be, it's this one right here. Cute flats, fitted but comfy jeans, and a gorgeous chunky button-down sweater. As you can see, this gal kept her accessories minimal, styled her hair in loose, easily maintained waves, and went semi-natural with her makeup look. And her guy looks like he approves. Five stars!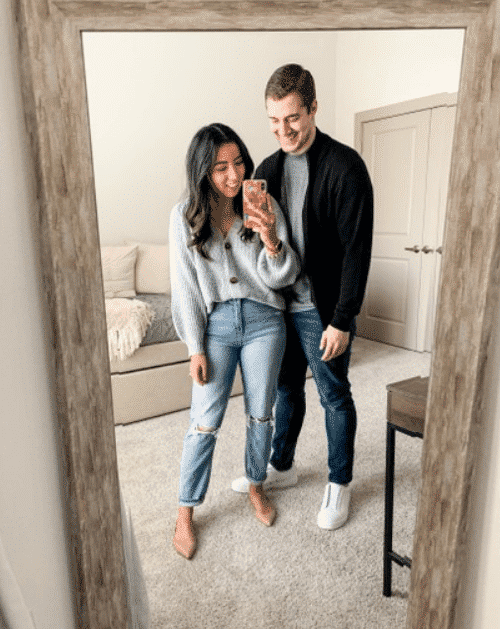 ↓ 20. Sporty Casual Ensemble for Petite Ladies
Petite ladies can easily rock some white cropped jeans with sneakers or Converse for a sporty-casual look, great for movie night! Make it extra sporty by popping on a baseball cap. Lastly, this button-down chambray top is super cute and looks great on almost all complexions.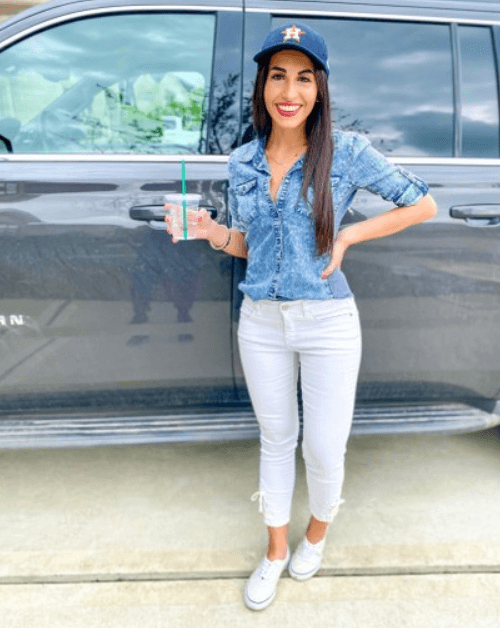 ↓ 19. Springtime Movie Night Look
Spring is all about florals so it's obvious that for a movie night in spring you need to go with florals. Our top pick of the year are these gorgeous off-shoulder floral tops that can be paired with jeans, shorts and even skirts, depending on your personal preferences. Pair them up with a nude-colored mini bag and you're all set to go.
↓ 18. Fashionista Style Winter Look
Plaid scarves and trench coats are always an excellent pairing for classic winterwear. When it comes to trench coats, the best choices are beige and camel colors as they can be paired with almost any outfit. This is an outfit fashionistas everywhere would love so next time you are on the hunt for a style-statement outfit, give this one a whirl! Here are styling tips on How to Style Camel Coats?
↓ 17. Simple, Classic Look for Ladies Over 50
We love this flowy floral top for ladies over 50 as it is flattering on all types. Pair with your favorite jeans and stick to matching accessories to tie the look together.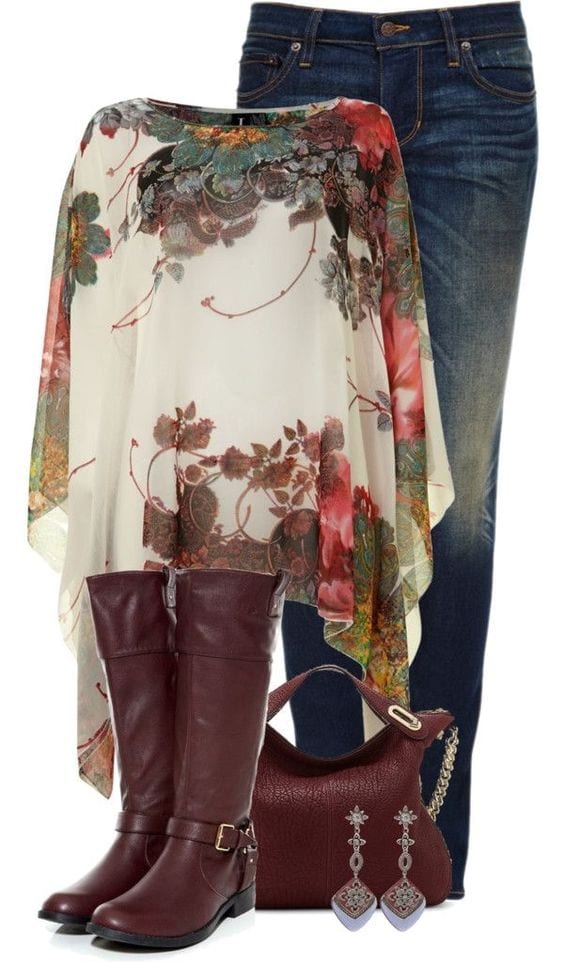 via
↓ 16. Monochrome Teen Girl Outfit
Going monochrome with an all-black outfit is always a safe option, especially if you feel stumped for outfit ideas. We love this sheer black dress with leather detailing and buttons worn with sheer black tights and chunky black booties. Go glam with your makeup and try a loosely styled curl for your hairdo. To help you out further, here are 25 Celebrities All Black outfits Styles for Fall to Copy.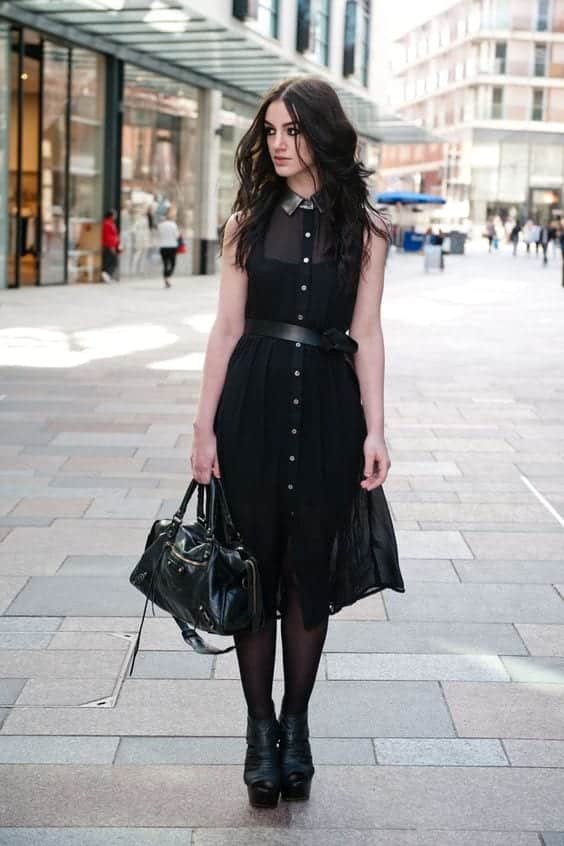 ↓ 15. Date Look in Summer
When you're going out for a date night with your love, you will want something chic, stylish, and cool, especially in the summer. Dresses are great for this. This olive-green halter dress is a classic that looks incredible when paired with gold accent jewelry. Here are some more Cute Halter Dresses.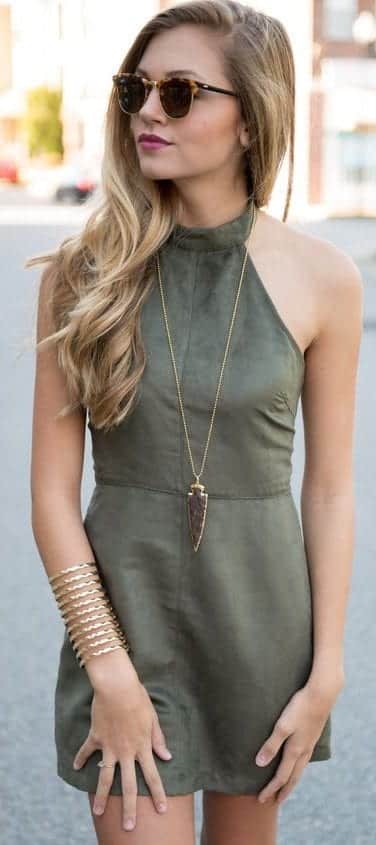 ↓ 14. Edgy Style Statement
Here's some more celebrity style inspiration. Look like the Victoria's Secret Angel Elsa Hosk by wearing a leather pencil skirt with a black and red outfit. She's also rocking the Louis Vuitton high heeled boots. If you're going to the movies with your significant other and want to wow him with a great look, this is the one for you.
↓ 13. Stylish & Chic Blazer and Jeans
When in doubt, stick to classic looks with well-tailored cuts and fits. A tailored blazer with a beautiful top is a great pairing. Keep it semi-casual with jeans (no rips though!), statement heels, and some beautiful silver-accent jewelry.
↓ 12. Semi-Casual Dressy Date Look
If you plan on going to the movies followed by a romantic dinner then you want a fuss-free outfit that's easy to manage for so many hours. The choker neckline would get you some extra points for sure. Check out these gorgeous Outfits To Wear With A Choker Necklace.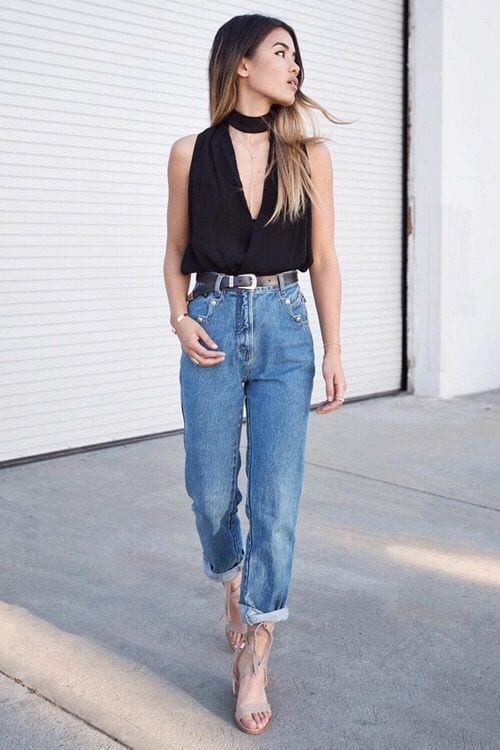 ↓ 11. Edgy Teen Girl Look
If you want a flattering outfit then the secret is good fitting. A well-tailored outfit that's your exact size can be hard to find but once you do find it, you'll really feel the difference it can make for you.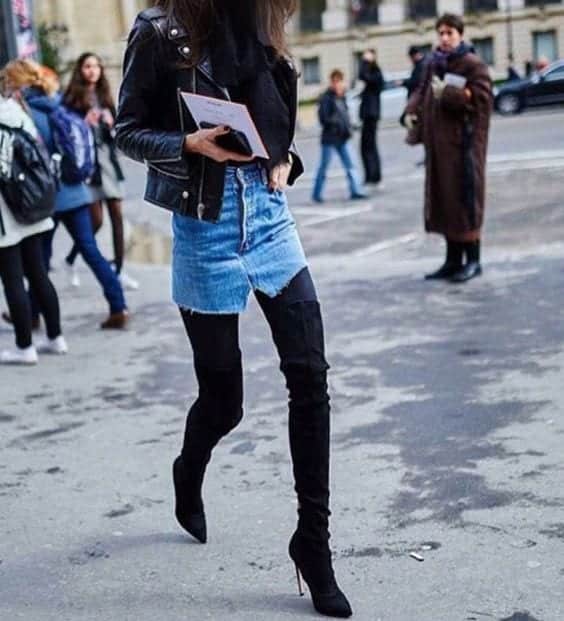 Makeup Tutorial for Movie Night
If you are stumped for movie night makeup looks, check out this gorgeous lady's tutorial!
↓ 10. Dressy Date Night Ensemble
For a fancy dinner and movie date night, kick things up a notch. This lovely black v-neck dress is beautifully paired with nude heels and gold-accented accessories. Add a wrap or shawl to stay warm and consider a classic updo for your hairstyle. Don't miss out on these Outfits That Men Love On Women.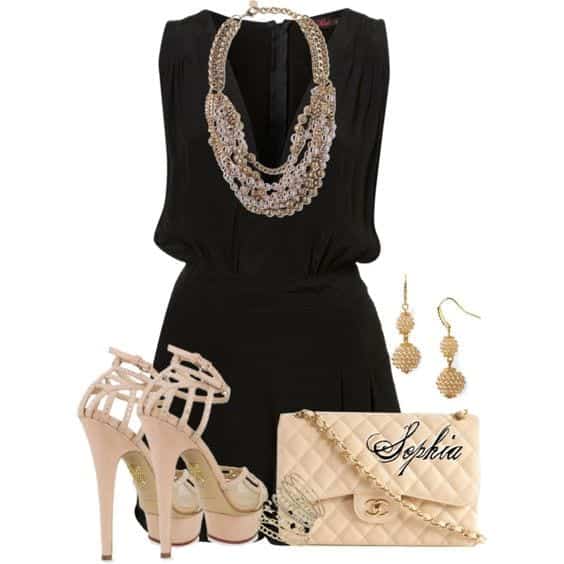 ↓ 9. Perfect Movie Night Outfit for Moms
For a night out with your husband and kids, you will want to keep things classic and comfortable. So just wear your favorite pair of jeans with a nice top and accessories. Stick to a similar range of colors and add a jacket if you think you will be cold!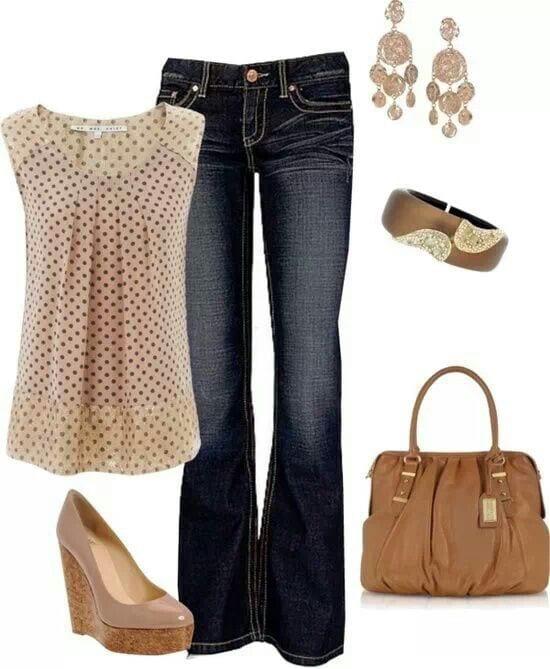 ↓ 8. Movie Date Outfit for Women Over 40
Choosing the right color combinations is the key to a good outfit. This chic and well-crafted outfit is a great option for ladies 40 and over. If you want to dress it down, simply opt for a more neutral shade for your blazer.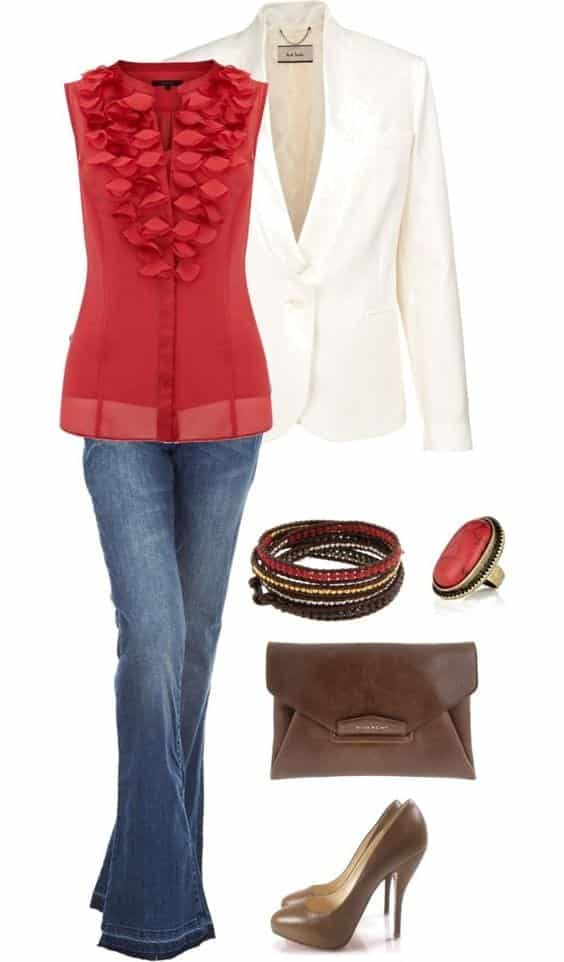 ↓ 7. Stylish Curvy Girl Outfit
A well-tailored blazer can do wonders for curvy girls. We love this stylish pairing of a yellow-orange blazer with mid-wash jeans, a cheetah-print blouse, and black peep-toe heels. Accessorize with a statement necklace and cute magenta clutch. Check out 20 Ways to Wear a Blazer for Plus Size Girls & Blazer Outfit Ideas.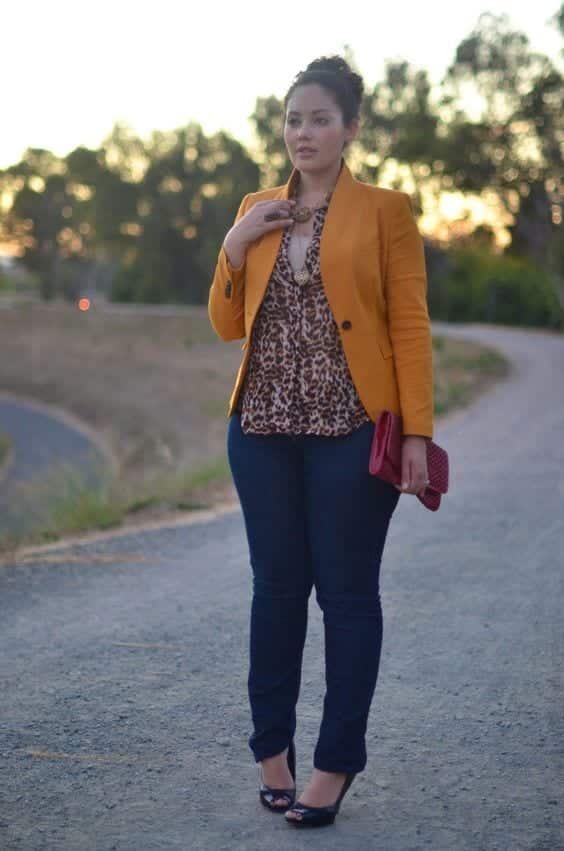 ↓ 6. Celeb-Inspired Night Out with Friends Outfit
Headed to the movies with friends? Try this celeb-inspired look. Go for a sleeveless black bodysuit paired with leather leggings and some funky blue heels. You can add a denim jacket and accessorize with a little crossbody purse to round the look off. Go glam with your makeup but feel free to opt for a messy bedhead hairstyle as this pairing looks very chic.
↓ 5. Neutrals & Suede for Fall Outfit
Here is a chic, elegant outfit you can try in the fall. It will keep you warm without overwhelming your figure in layers. Experiment with different fabrics, textures, and neutral pairings until you find the best combo for your figure and complexion. We are a big fan of these cool gray boots and taupe-brown turtleneck.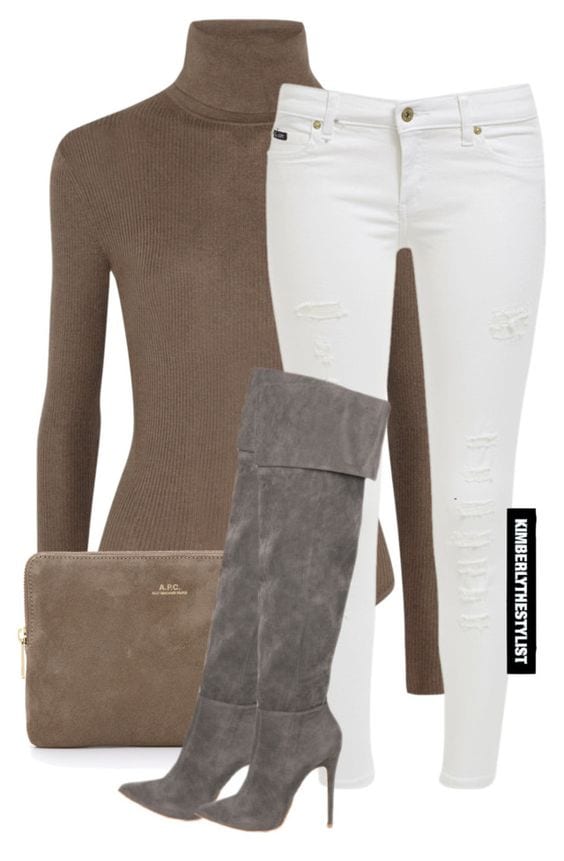 ↓ 4. Stylish Biker Chick
If you love an edgier style, try a leather biker jacket. Pair it with a black tee tucked into some dark-wash jeans and accessorize with round sunglasses. For footwear, try booties or heels, depending on the occasion.
via
↓ 3. Chic All-Black Movie Date Outfit
Here is another outfit you can wear for a movie date. This look is all about the little details. A choker or scarf paired with a flowy black top and leather pants is an edgy ensemble your guy will be totally wowed by. Finish off the look with strappy heels, a funky purse, and a cute updo hairstyle.
↓ 2. Cutoff Shorts and Sandals
Here is a go-to look you can turn to whenever you are feeling overwhelmed or are out of outfit ideas. Pair some cute cutoff denim shorts with a long-sleeved tee and a pair of metallic sandals. Accessorize with a pretty watch and a pair of Aviator sunglasses. For this look, you can wear your hair down or try a fun ponytail hairstyle. (Check the bottom of the article for a tutorial!)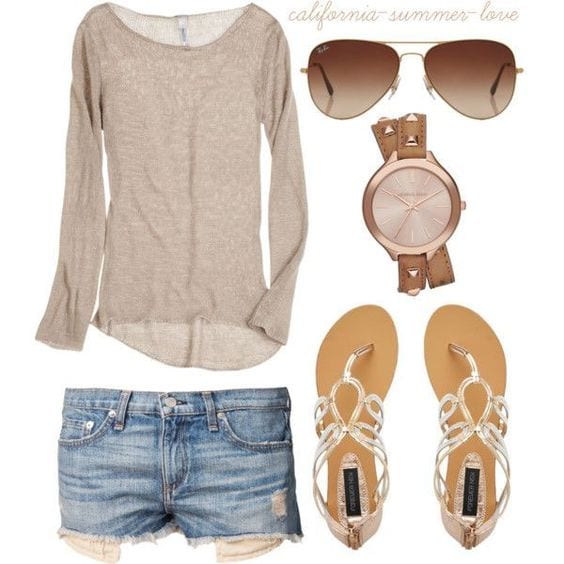 via
↓ 1. Casual Summer Look
Here is a chic but super simple outfit you can rock this summer for a long day of shopping and movies. Pair a simple black dress with espadrilles and accessorize with round sunglasses and a tote purse.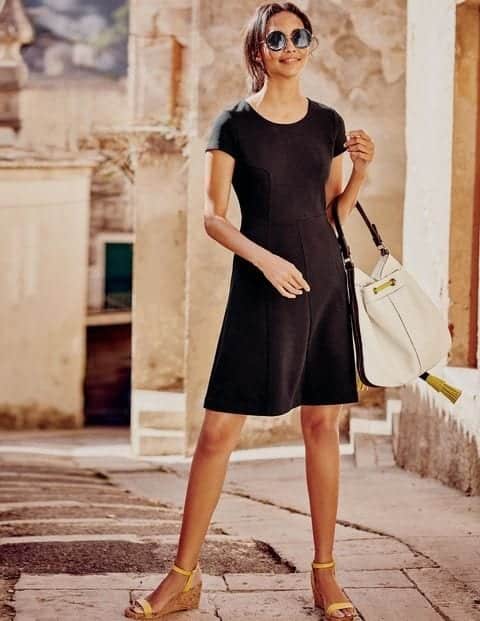 via
Hairstyles for Movie Night
The sky is the limit for movie night hair options. Take advantage of the opportunity to experiment with new hairstyles and try some fancy 'dos. We love these gorgeous ponytail options. Ponytails are a relatively low-maintenance option that, once finished, does not require further thought or effort. They are also a great way to style pre-washed hair. Here are four of our favorite ponytail hairstyles that you definitely need to try next time you are headed out to the movies.