Movie Date Outfit Ideas. Date outfits are something that needs much more pondering than it usually gets, from picking the right dress at the store to the shoes that add perfection to its design, to the hairdo that adds a bit of glamour to your outfit, a date outfit has got to be your best attempt at dressing up, and it goes for both the sexes.
But what makes it a bit more complicated? Well, apparently, for a movie which is never so easy to pick up or even match with accessories. You have to keep it under the edge with not-so-fancy yet not so ordinary either. So we have got your back whenever you have a movie date coming up! Gear up, for these 20 outfits for movie dates and ideas which will come in handy for possibly every date you go to.
What to Wear to a Movie Date
Let's get started with some of our top tips :
Wear what makes you comfortable. This is our first tip because it may be the most important tip. Wearing something you hate or that feels too tight or that you just don't feel confident in is a recipe for disaster! If you hate wearing dresses, don't force yourself to wear one and if you love dresses but hate tight jeans then rock that frock. The most important thing is feeling confident and comfortable.
Showcase your personal sense of style. This goes hand-in-hand with our first tip. If you love dressing super girly then lean into that! Similarly, if you are a laid-back gal who loves a hoodie and jeans combo, then play that up. Your clothing is an expression of who you are and it's best to be yourself right out of the gate.
Bring a jacket. This is a practical tip because many movie theaters are pretty well air-conditioned and can sometimes be rather cold. Make sure to bring a little jacket or cardigan along to keep yourself from freezing.
Avoid tight-fitting jeans or pants. Another practical tip because sitting for two hours hunched up in a chair is not always super comfortable, and if you know you are going to be eating popcorn or sharing some candy with your guy, then you aren't going to want jeans cutting into your stomach! Make sure your pants fit well and give you room to breathe.
Now let's get into the outfits.
↓ 21. Sporty Athleisure
To prove our point that it's important to be comfortable and showcase your personal sense of style, here's a sporty, athletic-style look that is not only super comfortable but very flattering.
This would be a good outfit for fall weather or a warm winter day, and all you need are your favorite sneakers, leather or vinyl leggings, and a long-sleeved top paired up with a puffer vest. To bring this outfit to the next level, accessorize with round sunglasses and a stylish crossbody purse.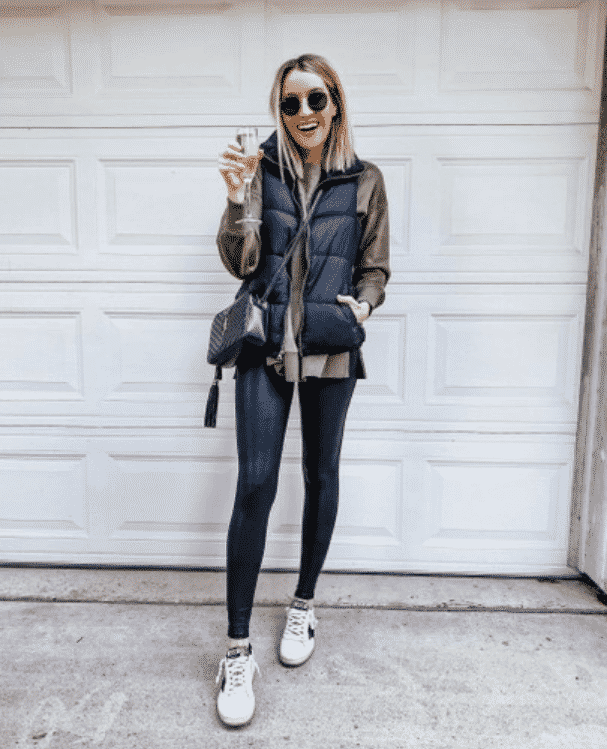 ↓ 20.  Winter Movie Date Night Dress
A classy and simplistic winter outfit with slim-fitting, high-waisted pair of jeans, a comfy sweater as your top, some cute boots with heels for shoes, and the cutest ever winter hat. We suggest you leave your hair down and swipe on a bright shade of lipstick.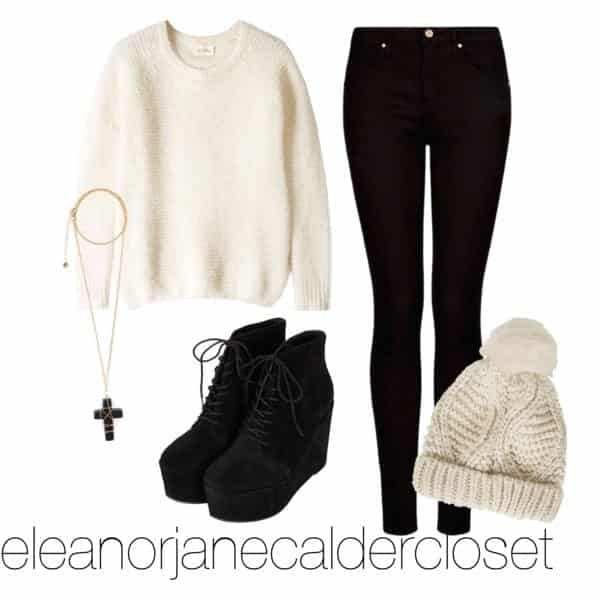 ↓ 19. Casual, Flirty Look
Staying in for your movie date? This outfit is flirty and cute. A ripped jeans style for keeping a casual look with a sleeveless Netflix-inspired crop top to add the element of swag to it. Leaving your hair down will be a plus point; also, putting on a red lip color will also be a perfect match to your casual outfit, giving it a cooler look. Wear flats or little white sneakers as a suitable option.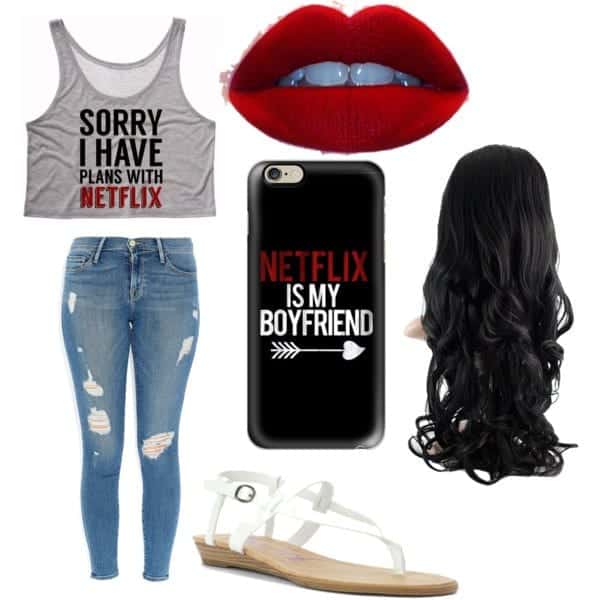 ↓ 18. Fall Look
Checked clothing always makes clothing so much cooler. Platform heels, a coat-inspired jacket, a branded handbag, and a pair of gorgeous studs will be your catchiest outfit for a movie date. Here are some more Cute Fall Outfits for Girls.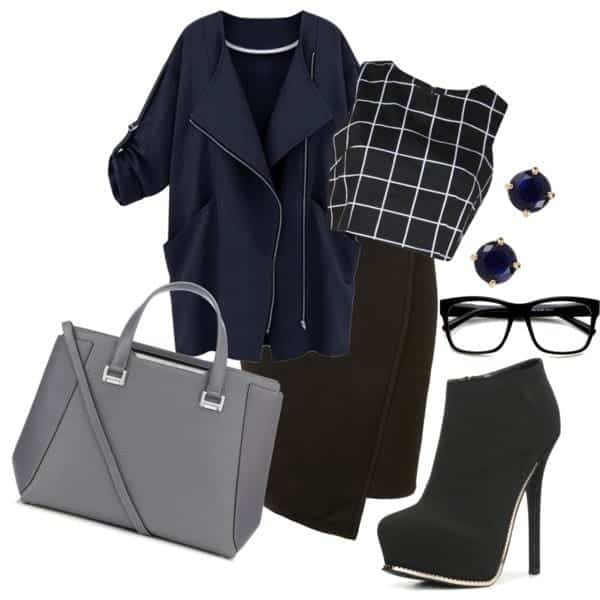 ↓ 17. How to Dress Feminine-Casual
A nice and elegant way to dress for a movie date is a dreamy printed top with jeans and a blazer, along with a pretty scarf and laced-up boot heels to match. Also, a cute pair of earrings can only make your outfit better.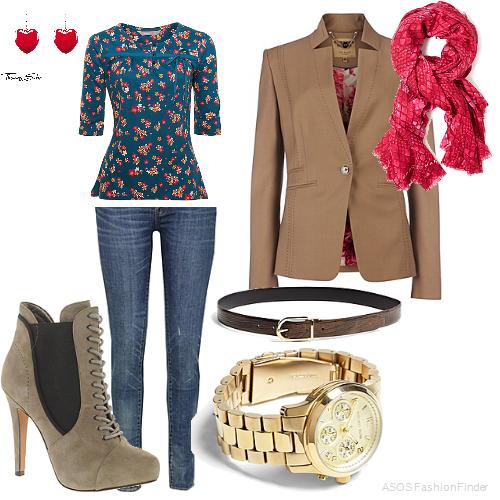 ↓ 16. First Data Look
This outfit board throws together some of our favorite fall colors. This burgundy blazer looks phenomenal over a button-down blouse, dark skinny jeans, and platform boot heels. Keep the color scheme in mind and go for a pink lip and a brand handbag. For more first date outfits, don't miss 20 Cute First Date Outfit Ideas for Girls He Will Love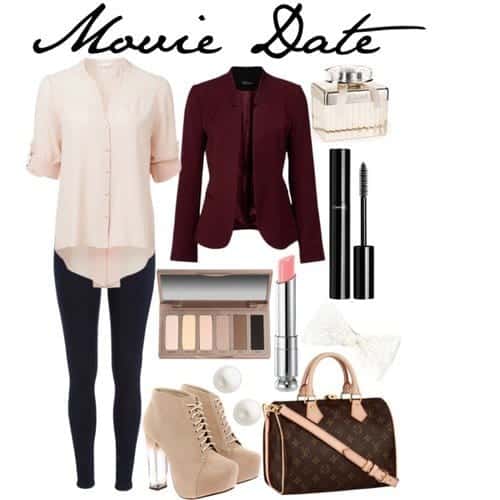 ↓ 15. Dressy, Feminine Look
Nothing is classier and more stylish than a lovely lace outfit with a blouse-inspired top. Make it go with an even more attractive pair of shoes, like heels or pumps, and a nice bag to match it, preferably a purse style bag, to make it more casual rather than overtly formal. Add appropriate accessories and opt for minimal makeup. For more feminine outfits, check out these Cute Halter Dresses.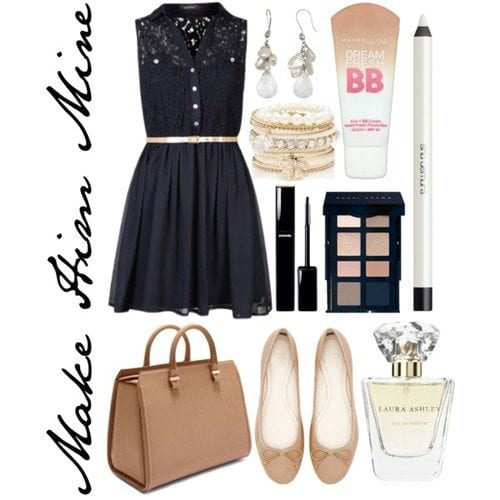 ↓ 14. Spring Date Look
Possibly the most gorgeous look for a fancy movie night with your significant other, this outfit works best for when you are celebrating a special occasion or getting dinner at an upscale restaurant before heading to the movies.
Wear a short silk skirt with a gorgeous-cut blouse, dreamy pencil heels, and a lovely clutch to match your fabulous ensemble. Keep your makeup minimal and add your most elegant jewelry – some ideas are given in the picture. This is a super girly and super gorgeous option for you lovely gals. Check out 17 Cute Spring Date Outfits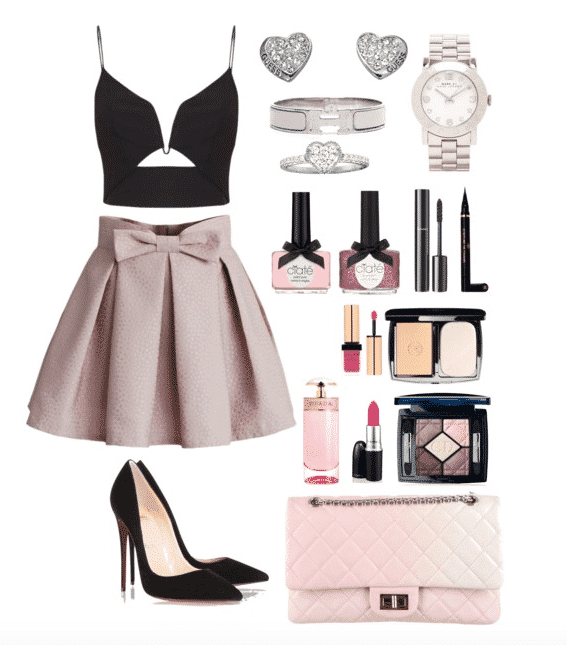 ↓ 13. Casual Fall Outfit with Boot Heels
Boot heels or short boots are a great option when you want to be comfortable but still look cute. They go flawlessly with a jeans outfit, so here is a great look to try featuring a gorgeous sweater shirt with a unique printed owl, a cool crossbody bag, and printed spectacles. As a matter of fact, boots do make you feel more confident and poised everywhere you go.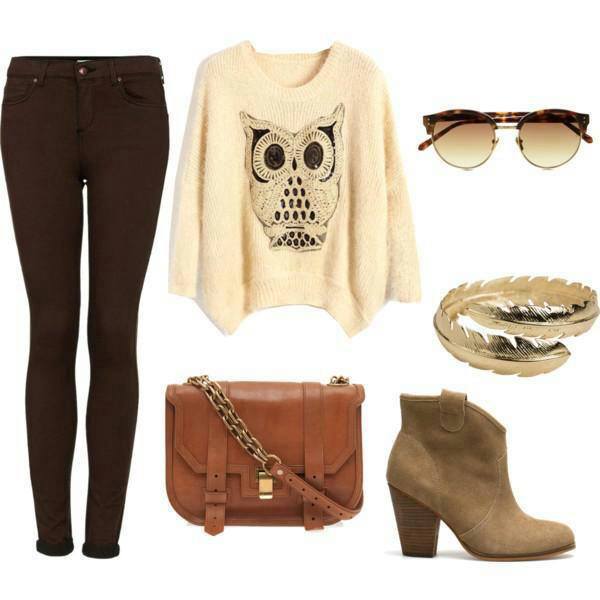 ↓ 12. Summer Movie Date Look
A cool movie theatre is such a great option for dates in the summer, as the air-conditioned environment is such a relief in hot weather. They also provide the perfect opportunity to pop on a long-sleeved top and pair them up with jean shorts (super cute) and sandals.
You can also try espadrilles to give your legs some height and further dress up your outfit. Accessorize with statement earrings, sunglasses (if you are going during the day) and bangles.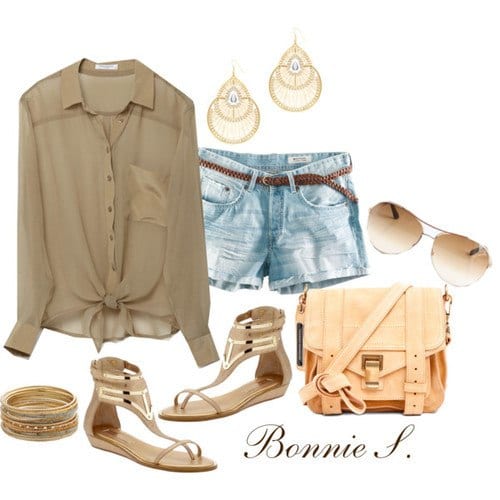 ↓ 11. Polka Dot
Our top choice for movie date apparel is a dress, believe it or not! A chic polka dot dress looks so beautiful and feminine, and it's a one-and-done outfit that won't require hours of prep or too much thought put into it.
If you love showcasing your femininity alongside your guy, a dress is a great way to do it. Plus, guys love dresses on girls!
All you need for this look is a flattering dress (try and find one that cinches at the waist or otherwise flatters your figure) and pair it with heels, flats, or even little white sneakers for a fun, casual take on footwear.
Keep your makeup simple and tie up your hair in a pretty chignon or let it fall loose. Add a little cardigan or jacket to keep your shoulders warm if necessary!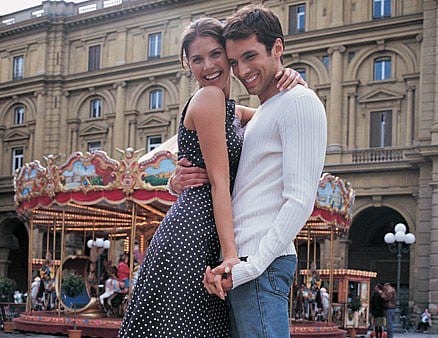 ↓ 10. Jeans Style with Sweater and Pumps
This outfit is for the grownup ladies who like to keep it casually chic. A sweater top with cutouts on the upper shoulders is a great way to show off some toned arms as well as keep yourself from getting too hot.
Pair yours with jeans and animal print flats as well as a little black clutch to tie the look together.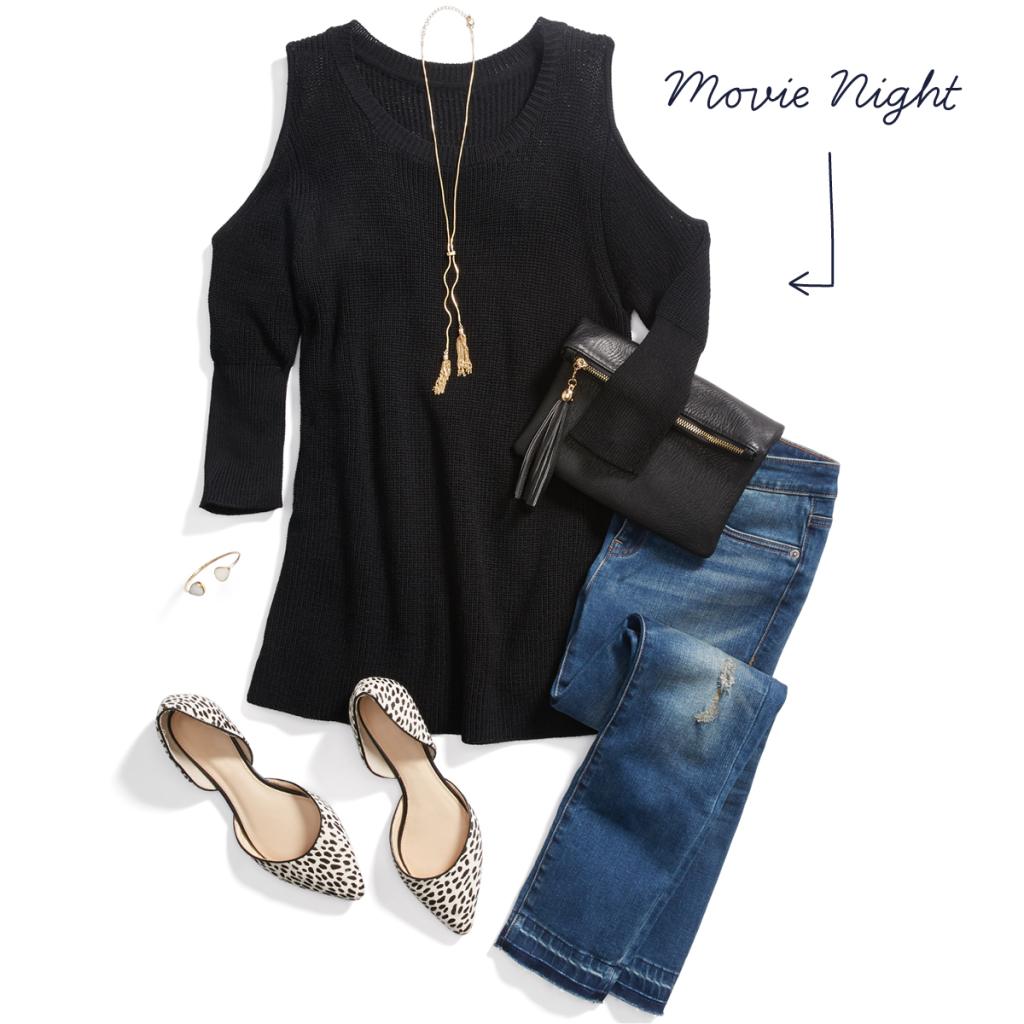 ↓ 9 – First Date Look
Your first date outfit has a bit more edge over your other dates and if you are going on one in the fall, then this is a great option for you. Opt for a sweater dress that will keep you feeling warm and cozy (as well as cute) and add a structured jacket and matching heels.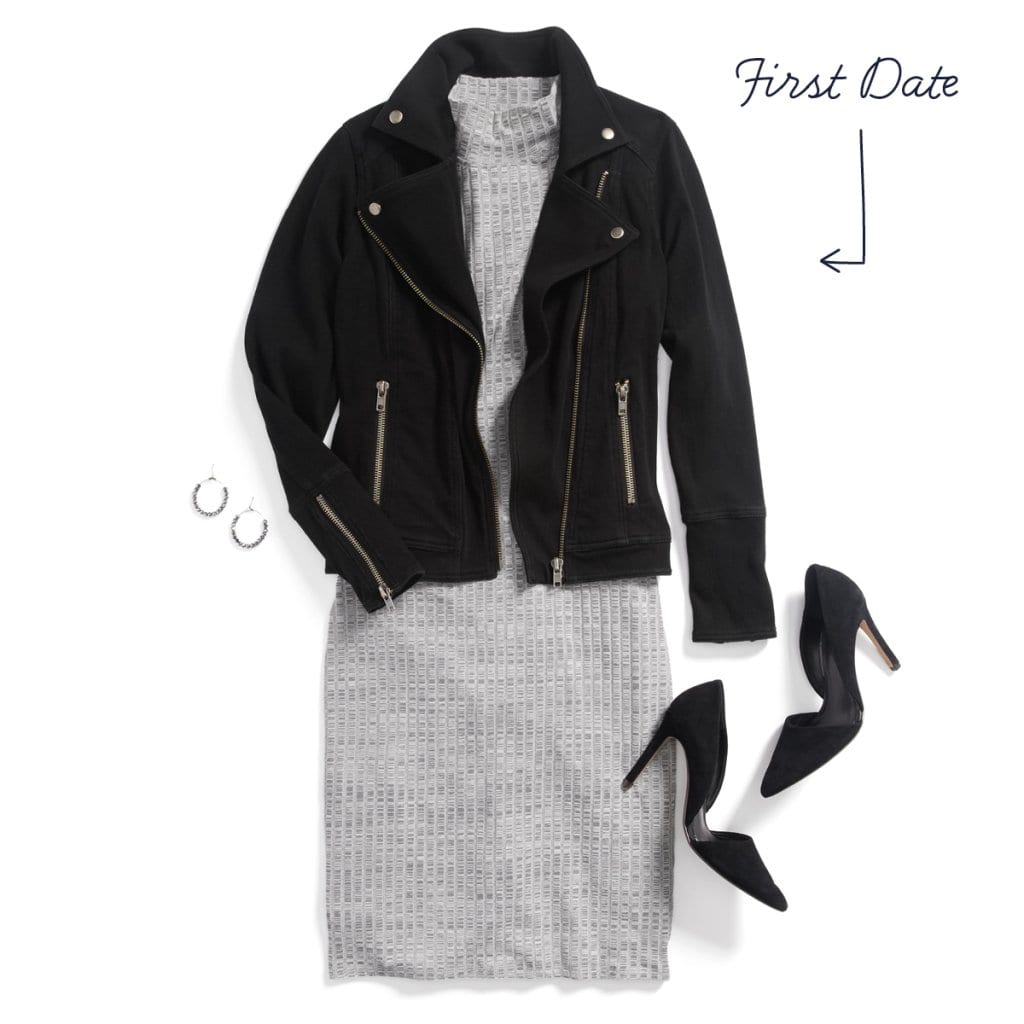 ↓ 8. Business-Casual Outfit for After-Work Date
In a rush to get home from the office to dash out for a movie date? This is a great way to save time. Swap out your work slacks for a fun skirt and ditch your loafers for a pair of flirty heels. You can keep your work blazer on and add a bright-colored clutch. Don't forget to brighten up your makeup as well.
This look is for the one-and-done ladies that like to look good in a pinch. And if you're heading out for dinner, do check out these Dinner Date Outfits.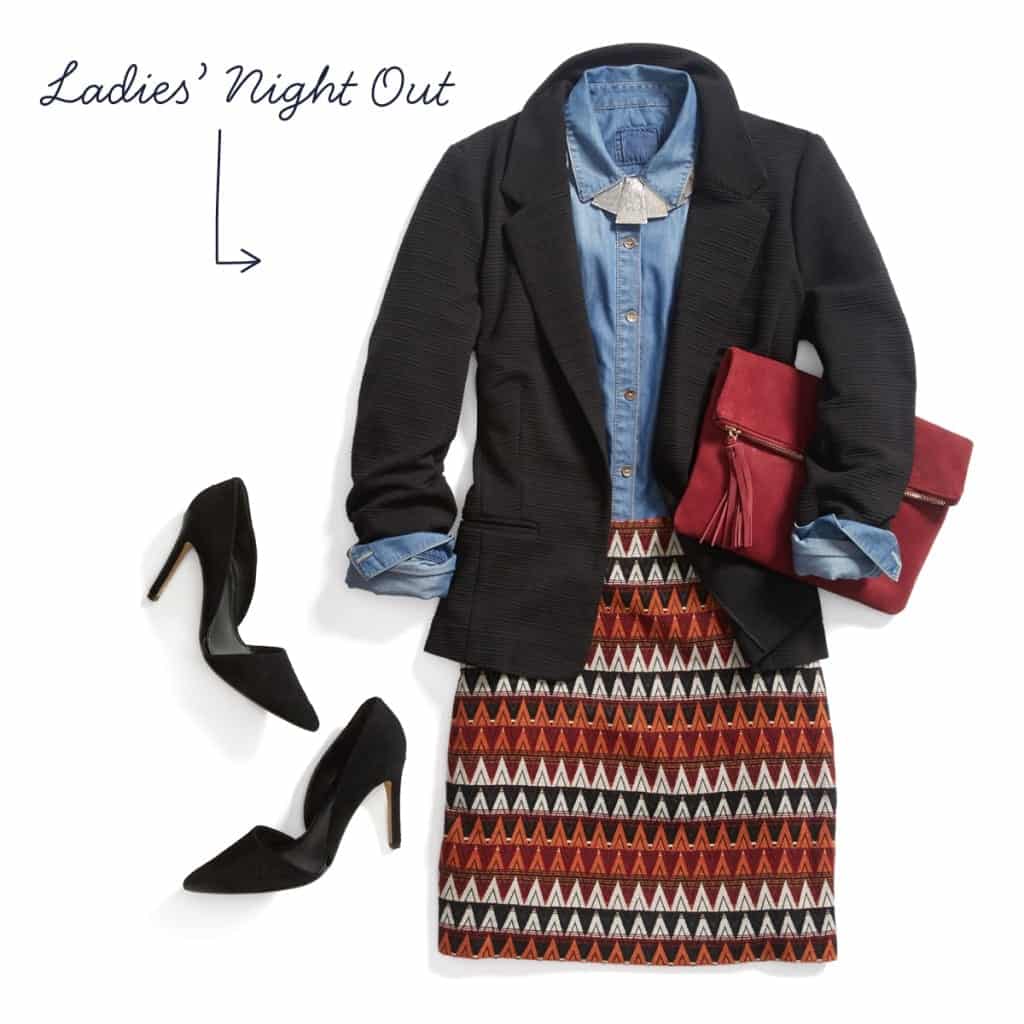 ↓ 7. Feminine Ensemble
Throw it back to the good old days when girls threw on a frock and a little white cardigan to head out on the town with their high school sweetheart, and this is a look you might see. We love the old-fashioned simplicity of it, how girly and sweet it is, and if that is the kind of look you are going for then look no further.
A floral dress and a daintily hemmed cardigan make for an adorable combination. Add a necklace, cuff bracelet, and kitten heels and you'll be the old-fashioned girl of your old-fashioned guy's dreams.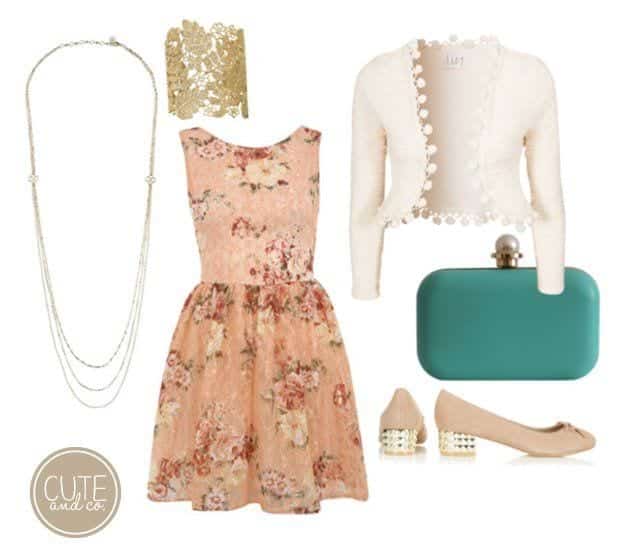 ↓ 6. Ladylike Outfit
Another look that delivers on the old-fashioned vibes frontier is right here. A cami and matching floral skirt is a dreamy pair, especially when worn with a button-down sweater and ballet flats.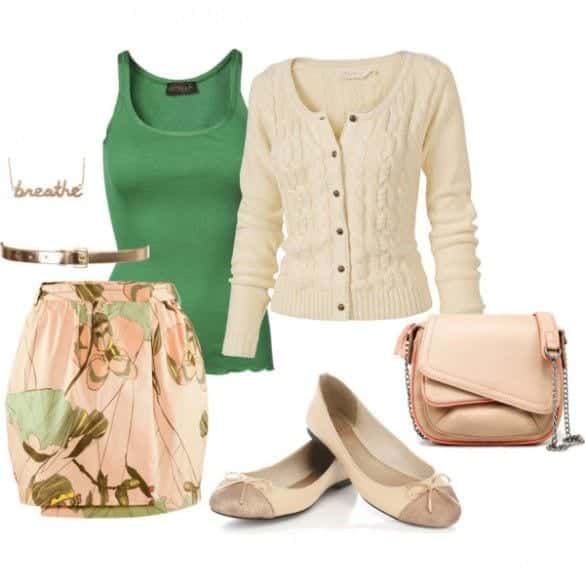 ↓ 5. Summer Outfit
Because movie dates are such a crowd favorite in the warmer months, this is another summer outfit you could try! We love the white shorts and mustard-yellow top combo, especially when a nice button-down is added over top.
If you love showing off your legs, then some high heels will do the trick but if you are more into comfort then grab yourself some nice flats or even little sneakers and you'll be good to go.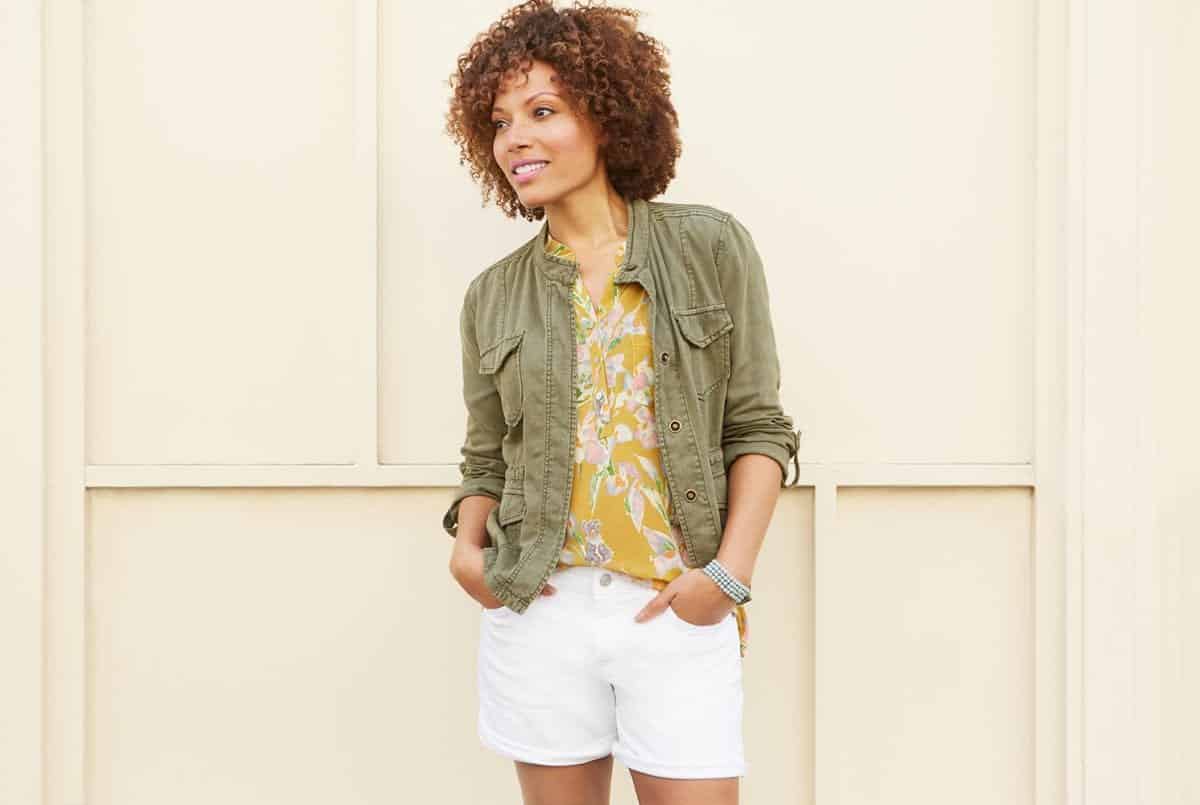 ↓ 4. Va – Va- Voom
Va-va-voom. Who says a movie date demands only casualwear? This dress makes a case for the other side. Keep in mind that the best dress for a movie date looks good on you and that you feel comfortable in.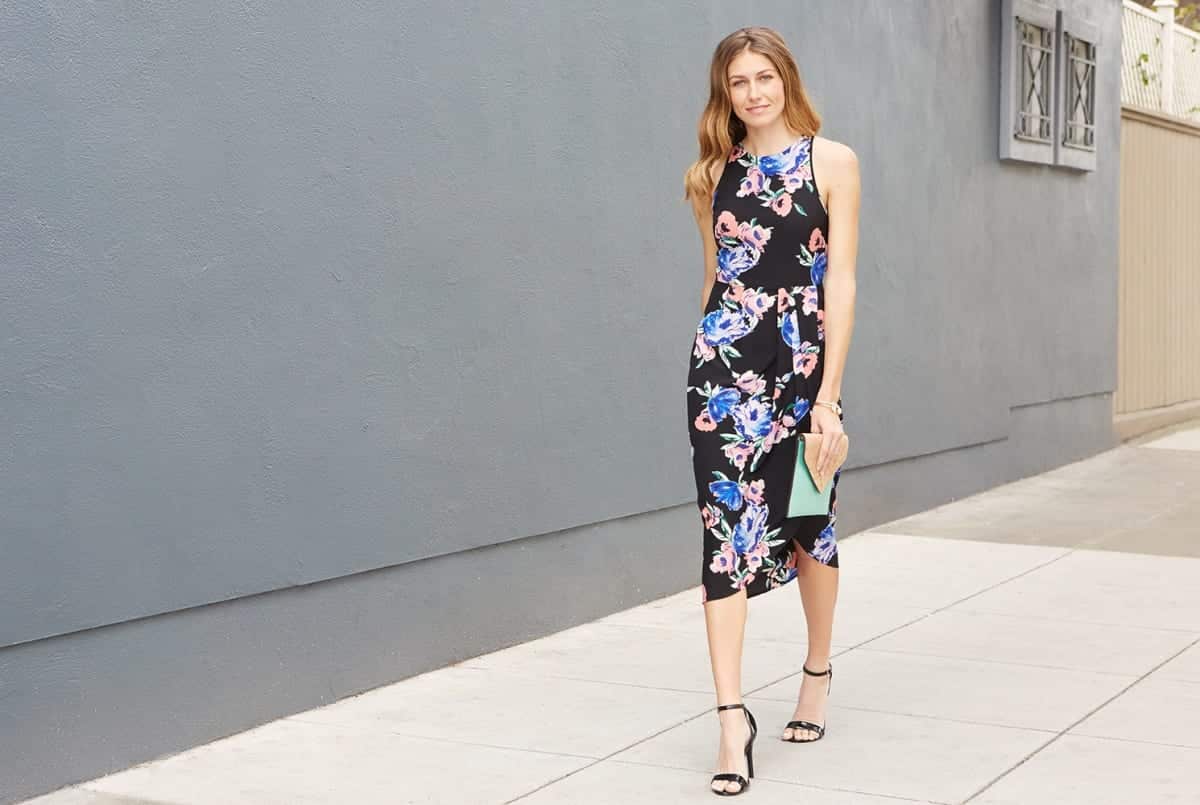 ↓ 3. Classic & Simple
Sometimes the best movie date look is a simple one. Get yourself a nice blouse that features special detailing and pair it with your best-fitting, most-flattering jeans. What brings this look to the next level is a gorgeous purse, matching heels, and beautifully styled hair.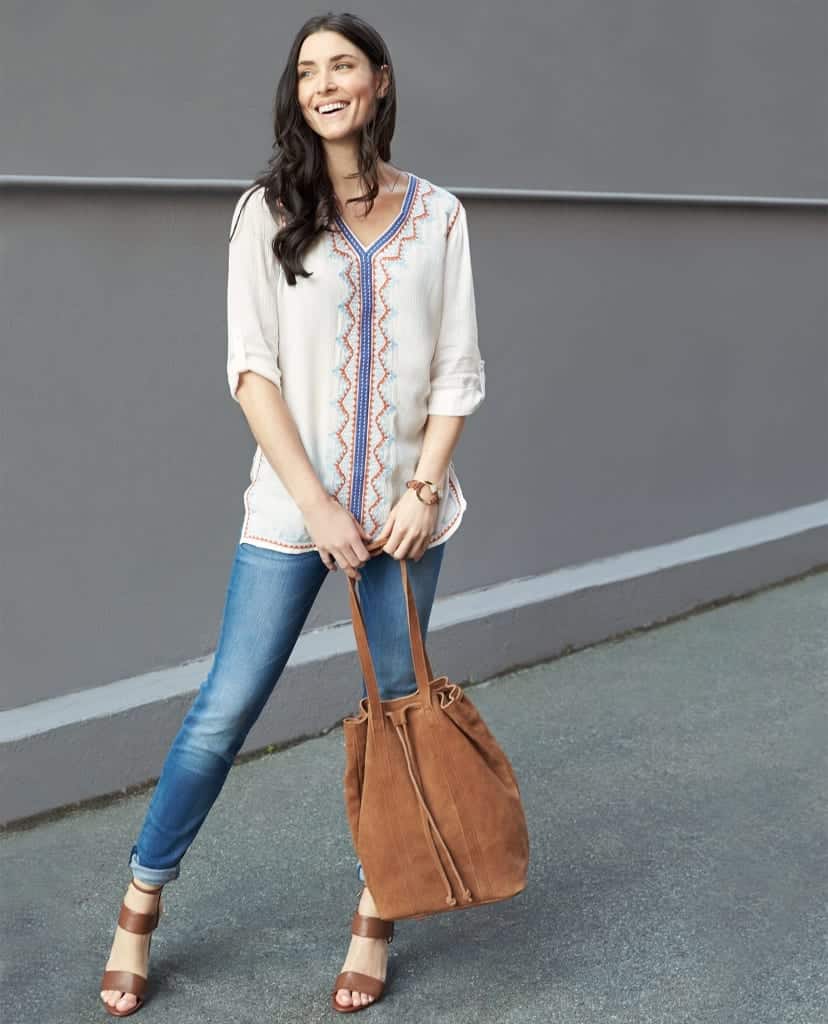 ↓ 2.  Denim Jacket
Nothing is more casual yet stylish than a denim jacket over a dress and stunning wedge heels. Plus to add a bit of more awesomeness, accessorize with your best sunglasses and tie up your hair in a ballerina bun. Here are 20 Cute Outfits with Top Bun Hairstyle to Compliment Style.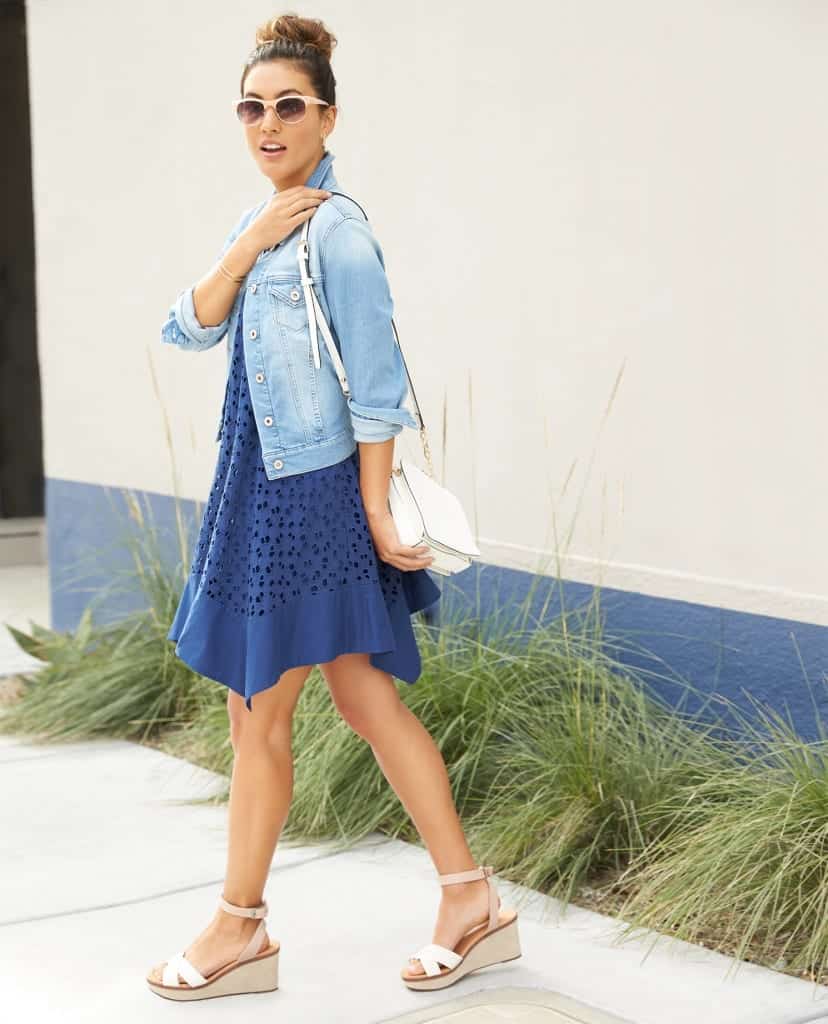 ↓ 1. Casual Yet Classy
This look is a classic and extremely attractive option that will never go out of style and puts your every feature to its best advantage. An off-shoulder top shows off your collarbones and upper arms, and white skinny jeans look super cute and flirty. Add some lace-up flats and style your hair in loose waves and you, my dear, are ready for a fun date!