Sequin blazer outfits – Who doesn't want to leave a little bit of sparkle whenever they go? Well, layering a sparkly glitter blazer over your outfit is a perfect way to do so.
Many people love sequin jackets but most of them are afraid that they might go over the top with the styling. If you think the same then stop the nuisance. Because we are here to help you style this jacket and create some easy and classy outfits.
What to Wear With A Sequin Blazer?
From fashion shows to met gala, sequin blazers also known as paillettes jackets, have made a fashion statement. Unlike sequin dresses that are mostly restricted to formal and party events, blazers can account for most of your events ranging from casual hangouts to evening parties.
Without any further ado, let's get started with the styling tips. Keep them to save yourself from making a fashion fiasco.
Tips And Tricks on Styling Paillettes Blazers
If you are going for a casual gathering, make sure you don't go for an all-sequin outfit. Pair it up with some plain crop tops, tank tops, or tees. Keep it low-key and subtle for a laid-back or semi-casual look.
For Formal occasions like weddings, parties, and bridal showers, you can definitely wear a sequin blazer over the same material dress.
Glitter blazer outfits make you look lean and taller. Hence a good option for curvy women.
Do not go over the board with accessories when you are wearing something sequin. The outfit is blingy and doesn't require a lot of accessories. Your everyday jewelry will do for such outfits.
Make sure that your blazer is weather friendly so that it keeps you cool in summer. Jackets made of spangles are mostly worn in winter. Whereas, blazers can be worn throughout the year.
Do get yourself a black and silver blazer as they go with almost every outfit. Hence a convenient option for all the ladies out there.
20 – Wear A Heart Patterned Blazer with Denim Shorts
We are totally in love with this outfit! A blazer having a sequin heart pattern all over is a great choice for your casual night outs with friends or family.
The outfit is not too sparkling and therefore, a subtle choice for your casual outings. You can either go for denim shorts or jeans.
Pair it up with toe-pointed heels and a clutch bag. Wear a white pearl necklace and you are all set for a fun-filled gathering with your loved ones.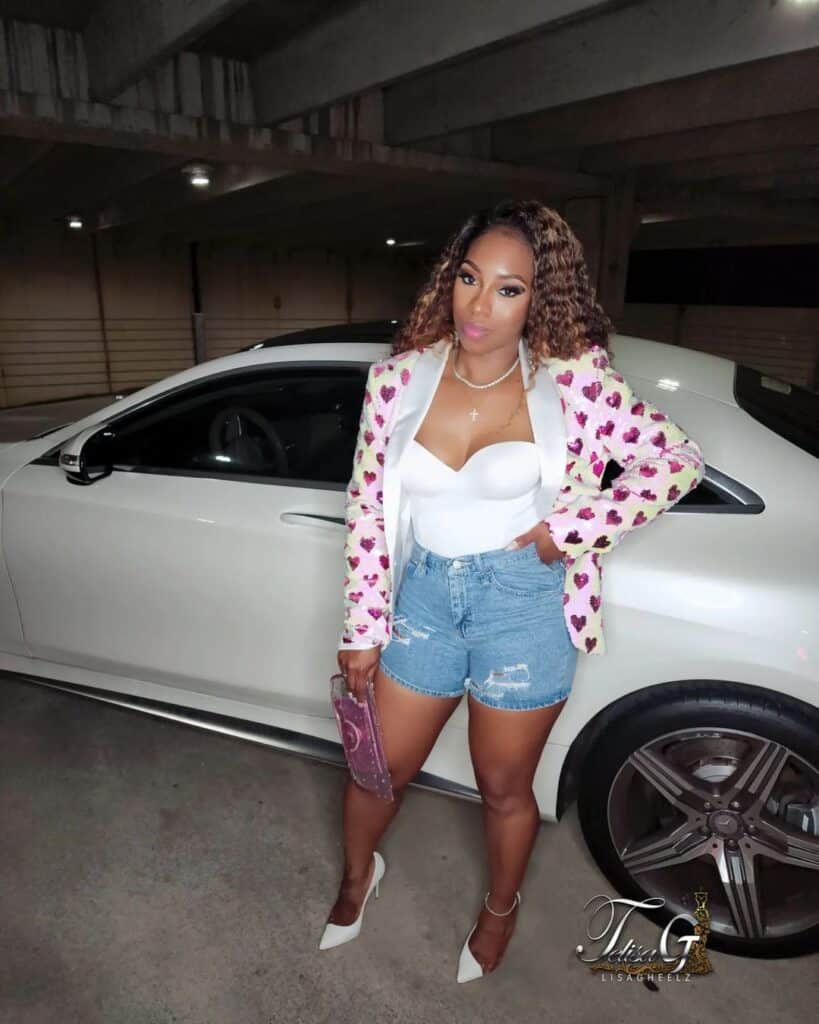 19 – A Semi Casual Look With A Tee Shirt And Blazer
We know everyday casual outfits are mostly less blingy and more casual. But going with a casual tee or a camisole tank top and a sequin blazer is always a great fusion idea.
The plain tee will balance the effect of a sparkly jacket and you can easily create a comfy and casual everyday look.
This blazer is especially great for vacations as it gives a new and refreshing dimension to your outfit.
18 – Sequin Blazer Outfits for Mom To Be
Here is a party outfit for pregnant women. This midi skirt with a black blazer is a stellar choice for all moms-to-be. The multicolor skirt is perfect for those days when you just want to wear loose-fitted breezy clothes.
A black blazer is popular for giving a neat and sophisticated look and it does the same for this outfit.
Accessorize with drop earrings, a white pearl necklace, and a diamond pendant. For shoes, we suggest going for flats as they are a safe option for you.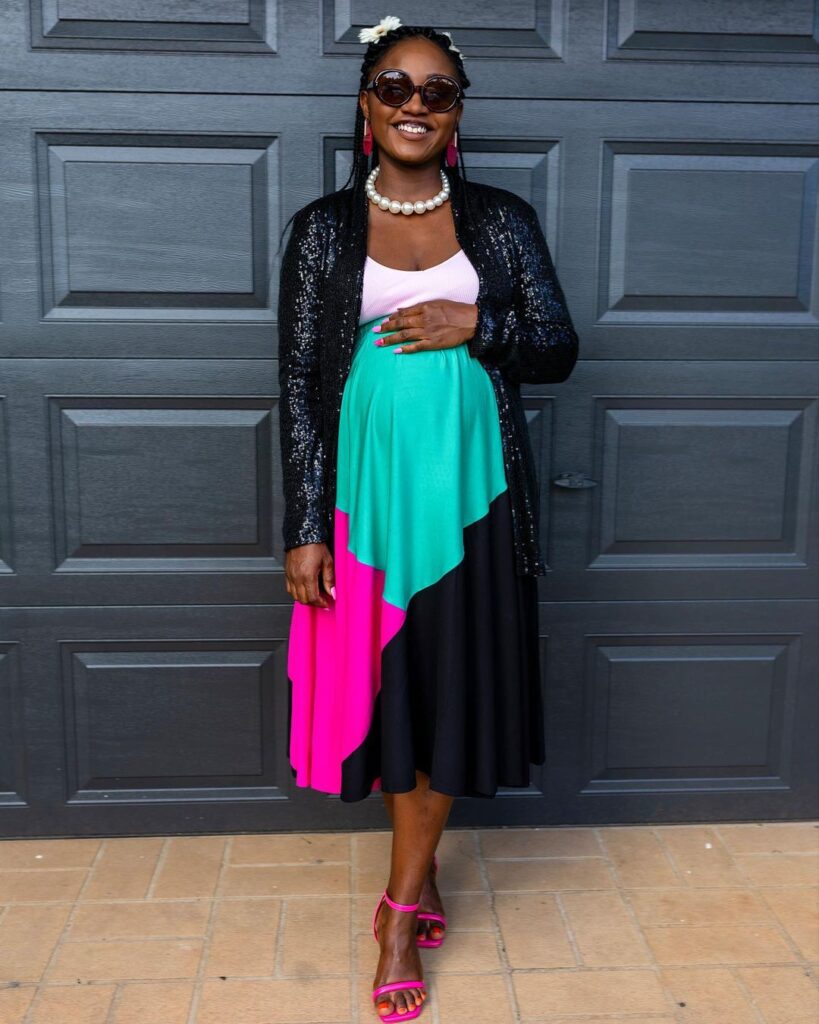 17 – A Trip to Field but in Style
Planning a day out in the fields? Go for this sequin Jacket with jeans and a white shirt.
Have a walk in the fields in style with this pretty black and gold jacket. Moreover, go for a soft makeup look.
Complete the outfit with a cowboy hat and your favorite pair of shades.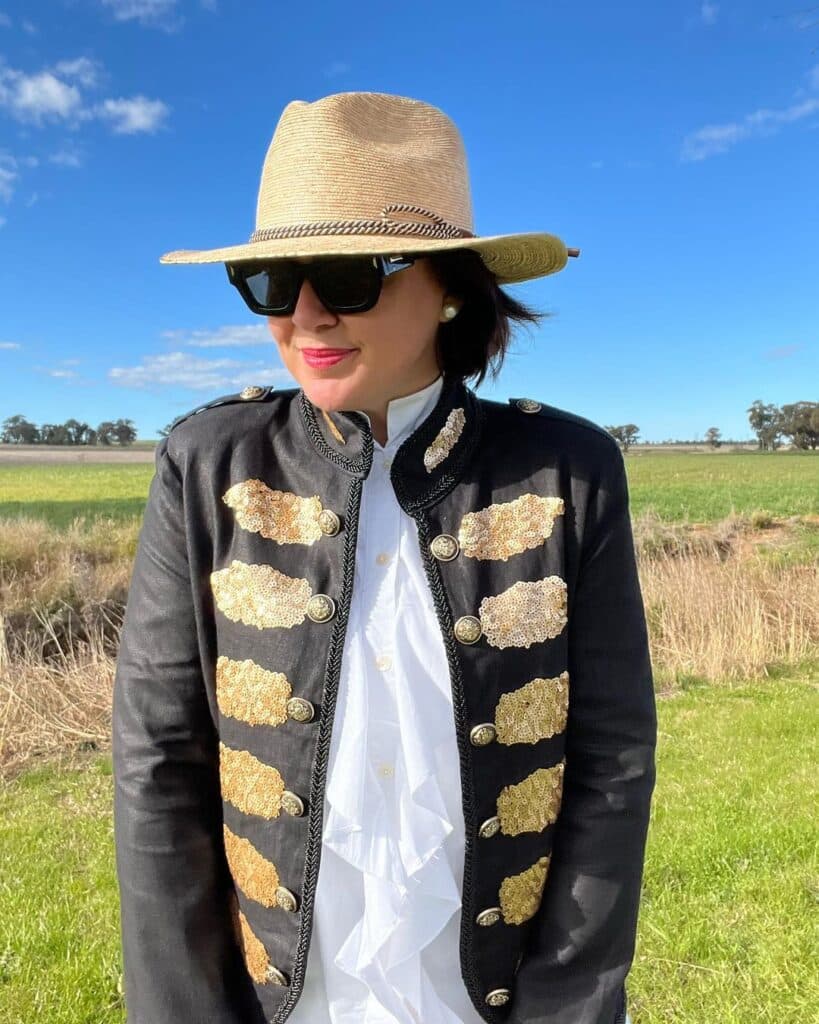 16 – Here Comes The Popular Gold Jacket
Gone are the days, when sequin blazers and outfits were restricted to certain colors. The trend has changed lately and there has been a variety of colors in blazer outfits.
We are drooling over this lovely blazer in gold. To keep up with a laid-back look, pair it with a tank top and a leather skirt.
Let your hair down and go for a no makeup look if it's a casual gathering. Opt for a bold makeup look if it's a dinner party.
15 – Add Paillettes Jacket Over Strapless Blouse And Skirt
Net skirts are a wardrobe staple for women. If you are a party animal, you must be having a net skirt in your wardrobe.
Wear a black strapless blouse with a net skirt and complete the look with your sparkling blazer.
This green blazer is complementing the neutral skirt so well and we recommend following the same color pattern.
You can also choose the same color for both the blazer and skirt. It depends on you whether you are more into contrasting or matching outfits.
For accessories, add diamond earrings and you're done. This outfit is a perfect ensemble for new year parties, weddings, and Christmas Eve.
14 – Pair Your Pink Paillettes Blazer With A Slip Dress
Who doesn't love a slip dress? But pairing it with a sequin blazer is like a cherry on top.
For your office parties and evening gatherings, this pastel pink slip dress with a salmon pink blazer is a stellar choice.
Wear a minimal silver necklace with it and nude pump heels, and you are ready to steal all the limelight.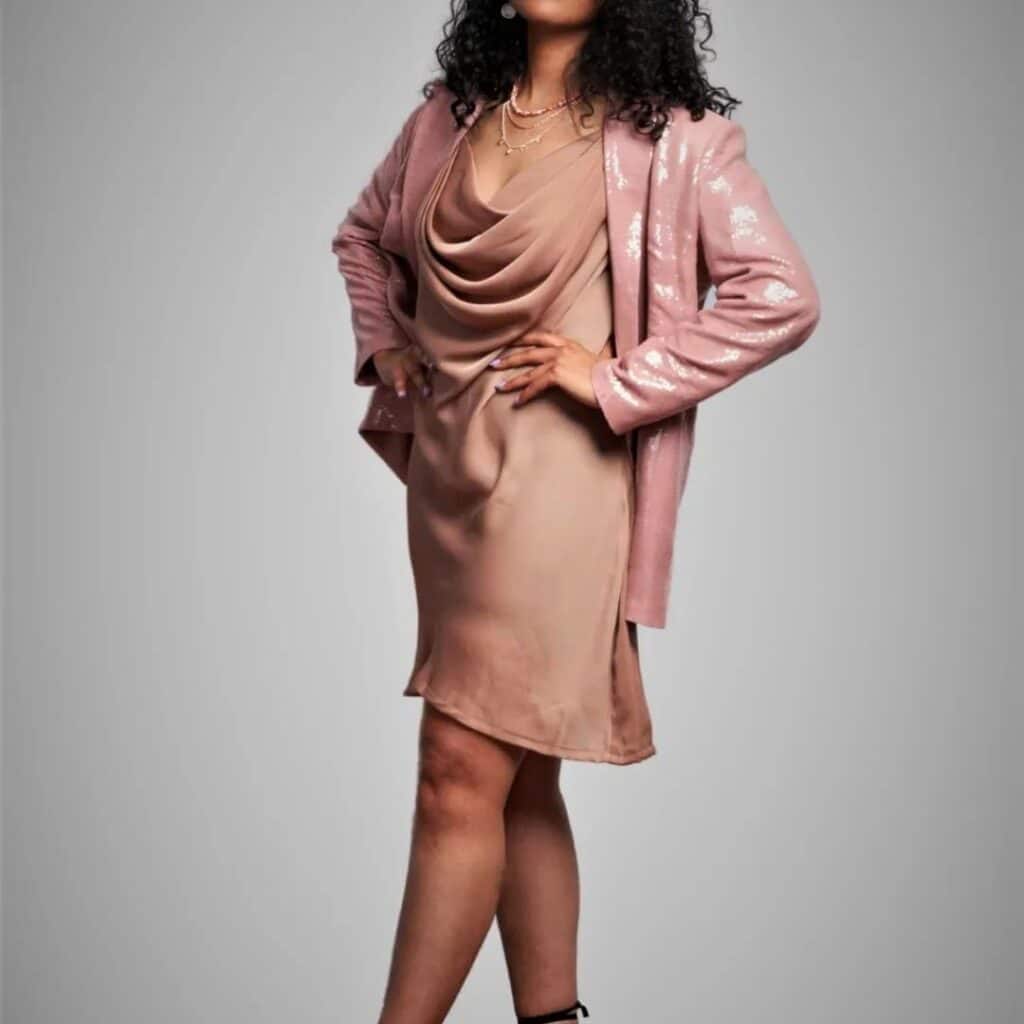 13 – Everyday Edgy Look
When in the mood to try something different, go for this edgy look.
Wear your sequin blazer with a tank top and ripped jeans. For a more laid-back and cool look, you can replace ripped jeans with chino pants if the weather is not too cold.
Wear a nice pendant and carry a chain bag or a tote bag. A perfect ensemble for a day when you want to look stylish with minimum effort.
12 – High Waisted Jeans With A T-Shirt for A Street Style Look
An oversized blazer with high-waisted pants can make a gorgeous street-style outfit. Go for any casual blouse or tee with this look.
If you can't decide on the blouse, you can go for the same color blazer and t-shirt.
Add comfortable shoes like dad sneakers and have a messy hair bun. You can also wear nice golden heels to add more glamor just like in the picture below.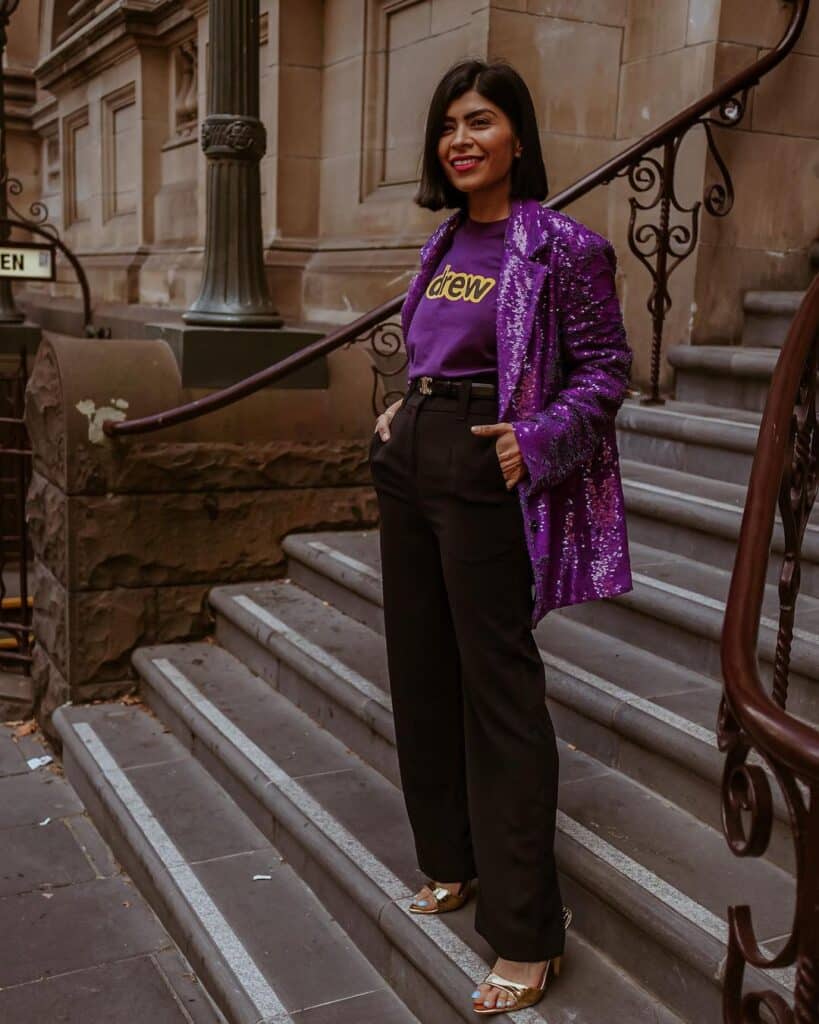 11 – Pair Your Zebra Printed Dress With A Blazer
Animal prints are never out of trend. Wear this gorgeous midi maxi with a purple blazer. Throw on a statement black belt to give it a neat look.
You can skip sunglasses if you are not going outdoors. Add accessories like stud earrings and bracelets and you are ready to steal the limelight!
Complete the look with the beautiful black ankle heels.
10 – How to Wear Sequin Jacket to Office Party?
Sparkly outfits are considered a bit odd for the workplace. But the question is why does a workplace outfit have to be dull and boring?
For us, we would suggest adding some glamour to your workplace party and stealing the show.
Add this stunning pastel pink blazer to your wardrobe. Pair it up with a co-ord white top and pants.
Create stunning waves in your hair and get that pretty party makeup look. Your sparkling yet sophisticated work outfit is ready!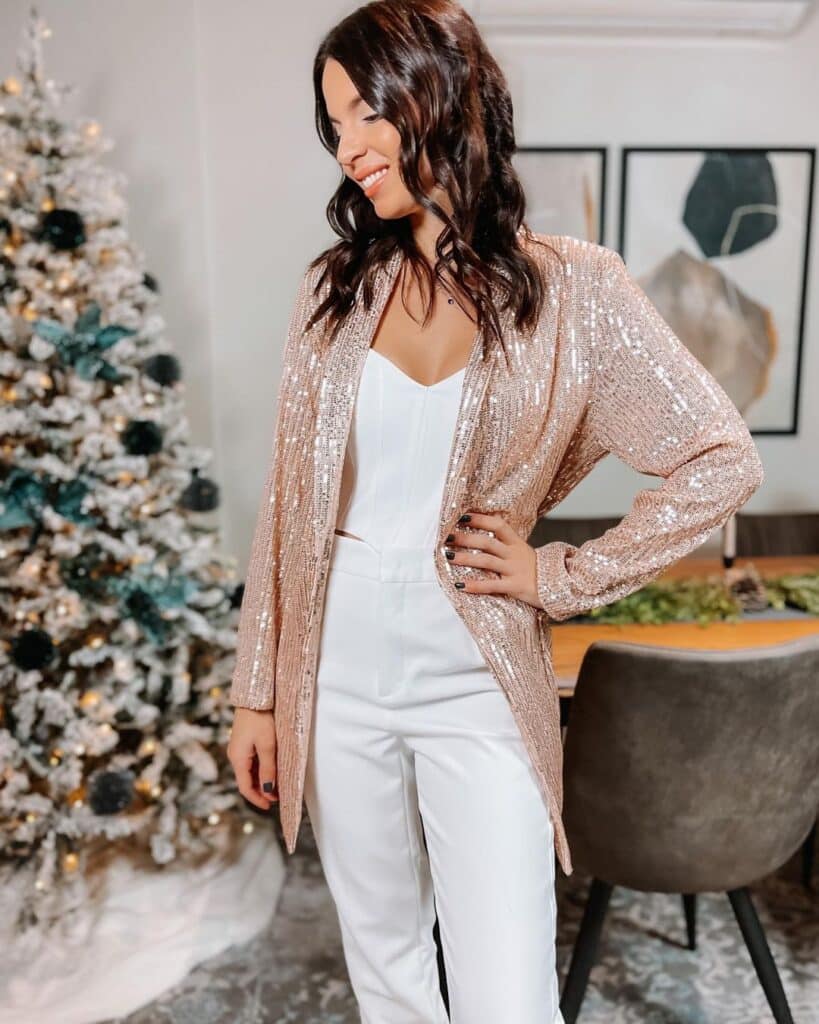 9 – Blazer Over A Dress for A Beach Day Out
Sequins on Beach? seems strange but it isn't. A sequin blazer can make a classic outfit for a beach day out with your friends. A perfect ensemble to keep you cozy and safe from chilly winds at the beach!
Swap the heels with some funky sneakers for a comfy walk over the beach.
If you are going to a beach birthday party, you are allowed to go over the top with a pretty headband and accessories like pendants and earrings.
8 – Little Black Dress Can Never Go Wrong for Date Night
We just cannot take our eyes off this perfect black and gold outfit. This duo of a black one-shoulder maxi dress with a gold blazer is a classic outfit.
The stockings are making the outfit look more stylish. You can choose not to wear stockings if the weather is not chilly outside.
Pair this blazer with knee-length heels or black stilettos, as stilettos look more classy on a date night.
7 – Keeping Up with your Fashion Game on a Road Trip
What if we say ditch the traditional road trip look and go for this look? Will you take the challenge? If yes, here comes an outfit that is anything but ordinary.
Wear a plain white tee and jeans and complete the look by wearing an oversized metallic blazer made of spangle.
Wear sneakers or boots with this outfit. Put on a lot of sunscreens and subtle pink lipstick. You are ready to enjoy this fun-filled road trip and all set to capture stunning photos!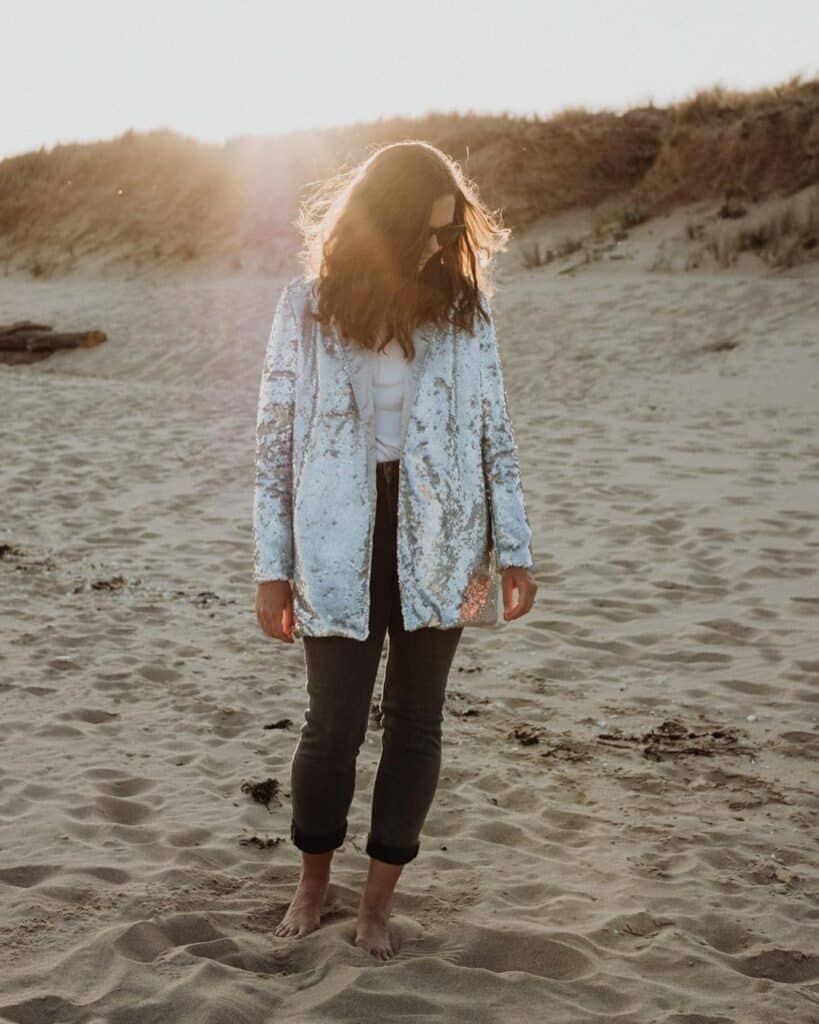 6 – Rock a Glitter Set
Glitter sets are having a moment, especially for a disco party with your girl gang. Have a look at this gold ensemble.
The outfit looks amazing and keeps you free from the hassle of matching or finding a contrasting fabric for the jacket.
For more party outfit ideas, check out this Disco Party Outfits – 30 Ideas on What to Wear to a Disco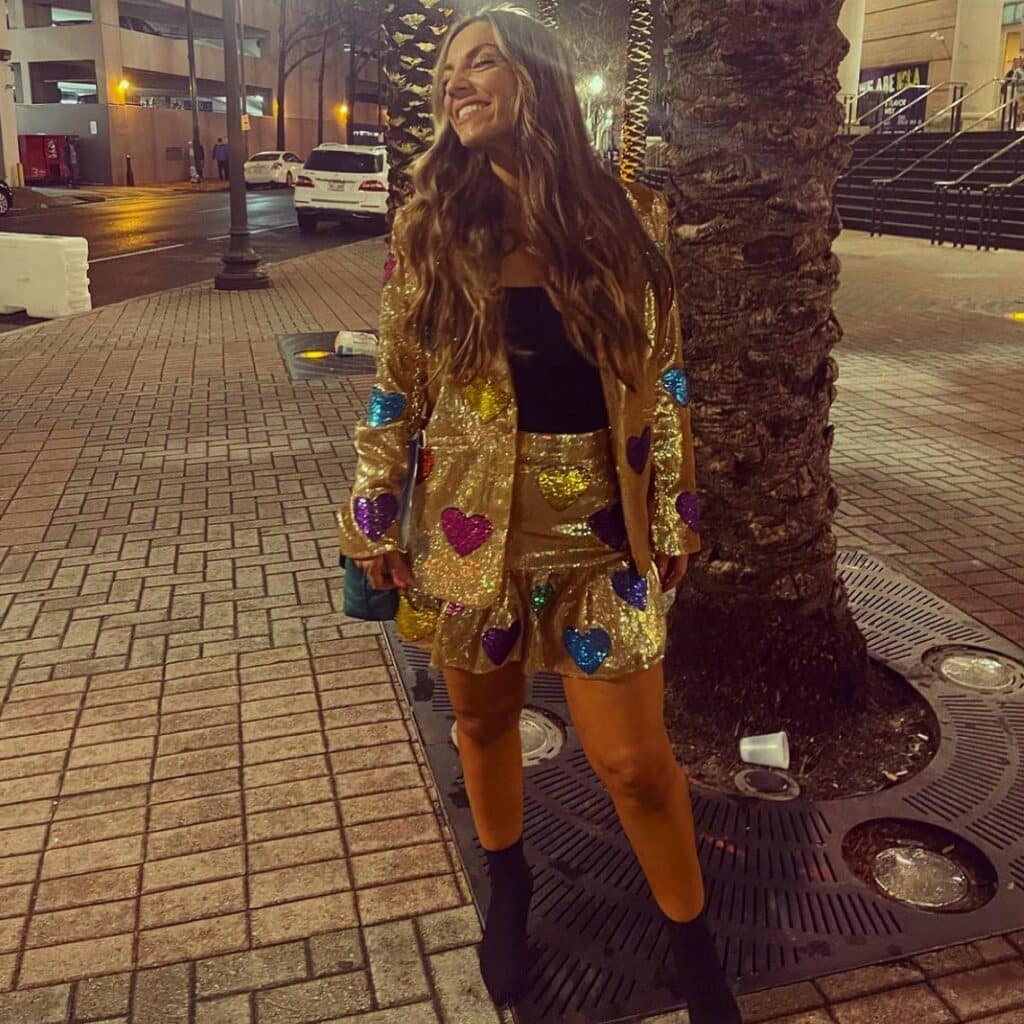 5 – The Zara-Inspired Glitter Jacket
You can never go wrong with an all-black outfit. This is a simple and subtle way to flaunt your fit when you are not in the mood to do a lot of effort for your styling.
Go for this blazer jacket with skinny jeans and pointed-toe heels.
Put on bright red or black nail paint on your nails. Add accessories like bracelets and hoop earrings. And you are ready to enjoy your day to the fullest!
4 – Go Wild With This Leopard Print Jacket
This leopard print jacket is a treat to the eyes, wild and beautiful!
For your next birthday party get ready in this cheetah print jacket with a beret. Pair it up with a plain top, and add accessories like hoop earrings, pendants, and a necklace.
You can either go for black stilettos or ankle-length boots, both will add charm to the outfit.
3 – How to Add Glitter to Your Fall Outfit?
When it comes to seasons, we love the vibe of the fall season. Cozy outfits and hot soups are a fall staple and so are glitter blazers with a skirt and sweater.
The neon sweater is going so well with the neutral midi skirt and the blazer is serving as the cherry on the top.
Tie up a statement belt around your waist to give a neat look. Wear ankle-length shoes and go for accessories like a necklace and ring.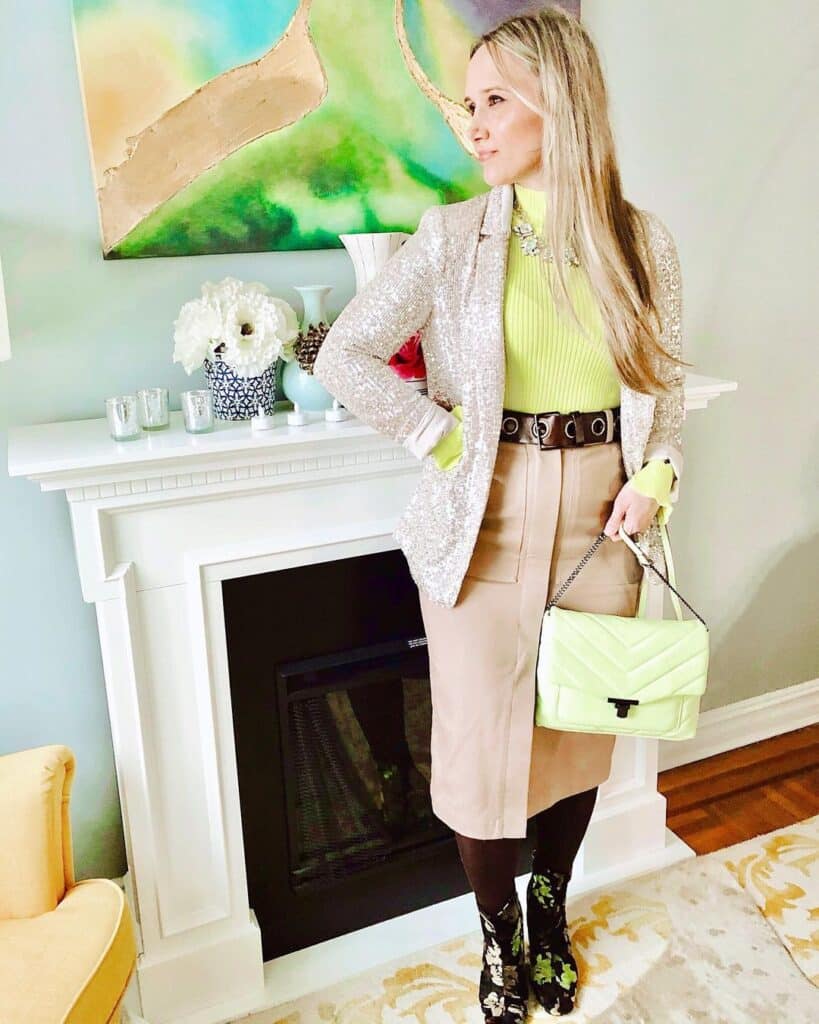 2 – Go for A Red Midi Bodycon Dress with Silver Blazer
It's Valentine's and you can't decide your fit. No issues, go for this breathtaking red midi dress with a silver blazer. An effortless and chic look for valentine's day!
Accessorize your outfit and complete this look with long boots. You are all set to shine!
Here are more outfit ideas for valentine's day.
1 – Level up Your Fashion Game With Red Pants
Make your serotonin level higher by wearing these happy colors. We love the happy vibe of this outfit and we recommend going for these red skinny jeans along with the animal print top and yellow sequin blazer.
Wear plain white socks with this outfit and complete the look by wearing either suede shoes or boots. A colorful and joyous look for your winter holidays!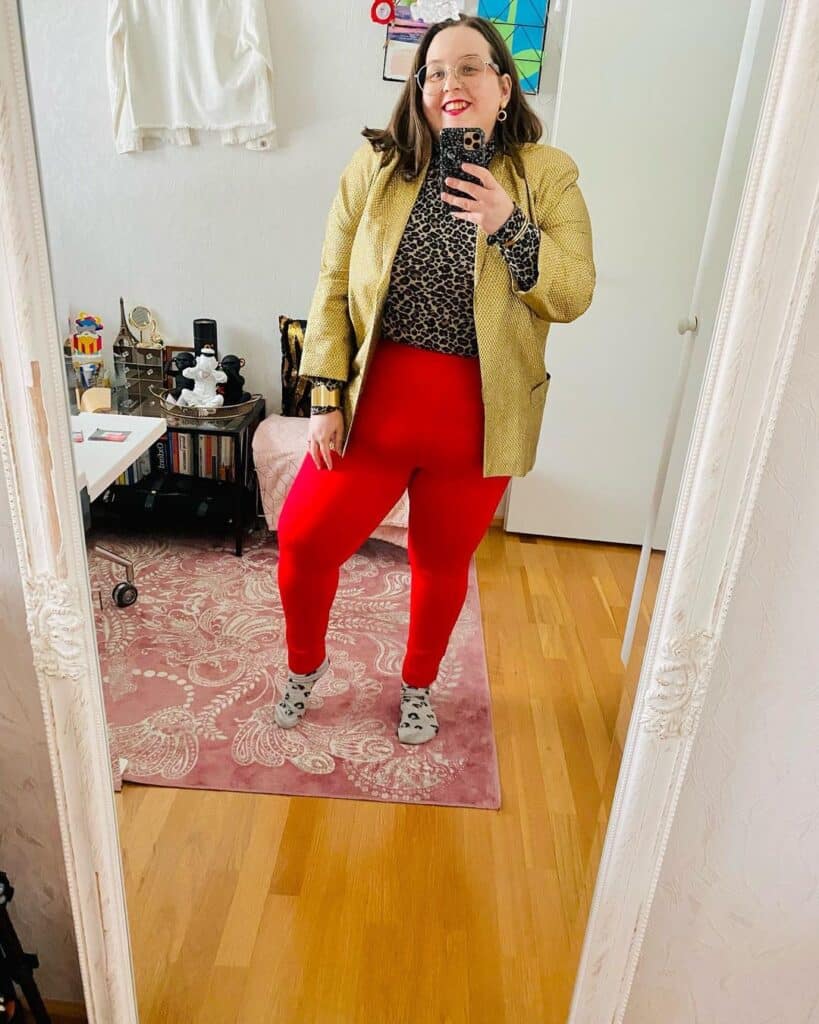 Frequently Asked Questions
Q. How to wear a sequin blazer?
Ans. A blazer can be worn in multiple ways. For formal events, it is mostly paired with silk satin dresses, long embellished skirts, and bodycon dresses. For everyday styling, you can wear it with your everyday clothes like jeans, tees, tank tops, or mini skirts. It adds bling and glam to any outfit but that doesn't mean it cannot be styled with casual outfits. In the end, it all depends on you and how you choose to style a particular dress as fashion has no hard and fast rules.
Q. Are sequin blazers a wise choice for curvy women?
Ans. Yes definitely, glitter blazers have this adorable quality of giving a lean and sophisticated look to all body types. It is a comfy and wise choice for all the women out there, especially curvy women. If you are still confused, I highly recommend reading this post on 18 Plus Size Sequin Outfits-How to Wear Sequin as Curvy Women