Looking for stylish and romantic outfits for this valentine for teen girls ? We bring  these 20 most stylish and amazing outfits combinations for 2018 valentine. The most difficult situation you come across is what to wear on valentine's day?
Choosing the perfect outfits for valentine is a tricky job, but it will no longer be so once you're done with this article, because we have made this job too easy for you. These sexy outfits collection for valentine offers you a variety of ideas as what suits you whether you intend going on a romantic date or to a party (party outfits). Whether you've decided to spend a relaxing valentine by watching movie with your loved ones or decided to look little funky on this valentine, we bring you best and trendy collection of outfits combination that makes your valentine's day special.
Valentine's Day is one of those days where you can be romantic to your loved ones, and if you plan a romantic date you need to have a proper plan with that. From deciding the location to choosing the valentine dress. We all know that the color that reflects love on Valentine's is none other than Red. Though you can wear other colors too such as pink and white. If you go around the market you will find some amazing dresses in red and pink color. February 14th is the day when you can flaunt your beauty. Embrace anything that suits you. Whether it is a short dress, a long maxi, formal coat with pants, a shirt with a coat etc. you can go for anything that you like. Carry a classy handbag with it along with wearing perfect pair of shoes or long heels. Make sure that anything you wear makes you look feminine and elegant.
In February, you will find a lot of stores displaying some amazing valentine's costumes. If you plan on trying something different and fancy then you must try these costumes. Fever red devil costume, dynamite costume, cocktail hunny pink costume etc. are quite famous, you must search for these costumes. Make your Valentine's day one special memory to cherish for the entire life.  Below are the pictures of some amazing outfits to wear on Valentine's day along with some matching accessories that will make you look like a perfect diva.
Good luck and keep spreading the love 🙂
2018 Valentine Day Dressing Ideas for Girls
With Valentine's day almost here, you've probably planned what you'll be doing but what worries you more now is what you'll be wearing. The aim is to dress your best while staying within your comfort zone and expressing your personal style. The outfit you choose depends mainly on what you plan to do.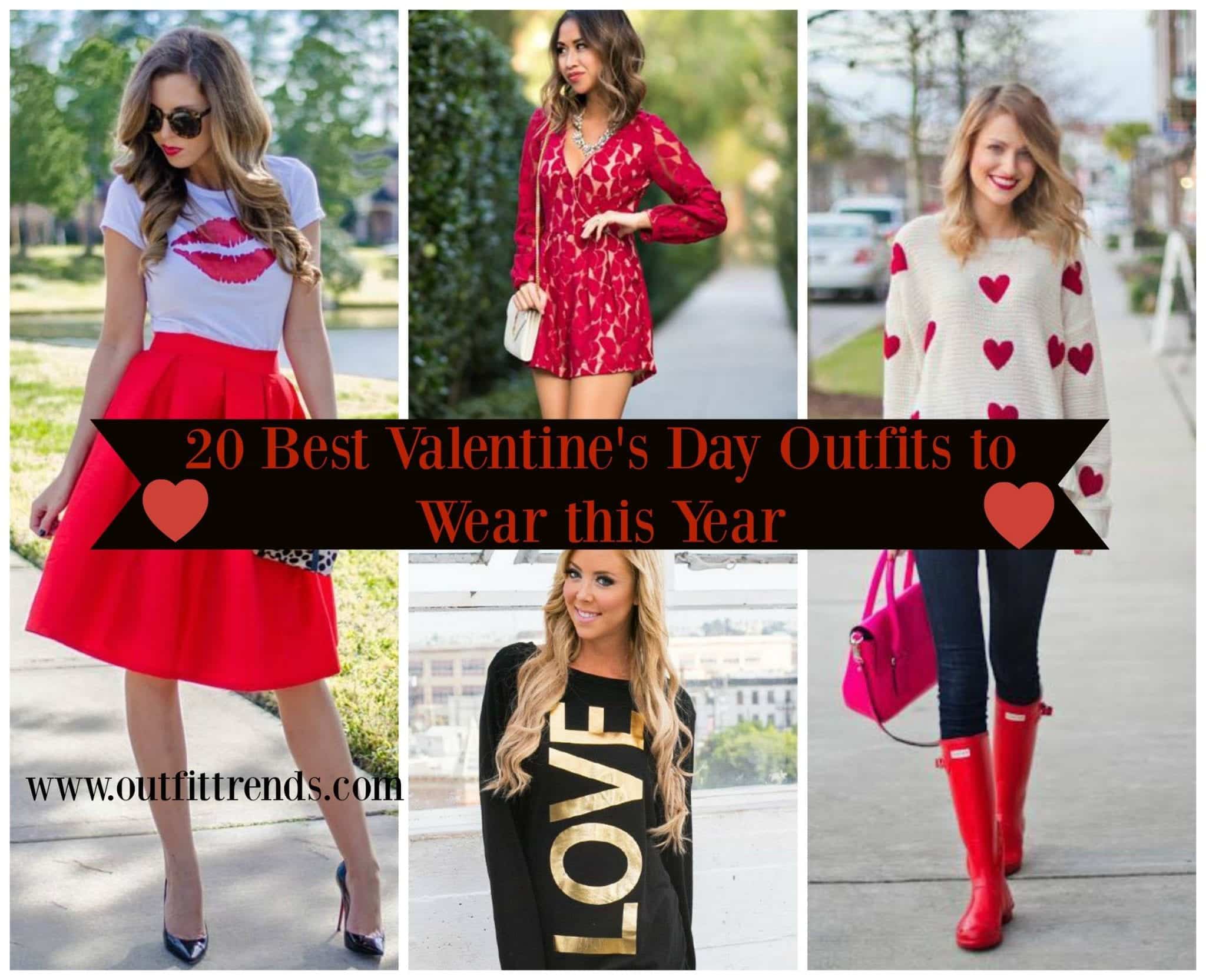 #20 – Accessories Ideas To Match Your Outfits
Never underestimate the power of accessories as they can be the X-factor for even the simplest outfits. So whatever outfit you choose from our given list, do remember to accessorize it properly. The art of accessorizing involves making sure that you harmonize the look by keeping a common theme or element amongst all your accessories and your outfit.
Another important thing is to keep your body and face shape in ming when selecting the accessories. For instance, if you have a round face then go for longer earrings to elongate your face.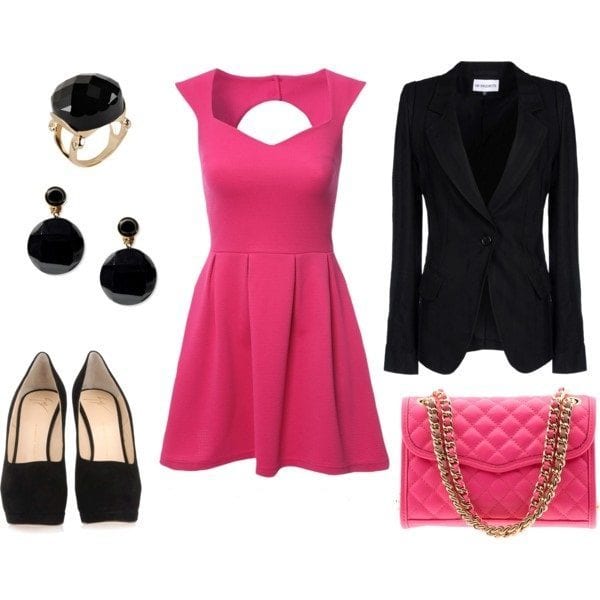 When it comes to shoes, you can wear almost anything on valentine's day but our favorites this year are boat shoes, loafers and nude pump heels as these can be paired with all kinds of outfits.
#19 – Classic Colours
Black and red are the classic colors for valentine's day and always the safest option to go for.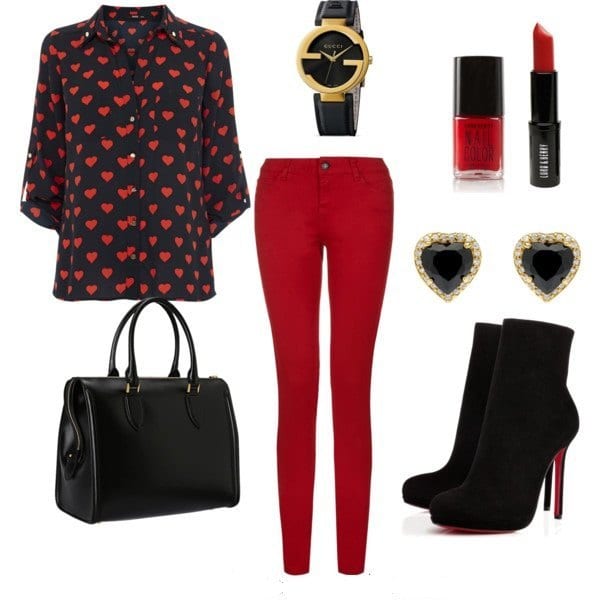 #18 – Dress to Impress
Play with different and unique color combinations to leave a lasting impression on your partner.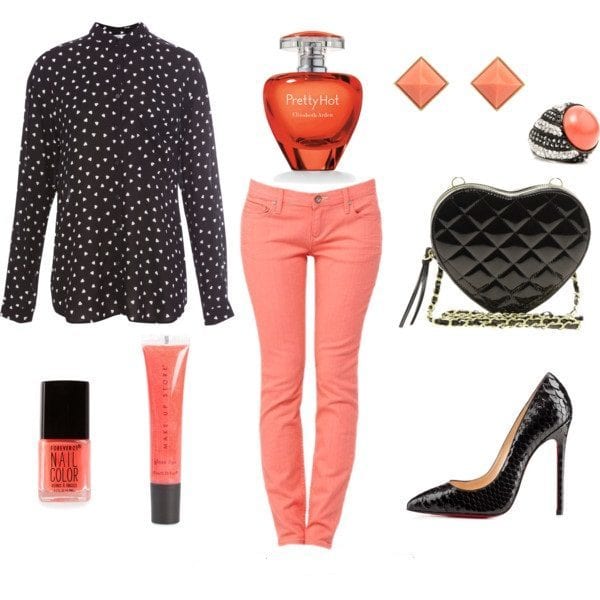 #17 – Hot Casual Combination
For a hot casual look, pair up your black and white dress with hot pink makeup and accessories. Also have a look at these Season's 12 Most Hot Casual Outfit Combinations for Girls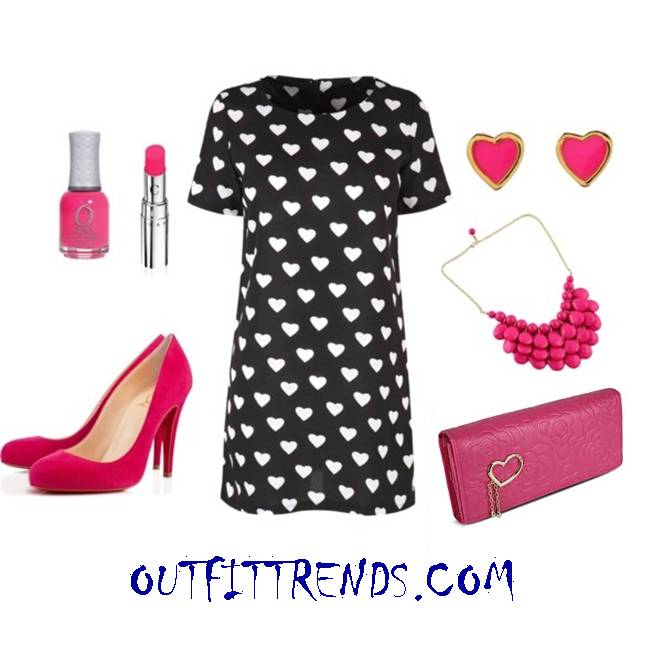 #16 – Funkiest Colours for Valentine's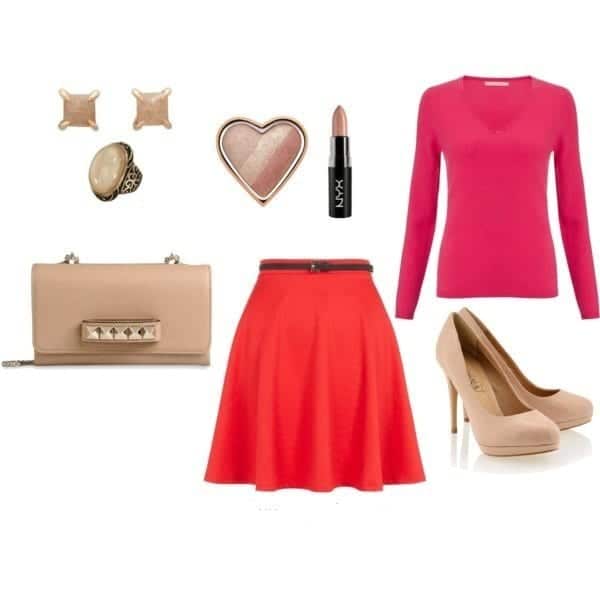 #15 – Cami Dress for a Hot Date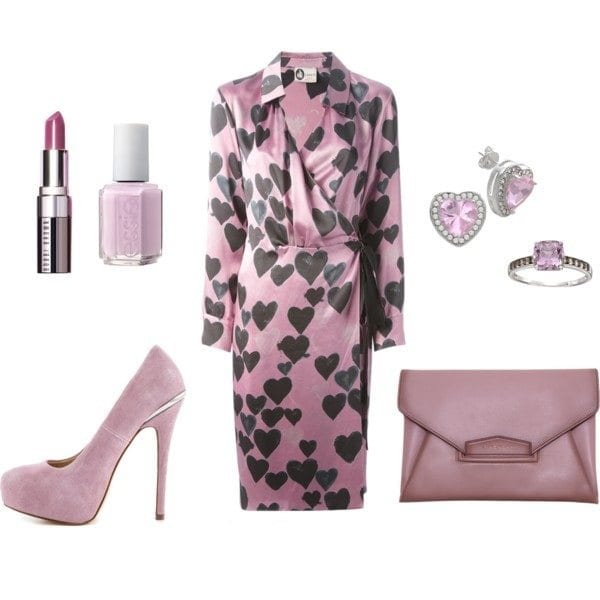 #13 – Accessories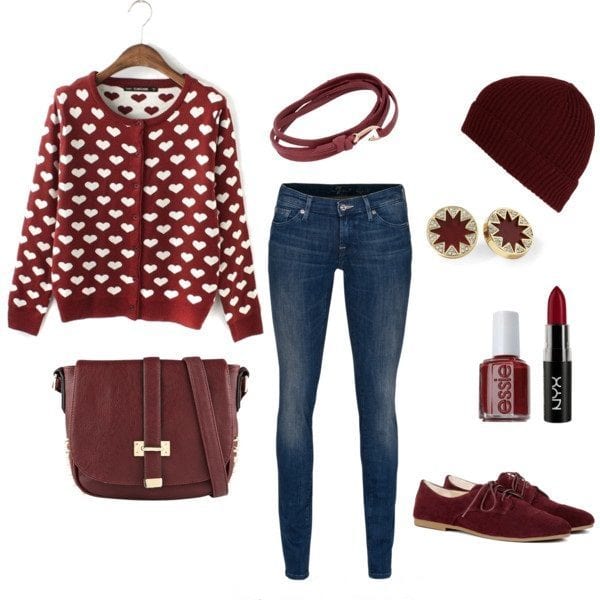 #12 – Valentine's Day Look for Work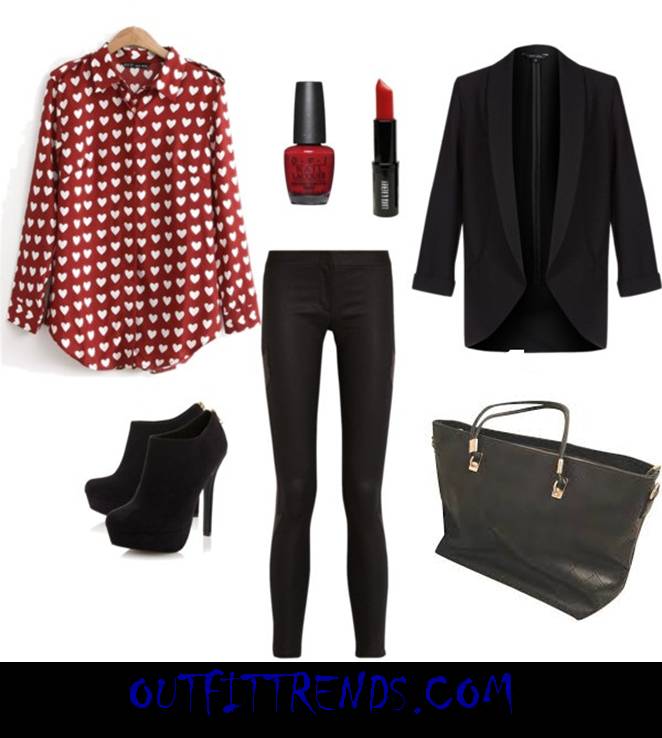 #11 – Valentine's Day Travelling Outfit
It's always a good idea to go for a romantic hike or long drive on valentine's day and here's a chic sporty look you can try. RECOMMENDED: Women's Outfits for Airport-15 Ways to Travel Like Celebrity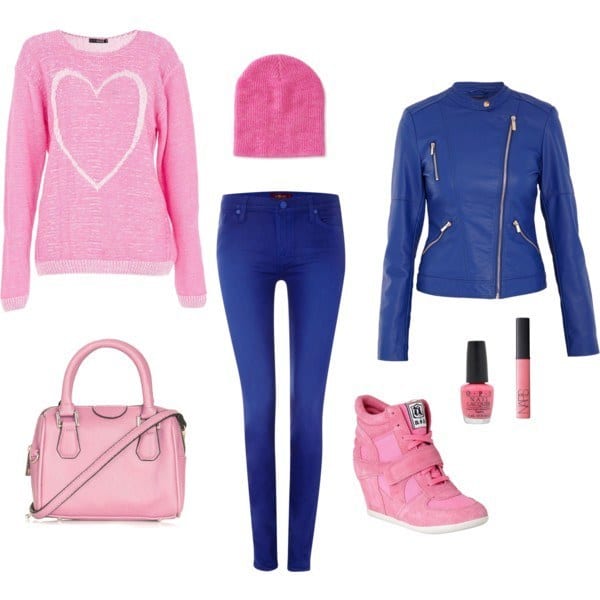 Step by Step Video Tutorial – Valentine's Day Hair and Makeup Tutorial
Your hair and makeup are as important as your outfit so check out this simple tutorial that you can easily follow.
#10 – Best Color Combination for Valentine's Day
No matter what your body shape, black is a colour that any woman can rock and it looks even sexier when paired with red accessories. Do check out 25 Celebrities All Black outfits Styles for Fall to Copy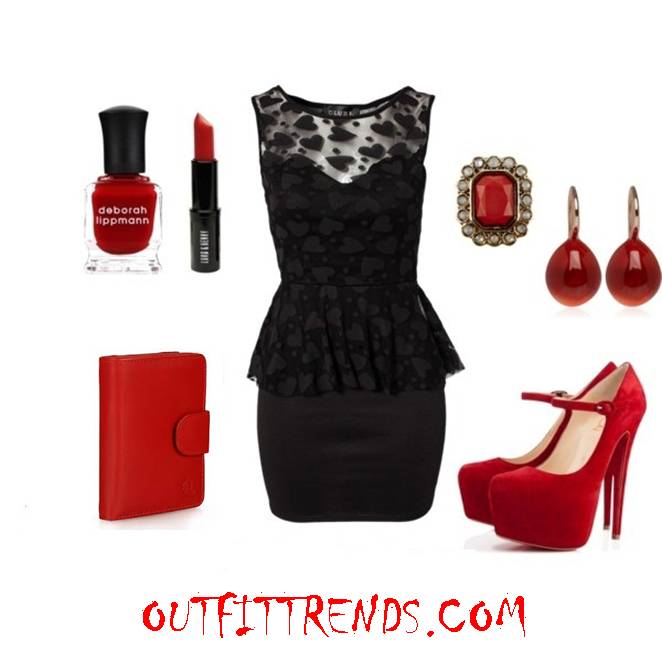 #9 – Lace Dress to Stand Out in the Crowd
Lace dresses will once again be trending this year and they're now available in so many beautiful colours and designs that one can easily find one that looks great on them. For more help in choosing the right lace dress, check out 26 Beautiful Lace Dresses and Ideas how to Wear Them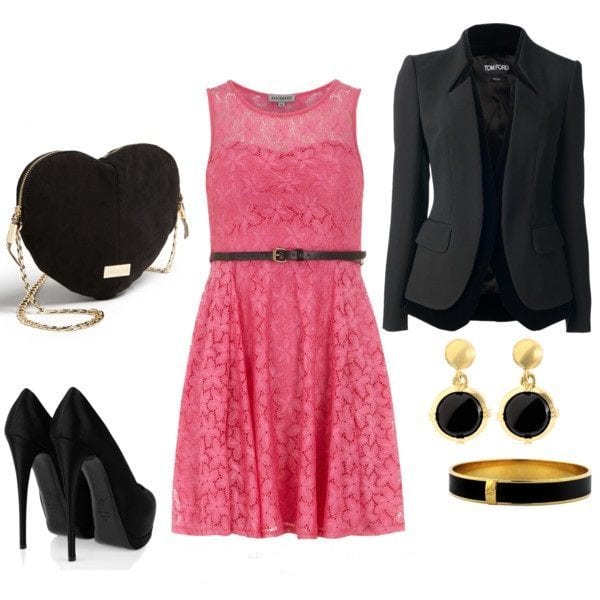 #8 – Swag Clubbing Dress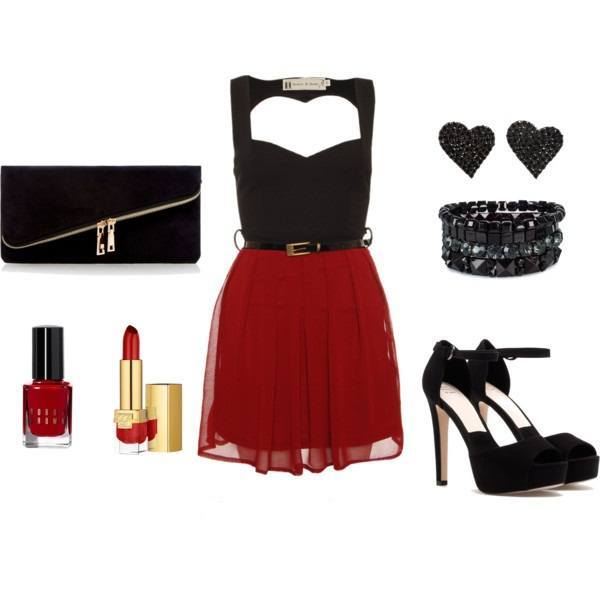 #7 – Warm and Comfortable Date Outfit for Outdoor Adventures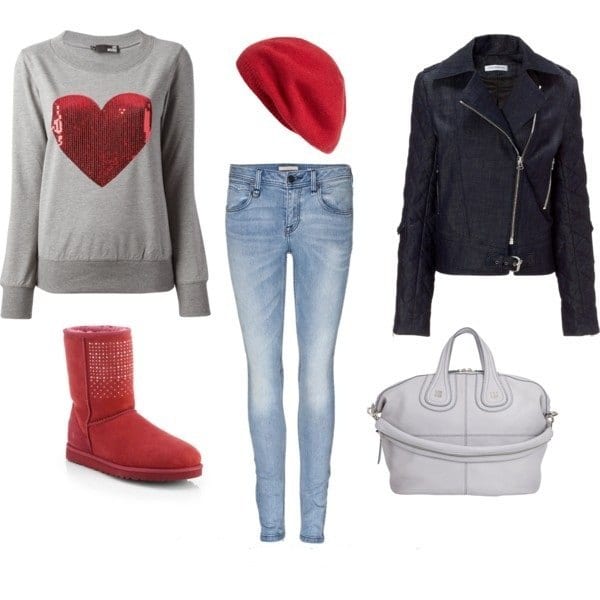 #6 – Outfit for Valentine's Day at His Place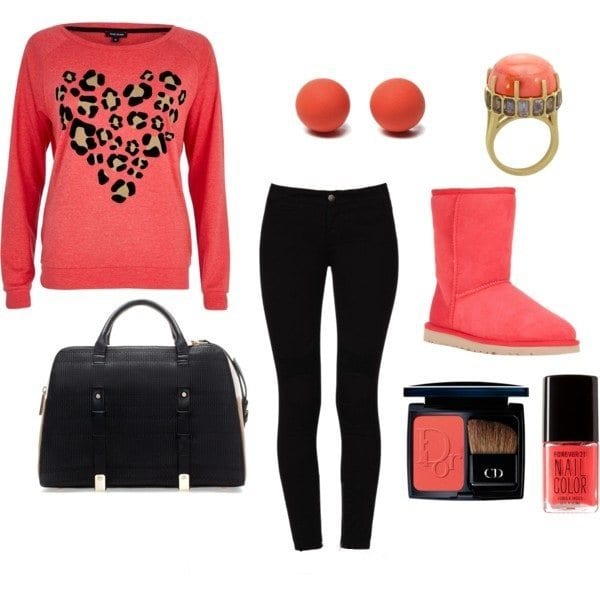 #5 – Cute and Elegant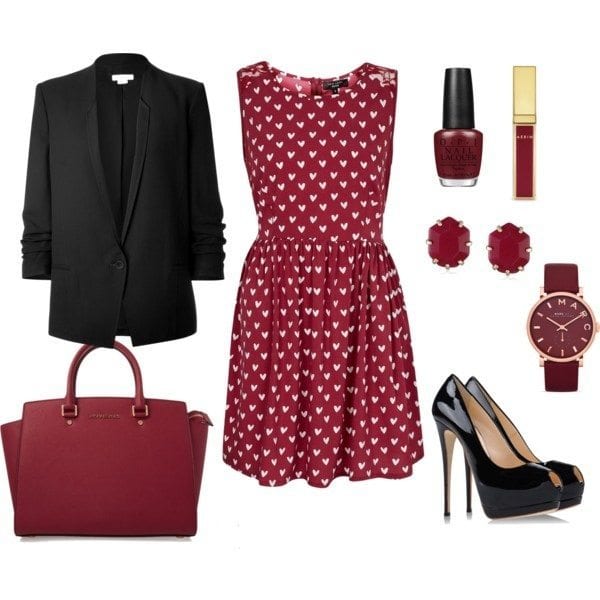 you can also get lots of trendy and latest outfits ideas and make you own perfect outfits combination for valentine from here
#4 – Fancy Dinner Dress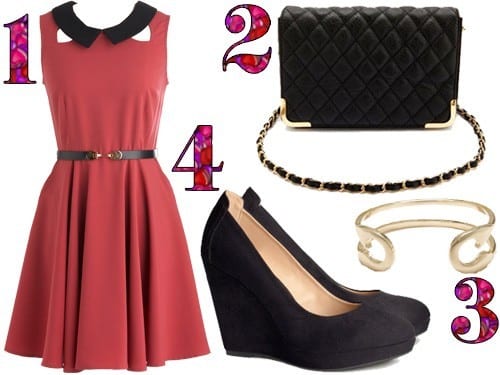 BUY THESE OUTFITS FROM
1. Sanguine Outlook Dress, $59.99, modcloth.com
2. Quilted Faux Leather Cross-Body Bag, $18.99, charlotterusse.com
3. Safety Pin Cuff, $22, jeweliq.com
4. Platform Pumps, $34.95, hm.com
#3 – Movie Date Outfit for Valentine's
Here's a feminine and yet flirty look that would be ideal for a movie-dinner combination date. The sheer blouse will make sure that your guy just can't get enough of you. RECOMMENDED: Movie Date Outfits; 20 Ideas how to Dress up for Movie Date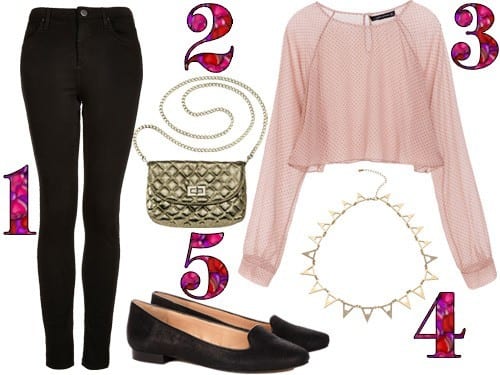 BUY THESE OUTIFTS FROM
1. Moto Black Jamie High Waisted Jeans, $70, topshop.com
2. Target Limited Edition Quilted Crossbody Handbag, $14.99, target.com
3. Polka Dot Cropped Blouse, $69.90, zara.com
4. Blu Bijoux Triangle Collar Necklace, $34, maxandchloe.com
5. Britton Smoking Loafer, $59.95, solesociety.com
#2 – Comfortable Outfit for a Date at Home
If you've been married for a couple of years and this isn't your first valentine's day together then you can just wear your comfiest outfit and snuggle all night with you bae, watching your favorite movies and doing all your favorite things of course.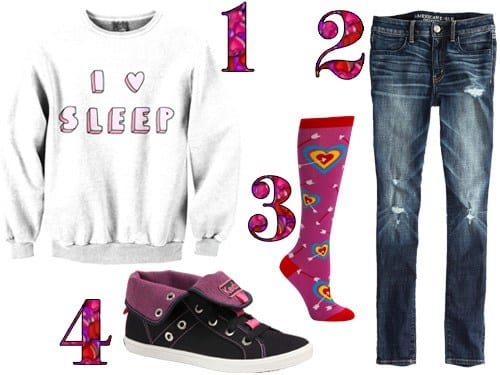 BUY THESE OUTIFTS FROM
1. I Love Sleep Crewneck, $37, fresh-tops.com
2. Jegging, $29.99, ae.com
3. Cupid Bullseye, $12, sockittome.com
4. Rookie Loop De Loop, $60, keds.com
#1 – Valentine's Day Party Outfit
Whether you're partying with your guy or having a girl's night out, nothing can beat this hot party outfit.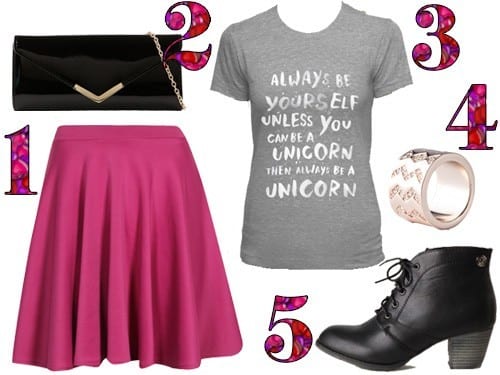 BUY THESE OUTIFTS FROM
1. Jess Skater Skirt, $16, boohoo.com
2.Gallington Clutch, $35, aldoshoes.com
3. Always Be Yourself Tee, $22, society6.com
4. Rose Barrel Ring, $20, lilyrain.com
5. Fallen Leaves Lace-Up Booties, $46.99, shopruche.com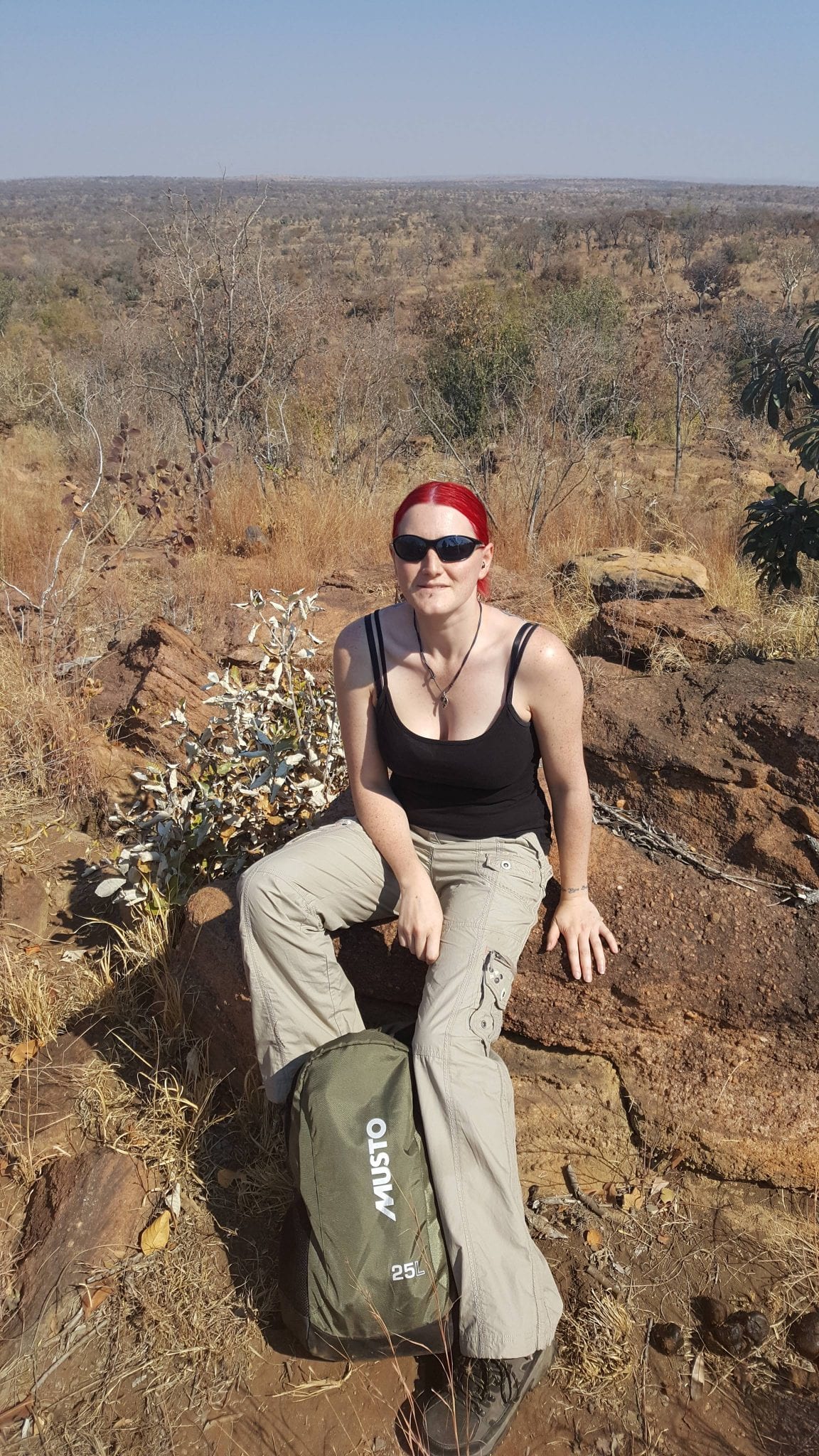 Caz, aka Vixen, has been freelance creative writing for several years. She has a lot of experience in different fields including high street fashion, tattooing art, and even the gothic and historical costumes. Caz has a Diploma in Fashion and Textiles and also a Bachelors Degree in Historical Costume and Corsetry. Her passion lies with gothic design, corsetry and any other styles considered to be taboo or unusual. Style-wise Caz has a love for Vivienne Westwood and her take on the punk era. Although Caz loves the weird and wonderful, she has a deep love for all fashion and allows this to show through her work.