Valentine's Day Outfit Ideas: Looking for a stylish and romantic outfit for this Valentine's? We bring you these 20 most stylish and unique outfit combinations for Valentine's Day 2022. The most challenging situation you can encounter is what to wear on Valentine's day.
Choosing the perfect outfits for Valentine's is tricky, but it will no longer be so once you're done reading this article because we have made this job too easy. Whether you have decided to spend a relaxing Valentine's by watching a movie with your loved ones or look a little funky this Valentine's, we bring you the best collection of outfits combination that makes your valentine's day special.
What to Wear For Valentine's Day?
With Valentine's day almost here, you've probably planned what you'll be doing, but what worries you more now is what you'll be wearing. The aim is to dress your best while staying within your comfort zone and expressing your style. The outfit you choose depends mainly on what you plan to do.
Whether it is a short dress, a long maxi, a formal coat with pants, a shirt with a coat, etc., you can go for anything you like. Make your Valentine's day one particular memory to cherish for your entire life. Below are the pictures of some amazing outfits to wear on Valentine's day, along with matching accessories that make you look like a perfect diva.
Tips
Handbags matter: Pair your outfit with a classy handbag that perfectly matches your attire.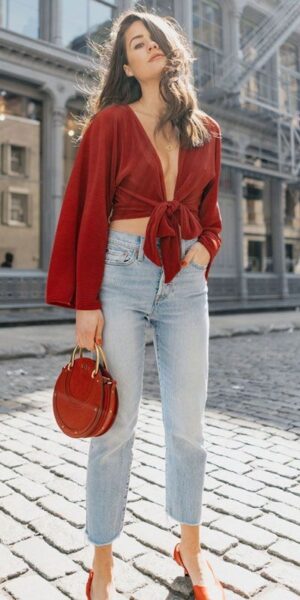 While the outfit is required to look perfect, your feet need attention too. Pick out statement heels or some classy boots to wear with your dresses.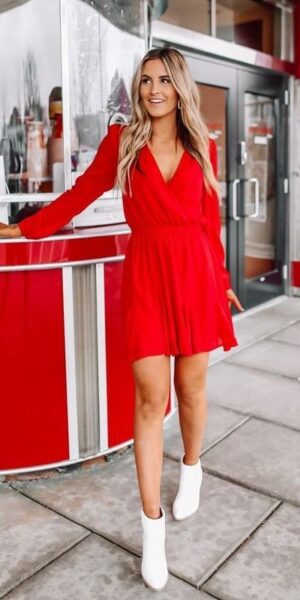 Opt for lace because Lace dresses are a good option that you could wear to date nights.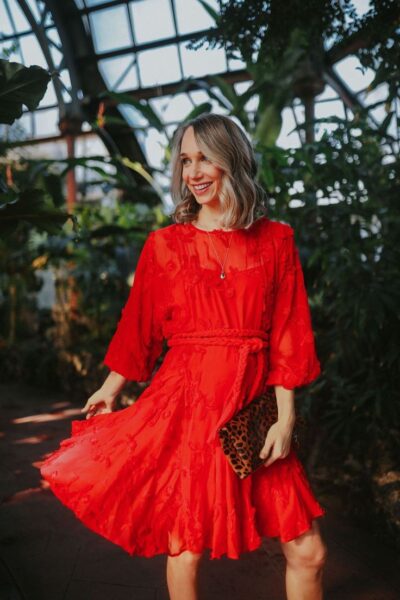 You do not need to look for formal options only. If you plan a casual night, look for comfortable yet elegant options.
If you are planning on going outdoors, make sure to carry a jacket or a cardigan to help keep you warm.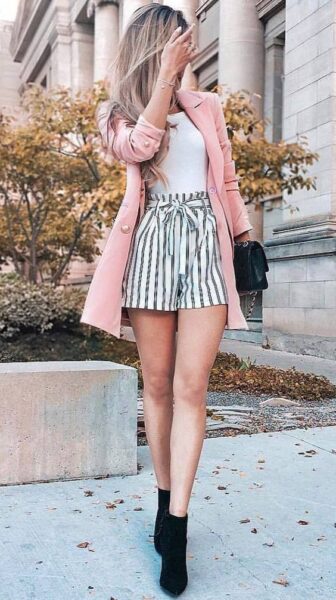 Makeup For Valentine. Well, you can wear any color or shade for all year, but when it's V day, glam up your look with bold colors like pink, coral, and red . Make the lips the main character.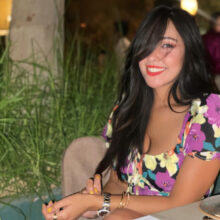 20 – White Ribbed Top With Blue Wide Leg Pants And Peach Coat
Here's the perfect option to keep your Valentine's outfit casual. You can wear a basic white ribbed top with your wide-leg denim pants. Don't worry if you don't have ripped pants; you can style them anyways. Also, you can wear mom jeans or straight-leg pants, whatever you feel is more convenient.
Now, complete the outfit with a knee-length peach coat. You can carry a crossbody chain bag in pink or white. Lastly, choose sandals that can give you significant height.
19 – Sweetheart Neckline Pink Floral Midi Dress
Pink is the absolute favorite color to represent feminine nature. You can wear a pink floral dress with a sweetheart neckline. Try to pick a dress that will fit you like a glove. Baggy clothes are cool but don't forget that it's Valentine's day, and you want to channel your true beauty. Therefore, my suggestion is to choose modest dresses for the daytime. These outfits are for everyone, including cute valentines day outfits for plus size women.
You can easily accessorize this outfit with silver or gold jewelry. Keep your makeup natural, and add beach waves to your hair. That's it!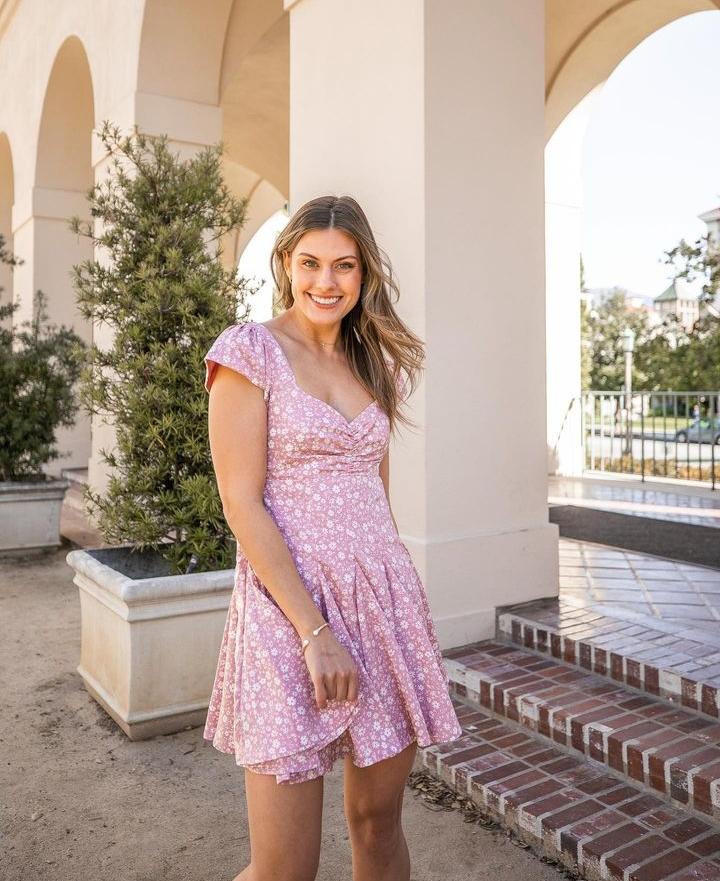 18 – White Rose Printed Puff Sleeves Maxi Dress
If maxi dresses are your go-to option for any special events, then you will love this dress. Don't wear a plain maxi dress; choose something printed. If you find a red rose-printed maxi, it will be the cherry on top, according to the event. You can add a Gucci crossbody bag to look expensive.
Again, this outfit is super easy to accessorize. You can wear gold or silver earrings. The chain would also look fine if your outfit isn't halter neck.
Valentine's Day Outfits In Pink
17 – Light Pink Top With Pink Blazer And Beige High Waisted Pants
Red might be the symbol of Valentine's day, but Pink is still every girl's first choice, whatever the occasion they are dressing up for. Pair a light pink spaghetti strap top with beige wide-leg pants. Now, you can either wear an accessory and finish the look or add a pink blazer to give it a formal look.
For the footwear, choose your basic sneakers or wear mary jean shoes. Lastly, you can skip the beret if you don't have one.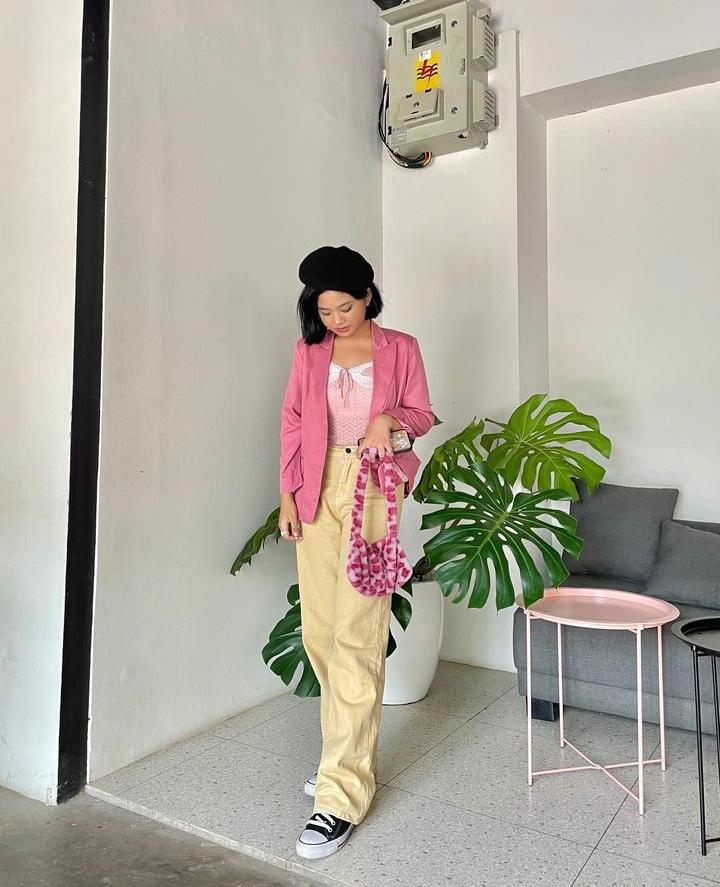 16 – Printed Collar Shirt With Neon Pink Corset Top And White Trousers
A colorful button-down shirt is something every girl has in her wardrobe. However, how to style it is the real question. You can use the layering method to make your shirt look chic. Choose a bright, popping color like a neon pink corset top. If your inner shirt has long sleeves, choose a spaghetti-strap top.
Now, choose a neutral shade bottom because there are already too many colors for the top. But if you want to make a statement and look fancy, you can also choose neon pants.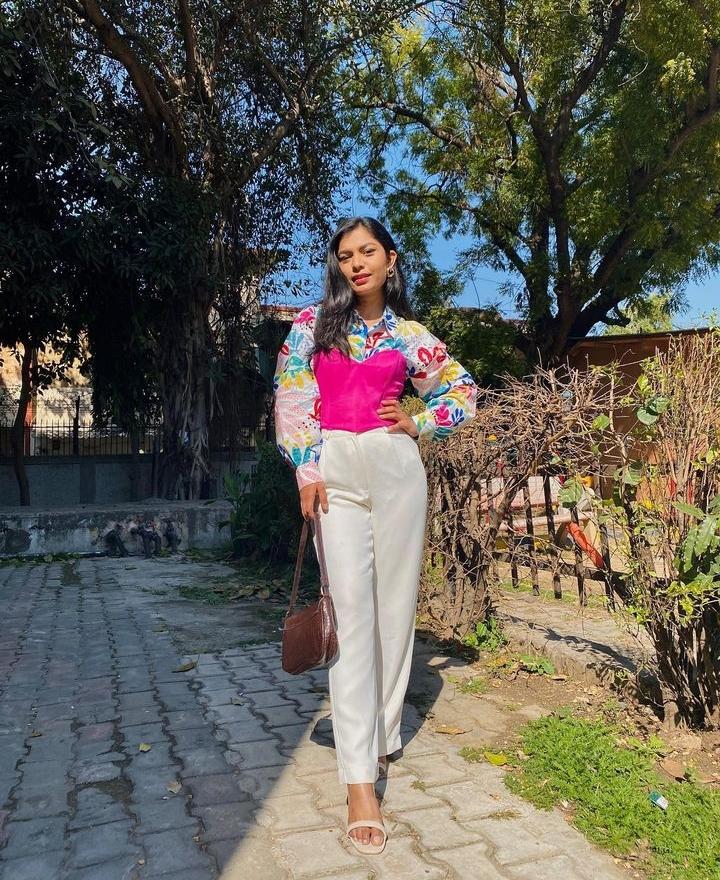 15 – Coral Button Down Collar Shirt With Leather Skirt
Coral is a color that isn't super easy to style. However, with the right combination, you can make it work. Firstly, choose a printed shirt. Don't wear a plain button-down shirt if you aren't layering it with anything else. It will; look too plain, especially for a day like Valentine's.
You can pair it with a lighter skirt to make a difference. Now, go with a bright or neutral bag. Both can make the outfit look good. All you need is the correct type of bag. A crossbody bag is the worst option to go with this look. Choose a handbag instead.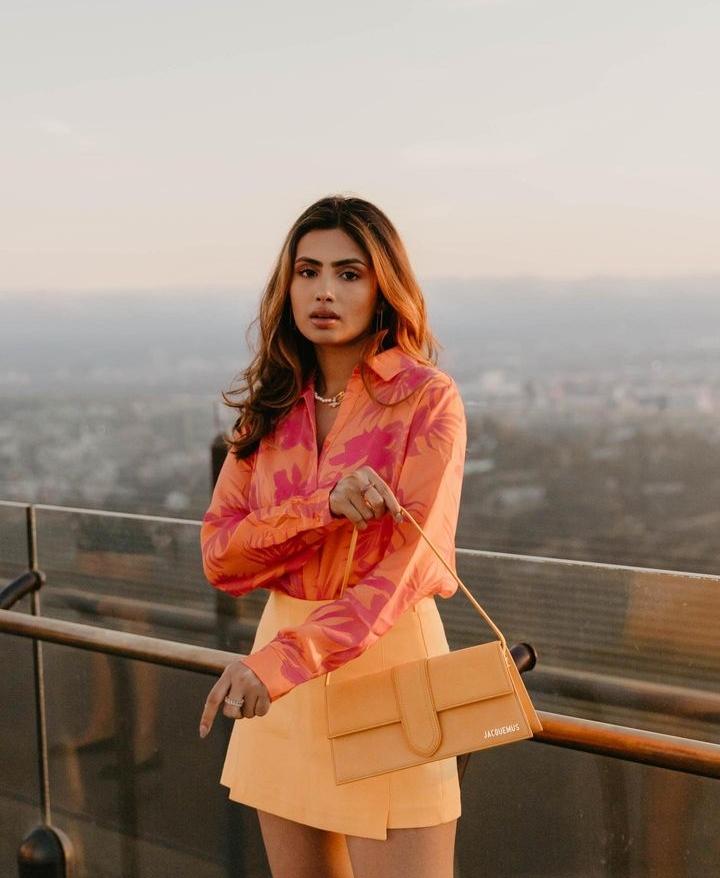 14 – Black Top With Plaid Skirt And Magenta Faux Fur Coat
White basic black top looks good with a plaid mini-skirt. You can wear stockings underneath. Chunky leather boots are the best shoes to wear with this look. You can easily carry any bag in black. Lastly, finish the look with a magenta faux fur coat.
Also, don't forget to accessorize the outfit with a gold chain and rings.
13 – Pink Crop Top With Grey Jacket And Blue Ripped Pants
If you are not a fan of doing too much on Valentine, this outfit is perfect for you to recreate in 2023. Pink and grey is a combination not many think would look good. But to your surprise, it is the most elegant combination I've ever seen. Pair a pink crop top with a grey jacket and blue ripped pants.
Style your hair in beach waves for a casual look. Choose brown leather boots to complete the outfit.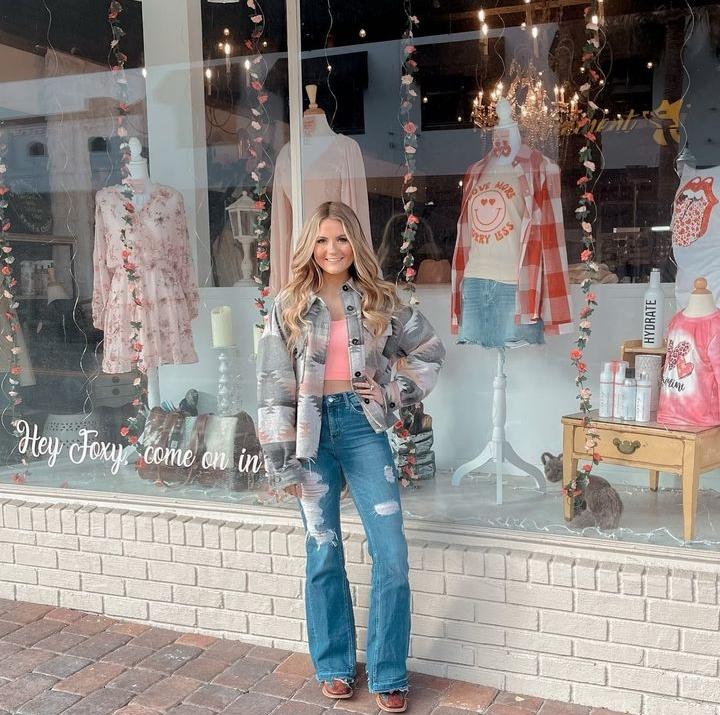 12 – White Half Sleeve Shirt With Pink Spaghetti Strap Top And Beige Pants
High-waisted wide-leg pants are the cutest trend you can wear as a valentine's day outfit for teen girls. A white half sleeves crop top and a cute spaghetti strap top are all you need to create this look. Choose matching sneakers, and that's it. The cutest Gen-Z outfit you will see on the next V-day.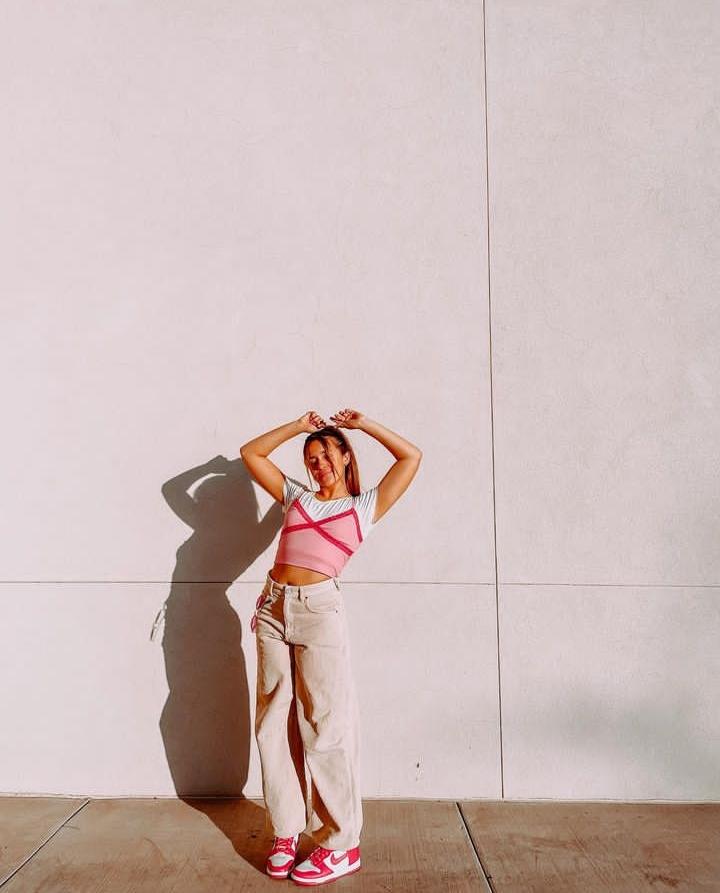 11 – Pink Heart Printed Sweaters With Light Blue Denim Jeans
Heart shape printed sweater is an OG outfit for Valentine's. You can pair light blue denim jeans and white sneakers. Also, you can add a dark pink coat or jacket to this outfit if you want. Crossbody bags are the perfect type of bag to finish the look.
Valentine's Day Outfits In Red
10 – Spaghetti Strap Blood Red Top With White Ripped Pants
The spaghetti strap blood red top with white pants is the most aesthetically pleasing outfit in my list of top 20 outfits for Valentine's 2023. Pair white chunky boots and a black handbag to keep the look subtle. Also, don't forget to add pink sunglasses. Tie your hair in a bun to finish off in style.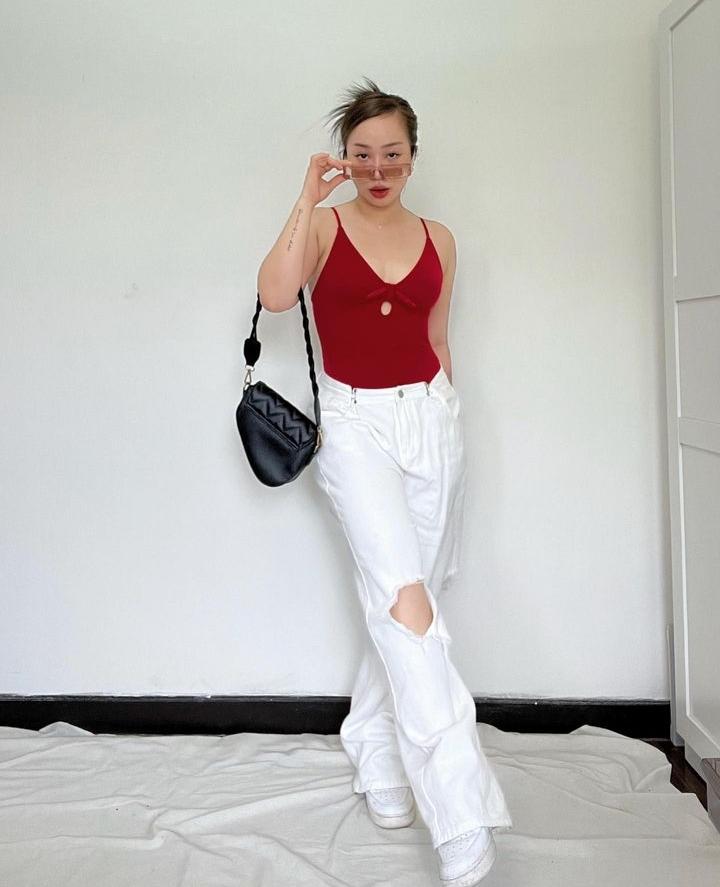 09 – Red Turtle Neck Shirt And Skirt With Red Stocking And Red Beret
What is Valentine's day without an all-red outfit? This outfit is especially for those who are big fans of red on this special occasion. You can wear a red turtle neck with a red skirt and stockings. Obviously, the heels would be red as well. You can add a red beret to complete the whole vibe.
Also, add a staple necklace to go with the look. You can also choose a different bag color to contrast the outfit.
08 – Red Button Down Silk Shirt With Black Jeans And Pink Crossbody Bag
The red button-down silk shirt looks super chic with black pants. Pair a mini pink bag and red shades to finish the look. This outfit is perfect if you have planned any activities with your significant other.
07 – Red Sleeveless Top With Black Leather Pants And Leather Jacket
Corset tops look fancy even with basic bottoms. If you have a red corset top, that would be the cherry on top. Pair it with black leather pants and carry a black leather jacket to make an elegant outfit. You can create smokey eyes with this look. Also, if the neck looks too empty, add cute chains to match the outfit.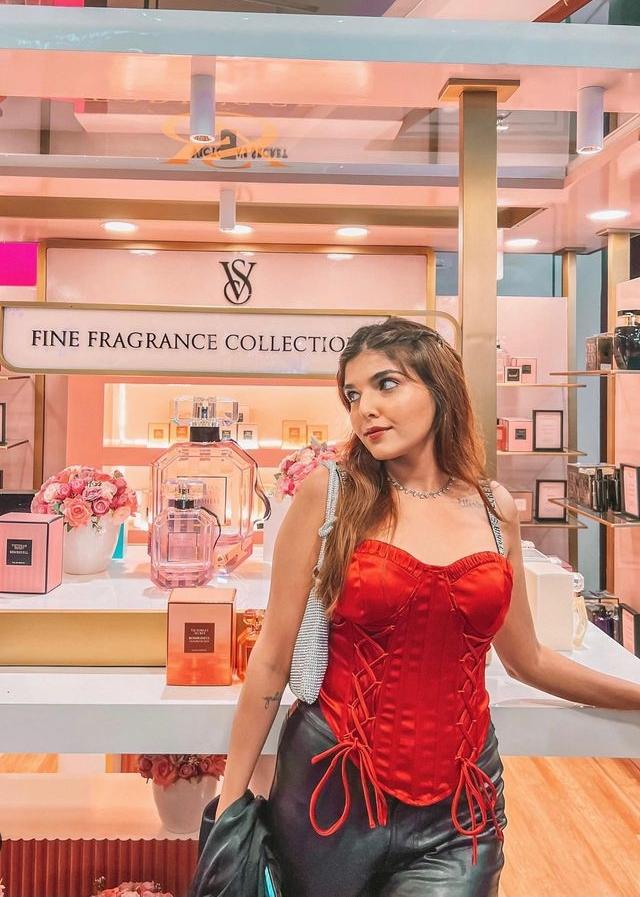 06 – White Polka Dot Knot Shirt With Blue Jeans And Red Blazer
You must have a white polka dot shirt in your closet. You can make one on your own if it doesn't have a knot. Pair it with blue jeans and black ankle boots. Finish off the look with a red blazer. You can don this outfit even at work.
05 – White Corset Top And Mini Skirt With Light Pink Leather Coat
Valentine's day means you must have a night date with your friends or your partner. If you don't want to look super casual, here are some fits you can recreate on V-day. Wear a white corset top with a mini skirt and mid-calf white boots. Pair a light pink leather coat to make your outfit look cute.
04 – Coral Pink Front Knot Sequin Midi Dress
Sequin dresses are the perfect choice for any special occasion. You can wear a coral pink front knot midi dress for a dinner date with your special one. Even if you are hosting a party on Valentine's, this is the perfect outfit you can wear for the evening look. Wear decent strap heels to keep the look elegant.
03 – Rose Pink Off-Shoulder Side Slit Wrap Dress
Rose pink is definitely the color of Valentine in 2023. I've heard many people who think light colors are not for the evening. But in my opinion, if a color looks good on you, it doesn't matter if it is a daytime event or an evening one.
Keep your hair in place with pins to give a vougish look to the outfit. However, it isn't essential to carry a blingy bag; you can go with a simple one.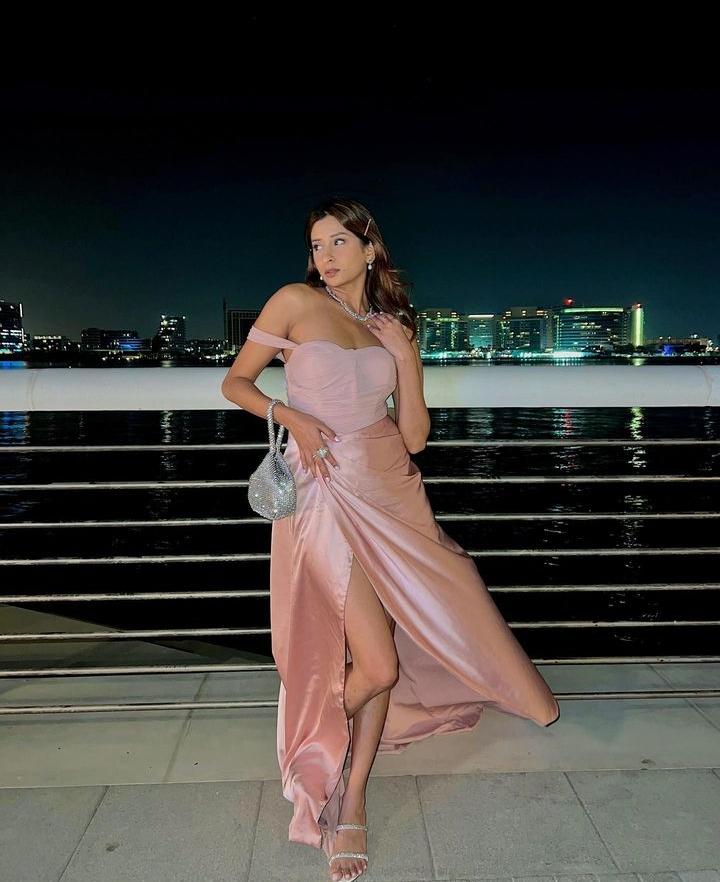 02 – Magenta Spaghetti Strap Long Slit Evening Gown
The magenta spaghetti strap gown will be the show-stopper outfit for any event. You can match the outfit with your partner if you are going to a party or even for a dinner date.
01 – White Bow Neck Top With Maroon Flared Pants And A Maroon Boater
Pair a white net blouse with high-waisted pants and a maroon beret to create a fancy look. This outfit is perfect for you if you are also a huge fan of '90s aesthetics.
Frequently Asked Question
Q: How can I look beautiful on Valentine's Day?
Ans: Dress in conventional Valentine's Day hues, such as pink or red, to fully embrace the occasion. A long red gown is a classic, elegant option, or you can have fun with a subdued hot pink cardigan and trousers. Create a monochromatic style for Valentine's Day, such as blush tones from head to toe.
Q: Which color is best for Valentine's Day?
Ans: On Valentine's Day, pink and red are typically used to symbolize love and admiration for your significant other. However, there is no restriction. You could wear anything according to your liking.
Q: Can you wear white on Valentine's Day?
Ans: White is one of those colors that go with everything, whether you're trying for a stylish, casual, or sophisticated look. It can be your go-to color for all activities you have for the day.