Are you looking for the best Plus Size Valentine's Day outfit?  The most difficult situation is when you are confused about what to wear on this special Day. Therefore we will make it easier for you to decide on your outfit for that special day.
How To Dress Up On Valentine's Day?
Here are some tips that you could do to pick out the super gorgeous outfit:
With vast choices to choose from, go for styles that help you flaunt your curves.
Pick out bright and bold colours to match your spirits.
Make sure to pick out footwear that best matches your look. Strapped block heels and boots seem like great options.
Want your waist to look slimmer? Add in a belt just above your waist for an illusion.
Dark colours, especially black, can help you look slim.
Things to keep in mind for your big date are hair, makeup, and nails.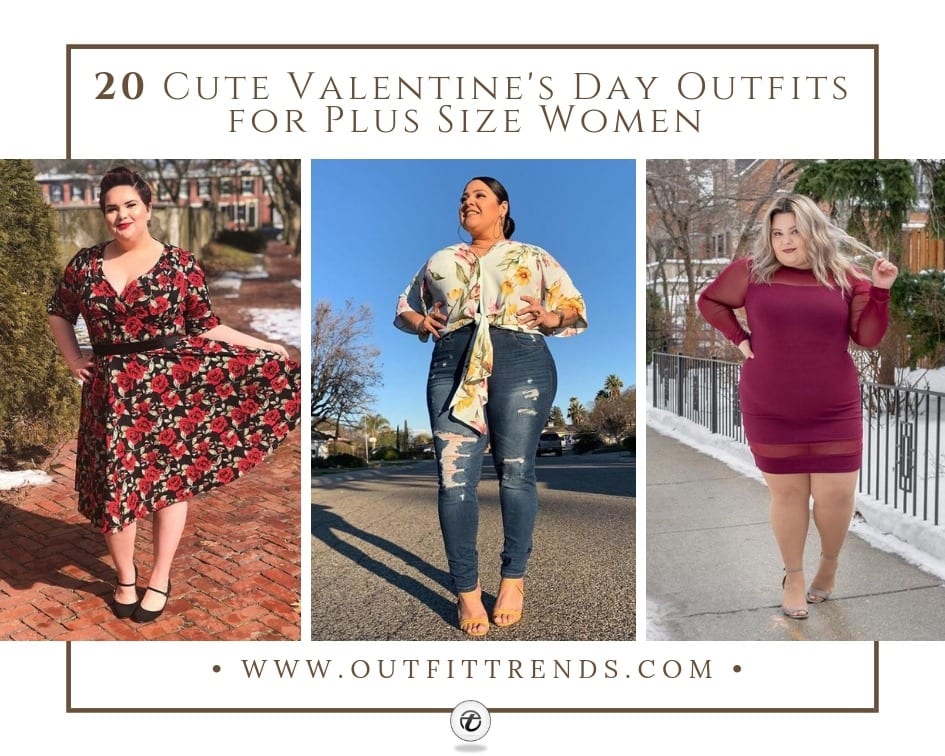 ↓ 20 – Red Blazer
Being curvy, a number of plus-size women prefer staying away from dresses. This leaves you with limited choices to pick a formal outfit from. If you are one of those, firstly, it is important to learn to love yourself from every angle. However, it is also important to feel comfortable and confident in what you wear. Have fun while dressing up by going for outfits that not only make you feel comfortable but also suit your appearance. A great idea to add a bit of red to your outfit is by going for it in a blazer. A blazer is the right piece of clothing to go for when in need of a formal look. You can wear it over a basic black shirt and denim jeans. If you are okay with long or short dresses, you could also add it over a white or black dress for a modern vibe. Also, have a look at these 20 Ways to Wear a Blazer for Plus Size Girls.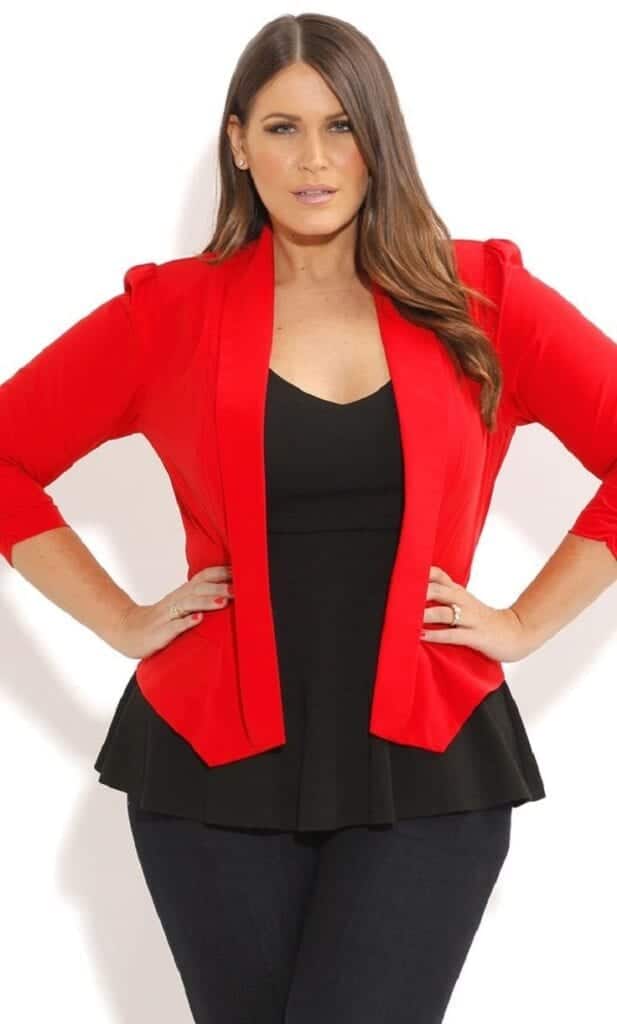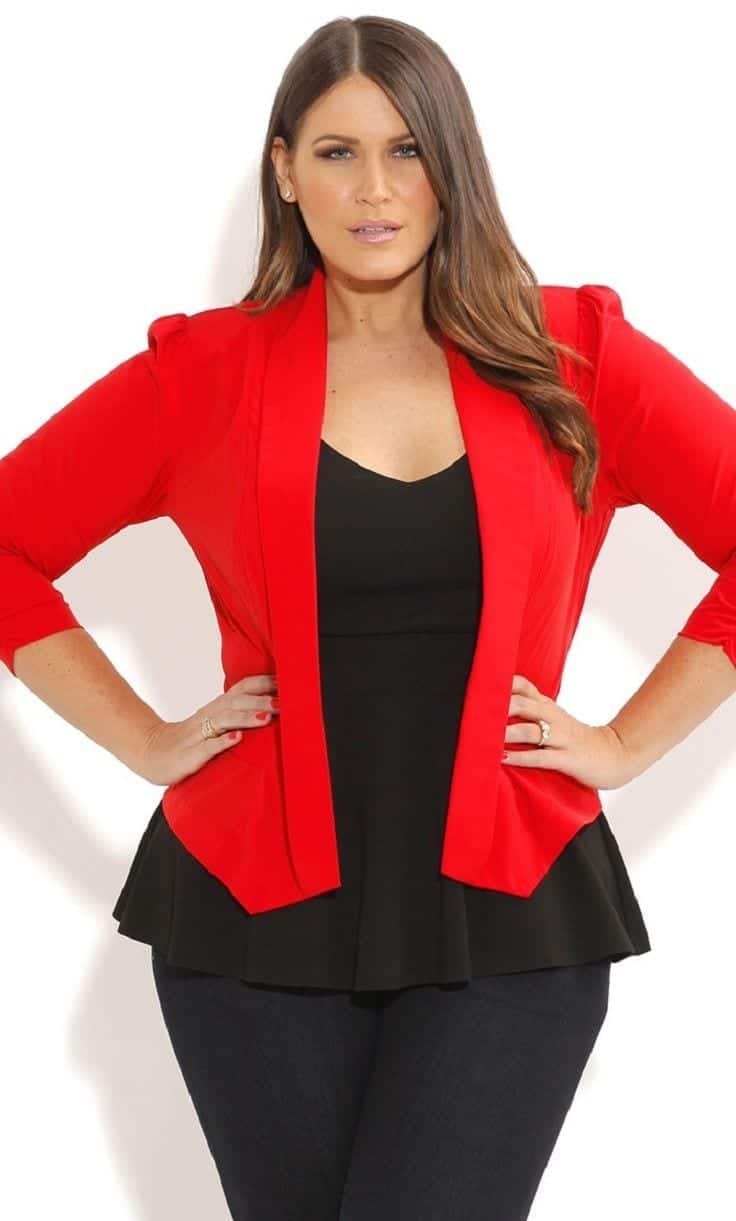 ↓ 19 – Cocktail Dress For Valentine's Dinner
What do you think of fancy dresses? Want to wear cocktail dresses or party dresses on a special night? Then don't waste time and have a look at the pictures below. Wear these outfits with your loved one to impress him. If you plan on hanging out with your girl gang, then you all can wear a similar style of dress.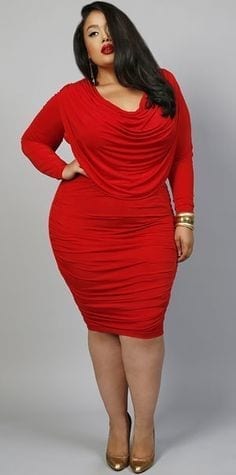 ↓ 18 – Pastel Colours
While the usual colors to wear on Valentine's day are red, black, white and pink. It's always a good idea to go for something unique and different to make sure that your guy can't take his eyes off you. So if you wish to look unique, try pairing a dusty pink skirt with a grey top and a blazer of your choice. Finish it all up with hot pink lips and you'll fall in love with yourself!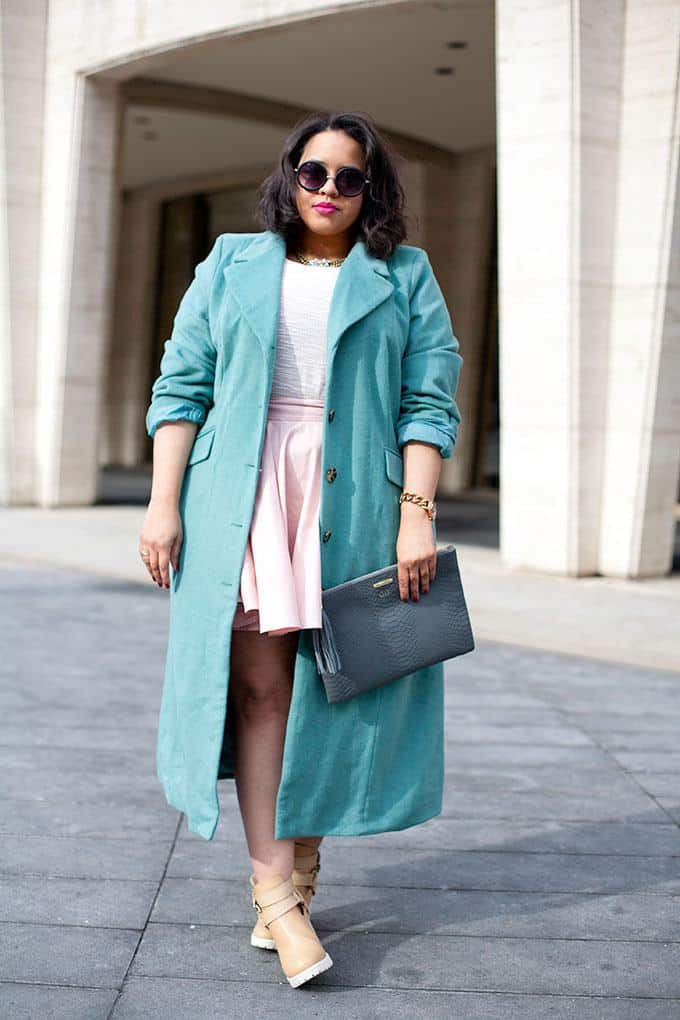 Basic flared skater skirt in pink $13.98
Turquoise trench coat 29.99 GBP
↓ 17 – Lace Dress
Didn't have much time to plan your look and are in need of something effortless? The lace dress is the answer. Not only do they look super sexy, but are also very easy to style. Since Valentine's is all about making the right impression, we would definitely recommend this one. For this special occasion, red and black both seem like great option. If you are headed outdoors, you can add in a cardigan or a leather jacket which will only give you an edgy look. Make sure to add a belt for a slimmer effect.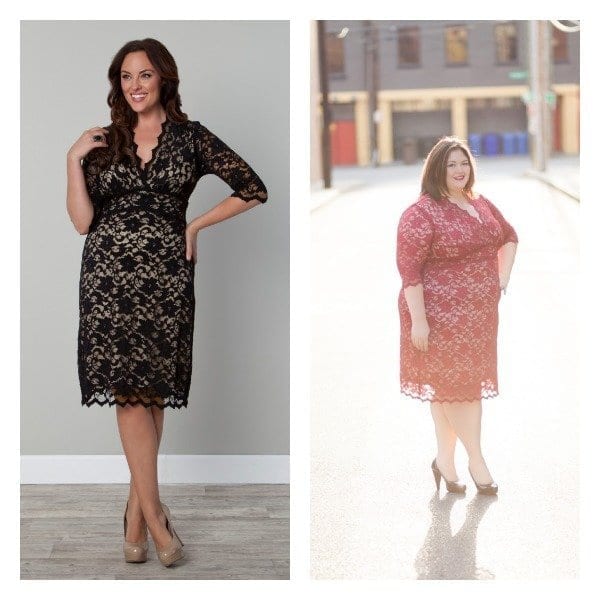 Plus size midi dress in lace (similar) $57.99
↓ 16 – Short Dress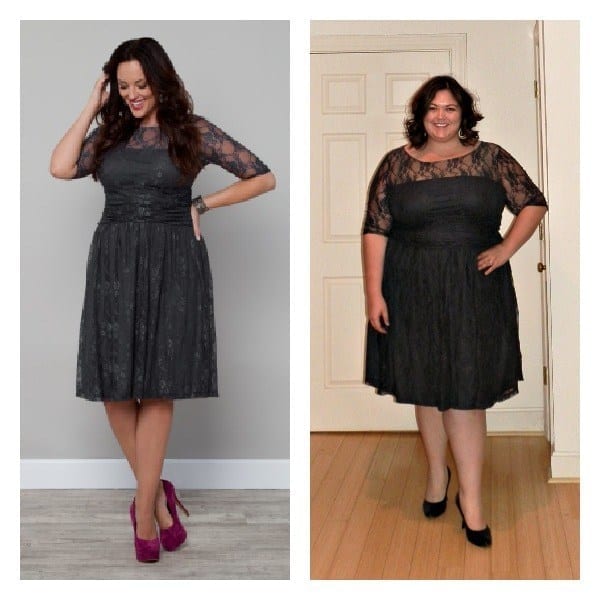 Plus size lace detailed short black dress (similar)
Looking at women like Adele and Tess Holiday, we sure get a lot of inspiration on how to wear a dress with confidence. If you are a plus size woman in need of a confidence booster, you ought to follow these women. You can start by going simple with a little black dress like this one. The lace sleeves add some hot detailing to the plain dress, a great option to wear to a date night. You can style the look with statement heels, preferably in red.

Here is another great option for the ideal date night look.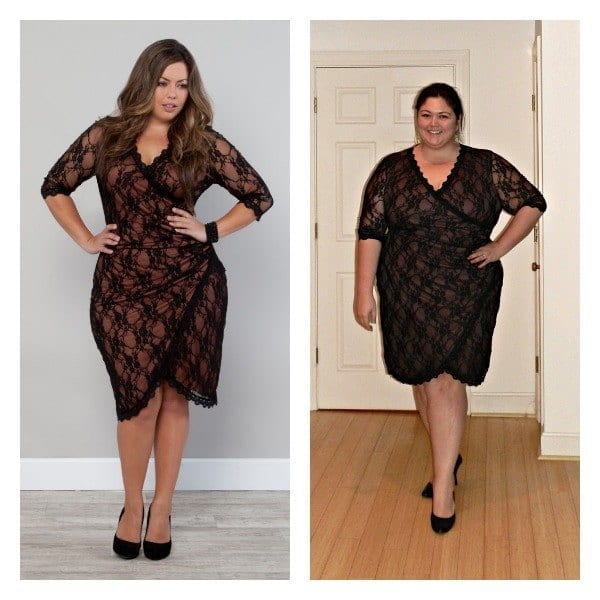 ↓ 15 – Maxi Dress
If you are not too comfortable showing off your legs in a dress and need something with a bit more coverage or are looking for modest fashion options, take a look at this plum maxi dress. Dresses make for great formal outfits, exactly what you need for this day. You can go for a similar color or you can also opt for red, pink or black to meet Valentine's theme. Here are 18 Best Plus Size Celebrities Outfit Ideas from This Year.

Desert Rain Maxi Dress $118.00
↓ 14 – Body-Hugging Dress
Sometimes, it is your choice of outfits making you appear a size bigger than you already are. Going for body-hugging dresses is a great way to flaunt your curves. If going for the right color and design, you might end up looking much slimmer in a well-fit dress. This red dress with black lace detailing looks super hot and sexy, just you need to slay it this year.

↓ 13 – Red Top With Skirt
This year is all about skirts, whether short or long. They can be paired with some funky and modern tops to create stylish looks. With red and black being a great combination, it is surely a great pick for this V-Day. The silver statement necklace adds the perfect bling to the outfit.

↓ 12 – Snowy Valentine's Day Outfit
With it still snowing in some places, you cannot go without thinking of a plan B. Since Valentine's only comes around once every year, you cannot call for a rain check. What you can do, however, is that put together an outfit that can be worn if it is snowing. A red striped sweater over a white shirt paired with a miniskirt is a great combination. You can add in a statement necklace to go with the neckline. Alternatively, you could go for a bomber jacket with your denim jeans for a more casual look.

↓ 11 – Date at Home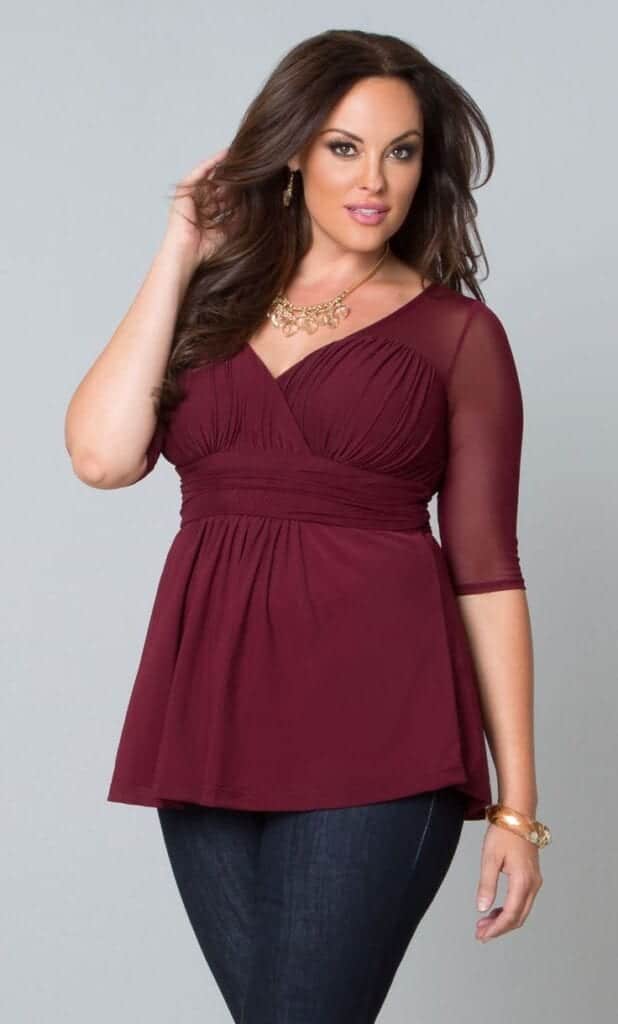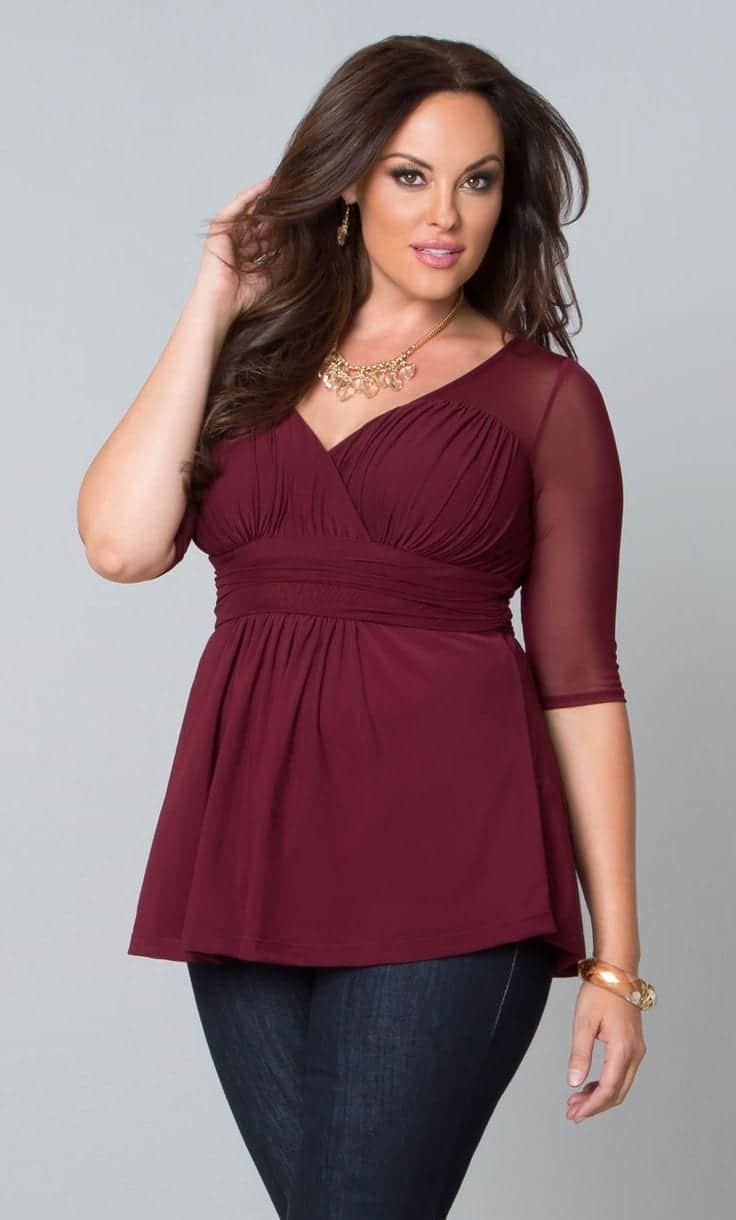 It's always a good idea to avoid all the noise and crowds and instead have a nice and romantic dinner at your own place, or at your partner's. You two can cook together to make the night special and if you're not the cooking type then just order something in. Wear a Stylish Plus Size Peplum Tunic With Jeans or shorts to look hot and be comfortable too. Check out these 20 Cute First Date Outfit Ideas for Girls He will Love
Step by Step Video Tutorial – WHAT TO WEAR AND HOW TO WEAR
↓ 10 – Peplum Tops for Movie Date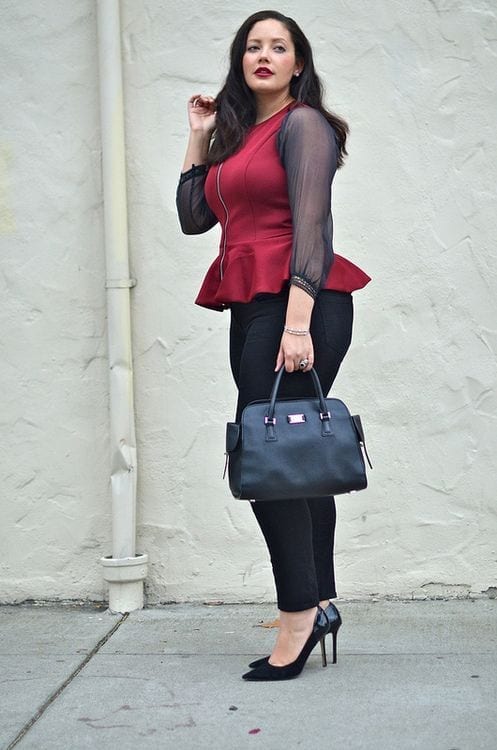 Neither too formal nor too casual, this peplum top is an ideal choice for a casual and fun movie date. Whether you are headed out with your significant other or are just spreading love with your group of friends, you ought to look your best. Black and red is an ideal color combination for the occasion and we would love to see more of it. For more ideas, here are some awesome Legging Outfits for Plus Size & 10 Ways to Wear Leggings if Curvy.
This lace peplum with a V-shape neck is something unique yet elegant. If you want a more comfortable style, you can pair it with denim jeans. However, if you want to appear a bit more formal, some suit pants can surely look great with a lace top like this one. With the occasion being that of Valentine's, it makes all the more sense to go for a red-colored top. With a low neckline, it is best to go for chunky earrings that add some bling and also attract the focus towards the face.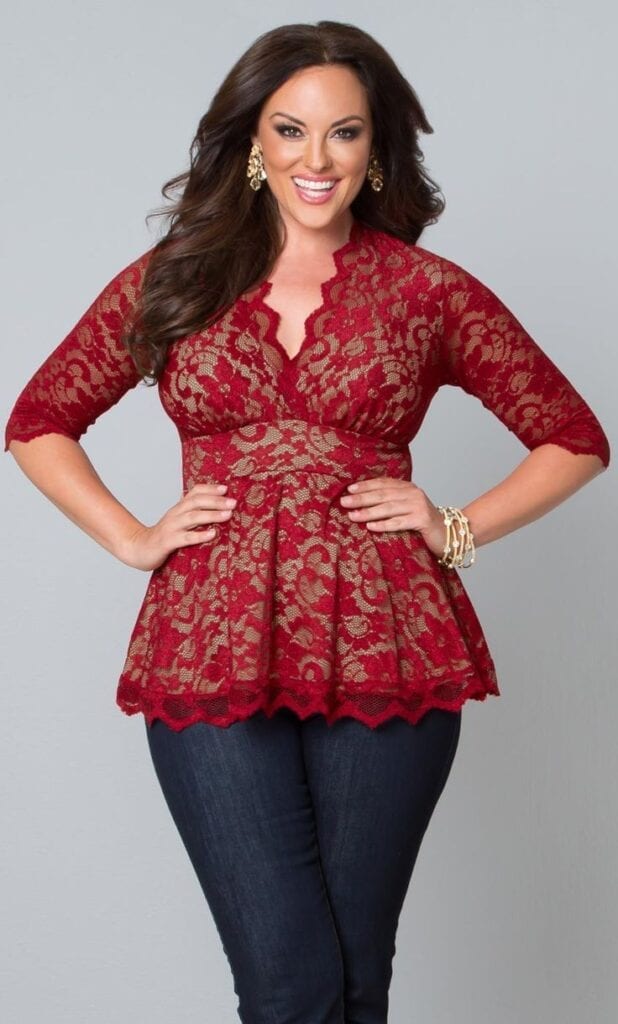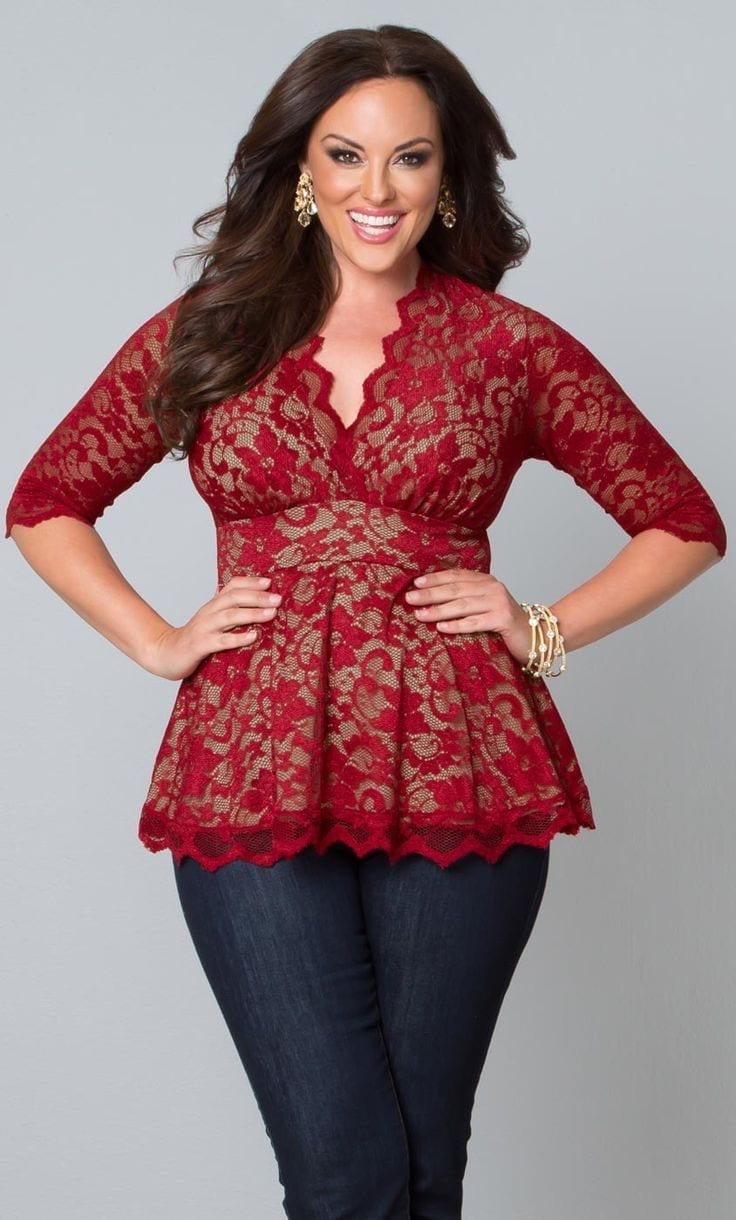 ↓ 9 – Black and White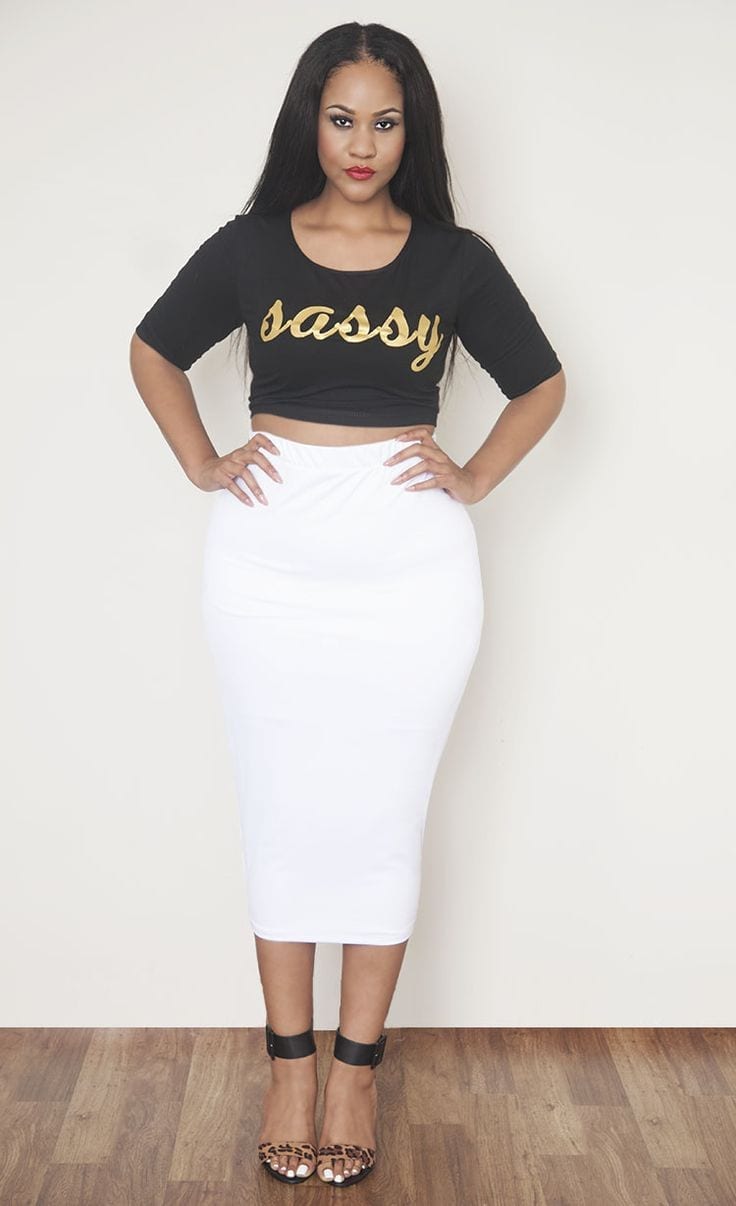 Go for something unique and different, wear a black and white outfit with red lips to make a difference. The bold look can be made much more stylish by adding in a few style elements. A great example is that of these animal print heels that take away the focus straight to them.

↓ 8 – Celebrity Style Outfit
A red dress is always a great choice for this day and to prove this point we have one of our favourite plus size celebrities, Ariel Winter from the Modern Family series. She was spotted wearing a red lace dress on her valentine's day date with Laurent Claude, and we don't think we need any words to describe how hot she looked.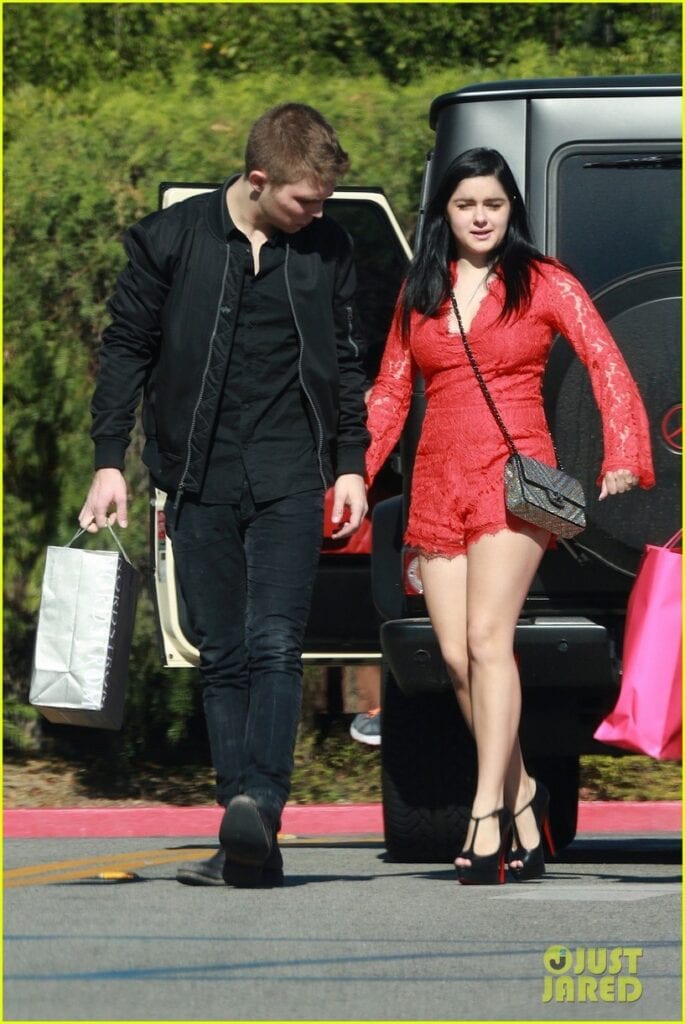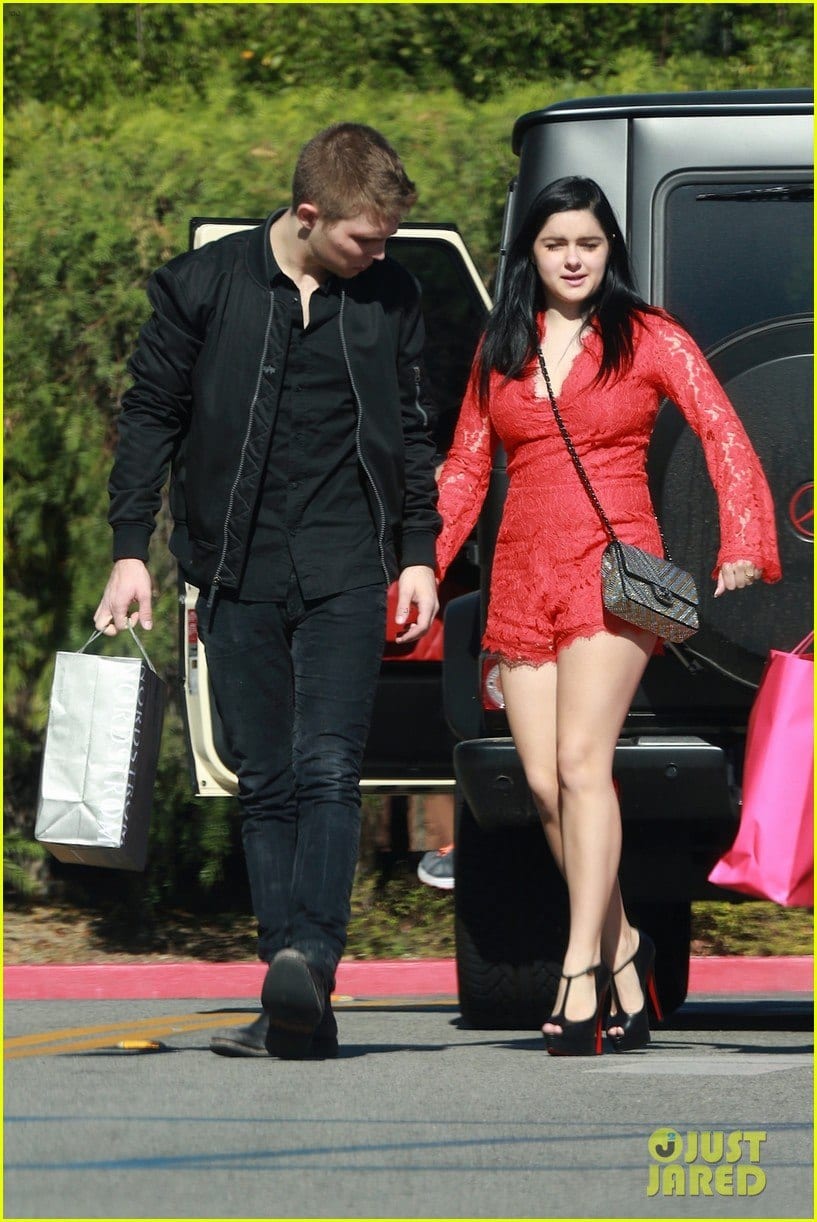 If you're not a fan of lace dresses then you can also go for one with nice cuts, but it's always important to get a well-tailored one to show off your curves perfectly. The gold accessories add a subtle yet beautiful look.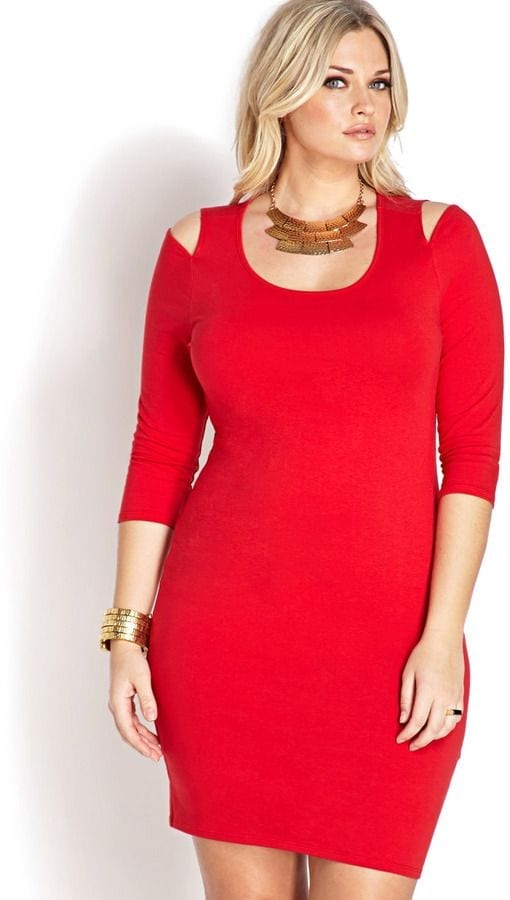 ↓ 7 – After Work Look
Many of us will, unfortunately, be working on valentine's day so if you need something that you can wear to work and later on to your date night as well then why not try this look? Pull over a plum cardigan over a formal black outfit to stay warm while also looking fashionable. The outfit has been styled with some black accessories like these black heels and the leather handbag.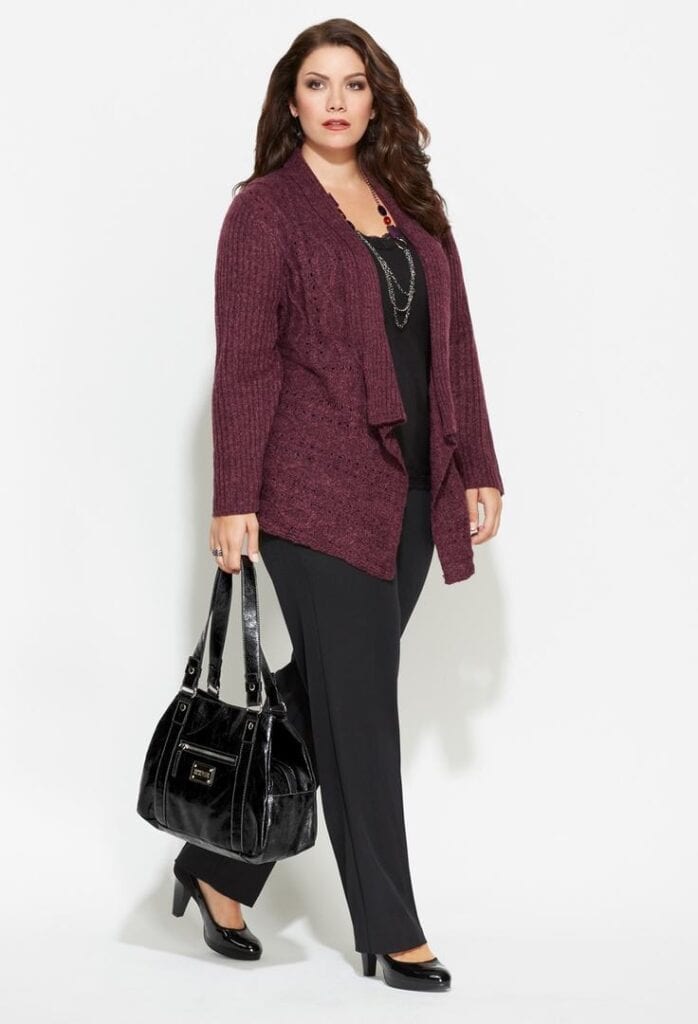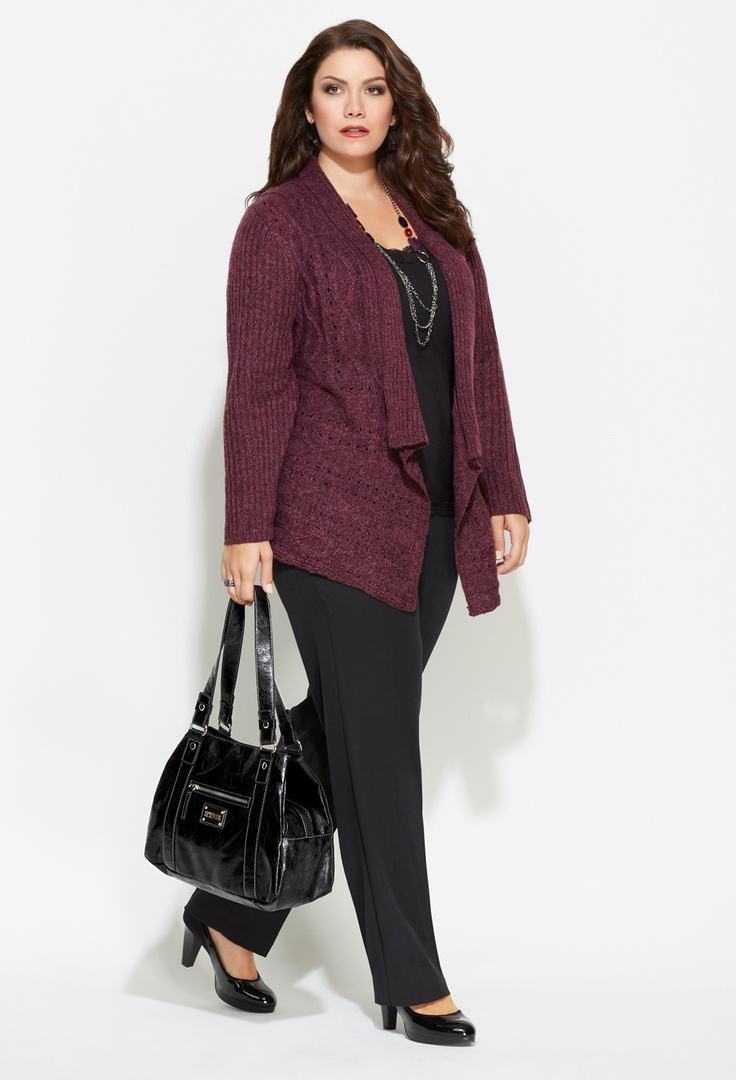 Chunky front open cardigan (similar) $33.98
Plus Size Wine Chenille Cardigan $37.99
Boot cut straight black pants for curvy women $34.99
↓ 6 – Fancy Valentine's Dinner Outfit
Going to a posh place for Valentine's dinner? You definitely need to look your best and classiest then. Here are four sexy looks, which one would you choose?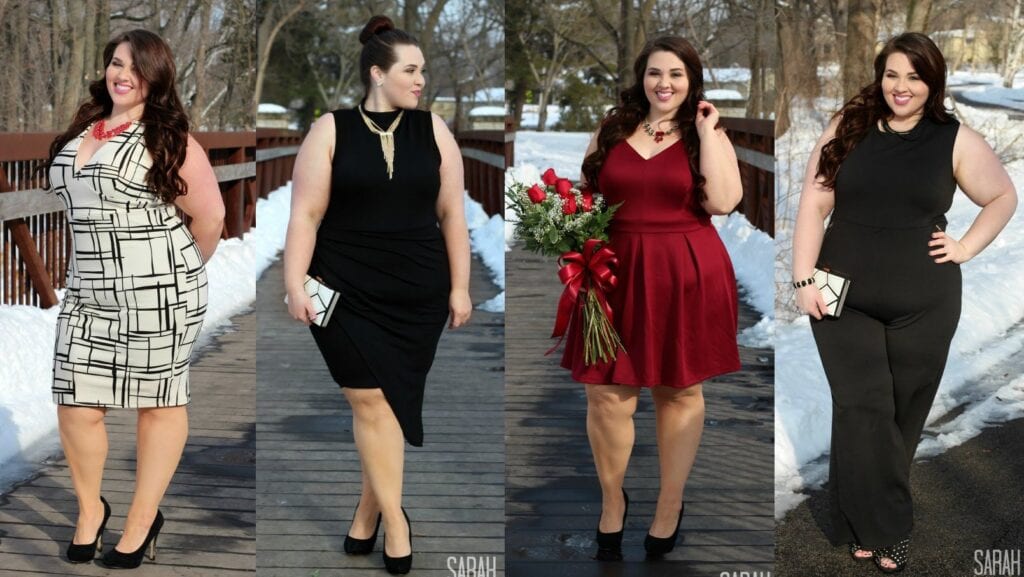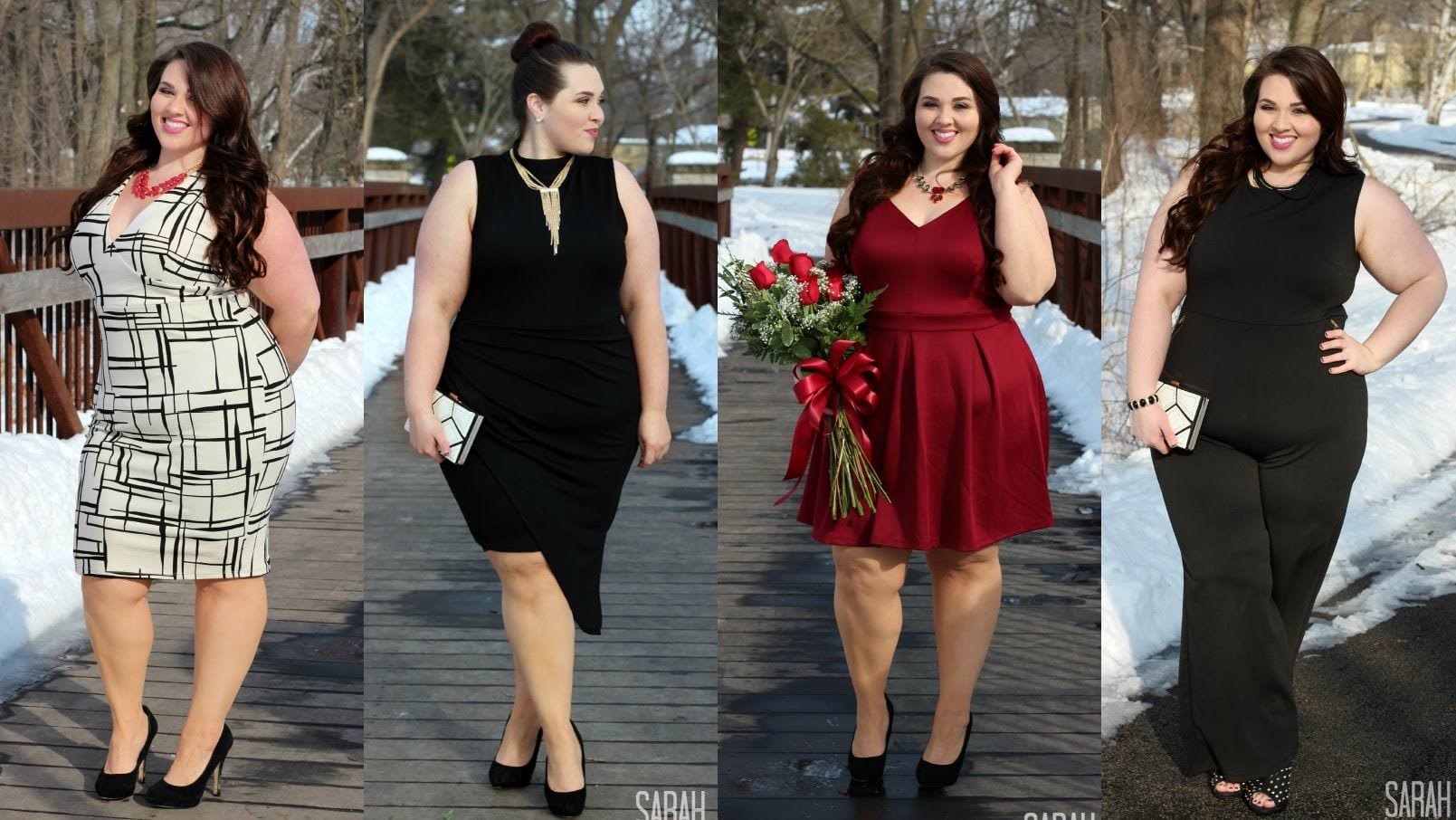 ↓ 5 – Outfit for Outdoors Valentine's Day
If you plan on spending the day outdoors with your partner, for instance, you could go for a picnic, hiking or cycling, then, of course, your outfit needs to be sporty yet sexy. Considering the latest trends of the year, we highly recommend that you go for red colored flannel shirts that you can layer under or over, depending on the weather. Don't miss out these 21 Best Winter Jeans Outfits for Plus-Sized Women to Stay Warm and Chic.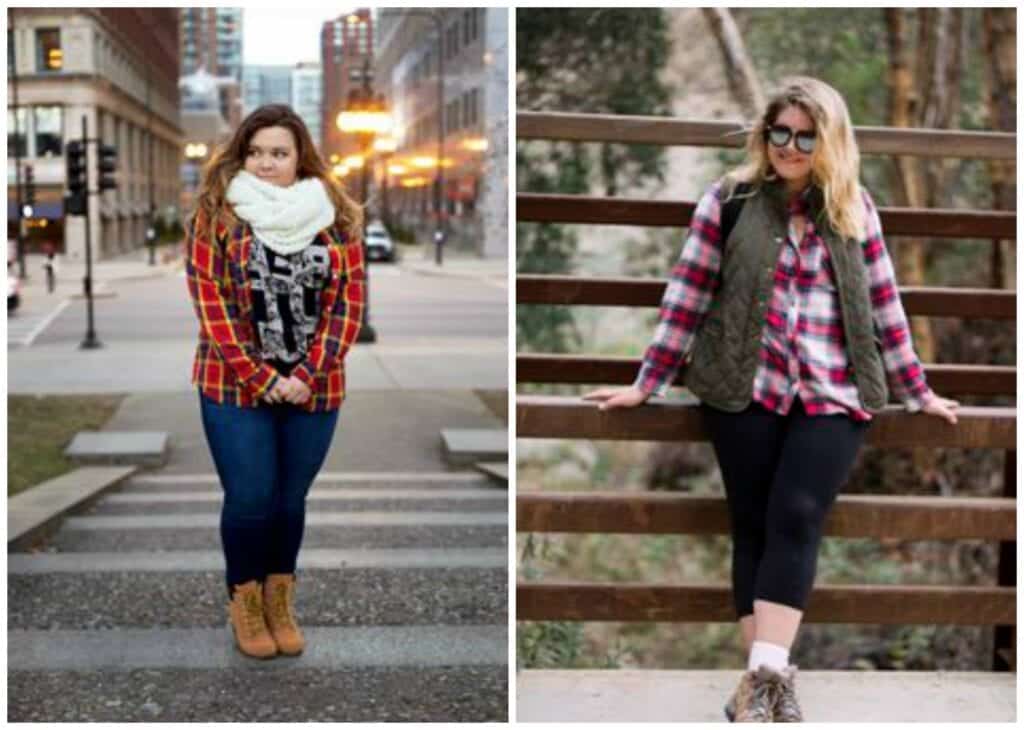 Plus size casual button down flannel shirt $19.99
↓ 4 – Plus Size Valentine's Day Lingerie
Being big and beautiful has both its pros and cons. It might be hard to find nice fitting lingerie for your special night but we strongly recommend that you search for the best one as your lingerie choice can make or break your night. If you're big busted then you might also want to check out these 20 Ideal Outfits Combinations for Bigger Busted Ladies. If you want a voluptuous look then corsets should be your first choice when it comes to lingerie for the bedroom. Don't forget to wear the cutest but also the most well fitted and comfortable set of bra and panties. Here are some great choices:


↓ 3 – Valentine's Day Hairstyle for Curvy Girls
If you have a round face, fat cheeks or just a chubby face then these are the four best hairstyles and haircuts that you can opt for on valentine's day: High backcombing and middle-parted bangs like Adele to make your face appear more ovalish. Shoulder Length Bob haircut which you can blow-dry in messy waves. Layered cut with side bangs for a smart and simple look. Blunt bangs with straight long hair.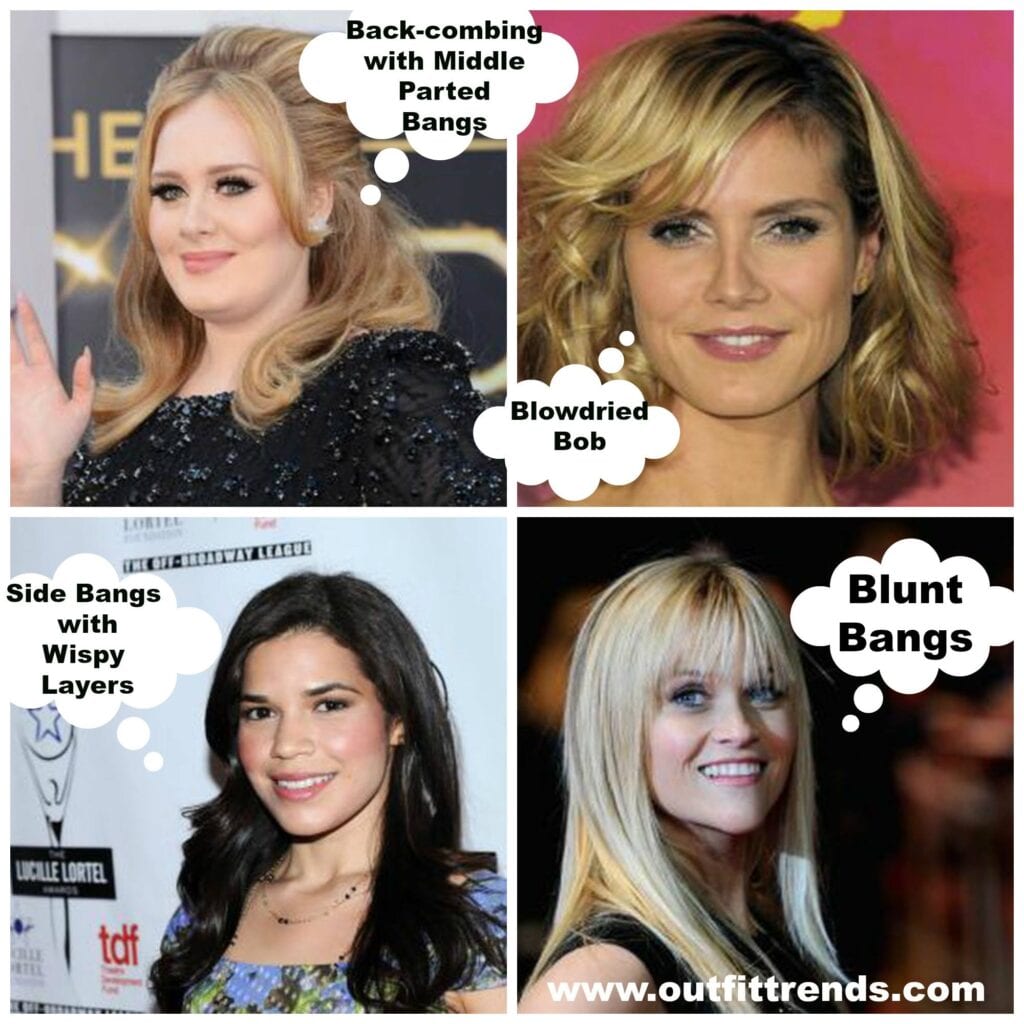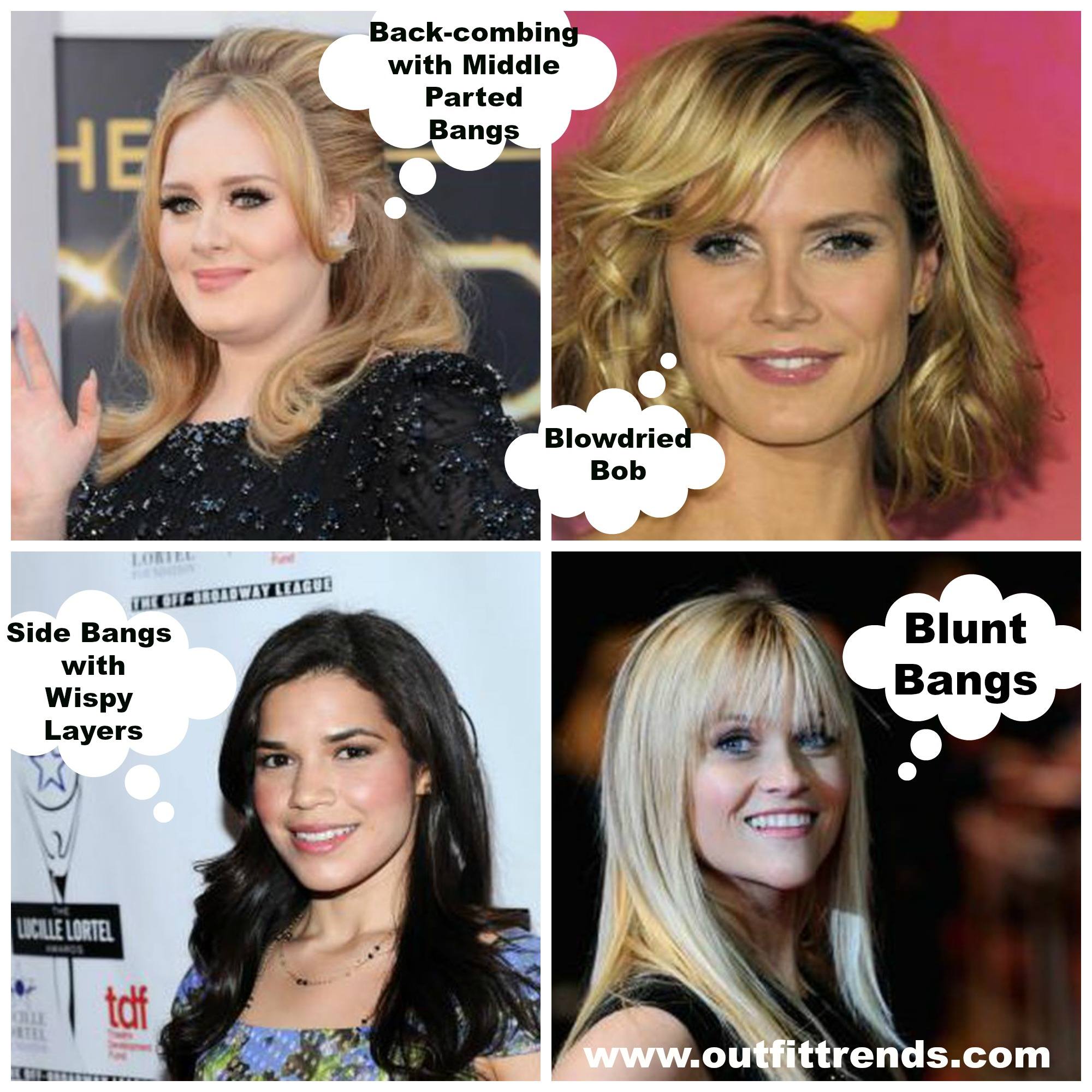 ↓ 2 – Valentine's Day Makeup Tips for Plus Size Women
Here are 15 Easy and Stylish Eye Makeup Tutorials that you can try for your date, even if you're just a beginner.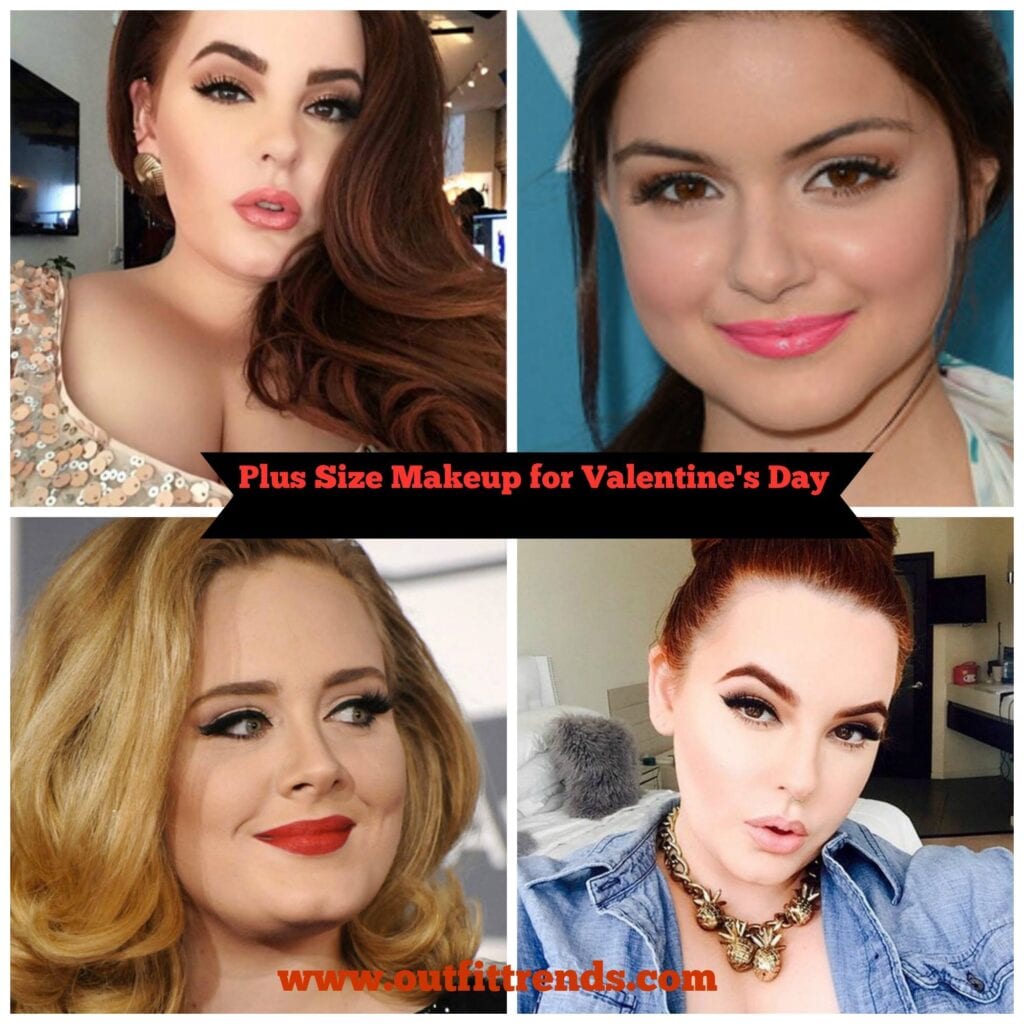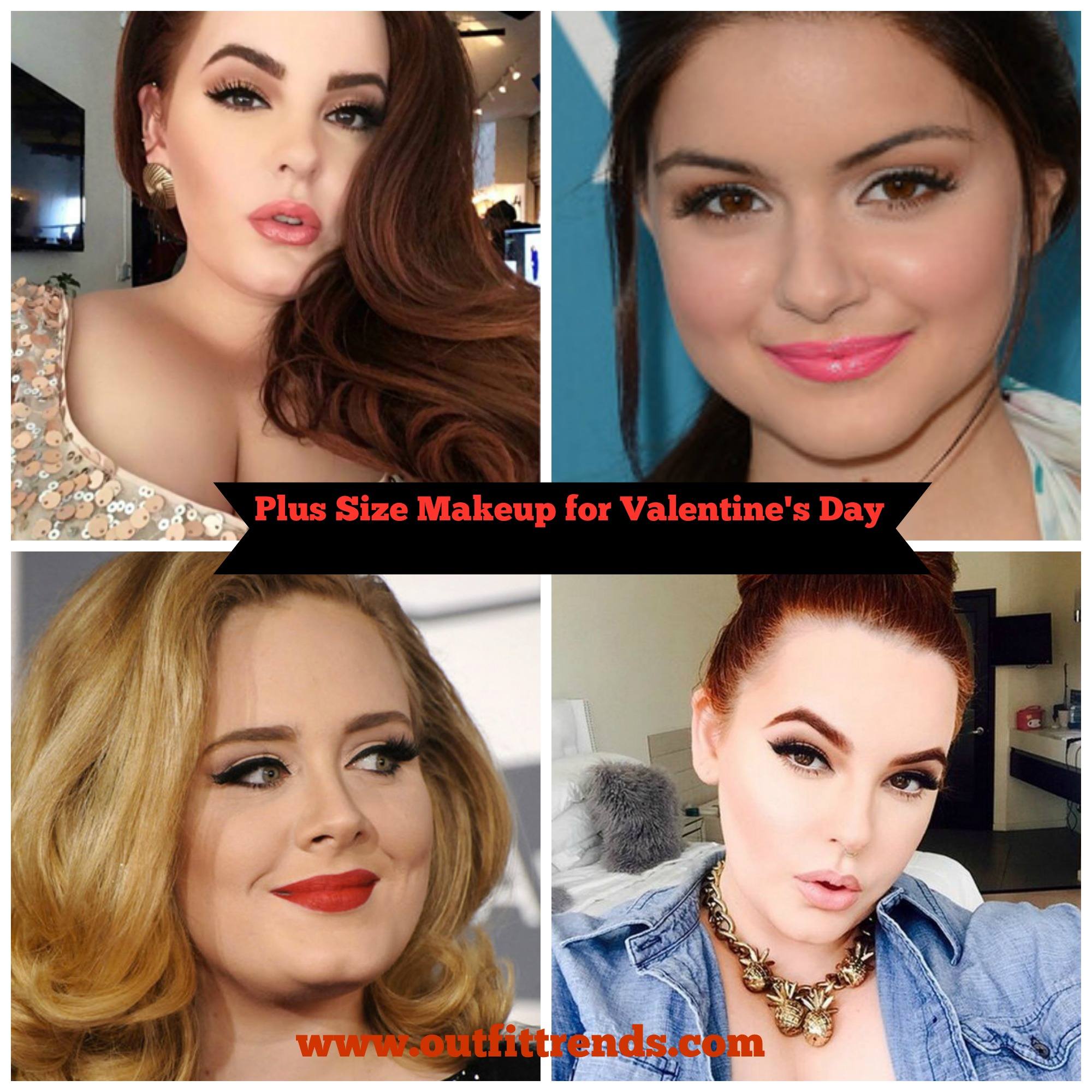 Here are some simple makeup tips to follow for your valentine's day makeup routine:
Always start with a good base.
Never underestimate the power of contouring, below is the simplest contouring guide you can follow.
Don't go overboard with eye-makeup.
Choose colours that match your outfit. Go for red, pink or nude lips.

↓ 1 – Casual Valentine's Look
While dresses are fancy and great for date nights but they are not perfect for all kinds of dates. If your ideal hangout is a coffee run, movie or a stroll outside, you would be required to dress up far more casually. Here is an early Spring look that you could sport on Valentine's day. Many people suppose crop tops to be not for plus size women. If you do not want to show off your rolls, you can still wear a crop top with either a body suit underneath or by going for high-waisted jeans. In the last couple of years, we have seen the ripped jeans trend make it big, and it still has not left us yet. If you are going for a casual look featuring a pair of denim, you cannot do it without the ripped style. To keep it comfortable, you can opt for sneakers or pumps. However, for a more glammed look, you can go for strapped heels and loop earrings.