New Year's Outfits for Plus-Size Ladies. As with any event or special occasion, dressing up (and dressing well) can be a bit of a stressful thing, whether you are plus-size or not. There is always the pressure to look good, to feel confident, and to pull together pieces that are not only stylish but flattering.
No matter your size, finding the perfect NYE party outfit is on all our minds and so here at Outfit Trends, we are going to save you the stress and give you 25 gorgeous Plus size NYE dresses. Keep reading to check them out!
What to Wear on New Year's Eve for Plus Size
Let's start with some basic tips on how to dress for the last day of the year if you are plus-size:
The key to feeling confident in what you wear is the fit of the outfit. Wearing something that highlights and accentuates all your best features and flatters your particular body type is paramount, so ignore what everyone else is wearing and look for styles and pieces that fit well and make you feel like a million bucks.
You can wear whatever you want. That is the truth. If you love horizontal stripes, then rock them. However, if your goal is to appear smaller or slimmer, then bear in mind that certain prints and styles of clothing (i.e. large stripes, super tight garments, low-cut jeans, oversized patterns, etc.) may not do your figure justice.
Sequins, metallics, gold, and silver are all popular choices for NYE party outfits so start there when deciding on your outfit but don't feel like you need to be glittering from head-to-toe. The best NYE outfits incorporate a little bit of sparkle, a little bit of glitz, and focus on style and presentation above all.
Again, if your goal is to appear smaller, dark colors are your best bet, as well as well-tailored pieces that will streamline your figure and add structure to your appearance.
If you opt to wear jeans, high-waist or mid-rise jeans will be the most flattering options. Look for dark-wash or black jeans (light-wash jeans would not be a good choice for an NYE event).
Focus on cinching your waist to create an hourglass figure effect. You can do this with high-waist bottoms, a strategic belt, sash, or other pieces that draw attention to the waist and smooth over your hips.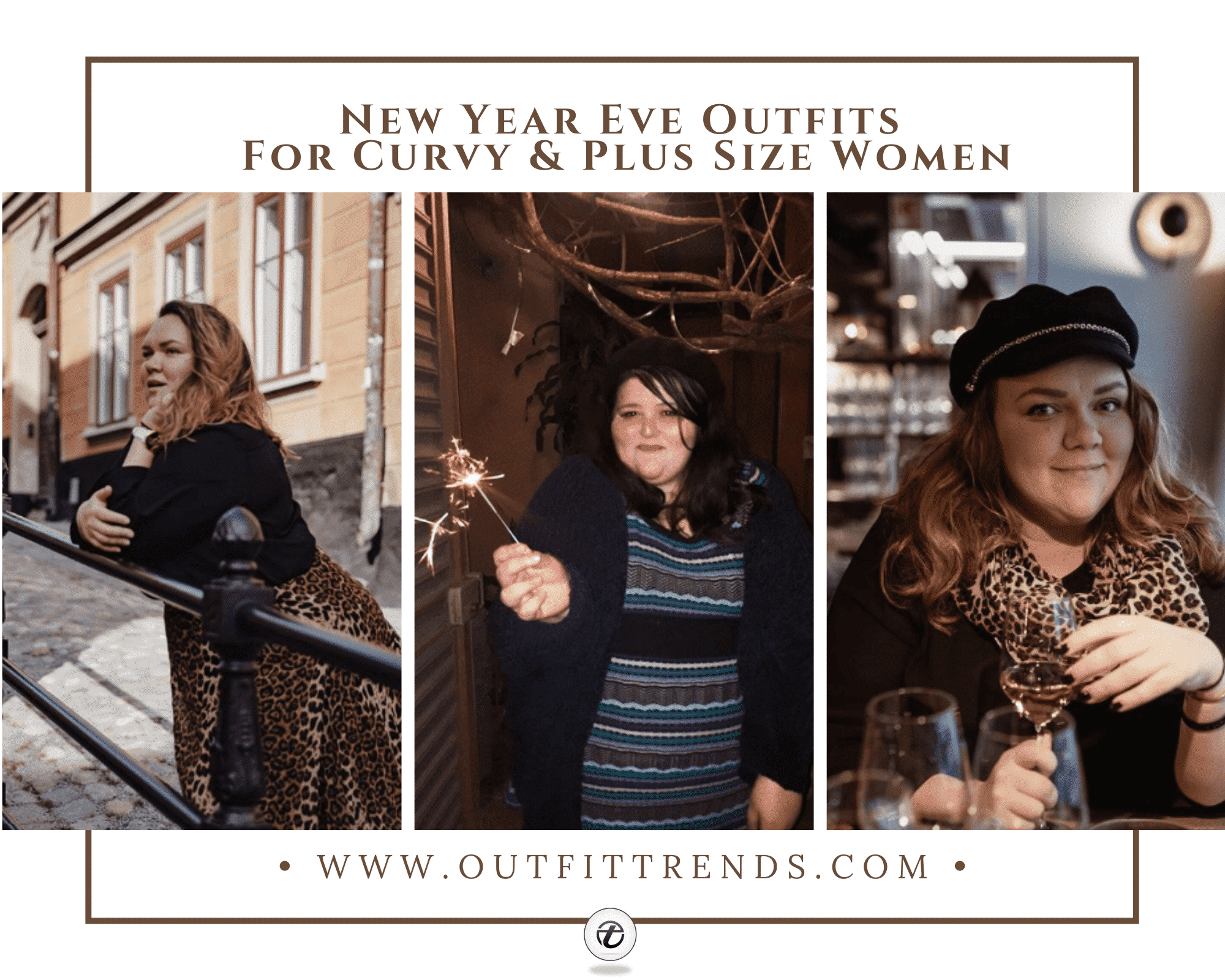 Now let's look at some outfits!
↓ 25. Simple & Stylish NYE Party Outfit
If your style is more understated, then this is the look for you. Go for a black top and pair it with leather or vinyl leggings and booties or stiletto heels. Tie the look together with a deep blue sequined blazer and a swipe of red lipstick.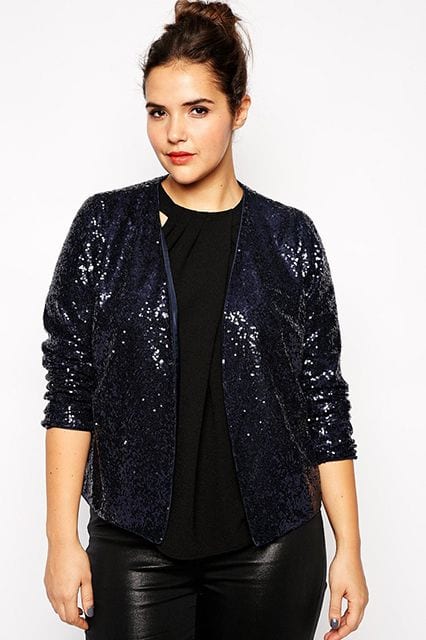 ↓ 24. Semi-Formal Tulle Skirt and Faux Fur Top
For a more glam look, check out this very feminine and very flattering choice of a white tulle skirt and faux fur top that visually draws the eye to the waist. Red lipstick, a small clutch, and black heels tie the look together. This is a great option for a slightly more dressy NYE party, although you would definitely draw all eyes in the room if you head to a family gathering! Love tulle skirts? Check out our guide on How to Wear Tulle Skirts?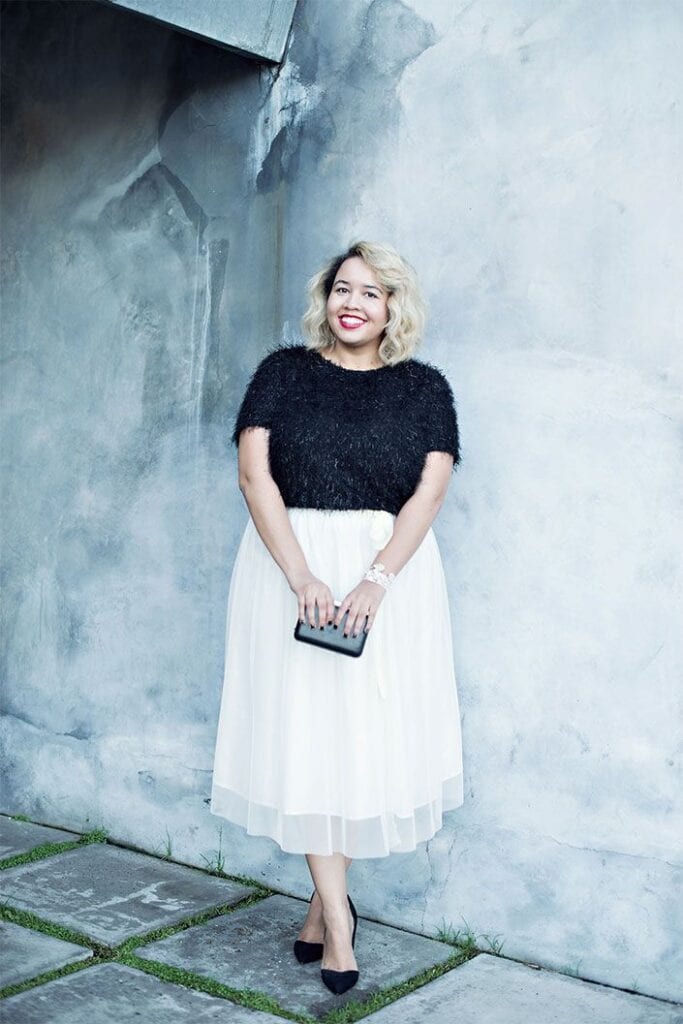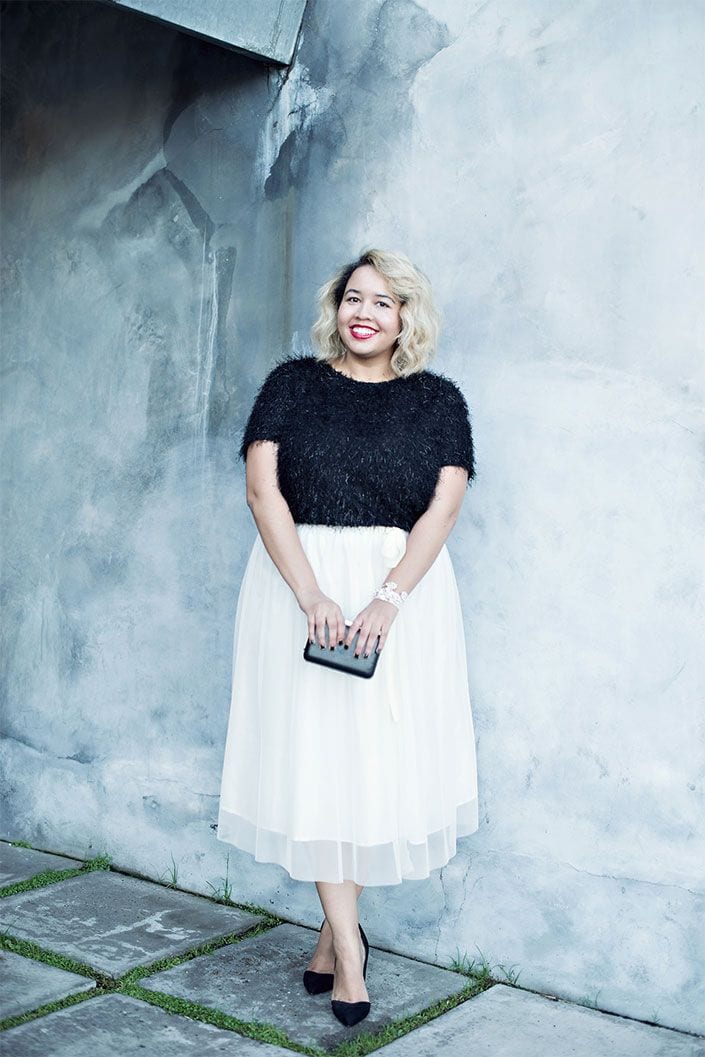 ↓ 23. Short Geometric Dress For Clubs
If you are headed to a party at the club, this geometric, one-shoulder dress is a beautiful, feminine option. This dress also gives the added bonus of highlighting the smallest part of the waist with a sash. The embroidery on top as well as around the bottom half of the skirt also lends to the hourglass effect, highlighting your curves and creating the perfect storm to show off your style and figure. Metallic silver or black heels would finish this outfit off, as well as some small earrings and a bold red lip.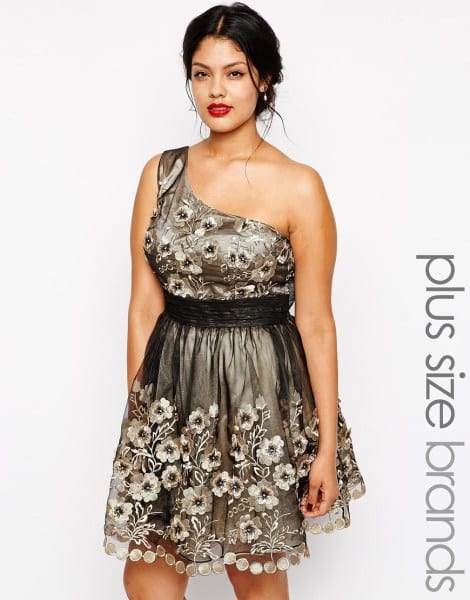 ↓ 22. Flattering NYE Party Dress with Cutout Sleeves
For a glamorous and flattering look, check out this sparkly black dress. We love these cutout sleeves and neckline which visually slims the arms and draws the eye to a beautiful collarbone! With this dress, pumps or stiletto heels would love lovely.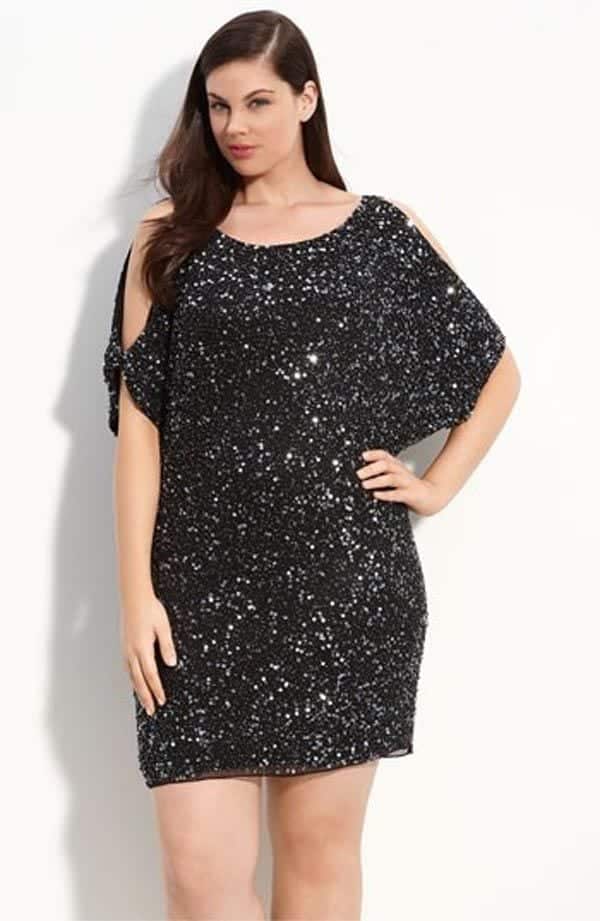 ↓ 21. Beaded Dress for Party
If you aren't a sequins fan, this is a good option for you. This dress features a clever pattern that visually draws the eye to the center, which slims the body, and it looks beautiful on this model when paired with a red lip and heels.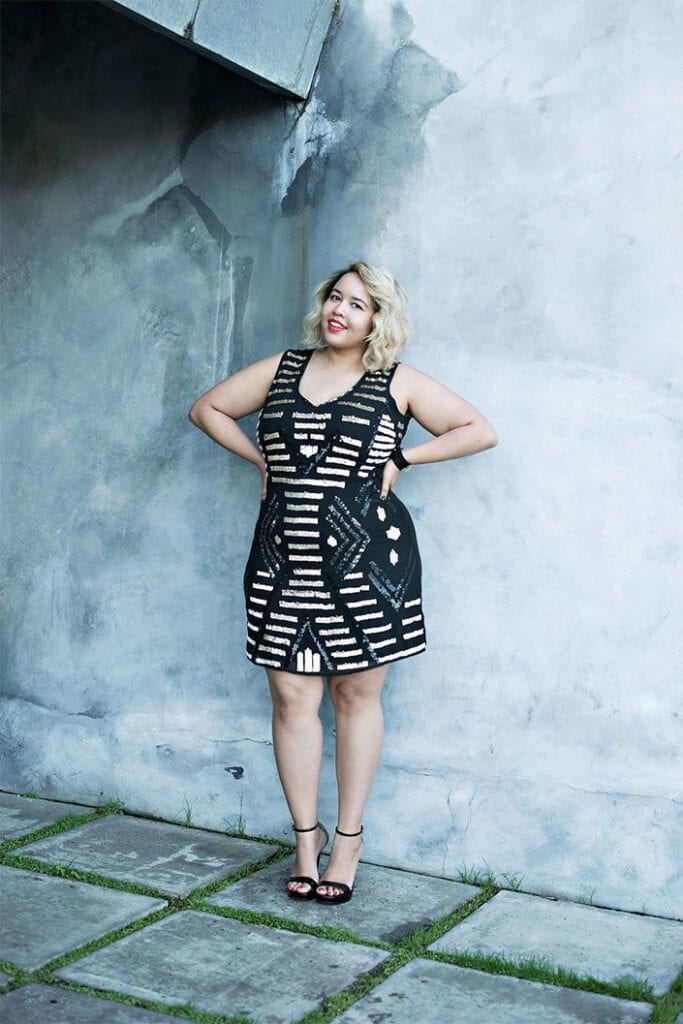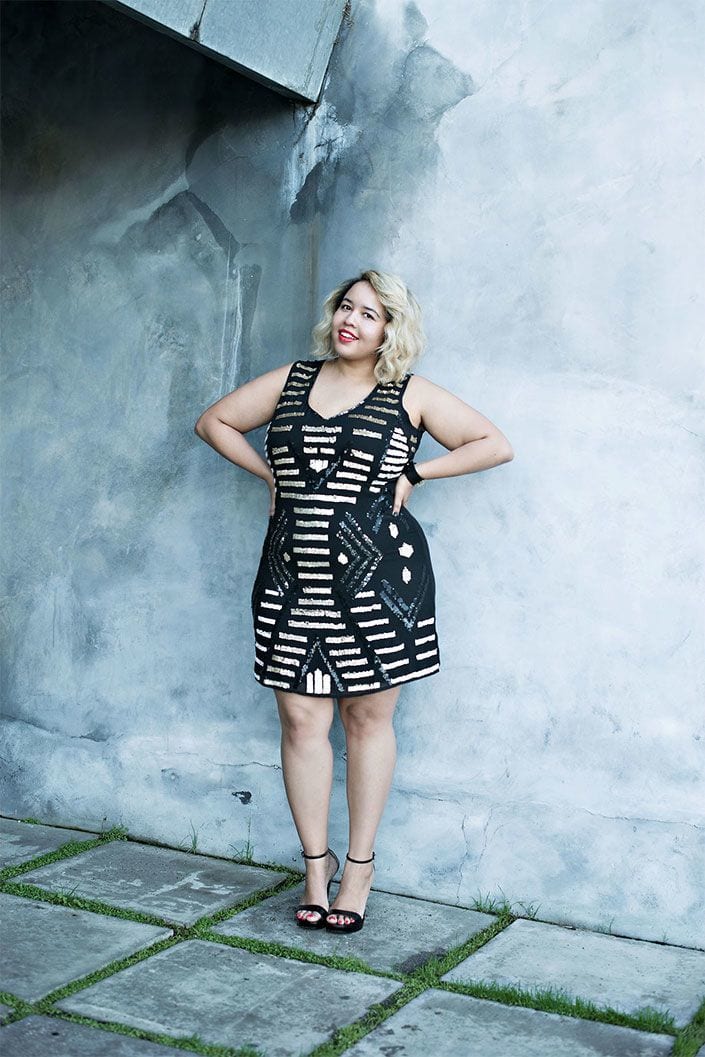 TOP Moda Womens Hannah-1 Platform Chunky Heel $32
↓ 20. Semi-Formal Plus-Size Outfit for NYE Party
This rich purple dress is such a stunner when paired with a strappy black heel. This is a fabulous option for a semi-formal or formal event. You can also add a light throw or silk shawl around your shoulders.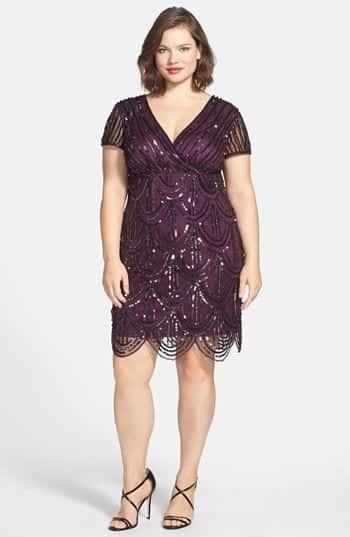 FAIRY COUPLE Lace Neck Dress $55
↓ 19. How to Wear Stripes Like Ashley Graham
While most advice for plus-size women mandates avoiding horizontal stripes, it is possible to rock them in a flattering way and here, plus-size model Ashley Graham does just that. Opt for thinner stripes rather than wide or oversized stripes and make sure your dress incorporates darker colors. Note also the three-quarter length sleeve which draws the eye the most slender part of the arm and wrist. Wear with delicate metallic heels to get the best effect. For some more amazing ideas, do check out 18 gorgeous party outfits for plus size women this season.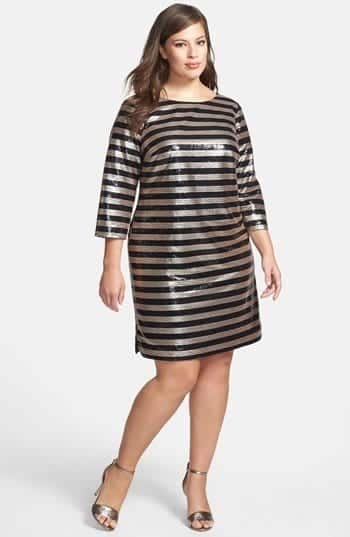 ↓ 18. Two-Toned Outfit for NYE Party
Black and silver is a very NYE combo and this gal rocks it beautifully. We love the pencil skirt and metallic top which is perfectly complemented by silver heels. Go minimal with accessories and let your natural beauty shine.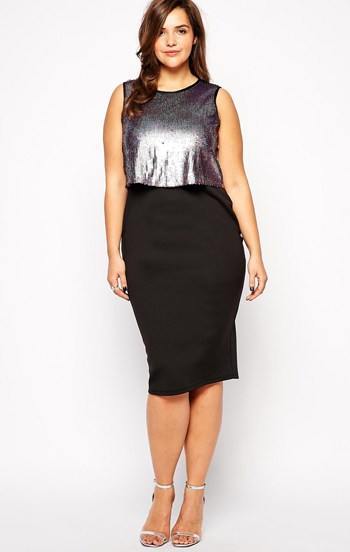 H&C Women Premium Stretch Office Pencil Skirt $22
↓ 17. Sparkly Plum Dress With Bow
This gorgeously glam plum-colored dress is such a stunner, we think you'll be wanting to wear it straight through the new year! With this dress, note the strategically placed sash which cinches the waist and the asymmetrical hem which gives a visual dimension to the look. Pair with a dark red lip and a sleek bun to really seal the glam factor on the ensemble.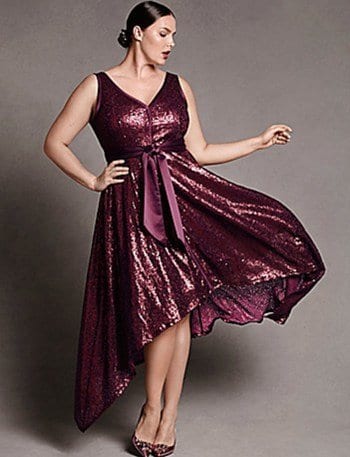 ↓ 16. Stylish All-Black Outfit for Curvy Girls
Whatever your size or shape, this outfit will flatter it! All-black will always be stylish and it is made perfect for an NYE party by incorporating a sequined top, gold accessories, and black-and-gold heels. Choose long drop earrings and a clutch to match!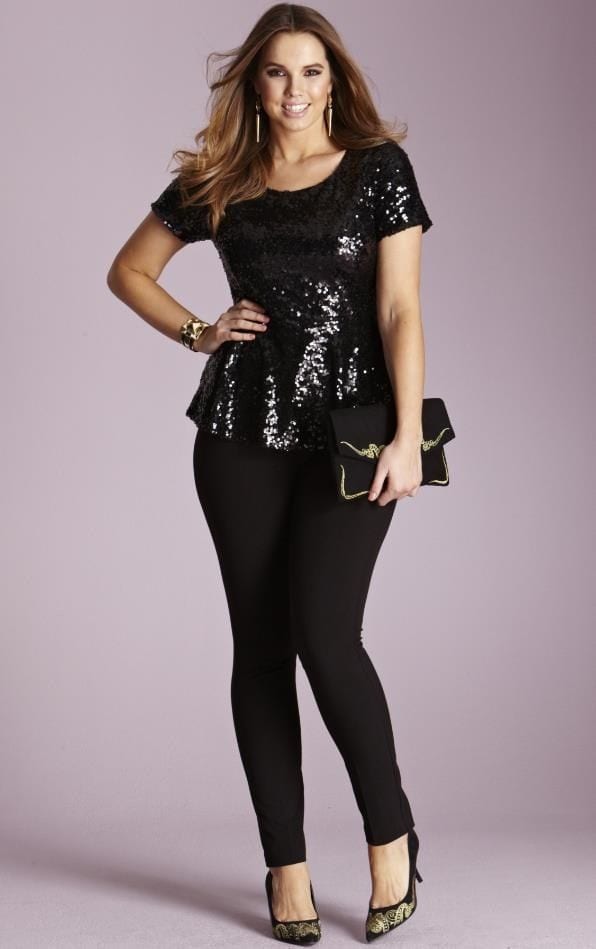 ↓ 15. Soft Olive Green Dress for Party
Wrap dresses and skirts are hugely flattering for curvy ladies as they highlight the waist and add roundness to the hips. A knot at the waist is also great for this. Check out this lovely olive green dress that is both elegant and shapely and pair it up with some ankle strap heels.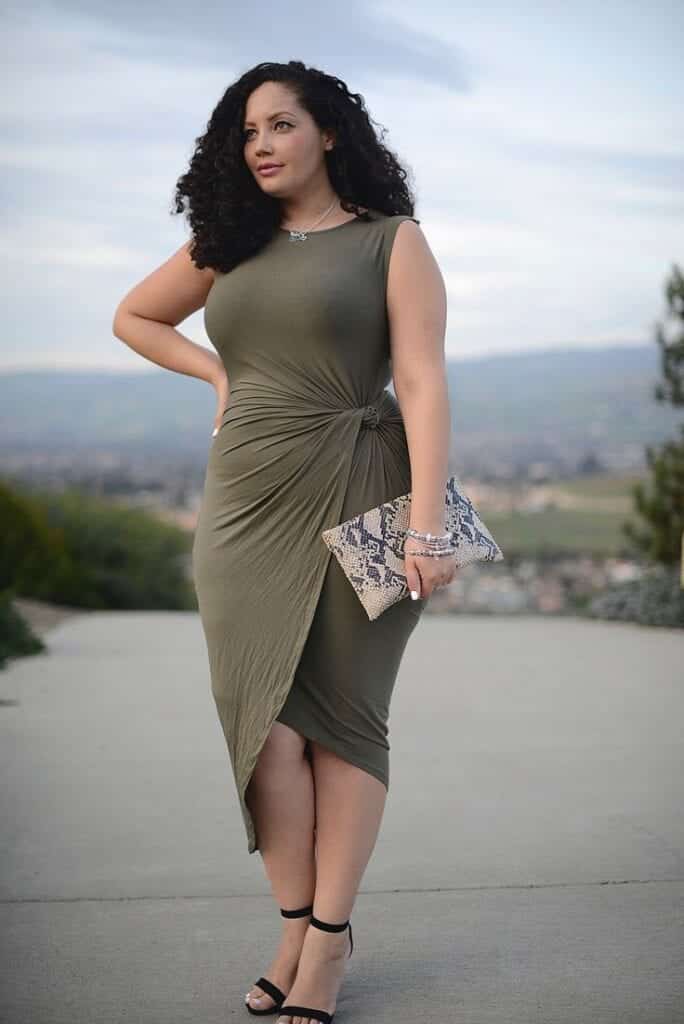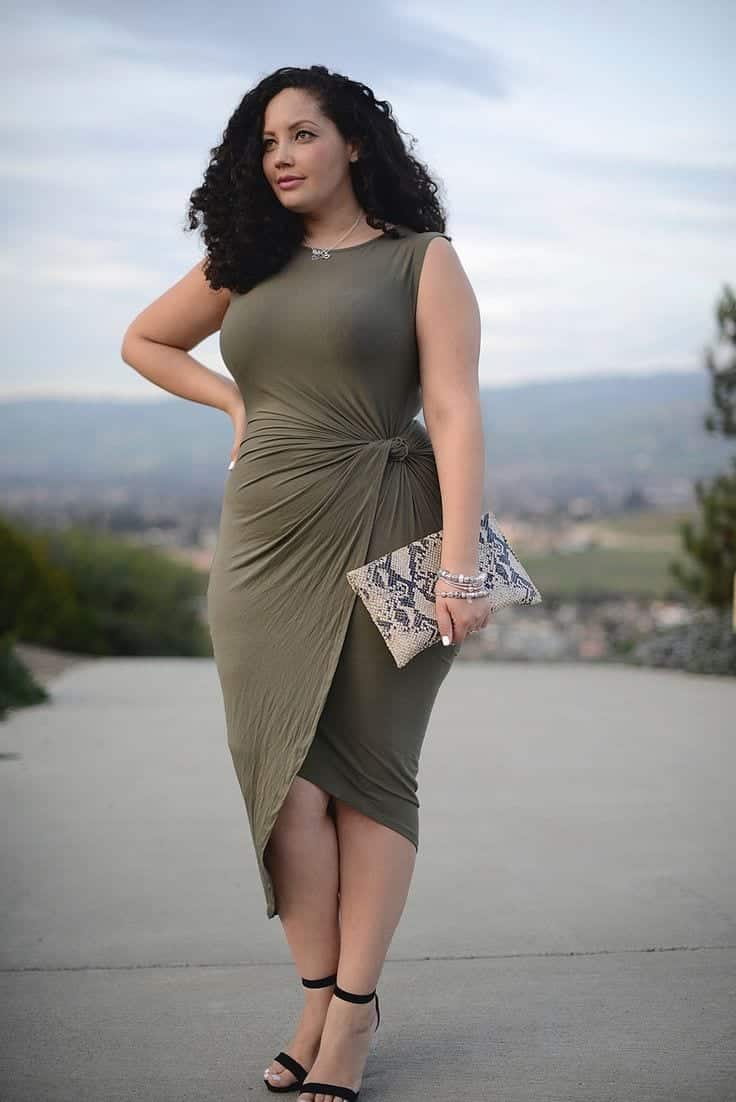 Romwe Women's Plus Size Short Sleeve Bodycon Dress $29
↓ 14. Gorgeous Tulle Skirt and Top-Knot
Here is a totally chic outfit for the lady who really loves to make a statement. A misty green tulle skirt is paired with a blouse featuring lovely structured sleeves. These are great for adding a visual straight-cut to the look, removing some of the roundness of the shoulders. Accessorize yours with some choice pieces of jewelry and a pair of black pumps.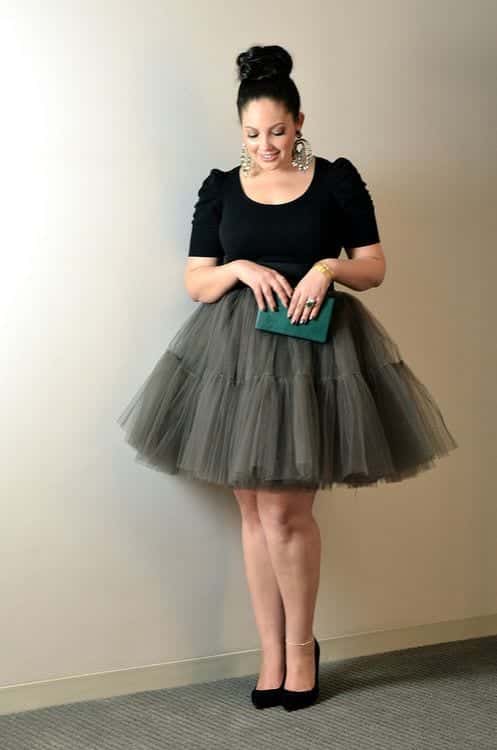 ↓ 13. How to Wear Jeans for NYE Party for Plus-Size Women
These medium-wash ripped jeans are the exception to our dark-wash or black jeans only rule. They are slightly more casual, which works with this fabulous leather style top as it dresses it down a bit, making it perfect for a casual party. Pair yours with heels and accessorize with a statement clutch to tie the look together. Check out 25 Cute Outfits Ideas to Wear with Denim Studded Shorts!
↓ 12. Glam Bombshell Outfit with Pencil Skirt
While this outfit offers little by way of sequins, it makes up for it in spades by being incredibly chic and incredibly glam. Pair up an animal-print pencil skirt with a button-down, collared blouse and swipe on a bright red lipstick. Finish the look off with a mustard yellow jacket and nude heels. This is a bombshell look for the lady who knows how to rock her curves.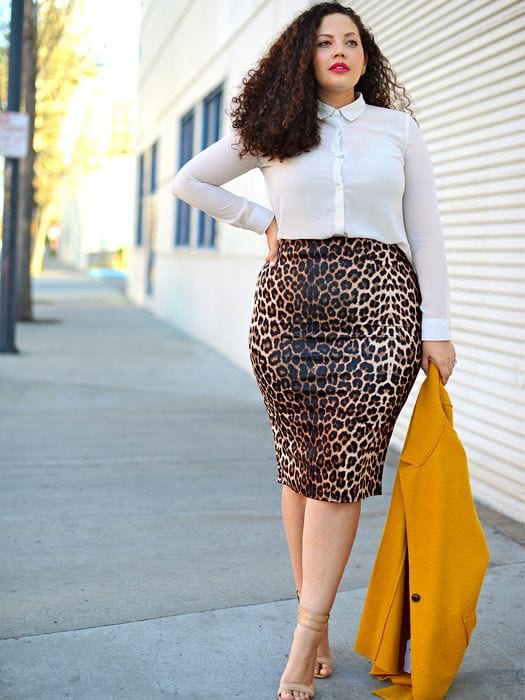 ↓ 11. Faux Fur Coat With Brocade Pants
As NYE comes smack in the middle of winter, designing an outfit that includes a coat is pretty ideal. We love how this coat adds endless glamour to this outfit and that the style is not sacrificed for warmth! Other details to note: high-waisted pants are every girl's best friend and you can pop on a crop top with these and feel confident! Red lipstick keeps it festive and chunky jewelry ties everything together. Also, be sure to have a look at Outfits with Faux Fur Coat.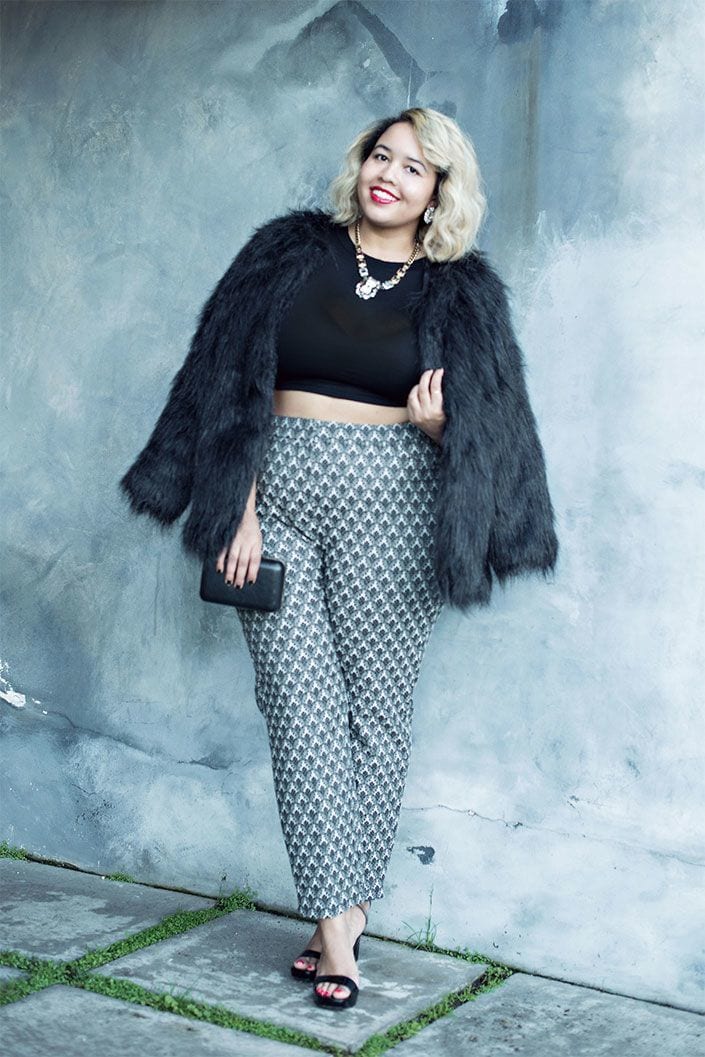 ↓ 10. Perfect Holiday Outfit for NYE
Nothing screams holiday fashion like a beautiful velvet red dress. A number like this works for bodies of all shapes and sizes. Accessorize with a cute little purse and pop on some black strappy heels.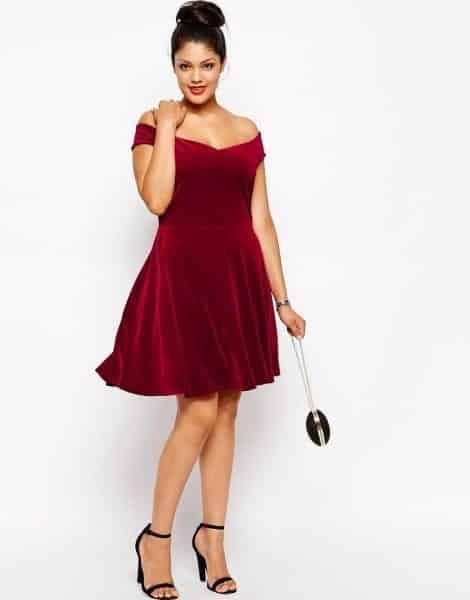 ↓ 9. Formal Evening Gown for NYE Dinner
A fancy event calls for fancy gowns. Pair this floor-length dress with nude heels and a classy updo. Don't miss out on 20 Cute Lace-up Dresses Trending These Days.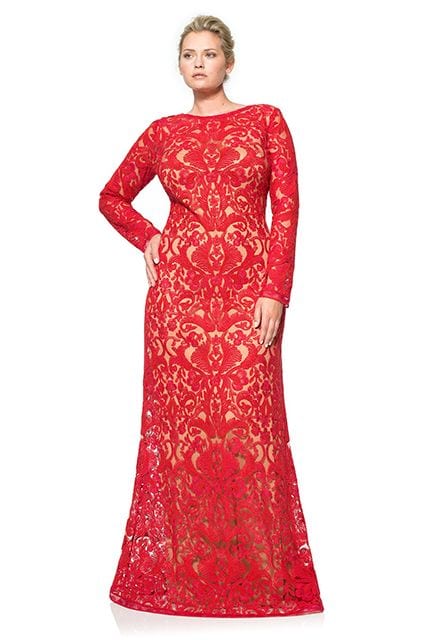 ↓ 8. Lovely Black Kaftan Style Dress
A belted see-through kaftan is a great option for late-night NYE parties. Add heels or pumps and opt for a nude lip.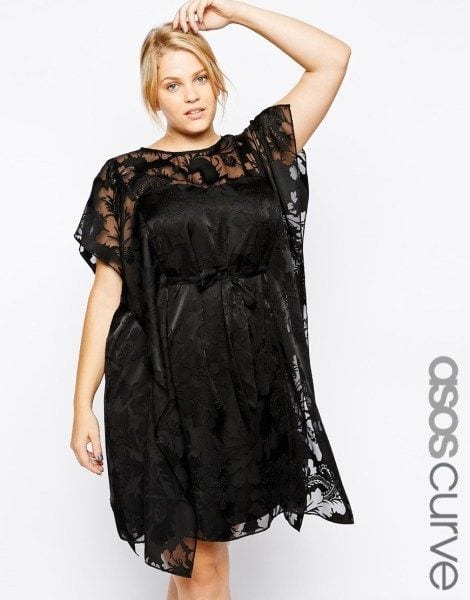 ↓ 7. Black Leather Pants With White Top
Once again, we see the power of a cinched waist. This black-and-white outfit is classy and super flattering and looks best when accessorized with white-gold jewelry. For more ideas, here's our detailed post on Cute Outfits with Leather Pants for Women to wear this Season.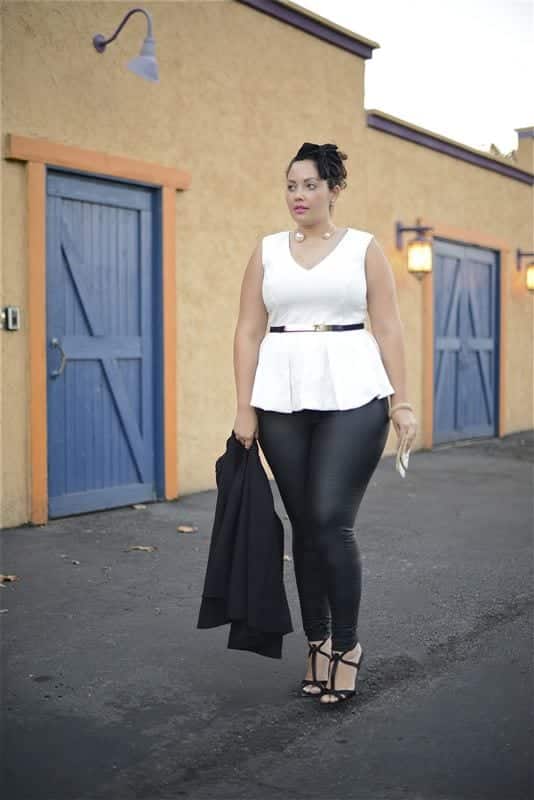 ↓ 6. Glamorous Long Skirt With Simple Top
Do you love long skirts? Then check out this look! This maxi skirt is such a stunner it needs little embellishment. Pair it up with a white top and some chunky jewelry and you are ready to go. Be sure to check out these 20 stunning skirt outfits combinations for plus size ladies.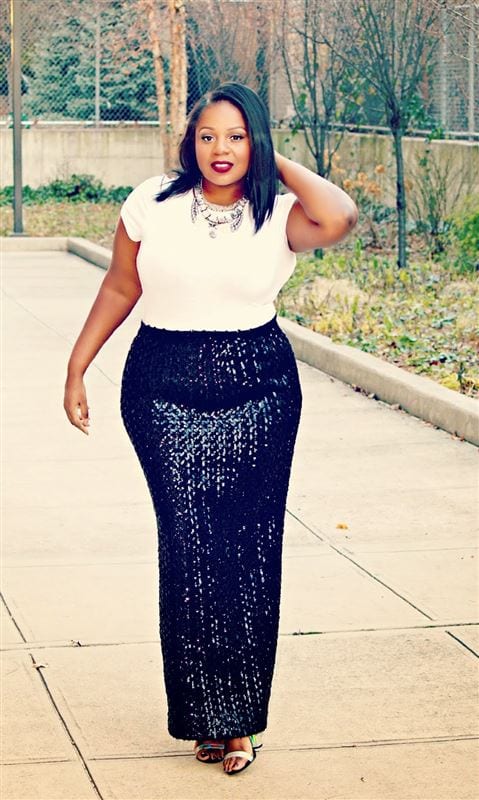 ↓ 5. Red Sweater Dress and Booties
Red is always eye-catching and it's especially so when donned as a gorgeous sweater dress. Pair up this dress with some taupe booties and get ready to hit the dance floor.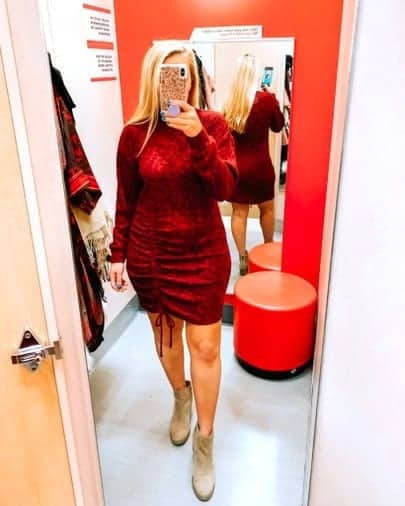 IN'VOLAND Womens Plus Size Long Sleeve Velvet Bodycon Dresses $45
↓ 4. Extra Glamorous Semi-Formal Attire for NYE
This velvet blue dress and sequined blazer make for such a stunning combo it shouldn't be legal! Wear this ensemble to a formal or semi-formal NYE event and blow the crowd away with your high-end style.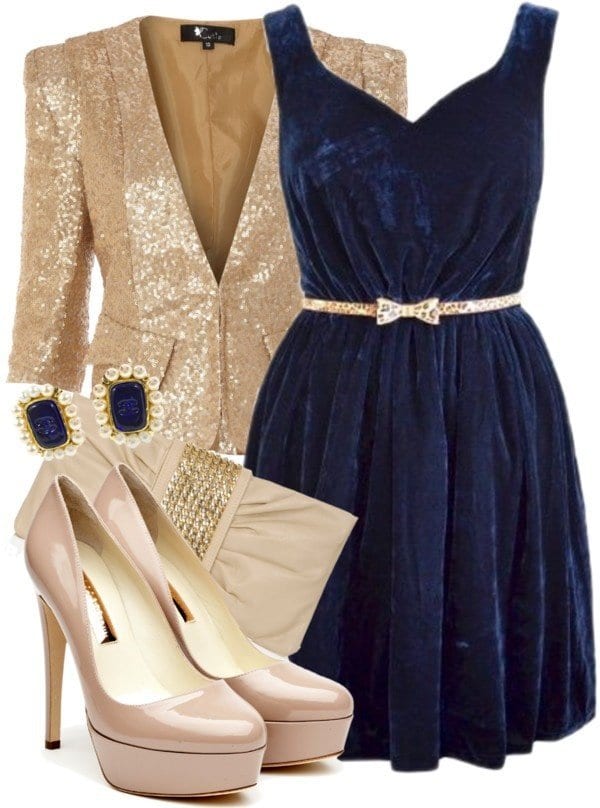 ↓ 3. Statement Coat For Dressy NYE Party
For a chic look, wear your own statement coat over any simple top and leather leggings. And for some more inspiration, don't forget to have a look at 10 short height plus size models breaking the stereotypes.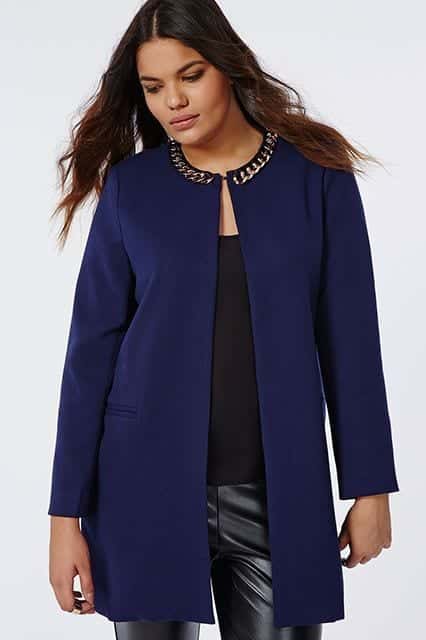 MCEDAR Women's Faux Leather Leggings Plus Size $34
↓ 2. How to Wear a Jumpsuit for Curvy Girl
Not a dresses fan? Here is a great option for NYE that doesn't involve a skirt of any kind: jumpsuits. The key to wearing this piece as a curvy girl is in the fit (you don't want it too tight or too baggy) and the helpful cinch at the waist. A looser sleeve is also preferable. Pair yours with light heels and bold red lips.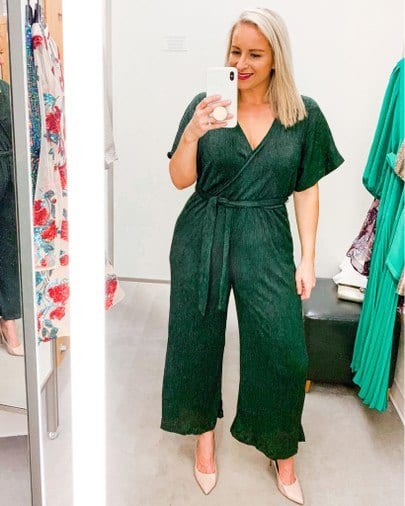 Shop the look at the links below:
Nordstrom All in Favor Metallic Plisse Jumpsuit $65
Miluoro Rhinestone Heels $59.99
↓ 1. Sheer Midi Dress and Pumps
This beautiful number takes advantage of a cinched waist and a plunging v-neck, all doing a fantastic job of pulling the eye in and down, lengthening and slimming the body. It makes for a great NYE party look, especially when worn with beautiful white pumps and gold jewelry. This kind of dress works on almost any shape or size so give it a try to see if it's the look for you!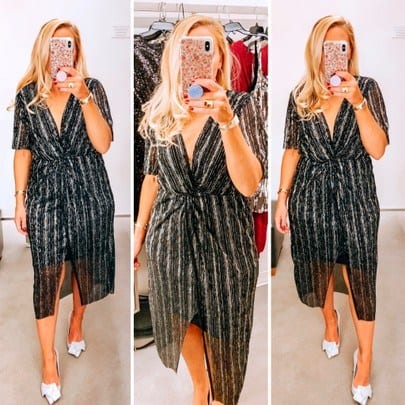 Shop this look at the links below:
Nordstrom All in Favor Dolman Plissé Midi Dress $59
Nordstrom Ted Baker Linessi Pump $194.95
We hope this post inspired your NYE party outfit prep, and that these tips and tricks for choosing the perfect ensemble were helpful. Let us know your favorite look in the comments!
R.H. Elias is a freelance writer, aspiring author, and freelance transcriptionist. She is a homebody all the way and loves curling up on a cold, rainy day with a good book and a warm cup of tea. Her favourite pastimes include reading, writing, and watching period films. She currently lives in Puerto Rico.