Plus size girl's new year outfit ideas. This year is just about to end and the biggest night of the year is yet to come: New year's eve!
Do you have any plans for the night of ultimate celebrations yet? No matter what your plans are, its obvious that you need to look your best. And to help you out with this, we have some hot outfit combinations.
What to Wear on new Year Eve if you are Plus Size
Let's start with the Do's and the Dont's of plus size party dressing.
Avoid horizontal stripes because they can make you look wider than you are.
When buying the outfit, don't look for a tight one or a loose one, look for one that fits you perfectly and makes you feel good about yourself.
Be open to experimentation as you never know which new style could look amazing on your body.
If you're going for a dress with heavy embroidery or other details, go for one which has embroidery at it's base so it'll have a slimming effect.
When buying shorts, pants, jeans or skirts, opt for high waisted ones as they make your legs appear longer, hence giving moe balance to your figure.
If you have a plus size figure, that should not stop you from getting dressed up in your fanciest dresses the way you want. We have put together NYE outfit ideas for girls of all shapes and sizes to make every head turn their way as the clock strikes 12! Have a look at these 25 dressing combinations to choose your outfit for the night:
#25 – Black Sequin Dress For Curvy Girls
Sequin and Black, that is like two best things combined together.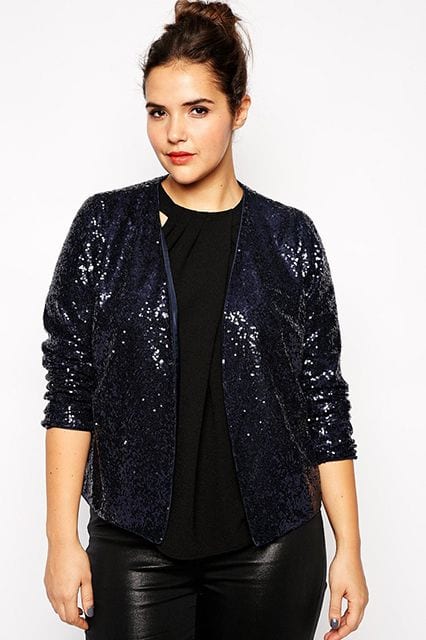 #24 – White Tulle Skirt Paired With A Black Fuzzy Sweater
Aren't tulle skirts simply beautiful. They would be ideal for New Year's Night and they will also give you something different to try, check out our guide on How to Wear Tulle Skirt?15 Trendy Ways to Style Tulle Skirt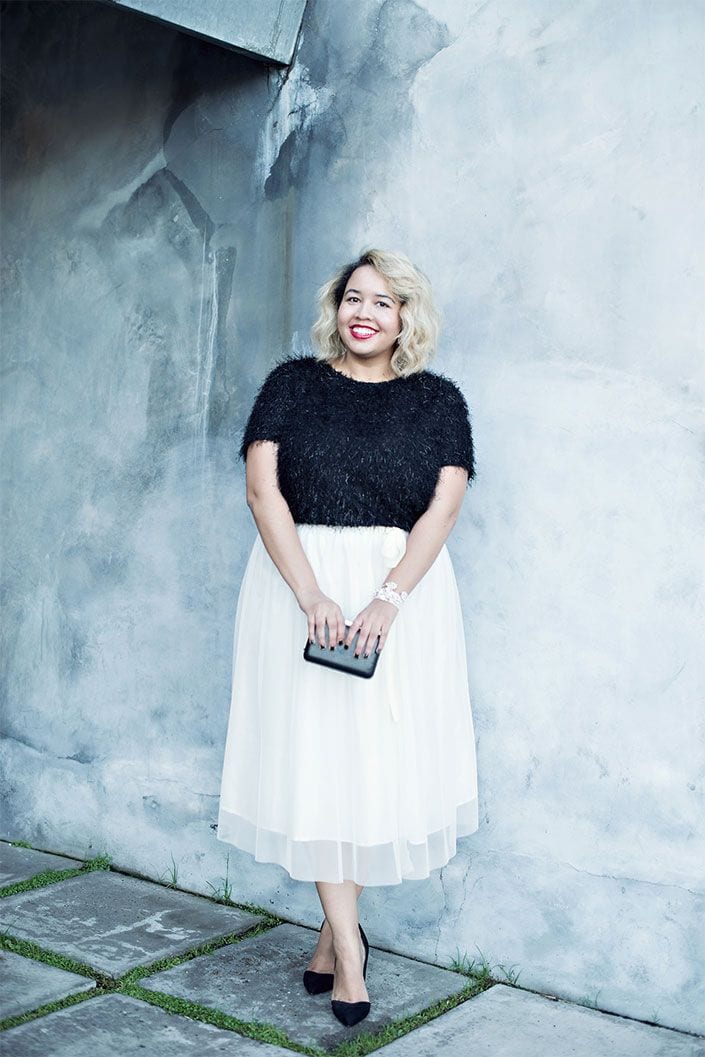 Source
#23 – Short Geometric Dress For Clubs
See how this dress has embroider only at the top and the base? The mid section has been left plain and a belt has been added. This is the best style for plus size girls who want to look slimmer through their outfits.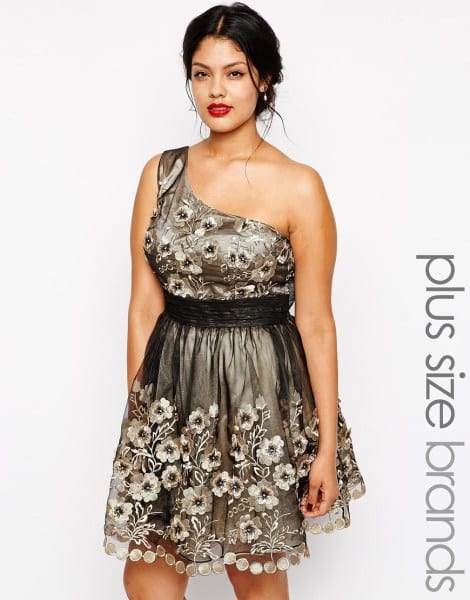 Source
#22 – Sparkly Dress With Faux Jacket And Heels
You can pair a faux jacket with sparkly top or short dress to pull off an amazing glamorous look. Accessorize your outfit with matching studs, clutch and heels. Have a look at Outfits with Faux Fur Coat; 20 Ways to Wear Faux Fur Coat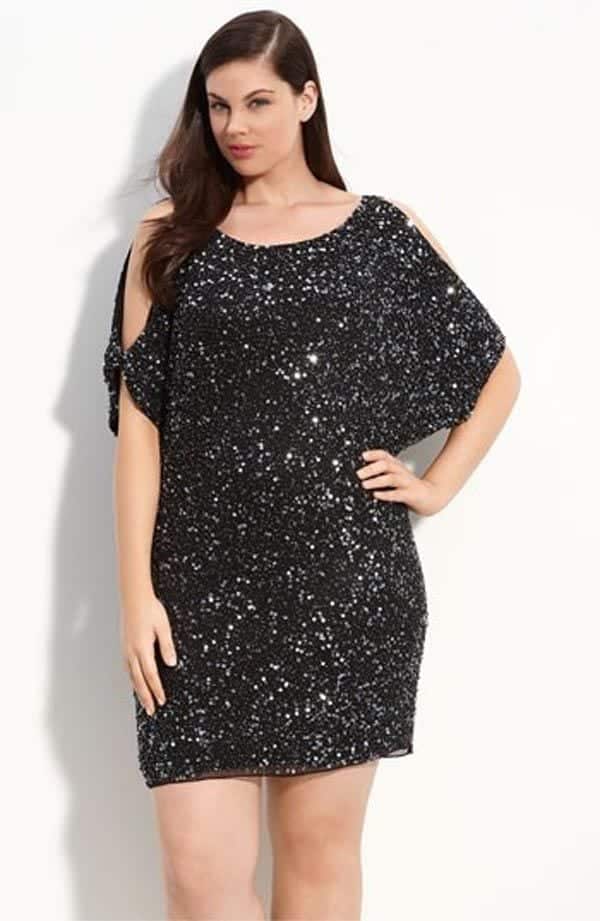 Source
#21 – Beaded Waist Dress For Parties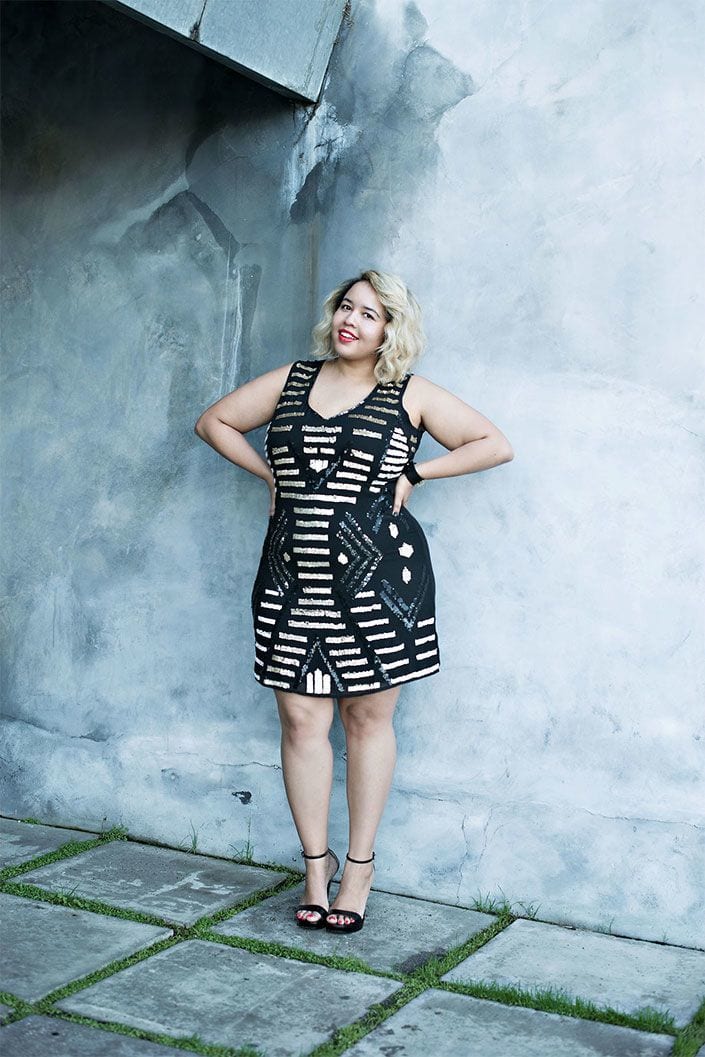 #20 – Plus Size Fancy Gown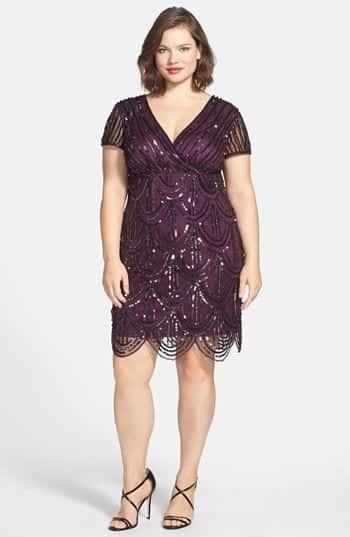 Source
#19 – Striped Dress For Cocktail Party
Striped dresses look great but instead of horizontal ones, look for vertical stripes for the best look.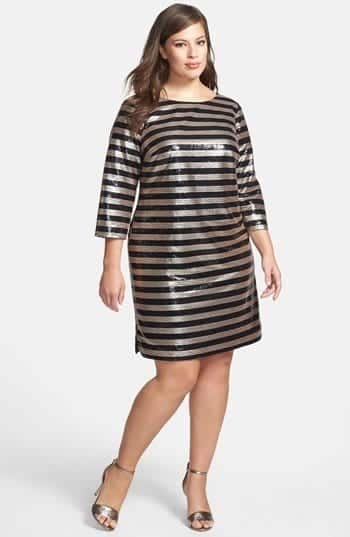 For some more amazing ideas, do check out [highlight]18 gorgeous party outfits for plus size women this season[/highlight]
#18 – Glittery Tops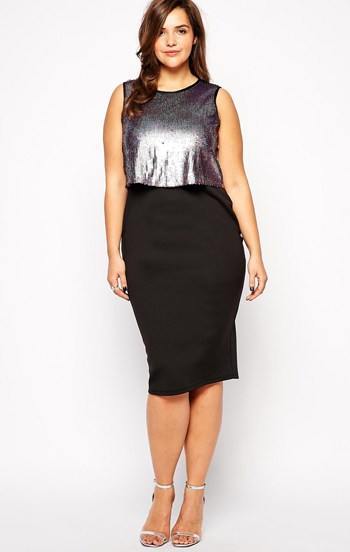 #17 – Sparkly Dress With Bow
Bring up your style game by opting for a bow instead of the plain old belts.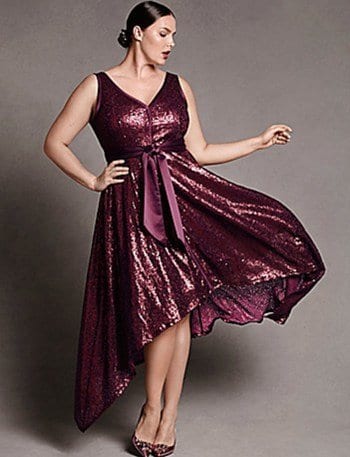 Step by Step Tutorial – How to Tie Waist Bow for New Year Party Dress
#16 – Black Trouser And Top
All black never goes out of fashion! Wear a sparkly black top with trousers, don't forget the matching clutch, heels and gold accessories.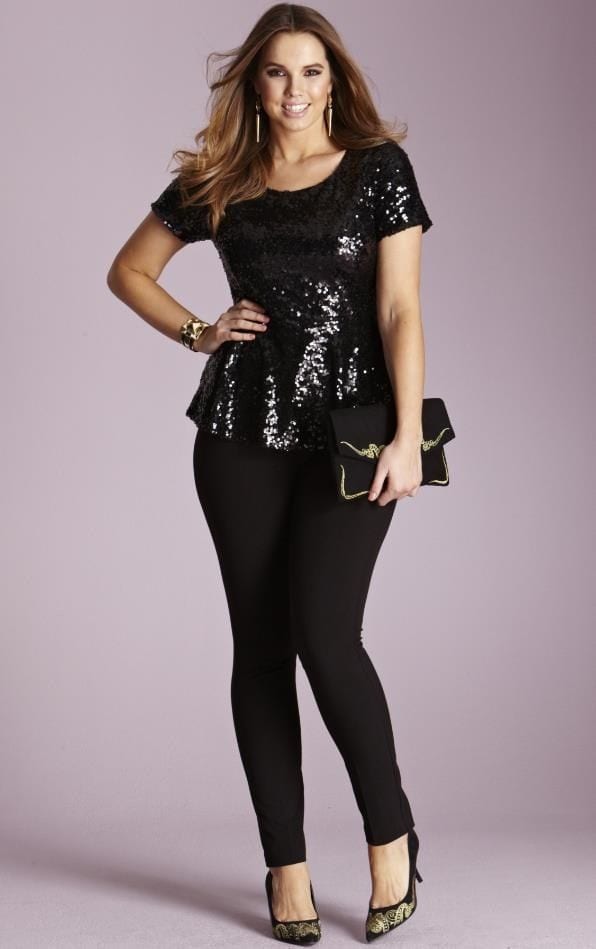 #15 – Rippled Cotton Dress With Knot
When worn the right way, knots can really help you show the right curves and hide the wrong ones. As for the shoes, ankle strap heels look great on curvy girls.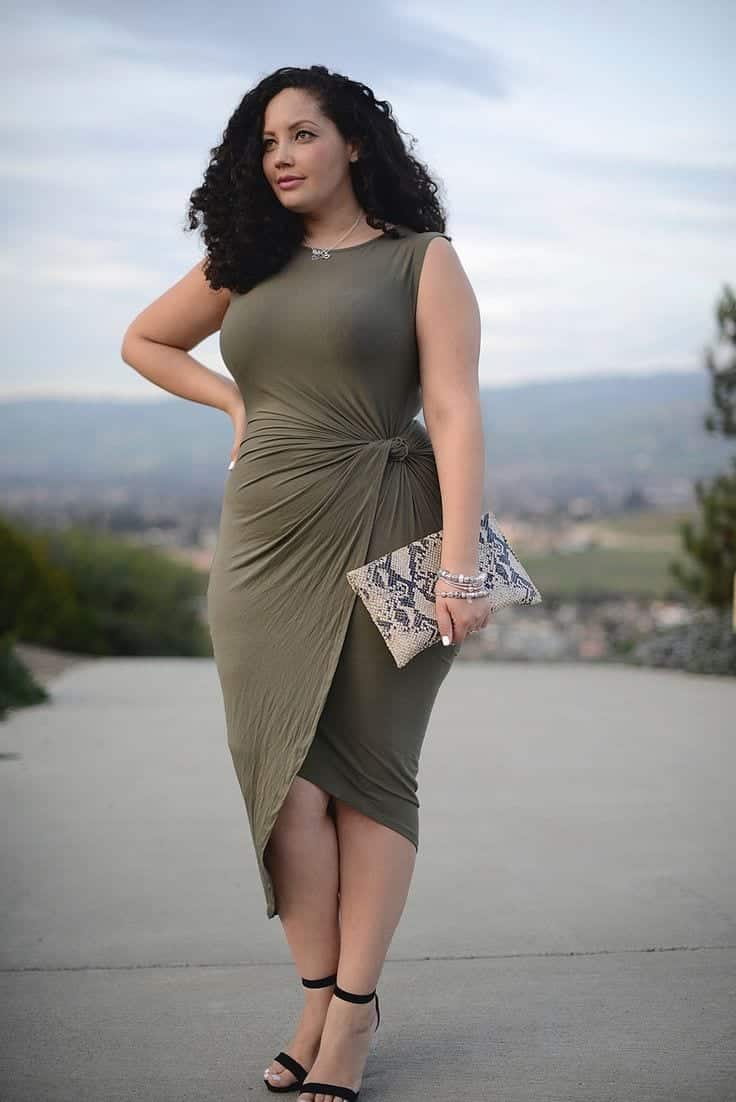 #14 – Hairstyle for New Year Eve
For New Year Eve 2017, I recommend that you go for a top bun. Top buns have been trending so much lately that they're sure to be the hairstyle of the year 2017. You can make your bun stand out by using braids or accessories. I feel top buns look really flattering on us curvy girls and I'm sure you too will agree once you give them a try.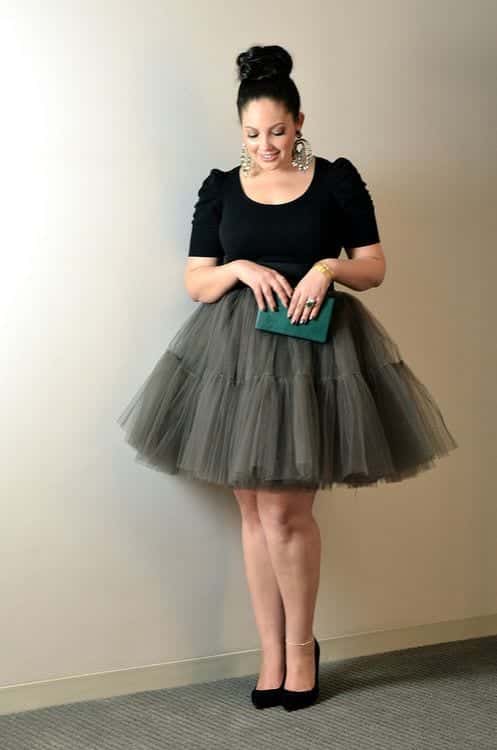 #13 – Leather Top With Denim Jeans For Casual Parties
One nothing else works, just go with denim as denim can never go out of style. Check out 25 Cute Outfits Ideas to Wear with Denim Studded Shorts
#12 – Cheetah Print Pencil Skirt With Button Up Shirt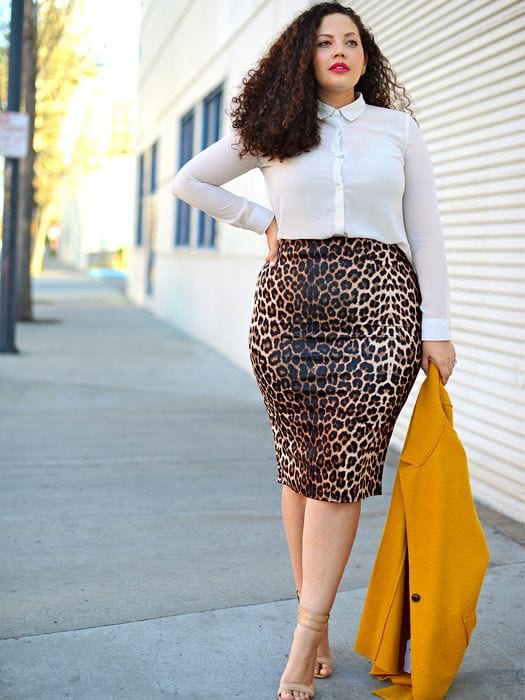 #11 – Fur Coat With Brocade Pants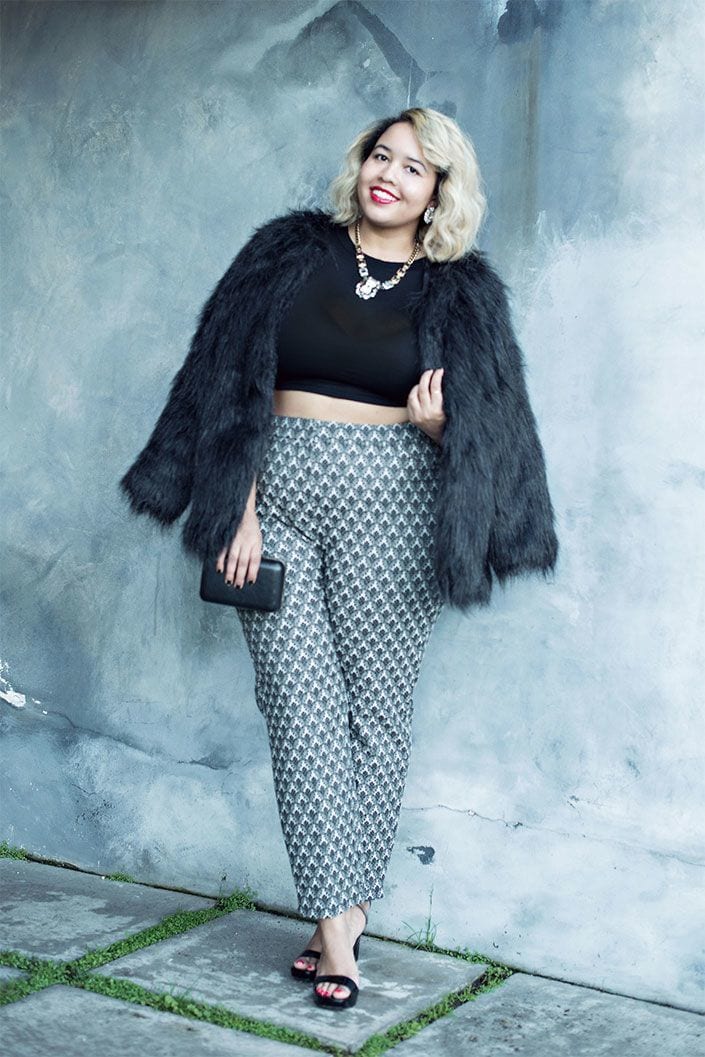 Source
#10 – Hot Red Velvet Dress
Red is an amazing colour for late night parties, wear it with golden accessories and gold eye-shadow with red lips of course.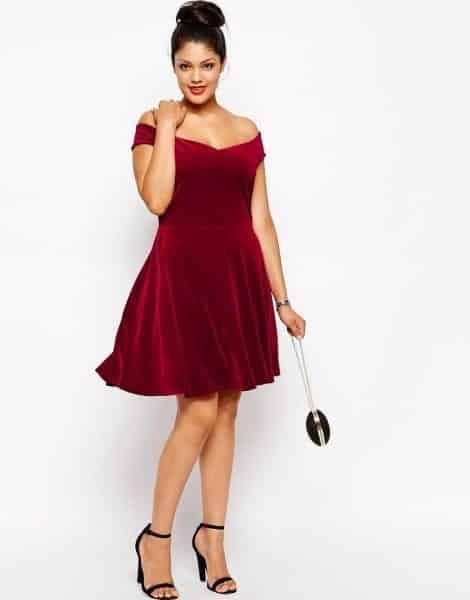 Source
#9 – Lacy Dress For Evening
You can never go wrong with lace. These dresses look hot and are perfect for evening parties. Don't miss out 20 Cute Lace up Dresses That are Trending These Days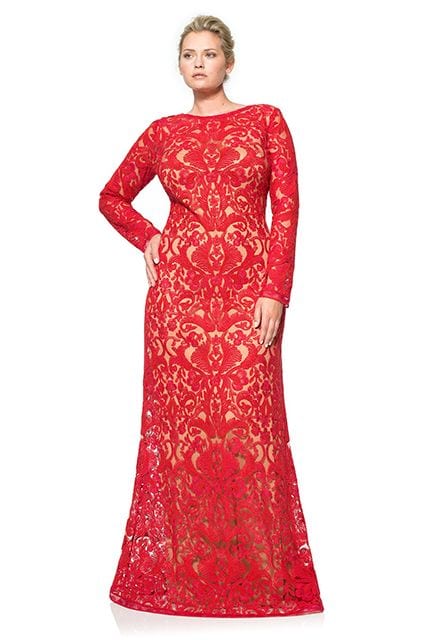 Source
#8 – Flowery Net Dress For Chic Look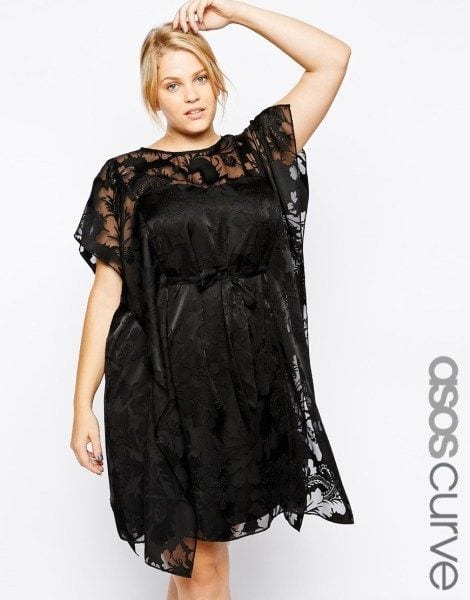 Source
#7 – Black Leather Pants With White Top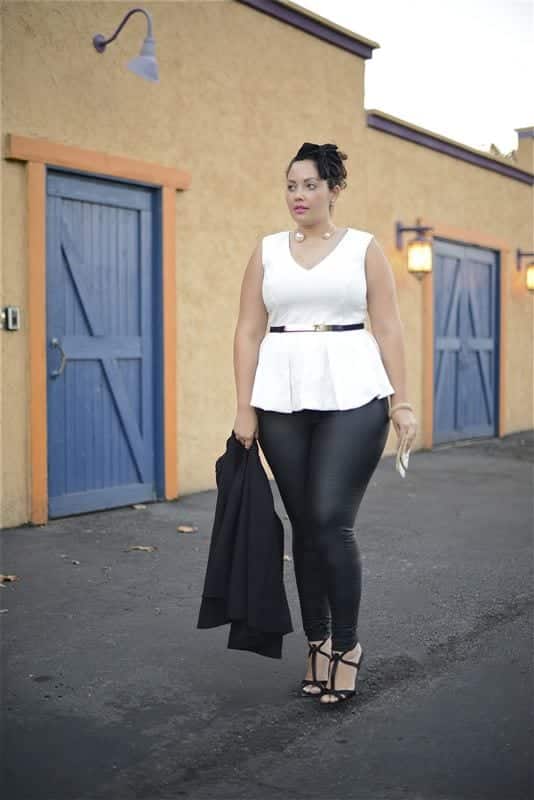 Source
#6 – Glamorous Long Skirt With Simple Top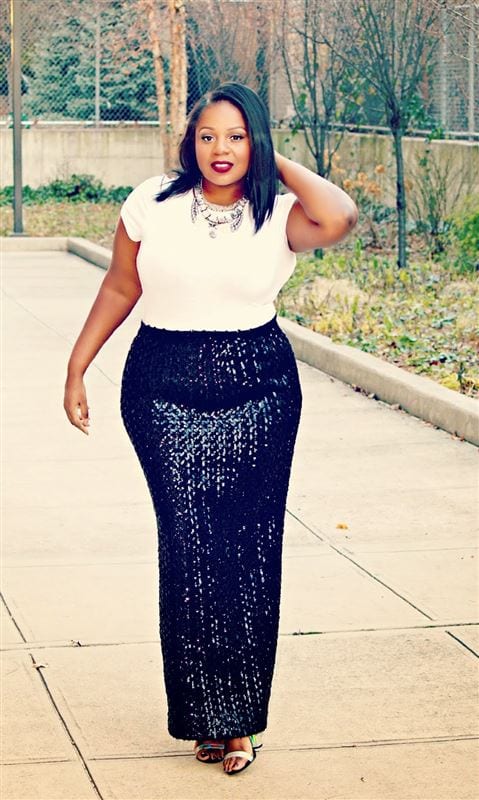 Source
If you chose to wear a skirt, do check out these [highlight]20 stunning skirt outfits combinations for plus size ladies[/highlight].
#5 – Plus Size Jumpsuit
If you dont have any big clubbing plans for the night, jumpsuits are perfect for you. They are comfortable and look super cute.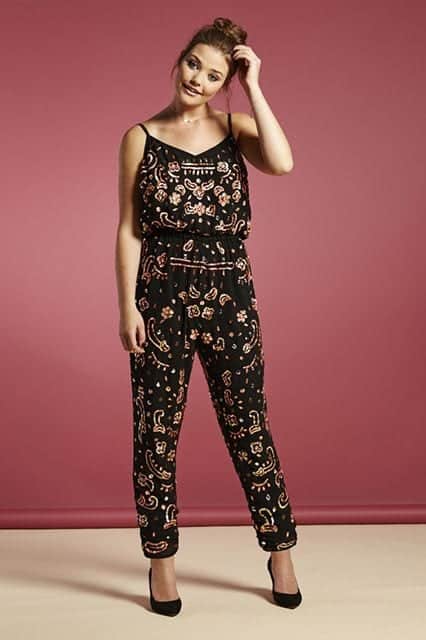 #4 – Blazer In Sequin For A Sexy Look
Sequined blazers look super cool! You can wear it to any night party and look fabulous.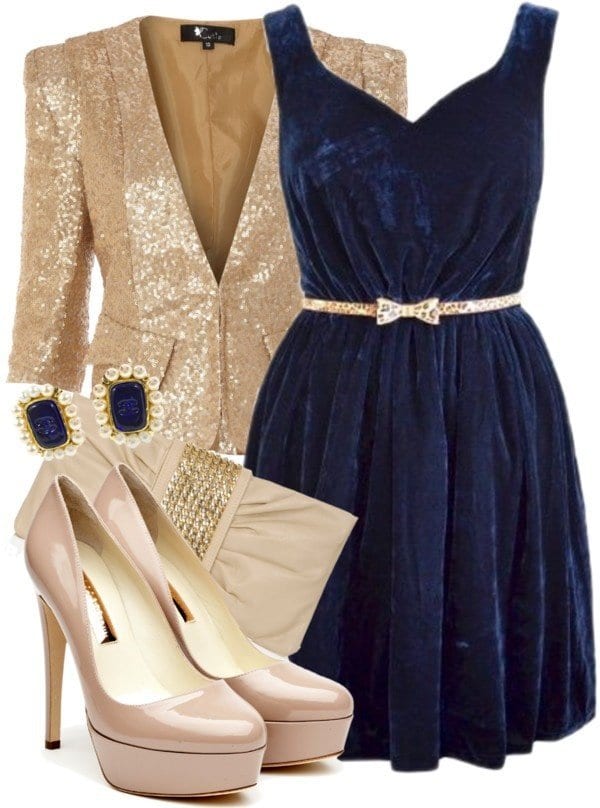 #3 – Statement Coat For Formal Parties
For a formal look, wear your own statement coat over any simple top. And for some more inspiration, don't forget to have a look at 10 short height plus size models breaking the stereotypes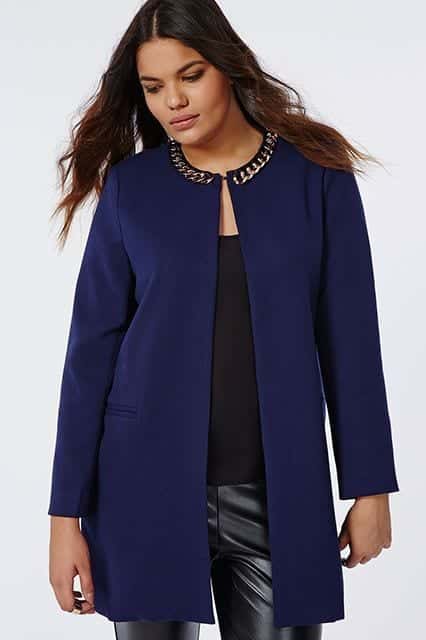 #2 – Embroidered Gown For A Classy Look
Long sleeved gowns give a sophisticated and classy look.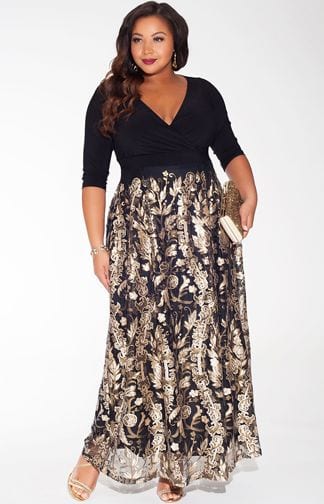 #1 – Embellished Sweatshirt For A Casual Look
This attire is perfect for a cozy and casual indoor party.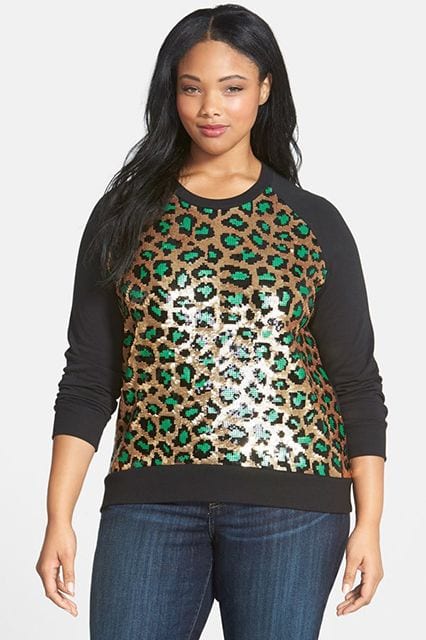 So what are you planning to wear? Stay confident and embrace your curves. Choose the perfect outfit for yourself for the big night using these tips and ideas, guaranteed to draw a lot of attention your way. Impress everyone around you, dance the night away and kick off a brand new year. Let us know your favorite look in the comments!