Plus size saree blouse designs- Saree is a long piece of clothing that women wrap around the body for a graceful and beautiful look. This attire is most common in South Asian countries as they dazzlingly compliment the women.
Sarees come in all sorts of fabrics and styles. They can be styled in thousands of ways and look unique and magnificent in each of them. Every type of saree differs from the others in terms of color, patterns, fabric, and design. The versatility of the saree makes it a garment that can be worn by absolutely anyone. Not only is a saree the perfect blend between fashionable and traditional, but women can also wear it n on a lot of different kinds of events. 
There is a common misconception that you can only wear sarees in a specific type of weather. Not only are sarees magnificent but also very adaptable to all sorts of weather conditions. If you have a summer wedding to attend, you can wear a breathable and light cotton saree. Moreover, Khadi and Linen sarees are also perfect for your summer saree wardrobe for their elasticity and breezy nature. People usually think that a saree is not ideal for winters because it would not keep you warm. This fact is untrue because silk and velvet sarees not only look magnificent but can also absorb moisture to keep you warm during the cold winter season.
Flattering Saree Blouse Designs for Plus Size Women
A widespread misconception is that plus-sized women cannot carry sarees, as well as slim women, do. Plus-sized women are not only beautiful, but they can also wear every sort of outfit with grace and grandeur. Plus size saree blouses are available at almost every saree store and can also be tailored however you want it. Some different patterns and colors come in plus-size blouses. There are countless patterns of blouses that you can choose from, for example, blouses with boat lines, high-neck, or sweetheart necklines. Strapless or strapped blouses are also very much in fashion. You can choose a blouse with tassels, beads, pearls, and even mirror work for an even unique saree look.
Wearing a saree comes with a lot of responsibility as well. To carry your saree with the most elegance, wear a wrinkle-free petticoat underneath. With simple silk sarees, wear statement pieces of jewelry to add beauty to your look. Beautiful bangles and anklets can also make your saree look amazing. Even though some people prefer wearing flats with sarees for a more comfortable walk, some even wear high heels with it. This depends on what you are comfortable with and what compliments your body shape well. 
We already talked in our last post about How to Wear Saree for Plus Size so today we will be focusing specifically on the saree blouse.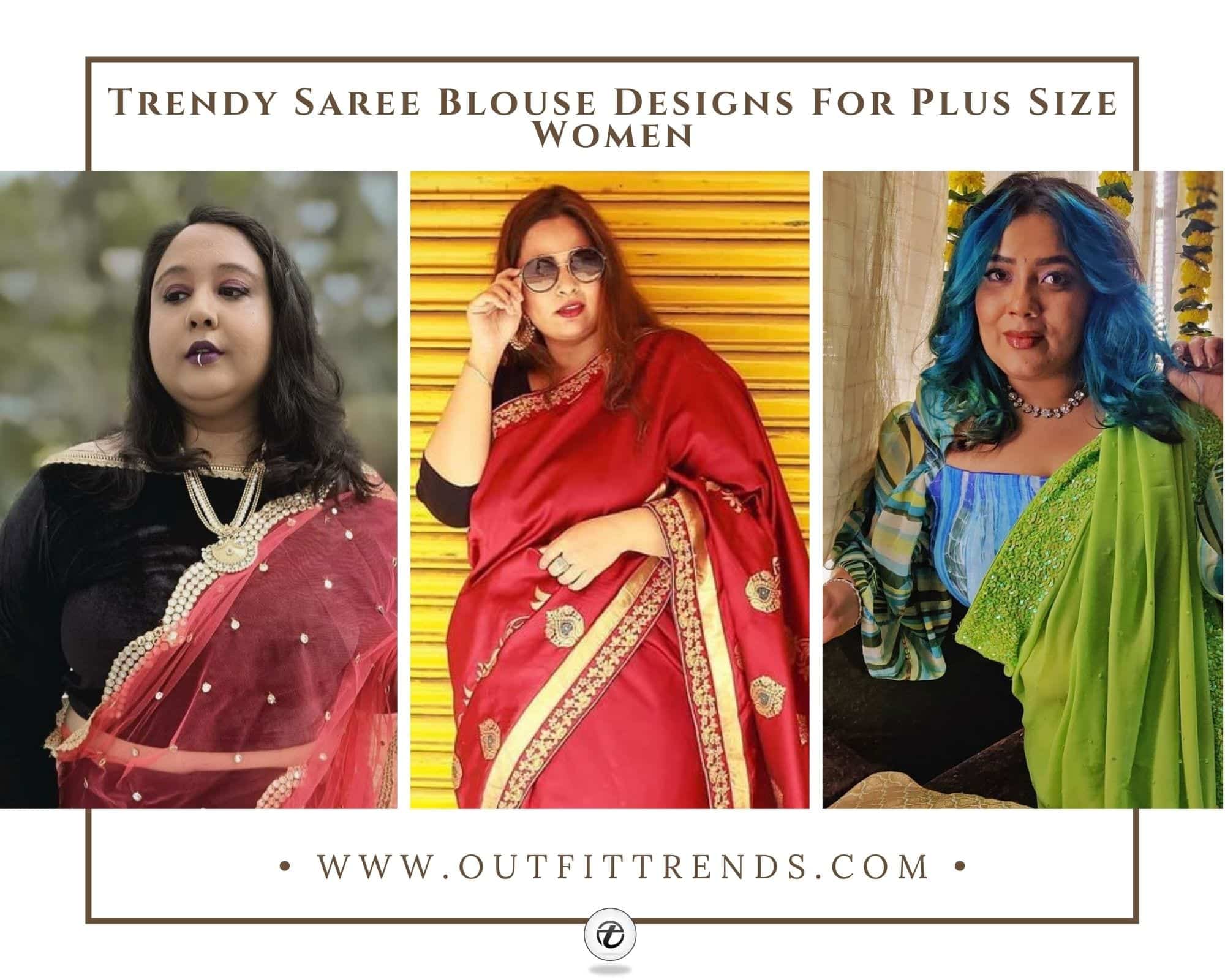 Do's and Don't's of wearing saree draping for a curvy body.
Not that plus-sized women can not style a saree in an absolutely dazzling way, but some do's and don't's that can be followed for an even better look of the saree.
Georgette sarees can exquisitely wrap around your body while accentuating your curves. Plus-sized women can go for embroidered georgette sarees to look slimmer.

Chiffon and soft-net sarees are also flowy and look best on a plus-size body.

Geometric designs look the finest on chubby ladies because they can have a slimming effect.

Choose darker and solid colors to give your body a better shape. Soft and pastel colors cannot contour a curvy body really well.

An envelope neckline for your blouse will cover up your shoulder area and make it look slimmer and nicer. 

A fancy and extraordinary blouse may also attract all attention towards itself.

If you want your belly area to look slimmer, you can try saree shapewears and certain types of petticoat to look slim.

Avoid wearing patterns such as horizontal stripes, which can make you look curvier than you are.

 Stay away from whites and very light colors. 

Try wearing high heels for your gait to look delicate and feminine. This will also make you look less chubby. 
↓ 20 – Saree Draping Styles to Look Slim
Chubby women can style their sarees well with the help of thin bordered and full-sleeved blouses. Letting the saree drape freely over the shoulder may make you look slimmer and better. 
Some of the tips for draping  saree for fat women to look slim are:
Drape your saree in a way that much skin isn't revealing.
Cover your tummy aesthetically if you want to wear a net saree. Let it be all flowy without adding unnecessary volume.
Make sure to tuck your saree perfectly and neatly. Pay special attention to the waist and petticoat area.
Opt for loose pleats and let them be at a distance from each other.
Let the saree pallu open and let it rest on your arm. Don't pin it up if you wish to hide your flabby arms.
↓ 19 – Choosing the Right Colours
Dark-colored sarees may help you hide your body fat in a very helpful manner. Moreover, high neck blouses can help you hide your shoulder fat. If you are comfortable in your arm, don't hesitate to wear a sleeveless blouse. Dark colors are generally well suited to fat people because they make you look slim in a very natural way.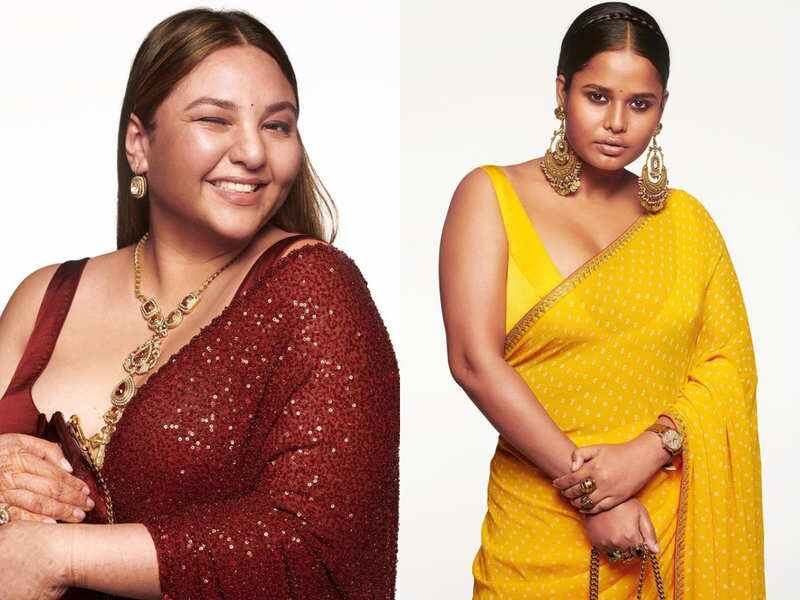 ↓ 18 – Go with the Best Patterns to Look Slim
Patterned sarees can help you look slimmer and also are very much in fashion. These sarees come in a variety of patterns, which are floral, geometrical, and sometimes even trendy prints such as hip hop designs. These sarees are even available with hand-painted designs or embossed patterns that look gorgeous and feminine.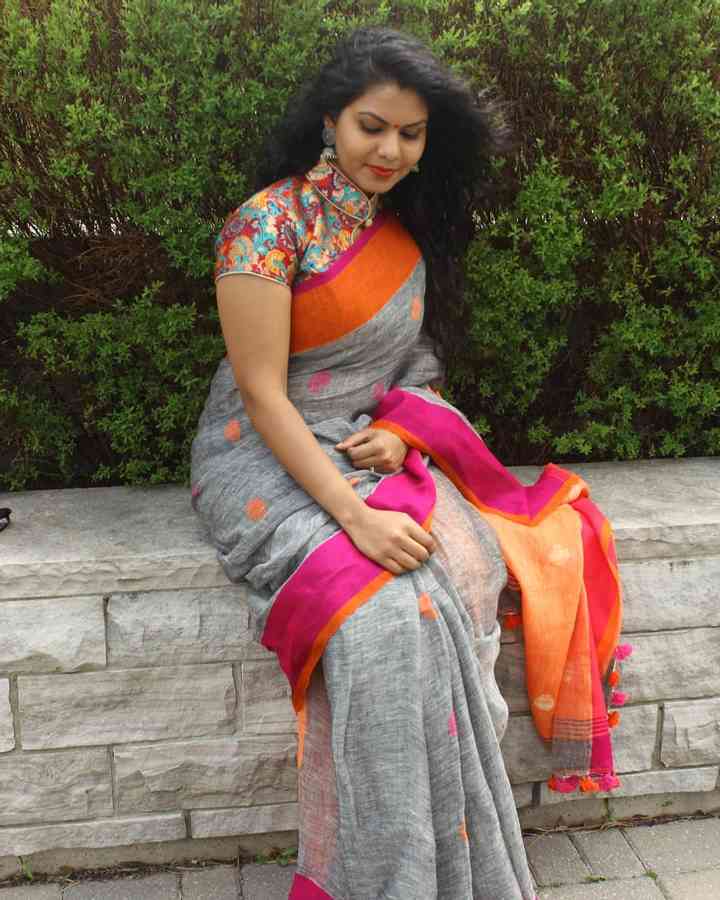 ↓ 17 – Blouse Designs to Avoid
Sleeveless or strapped sarees are a big no for chubby women who have a bulky body and arms. This can be avoided by wearing long sleeves and blouses with narrow necklines, hiding most of your fatty areas. Here are some ideas on How To Wear A Heavy Saree.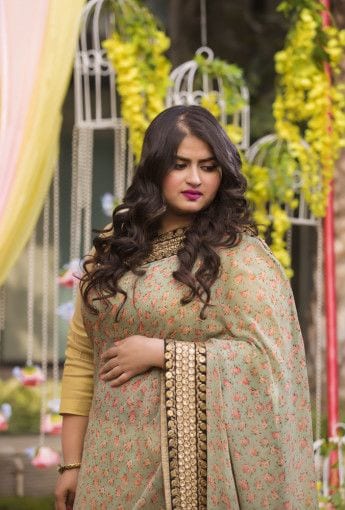 ↓ 16 – Saree Blouse Size Necklines
Plus size saree blouses are fairly common and easy to find in saree shops. These plus-size blouses can look extremely beautiful with a sweetheart neckline. This neckline looks best with bulky earrings and delicate necklaces.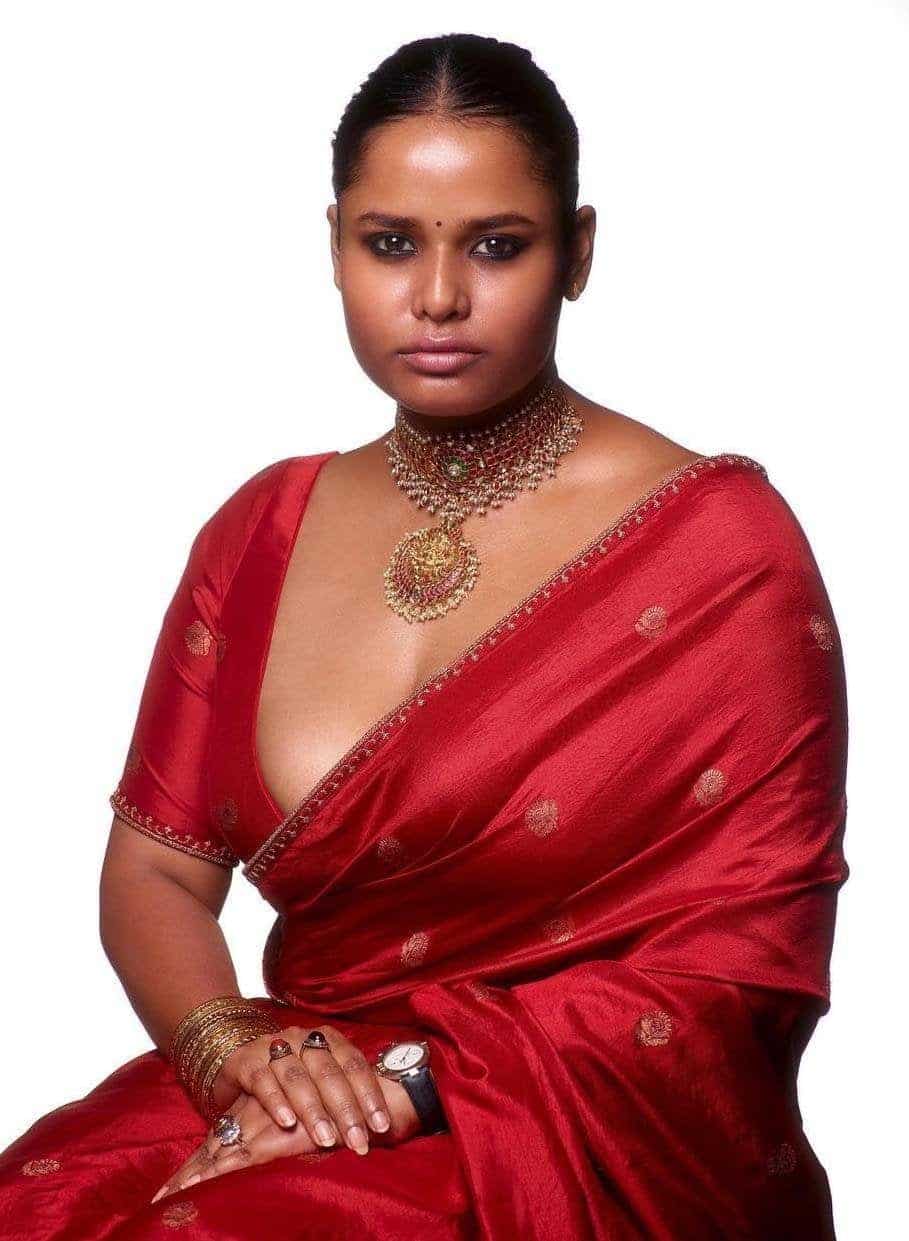 ↓ 15 – Plus Size Designer Blouse
This beautiful black designer blouse was the center of attention at this award show. Plus, size blouses look best with long sleeves, and the draping style looks even better. A round neck is the best option to go with plus size blouses.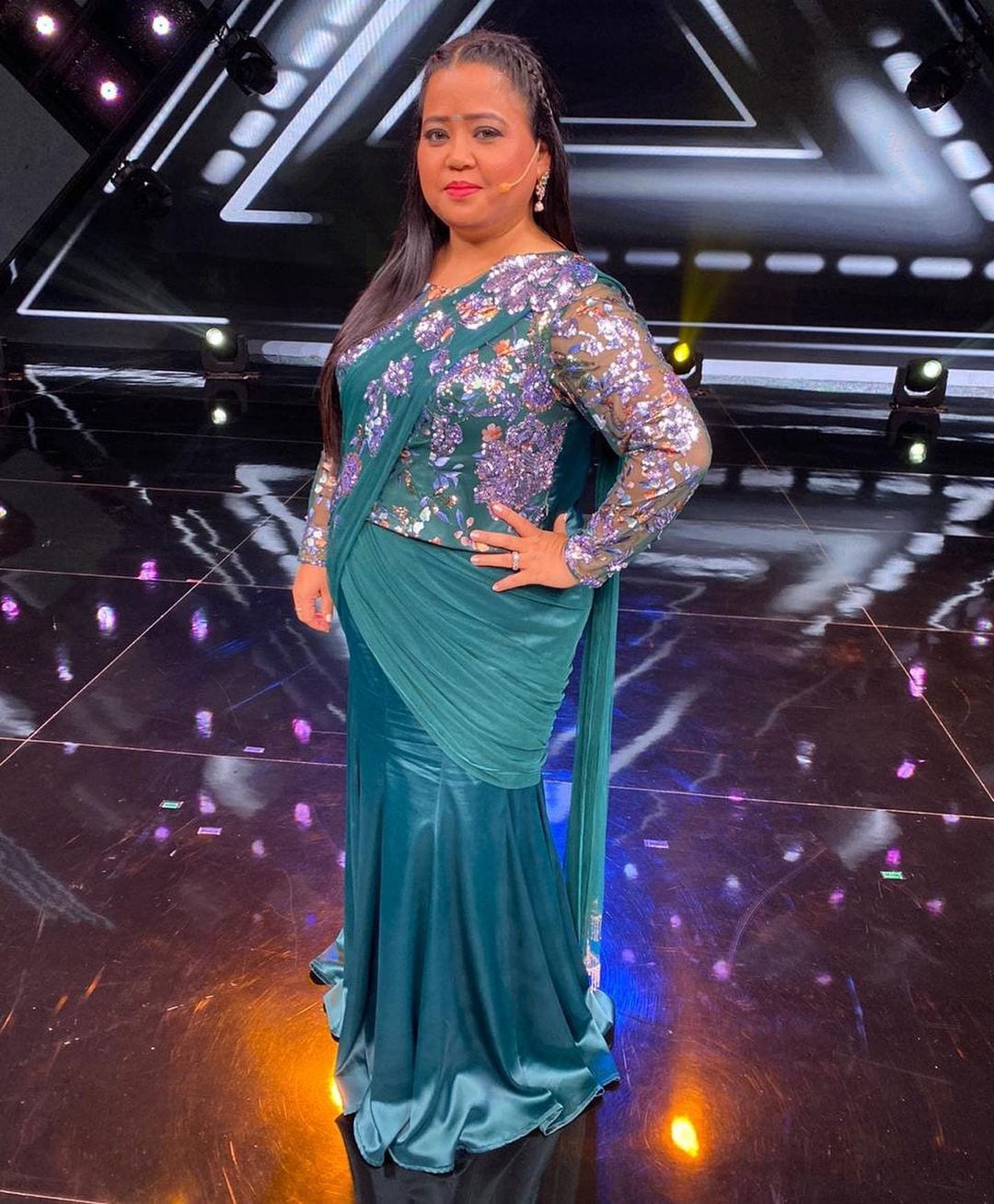 ↓ 14 – Saree Blouse Designs for Heavy Bust
This style of a wide boat line neck can make your body shape look better and sexier! These sarees look best in dark colors.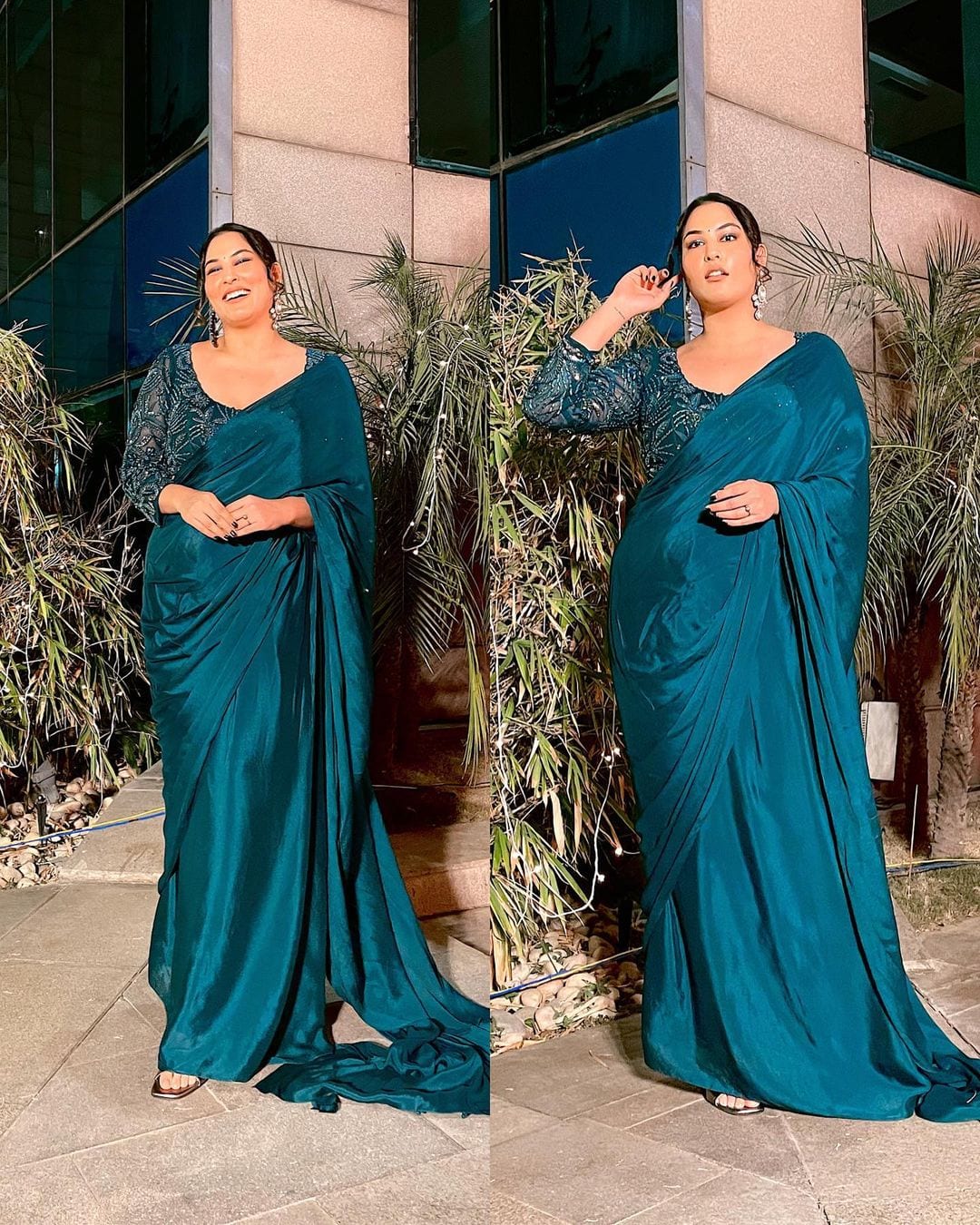 ↓ 13 – Blouse Designs for Fat Tummy
It's not important to hide your tummy if you have belly fat. You can wear blouses that are full sleeved and fitted while draping your saree in a neat way to hide your tummy. Try to hide your tummy when you are folding the saree around your waist.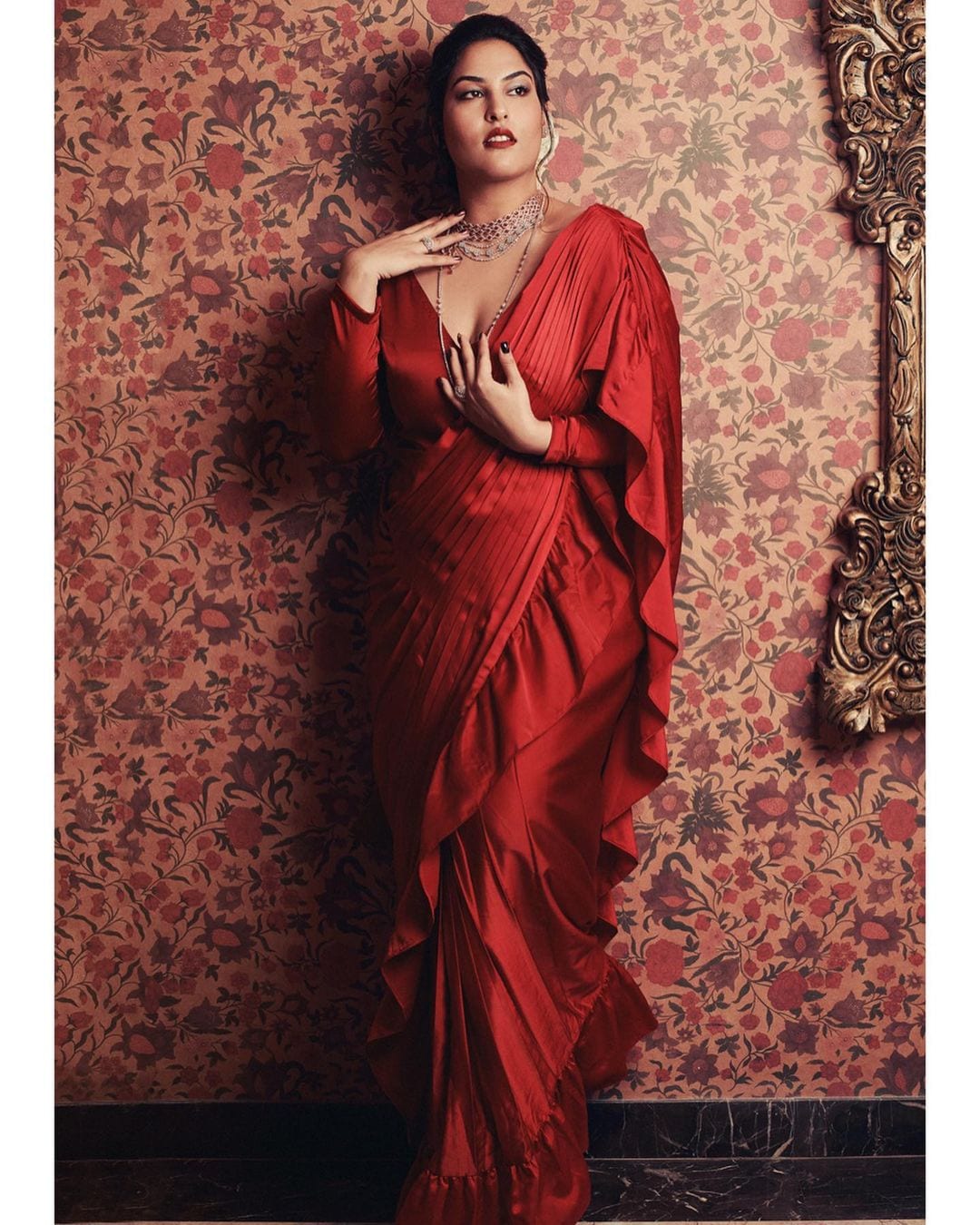 ↓ 12 – Designs for Flabby Arms
People shy away from wearing sarees if they have chubby arms. They think they cannot hide their flabby arms and therefore feel hopeless. In actuality, flabby arms can be hidden very well with quarter or full-length sleeves. They can also be hidden by adding embellishments to the sleeves to hide chubby arms.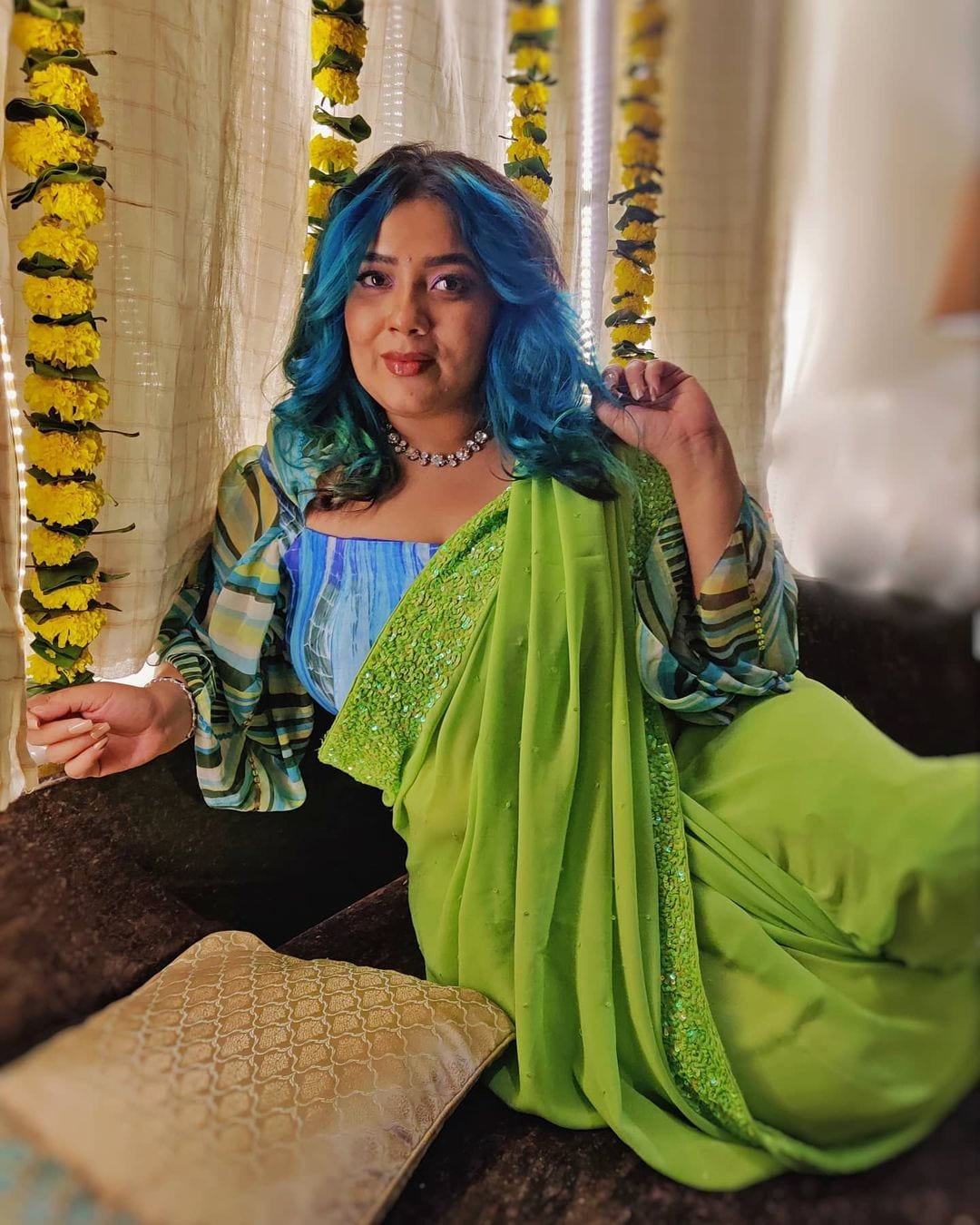 ↓ 11 – For Broad Shoulders
Broad shoulders can be hidden with long sleeves and high-neck blouses, and big signature necklaces. Coat blouses or cape blouses can also compliment your chunky body, making it look delicate and slimmer. Complete your look by choosing from these 10 Best Shoes To Wear With Sarees Of Different Types.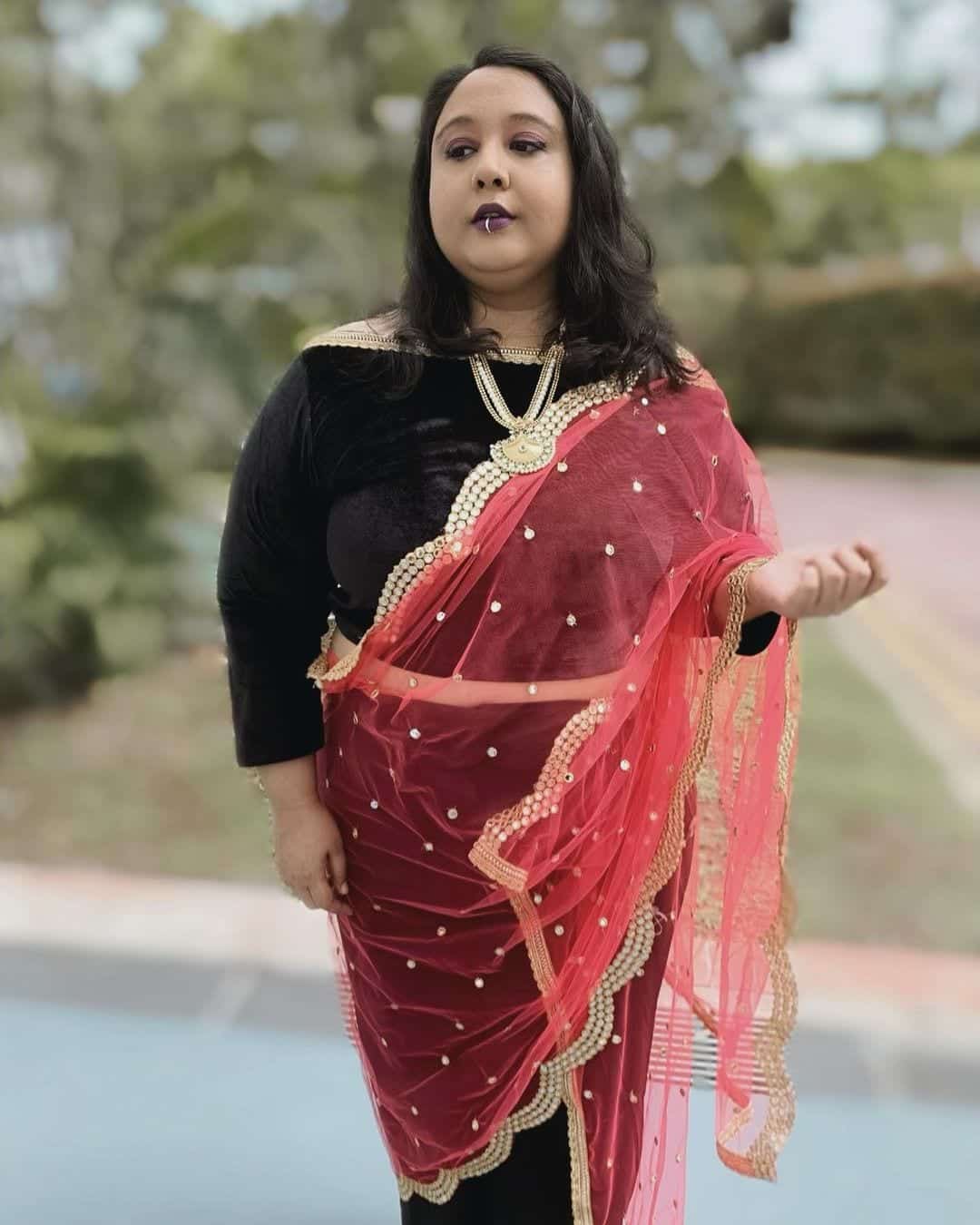 ↓ 10 – Boat Neck Style for Plus Size
Who says you can not wear a boat neck if you're a plus-size woman? You can look dazzling with a boat neck as well by adding in a few jewelry pieces. So, do not shy away from your plus size, instead embrace it and be confident in what you are wearing.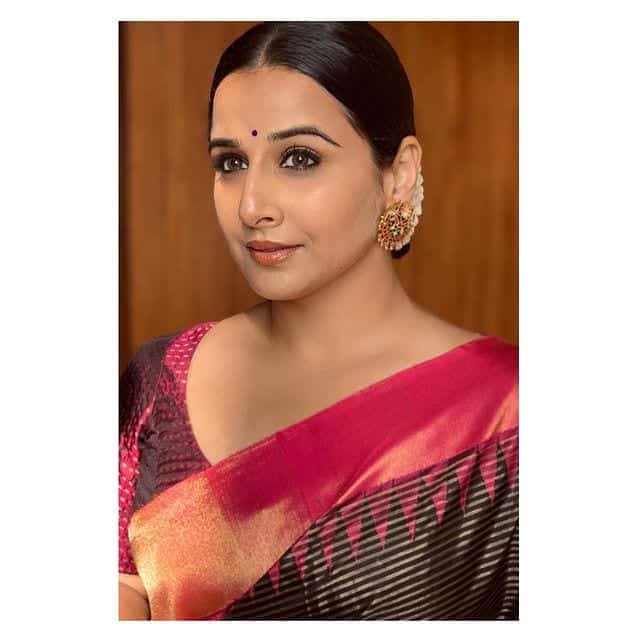 ↓ 9 – Stretch Blouse
Stretchable blouses look best with any sort of body type because it makes your body look slim and beautiful. They set well on all types of body and make your saree look magnificent and dazzling.  
↓ 8 – Wedding Blouse Designs for Curvy Women
Sarees on brides always look gorgeous. At weddings, you can also go for fancy blouses with a lot of embroidery with beads and pearls. Fancy sarees come in a huge variety, which gives you a lot of choices to choose from. This is especially good for people who are very picky about their clothing.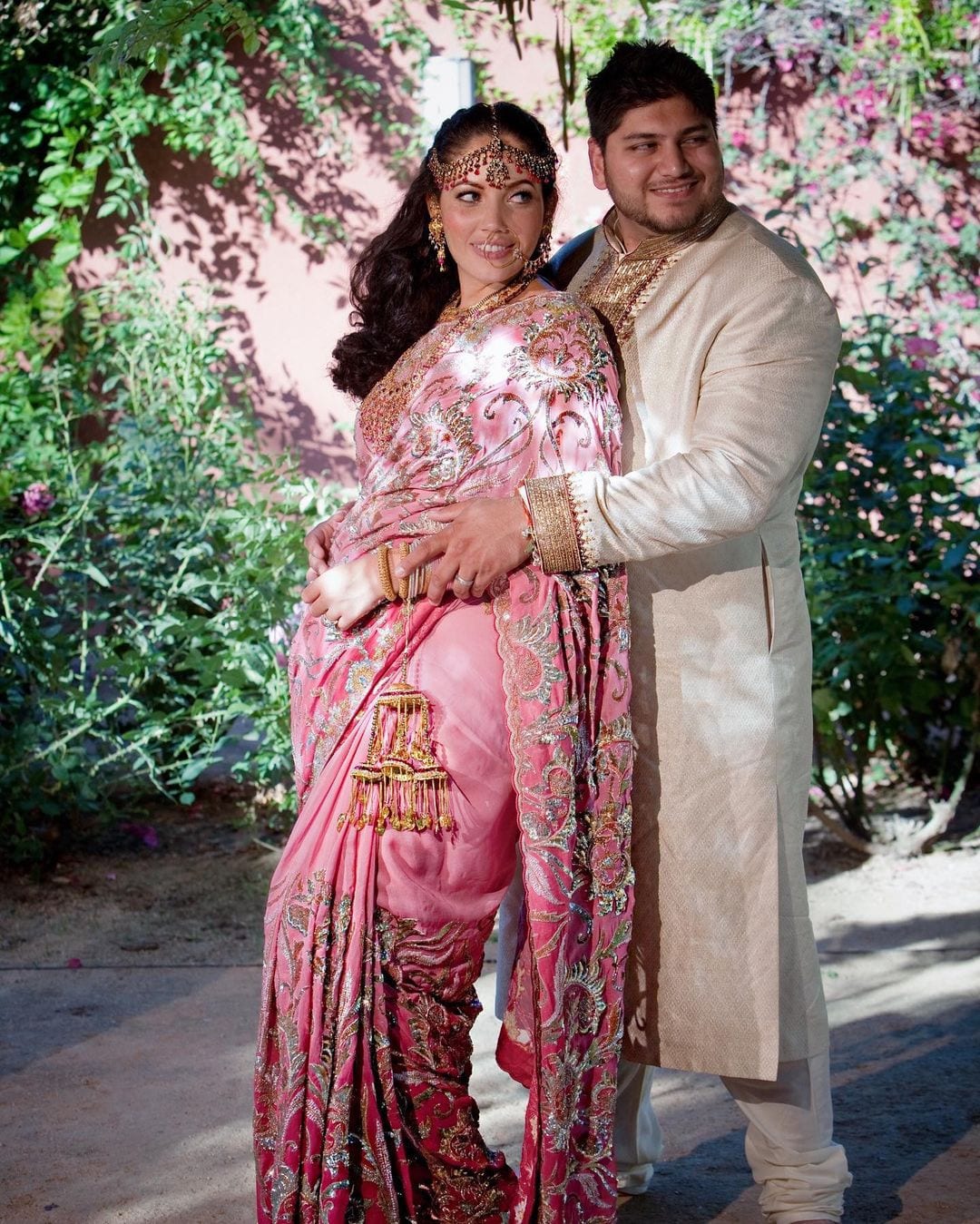 ↓ 7 – For Parties
For parties, silk sarees look absolutely amazing with georgette and chiffon blouses. You can pair a simple blouse with patterned sarees and also the other way around. Sarees look unique and marvelous at parties because of their unique appearance.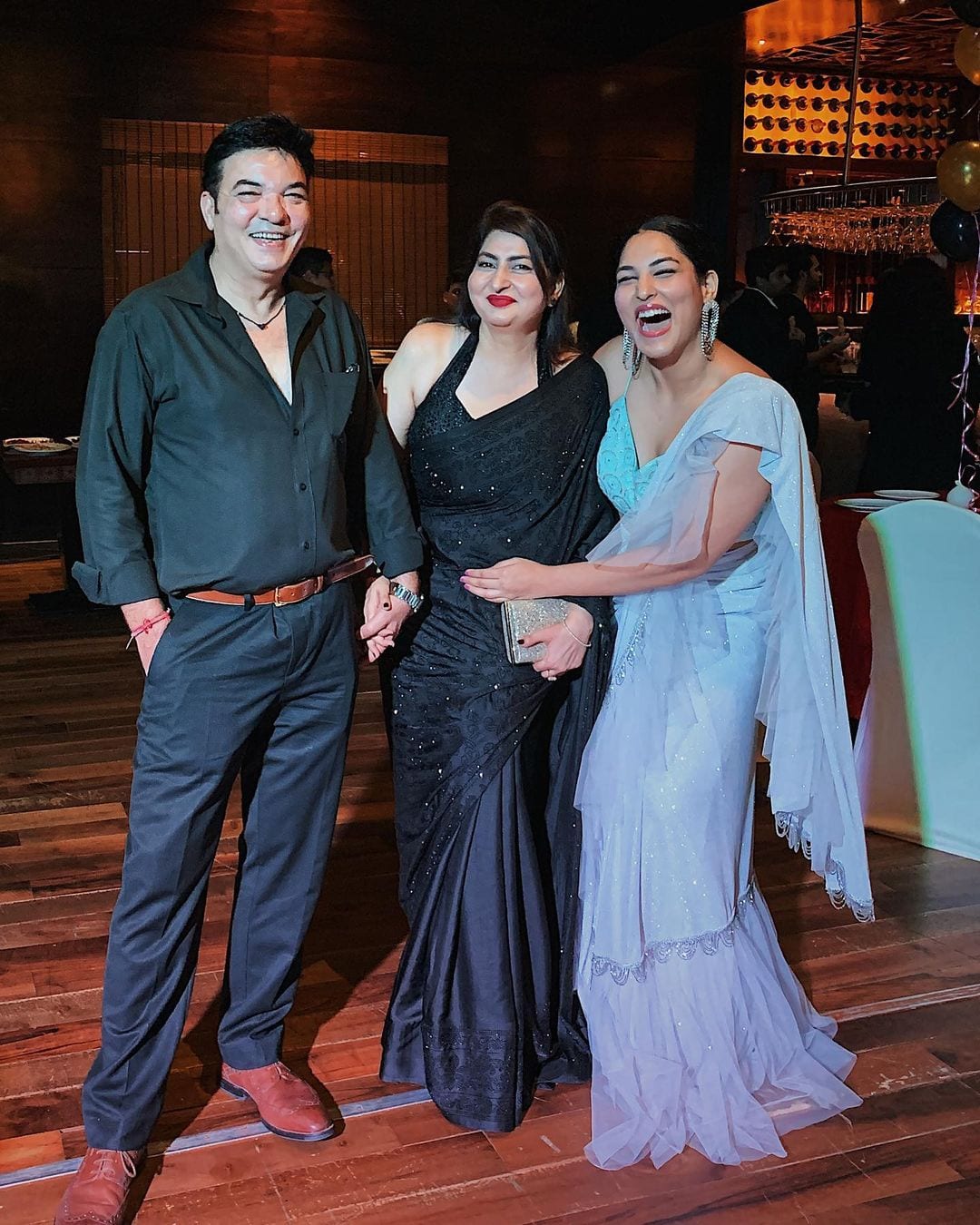 ↓ 6 – For Work
Not only are sarees perfect for fancy events, but they can also look formal when you want them to. With solid colored blouses, genetically patterned sarees look amazing. You can also wear a watch and graceful small earrings with your work sarees.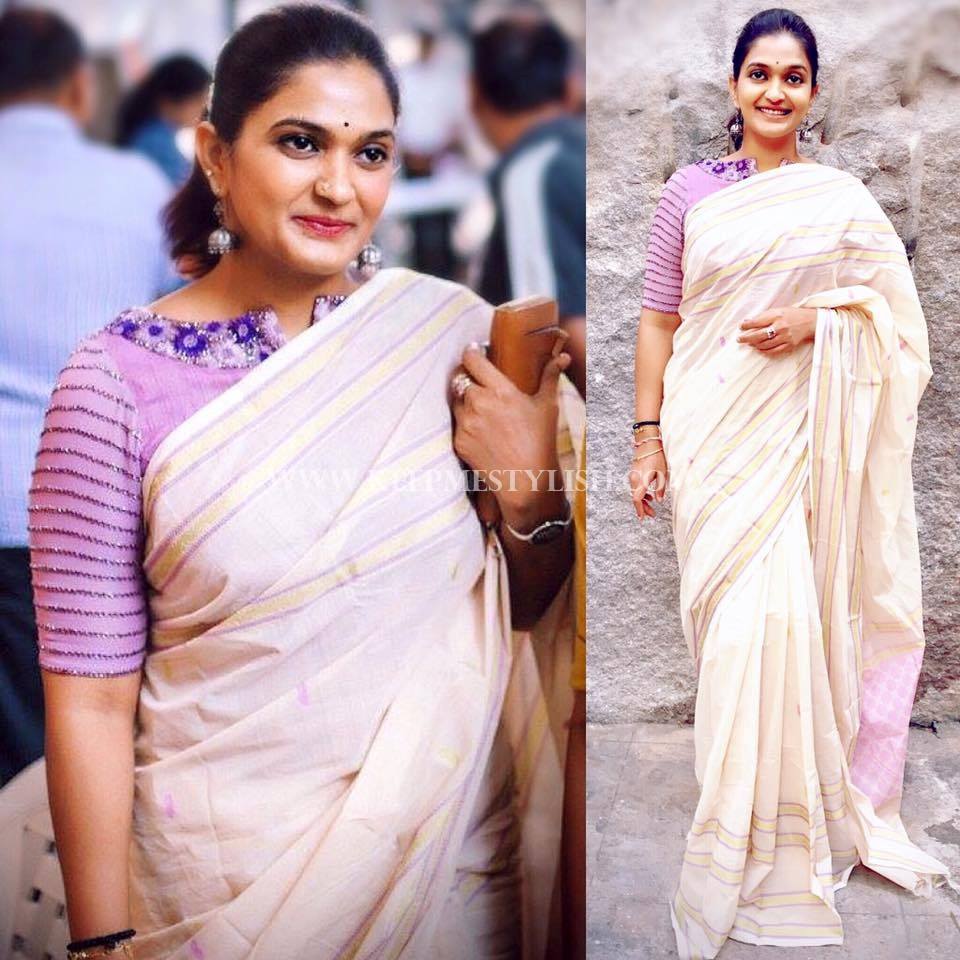 ↓ 5 – Short Neck Blouse Ideas
Short neck blouses help you hide your body fat. These sarees serve a lot of purposes. They look good and give your body a great shape as well.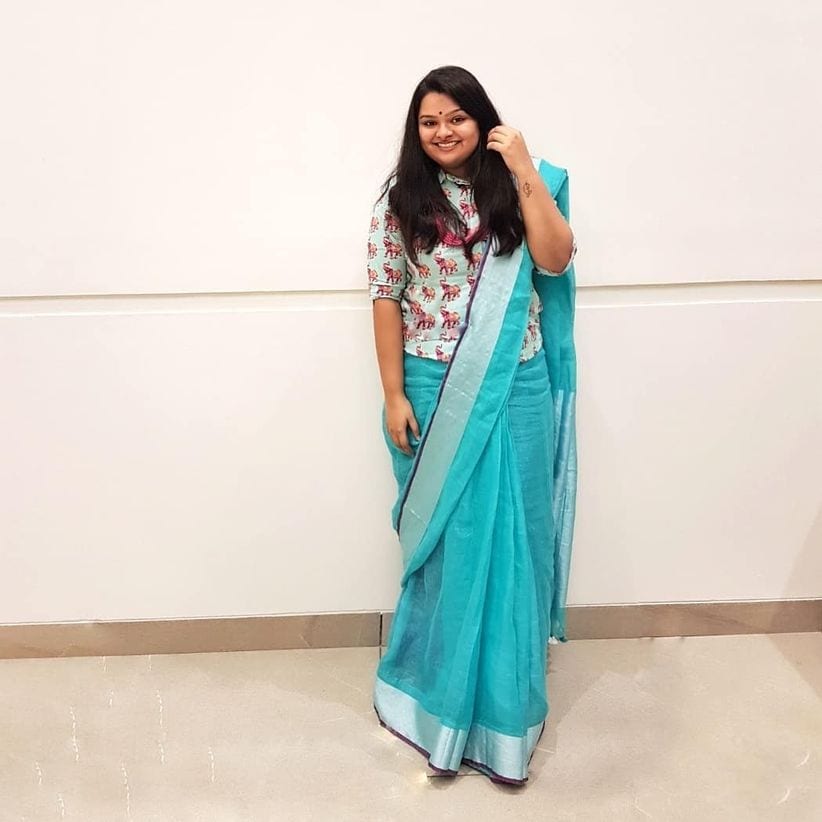 ↓ 4 – Silk Blouse
Silk blouses give you a very sophisticated look, especially with a boat line neck. This look can be amplified with a tassel on the back or delicate necklaces. Silk blouses go well with chiffon sarees and even with velvet sarees. Here are more ideas on Silk Saree Blouse Designs.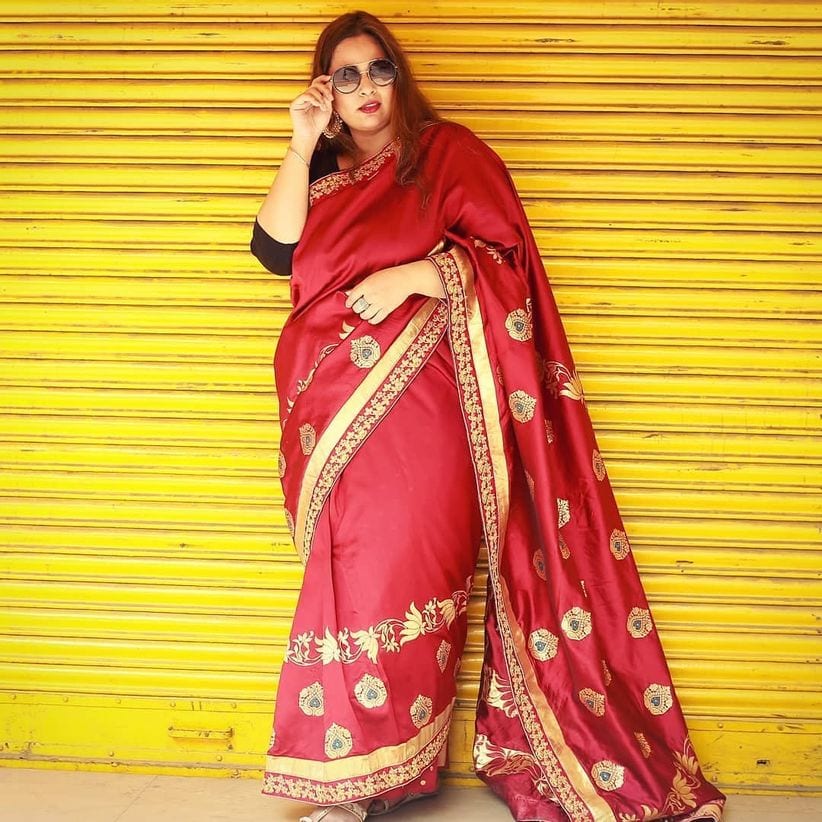 ↓ 3 – Chiffon Saree
Chiffon sarees are best for summertime events because the material is not only light and breezy but is very breathable as well. These sarees look very magnificent at weddings and parties. With an embroidered blouse, chiffon sarees are the best outfit to go for!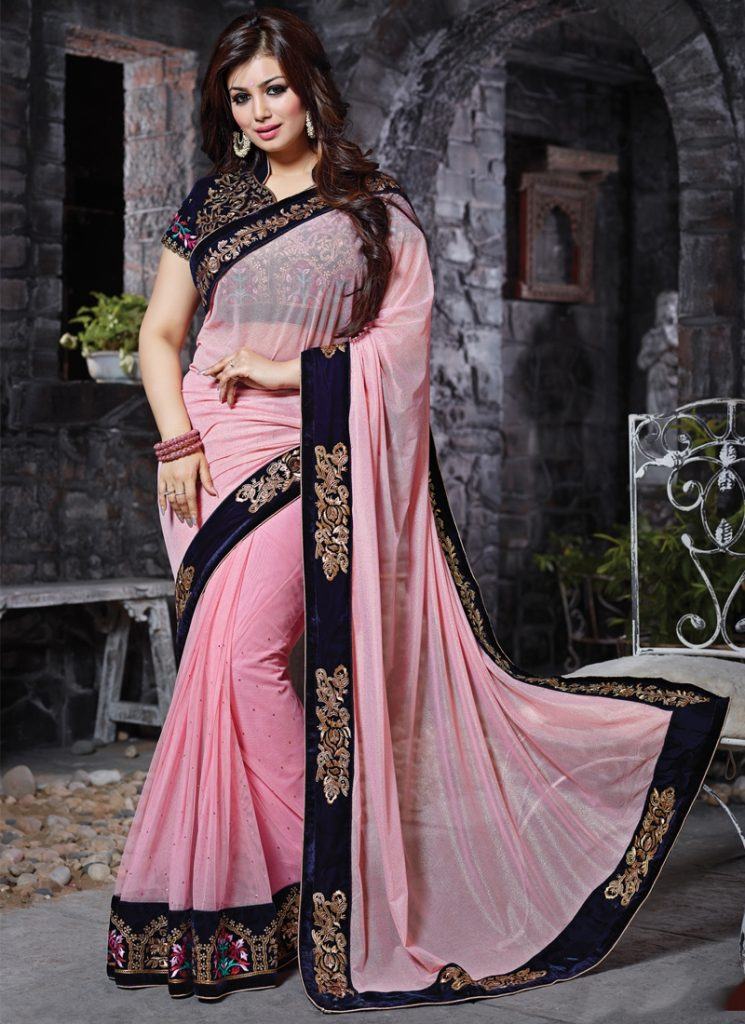 ↓ 2 – Cape Style or Ruffles
Capes are trendy and great! They are never out of style, and so fusing sarees and capes is a very good idea. This fusion not only looks trendy but also looks very traditional, which is what you're mostly aiming for while styling a saree! Ruffle style sarees also hide body fat really well.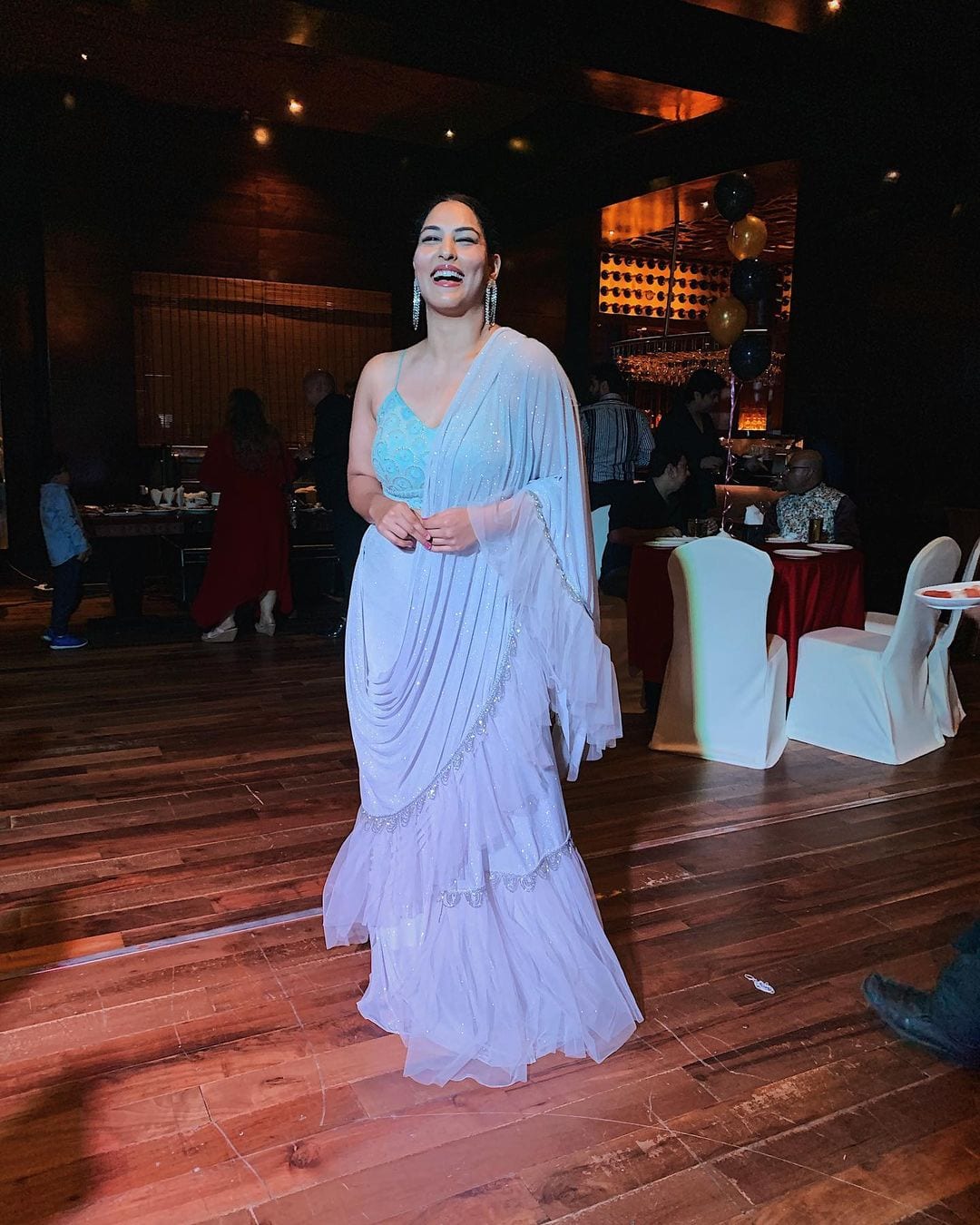 ↓ 1 – Long Sleeves
Long sleeves can be donned nicely by chubby ladies. They feel very confident with their arms covered. Long sleeves give you a very slim and slender look. Not only do they look graceful but they can also look very formal if you are wearing a saree to work.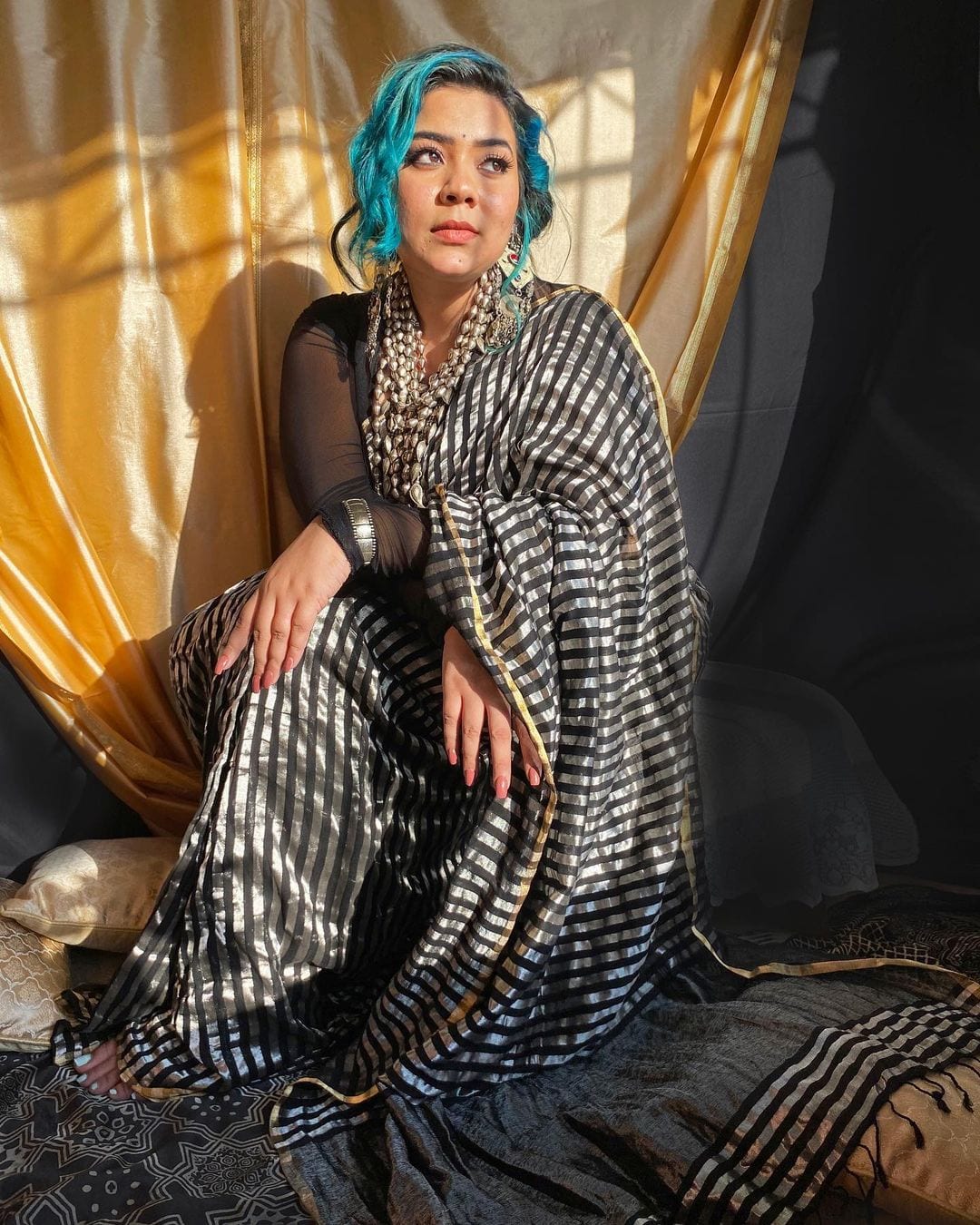 FAQS
Q.

How to wear a saree having a belly?

Having a belly may make you think like you cannot style a saree. Well, worry not, for you can style your pallu so that it makes you look slimmer. Let it fall free, and do not pleat it at the shoulder. Women can achieve this flowy look with georgette and chiffon sarees. Try to cover your tummy while draping the saree around your waist.
Q.
How to wear a saree for a fat person to look slim?
A. Another good tip for a chubby person while styling a saree is to draw the attention somewhere else—highlight other parts of your saree such as your blouse. You can also try wearing different accessories and add embellishments to your saree.
Q.
How to hide a baby bump in a saree?
A.

Wearing a belly band of the same color as your saree can help take the attention away from your baby bump. Choosing a long and flowy material for your saree may also help cover up your spot in a significant way. Some blouses can also hide your baby bumps, such as a corset blouse or a coat styled blouse.
Q.
How to wear a saree blouse if I am short and bulky?
A. Tying your saree below the navel can make you look taller. Choosing elongated prints and darker colors can also accentuate your body the way you want to. Pleating your saree in a specific way and choosing flowy materials that make your body shape look better can look amazing for a short and chubby body.
Q.
What blouse design should I wear if I am chubby and tall?
A. Tall girls can look amazing in sleeveless or cap-sleeved blouses. They can also wear shorter blouses flaunting their mid-riff and looking gorgeous. They can again wear embellished and heavily embroidered blouses that are darker in colour. 
Q.
What blouse fabric is best for a plus-size body?
A. To choose a natural and lightweight fabric that is the best for plus-sized women. They set well on your body, making it look slimmer and better. Chiffon and silk sarees look best on a chubby woman.
Q. 
Can I wear a sleeveless blouse with a saree if I have fat arms?
A. Even though sleeved sarees look best with chubby people, but if you love sleeveless sarees, you can definitely wear them! You can wear accessories such as necklaces and bangles to highlight other parts of your outfit as well.