Shoes with Saree. Every girl loves dressing up in sarees since they are the most gorgeous and girliest piece of clothing on earth. If you're planning to wear a saree, then the shoes you choose depend on a number of factors such as the occasion you're dressing for and the type of sari you plan on wearing.
There's a popular misconception that you can wear any shoes with saree since the shoes won't even be visible. Well this is surely a myth that we need to bust. Even if the shoes aren't really visible, people may get a good look at them when you're sitting or walking and you wouldn't want to leave a bad impression.
What Shoes To Wear With A Saree?
Here are our top 10 picks when it comes to saris and shoes:
Flip Flops
Wedge Heels
Strappy Sandals
Stilettos
Mojaris
Kohlapuris
Oxford Shoes
Pumps
Boots
Peep-Toes
Now read on to know what type of sarees look best with each of these shoe categories.

↓ 10 – Flat Flip Flops
Young girls are very active and for their active days, they need shoes they can easily walk in. If you're wearing sari for an event at your college or university then flip flops will be an excellent choice as they are very comfortable. Moreover, you can always find a pair of flip flops that match your outfit and also at a very affordable price.

↓ 9 – Wedge Heels
Wedges are the most comfiest heels in the world and look pretty good when worn with sarees.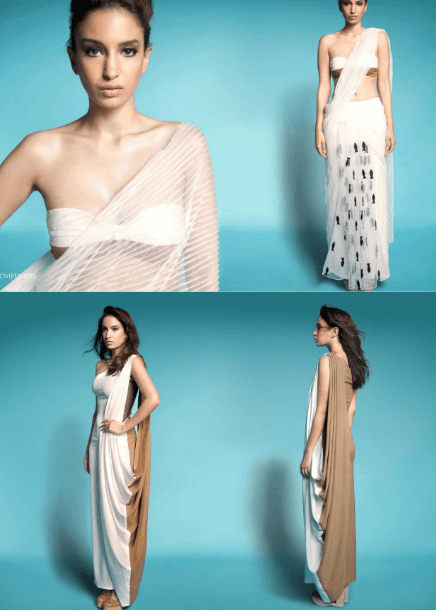 Via
↓ 8 – Strappy Sandals
When it comes to wearing sarees, Sonam is the queen for sure. She always carries her sarees with the utmost grace and confidence and also pairs them with the most gorgeous shoes. Here we see her wearing a pale pink net sari with nude pink strappy sandals. We're also loving her choice of smokey eyes and nude pink lips. Let's have a look at some Bollywood celebrities' footwear with sarees.

↓ 7 – Stilettos
Women absolutely love wearing sari and stilettos as they're considered to be the most awesome combination. Sushmita, Sonam and even Paris Hilton are seen here wearing their sarees with stiletto heels.

↓ 6 – Mojari Shoes
If you're going to a close friend or relative's wedding then you'll definitely be moving around a lot and so you would want to wear comfortable yet stylish shoes to go with your heavily embellished sari. So pair up your sari with a fancy mojari or khussa shoes.

↓ 5 – Maharashtrian Style Sari with Kohlapuris
Shraddha Kapoor is wearing a Maharahtrian or Marathi style sari and these work best when worn with kolhapuris.

Via
↓ 4 – Oxford Shoes
Have you ever imagined wearing oxford shoes with saris?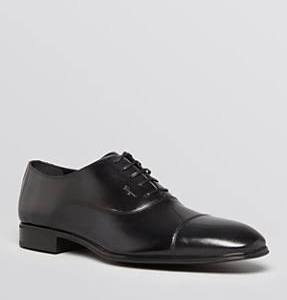 Well, once again, Sonam shows us how to rock this unique look! She has chosen to wear a cotton sari with black oxford shoes for the chic tomboy look.

↓ 3 – Golden Pumps
No matter what your sari style or colour, golden pumps can never ever go wrong!


↓ 2 – Boots
This is one of the latest trends and it's surely a good one to try this Winter.

Via
↓ 1 – Peep Toes
Soha Ali Khan wore a gorgeous black sari with matching peep-toe heels for her brother's engagement function.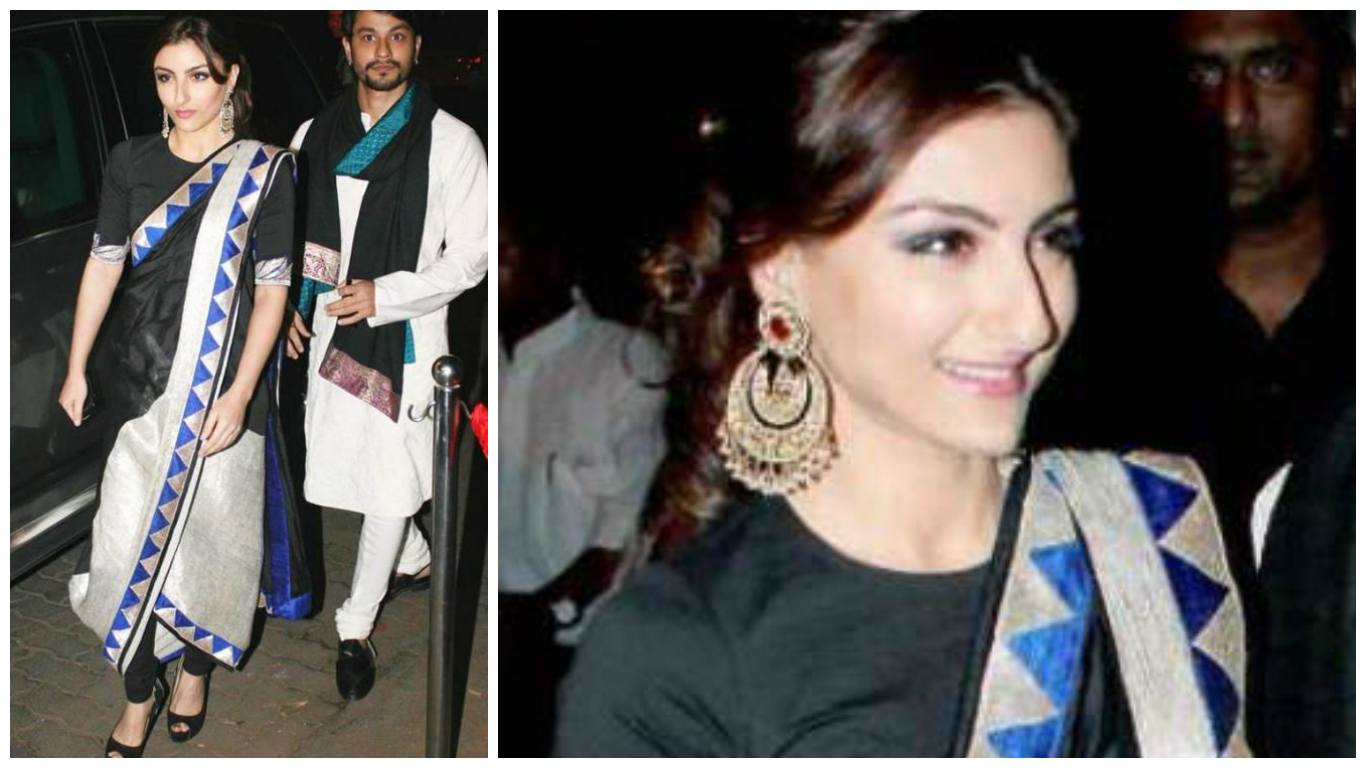 Best Footwear For Silk Sarees?
We have been getting a lot of questions about the right shoes to wear with a silk saree. Well, it mostly depends on the occasion, the saree style and the type of look you're going with. But if it's a plain silk saree, I highly recommend wearing it with glittery or metallic heels of any type.