What To Wear With Mary Jane Shoes – When it comes to footwear, every woman prioritizes comfort over fashion. They want to wear nice and trendy shoes while without compromising on their comfort. What if you could have style, comfort, and trend in a single pair of shoes? Yes, you can have shoes that are both stylish and comfortable.
Mary Jane shoes are the most comfortable shoes that women of all ages may wear. They look elegant, are trendy, and are the most comfortable. These go-to school-style shoes were popular in the 1990s, and they've returned with a bang. But the question is what to wear with these shoes and how to style them? If you have mary jane shoes in your shoe collection, it's time to take them out since this article will make you fall in love with them.
Outfits To Wear With Mary Jane Shoes
Mary Jane platform shoes are now available in a variety of innovative designs. For example, if you love wearing comfortable heels, you may wear these shoes. Alternatively, if you wish to wear shoes that can protect you from tan, you can do so. There are several ways to style them, but before we get into what to wear with Mary Jane shoes, here are some styling tips and methods you should know before wearing such shoes.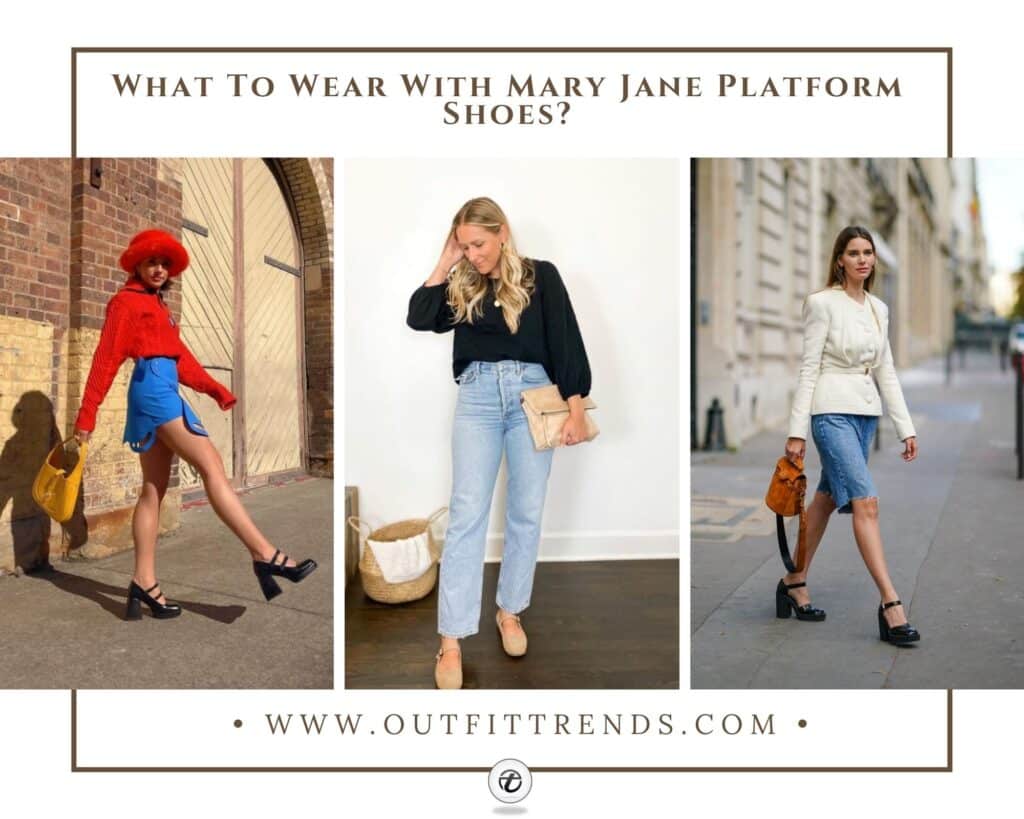 Styling Mary Jane Platform Shoes
If you're going to create a retro look, try to keep all of the retro vibes in your outfit while adding some new elements.
Include a variety of hues of mary jane shoes in your shoe collection. Nowadays, a basic black is uninteresting.
Wear a bright top or Green Jeans with your black mary jane platform shoes to bring color to your outfit.
If you're seeking shoes that will offer you some height while keeping you comfortable, go for the mary jane platform pumps with heels.
Mary Janes are not just for the casual or school-going look. You can also wear them for formal occasions. You may wear Mary Janes to a wedding as well as they look nice with formal attire too. However, bear in mind that a bit fancy is OK, but too much fancy might be off-putting.
24 – Pink Platforms
Mary Jane shoes are available in different styles, including block heels, double straps, flat pumps, and high-heeled shoes. These shoes can go with any outfit. Wear a pretty wine red dress and in contrast with your dress, wear pink platform Mary Janes and a pink purse to compliment your shoes. Just a simple hairdo can complete your overall appearance, and you are all set to go to your college or even to a friend's get-together party.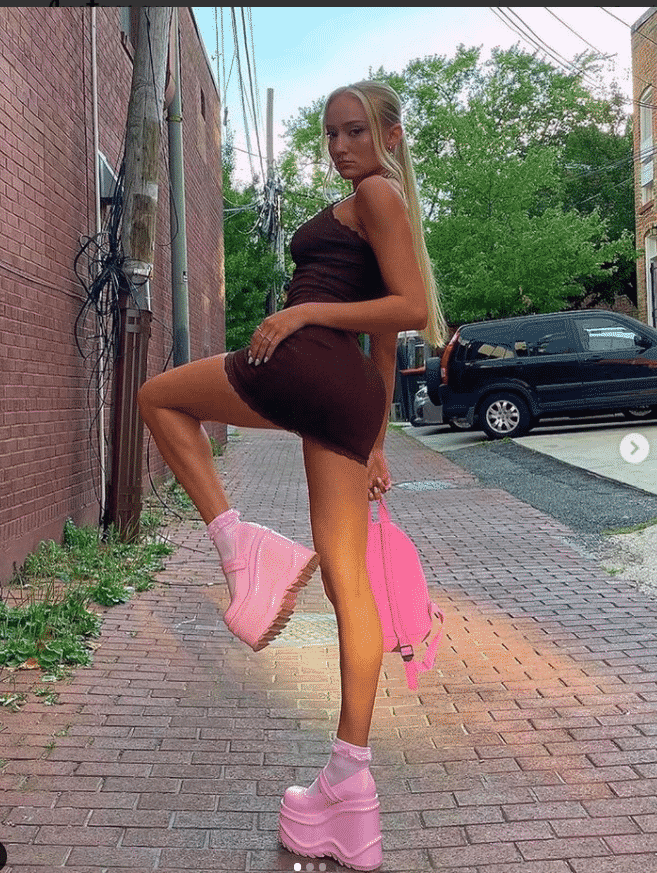 23 – With Jeans
Even your favourite denim jeans will look great with your flat Mary Jane pumps. Wear a striped sweatshirt with your favourite jeans and double strap pumps to contrast the sweatshirt. Complement your appearance with a suitable matching purse.
22 – Heeled Mary Janes
If you are a lady who enjoys dressing uniquely, this is a perfect alternative for you. Get this chunky and funky appearance with heeled mary janes to complement your personality. Wear a red cropped sweatshirt with a matching red cap and a chic red mini skirt. Add a stunning yellow purse to your ensemble.
21 – How To Wear Mary Jane Shoes With Socks?
Mary Jane's platform shoes can go with or without socks. Wear a decent blue outfit, black Mary Jane shoes, and white socks. Dress up your look with a stylish purse. You're all set to go.
20 – 90s Inspired Look
Mary Jane shoes were popular in the 1990s, and ladies are still wearing them now. With these shoes, you may get a vintage style. Wear a striped black and white shirt with a black skirt and black shoes. Add a 90s hairstyle to your attire for a complete look, and you are all set to attend the 90s look party.
19 – Check Print
Mary Jane platform shoes are not only available in a range of styles, but they come in a variety of patterns too. You may also get Mary Jane shoes in a check print. Wear your heeled pumps with girly attire consisting of a basic white blouse, a pink coat, and a tie, and combine it with yellow coloured shimmering shorts. Make a crazy hairdo with a bunch of rainbow ponies. Your outfit with check print shoes is complete.
18 – Purple
Do you like to wear glittery tights and want to try and combine them with Mary Jane shoes? Then it's a fantastic idea. Wear any colour of shiny legging with a dye and dye top matching with leggings. Dress up your appearance with a pair of purple pumps. You're ready to go, but first, sit in front of the mirror and take a perfect mirror selfie since a selfie is mandatory.
17 – With A Maxi Dress
The combination of a maxi dress and these shoes is ideal. Put on your gorgeous long frock and stylish Mary Jane platform heels, and you're ready to go.
16 – Girly Look
Every woman's shoe collection must include Mary Jane's platform shoes with high heels. Combine your floral pattern dress with a cool jacket and high heel Mary Janes for a girly look. To complete the girly vibes of your outfit, add some jewellery and a lovely bucket bag.
15 – When To Wear Nude Mary Jane Pumps?
When going to a movie night but can't decide what to wear? Here's an ideal outfit for you. Wear a black top since it goes with everything and is perfect for the evening. Put on a pair of boyfriend jeans and nude Mary Jane pumps. Accessorize your appearance with a chic nude clutch.
14 – Simple Look
You don't need to do much for Mary Jane shoes; a simple appearance is enough. Wear a lovely shirt with a bow on top, blue jeans, and black pumps. Dress up your appearance with some rings and decent earrings.
13 – For Winters
If you're seeking winter clothing ideas with Mary Jane shoes, here's an option for you. Wear your lovely off-white and black warmer coat over your inner top and black-fitted tights. Accessorize your outfit with pretty mary jane sandals and classy sunglasses. You're all ready to head out for a coffee to enjoy the winters.
12 – Blue Is The New Black
If blue is your favourite colour, wear blue velvet Mary Jane pumps with a blue top and off-white matching long coat and trousers. Add a pink purse to your appearance for additional contrast.
11 – Chunky Mary Janes
Girls want to look flawless from head to toe. Here's the cutest girlie dress with chunky shoes. Wear your favourite cartoon characters cropped top with a matching mini skirt and contrast your top with a chic cropped jacket. Wear black mary jane boots with white socks. Finally, choose the prettiest modest purse that suits your outfit perfectly.
10 – Pink Cheetah Print
Are you wondering what to wear with your cheetah print mary janes? If that's the case, I have a recommendation for you. Wear your gorgeous pink printed shoes with all white, including a white dress, stockings, and a white neckpiece. Your white blonde hair will boost your overall image.
9 – Cherry Platform Heels
If you enjoy wearing matching outfits from head to toe, this lovely cherry costume is ideal for you. Wear your gorgeous cherry dress with big mary jane shoes in the same pattern. You can also wear plain white knee-length socks if you like. Add retro hairstyling with a matching headband and cherry earrings to complete the matching outfit vibes from head to toe.
via
8 – Blue Pumps
This new Classic Patent Pumps design is yet another must-have shoe. These shoes would look great with jeans and a top or even with a pretty dress. Put on stunning royal blue mary jane pumps and a blue shirt with a contrasting blue coat. Wear fitting denim jeans and embellish your outfit with some jewellery.
via
7 – With Denim Shorts
Cutoff shorts are a new trendy item that can pair with any elegant top. Wear denim shorts with a classy blazer. Wear black mary jane heels and a beautiful coloured handbag to complete your appearance.
6 – With Three Straps
Mary Janes are also available with three straps and look great on every woman. Wear your triple strapped pumps with denim pants. Wear a stunning cheetah-print blouse with a leather coat over it. Add a stylish black purse and sunglasses to complete the appearance. Wear this outfit to dinner with your date or for lunch with your friends. This outfit is one for the best of your days because you will never regret wearing it.
5 – Grungey Look
With your leather mary janes shoes, you may even create a grunge look. Wear a sleeveless top under a checkered shirt. If it's cold outside, dress warmly in loose black pants and boots with white stockings. Make a grunge hairstyle and embellish it with jewellery to enhance your look.
4 – Green And Black Look
Another lovely ensemble with mary jane shoes is here. Put on a green silk top with a black pleated skirt and black net tights beneath. Wear simple black mary jane pumps with your attire for a flawless look. Complement your look with red nail polish and an elegant diamond ring.
3 – Red All Day Everyday!
Apart from blue, red is a lovely shade for Mary Jane shoes. Wear your gorgeous red pumps with matching red pants and a pink sweater to go with your red pants. Spruce up your look with a lovely pink purse and an attractive hairstyle.
2 – With Polka Dots
Polka dots is one of the most popular prints nowadays, and women of all ages are wearing and loving the design. Wear your pretty polka dot attire with black tights and Mary Jane platform shoes in black and white with block heels. Wear a black lip colour and black earrings to complete your black and white polka dot look.
1 – Fancy White Look
As previously said, Mary Jane shoes go well with any attire. If it's your birthday today or you're attending a friend's birthday party, here's a perfect outfit idea for you. Wear your fancy stunning frock dress with a lovely sweater on top and matching white Mary Jane shoes. Accessorize your look with attractive hair accessories. This look is super dreamy and surreal. Wear this somewhere important so you can cherish the memory forever! Your adorable fancy look is complete.
Frequently Asked Questions
Q. Are Mary Janes Shoes comfortable?
Ans. Mary Jane shoes are super comfortable to wear. They will not hurt you even if you wear them for a long time. Their material is soft, making you feel at ease.
Q.
How do you style a Mary Jane shoe?
Ans. Mary Jane platform shoes can go and style in different stylish ways. You may wear your mary janes with any outfit, whether you're wearing jeans and a blouse or a lovely sundress outfit, it can go with all.
Q. Can I wear Mary Janes with socks?
Ans. Depending on your preference, Mary Janes can be worn with or without socks. If you wish to wear socks with your platform shoes, you can do so. To make your shoes appear more appealing, wear various contrasting pattern socks with them.
Q.
Can I wear Mary Janes with skinny jeans?
Ans. You may wear mary jane shoes with any of your favourite jeans, whether skinny, jeggings, or lowrise jeans, and you can even pair them with trousers since they look amazing with all stylish jeans and trousers, but you should know how to style them, which you can learn through this article.