Shoes with Black Dress. Who doesn't love wearing black? And we all need a couple of black dresses in our closets. A black dress is a style statement on its own, which is why it doesn't usually need much accessorizing; however, the one thing that you need with a black dress is the right type of shoes.
The LBD or the little black dress, is nothing less than a girl's best friend. I mean, if I had to choose between diamonds (since they are called a girl's best friend) and black dresses, then I would undoubtedly always pick the latter. So today, keeping in mind the latest style trends, we bring you the best types of shoes to wear with your black dresses.
What Shoes to Wear with a Black Dress
No matter what the season or the occasion, a black dress is always a lifesaver. You can easily wear the same dress with a hundred different looks by accessorizing it differently, layering with different pieces and by choosing different shoes. In our last post, we've already talked about How to Wear Little Black Dress, but today it's all about the shoes. Here are some tips to remember when trying to decide your shoes:
If you want to elongate your legs, go for nude colors.
This year is all about color blocking so don't be afraid to try shoes in colors that are in complete contrast like red, yellow, orange or even cobalt blue.
When buying new shoes, always consider the level of comfort they offer. You should never compromise on quality.
For professional or more formal settings, however, don't take such risks and instead go for classic combinations like the all-black look or a black dress with tan shoes.
For a classy look, always go sockless.
For a sporty look, you can wear your black dress with sneakers, loafers and slip-on shoes.
For business settings, go for formal pumps but the ideal heel length should neither be too high nor too low.
If you're wearing a black dress with a V-neck, go for any pointy shoes.
Any type of sandals would work well with a black maxi dress.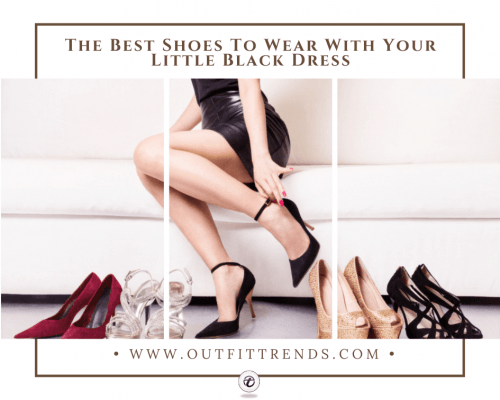 ↓ 10 – Black Dress And Gold Shoes
For the perfect party attire, choose golden shoes and gold accessories with your LBD. The golden color has always been associated with glitz and glam, which is why just like you need a black dress, you also need golden shoes in your wardrobe. Some of the best brands for buying gold shoes this year include Vans, TOMS, Dream Pairs, and Marie Claire. We also recommend that you check out these 17 Best Footwear to go with Denim.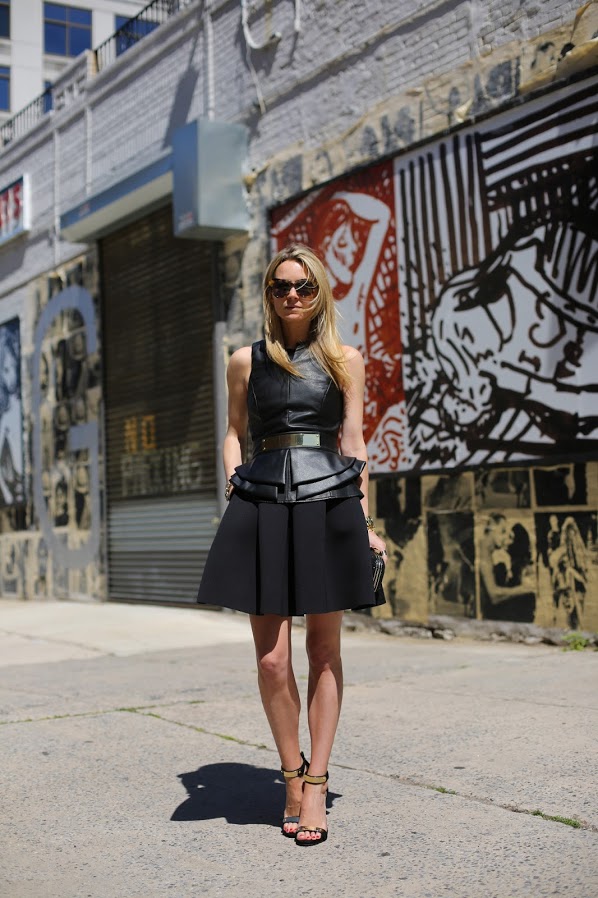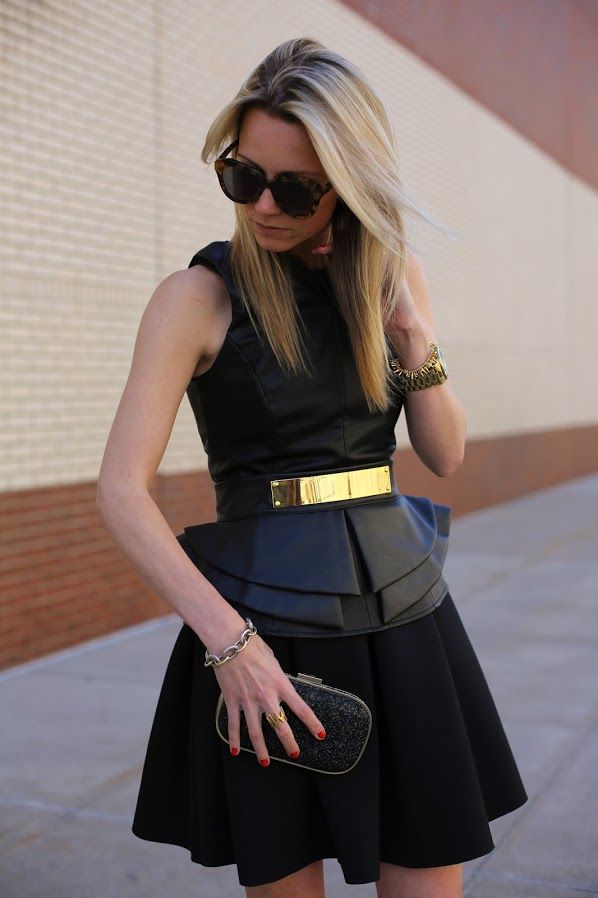 You can get these exotic gold-black heels by Sam Edelman here for $119.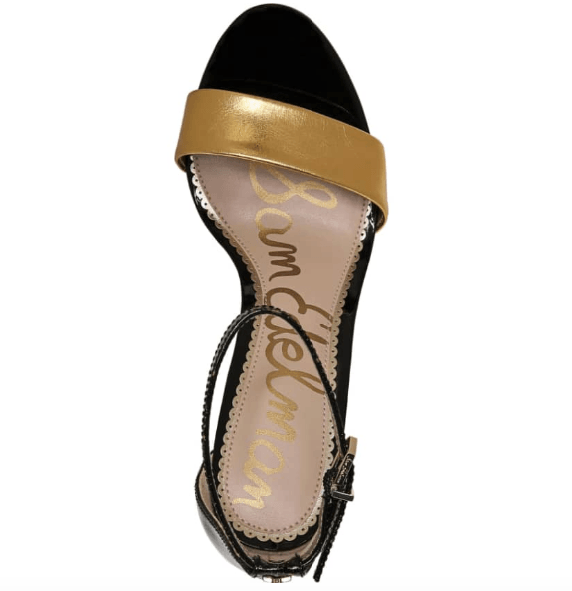 ↓ 9 – Red Wrap Heels
Wrap heels don't just look great, but they also feel great. One reason for this is that the extra support around your legs makes the shoe fits much better, and this allows many ladies to wear long heels even if they otherwise have trouble balancing them. So if you're planning to walk a lot, for example when traveling or if you're going dancing, then these surely are the best shoes to go for. There are many different ways to tie these shoes; here are three things to consider:
Sit down before tying the knots as this will help you get a better fit than if you do it while standing.
They look best when tied around the ankles, don't go too far above as they'll eventually slide down unless they're meant to go that high like in case of gladiator sandals.
Wear cropped jeans or pants with them because obviously, your ankles need to be visible.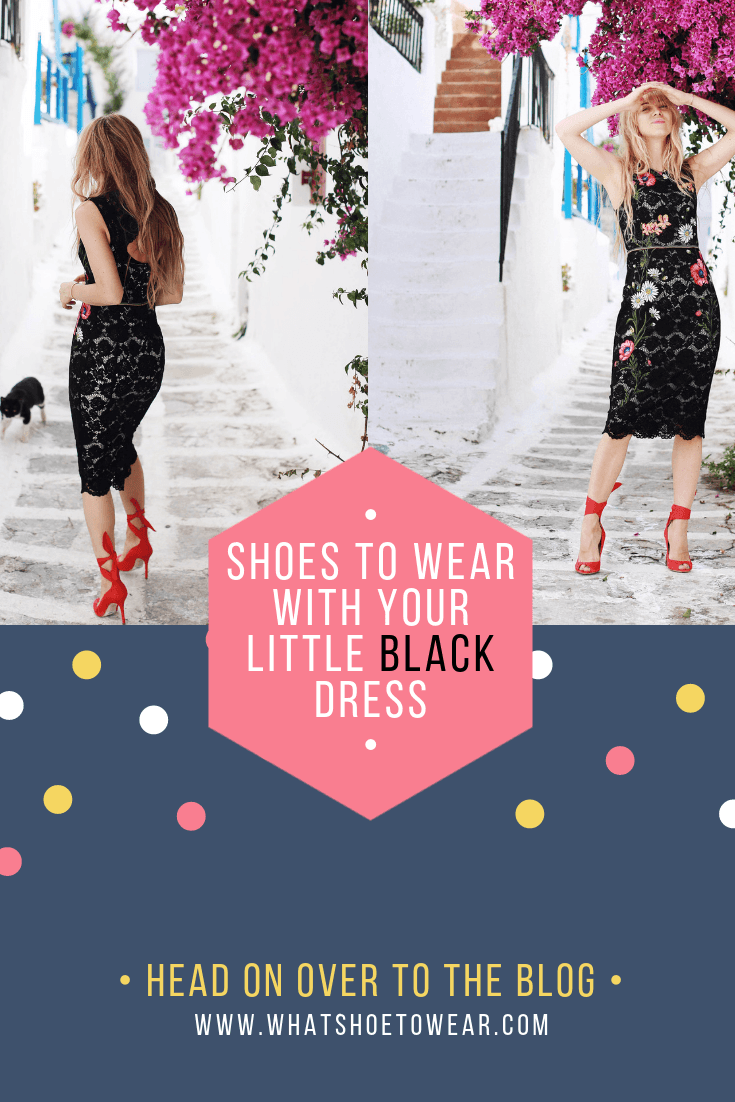 You can buy these Karen Millen red wrap peep toe stiletto heels here on sale for £46.20.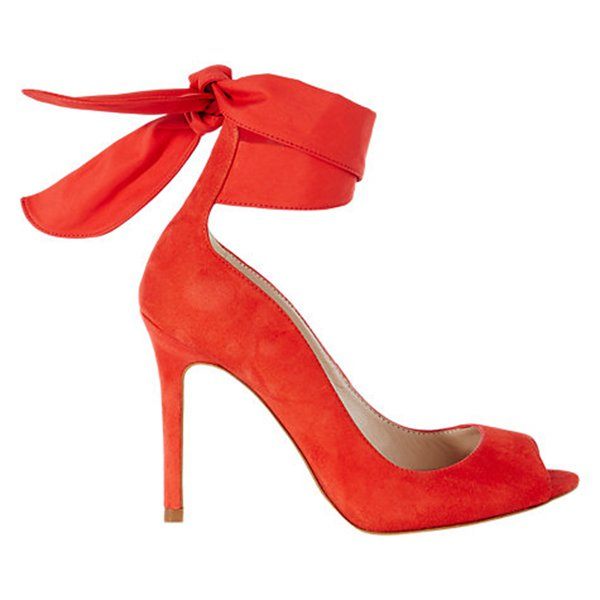 ↓ 8 – Dress Up A Plain Black Dress With Polka Dot Shoes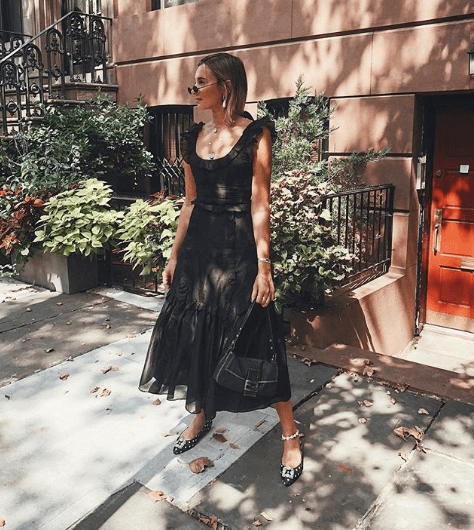 The shoes seen here are by Manolo Blahnik, and you can purchase them here for $1025.00. They come in a beautiful denim finish and embellishment that makes them ideal for both casual and formal wear. 
If you go for the ones without embellishments, you can buy them for a significantly reduced price of $695 here. They come with slender kitten heels, but they're still comfortable enough, and they would go well with any black dress of yours.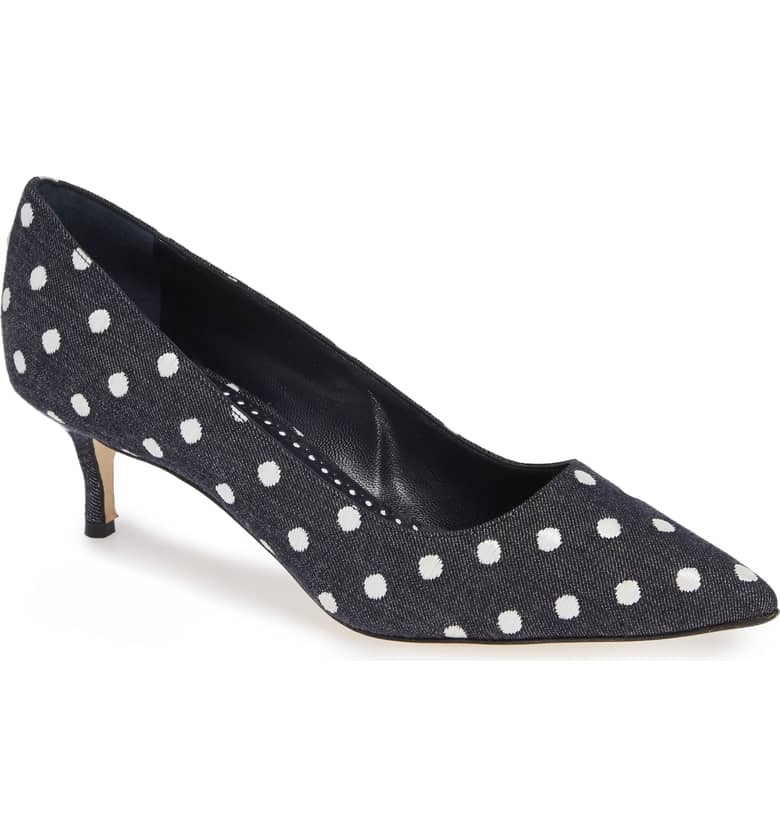 If you want embellished shoes on a budget, you can always get reusable brooches and attach them to your shoes for a more classy look. For instance, you can buy these brooches at Amazon for just $15.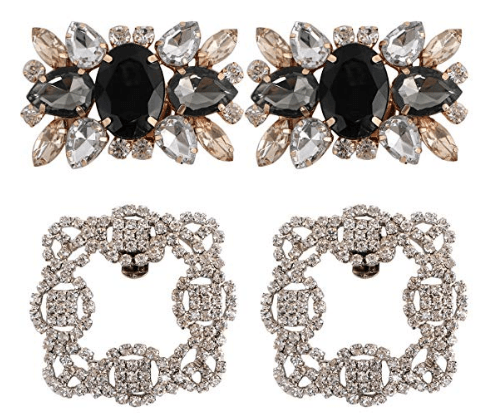 If you would instead opt for some more affordable options, here are our budget-friendly recommendations:
The black and white ballerina pumps by M&S for just £15 can be bought here.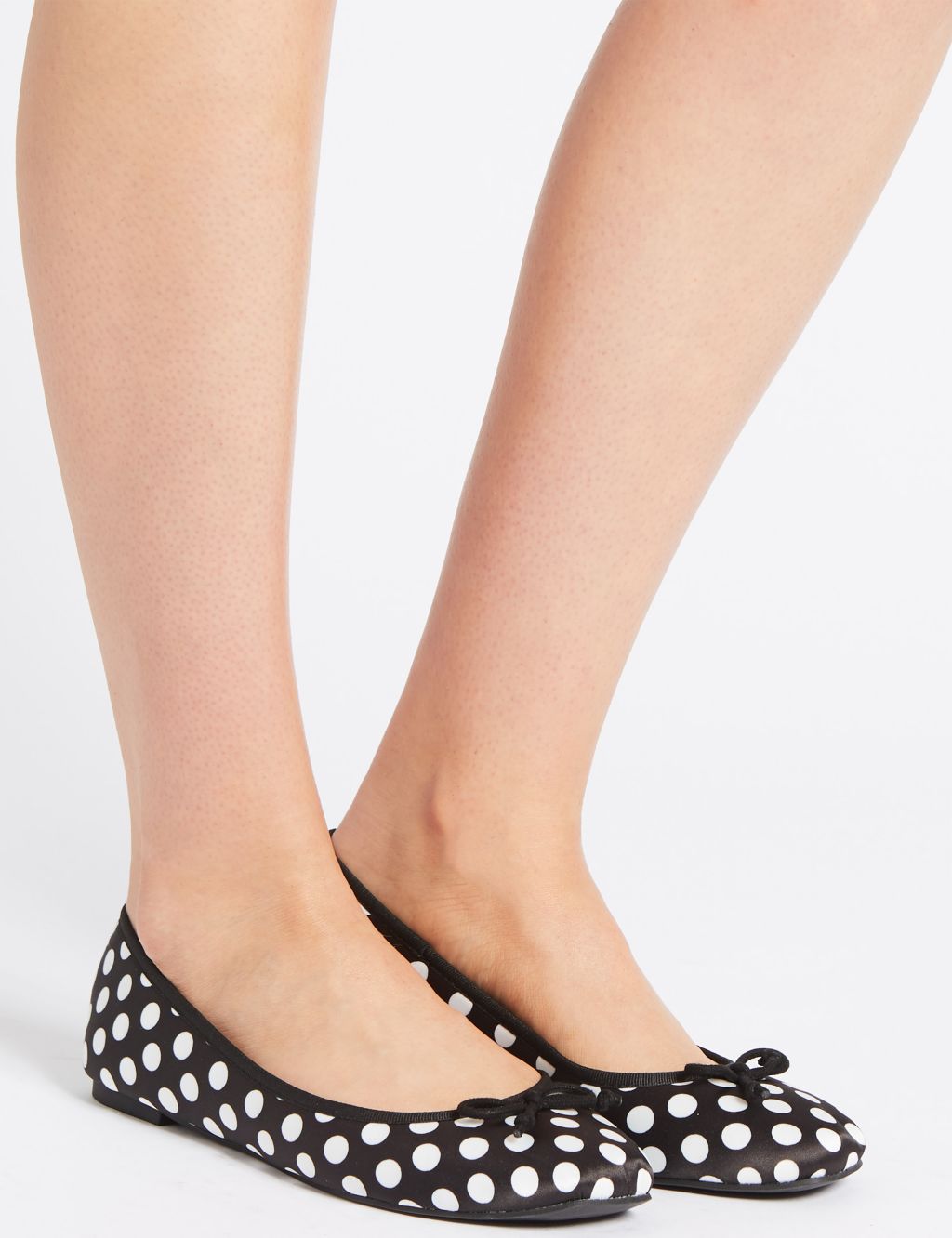 And these star-studded polka dot ballerina pumps for £25.00.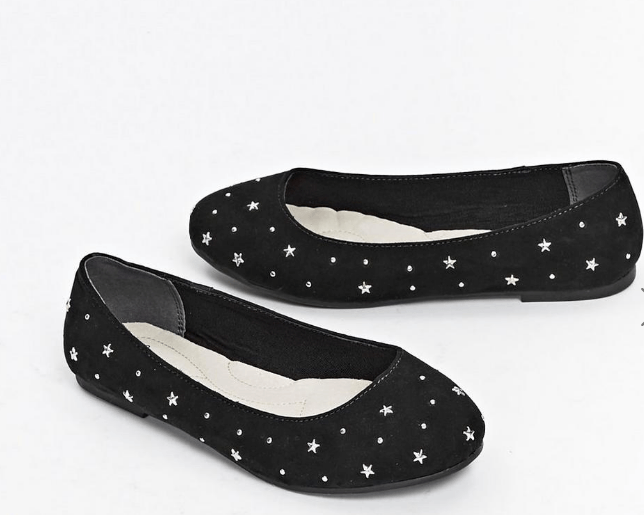 If you want pointed pumps instead of round ones, go for these polka dot flats for $140 here.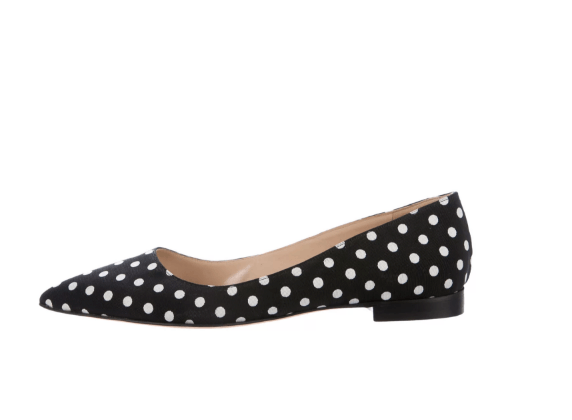 ↓ 7 – Shoes with Black Dress in Winters
We'll now be sharing two of our favorite looks by blogger Emma Hill. Her laid black style is always inspirational, and we're digging the way she has layered her black dress for Winters. And winters are the perfect time of the year to go for an all-black look.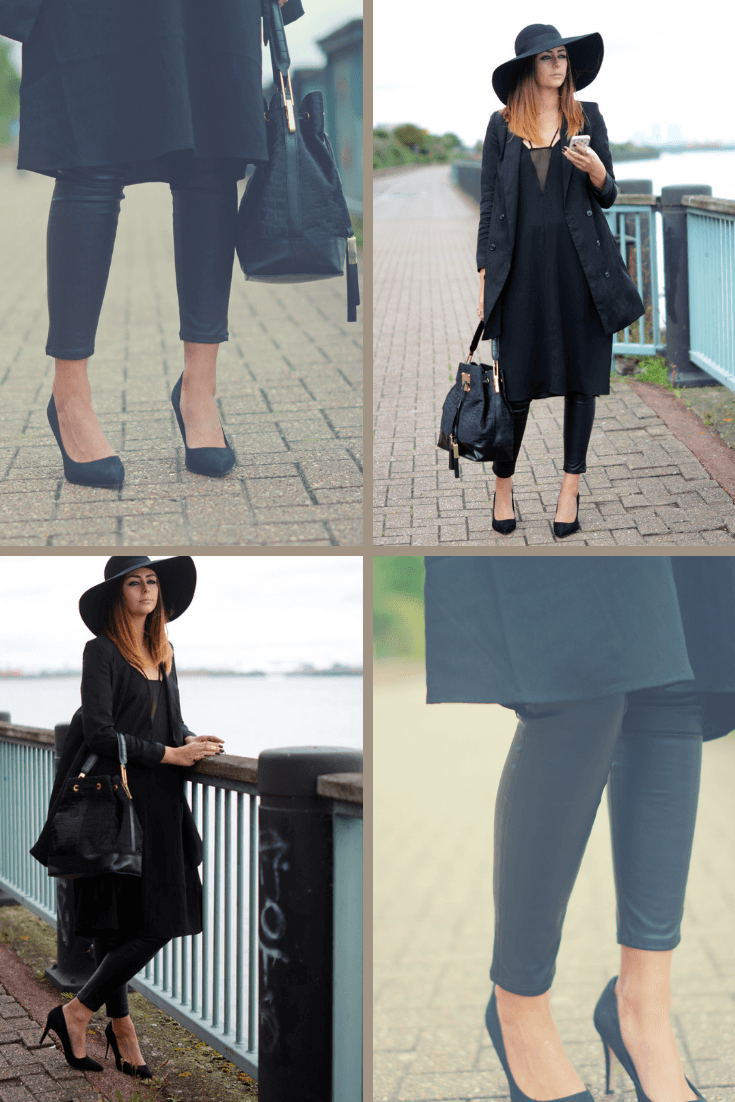 The shoes she's wearing are ASOS pointed high heels, and they're priced at just $12.50, so get your hands on them here, before they go out of stock.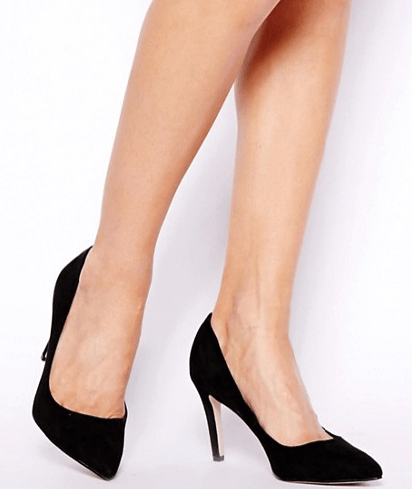 ↓ 6 – Shoes with Black Sweater Dress
Here's the second look of Emma that we loved. She's wearing a slouchy fitted sweater-dress in greyish-black color, and she has chosen to wear over the knee boots with it. Together the white scarf, the grey shoes, and the black dress have created the perfect winter palette, and as always, this look of hers is super affordable too.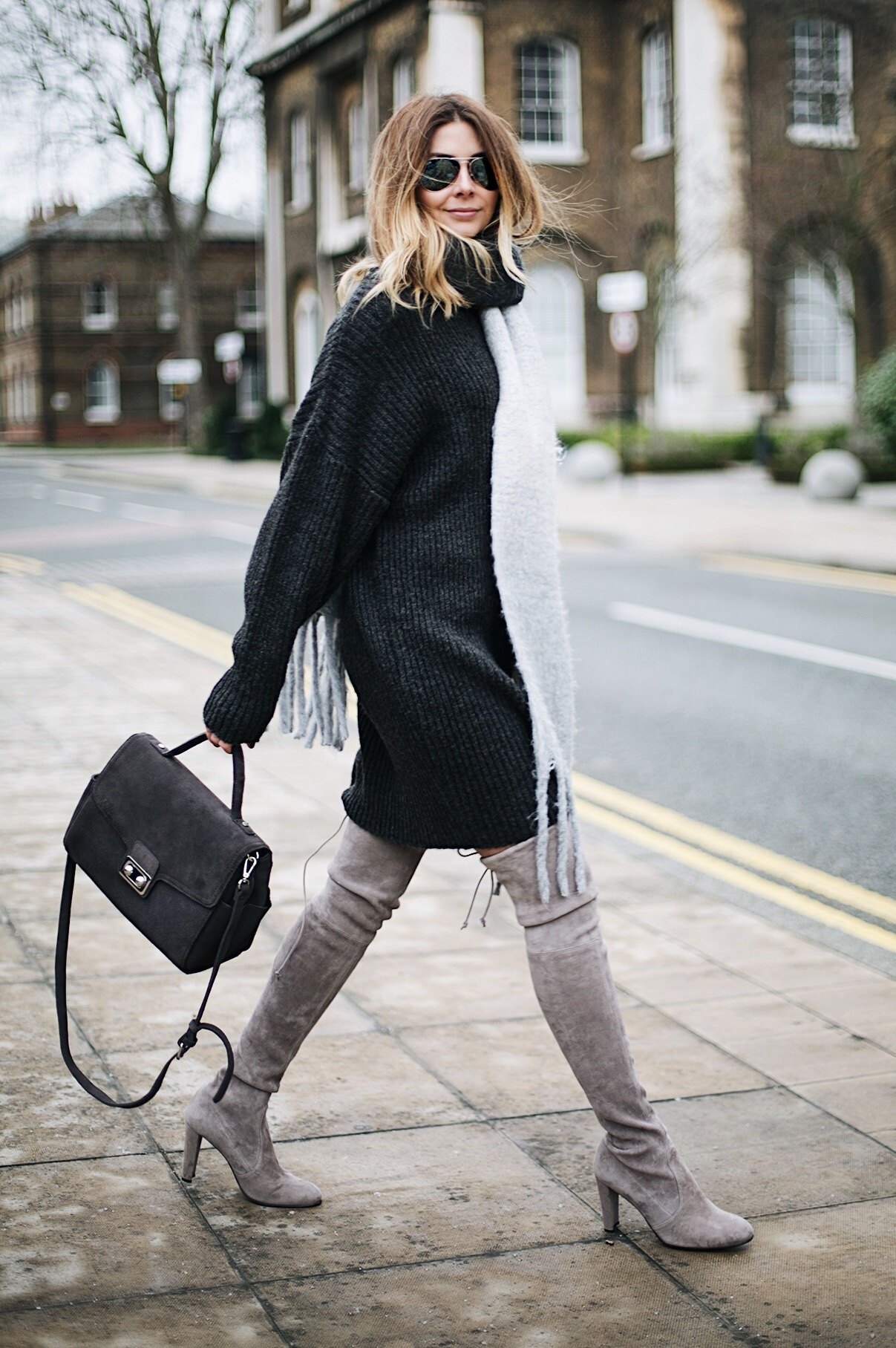 You can get the sweater dress here for just £10.00. It's available in both black and burgundy colors.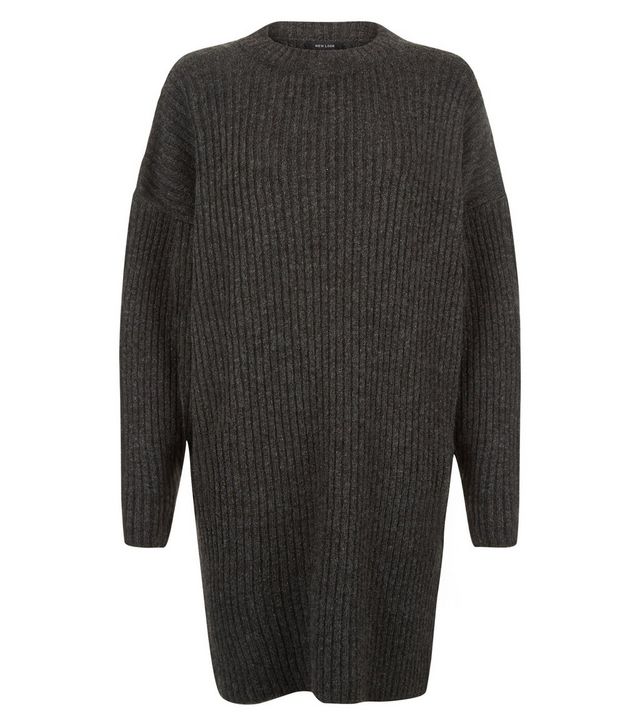 The shoes can be bought here for $310.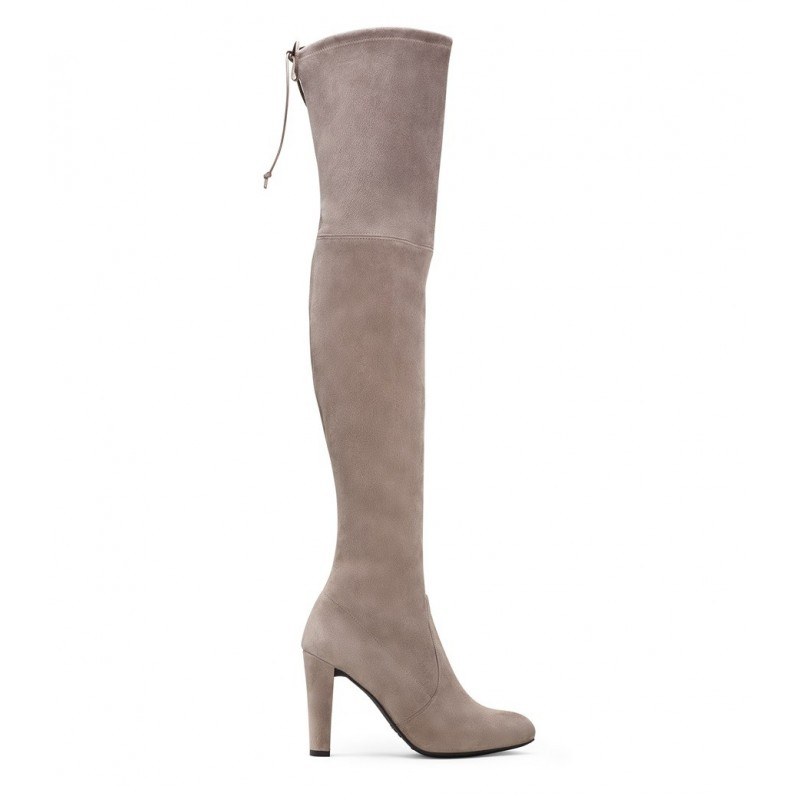 ↓ 5 – Do Beige Shoes Go With Black Dress?
Hell yes! For your black summer dress, beige and tan shoes are always the best choices to go for. These shoes are especially a lifesaver for ladies who don't like wearing black shoes with black outfits and want to add some color to their attire. You should pair this combination with gold accessories to make the most of your outfit. Here are Top 10 Shoes to Wear with Different Kinds of Pants.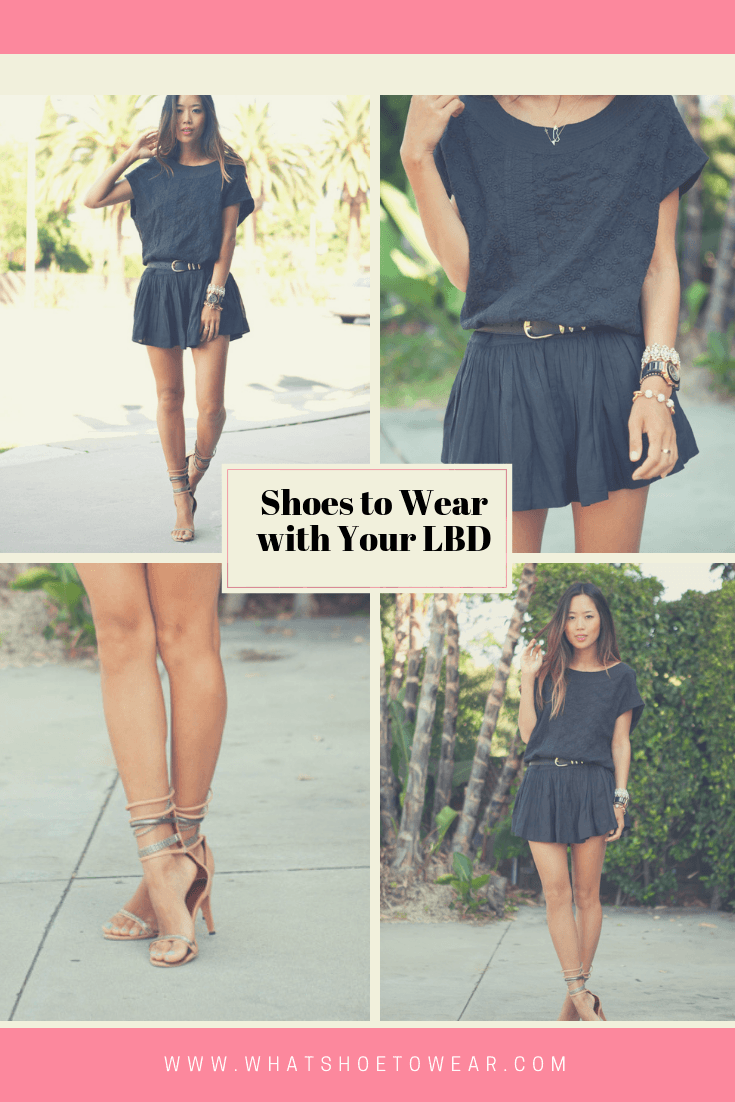 You can get these tan shoes with gorgeous ankle chains here for $300.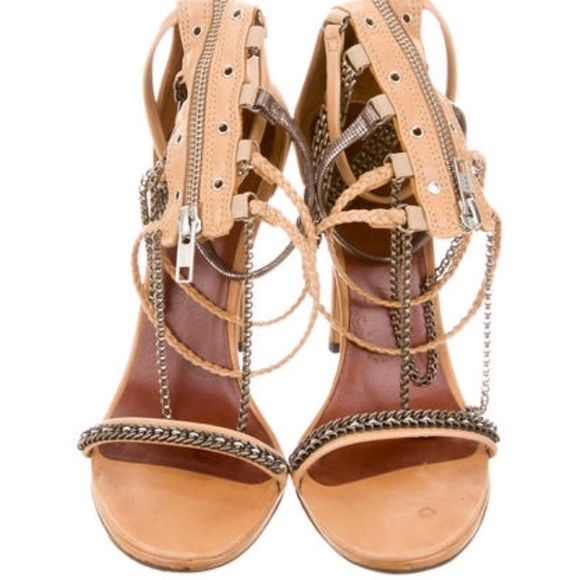 These shoes are also available in black color and of course they too go well with any black dress, as proven by the gorgeous Malin Akerman who chose to wear them with a black dress for a red carpet look.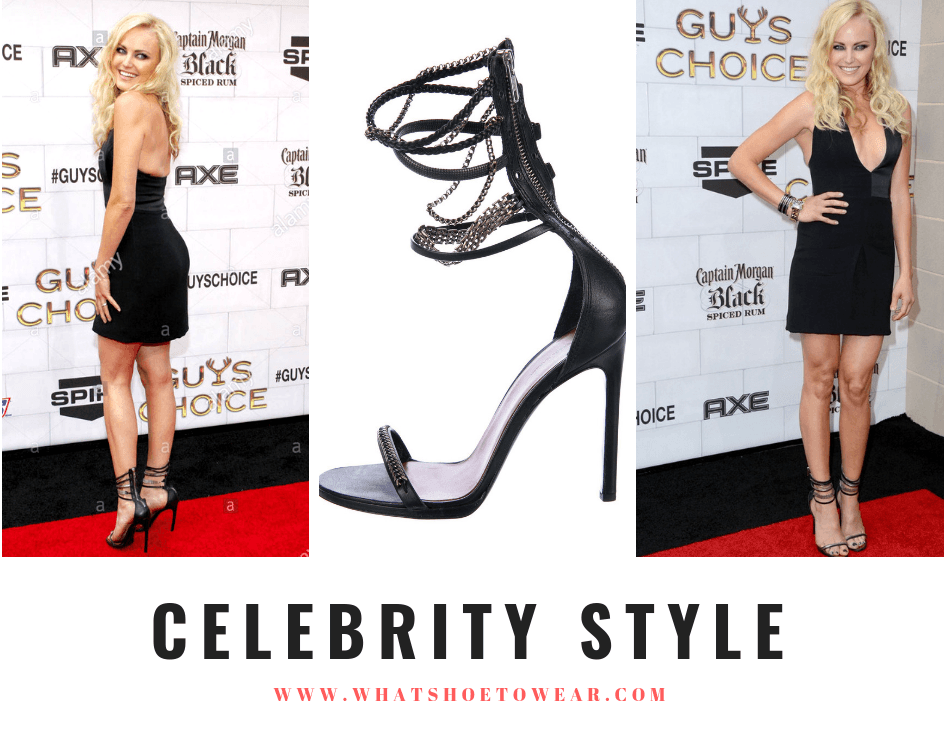 Instead of heels, you could also opt for tan-colored flats.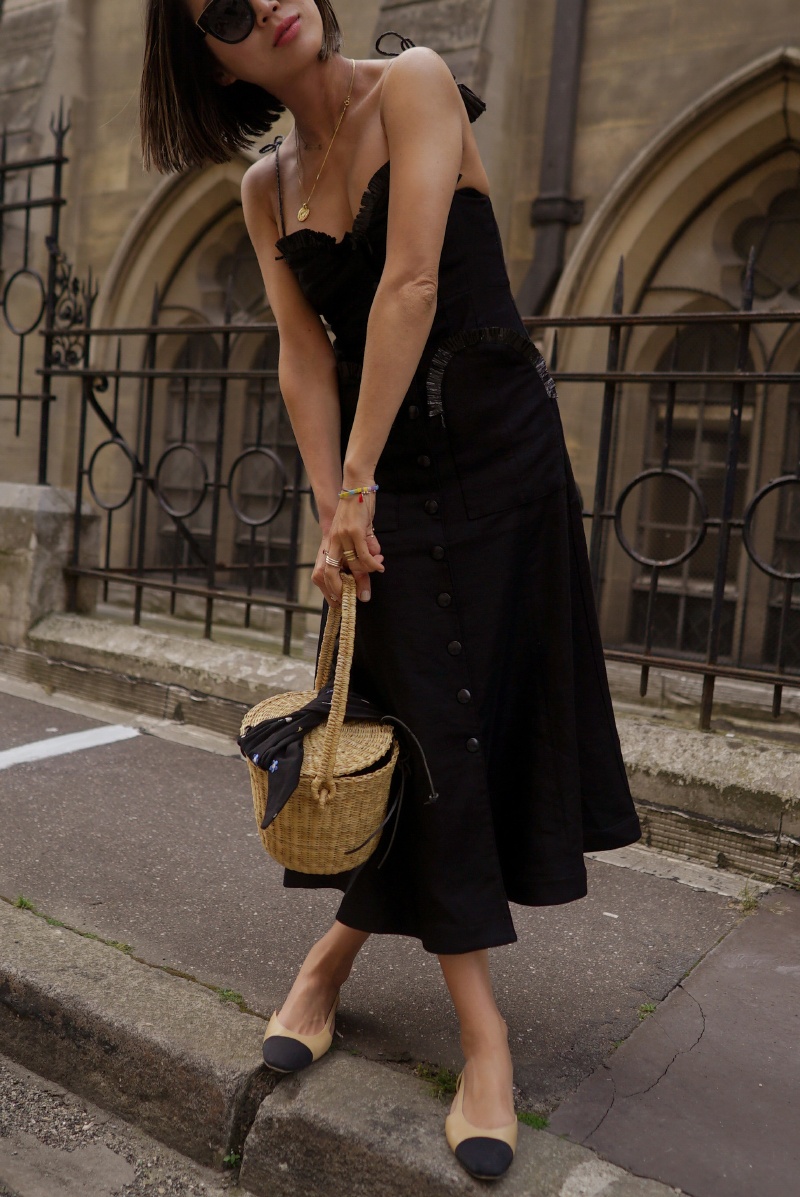 The shoes seen on the blogger above are by Channel, and these two-toned slingbacks have been seen on every runway and in every model's feet, including Kendall Jenner and Cara Delevingne. It's a must-have shoe for every Channel fan as it goes with all sorts of outfits. They're priced at $1210, and currently, they are a little hard to find since they're pretty much sold out everywhere, which isn't a surprise considering its popularity. But you can always look for them on eBay, and you might find them at a great price. And if you can't find them, then here's an incredibly budget-friendly alternative, go for these slingback pumps by Vaneli, and we're sure that no one would be able to tell that they're not Channel! You can get them here for just $149.95.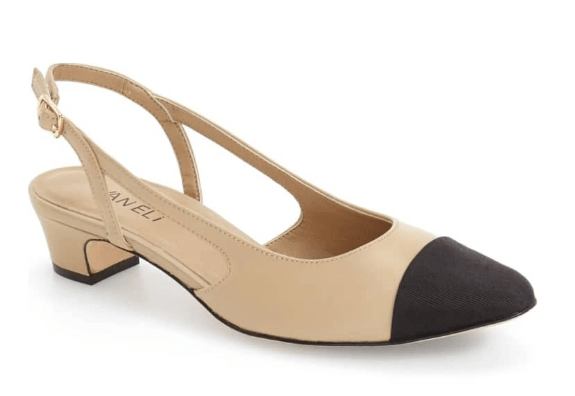 If you're interested in purchasing the straw basket bag to go with these shoes, you can get it here for just $76 as it's on sale.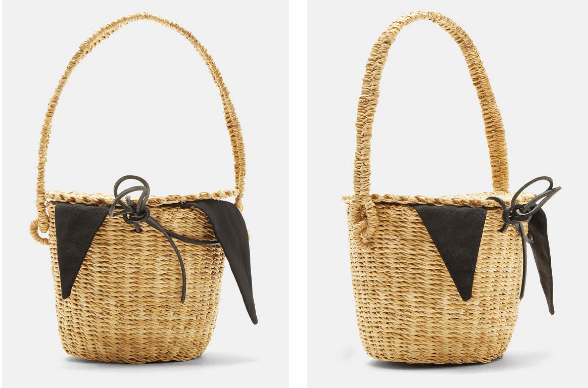 ↓ 4 – Sporty Girl Look With Sneakers
For all the comfort lovers, nothing beats the swag of sneakers. And luckily, they look amazing when paired with black dresses. We recommend any classic sneakers with a little bit of black included in them.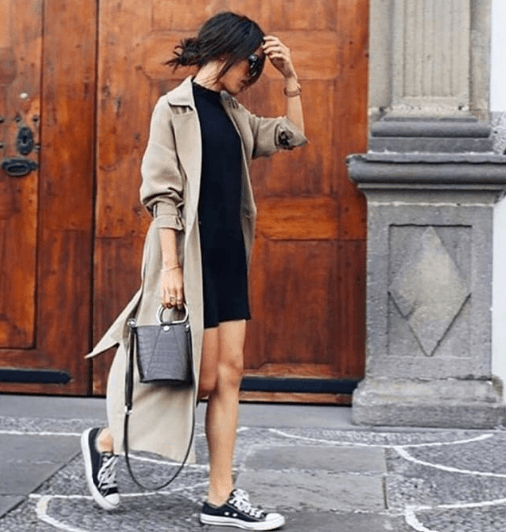 Some good options include the Vans Sk8-Hi that you can get here for $ 65.00.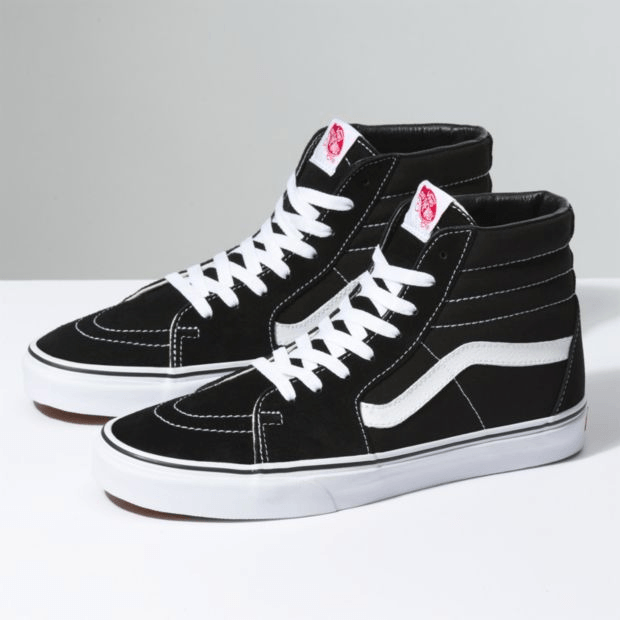 But if you want something more high-end, luxury, crazy, and simply eye-catching, we suggest that you go for one of Katy Perry's black sneakers. Her collection includes some truly adventurous shoes for the wild-hearted. Have a look at some of our favorites below, their prices range from $11,800.00 to $18,000.00, but some are on sale, and they can be bought here for as low as $ 6,634.00.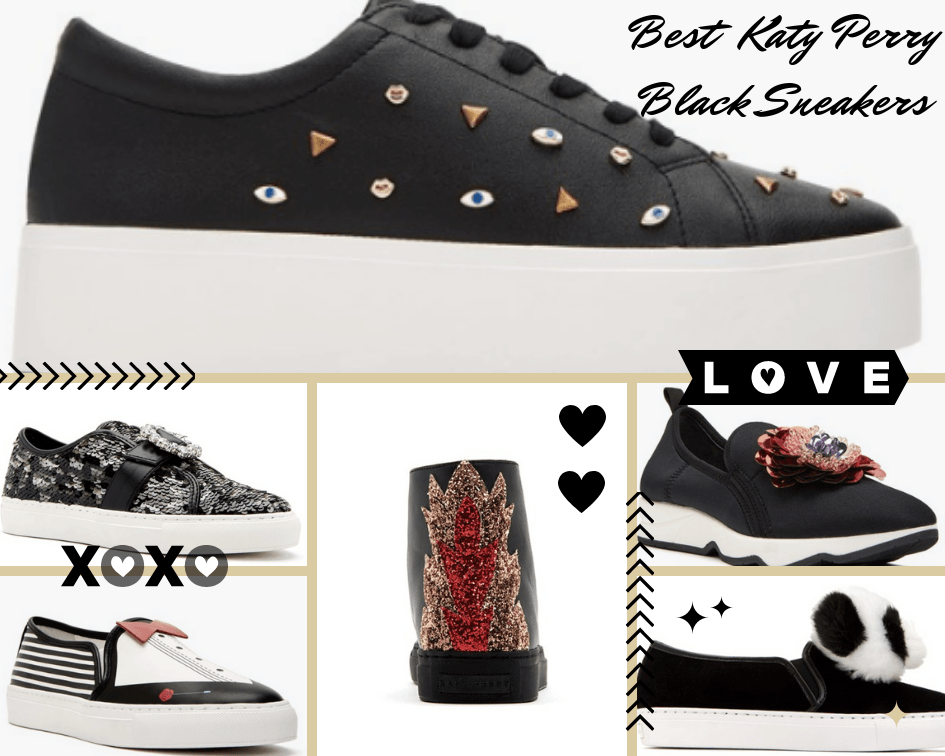 ↓ 3 – The Classic Black Dress With White Heels
When wearing white shoes with a black dress, make sure that you add as many white accessories as you can.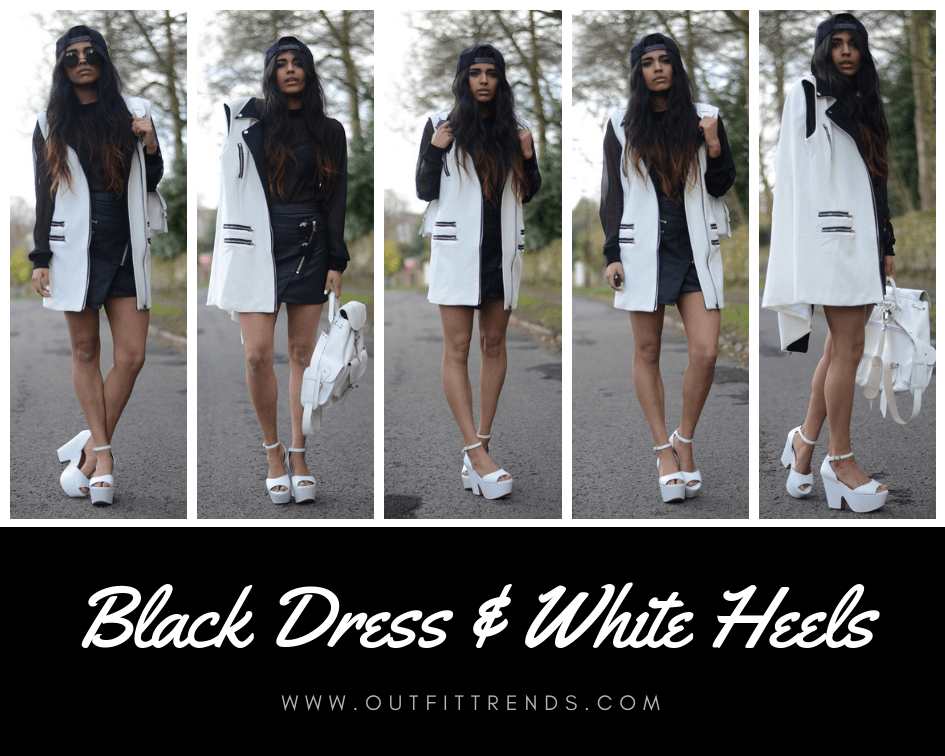 Via
You can get these beautiful chunky white heels by the office, here for£75.00.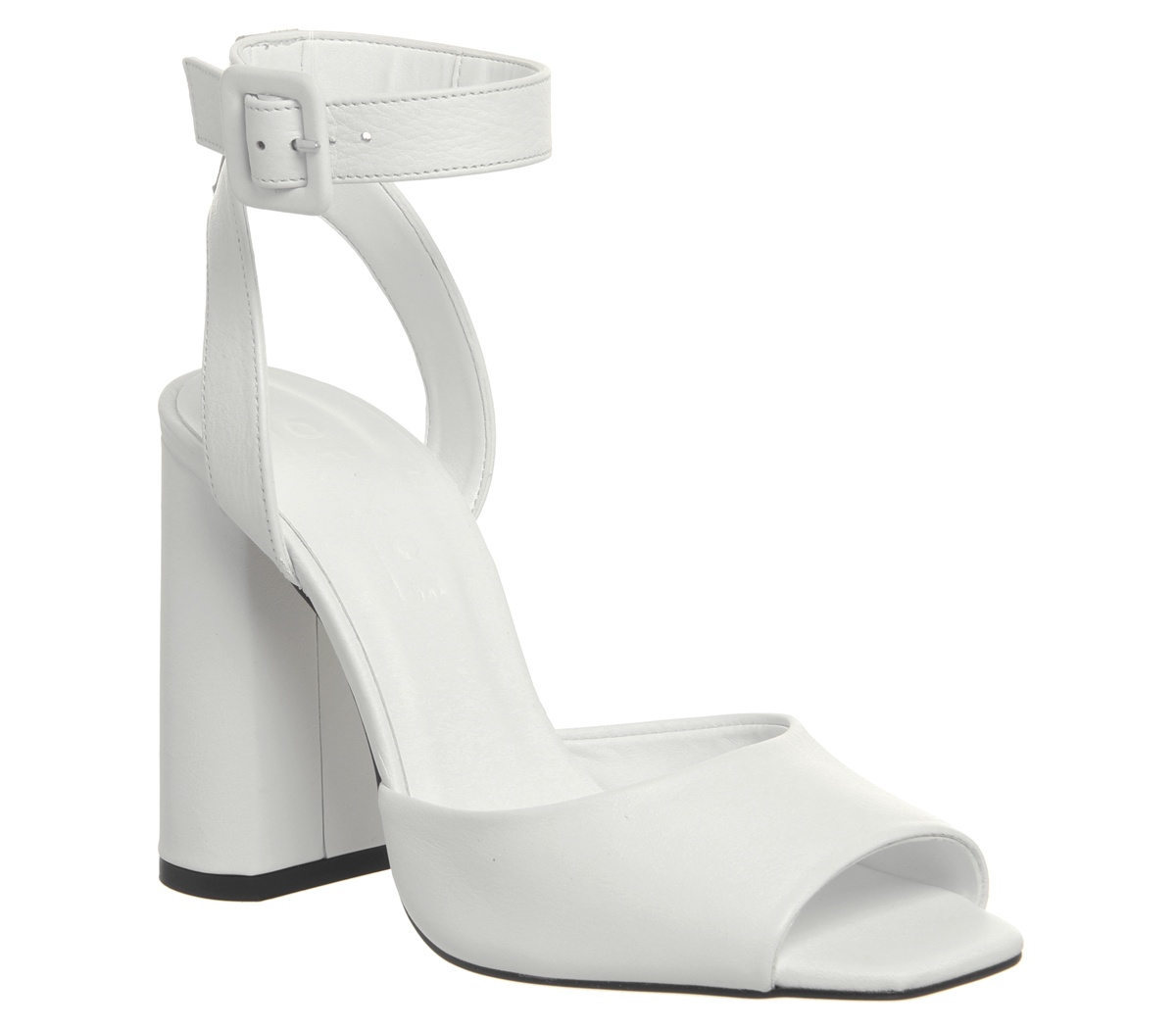 Instead of heels, you can also choose these strappy sandals for £42.00.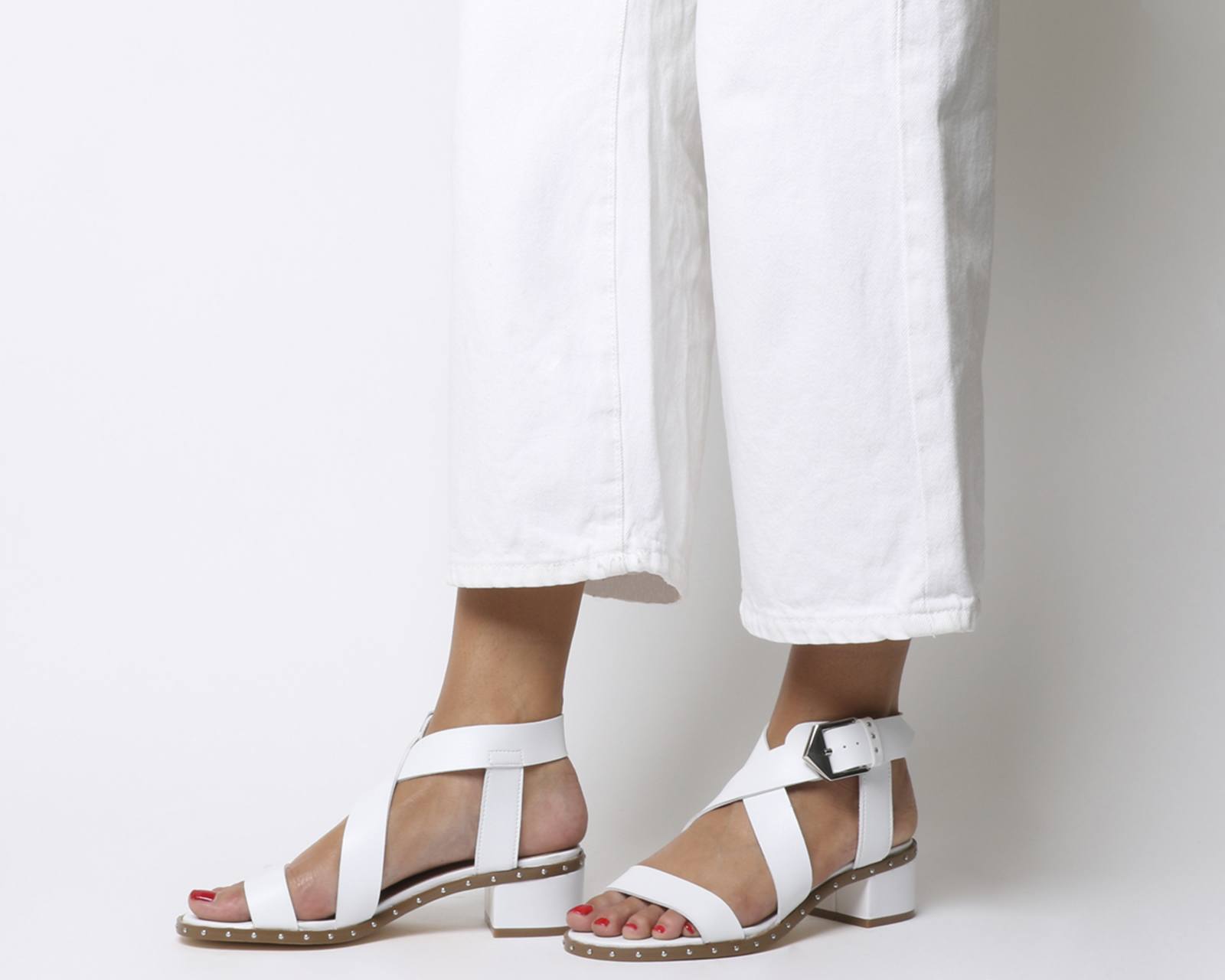 ↓ 2 – Black Loafer Shoes With Black Dress
As mentioned earlier, for your workplace, its best to not be too experimental. So go for simple and classy black loafers or oxford shoes.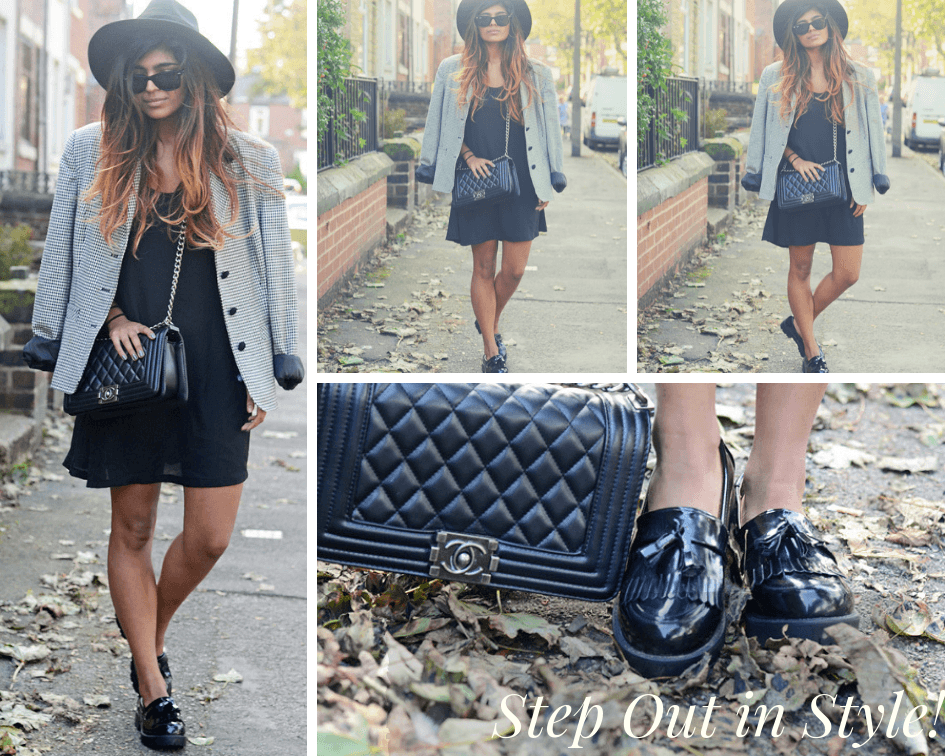 You can get these black tassel loafers here for £22.99.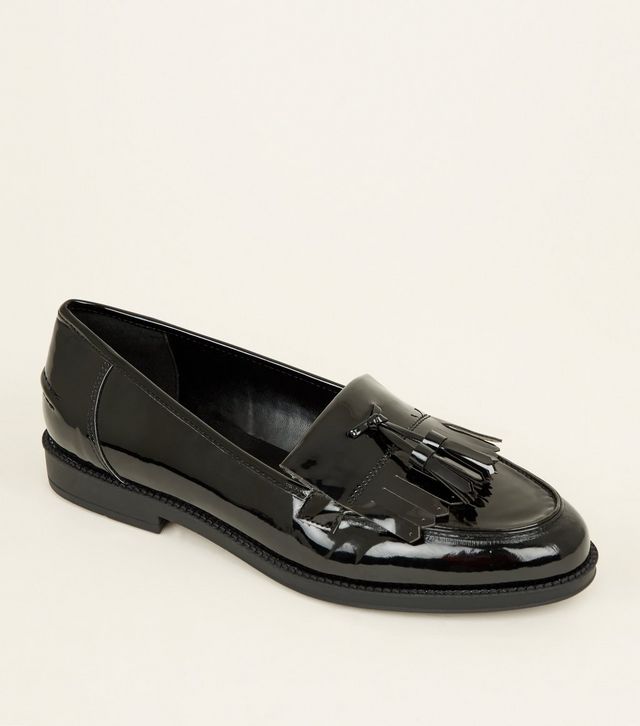 ↓ 1 – Floral Vibes with Valentino Ankle Booties
If you want to add a pop of color and funkiness to your outfit, wear it with some gorgeous printed shoes.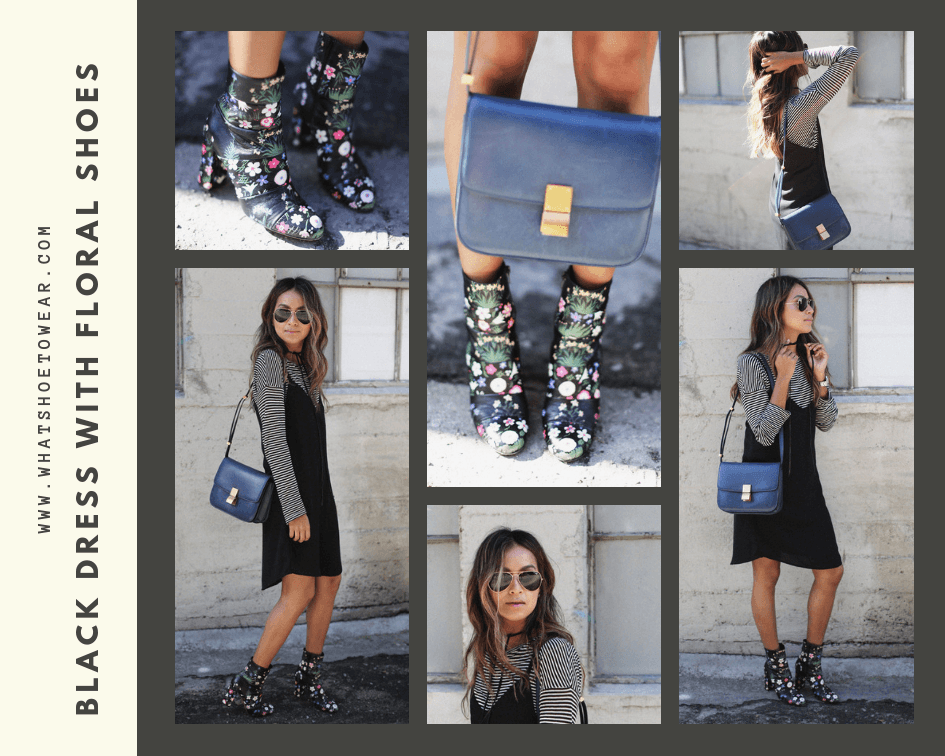 The paneled floral-print leather boots by Valentino can be bought at a discounted price here for $822.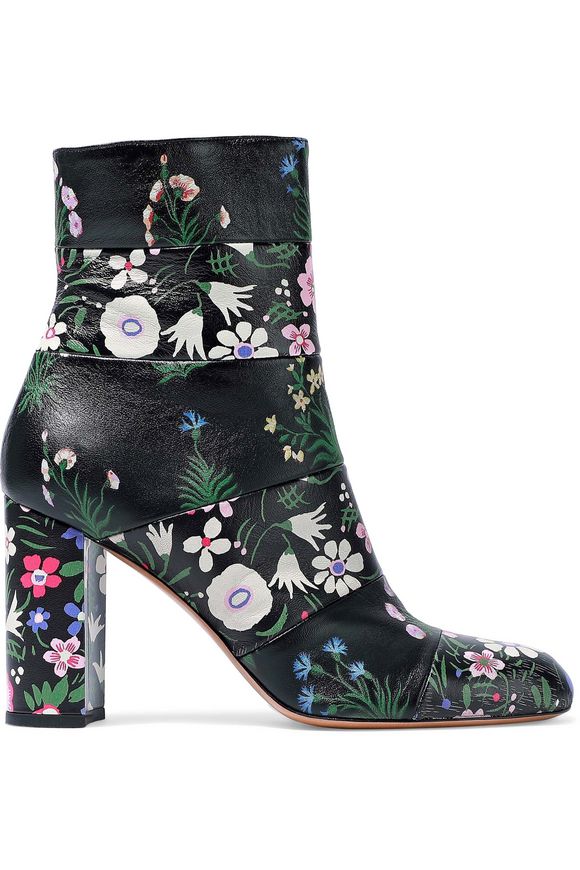 You can get these shoes with a slightly different print at 50% here for $387.50.