Outfits With Lace-up Heels – We should always wear modern and elegant sandals that complement our outfits. When we wear stylish sandals with our dresses, they make our dresses stand out.
Heels are our women's preferred footwear; they feel that heels make their outfits more attractive, thus; they choose to wear heels with every outfit. Heels can go with every look, whether you're wearing a dress or jeans with a shirt. There are several types of heels that we may wear with our lovely outfits. One of them is a set of lace-up heels.
How To Style Lace-up Heels?
Lace-up heels are the most popular, fashionable, and comfortable heels that almost every lady has. Not only are there many sorts of heels, but there are also several types of lace-up heels, such as pencil heels, wedge heels, pointed toe heels, and many more. You may wear these sandals in various colors and styles and pair them with your attire to get the perfect look. Indeed, these shoes can go with every outfit, but that doesn't mean you can wear them in any way. You should be aware of the proper styling and suitable attire with your sandals.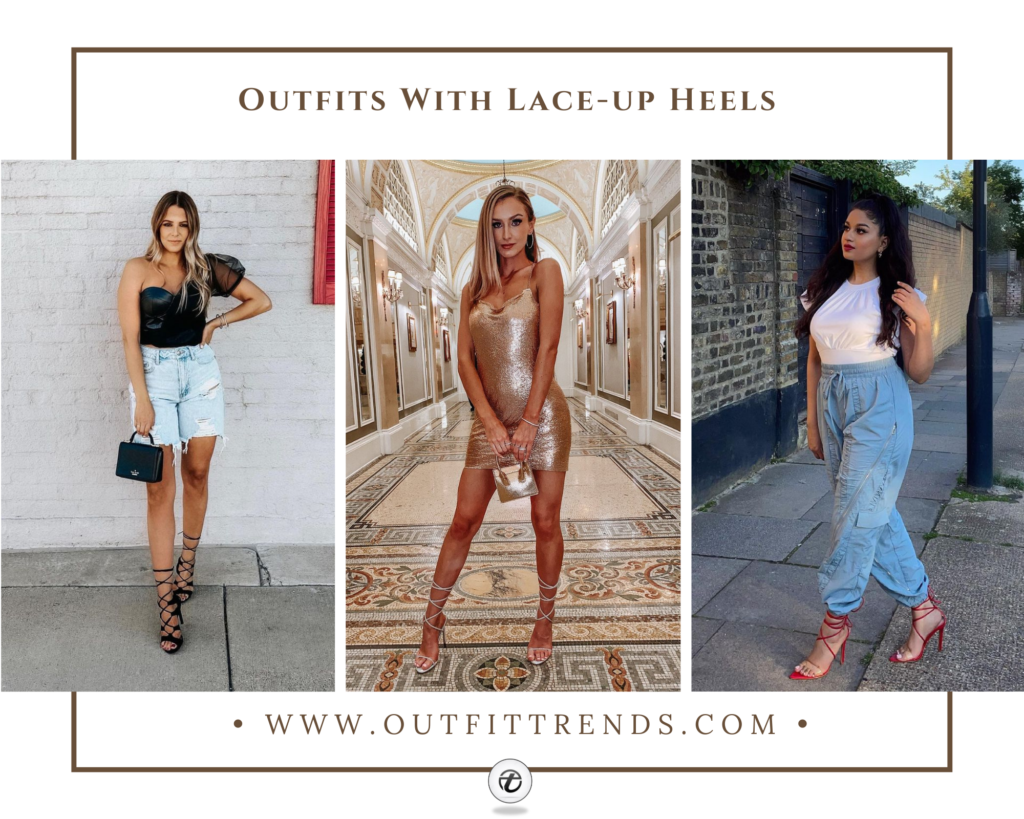 Tips For Styling
Wear your heels with shorts or skirts, and if you want to wear them with jeans, keep the length of your jeans low or fold it from your ankle to show them off.
Wear a jeans outfits in heels, then layer on a long trench coat for a street-style appearance.
When heading to the workplace, avoid wearing high heels and instead choose short-length or heeled boots with work outfits.
Instead of wearing black shoes all the time, consider experimenting with other hues. Match your stunning clothes with colorful sandals.
22 – One Shoulder Top With Denim Shorts And Black Heels
As previously said, try to wear lace-up heels with a short-length bottom so that the laces are visible. You can wear a pair of black lace-up heels with ripped denim shorts or regular shorts of your choice and combine it with a one-shoulder stunning blacktop. You may accessorize this style with a black adorable small purse rather than a huge bag. Wear some bangles on your hand and a lovely black choker as jewelry to make yourself appear more attractive. You can pull off this outfit for a dinner date or brunch.
21 – Marble Print Dress With Matching Heels For Plus Size Women
Colors always make people feel good. Colorful clothing makes us appear lovely and young. Wearing a vibrant dress will make you appear attractive and energetic, and the people around you will adore you. If you love colors, a colorful bodycon dress with matching color lace-up shoes and a beautiful matching purse is the perfect look for you. This attire is ideal for daytime outings.
20 – Printed Mini Dress With White Heels And Nude Clutch
Sometimes we don't need to add more accessories to our look because our dress serves as the centerpiece of our ensemble. Pick out a gorgeous patterned dress from your closet, but bear in mind that it should not be too long or too loose; medium length would be enough. Pair white lace-up heeled sandals with the outfit. You can choose a clutch bag or a handbag to match your attire.
19 – Leopard Print Sandals With A Brown Blazer And Skinny Jeans
These heels are available in a range of styles. One of them is a pair of leopard print lace-up heels. If you're wearing jeans with your leopard-print sandals, make sure to fold the pants from the ankles neatly. When you do this, your sandals will be visible and look great. Wear a matching shirt with the jeans, and if it's cold outside, throw on a jacket over it. Take a fashionable purse appropriate for the occasion. You might wear something like this to work.
18 – Yellow Leggings With A Black Croptop
When you make different color combinations in your clothes, it looks fantastic. Consider wearing a black blouse with colorful pants or leggings. A black cropped shirt with yellow leggings is a great combination that will spice up your appearance when paired with lace-up heeled heels.
17 – Twin With Your Bestie In Matching Bodycons And Heels
We love twinning with our friends wherever we go to express our love and friendship. You and your buddy can do footwear twinning. Wear a dress and lace-up heels that complement your outfit. Your friend will wear a different dress outfit and the same shoes in a matching hue to her dress. You may pair both looks with a white purse or a white shoulder bag since white goes with everything.
16 – Dotted Off-Shoulder Dress With Black Heels
Polka dots are a longstanding fashion trend, and every lady adores this print. You may wear your sandals with a frock dress having polka dots. Wear a beautiful polka dot design dress in white and black hues paired with black lace-up heels. To make your clothing stand out, pair it with a beautiful necklace and small earrings. A messy bun would be a good choice for this style, and it would also be a perfect choice for summer, but if you don't enjoy making a bun, you may leave your hair open with a few curls. Don't forget to accessorize the look with black sunglasses.
15 – Clear Lace-up Heels With An Olive Suit
Another fashionable type of lace-up heel is a transparent one. If you want to show off your feet while wearing shoes, these sandals are ideal. Wear a matching set of dress pants and a blazer with a basic black tank top for a formal attire look. If you are a working lady, this appearance is ideal for you.
14 – An Oversized Shirt With White Heels
We don't always have enough time to get ready and sometimes we don't prefer to dress up fancy or formal. In such situations, this outfit is a perfect alternative. Wear an oversized t-shirt in a lovely pink or any other hue and combine it with white lace-up heels. A cute tiny pink purse may enhance your appearance. Make a tight bun and pair it with hoop earrings. This outfit is a fantastic street-style look that you can recreate and look great in.
13 – Wear A Red Blazer With Matching Heels And Tie The Laces Above The Jeans
You should always do and wear whatever makes you happy, and the only thing you need is to be confident in yourself and whatever you are wearing. You can also tie your sandals laces over your jeans. It seems weird, but it appears to be a good idea. It's also a great technique to cover your oversized jeans. Combine the jeans with any plain top and add a blazer to enhance the look. Compliment your jacket with a pair of lace-up sandals in the same hue. The essential thing to do is knot your laces over your jeans rather than beneath them. Make a messy hairdo, and you've got the perfect appearance.
12 – Mini Leather Shorts With A Crop Top And Brown Blazer
Leather shorts are a must-have item of clothing for any woman's wardrobe. Wear black leather shorts with a black cropped top, which is also a must-have item of clothing. Combine the skirt and blouse, and then finish with a brown trench coat. This basic dress may look more attractive by wearing it with black lace high heels. You may accessorize with a black purse.
11 – Black Bodycon With Knee Length Lace-up Heels
There are knee-length heels that you may try on. A midi or slip dress may be paired with these sandals. Wear a black slip dress with a trench coat over it to enhance the look. The eye-catching strappy shoes will look fantastic with this ensemble. Put on your sunglasses and a tiny purse that matches your attire. You may wear these knee-length sandals with a blouse and shorts, but not with pants or a long dress since they will cover all of your shoes.
10 – Brown Mini Dress With Satin Tie Up Heels
You've most likely donned a silk gown, but have you ever tried silk lace heels? If you haven't tried it yet, you should because you're going to fall in love with these elegant silk heels. These platform heels are so lovely, don't ruin them by wearing them with pants or a long dress. You may pair it with a slip dress in a contrasting hue. This attire is ideal for the summer. Whether you're a teen or an adult, you may try this look.
9 – Pair It With A Patterned Skirt And A Black V-Wired Cropped Top
Everyone's favorite color is black, and we love to wear it all the time. With your heels, you may get an all-black appearance. Wear a patterned short skirt with a black cropped top. Combine it with a front lace-up heel and a black chain purse to enhance the look. This fit is perfect for women who enjoy dressing up in a modern and stylish manner.
8 – White Summer Dress With Lavender Heels For A Contrast
Lace-up shoes may be used to create both simple and stunning looks. Teenage females prefer to dress simply and with minimal accessories. They can wear a basic white frock dress and add a pop of purple to the outfit by wearing purple lace-up high sandals. As you're creating a basic outfit look, choose a simple bag in black or a matching color with your sandals. This look is the decent and most beautiful appearance you can get when out for lunch with friends.
7 – Pastel Skirt And Sweater With Halter Top And Heels
We adore wearing pastel colors in the summer and spring. If you have pastel lace-up heels and are unsure what to wear with them, we have a suggestion. Wear a white tank top with a mini skirt in a purple hue, and add a pink vest over your tank top. Complement the look with lace-up heels in the same color as the skirt. The prettiest addition to your appearance may be a similar cute matching purse and a matching patterned bandana. If you don't wish to wear a bandana, you can let your hair as it is.
6 – Denim Skirts With Denim Bleted Shirt And Red Sandals
It's common to pair denim shirts with denim pants. Wear an oversized denim jacket with a belt and a button up denim skirt to try something different. To add a pop of color, pair it with red or other brightly colored lace-up shoes. You may make it stand out by using a colorful bag with this outfit.
5 – Shiny Gold Dress With Matching Heels And A Mini Bag
Lace-up heels may be used with both formal and casual outfits. You may wear it with your beautiful dress when attending wedding events. Matching lace-up heeled shoes should be paired with any festive dress you are wearing. You may complete the look with a matching purse and jewelry. This look is the most beautiful and easy attire you may wear as a wedding guest or to a party night.
4 – Wear Striped Shorts With An Off-Shoulder Sweater
Some women love wearing heels but feel uncomfortable in high heels. For such ladies, wedge lace-up heels are the best option. Wear it with street-style casual ensembles such as a skirt and an oversized sweatshirt. A leather crossbody purse may help to complement your look. Sunglasses make your outfit stand out, so wear them when heading out during the day.
3 – Wear Your Heels With Leggings And A Skirt
In the wintertime, we prefer to wear layered dresses. Here's an idea for a layered outfit. We should always keep in mind that layering one item over another in a stylish manner is better than making your dress seem cluttered by combining everything. Wear a basic white shirt with a black flared skirt; if desired, put net white leggings under your skirt. Leggings with skirts are beneficial in the cold weather. Over your dress, layer a contrasting jacket. A pair of black lace-up high heels and a black leather purse can enhance the look.
2 – Wear A Marble Printed Pencil Skirt With A Crop Top For A Vacay
Lace-up sandals can also be paired with a pencil skirt. If you're wearing a brown patterned skirt, balance it off with a plain top. Wear a white cropped slip top. It looks great with white lace-up heels sandals. Wear stylish matching tassel earrings and a necklace with this outfit since it will look fantastic on a plain shirt. You may accessorize the look with a matching clutch purse.
1 – Nude Two Piece Cut Out Set
White is a lovely hue that all ladies enjoy wearing, and we also enjoy creating a single color appearance. We may create such looks with a white hue by experimenting with several light and dark shades of white. Wear a lovely white knit cut-out dress with beige lace-up heeled shoes and a white purse or clutch bag. For earrings, you can wear hoop earrings to keep the look minimum.
Frequently Asked Questions
Q. Can I wear lace-up heels with jeans?
Ans. Lace-up heels may be paired with jeans, but remember to fold the ankles of your jeans to display the laces of your sandals. You may also knot your laces over your jeans to make them seem more stylish.
Q. How do you wear a lace-up top with lace-up heels?
Ans. Lace-up heels with front lace-up tops may be worn with denim jeans or skirts. You may pair a simple lace-up top with brightly coloured patterned tights or skirts. You can even place a leather jacket over it to make it more attractive.
Q. How do you wear a dress with lace-up heels?
Ans. Wearing a dress with high lace-up heels is the perfect outfit. You can wear a gorgeous dress, either formal or casual, with matching lace-up sandals. To complement the look, carry a stylish clutch bag and some jewellery with your outfit.