Outfits to Wear with Timberland Boots. Are you looking for ideas about what outfits to wear with timberland boots? Look no further, you have come to the right place for both winter fashion ideas and timberland boot outfits for girls!
Timberland boots have been around for several decades but they really boomed in the '90s due to popular hip-hop culture. They have stuck around and are still much beloved today by celebrities and average peeps alike and they are one of those shoes that may never go out of style. With promising trivia like this, you won't go wrong by adding a pair of these bad boys to your wardrobe arsenal.
How to Style Outfits with Timberland Boots
In this article, we are going to show you 22 outfits to build around your Timberlands (or Timbs, as they are affectionately called) and answer some of your frequently asked questions. Let's get started!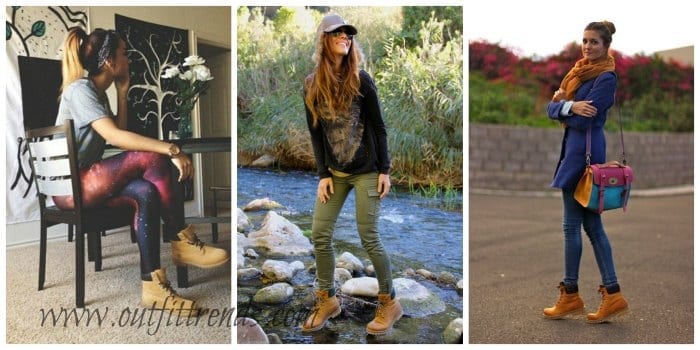 Frequently Asked Questions
Are timberlands waterproof?
Timberland doesn't waterproof every single boot they create but they do for many of them. Check with the Timberland website and your boots' product description to be sure.
Can you wear timberland boots in the spring?
While it is more common to see these bad boys out and about during the colder seasons, yes, you can wear your Timberland boots in the spring. You'll just have to tweak your outfit and make sure the boots you are wearing aren't fur-lined!
However, in this article, we are mostly going to be talking about ways to style your Timberlands for a winter wardrobe.
How do you wear jeans with Timberlands?
In this article, we are going to show you several different ways to pull off a classic Timberland + jeans look, so keep reading to see how!
Do Timberlands need to be broken in?
Yep. Just like most hiking boots, they require a break-in period so keep this in mind so that you can plan accordingly.
Now let's look at some outfits!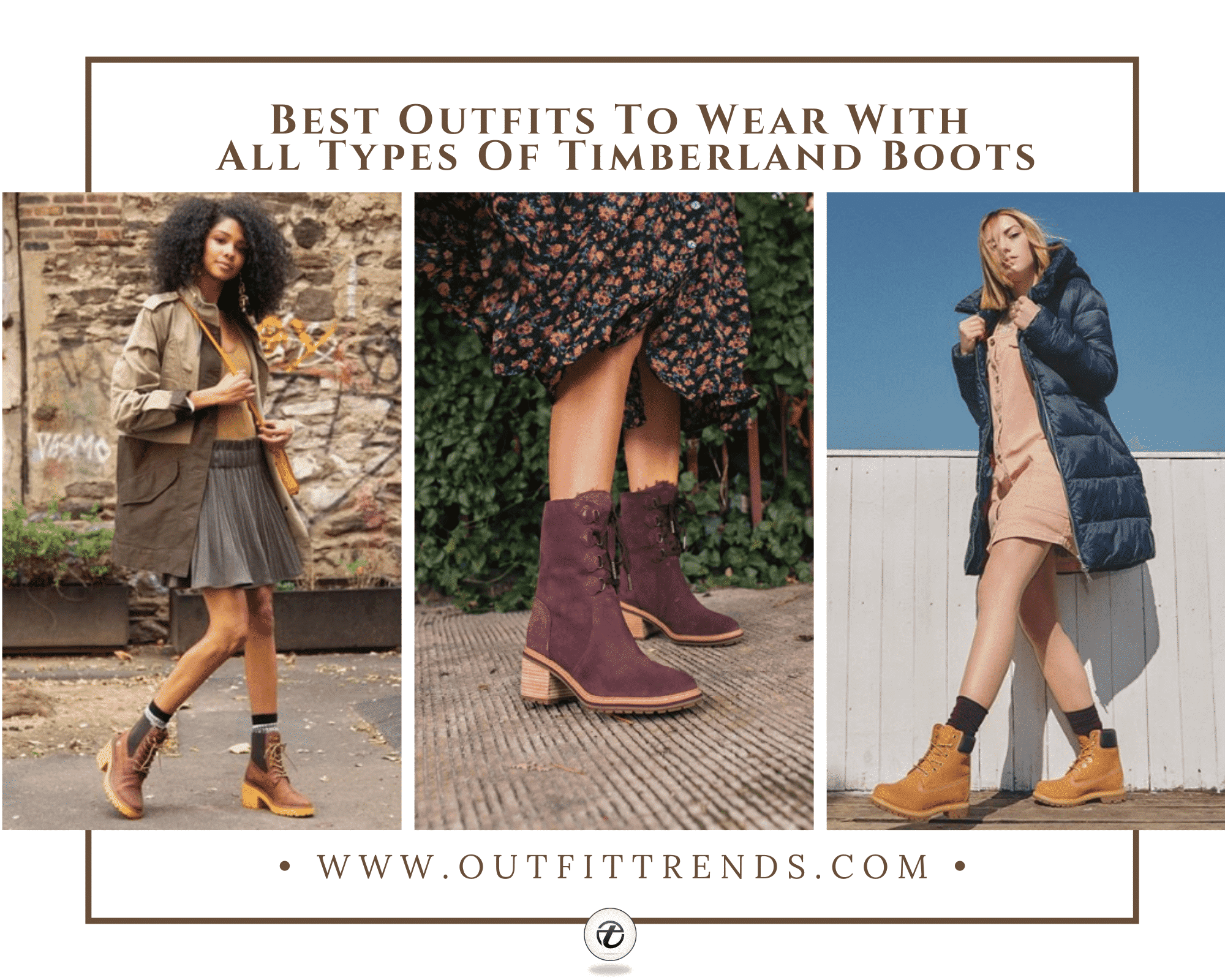 ↓ 24 – Timberlands With Baggy Jeans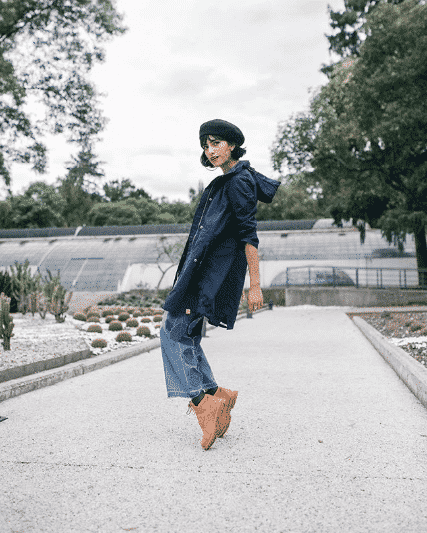 ↓ 23 – Can You Wear Timberlands In Summers?
Why not? If you can wear sneakers in Summers, you can also wear timberlands. Pair them with your favorite jeans or shorts, and go sockless if you want.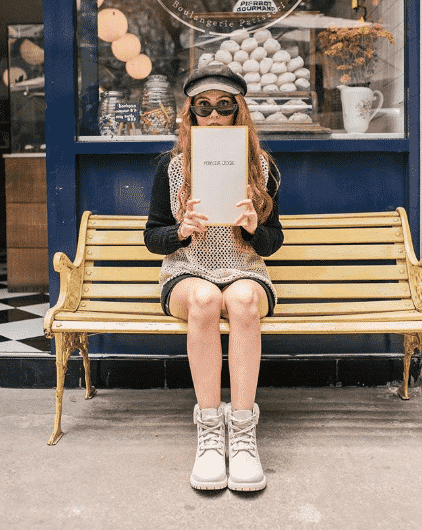 ↓ 22. Super Cozy Winter Style & Timberland Boots
This outfit perfectly blends common winter colors and fabrics with a pop of yellow to bring some sunshine to those gloomy winter days!
Timberland boots are great for tough weather so don't be afraid to bust them out when the snow starts falling. Instead, pair them up with your favorite dark-wash jeans and a thick gray coat. Add a big ol' infinity scarf (the chunkier the better) and leather gloves. Don't forget some fun lipstick! This outfit is great for high school as well as college girls and is sure to keep you warm no matter how low the temperature drops.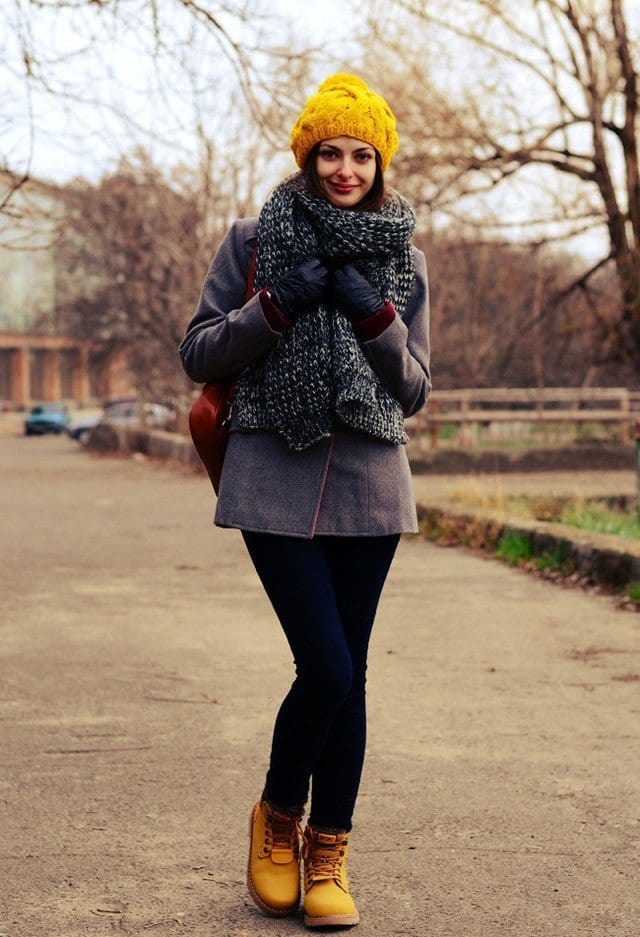 ↓ 21. Timberland Boots + Denim Jacket + Leather Leggings
This makes for a great lunch outfit or just a weekend look when you want to hit up your local museums. Pop on a pair of black leather leggings and top it off with a simple tee or long-sleeved shirt. A denim jacket with a distressed hem is chic and super stylish, especially when paired with trendy Aviators and your favorite Timbs. Add a choker to accessorize. Here are some more ideas on How to Wear Denim Jackets.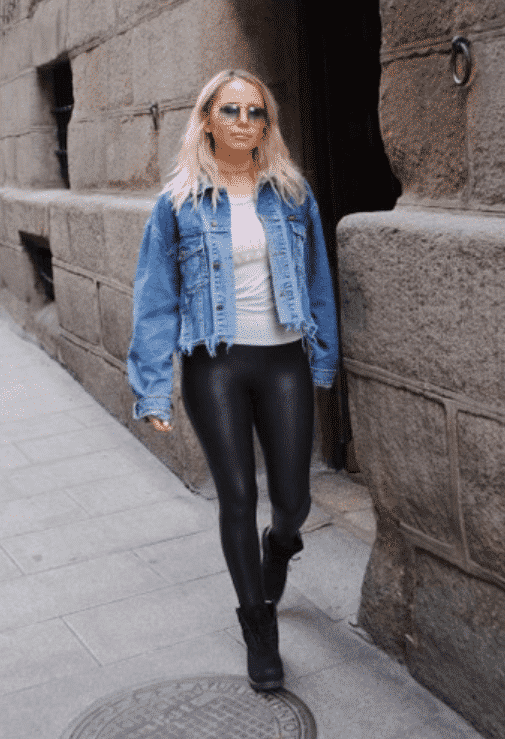 Get the outfit for under $550 at the links below:
Spanx Faux Leather Leggings $98
WOMEN'S 6-INCH PREMIUM WATERPROOF BOOTS $170.00
TOPSHOP Tilda Hack Denim Jacket $52
RAY-BAN Blaze General 58mm Aviator Sunglasses $173
↓ 20. Cute, Colorful Autumnal Outfit with Timbs
Heading out to hike with friends is a great opportunity to utilize your favorite hiking boots. But it can also be a time to show off your fun, eclectic style. With an outfit like this, you can do both!
Jeans and tan Timbs are just the base-line of this ensemble. Add a long-sleeved top and your favorite coat. We recommend wooly blue! Add a scarf and then get funky with a colorful bag! We love this totally fun little guy that definitely ties the whole look together, as well as offering a delightful throwback to '80s fashion.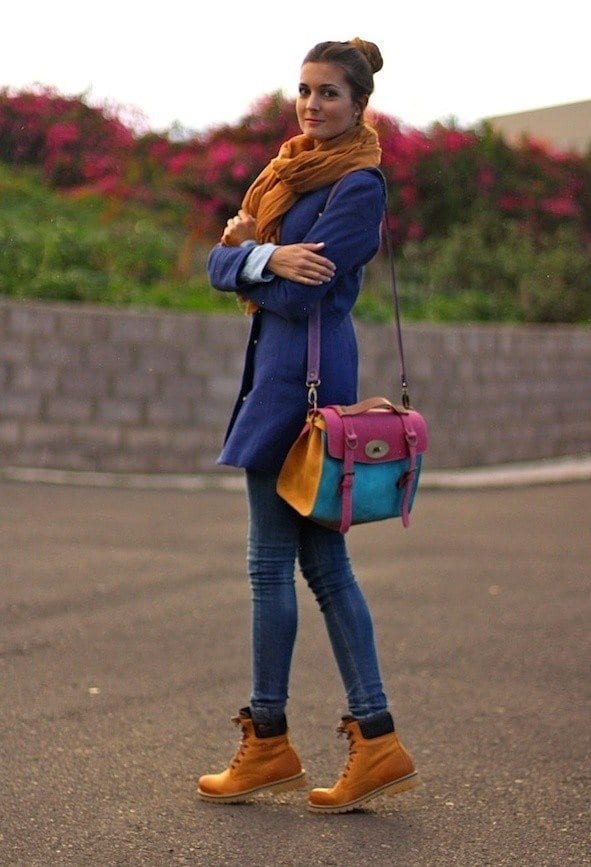 ↓ 19. College Preppy Look with Timbs
Pair a fun-patterned sweater with a collared shirt, jeans, and tan boots. Add a crossbody purse, a bomber jacket, and sunglasses for a perfect college girl outfit.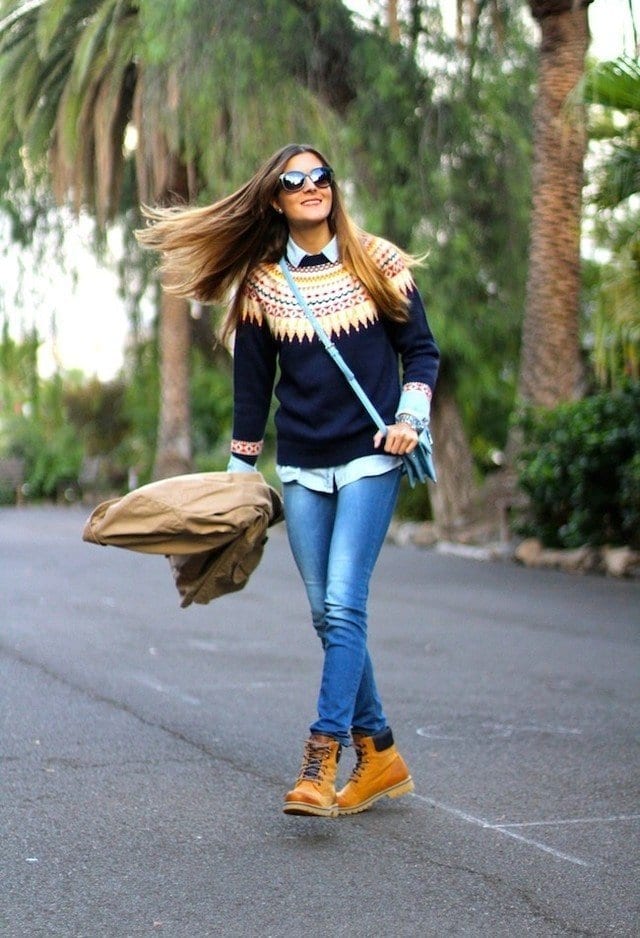 ↓ 18. Extra Warm Winter Outfit with Timberlands
For this look, we'll start with the boots and work up. These are classic Timbs and they look especially great with a matching scarf. Bring a pop of color to the ensemble (or several pops) with red skinny jeans, a matching purse, as well as red lipstick. Top it off with a chunky striped sweater, a coat, and a super warm hat.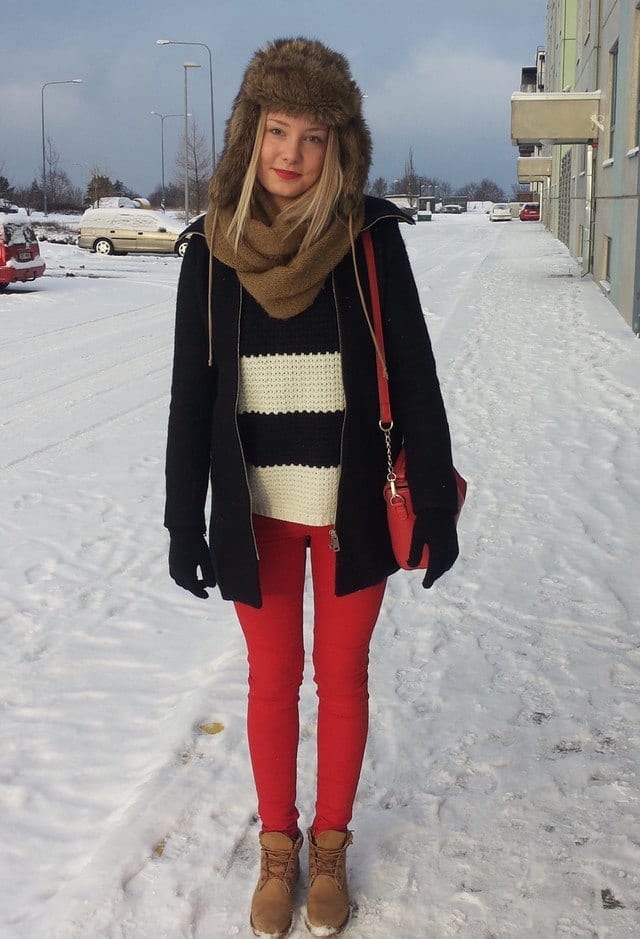 ↓ 17. Primary Colors + Boots for Schoolgirls
Look cute this winter with a blue wool coat, a bright red scarf, and red Timbs. Perfect for chilly school days and trips to the library.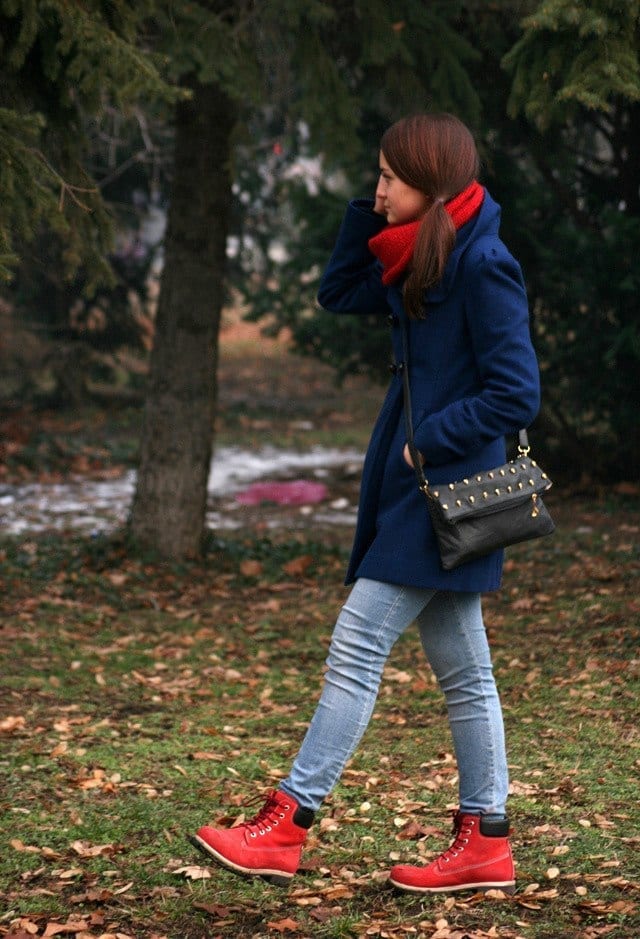 ↓ 16. How to Wear Timberland Boots with a Dress
This is an outfit where you can let your inner fashionista have full reign! Pair a fun little dress with some sheer black tights and laced-up Timbs for a spunky look. We love the chunky beaded necklace, the floral scarf, and the neutral cargo-inspired overshirt. Add a beanie, a belt at the waist, and swipe on some fuschia lipstick to tie all of it together.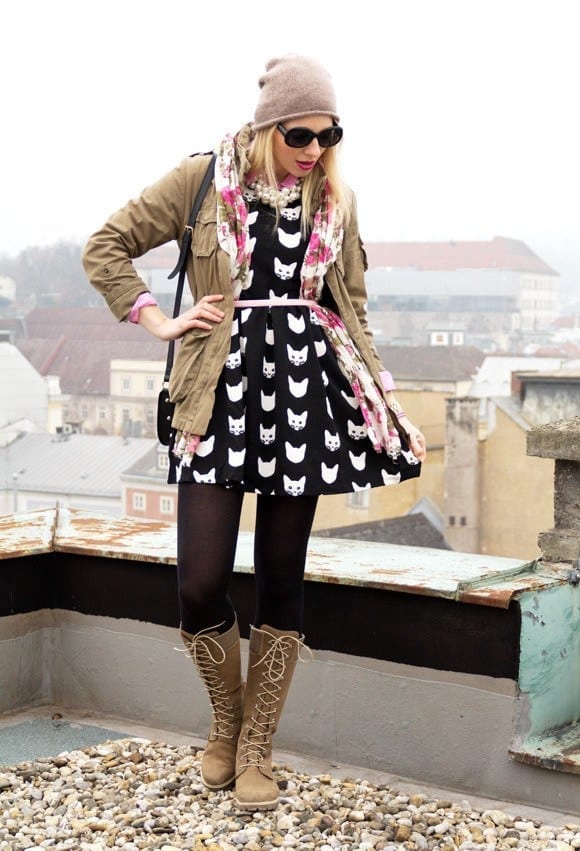 ↓ 15. Perfect Travel Outfit with Timberlands
Traveling is a great time to bust out those little-used items at the back of your closet. A magenta pink purse, some fun-colored Timberlands, or a furry cardigan might seem like unusual pieces to pair together but this picture shows you how to rock it. Have fun with accessories and stay warm with a knit beanie.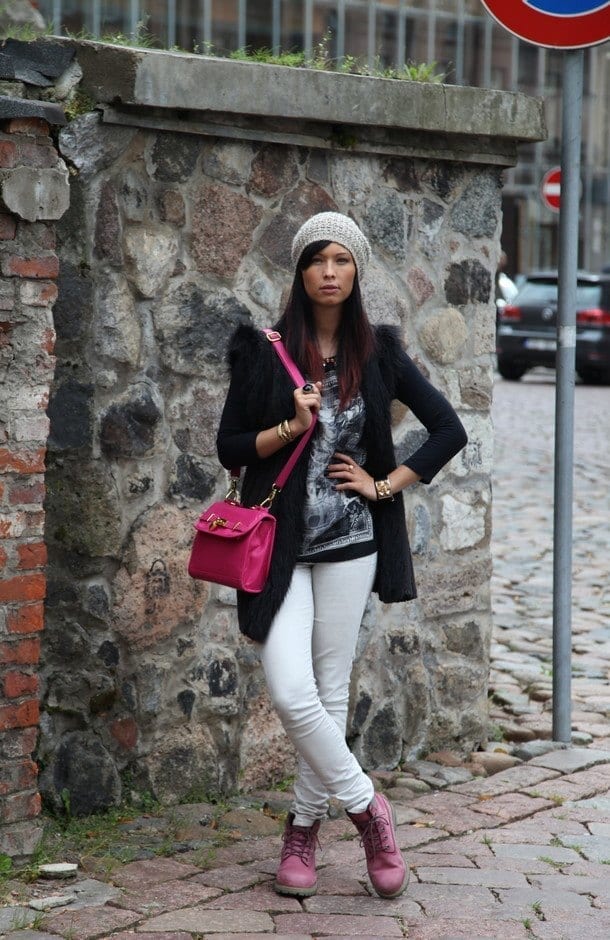 ↓ 14. Easy Warm Fall Day Outfit
Throw on an army-print skirt and long cardigan for a simple coffee date outfit. This is a great way to show off some heeled black Timbs. If the weather is just a little too chilly, then switch out the cami for a turtleneck and add a scarf. You can also add leggings or tights to keep those legs warm!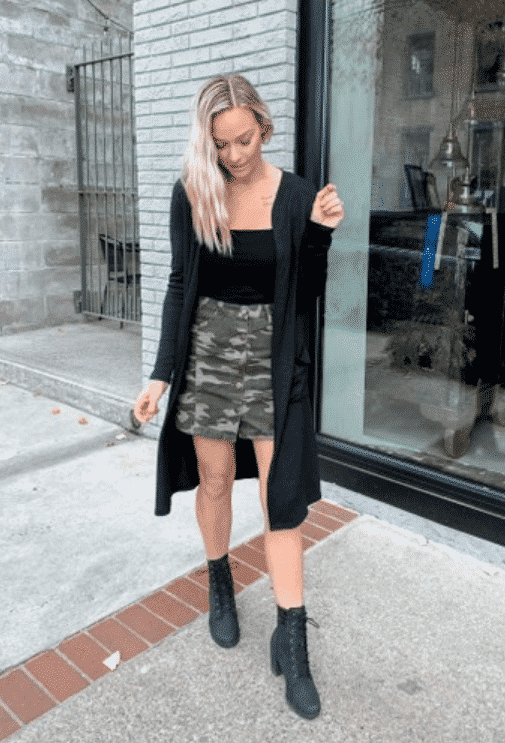 Want to snag the look for yourself? Check out the links below:
Forever21 Camo Print Mini Skirt
WOMEN'S TILLSTON 6-INCH BOOTS $140.00
FOLUNSI Women's Cardigan Open Front Long Knitted Sweater with Pockets $21.99
Target Any Day Cami
↓ 13. What to Wear with Timberlands in the Snow
With the next big snowfall, put your Timberlands to the test and take a trek out in that beautiful white wonderland. But first, get yourself a cute outfit. We love this funky little look featuring a brown beanie hat, matching gloves, a faux fur jacket, trousers, and Timbs.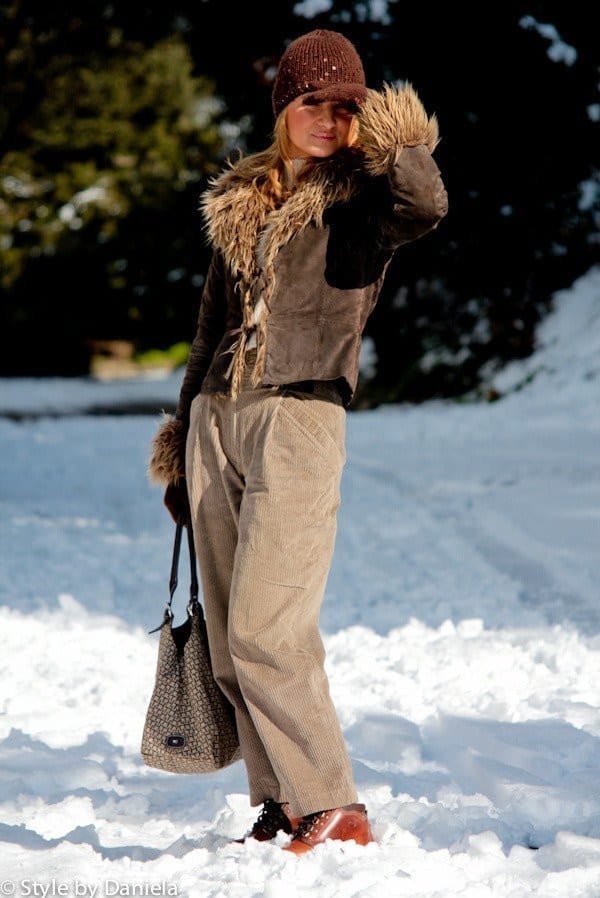 ↓ 11. How To Wear Timberlands With Leggings
This fall-weather outfit is perfect for teen girls who love combining sporty pieces with Tumblr cute-wear. (We just made up that phrase but we think it works.) Get the best of both worlds by popping on a chunky scarf, Aviator sunglasses, a jersey, and denim jacket. Pair with leggings and your choice of Timbs.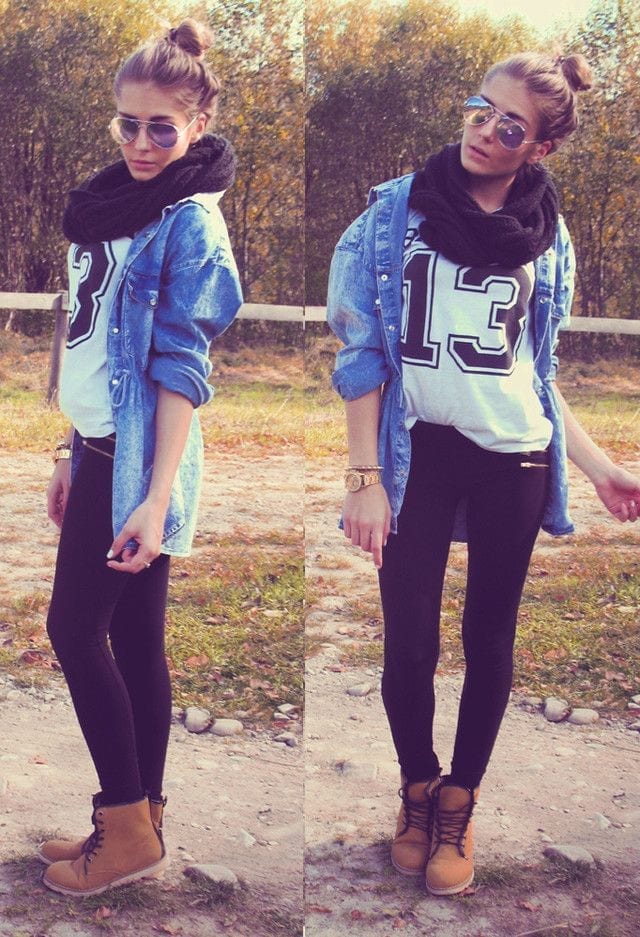 ↓ 10. Tomboyish Look for Outdoor Activities
Getting down and dirty in the Great Outdoors this weekend? Here is an outfit that will allow you to look cute without sacrificing functionality. Pop on the long-sleeved top of your choice and pair it with some cargo-inspired pants. (We love this olive-green pair, especially when they are played up with tan Timbs!)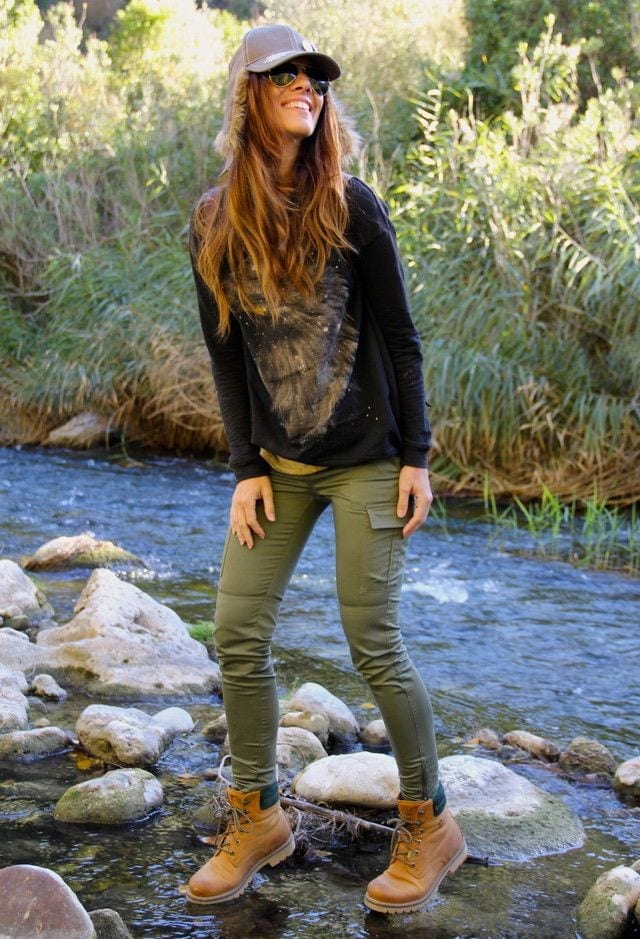 ↓ 9. Casual Street-Style with Chunky Timberland Boots
Strip your street-style down to the basics with a simple white tee, ripped jeans rolled at the cuffs, and some unlaced, chunky Timbs that deliver serious lumberjack vibes.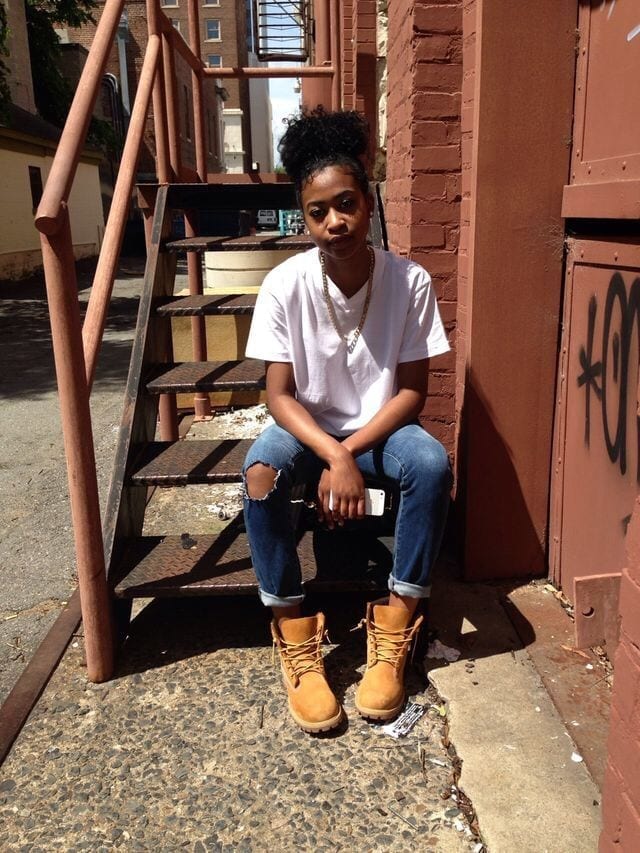 ↓ 8. Sweet & Simple Fall Fashion
When going for a simpler look, opt for pieces that feature special detailing. This forest green top is a perfect example of that. The buttons, the tie at the bottom of the front, as well as the ribbed material all lend a little extra something to the piece. Pair your top with some skinny jeans and a pair of almond brown Timbs. Other details to include? A little silver necklace and a girlish heel on the boot. For some more tips, have a look at our earlier post on Different Ways To Wear Denim With Ankle Boots.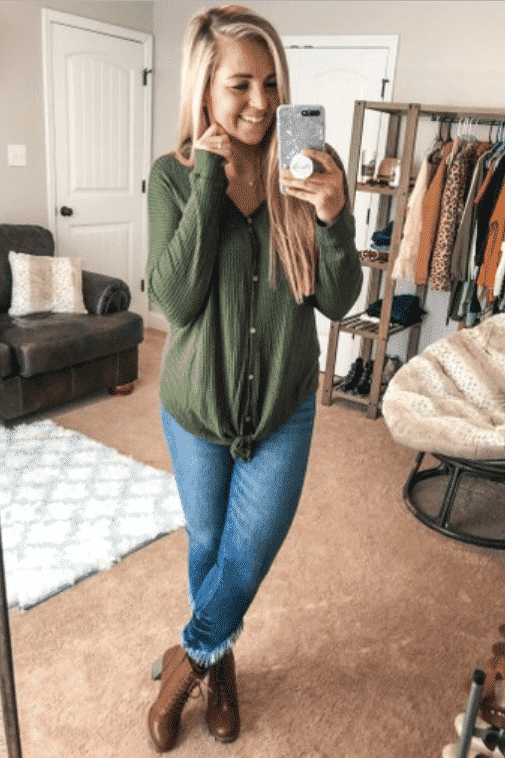 ↓ 7. Eighties-Inspired Outfit with Pink Timberlands
Google '80s fashion and you will see a lot of teased-out hair, shoulder pads, and baggy sweaters. This outfit borrows from the iconic era with some bright pinks, an oversized sweater, and a distinct blend of colors. It keeps it modern with some dark-wash jeans and understated makeup, as well as a collared shirt peeping out from under the showpiece sweater. This is a casually bold look that is perfectly tied together with a chunky necklace and a neutral-colored purse. Check out outfits to wear with Uggs for more boot-centric outfits.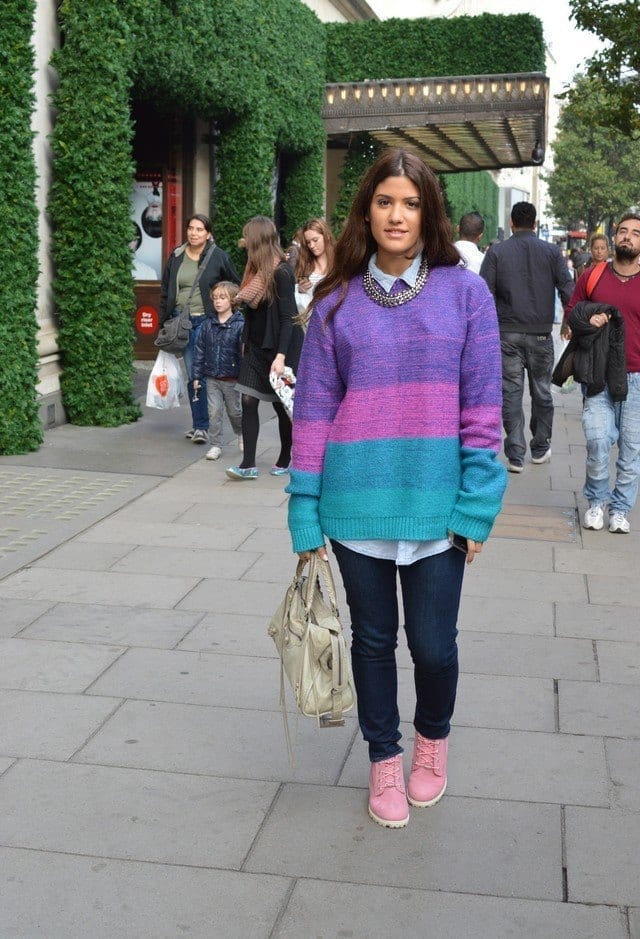 ↓ 6. Styling Your Timberlands with Ripped Skinnies
The key to this glam look is a pair of timberlands that feature a high heel. They bring instant pizzazz to this already iconic look (who doesn't love a furry cheetah-print sweater?). Ripped skinnies are also fun and look great paired with a thick white headband, which makes this ensemble less streetwear and more chic icon. Add some big ol' sunglasses and style your hair in long waves. This is a great fall or winter option.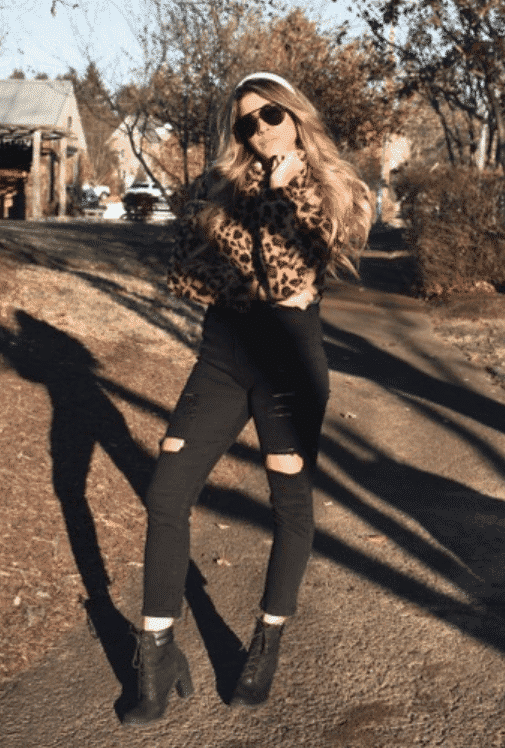 ↓ 5. How to Wear Timberlands with a Skirt
While Timberland boots are not known for being a hallmark of femininity, they absolutely can be when paired with a skirt and other key accessories. You can also get the best of both worlds by choosing a Timberland boot that features a longer shaft or a higher heel rather than a flat heel with a shaft that cuts off at the ankle. Check out the picture below for a good example of this. This outfit is perfect for those colder months and is both stylish and feminine. Pair a russet brown boot with black leggings, a maroon-colored skater skirt, and a gray sweater to keep yourself looking as chic as you are warm. Adding a hat will further tie the look together, as well as a red shade of lipstick.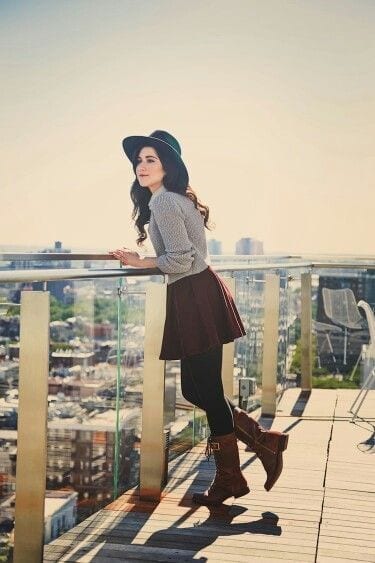 Here is a more whimsical option that features a pleated ankle-length skirt, a pearl-studded beret, and a pair of casual Timbs. Accessorize with a long beaded necklace and a little crossbody purse. Plus, here are our 30 best ideas to wear outfits with skirts in winter.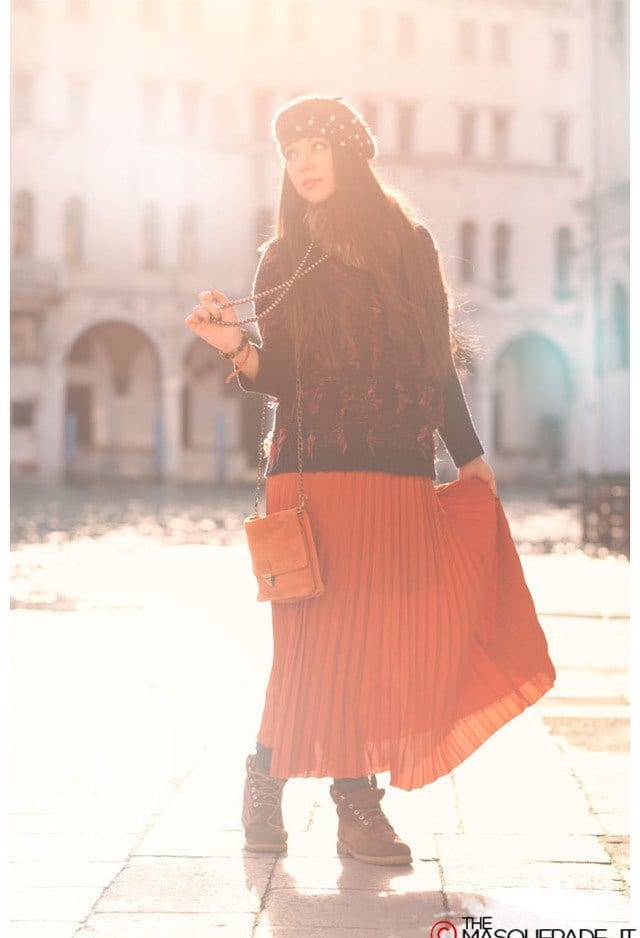 ↓ 4. Celebrity-Inspired Outfits with Timbs
Celebrities have been rocking the Timbs and we love it. Take a page from Cara Delevigne's book and opt for a laid-back style. This outfit will keep you warm and cozy and feeling weekend-ready. All you need is a hoodie featuring a logo of some kind, skinny jeans, and some tan Timberland boots.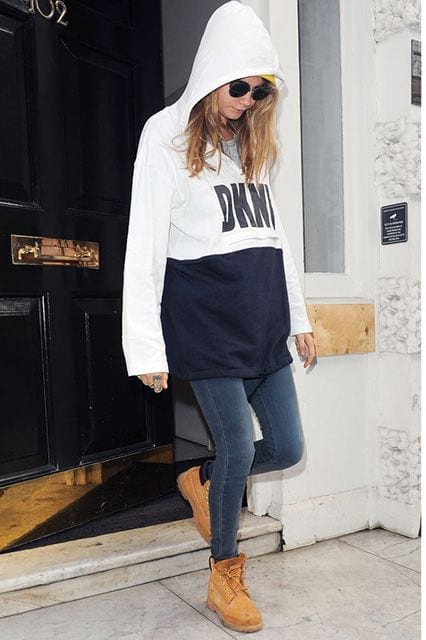 Or go for a chic, all-black look like Khloe Kardashian but keep it holiday-ready by adding some Christmasy socks and bright red lipstick.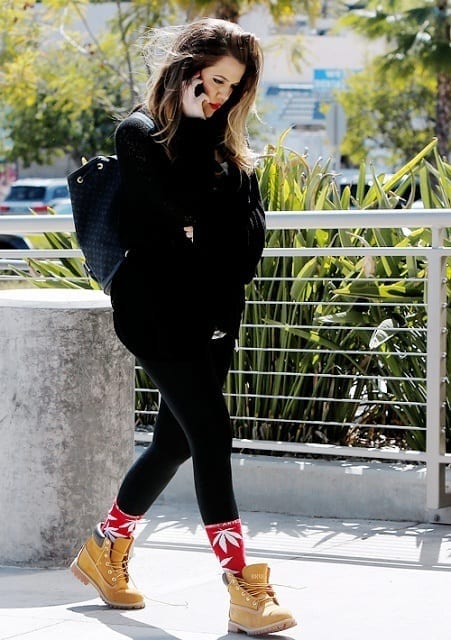 ↓ 3. Styling Timberland Boots for Fall Weather
A super simple and easy way to style your boots when that cooler weather rolls around is by popping on a pair of skinny jeans and pairing them with a plaid or tartan button-down top. Not only is this a great way to tap into some of the more common fall colors with your wardrobe, but this is an outfit that requires little effort and yet still looks cute and put-together. Add a watch, stud earrings, and a neutral-colored purse to tie the ensemble together.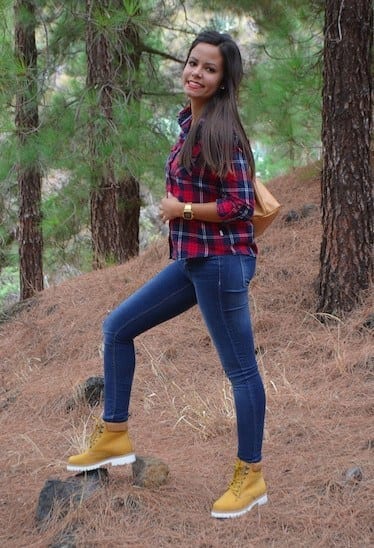 ↓ 2. How to Wear Leggings with Timberlands
By far, the easiest way to style your Timberland boots is by pairing them up with some leggings. This option calls for Spanx leggings (compression leggings would also work) and a big cozy sweater. Points if yours includes a fun sleeve pattern like this one.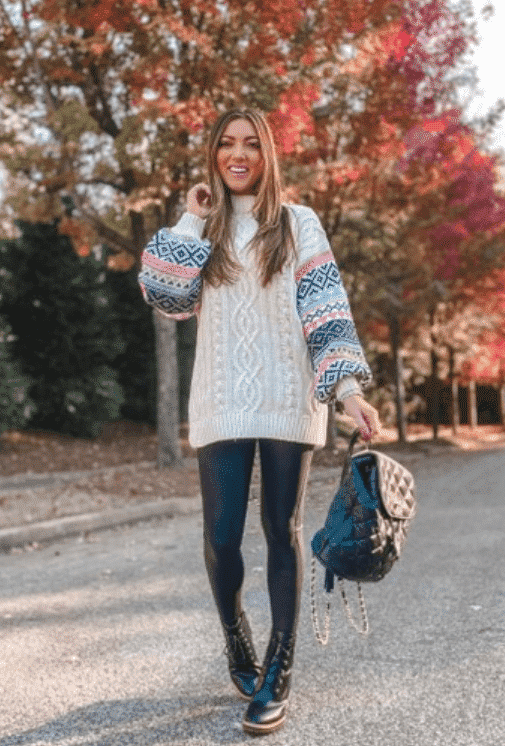 Love this outfit? You can get yours at the links below:
WOMEN'S SIENNA HIGH WATERPROOF BOOTS
↓ 1. Style Your Timberland Boots with Leather Jacket
Pull out the skinny jeans and grab your favorite crewneck sweater for our last look which features a gorgeous leather jacket and matching black Timberlands. You can keep your accessories minimal and let this outfit, which beautifully showcases edgy street-style with a girlish twist, do the talking for you.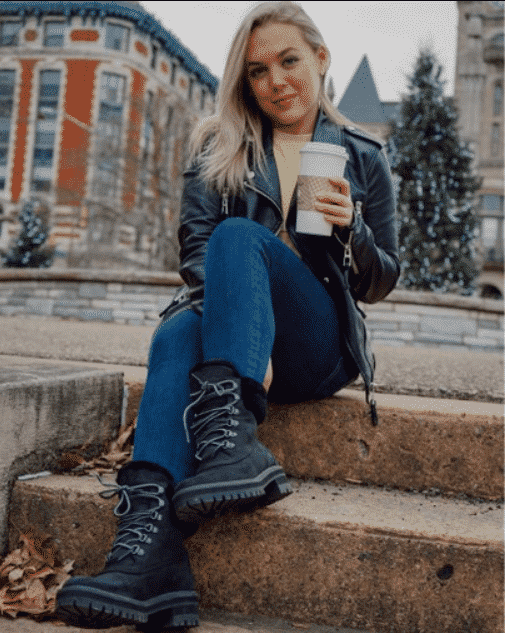 R.H. Elias is a freelance writer, aspiring author, and freelance transcriptionist. She is a homebody all the way and loves curling up on a cold, rainy day with a good book and a warm cup of tea. Her favourite pastimes include reading, writing, and watching period films. She currently lives in Puerto Rico.