Ugg Outfits For Girls.- There's nothing better than the feeling of being wrapped up in comfortable clothes that keep you warm. Sadly, this often means looking like a polar bear, as warm outfits and accessories aren't always the trendiest. Luckily, we have Ugg boots!
Many of you might not be aware of what uggs are. So, for those without knowledge about these comfy and warm winter shoes, this article is dedicated to you all. Read it and then plan your winter wardrobe around these outfits and shoes.
Uggs boots play a significant role in winter fashion. Even if you do not like wearing boots, you can wear Uggs as they keep the moisture out, and they're not sturdy or uncomfortable like normal boots might feel. If you are confused about how to dress up by wearing pairs of Uggs, we will tell you a few outfit ideas and ways to style dresses with Uggs.
What To Wear With Uggs Shoes
Starting with some simple Tips To Wear Uggs:
Dress up with accessories:  You can wear a statement or simple necklace with your outfits. It will enhance the look and give it more life.
Blazers: You can wear blazers on your top. I think blazers are fantastic because they keep you warm in winter. They are also very stylish.
Jeans: Both tight and boot-cut denim jeans are a great option to wear with Uggs.
Skirts: Who says you cannot wear skirts with Uggs? Well, you can wear them comfortably. Pick any choice of your skirt from mini to mid.
Coats: Since mostly they worn in winters, therefore, you can wear a coat on top of your outfit. Wearings uggs with it will give a more professional look.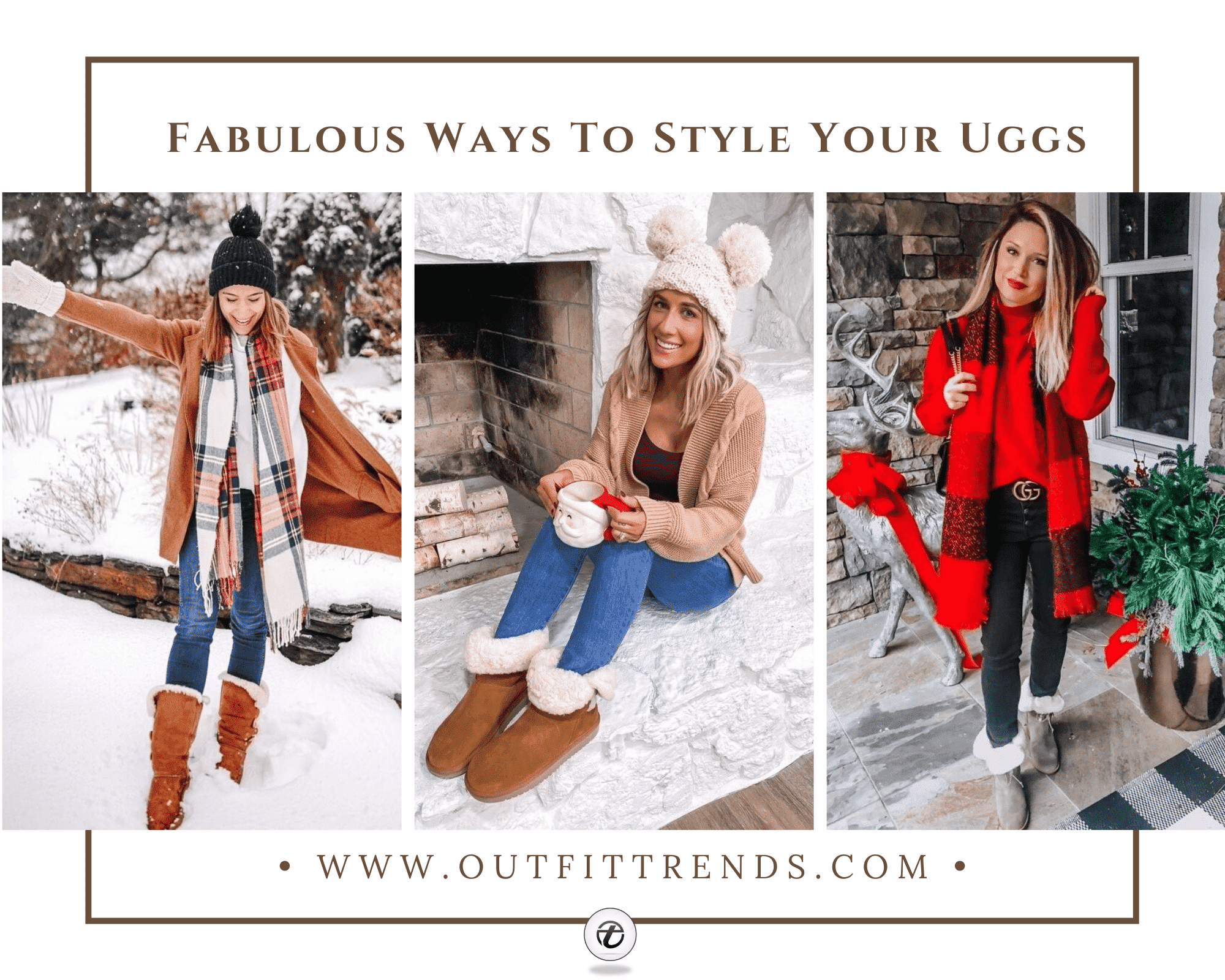 You would spot Uggs everywhere in winter. These winter Ugg boots are the pick of the season. You can dress up and rock in uggs most stylishly. You can stay comfortable and warm yet very elegant while wearing them.
If you don't have a pair, buy them soon. Please do not waste time; now it's time to get them. They are going to add life to your wardrobe and styling. If you are wondering how to style yourself with your clothes, you must look at all the images. Scroll down and get some ideas through the pictures.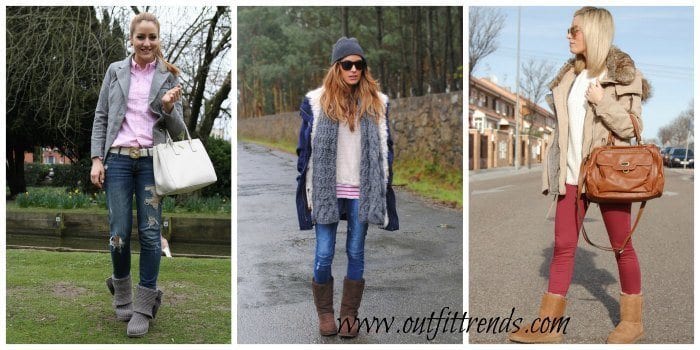 ↓ 26 –  All-Time Favourite Look With Uggs
There are days when it's slightly cold, and you enjoy it. You want to stay cozy yet not wear too many clothes. So wear soft, structured knit tunic or sweater for days like these and pair it up with comfy black leggings. Footwear is essential; hence with this outfit, all you need is Bailey button boot uggs. Tie up your hair in a low ponytail, and you're good to go and enjoy the weather.

Shop Identical Look Below
Softly Structured Knit Tunic FREE PEOPLE Original PricePKR 14827.29
Bailey Button II Boot UGG® PricePKR 28377.23
↓ 25 – Autumn Look
Autumn is when you start taking out your winter outfits because evenings are comparatively cold. Get all dressed up for the autumn evening in a black Mesh funnel neck top and skinny black jeans.
Add a thin belt and wrap yourself in a brown striped tartan blanket scarf poncho. Finish your look with a warm woollen beanie and mini fluff genuine shearling Ugg boots.

Shop The Complete Look Below
Classic Mini Fluff Genuine Shearling Bootie UGG® PKR 15010.96
Oversized Beanie for Women 18 $
Puli Women's Plaid Shawl Wrap Tartan Blanket Scarf Poncho 19 $
↓ 24 – Colored Uggs
Brown and black are too mainstream for Uggs and boots, as everyone wears them. Have the guts to wear something daring and go for coloured holiday sweater boots. You can carry these boots well with slim-fit jeggings and a warm woollen sweater. A beanie is a must in the winter season, though!

Shop Similar Uggs Below
UGG Zappos 20th x Holiday Sweater Boot 96 $
↓ 23 – Tights, Shearling Sweater, And Ugg Boots
Want to create the perfect winter look and stay cozy inside and outside your home? All you need is black fleece tights and a warm shearling jacket. Wait, you are not done till you put on your Bailey button, uggs! Messy hair will work well with this outfit.

Shop Similar Item Below
Bailey Button Triplet II Genuine Shearling Boot UGG® PricePKR 36725.93
You can also try a similar look above by pairing all pieces with a sleeveless shearling jacket and white top instead of a full sleeves one. Here are some fabulous ideas on different Ways to Wear a  Shearling Jacket.

Shop The Complete Look Below
Patagonia Los Gatos Vest – Women's sale $74.99
Marcella II Water Resistant Boot UGG® Original price PKR 20020
Speedlight Top $51.99 – $64.00
↓ 22 – Light Weight Look To Create With Uggs

↓ 21 – Ugg Boots For Snowy Days
Snow is fun, but only if you have the perfect outfit. You don't want to catch a cold or slip and hurt yourself. So, ladies, start creating your look with a white Venessa sweater jacket and blue jeans. Layering is best in such weather; throw over a Shearling jacket and put on a plaid scarf. Wear genuine shearling Ugg boots with this outfit to match your coat and stay warm. These boots will give you a good grip as well. Finish off your look with a Cashmere pom beanie and gloves. Enjoy and play around in the snow now!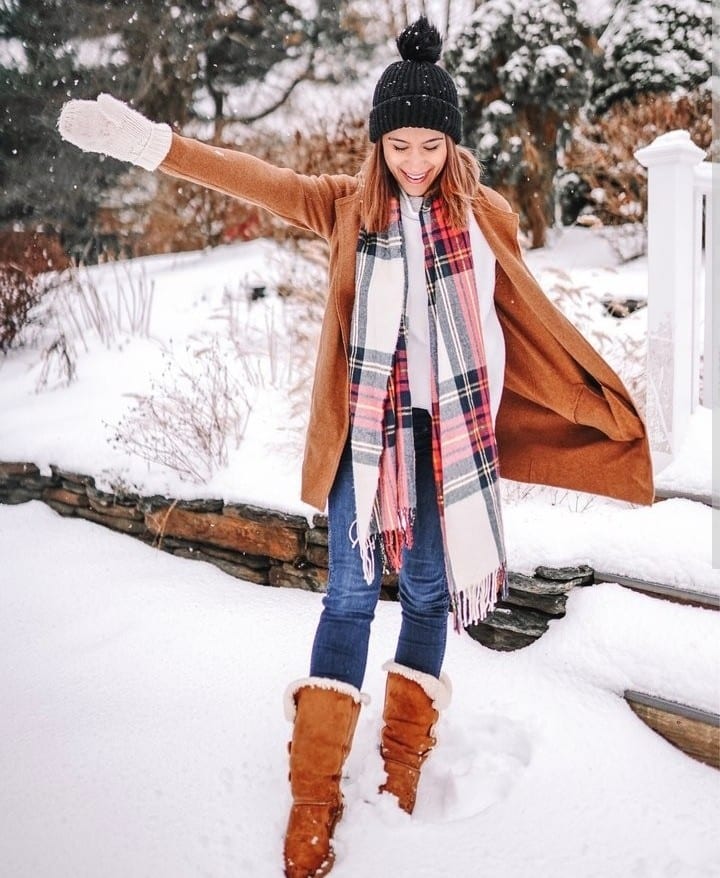 Shop The Complete Look Below
Vanessa sweater-jacket 69 $
Bailey Button Triplet II Genuine Shearling Boot UGG®
Plaid cape-scarf Item H2857 29 $
Cable Cashmere Pom Beanie HALOGEN® 
↓ 20 – Look Hot And Chic In Red
Who doesn't want to look chic and hot, especially when the weather drops? Ladies, dress smartly and attract people. Don't be a lazy bum! Wear a deep red mock-neck balloon sweater along with skinny ankle jeans. Put on a printed blanket scarf to add shade to your outfit. Now you need to wear comfortable Ugg boots and a catchy belt with this outfit. Finish your look with red lipstick, straight hair, and a black handbag.

Shop The Complete Look Below
Patterned Bouclé-Knit Blanket Scarf for Women $15.97
9-Inch Button Ankle Skinny Jeans MADEWELL Regular & Plus PricePKR 22541.49
Mock Neck Balloon Sleeve Sweater
Leather Belt with Double G Buckle
JERENE BOOT UGG POINTS$174.99
↓ 19 – Ugg Slippers
We all wear Ugg boots in many designs and lengths, but ladies, you are missing out on this fantastic piece. Yes, the Ugg slippers! You can wear them inside your home and keep your feet warm. Moreover, you can easily pair it with casual outfits for going out in a hurry.
Shop Similar Item Below

Shop Similar Below
Women's Milo $54.99
↓ 18 – Cute Looks To Create With Uggs

Shop Similar Uggs Below
It's about time to take your boot game to the next level, an unmatchable one. Let it be backed by the same warmth and comfort of the sheepskin that spills from the seams and of-the-moment metal buttons for good measure.

Shop Similar Item Below
Women's Kinsley Short $89.99 $62.99
↓ 17 – With Leg Warmers
You can also try out printed shearling boots, a puffer jacket, and black jeggings. It's an excellent look for your shopping spree or casual wear. Don't forget to check out these Chic Outfits To Wear With Puffer Jackets.

Shop The Complete Look Below
Women's Down Coat with Fur Hood 30 $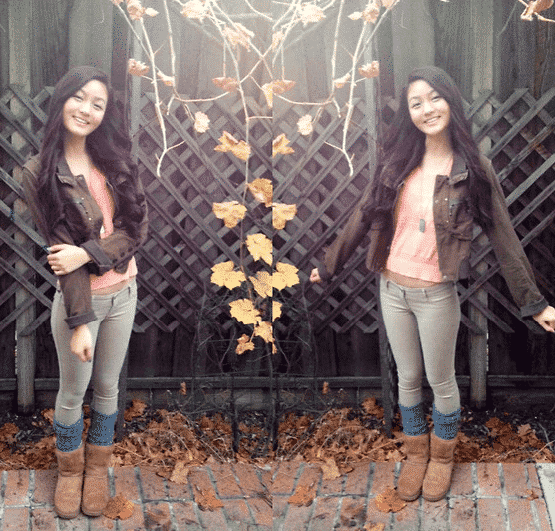 ↓ 16 – Classy Teen Girls Look
Hey, you are all classy and sophisticated teens! Dress up for your next high school working day in Sydney funnel neck wool sweater and mini boot cut jeans. Put on bailey bow ugg boots and classy shades, and you are good to go.

Shop The Complete Look Below
Sydney Funnel Neck Wool & Alpaca Blend Sweater ANINE BING
Le Crop Mini Bootcut Jeans FRAME
Bailey Bow II Genuine Shearling Boot UGG®
60mm Flat Top Sunglasses CELINE

Shop Similar Uggs Below
↓ 15 – What To Wear With Ugg Sandals
Ugg sandals will surely have your heart. People who don't like wearing socks or tight shoes should try them out when they feel cold. Cozy and classy!

Shop Similar Below
↓ 14 – With Boyfriend Jeans
This lady wears denim ripped jeans, a pink stripped tucked-in button-down shirt, and a grey jacket to keep the chill-out. Match your jacket with your shoes and look at how they light up the winter gloom. As most of the body is covered, minimal jewellery can be worn, but you should put on some studs and a little makeup. Accessorize your outfit with a chunky white belt and a light-colored handbag. This outfit is right for a shopping spree or a meetup with a friend.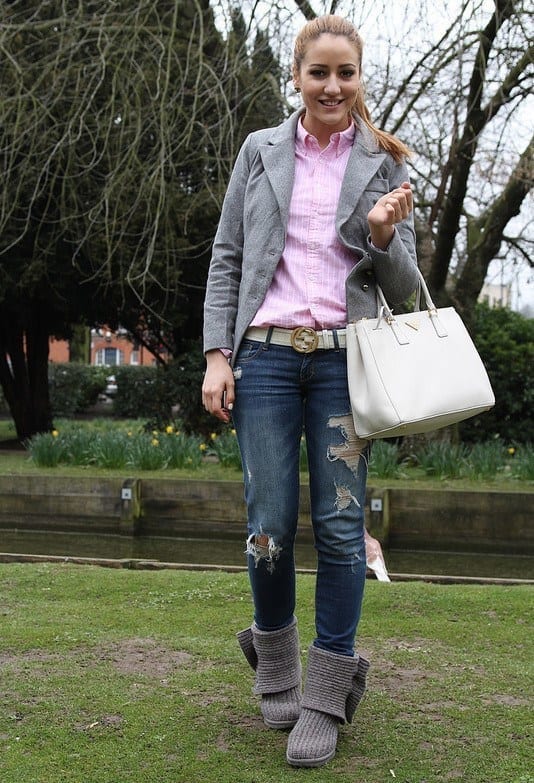 ↓ 13 – With Leather Pants
How cool is this dress? Leather, leather, and leather! Any colour will do but look at these gorgeous black leather pants jazzing up the red sweater. Underneath, you can opt for a white-shaded shirt, black gloves, and brown pair of Uggs. Bold red enhances the look, and black leather pants are best for winter.
↓ 12 – With Long Coat
A perfect and immaculate look for a lady dressing up. These neutral shades look stunning in winter. The beautifully pleated camel-coloured coat matches the shoes and the beanie, giving stylish and hip vibes. Wear something underneath that brings out the colour with the jeans, such as a maroon sweater. Take a bag in some shade of brown to go with your outfit.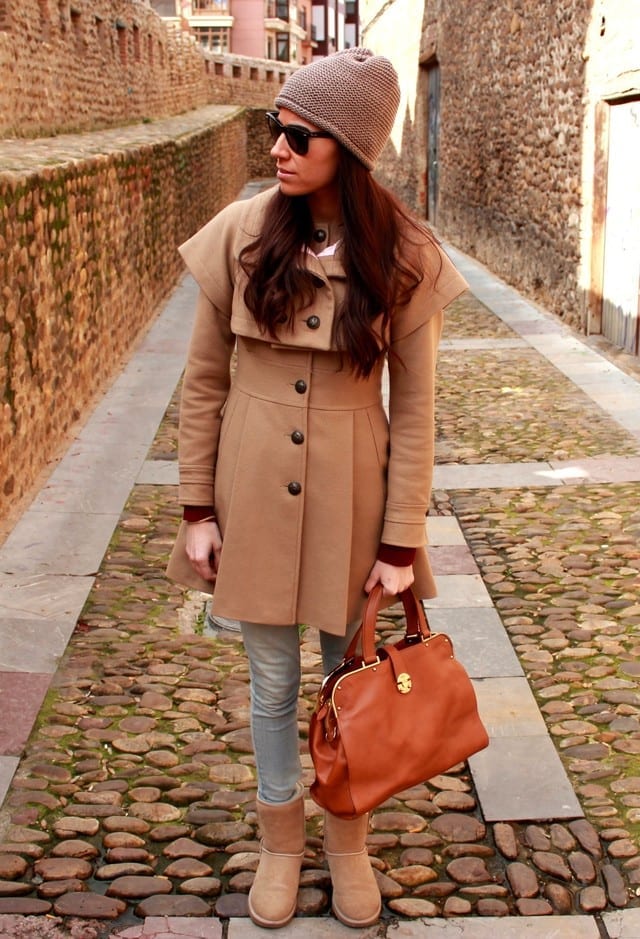 ↓ 11 – With Leggings
The basic theory of dressing up with these boots is that you can wear a loose top, sweater or coat, but you need to put on fitted bottoms as uggs are full and have shearling themselves. So, another outfit chosen for your styling idea is these grey leggings and a cute top with a necklace around the neck. Match a neutral-coloured, long and oversized sweater.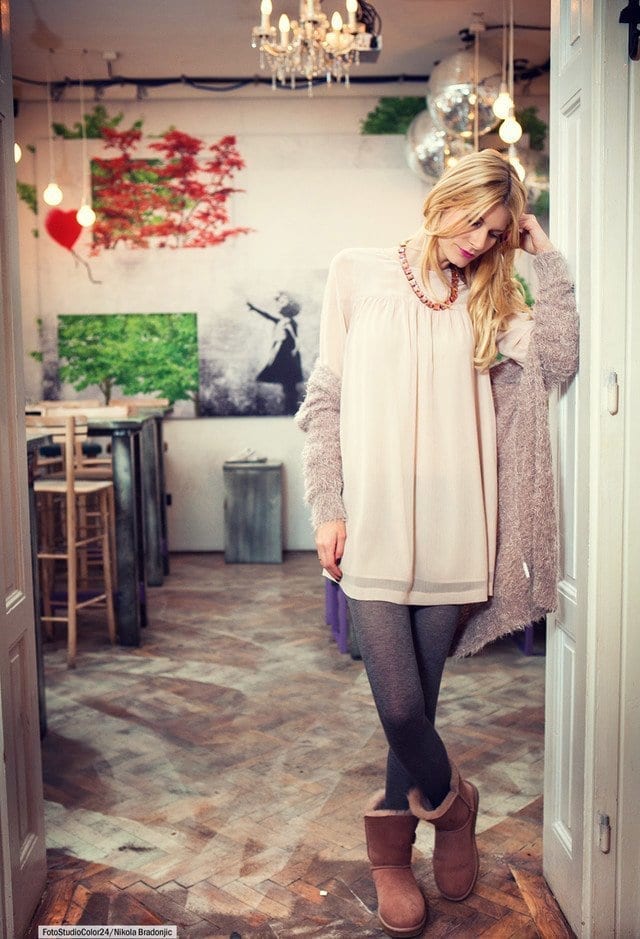 ↓ 10 – With Skinny Jeans
Fitted jeans with a top and fur coats: the most traditional way of dressing up in winter in the West is with a pair of perfect jeans and a nice and comfy shirt, topping it all off with a shearling jacket. A beanie will complete the look for the cold season, and a brown shoulder bag is an added accessory to carry your stuff around. It is styled with the perfect pair of Uggs. I love the look. Remember to add a belt for extra points and aviators to reduce the glare.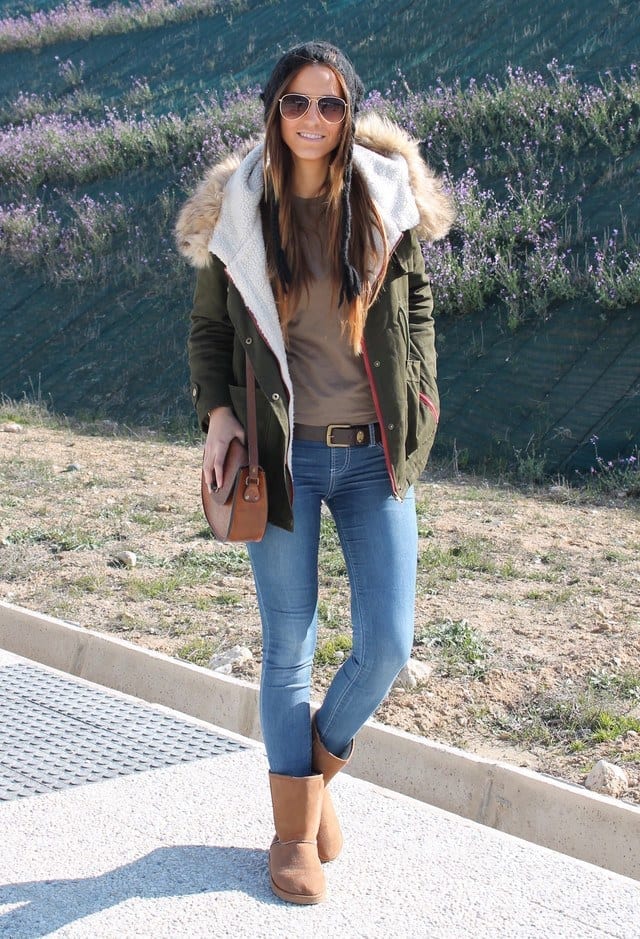 ↓ 9 – Best Color To Wear With Grey Uggs
A devastatingly gorgeous take on the winter outfit. A Navy Blue coat is always a nice addition to your wardrobe, matched with the same coloured skinny jeans and grey Uggs. An ultimate colour combo in outfits with an infinity scarf and a beautiful white and black front open sweater. A brooch can be used to enhance the look of the outfit.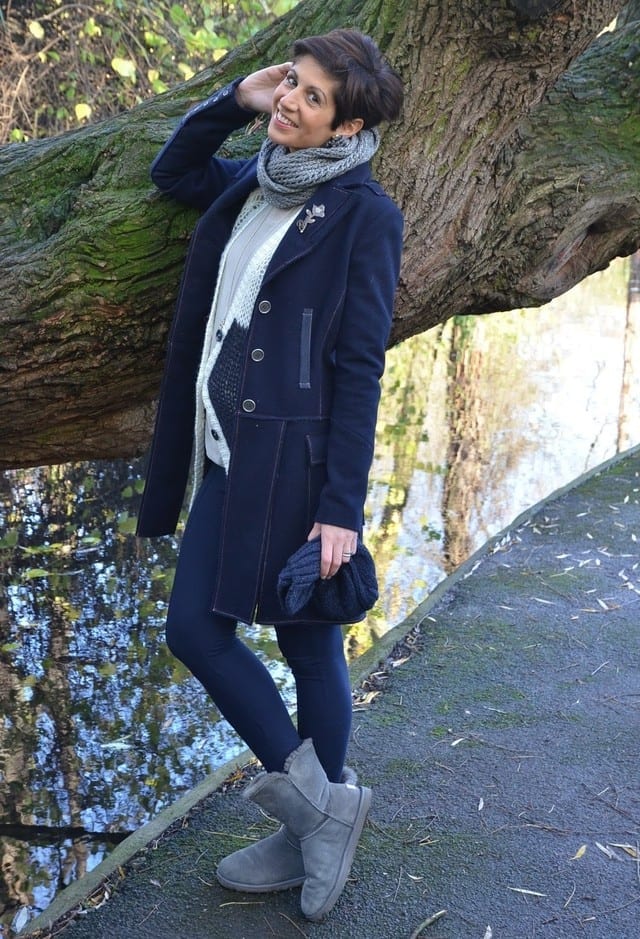 ↓ 8 – Uggs With Flared Jeans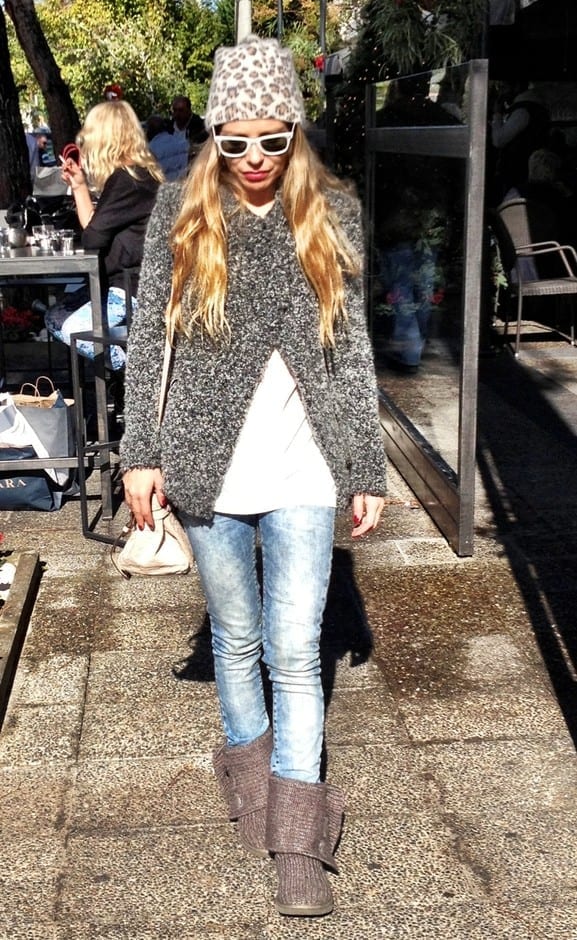 Uggs can be worn in spring also if you live in a part of the world where spring is also considerably cold. Look at how the lady has matched a pink top with a nude-coloured scarf and a pinstriped blue and white shirt with these shoes—a white bag accentuates the look.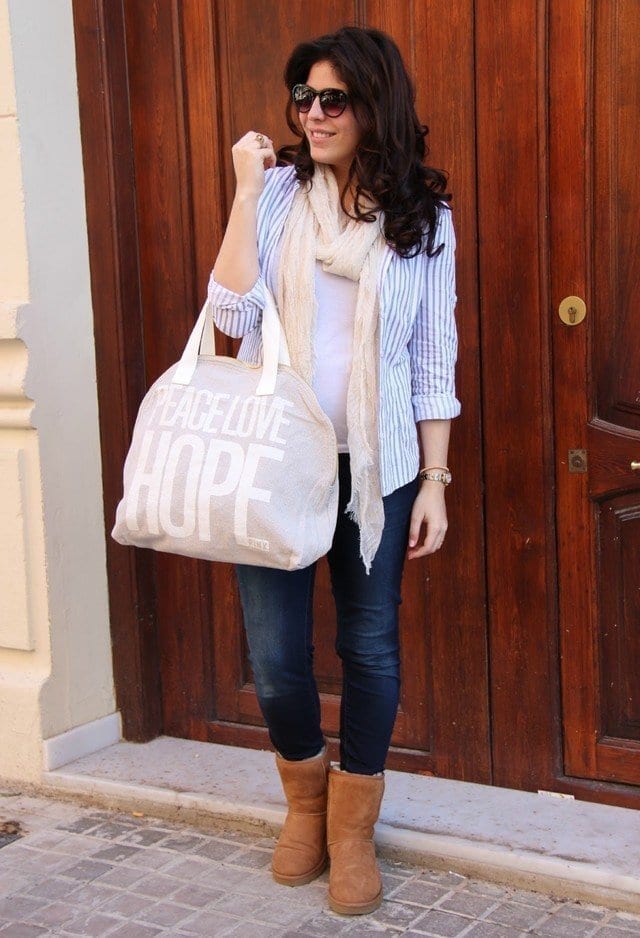 ↓ 7 – Wear A Hat And Scarf
Fedora hats can replace beanies in a mod manner, and they instantly lift the whole look. A statement necklace and shoes matched perfectly is all that is needed.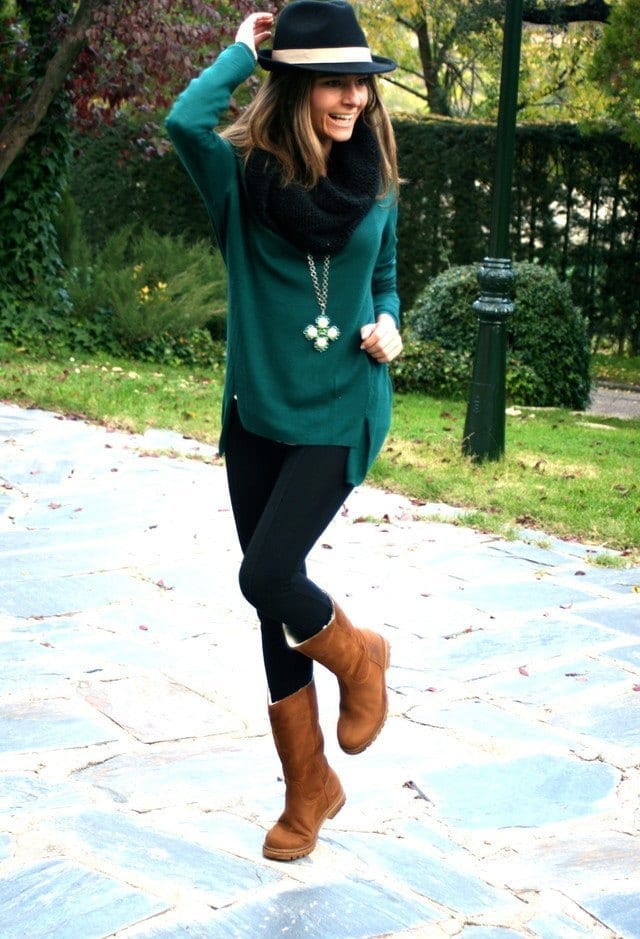 ↓ 6 – Street Style With Uggs
Winters can not be complete until you have a plaid and flannel shirt. Versatile and comfy, and can easily be worn for daily routine chores.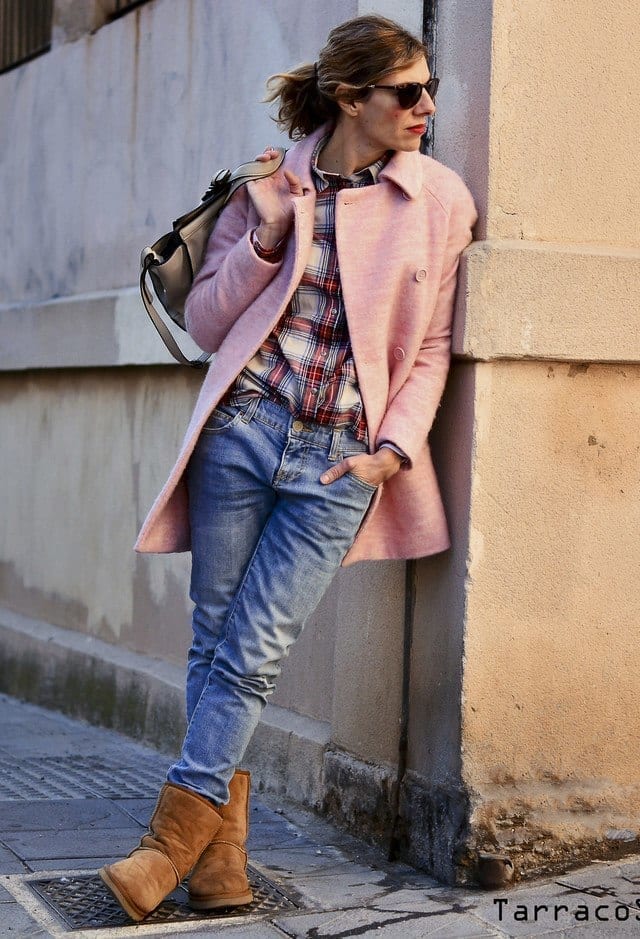 ↓ 5 – Jackets, Sweaters & Uggs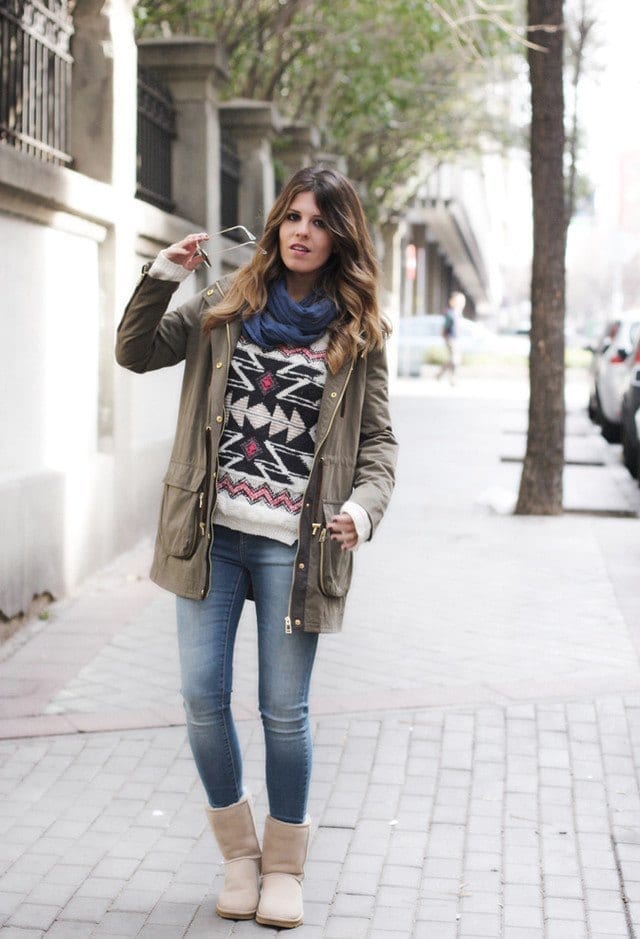 ↓ 4 – Long Uggs With Fur Jacket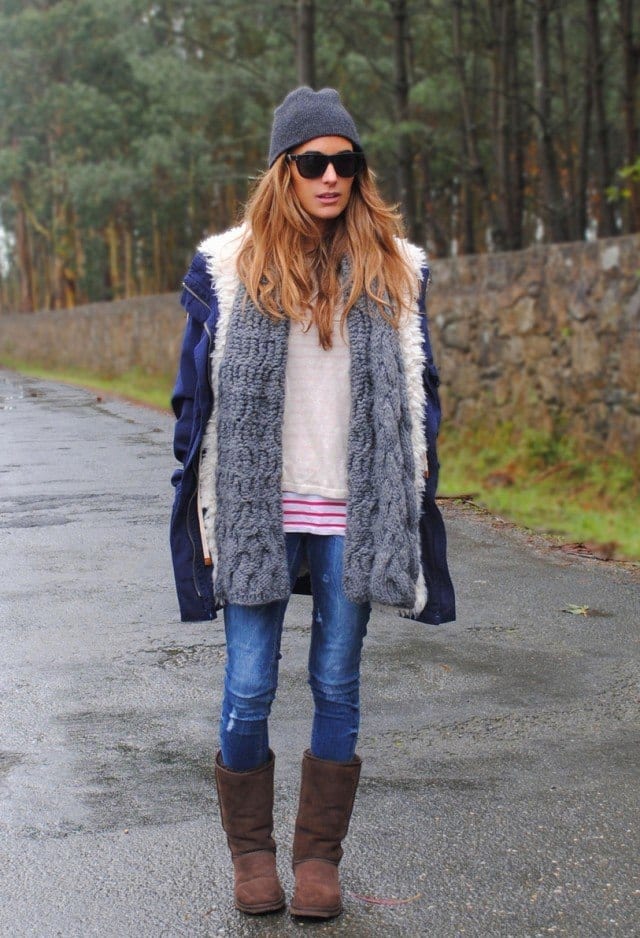 ↓ 3 – With Ripped Jeans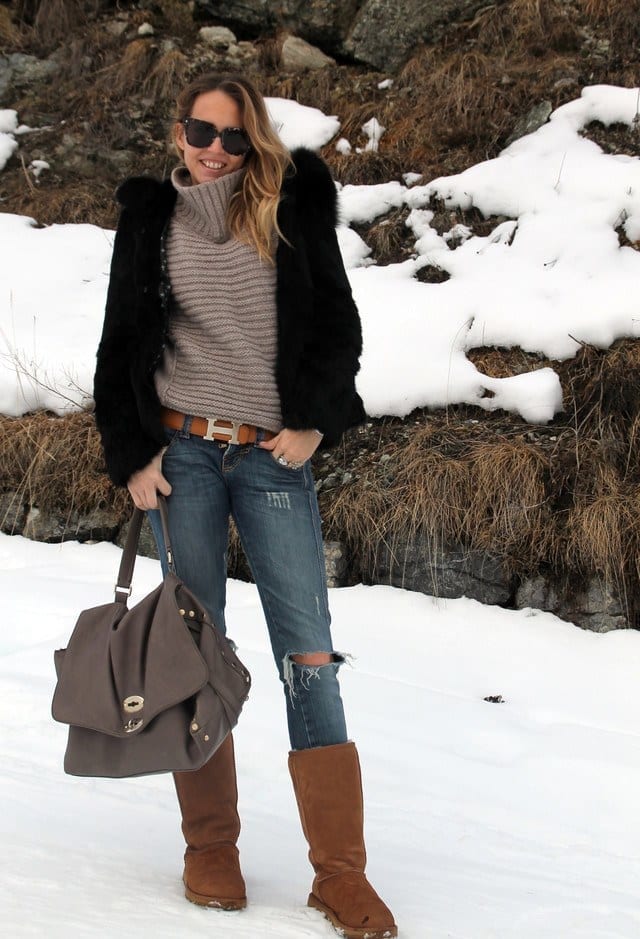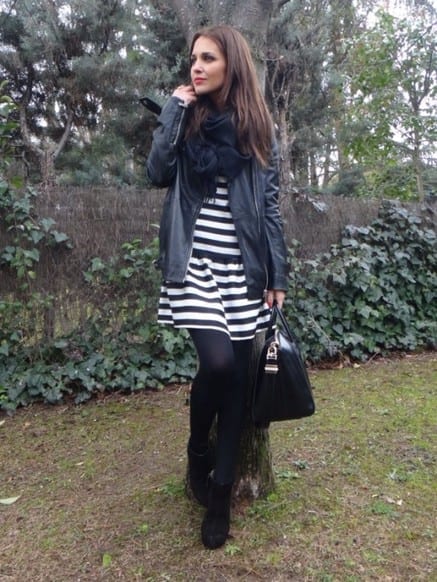 ↓ 2 – Uggs At Work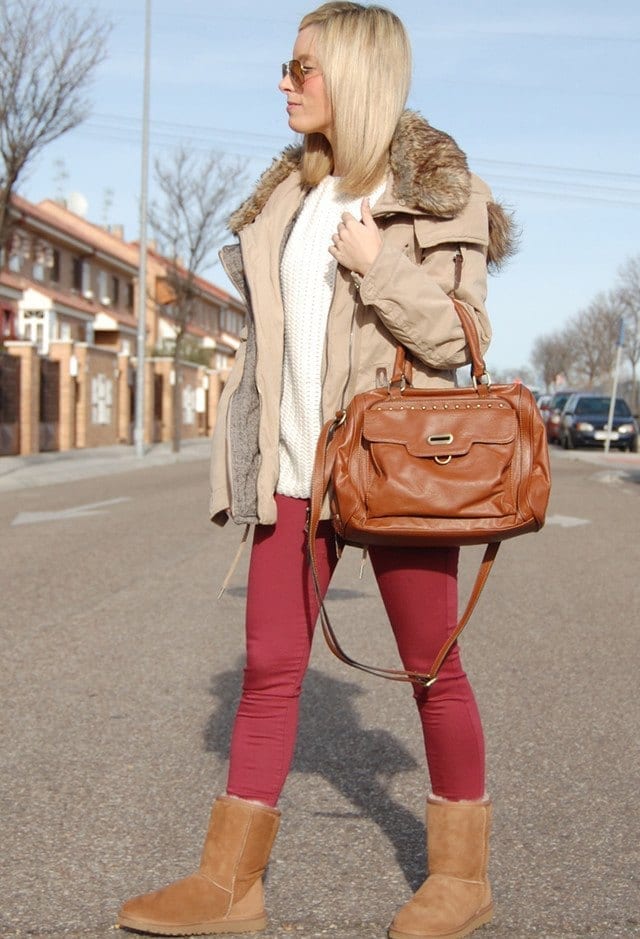 ↓ 1 – Shop A Few Uggs Here
Now that you've seen so many pretty Ugg boots, designs, and some great outfits, you must consider buying a few. We recommend you have at least one piece in every length in basic colours. So, you can pair them up with any outfit, irrespective of the weather. Have a look!

Shop Similar Boots Here
kookaburra BY UGG Neston Suede Lace Up Boot $89.99 Information $79.97
Victoria Tall Genuine Dyed Shearling Trim & Faux Fur Boot 90 $
I hope you all had fun reading the post. Do not miss wearing them. You would look perfect in them. Go for Uggs now and stay warm this winter season. Enjoy.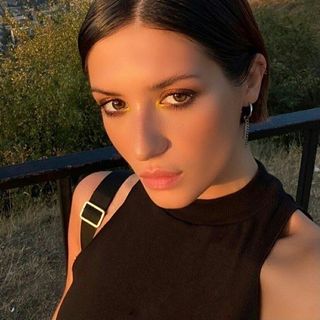 Avid reader and Fashionista. London Based freelance lifestyle editor