Ugg Outfits for Girls . December is one of the coldest month and when it is cold everyone tends to keep themselves warm and wrapped up. In this cold weather you can wear different kinds of cute outfits with uggs. Many of you might not be aware what uggs are. So for those of with not much knowledge about these comfy and warm winter shoes this article is dedicated to you all. Read it and then plan your winter wardrobe around these outfits and shoes.
Uggs are boots that very comfortable to wear in winters. They play a big role in the winter fashion. Even if you do not like wearing boots you can wear uggs as they keep the moisture out. In regions where it remain cold half of the year, people there would be seen wearing them for 8 months of the year. If you are confused how to dress up with wearing pairs of uggs, we will tell you few outfit ideas and ways to style dresses with uggs.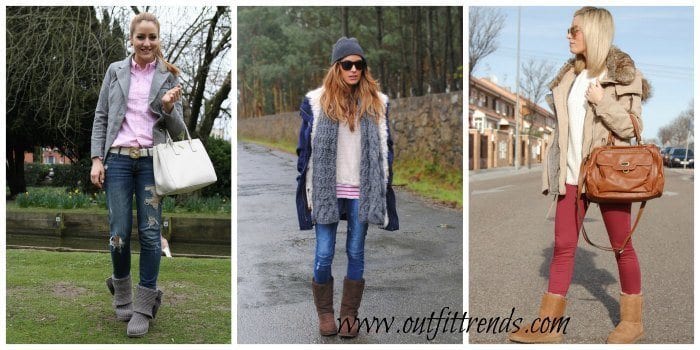 Ideas What to Wear with Uggs Shoes
Uggs with Boyfriend Jeans
This lady wears denim ripped jeans with a pink stripped tucked in button down shirt and a grey jacket over it to keep the chill out. Match your jacket with your shoes and look how they light up the winter gloom. Grey uggs keep her warm and cosy. As most of the body is covered so minimal jewelry can be worn but you should put on some studs and a little make up. Accessorize your outfit with a chunky white belt and a same colored hand bag. This outfit is good to go for a shopping spree or with a meetup with a friend.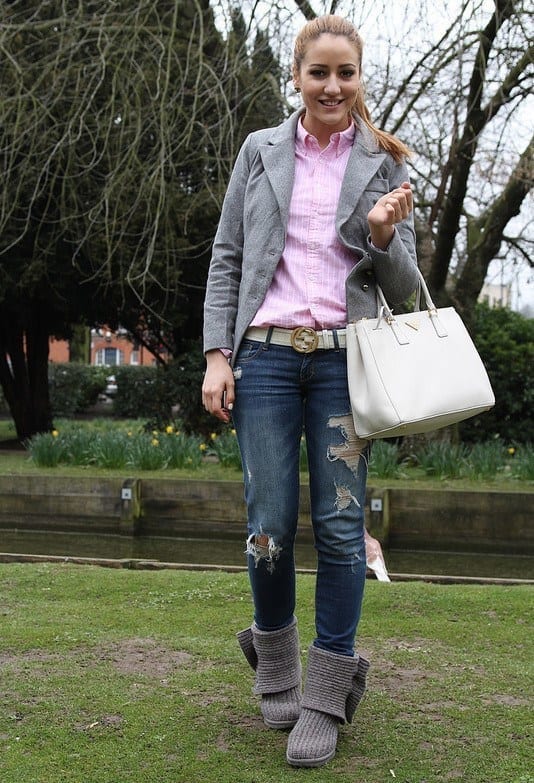 Uggs with Leather Pants
How cool is this dress. Leather,leather and leather! Any color will do but look at these gorgeous black leather pants  jazzing up the red sweater. Underneath you can opt for a white shaded shirt, black gloves and brown pair of uggs. Bold red enhances the look and black leather pants are best for winters.
 Uggs with Long coat style
A perfect and immaculate look for a lady dressing up. These neutral shades look absolutely stunning in winters.  This beautiful pleated camel colored coat in  matching combo with the shoes and the beanie are giving a stylish and a hip vibe to the wearer. Choose to wear something underneath that brings out the color with the jeans such as a maroon sweater. Take a bag in some shade of brown to go with your outfit.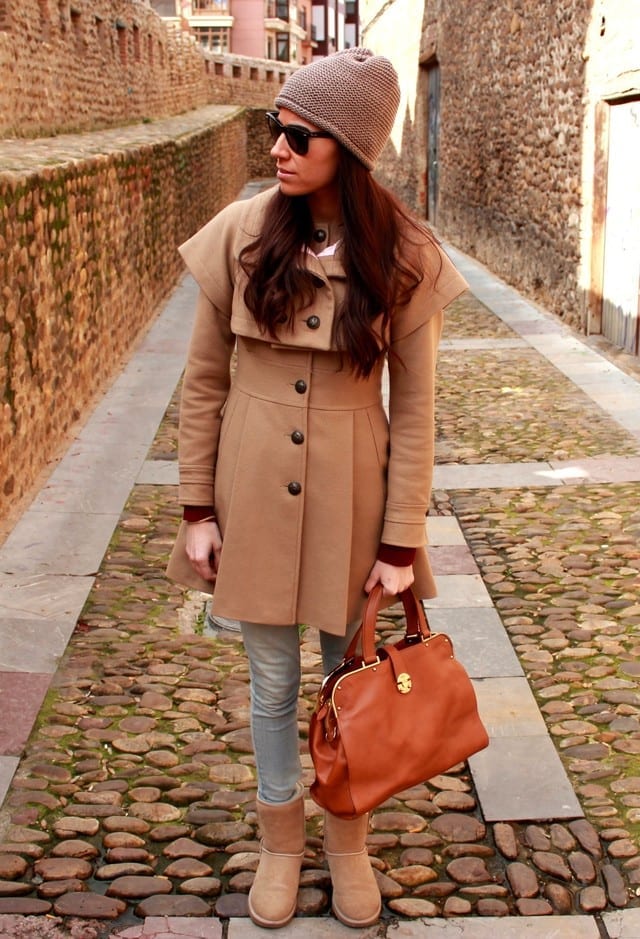 Uggs with Leggings
The basic theory of dressing up with these boots is you can wear a loose top or sweater or a coat but you need to put on fitted bottoms as uggs are wide and have shearling themselves. So another outfit chosen for your styling idea is with these grey leggings and a cute top with a necklace around the neck. Match a neutral shade long and over sized sweater.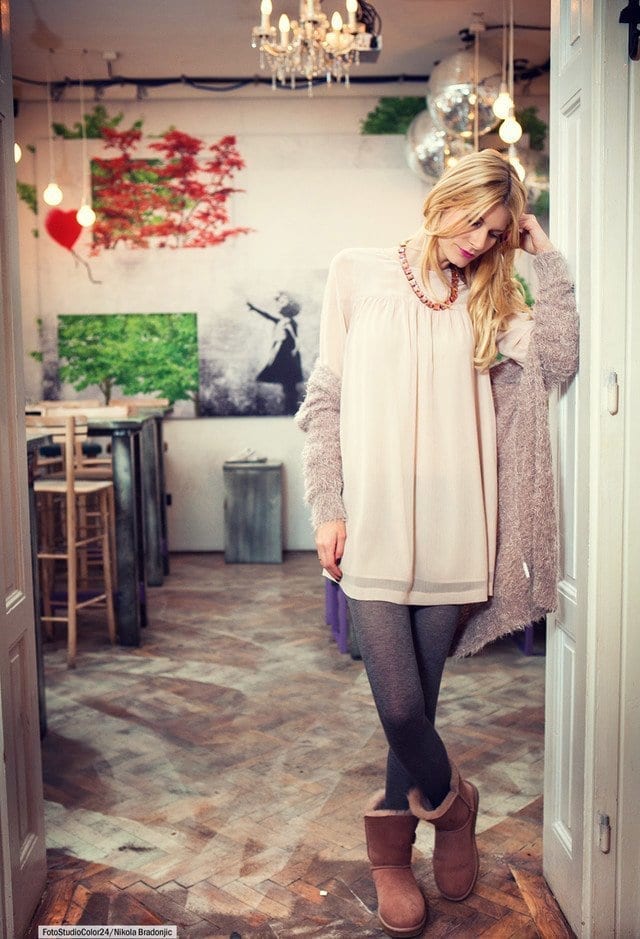 Tips to Wear Uggs boots
1) Dress up with accessories:  You can wear statement necklaces or simple necklaces with your outfits. It will enhance the look and give it more life.
2) Blazers: You can wear blazers on your top.  I think blazers are awesome because they keep you warm in winter.  They are also very stylish.
3) Jeans: Tight or loose denim jeans are a great option to wear with uggs.
4) Skirts: Who says you cannot wear skirts with uggs? Well you can wear them easily. Pick any choice of your skirt from mini to mid.
5) Coats: Since mostly they worn in winters therefore you can wear a coat on top of your outfit. Wearings uggs with it will give a more professional look.
You would spot uggs everywhere in winters. These winter ugg boots are the pick of the season. You can dress up and rock in uggs in the most stylish way. You can stay comfortable and warm yet very stylish while wearing them.
If you don't have a pair of them buy them as soon as possible. Do not waste time, now it's time to get them. Spends your winters with style. They are going to add life to your wardrobe and styling. If you are wondering how to style yourself with your clothes then you must have a look at all the images. Scroll down and get some ideas through the pictures.
Uggs with Skiny Jeans
Fitted jeans with top and fur coat, the most traditional way of dressing up in winters in the West is with a pair of perfect jeans and a shirt nice and comfy and with a shearling jacket. A beanie will complete the look for the cold season and a brown shoulder bag is an added accessory to carry your stuff around. Styled with the perfect pair of uggs. Love the look. Do remember to add a belt for extra points and aviators to reduce the glare.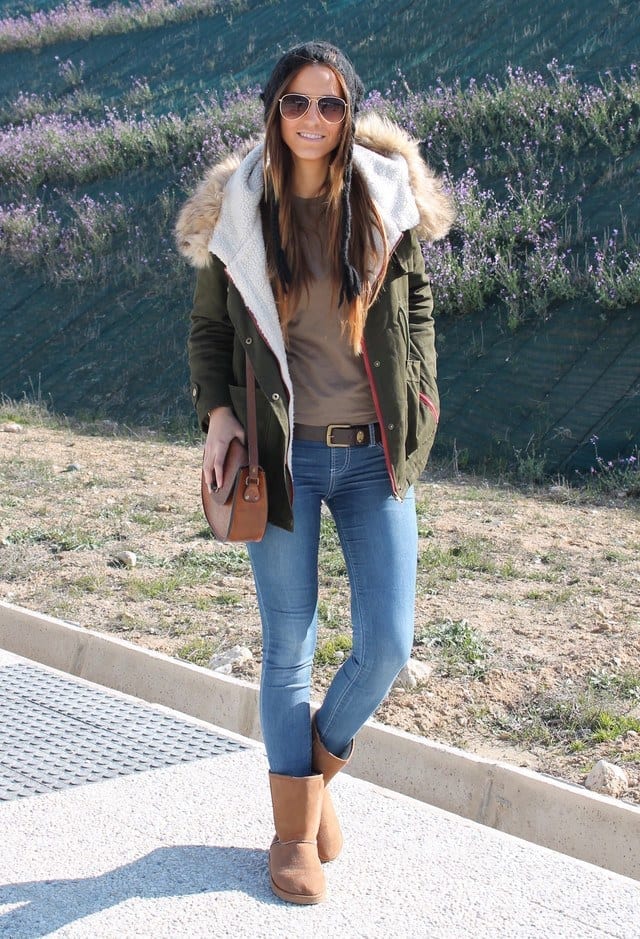 Hairstyle that Goes With Uggs Boots.
A devastatingly gorgeous take on the winter outfit. A must have coat, a nice addition to your outfits, matched with the same colored skinny jeans and grey uggs. An ultimate color combo in outfits with an infinity scarf and a beautiful white and black front open sweater. Brooch can be used to enhance the look of the outfit.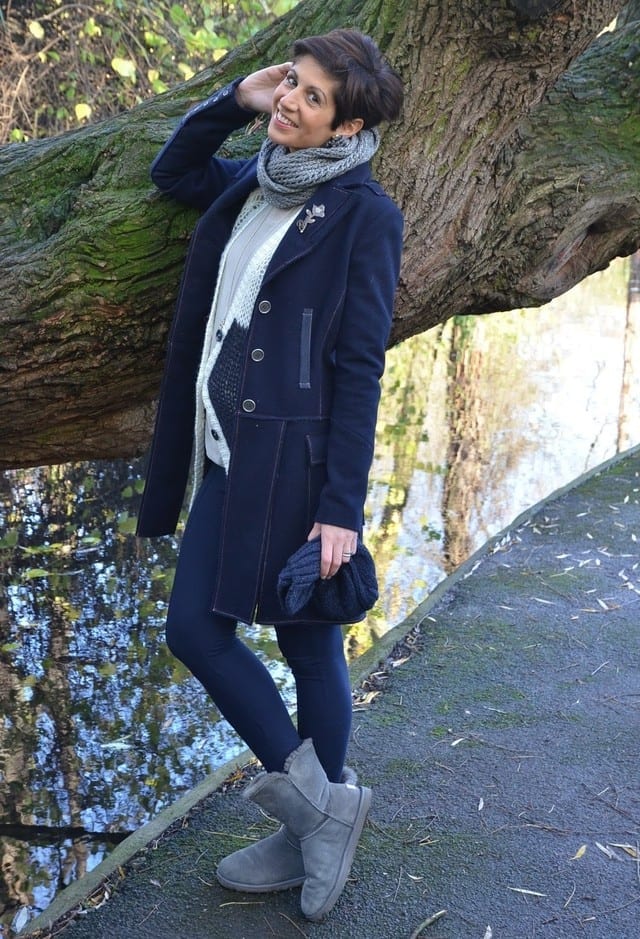 Uggs with with Flared Jeans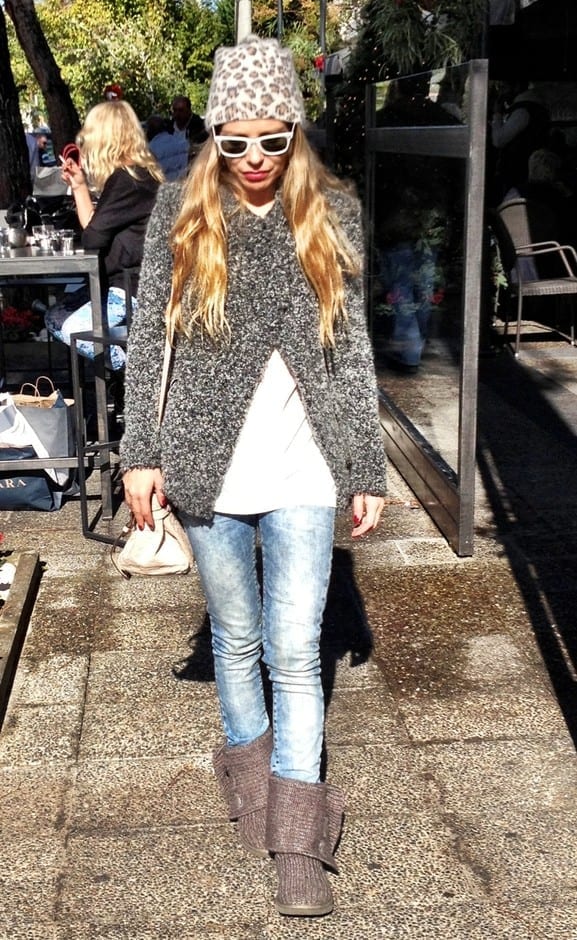 Uggs can be worn in spring also if you live in a particular part of the world where spring is also considerably cold. Look at how the lady has matched a baby pink top with a same colored scarf and a pinstriped blue and white shirt with these shoes. A white bag to accentuate the look.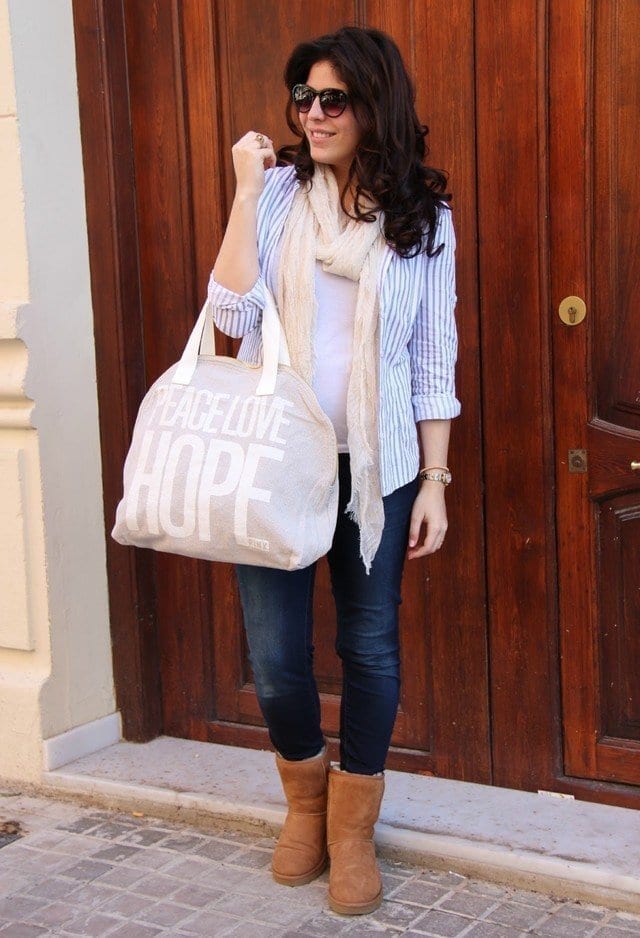 Wear a Hat & Scarf
Fedora hats can replace beanies in a mod manner and they instantly lift up the whole look. A statement necklace and shoes matched perfectly is all that is needed.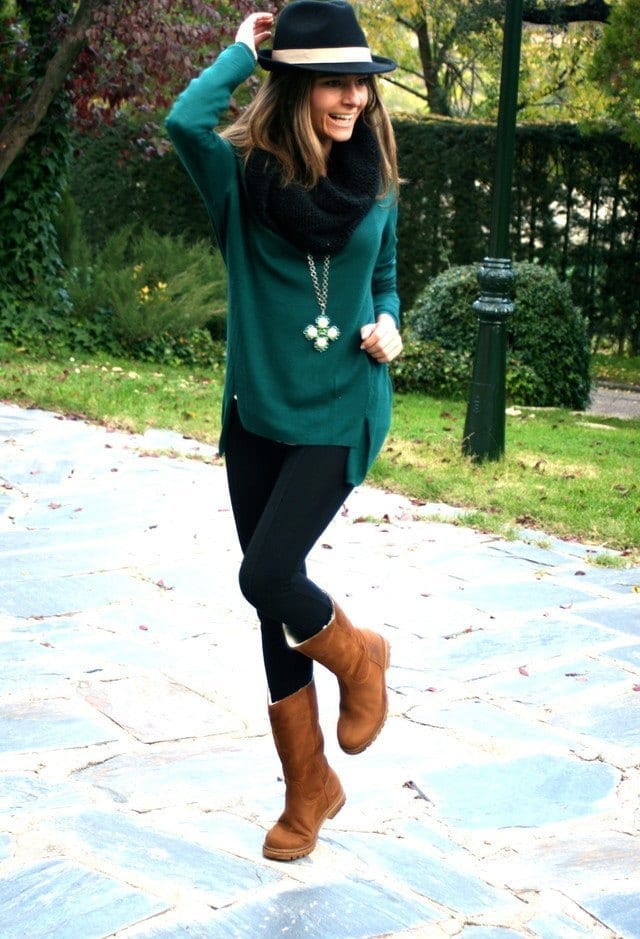 Street Style with Uggs
Winters can not be complete until or unless you have a plaid and flannel shirt. Versatile and copmfy and can be worn for the daily routine chores.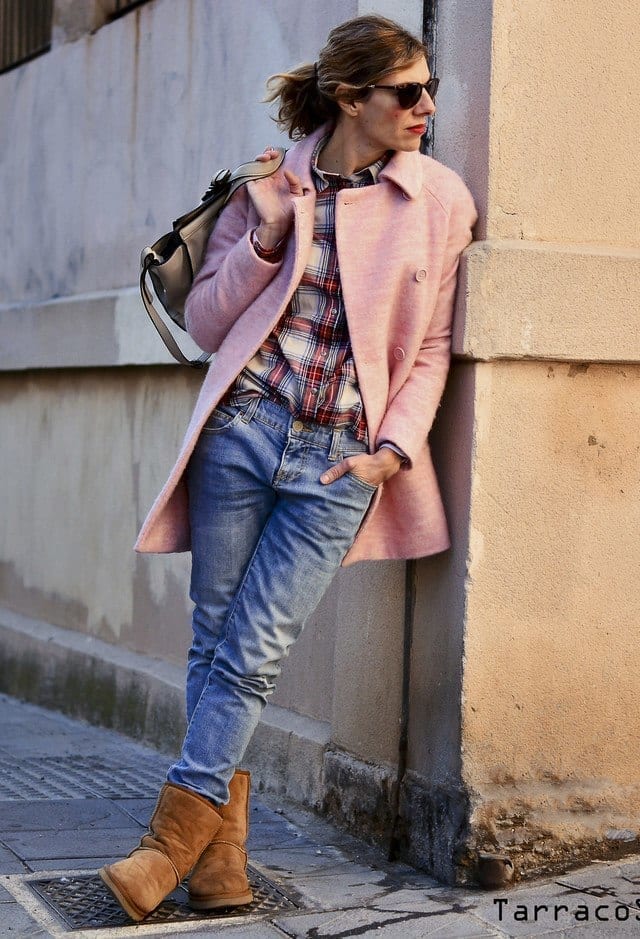 Jacket to wear with Ugg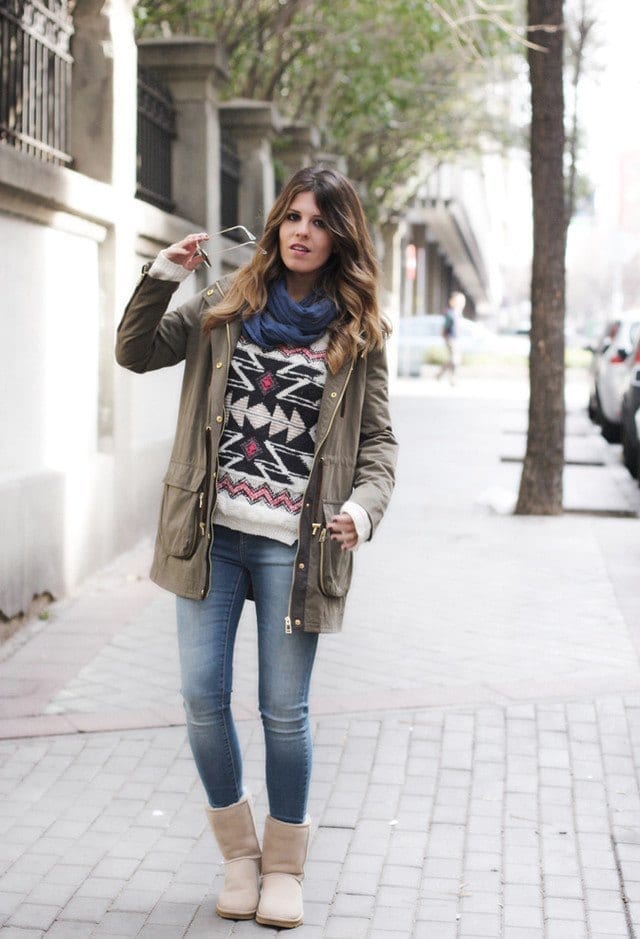 Long uggs with fur Jacket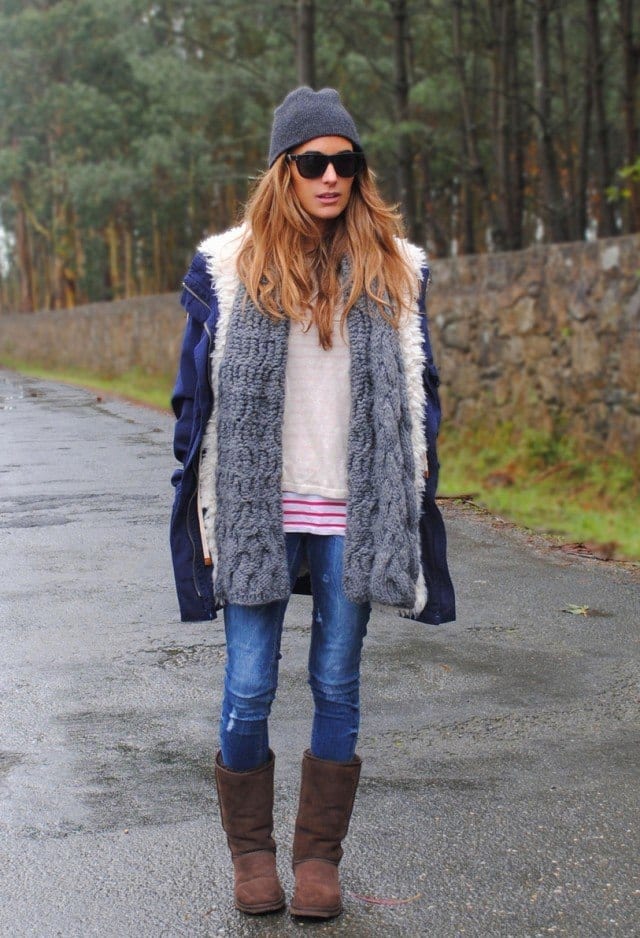 Uggs with Ripped Jeans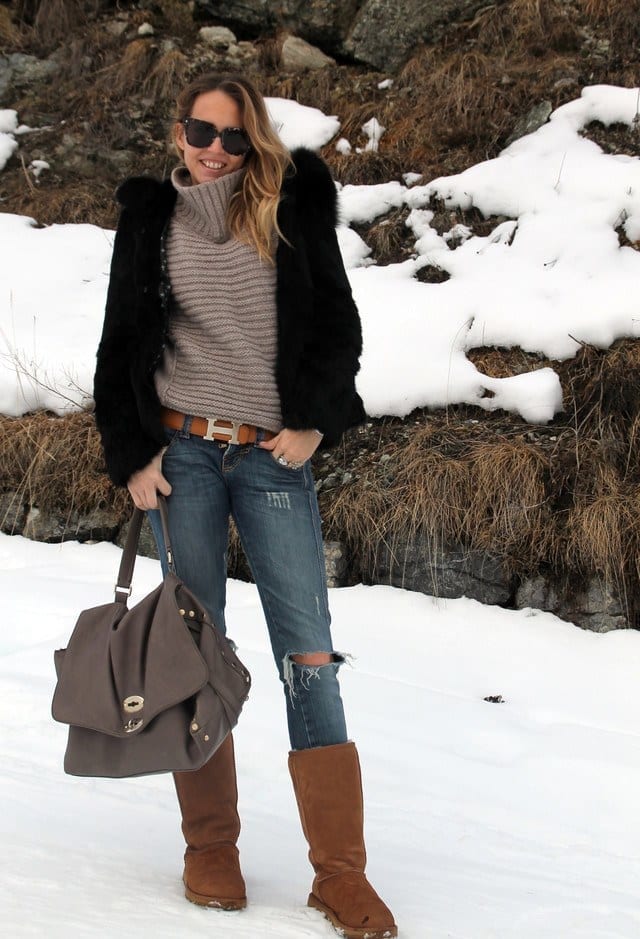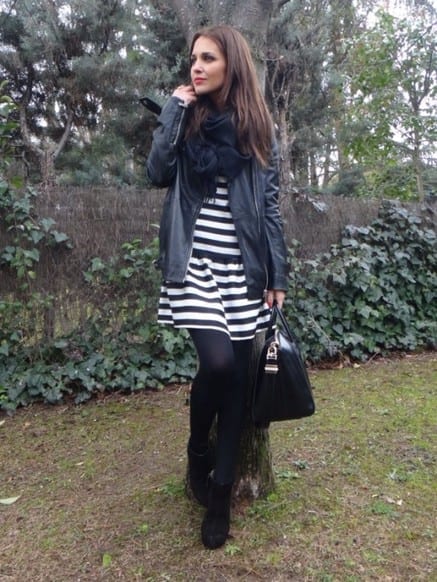 Uggs at Work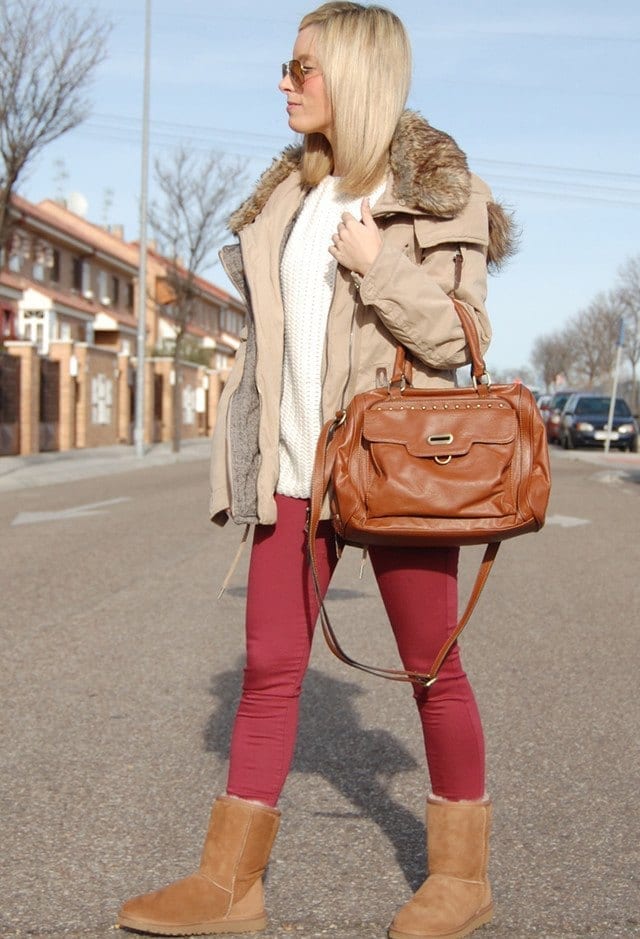 Funky Style with Uggs.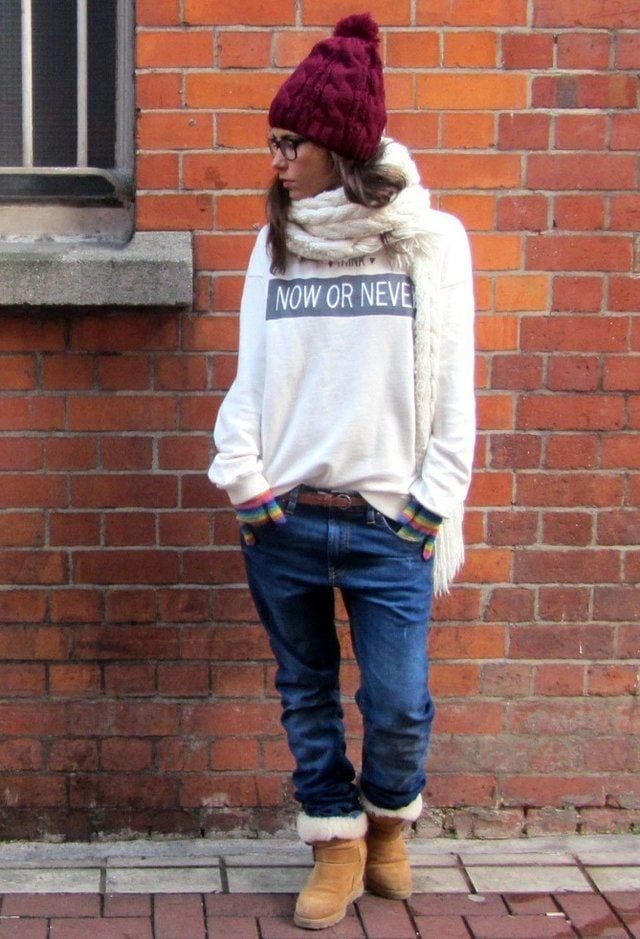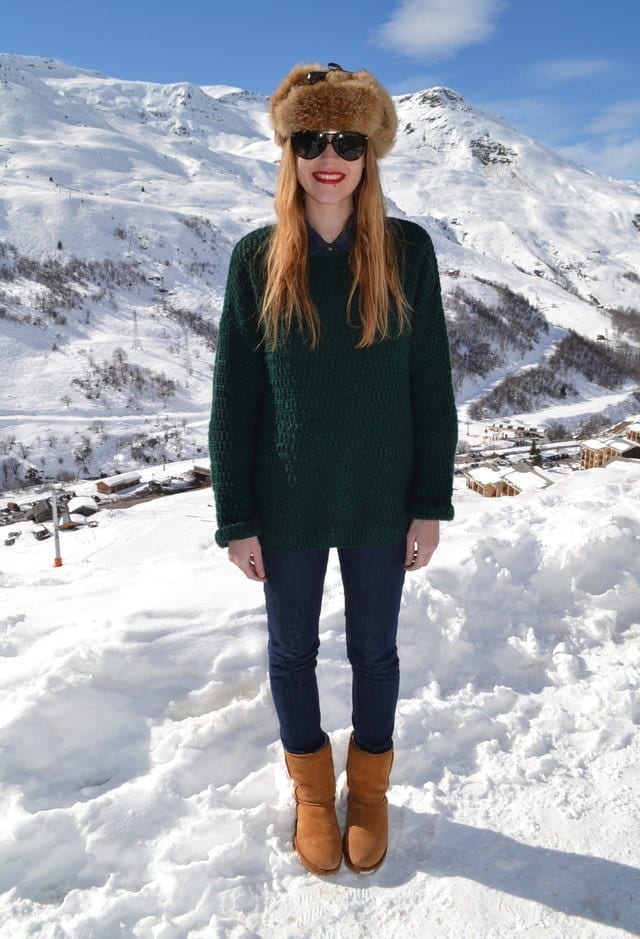 Hope you all had fun reading the post. Do not miss wearing them. You would look absolutely perfect in them. Go for uggs now and stay warm this winter season. Enjoy.