Stylish Outfits to Wear With Long Boots. Are you looking for ideas on how to wear long boots with different outfits? Or how you can style the same long boots with various dresses for a chic look? Well, not to worry, we have you covered!
Whether flat or heeled, a pair of tall boots can go a long way in upping your wardrobe potential. They can be worn to work, to school, to the movies, and even to a wedding – depending on the type, of course. They also happen to be very trendy. But if you are feeling a little dry in the inspiration department, or just want some new ideas on how to wear them, you'll find it and more in today's post where we give you the most stylish outfits to wear with long boots this season.
How to Wear Long Boots?
Let's get started!
Types of Tall Boots
There are a variety of knee-high (or tall) boots available to us today. Here are four common ones that you can choose from:
Dressy Tall Boots. These usually come in leather or suede and feature a heel of some sort. While you can wear them with pretty much anything, these are the boots you reach for when you are going somewhere that requires a little panache in your look.
Classic Knee-High Boots. They deserve the name because they are the everyday boot you think of when you hear knee-high boots. They typically come in black or brown, are leather or suede, and can feature any number of details, like zippers, buckles, or straps. Wear these with jeans, skirts, dresses, and leggings.
Motorcycle Tall Boots. This is a casual boot that is typically heavier and sturdier. The soles are thick and the boots are usually zippered and can feature buckles. You wouldn't want to wear these guys to work but they look great with jeans or leggings.
Riding Boots. Riding boots are pretty self-explanatory. They come up to the knee with a rounded top and they have a small heel. They are super stylish and can be worn for a variety of occasions.
And now some tips on styling your long boots:
Avoid wearing light shade boots with light shade jeans.
Avoid wearing pants with boots, it will not look good.
Wear knee-length leather boots with short dresses.
Prefer dark shades of leather boots because they can match with most of the outfits.
Avoid wearing leather boots with long skirts as they will look weird with it.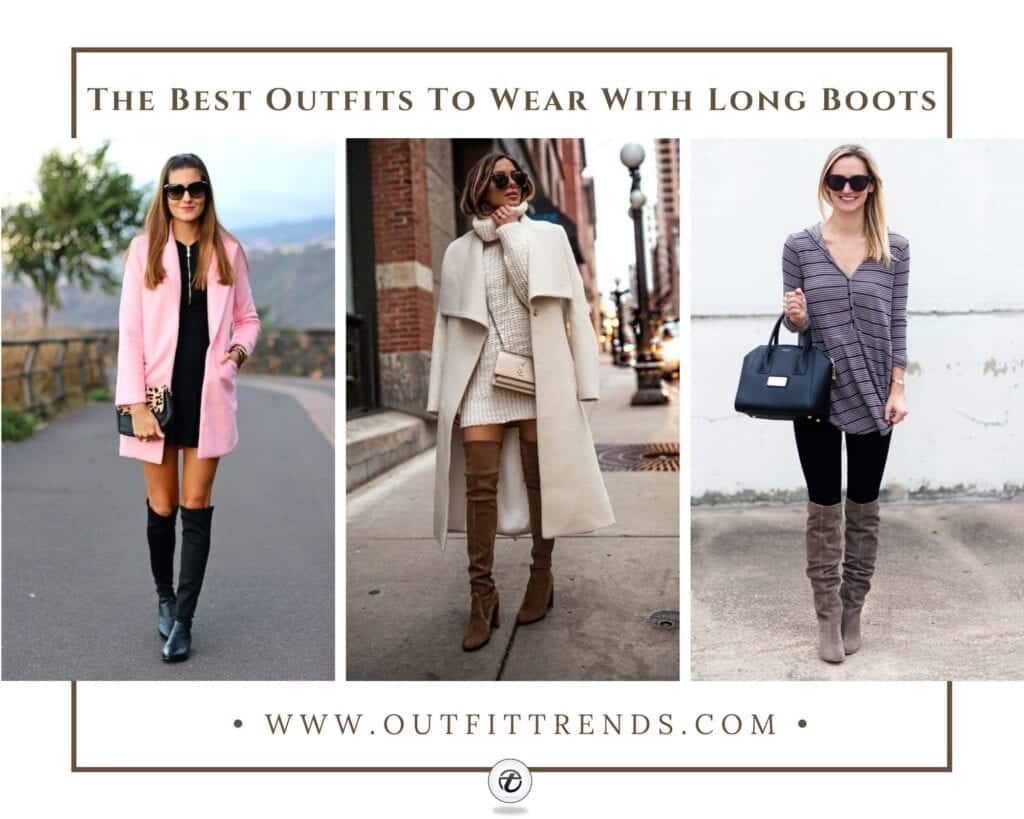 Without further ado, let's look at some stylish ways you can wear long boots.
41 – Black Long Boots Outfit for Work
We all love to wear black-colored outfits and footwear. Black knee-high boots look fascinating. You can wear them with many outfits. You can pair them with black jeans or blue jeans, they are surely going to look incredible! You can wear them at parties, traveling or even regularly.
40 – Brown knee-high boots
Quite popular among girls because it matches many outfits. If you want to have boots which you can wear daily, then you should go for them. You will be able to save your money as there will be no requirement of buying more boots as these marches with most of the colors.
39 – Tan Knee High Boots
Would you like to wear something different that looks amazing on you? Tan knee-high boots will be good for you. It has a beautiful light color which every girl would like to wear. It will provide you with a casual look, white color dresses will look amazing with these knee-high boots.
38 – Black Riding Boots
If you like black high knee boots, then black riding boots are a good choice. You can pair it with black jeans, blazers, sweaters, and more. You can wear them with most of the winter outfits so a lot of your money is saved. These are simple and easy to wear, you will feel relaxed after wearing them.
37 – Heeled Knee High Boots
Many girls like wearing heels, it does not matter what your height is. If you like heels, you should wear them. They look startling with many winter outfits. These leather boots come in different designs and colors. Choose color and design according to your outfits.
36 – Brown Knee High Boots Outfit for Fall
Are you searching for some women's knee-high boots? Then these boots are the right choice for you. It is available in different colors, it will look great with a mini skirt. These are comfortable and you can wear them at any place. It will look good with long coats also, these are ideal for wearing in winters.
35 – Black Over-the-Knee Boots
If you are thinking of having professional boots then you should buy black over-the-knee boots. They look amazing in professional outfits. You can wear them at your job, these boots are ideal for wearing daily. It will look good with sweaters and jeans. Skirts will also look good with these boots.
34 – Patent Leather Over-the-Knee Boots
If you like glossy colors then this is good to buy. They are fancy boots. You can wear them with a hoodie and t-shirts. If you want to buy something which is not common, Patent Leather Over-the-Knee Boots are the right choice. People who love fashion and want to be unique can buy this. These are ideal for parties, its shiny look gives a party vibe.
33 – Flat Over-the-Knee Boots
It is for the people who do not like heels or feel uncomfortable in heels. These are very comfortable boots which can be worn by you even for a short walk. People who like simple boots that are comfortable and also look good then this is ideal for them. You can easily style these with coats and skirts.
32 – Moto-Inspired Over-the-Knee Boots
If you like little to no heels, then go for these shoes. It is a really good choice for winters as it is above the knee length. Prefer grey or brown as these colors are in trend.
31 – Drawstring Over-the-Knee Boots
They look so beautiful with long coats and sweaters. You can wear them with blue jeans and black or dark color sweaters. If you like boots that are of proper fitting and are comfortable to wear at parties then you should buy these boots.
30 – Textured Over-the-Knee Boots
If you do not like boots girl which are plain or simple, then you should buy these. Many people want something different as well as interesting, if you are that kind of person who likes to try different things then go for it. You can wear this with dresses in both dark and bright colors. You can select any design which you feel like wearing and matches with most of your outfits. Again these are for parties and not for wearing daily.
29 – Street Style Knee-length boots
You can wear such boots with short winter dresses. A black or brown jacket will look great with these boots. Furthermore, these are knee-length, so they will help keep you warm in winters. Still, prefer dark colors like black and brown for these boots as you'll be able to pair them with most outfits. Street style boots are stylish boots which you can wear at the time of shopping, get-together or even at parties. These are not professional kinds of boots so avoid wearing them at the workplace.
28 – Casual Look
These are a little bit heavy as compared to other boots in our list. You should go for bright colors, these often come with laces. These boots will go well with long coats and winter dresses.
27 – Snow Boots
As you can figure out from the name of the boots that these shoes are for extreme cold weather. You can protect yourself from the extreme cold with the help of snow boots. Buy black color boots, you can pair them with any color of jeans. The best matching will be with blue jeans of dark shade. These are simple as well as comfortable to wear in winter.
26 – Mid-calf Boots
Light shades will look better, you can buy the light brown shade. mid-calf boots come under both stylish and fashionable categories. These are not quite common so if you want something different then buy these. You can wear it with long winter dresses in the same way can be worn with jeans, and coats. These are very comfortable, you can wear them daily.
25 – Cowboy boots
Are you searching for some boots that are stylish and good to wear at parties? If yes, then cowboy boots are ideal for that. But if you do not like pointed boots and boots that have wide openings then do not go for these boots. It will look great with jeans and long dark color coats.
24 – Classic Long Brown Boots
If you want some simple, classy, and heeled boots, then this will be an excellent choice. The best color that we would recommend buying is dark brown. It will look good with black jeans. These are pointed from the front and in fact, look quite shiny.
23 – Laced Tall Boots
If you like boots with laces that can be worn with most of the winter outfits then this is a good option. These are perfect for girls who like well-fitted shoes.
22 – Black Fur Lined Boots
As you are searching for boots to wear this winter, boots with some fur lining will look great! Moreover, these are comfortable and are have a little heel. You can wear these boots daily and also at professional places.
21 – Over-the-Knee Boots with a Dress
You can wear skirts that are long so that it covers the top of the long boots. It gives a very stylish look. A maxi skirt would be appropriate. You can also wear short skirts with them. It all depends on your choice. If you aren't up for heeled boots, just go for flat. They are just as stylish and just a little comfier to wear.
20 – How to Wear Tall Boots with Skinny Jeans
Jeans are a good option for long boots. Denim jeans are great, and they go perfectly well with tall boots. Cowboy boots would also look cool with skinny jeans. Wear a peplum top with jeans and a cute jacket. This look is perfect for fall. Check here how to wear peplum tops in the winter.
19 – Half Boots for a Rainy Day
When it comes to cold, wet, rainy days, boots are always the best option. Stay away from ankle booties though, as water can still get in and make your feet feel pretty miserable. Instead, go for half-boots (boots that are higher than the ankle but below the knee) or knee-high boots to ensure your feet stay toasty warm and dry. We love this cute, lowkey style that has an oversized rain jacket, a pop of sky blue in the form of a button-down shirt, and some dark green pants.
18 – Slouchy Boots with a Wool Skirt
Sweater dresses and skirts look stunning with boots for winter wear. They are also super practical and effective for keeping warm. You can also wear these outfits with ankle boots. We love this combination of cool colors that are soft on the eyes and perfect for that wintry chic vibe. Layer up, and opt for slouchy dark boots to pair with your wool midi skirt.
17 – Sweater Dress and Thigh-High Boots
When it comes to chic street-style, it doesn't get better than this. A gorgeous sweater dress paired with thigh-high boots is jaw-droppingly gorgeous, especially when worn with a statement coat. Notice the color picks here, as these neutral tones are incredibly sophisticated. To finish off the look, add a high-end fashion crossbody purse and statement sunglasses. Et voila!
16 – Wearing Knee-High Boots to Work
Knee-high boots absolutely appropriate for work… when worn right, that is. Motorcycle boots and riding boots aren't exactly the right fit for the office, so try and stick with classic knee-high boots. A little heel is definitely helpful. You can wear them with dark-wash jeans and a blouse paired with a blazer or work jacket. Keep the look subtle and conservative.
15 – Super High Heeled Boots
These bad boys should come with a warning label because whoo, baby, are they too fab to handle. To get this look for yourself, these over-the-knee boots come with some platform-level heels and are gorgeously paired with jeans and a poncho wrap. Notice the colors as well: deep tones of purple and red with mustard yellow. Lastly, top it off with a fedora hat.
14 – Dress & Coat
In those cooling autumn months, this short dress and coat combo is such a great ensemble. We love the baby pink coat which brightens up the otherwise darker-toned look. And those boots will help keep your legs warm. Check out the latest style of long coats that you can wear with long shoes.
13 – Chic Trousers and Coat
Here's a great option when you've got some shorter boots to work with. Slim-fit ankle trousers paired with a mock neck sweater and a thigh-length wool coat is a great way to stay warm on those winter days where you still want to look chic without tons of layers.
12 – Red Leather and Denim
We love this out-of-the-box look that pairs a chambray shirt with a denim skirt, tights, and red leather boots. Talk about stylish! You could wear this ensemble to work easily, especially if you work in the fashion industry.
11 – Super Funky Style
Let's spice things up with a funkier option, shall we? Save this look for the next time you want some serious street-style points and you're ready to make a splash. If you are an outgoing gal who is confident in what she wears, then we think you will love trying something like this. All we recommend is keeping the rest of your look in line so you don't look too over-the-top.
10 – Furry Hat, Leather Leggings, Checked Shirt
Ooh, la, la, now this is a street-style look we L.O.V.E. Here's yet another way to wear thigh-high boots in a semi-casual but insanely stylish way. This is, in a sense, a monochromatic look and there are different textures to play around with as well. From the leather bag and leggings to the fluffy cap and soft shirt, this is an outfit as much for the senses as for the eyes.
9 – Leather Trousers and Three-Quarter-Length Sleeves
Here's a look that might as well have come straight off the runway! We love these cool tones of blue and those sleek boots. Check out 17 trendy leather pants for this season.
8 – Street Style with Long Boots
This modelesque ensemble has us itching to hit the streets and show off some grunge-inspired fashion of our own.
7 – Ripped Jeans and a Striped Top
When it comes to cute every day or weekend wear, a striped button-down will never serve you wrong. Tuck yours into a pair of skinny ripped jeans and add some boots for a casual look you'll feel great in. If you like this look, check out our post on Distressed Jeans trends.
6 – Simple, Cute Look for Every Day
We all need a few of these types of get-ups stashed in our wardrobes. An outfit like this will always beat hoodies and sweatpants so be sure to give it a try. This look is great when you just want to feel cute but don't have anywhere particularly special to go. And the truth is, knee-high boots with jeans will never go out of style.
5 – Thick-Striped Sweater and Oversized Bag
We think this look is just so sweet, fun, and simple! Great for lunch dates with your guy or church events, this ensemble is comfy as well as stylish. Simple pair a soft sweater with a pair of colored jeans. A deeper tone works best. Add knee-high brown leather boots and an oversized tote bag. Plus, you don't want to forget accessories. A chunky necklace makes a statement and simple drop earrings will catch the eye.
4 – Sheer Top and Patterned Leggings
Another easy weekend look, great for busy moms on the go, is this one right here. A sheer top is a step up from your basic sweater or tee and looks so cute when paired with patterned or print leggings! Add a funky necklace and pop on your boots and we bet you'll feel like the belle of the ball, whether you're in line at Target or hanging at the playground with your kiddies.
3 – Patterned Skirt with Boots
Here's how to wear boots with a skirt. You really can't wrong so throw on a skirt that hits your knee (or right above or right below it) and add a cute top. Brown leather boots and a flat clutch finish off the sweet look, which you can wear to church or a get-together with your girlfriends.
2 – Celebrity Hailey Bieber Inspiration
We've added a couple of celebrity looks to show you how the stars rock their boots. Here Hailey Bieber rocks some stunning thigh-high boots with a casual tee-shirt dress and a soft, ankle-length camel-colored coat. She tied her hair up in a top knot and added a cute purse. Super chic.
1 – Vanessa Hudgens Boot Style
Vanessa Hudgens is as much known for her killer fashion sense as she is a starlet. From her Coachella looks to her everyday styles, we always love seeing what this girl will wear next. In this photo, she rocks a casual ensemble that features black long boots, low-rise jeans, a midriff-baring top, a cardigan, and a scarf. She also added a statement bag which instantly adds style points. This is a great everyday look that will have you feeling pretty and put together.
Frequently Asked Questions
Here are some frequently asked questions about styling long boots. Check them out!
Q. What to wear with knee-high boots when going out?
A. Opt for a heeled boot and look for one that fits closely against your calf. Sagging boots are not comfortable and they aren't too cute either. You can pair them with a short dress and tights or you can go for a sweater dress. Remember to add accessories and a fun shade of lipstick to make it more dressy.
Q. How to wear flat long boots?
A. Flat knee-high boots work well for all kinds of outfits. If you are shooting for a more casual look, then flat-heeled boots are the way to go. We recommend trying them with leggings and a sweater or jeans and your favorite top. If you like a bohemian-style look, you can wear them with a midi dress as well. Check out outfits #14 and #6 for more ideas.
Q. Can I wear long boots in summer?
A. It depends, but generally yes. If you live in an area that gets extremely hot in the summer, then boots may not be the best idea. But if your summer temperatures are bearable, then give it a go! If the gals at Coachella can rock it, why can't we? Avoid thigh-high boots or boots with fur of any sort. Wear thin socks to combat moisture. And pair with an outfit that is lightweight and breathable, like short shorts or a mini skirt.
Q. How to wear long boots in the office?
A. Wearing knee-high boots is super doable for office-wear. You'll want to stick to more conservative ensembles, of course, so opt for a sleek black boot or a leather brown one. A little heel (or higher heel) is also suitable. Pair with a skirt and tights, over dark-wash jeans, or with a high-neck dress. Check out outfits #12, #13, and #16 for more inspiration.
Q. How to wear long boots with jeans?
A. Boots can look very good with jeans, you just need to know how to style them with jeans. You can wear long coats and blue or black jeans with knee-length dark shade boots. Avoid wearing light-colored boots with light-colored jeans.
Q. How to wear boots with dresses?
A. Sometimes it is difficult to wear boots with dresses. It depends on the length of the dress and what kind of boots can be worn. With long dresses prefer wearing ankle-length boots and with short dresses, knee-length boots will look amazing.
We hope you're feeling ready to tackle creating some gorgeous outfits with long boots, half-boots, and everything in between! Let us know in the comments what your favorite outfit was!
R.H. Elias is a freelance writer, aspiring author, and freelance transcriptionist. She is a homebody all the way and loves curling up on a cold, rainy day with a good book and a warm cup of tea. Her favourite pastimes include reading, writing, and watching period films. She currently lives in Puerto Rico.