Women's shoes with Khaki Pants. With Khaki pants back in trend, they are a must-have this season. They are now available in many styles, with boyfriend khakis and harem khaki pants being the most popular.
Today, I will share different ways to create outfit combinations using your khaki pants and shoes. So by the end of this post, you will no longer be confused about what shoes to wear with khaki pants.
Khakis have been around for ages, and while originally they were only supposed to be of a dusty color, today, khakis can be found in almost any color. While they are most convenient for casual wear, with a little styling, you can easily wear them for formal events.
They are also a great alternative to fall back on whenever you get tired of wearing jeans or denim. Hence, they allow room for a change without compromising your style and comfort.
What Shoes to Wear with Khaki Pants
Since you'll see more and more khaki pants on the streets in 2020, here are some of the best looks possible, along with great shoe options.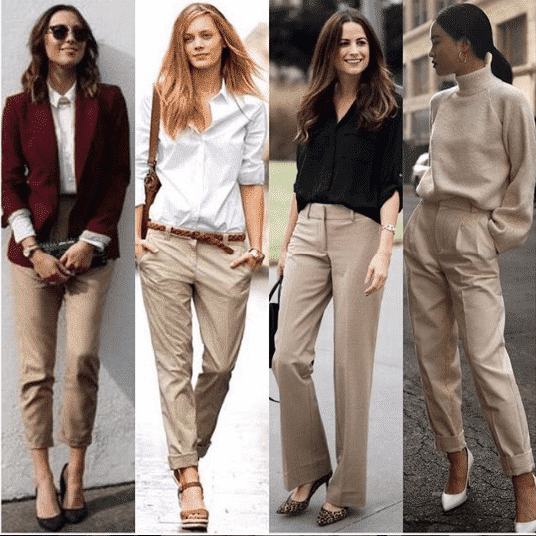 In our last post, we talked about Women's Khaki Pant Outfits for Girls, but of course, an outfit can not be complete without the right shoes, so we had to do an exclusive post on the best shoes to wear with khaki pants. Let's start with some basic tips:
 As you'll see below, their purpose is the main thing to consider when choosing shoes. For instance, if you're wearing khaki pants when traveling, the best shoe options are espadrilles, sandals, and slip-on loafers.
Khaki, white, and red are the chicest color combination for winter. While you probably know how well khaki and white go together, adding a touch of red through your handbags, shoes, lips, and nails can help amp up the game. And this combination also helps make one of the classiest work outfits.
If you don't like wearing khakis for some reason, it's important to know that many different shades and colors exist in khaki, so it is best to go out and explore them all and find the tone that looks best on you.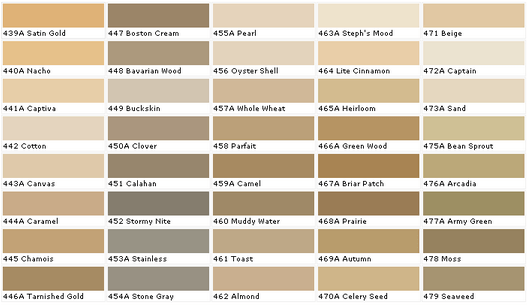 There was a time when khaki pants were only reserved for workwear, and while they make the best work outfits, they can also be used for formal and everyday casual wear if you choose the right shoes and tops. For example, pairing them with silk tops and stilettos is the easiest way to make a glamorous night-out outfit. Similarly, when paired with ankle strap heels, you can easily create romantic outfits for a date night in khaki pants.
If all this seems like too much information, don't worry; we'll share some beautiful images below, making it much easier to understand all this and create stunning outfits in your head.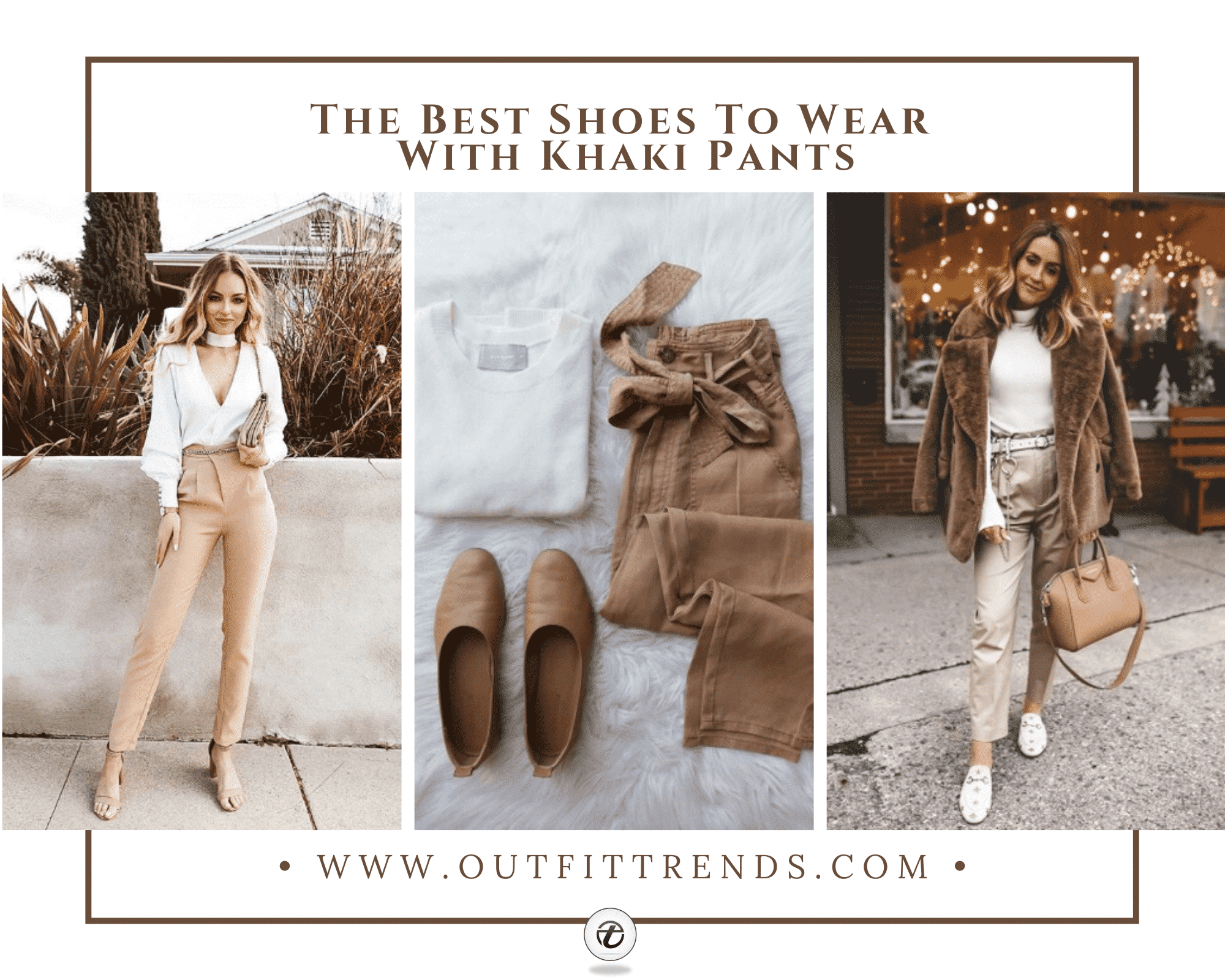 ↓ 16 – Striped Khaki Pants
When we think of "travel pants, " striped khakis come to mind. Pair them with a cute tube top and studded shoes like slip-on sandals for insta-worthy pictures. Here are some more ideas on the Best Ways To Wear Striped Pants.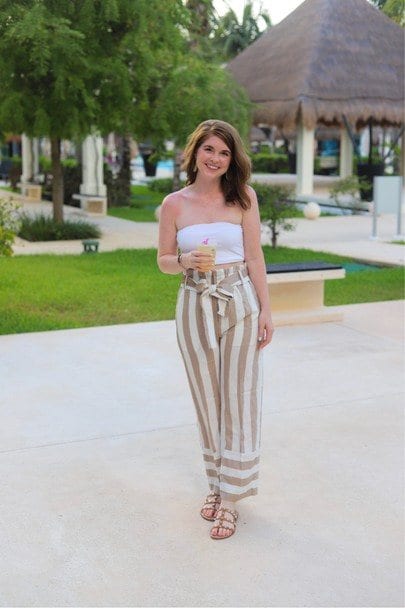 ↓ 15 – Brown Leather Mules
We absolutely love the combination of blush pink and khaki seen here! Sweet, feminine, and classy, what more can you want in an outfit? And the brown leather mule shoes are like the final cherry on top of this outfit, bringing the whole look together.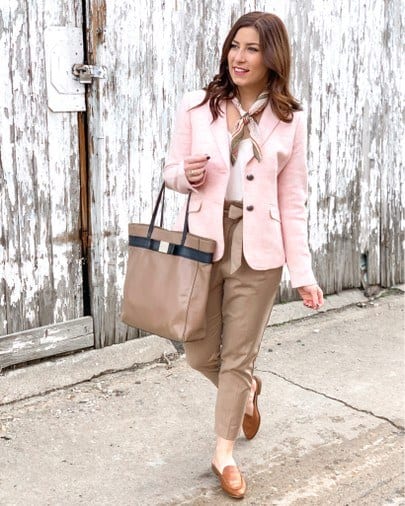 ↓ 14 – White Shoes
Starting with the style queen of Bollywood, Sonam Kapoor is known worldwide for her fabulous fashion choices and love for outfits that can make anyone fo 'wow.' At a recent event, she made heads turn by wearing a khaki pants suit by Stella McCartney.
The choice of white shoes and red lips goes on to prove that she truly is the style icon of India. If you love wearing white shoes, you wouldn't want to miss out on these Outfits to Wear With White Sneakers for Women.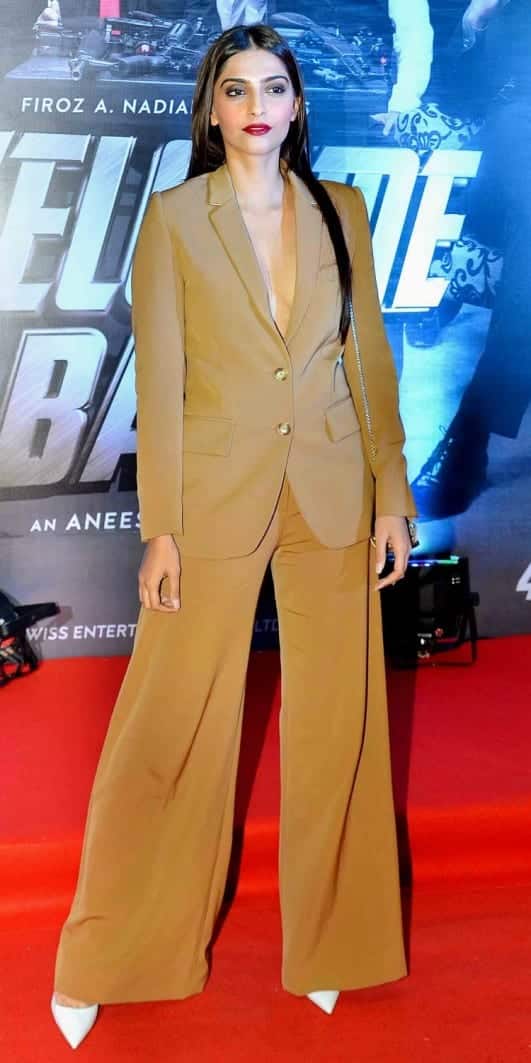 You can get Sonam's White pumps for $31.99:
If you don't feel like wearing heels, go for some chic slip-on shoes in white colors, as they look equally elegant.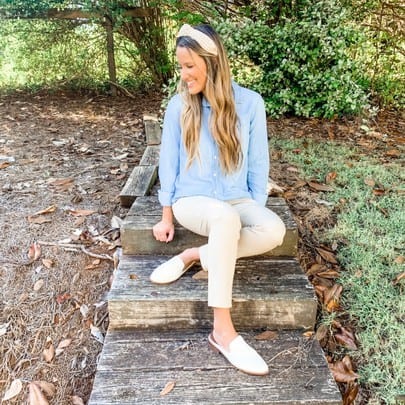 ↓ 13 – Leather Espadrilles
As shown above, the combination of white and khakis is one of the best ones around. So, pair a white off-shoulder top for a street-style look with khaki pants and espadrilles. The espadrilles help mix things up and bring the X-factor to your outfit. So, while the dressing level is casual, the shoe choice instantly upgrades it.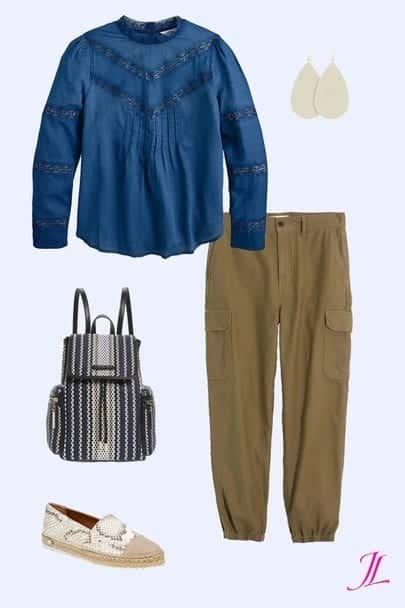 If you're looking for shoes that have some personality of their own, then we suggest that you go for these Eileen Fisher Espadrille Flats, as the metallic finish of these shoes makes them truly aesthetic: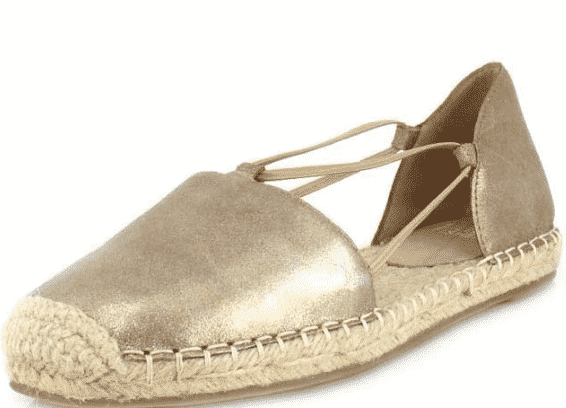 ↓ 12 – Wedge Heels
Here's an ultra-hot, casual look, wear your khakis with a blazer and wedge heels. This outfit is perfect for the Fall season.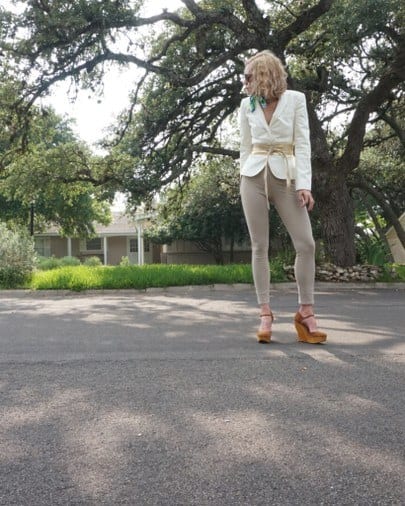 ↓ 11 – Animal Printed Shoes
It would be best if you went for one of the two options when wearing khaki on khaki. Either incorporate some red color in the outfit or go or some animal prints like cheetah or zebra print shoes with a matching clutch.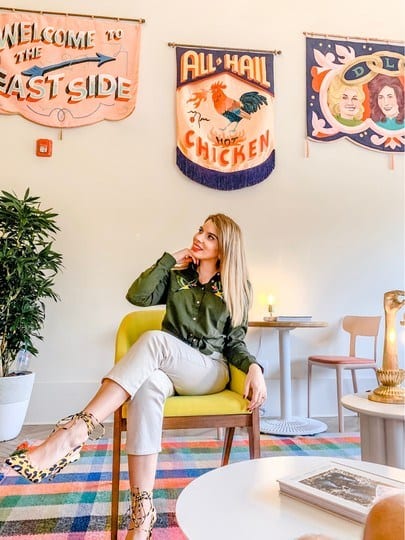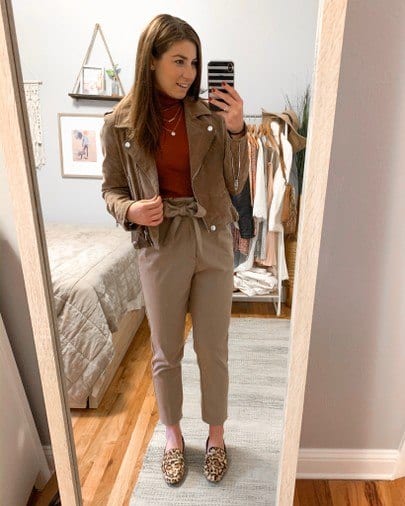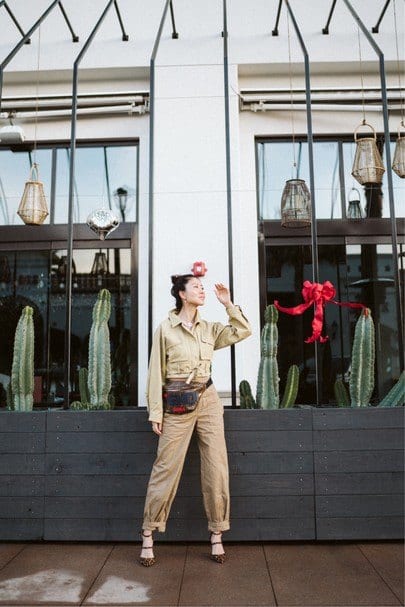 ↓ 10 – Ankle Strap Heels
Upstyle your khaki pants with some statement jewelry, a nice braided hairstyle, and glittery ankle straps, and the outfit is ideal for all festive occasions. Wear a printed top and nude ankle straps for a more casual look, as shown below.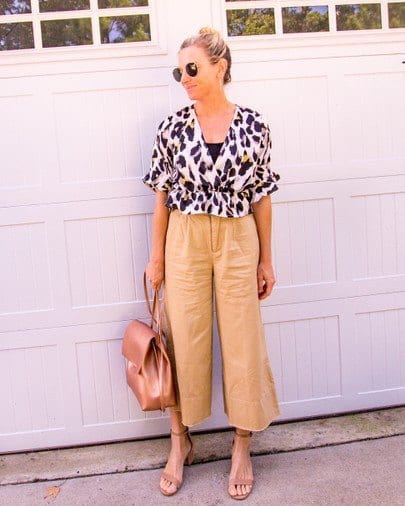 And as we discussed earlier, ankle strap heels or strappy heels with khaki pants are the basics for bringing together a romantic date night outfit.
↓ 9 – Oxford Shoes
Boyfriend khaki capris look great with a dress shirt and sweater. With such a preppy outfit, you must go for Oxford shoes—an awesome and comfortable choice. For more ideas, look at these Women's Outfits with Oxford Shoes.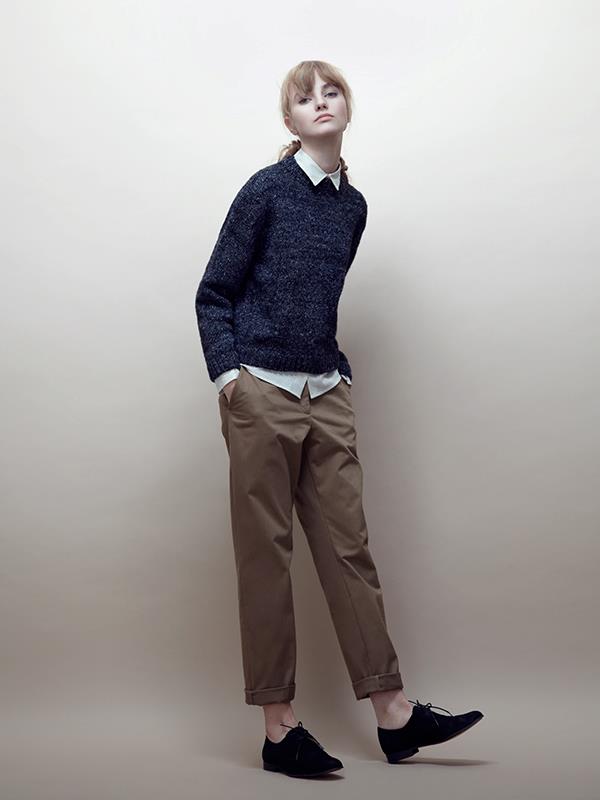 If you're planning on getting new oxford shoes, we highly recommend checking out these best-selling oxford shoes by Clarks that can be worn for casual and formal wear because of their feminine look and heel. They're available at Amazon for $26.11 – $146.94.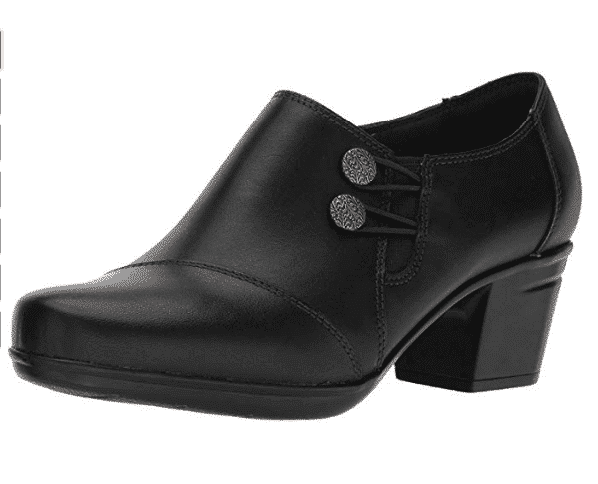 ↓ 8 – Sandals
If you love wearing flat shoes, you can choose sandals even when opting for a dressy look. Once again, we see the awesome combination of khaki, white, and some shades of pink. You can see how effortlessly the sandals have been paired with the white bag, black sunglasses, and white top.
We recommend wearing sandals with khaki cargo pants; it may not be the cutest look ever, but it will surely be the most comfortable one, making it perfect for traveling.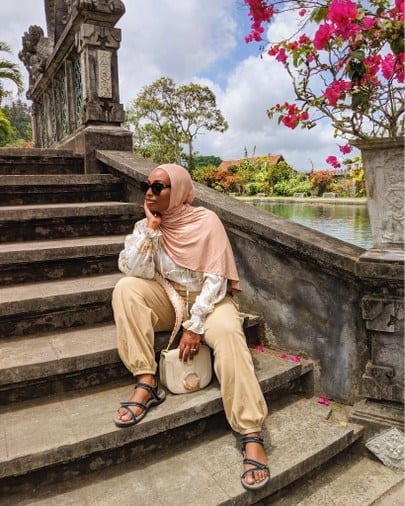 ↓ 7 – Heels
Are you going for a night out in your khaki cargo pants? Sure, why not. All you need to make your outfit seem fancy enough are stiletto heels and a nice silky top.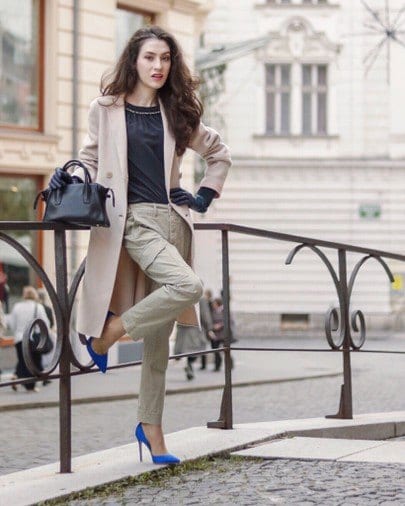 ↓ 6 – Sneakers
This look is highly recommended for teenage girls and even working women or homemakers with busy days with many errands to run. This is because sneakers with khaki pants create a functional look ideal for busy ladies. Do have a look at these Cutest Outfits To Wear With Sneakers for Girls This Season.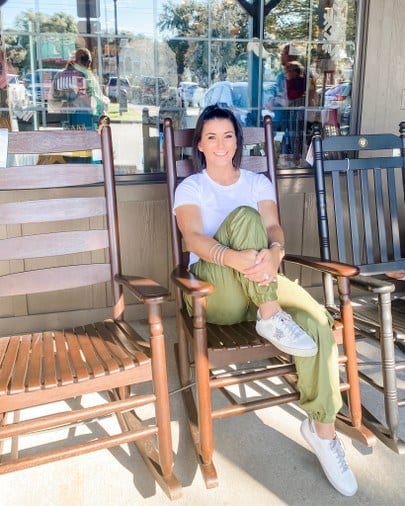 ↓ 5 – Celebrity Style Nude Khakis with Velvet Shoes
Here we see Taylor Swift looking chic in khaki pants and velvet shoes. This is another bold combination that never fails. So if you have a pair of velvet shoes in the closet, wear them out now and wear them with khaki pants. And if you don't, you need to get one as soon as possible.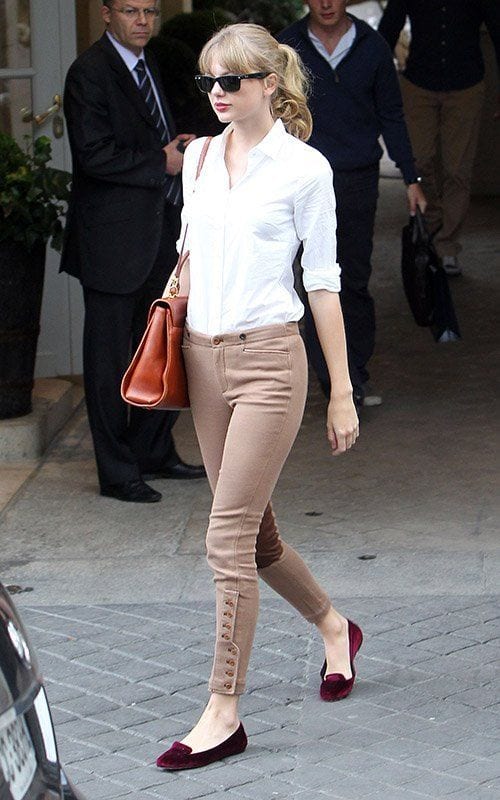 ↓ 4 – Business  Casual Look – With Loafers
For a business casual look, nothing beats wearing khakis with denim shirts. Loafers are the ideal choice of shoes here because of the classy edge they bring to casual outfits.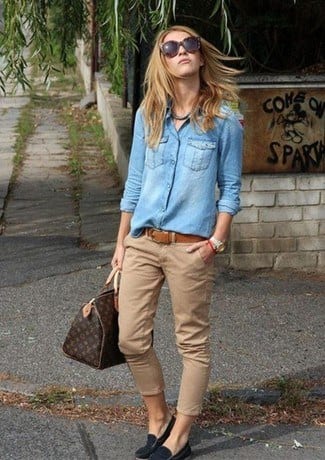 Shop the look:
Sam Edelman Women's Jordy Loafer $ 58.50
Amazon Essentials Women's Cropped Girlfriend Chino $15.36 
Levi's Women's Ultimate Western Shirt, $35.99 – $54.50
Louis Vuitton Speedy 30 Monogram Tote Bag $ 1070
↓ 3 – Flat Peep Toes
Here's the color combination of the day, khaki and yellow. Banana yellow and mustard both work well with any khaki pants. So yellow shoes are another item on our wishlist for the year.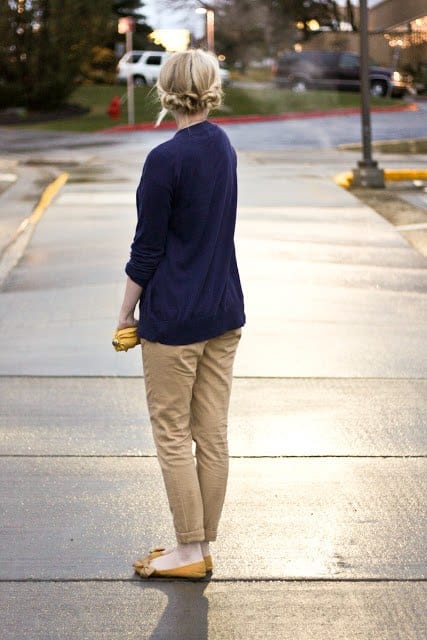 A really cute look for all school and college girls out there.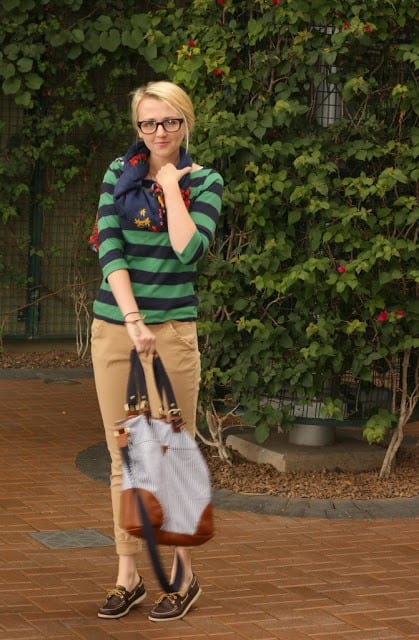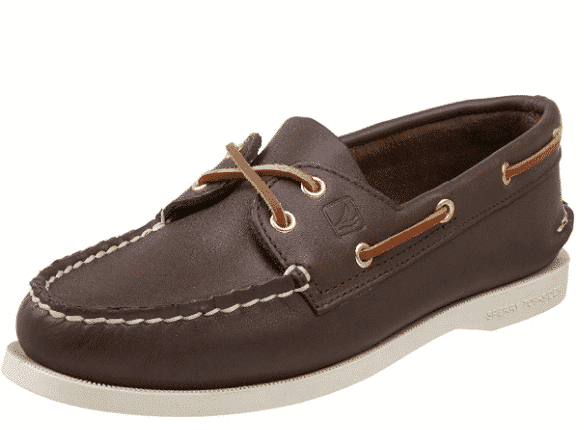 ↓ 1 – Booties
The khaki pants color trending most this year is olive green. Pair your favorite olive green khaki pants with a matching sweater dress or top and booties for the coziest winter look.