Maternity Christmas Outfits: We all know that Christmas is one the best parts of the year, which means dressing your best is a must!
You should check out our take on Christmas party outfits. And these parties can be much more special when a new and cute guest is on their way to being part of your family.
Shopping for maternity fashion can be a rollercoaster as your body changes, but this is why you need maternity fashion. Outfits in this category are designed for fashion and comfort rather than loose dresses and oversized apparel.
What To Wear This Christmas As A Pregnant Woman?
You do not have to sacrifice your signature style at all! Whatever you choose to wear, you will look much prettier than ever with a baby bump and pregnancy glow.
Let a fitted bodycon dress embrace your curves for festive occasions. If fit is not your thing, you can choose a flowy dress from the various options.
Wearing a black or camel brown blazer over jeans and a tee shirt is the best idea for working ladies attending an office gathering. To complete the formal look, wear matching pants or black leggings with relevant accessories.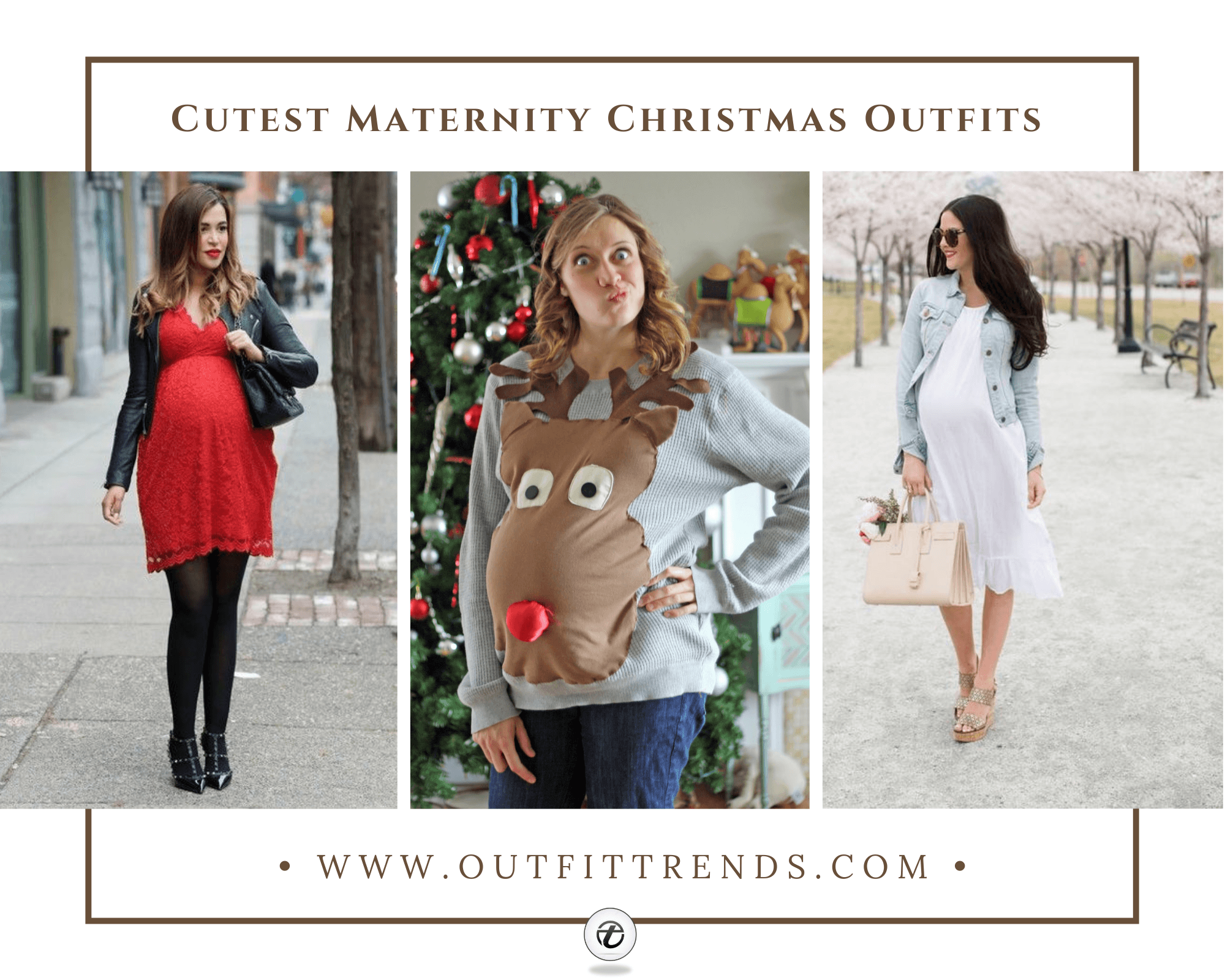 Remember these few pro tips while planning your outfits:
Tips for Pregnancy and Maternity Styling:
Avoid impulsive shopping!

Do not shop

for everything, whether you need it or not, just because you are excited during your first pregnancy. Be creative with your

wardrobe.

Do invest in some good quality maternity jeans. It is an evergreen apparel that is best for casual and semi-formal wear.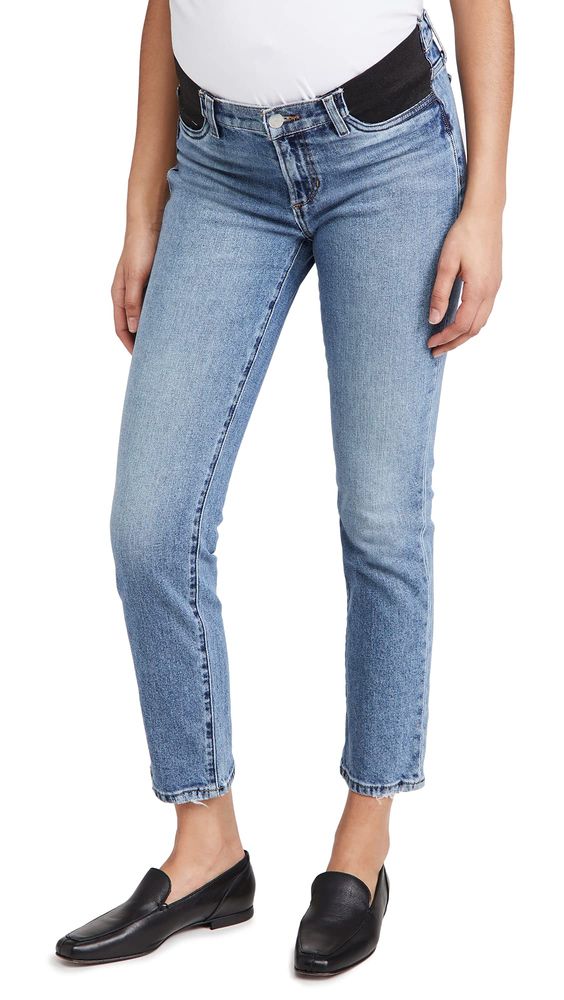 Consider building a capsule wardrobe in a basic pair of leggings, pants, and t-shirts with neutral colors, as you can match and mix them to create any fresh outfit look.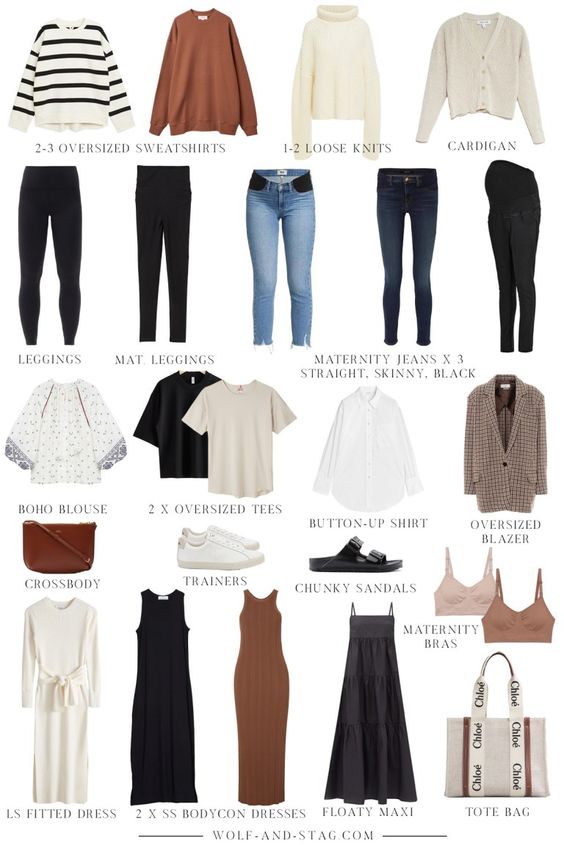 Wear your current clothes as long as they fit well before the belly gets in the way.
Wearing horizontal stripes and other patterns can be a nice change if they do not have any negative space. Give a try to slim cuts to show off your baby bump. It will make your body look smaller and also flatter your new curves.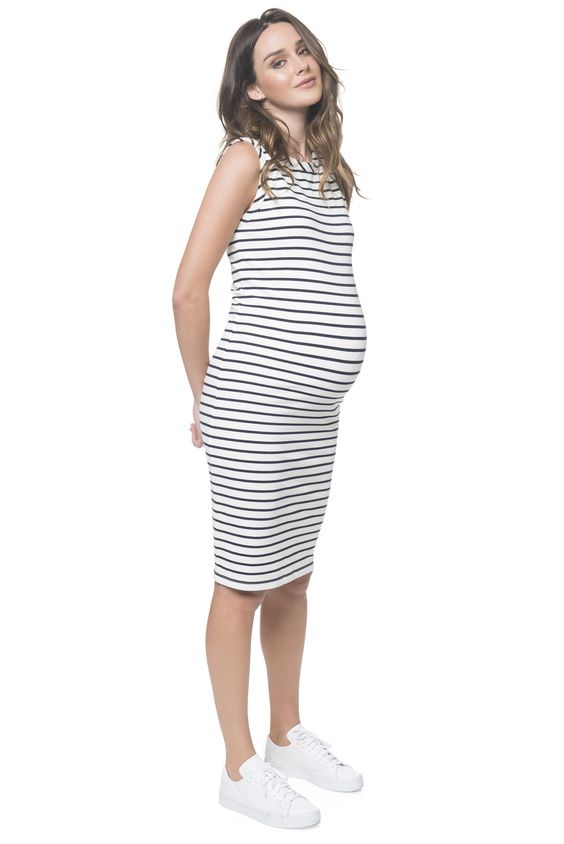 Invest in a

fancy

wrap dress for formal events.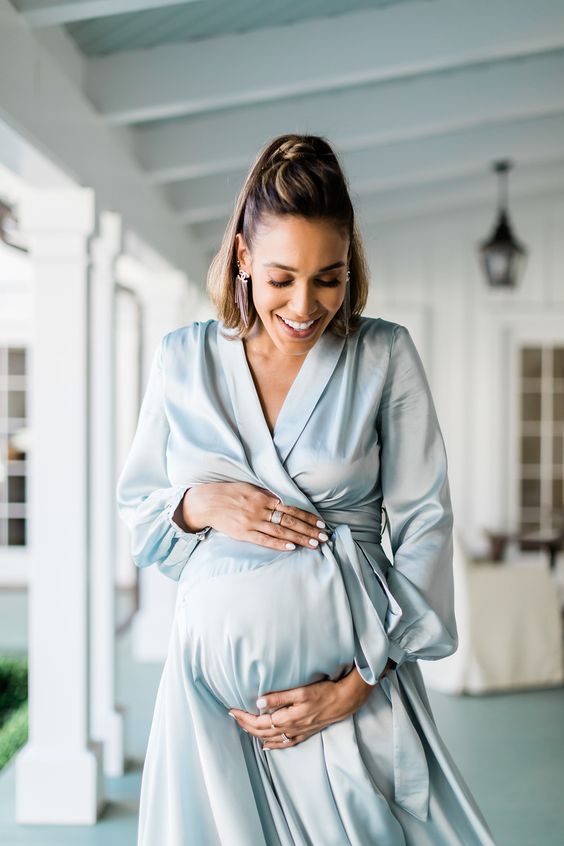 Avoid buying too baggy dresses as they will make you look bigger, and the more fabric, the hotter you will be. Opt for breathable and lightweight fabric dresses and s

tretchy fabric bodycon as they hug one's curves rightly.

Do experiment with new styles or patterns during maternity. You might end up finding your signature style and inspiring others.
Avoid underbelly belts, which

do not create a cool, distinguished look.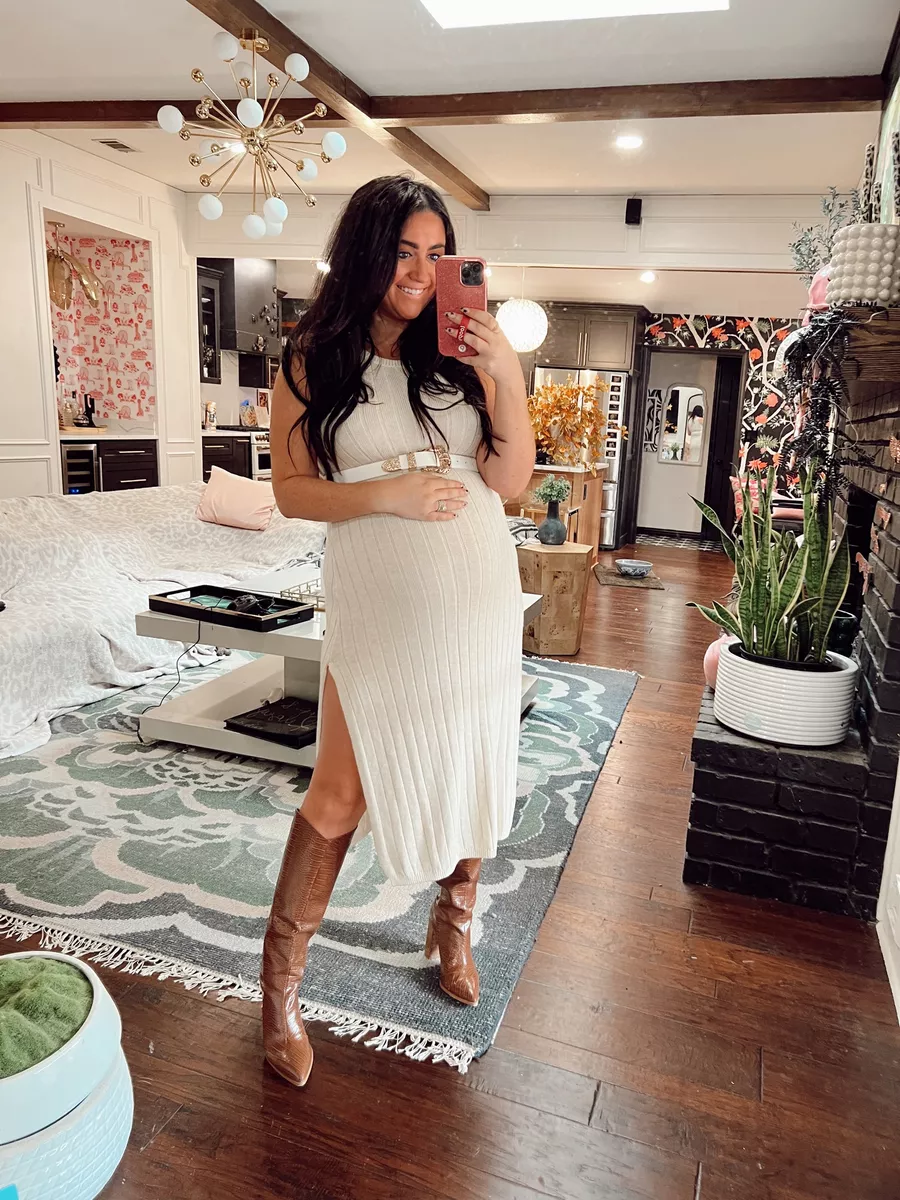 Do not forget to accessorize!

Wear heavy jewelry such as dangling earrings or sparkling necklaces for a glamorous look
Celebrity Maternity Styles
↓ 32 – A Comfy Cotton Outfit

is Perfect to Keep Things Light and Breathable

It is a must to keep stress at bay during pregnancy, and one way to do that is by wearing comfortable yet fashionable dresses that are stitched stylishly. They are the perfect summer outfits!

↓ 31 – F

rankie Bridge Gives Us an Excellent Contrast!

Long black maxi dresses with moderate cuts create stunning classic outfits when topped with a contrasting green or red scarf. So effortless for the festive season!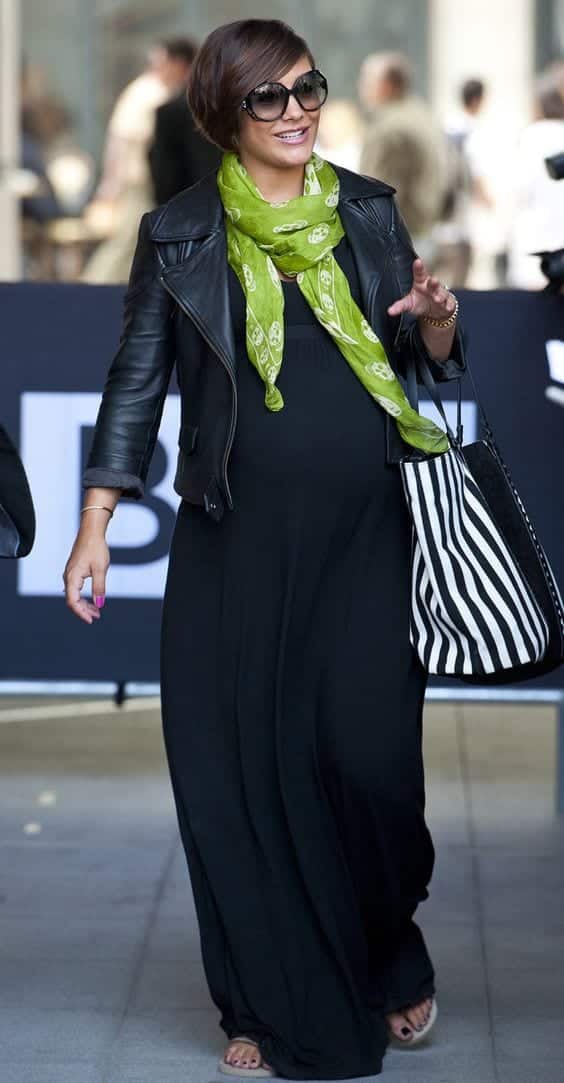 ↓ 30 – Choose the Color Themes

According to the Time of the Event

Light colors like pink, sky blue, white, and peach are best for daytime. Use deep red, midnight blue, and black colors to look bold and alluring during the evening and night.

Also, they are best for get-togethers and formal parties.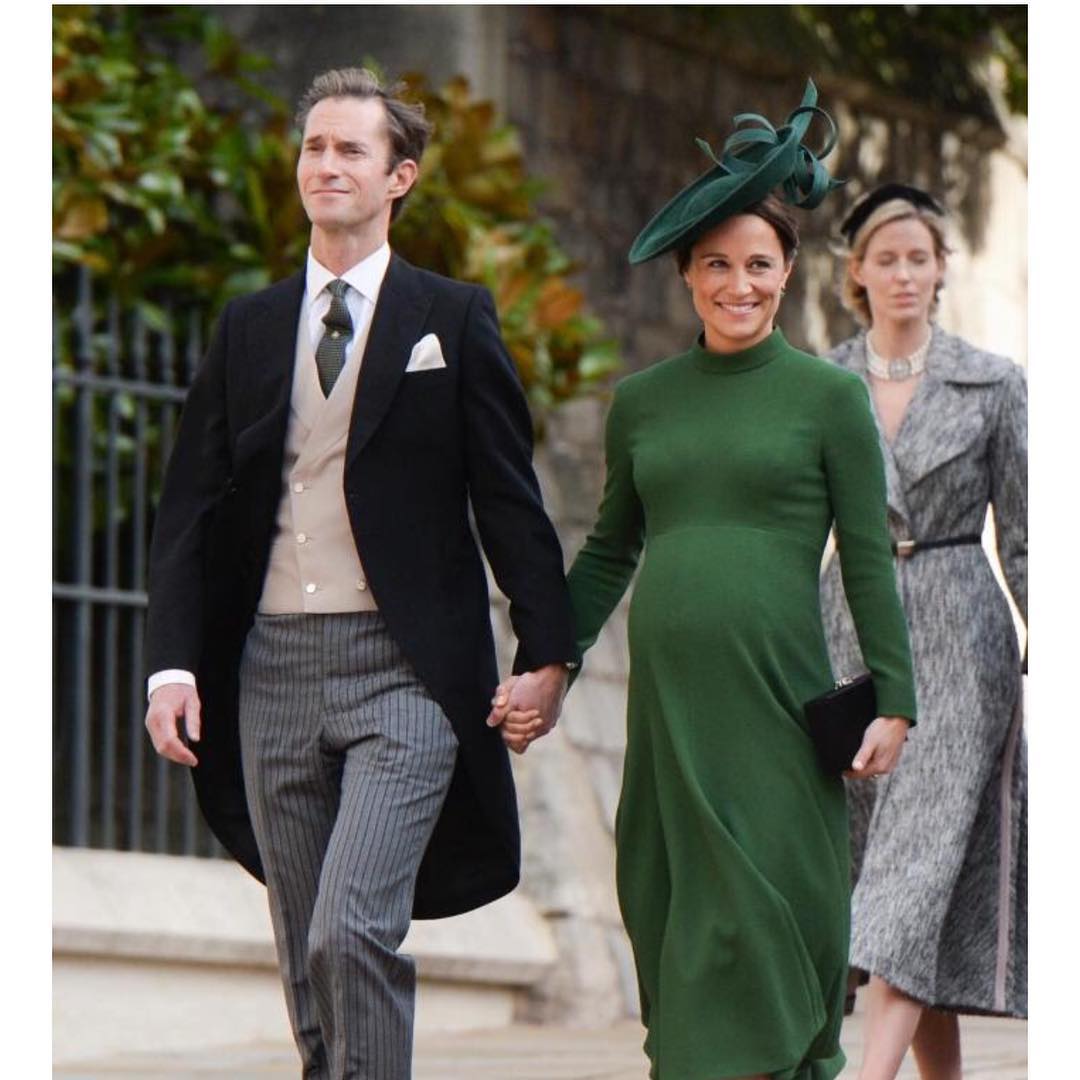 All About Dresses
↓ 29 –

Drape an Elegant Pashmina Shawl to Complete the Look
↓ 28 – Flaunt Curves with Bodycon Outfit
Accent your look with statement chokers and suitable heels. Have a look at these 18 Comfortable Summer Baby Shower Outfit Combinations.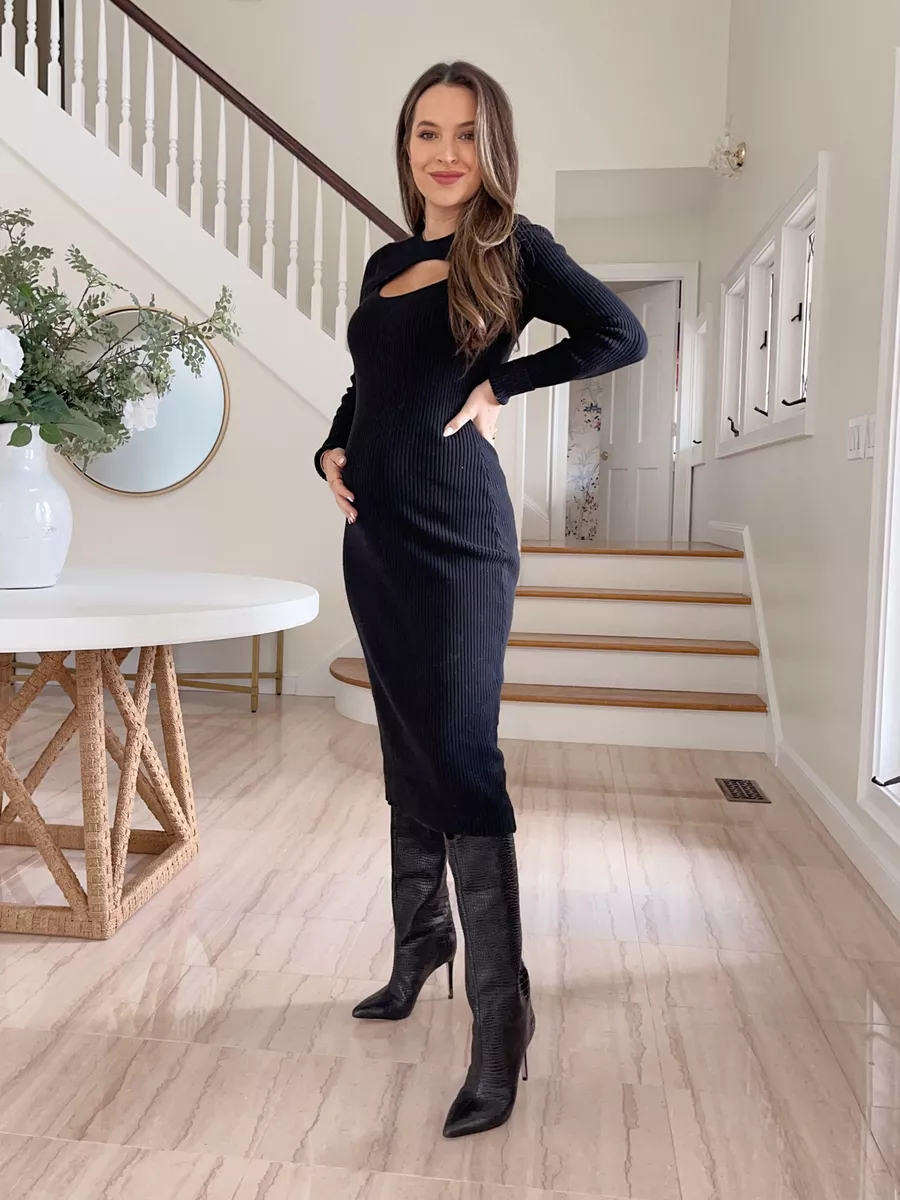 Shop the look:
↓ 27 – Master the Art of Layering with Denim
Use a denim jacket as a top layer for a casual look, as they are handy and readily available. Layering will flatter and complete your fit when done in the right way.
Here are 20 Ideas on How to Wear Denim Jackets.
↓ 26 –

Pair a Green Cardigan and Fancy Make-up to Make This Look Festive!

Consider wearing long maternity dresses made from viscose fabric with light patterns for a simple and elegant Christmas morning look.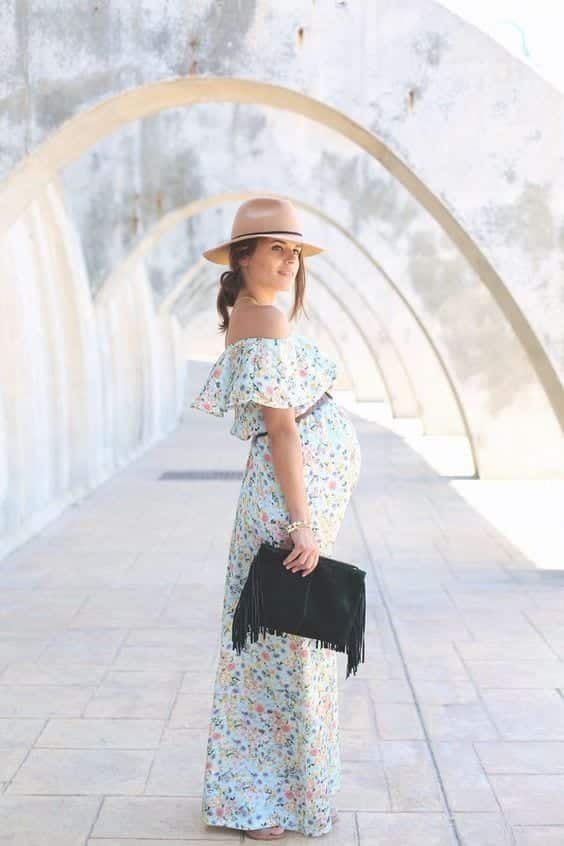 ↓ 25 –

Drape a Cashmere Shawl in Red and Pop on a Red Lipstick

If you want to show off your glowy skin, then wearing an off-shoulder dress for Christmas is an excellent outfit. It looks bold and elegant. You can add maternity pants below.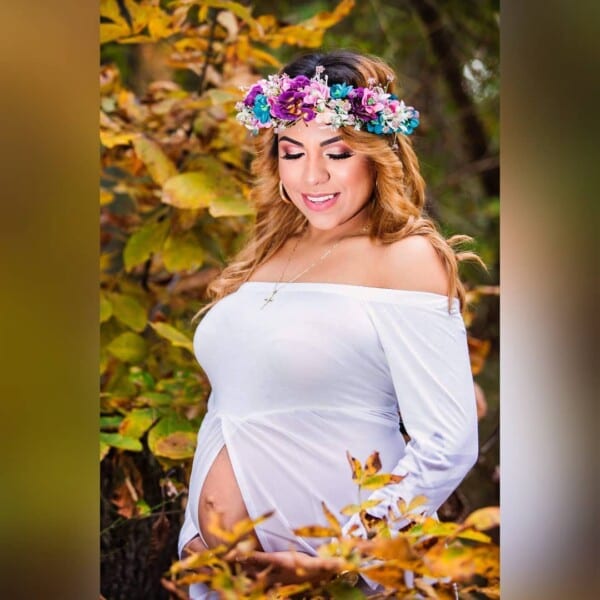 ↓ 24 –

Surprise Yourself and Your Loved Ones With Knitted Garments

Try your favorite cardigan patterns over any white chiffon dress with boots. If you love to knit, then try your patterns for cardigans for a unique Christmas outfit. They will make excellent gifts for your loved ones as well!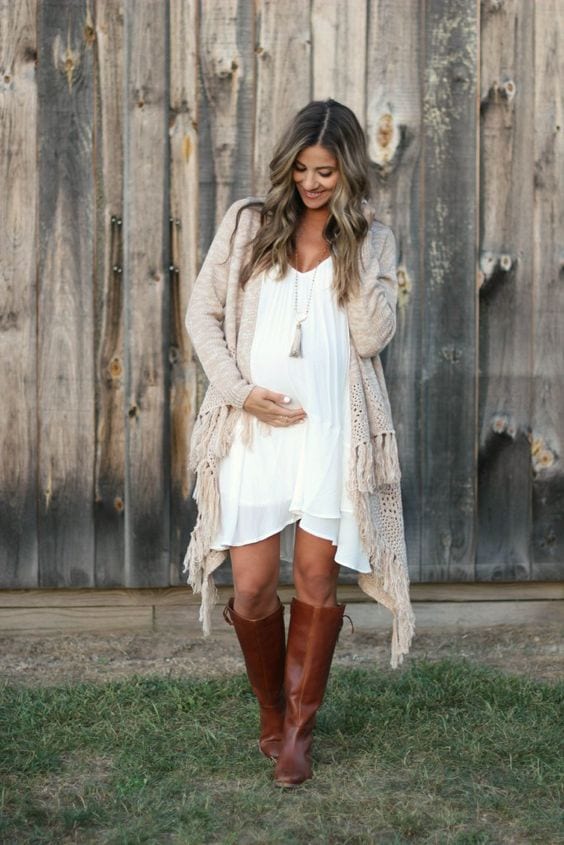 ↓ 23 – What Types of Dresses are Ideal for a Christmas Party

?

A satin fabric dress in navy blue, with a Bardot neckline and laced with moderate accessories, is perfect for a glamorous appearance at Christmas parties. Purple and deep red colors will look stunning as well.

Do not miss out on these 15 Best Maternity Outfit Ideas For All Seasons.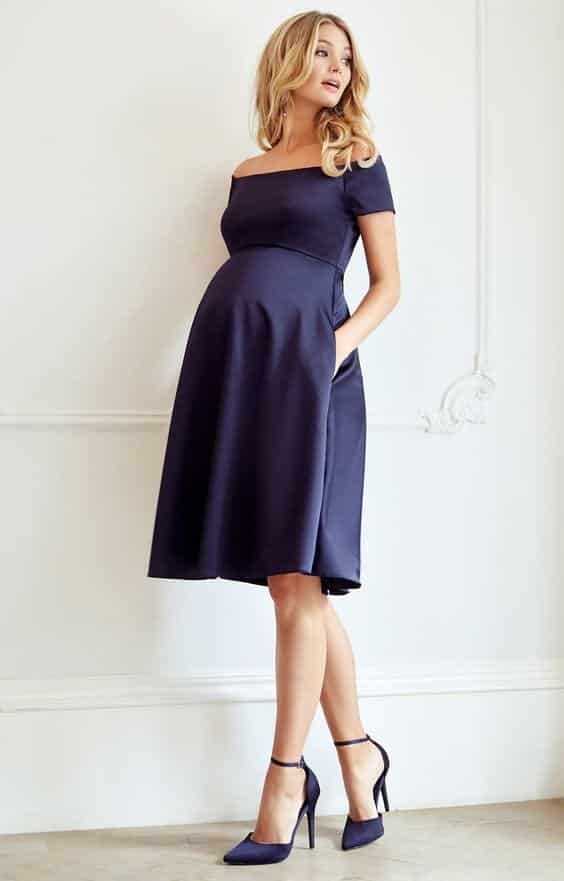 ↓ 22 – Stun in a Red Silhouett

e Gown

Red is an alluring and sexy color, so getting a sleek, stitched silhouette is the perfect option for an enticing appearance among grand gatherings. Wear golden or silver accessories to pull off the look.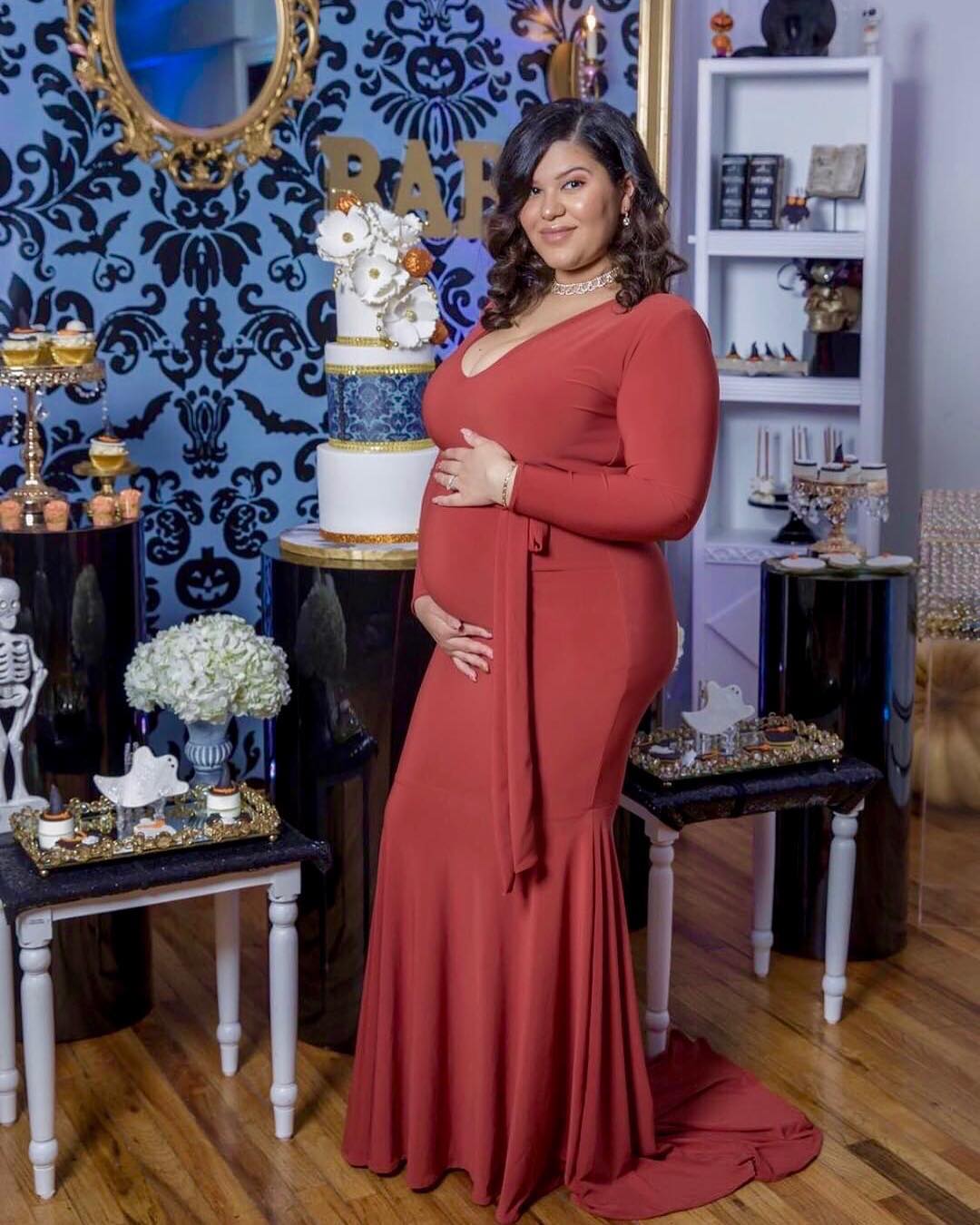 If you feel like layering, go for a leather jacket on top.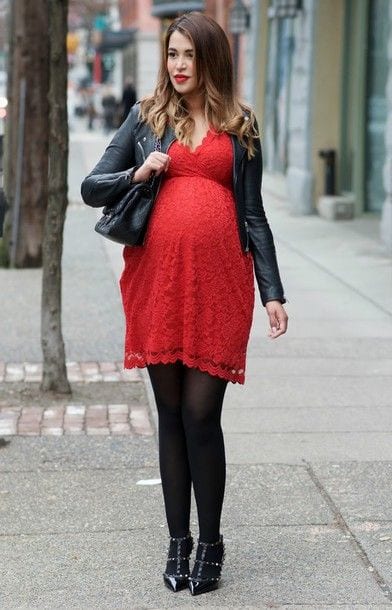 ↓ 21 –

Top the Look Off With an Oversized Denim Blazer and Gold Hoops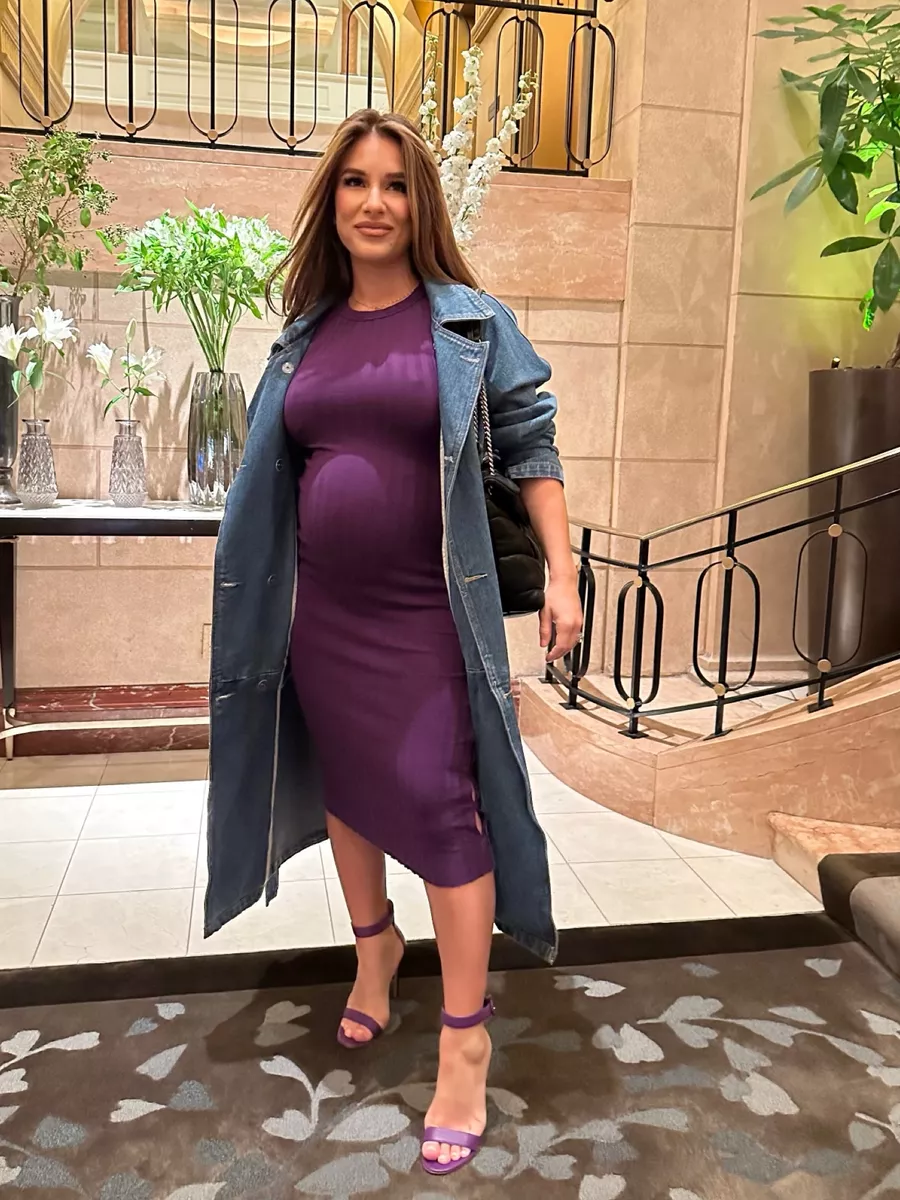 Shop the look:
↓ 20 – Channel Your Nesting Energy to Knit

Cute Fits

All women who love knitting would surely love to wear a stylish knitted dress with a bow belt like this one! You can use white, navy blue, red, or green colors for contrast.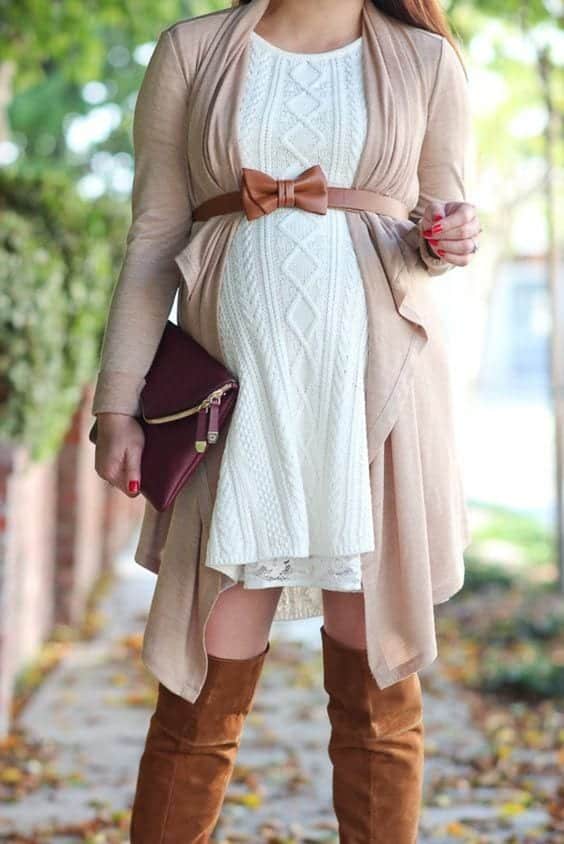 ↓ 19 – Christmas Special Mini Dress Paired With Stockings
Do not forget to wear statement earrings and a festive clutch for a flawless style.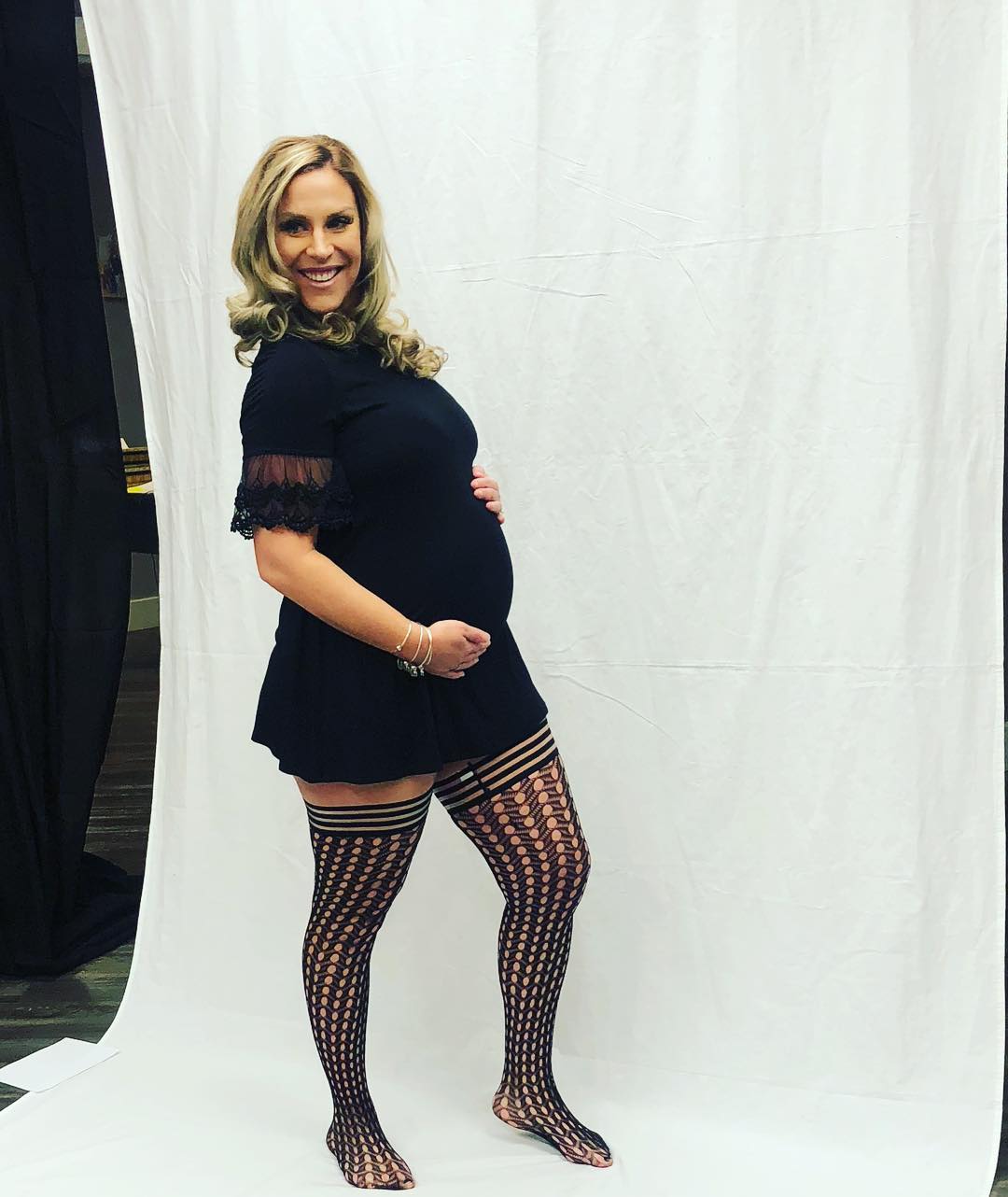 ↓ 18 – Make the Floral Patterns Stand Out With Statement Shoes
They are a must in the wardrobe for a gorgeous and fresh look! Patterns with a dark blue background are best for a bold appearance. But white is a classic choice!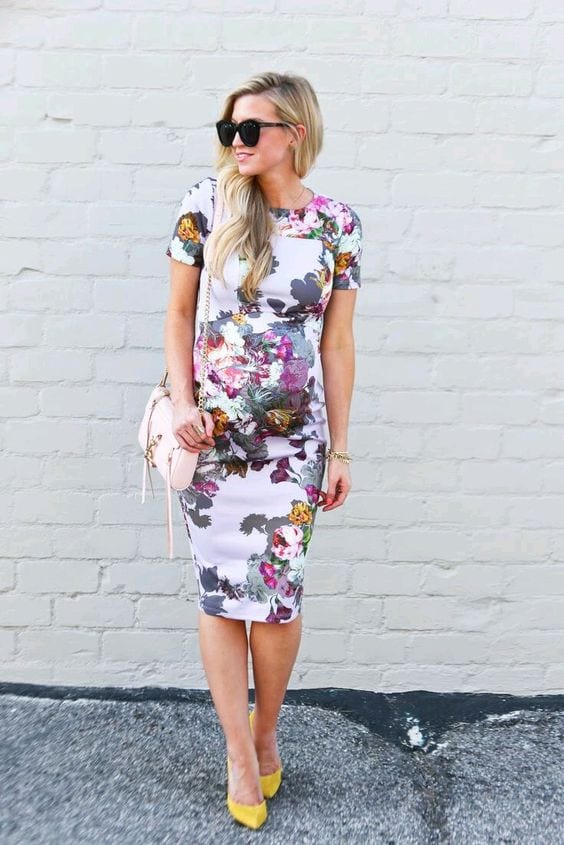 ↓ 17 – Go All Out in a Fancy, Glimmering Outfit
Pregnancy is all about happiness, so why not sparkle? Try short-fitted dresses with stardust or sequined fabric for a shiny and distinguished appearance.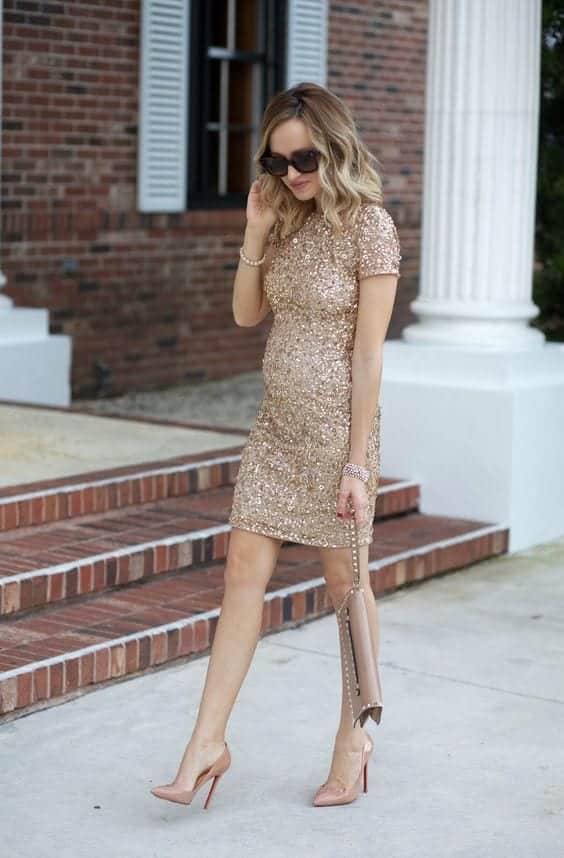 ↓ 16 – Tie the Belt over Belly

for an Empire Waist

I suggest wearing belts over the belly to highlight the baby bump. Bow belts with matching fabrics are pretty, but wear copper, silver, or golden belts with white or lighter shades of dresses.

Here are 26 Beautiful Lace Dresses and Ideas on how to Wear Them.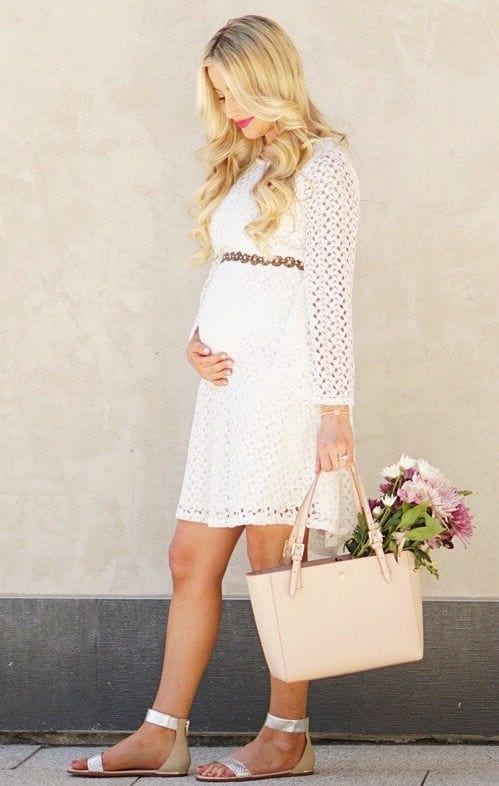 ↓ 15 – Appropriate Jewellery and Accessories are a Must!
Wear embellished jewelry, such as long earrings and statement necklaces, for a glamorous appearance at gatherings.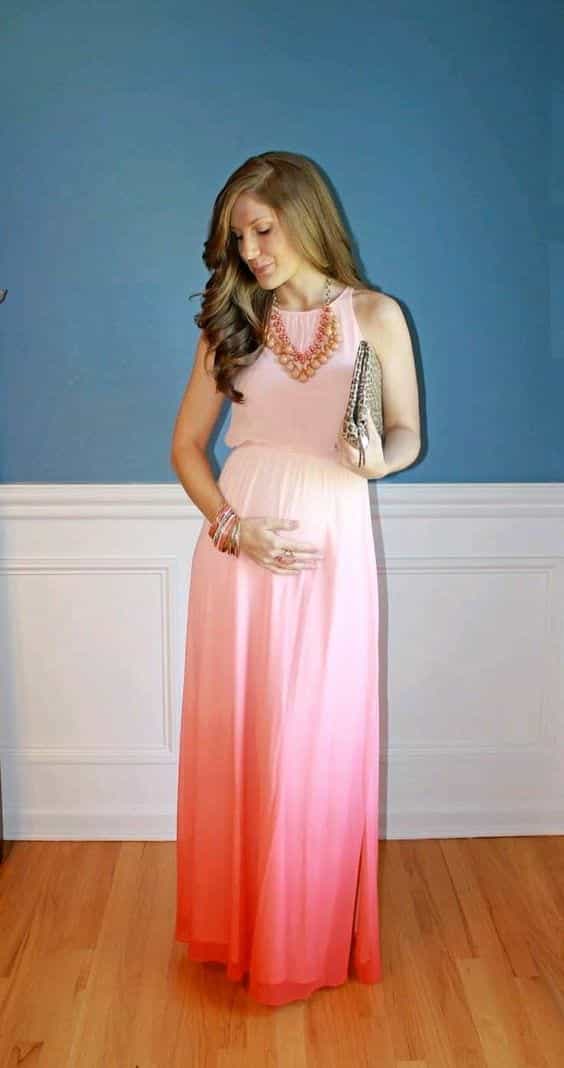 Pants and Leggings
↓ 14 –

Smear a Deep Red Lip Color to Make Your Look Statement-Worthy
↓ 13 –

Introduce Color Blocking if Earthy and Neutral Tones are Your Forte

If you are looking for places to shop for maternity Christmas wear, you should check out Gap, H&M, ASOS, and Old Navy!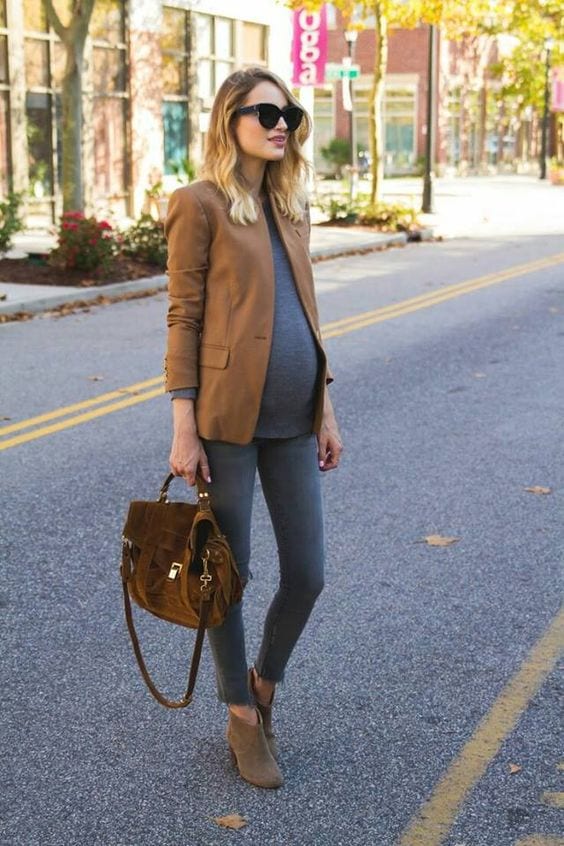 ↓ 12 – Sweaters or Coats are the Coziest Choice!
If you have sweaters for Christmas, wear them! And if not, buy or knit one to top with jeans, pants, or leggings whenever you go outside.
For those who love coats, wearing an open coat style to complete the maternal outfit is another option.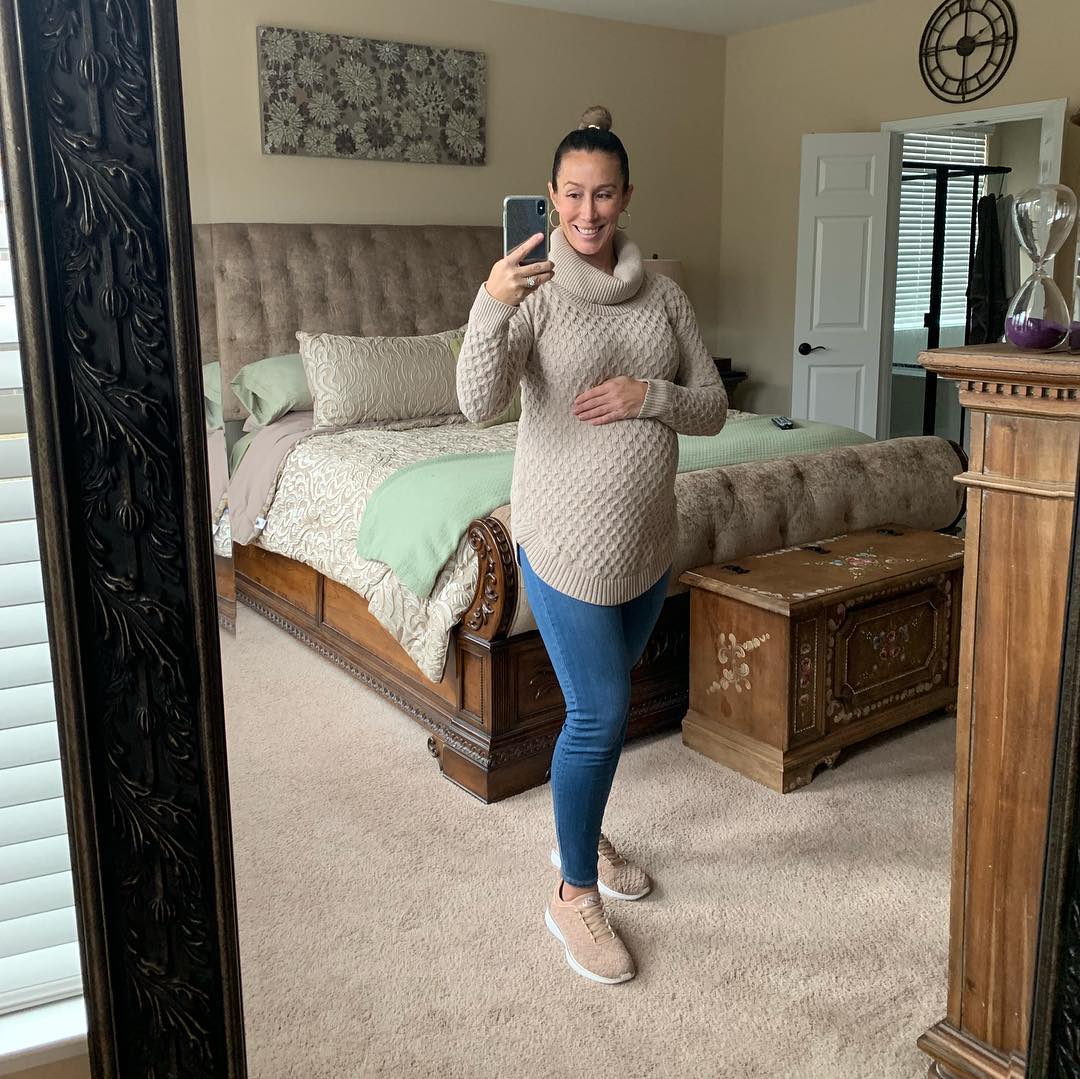 ↓ 11 – Tie Your Hair Back in an Intricate Style
Leggings can work like pants if paired correctly, so be creative and get some neutral-colored leggings to pair with shirts and knee-length dresses for a perfect casual and semi-formal look.
This simple outfit calls for extravagant accessories, glamorous make-up, and hair!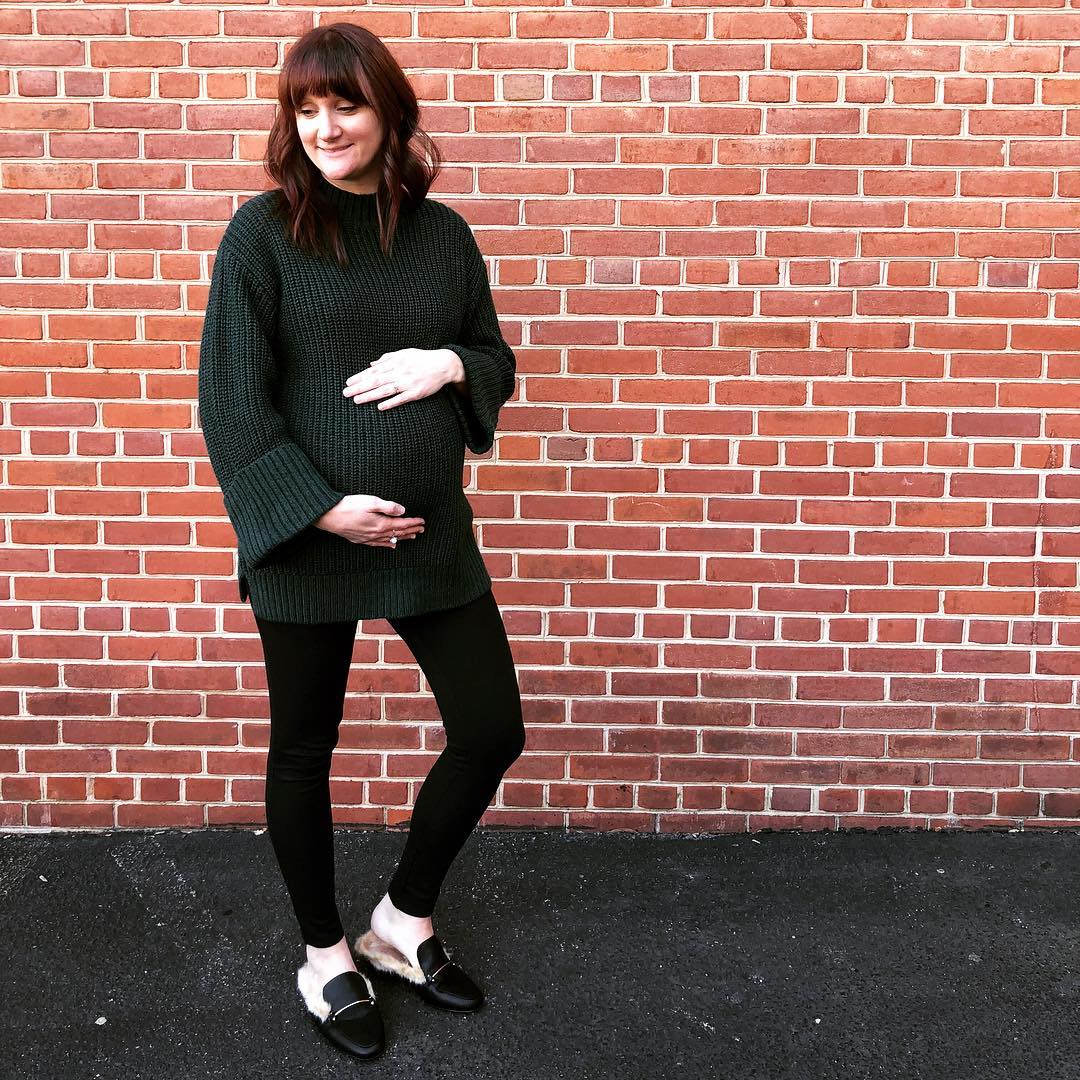 ↓ 10 –

Opt for a Street-Glam Outfit to Stand Out!
↓ 09 –

Swap the Grey Tank for a Detailed-Sleeve Blouse for the Perfect Hostess Look

Denim overalls are fun to wear. They are the ideal comfy style you can pull off by pairing them with a stunning blouse. For extra attention to detail, opt for a top with intricate sleeves!

If you are feeling that flair of energy, then you should go with something bright like yellow or red.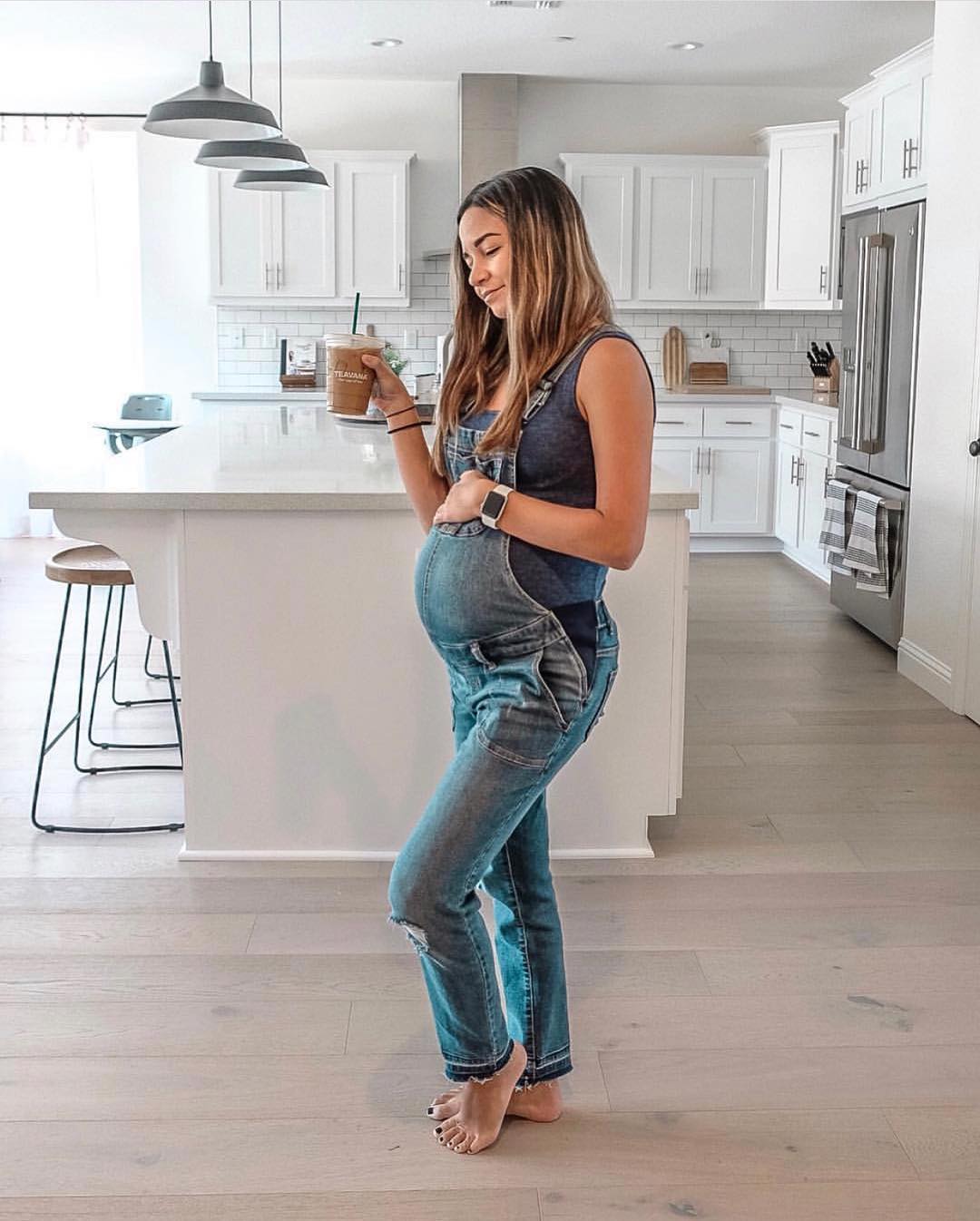 ↓ 08 – Opt for Graphic Shirts with Puns

for a Day in With the Family

Try some cool T-shirts with funny puns for a fun-filled and memorable Christmas.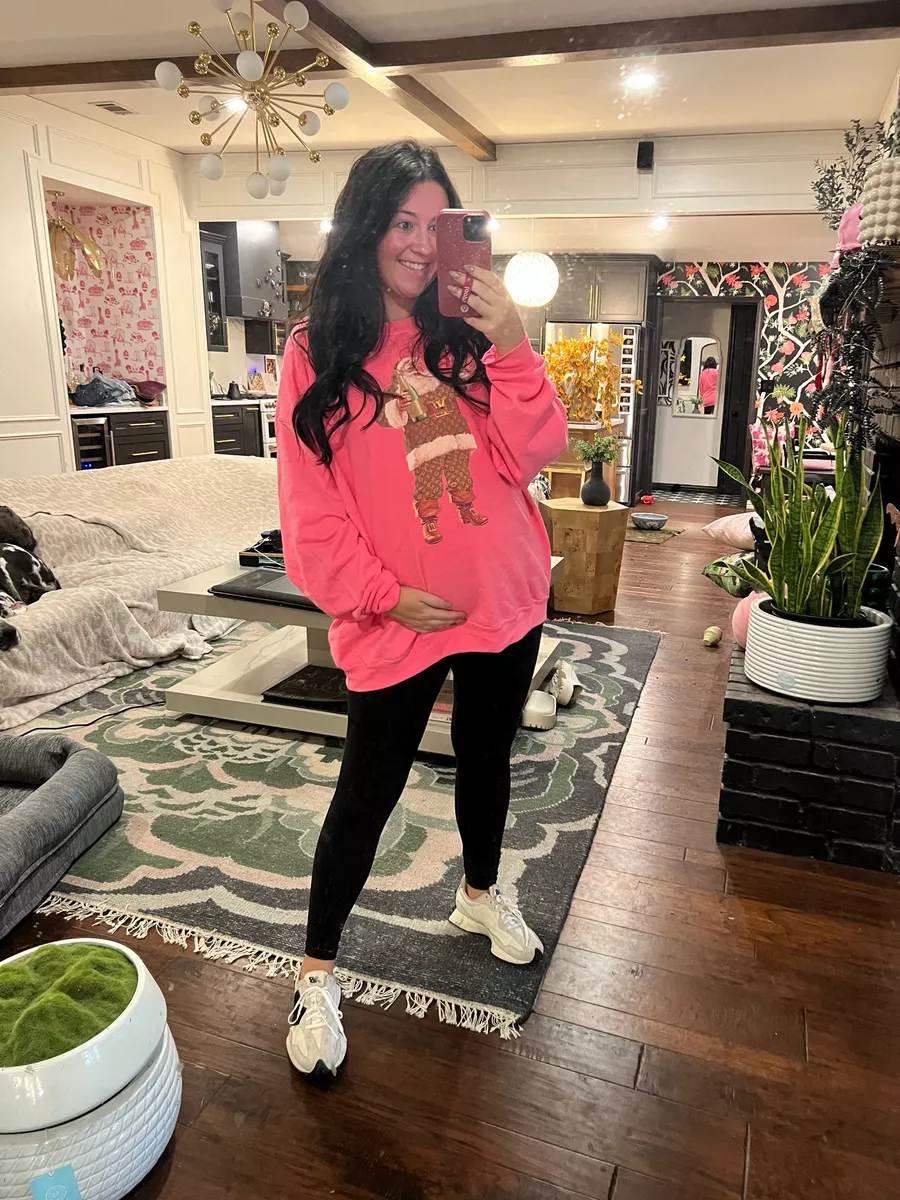 Buy the sweater below:
↓ 07 – Opt for Comfortable Maternity Jeans
Be creative with your existing collection, and look into your man's wardrobe for some of the best button-down shirts and oversized clothing to rock as a pregnant fashionista.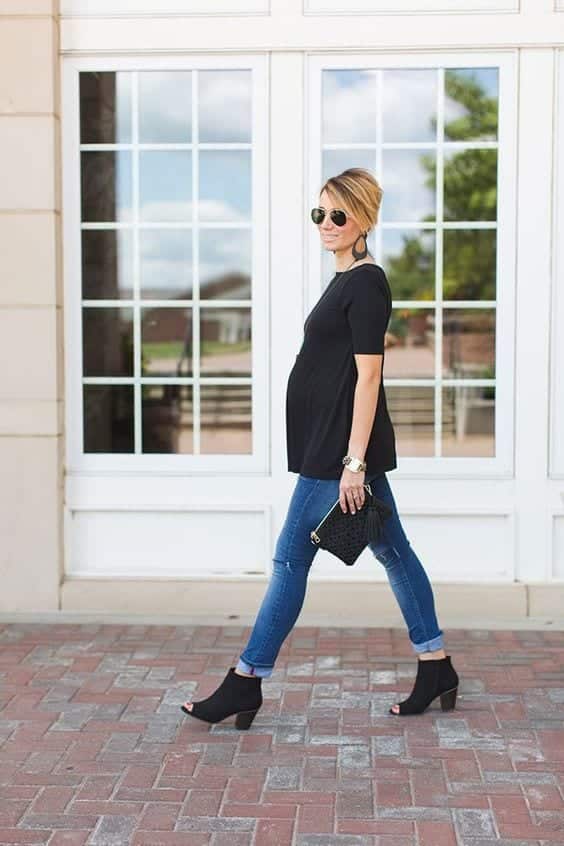 Skirts and Shorts
↓ 06 –

Swap the Brown Shirt for a Much Festive Green One!
↓ 05 – Add a Hint of Glam With Gold Accessories to go With the Pencil Skirt
If you feel like dressing unique, then you should go for a jumper-style outfit, which consists of a cozy jumper and skirt to wear for this Christmas and NYC parties.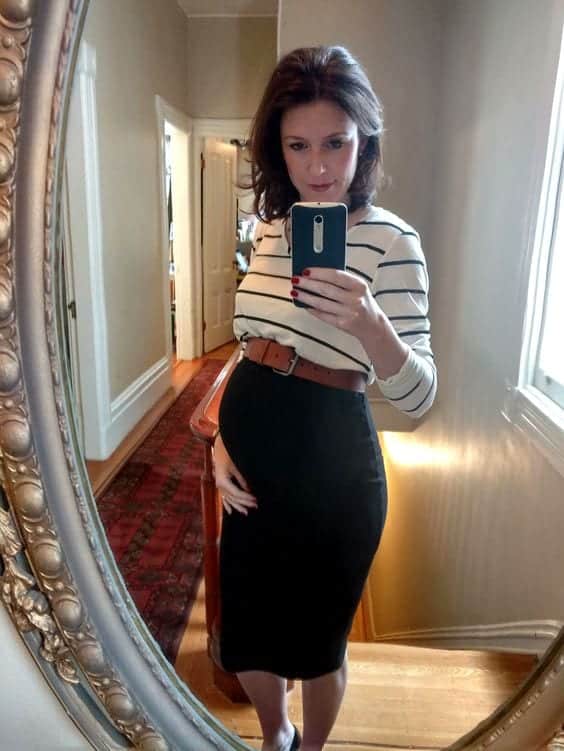 ↓ 04 –

Swap the Black Shirt for a Blouse in a Stunning Dark Blouse

Do not shy away from patterns because sequin skirts with polka dots or similar patterns look cool and chic when matched with detailed red, green, plum, or navy blouses.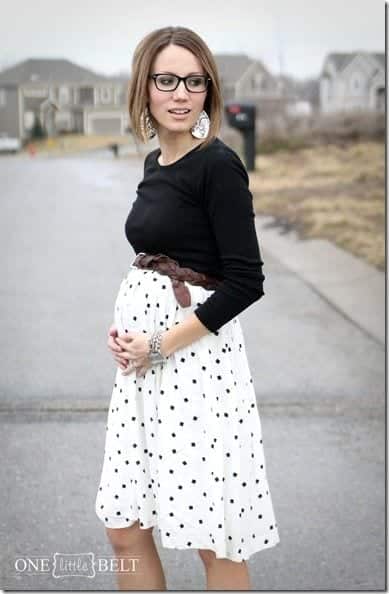 ↓ 03 – Maternity Fringed Crop Tops 

with Lace Details

If you have been into crop tops since your teenage then maternity fashion has this cozy outfit to offer. Opt for peach, sky blue, or baby pink colors and mix it with a skirt.

Flaunt with a nice bracelet and clutch for a street look.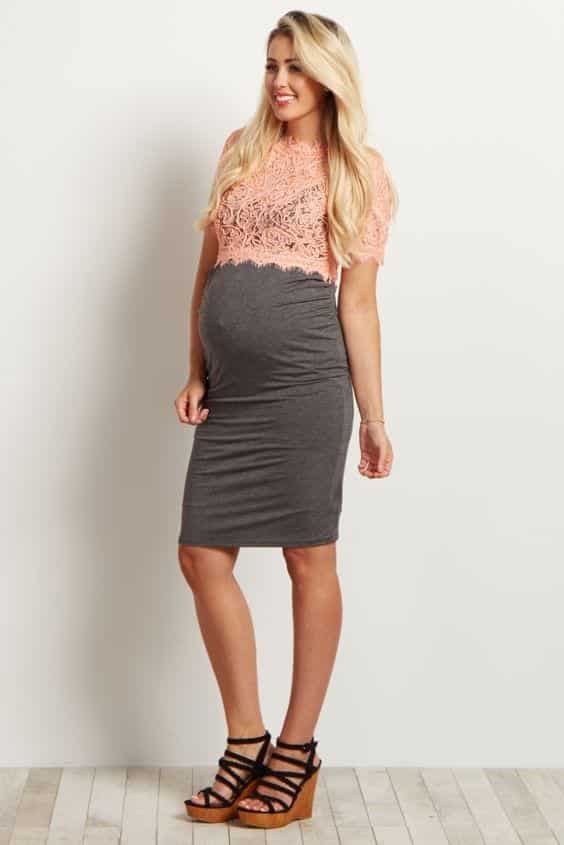 ↓ 02 – Swap the Black Over Belly Skirt

for a Sequined One to Bedazzle!

This bodycon outfit is one of the most trendy things you would see. The stretchy fabric in this knotted blouse and skirt accommodates body curves, while plain contrast with matching wedges or flats creates a complementary look.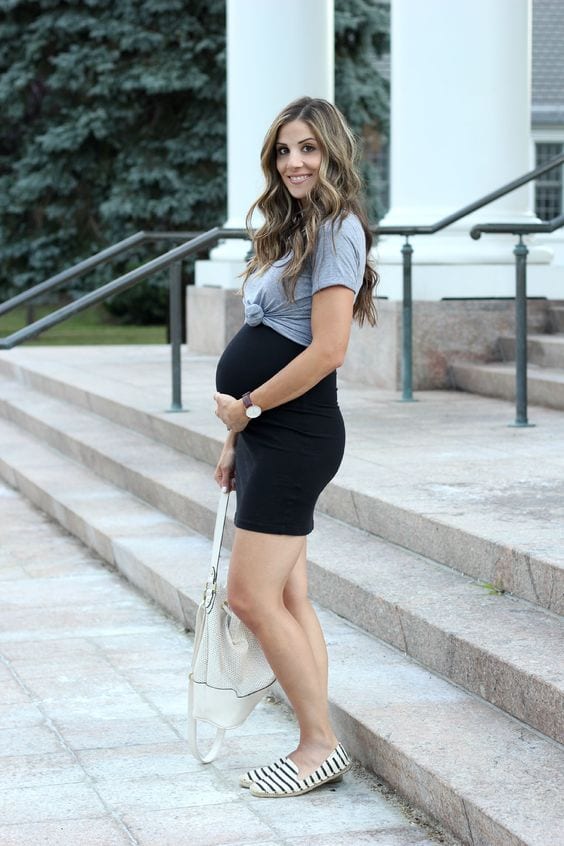 ↓ 01 – Opt for Comfortable Yet Stylish Footwear
High pencil heels may end up causing pain and stress on muscles, tiring you out. Moreover, your feet will swell during pregnancy, so opting for trendy wedges or low heels is a safe bet.
However, if you wish to wear high heels regardless, please keep a spare pair of flats.
Many celebrities are often spotted wearing fashionable maternal flats, so do not hesitate to buy some nice ones in black or golden to suit every outfit.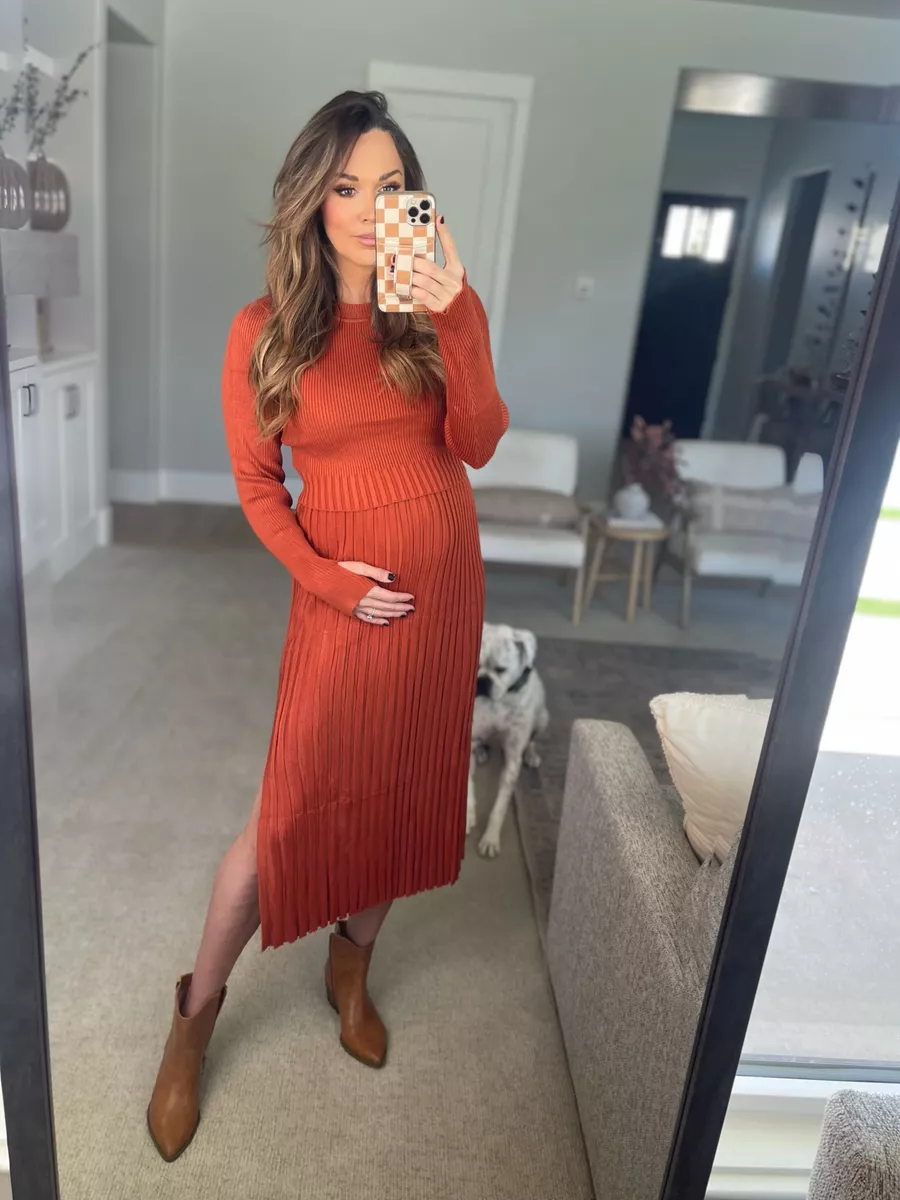 Get the look below: