How To Style Raincoats For Women: We all love the gloomy weather, but the struggles that come with the rainy season are not likable at all. It becomes almost impossible to wear a nice outfit and get out of the house without worrying about getting wet.
This is why raincoats are designed to protect your outfits in this weather so that you can be less worried. But don't consider raincoats just as a coverup; in fact, they can actually prove to be a stylish addition to your outfit. After all, rainy day outfits can not be complete without a rain coat.
What to Wear with Raincoats?
Styling a raincoat is pretty much easy because you can wear them just as you wear other coverups like jackets and coats. There are several types of raincoats that comes in different sizes, styles, and fabric so that you can style them according to the type of outfit you are wearing.
Take trench raincoats as an example, they are longer in length you can wear them over your dresses. You can also wear them with long boots and much more. It is not necessary to stick to plain black and blue coats.
Let's be honest; they are so basic and look so boring, which is why you should consider buying raincoats in fresh and bright colors and designs to add a stylish touch to your outfit.
Other kinds, such as rain jackets, ponchos, capes, and anoraks can be worn with pants, tights, and skirts. Rain jackets look best with denim jeans or ripped denim with tee shirts or tops and also give you a casual and comfy look.
Tips On Styling Raincoats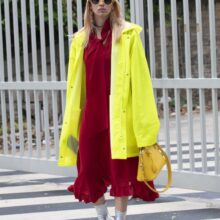 Choose the right kind: Keep different kinds of raincoats that can be styled with all your outfits. Trench coats are for long dresses, rain jackets can be worn with casual outfits along with pants and tops, and poncho and cape raincoats can also be worn with pants and trousers.
Wear vibrant colors: The best way to brighten up your day and outfit is to wear vibrant colors. You can wear the raincoats in yellow, orange, and purple and some other colors with neutral-colored outfits.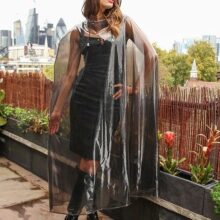 Add layers: For extra cold weather, you can also wear raincoats over other layering pieces. Whether it's a jacket, hoodie, or blazer, add a subtle layer of raincoat along with it.
Transparent raincoats: Wear transparent coats when you want your outfit to be completely visible.
Care for your raincoat: You must take good care of your coat so that you can use it every season. Wash off all the dirt with soap and air dry it before using it another time.
20 – Hooded Rain Jacket With Matching Dress
The rain jacket is the coolest kind among all the raincoats. You can style them like you wear your normal jackets.
On the other hand, our dresses are so precious that we want to protect them at any cost. You can also wear rain jackets with denim pants and a white tee shirt for a casual streetwear look.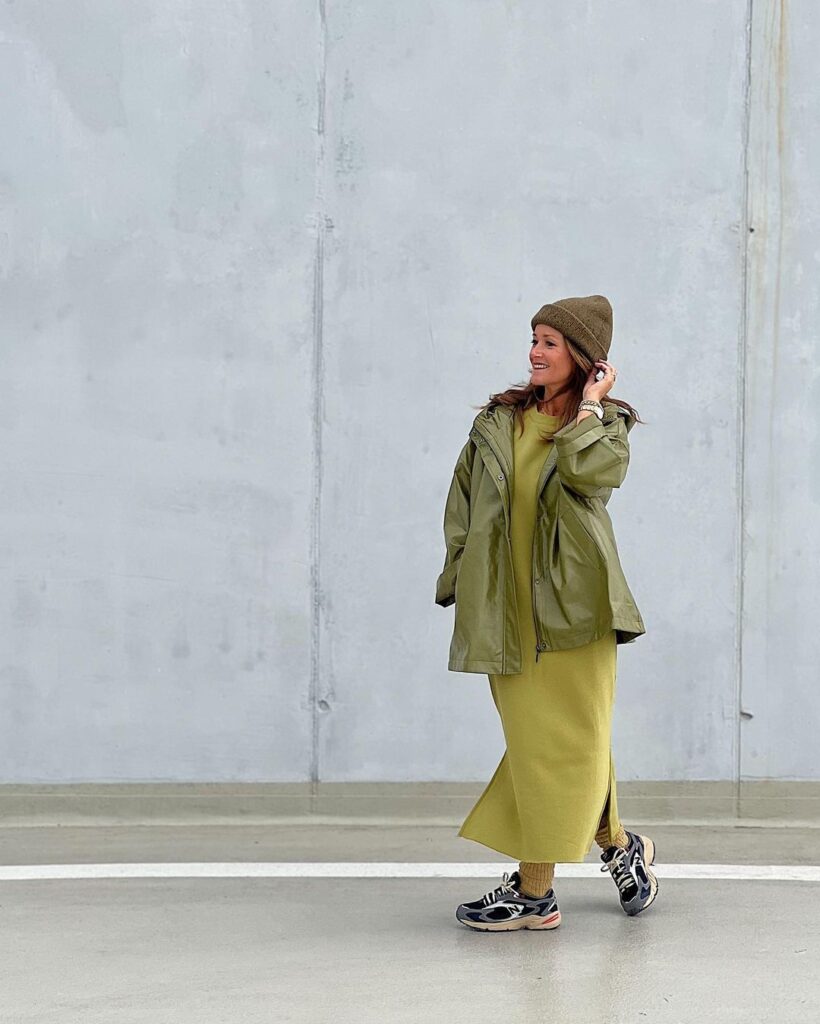 19 – Red Raincoat With Beige Pants
Balance out your outfit by wearing perfect color combinations. Here, neutral-colored pants are paired with the same color shirt.
Moreover, a raincoat in a popping red color is added as a coverup. If the raincoat was in any other lighter color, it would not look as good as this outfit looks.
Other bright color choices are orange, neon, bright pink, or yellow.
Other than that, you can also wear sneakers in a brighter color to add more colors and this is how you would be casually slaying a simple everyday outfit.
18 – Pink Hooded Rain Jacket With Shorts
Looking for a perfect rain jacket that looks cute as well? Here it is!
To protect yourself from the rain on the morning walk, you can easily wear this rain jacket. Simply wear your jogging clothes like a tank top with mini shorts and jogging shoes.
Cover yourself with a stylish rain jacket in bright pink color and you are ready to go.
17 – Hooded Raincoat Jacket With Tights
To enhance your everyday gym clothes, add a jacket to them that will not only look good but also protects you from wind and rain.
You can also wear this when the weather is turning slightly cold. Complete your outfit by wearing sneakers and a high ponytail and you are ready to lift weights at the gym.
Apart from that, you can also wear these kinds of jackets with denim and shirts and skirts to get a sporty look.
16 – All Black Outfit With Rain Jacket And Leather Pants
Leather pants are a fashion statement in themselves and pairing them with a leather rain jacket would make it even more stylish.
Balance out the outfit by wearing the top and shoes in neutral colors like grey, beige and brown. Wear sneakers if you are going for a casual day out.
Also, add a cross-body bag to finish up the look. Check out our complete guide on styling leather Pants.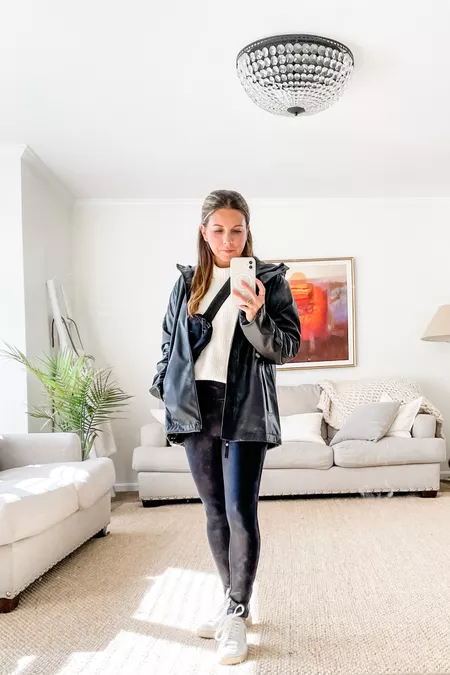 15 – Anorak Raincoat Paired With Leggings
Take a break from the basic black and blue colors and go for some cute pastel colors like pink, purple, and light green for your raincoats.
They can be a great addition to your everyday outfits. Wear it with printed tops and tee shirts along with baggy, ripped, or skinny jeans, and sneakers to get a perfect casual outfit.
14 – Long Orange Raincoat With Black Pants
A pop of orange is all you need to brighten up your dull and boring days. An orange raincoat in gloomy weather sounds great, especially if you are wearing neutral or black outfits.
This kind of raincoat is long enough in length to protect your long dresses or pants. It also contains a hood and pockets making it more desirable.
So if you are either wearing long bodycon dresses, pants, long skirts, or other such things that you want to cover, then wear this kind of raincoat in brighter colors.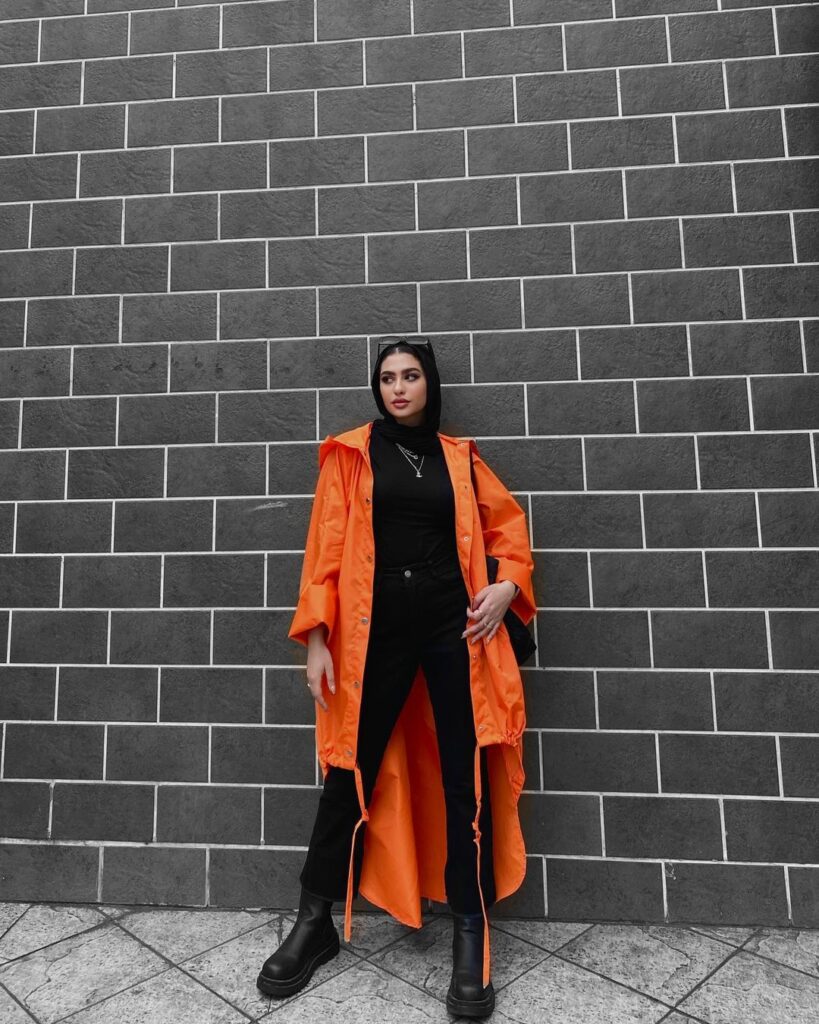 13 – Transparent Raincoat With Dress & Boots
Transparent raincoats are a great option when you are wearing gorgeous dresses. They don't hide away the beauty of your outfits and also look good. Wear them just like your normal raincoats with your outfits.
Moreover, some transparent raincoats also come in beautiful prints like floral and daisy prints which also look cute.
12 – Poncho Raincoat With Leggings & Sneakers
Poncho raincoats are the cutest kind of all as they actually look good while wearing. They can cover the upper part of your body and are ideal for when there is light rain outside. They are loose fitting, which is why they are also breathable.
Poncho raincoats can be worn with shorts, mini skirts, or leggings. When paired with leggings or pants, you can also treat them as poncho tops.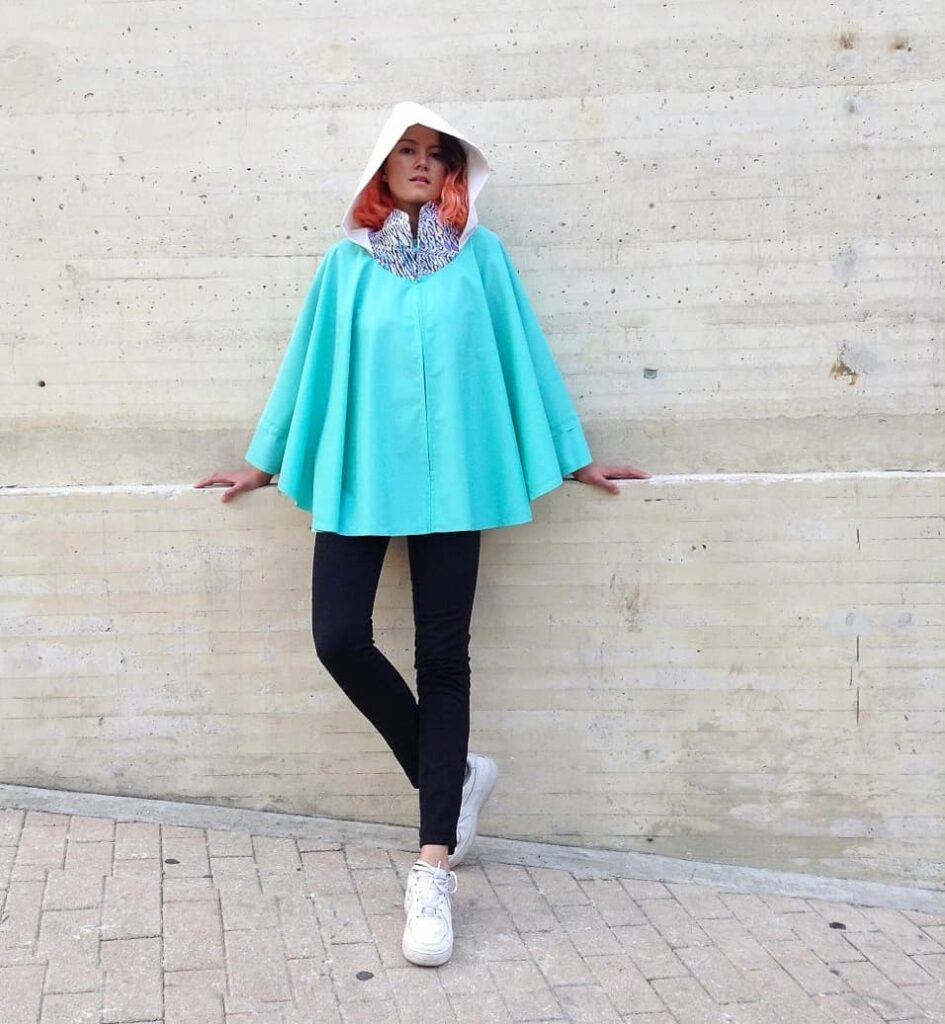 11 – Printed Cape Raincoat With Green Pants
Who would've thought that raincoats can look this good? It definitely looks stunning if you are wearing a cape raincoat that is printed. Wear a simple white tee shirt with colorful pants and pair a printed poncho raincoat with it.
Also, add long boots in a combination color with them. This outfit can be ideal for outdoor activities in rainy weather.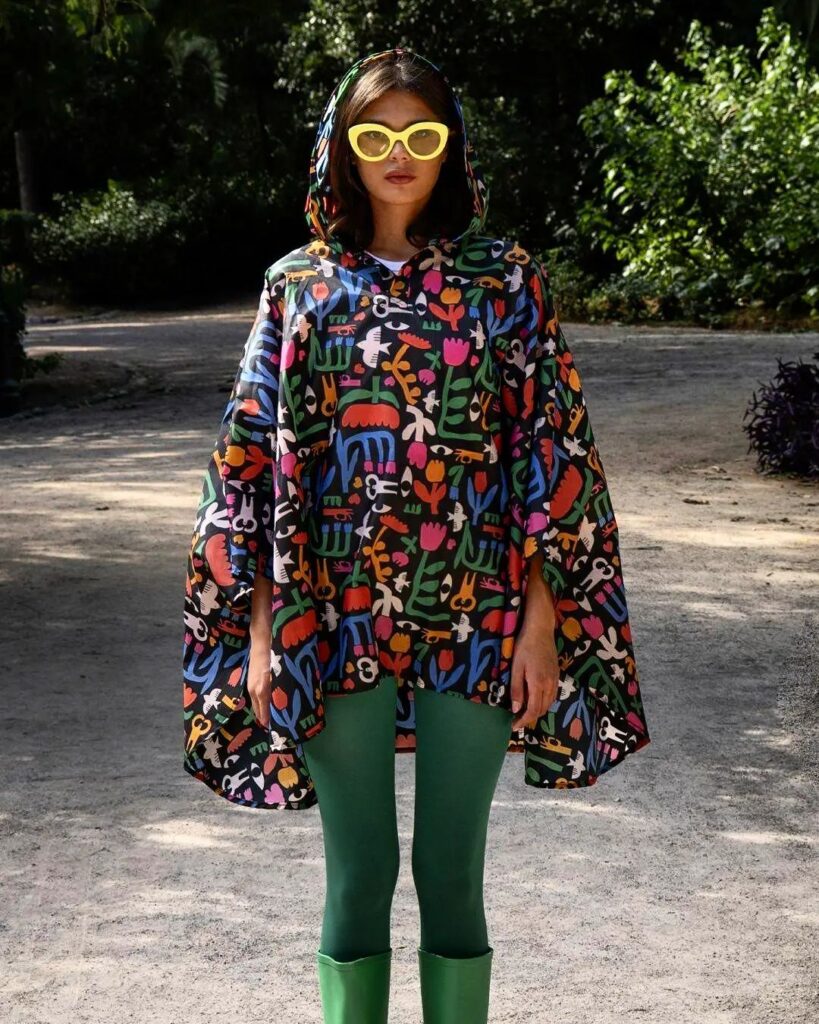 10 – A-Line Raincoat With Cotton Pants & Ankle Boots
9 – Yellow Raincoat With Leopard Print Rain Boots
8 – Rain Jacket Paired With Straight Pants & Knit Sweater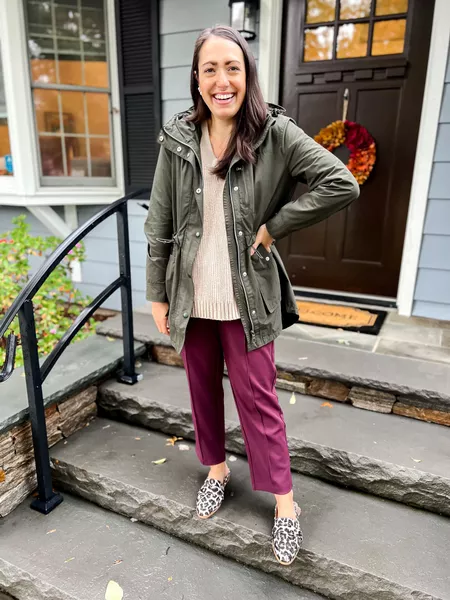 7 – Raincoat With Silk Pants & Scarf
Silk pants look great in every season. You can also accessorize your raincoats with scarves for winter outfits. Wear a subtle outfit with silk pants paired with a white tank top.
Layer a long raincoat in a pastel color. Lastly, add a scarf that complements your outfit and looks stylish. It is an easy and effortless outfit that you can easily wear while heading out for work on rainy mornings.
6 – Wear A Raincoat With Knit Dress & Long Boots
To protect your beautiful dress from rain or snowfall, simply put on a raincoat over it. If you are not trying to be more dressy or fashionable, a basic blue or black raincoat is a fair option.
Moreover, you can wear long brown boots also with short dresses. Wearing sheer leggings can also be an option for your go-to outfit.
5 – Trench Raincoat With Neck Jumper & Boots
This is how you can dress up for a winter date night look. Wear a classy jumper with black straight-leg pants and boots. Now, with this all-black look, you can either keep a black trench raincoat or one in olive green to complement your outfit.
Also add minimal accessories to amp up your look, like gold hoops, chains, and bracelets. A handbag in a combination color like green or red would also be a nice addition.
4 – Layer A Raincoat Over Cardigan & Denim Jeans
A cute spring outfit can be formed by pairing a cropped cardigan with denim jeans and white sneakers. But as we know, that's not enough for rainy weather as you must add a cover-up with this outfit. So add a long waterproof raincoat to it that looks stylish and keeps you protected as well.
Moreover, add some essential accessories like earrings and a handbag to put all your stuff and you are ready to go around without worrying about the weather.
3 – Anorak Raincoat Paired With Turtleneck
Anorak is the kind of raincoat that is waterproof and has a hood and pockets in it. The cozy and comfy winter outfits consist of sweatshirts, turtlenecks, or hoodies. So wear one of them and pair it with leggings and sneakers.
Put on a layer of anorak raincoat over it, which adds a fashionable touch to it. It looks like a normal jacket and can be paired with denim jeans and your outfit is ready.
2 – Wear A Rain Jacket With Jeans & Sweatshirt
Give your basic outfit a trendy twist by wearing a stylish raincoat along with it. The heeled suede boots also look amazing and complement the outfit; this is how you can transform your basic outfits into stylish ones.
Accessorize it with chains, bracelets, and a handbag and you are ready for a night out with a perfect outfit.
1 – Layering Raincoat With Turtleneck & Vest Sweater
Layering is the need for cold weather and you might not know how to wear raincoats over other layers. Although it's pretty simple, try to put layers so that it doesn't make you look bulky. Put on a lightweight turtleneck with a vest sweater.
Along with that, wear a printed raincoat and that's enough. Adding more things will make you look uncomfortable. This is how you can manage layering in the winter season with a raincoat.
Frequently Asked Questions
Q. What color is best for a raincoat?
Black is the universal favorite color of ladies even for raincoats. Other than that brighter colors are preferable as they add a refreshing touch in the gloomy weather. Colors like bright orange, yellow, red, and others are amazing choices for people who love vibrant colors.
Neutral tones like beige, brown, gray, black, white, and others are classic options. You can wear them with any outfit as they also look pretty decent. Other than that, transparent raincoats are one kind that enables your outfit to be completely visible.
Q. How do you style a raincoat?
A raincoat is worn as a layer over your outfits. If you are wearing long dresses, then to cover them properly, you should wear a long trench raincoat with them. The anorak raincoats can be worn with short dresses and long boots.
The hooded rain jackets can be styled with shorts, skirts, and denim jeans. Moreover, other kinds of raincoats can also be styled with your outfits accordingly.
Q. When should you wear a raincoat?
As the name suggests, raincoats are specifically designed to wear in the rainy season. However, you can also wear them with your outfits as a coverup. Trench raincoats or belted raincoats that are longer in length can be styled with different outfits in winter.
Rain jackets can also be worn casually with your outfits as normal jackets. But the main season of wearing raincoats is obviously when there are high chances of rain or snowfall.
Q. Where to buy the best raincoat?
While shopping for a raincoat, you must consider your needs as to what kind, fabric, and color of the raincoat you need. Among all, the fabric is the most important thing as if it is water-resistant or breathable or not.
You should shop from somewhere which has a variety of raincoats so you can choose the best one for yourself. Amazon, Walmart, and H&M are some of the places where you can get a lot of different options.