Teal Outfits For Women: Teal is one of the coolest colours. There is no way you can go wrong with it. Not a lot of people wear it, which is exactly why you need a teal outfit in your life.
Teal is a personal favorite of ours so we decided to let you guys in on one of our favourites too! The best part is that this color looks good in every weather, be it summer, winter, spring, or fall, teal will never not look good.
It's easy to wear a teal outfit as long as you like what you're wearing and know how to wear it. It's not hard finding colour combinations with teal, either.
How to Wear Teal Outfits?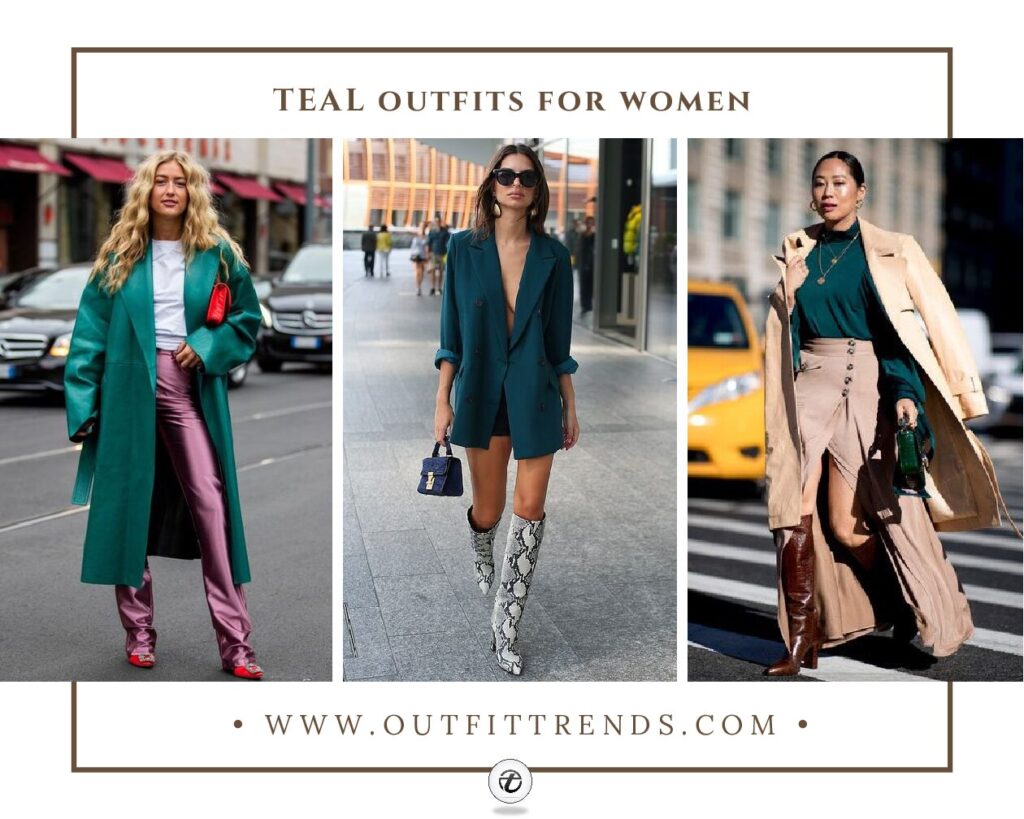 STYLING TIPS
• Most of the people will tell you dressing head to teal in teal will make you funny but don't listen to them and stay dedicated to your own fashion sense and style.
• Don't be afraid to try new colors, you never know when you could create a completely new outfit that nobody has ever tried before.
• If you want to include teal in your outfit in a very subtle way then make use of accessories in teal color like belts, handbags, resin rings, and hair clips.
• Don't be afraid of wearing colors like teal, it can look really good if you know how to wear it with confidence.
• It's always a plus if you can find teal shoes because shoes can make or break your outfits. If you have teal shoes then you can only wear those and the rest of the outfit could be of any other color. This would also count as a teal outfit because teal outfits aren't just teal shirts and pants, they are whatever you want them to be.
20 – Emily Ratajkowski's Teal Blazer Look
We all know Ratajkowski is the queen of style. She loves to show off her slender physique in the most stunning outfits. Here she is seen wearing a teal blazer with biker shorts. She paired this simple yet stylish outfit with snakeskin boots to make it look even better. The small handbag makes this look New York fashion week worthy but it's just Emily roaming the streets!
19 – Priyanka Chopra Jonas' Teal Plaid Look
Plaid is cool but how cool is teal plaid? It's a fun twist to the usual plaid design especially with the matching pants that Priyanka wore. She paired this outfit with a plaid overcoat and we think that is what really completes the outfit. Black booties or heels, whichever you choose will make this outfit stand out. Here are some more of our favorite outfits with plaid coats.
18 – Teal Outfit For Women Over 60
You just need to have the style to be able to dress well even after you are well over 60. A leather skirt with a matching pastel sweater will make a gorgeous outfit that will also be surprisingly unique. So you don't worry about anyone copying this outfit of yours.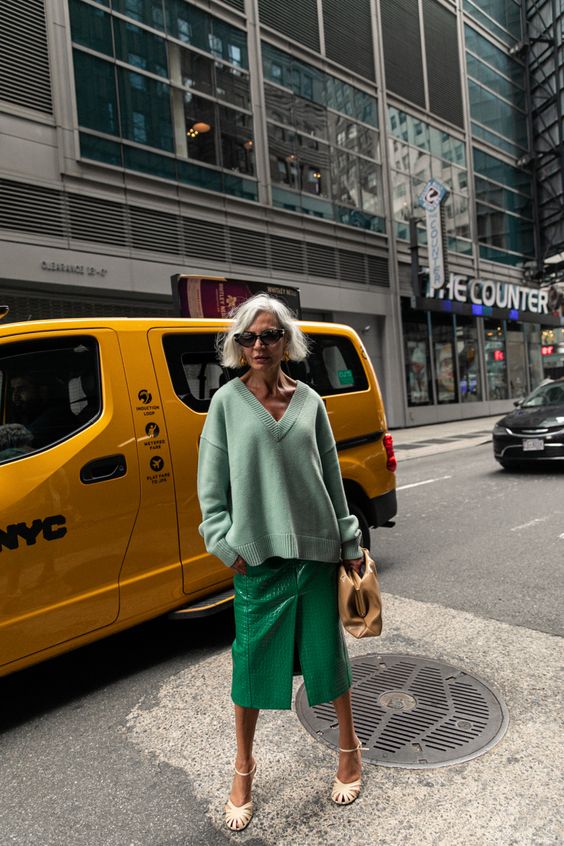 17 – Teal And Nude
Who says you can't wear teal and nude together? isn't this outfit enough proof? Dark teal outfits are the real show stoppers just like this look. This dark teal blouse paired with a nude beige slit skirt and overcoat looks beautiful. This would make the perfect office or meeting outfit.
16 – Teal Corduroy
Corduroy is always fun to experiment with. This material will look stunning in just about every color but in teal, it really stands out. Pair a teal corduroy jacket with some matching leggings and a crop top. You can wear this outfit to go meet your friends or to the gym, just remove the jacket then.
15 – Simplicity At Its Peak!
If you like to keep your outfits simple then this one is for you. If you want to incorporate teal into your outfit without going over the top then you should just try wearing a teal overcoat with an all-black outfit.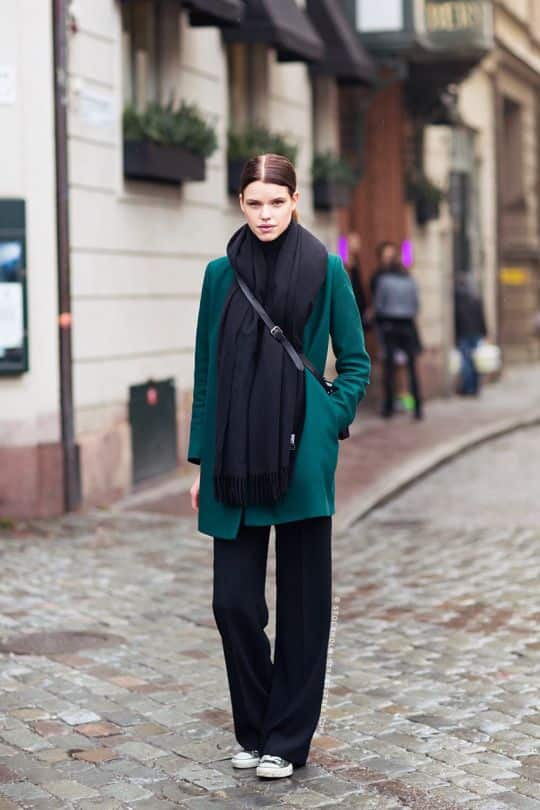 14 – What To Wear With A Teal Skirt?
Teal skirts are trending and you need to get your hands on one if you haven't yet! These skirts are stylish, comfortable, and most importantly teal. You can wear any color you like with a teal skirt but white or black would look the best. The same goes for shoes but for shoes, you can also wear nude or teal along with black and white.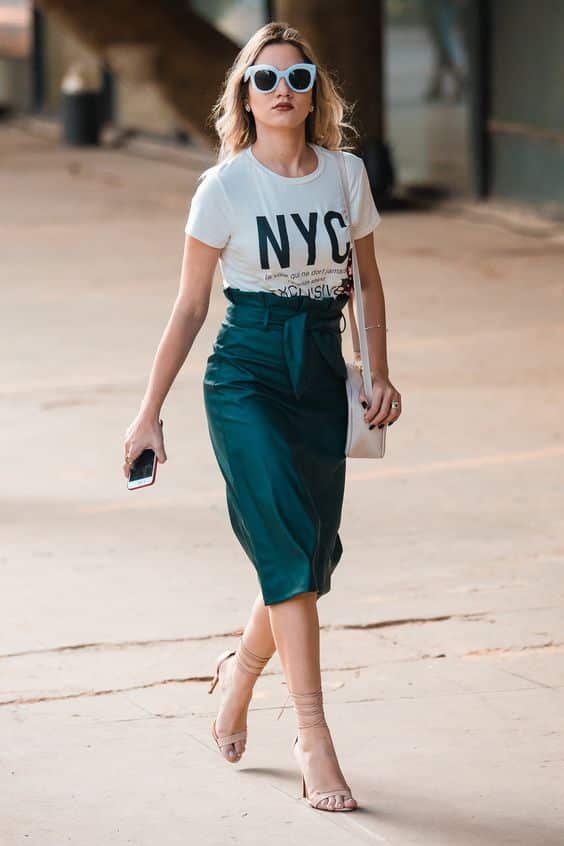 13 – Teal Overalls
Overalls are one of the most comfortable items of clothing out there. They also make you feel like you're a child all over again so we would recommend them as much as we'd recommend any other outfit. You just need to figure out what shirt to wear underneath them and you'll be good to go. You can wear these overalls to a cute meet-up with your friends or family.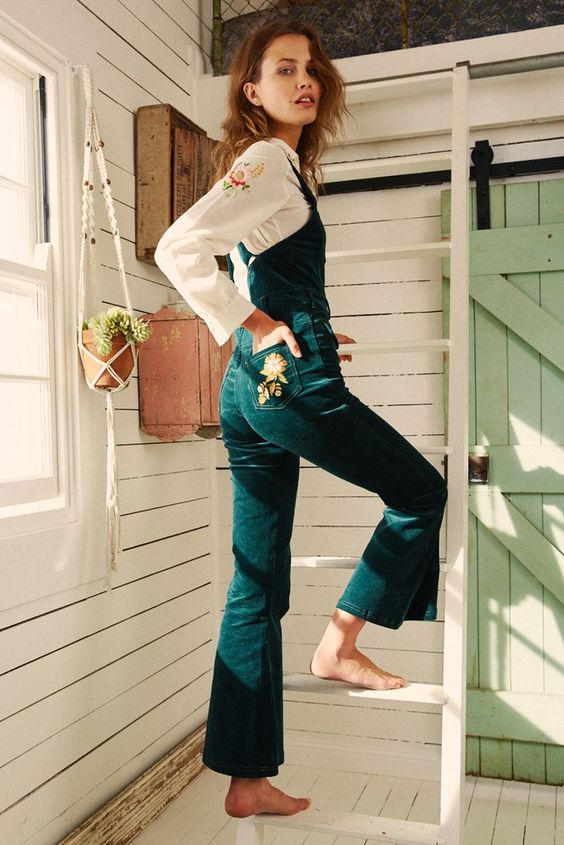 12 – Teal Palazzo Pants
If you are somebody that is least interested in getting dressed up and you like to stay in comfortable clothes but then you also want to try wearing the color teal then we've got something for you. These teal palazzo pants will keep you comfortable yet stylish. You can wear them with any of your favorite plain or printed shirts, a pair of converse and you'll be good to go!
11 – Teal Jumpsuit
Everybody needs to have a jumpsuit in their wardrobe. Jumpsuits are super fun, sexy, and perfect for any formal occasion. You can wear this teal jumpsuit to a birthday party, a date, or a night out with your girls.
10 – Teal Fur Galore!
If you love having a little faux fur moment then we've got the perfect outfit for you! Try this light teal fur overcoat with a matching shirt underneath. Incorporate some brown tones into your outfit by wearing brown leather pants and a matching brown scarf. All eyes are on you when you wear this fit!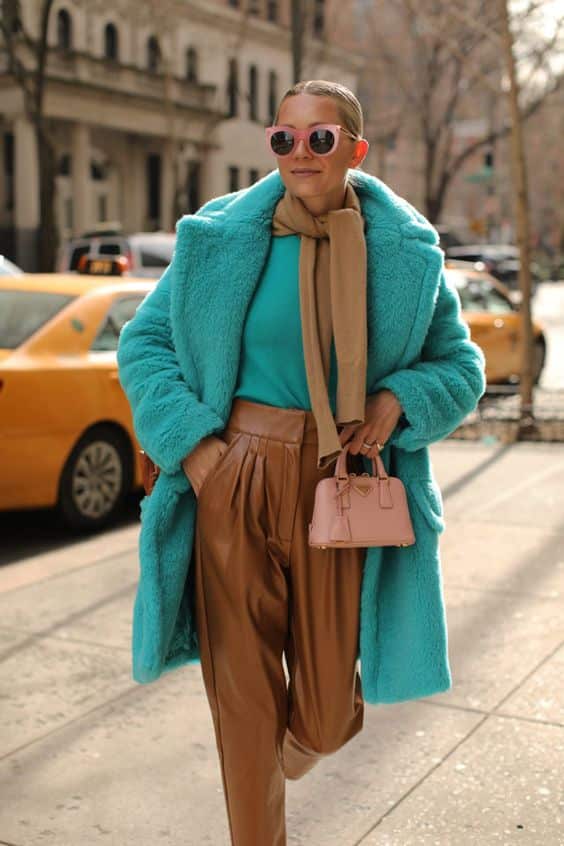 9 – Teal Beauty
Teal is fun and so should its outfits be. You don't always have to wear an outfit that's teal from head to toe. You can wear teal in a subtle way too. Just like this one, the woman is wearing a teal overcoat with purple pants and a white shirt. It's not about what you wear but how you style what you wear.
8 – When To Wear Power Suits?
Power suits are one of the bossiest outfits that you can ever own. You can never go wrong with a power suit. You need this teal power suit in your life. You can wear this to a meeting, to the office or just to hang out with your friends. Heels look sexy with suits but try wearing sneakers to switch things up. Also, have a look at women's best power suits.
7 – Teal Diva
This diva is dressed in teal from head to toe. If you want to get this outfit then you need to buy a matching skirt and blouse along with an overcoat. If you are a real teal lover then of course you would want to match your shoes and your bag with the rest of your outfit. This outfit will be perfect to wear to a birthday party, engagement, or bridal shower.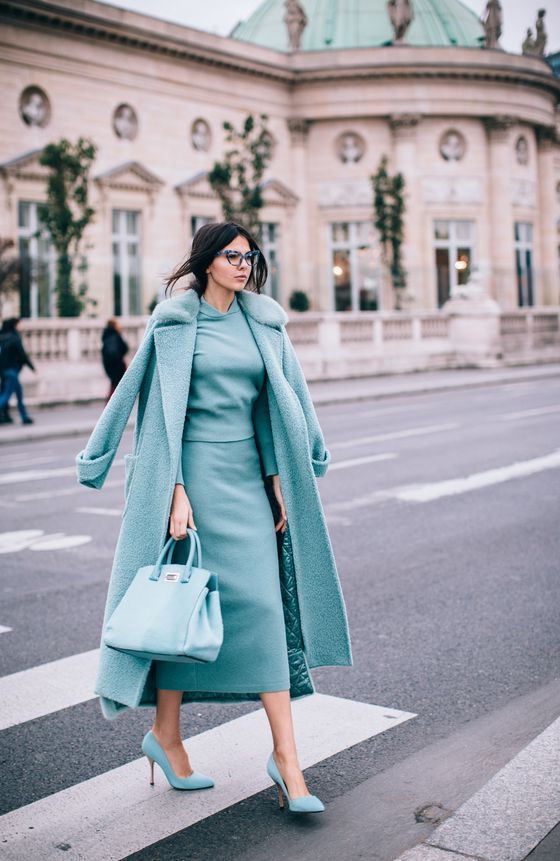 6 – Halston Sage's Monochromatic Look
Wear a teal sweater with matching silk pants and watch yourself be the star of the show. Halston showed us how to rock this look effortlessly. She wore black pointed heels with this outfit and kept her makeup simple to truly show the teal-colored outfit off.
5 – Teal Dresses
This dress looks like it came right out of a fairytale, doesn't it? If you are a lover of dresses then you need to get your hands on this. You can wear this on all kinds of occasions and even at your own birthday party. Pair this dress with some nude heels and gold jewelry and you'll be good to go!
4 – Teal And Brown
This outfit has the perfect contrast of teal and brown. The way that teal has been incorporated into this brown dominant outfit is gorgeous. You just need a teal sweater and brown pants. The rest is completely up to you how you want to style it. Whether you want to wear a cap or not.
3 – Off-Shoulder Sweater Look
Off-shoulder sweaters used to be in fashion and then they went out of fashion but now they are making a comeback. This teal off-shoulder sweater is beautiful and something you need in your closet. Pair this knitted beauty with ripped pants for added glamour otherwise, you can just stick to regular pants if you like. Don't forget your sunglasses for some sass and of course a gold necklace.
2 – Twirling Like A Beauty
Who doesn't love having a Disney princess moment? This teal pleated skirt will give you exactly that. You should wear a pretty pastel color with this skirt so that the skirt gets the spotlight. If you wear a teal shirt with it then it would be too much and the skirt won't stand out. Heels and a matching bag would look wonderful with this outfit. If you need more outfit inspo then check pleated skirt outfits.
1 – JLO's Teal Fit
We kept the best for the last. The queen wore this stunning hoe-to-toe teal ensemble and showed us all how it's done. She matched a thin teal belt and pointed heels as well. This outfit would be perfect to wear on your birthday or date night.
Frequently Asked Questions
Q. What colors go with teal clothes?
Ans. There aren't many colors that go with teal clothes but then again, you can always make it work if you know how to create a contrast with accessories, shoes, and clothes. Black, white, and teal are the colors that you can wear with teal clothes. Maybe try wearing a black shirt with teal plants or vice versa. White is another color that will go with just about any color so you can always wear white shoes with teal clothes or wear a white shirt or pants with teal clothes. Lastly, of course, teal will go with teal so a completely teal outfit might look weird to most but weird is cool so stick with it!
Q. What shoes to wear with a teal dress?
Ans. It depends on your preference for shoes. If you want to wear heels then there are lots of options. You can wear something different such as purple, red, or pink heels. They will be eye-catching and look good with the teal dress as well. You can also wear nude heels because nude goes with every color and of course black and white are colors we don't need to mention right?
Q. Whats the perfect teal outfit for a birthday party?
Ans. There are few teal outfits we think of when it comes to birthday parties. The first one would be a teal suit which would straight up make a style statement, you would easily be the best-dressed person at the birthday party. The next best outfit would be a silk teal dress. This dress would be the perfect outfit to wear to a birthday party because it's formal and also extremely stunning so there's so way you can go wrong with it. Lastly, you can wear either a teal silk blouse with pants in any other color such as black or white or you could wear teal palazzo pants and pair them with a plain blouse. We've given you quite a few options and we're hoping you can choose the best one yourself.